Next up: past Urup and to Iturup.
Hi folks!
Onward we sail further and further south, with it getting warmer and warmer as we get nearer to the equator. We keep wondering if, sooner or later, the waters around these parts might become warm enough to take a pleasant dip in… a quick check – alas: not yet. So we continue on our merry way southward – toward our next Kuril: Urup, which comes from the Ainu word for salmon trout. Probably named that way as the island is long and thin like a salmon. But wait – so… does that mean the Ainu people drew maps? How else would they know the shape? Maybe by climbing up a neighboring volcano and seeing it that way?
Or could it be named after the salmon that perhaps inhabit the small island's… streams (no rivers; no lakes)? Maybe there are salmon trout here. To the north, as far as Paramushir, all the islands are too small for salmon trout to reside on them. And to the south, perhaps, the climate's too warm for a northerner-fish such as the salmon trout? But just here in between (also on neighboring Simushir), there well could be salmon (there was on Simushir – I saw them myself). Not that we found out – we passed Urup by. We'd landed there last time and there's not a great deal to see onshore that can't be seen from the sea (see the below pics), so we just missed it out this time…
Severe Kurilian landscapes…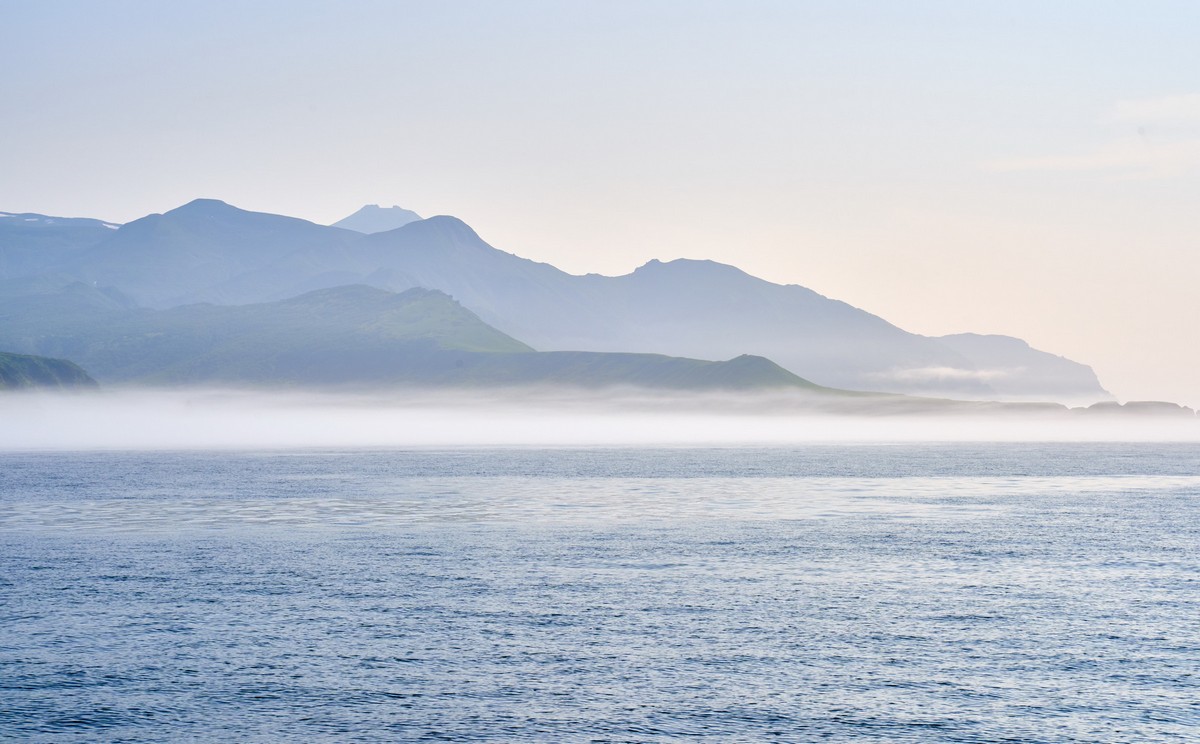 Woah – killer whales! Maybe they're after the salmon? What else would they be doing next to an island called Salmon?!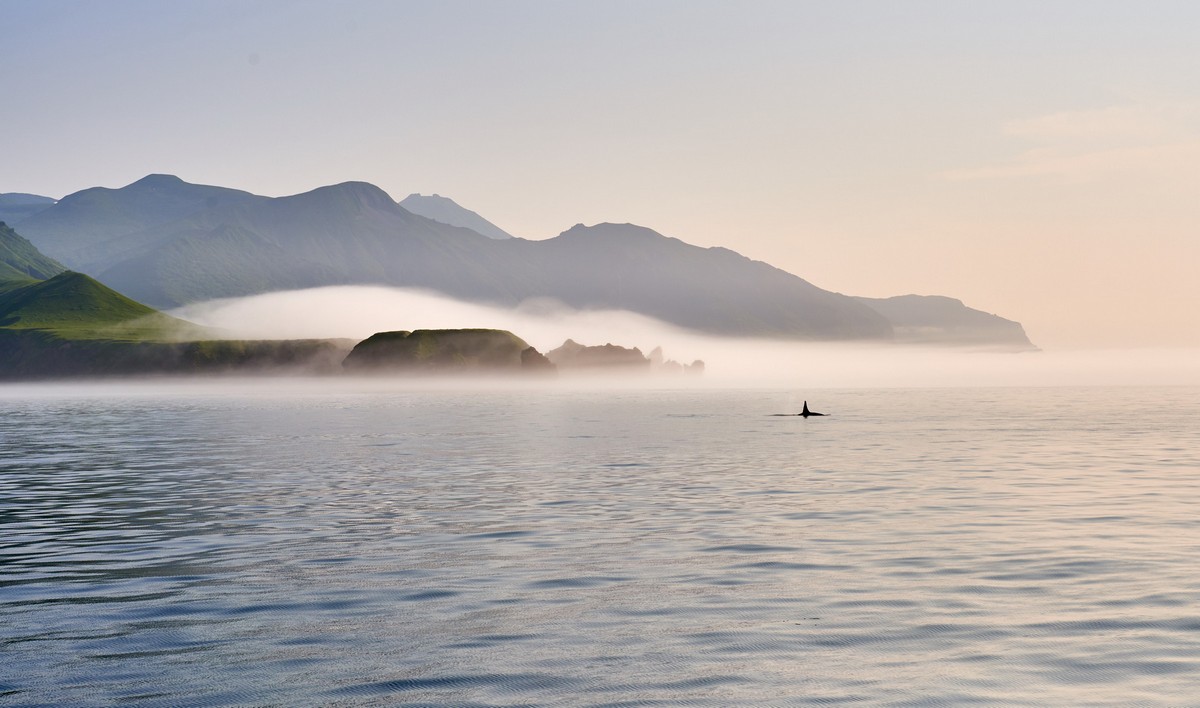 But why take pics from the Athens? Let's get a drone up! So our American friends did just that…
Evening approaches; in rolls the fog; time for us to move on!…
Next up – Iturup; that rhymes! Surely this will mean something fish-related in Ainu? But of course: it means jellyfish! That's funny; the island neither resembles a jellyfish, nor did I see a single jellyfish swimming about in the sea around the island. Stop. Perhaps those long capes the jut out quite far into the sea were deemed jellyfish's tentacles?! But I digress…
One of those tentacles is in fact a volcano of considerable stature: Atsonupuri. We climbed to the top of it last time (what a nightmare it was: real tough conditions), and bathed in its hot springs. It was also here where we found the Answer to the Ultimate Question of Life, the Universe, and Everything; that is – 42 ). I won't go over Iturup again here; just a few highlights…
In the next pic: hot stream coming down from Baransky Volcano! In the steeper places: hot waterfalls!
Up here the water's literally boiling! It cools down enough to be able to bath in it some 400 meters further down…
Woah – here's something new since last time: neat concrete steps. Just what the doctor ordered (to go with the prescribed recuperative natural spring water:).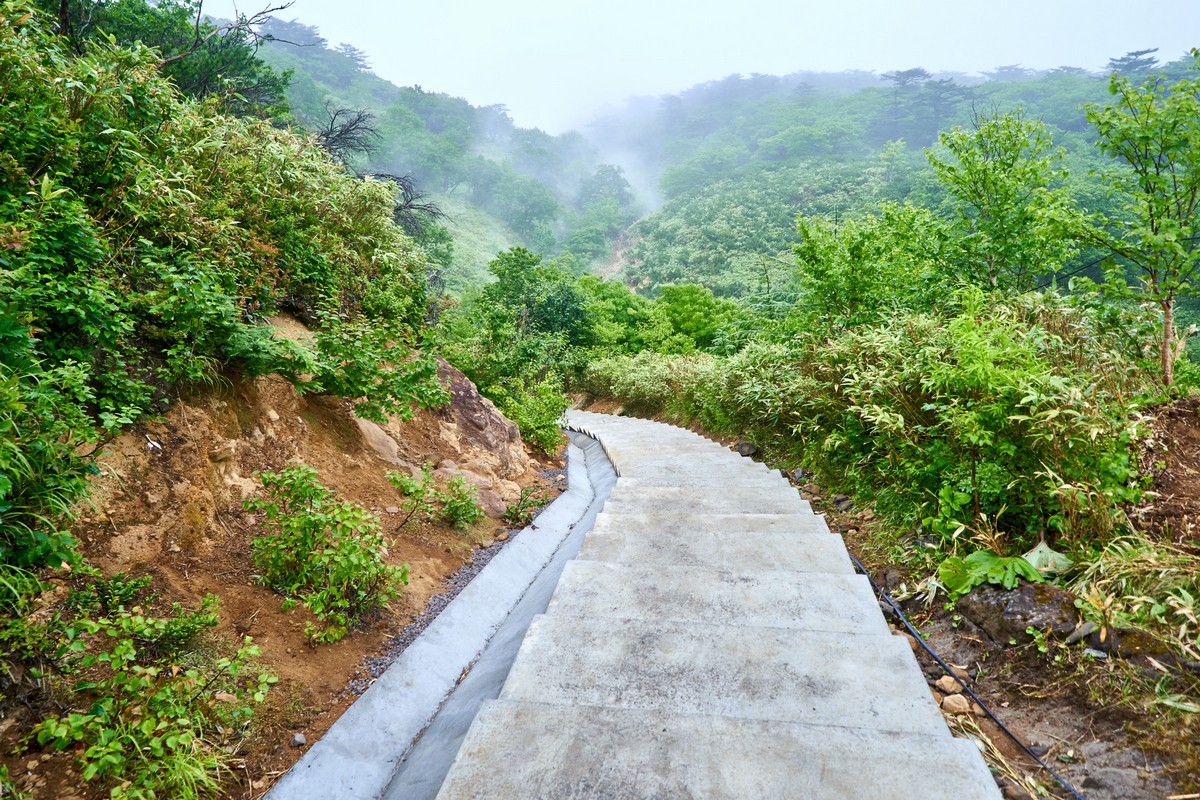 Down we go…
Oh no – repair work going on!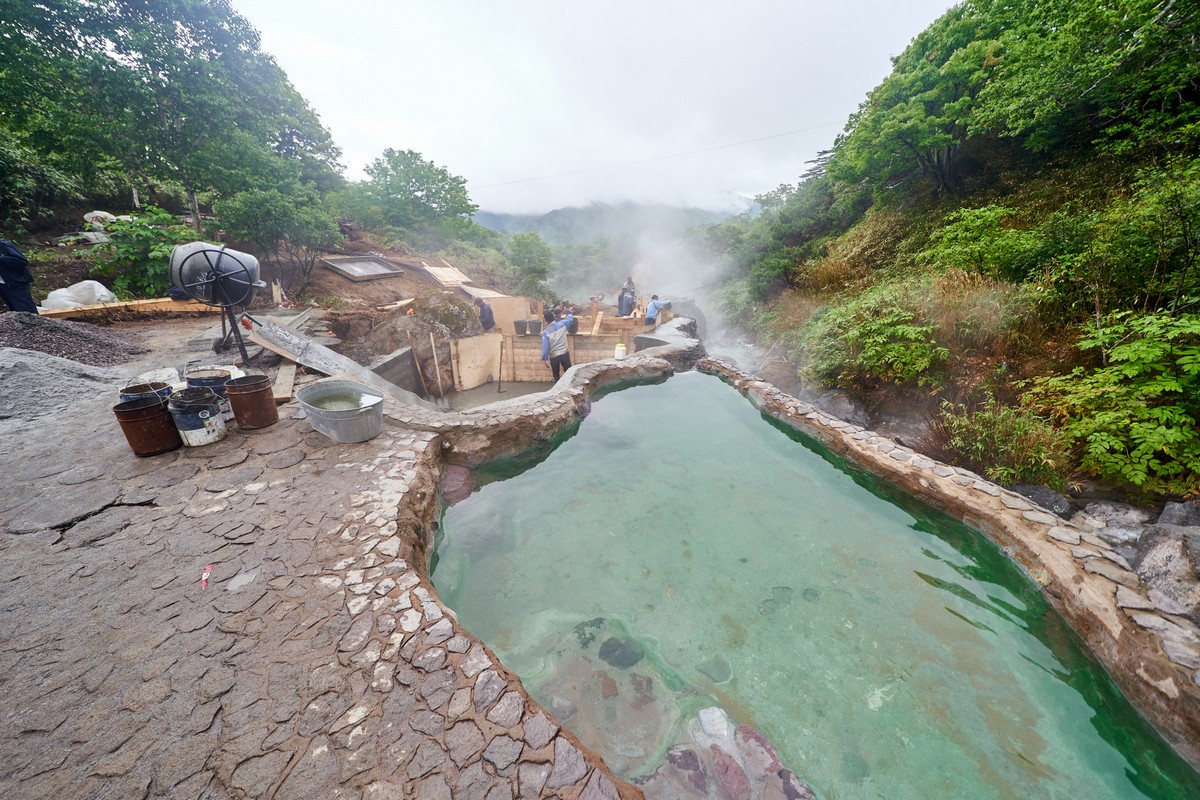 Not to worry: two of the upper pools had had their repairs completed: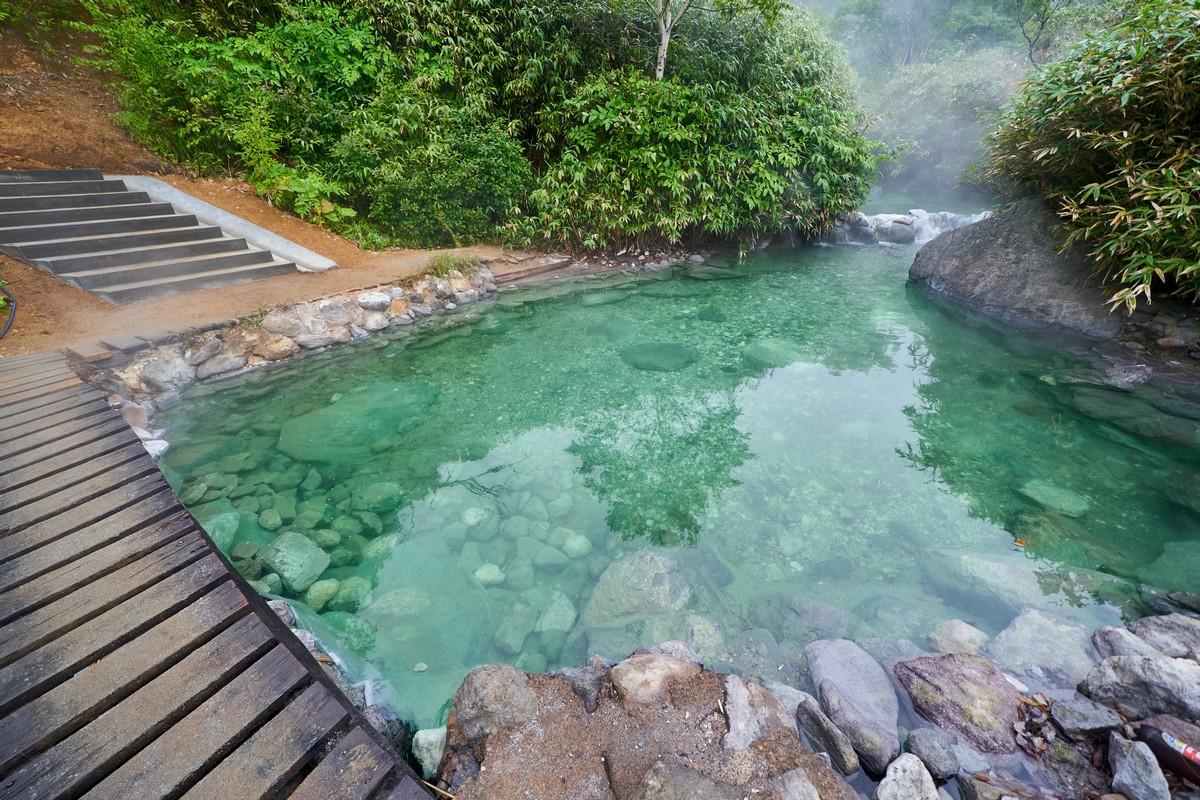 And anyway, the best bit of all – the full-on hot-spring waterfall – was further down, ahead of the repairs…
Aaaaaaah. What a place! 42 – no two ways about it. And it gets even better for you, dear readers…: drone footage! Could this possibly be the first ever drone footage of these waterfalls in the history of the Universe? Again: 42!!
Must get back here one day. Simply mandatory… That goes for all you readers as well!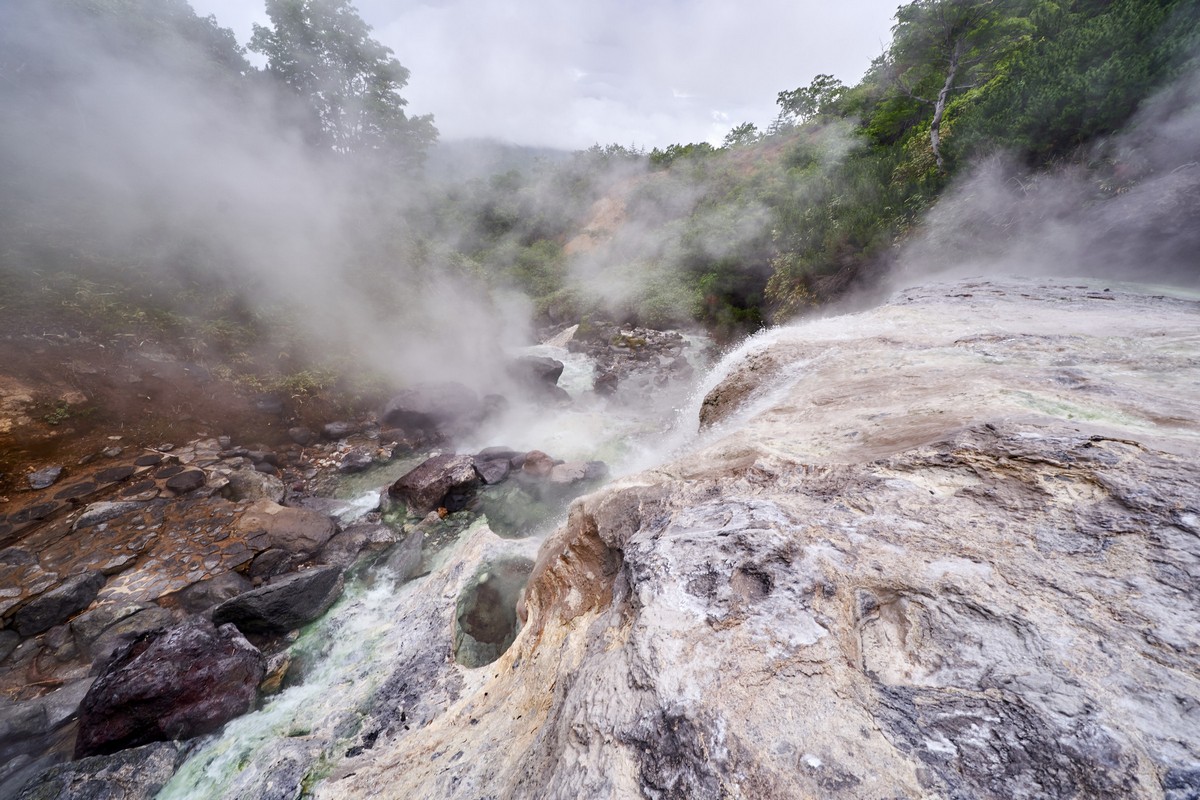 The rest of the pics of our Kurils-2019 expedition are here.