King Krenitsyna: to climb it you need to be a bit thinner.
It's hard to believe, but in the northern Kurils there are only two or three days of sunshine – per year! No, really! Therefore, if ever you find yourself sat on the edge of the outer caldera of Krenitsyna Volcano, and the sun is shining – savor every single second, as we're doing here in this pic – because you could be weeks waiting for the next short-lived installment of fine weather.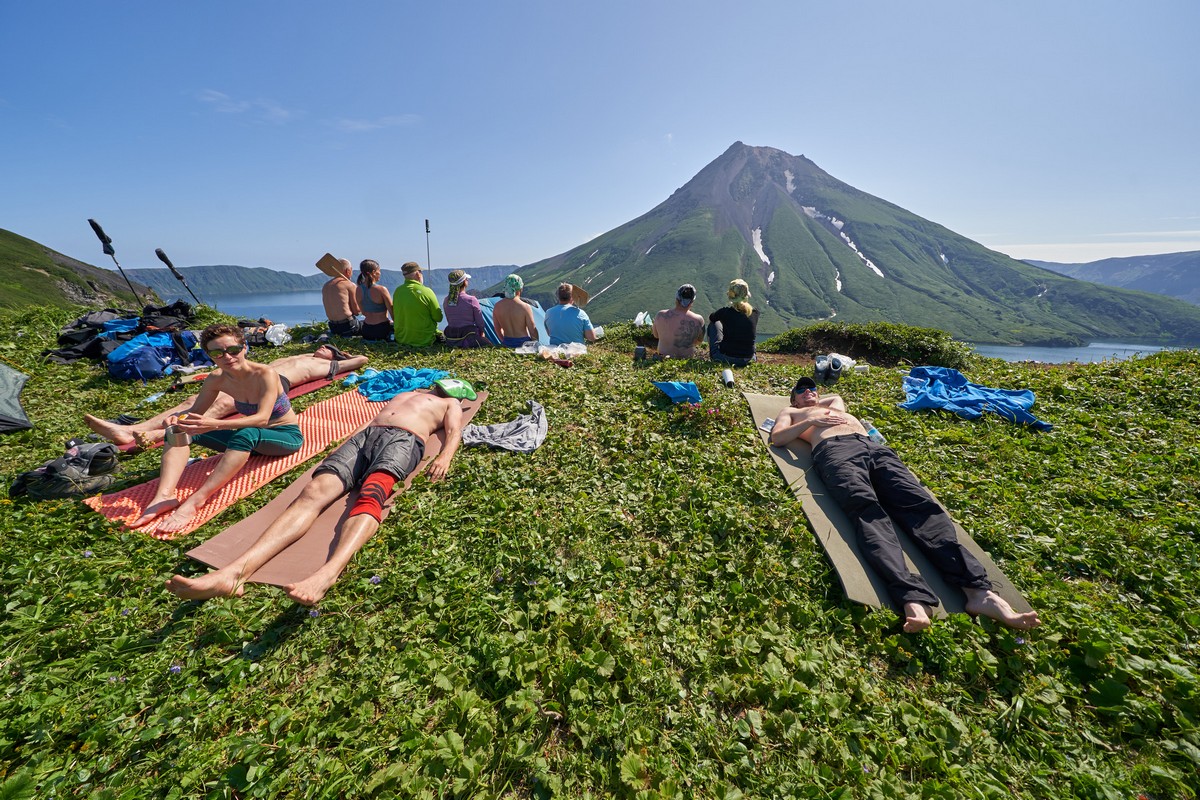 I mean – just look at us: still staring intently at the vista before us – and it was the second day already ->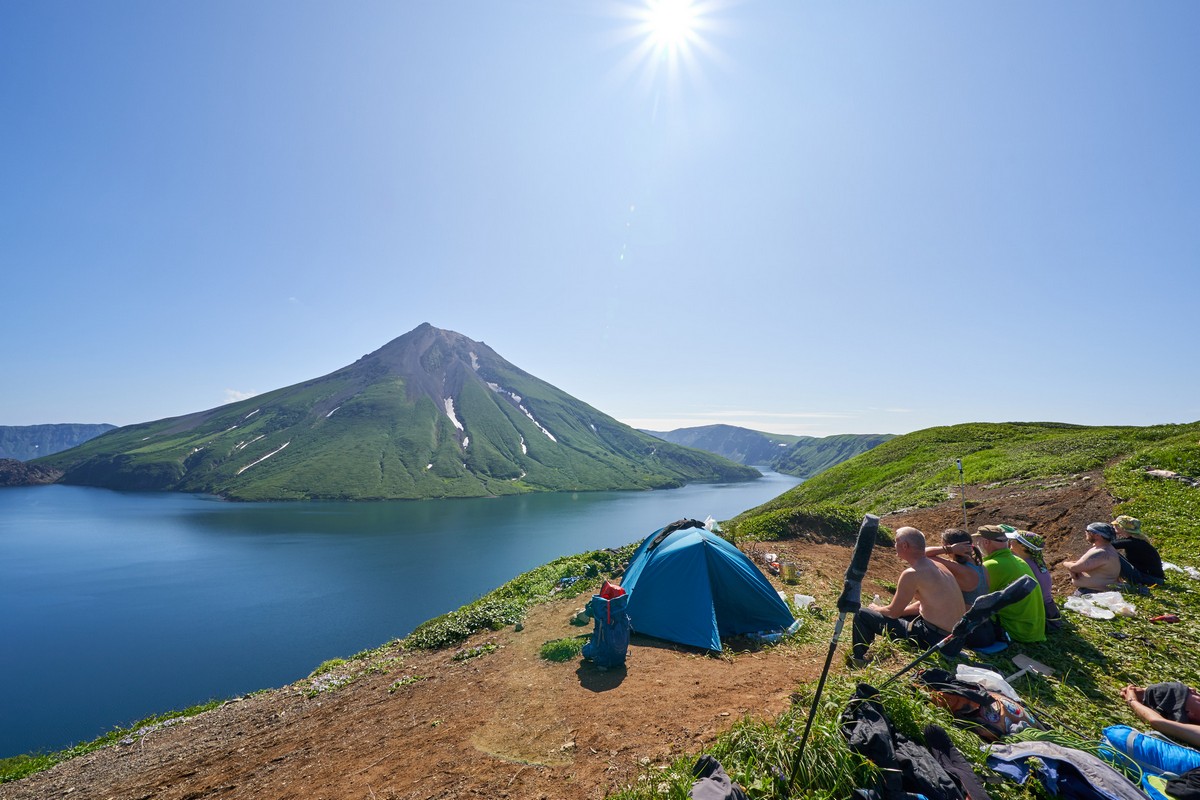 Meanwhile, some of us…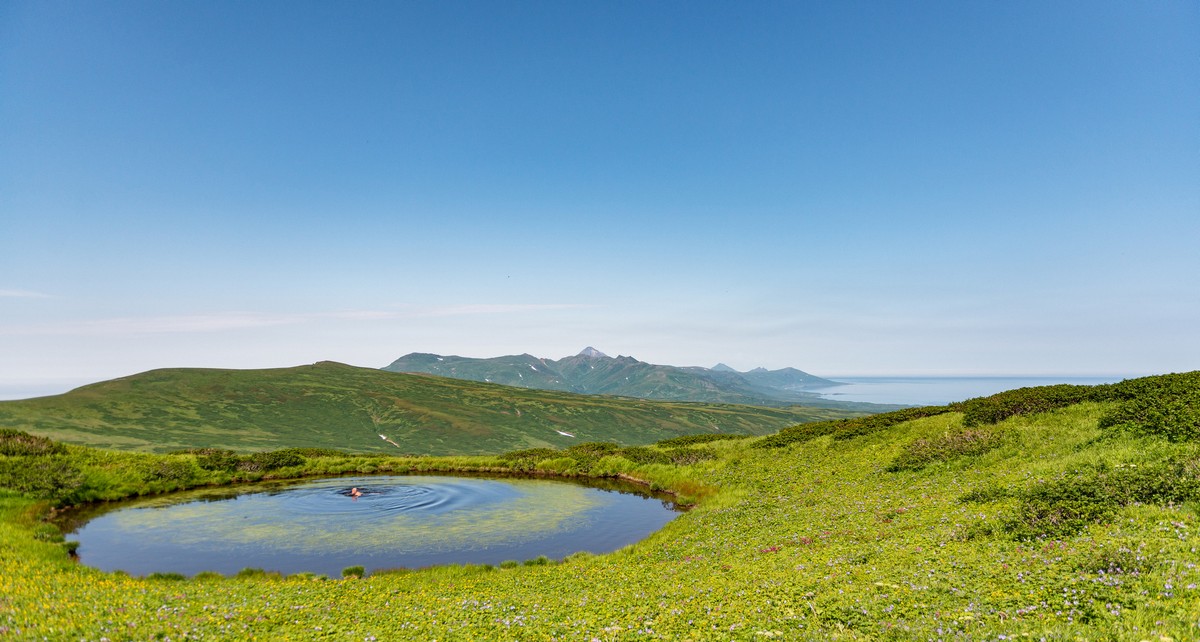 …Well, there are hardly showers installed on Krenitsyna now are there?!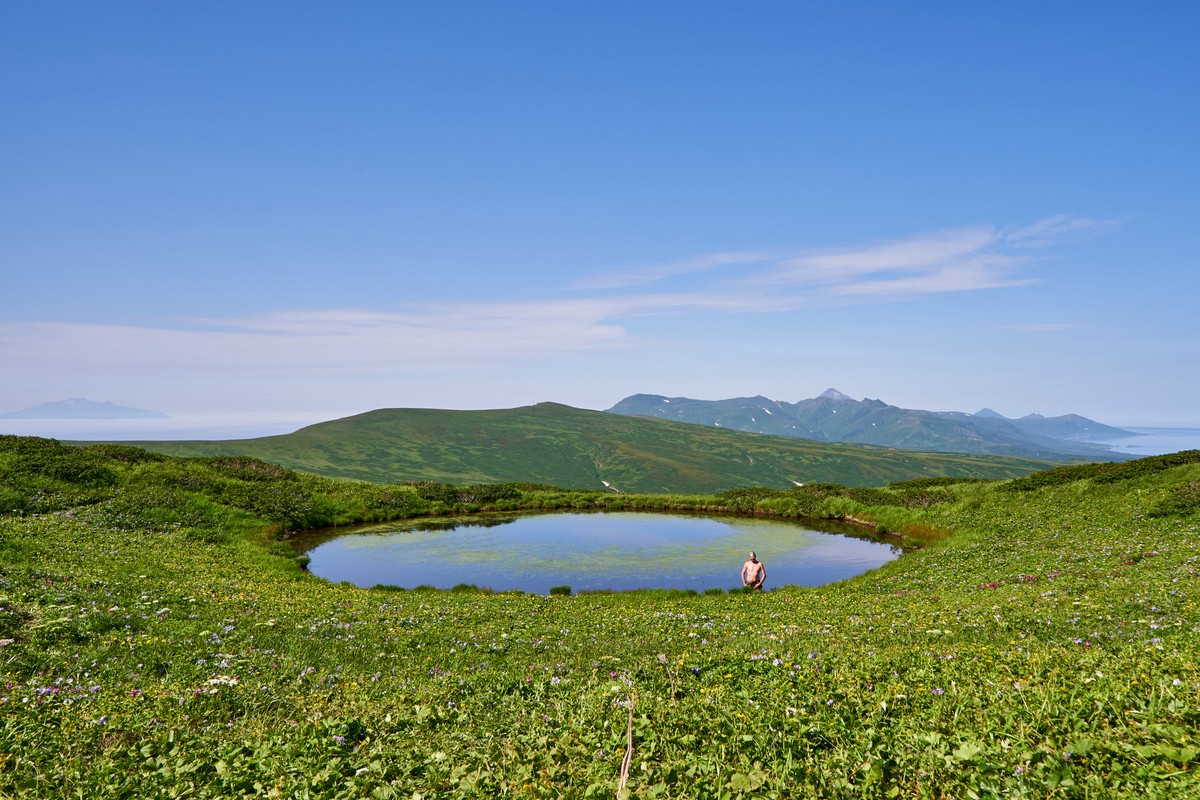 Of course we wanted to get up to the top of the peak over there ->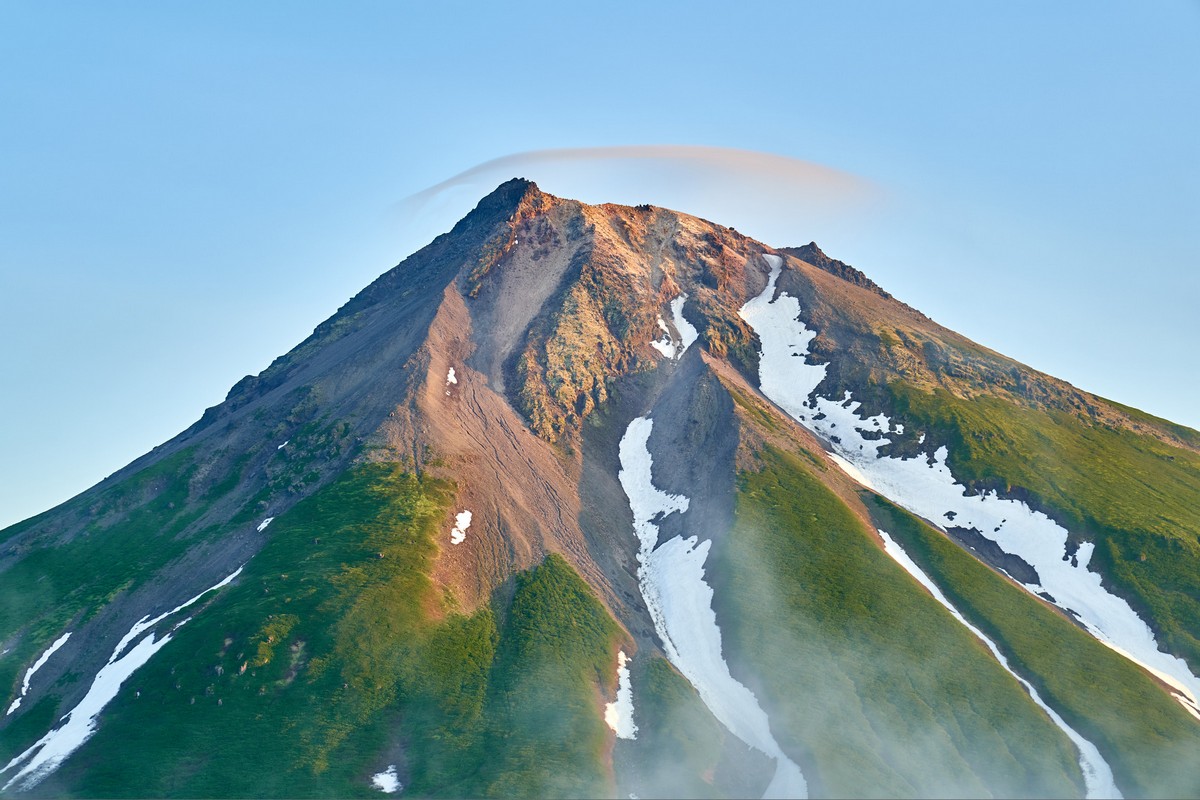 Yes – that peak there with the Donald Trump hair ).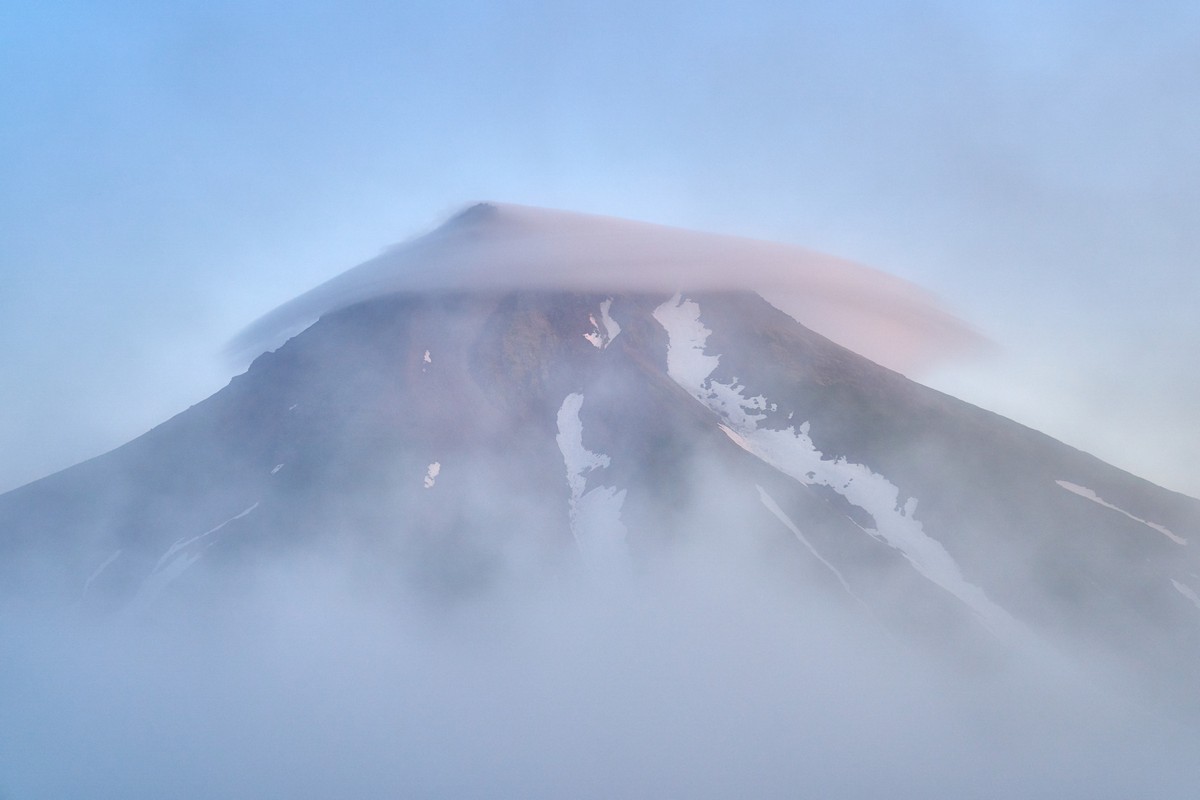 Check this: the moon right above the peak – specially for us!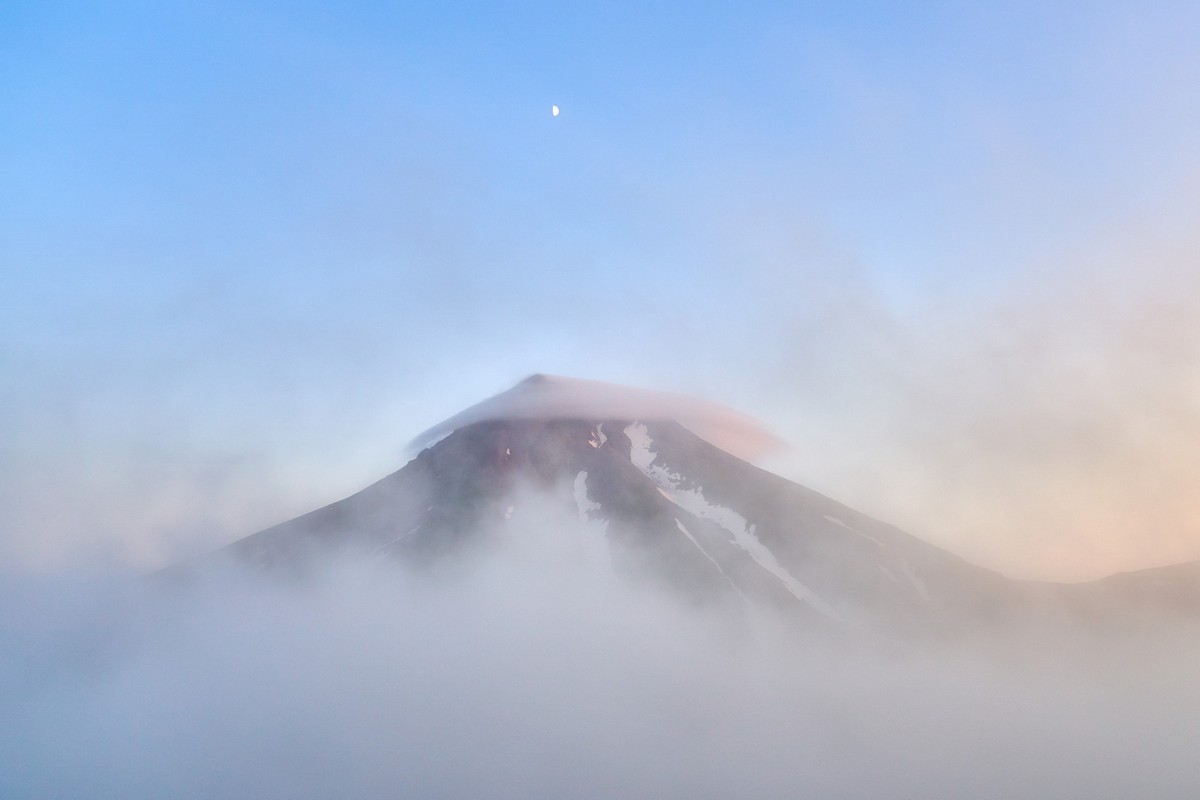 So, there he is – the King of the Volcanoes. Just a quick climb – surely? It's only 900+ meters up from the lake. Which reminds me – we need to navigate that lake first…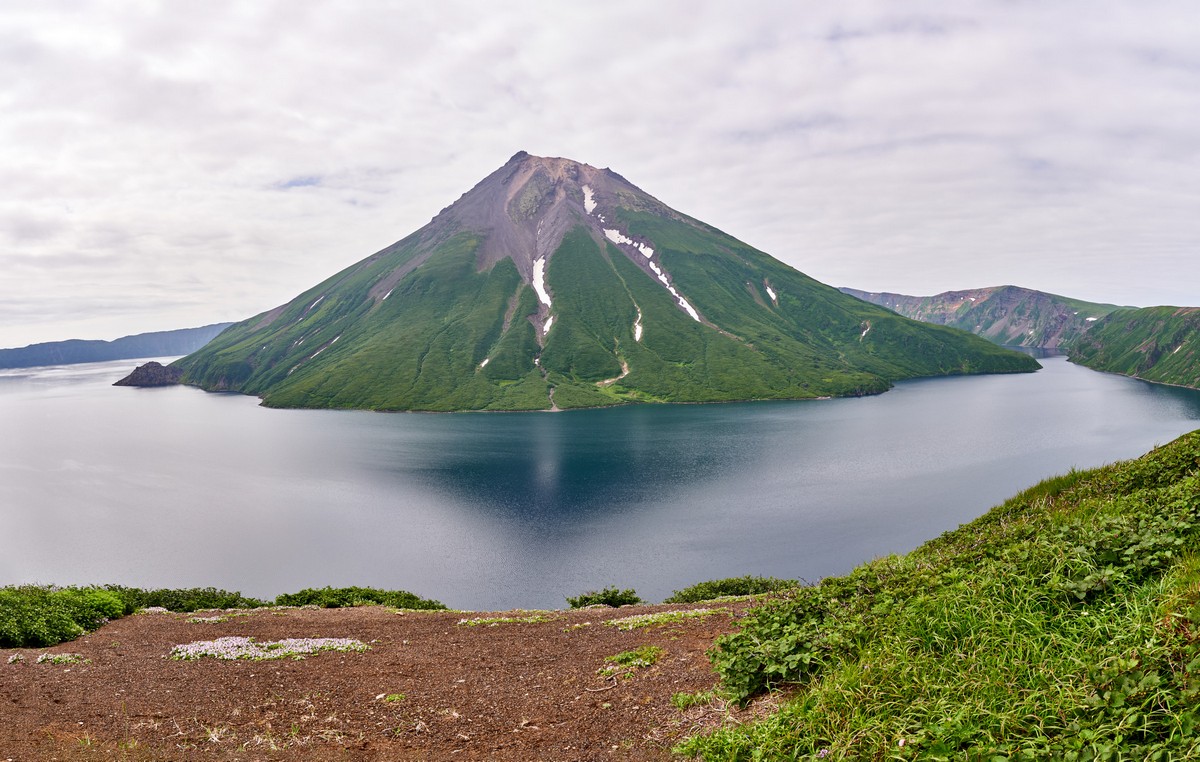 Now, if you look real carefully…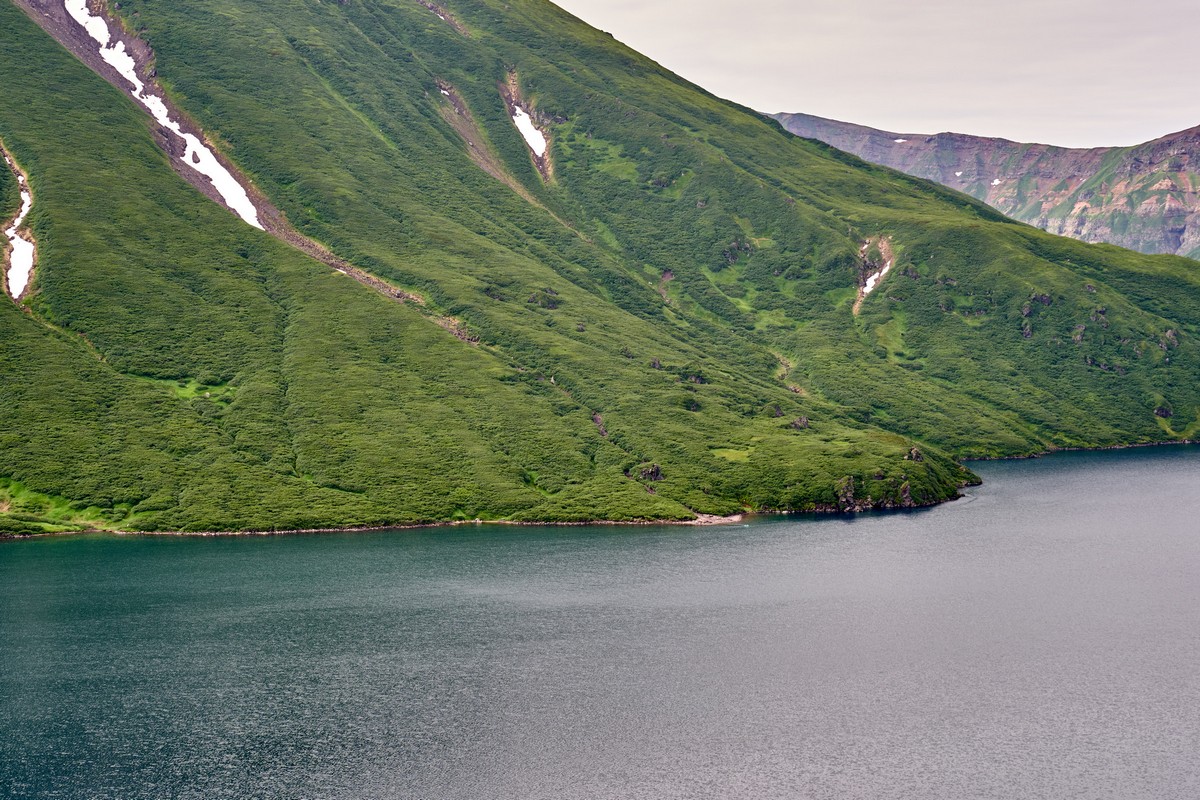 …And increase the resolution – you can see the tiny dinghy two heroes from our group used to get over to the volcano in their attempts to conquer it!
Now, getting to the top of Krenitsyna Volcano is technically possible. Scientists have done it, tourists have done it, even skiers have done it (who then skied back down). However, it's no walk in the park: you need to drag a dinghy with you in addition to the tents and other kit you'll probably have on your back in the first place; then you need to get down to the lake; then make the crossing; then climb up to the top; then get back down; then back over the lake. Ouch!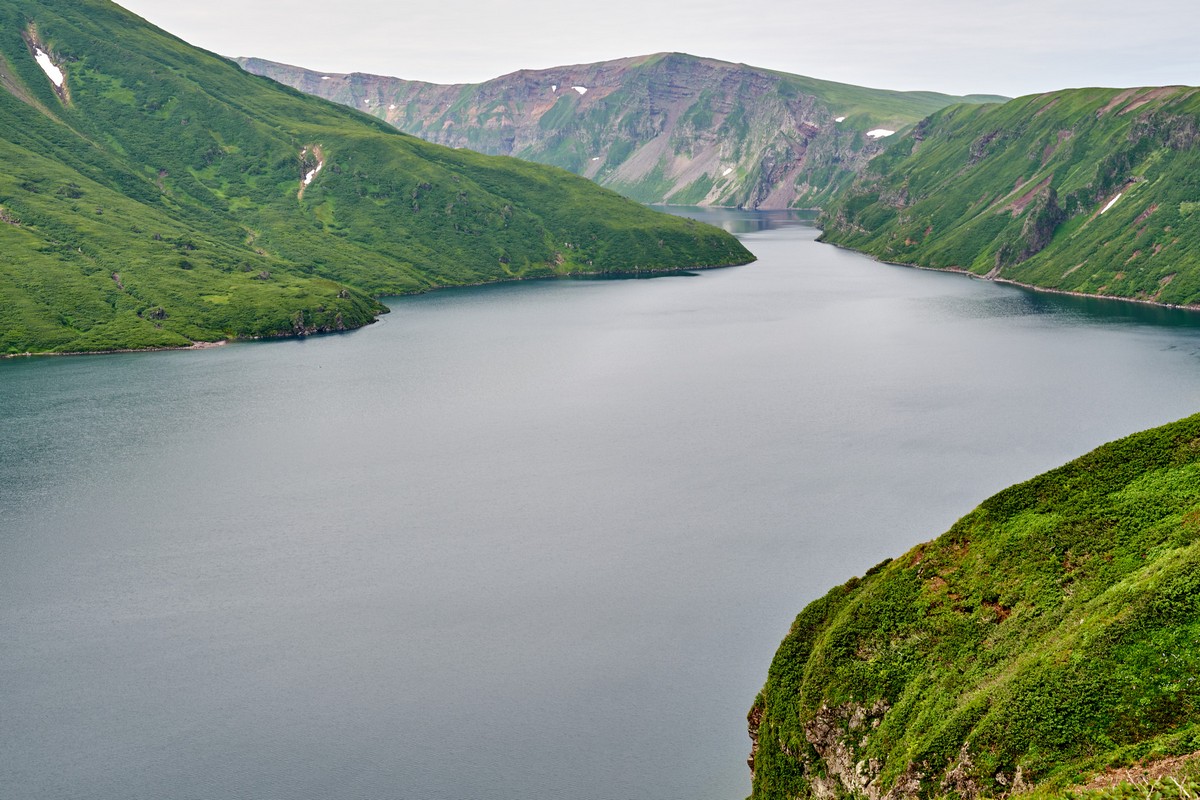 This is where they wanna go: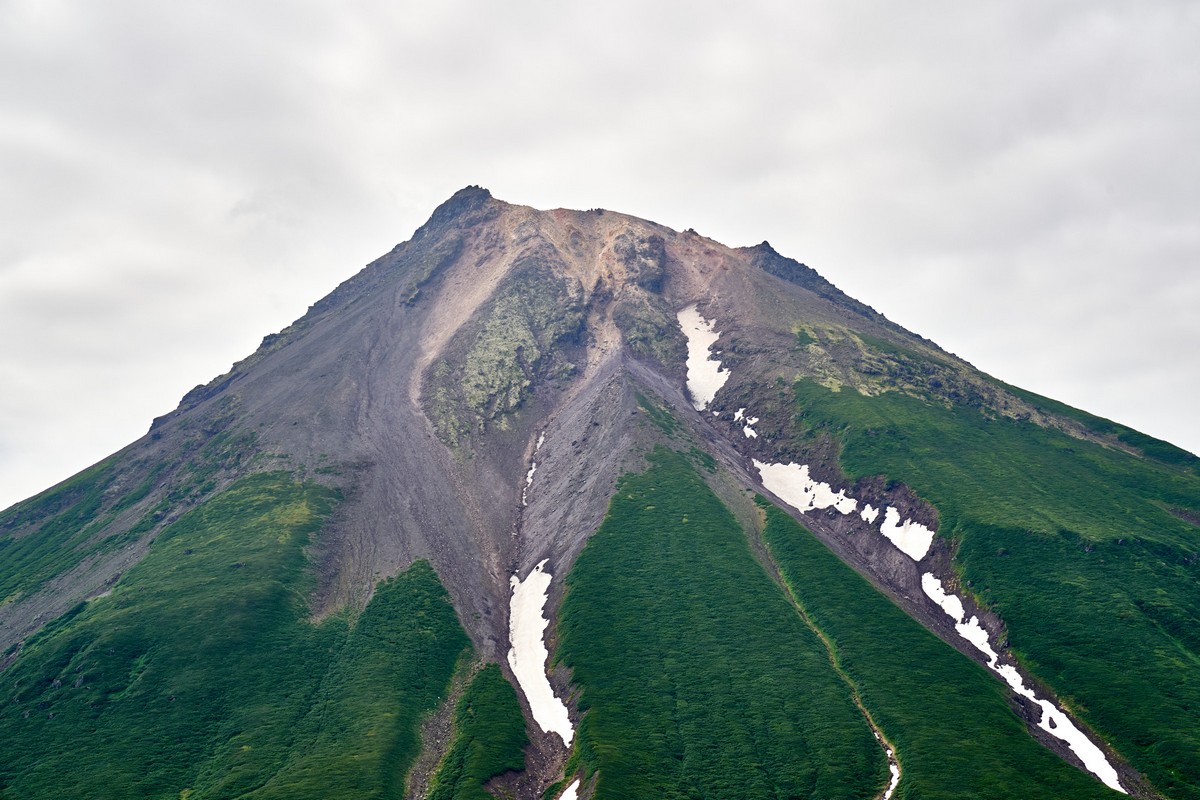 And, here they are on the lake. This pic shows just how wide that lake really is!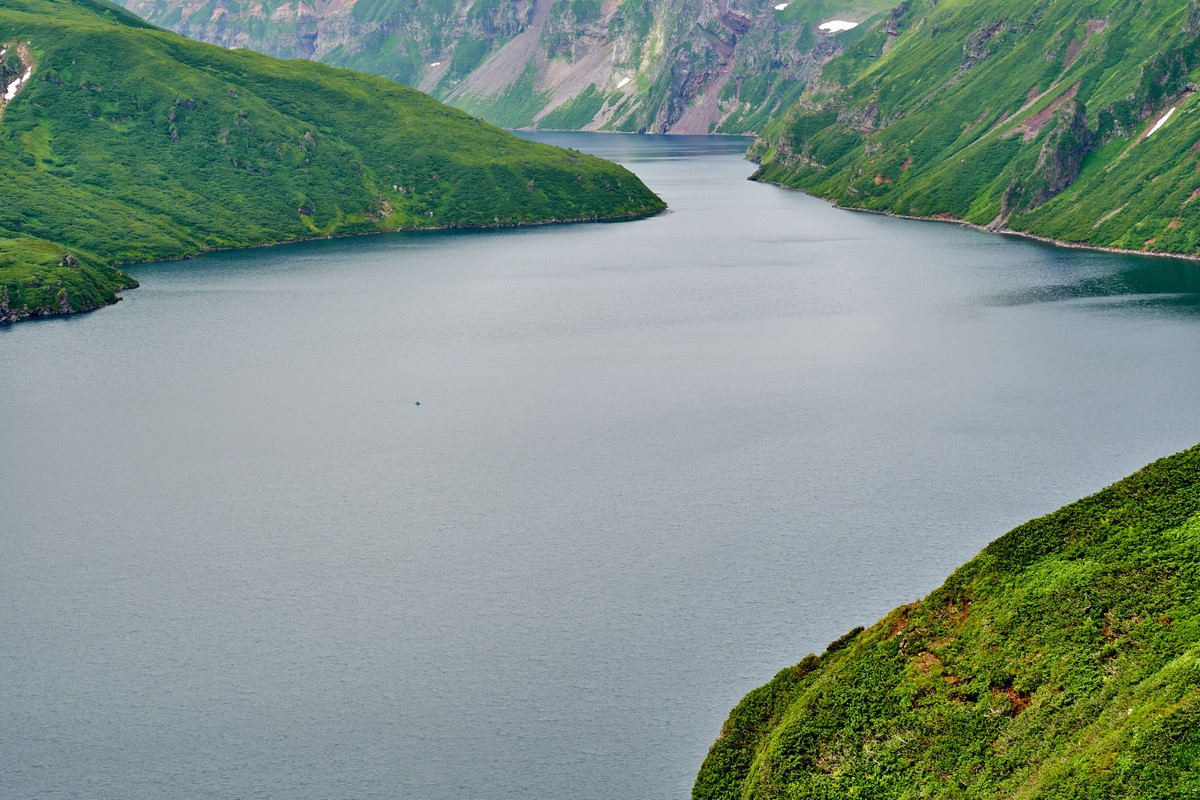 Hmm. It looks a bit rocky – and steep – up there toward the top too…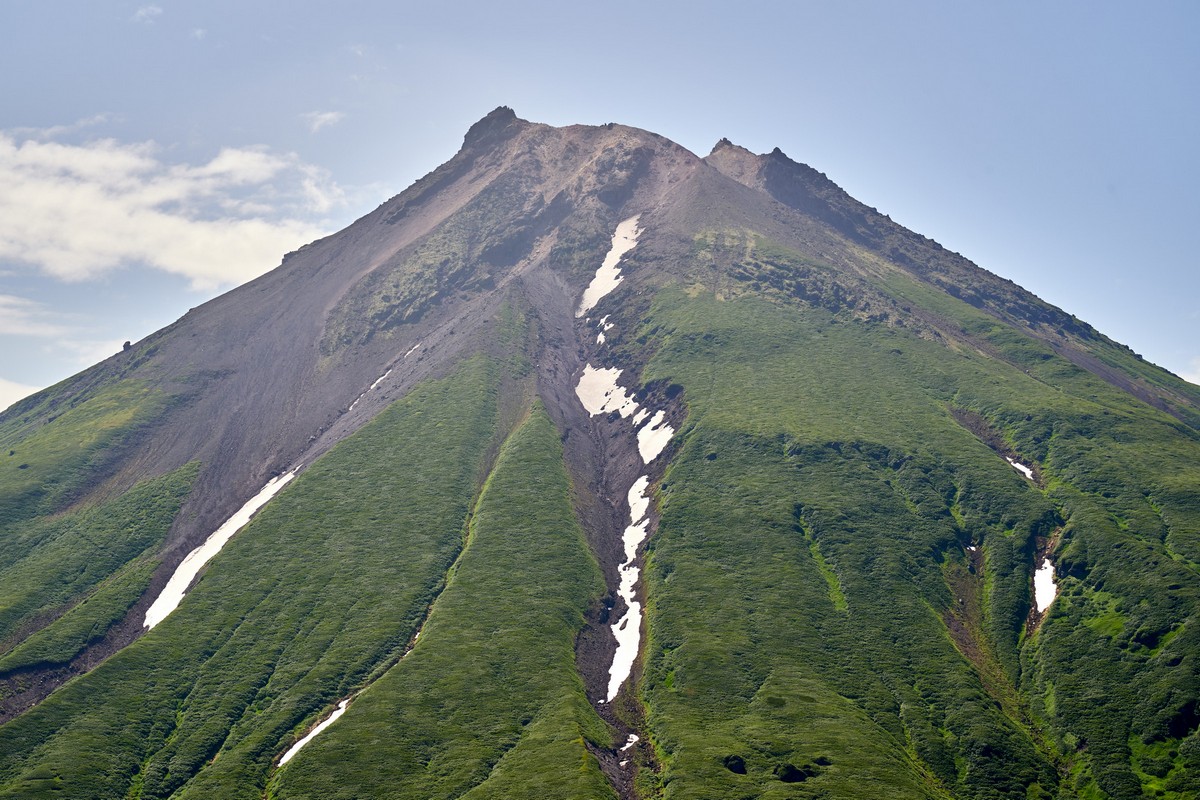 There are gentler slopes up the side, but they're all covered in dense shrubbery that would make the going even tougher if not impossible.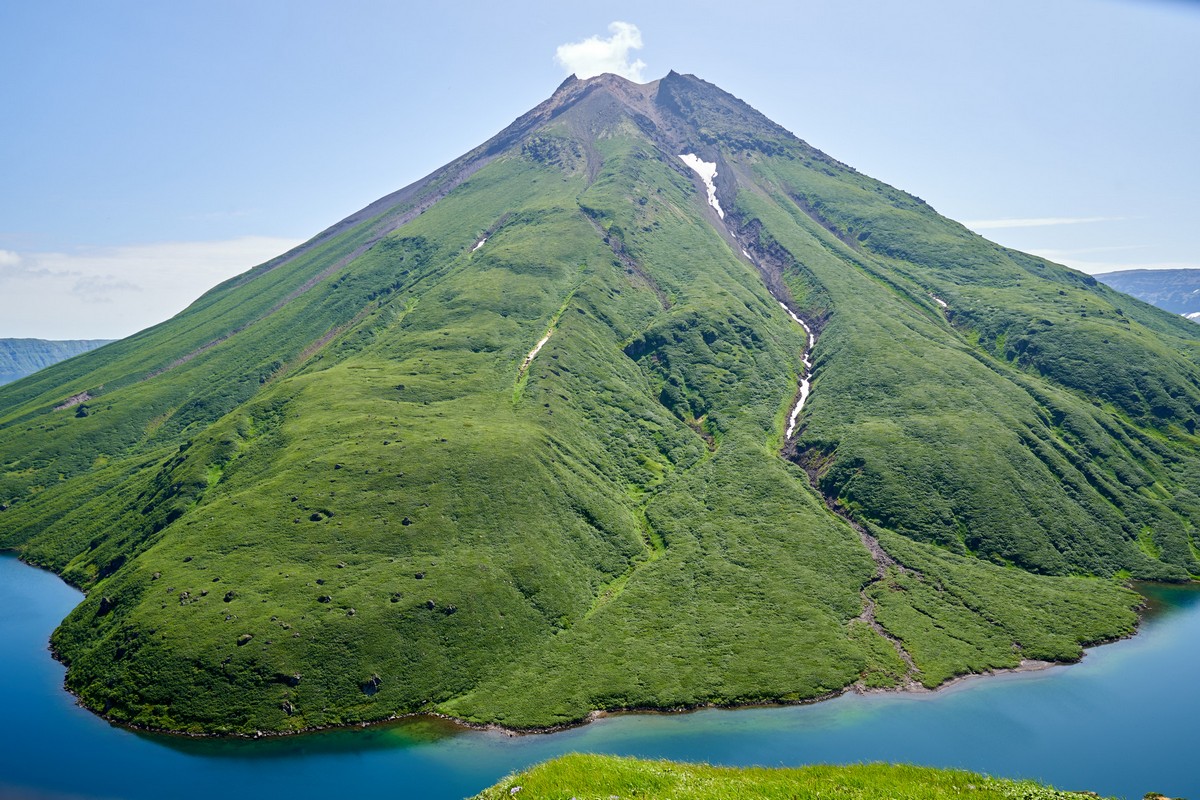 And talking of steep and shrubby – the slopes down from our camp need to be descended first: also no easy task: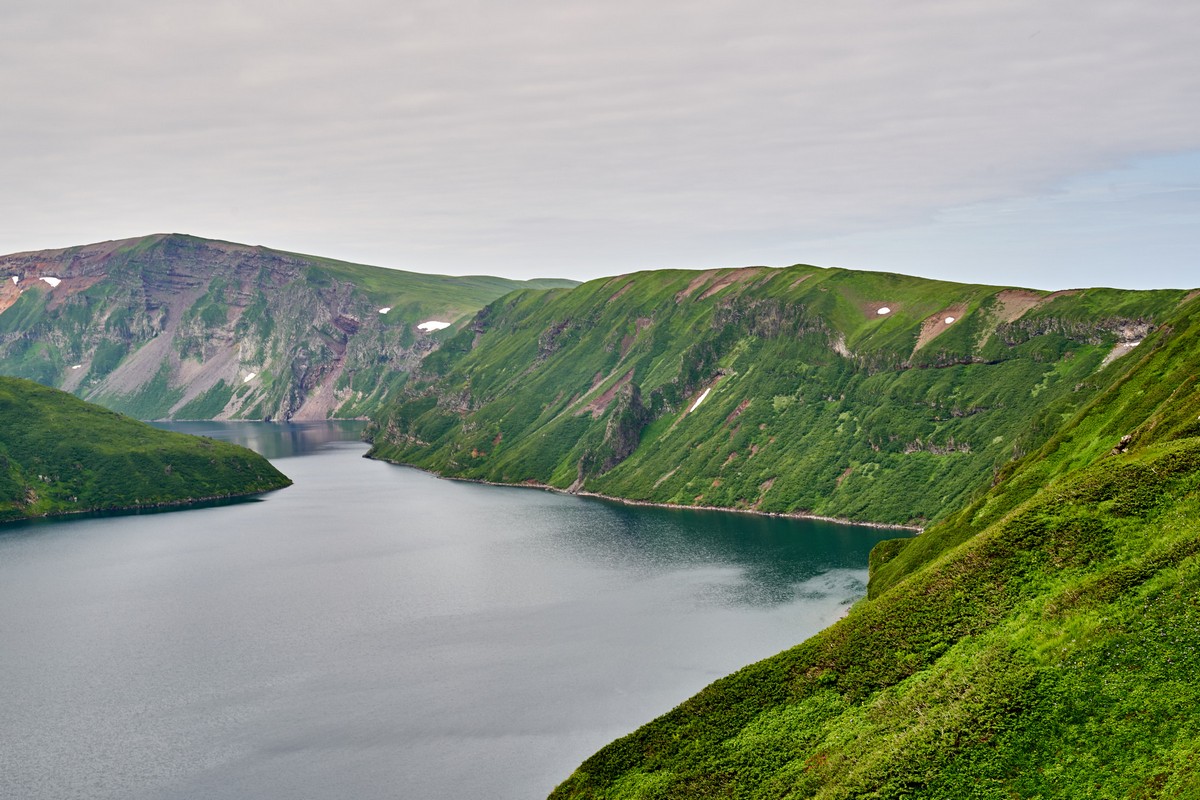 Maybe over here's better? ->
Actually, there is one good route down that's doable – just…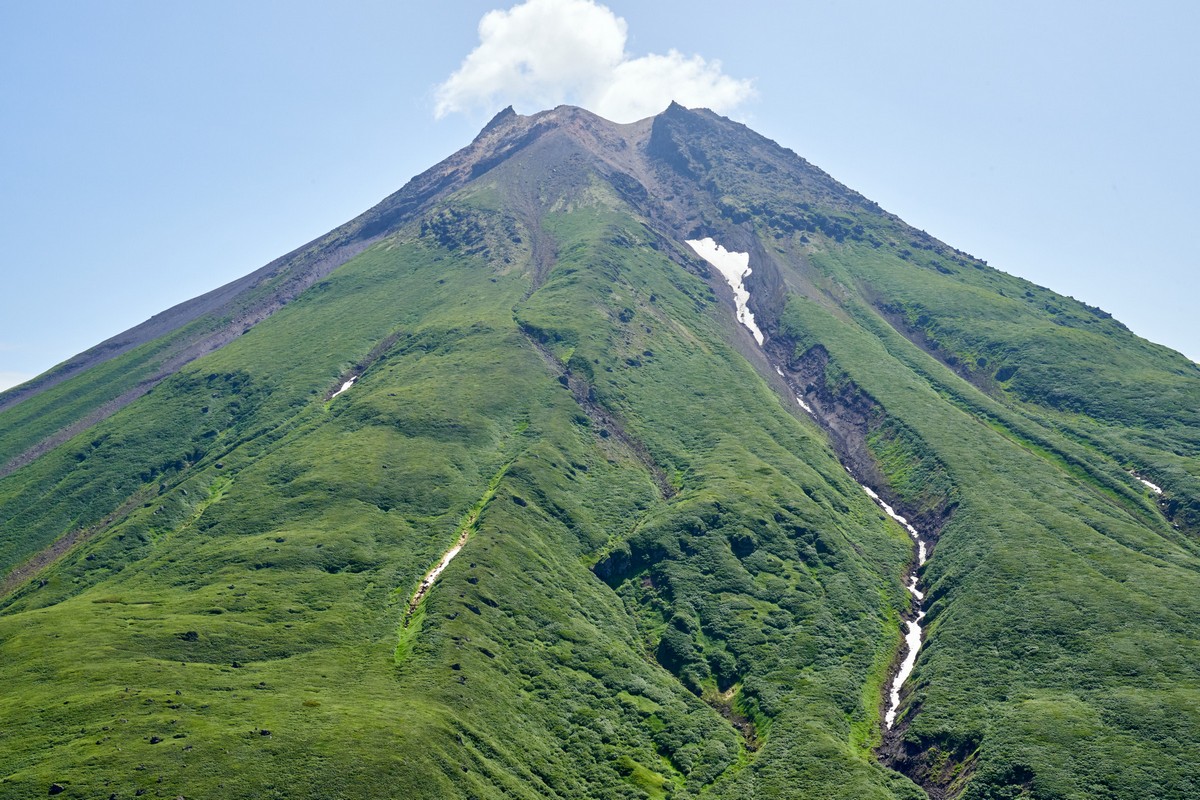 …I say 'just' as, well, such a descent isn't for everyone. Only a very fit, strong, sporty type should even entertain the idea. Now, I consider myself to be fit and strong – I go to the gym whenever I can – but I'm hardly the sporty type. Still, I did entertain the idea – but that's all ). Maybe one day – maybe next time?…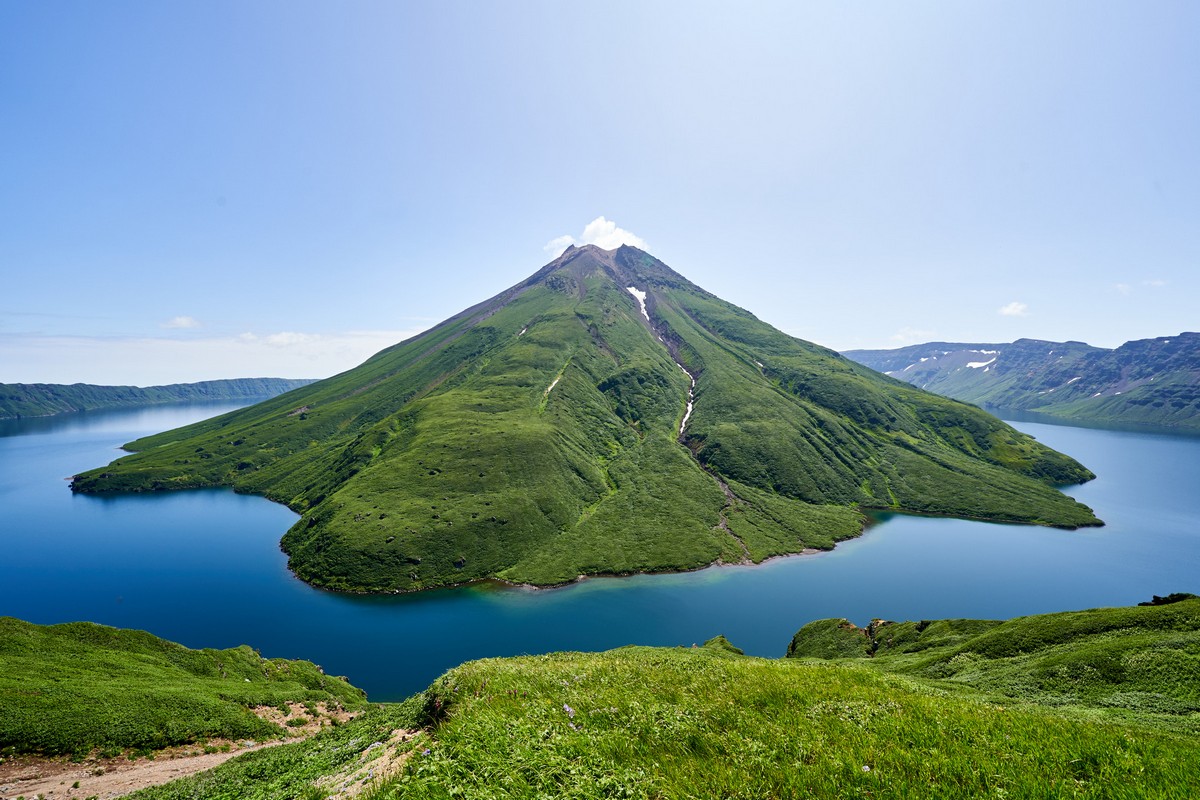 Climbing Krenitsyna is like running a marathon: you need to start preparing well in advance. I'll have to do that next time. Also, I reckon, add a few hardware items to make things a little easier. Examples: helicopter, motorboat ). Yep: sounds like a plan!…
So, climbing Krenitsyna duly procrastinated for few years, we turned out attention back to the present – and continued to sit and lie and behold the scenery! But even here at Krenitsyna the marginal benefit of that starts to fall – eventually. Accordingly, we went for walkies along the rim of the caldera to get a look at the volcano from different angles.
From one spot it looks like this: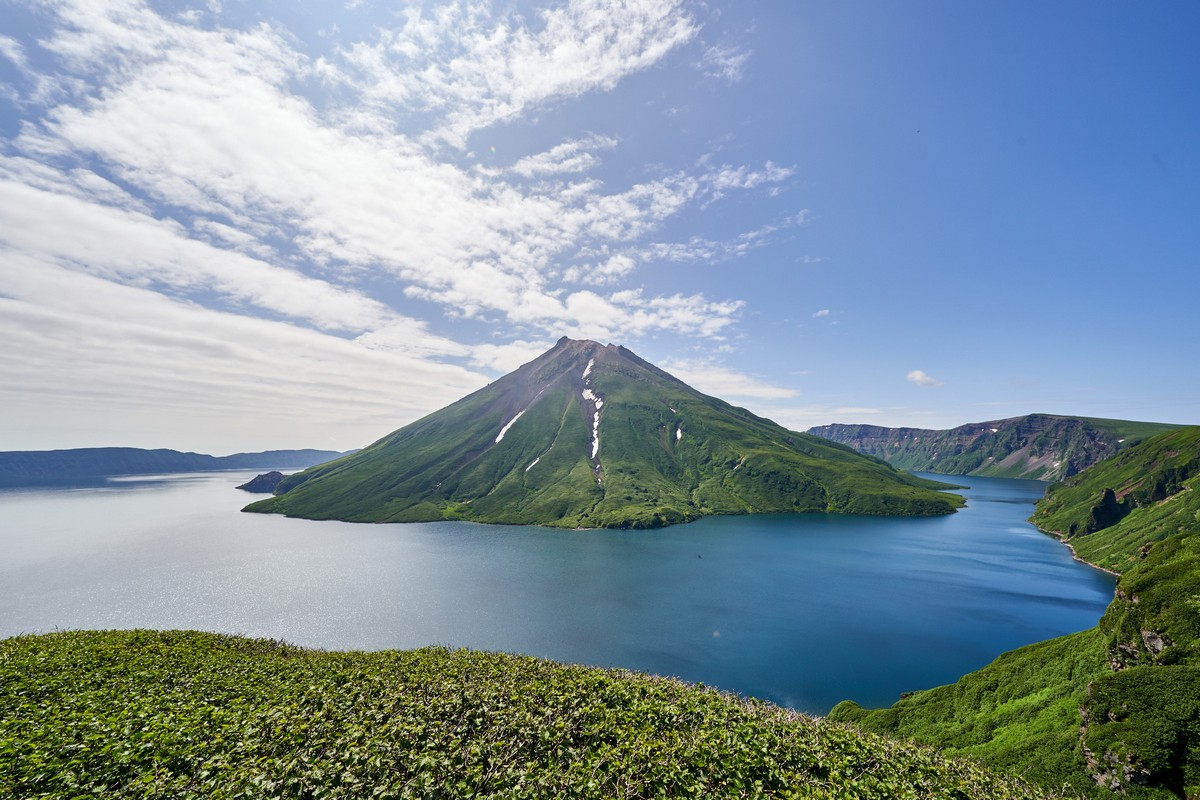 …And from another: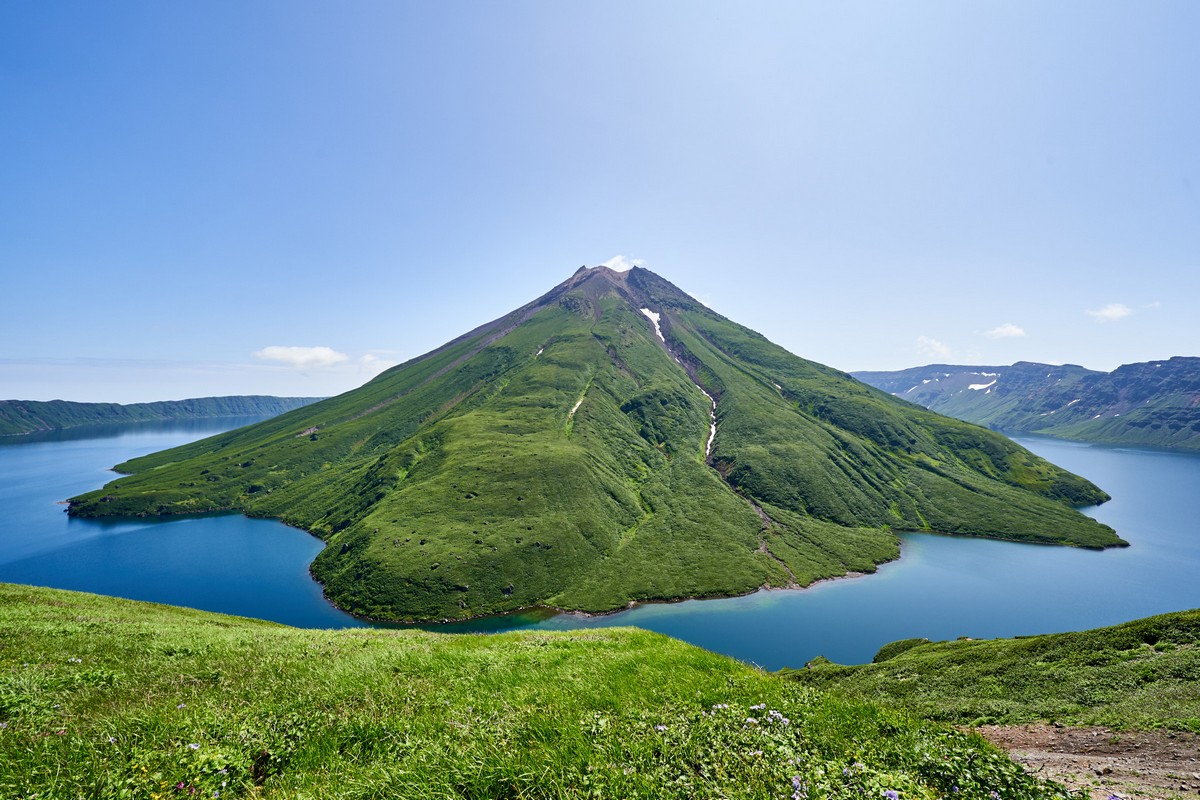 Now, you know me: I love volcanoes and I love walking. So when I get the chance to combine the two – I'm in ecstatic raptures, and here at Krenitsyna was no exception. Here are some of my previous caldera walks, btw: Ksudach (Kamchatka), Bromo (Indonesia), and Kelimutu (Indonesia).
No – I couldn't resist it: here are some pics from those caldera-trekking experiences:
Ksudach in bad weather: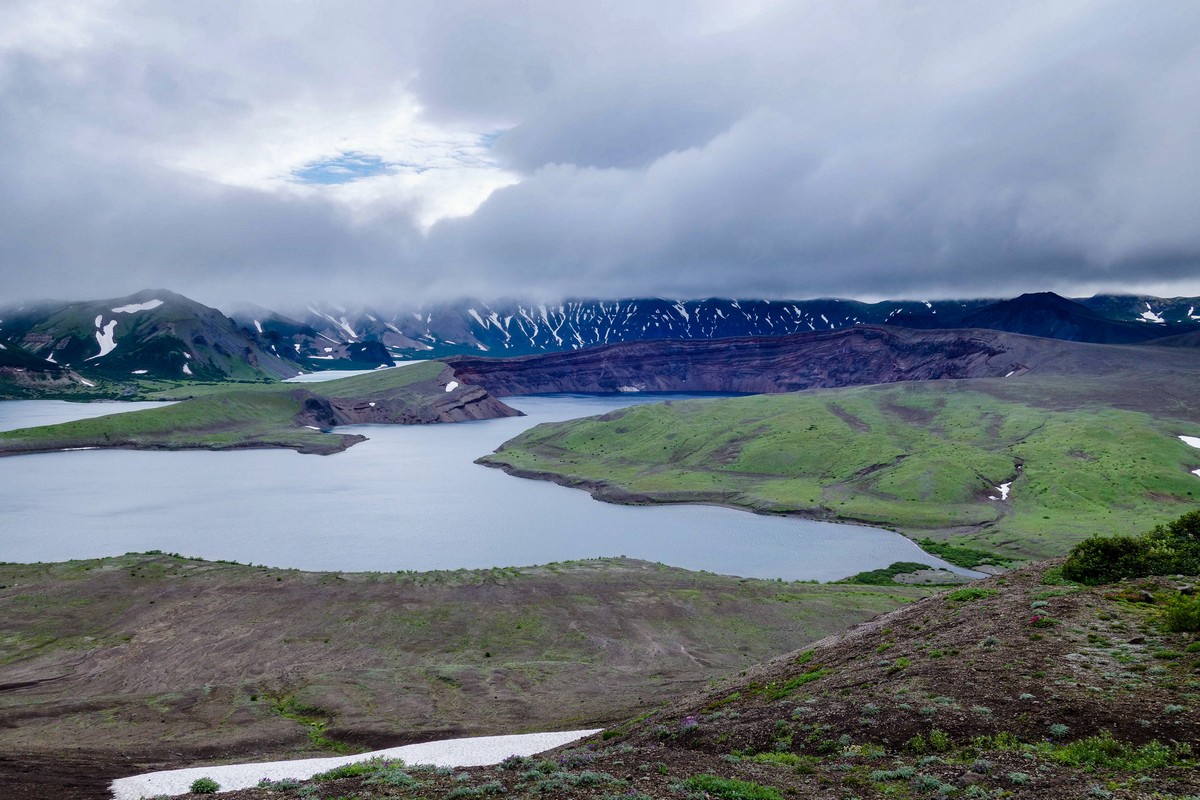 Bromo in the morno: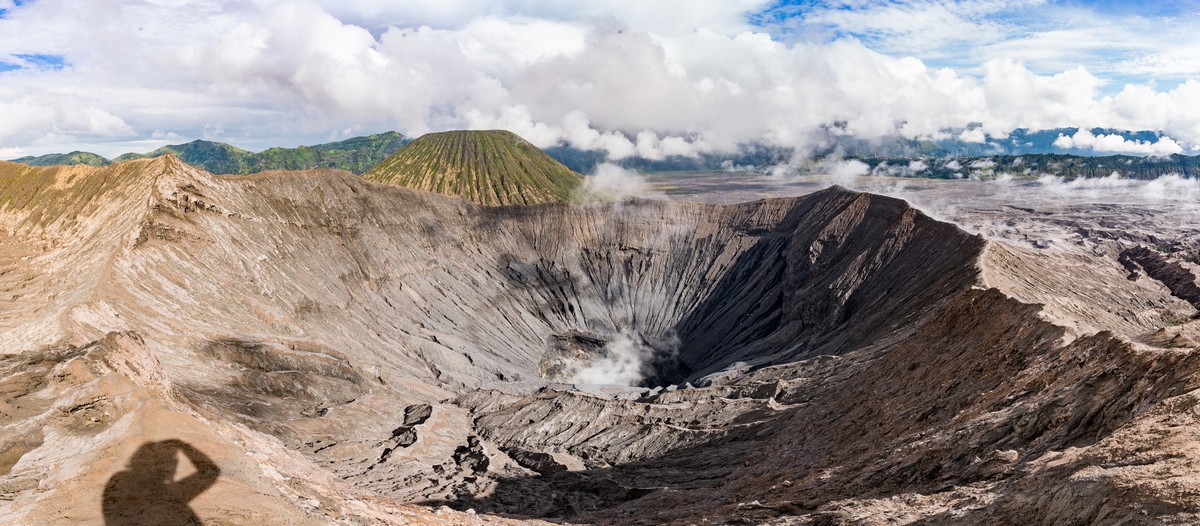 The blue eyes of Kelimutu: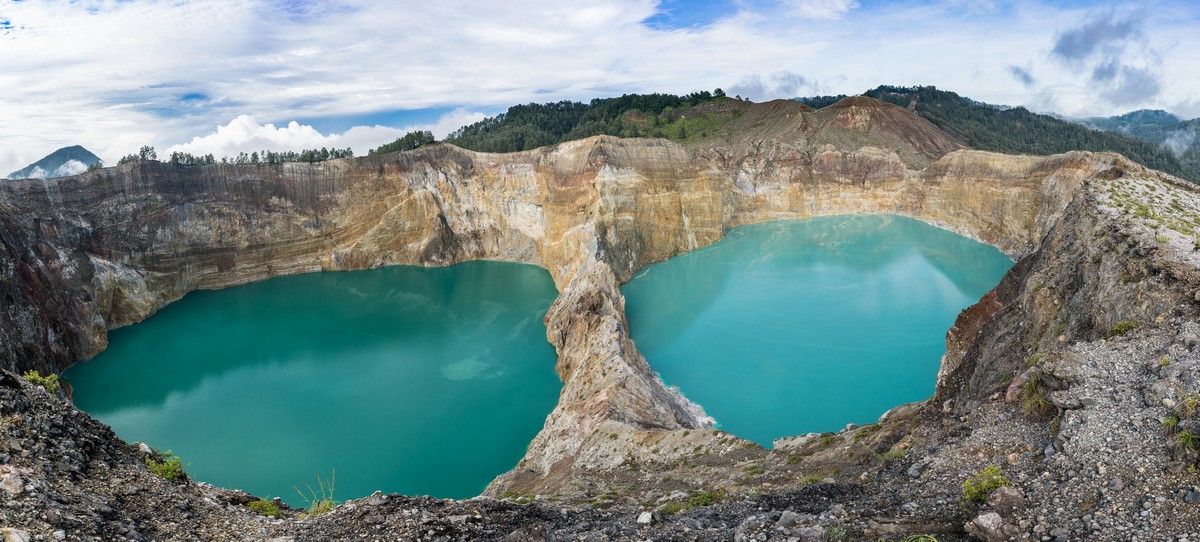 And Krenitsyna? You've seen plenty of the pics already. Here are a few more…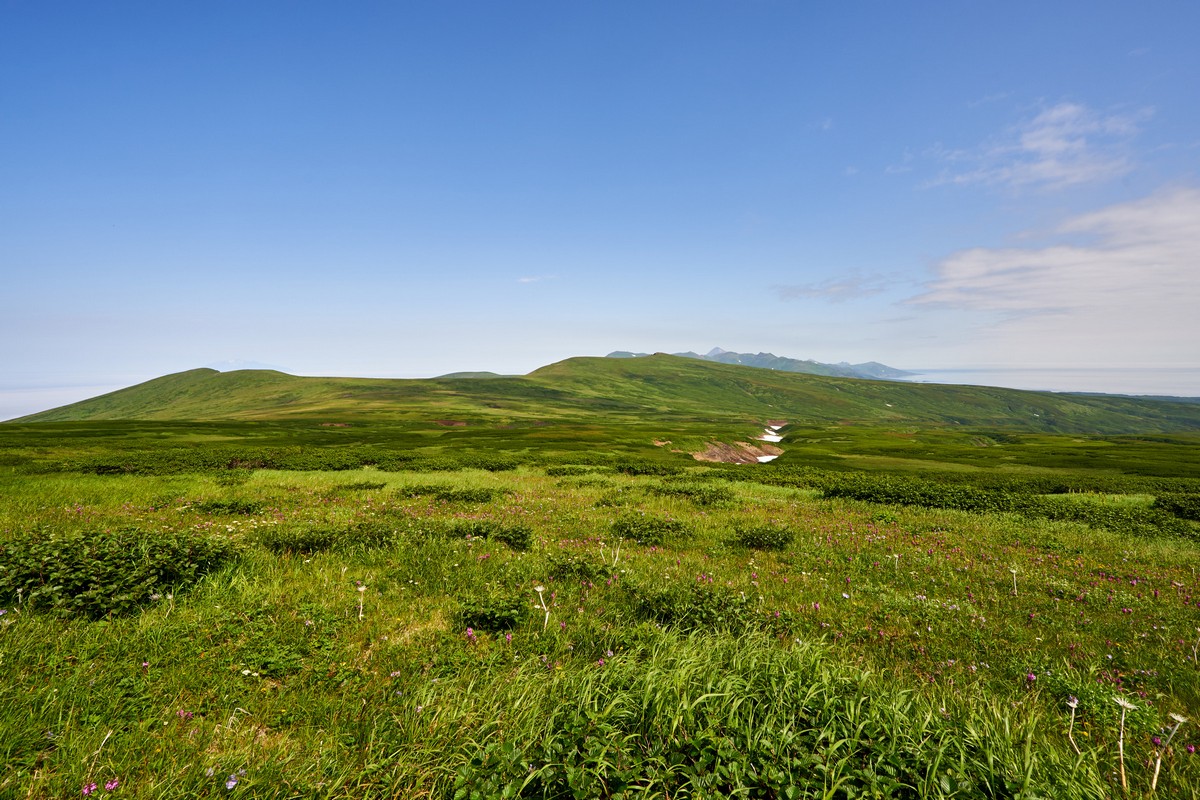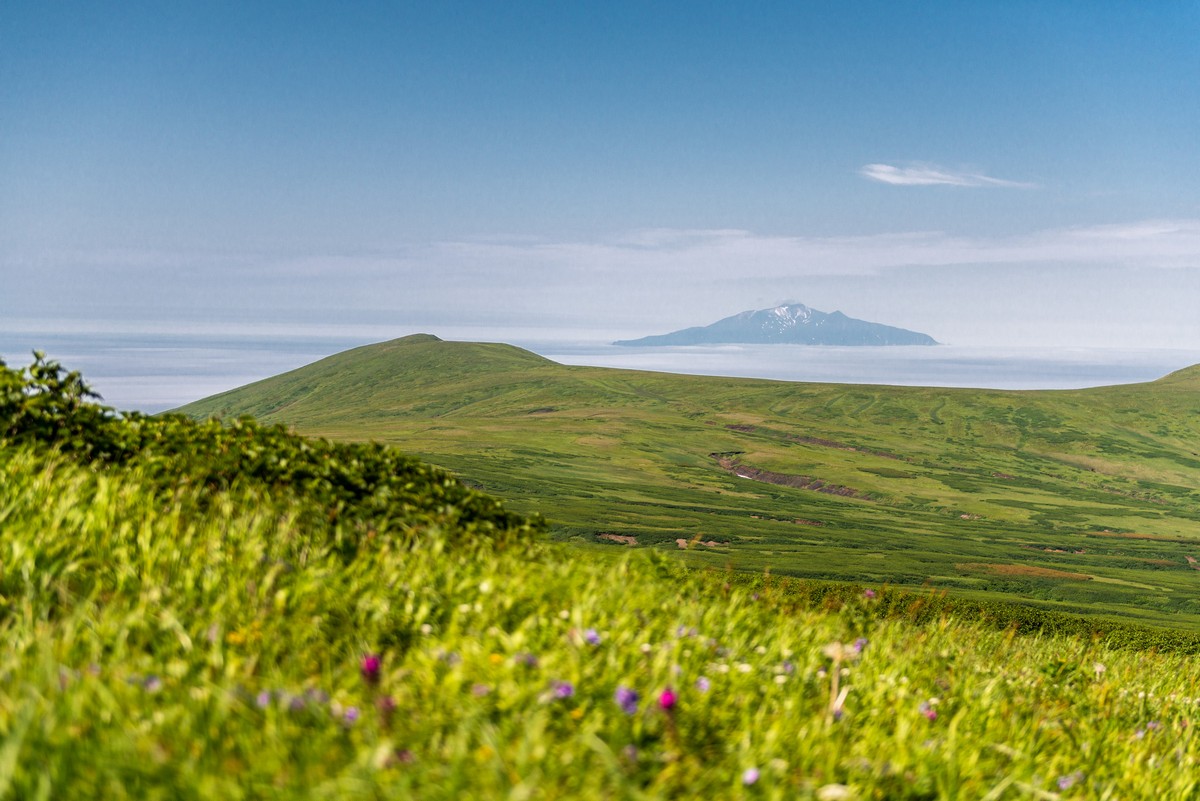 Easy-going. Nice: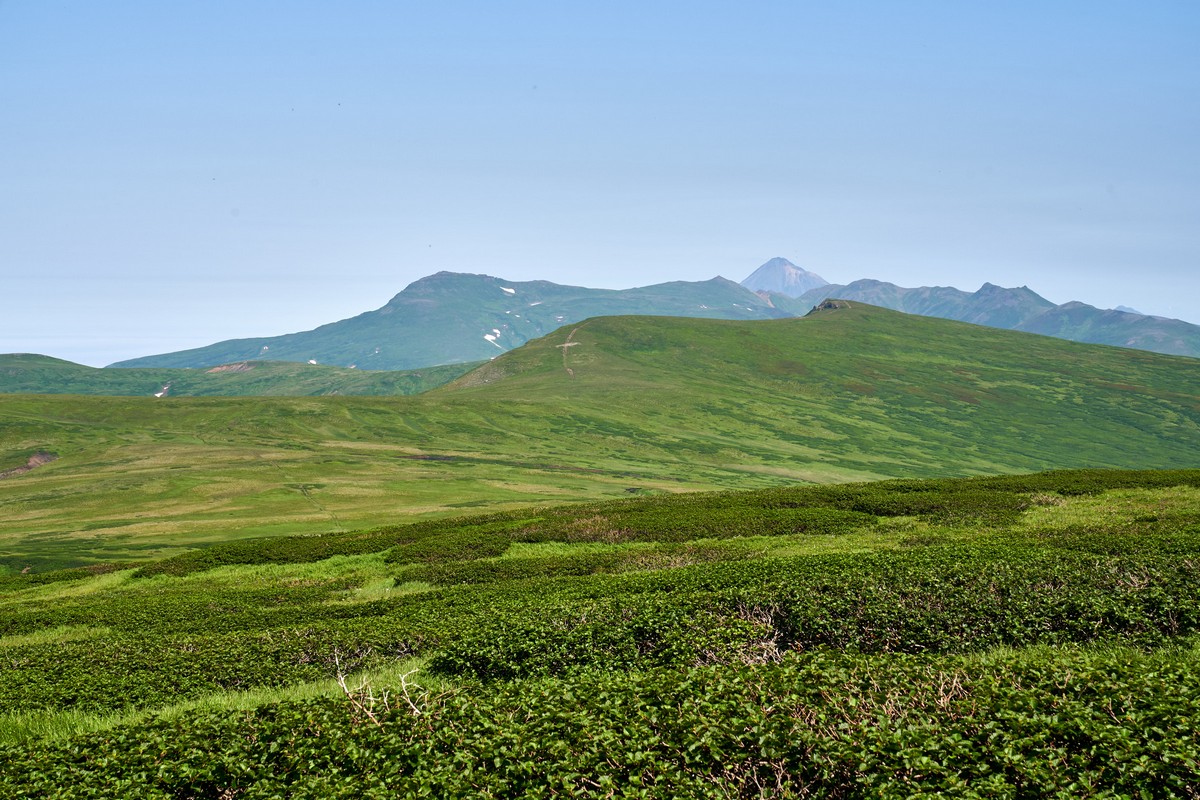 In places the bushes hinder a touch:
We did at one point consider walking the full rim of the caldera. But just one point; for then we remembered that just the diameter of the caldera is 7km. The circumference: 25-50km!! Not doable in a day. And there's no water anywhere to drink; plus all those bushes. Nope. Ouch ->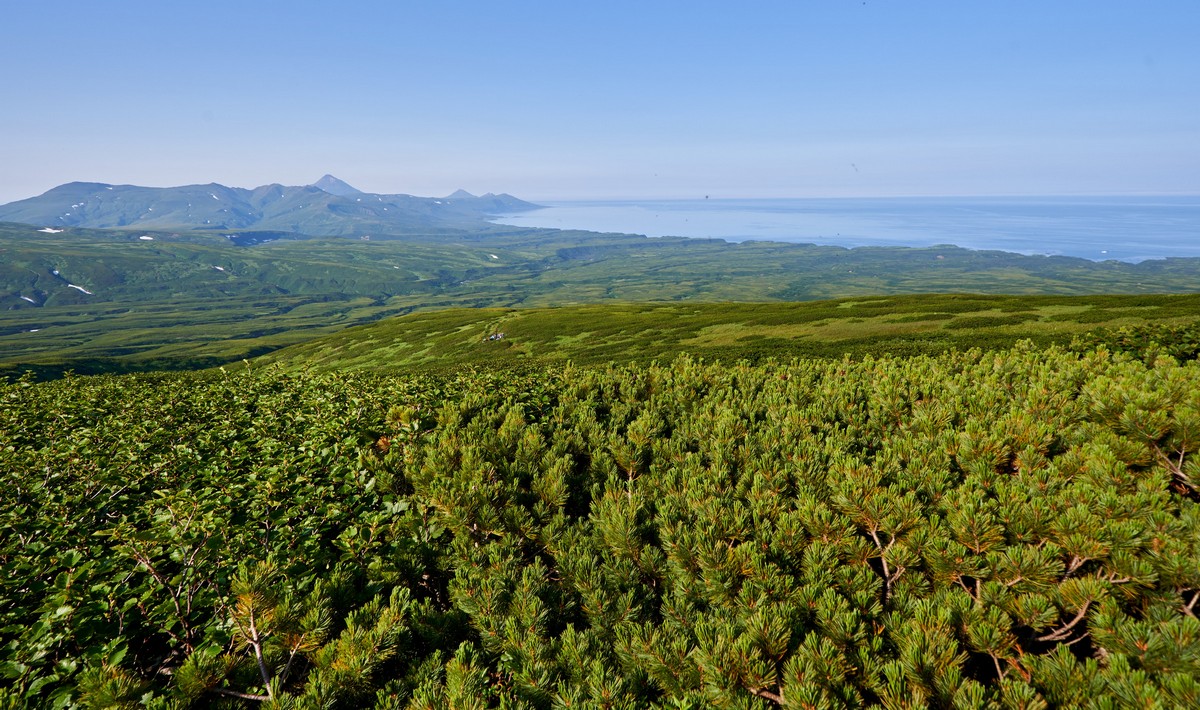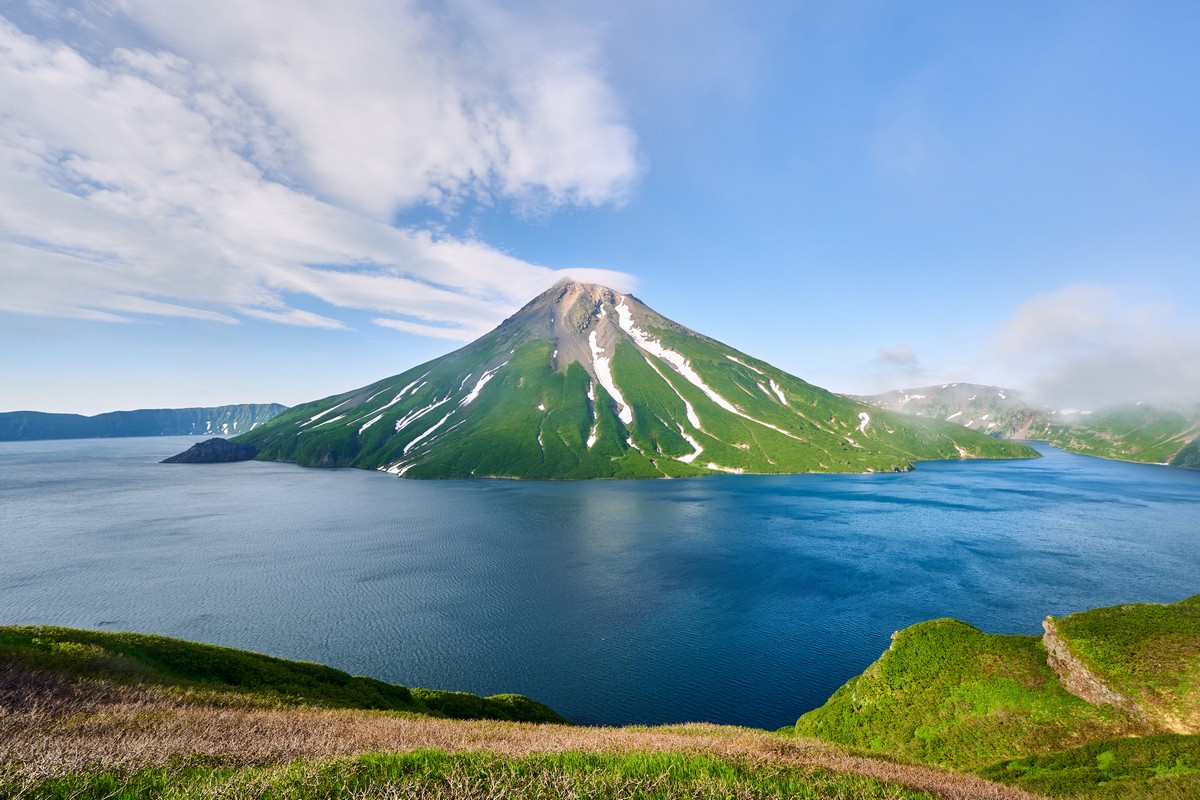 If only someone would cut a path through all that shrubbery. Oh well; one can dream.
Enough of dreaming; time to get back to the Athens…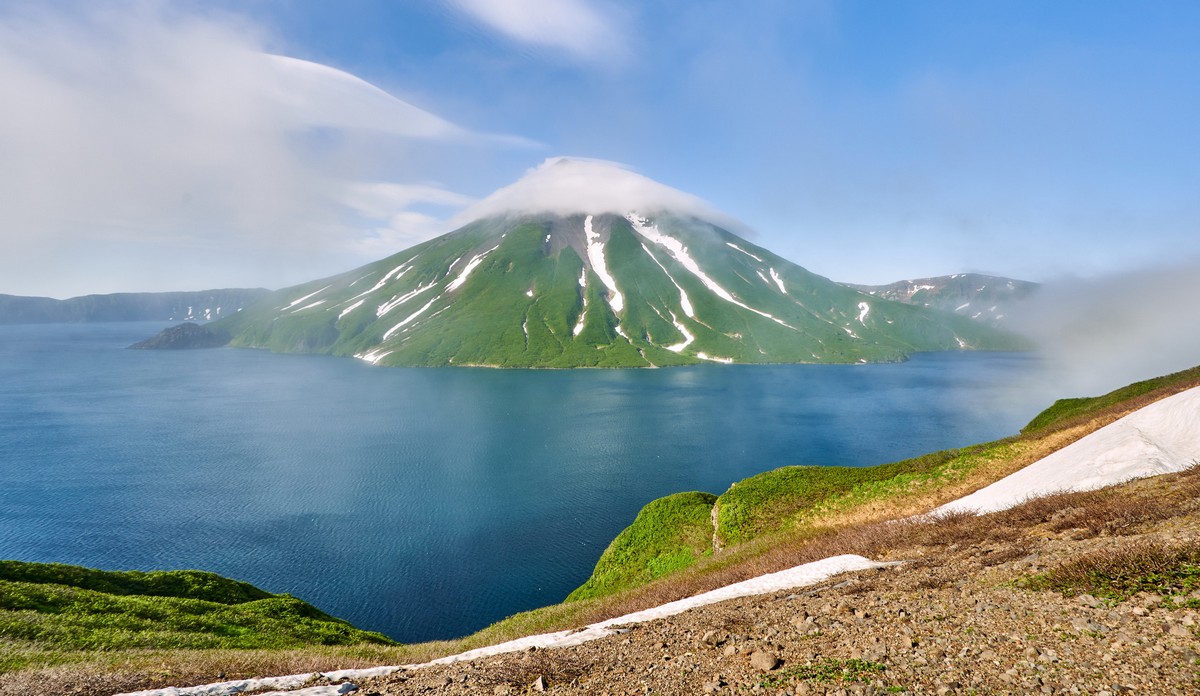 The volcano starts to attract The Donald hair again…
Just like at the theater: the actors make their bows, the audience applauds, down comes the curtain! Here's the full posse, btw: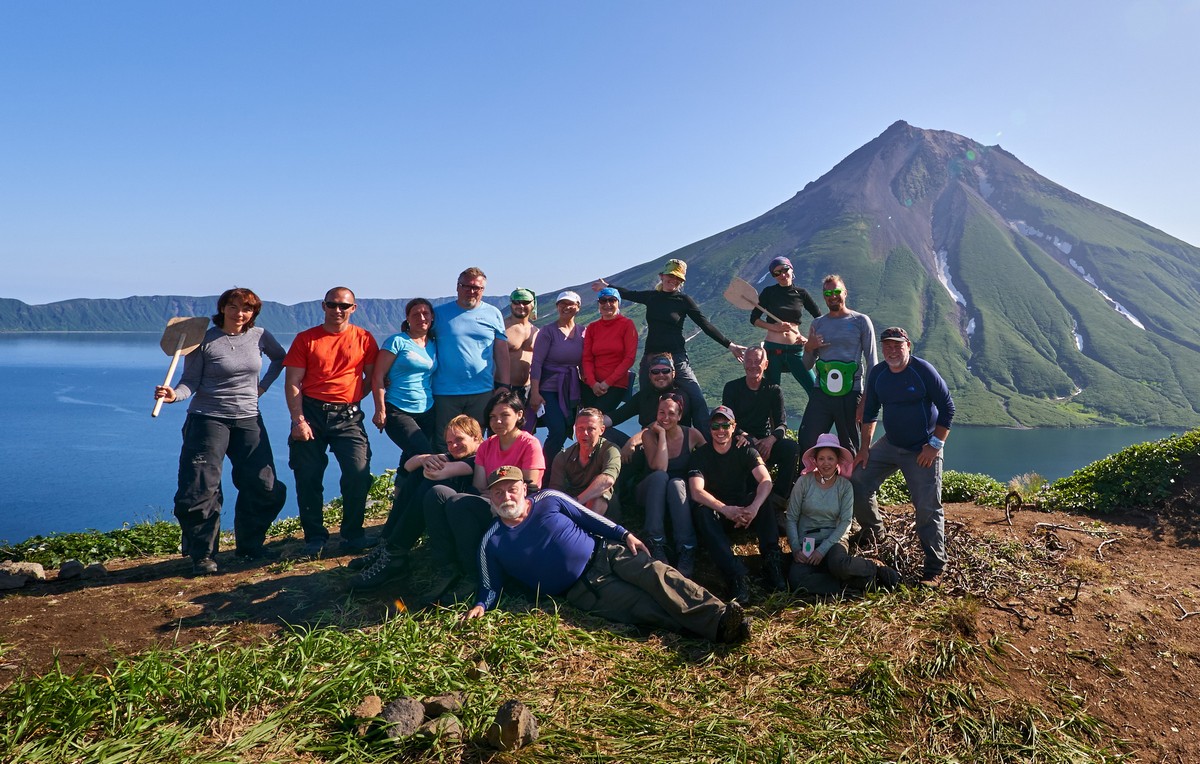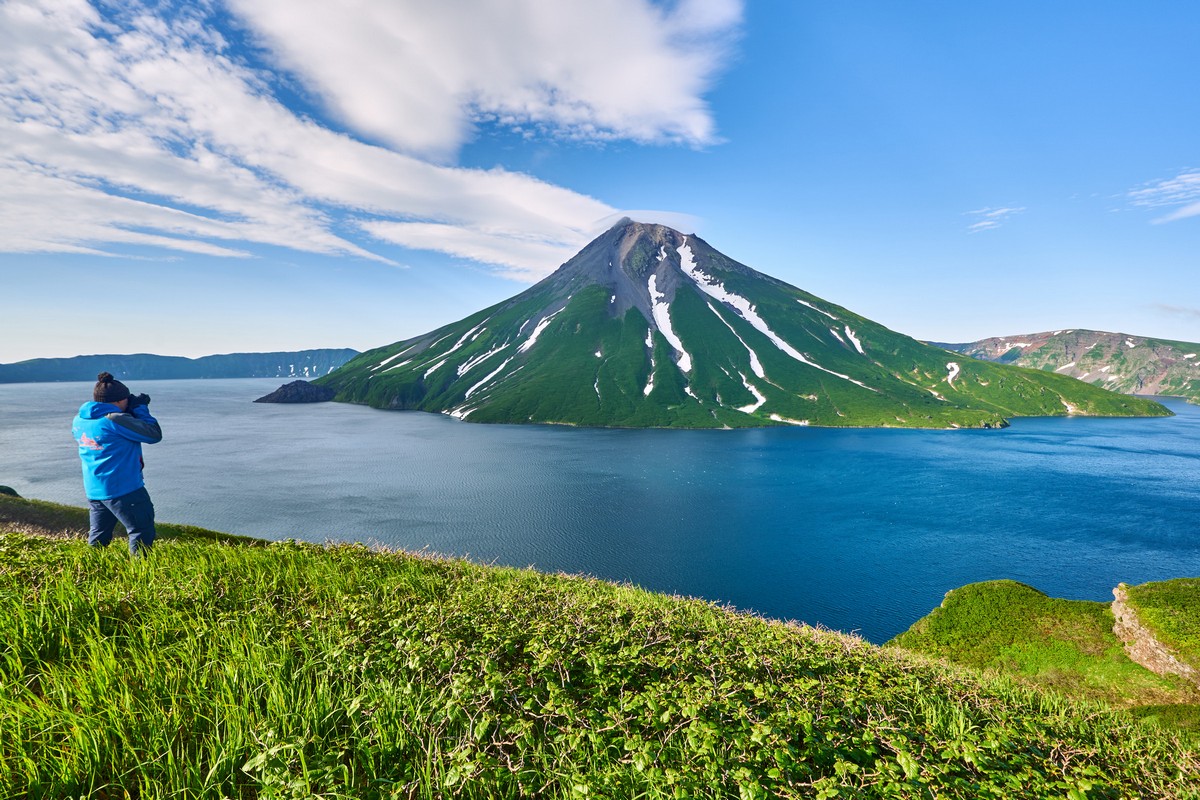 One last pic: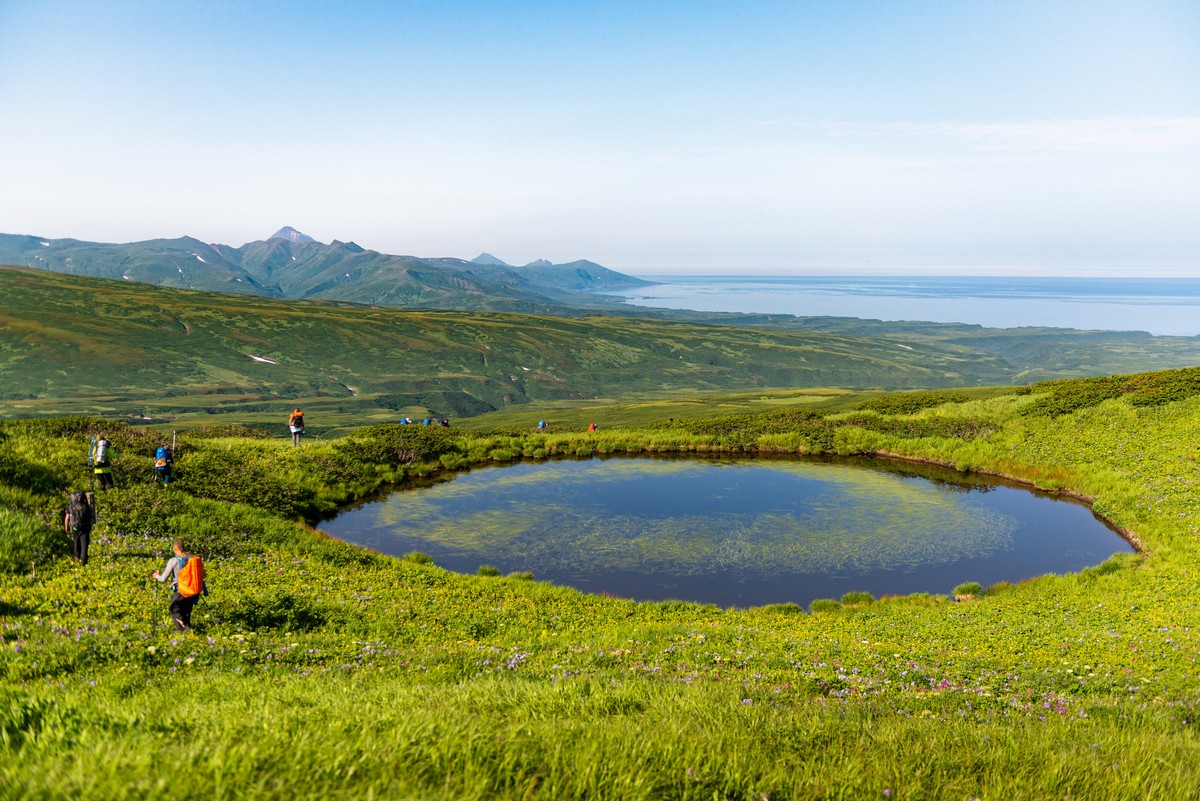 And back down we set off…
That's it folks – over and out from Krenitsyna. Here's a vid summarizing this year's visit:
All the pics from this year's Kurils expedition are here.