The blue eyes of Kelimutu.
The final volcano on our Indonesia trip was Kelimutu on the island of Flores. Just one look at a photo of this volcano and you'll guess the distinctive feature that makes it an extra special volcano: its differently (brightly) colored volcanic lakes that sit in its three calderas. Kelimutu for sure helped 'Indonesian volcanoes' earn their place on my Top-100 Must-See Places in the World (No. 72). I don't think much commentary is needed here. As per custom when I encounter off-the-scale natural beauty, I'll let the photos do the talking…
As already briefly mentioned, the lakes change color from time to time. In the hotel we were staying at nearby there are large photos (from 2013 and 2014) on the wall indicating just how much – and in only a matter of months – they do indeed change color:
Google Maps gives yet more colors: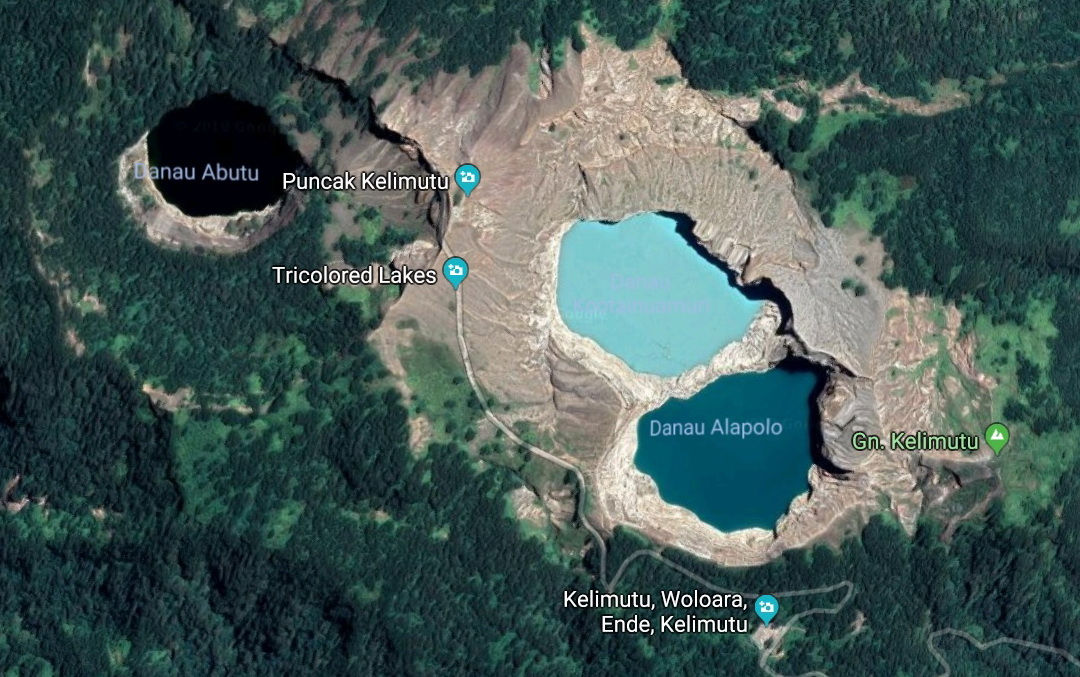 If you do ever make it here – which I heartily recommend you do – there's no guarantee you'll be seeing the colors shown in these pics ).
The main attraction is the two brightly-colored large lakes that sit side-by-side with just a narrow ridge of rock separating them. The third lake is a bit of an also-ran: smaller, and very… mediocre in terms of coloration compared to its older brother and sister:
At what time did we arrive at the lakes? You guessed it: before the dawn. We woke in the middle of the night, were off an hour later, were another hour on the road, then half-an-hour by foot, and we were there – at the very top of the volcano on this here panoramic viewing installation – around 5am:
The sun rises, the colors brighten, the cameras spring into action. Then the other tourists left, leaving just us (and the souvenir sellers).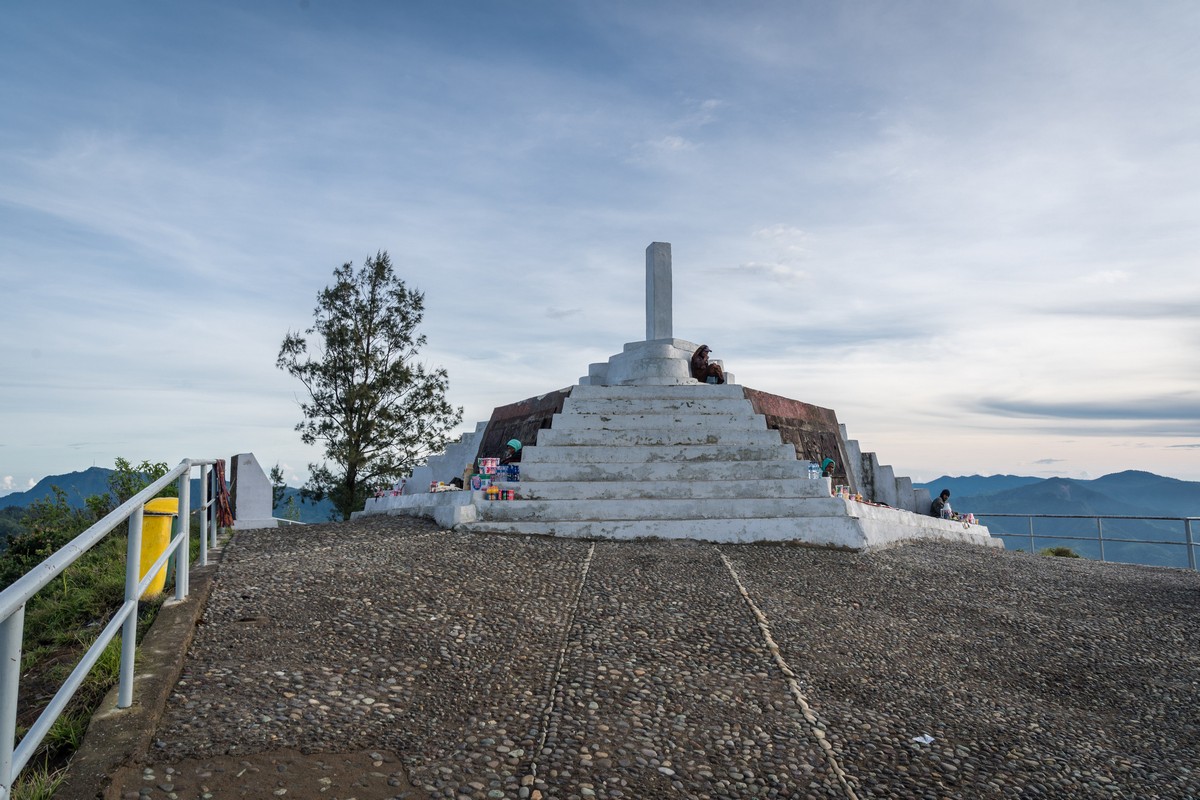 But we… weren't quite satisfied yet! Our guides seemed to think reaching this peak and having a quick gawp would be sufficient. No way Jose!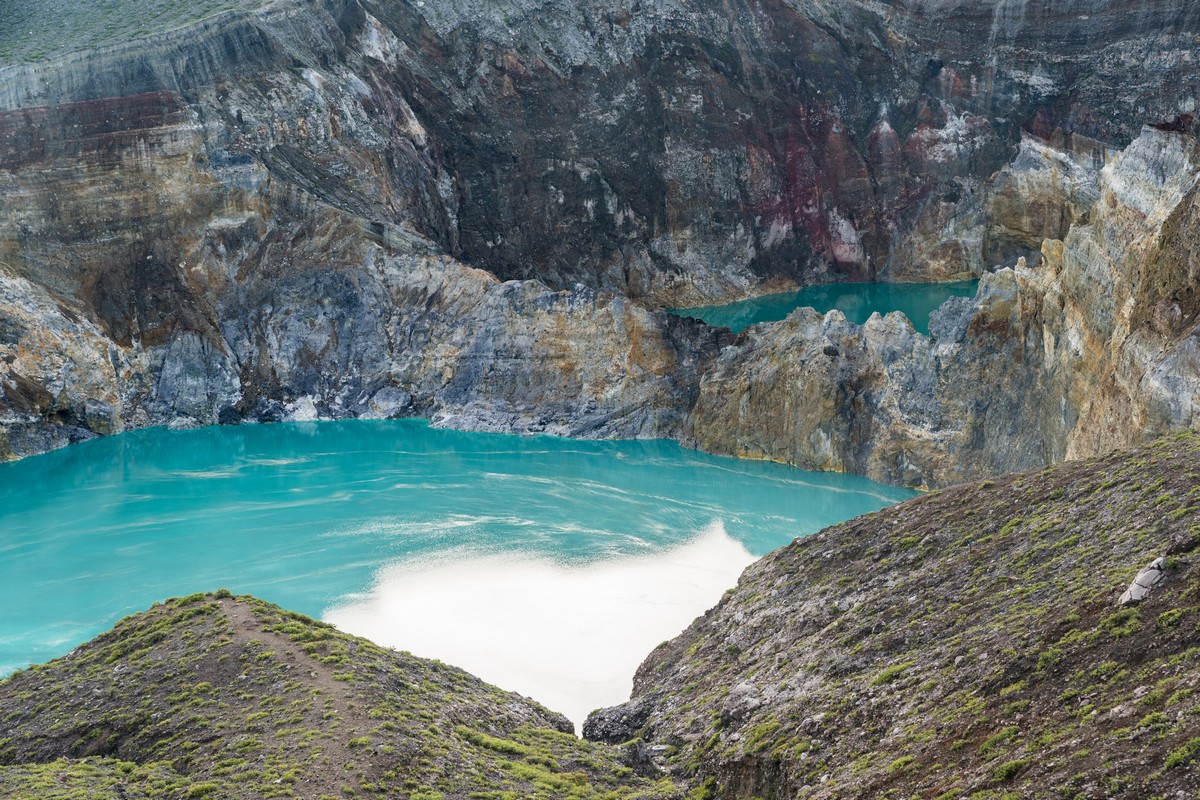 …So we started to stroll about. And we didn't let discouraging signs like this one deter us…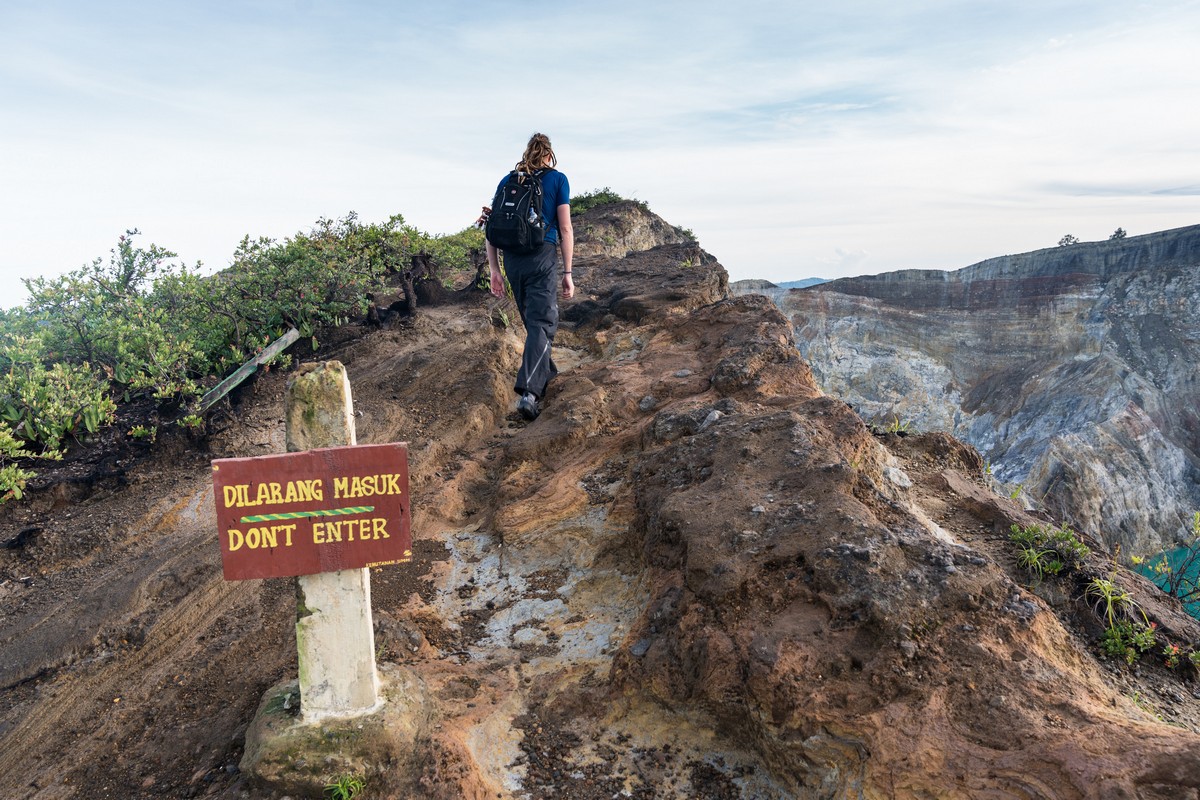 The world's silliest sign? Because it tells you dilarang masuk so that you miss these much better angles for the twin-turquoise-lake spectacle!
Sheer cliffs surround practically the full perimeters of both lakes. We didn't get too close. Should we have lost our footing and fallen in it'd have been be curtains for us. No beaches to swim to; no gentle climbs up the sides…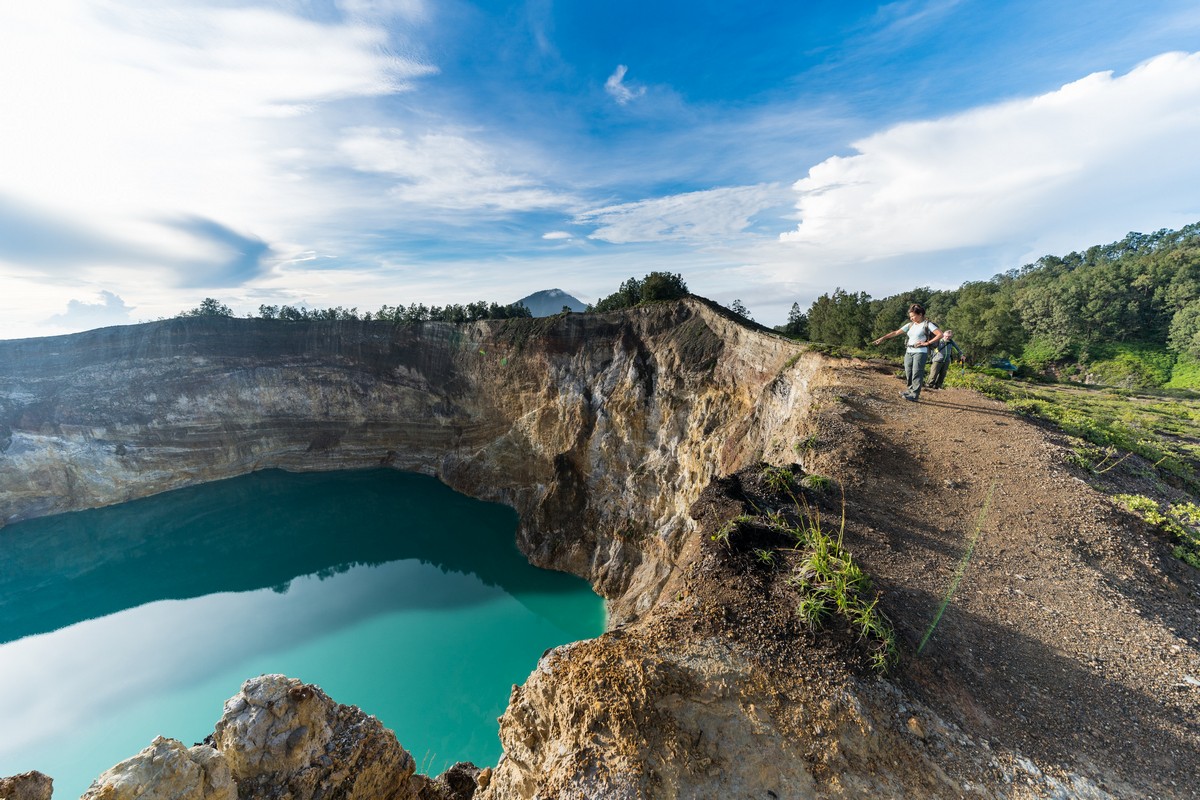 So we didn't get too close to the edge: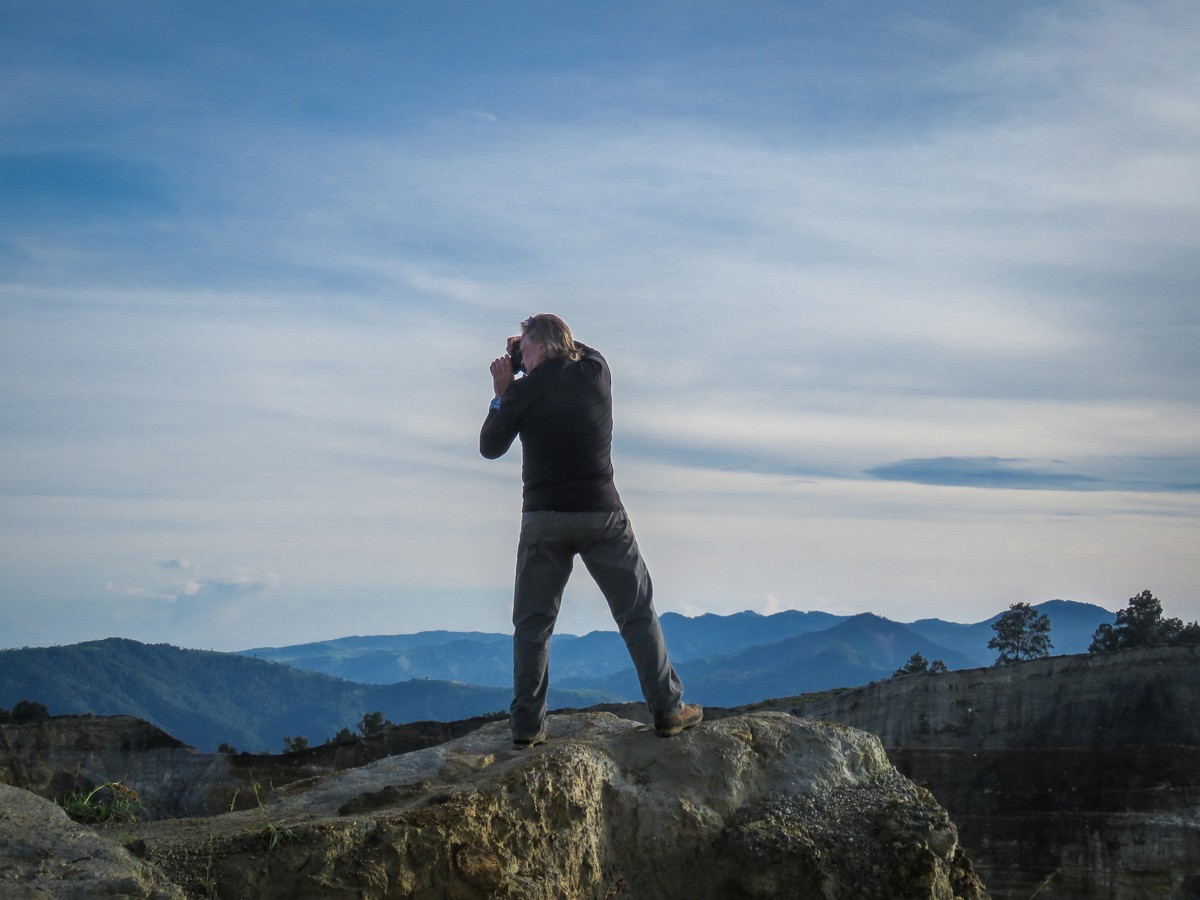 And just to be on the safe side…:
The more you walk around these lakes the more bewildering the views to be had:
Around here we were spotted by some rangers/guides who started to shout and whistle at us. We pretended not to hear or understand, or both, and onward we marched! There was even a path for us to walk along; what were they getting so ruffled about?
I mean… fancy coming here and missing views like this?
The guides/rangers didn't try catch us up. Apparently they're scared of the mysterious forces around the lakes that could drag them into the water. Our guide told us how he'd not once walked the perimeter fully. If he sees these pics, I wonder if he might give up on the superstition just once? )
And that was that: another volcanic crater fully circumnavigated.
This one was my fourth volcanic rim fully walked, in addition to: Ksudach and Gorely (Kamchatka), and Bromo (Indonesia).
What else? Hmm – this here propaganda against climbing the hill behind it. We'd passed it at night so didn't see it; if we had, we'd have been up there like a ferret up a drainpipe ).
Btw, the half-hour walk up the volcano couldn't be easier; just check out this path – with railings!
We stayed the night in a village called Moni.
Local tradition dictates that loved ones, upon their passing away, are to be buried in the back yard, to be able to continue discourse with the soul of the deceased. Here's an example of this. Note the graves next to the household's satellite dish: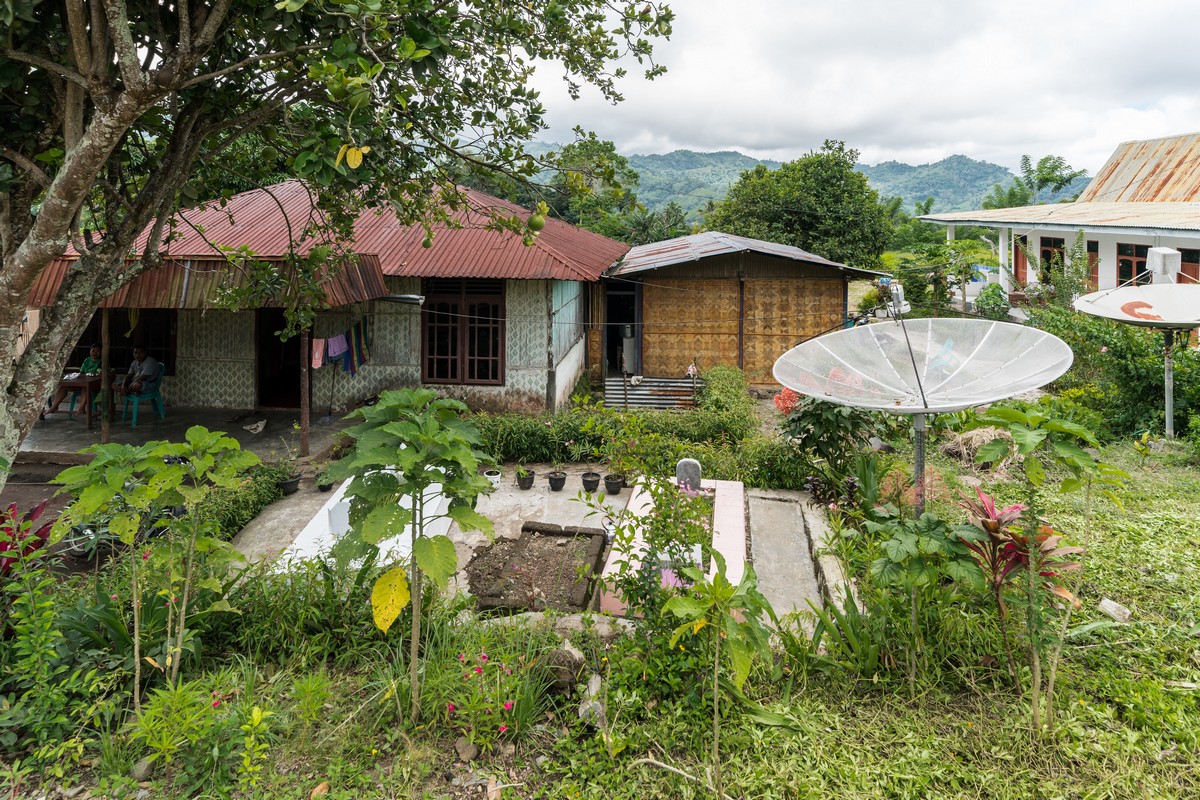 Woah! An air-conditioned ATM all of a sudden in the middle of nowhere!
Meanwhile, we'd been promised a waterfall…
And here it is!
Admittedly not the clearest of water, but we'd fully acclimatized by now, so in we dived. The best bit was the gap between the rock face and the waterfall.
That evening we headed to our lodgings for the night: Kelimutu Crater Lakes Eco Lodge. Highly recommended. And no Wi-Fi!
That evening: another tropical rainstorm. Thankfully we were already at the Eco Lodge. Small mercies.
And that was our final volcano. There's just a post-scriptum left to go!…
All the pics from Indonesia are here.