Kamchatka-2012: Rocking the Ksudach.
Days 3-4-5. Ksudach.
We flew from Kurile Lake to Ksudach by helicopter. We could have got there by foot of course, but, first, no one knew the way; second, we couldn't find a crazy enough guide; and third, no one really fancied battling through the dense undergrowth. Oh, and fourth: the whole route is cut with bears. Maybe next time we should prepare beforehand and work out a passable route – one that would also take in Kambalny volcano. From Google Maps it looks rather tempting.
[Credit: Google Maps]
Now about Ksudach…
Ksudach is a volcano with two lakes (inside two calderas) that are lined with hot springs (hot beaches). The landscapes here are vast, unusual and beautiful. But pictures speak louder than words, so have a look at some photos from our last expedition here.

The water in the lake is generally cold, but around the very edge near the shore the water's nice and hot! Perfect for bathing and chillaxing in. It gets heated up around the edges by the volcanic heat coming through the ground from the below. Neat! And as per tradition, we decided to do the new-age healthy thing and have ourselves contrast-baths: hot – in a make-shift paddling pool we constructed; cold – outside said paddling pool in the lake proper. Building the paddling pools is made easier by the ever present Ksudach-spades© that dot the shores here. I'm fondly familiar with this particular bendy-handled one – this is my fourth time here and I always return to find it, which thankfully hasn't gone walkabout :)
An old friend of mine: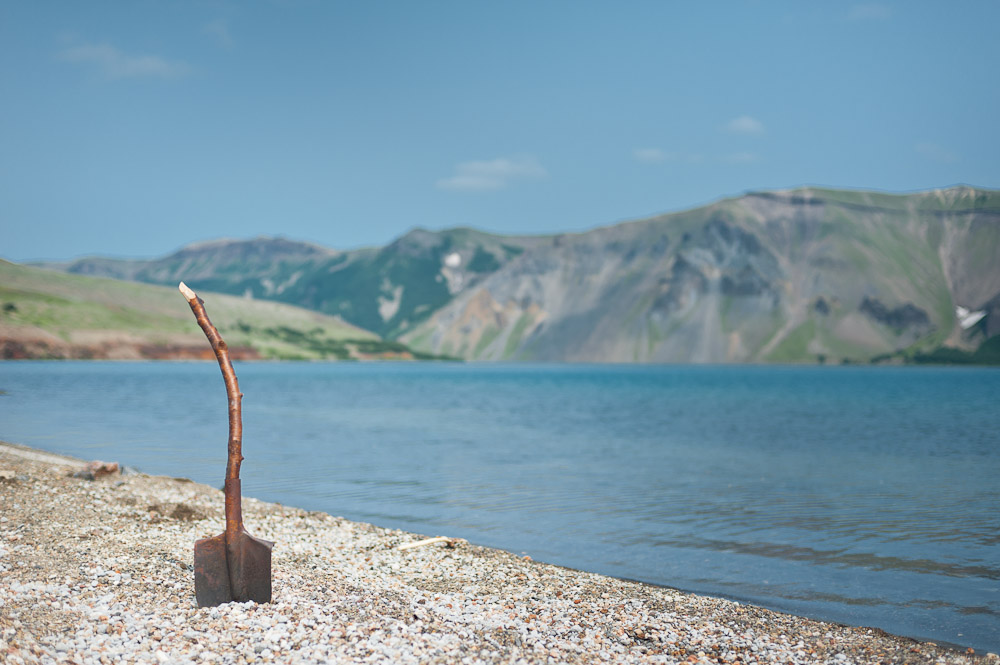 Of an evening here a several-hour walk around the Shtubel crater is recommended. The sights tend to bring on rapturous yelled exclamations, or quiet stupor – depending on character type! All in all though – a monumentally monumental must-see.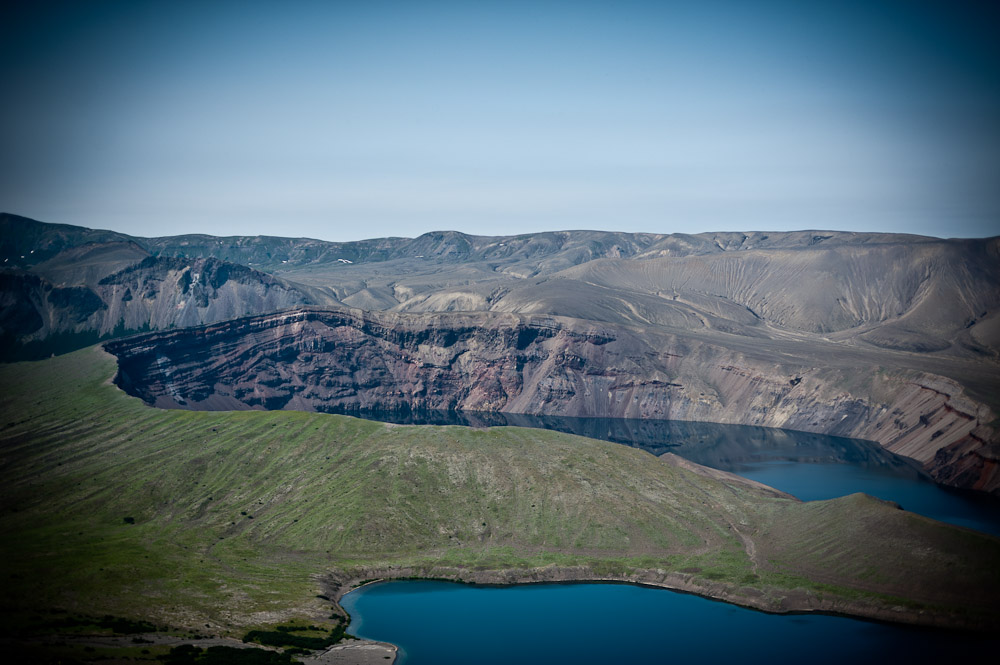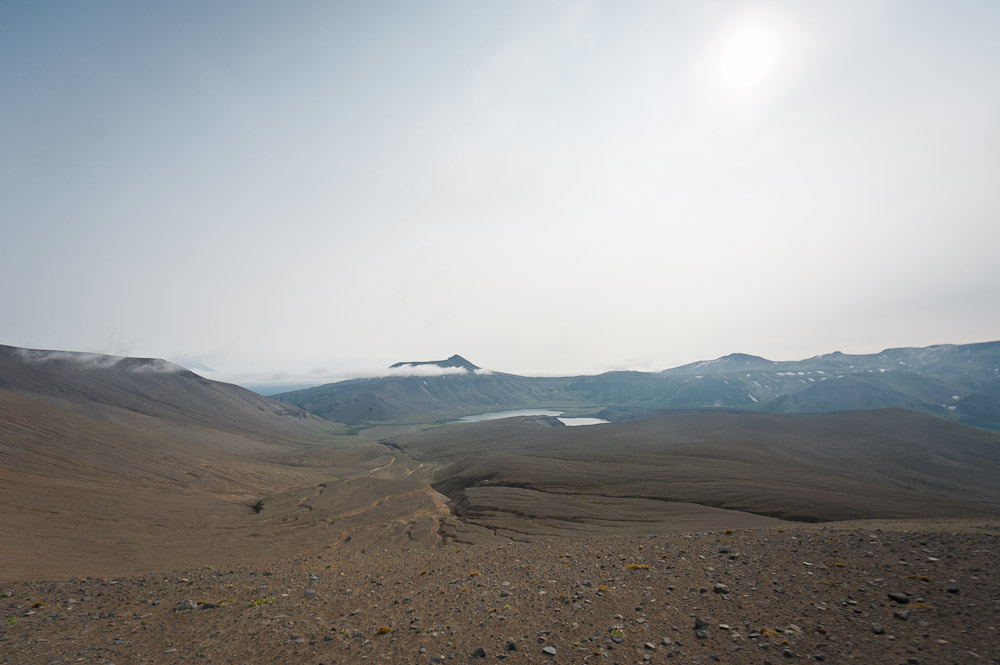 Next day, at last, a long-held dream of mine came true! To walk around the rim of the Ksudach calderas, taking in the views of the breathtaking scenery all around.
The weather was perfect for walking – of which we did plenty! Up at the top of the calderas it's pretty wild and barren, but that didn't stop the ubiquitous bloodsucking inspectorate from swarming about and attacking us mercilessly. Incidentally, about the insectorate: all newbies took with them lots of super-duper anti-mosquito creams, sprays, lotions, etc., but in the end nearly everyone stopped bothering to apply them. Even the most potent potions work for just 20 minutes in Kamchatka! And reapplying didn't help – in fact made things worse with their awful smells. Understandably, perhaps, to counterbalance the woe caused by ditching allegedly advanced protective chemicals, the benefits of mosquito-induced bloodletting were espoused with vigor. Hmmm. Or maybe that just goes to show how a mostly untouched "medieval" environment can put medieval beliefs back into intelligent minds with a vengeance. Surely.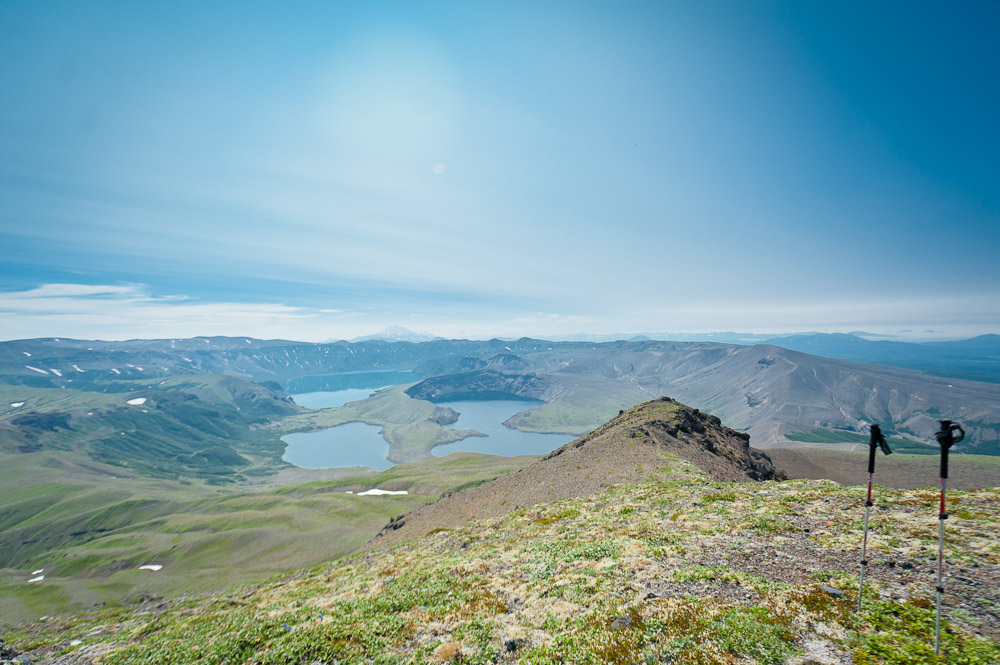 The diameter of Ksudach is approximately 8km, while its circumference is approximately 25. That's as the crow flies. From door to door (rather, beach to beach) it works out at around 35 kilometers. Quite a distance, especially when you account for the continual ups and downs and wiggles and twists of the route.

"Maniacs!" said our tough-guy guide Denis at the start of our trek.
"How many times have you been around the rim?" we asked him.
"Never. I've never guided psychos before," came the reply. "But it's a good route. It's possible and passable. Should there be any nutters to be found who'd be bonkers enough to hike it," he added.
"A very cool trek, but mostly – absolutely pointless!" wrote one of our crew in our travelogue-diary.
"It's like we were on Mars! The view – cosmic, with red earth; and us – Martians!" someone else added.
Another comment: "Cool!!! Cool!!! It's something to remember for the rest of my life!!"
I agree with all the comments. Cool, pointless, monumental, and magic. And I want to go back :)
The route we took can be completed in a day. Especially without rucksack, with an earlier start, and knowing the route beforehand. We went loaded up, set off late, and sure didn't know the way – we made the route up as we went along. The only thing we really should have been better prepared for was wading across a small river in the twilight. A pain at the best of times – worse when v. tired.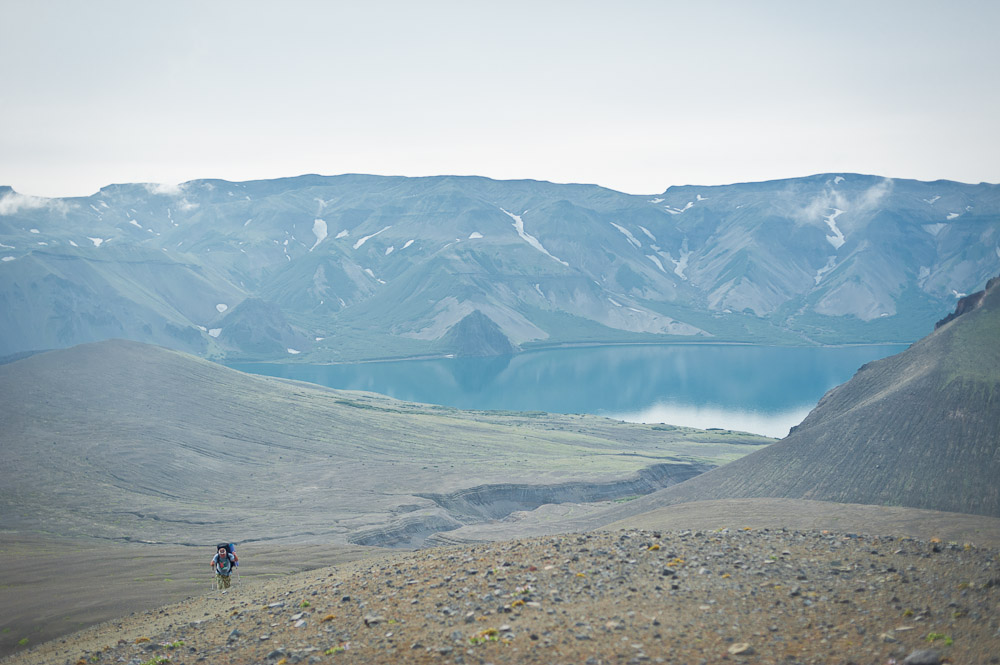 In the distance is Khodutka. Ksudach is about 50 km from here. About the hike thereto – in the next post…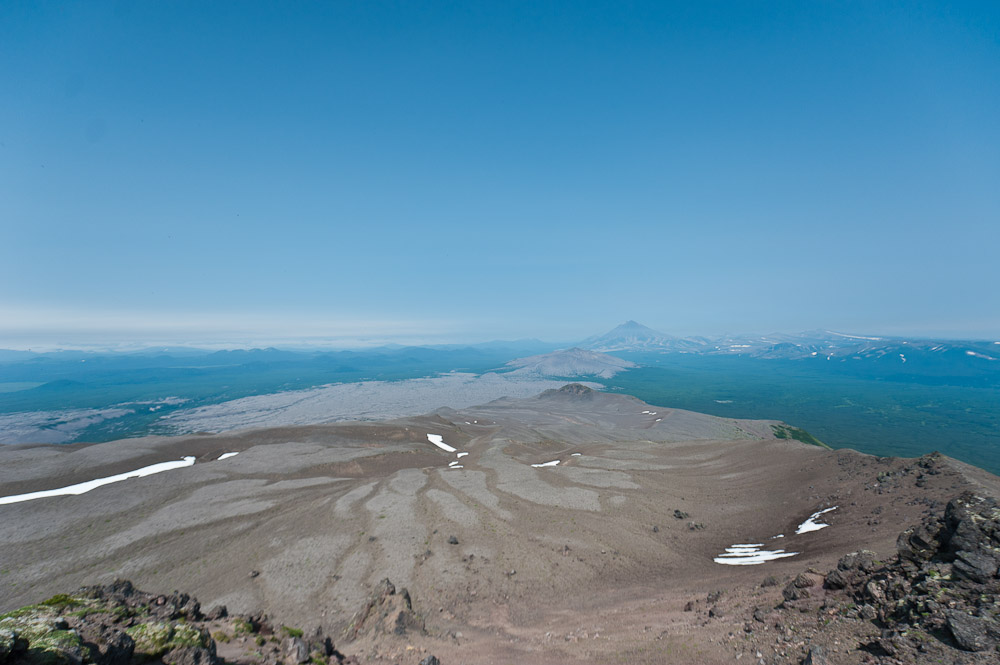 And various other views: