Actively checking out Taiwanese natural places of interest can bring on sudden attacks of hunger, as I found out the other week while in the far north of the island. When our stomachs were rumbling simply too loudly for comfort, we were ushered to the town of Juifen to put a stop to the noise. And guess what – the town of Juifen is… must-see! Particularly – must-eat-in )! Especially – if you're a big fan of Chinese cuisine, which I certainly am. Oh my gourmet!…
The place is made up of a labyrinth of narrow little streets, in many places with some roof-like construction up above to keep off the rain. There's less of an emphasis on souvenirs (like you often get with cute little places like these that attract tourists and natives alike), and more of one on: grub! Yeh! All different kinds of grub too – albeit of the Chinese kind. Eateries, restaurants, cafes, greasy spoons; eat-ins, takeaways; boiled, steamed, fried; meat, fish, veggies – ice cream too. Hissing, bubbling… and the fragrances: they sure got the appetite up. And it looks like this:
Around about here in this narrative I think is the ideal time to share with you some of my observations:
First: I was intrigued to discover that here in Taiwan there's so much in common with Japan! Certain details, I mean… Example: these here lines on both sides of a street: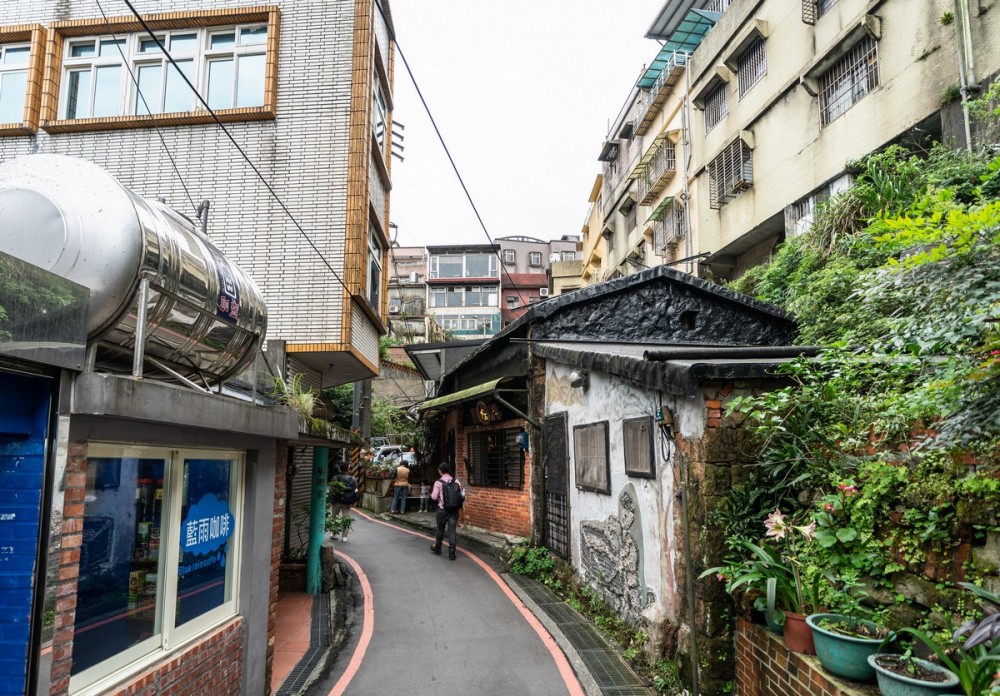 What else is similar? The way houses look on the outside. It closely resembles how ryokans look.
What else?…
The combinations of hieroglyphs seem very Japanese too (I'm no expert on Eastern languages, but I've seen so many Japanese language symbols on my many trips – and they sure do seem to be similar to me).
For example: 'parking lot' in Japanese is 駐車; the first symbol means something like 'horse and fence'; the second: 'carriage', i.e., car. So – horse fence for car :). In Chinese, parking lot is 停车, which means 'parking lot'. The sense is similar, but it's expressed differently. In Taiwanese – they use something similar to the Japanese version.
Perhaps this is to be expected; after all, the island was under Japanese rule for a full 50 years. Must say: driving through central Taipei, looking at the skyscrapers, the buildings in general, and how the pavements are designed, you'd be forgiven for thinking you're in Tokyo. The only difference – they drive on the right here in Taiwan!
How else is Taiwan similar to Japan?
Well, I was struck by how in both countries the standard of living appears to drop drastically once you're outside the capital. The Taiwanese economy is in very good health, with a GDP higher than Spain's, Italy's, Japan's (!), and many other developed countries'. But out in the sticks the buildings are shabby and in places everything's dirty. It doesn't look like a successful economy out in the provinces. I wonder, do they spend a lot on defense?…
But enough negativity for one post; my travel companions and I were headed to Taipei. We were having our regional partner conference here (APAC – from India to Japan, Oz and NZ). As usual, it was a great conference: useful and enjoyable. And come the evening – for me, a bonus: a view of Taipei 101, once the world's tallest building:
If ever you're in town, you've got to visit this! But be warned: there are lines – to get in and to get out! If you're in a reeeaaal hurry – there is a fast-track option, which is what we went for: quick in, quick up, quick snap, quick back down, and that's that!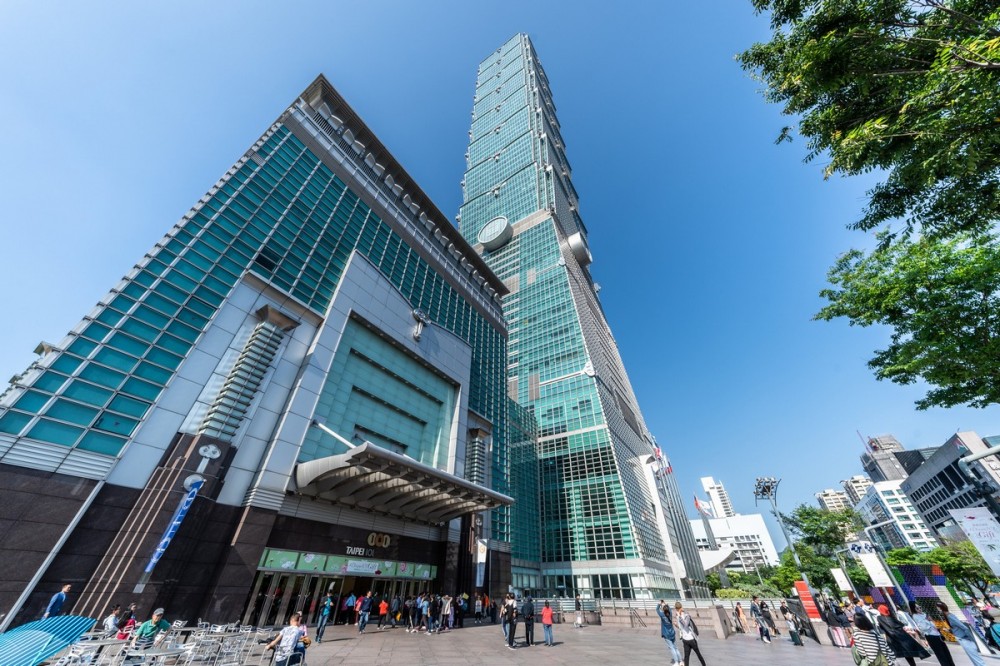 The lift takes you almost to the top (~400m) in some 35–40 seconds! The speed and a graphic of the lift shooting up are shown inside the lift on a digital screen – to scare unprepared tourists, surely ).
The elevator takes you up to the 91st floor. There are another 10 floors to go – up that thinner bit at the top – to make 101:
Up top – a bit of a disappointment: the fence is so heavy-duty it kinda gets in the way:
Such a tall building… where earthquakes can occur? Well, they've thought about that. There's a tuned mass damper – the largest in the world – which prevents the building swaying too much. 660 tons, 5.5 meters in diameter, the massive orb cancels out some 40% of swaying during an earthquake or typhoon.
Here's a video of the damper in action – during a typhoon:
Here are some pics I managed through the fence:
And that was all for our brief spot of tourism in Taiwan. Next time, we'll have to check out these places, recommended by locals:
Yangmingshan: national park, volcanism
The National Palace Museum in Taipei; something along the lines of Beijing's Forbidden City.
We'll also have to check out some or Japan's geoparks I appear to have missed (which we saw advertised on a wall here):
1. Asama North Geopark.
2. Choshi Geopark.
3. Shimokita Geopark.
4. San'in Kaigan Geopark.
5. Mine Akiyoshidai Geopark.
And that's that folks Taiwan-2019: done and dusted. Already looking forward to returning…
All the pics from Taiwan are here