New Year – even further from the center.
Hi folks!
A promised, herewith begin my tales from the Ecuadorian side. I've lots and lots to tell, and lots and lots of pics to show. So, as per tradition: popcorn, comfortably seated… off we go…
This mini-series on our trip will generally simply follow the route and the events that occurred on it in chronological order as they actually happened. But first I must tell you this:
How best to see in the New Year.
Some prefer taking it easy over the Christmas and New Year period (some even dread it!). Others – like moi and posse in recent years – don't take it easy for one second, and instead jet off to a far-away hot clime for some untraditional festive celebrations of our own devices – further from the center. Once – further on Kilimanjaro, last year – in Indonesia. For our own devices have shown us how Christmas/New Year happiness and contentment doesn't come from doing not much at all sat at home, but from bathing in the velvety hot waters of hot springs on the other side of the globe. And Ecuador happens to have velvety hot waters in its hot springs. It was a no brainer: off we zip to Ecuador!…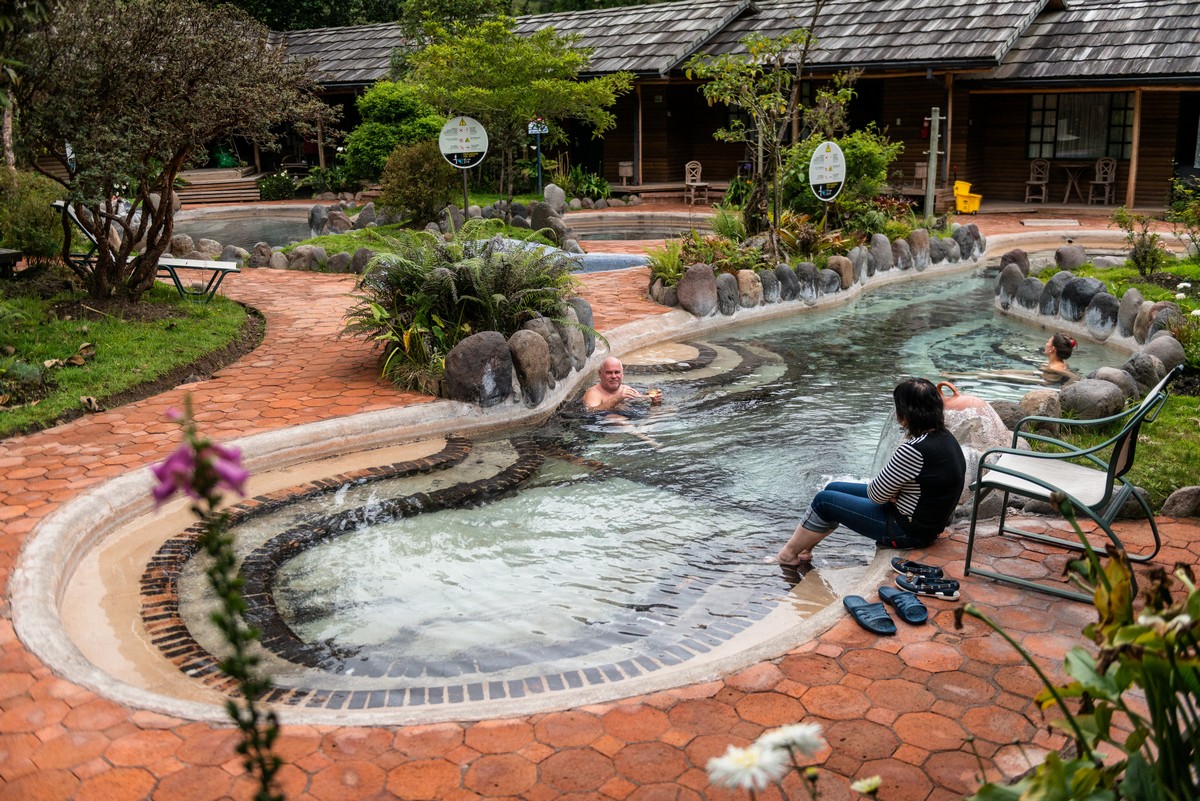 Those hot springs were in the luxurious Papallacta spa resort. High up in the mountains (~3600 meters above sea level!), amid lush greenery and sweet aromas, we were to stay in charming little bungalows, beside which are small naturally-hot baths. A bit further away there's a larger pool, but none of us made it there – we were too content in the little ones next to our cabins!
We arrived on New Year's Eve, limping somewhat after our light walk mountain trek (which, though significantly shortened from the originally planned route still turned out to be real tough for many among our contingent). After checking in we were straight into the hot pools, and before we knew it it was time to sit down for our New Year's Eve feast! Not long after, the clock struck… 16:00, the champagne bottles popped and much merriment ensued )…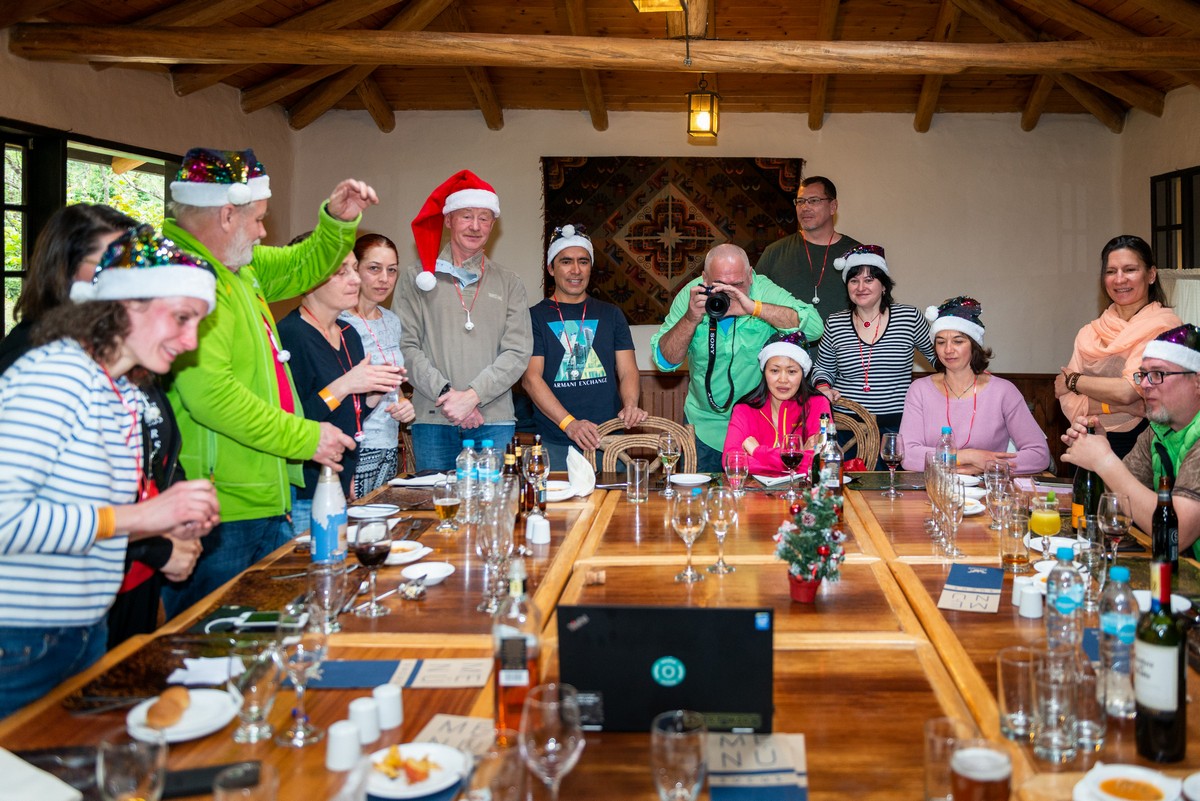 … Then, eight hours later, we popped the corks once again! You worked out why? Yes, for the time difference between Quito and Moscow is eight hours! So, our first celebrations were for the midnight celebrations in Moscow, the second – for the hour striking midnight locally!
Note: here in the pics – notice how light it is. Yes, this was midnight in Moscow, lunchtime in L.A. Quito!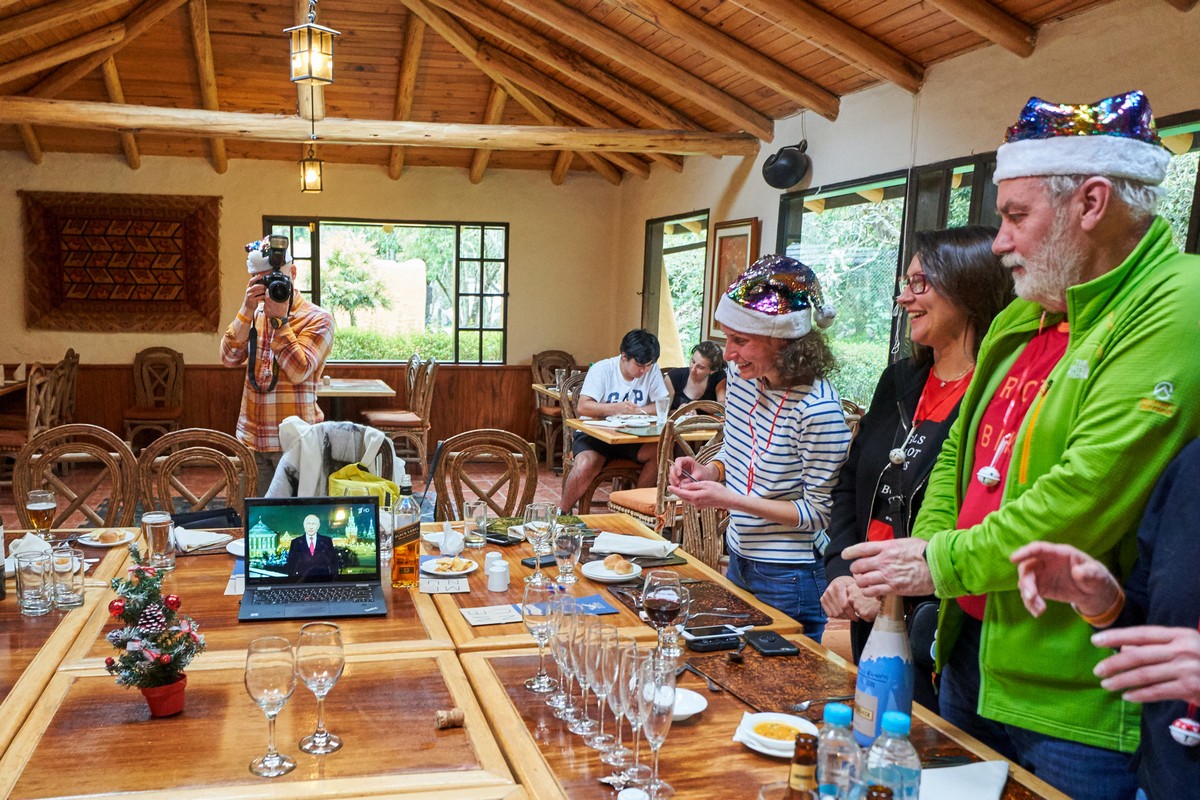 As we were so tired after our mountain marching, we kept the celebrations… modest. This even went so far as us watching a film in the run-up to the local midnight. Certainly this isn't what we'd normally do, but, fairly exhausted, it seemed the ideal thing to do this time. We even watched it from a hot pool. And this actually turned out to be one very enjoyable, very memorable New Year! Btw, the film was Irony of Fate, which is shown EVERY New Year and is watched by practically the whole of Russia every year too – a bit like, in terms of viewership, the Wizard of Oz, E.T., and Home Alone all rolled into one!
Another reason to be cheerful this New Year's eve was the fact that we'd broken our previous record for being 'furthest from the center' at New Year. Now, in case you're wondering what I'm talking about here, what I mean is – to be furthest from the center of the earth. Every year we try to get even further. But it's not as simple as you might think, Why? Because the earth isn't acutally round! It's slightly not quite round: kind of flattened in at the top and bottom (the North and South Poles). In kilometers, this translates into sea level at the equator being some 21km (!) 'further from the center' of the earth than at the poles. Now, back to us there watching telly in Ecuador: We were practically on the equator itself, which means a good maximal boost to the distance from the center. Add to that of course the fact that, as mentioned, we were 3600m (above sea level) up in the mountains… and you can see where this is going. Indeed, when calculated it and found we were in fact further from the center – a full two kilometers further!
Woah – that's even further from the center than the peak of Everest – the highest point on the planet (above sea level)!
(Btw: the nearest-to-the-center I've ever seen in the New Year was at the South Pole in 2010 – 6360km!)
A few more pics of this wonderfully secluded spa-hotel complex (it goes without saying: highly recommended):
As if to sum up our stay here, and to sum up this here blogpost too – check out the Wi-Fi password: 'relaX' – with a capital 'X'!!
Bye for now folks. Back soon with more tales from the equatorial Ecuadorian side…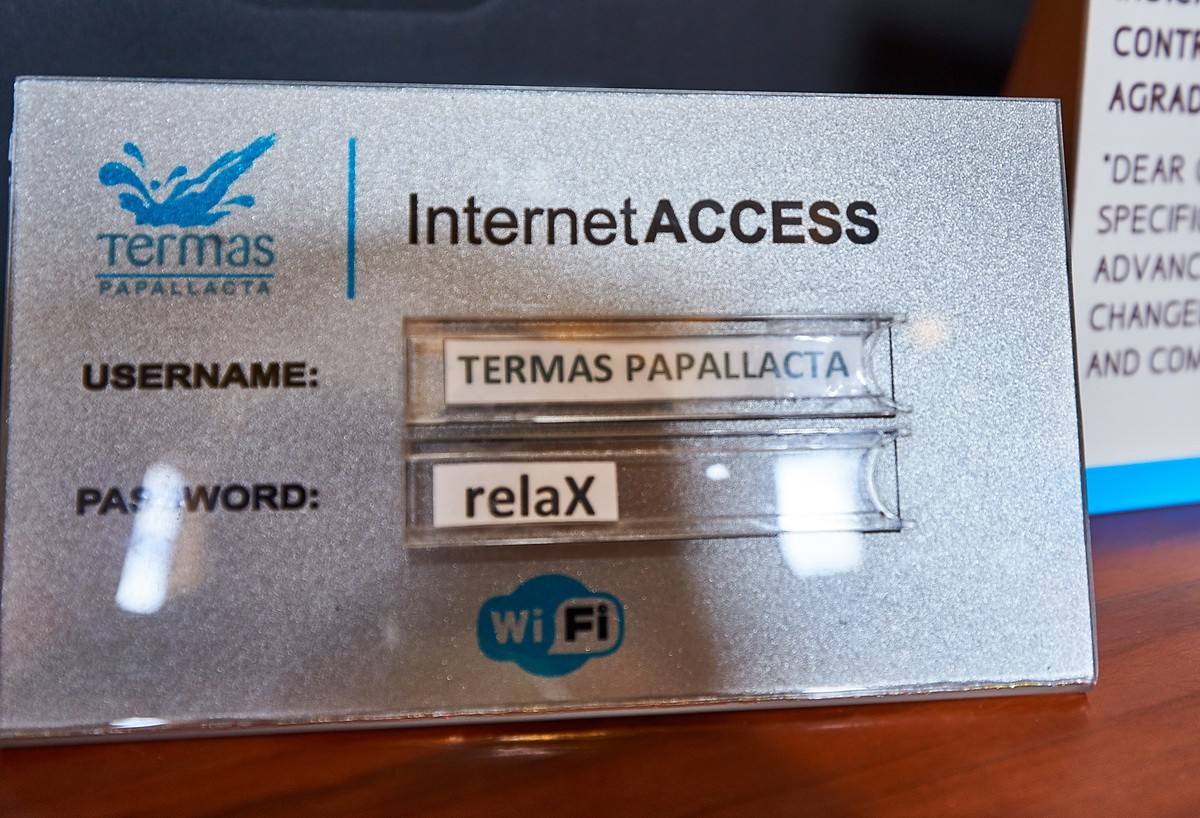 All the photos from Ecuadorian-equatorial expedition are here.