New Year further from the center, pt. 2.
After our starter-course Indonesian volcanism, it was time to move on swiftly to the main course. Next up for us – a full bouquet of volcanism. The precise number of volcanoes depends on what source you rely on: Russian Wikipedia states it's just one volcano, Arjuno; English Wiki says it's a pair of volcanoes – Arjuno-Welirang; while locals say it's a collection of four volcanoes, since there are four volcanic cones at the very top. Admittedly, from the side it looks like just one volcanic formation, as it does from up above too.
Here we are approaching the very top, after two days of trekking:
Here we are at the peak:
Our ascent wasn't all that difficult; it was just reeeaaal long (about that in a bit). But what can I say? It was worth it in the end: beauty all around an also that of the crater. Plus the feeling of accomplishment after such a long walk.
The rocks at the peak are covered in graffiti applied by generations of jubilant tourists. In fact, there's more graffiti than there are rocks themselves, alas.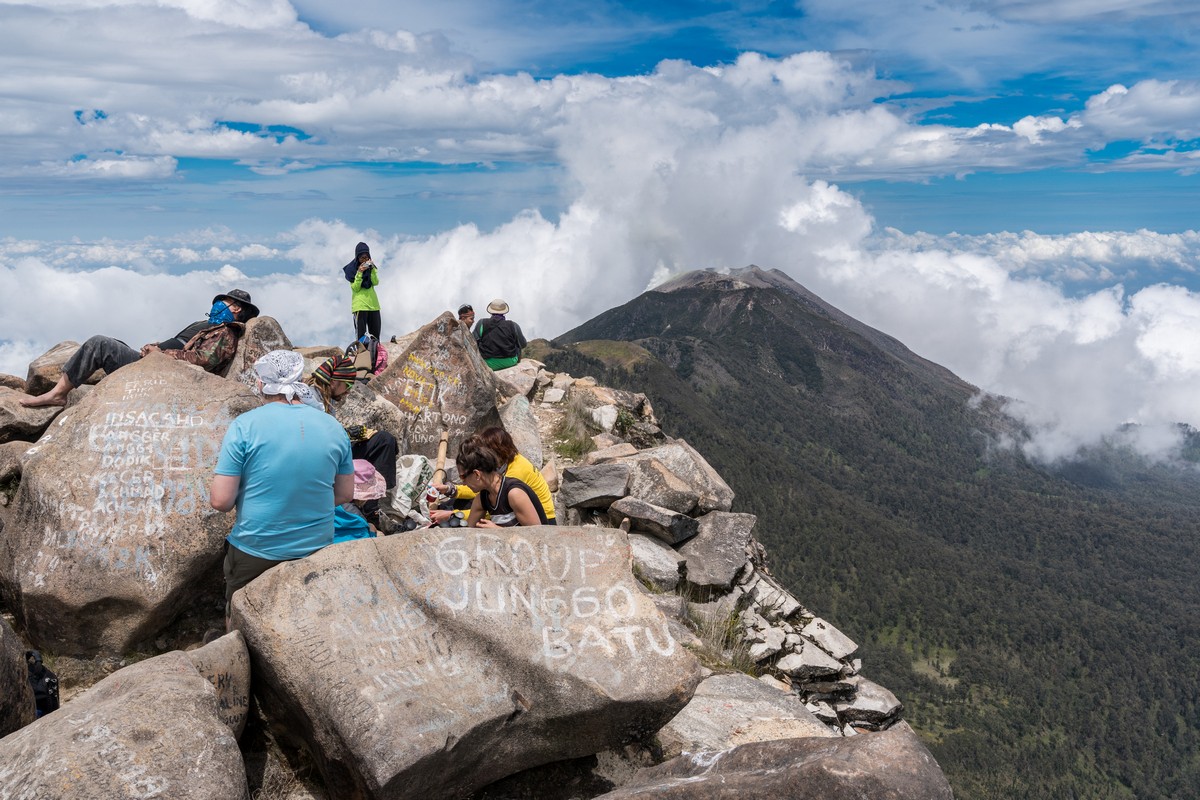 Not that we let that get us down. After a brief breather and bite to eat it was time to continue our journey, which was to take us to that peak over there: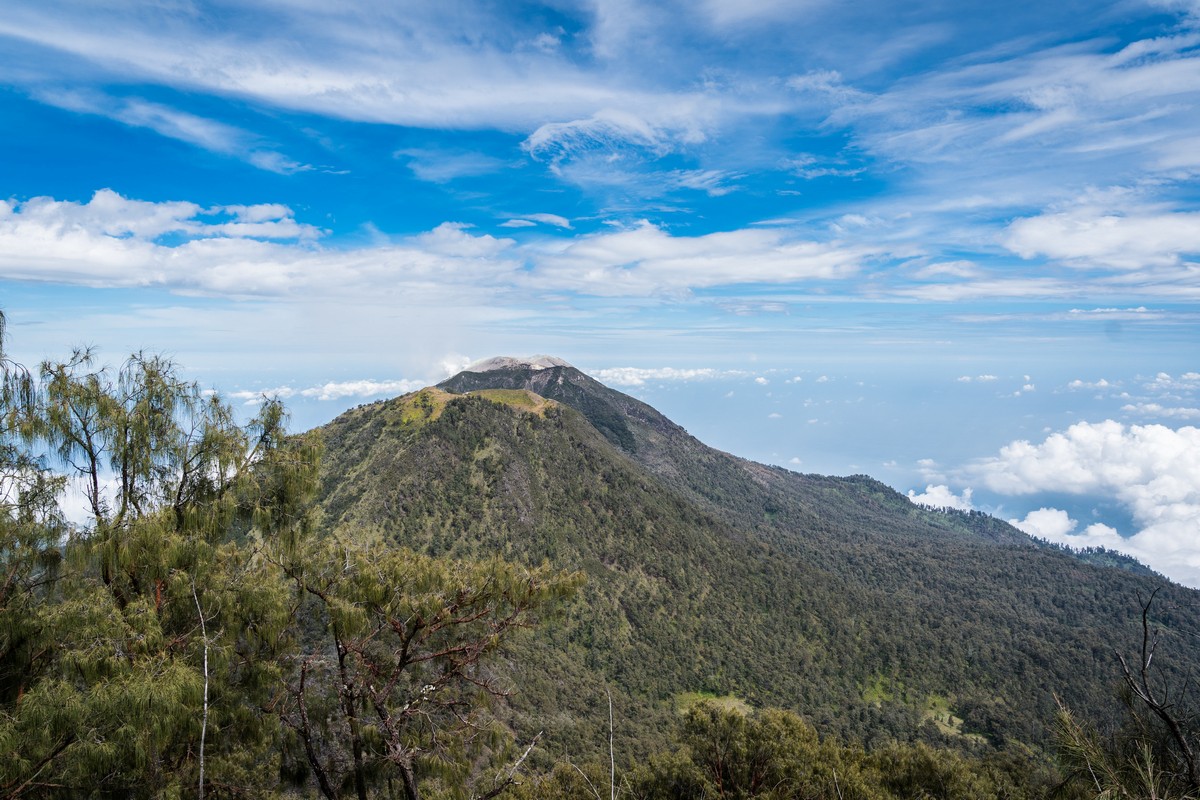 But if you look closer, that isn't one peak – but three. And we were stood on the fourth – the first in the series. Next up, peaks two, three and four…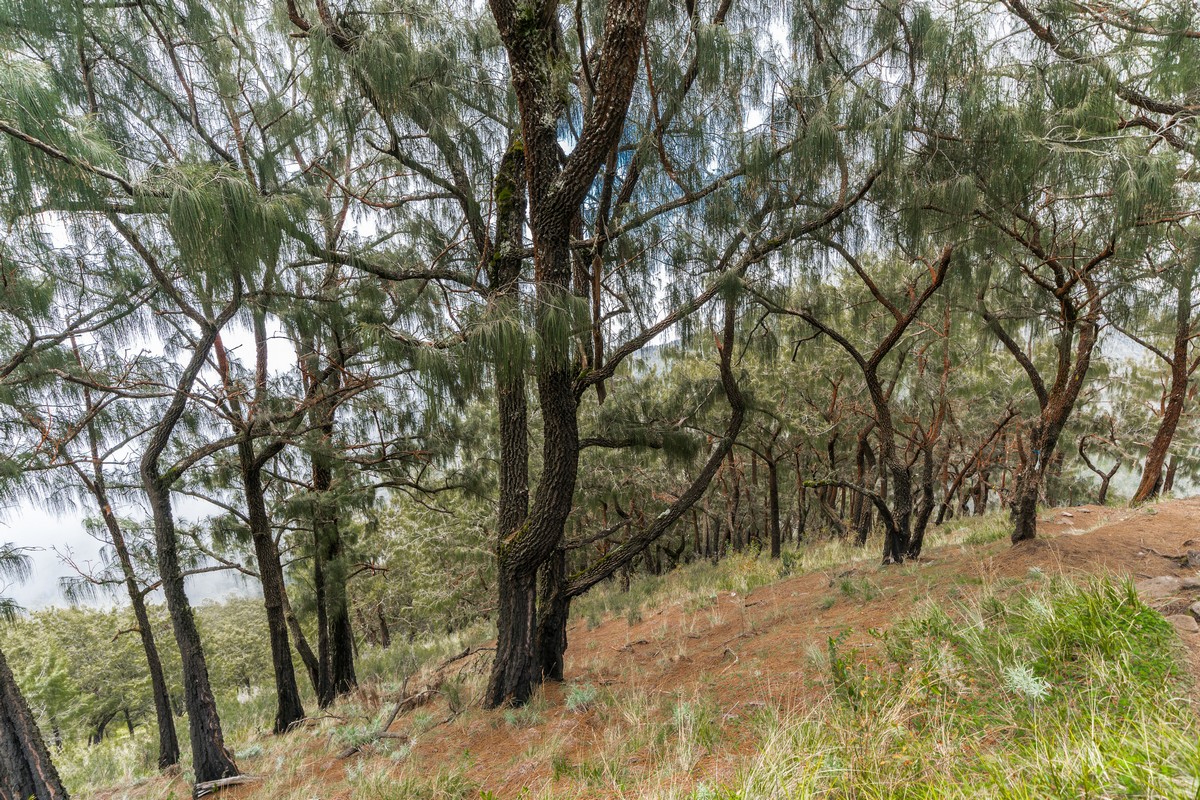 Hmmm, something smoking over there. Will check it out tomorrow at dawn…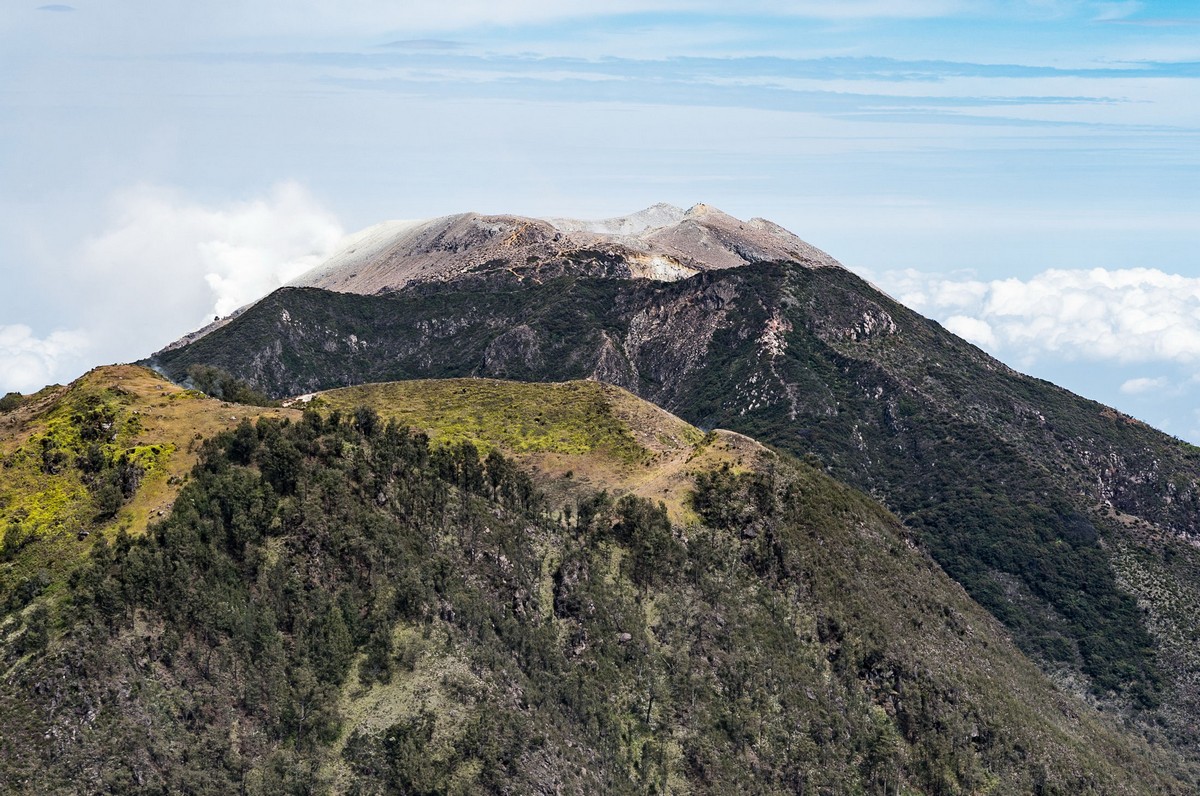 Everything together – it's indeed a single volcanic mass with four peaks. Alas, I wasn't able to snap it all from down below as thick clouds shrouded everything. But here's a pic from Wikipedia: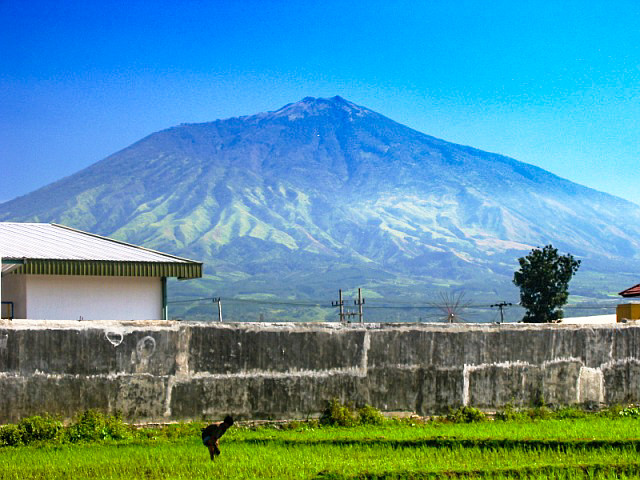 source
We continued our trek towards… New Year!
Ah, yes. I've forgotten to mention the date: December 31, 2017. New Year's Eve – and we were battling our way through a wild tropical forest (instead of getting ready to party:).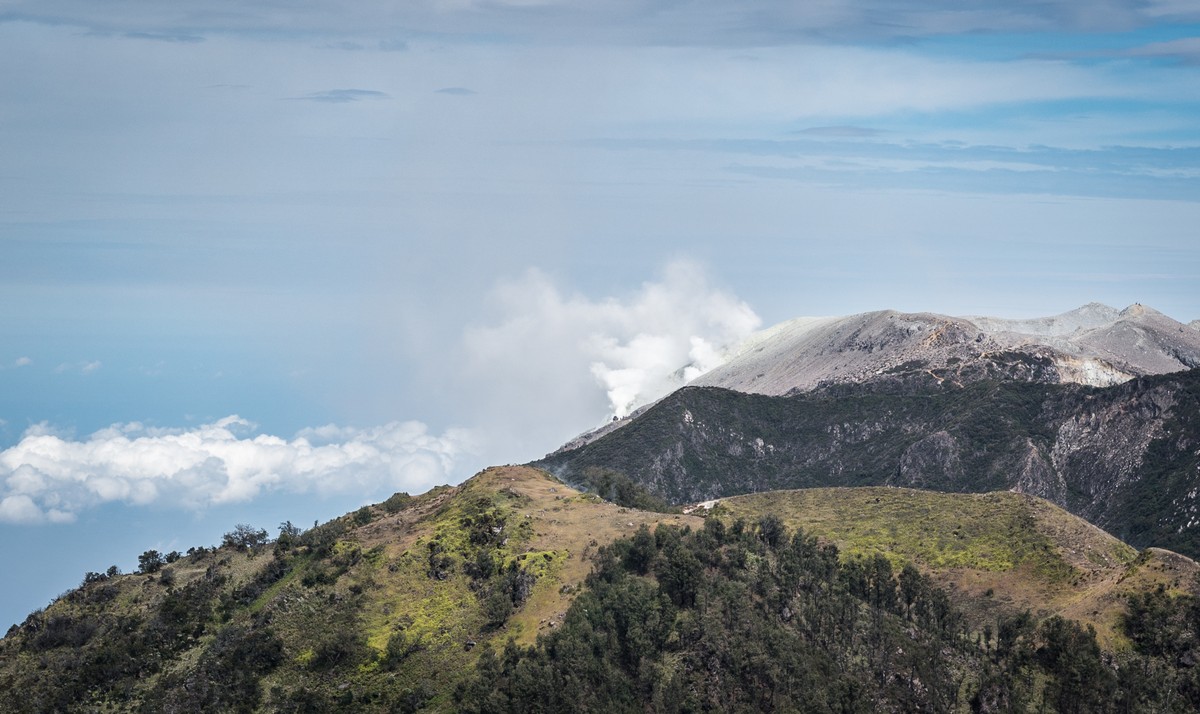 Here we are at the top of another peak, Kembar-1; height: 3058 meters, if we're to believe this here sign:
We're headed that way: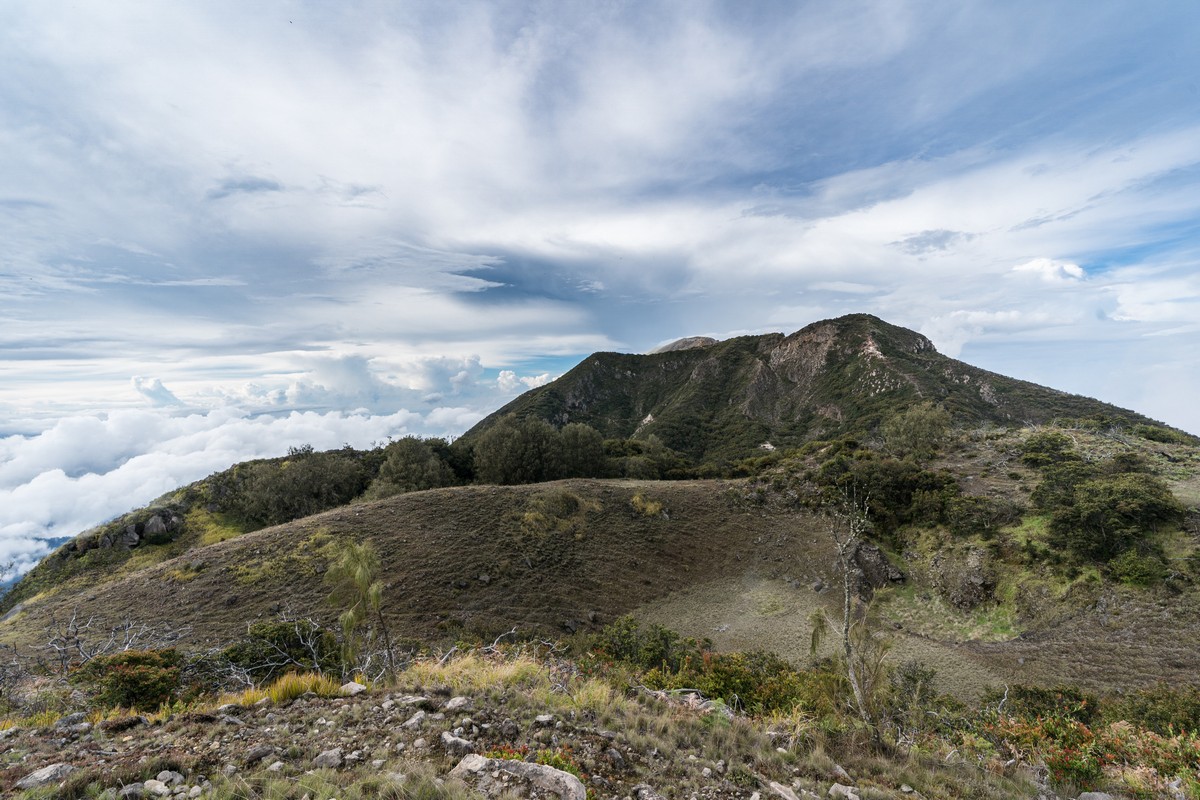 And so we enter the final hours of 2017; time to set up the Christmas tree, lay the 'table' with festive appetizers, and a bit later crack open the shampoo. It just goes to prove: no matter where you are – even if you're further from the center of the earth than most people, you can and should always have a good time seeing in the New Year!
Because the shape of the earth is ellipsoid, at the poles it's a little compressed, while at the equator just the opposite: it bulges. The North Pole is around 21 kilometers (!) closer to the center of the earth than sea level at the equator. Add to that the height of some of these volcanoes, and you're talking nearly 25km difference! Looking at it another way, if we were at a height of 2900m above sea level when we saw in the New Year, then that means we were 6380km from the earth's core, which is just one kilometer short of the peak of Everest (6381km)!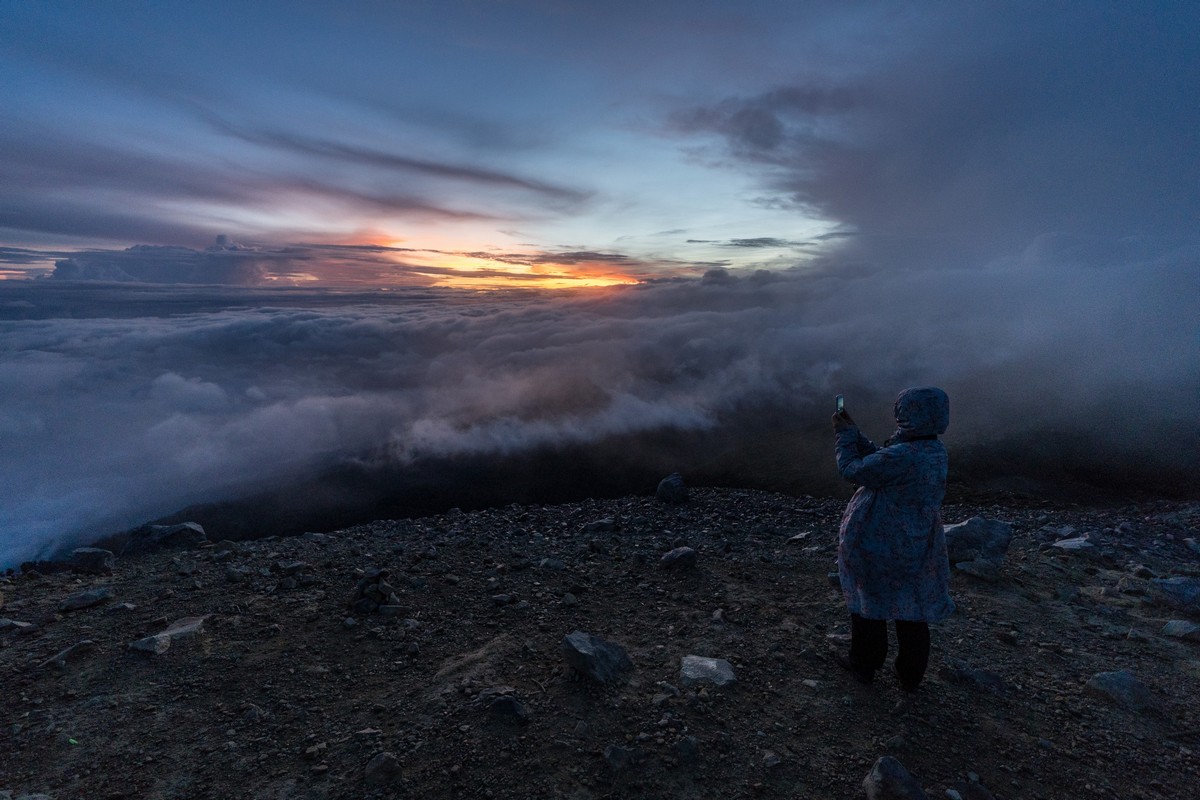 Btw, we were a full 15km further from the center of the earth than all the folks in Moscow ).
But I've a confession to make. I originally said I saw in the New Year further from the center than usual for the first time this New Year. But that's not true. I'd of course done it just two years earlier – up Kilimanjaro: similar altitude (~3000 meters), similarly equatorial latitude, and same celebration: New Year!
Back to this year: it was an unusual New Year in the first place. What made it even more so was that we didn't go to bed that night (at least for a full night's sleep). Waking and starting our ascent of Welirang was scheduled for 3am, so we actually missed midnight (local time) as we needed a few hours' sleep before our climb. We did manage to raise a glass at midnight at the peak though – midnight Kamchatka time!
Rocks, fumaroles, sunrise:
Looking back – that peak over there is where we were the day before:
Folk art in the old crater: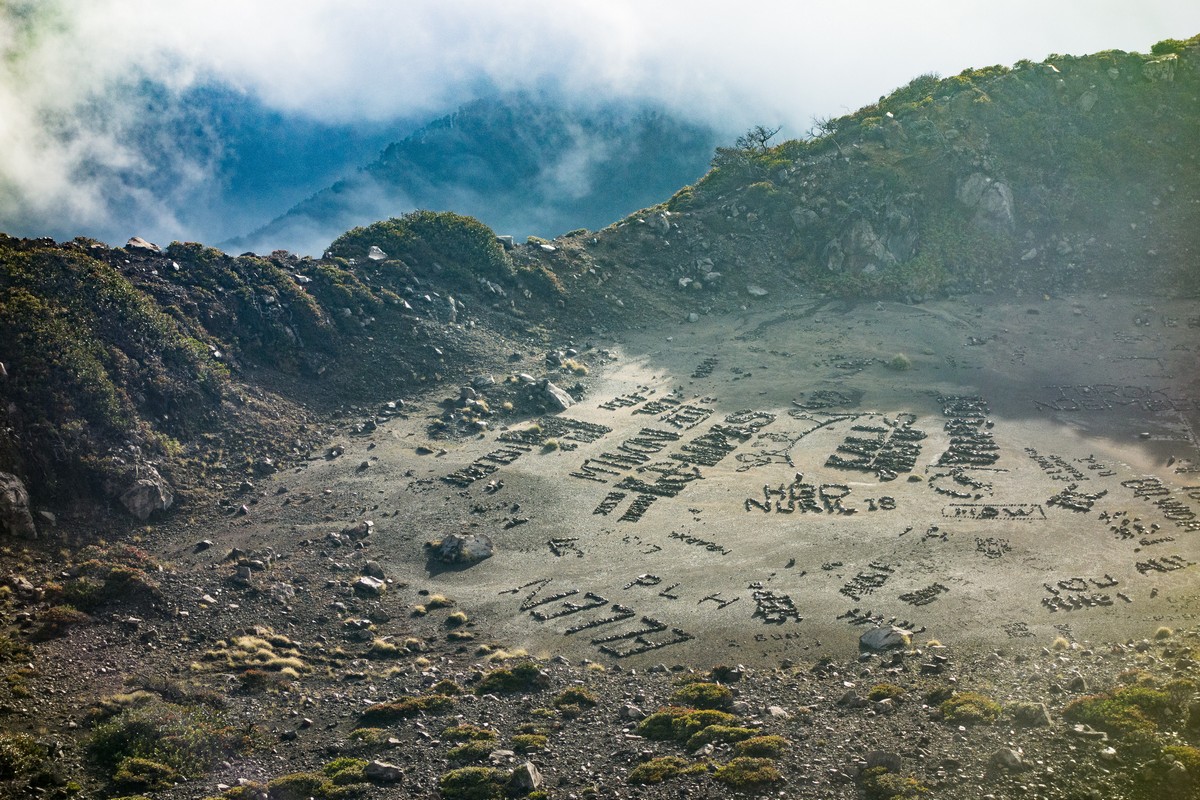 We had company up there: 'miners' extracting sulfur – with their hands, day and night!
Now for some technical data – just in case it'll come in handy one day. This will be a mixture of first-hand experience as garnered there by moi, and info from that bottomless well of information they call the internet.
To be honest, we'd not initially planned on scaling Arjuno-Welirang. Of course, they're beautiful and worthy of beholding in person, but they didn't seem unique in any way. Just run-of-the-mill volcanoes.
// Which reminds me of an Icelandic-themed joke I once heard:
Hi! My name's Gudmundur-Solzveig Sigurdsdottir, and my pal here's called Dagur Bergtoruson Gudmundson. We decided to take a closer look at the Eyjafjallajökull volcano. This was our route: from Sauðárkrókur we headed to Mýrdalsjökull. Next up was Snæfellsjökull. Then it was Brunhaulfskirya and Kauldvafelsstadur via Hafnarfjörður. Later came Tungnafellsjökull, Stykkishólmur, Neskaupstaður, Faskudforbur, Aldeyjarfoss, Kerlingarfol and Murdalstoikul. We finally made it to Eyjafjallajökull. It was nothing special.
Back to Indonesia – like I say, Arjuno-Welirang was very 'nothing special'. The volcano we wanted to climb was the constantly erupting Semeru next to it. But right at the last minute – on the third day of our trek – we heard it was 'closed for repairs' or some such. Grrr.
This volcano can be climbed from the east or the west. We took the former route, which is 13km long, rising 2350 meters. All that in one day is just too much for non-athletic types who haven't been in their twenties longer than it bears thinking about. Accordingly, we split it into two legs, but even at that it was still tough for us (mostly) fifty-somethings. The first leg, to a camp half-way up: 10km, rising 1500 meters, and taking a full seven (7!) hours.
At least there was a good path:
I thought it was a path; turned out it was a 'road': jeeps use it to ferry the mined sulfur down the valley:
More info needed? Try a Google Translate of this; it comes with maps and good pics.
We descended back down on the western route, which was 8km long: shorter, but not such a great path/road. Those eight kilometers took us a good 4.5 hours, and most of them (~5km) were through lush forest. The bonus was mushrooms and raspberries ripe for the picking – and eating :).
Btw, this was the only day it was rainy. We got soaked through to the skin. It was at least one way to keep cool.
Then we walked a further 3km across farmers' fields at a height of 2000 meters above sea level. It looked like the perfect altitude for potatoes, carrots and the like, which were doing splendidly (they were massive, plus there are three (3) harvests a year!). Or perhaps the volcanic soil was the main reason, along with the regular rain? Alas, I was pretty tired by this point, so I've not many pics to show for it. Oh no – I do have some, taken by fellow-traveler D.K.:
Well that was another unforgettable New Year for me – and an exhausting one. But I still want more of the same – perhaps even further from the center!
All the photos from our Indonesian adventure are here.
Back tomorrow folks!…