Melbourne is a really great city – especially when the sun's out. But just the other day it was overcast, wet and miserable – not what you associate with one of Australia's main cities. My hotel room was up on the 46th floor of a skyscraper, so I had a good panoramic view of the city, and I would have taken a few snaps of this conspicuously present bad weather, but they'd stuck some kind of transparent film onto the windows, which made the whole scene horrendously ugly and certainly not worthy of its picture being taken. But I digress…
A day later – it was back to business-as-usual: a shining sun in a clear blue sky with just the odd white fluffy cloud here and there. Yes, the Australian summer unhurriedly merging into the Australian fall in March: not a bad time of year to be here.
Wonderful waterfront walkways, stylish modern high-rise buildings, pretty parks, palm trees – this place really is very photogenic, very ergonomically designed, and very nice to stroll around; this place, btw, being the banks of the Yarra River in downtown Melbourne.
As we had some free time in between business appointments, we had ourselves a good dose of tourism walking about the place. We also inevitably hopped onto a riverboat for some more relaxed tourism for an hour or so…
Melbourne's cool for helicopter excursions too normally, but the day we would have had time for one was the rainy day, so that was out this year. Melbourne's also very cool for golf and other sports, parks, beaches… – everything for the active individual. Victoria, the state of which Melbourne is capital, is also called the 'Education State', though the locals we talked to weren't too… enthusiastic about such a slogan, preferring some of the others: the 'Garden State', 'On the Move' and the 'Place to Be'! Maybe those locals we talked to didn't study at one of the city's universities – which sure seem to be perfectly ok, and incidentally with which we collaborate on security-awareness initiatives. There're are museums here in Melbourne too, but not all that many and they're kinda modest affairs, so we were duly advised to stick to the straightforward 'can't go wrong' category of micro-tourism: walkabout + river excursion!
I could be mistaken, but… it seems to me that down here in southern Australia there are plenty of cultural-historical aspects; however, they've always passed me by. Any of you, dear readers, agree or disagree?
Meanwhile, the transportation industry does just fine here:
Yikes:
This one's a long way from home. Wait… I think I recognize this one… Ah yes – I snapped its twin in Bergen, Norway.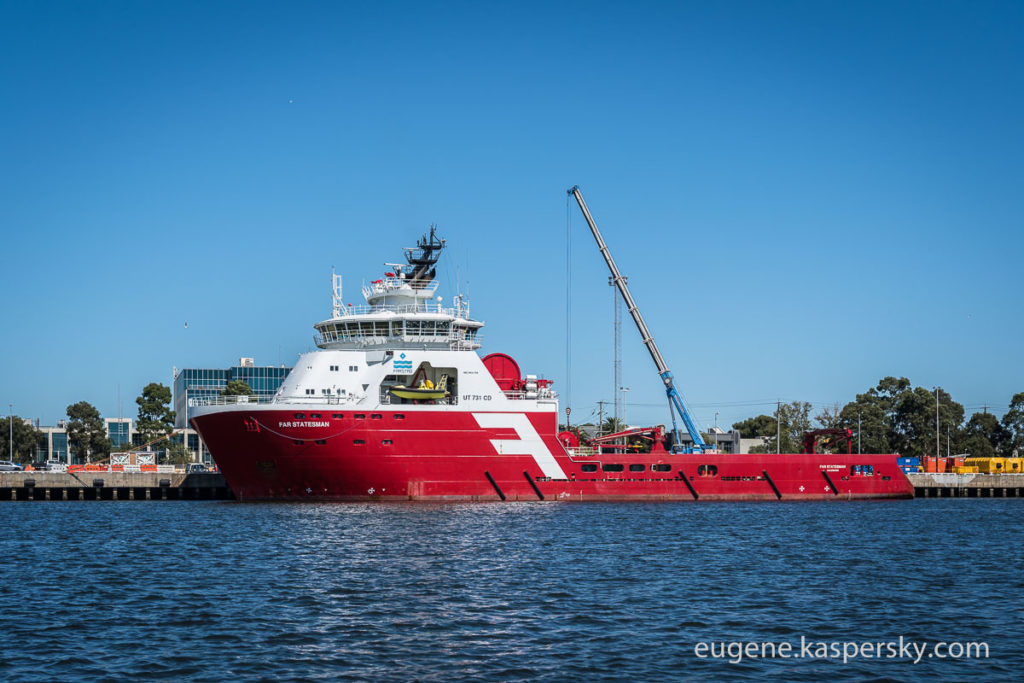 Up above Albert Park (where the Formula One takes place) a warplane pilot shows off his aerial somersaults.
On this trip to Melbourne I experienced my first trip on public transportation – on a tram! Apparently you can use them free-of-charge in the city!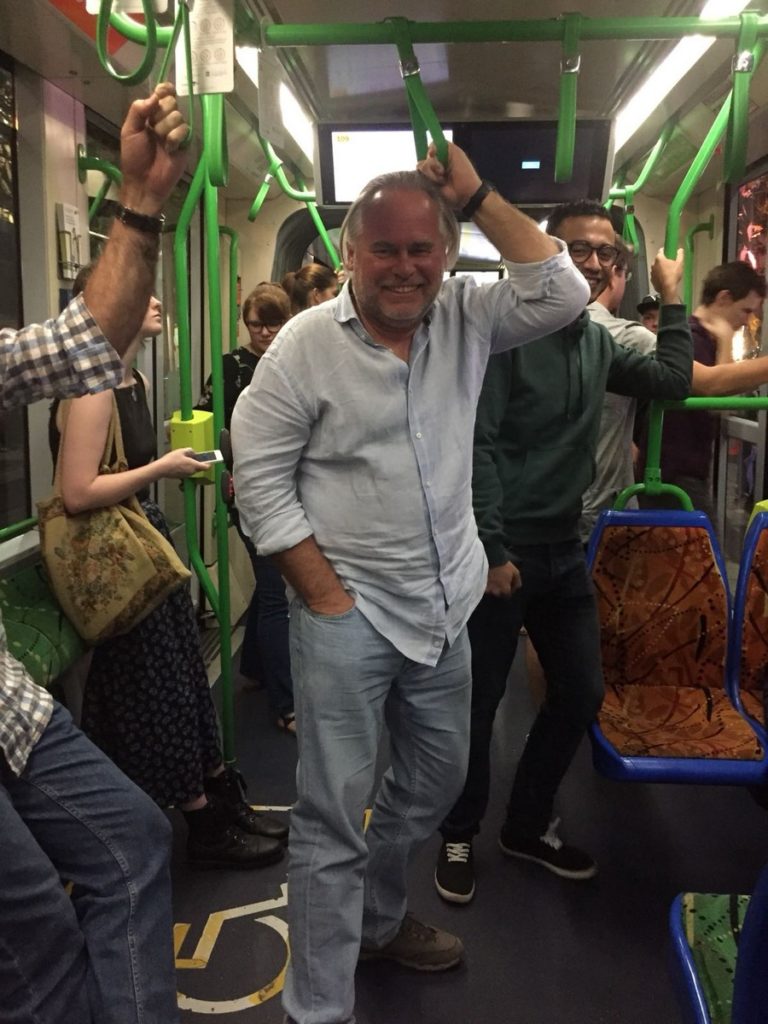 Yes, I love Melbourne. Yes, I love Australia. But as usual there are always a few flies in the ointment…
Ointment defiler No. 1: Oz is soooo far away from practically anywhere. Even its neighbor Singapore is eight (8!) hours' flight away. 'Just over the pond and up a bit' to Los Angeles takes 14 hours (I once flew Dallas – Brisbane), and a 'quick hop over the southern Pacific' to Santiago de Chile lasts 14–15 hours (I've flown there via Sydney)! So, you normally need a real good reason to be in Oz for you to be able to justify the looooong time it takes getting there. Flying there on a whim for, say, dinner, as you might extravagantly do with, say, Paris… it's never going to work now is it? At least, not before Richard Branson launches his intercontinental Virgin, anyway.
Ointment defiler No. 2: The Oz sun – it's a killer, literally. Apparently it causes the most skin cancer for white-skinned folks in the world. So if you're Caucasian – especially if you've pale skin, maybe inherited from Scandinavian ancestors – you really have to be careful here, and never spare the factor 100+. Incidentally, Oz is a leader in medical treatments for sun-caused ailments.
Ointment defiler No. 3: High taxes & high cost of living. And you thought Western/Northern Europe had high taxes and cost of living? You ain't seen nothing yet. At least, that's through the prism of the software industry, the prism I know a bit about. Er, just let me put it this way: software companies here don't go bankrupt; they don't even bother starting up since their chances of survival are so low! Of course, there is a software business in the country, it's just that, relative to the level of development of the economy as a whole (which is very impressive), software pales into insignificance. You heard about the Australian Silicon Valley? Nope, me neither.
Ointment defiler No. 4: Internet speed. Oh my fail!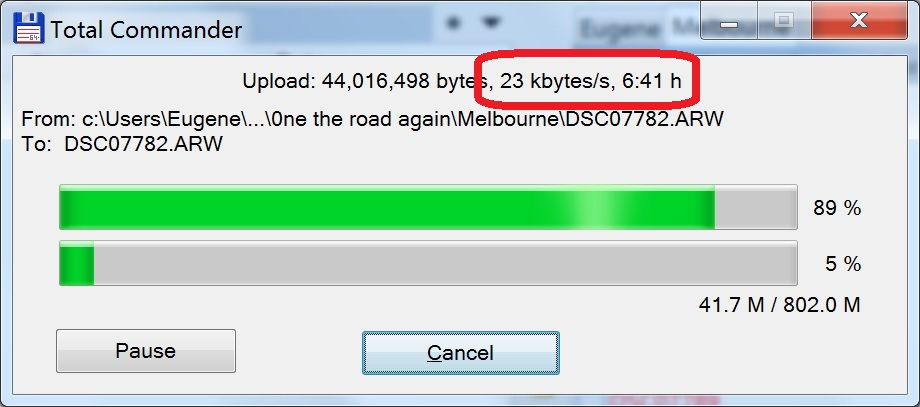 Back to my software (rather, IT) prism… let me tell you how for seven years already an internet modernization program has been running nationwide around the country. The project calls itself the NBN and it's already had almost 40 billion Australian dollars (~31 billion USD) spent on it! What?! Er, then how come it's still 20 kilobytes per second? In Kamchatka via satellite it was quicker (now there's a cable under the sea), while today internet speed on the peninsula is faster than in Melbourne in a five-star hotel!
Ok, ok. Enough negativity! (Maybe it's the jetlag? I'm not normally one to dwell on the negative). The positive in Australia (scenery, beauty, comfort, weather, Ozzies!…) far outweighs the negative. It's just that the internet situation is so perplexing. Oh, and I nearly forgot: there's another positive to completely demolish internet-speed woes: Formula-1 (the first race of the season) – coming right up after I finish this here post!…
All the photos from Melbourne are here.
Update! The race has finished – and we won!!! A great start to the season; keep it up!
That's all for today folks. Back soon!…