XIA – PEK – SVO – LHR – NAS – LHR – PHEW.
I've been getting about quite a bit this fall, and practically every day I've been as busy as a bee. It's that slightly disorienting routine I get into every few months or so: each day something new – starting with the hotel room I wake up in.
But the other day it wasn't a hotel room. Upon waking, my first question to myself was the usual 'Where am I?', but the answer this time came 'in an Airbus!' Indeed I was, flying Xi-an – Beijing – Moscow – London – the Bahamas – London over several days.
Such continent hopping in a short time with lots on the work agenda forces my happy-snapping habit into its minimalist regime. This isn't so bad, as the pics that do manage to get taken are normally very much 'greatest  hits' and no padding. Thus, this post: 'Greatest Hits of the Last Several Days'!
First, here's a masterpiece from Petrovich taken at dawn at Danxia: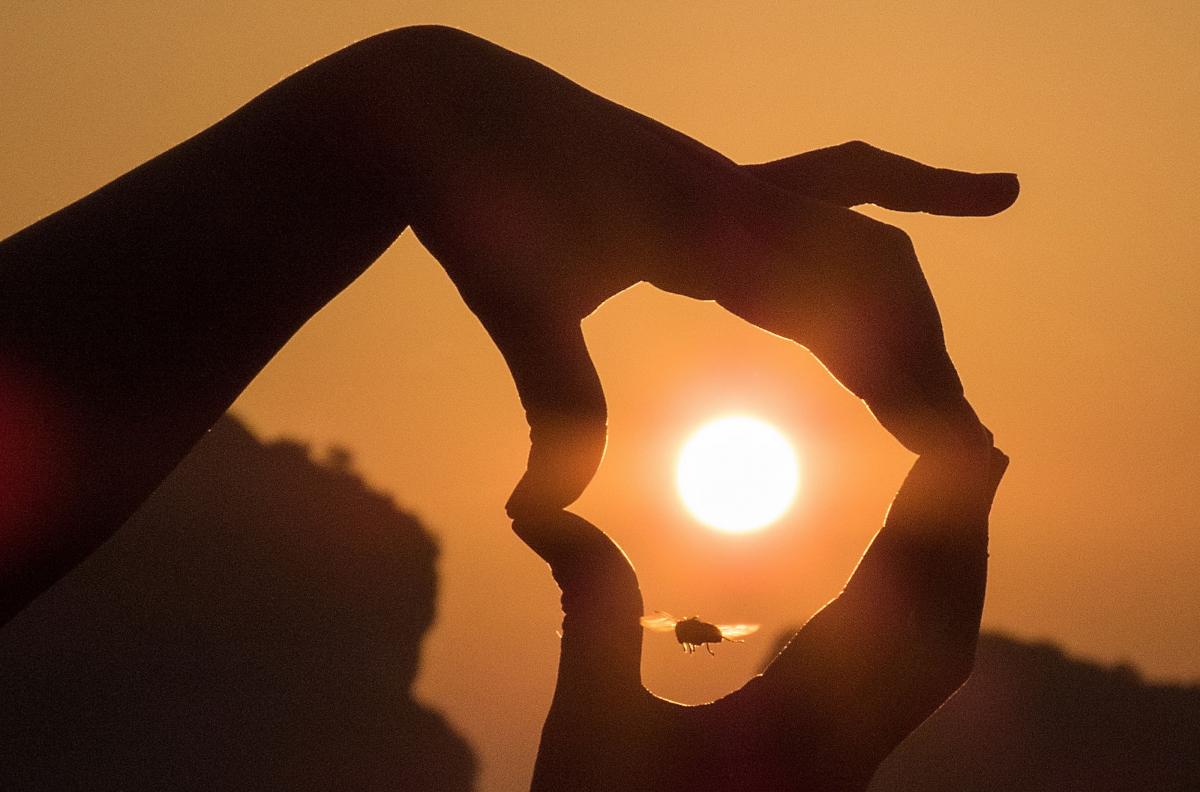 Before you ask about the fly, let me make the introductions: please meet our pet fly, whom we carry around the world with us in a jar and sometimes let him out for a walk fly :).
And now for a brief rundown of my recent continent hopping…
The Airbus delivered us to Moscow, and that evening I was already ensconced in BarKas, listening to none other than BG, as is becoming the custom every November (I think this year is the third in a row already). New songs, old songs by the maestro himself in an intimate setting – just the ticket to wind down after such a long-haul. But before I could say 'Bravo, encore!', it was back on the road!…
And before I could say 'fish and chips' I was in London. After the day's work, we ended up in a very nice British restaurant. British – as in: British cuisine. Who'd have thought it :). Just kidding.
It was the Frontline Club restaurant. Like I say – very nice, but the staircase in there – oh my goodness! Which are the steps, and which are the reflections? Only for the sober!
Photos on the wall in the restaurant – all from 1945. The two in the middle side by side: one taken in Moscow, the other in New York. Well folks, I see no difference there – love is in the air in both!
Have I told you how nice the restaurant was? Ah yes – twice. Nice goes for the food served too – and the craft beer. And especially nice for us KLers as it's just round the corner from our European HQ!
But before I could say Bahama Mama I found myself in Nassau, at the Baha Mar Hotel!
I was here for our North American Partner Conference – for our US and Canadian partners. We always have these in suitably tropical-paradisaical locations, as it puts everyone in a good – and productive – mood ). This year around 70 partners attended, including those we've known ages and also those we were meeting for the first time (to get properly acquainted and talk plans for the future).
I'll leave the business side out of this here post – I don't want to provoke any fits of yawning – but I will include, you guessed it, quite a few pics…
The hotel is painted… originally. Bright pastel shadings that are totally verging on the gaudy. Inside it's more of the same too. Plus there's a very plush casino; that's all very nice, but not for me – not a fan of gambling.
After the partner conference many of the participants stayed for a spot of sun, sand and surf. Not me. Before I could say 'Full English breakfast' I was heading back to London!
All righty. That's all for today folks. But I'll be back tomorrow with further tales from the Thames side…