Antarctic Anticipation and Nostalgia. – pt. 2.
Some of you may be wondering what we were doing on Antarctica in 2009, and how exactly we could claim it was a business trip. So let me tell you…
We unintentionally (and that's a whole story of its own) became the main sponsor of an all-woman skiing expedition to the South Pole. Now, some time before the expedition itself, some colleagues and I were in Singapore. One evening in a restaurant we all admitted we were rather worried for the ladies on the 40-day (forty-day!) ski across the most inhospitable land on the planet. And that's when we had a eureka! moment: "Why don't we go too?!" Ok – not on skis, but to at least be there at the finish to meet and greet and celebrate with the intrepid adventurers. And that's just what we ended up doing. Then we figured such an ambitiously adventurous jaunt would be interesting not only for us but also for the press – so we invited journalists along too!
So. There was me. There was our then-APAC-director, Harry Cheung (who was the main organizer of the project). There was Aleks Gostev (one of our top experts on cyberthreats, interviewee-extraordinaire, plus a mandatory member of any exotic expedition involving mountains or glaciers or both). Then there were three journalists – two with video cameras, the other – a professional photographer: Alexander Blotnitsky (France Press), Marina Ten (Associated Press), and Denis Davydov (Izvestiya).
We landed at the South Pole at precisely midnight (Moscow time) – on New Year's Eve! Oh my glacier! New Year's Eves don't come more memorable than that :).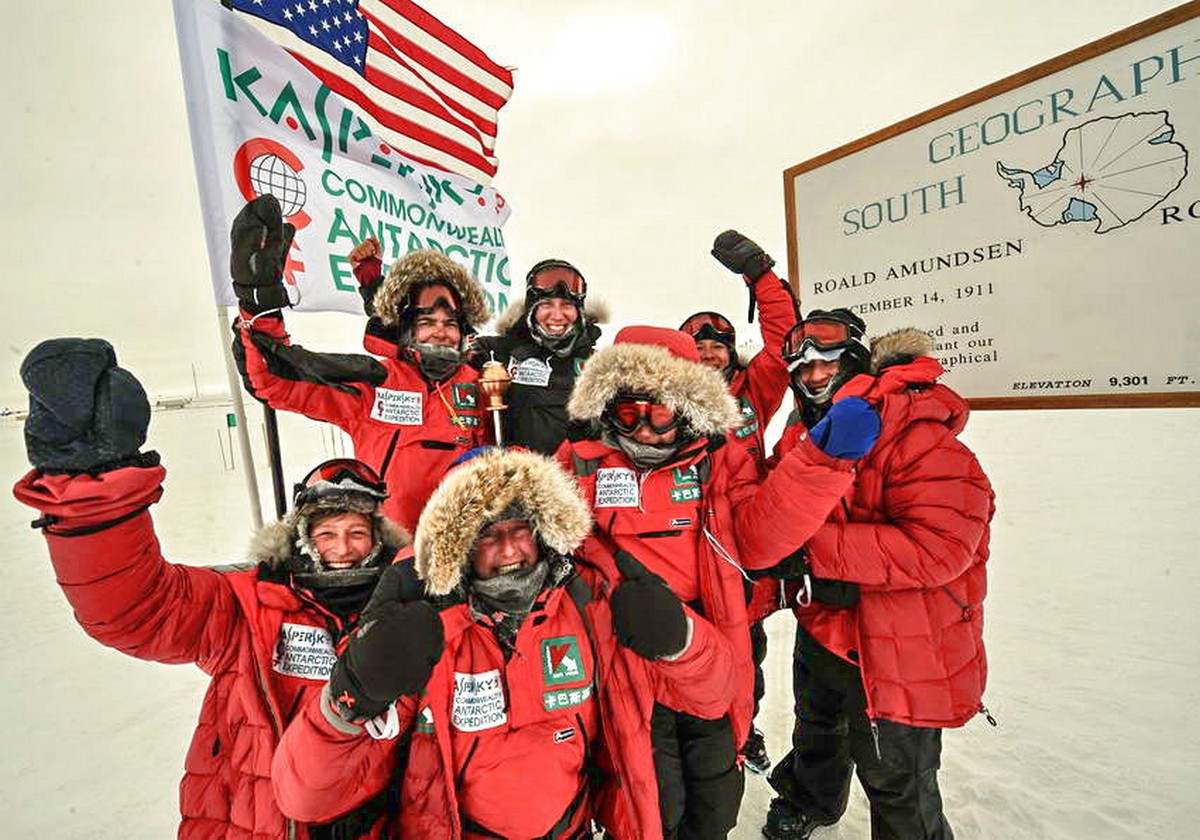 Here's me getting my pic taken with all the flags of the countries where we have an office around the world!
Not such a bad selfie, eh?
Alas, we couldn't stay too long; it was time to board the plane and head back to the base camp – together with the brave skiers!
Another 'alas': we couldn't open the champagne for a New Year/Polar drinkie as it was just far too cold. But we did have a small plastic Christmas tree. We were able to drink some vodka though (oh, the inevitability:), since, as I'm sure you'll know, pure vodka doesn't freeze. The shampers we drank back on the plane :).
But that's not the end of the story!
There's the epic saga of polar Internet polar Internot…
We needed to send within a day or two some 300 megabytes of professional photo-video, but since there's no Internet on Antarctica we had to use our Iridium OpenPort. Such a device is normally used just for telephone calls, to look at a simple website, or send a short text-only email; data takes 7-10 minutes to transmit a whole megabyte!
But we persevered, and we did it: we sent our data out of Antarctica using the Iridium, becoming the first tourists to ever do such a thing (the scientists here do it all the time as they're fully kitted up with proper gear). Tourists normally take their jpegs and mpegs back with them physically – still on the memory cards. Not us :).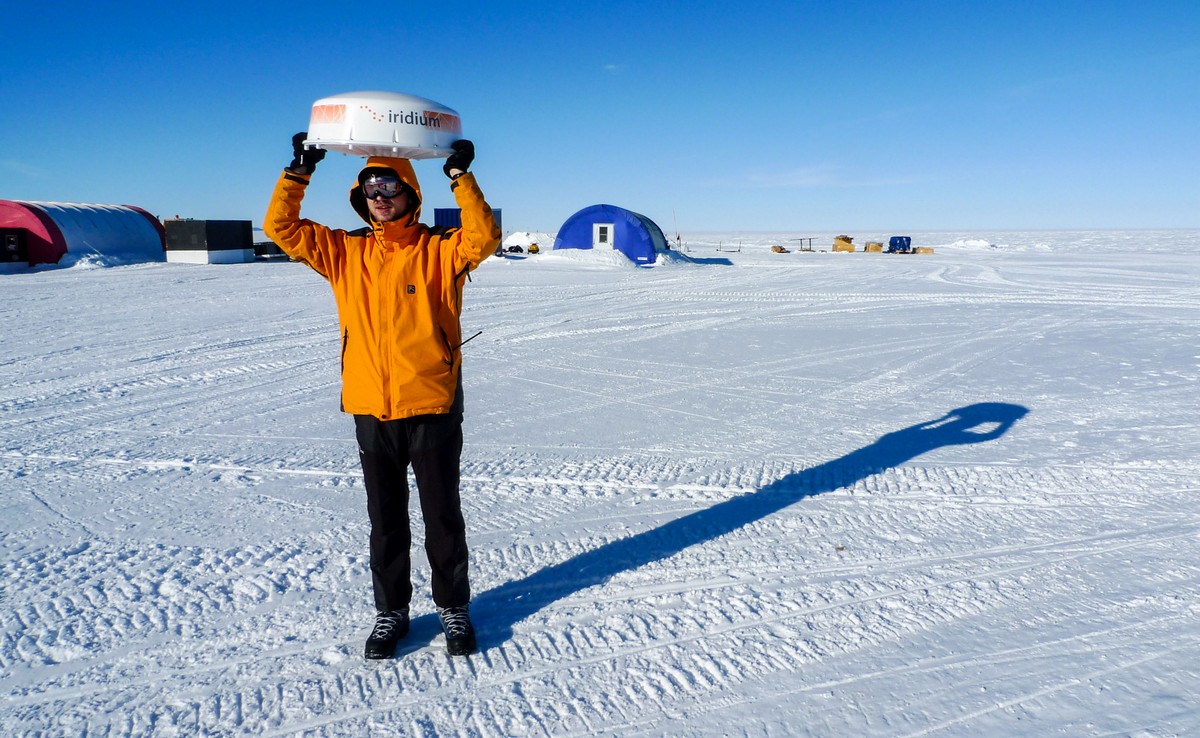 More fun details of our Internot escapade – here. One quick detail here:
I recall Marina Ten on New Year's Day remarking thus: "Normal girls are now cutting the veg for the olivier salad, smelling of Chanel. I'm here fiddling about with a generator, smelling of diesel!!"
In the end the generator wasn't needed, the solar panels were sufficient.
The following pics show an abandoned Chilean military base. It was set up on December 6 or 7, 1999. When it was deserted I don't know; I couldn't find any info. If anyone knows – tell me!
The vacated camp is a rather spooky place. It looks like the folks here just went for a walk after breakfast, expecting to return – but didn't. Stuff lying around as if still inhabited. Maybe ghosts live here. We didn't hang about long enough to find out…
Then the weather turned bad, so we weren't able to fly out. So we had to while the time away until it got better…
Eventually, it was time to head home…
My next Antarctica trip is getting nearer and nearer by the day, and with all this nostalgia the wait is becoming unbearable! Ah, and btw – don't forget you can help me out with ideas re modern kunst techno-virus-cybero installations on Antarctica this year. Get involved!