Korea to Switzerland on Turkish.
Quite a flight the other day night for us – 11 hours up in the air!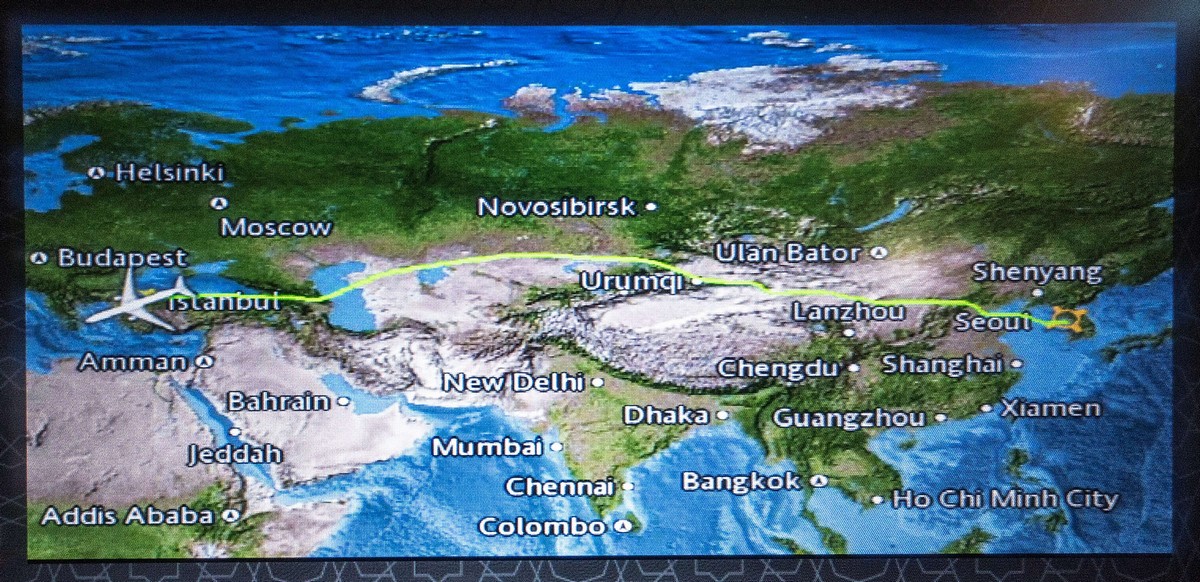 Looking at the flightpath got me thinking… I wonder why our trajectory was so straight. If we were to fly via southern Siberia it would have been shorter, thus quicker – probably by around two hours. Is it that Turkish Airlines don't want to pay the Russian overflight fees? Or is it geopolitical? These musings led to further questions on this topic:
On the Seoul–Istanbul route how many kilometers would you save if you were to fly in a northerly arc, and how many minutes or hours would you save?
How much would the fee be for a Boeing 777 to cross Russia from the border with northeastern Mongolia and Novorossiysk (on the opposite side of the Black Sea to Turkey)?
Or is it all geopolitical based on 'principle'?
Anyone know the answers?
But what does it matter really? And anyway, flying straight got me a few extra hours' quality reading time, so I wasn't complaining. Also got a movie in, and sorted out my email. The only downside was it was a night flight. I know from experience that by day this general route – East to West – offers some unearthly beauty out the window: deserts, Tibetan and Caucusus mountains, the Aral Sea – all worthy of some serious snapping. This time though instead of all that it was nothing but blackness, with just the stars occasionally coming into view.
The plane's 'flight info' had a new interface which looked promising for… all of three seconds. It turned out to be incredibly idiotic: non-user-friendly, and the main thing – the map – was hardly visible in the middle, taking up less than a quarter of the screen. In short: flight info fail.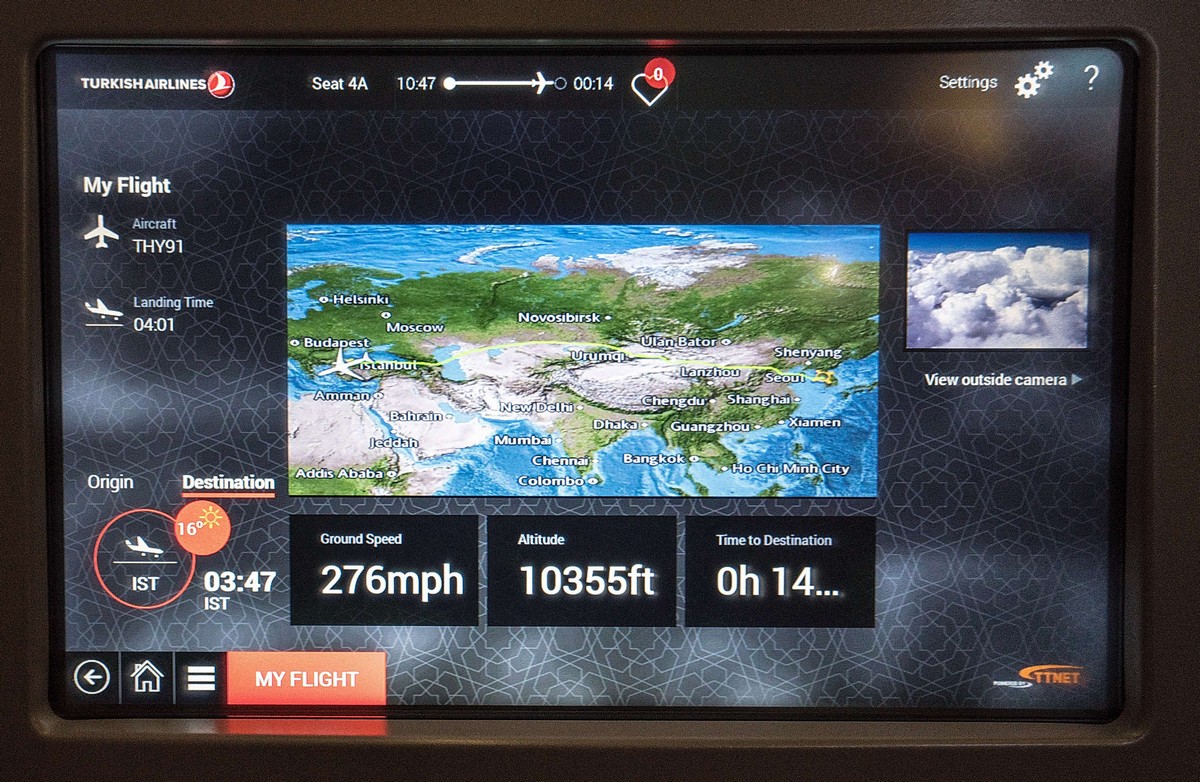 Now, don't get me wrong: Turkish is a real cool airline, one of the best in Europe (and for you sticklers – the airport it uses as its hub in Istanbul is in the European part of the city, so it's deffo a 'European' airline:). Good modern planes, comfy seats, on long-hauls the business class seats recline completely to form a bed, the meals – and portions – are great, and the flight attendants are always up to this or that to make your journey a comfortable one. Total respect! That is, apart from this new flight info fail.
Oh, one other important thing I like about Turkish: their 'Do not Disturb' stickers – great for the laptop :).
Stickers in the past were rather primitive by comparison:
And still on the laptop theme, my trusty companion of several years is finally being pensioned off: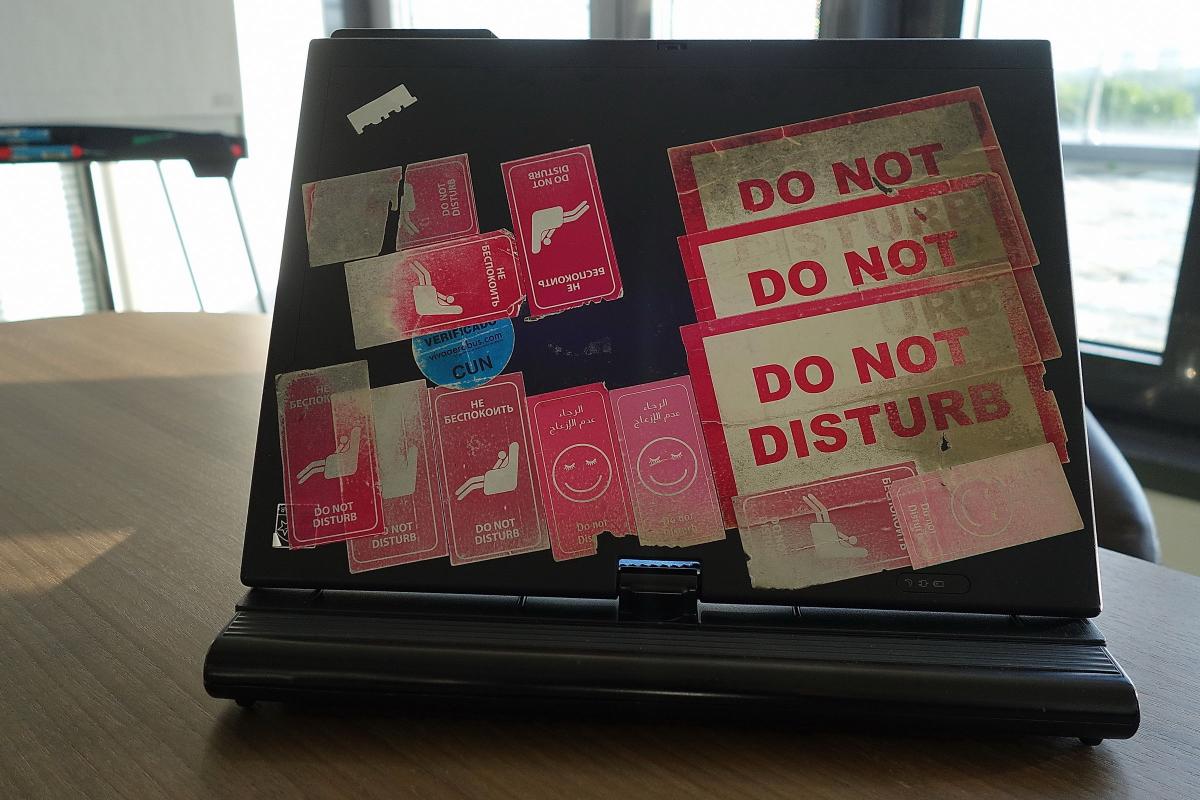 Hmmm, grrrr. // grumpy old man hat – on! // Just a few years ago before the 2008 global financial crisis, the stuff they used to give out on planes – especially in business or first – was plentiful, colorful, aroma-ful, and actually quite useful for this or that personal convenience or hygiene necessity. Ok, there was a lot of tat given out too, but whatever. Now? Practically everything they give out is pitiful, bland, aroma-less, cheap and nasty, and TOTALLY useless. With the odd exception, that is. Etihad and Emirates remain glamorously 5* and perfect for the tired business traveler who's willing to pay a small fortune for their own room – including a 15-minute shower – on an A-380. (Oh yes – the shower really rules: I once tried it in, let me see (I log all my flights!), November 2013 on Emirates flying from Dubai to Melbourne.) // grumpy old man hat – off! // Such occasional pampering is the reason I haven't done an Iron Maiden :).
Finally we land… in Zurich.
I'd been here before and recalled it was quiet, calm, measured, and neat and tidy. Roadworks don't get carried out by day, so as not to disturb the pedestrians and drivers. Instead they get done at night, so as to DISTURB FOLKS TRYING TO SLEEP! All night bang, crash wallop non-stop. They were replacing the tram tracks or something – RIGHT OUTSIDE MY WINDOW! Thankfully the hotel's windows were pretty good at keeping the racket out, but they didn't do much for the lower frequencies. Like sleeping next-door to a nightclub. Also thankfully: I nevertheless slept through the noise as I was so tired after Seoul and the long haul flight.
I woke at 06:30 to the continued clamor outside. After breakfast it was time for a quick walk round the small downtown. The lake is still there, all swans and yachts present and correct as before, moving about Swiss-style: slooowly.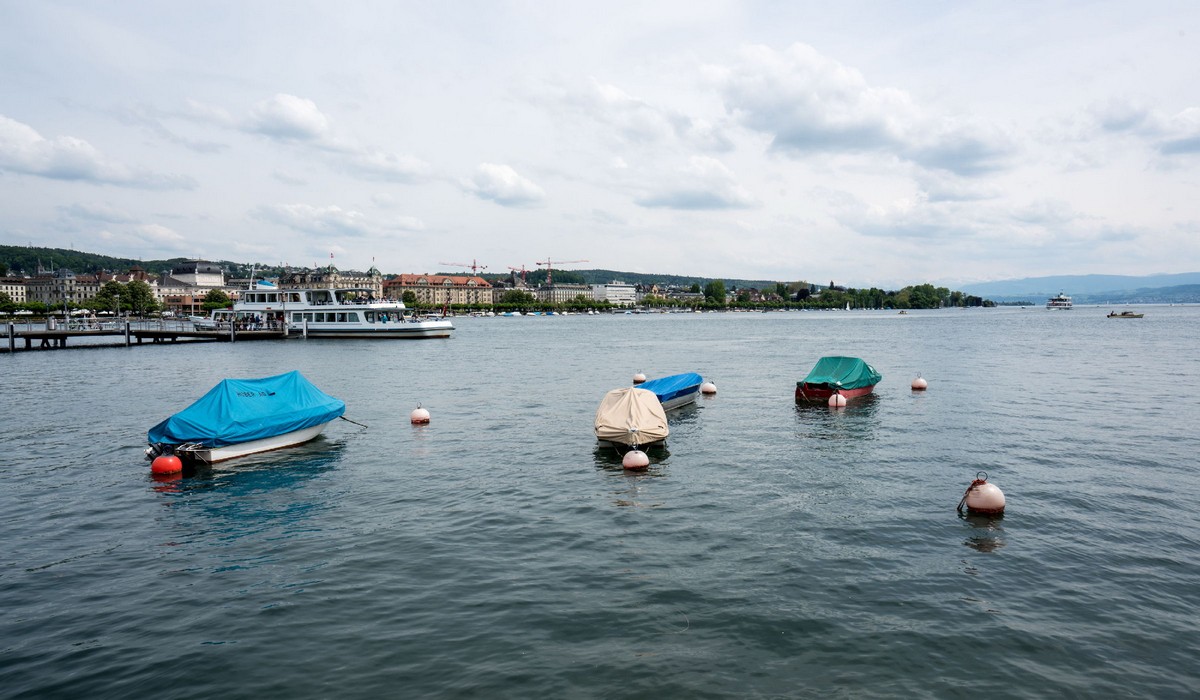 Chestnut trees a-blooming…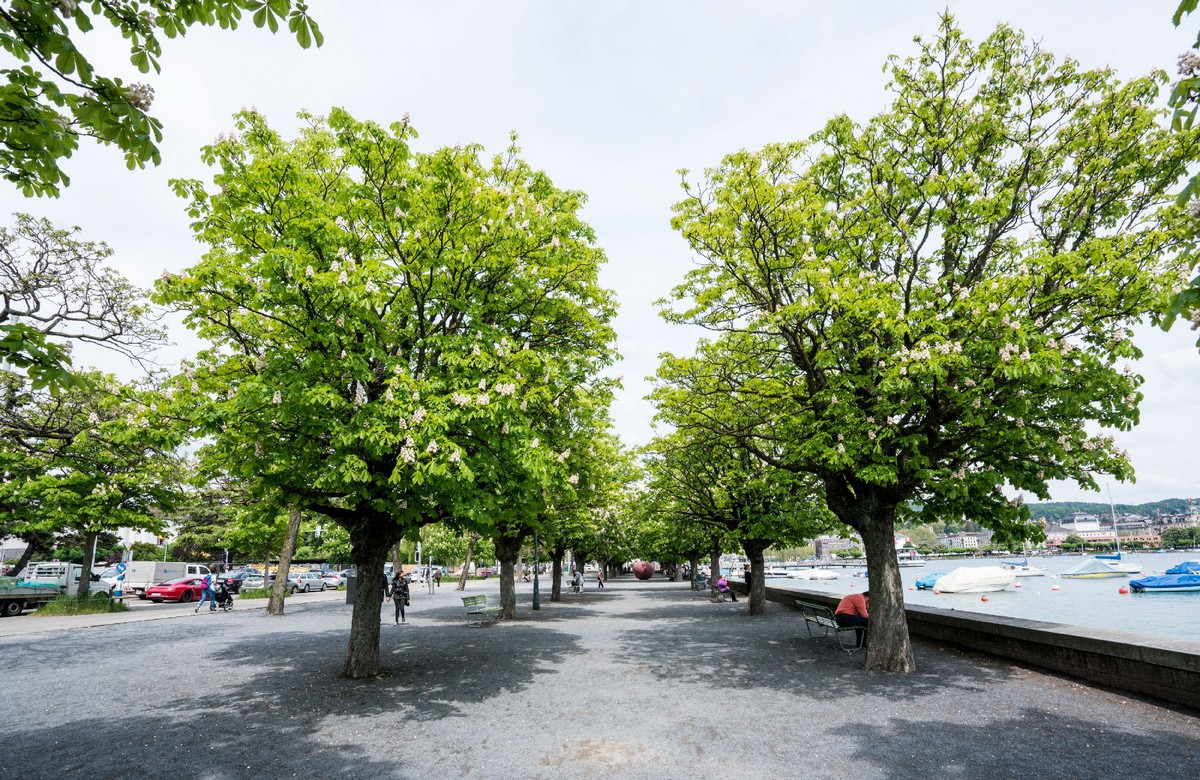 Children sailing multicolored Optimists. I used to sail such dinghies when I was a boy. Wanted to get in there and have a sail down memory lane, but it was time to do some work…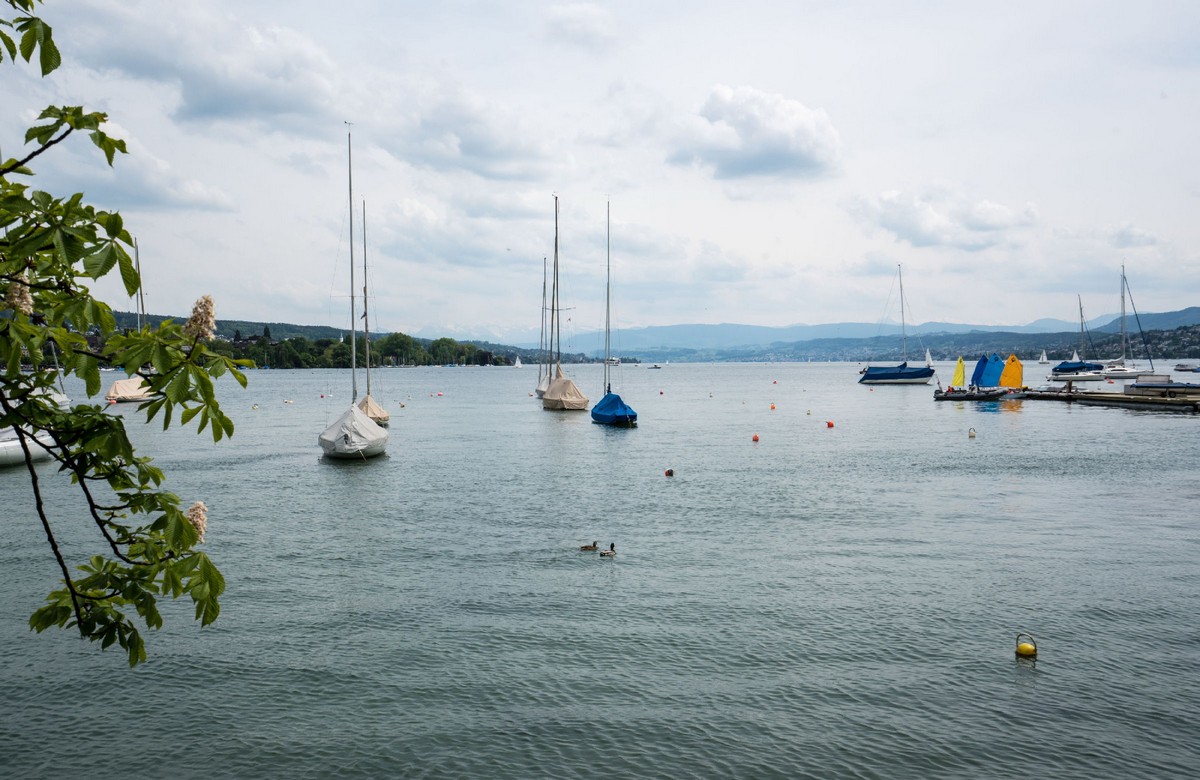 And before I knew it, it was back to Moscow after having done my business in supersonic speed…