I hardly ever take the subway/metro/underground, no matter where I am in the world. My usual MO is~: plane – car – hotel (or home) – car – office – car – hotel (or home) – car – plane… I do use those trains that ferry folks between airport terminals quite a bit, but city metros – nope.
But just the other day in Seoul someone suggested we take a ride on the metro. The nearest station was just 200-300 meters from our hotel, so we thought why not?!
What can I say? Well, though I've been spoiled by having Moscow's monumental metro on under my doorstep, I can still say that Seoul's 'Metropolitan Subway' really is quite something. New and modern-looking, neat, tidy, comfortable, and massive. Though opened only in 1974 it's more than twice the size of Moscow's ever-expanding metro, and one-and-a-half the size of London's Tube. Whoa. The Koreans sure can dig :).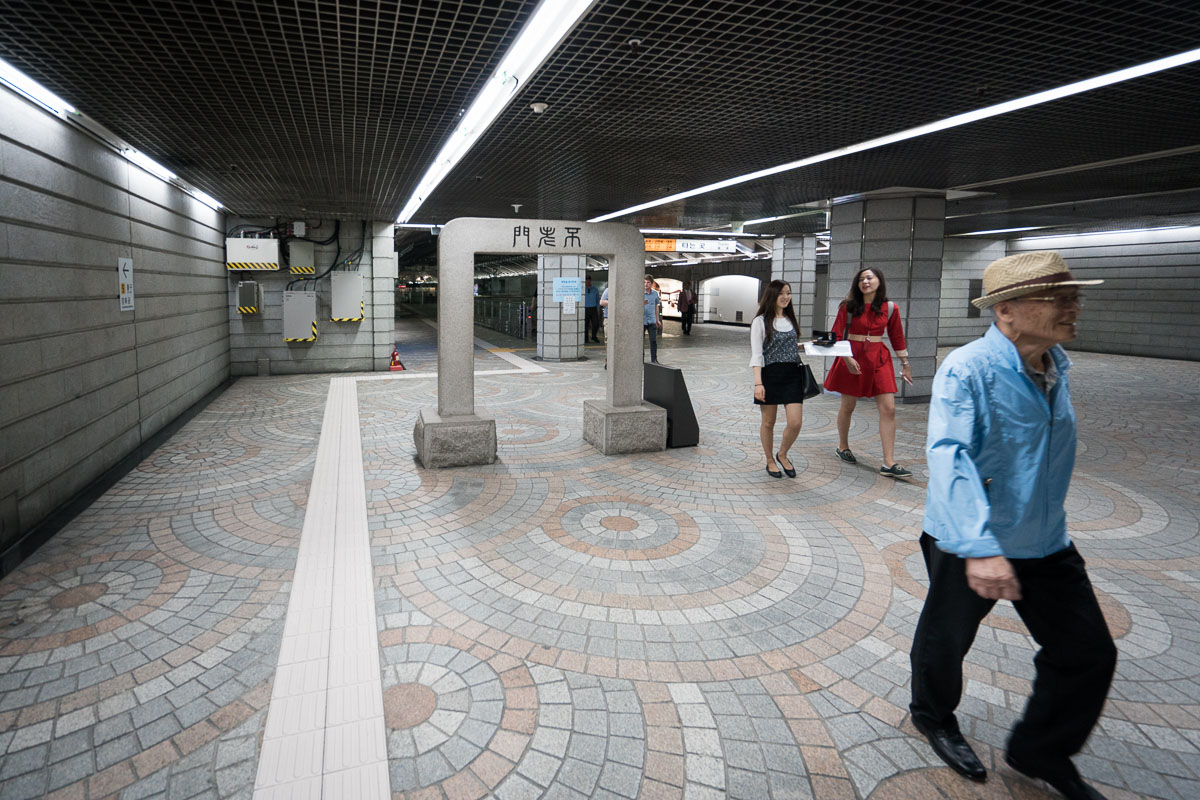 In terms of how many folks use it every day, it's the third busiest in the world! That's why we took a ride on it during the day. During rush hour we took a taxi. Sure, the traffic was heavy, but when our local hosts said the 'traffic' would be a lot heavier underground, we were glad we weren't guide-less on our mini-excursion of South Korea's capital.
But during the quieter times of the day Seoul's metro is most pleasant and convenient to ride on. It has certain interesting unique features not to be found in other metros I know; for example a 'photo zone' where you can get your pic taken 'with' all the players of the national women's volleyball team. My travel companion A.B. didn't let this chance pass…: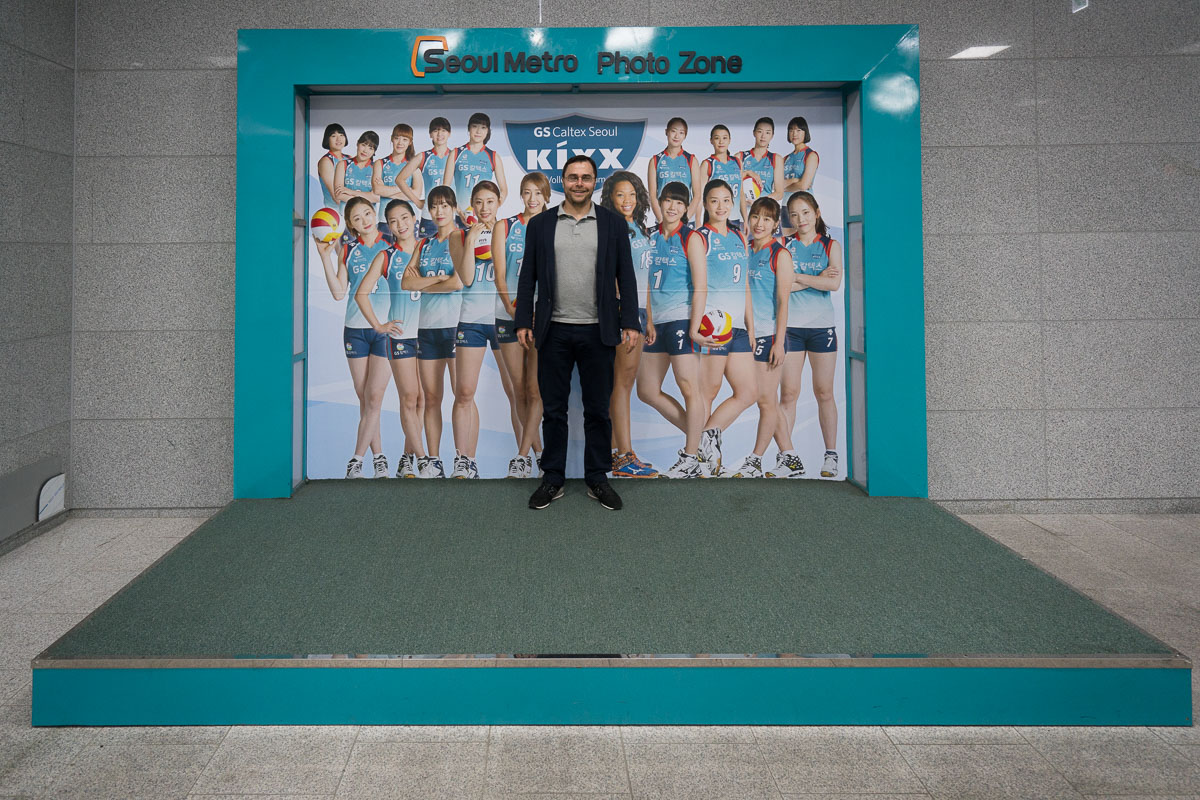 Here's the 'Gate of Long Life'. During the kingdom period only the king was allowed to walk through it. Today anyone can so they 'would not be old forever'. I think that means 'won't ever grow old' :).
And in that there installation are – no, not soft drinks – gas masks! Probably other bits of anti-chemical weapons kit too. Eek. Still, front-line city – to be expected I guess.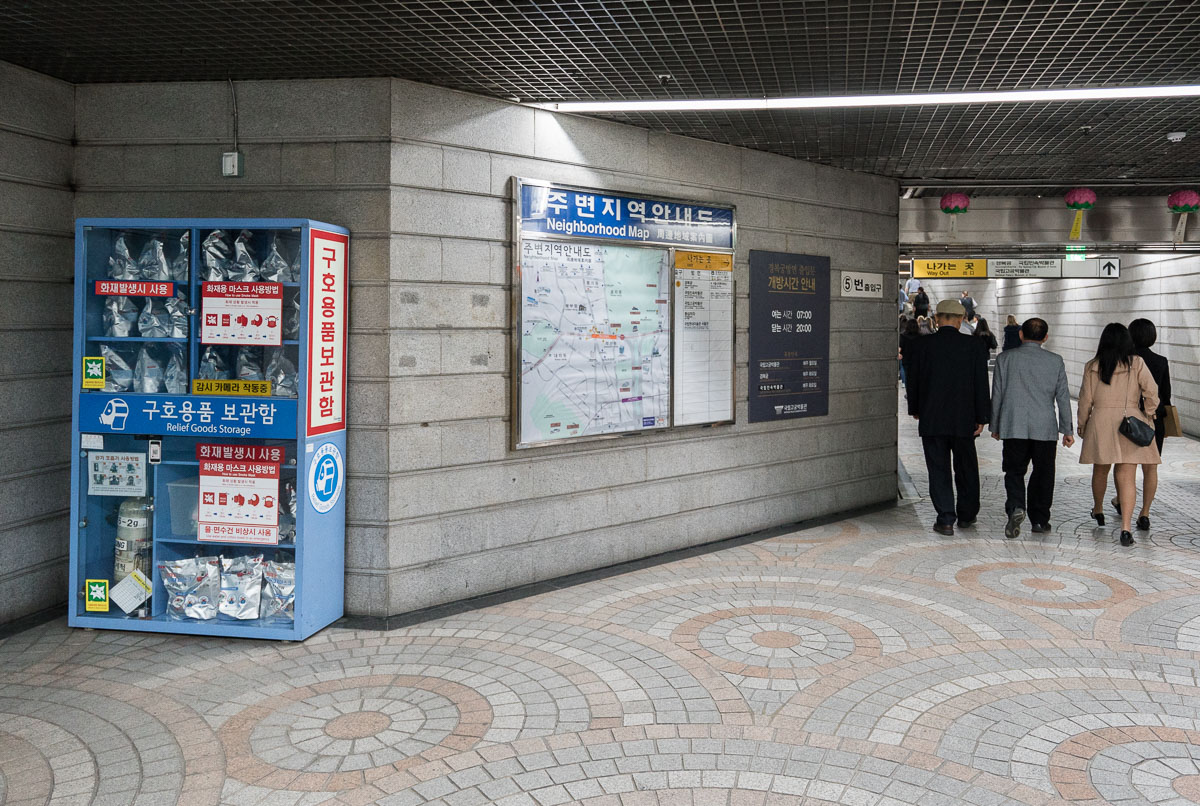 And this is the royal palace of the Joseon dynasty, Gyeongbokgung. More than 700 years old, it's been burned down a few times, and also destroyed by certain unfriendly neighbors (I'll mention no names, but it reminds of that threesome that English Law is trying to 'protect' at the mo (it's not as if you won't find out on the net:)). It's been rebuilt, again destroyed by fire, again restored. Of late it's been repaired, renovated, painted and spruced up and looks very impressive. Which parts of it are original from the 1300s and which are new you can hardly tell. Not that it matters I guess.
The palace complex is made up of squares and courts surrounded by walls with palace-entrances/exits along them. The inscriptions on the palaces are in Chinese as they were written in the fourteenth century – before the invention of the
Korean alphabet
. It reminds me of the Forbidden City in Beijing. I wonder, who got the idea from whom for the design? The Korean palace complex is older so… Any budding Eastern historians among you, dear readers?
The Korean palace is, I think, a little bit smaller, but all the more brighter somehow. Beautiful open spaces, blue sky, tourists happily strolling about. Nice.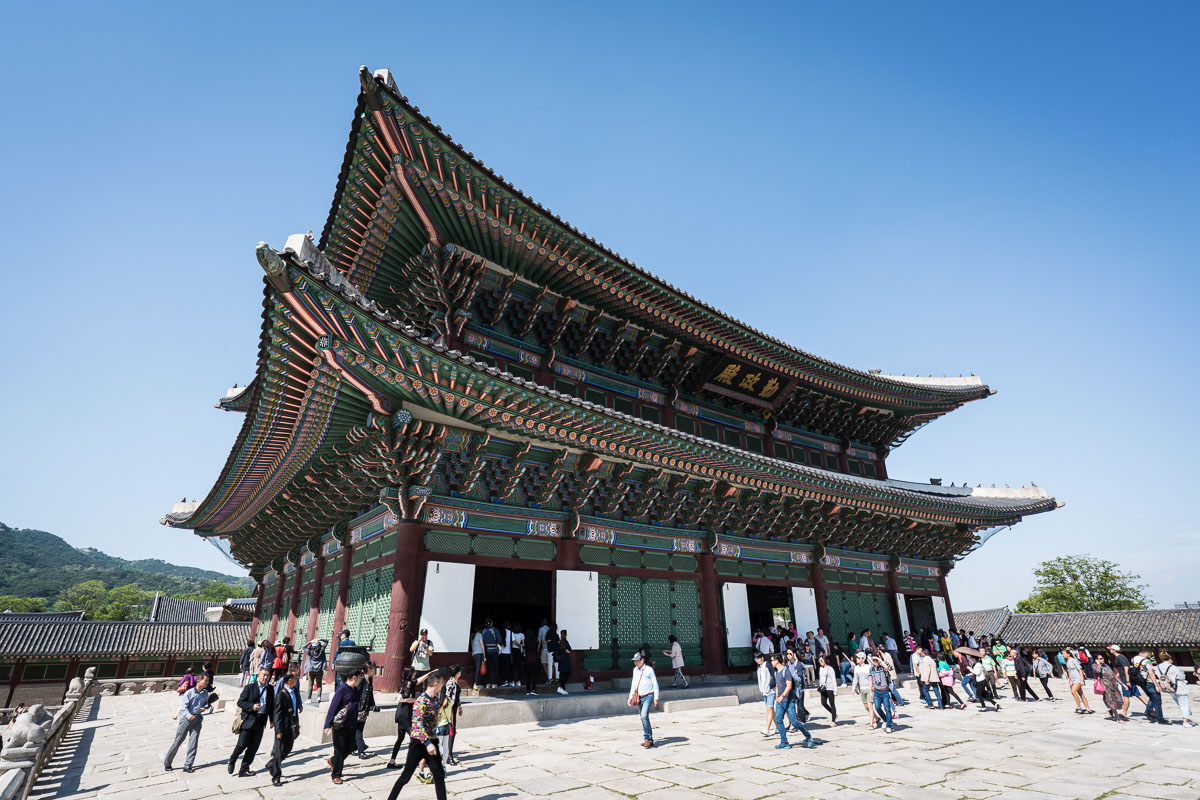 Oh, those colors! Bright, bulbaceous… hypnotic!
Koreans in traditional national costume move about the grounds taking photos of one another…
And all around modern high-rise urbanity!…
A mysterious statue tucked away in a corner…
Market! Hmmm, what are those stripy things. Turns out local melons. I wonder if they taste as good as Japanese melons?
In among the fruit and veg… fake watches!
Oh I love such places.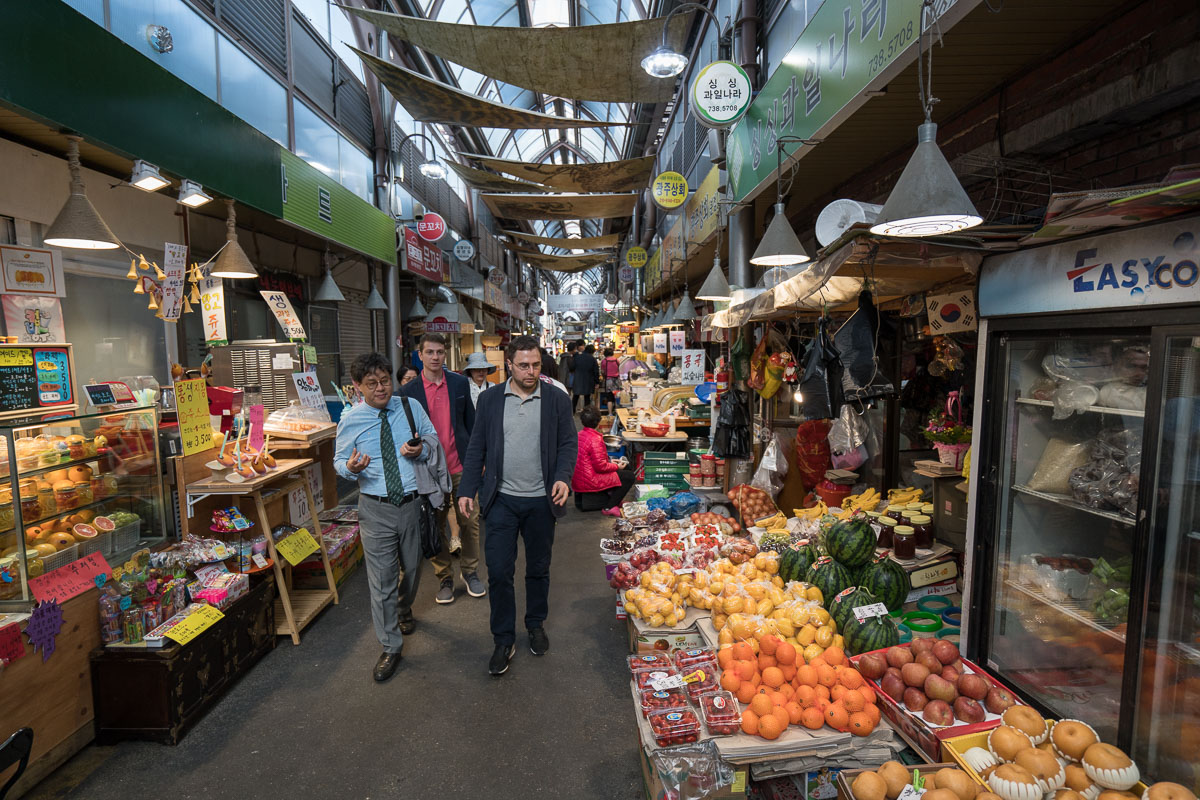 Here are some remains of old districts. Apparently redeveloping these areas is forbidden. Hmmm, I wonder, is that web of tangled overhead cables also protected by the state?
The Shilla hotel – a real beaut. They say it's the best hotel in Korea, and having stayed there I can believe it.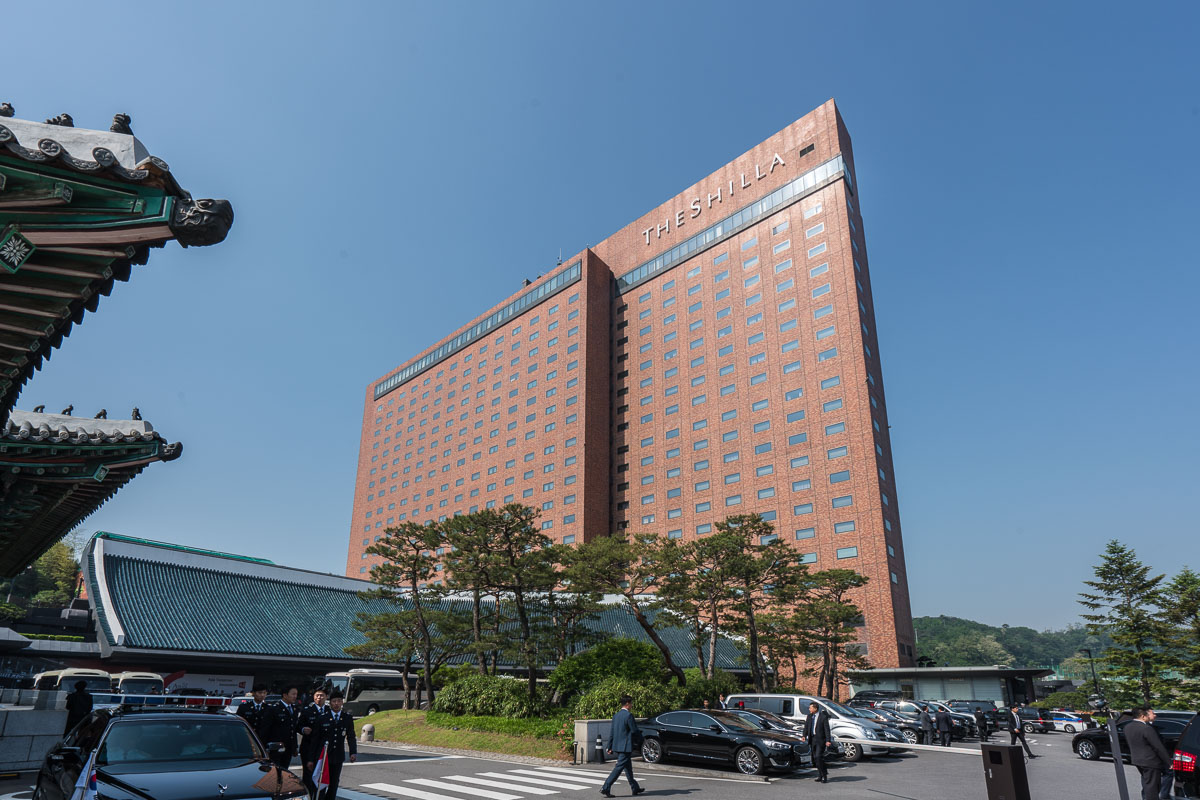 No fourth or thirteenth floors! (4 – unlucky number in these parts too).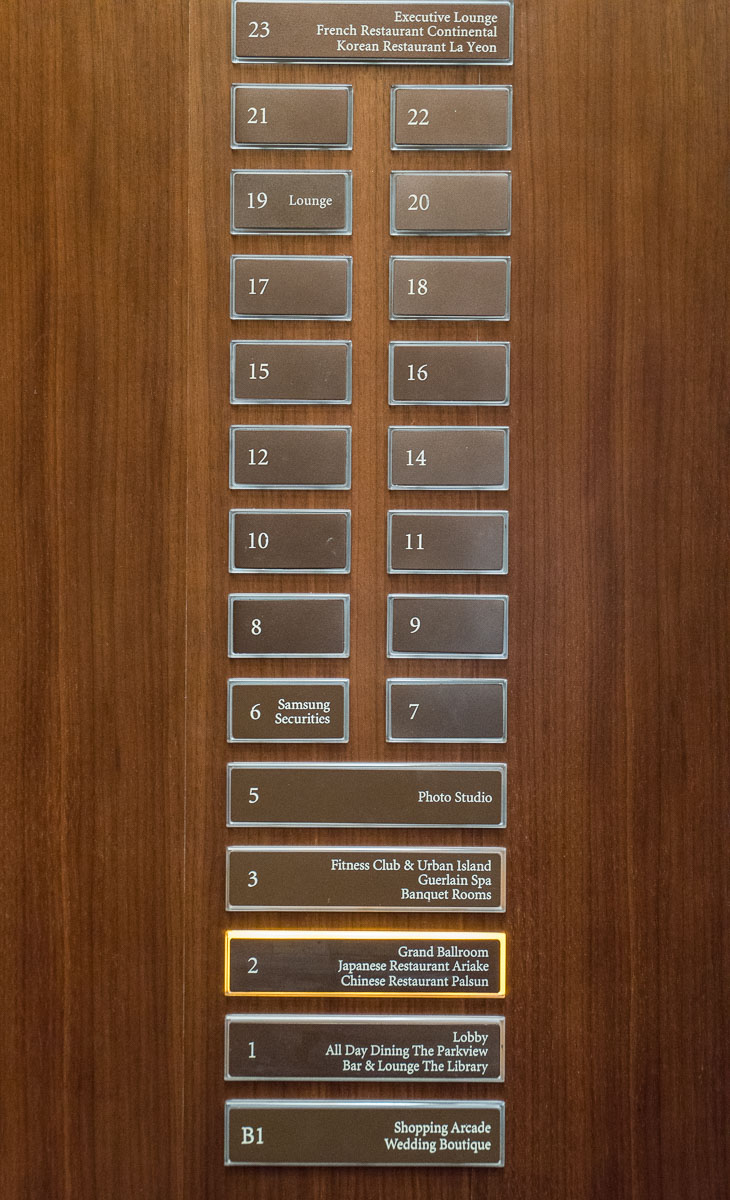 Such was our stroll about Seoul.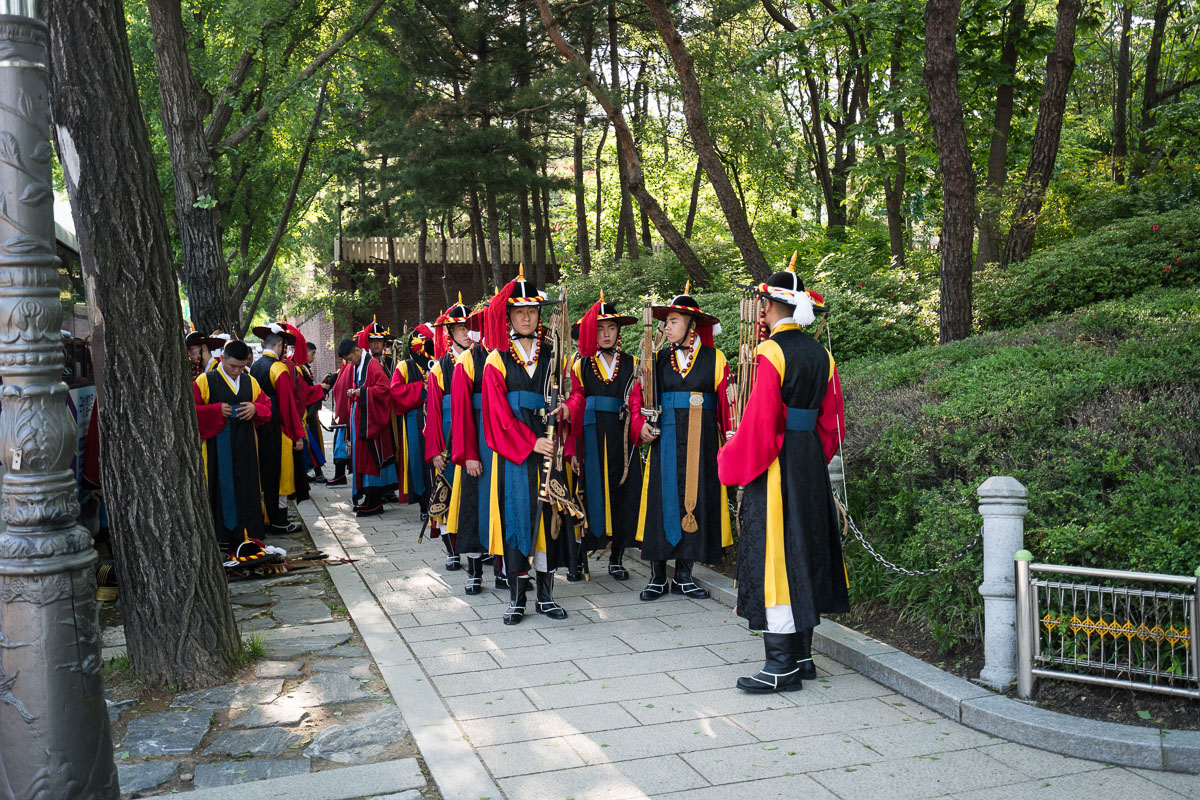 Later – we had a bit of work planned for the benefit of the world's boundary-less cyber-society.
Comments from A.B.:
—>8—
Whoa! A rear-seat rear-view mirror in a taxi!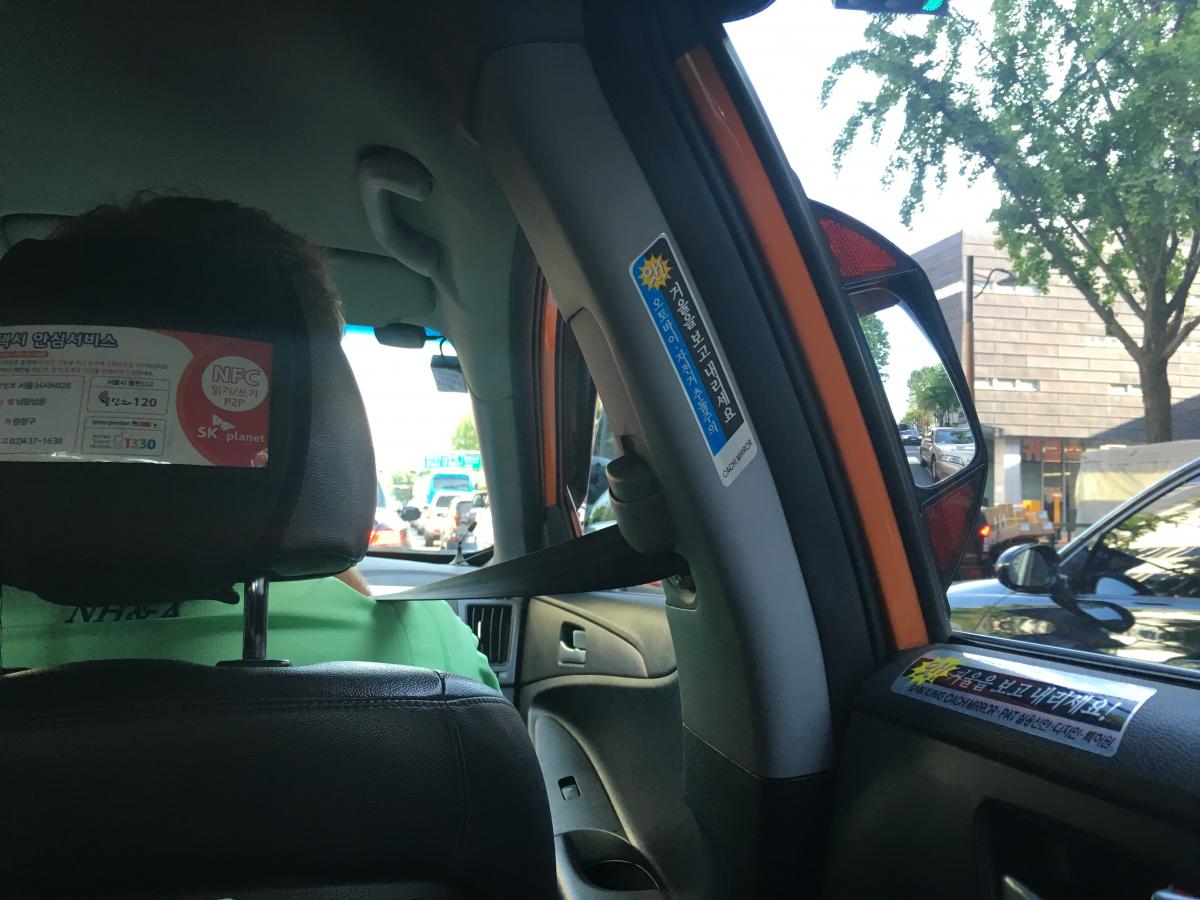 I think it's to be able to check you'll not hit anyone with your door when you open it…
Cars go real fast in Korea. On the way back to the airport we sometimes reached a cool 160 kph, but were still often overtaken.
—8<—
I didn't see the 160 kph myself – I fell asleep in the traffic. It'd had been a long few days, but a great few days :).