S. America to S.E. Asia Air-Route Question.
Getting from Cancun in Mexico to Sanya in China, will never be one of the simplest routes – even given the most favorable of weather conditions. All the same, it will never be one of the longest. Still, that route does belong to the category of the 'trickiest air routes in the world', i.e., between South America and Southeast Asia (flying in either direction) : the distances are always big, and the air routes are rarely straightforward.
For example, flying from Hong Kong, Bangkok or Kuala Lumpur to Santiago or Buenos Aires will always be an avia-endurance test both in terms of total journey time and the number of connections. I say always, since all available routes – all four of them – all take approximately the same number of hours to complete.
My question:
What are these four (very different) ways of flying (on a commercial flight) from Southeast Asia to South America? (incidentally, one of them I've yet to fly myself). Let's say, from Hong Kong to Santiago and from Hong Kong to Buenos Aires?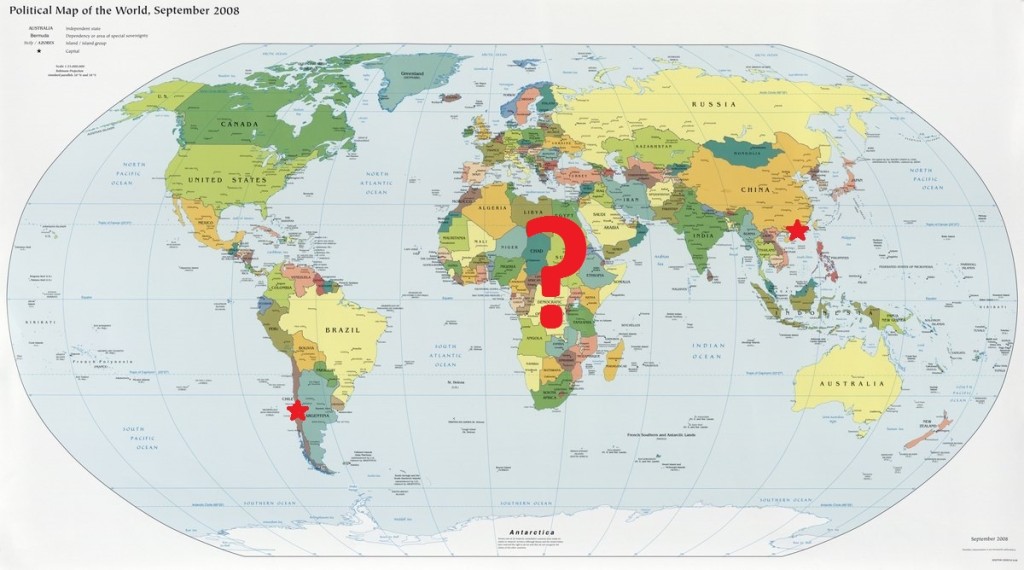 Source
Ok folks, here's the answer:
Route 1 – the most obvious: via Europe.
Via Paris (if to Santiago) or via Frankfurt or Amsterdam. One connection, but a whopping 25-27 hours up in the air: 12-13 hours to Europe; 14-15 to southern South America.
Route 2 – no less obvious: via North America.
Via Toronto (one connection) or via Dallas or Miami (via Dallas I hear you can do it with one connection, but the wait at the airport is something like 20 hours. No way, Jose). In any case you'll be up in the sky around 25-27 hours, so it's about the same as the via-Europe option; however, connections in the US – best avoided at all costs.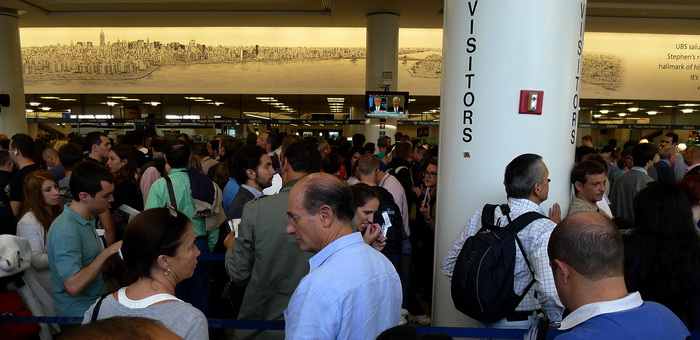 Route 3 – extreme (Antarctic) – via Australia or New Zealand.
Just 22 hours off the ground! With one connection! Hong Kong – Sydney – Santiago = 9+13 hours flying; Hong Kong – Auckland – Santiago = 11+11. Excellent service on the plane, and Antarctica can be viewed out the windows (if flying in winter – i.e., Australian summer).
Just one potential drawback: you might not like being three or four THOUSAND kilometers from the nearest bit of inhabited land, surrounded by nothing but desolation and white ice. I've done this route twice, and I have to say you can feel more than a little vulnerable and out on a limb wing! Here's my report from my most recent over-Antarctica flight.
Route 4 – via South Africa. But sadly – no more. 
This is was the most curious route: Kuala Lumpur – Cape Town – Buenos Aires, on Malaysia Airlines. The route was closed in 2012. I've flown Malaysia Airlines once (to Cape Town via Kuala Lumpur), and was really impressed by the flight itself and the connection in the Malaysian capital.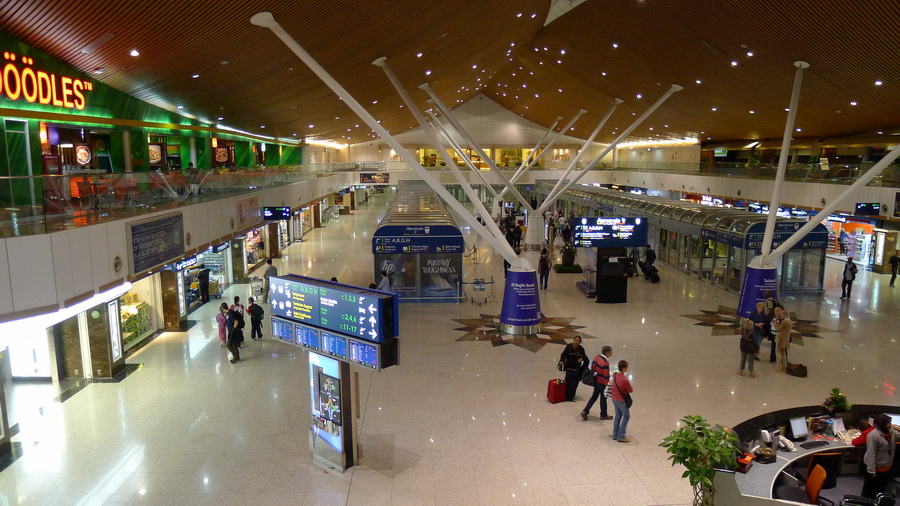 And way back in 2009 or 2010 I was amazed to see a Malaysian tail fin in Buenos Aires airport… so clearly they used to fly all the way!
So, earlier (if flying from Hong Kong to Santiago) the number of hours up in the sky worked out so: Hong Kong – Kuala Lumpur – Cape Town – Buenos Aires – Santiago = 4 + 10 + 8 + 2 = 24 hours. This worked out shorter than via Europe or the US/Canada, but there was a big drawback: three (3) connections! Still, Malaysian Airlines are among the best in the world IMHO, the connection in Kuala Lumpur is a very pleasant one, you could boast that you'd flown trans-Atlantic in the Southern Hemisphere, and on the Buenos Aires to Santiago leg to the right of the plane you'd get to see the highest peak of South America – Aconcagua.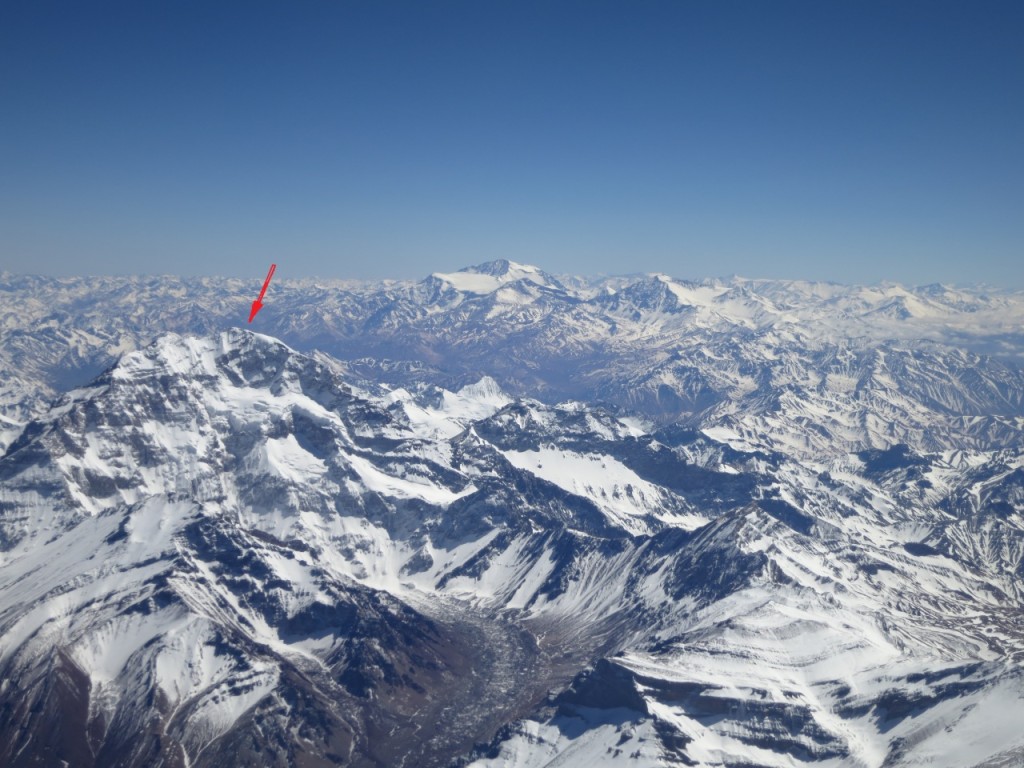 Source
Today it seems only South African Airways fly Johannesburg to Sao Paulo. And that's it! But with them it works out a very lengthy trip, plus the connection in Sao Paulo isn't among the world's best.
Actually, there's a Route 5 – via Dubai: 
Hong Kong – Dubai – Sao Paulo – Santiago (on Emirates). But I don't recommend it: it's 25 hours long, with a connection in Sao Paulo. Also, the plane leaves Hong Kong at nightfall, so there's no chance of seeing the Himalayas on the horizon. Those are the cons. The one pro: Emirates is a real cool airline.
Wait! There's a Route 6! It's a long and winding one, also with a connection in Sao Paulo, but via Doha on KATA Qatar Airways. Wait! There's a Route 7 – via Addis Ababa (on Ethiopian – which I've never once flown). And you can do that approximate route on South African Airlines too, with something like 26 hours in the air.
That's it folks. The topic 'how to get from God-knows-where on one side of the southern hemisphere to God-knows-where on the other side of it' is done and dusted. However, if I missed something, please add your comments below.