Kamchatka-2015: Ksudach – the Countach of the volcanoes.
The Ksudach volcano is one of the most unusual and breathtakingly beautiful places on our planet – I assure you. And since I'm lucky enough to have been practically everywhere on the planet, my assurances can be trusted, I do hope :).
All righty, what we got here?…
Basically, a colossal (7km – SEVEN KILOMETERS – in diameter!), almost perfectly round caldera of a very old volcano, which on maps looks like a crater on the moon. Inside the caldera there's a cone of a new volcano (whose mouth is approx. one kilometer across); there are also two lakes, hot springs on a sandy beach, scrubby slopes on one side, gray-yellow volcanic slag on the other, and a sheer drop down to one side of the main lake. In all, the most out-of-this-world and unusual and heart-stirring and spine-tingling and goosebumps-giving sight you could ever possibly behold, at least on this planet.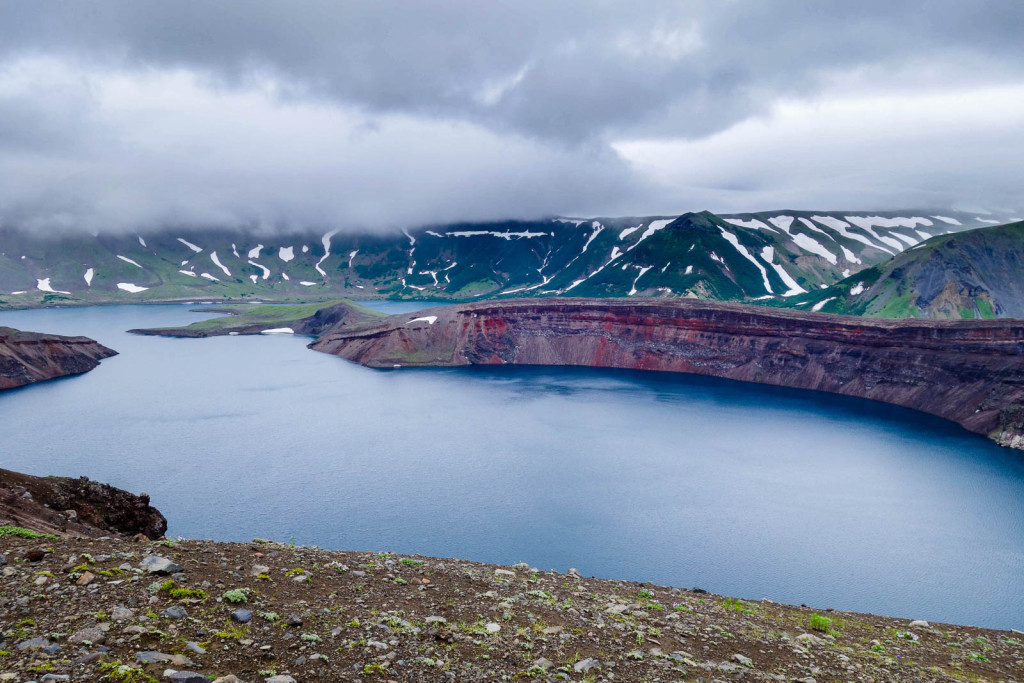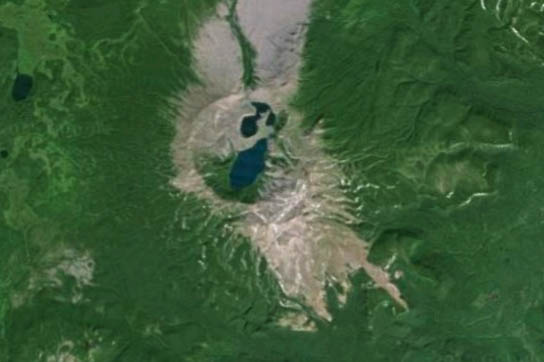 Regular readers of my blog will know how, though an uber-tourist myself, I'm not keen on other tourists literally getting in the way, and that's the thing, see, which I think makes sure Ksudach clinches the title of the most beautiful – and unspoiled by roaming tourists! – spot in the world.
Yep, no one around – no one at all – spoiling the view! I've been to Ksudach four times now, and only once out of all those did I ever see any other tourists – and then only very briefly. (Ok, not including those I see choppered in, given a short time for snaps, and who are then ushered back into the helicopter: I'm like 'why bother?' What about a dip in the hot springs at least?)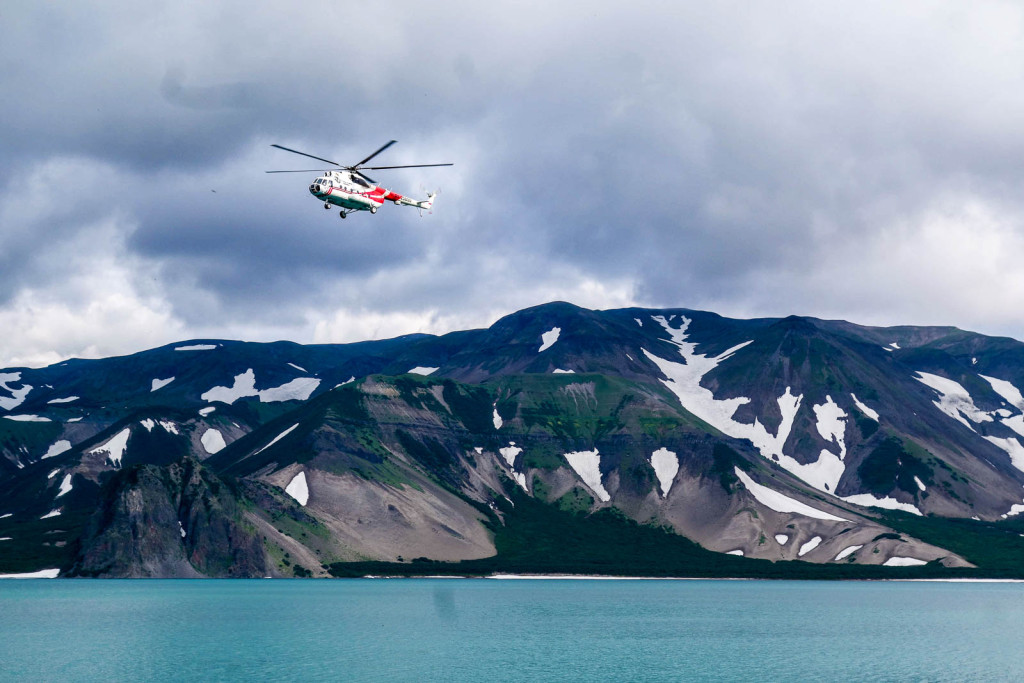 And talking of hot springs…
Along the edge of the lake, where it meets the beach, there's a constant flow of piping hot water. I'm not sure exactly how hot it gets, but it's probably somewhere around 60-70 degrees centigrade, while further inside the lake the water's freezing cold. So it's like a banya + the obligatory cold plunge all in one! Of course if you want it not too hot and not too cold, you need a mixture of the two, and this is where ingenious engineering and construction skills come in handy, the result of a resourceful application of which can be seen in the following pic: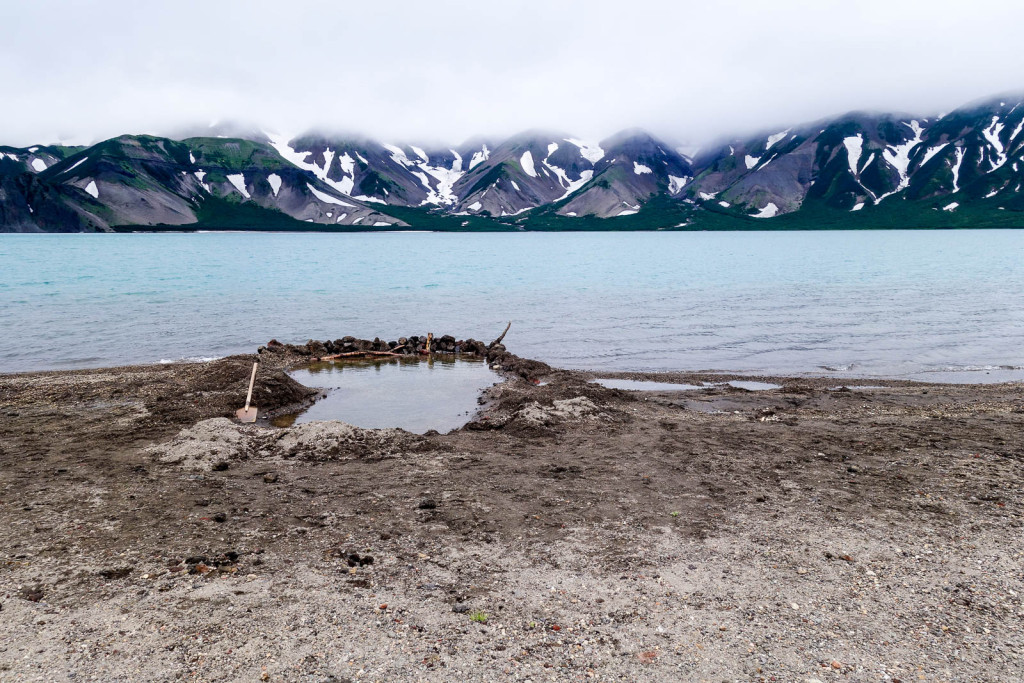 Such makeshift pools are constructed with the use of a spade, which you can always find on the beach here. It seems the season's first group of tourists brings one, and then leaves it behind, knowing it'll come in handy for the next group.
Now for the main 'feature' of this post…
As  you'll have noticed, I'm very into hiking, or trekking, or country rambling, or whatever you want to call it. Up mountainsides – or volcano-sides – through forests, down valleys, up to several days at a time, checking out all the surrounding beauty, taking pics thereof and then sharing with fellow admirers of all things naturally beautiful in the world. And to make such walking experiences all the more pleasurable, excellent paths/tracks/trails are needed. Of which there are plenty around the world…
For example, I reeeaaally liked the following :
Routeburn Track, New Zealand.
Torres del Pain, Chile, Patagonia. They say that the Argentinian part of Patagonia is also awesome.
The mountain paths of the Incas (didn't walk along them myself, but saw how they crisscross the mountains around Machu Picchu: MUST get back down there; next time with a rucksack).
And I've heard about other totally radical routes:
Tour du Mont Blanc, France, Italy, and Switzerland;
The Haute Route, France and Switzerland;
Mount Kailash Pilgrimage, Tibet;
The Narrows, Zion Canyon, Utah;
Kalalau Trail, Hawaii.
And the path around the rim of Ksudach's caldera is also up there with the world's best. It could well even top the list of the world's most scenic paths, if one exists.
Stunning, moving, crazy, astounding. To one side – endless Kamchatkan expanses dotted with purple nano-volcanoes and cones of fully established volcanoes, the ocean on the horizon, endless slag fields and white snow. To the other side – the crater and the lakes.
… That's all very well, but there's one proviso: to see all that unworldly beauty you need good weather – like what we had last time, in 2012. This year it was cloudy and misty – and gloomy, as became our mood, knowing what we were missing. Oh well. Mother Nature – can't argue with her :).
The round-the-rim path is about 30km long. Maybe one day we'll fit it into one day, if we're up at the crack, and maybe without the heavy camera kit. Or maybe we could do it in two – and camp the night halfway? YES. PLAN!! After all, some of the ravines the come off the rim would need to be checked out. Btw – you can get lost among those ravines if going clockwise. Best go anticlockwise. Oh, actually, it's complicated. If you are planning a trip – ping me. I'll share the know-how.
And for those for whom a couple of days of walking is too little, I recommend after Ksudach to get over to Khodutka and its hot lake – that's another couple of days on foot, maybe three.
Come the evening it was back into the chopper, and off onto the next adventure…