New Zealand-2013. Days 9-11. The three R's: route, rain and rarity.
NZ-2013. Day 9. Route.
On the ninth day in NZ we simply tramped back along the path we'd already walked along (see Day 7), so spent most of the day checking out scenery we'd already seen. On various websites they write that this tourist track is one of the most beautiful in the world (among the not so difficult ones). I agree – this is one example of the Internet not lying. It really is "wow"!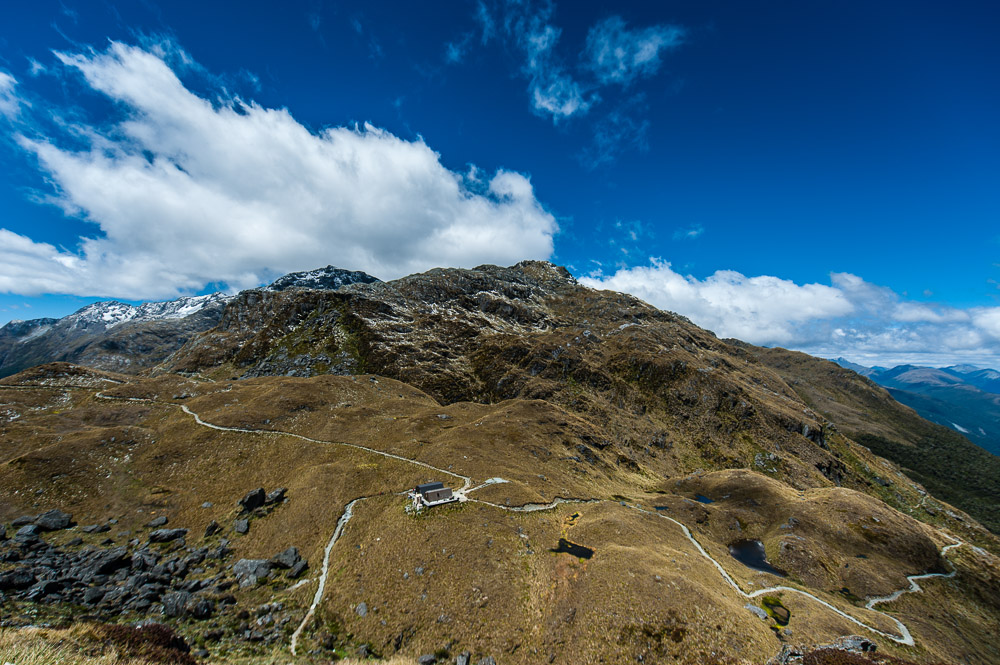 Reminiscent of the Isle of Skye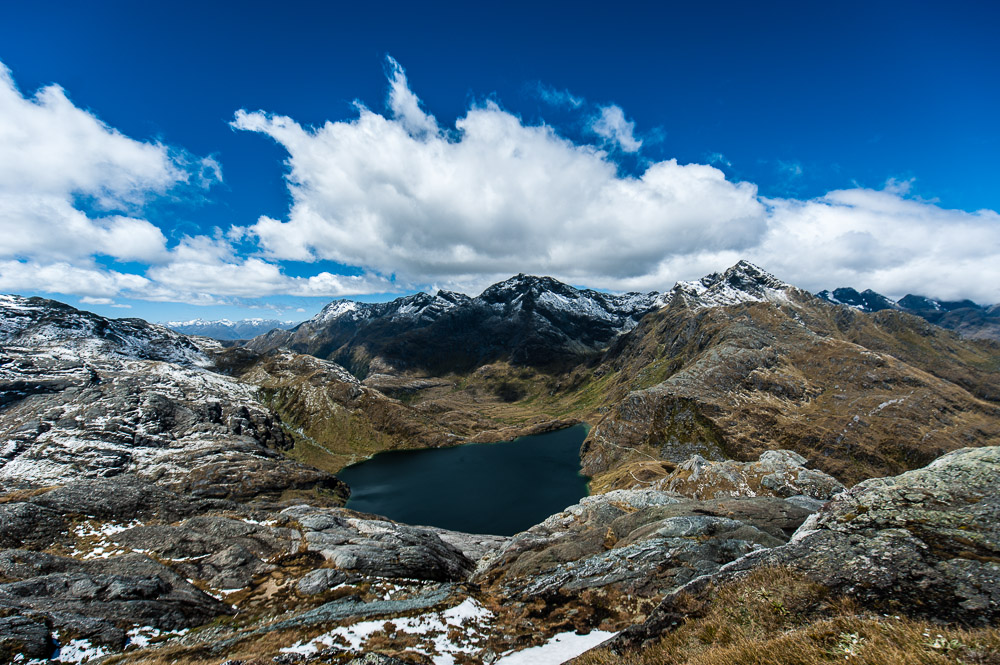 Blofeld's back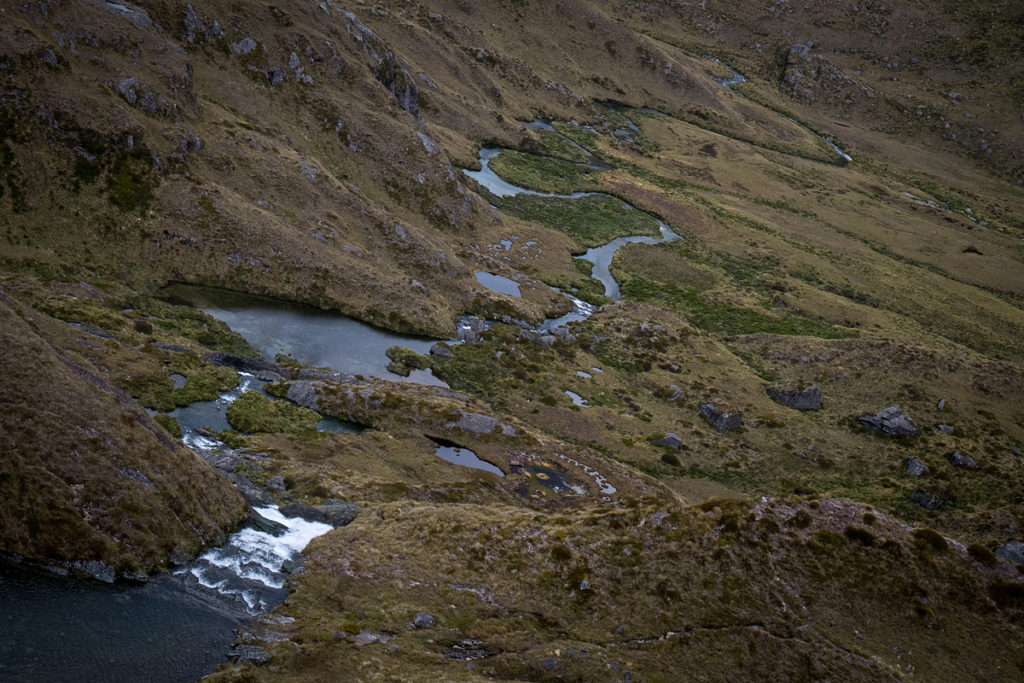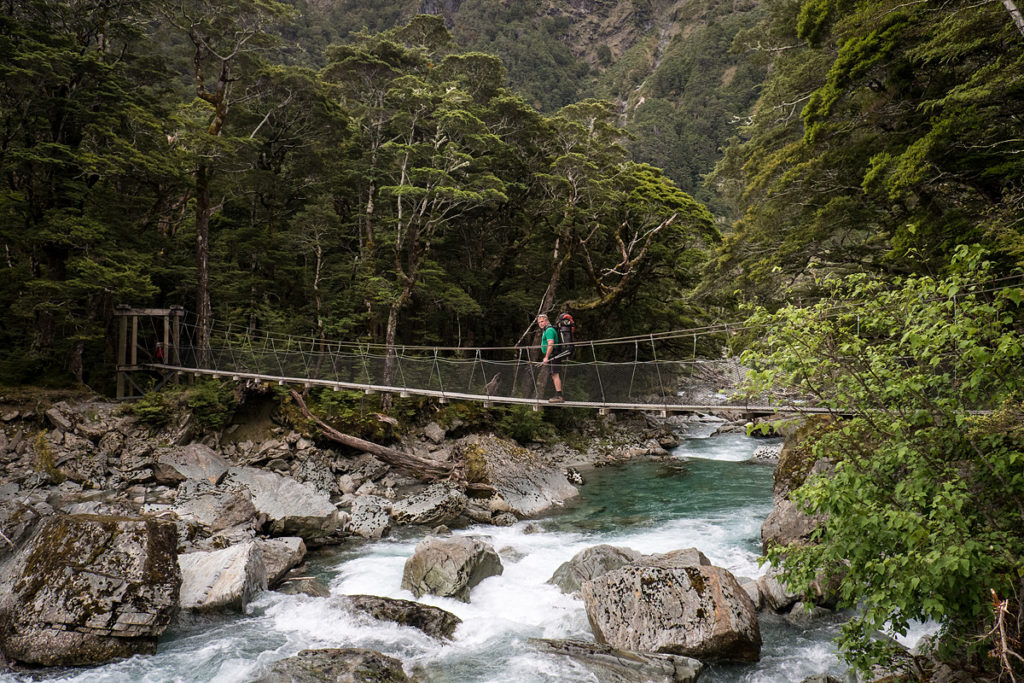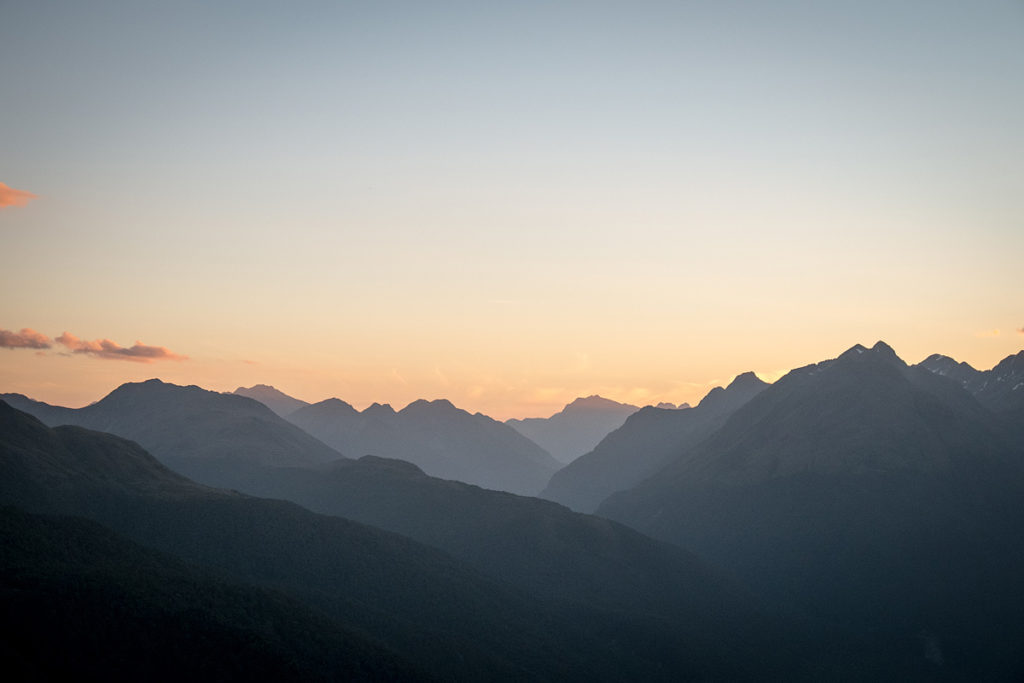 Since I've already told you all about this track and its surroundings, I've come up with something completely different for today – a general topic that applies to every day here. Here we go… the route of our expedition.
As everyone knows, any tourist trip can be planned in one of two ways: to book a prepared package of services from a travel agency, or to do it all yourself. Via a tour operator/agency I'd normally say is the way to go – everything is organized, they take you exactly where you need to go, show you everything, and you climb the hills together with a knowledgeable guide who can easily steer you clear of this or that hazard or rough terrain, etc. Still, no matter how many italics you can throw at a sentence, this time we decided to do the route planning ourselves. Well, not all of us – actually a team volunteers from among us did everything. And what can I say?: "Hat off!", that's what. "Good job!", too!
Our home-grown travel agents' tough task consisted of the following steps:
Writing up a list of the places deemed must-visits/sees.
Planning the route.
Booking cars, hotels and ferries; buying plane tix.
Assorted other jobs, like buying the necessary tackle, procuring visas and mandatory international driver's licenses, etc.
The simplest step: (iv). The only pain in the proverbial with it: constantly having to kick the laziest folks – also in the proverbial – so that their visas aren't received the day before the flight but at least a fortnight before, so there's no need for re-shuffling all kinds of trifles from step (iii).
What also needs paying special attention to:
Again: NZ didn't sign the international auto-convention thingy, so not all foreign driving licenses are valid. Drivers are advised to have an International Driving Permit.
NZ is (rightly) real careful with its ecology, flora and fauna, and is very keen to prevent infections from alien seeds. Upon landing there's very stringent sanitary and customs control. One's boots are asked for and the soles are closely examined. Sleeping bags seem to have no trouble, but used tents can be placed into quarantine for several days! Therefore, boots need to be thoroughly cleaned, tents – brand new. Or buy all your kit upon arrival. Prices – just a little more expensive than in Europe.
Now – step (iii). Air tix, hotels, cars, ferries.
There are alas no direct flights from most European cities to NZ (in the traditional sense of the word "direct" (no connections)); which leaves as the best option flying with just one connection. When booking flights, beware of the potentially misleading terms "non-stop" or "direct". Inexperienced travelers may be surprised to find that, for example, the Emirates flight "Dubai-Auckland" stops at Sydney. The result, for us, was the route ending up as Moscow-Dubai-Sydney-Auckland – and we arrived at our destination half dead; or three-quarters dead – for those of us not used to loooong-hauls. And talking of lack of experience traveling – I've even heard tales of Auckland in NZ being mistaken for Oakland in California! So be alert folks!
So, to optimally fly with one connection – search for a city you'd like to visit via which Air New Zealand (or some other airline) flies to Auckland. A search brings up a list of such eligible cities including Tokyo, Seoul, Shanghai, Hong King, Singapore, and Kuala Lumpur; that's plenty of real nice cities I wholly recommend for a visit. And you can spend a day or three in one of them (visas aren't always needed, or can be obtained easily upon arrival).
There's another thing worth remembering: you may need to fly with different airline alliances – which means it's possible you'll have to collect luggage at the connecting airport, and re-register it over again for the onward flight. Of course, this should be checked when booking and is best avoided. If there are more than four hours at the connecting airport and check-in for the onward flight begins two hours before take-off, you have to hang around in sometimes not the most comfortable of conditions with your luggage – unable to take a leisurely walk around a fascinating Asian city.
As regards booking hotels, cars and ferries – these days this is cakewalk for one reason: the Internet. But, as always, there are some nuances. For example, some hotels ask that a deposit be paid, and funds may be blocked on a credit card immediately upon booking. In most cases it's possible to cancel a reservation and get your money back up until two to three days before check-in. But it's always best to read carefully the small print. In our case we had to cancel a few times because of poor weather and closed roads, but we managed to do so in good time and rebook somewhere else without losing any wonga.
Cars – there are plenty of options to choose from. There are of course the ubiquitous Hertz and Avis, etc., but also some independent local rent-a-cars. If you decide to take the ferry between the North and South Islands in a car, the ubiquities want paying extra for the privilege (the cheek!); the locals don't.
All the above-mentioned prep and booking and reservations needs to be done in good time; especially if you're planning your trip during high season – December and January, like us. We started making preparations only in September, and found that for January many hotels were already fully booked up.
Now steps (i) and (ii). The list of places for hiking and climbing, and the general plan for the route.
The list of places to visit was suggested by friends who'd already been to NZ. After having a look at the list we got more than a little panicky since at the outset we'd scheduled just two weeks for the whole trip, while the list basically was screaming at us "THREE WEEKS NEEDED!" to check out the most interesting places (including getting there and back) – at a minimum! But – hurray! – greed got the upper hand, and we opted for maximum trajectory (three weeks) – as per the "see everything" principle (aka vacationing to exhaustion).
So we marked all the tasty-to-tourists places on the map, and came up with an overall plan for the journey from the South to the North (as advised), but then switched that to North-South (which seemed better suited to our particular sightseeing/logistical requirements).
What we ended up with was the following (the yellow dotted line was our intended route, but the road was closed due to a landslide):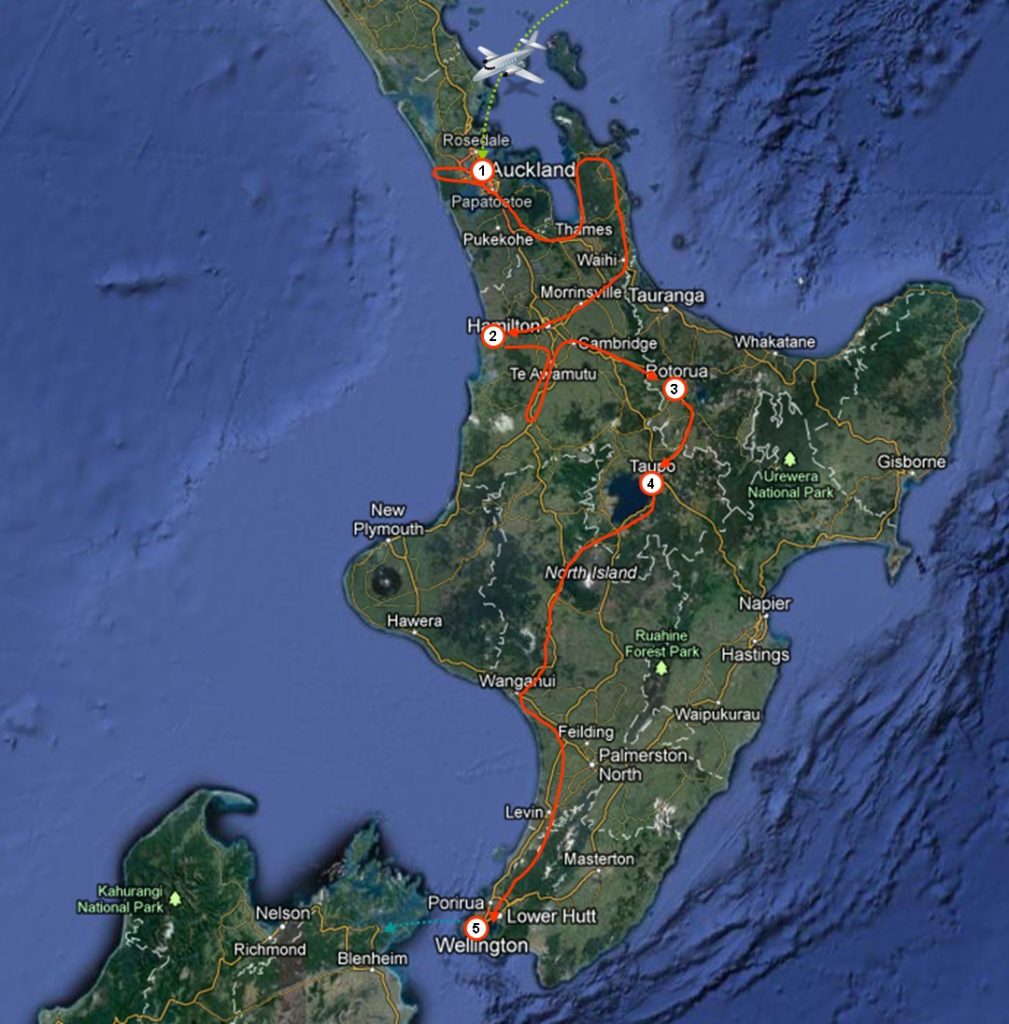 Then, when the high-level plan settled a little and didn't prompt any more protests from our friendly posse, we got down to elaborating every day in detail, including both the mandatory and optional degrees of activeness; we also booked the air tix, hotels and cars.
What else can I say?
Though helped tremendously by folks who'd already been to NZ and in the know, such a planning task involves sifting through tons of information, blogs, photos and reviews, but thankfully we had willing volunteers! So if you ever find yourself heading for NZ for two or three weeks, read all what's written above, and consider – maybe, just maybe, if it might be worth letting an experienced tour agency get involved? After all, good guides won't make you cover two days' worth of trekking in just one day, with heavy rucksacks; only the inexperienced find themselves doing so, inadvertently. Not that I'm complaining!!
Anyway, back to today's sights…
The Routeburn Track is a mega magnificent must-trek. On our way back we got to check out the unique Routeburn Falls, which fall into a small ravine – a crack in the cliff, which we were told was formed after one of the regular earthquakes here.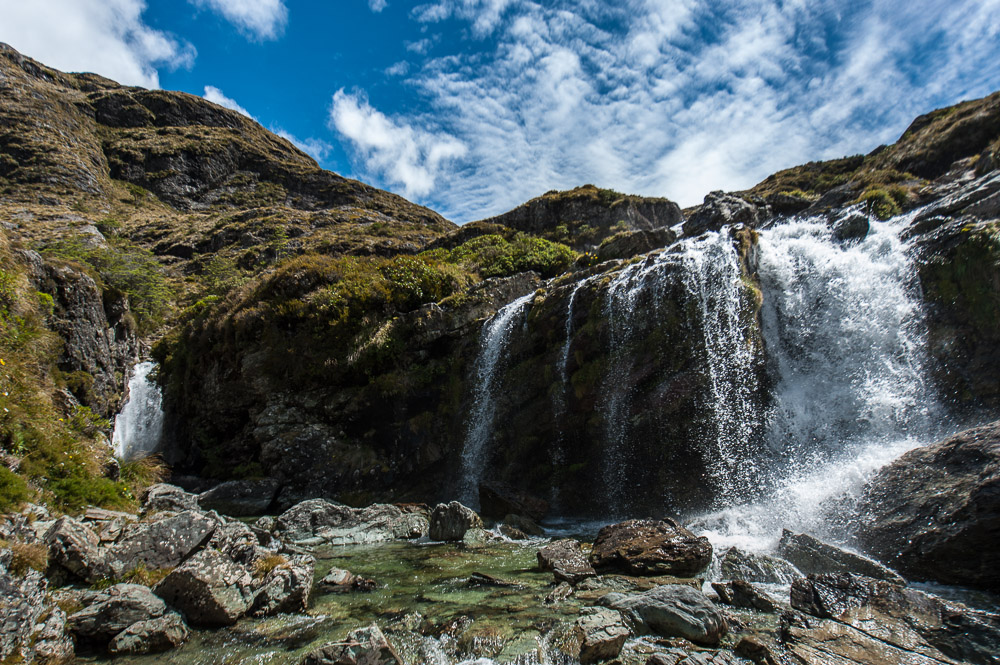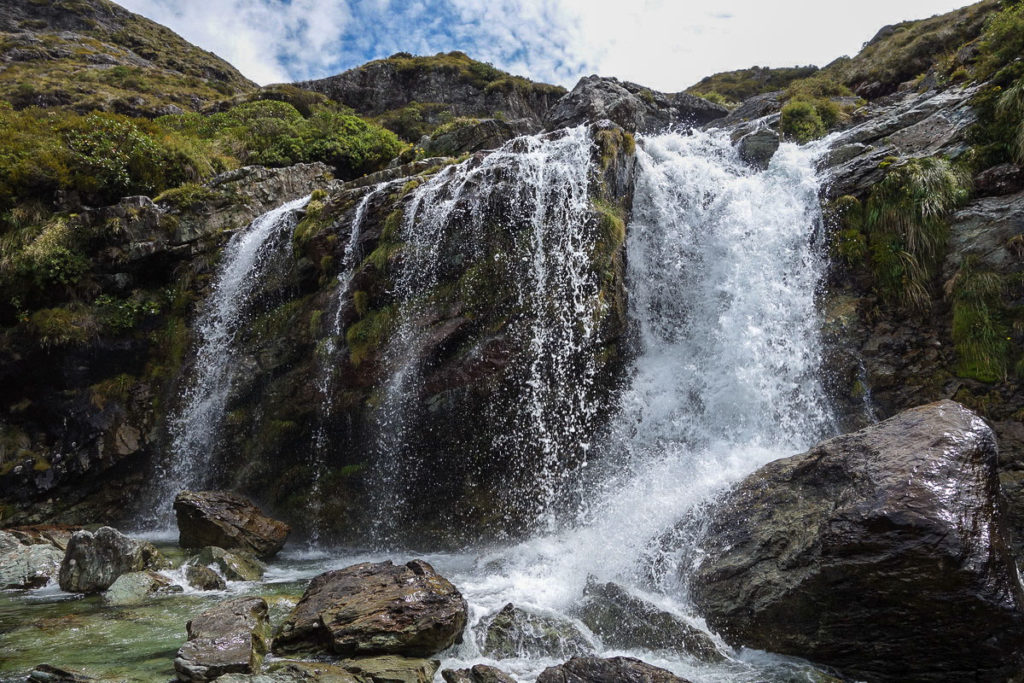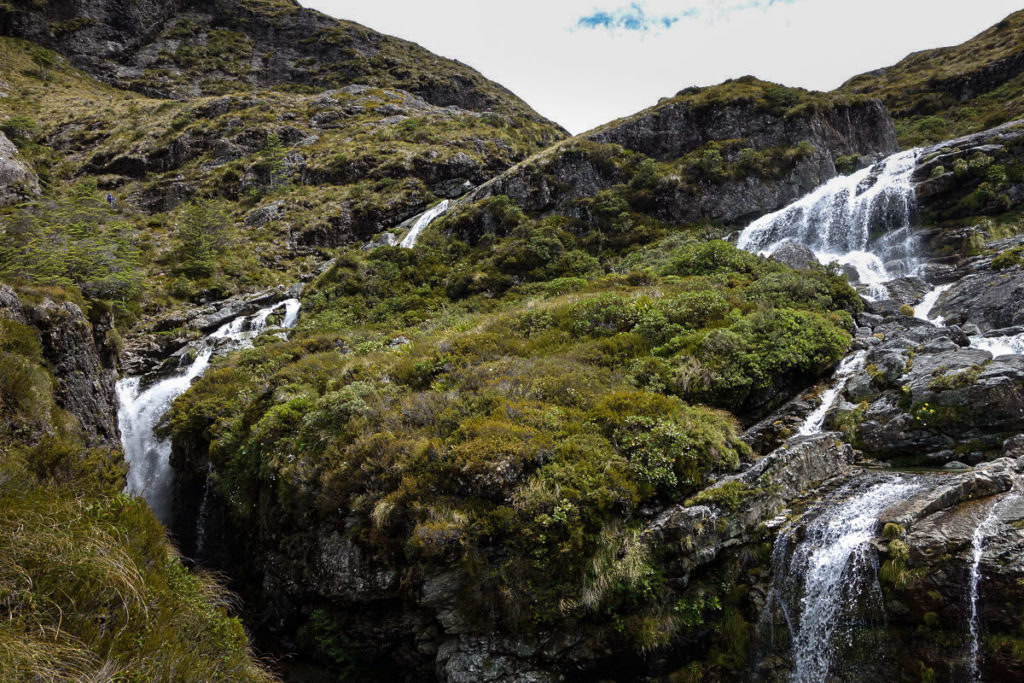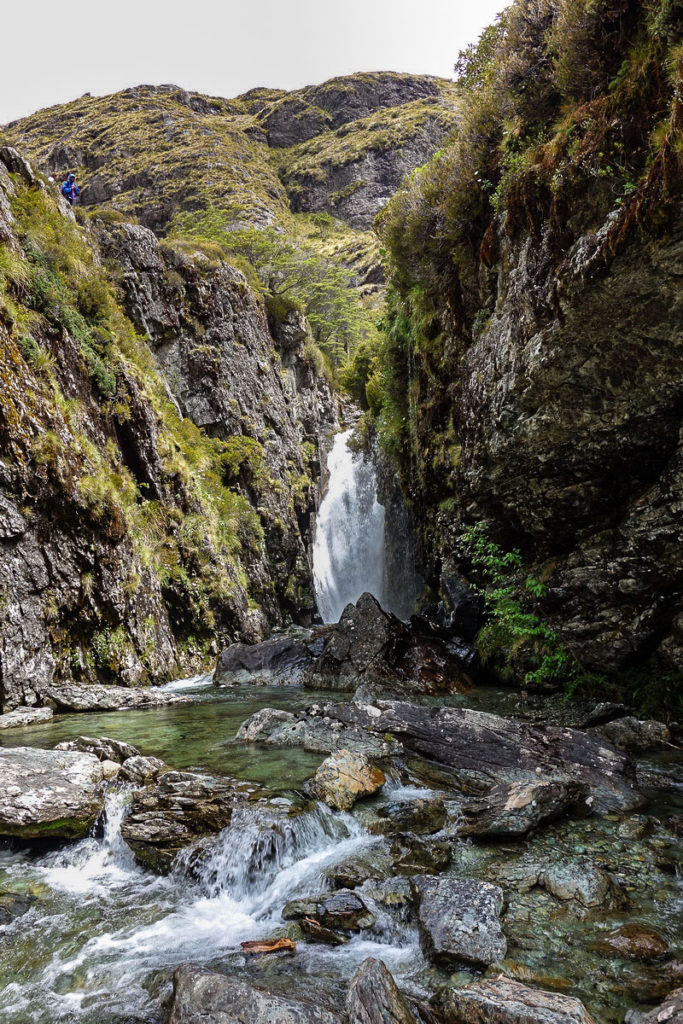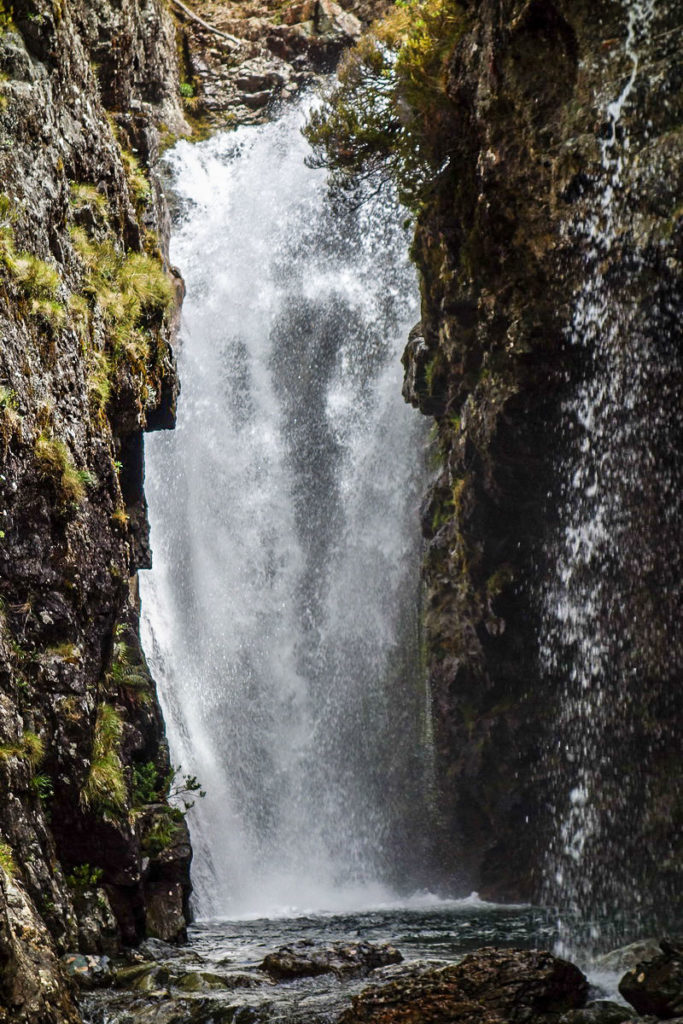 NZ-2013. Day 10. Rain.
On the South Island things are generally as follows:
Mountainous landscapes + peculiar ocean currents + peculiar climate, including peculiar winds = a LOT of rain in places like Fiordland – the south-western mountainous expanse, which is also a UNESCO World Heritage Site. Local printed matter puts it another way: there's rainfall 200 days a year here. A wet western wind gets up into the hills causing much precipitation here. The result – water everywhere, affecting the scenery in a big way: varnishing and brightening the views, forming turquoise-colored lakes, and generating magnificently magical waterfalls and hill streams.
Water in the form of rain also causes much bedlam – flooding tunnels, and blocking roads with landslides. But looking on the bright side, at least rain doesn't fall here constantly – i.e., all day. It can be pouring down of a morning, but come midday the sun's shining brighter than a meteorite falling over the Chelyabinsk region. Therefore, even if water's drumming on the roof of the hotel (or tent) if you're ever here – don't get down and change your plans. Keep calm and carry on! Before you know it the weather will turn out nice again just as quickly as it got bad earlier.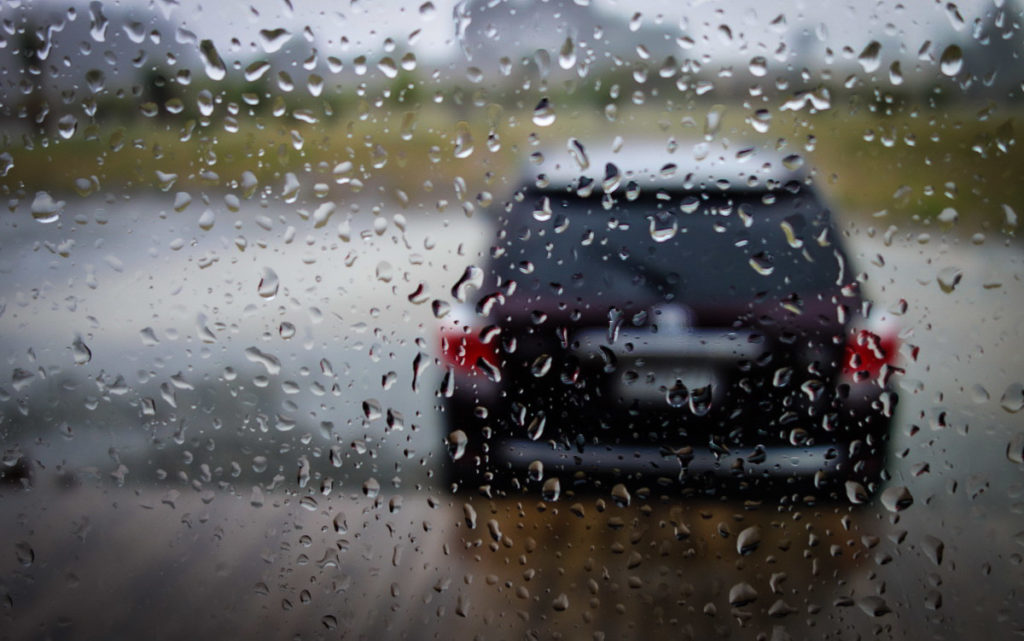 Rain-wise, the only thing you really need to pay attention to is announcements about road closures caused by the rain. These need to be checked for at the very start of a journey when renting your car, in the hotels en route, and/or online on a dedicated site.
In our case, we got to Te Anau only to find ourselves under torrential rain, and to our horror we learned that the road to Milford Sound would be closed for several days! So we again had to change our route – adding 600 miles to our travels. Boo.
But that wasn't so bad – since the views were so… verdant! Birch trees (to Russia what coals are to Newcastle) and puddles!: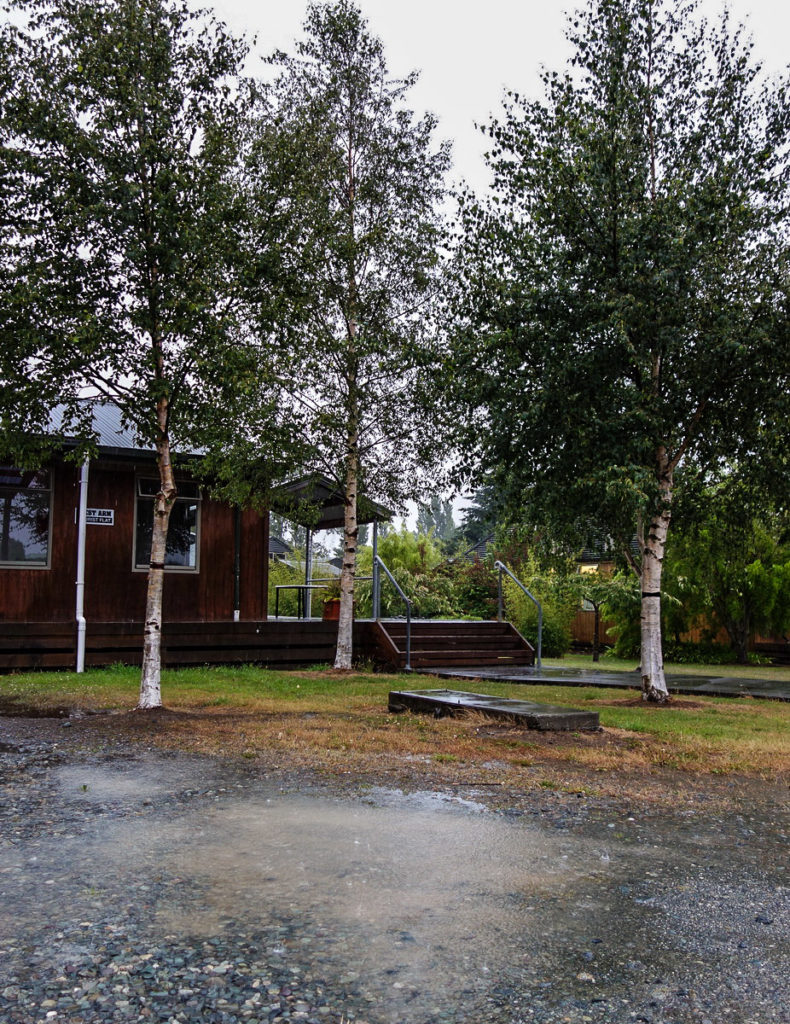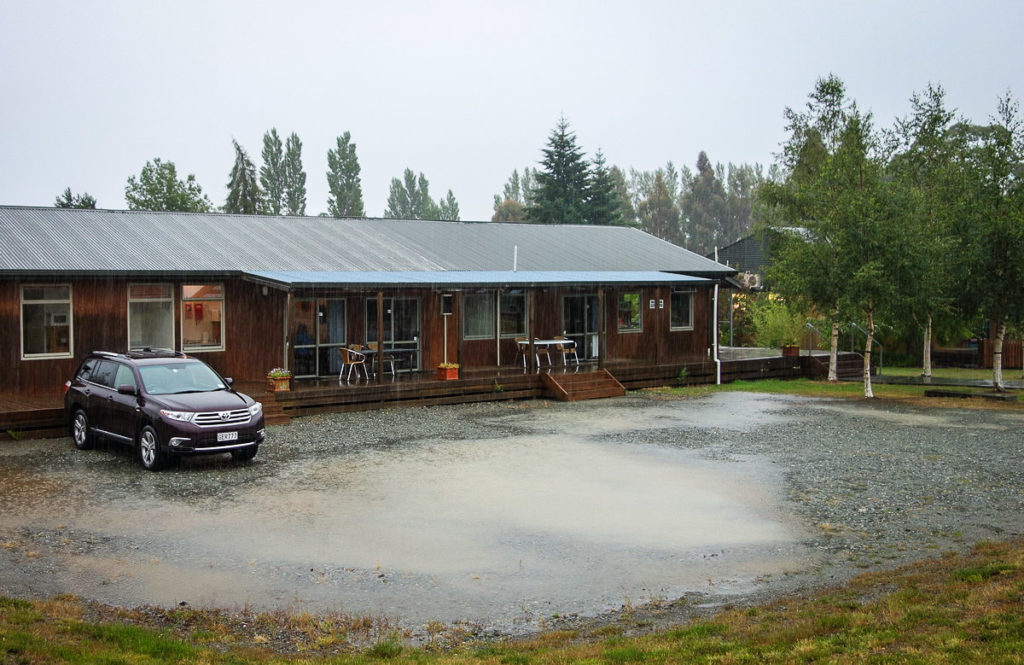 And other nightmares en route from the rain to the sun: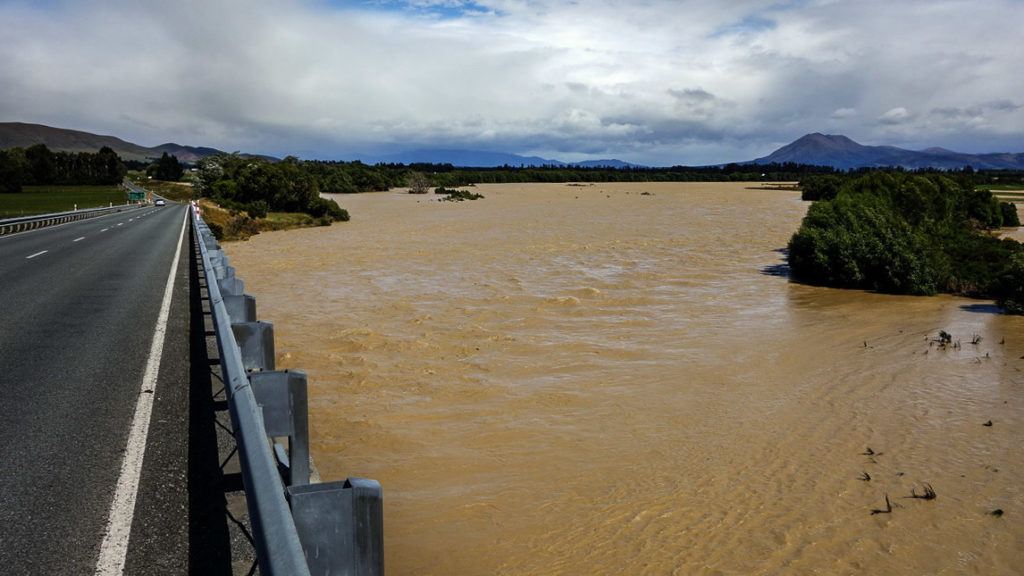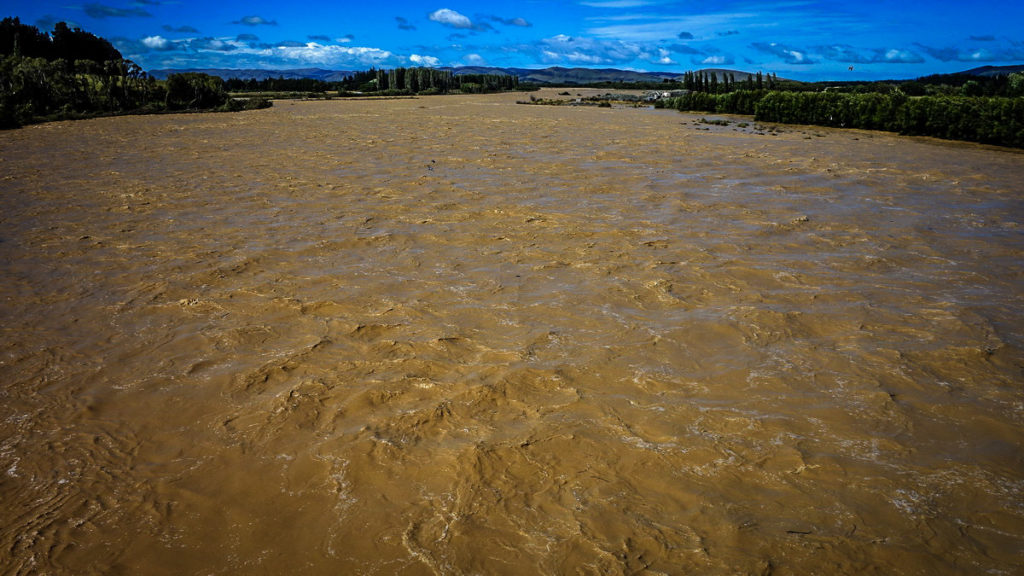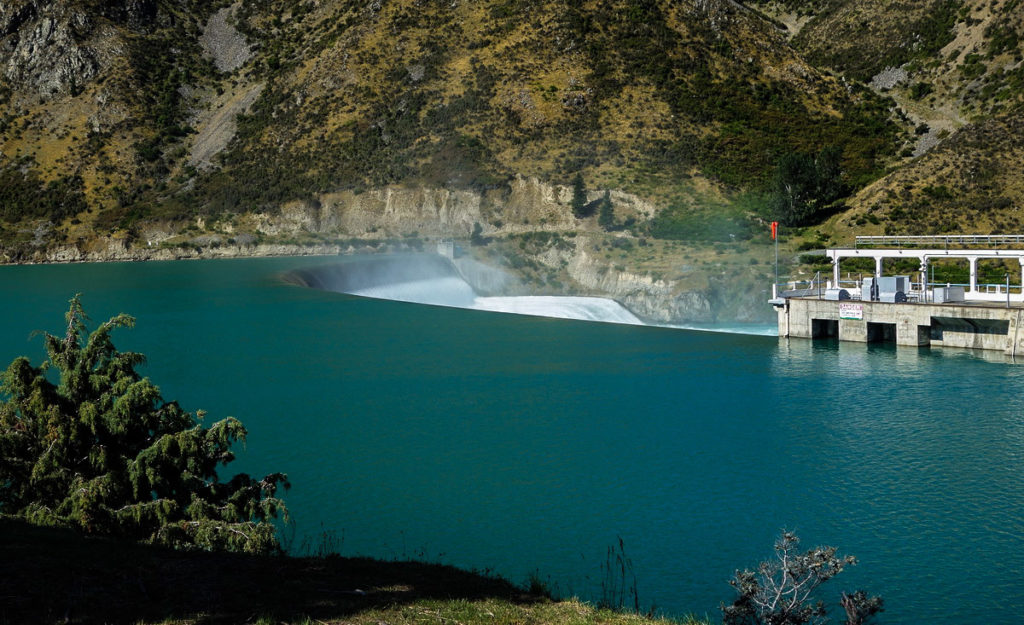 I wonder – was this dam designed so that the water gushed over the top?Or was it another feature of the extreme rain?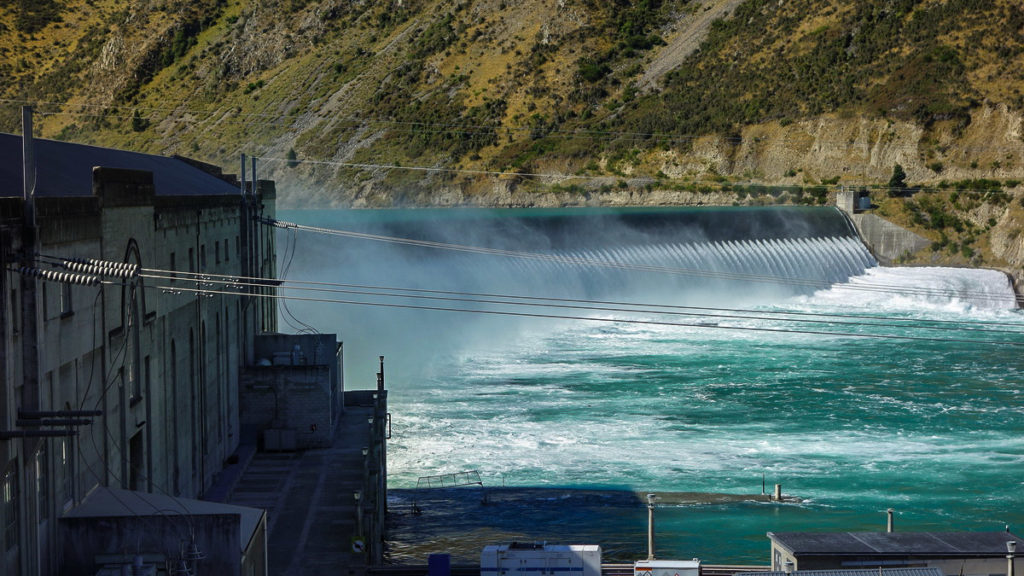 NZ-2013. Day 11. So rare as to be unique.
We found here in NZ four totally unique natural wonders to be found nowhere else on the planet. Well, at least, no one's ever told me about any similar marvels to these.
First, there are the cave glowworms, which dot cave ceilings making them look like a star-spangled cloudless sky. I've seen nothing like them anywhere, or anything that comes close.
Second, there's the volcanic Inferno lake. Sure, wherever you find volatile volcanic activity anywhere in the world, you always find plenty of multicolored lakes of varying levels of acidity and temperature, but to see the level of such a colored lake changing drastically in cycles (of over a month) – now that's unique!
Third, the Moeraki Boulders. On this, the 11th day of our expedition, we got to these mysterious round stones: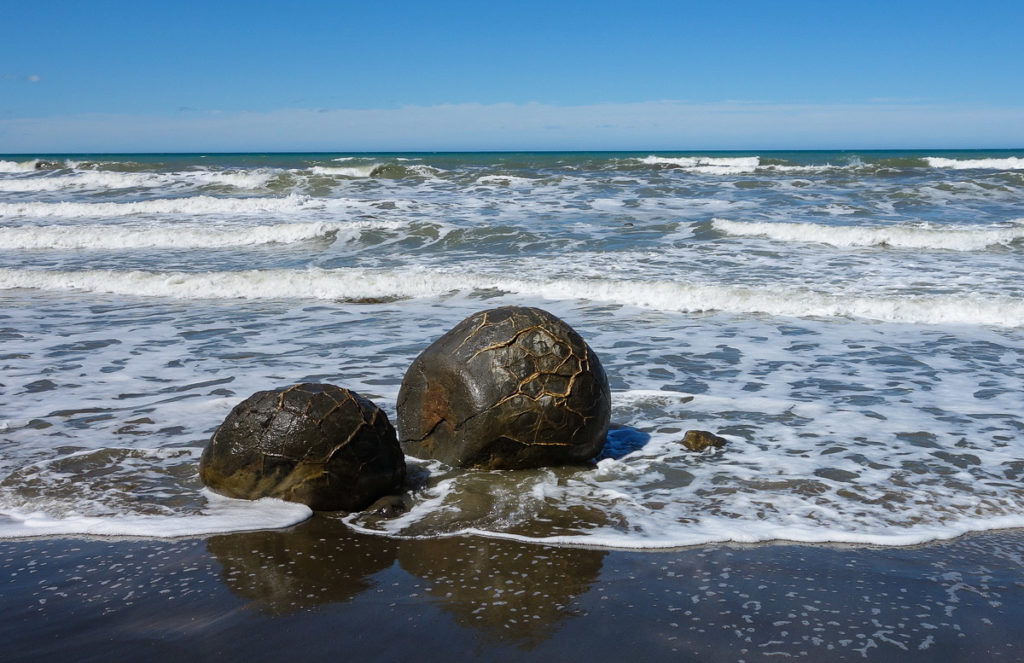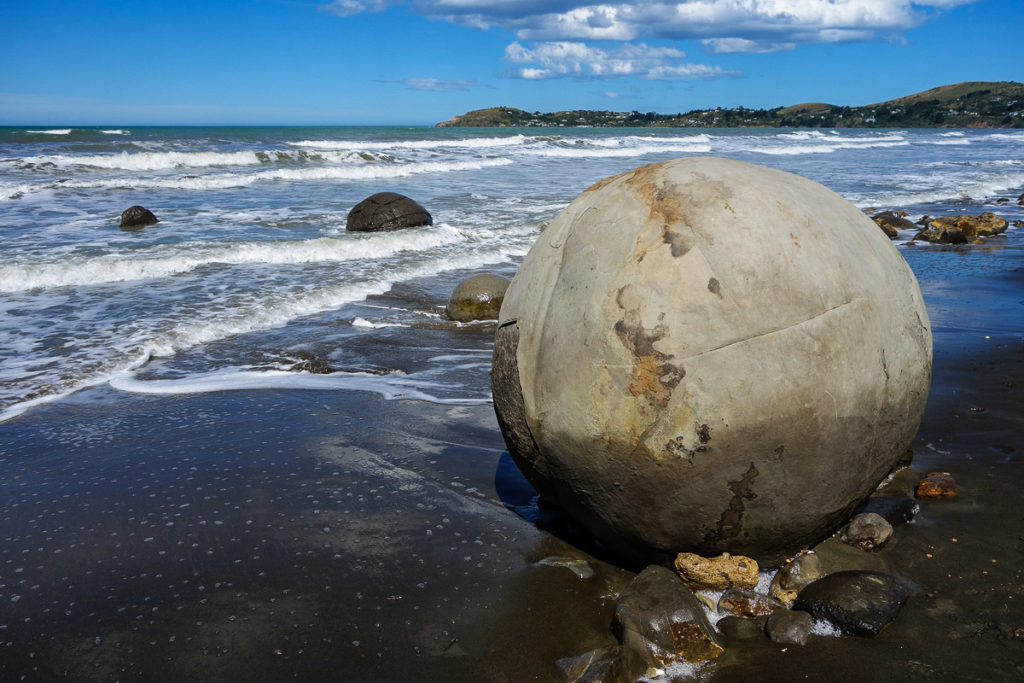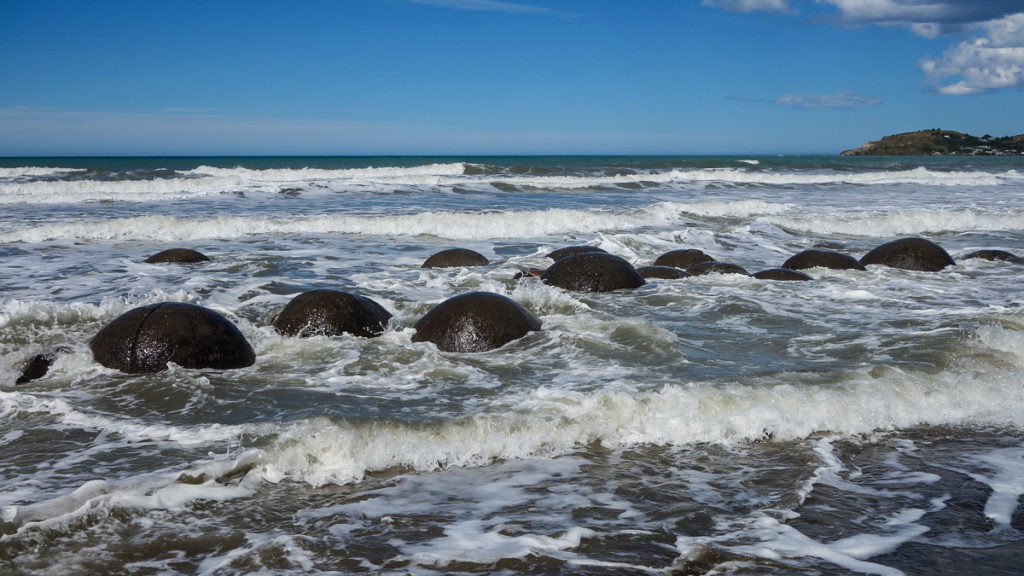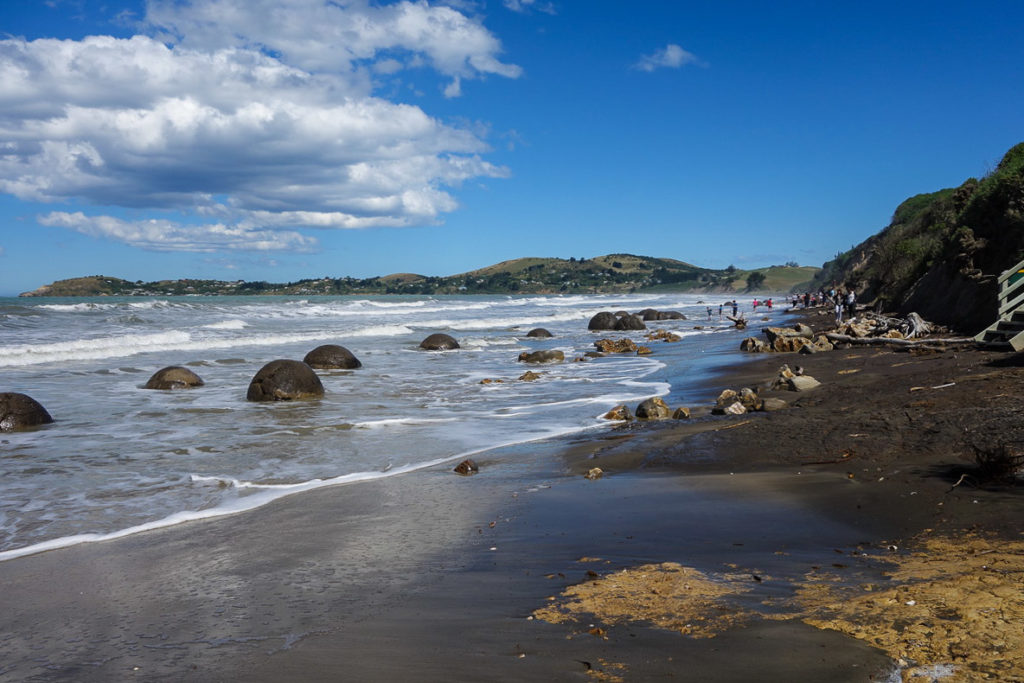 Remarkable phenomena. Round stone balls of various sizes scattered over the beach – in all around 40 of them (according to the tourist info here). Some of them get washed off the beach and into the ocean – underneath which they say there could lie several hundred. The balls aren't of a homogenous texture inside – as can be seen from some of them that have broken up and fallen apart. It's as if different types of rock got glued together eons ago.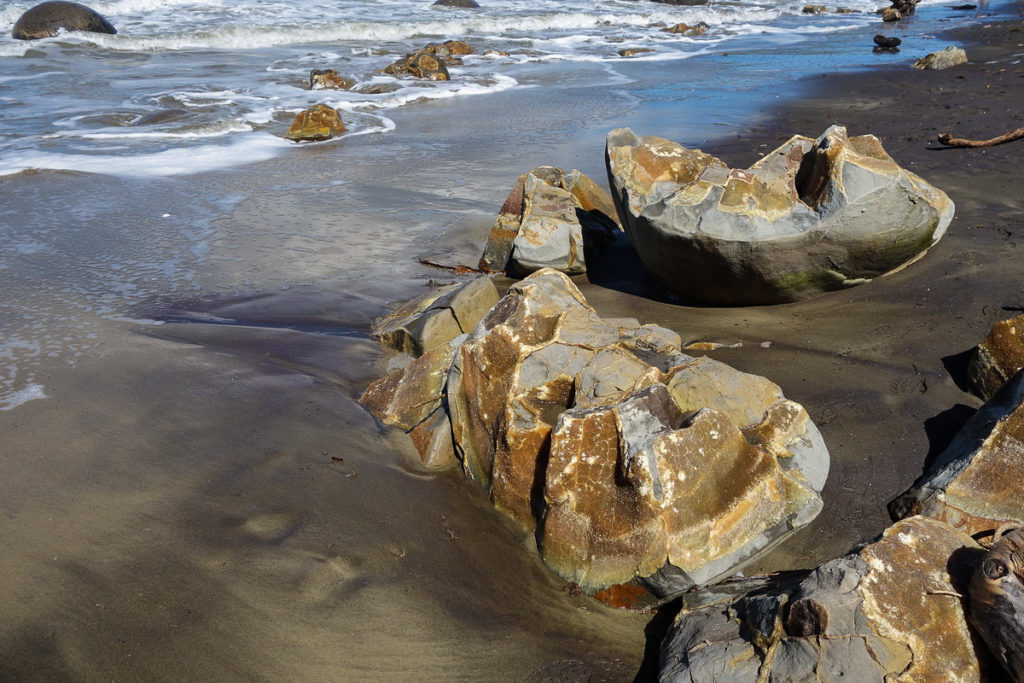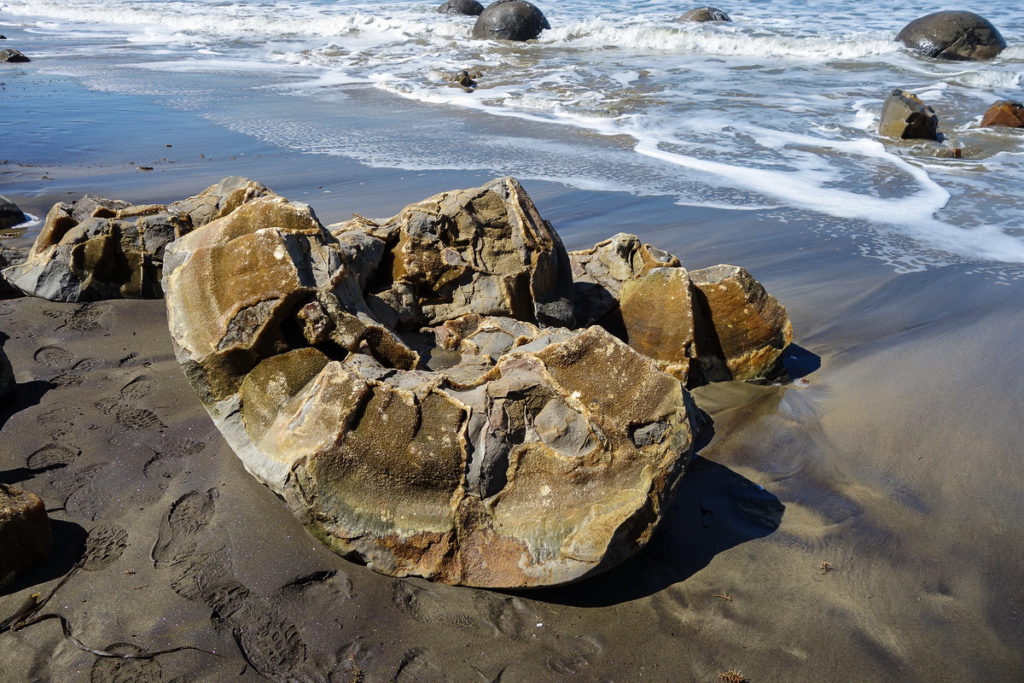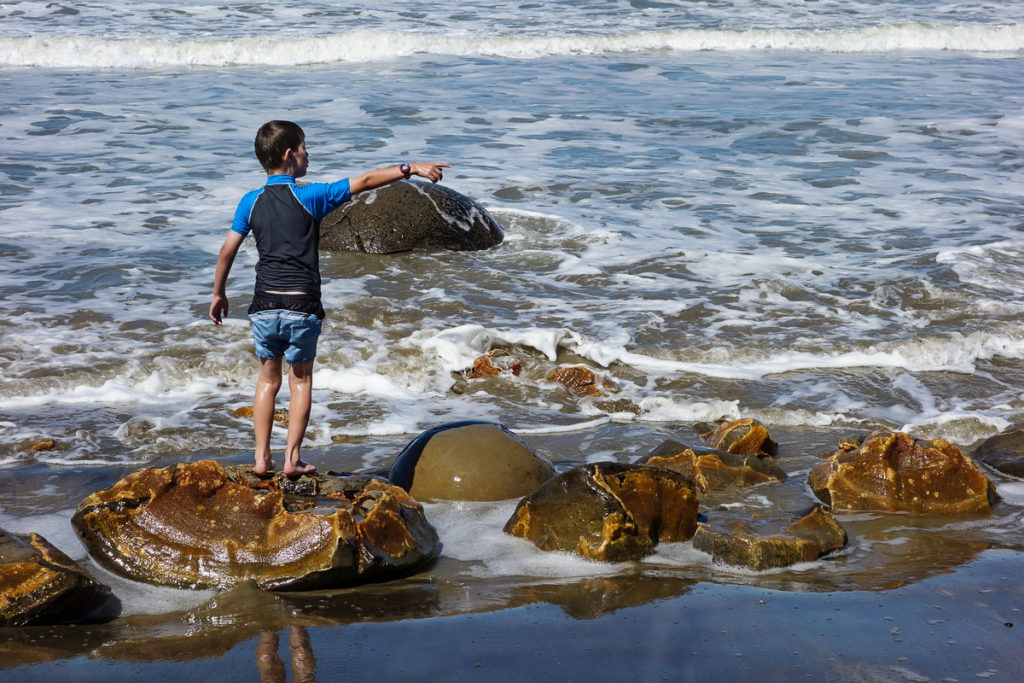 What are they, how were they made, and where did they come from? Today's scientists can't say for sure, only able to come up with "they formed themselves in the Pliocene epoch from dirt at the bottom of the sea".
It's such an amazing and mysterious place. It's trite already on these here blog pages, but… this really is a must-see :).
And finally, the fourth NZ uniqueness – the Milford Sound. A fantastical fiord with wonderful waterfalls – correctly considered to be the eighth wonder of the world by Rudyard Kipling. But not just now. All in good time…