New Zealand-2013. Days 3-5. Geysers, volcanoes, a frying pan lake, and pancake rocks.
Day 3. Geothermality.
At last! The time has come to move onto the most interesting bit (at least, for me!) of NZ – of which there happens to be plenty.
Our route was planned thus: from underwhelm-ness, via mid-whelmness, and on to overwhelm-ness, along hundreds of miles of road surrounded on both sides by luxurious landscapes and a continuation of the inevitable – scads of sheep.
Our third day in NZ served up the following for our touristic pleasure: geysers, hot springs, cauldrons, pot holes, fumaroles, and other assorted volcanisms and geothermality – all unconditionally mandatory for visiting and studying more closely.
Just one day to check out all the underground thermogenesis here (like what we had planned) is far too short a time. A day gives you just a taste of the scale of the natural processes that occur here. Two days are insufficient too. We managed to see only the most interesting bits – lots of curiosities remained unidentified to the right and to the left on our route of impetuous motion. What saved the day was the fact that the best geothermal places only took about 20 minutes to get to in the car.
So, let me give you some detail as into where, if you ever get here yourselves, it's worth sticking your curious nose in these parts.
Te Puia – a thermal valley, assorted boiling mud pools, and other underground hissingness. The main feature: the Pohotu Geyser, which erupts every hour, with streams of boiling water spurting up around 40 meters. For those who love ethnological expeditions the visit to the valley can incorporate learning about the Maori way of life and folklore, as there's enough Maoriness here to sink a battleship.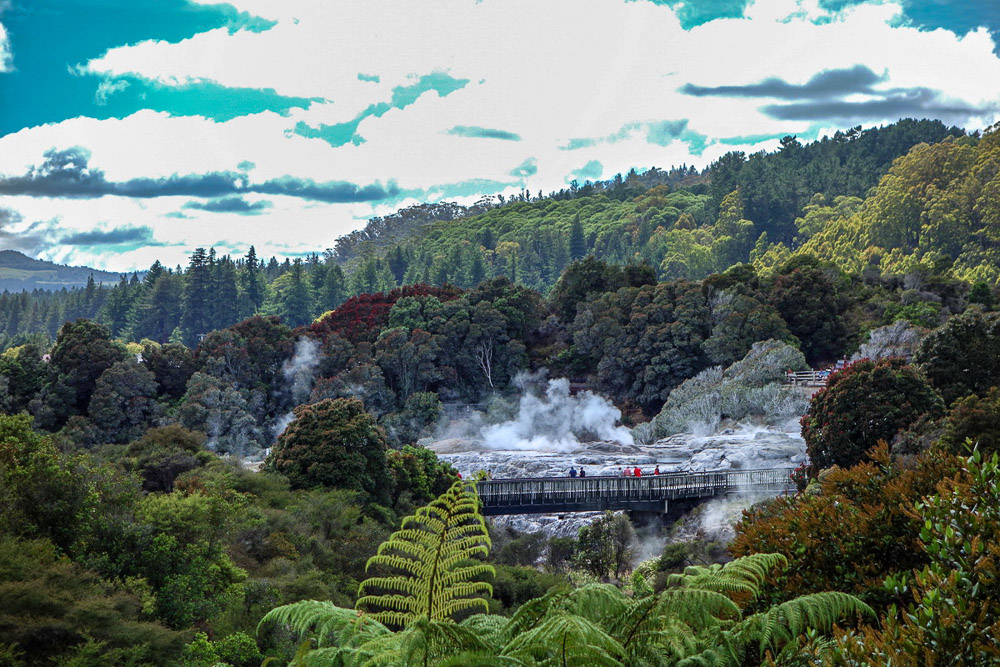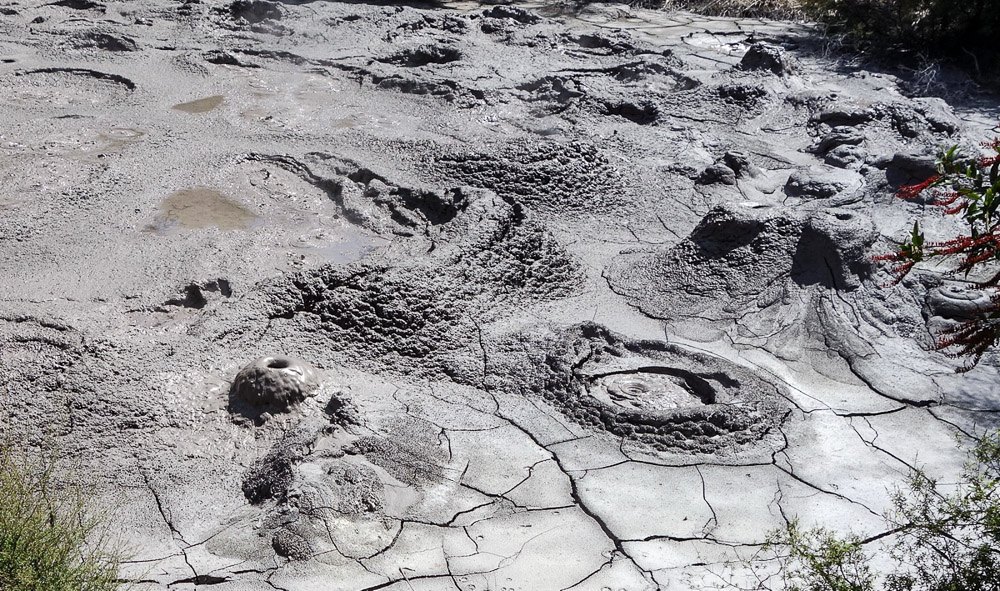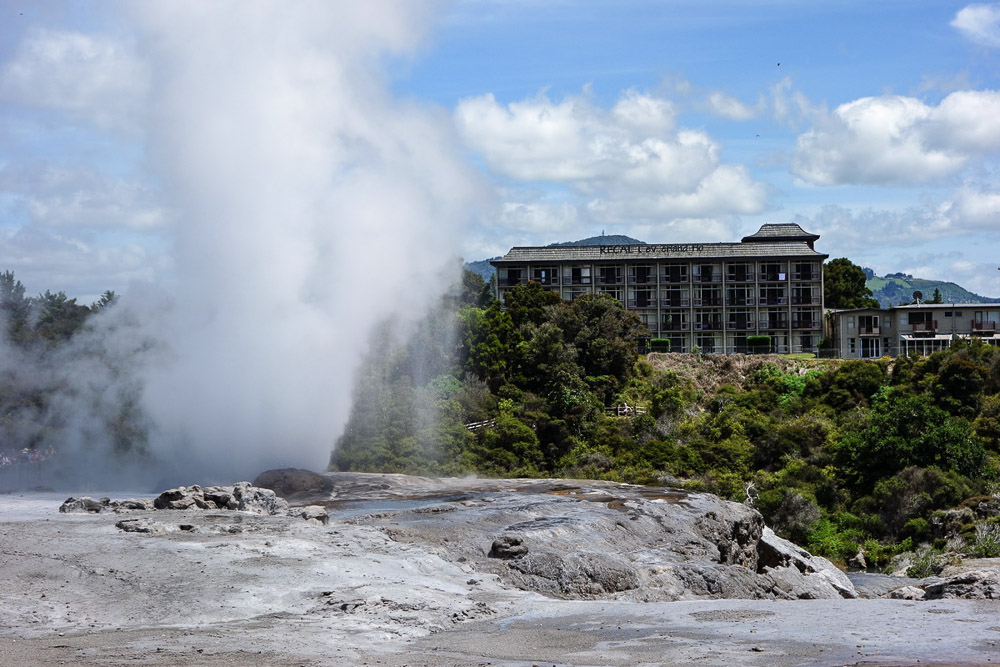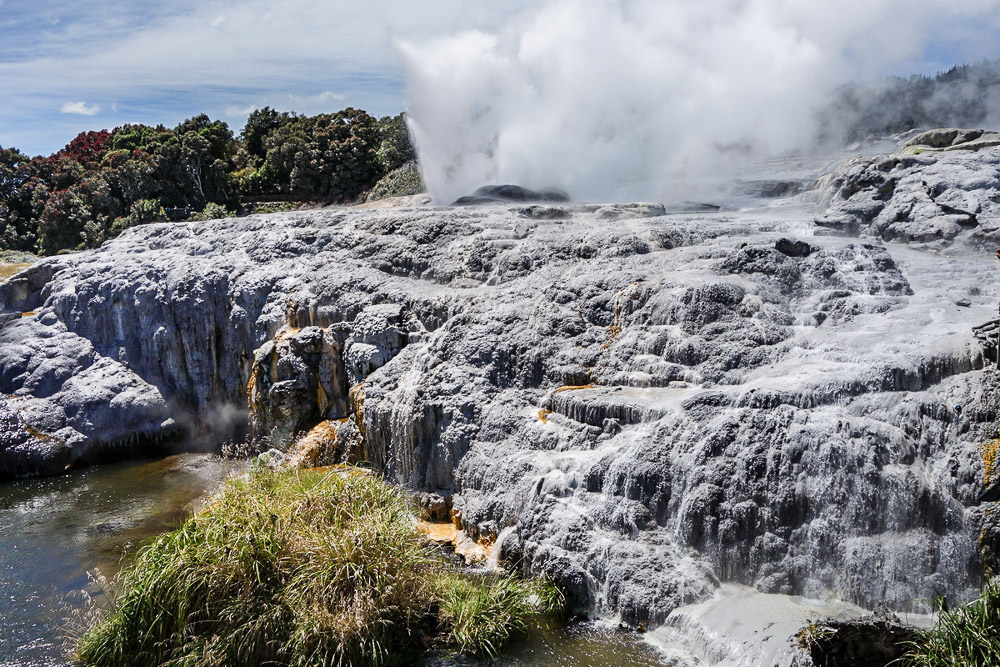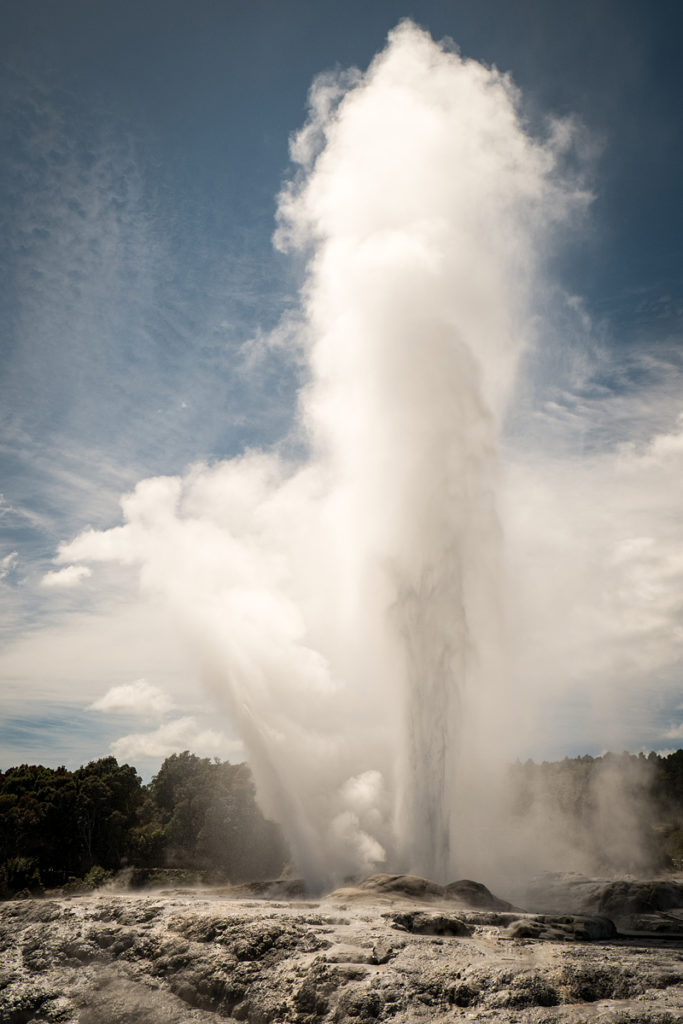 We found out too late that the geysers and mud pools can be seen in action right from the balcony of a nearby hotel here! // Next time – we'll be staying there :).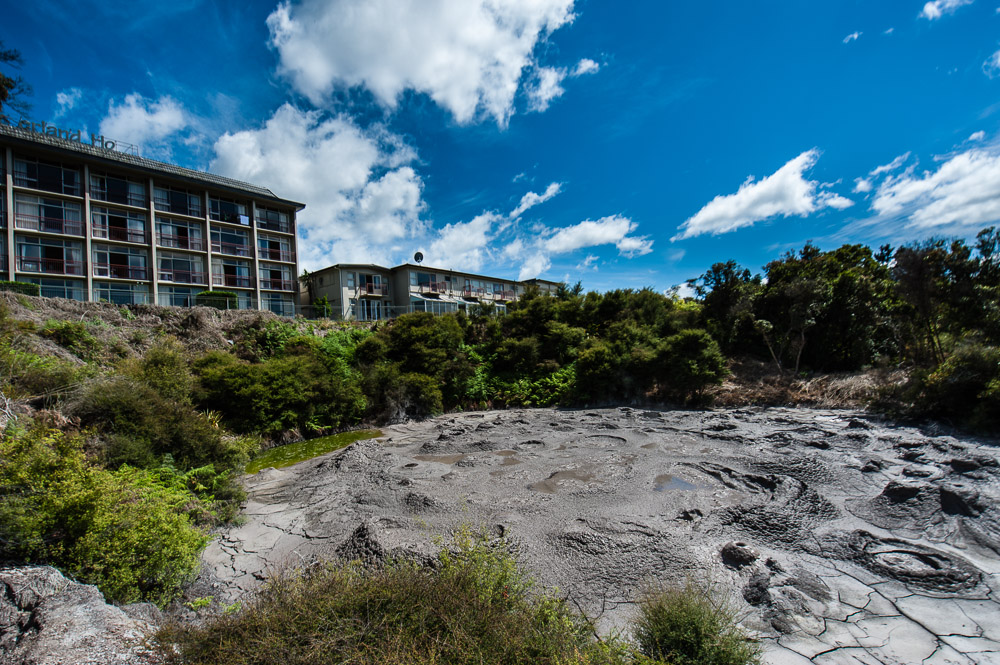 Waimangu – a volcanic valley with several awe-inspiring craters with multi-colored lakes, streams, and underground sprinklers. Most of how it looks today came about in 1886 when a volcano erupted. Then in 1900-1904 a mega-gigantic geyser kept exploding in the valley, causing boiling water to spurt as high as 400+ (!) meters up (that's a 100-storey skyscraper – an Empire State Building of boiling water and steam!). It's just a shame the geyser became a pensioner more than 100 years ago.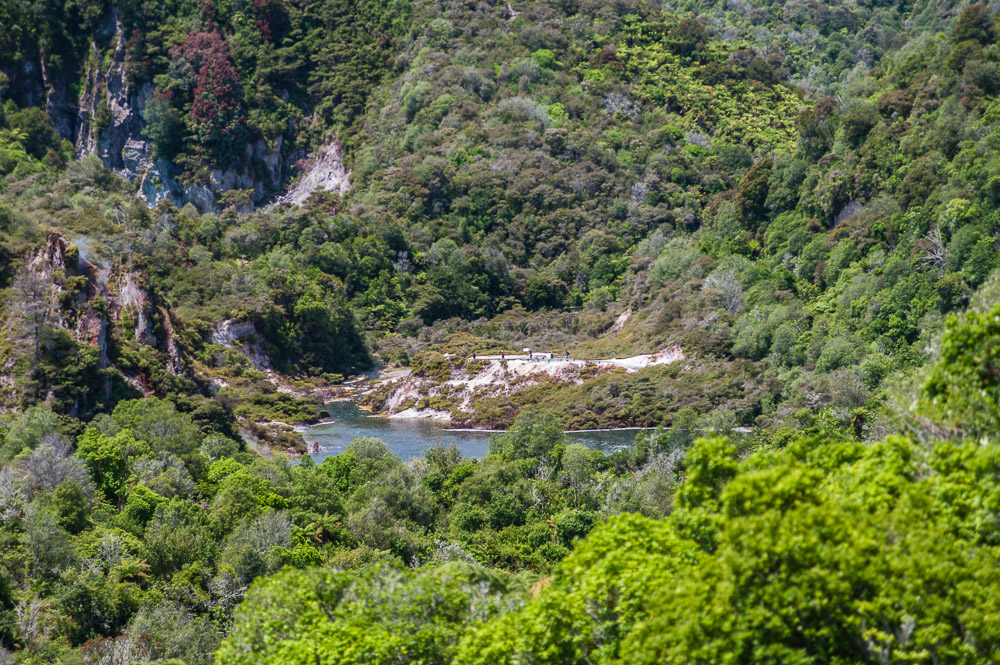 The highlights here – the Echo and Inferno craters (the second and third largest). In the former there's a hot lake – Frying Pan Lake – one the largest hot springs in the world (not the biggest, as the local tourist booklets have it (and Wikipedia)). They say that the temperature of the water in the lake is 55 degrees centigrade (130 degrees Fahrenheit) (so, alas, it's a tad too torrid for a dip), and every second 110 liters (30 gallons) of underground boiling water enters the lake. Extreme stats.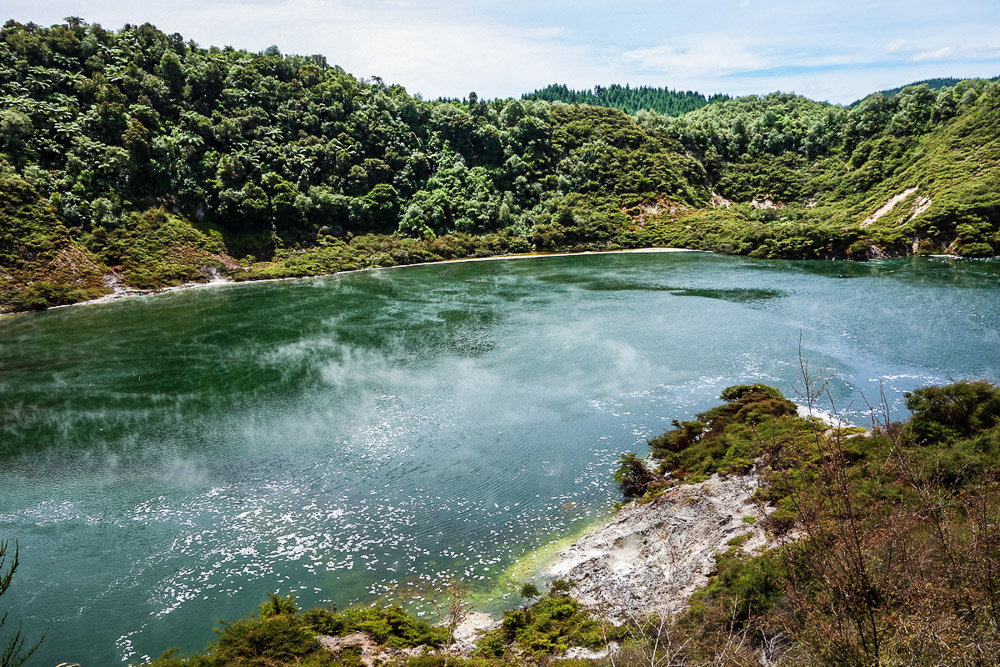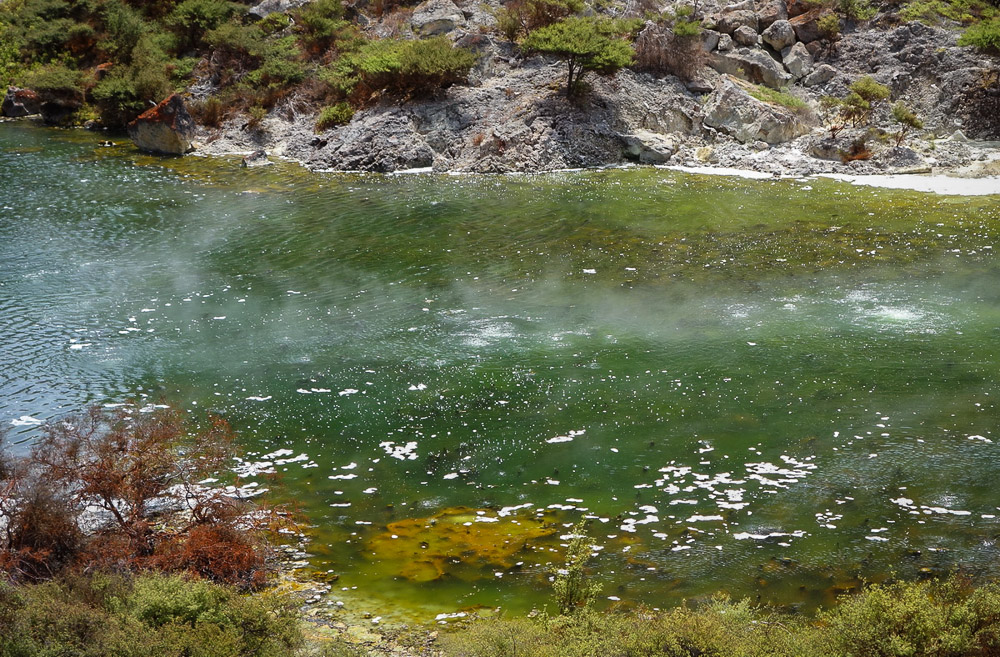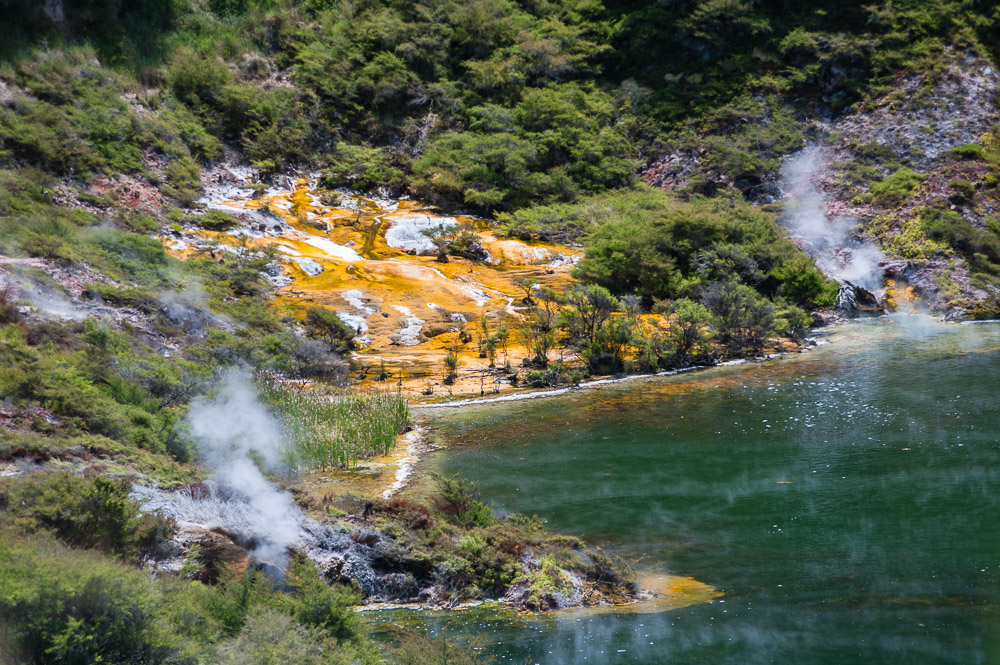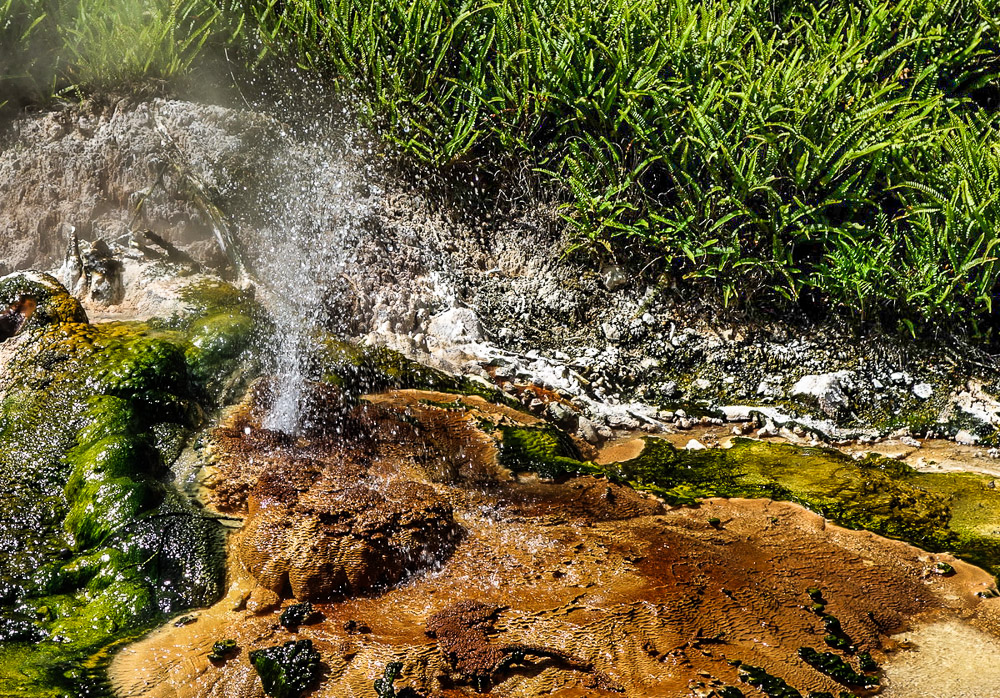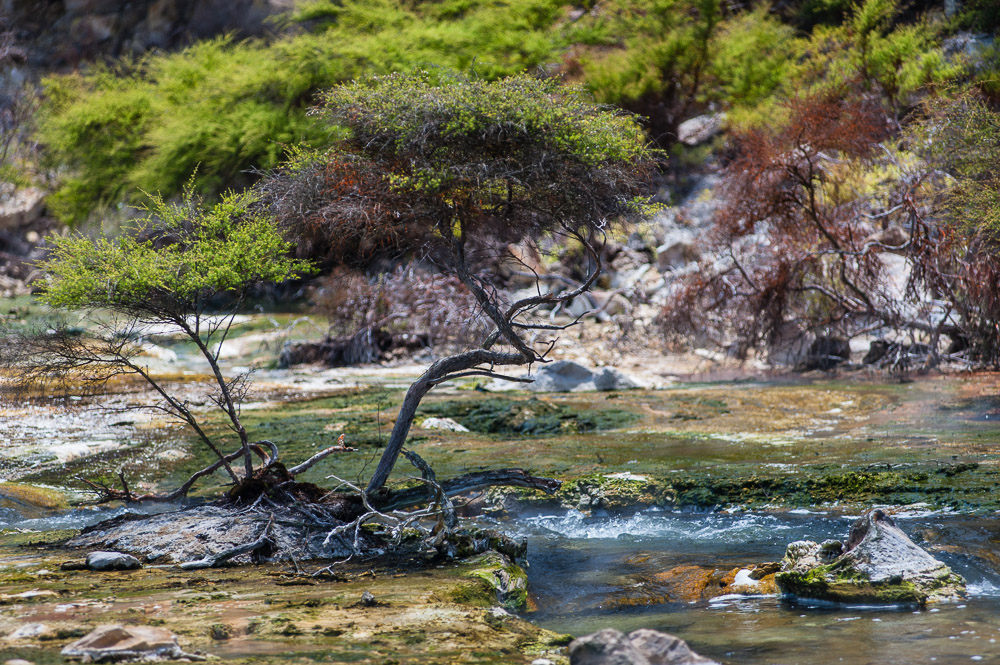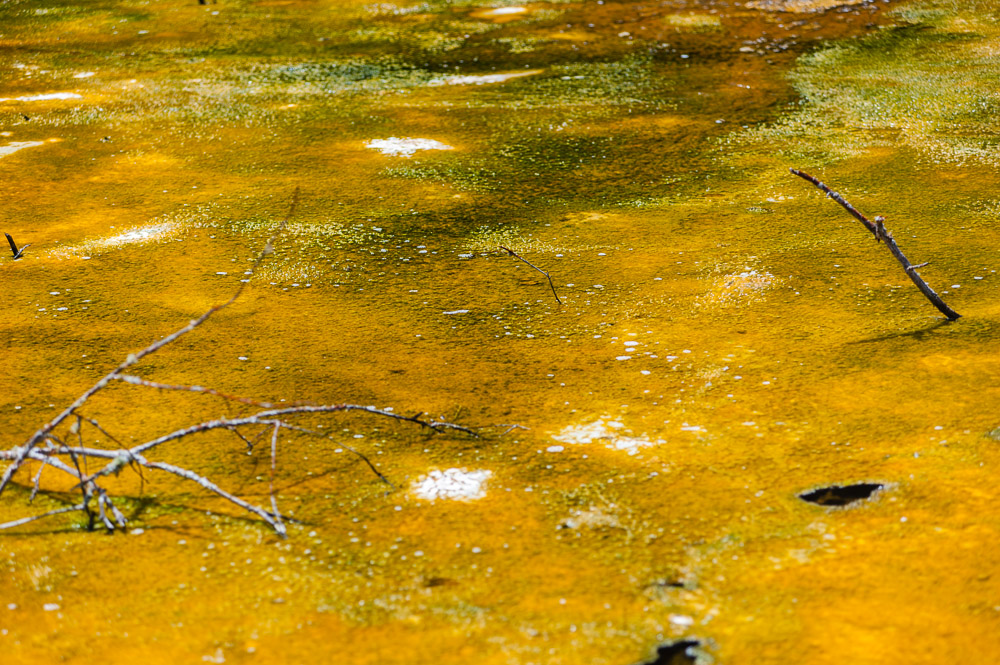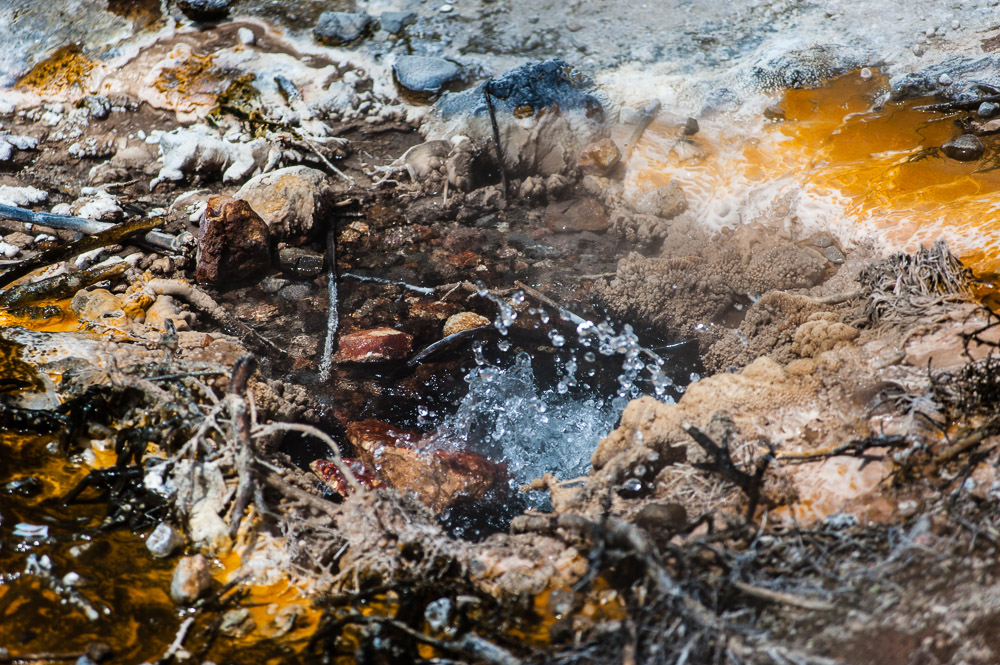 Both the Inferno crater and Inferno Lake are unique wonders of wonders – I've never seen anything quite like them! The level of the lake changes cyclically for reasons unknown to me by around 10 meters (at least, that's what local printed matter states), with a whole cycle taking around 38 days to complete. They also say that the water in the lake is quite acidic, and very hot – almost boiling.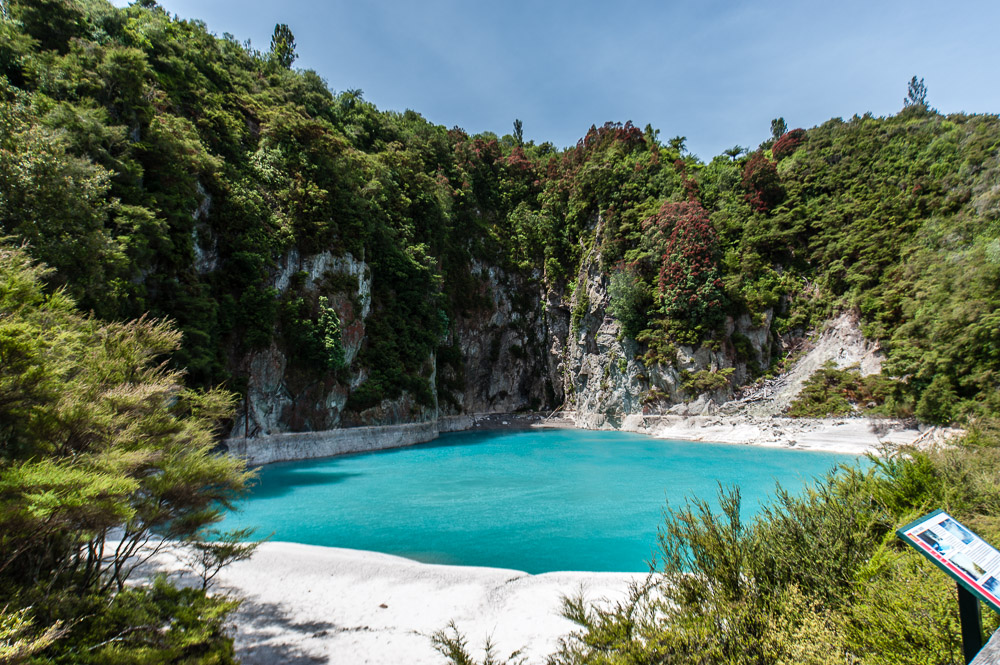 Alas, we didn't reach the end of the valley – so we missed out on the main lake upon which boats sail. That's a treat that will have to wait until the next trip…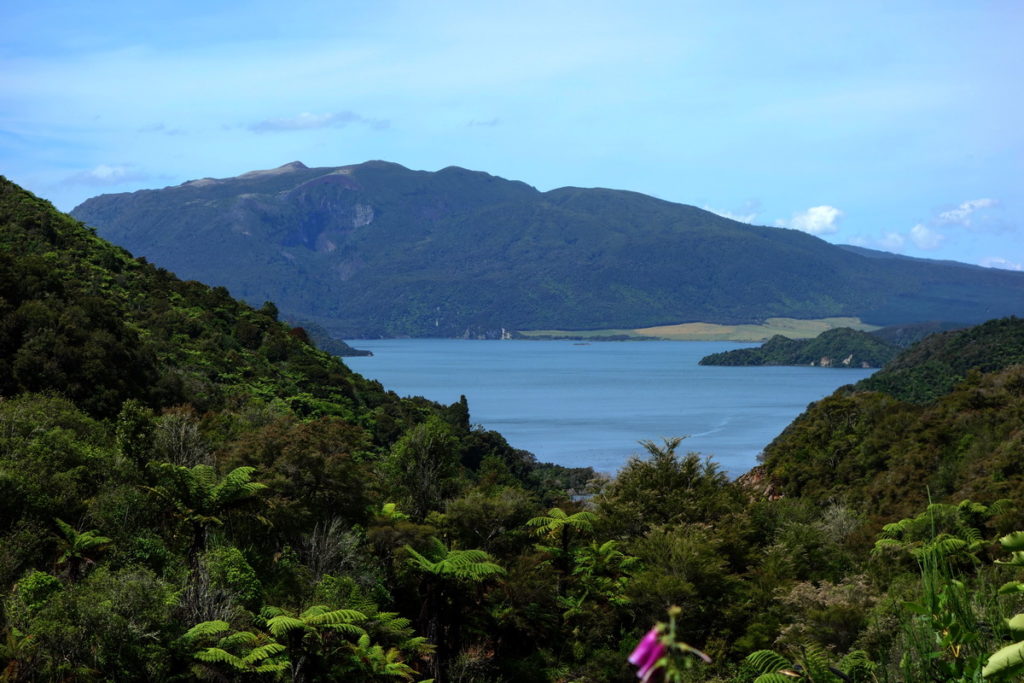 Wai-O-Tapu (or simply Waiotapu) – another geothermal valley, with scalding water of varying colors, bubbling mud, and sizzling steam – all in nice, brightly colored woodlands. This provides yet another injection of rapture! Important!: The park is open until 5pm, so if you plan on visiting all the listed geothermalnesses, I'd advise an early rise this day – at least three hours are needed for Waiotapu; as ever – preferably more.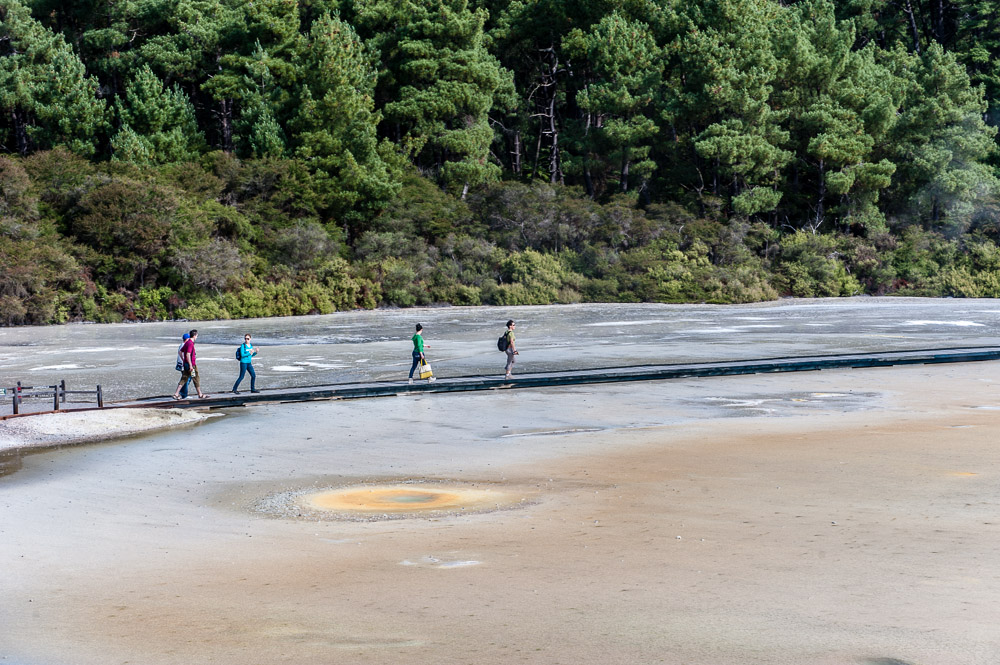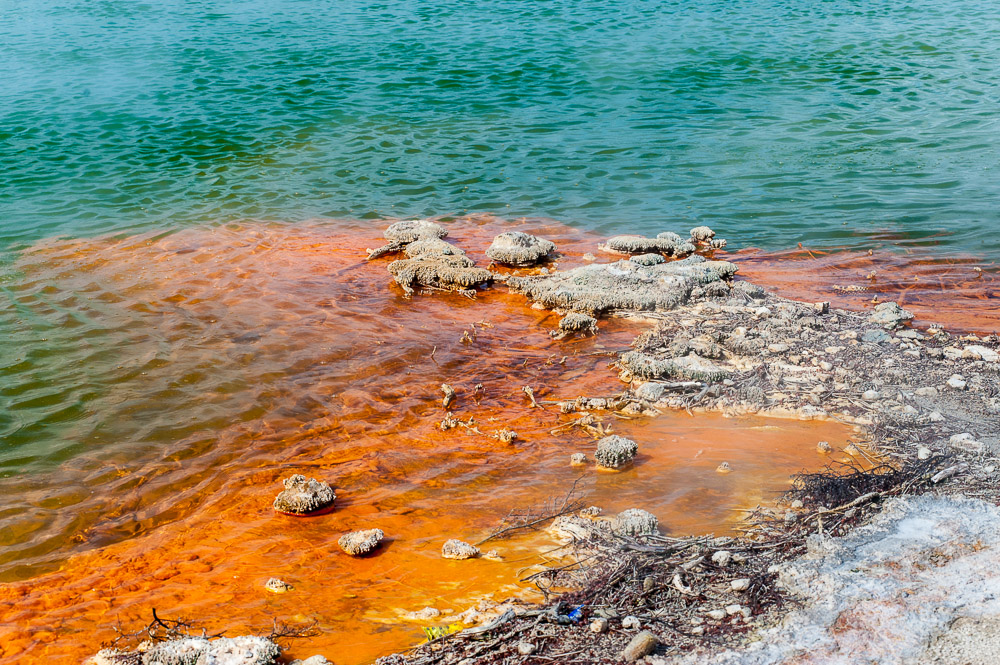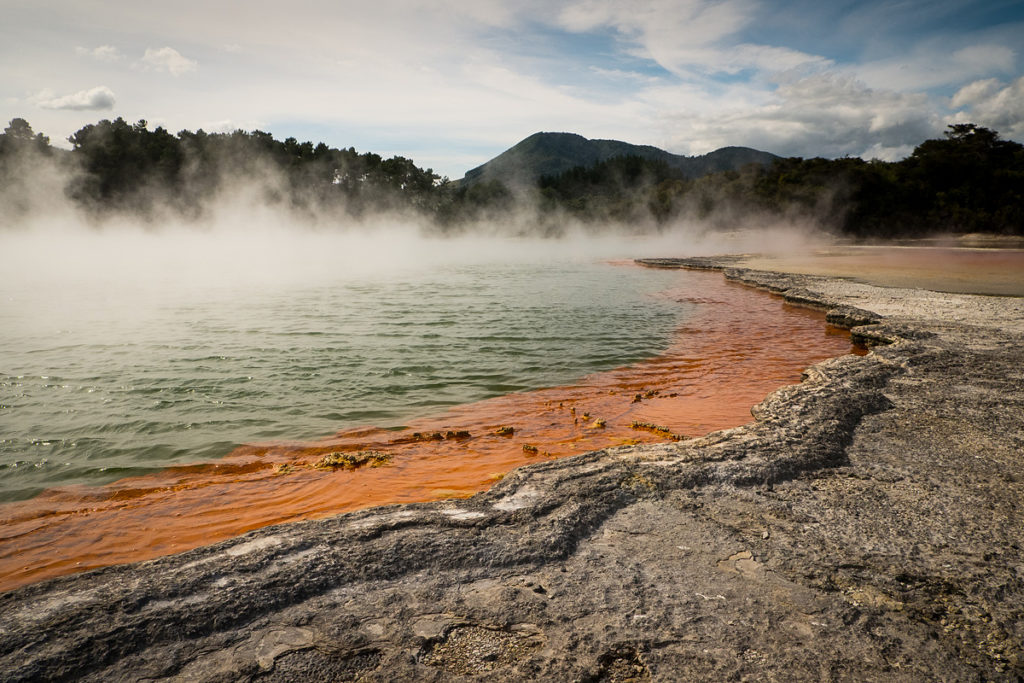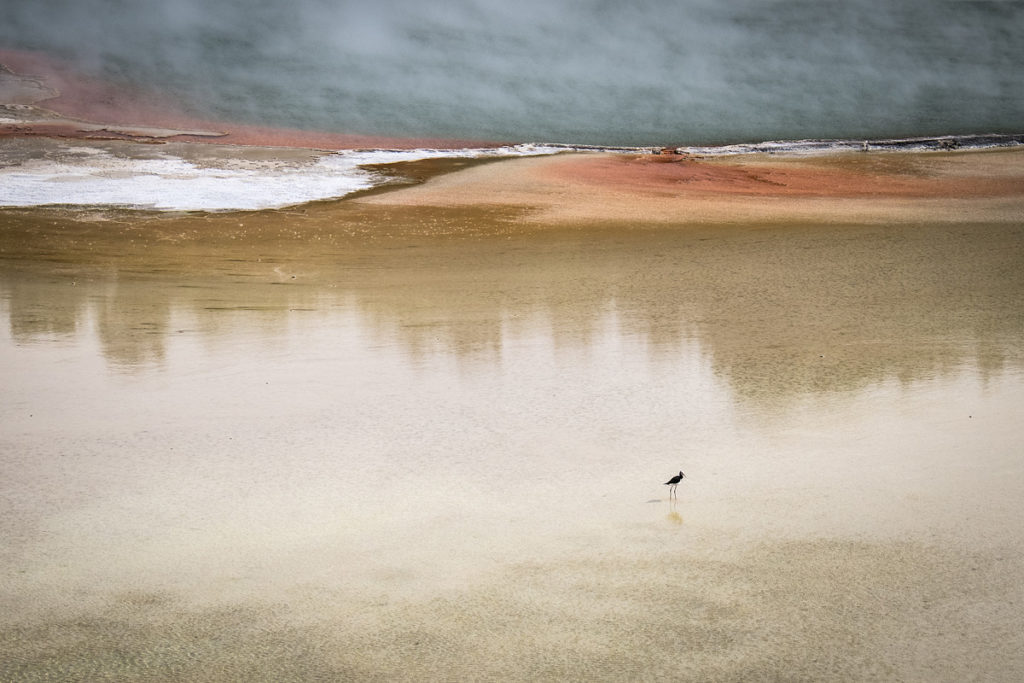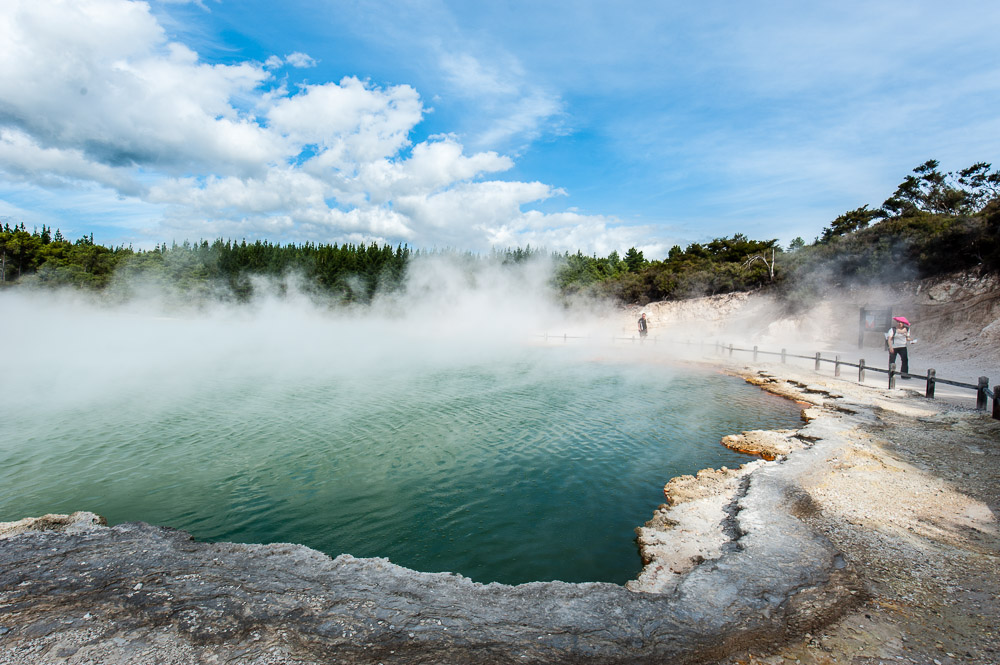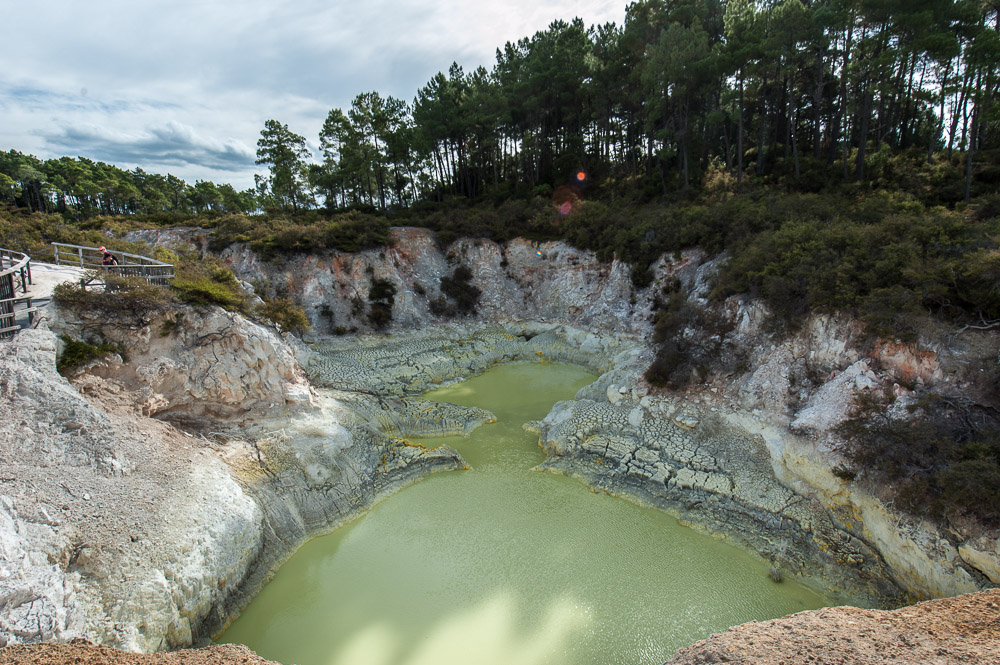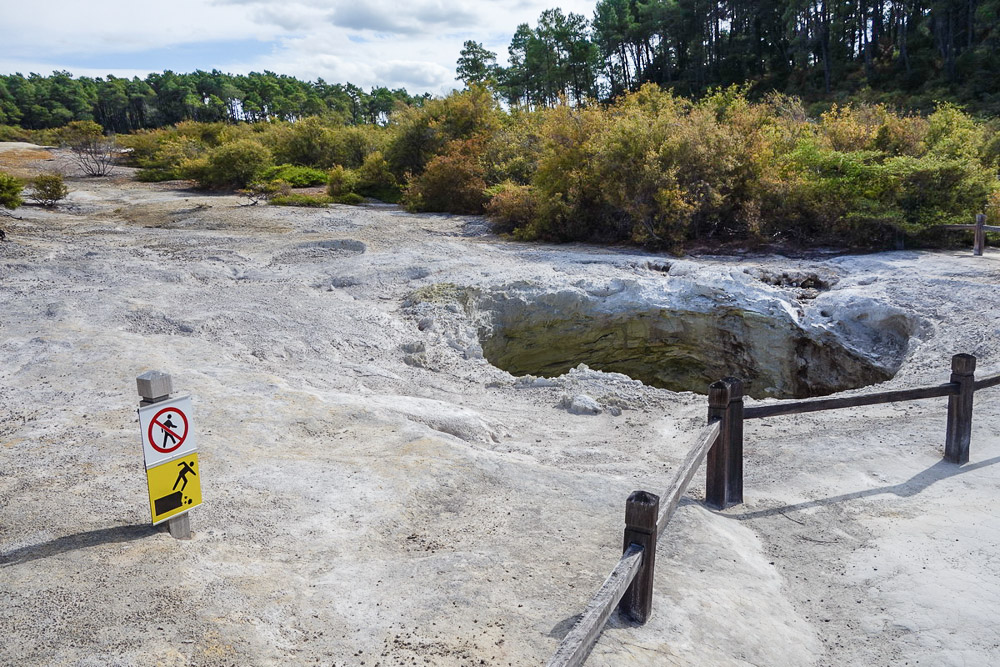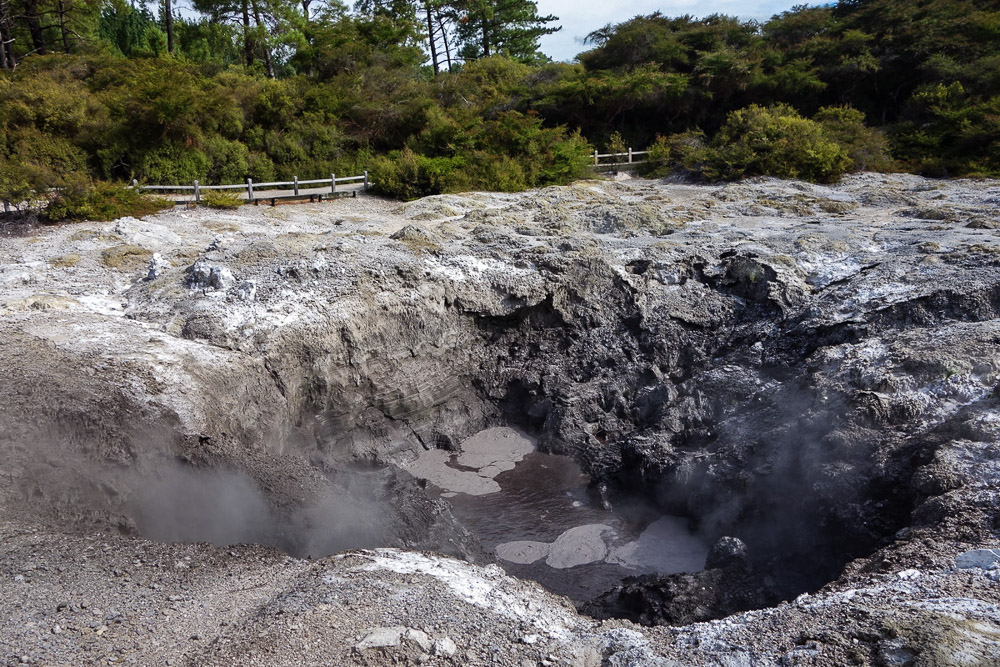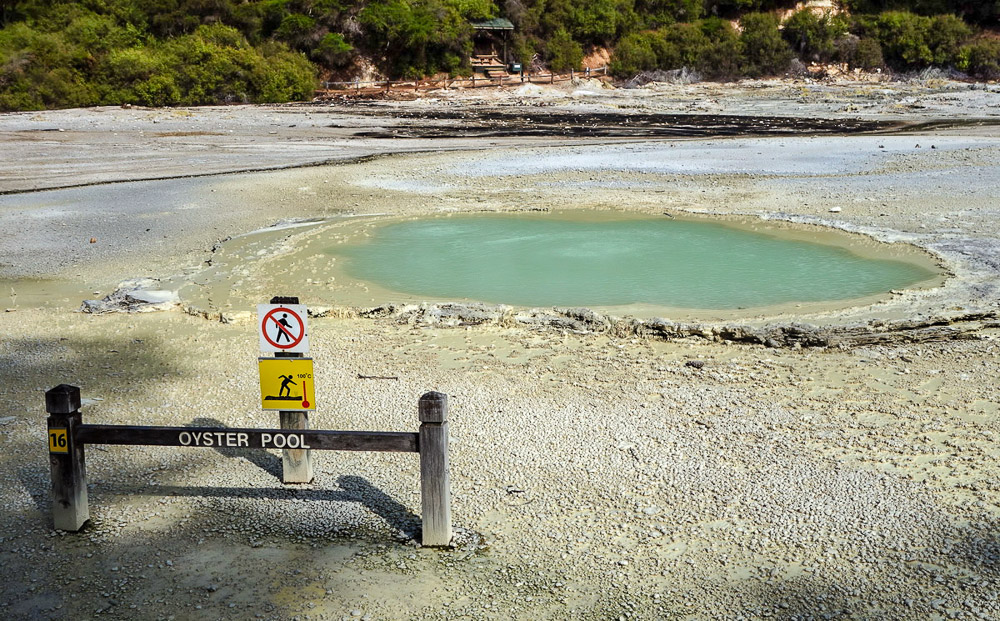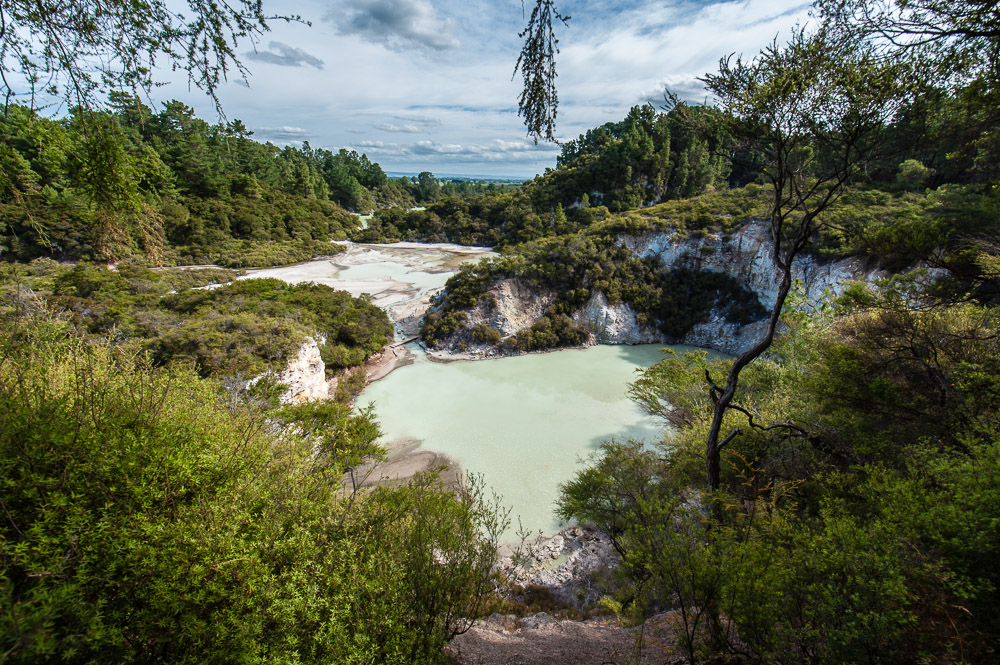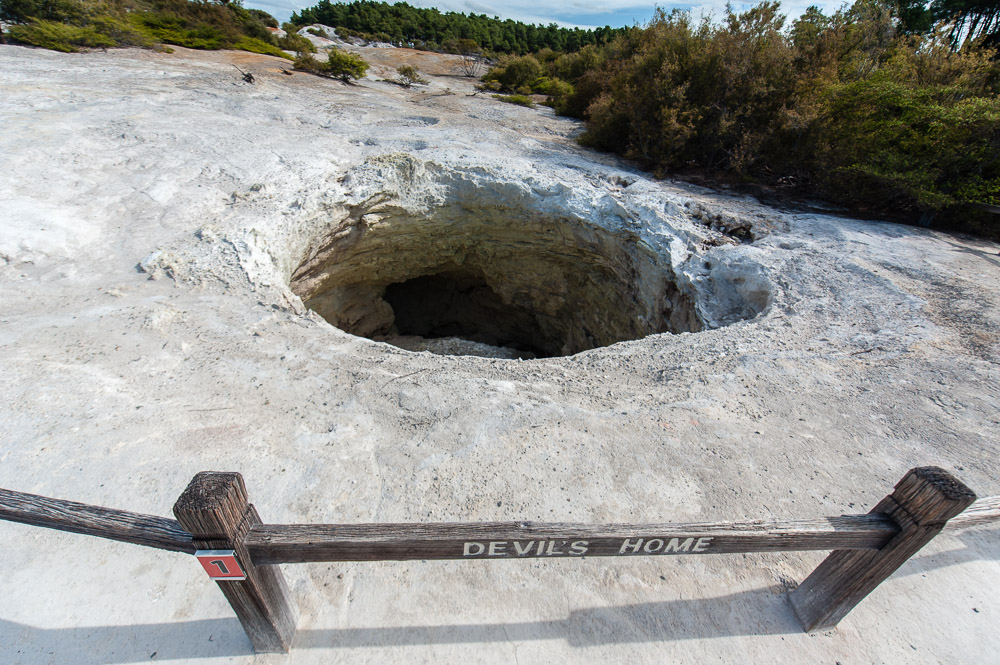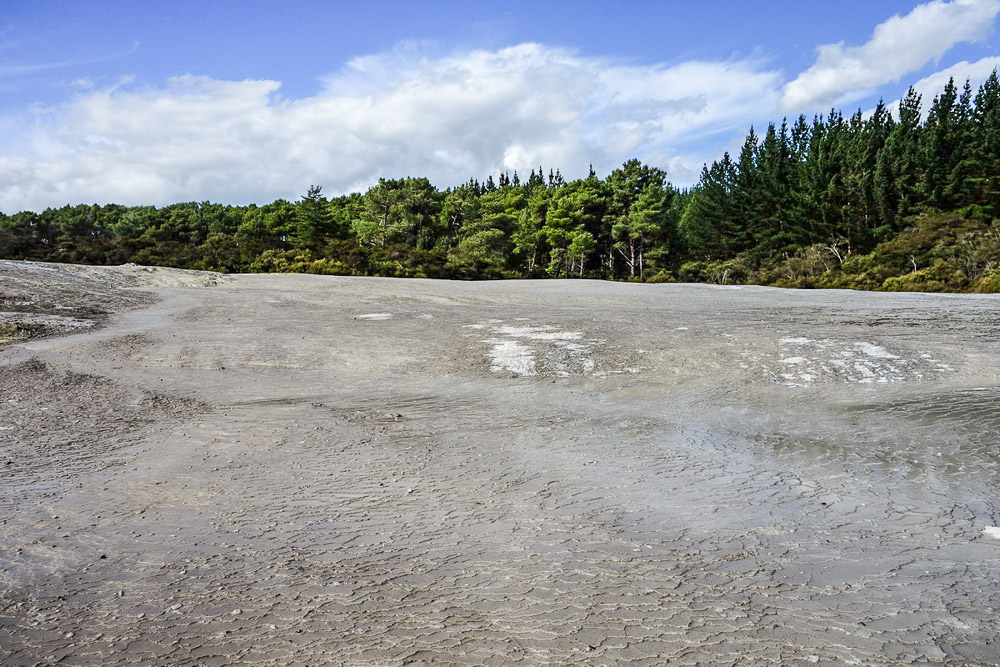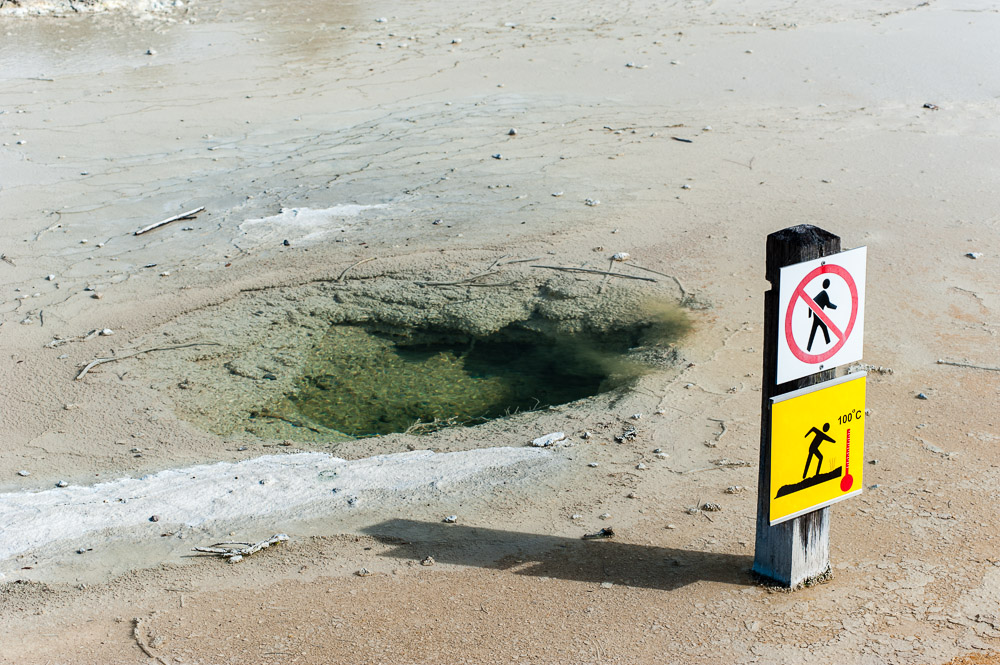 So in all, there's quite a bit to check out here…
A sun halo made the perfect end to this great day: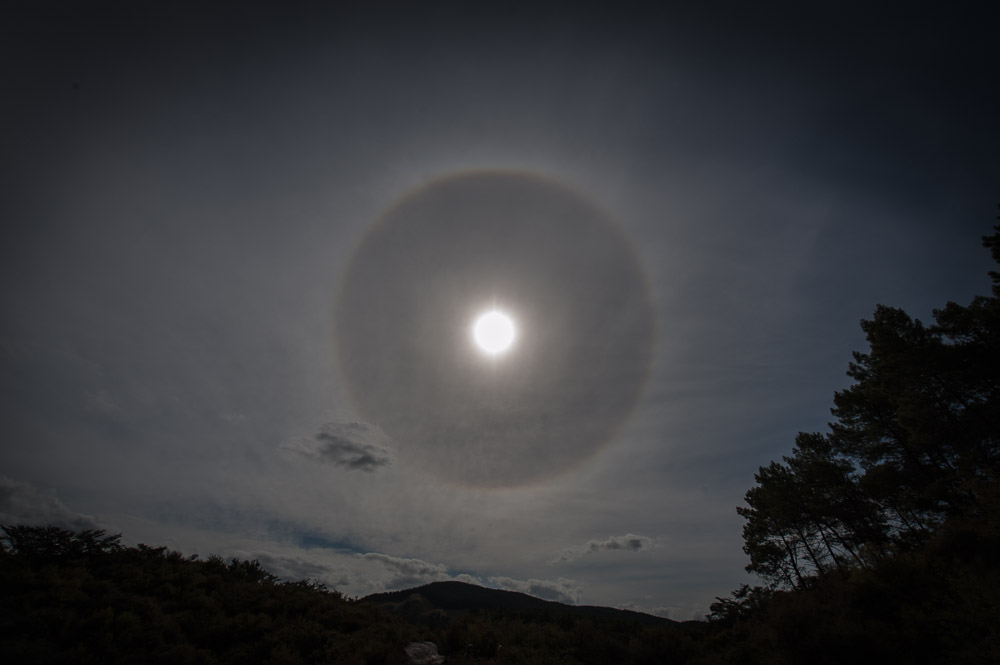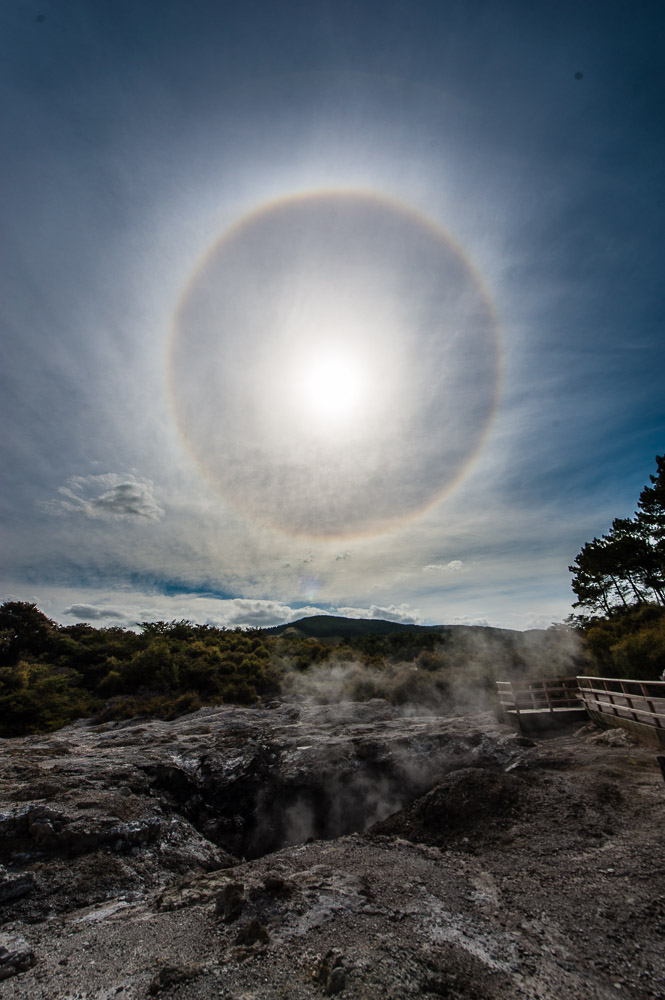 Hello halo
This was the second time in my life I'd seen a sun halo. The first time was in Antarctica.
What else?… Ah yes – curiosities: All the volcanic-thermalness here is, like, totally civilized. It all comes equipped with ample parking, swish souvenir shops, and plenty of helpful signposts and warning signs. Everything's nicely painted, cut, trimmed, fenced off, and/or tarmacked. To get up close to a feature you need to pay a fee, and the whole spectacle then closes for the night. NZ fumaroles and geysers – they have the night off! Fancy that?!
And on that curious note I bring the chapter on NZ underground boiling water and mud to its end. Tomorrow we've got full-blown (!) volcanism on the menu. Yippee!
Day 4. Volcanism.
NZ volcanoes – there are loads of them, of assorted sizes, scattered over both islands. But for the real volcanism deal – the true fire-and-brimstone epicenter of eruption energy – it's the North Island you need to go for – right in the middle thereof.
The ultimate volcanism here, rising up above all competitors, is Mount Tongariro. If only I could have a good three or four day visit to this area, or even better – a week or two! To be able to climb up to all the accessible peaks and check out the craters and valleys with turquoise (!) lakes… and to just sit and take in the still life here as I'm sure Peter Jackson did :).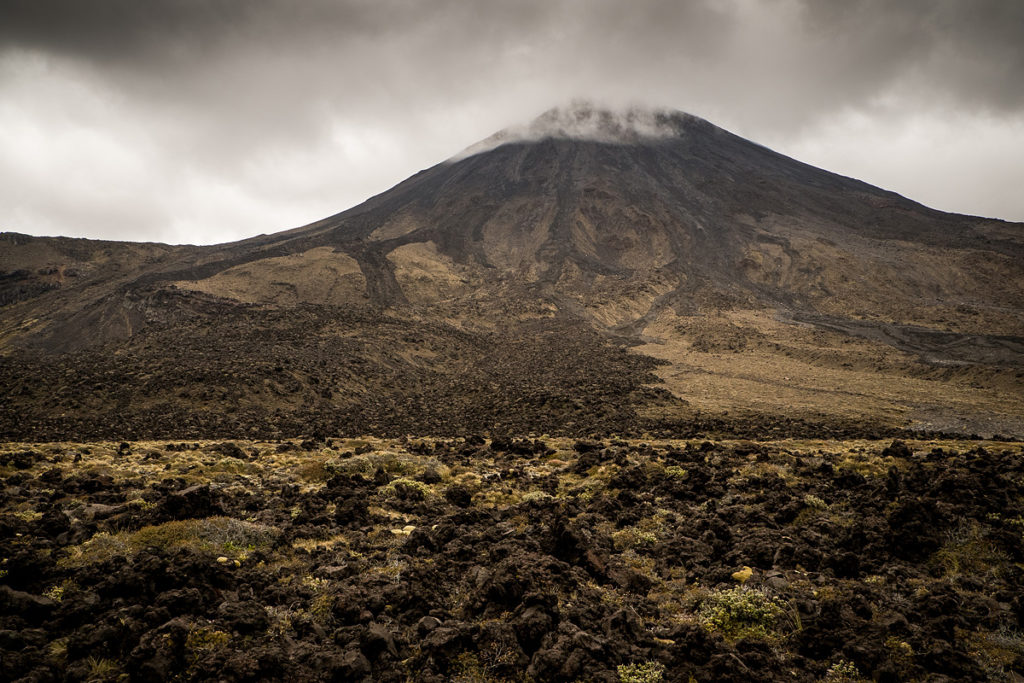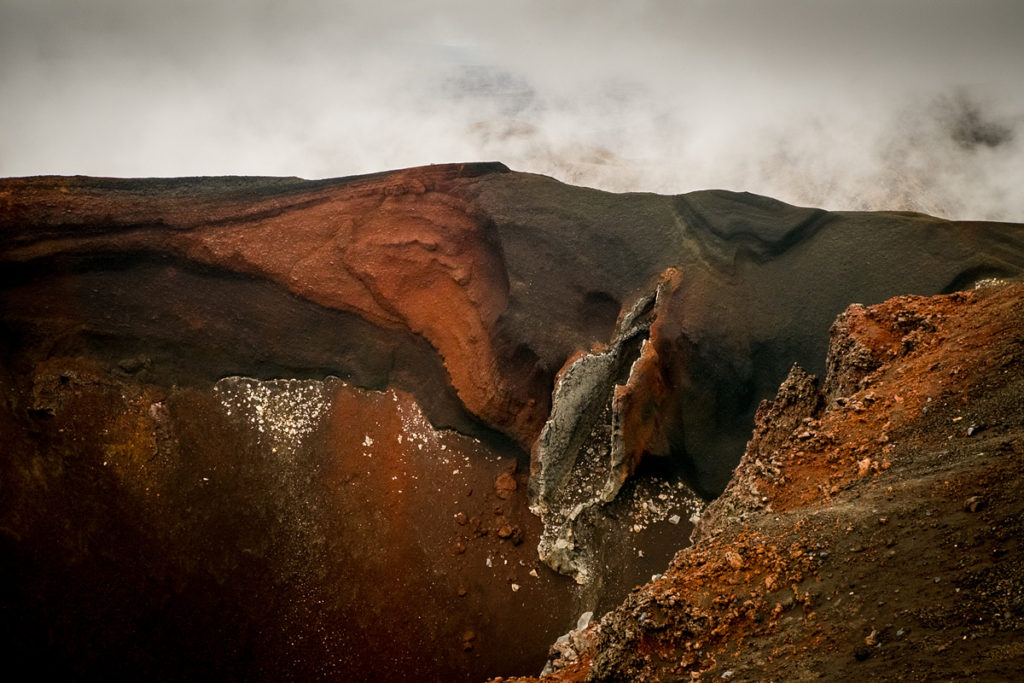 Alas, some areas were closed – a crater had recently sneezed repeatedly, spitting lava and rocks and getting up to various other volcanic mischief. Accordingly, all the tracks and paths nearby were closed immediately – to save the lives of silly tourists who might want to observe an eruption up close. So what might I recommend as a remedy if you're silly enough to want to see an eruption up close? Get yourself to Kamchatka!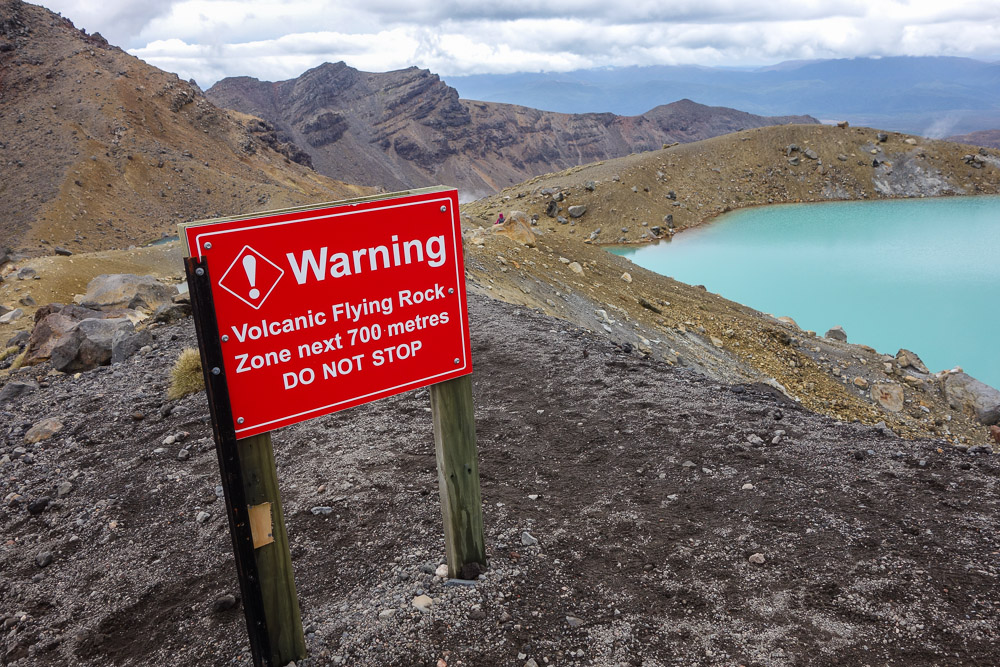 Now, about Tongariran pedestrian routes…
Due to the recent volcanic hooliganism there aren't all that many footpaths now; in fact – just two. The first one goes from the bus station in Mangatepopo to Emerald Lakes (the red dotted line, below). You can complicate things by taking the second route – on a bus from Whakapapa (the road from Highway 47 to Mangatepopo was closed to private vehicles, and you can only get there on authorized (paid) transportation) and taking a footpath (the yellow dotted line).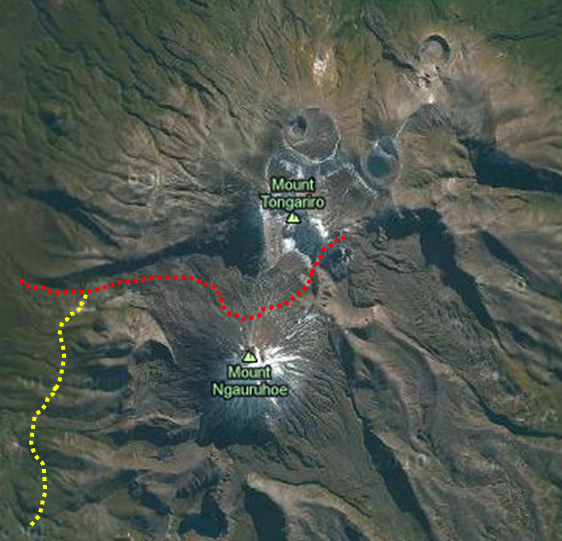 There are scheduled buses on the Mangatepopo-Whakapapa-Mangatepopo route (a tongue twister if ever there was one). The last morning one leaves at 10am (best not be late), and it sets off back at 5pm (tardiness not out of the question on this leg – a bus can be ordered to leave later on for a small consideration – no one stays in Mordor overnight:). The intervening seven hours are sufficient to complete the red route without too much athletic heroism (it's only about 15 km from one end to the other, with a total altitude change of around 900 meters, which is neither here nor there), to snap the best places to one's heart's content, get in a couple of tasty refreshment stops, and do plenty of wide-eyed gawping at the lakes. Normally you're able to get to Blue Lake, but we couldn't manage it due to the path being closed due to the recent eruption.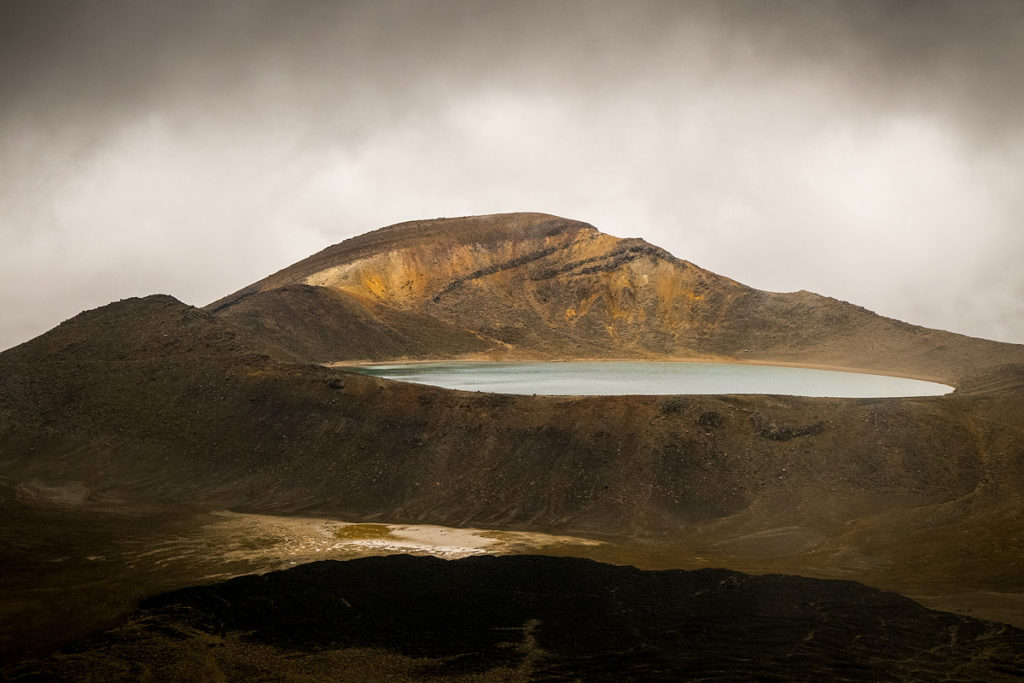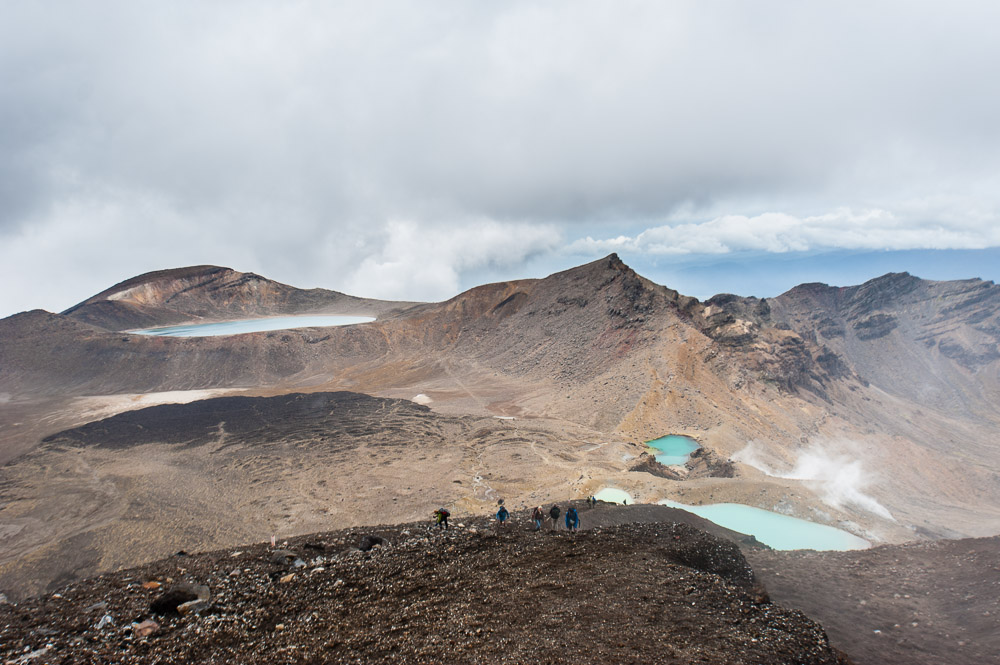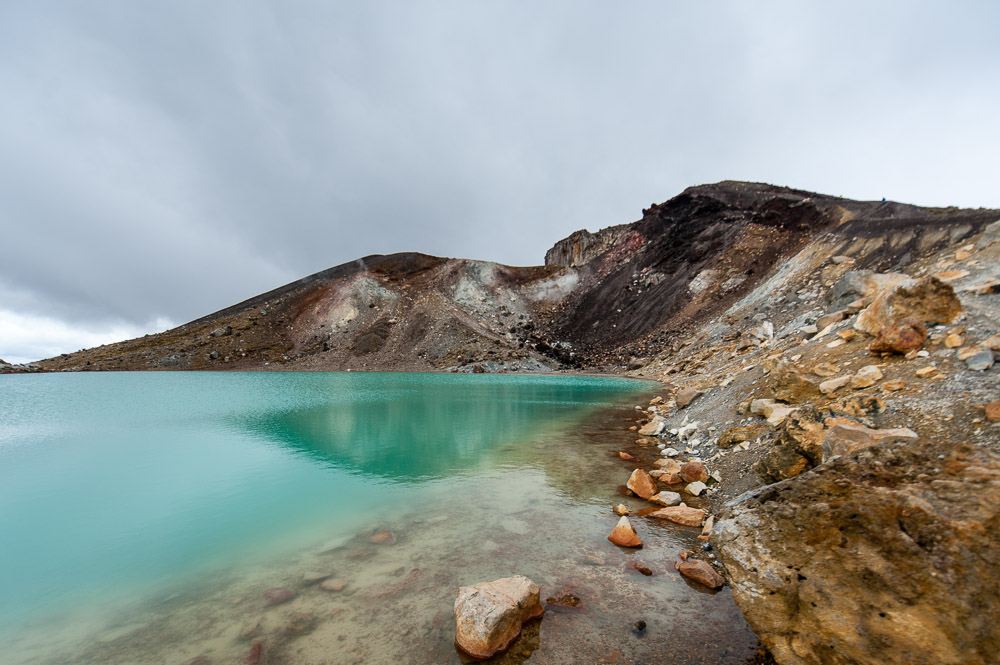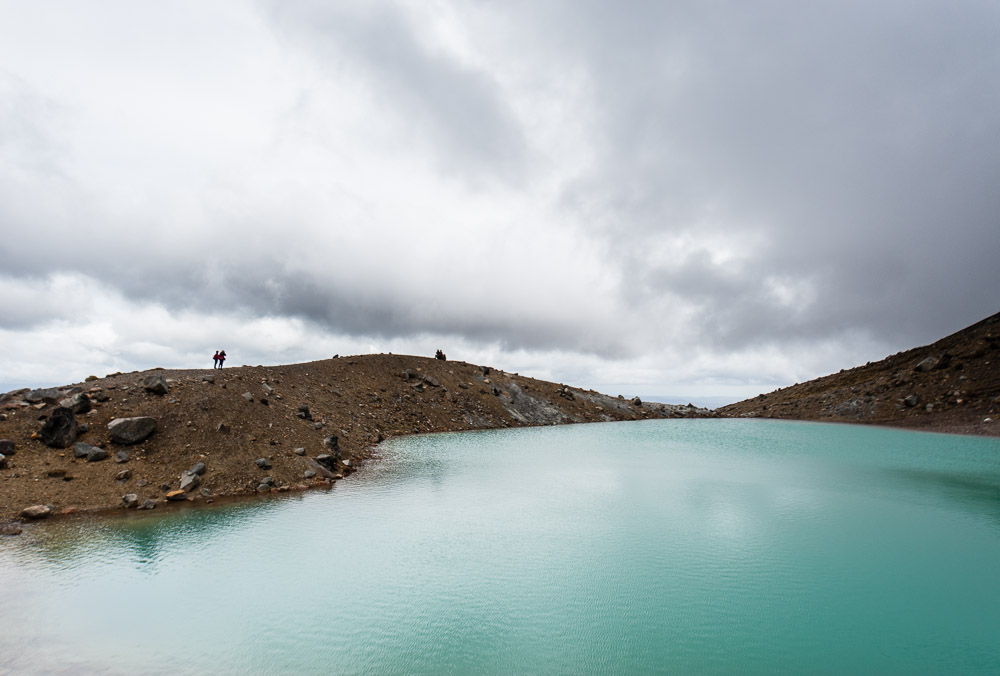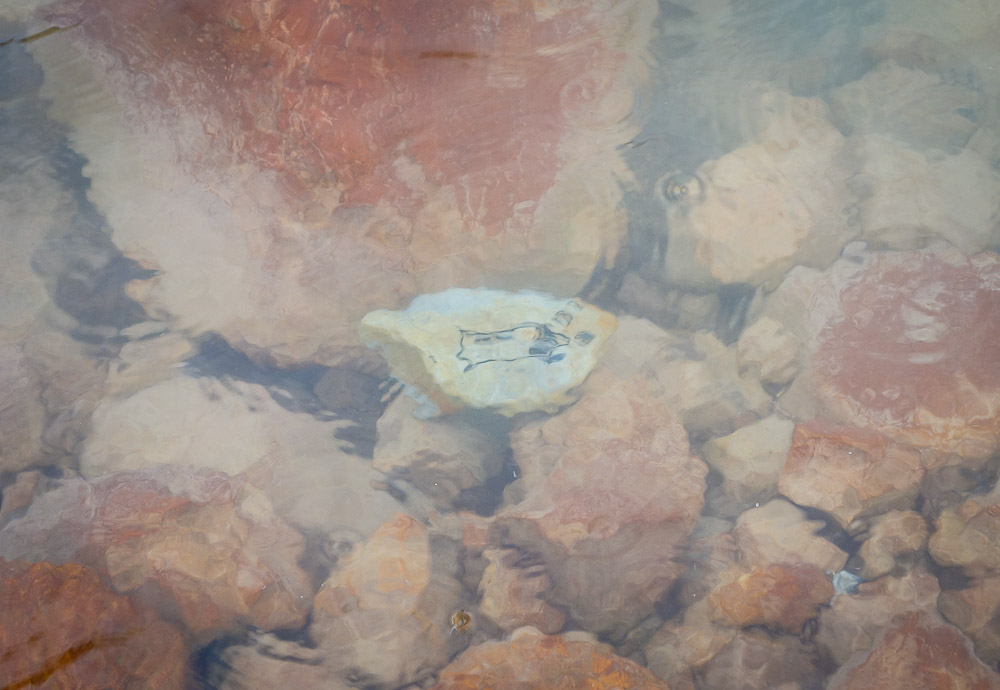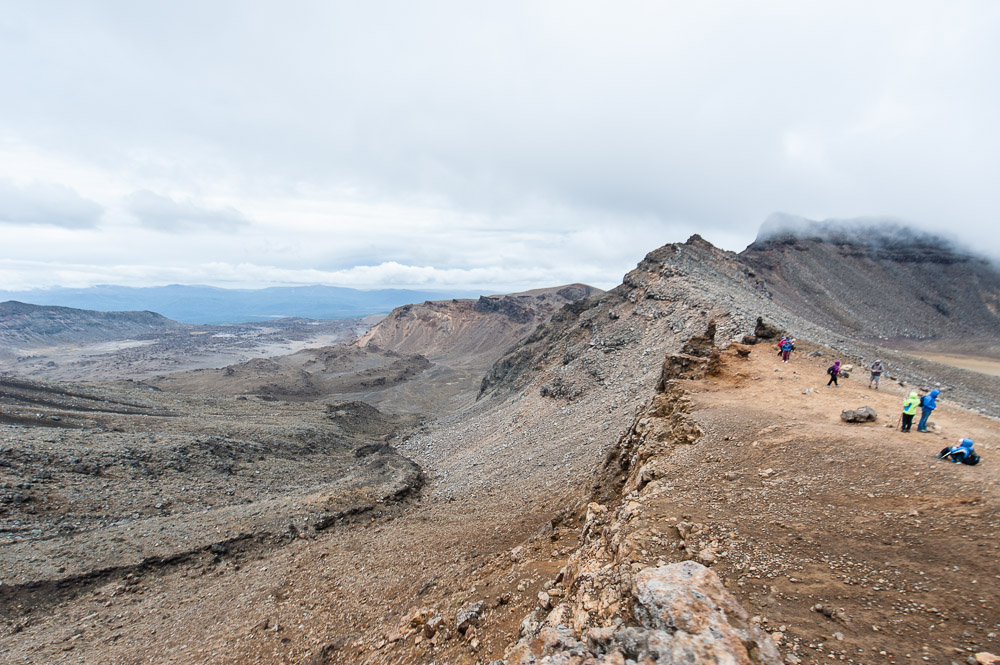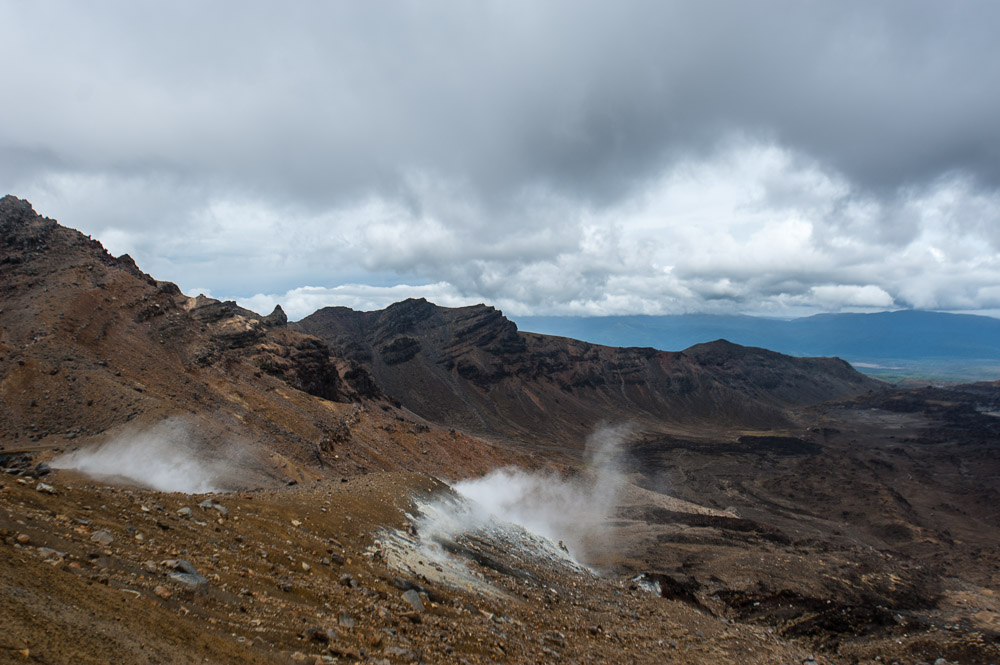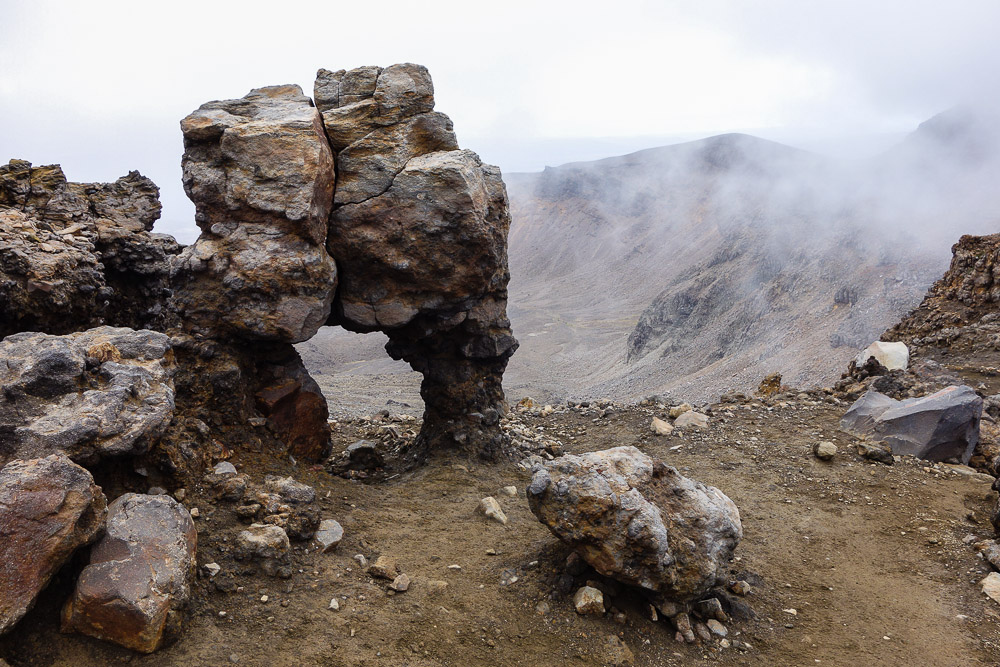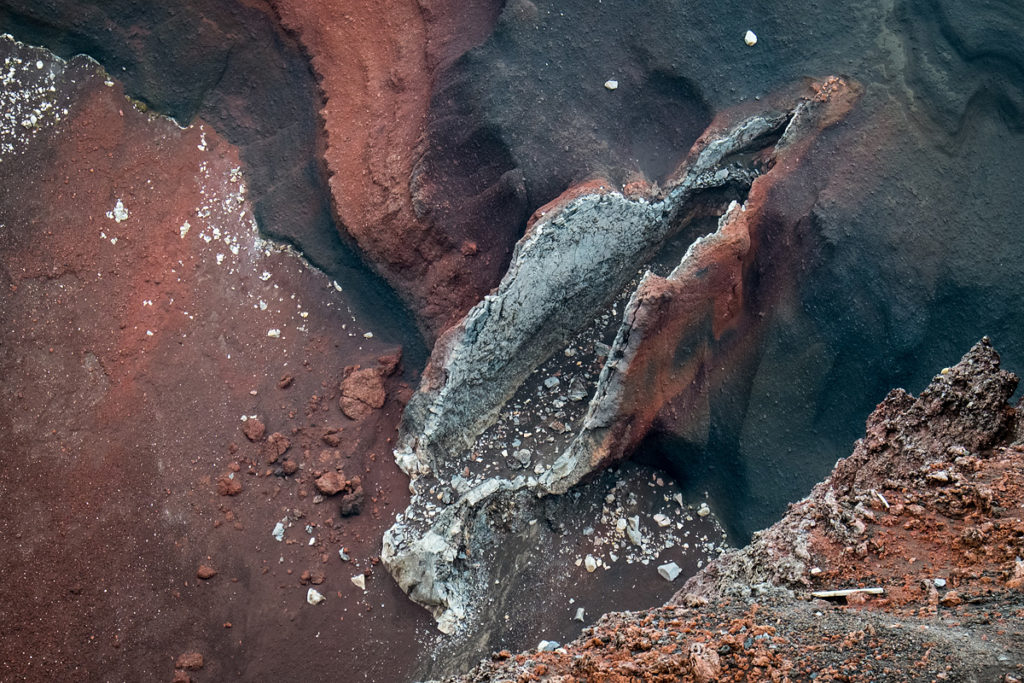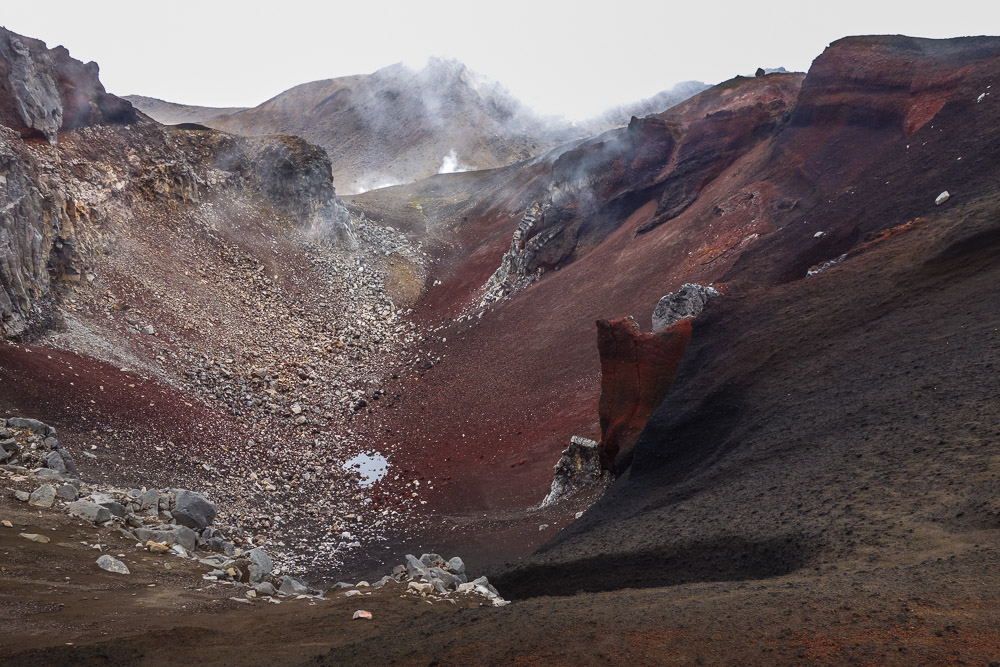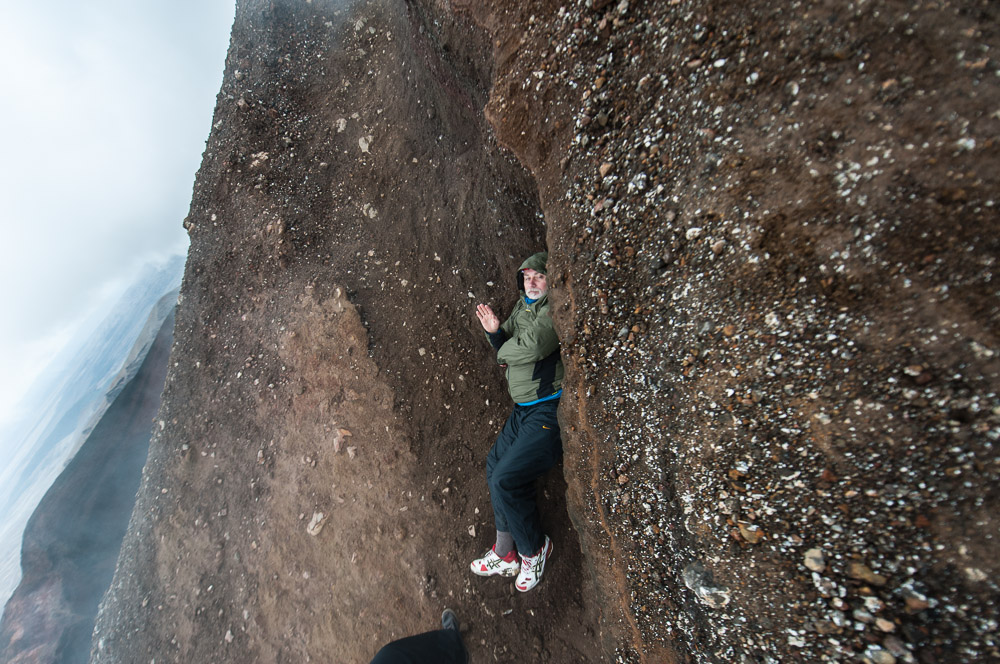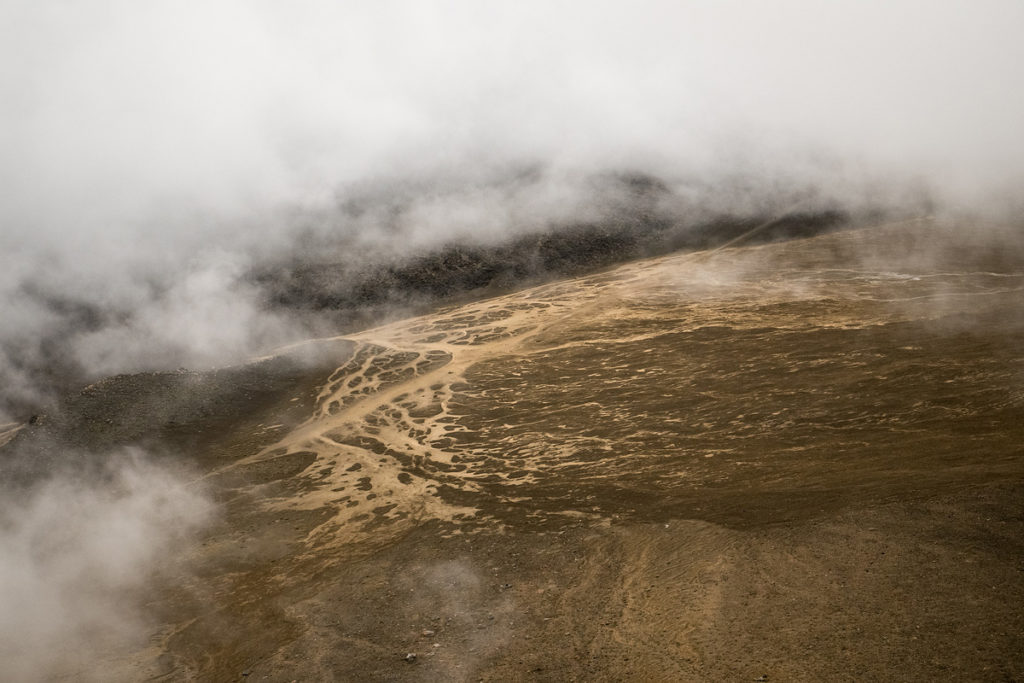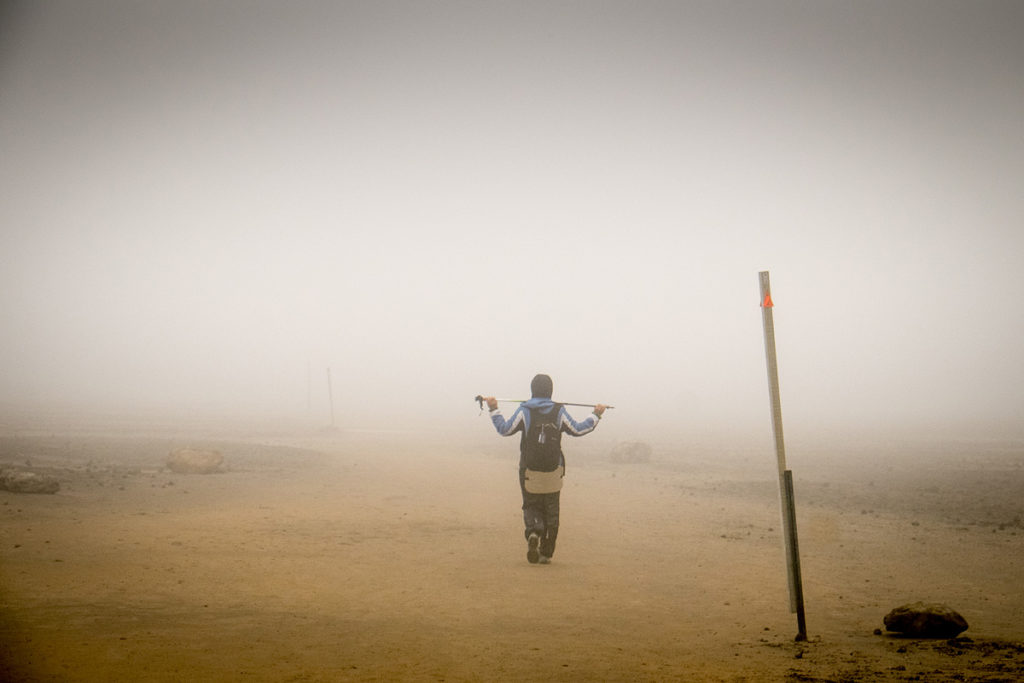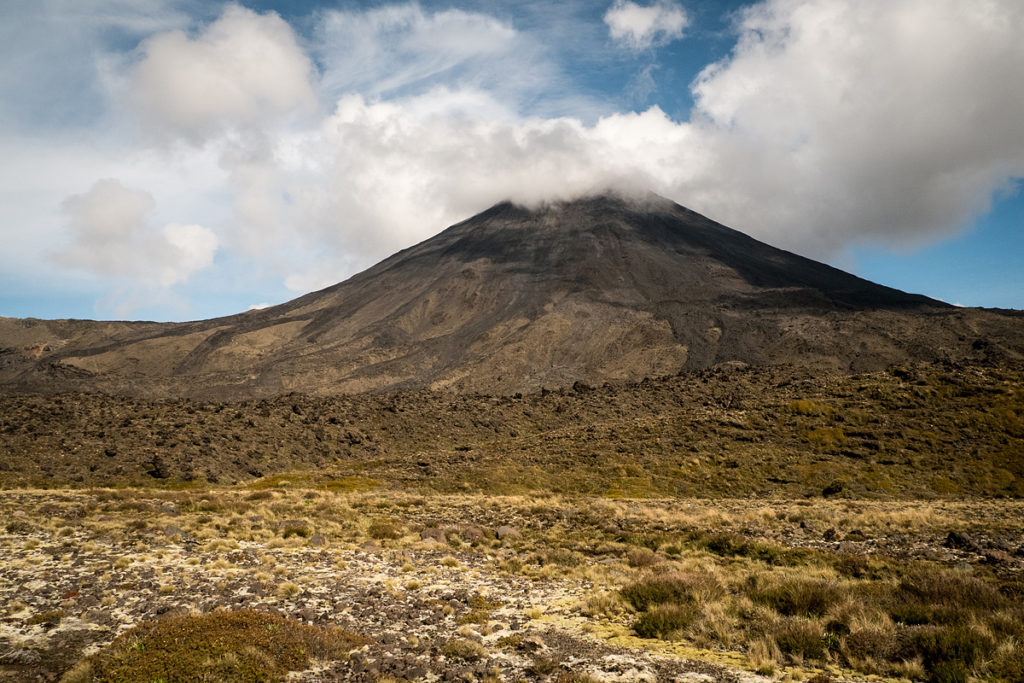 Like earlier, pleasantly curiously, all routes are fully and clearly signposted. There are also nice gravelly paths and/or elevated wooden/metal mesh paths and steps, toilet cubicles… In short – it all makes up a Euro-track! This phenomenon got me thinking: what's better – wild, untouched Siberian taiga – or euro-spick-and-span-and-civilized tracks? I guess it's a matter of taste… Not sure which I prefer – a bit of both I think would be perfect :).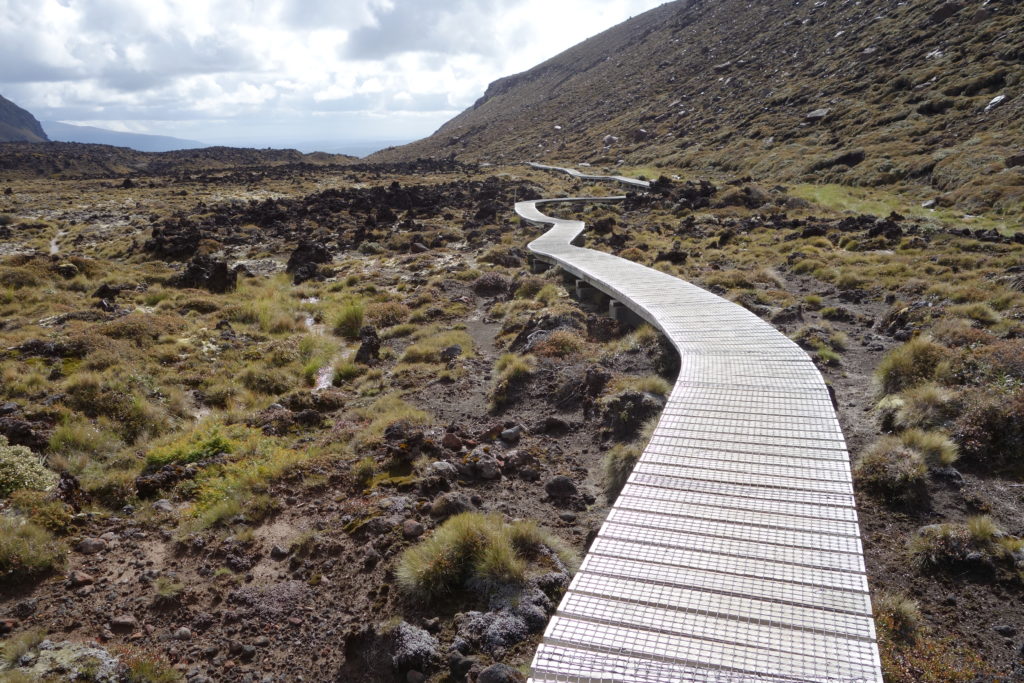 Civilization sliver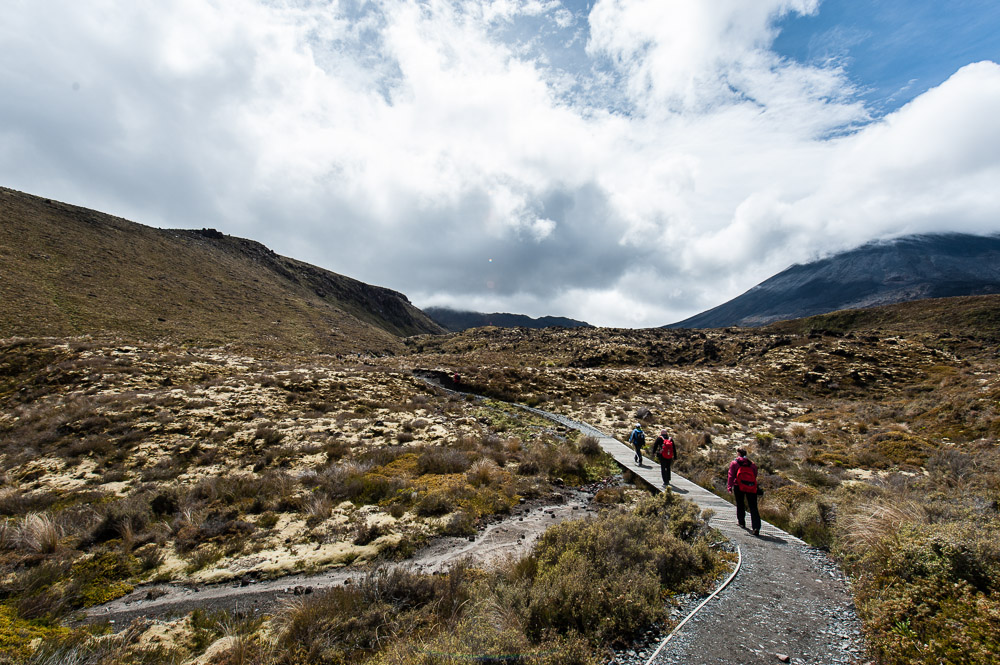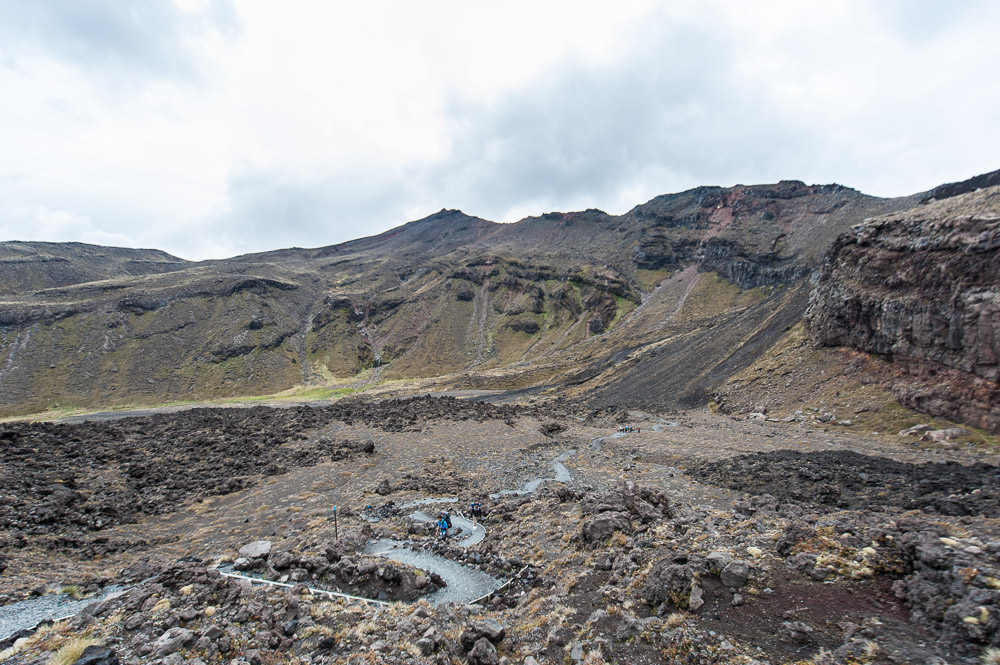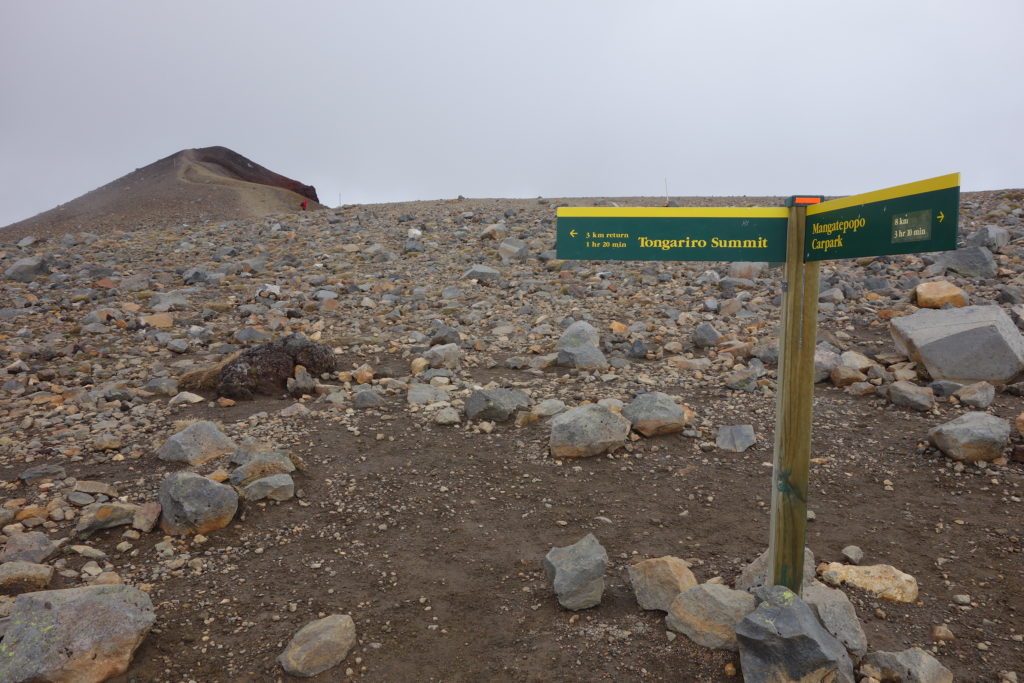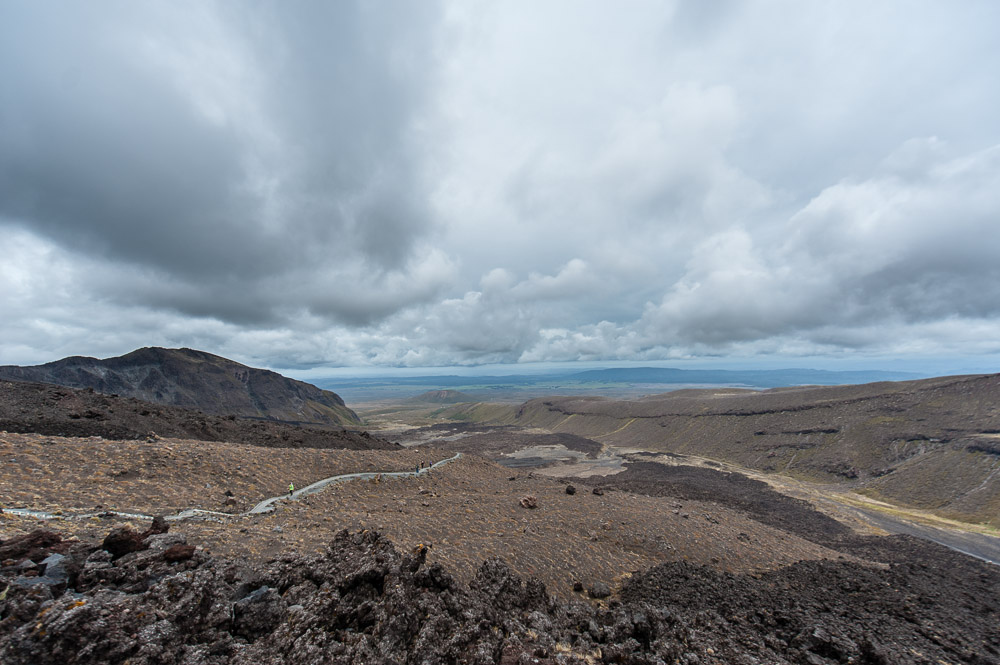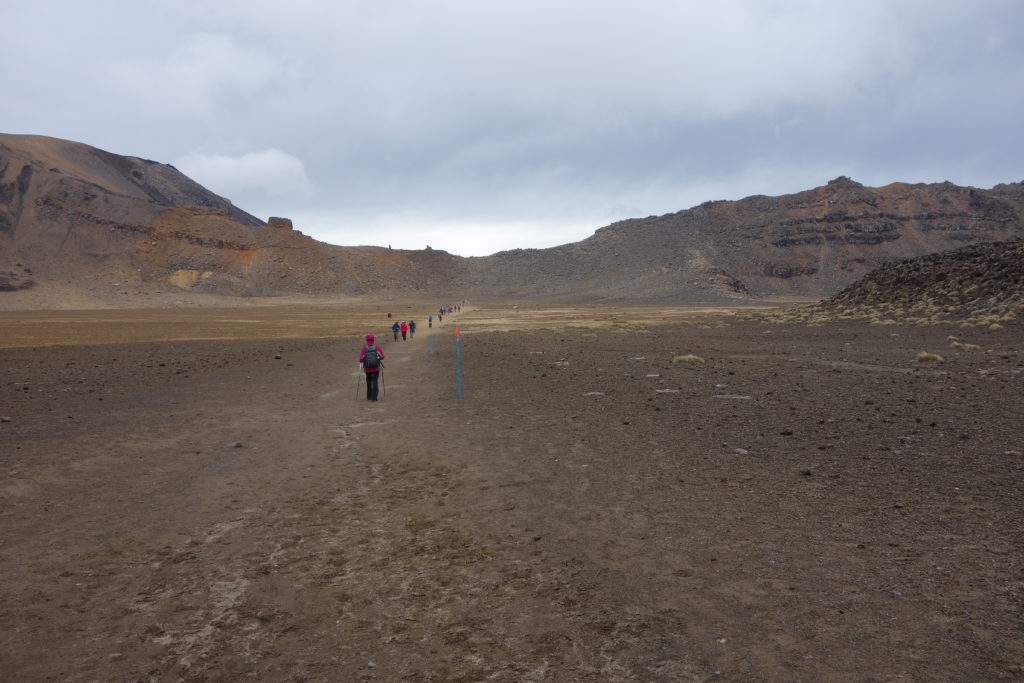 But! Despite the full-on civilized tourist conveniences, it's still real important to get properly kitted up for a hike here. Most important are suitable shoes, socks (breathable!), and other anti-blister gear. You'll be walking for several hours and be up and down like yo-yo – by around a mile. Oh, and don't forget clothing. Up top it's very windy, cold, and wet, so what seems too warm and unnecessary down below will be real useful up top.
Day 5. The North-South divide.
The definition of greed: scheduling 17 days to explore both islands of New Zealand. You really need three weeks – on each! Or better still – a month. Even better I reckon – a year – to travel around and check out all the natural beauty here. But for us, after four days on the North Island, it was time to take the Wellington-Picton ferry to the neighboring island.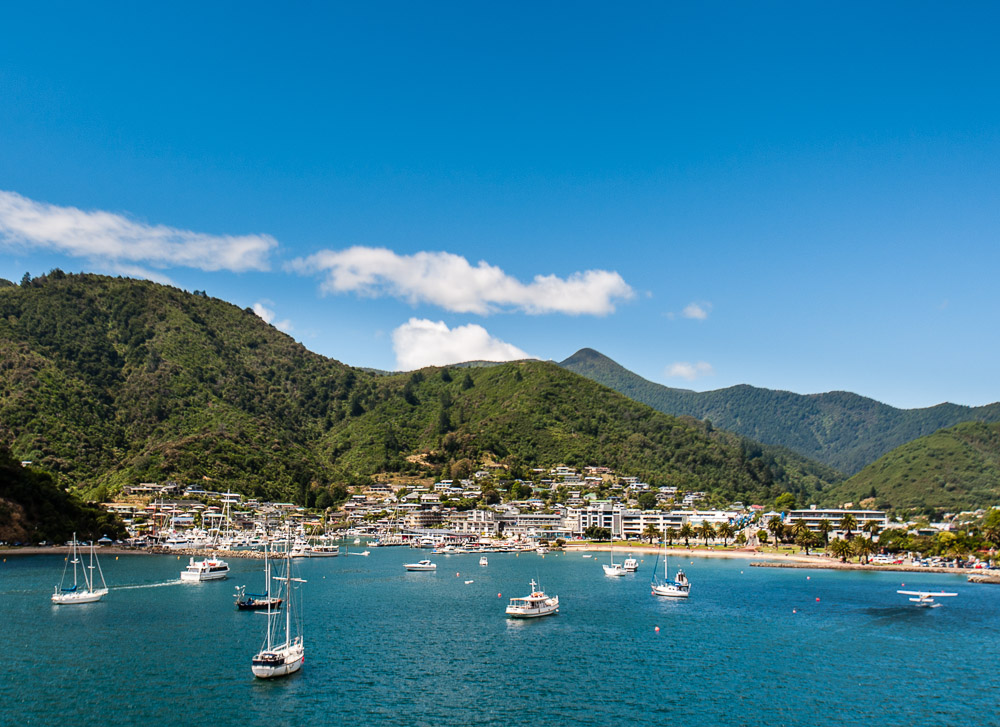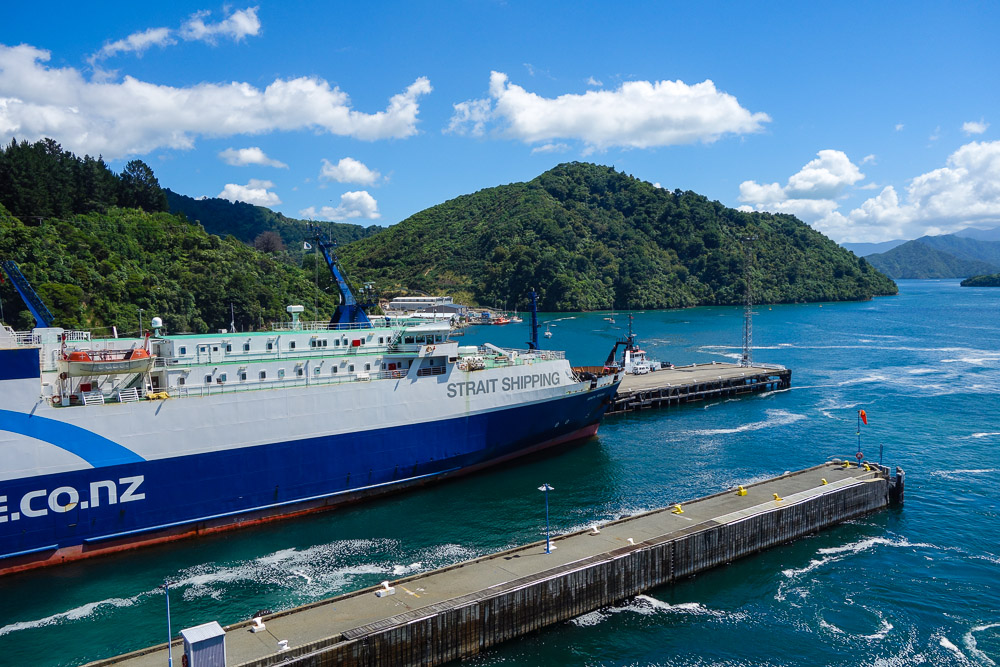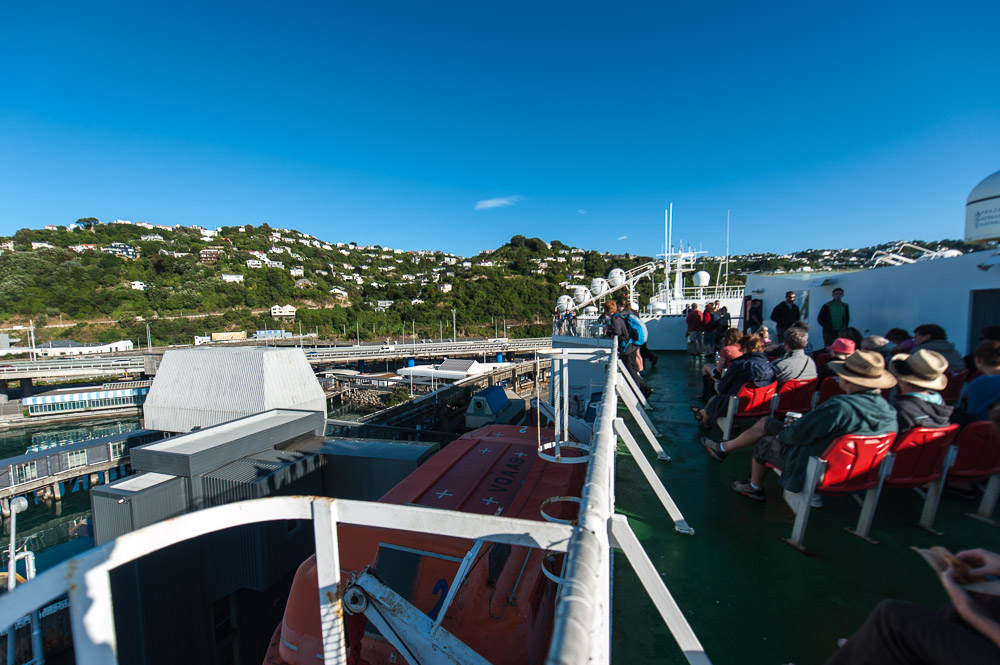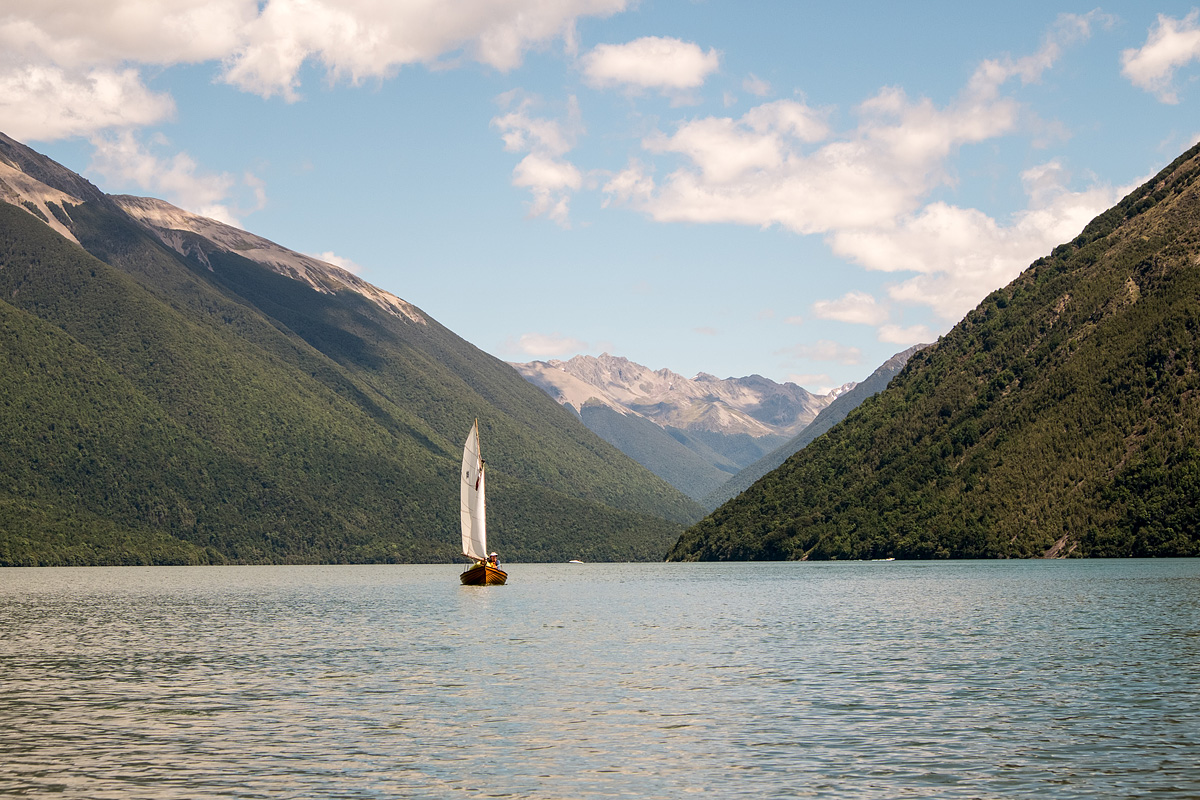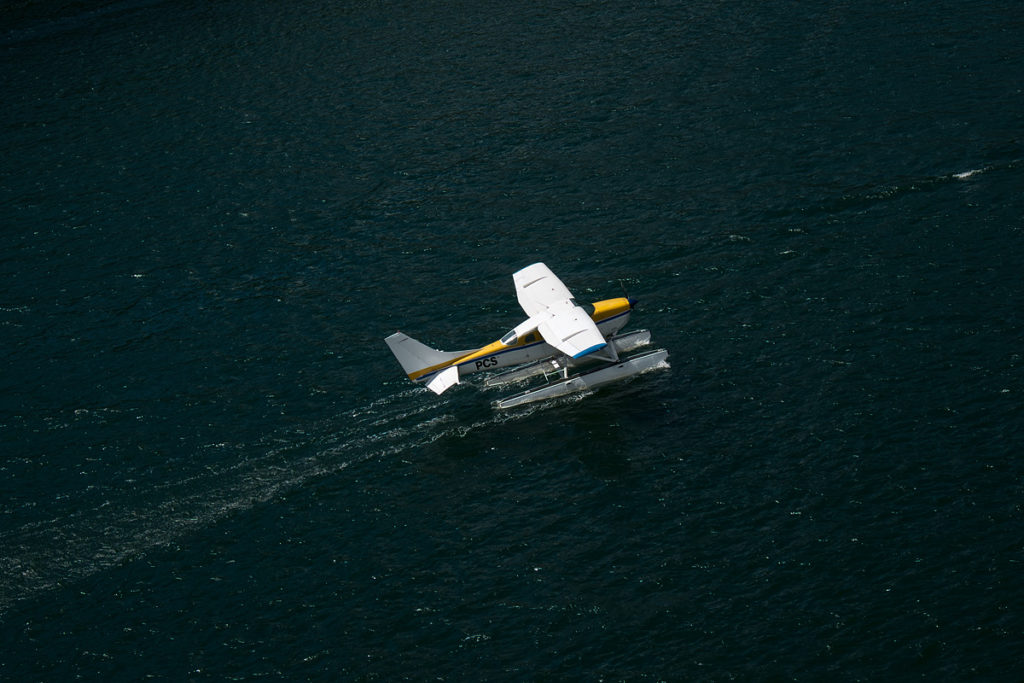 The inter-island ferry takes about three hours to complete its trip, with the first one setting off around 8am. Now, if you're in a rented car what you need to do is leave it on the first island, and pick up a different one on the second. Sound like a pain in the proverbial? Well it is – and a time-consuming one at that. After the rigmarole of sorting the paperwork, plus boarding, disembarking, etc., you only begin your South Island trip after lunch. Accordingly, you should schedule neither colossal kilometers nor superabundant sightseeing for this day. Your best bet is to check out the bays along the coast, or the islands to the north from Picton, but our over-ambitious itinerary didn't permit this. Our original plan was to drive round the South Island counterclockwise, and we decided to keep to it – in doing so coming across an absurd amount of natural beauty.
First of all we traveled along State Highway 6. A really nice bit of road! Along it there's a whole bunch of stuff just needing to be photo'd; for example, at Westport there are sea lions and other creatures, also luscious landscapes – and beyond them there's yet more profuse picturesque paysage, for which the camera button seems to press itself automatically when viewfinders are pointed thereto, and which leave the head throbbing somewhat with all the impressions.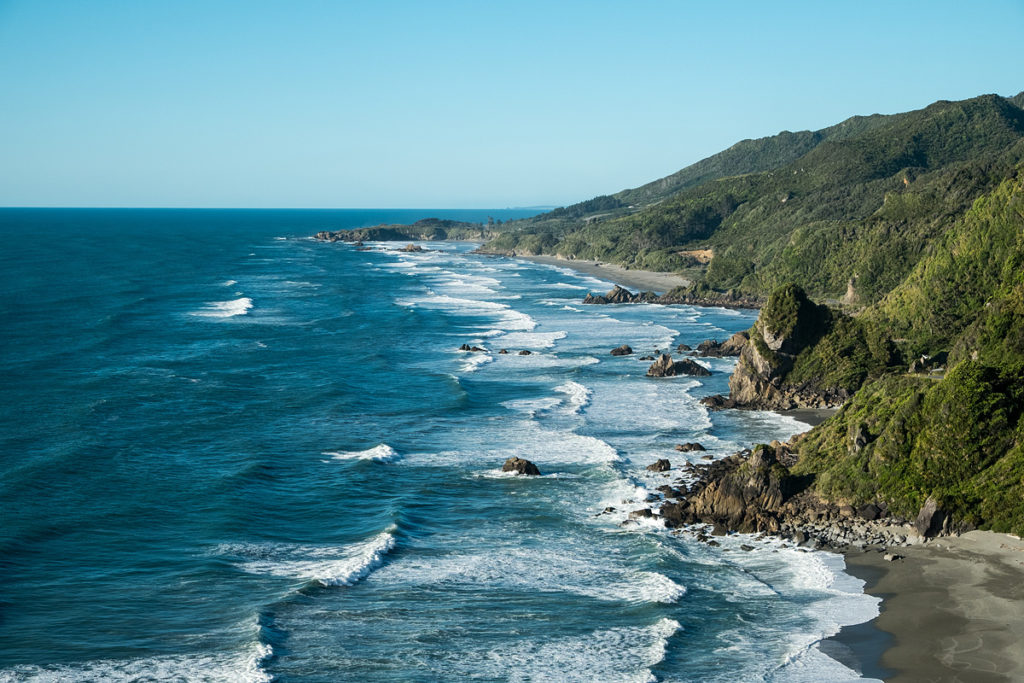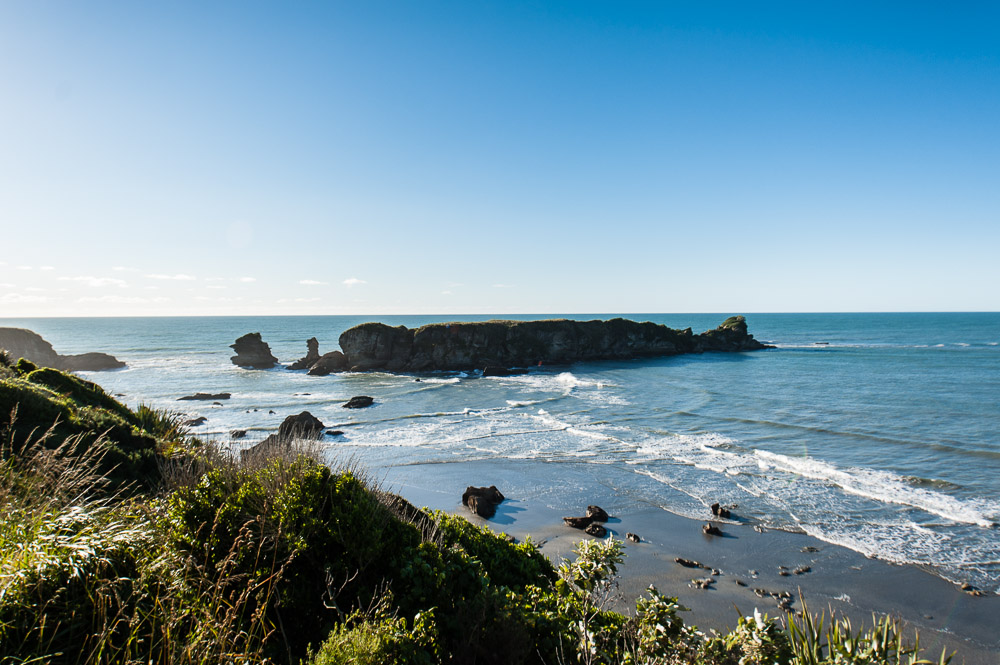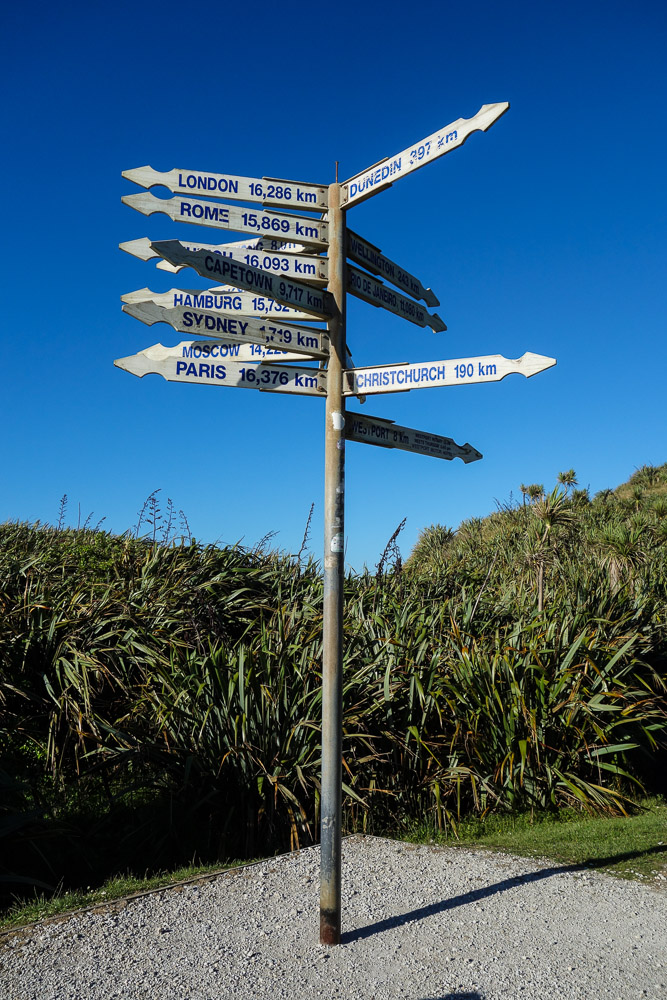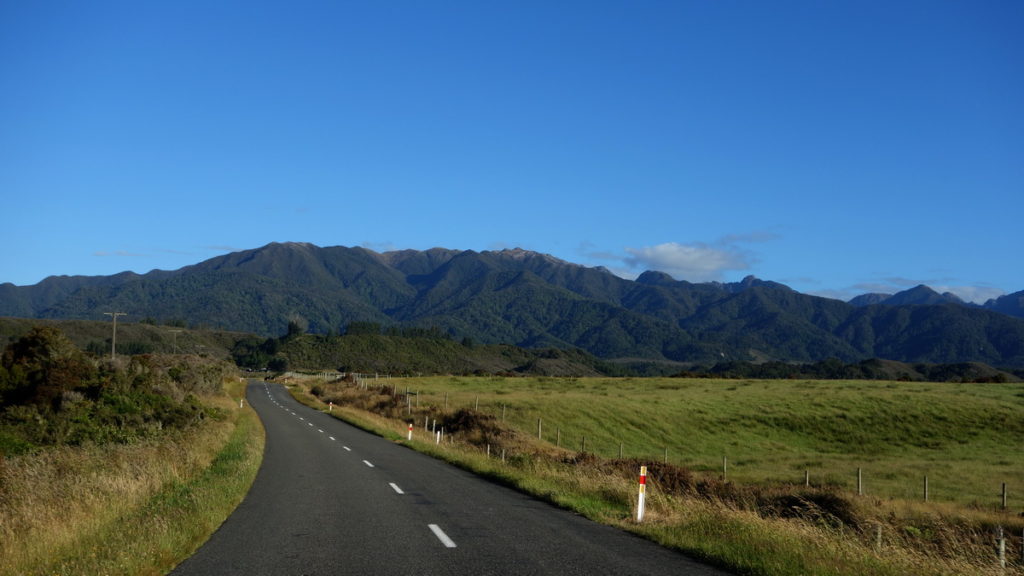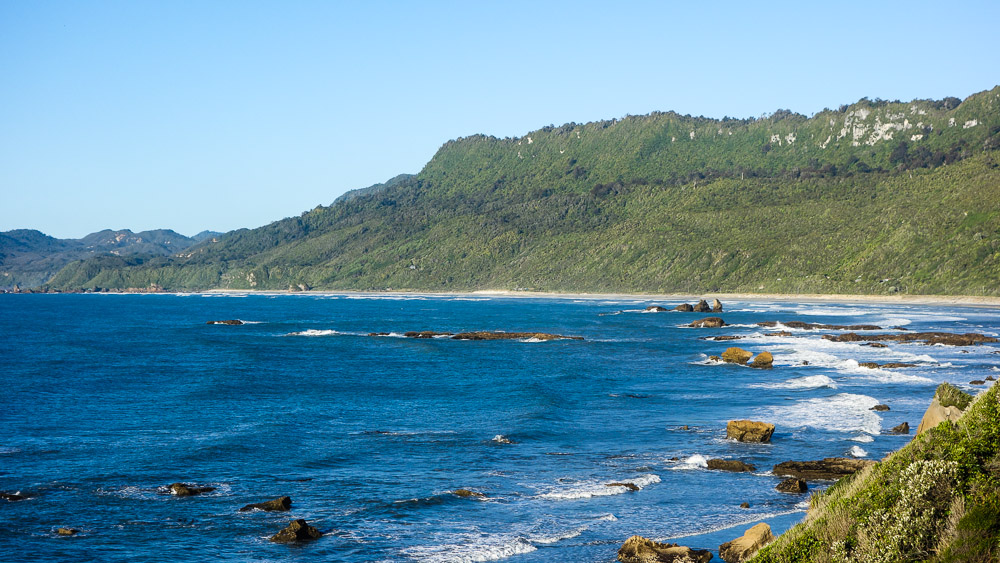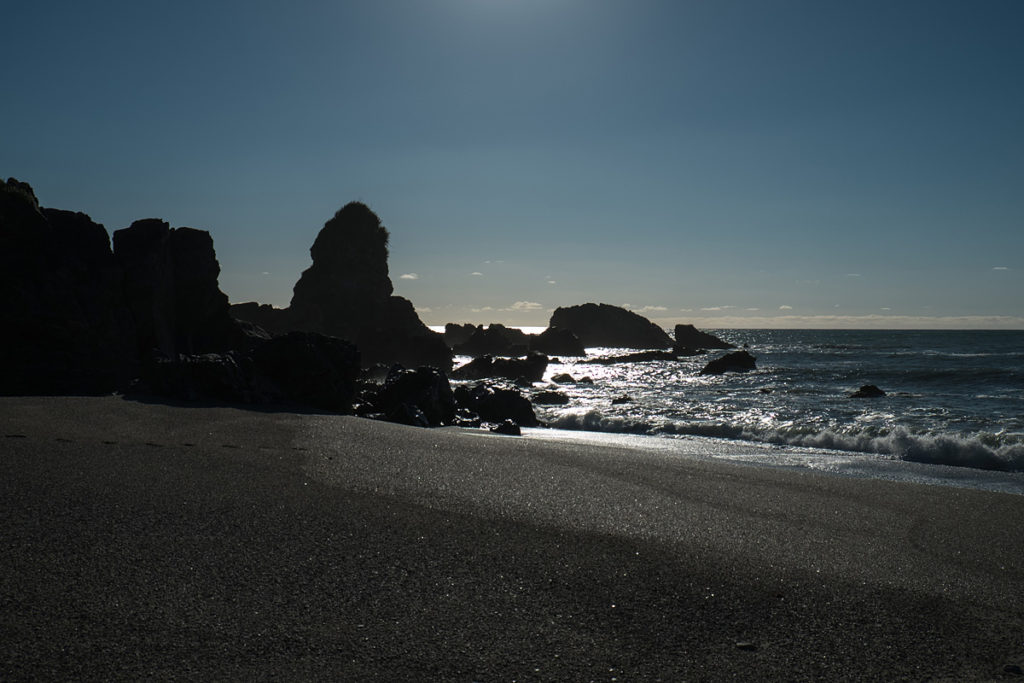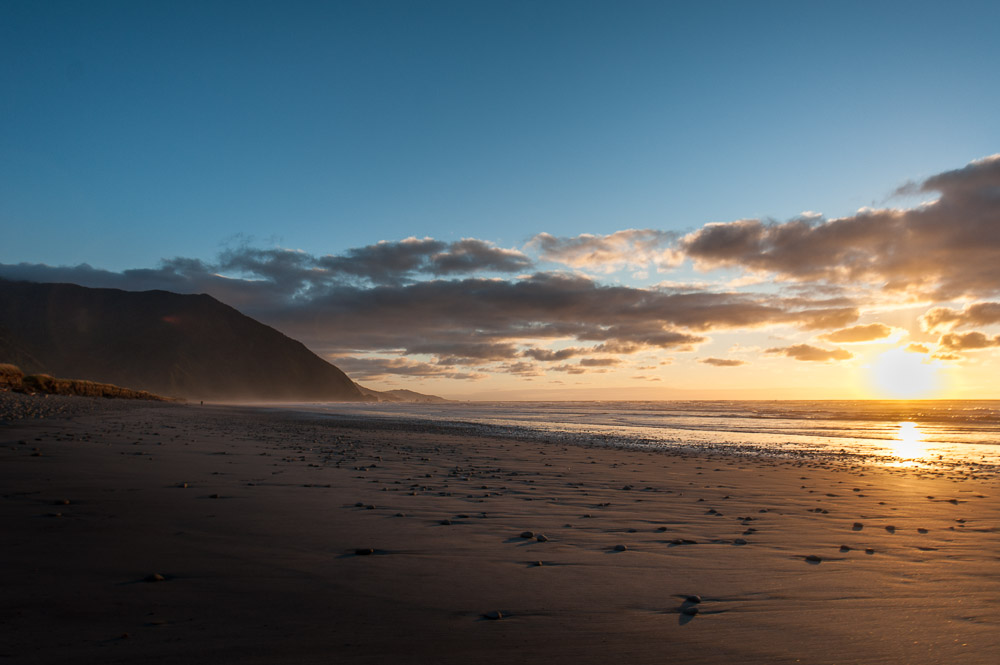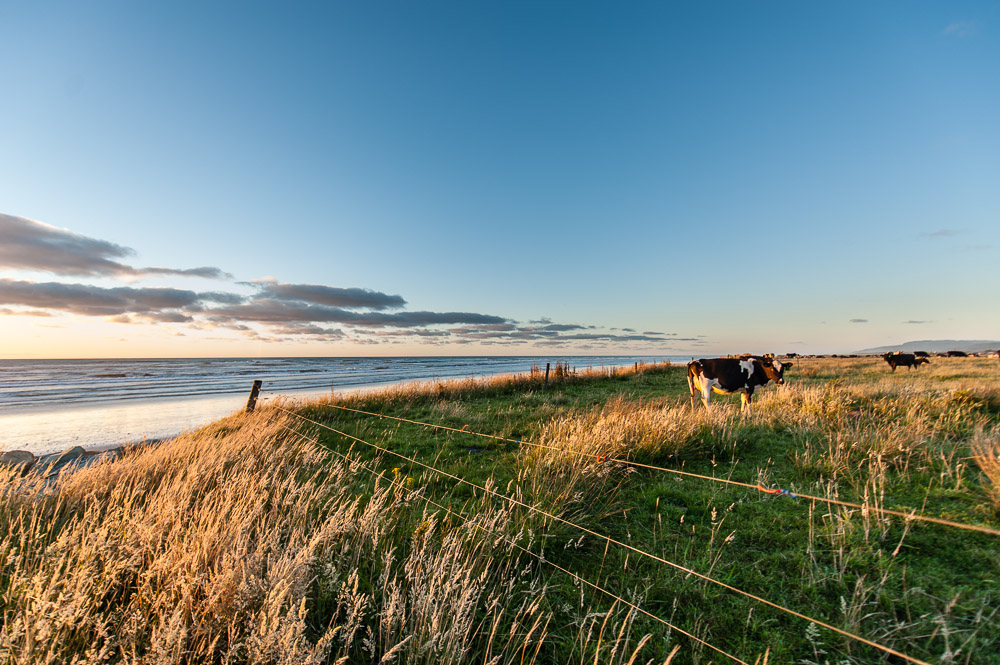 The main sight to see on this scenic route is Punakaiki. Here there's an extraordinary rocky formation – Pancake Rocks – made from prehistorically compressed deposits of sea flora and fauna, which by a freak of nature protruded through the surface, and then for eons became all hollowed out from the high winds here. We got there already approaching dusk, but this was just as well – the rocks were painted a warm orangey red by the setting sun, which really was quite something to behold.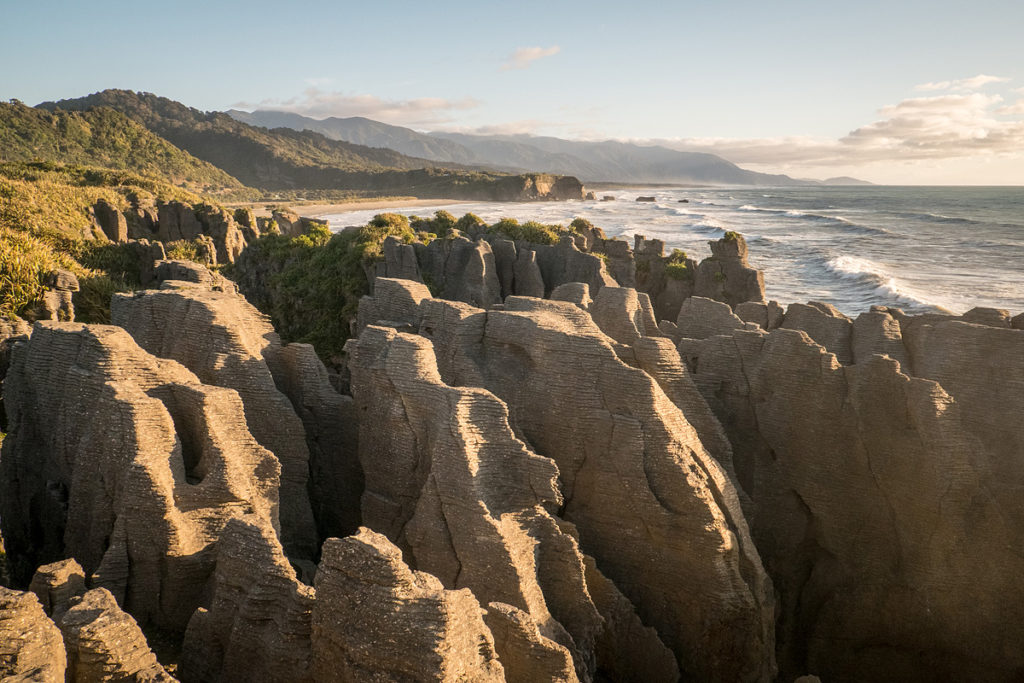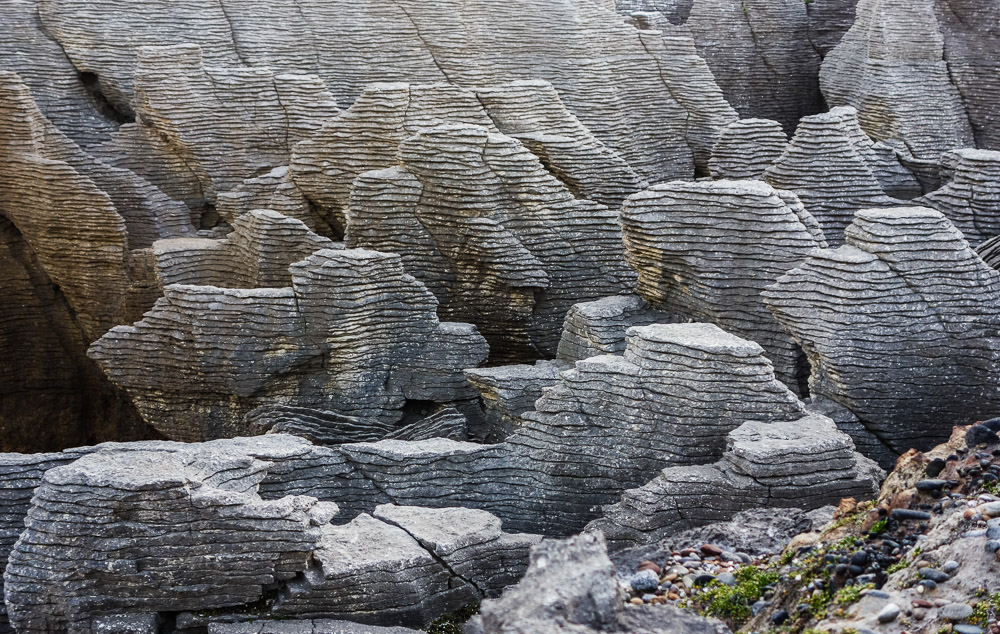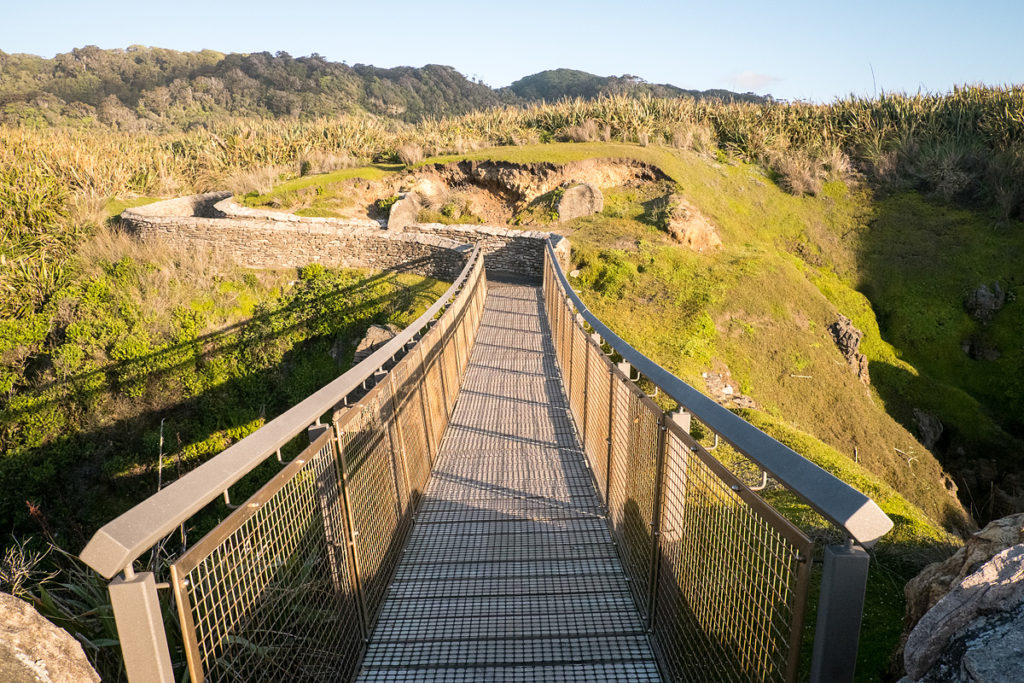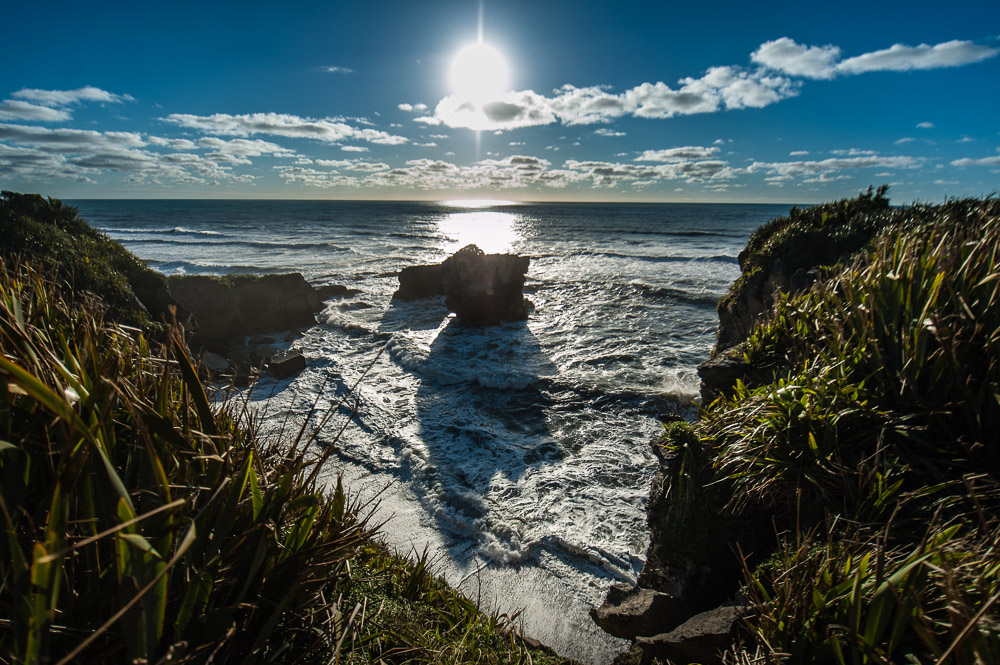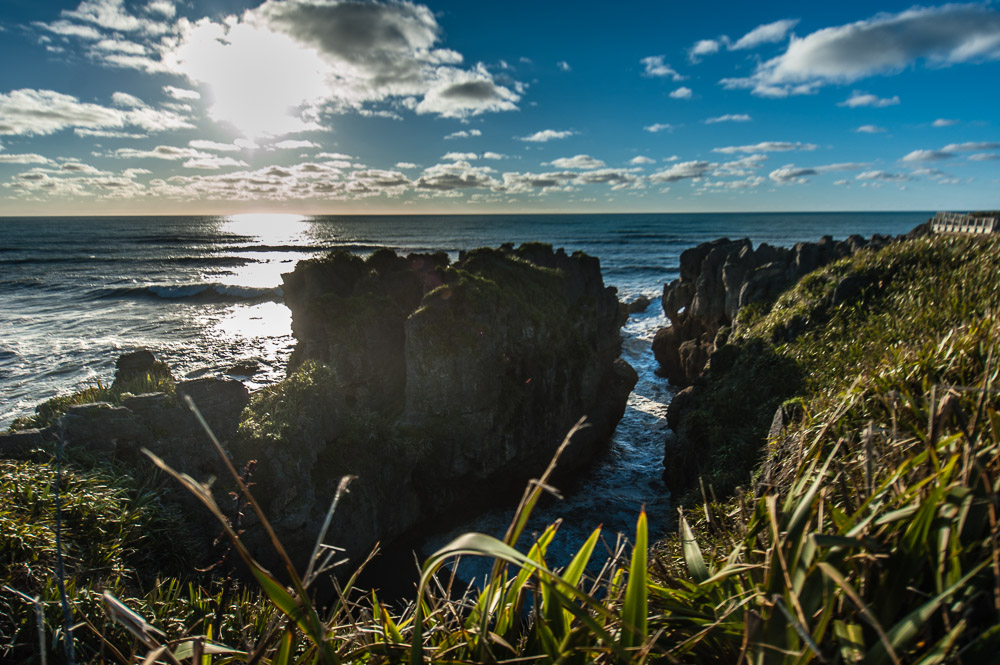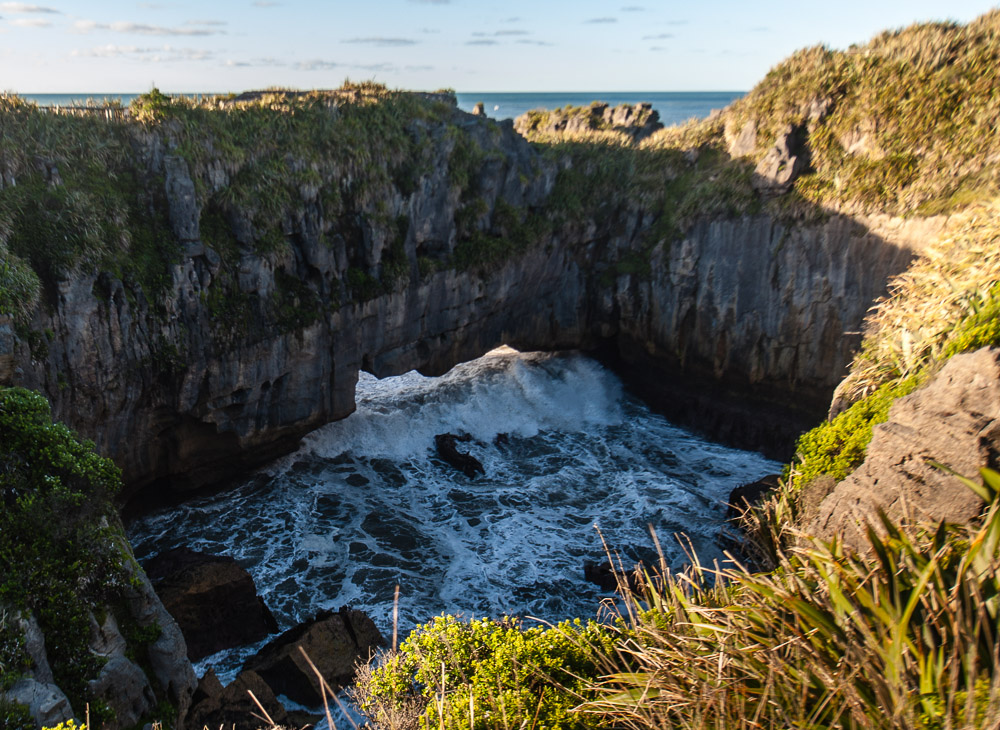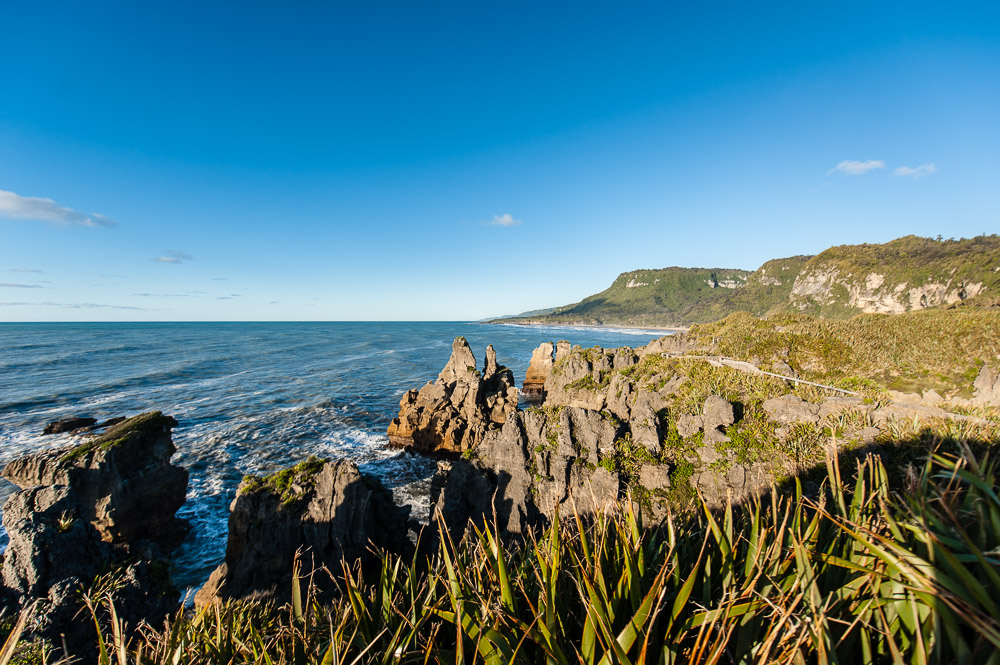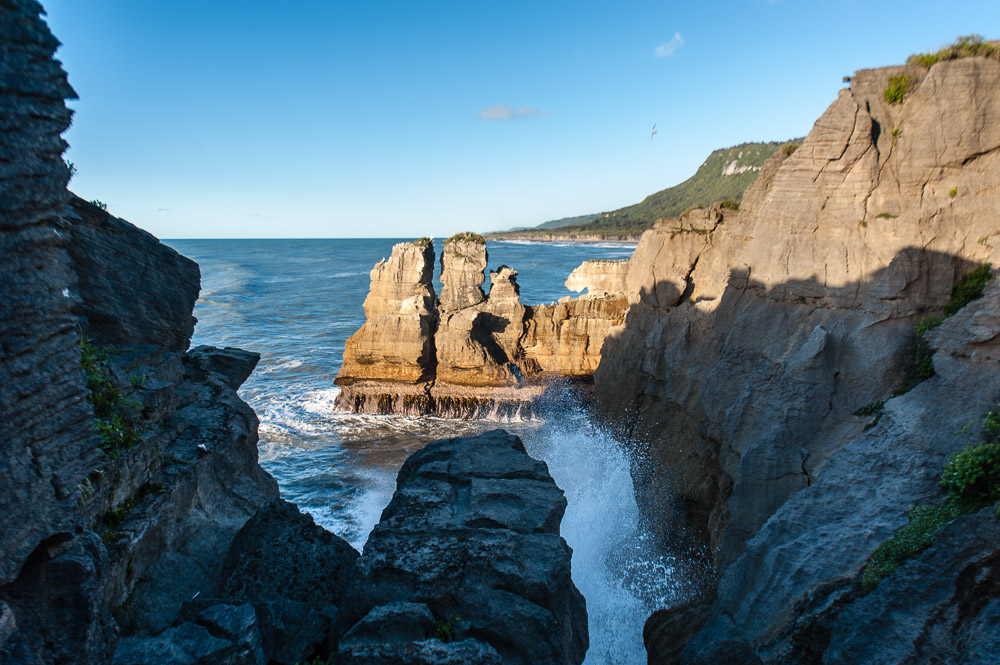 Intriguingly, the North and South Islands are very different. The North, as mentioned, is crammed with volcanism; the South is by a long way not so hot; however, prehistorically connected with the North's volcanism, the South Island is covered with breathtakingly beautiful hills along its western coast. "Folded" is how they're described by the experts ("ancient folds, 150-250 million years old").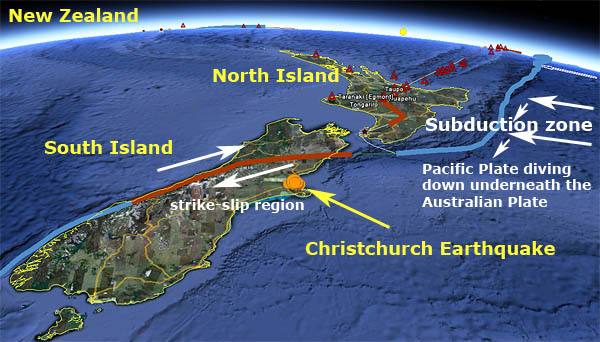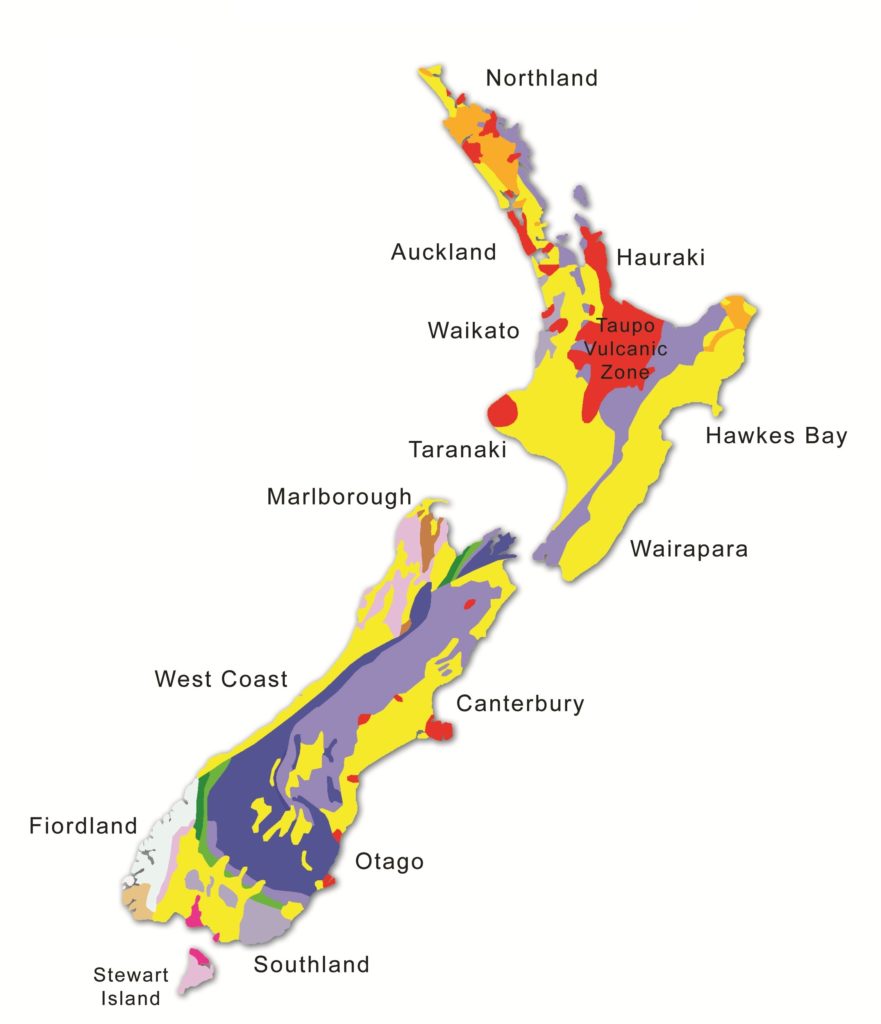 The red = volcanism :)
It seemed to me that the South Island is a bit wilder than the North Island – not as rolling, groomed or Photoshopped as the North – more jagged, naturally messy and chaotic. It's also inhabited by a lot less folk; an advert at Christchurch airport claimed that the South is better than the North as it has "33% more territory and 75% less population!" Sounds convincing… Healthy inter-island competition at play, it seems.
The rest of the photos from these day's travels are here.
Previous stories from the trip: