New Zealand-2013. Days 6-8. Floods, euro-tracks, Hobbitywood, and mad-hatter in-flight shuffles…
Day 6. Tales of the unexpected.
No expedition can be insured against unexpected surprises – be they unpleasant or otherwise.
And the South Island of New Zealand had quite a few in store for us. The first of these was announced to us while waiting to board the ferry at the car rental place. It turned out that getting to where we were headed and were to spend the night was totally out of the question. There'd been some torrential rain (more torrential than the norm, that is) causing villages to be washed away and a bridge brought down, while the road we needed to take was closed and was to remain so for several days. As a result we didn't make it to the Franz Josef Glacier, which is where we were highly recommended to get to.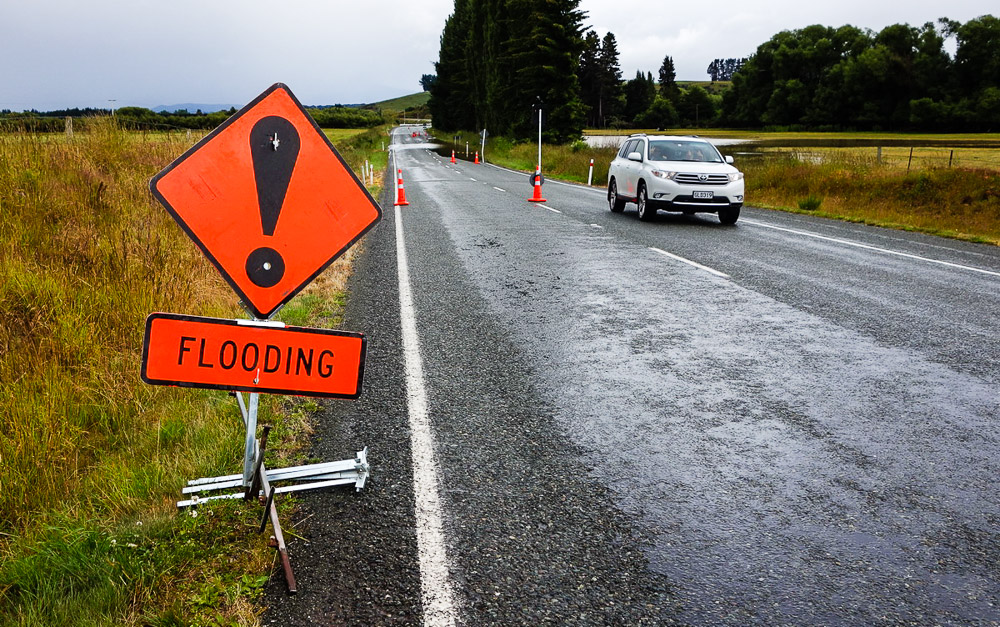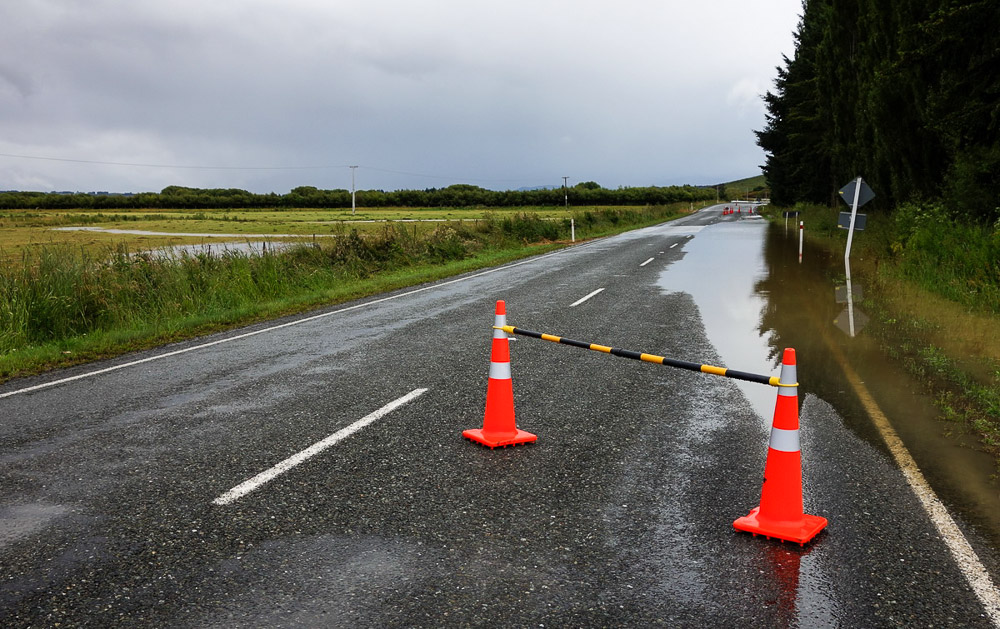 A little Limbo, anyone?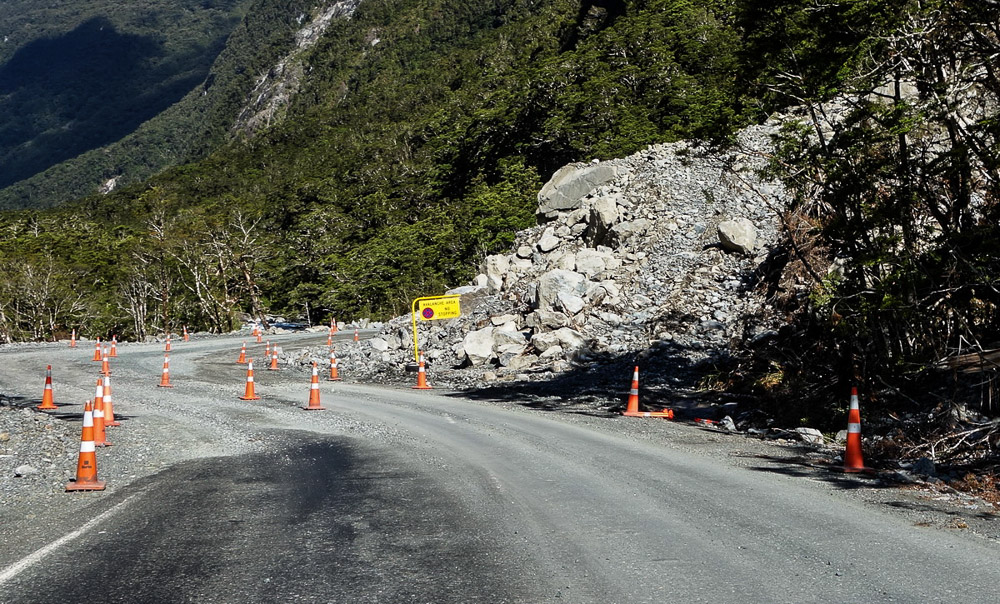 So for the second time we had to postpone our trip to the Milford Sound fjord – again because of heavy rain! You need to go by car to get to the fjords, and along the way you need to squeeze through a long, thin tunnel. They said that a high water level in the tunnel made it totally impassable. It was a good job we found that out while still at the hotel beforehand – so we didn't make an unnecessary trip we'd have to turn back from.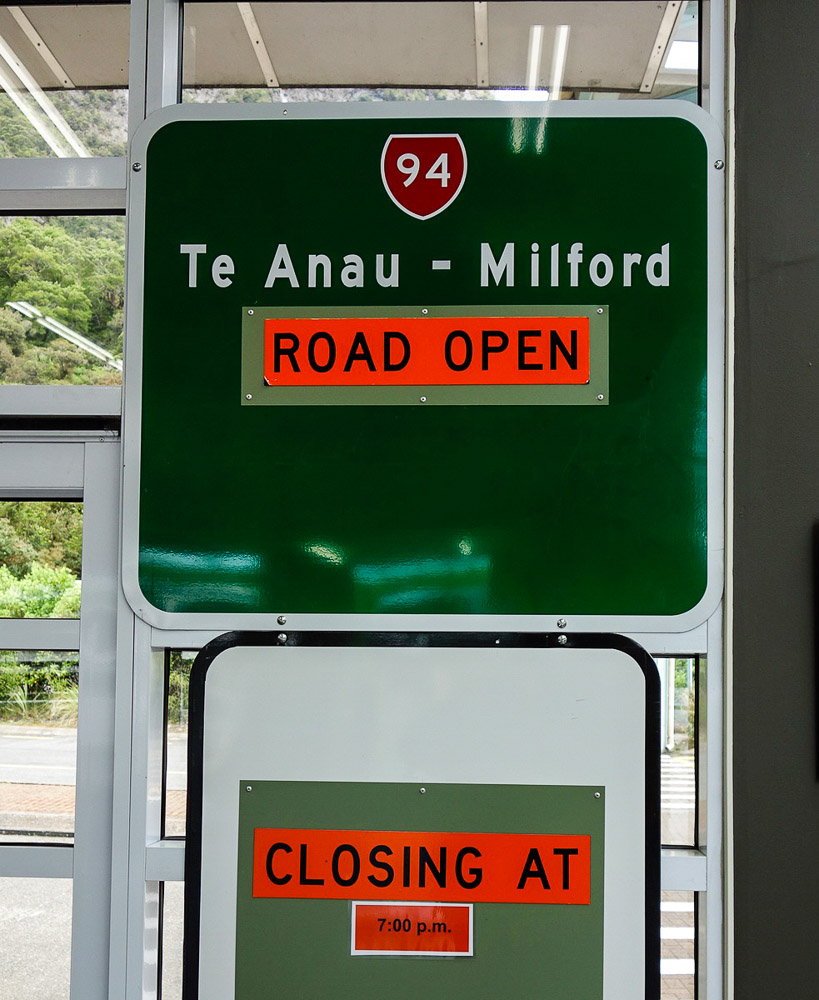 Sometimes unexpected surprises crop up all of a sudden here. Thus, the road we were on turned out to be closed by the local sheriffs or rangers, and we had to take a detour.
So what's one to do if faced with such unexpectedness here in NZ? Main thing – don't despair! Just quickly adjust your route – en route – by getting away from the poor weather conditions and following the sun! All hotels and other stops you've booked can be cancelled easily here without putting anyone's nose out of joint, and other places can be booked instead. To do this you just need a local SIM with unlimited Internet – then you don't even need to leave your (moving) car. Basically you just put the bad weather areas on hold for a day or two – and then go back to them to check out what's been missed.
Sometimes unexpected surprises can be pleasant ones. Like having to travel along a road that turns out to be out-of-this-world scenic – and you'd have missed it if not for the bad weather!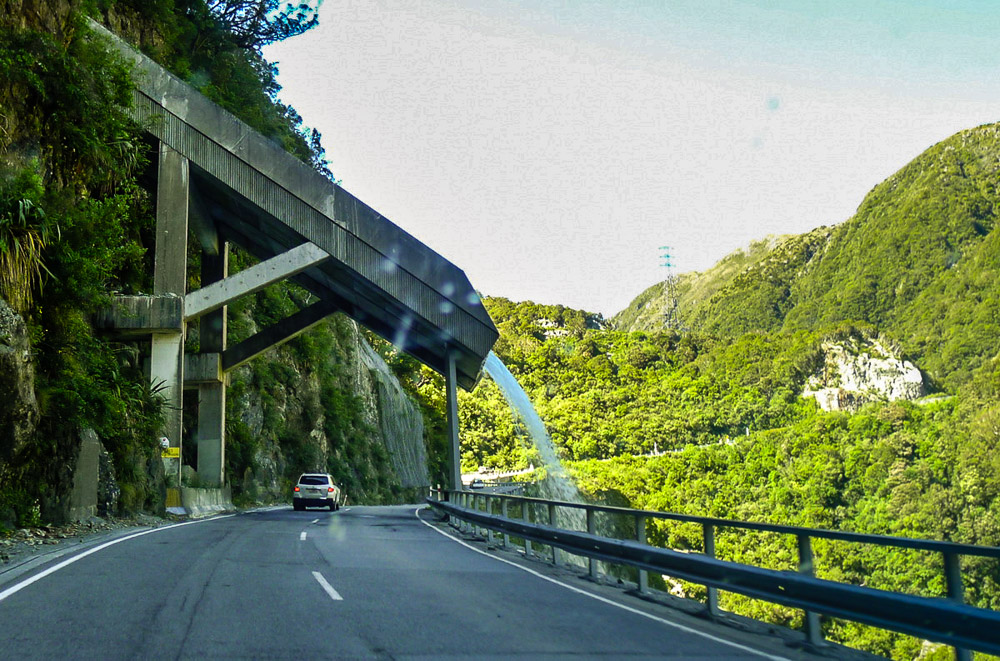 Day 7. Heavenly hiking.
Yup, the time's come to park the motor, place sleeping bag and provisions in the rucksack, put the rucksack on the back, and set off for the NZ hills! There are plenty of euro-paths on the South Island, and the views they offer… well, I'll let the snaps do the talking…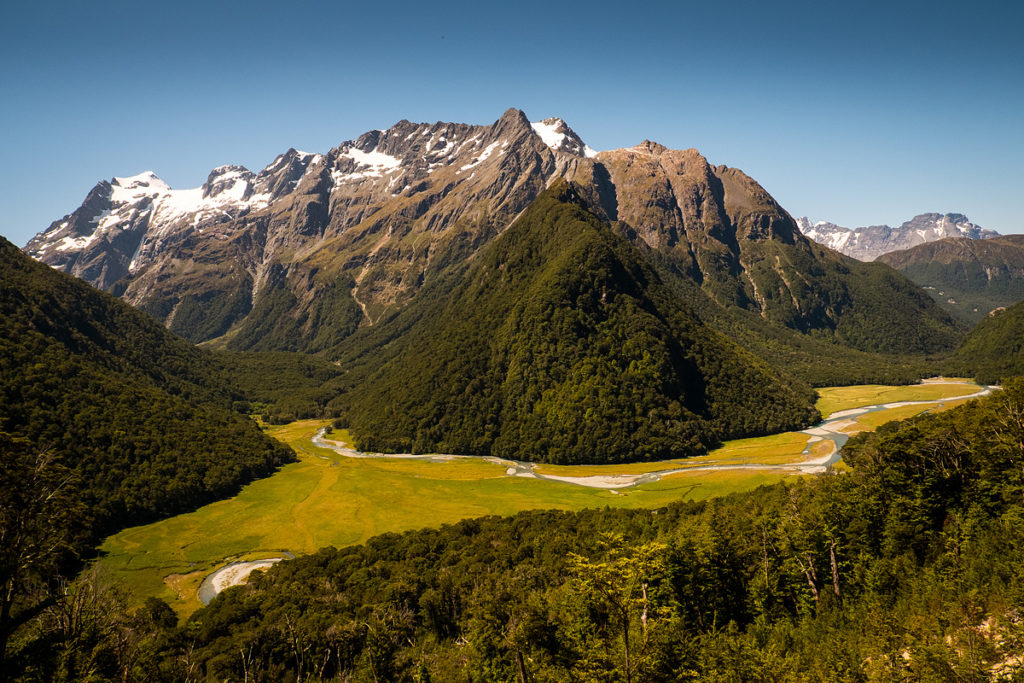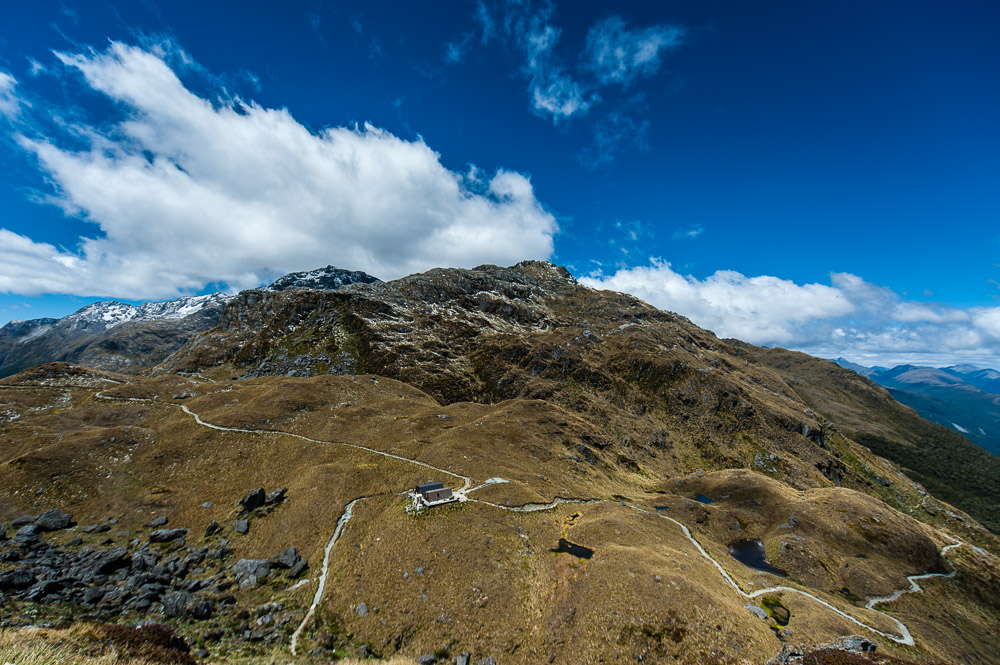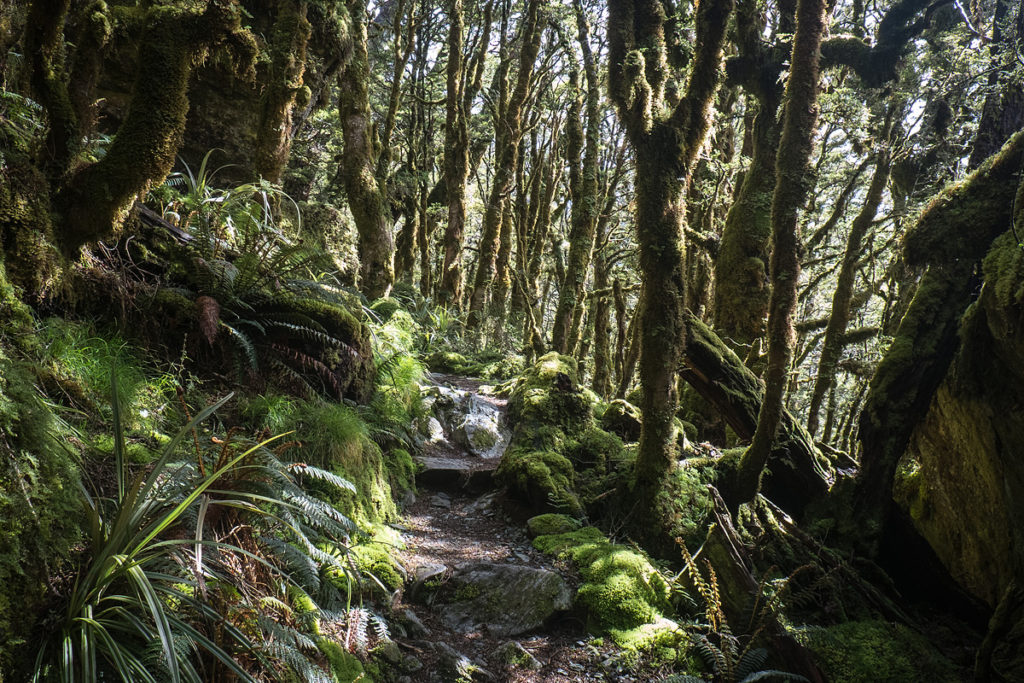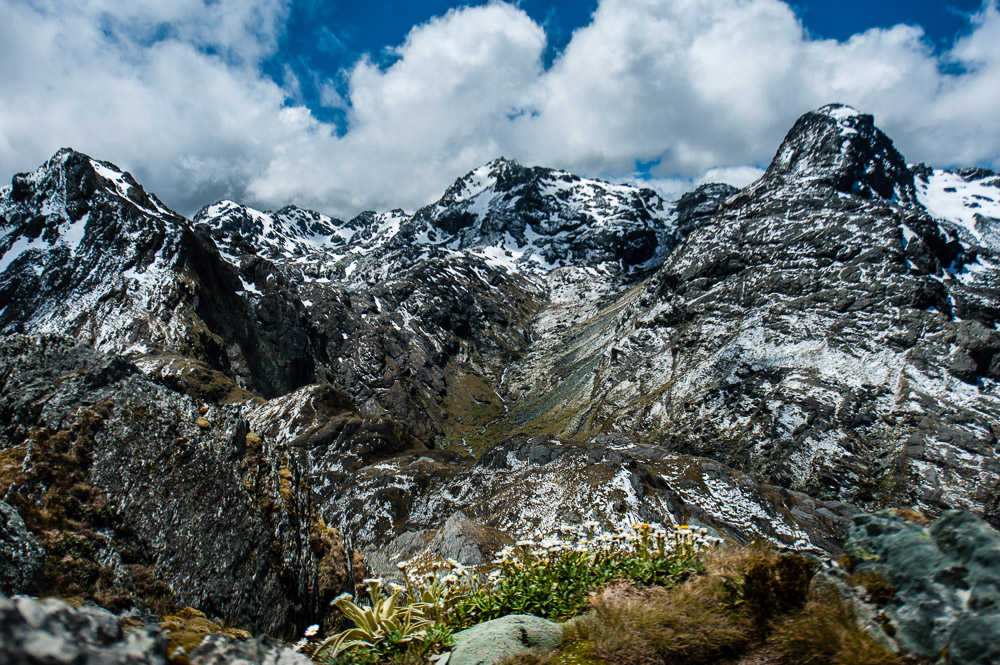 The dense network of paths, especially on the South Island, is a magnetic national feature attracting lovers of on-foot tourism from all around the planet. Tracks of differing lengths taking from an hour to a week to complete crisscross the landscape – up over the tops, down through the valleys, and across to the fjords. Really (as I frequently comment about mega-interesting places), this place needs a lot longer spent on it than what we had; a good month or two I think would be about right.
Again, like everywhere in NZ, all the paths here are nice and firm, almost all stretches of them are covered with gravel, and even miles away from the base camps you always find neat (and very helpful!) steps and toilet cubicles, and little bridges across streams. And sometimes the grass along the edges of the paths is neatly mowed!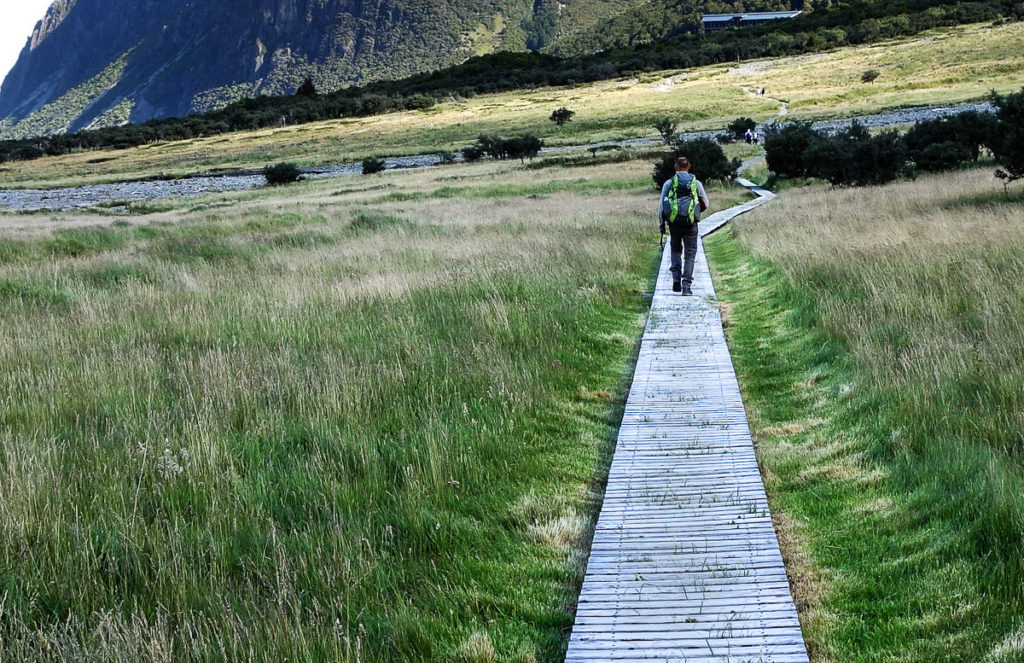 One man went to mow, went to mow a path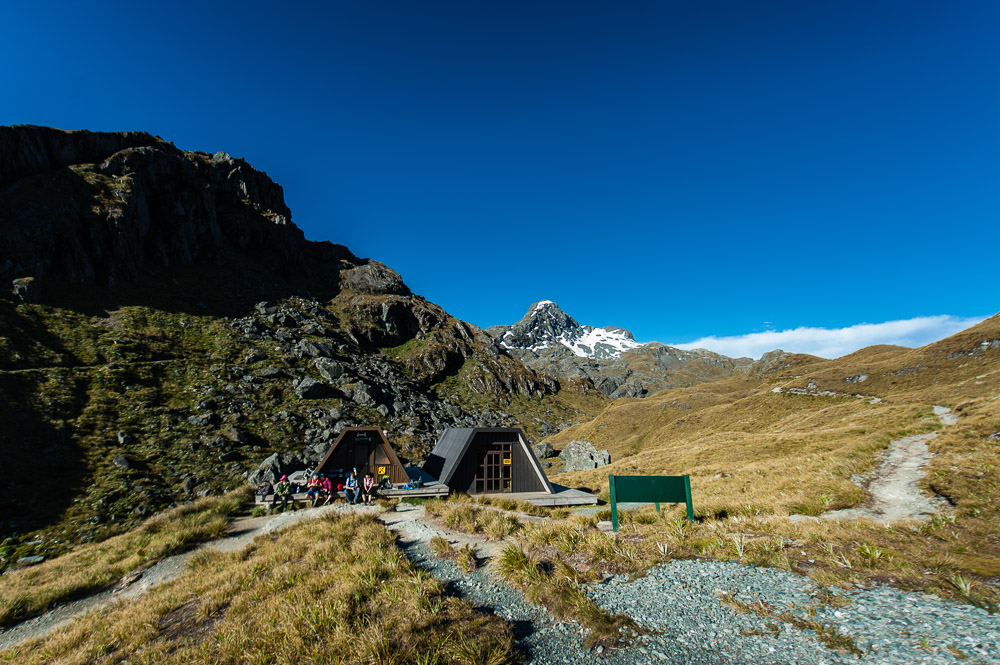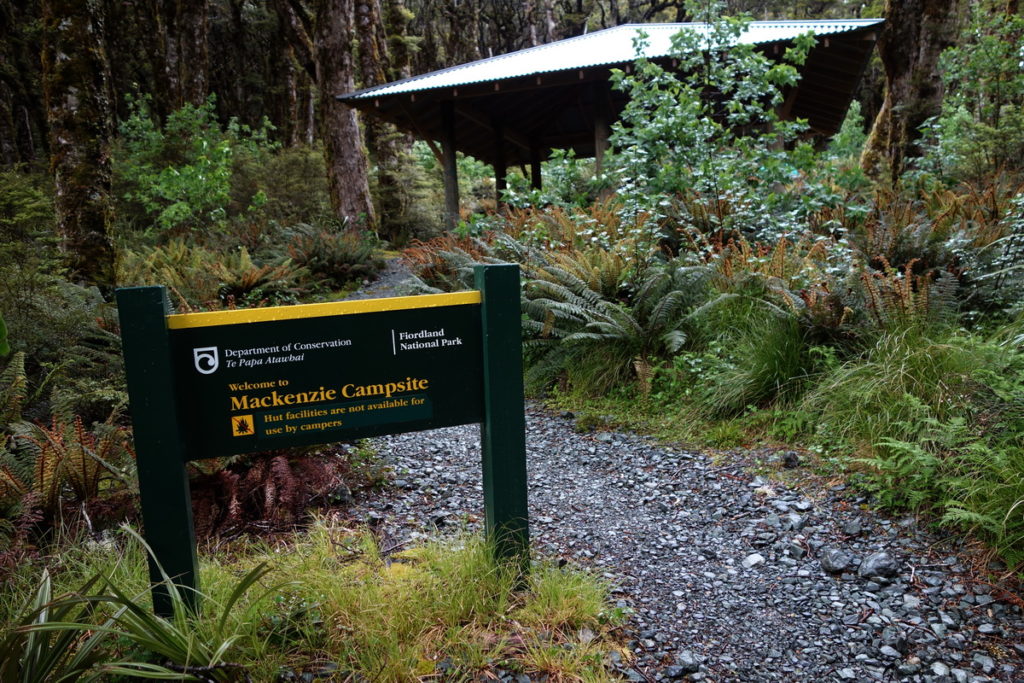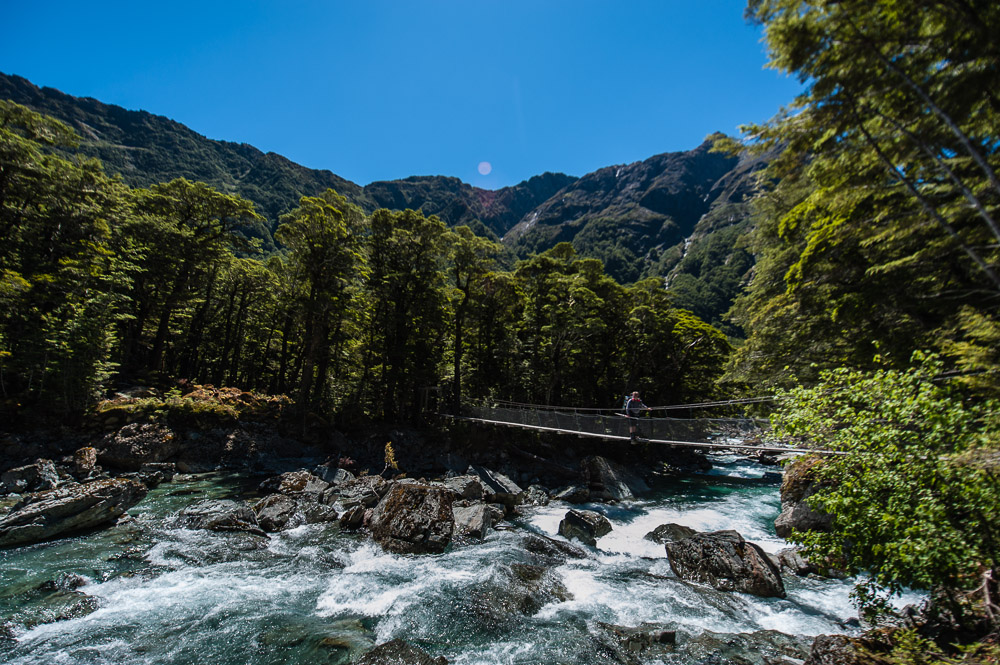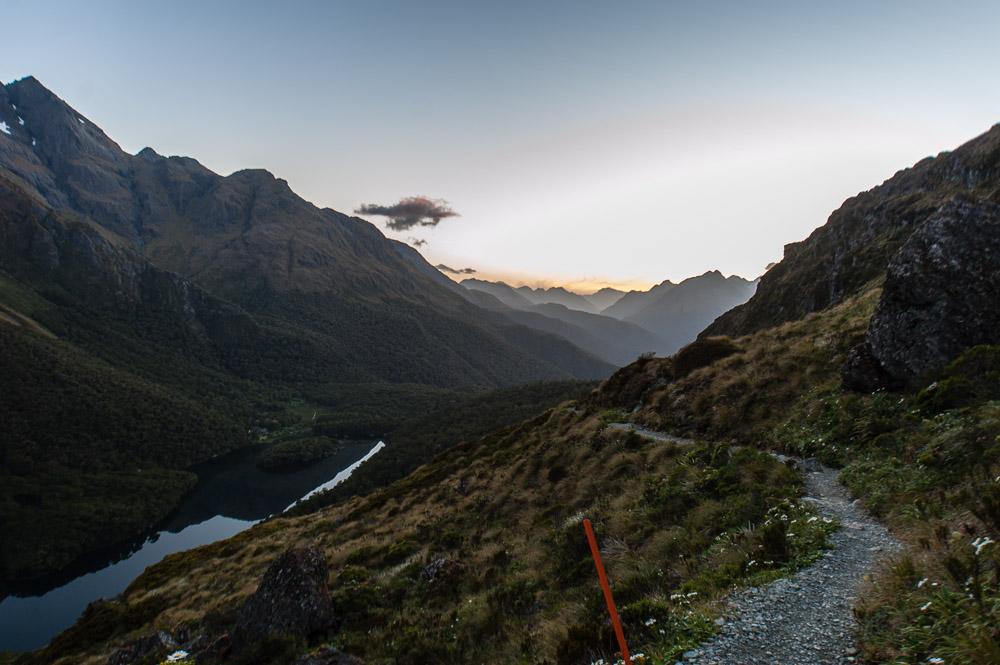 All rest points are equipped with assorted helpful bits and bobs to make a stop a bit more comfortable – and all under roofed pavilions to keep the rain out. To be able to pitch a tent in one of the designated areas you have to reserve earlier via the Internet – on the site of the Department of Conservation.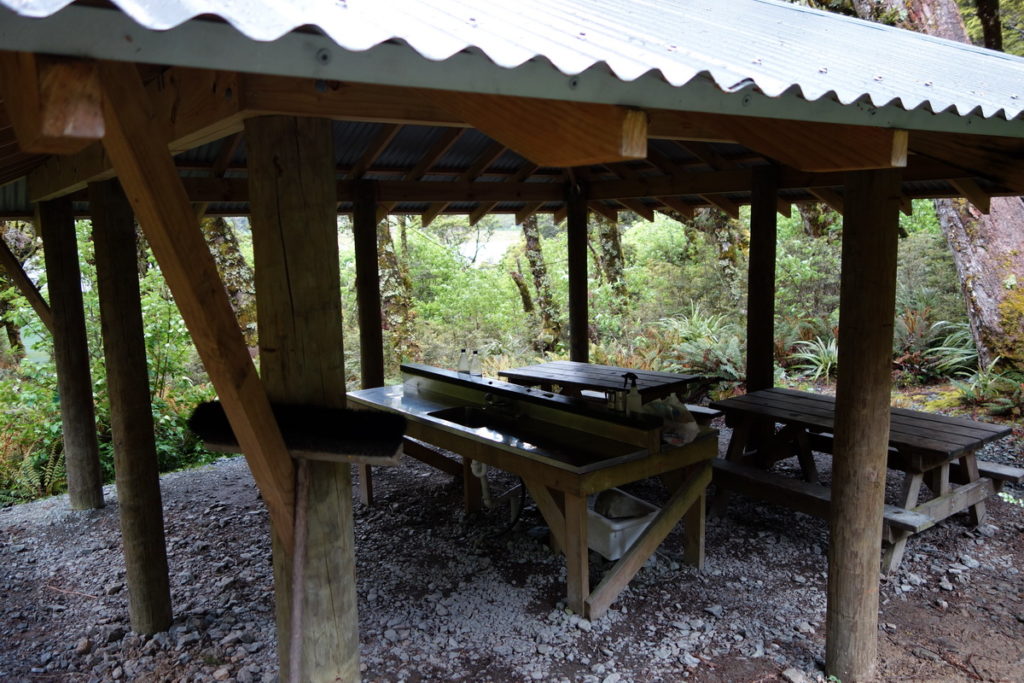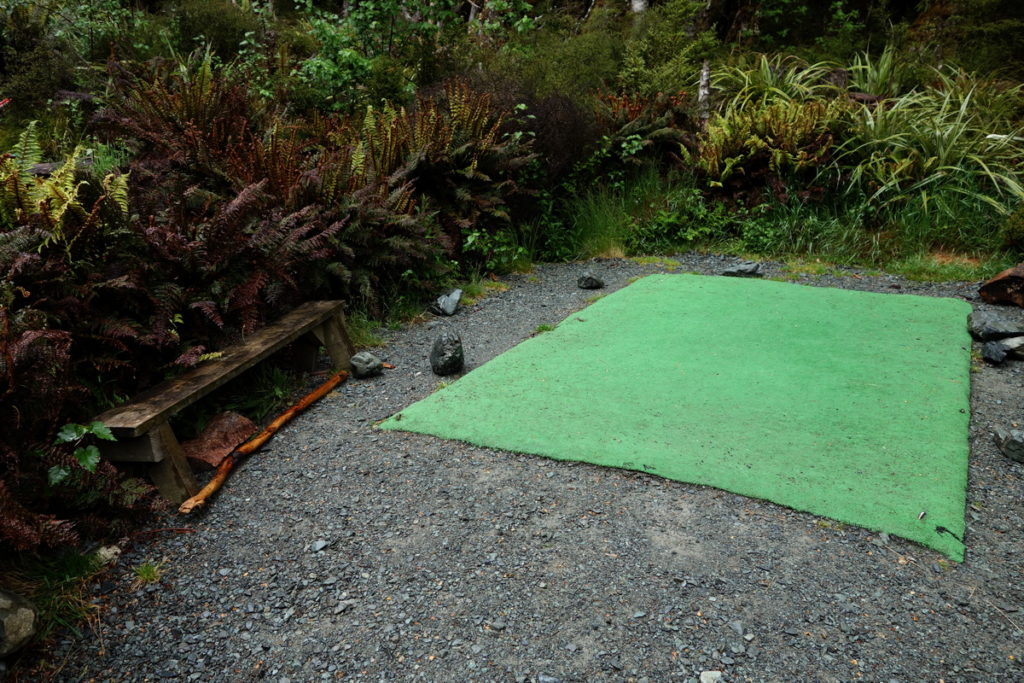 Parking place – for a tent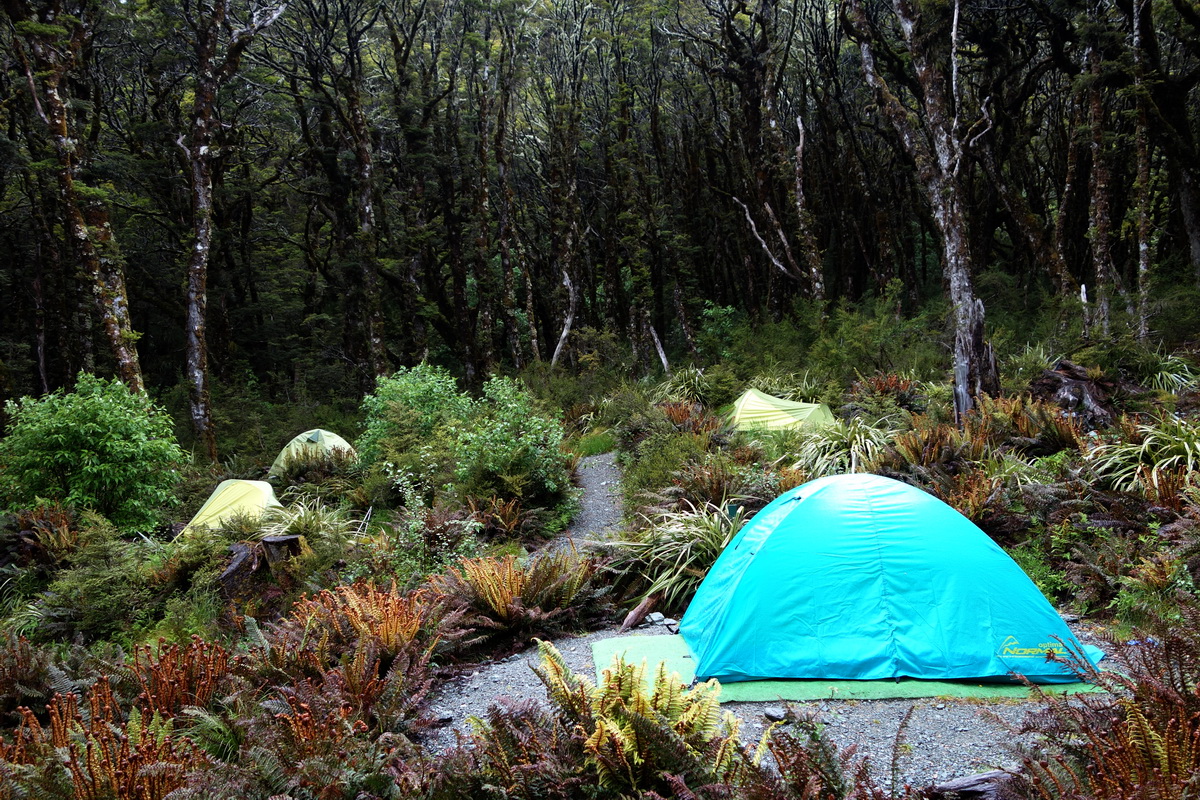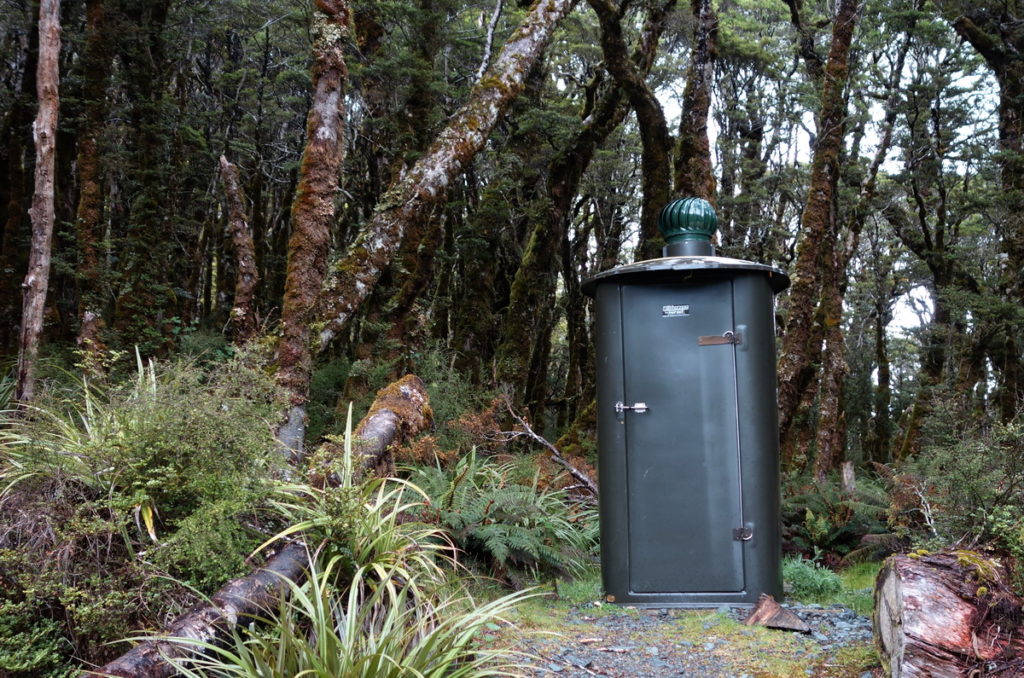 Toilet-tardis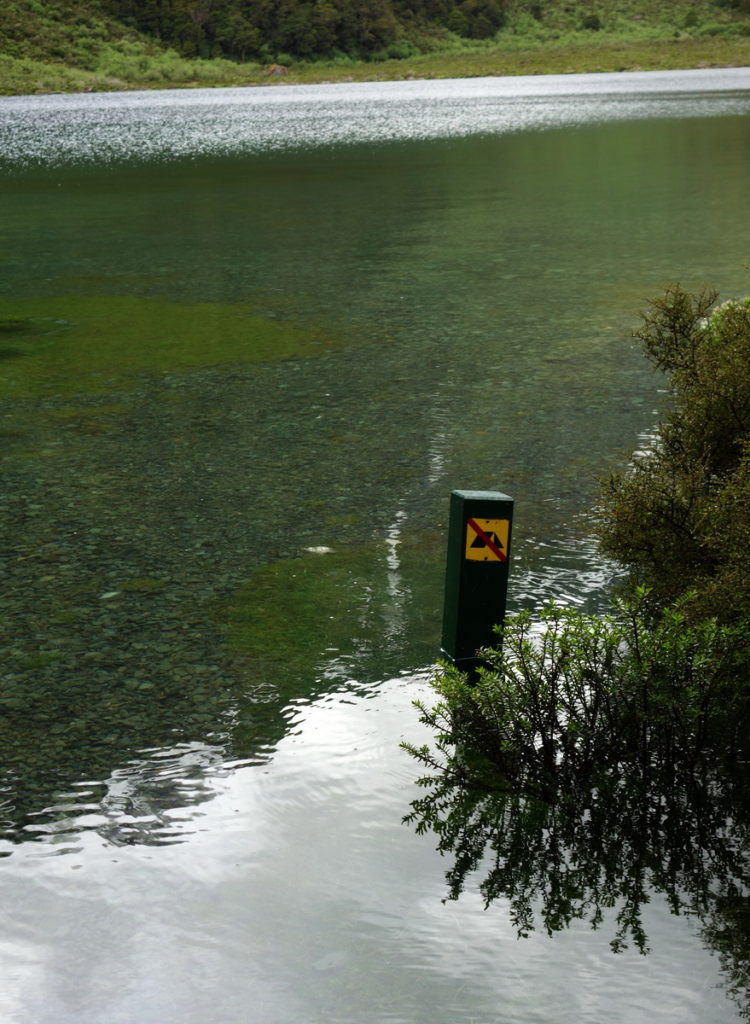 Archive Pic No. 28,599-B. The Ministry of the Bleedin' Obvious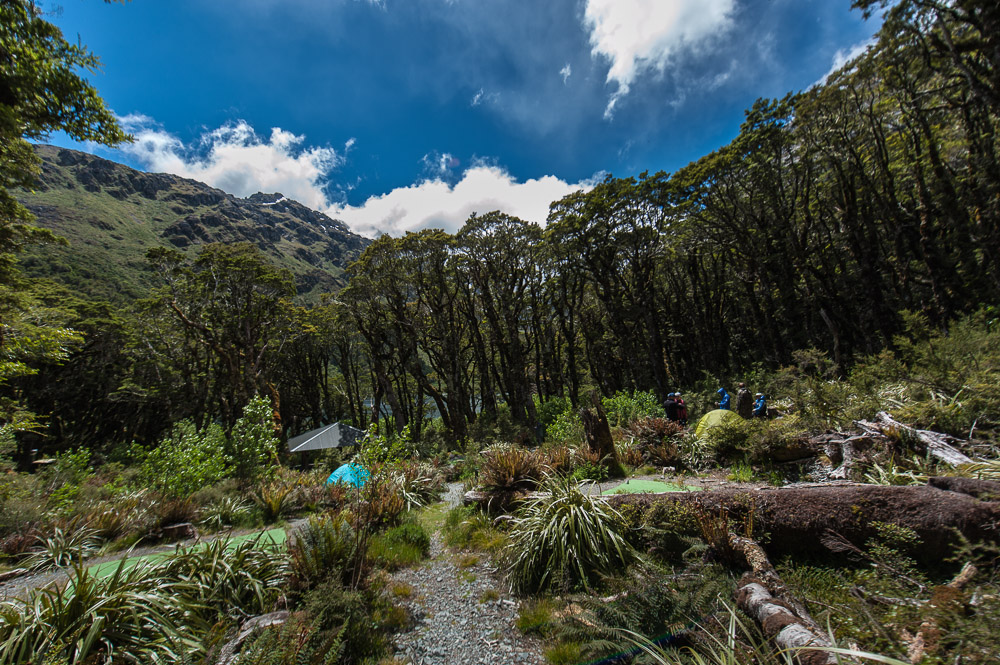 Spoiled for choice, picking out the best route for hiking turned out to be not so simple a task. But along our way we came upon a center for NZ extreme sport in Queenstown, crammed with all sorts of craziness. This simplified our choice and we went for the nearby Routeburn Track.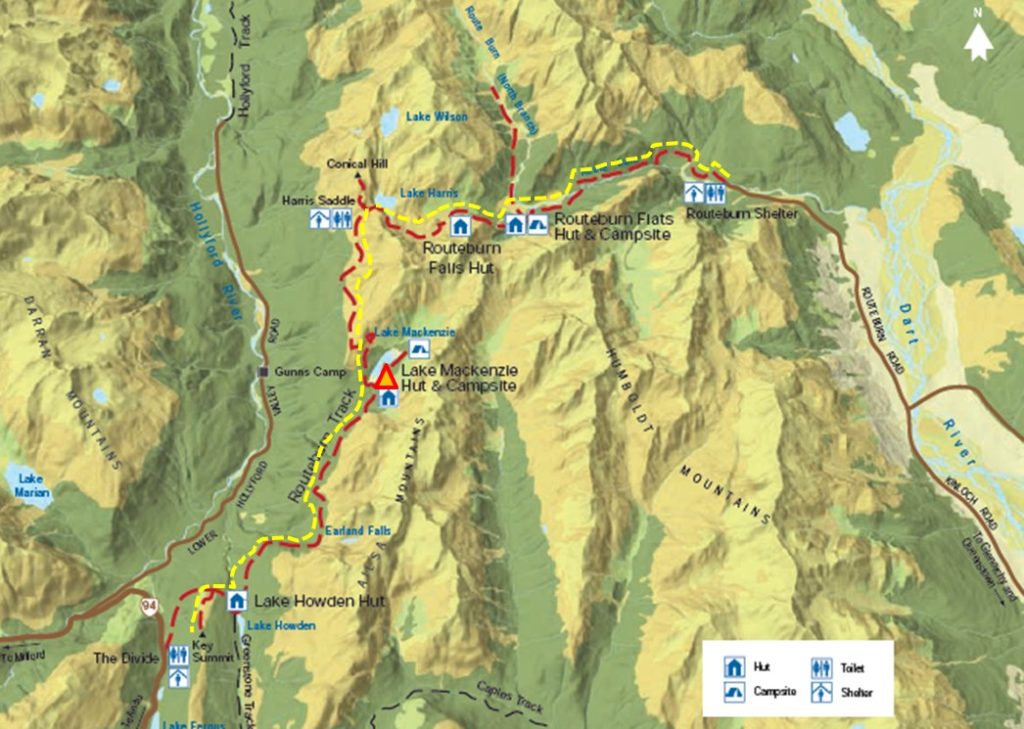 The path was not so hilly and fairly easygoing, the grass all around was unbelievably brightly colored, and the glacial mineral water in the streams was pure and tasty. It seemed nothing could spoil the trekking delights to be had along the paths here… but there is a big "but", I'm afraid.
The thing is, the paths here start and end in different places. You set off, and around 25 miles in the distance you arrive at the path's end (see the red broken line, above). But we were in cars, and we'd have had to drive them more than 250 miles round the ranges one way to get to the end. So instead we decided to walk at double speed for about 15 miles up to Lake Mackenzie, spend a day there walking about, and then another day walking back (the yellow broken line). Yep, around 15 miles along paths, through woods, along streams – a good day's hike. However, someone forgot to inform us that the total up and down would be around a mile, and for such a trek one really needs to get a bit of training in beforehand. For the average non-sporty office-worker tourist it's more than a little tough.
The moral to the story? Carefully plan your treks here! But generally, if they recommend walking 10 miles in a day – do all 10; just have plenty of rest stops and you should be ok.
Have a close look at the first photo – a very unusual blending of hills and shadows.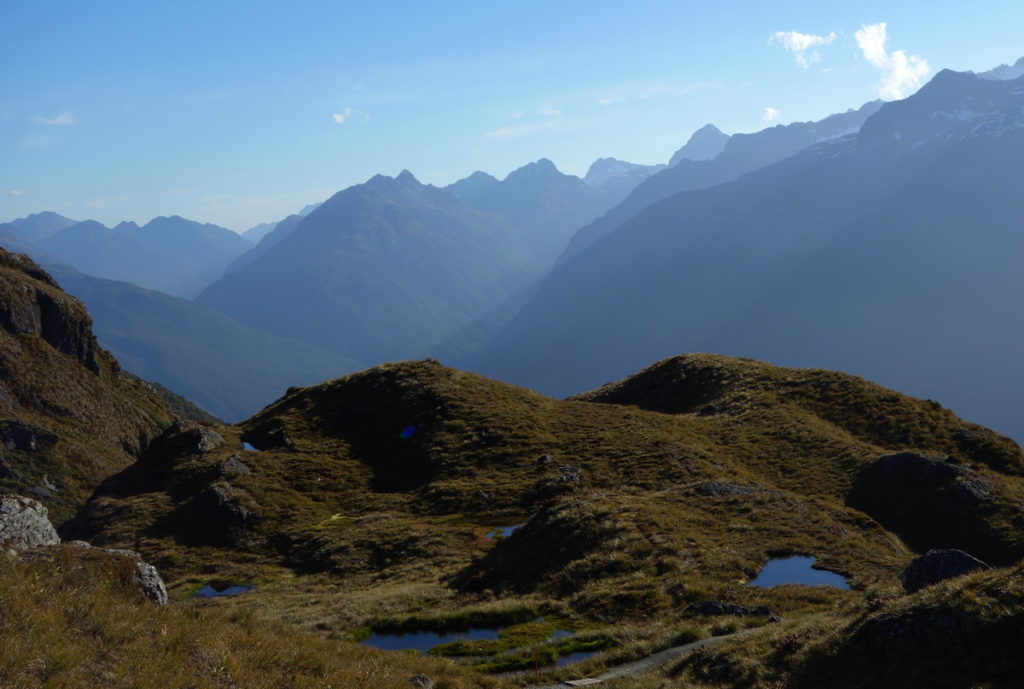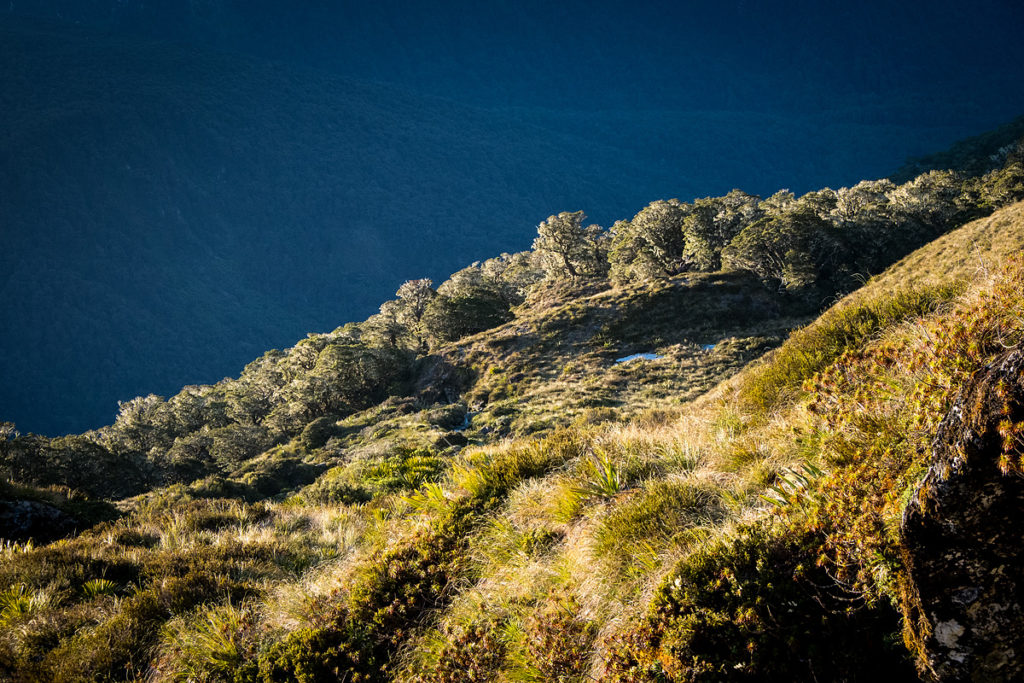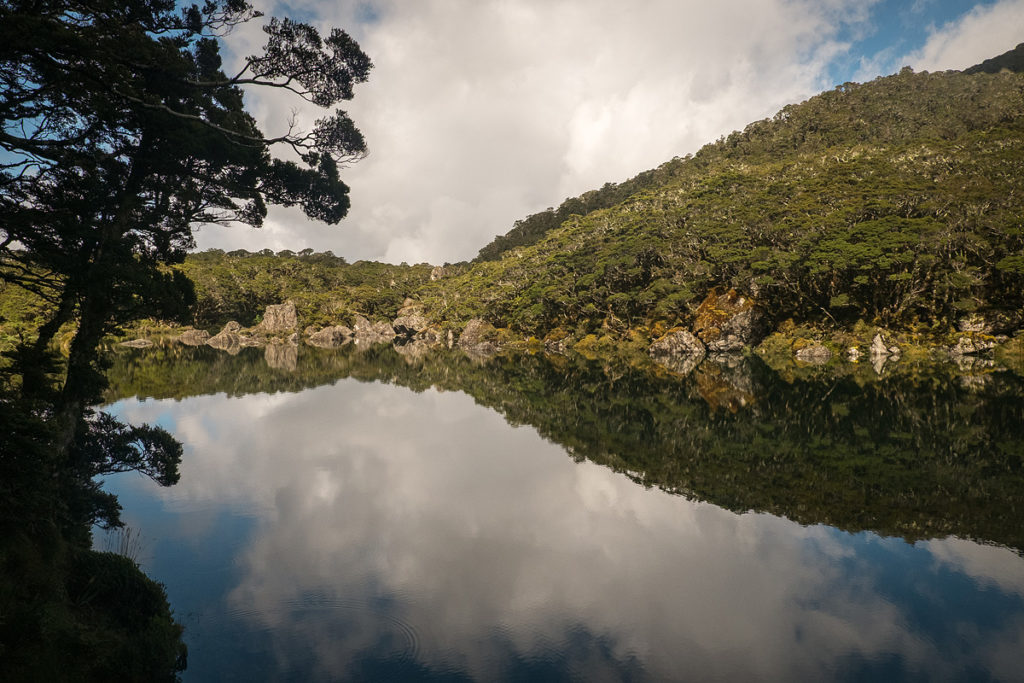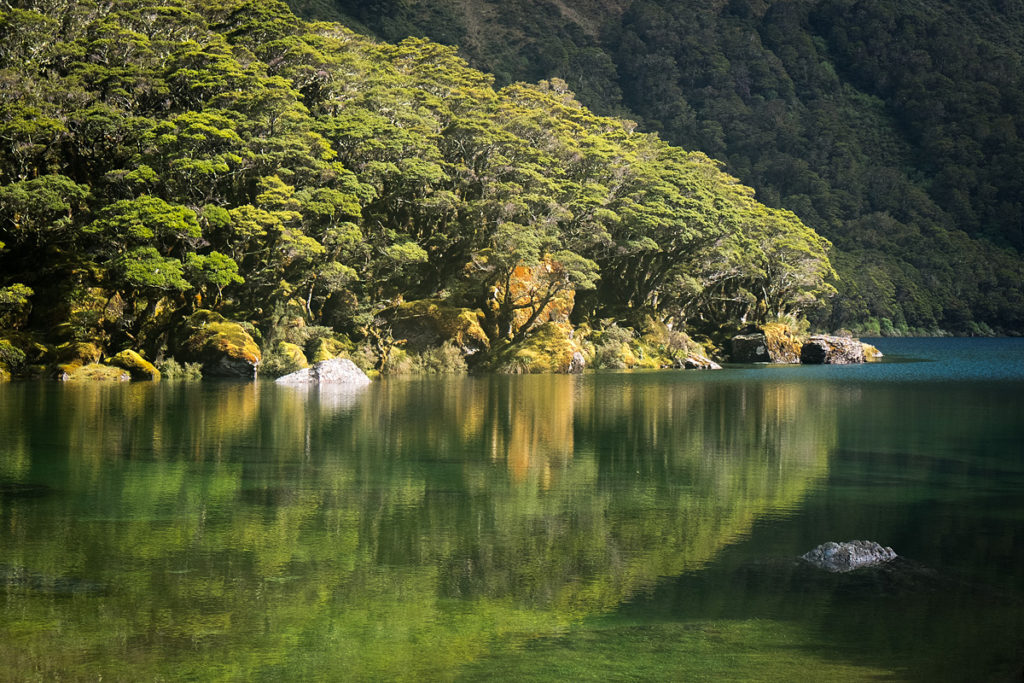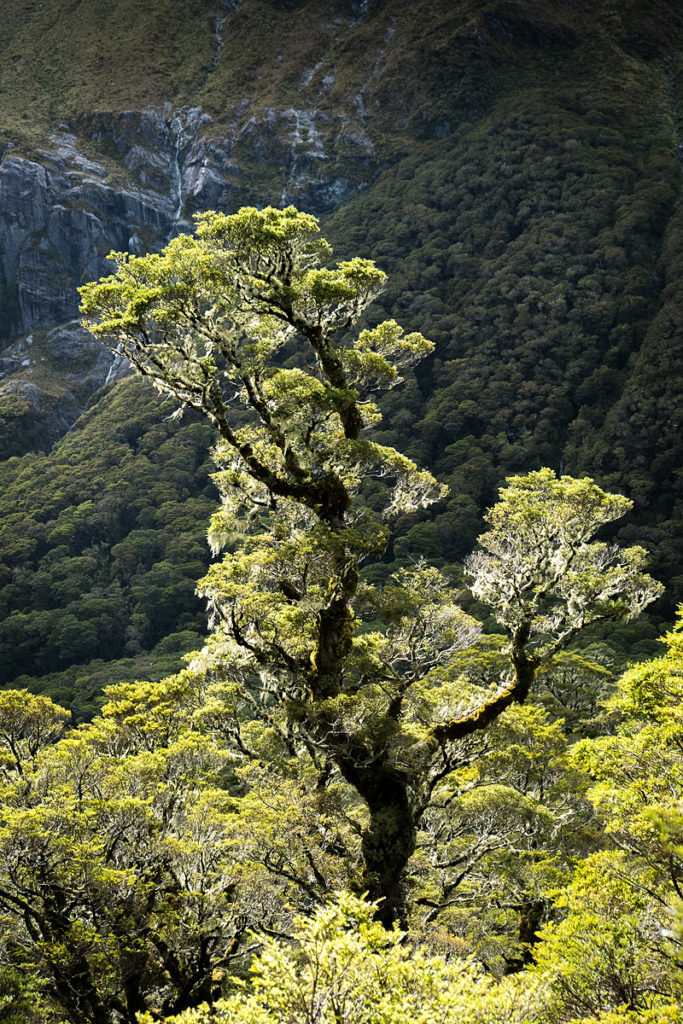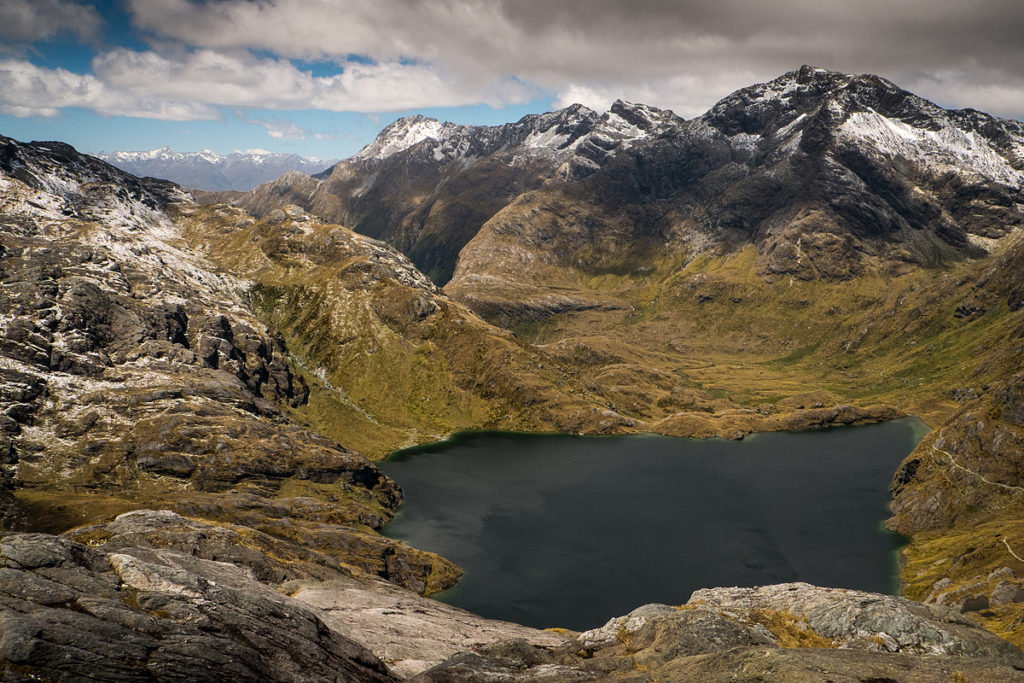 Blofeld's hidden lair under there?
Day 8. Under hobbit wood.
And now – more tales of the unexpected…
…But not related to the natural NZ features you come upon while trekking here. No, I want to insert here an interlude – and talk about commercial civil aviation! Weren't expecting that, were you? Turns out, however, that NZ and commercial air travel do have something in common, though I admit that the link is more a contrivance to inject a bit of fun here for no reason at all :).
As you're perfectly aware, every flight on a commercial airline starts with the tedious demonstration of the emergency procedures and kit. For some airlines I know by heart the precise slight variations of "all electronic devices should be switched off for taxiing, takeoff, descent and landing". But does anyone at all actually take any notice of these performances from start to finish? Well, actually, sometimes they do! Some airlines, instead of the same old dull routine, turn it into a show. So now, below – some of the most interesting of these alternative emergency instructions preaching routines:
KLM – the Amsterdam connection:
Air Asia – not bad either:
Southwest Airlines – rapping (strictly old-school rhymin', very D.M.C.) :
VietJet Air – gotta fly with these! Bikini-clad movers. Apparently they got fined for this show of flesh:
Cebu Pacific Air from the Philippines – more dancing during the demonstration (shame about the tune:) :
The Finns – red-nosed ridiculousness + traditional Indian moves:
…which brings me back on-theme!…
…the
kiwis
(All Blacks assisted)!:
And here they are again – fully-hobbitized:
Of course, how could we do without hobbits, elves and other Mordorians in NZ? Ever since the Lord of the Rings was shot here they exploit this theme to the max, and quite right! Rumor has it that the hobbit theme brings NZ billions of tourists' dollars. Special
guides
are sold on hobbit places that give you the locations where filming took place, which many tourists do a full tour of, taking thousands of photos and videos along the way. Really, NZ is just one big movie set :).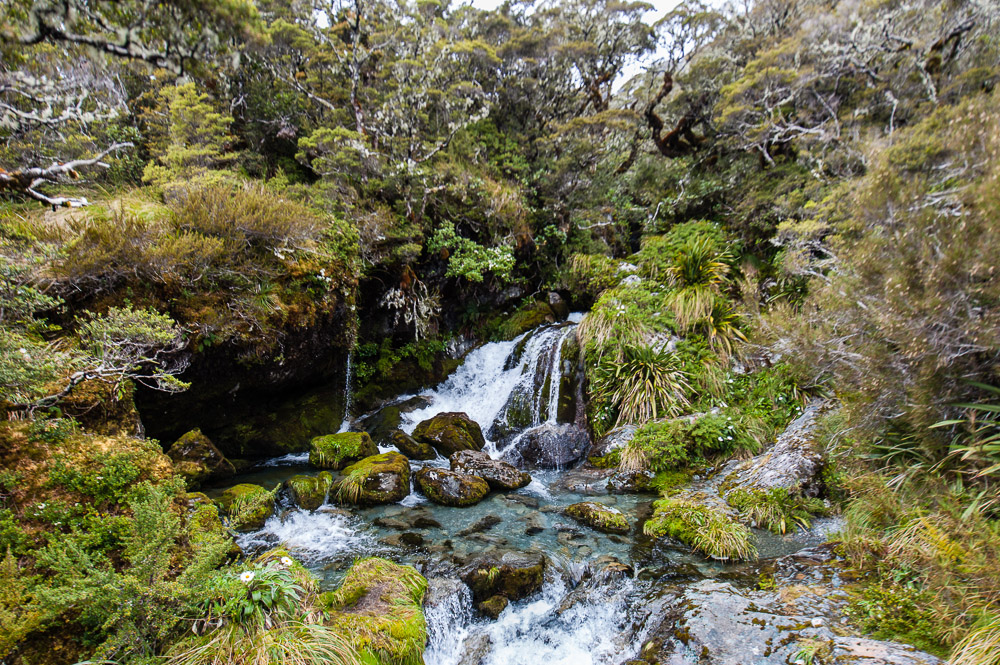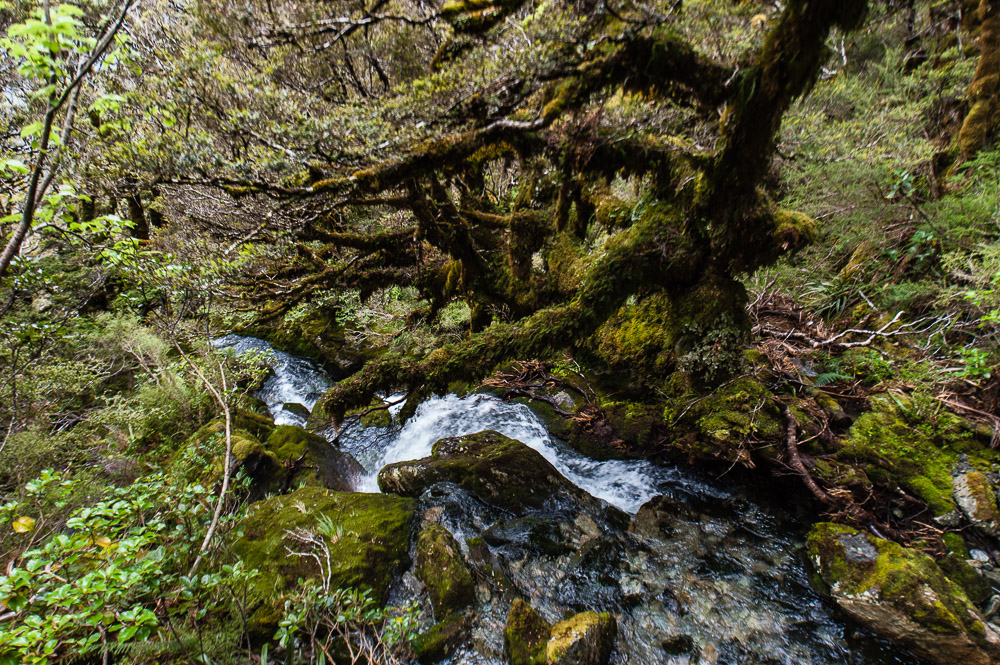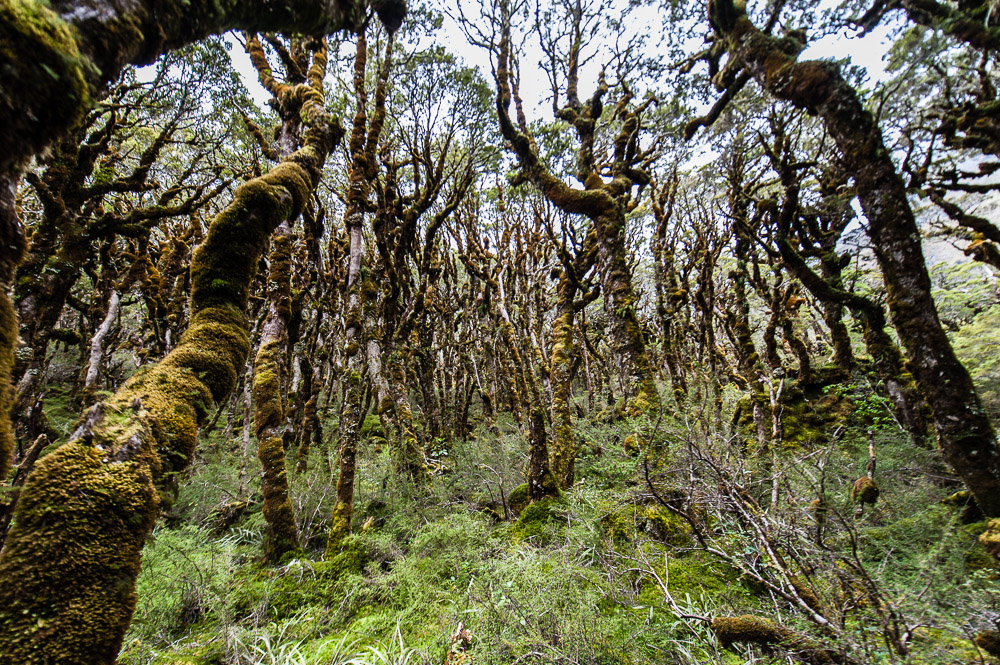 On the second day of our trek around hobbit locations we were able to take in the 174-meter-high Earland Falls, which I was told featured in the film set around the castle of Elrond in Rivendell. Maybe not…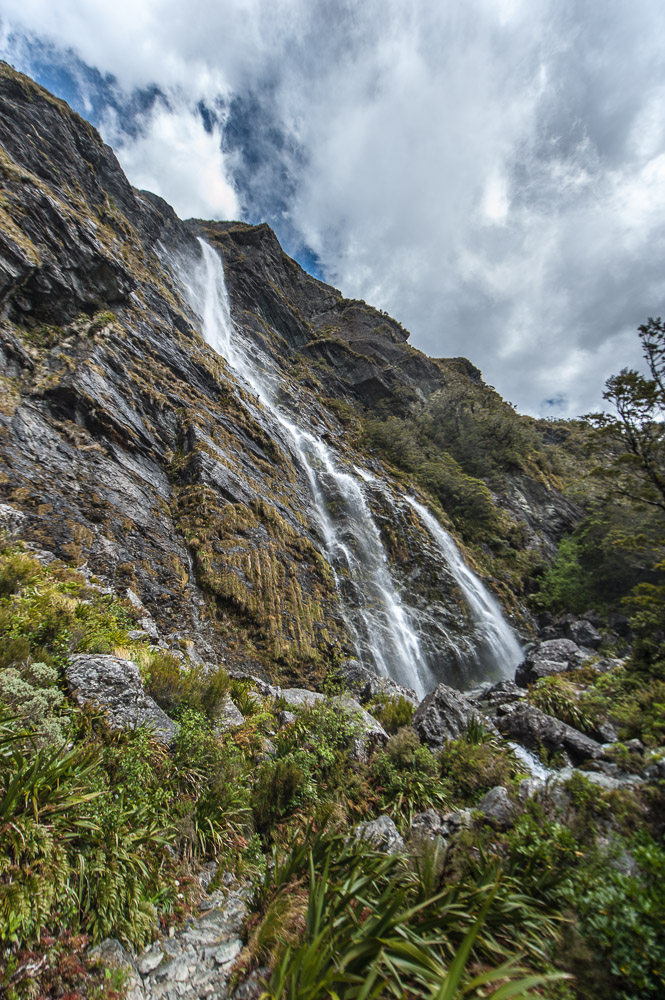 Besides the waterfall there's plenty of other cool stuff to see round here – all of it not just beautiful, all of it boundlessly beautiful! I really recommend a trek here for all the walkers among you.
Here's an intriguing split rock we saw during a breather near Lake Mackenzie: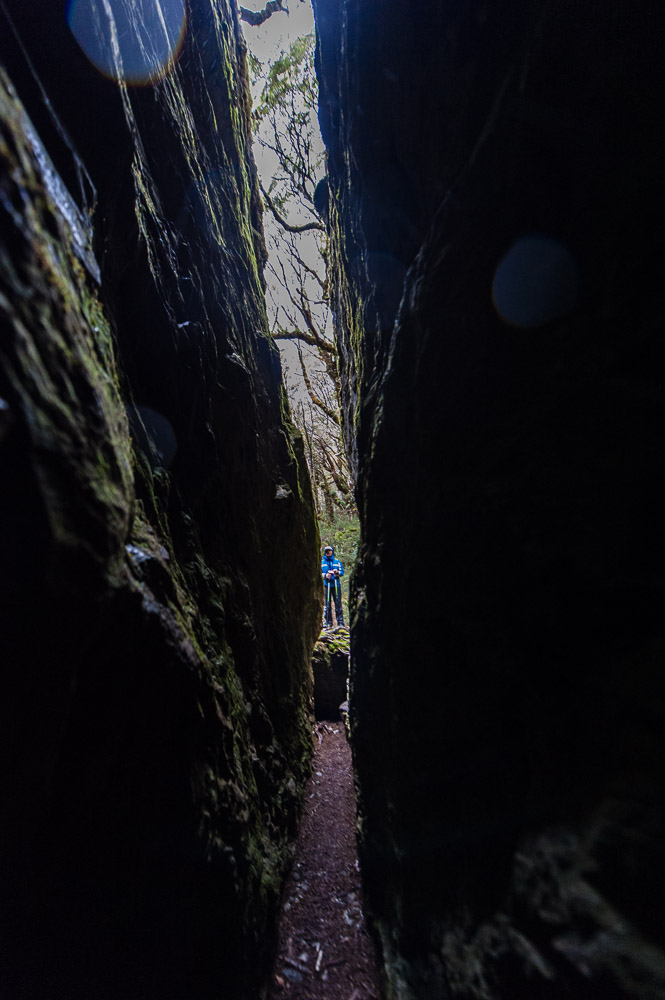 And that's it for today folks! Will be back with the next installment – days 9-11 – shortly…
The rest of the photos from these day's travels are here.
Previous tales from the trip: