Kamchatka-2015: Snowy peaks, hot springs.
The second set of amazing must-sees to the south of Paratunka are the hot springs near Khodutka volcano. In fact they're not just hot springs, they make up a whole hot lake. And not just a hot lake; it's more of a scalding lake: the temperature of the water hovers around 43°C. Now, if you've a heart as strong as an athlete's, you could take a dip, but you won't really fancy doing a fast crawl or anything – far too parching. Shame. All the same, just sitting in the lake – still a thoroughly satisfying way of taking in all the surrounding scenery.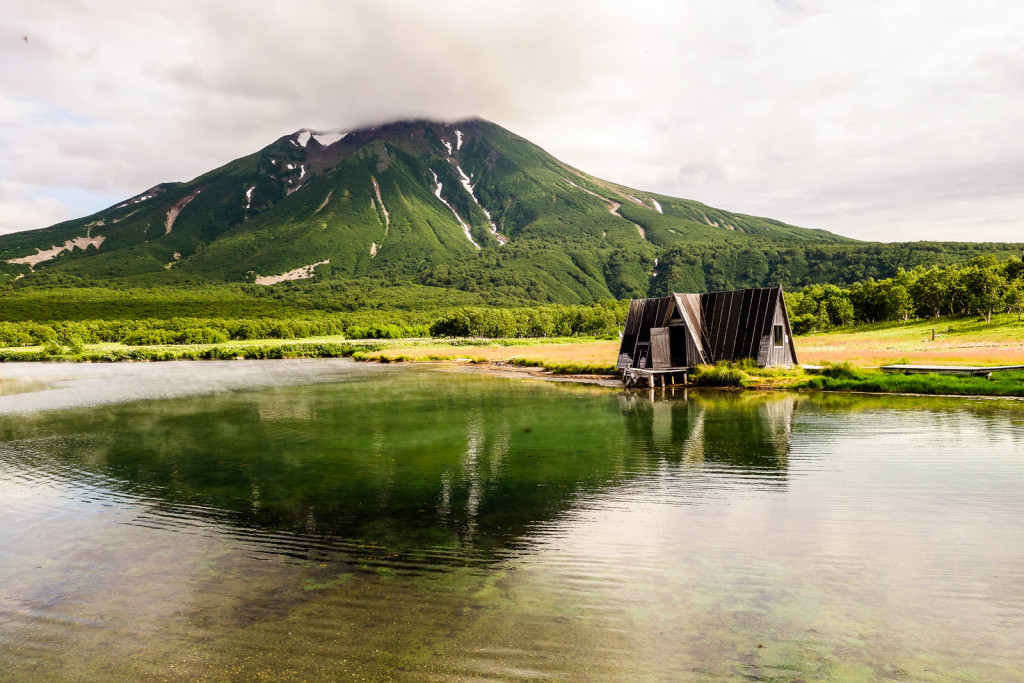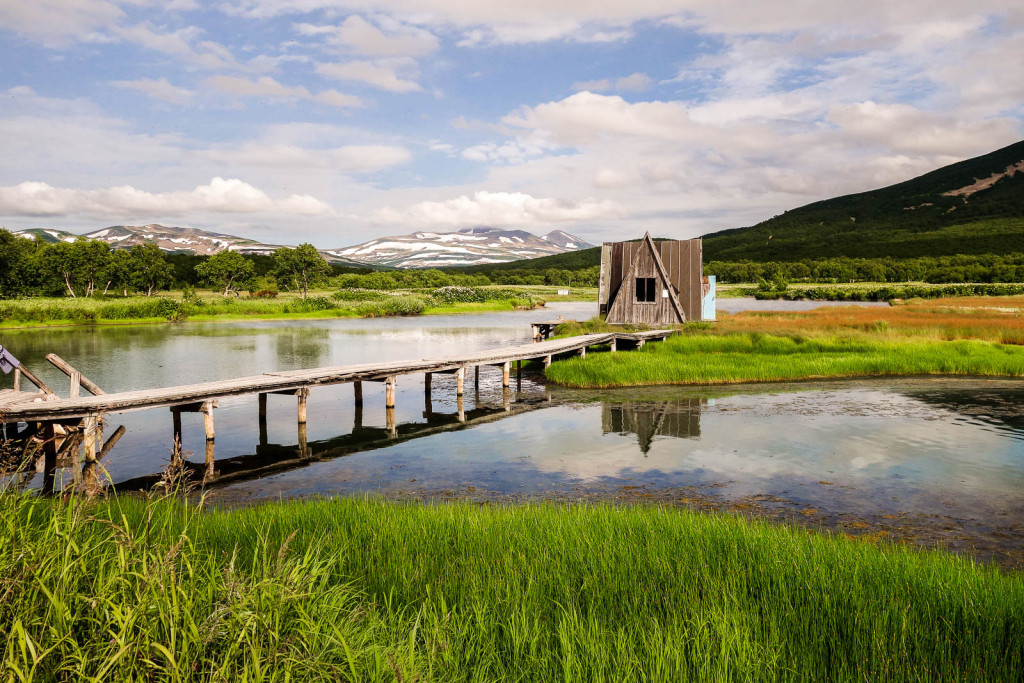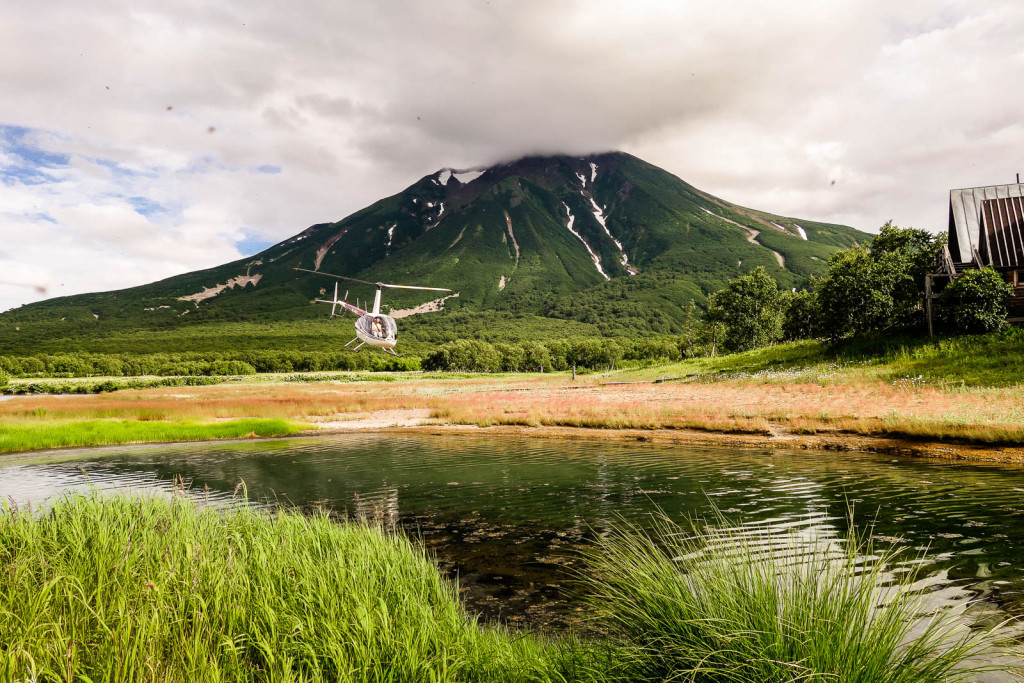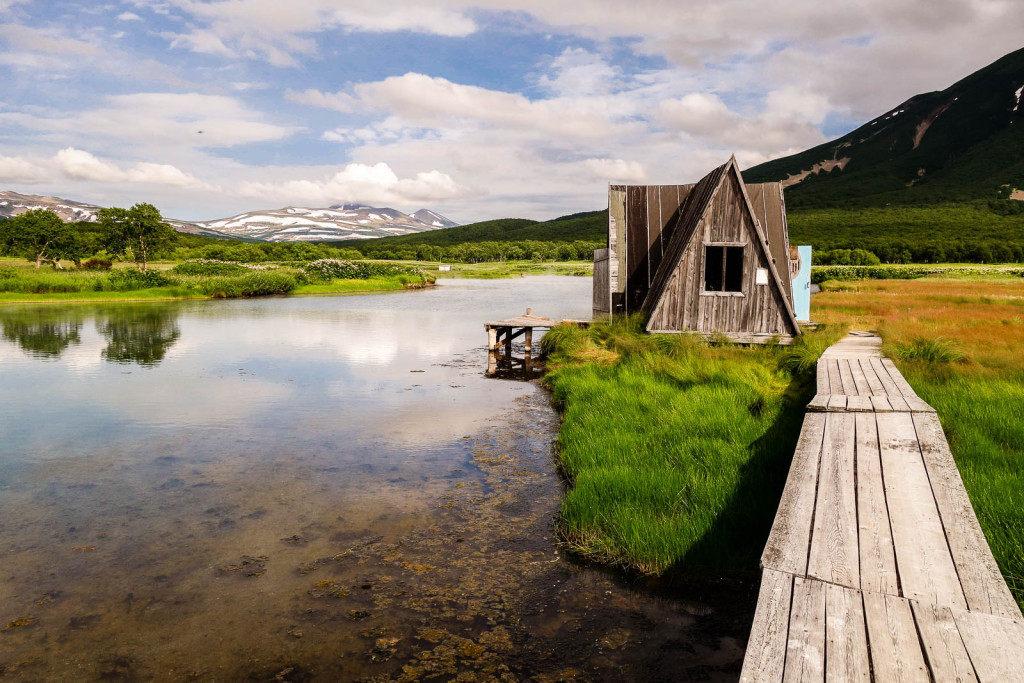 The Khodutkan hot springs work as follows: on one side of the lake there are several hot sources which give out 80 to 100 liters of sizzling water a second (different websites give different figures). And on the other side the lake gradually turns into river, via which all this water pours out. Here on the photo are clearly visible two sources: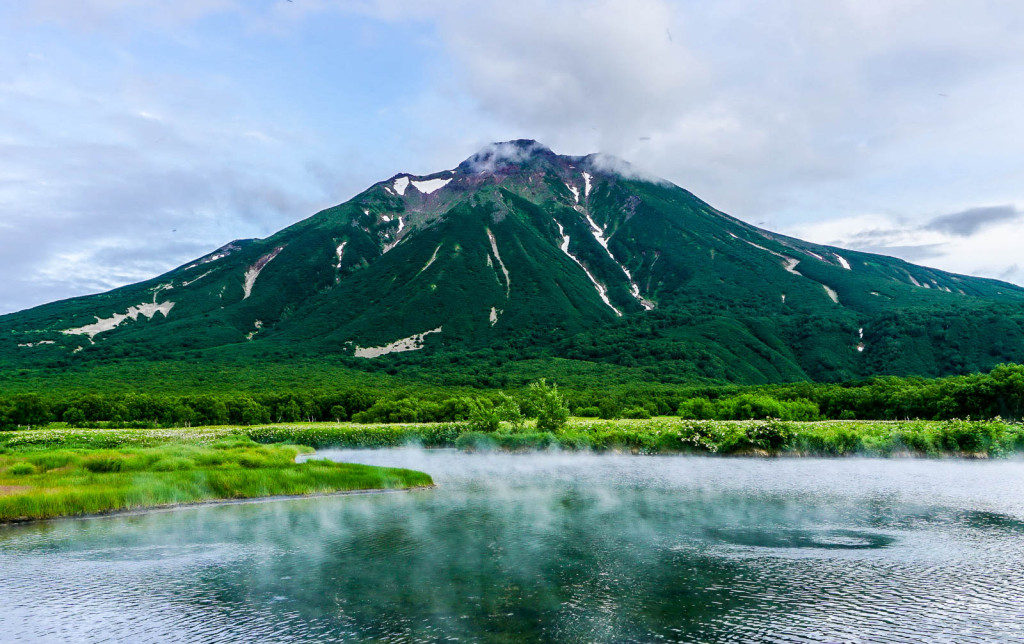 And here's where the water flows out: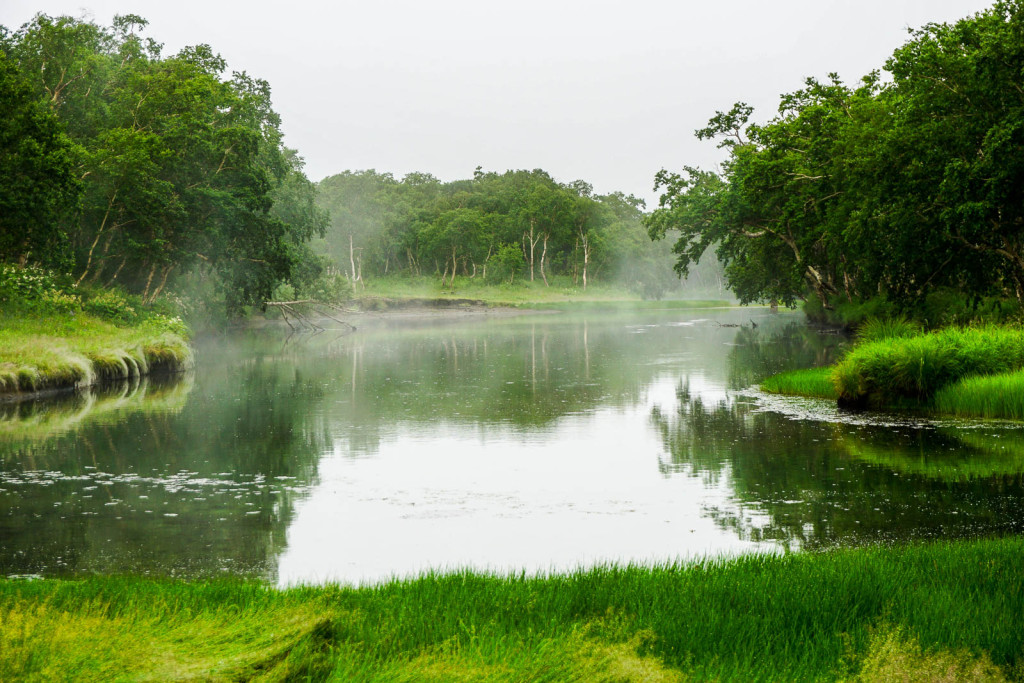 Along its journey from the source to the river the water cools a bit. So nearer the river the temperature's not too blistering. Accordingly, they built changing rooms, plus a footbridge and steps to get from the shore to the middle of the water. But if it's still too hot for you, you can forgo the footbridge, walk further along the bank towards the river, and slip in from the shore where the water's cooler still. Some soap comes in handy if doing it this way: the bank gets a bit muddy.
Btw, hot springs are extremely interesting in general. Here's what I found on the net and in the far reaches of my own memory:
The biggest hot lake in the world is Lake Hévíz in Hungary; however, its water is hardly hot at all: +34°C in summer, and a paltry +26-30°C in winter. So maybe I should write 'Lake Hévíz is the biggest tepid lake in the world?
In Italy there's the Terme di Saturnia. The temperature of the water is around +37.5°C, and it's suitably Lamborghini under the hood too: 800 liters a second, plus wonderful waterfalls. The area of the water surface I didn't get to find out, but judging by the photos, it's not so large.
In Iceland there's the Blue Lagoon (I was there recently). If we're to believe Wikipedia, the temperature of the water there is +37-40°C, though I sure didn't come across any +40 – and I did look for it. The lake is relatively small too, and it's man-made: it takes in processed water from the neighboring geothermal power station!
Still in Iceland there's the Deildartunguhver hot spring (oh those Icelandic tongue twisters!), but the temperature of the water in it is categorically not for swimming: +97°C with a speed of 180 liters a second!!
In the Dominican Republic there's Boiling Lake, but it's also too hot: +80-90°C.
In New Zealand's Waimangu Valley there's Frying Pan Lake, with a more human-friendly temperature of +55°C, which Wiki claims (I believe incorrectly) to be the 'largest hot spring in the world'.
And on the Kuril island of Iturup there's a hot river + waterfalls + swimming pools, with a water temperature of 42 degrees: perfect! Check it.
So, to summarize:
| | | | |
| --- | --- | --- | --- |
| Lake | Area m² | Water consumption per second | Summer water temperature |
| Hévíz | 47 500 | 450 | +33°C |
| Frying Pan Lake | 38 000 | 110 | +55°C |
| Khodutka | 18 000 | 115 | +42-45°C |
| Boiling Lake | n/a | n/a | +80-90°C |
| Blue Lagoon | Small | Controlled | +37-40°C |
| Iturup | Stream | n/a | +42°C |
| Saturnia | Small | 800 (sic!) | +37.5°C |
So, everything above +50°C doesn't count – death, be it slow or quick, is guaranteed. No thank you. Less than +40°C also doesn't count as that just ain't 'hot'. So where does that leave us?
Yep, turns out the Khodutka hot springs are the 'best' in the world (Iturup's hot river coming a close second) – according to both Professor Wiki and Professor Kaspersky! I have to say: I didn't see that one coming :-).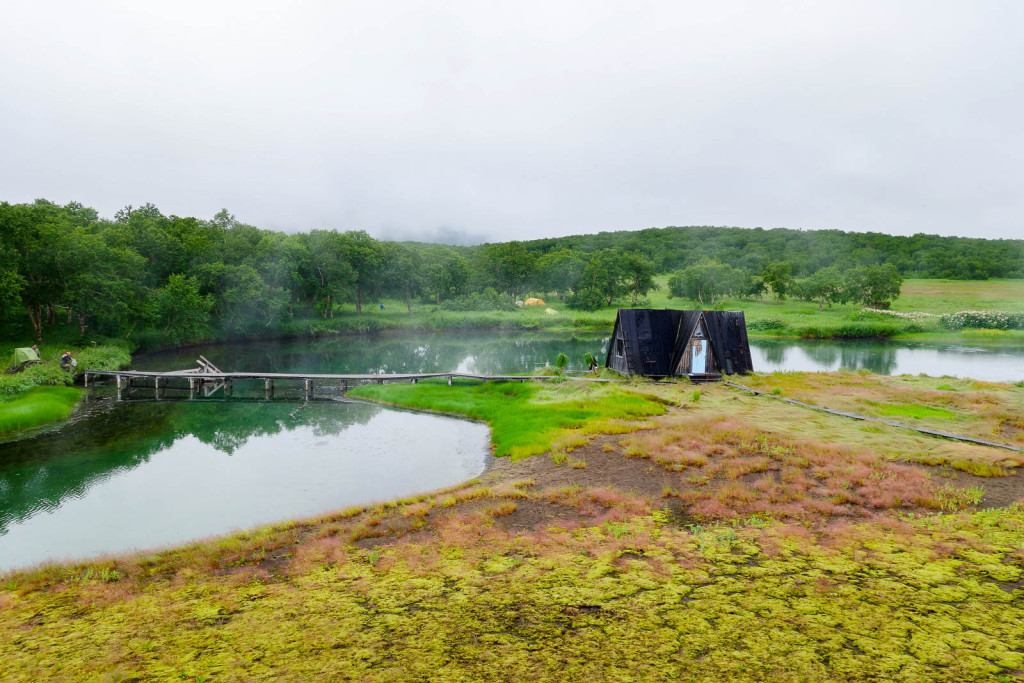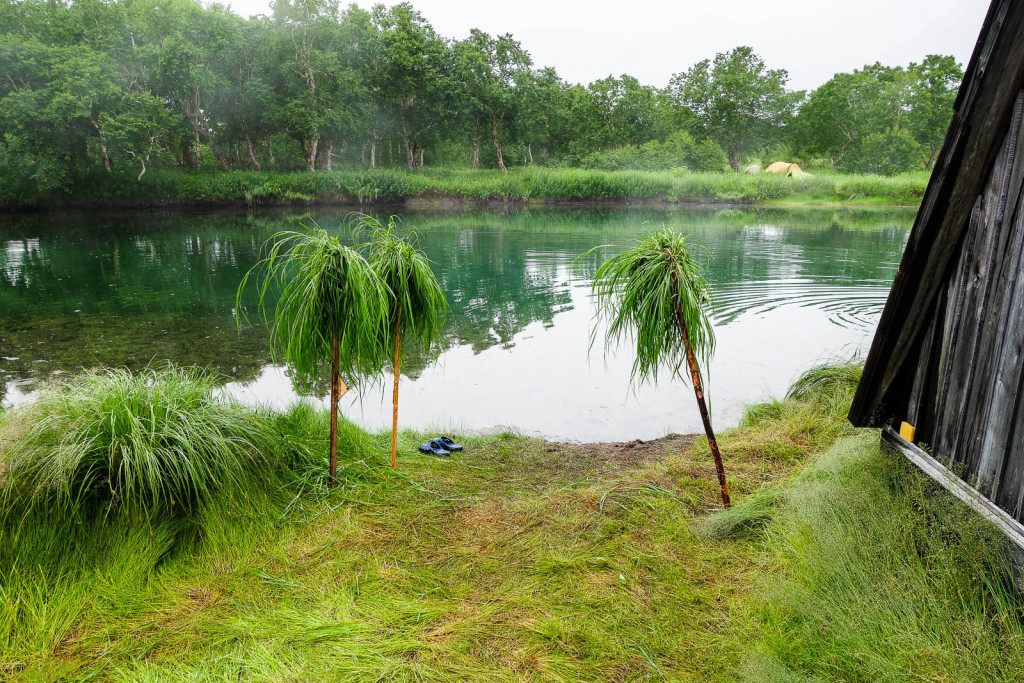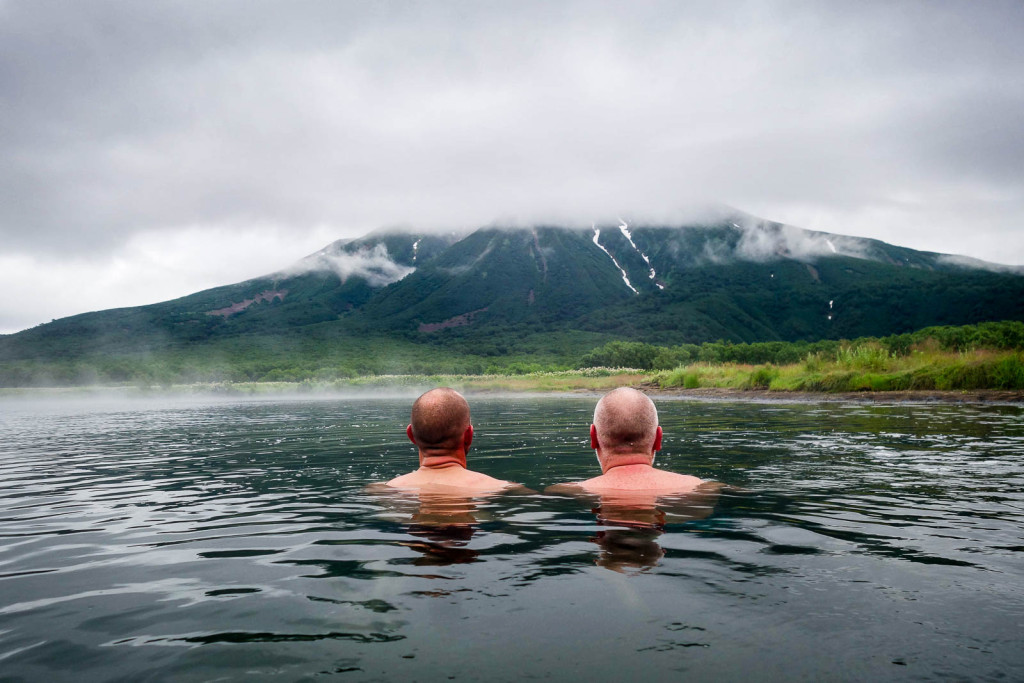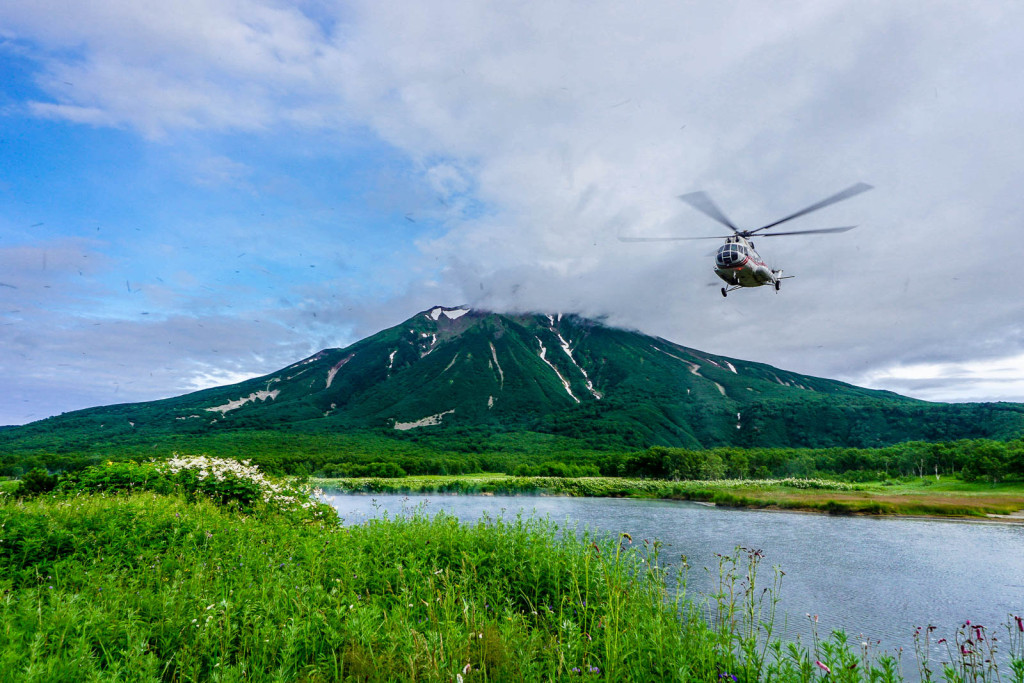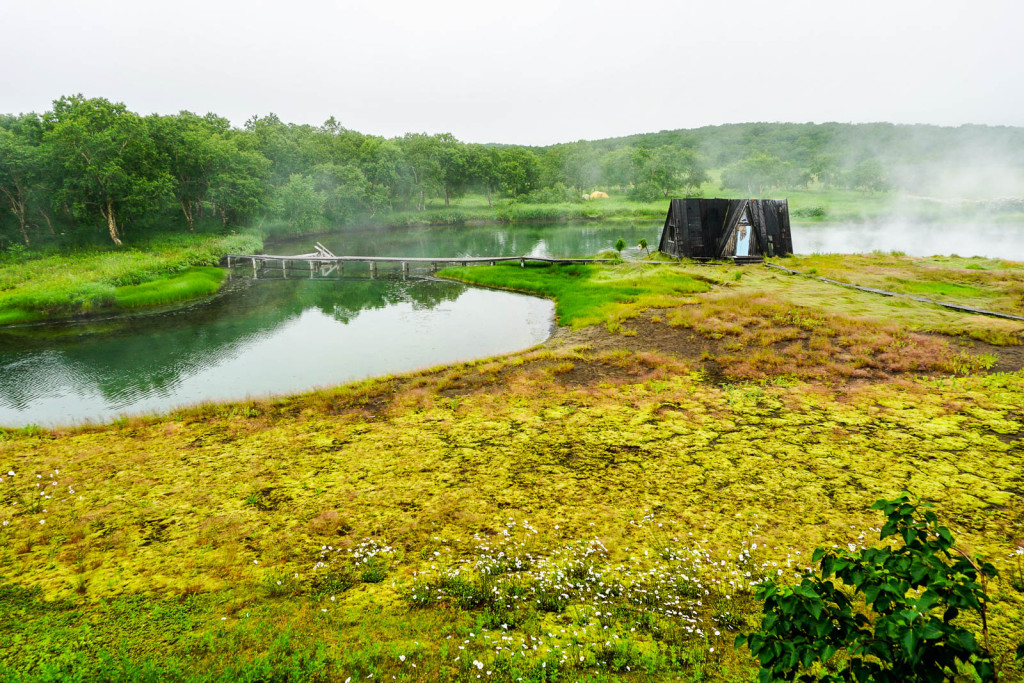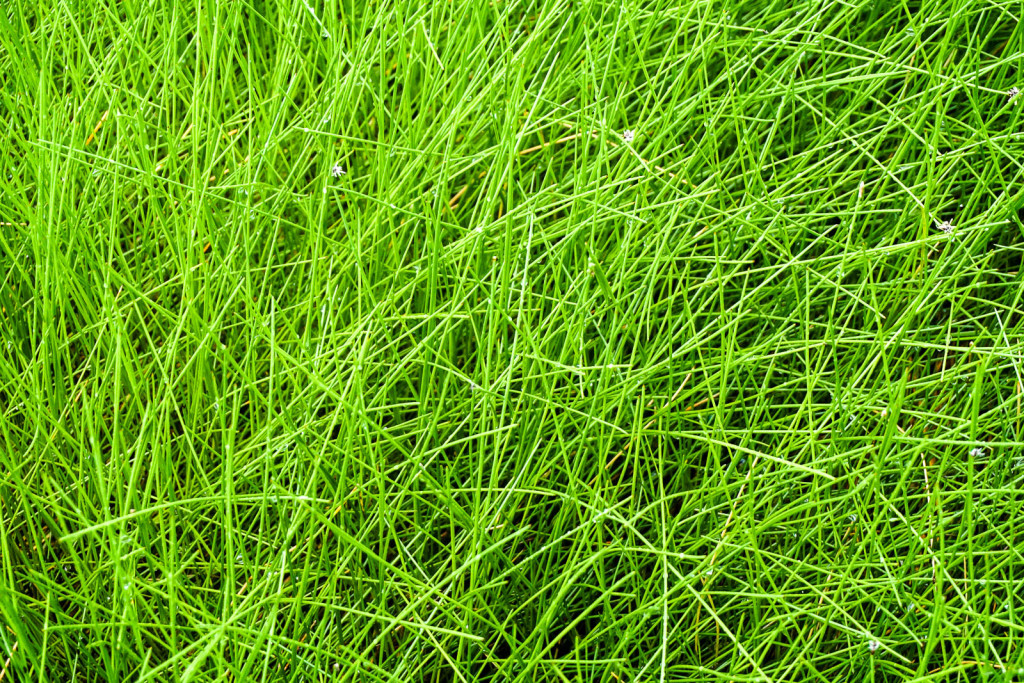 The Khodutka hot springs also have the added bonus of the amazing Khodutka volcano itself being right by (with its 'Foster Child' – that's how they call its side 'blister'). More than once I've wanted to get out of the springs and up to its peak. But there's always been torrential rain and mist, or the springs' charms simply wouldn't allow it. Must do it one day. Will have to set up camp further from the springs next time, so as not to be seduced :-).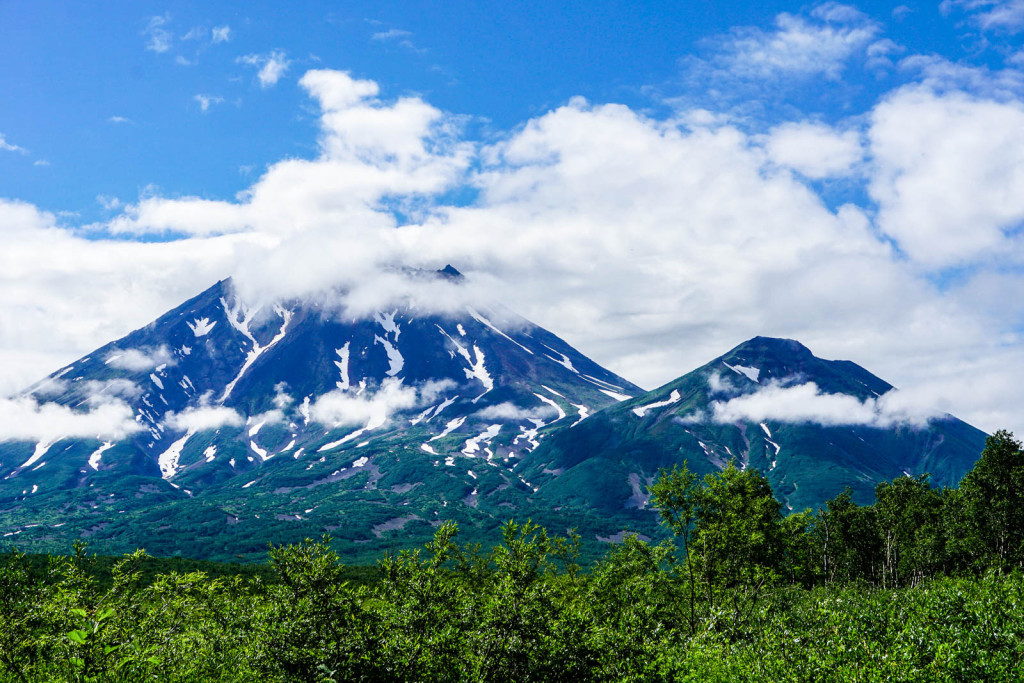 The only downside here: the once very nice guesthouses, changing rooms and paths are all in an abandoned state and are gradually falling into ruin. Sad. To compare: on Kurile Lake it's just the opposite: with every new season everything gets more and more civilized and comfortable. But more about that later…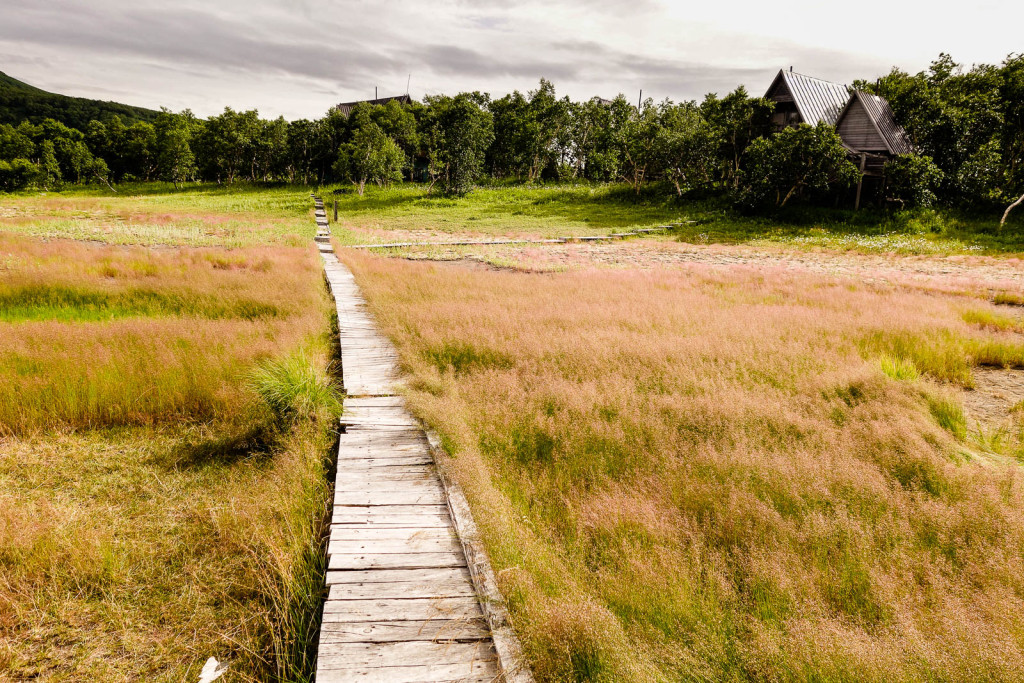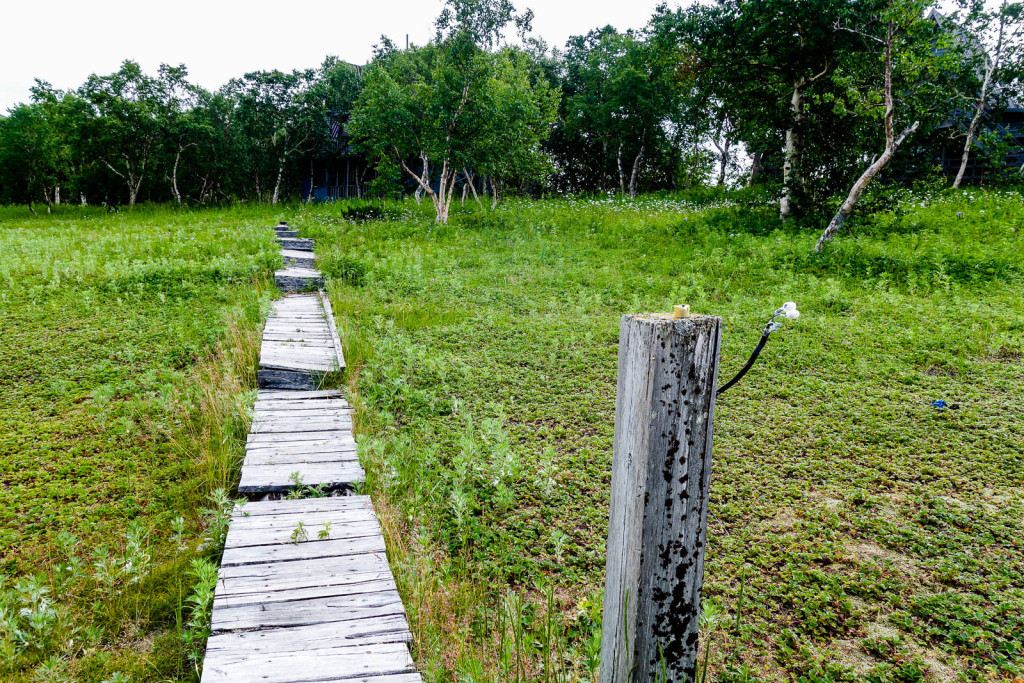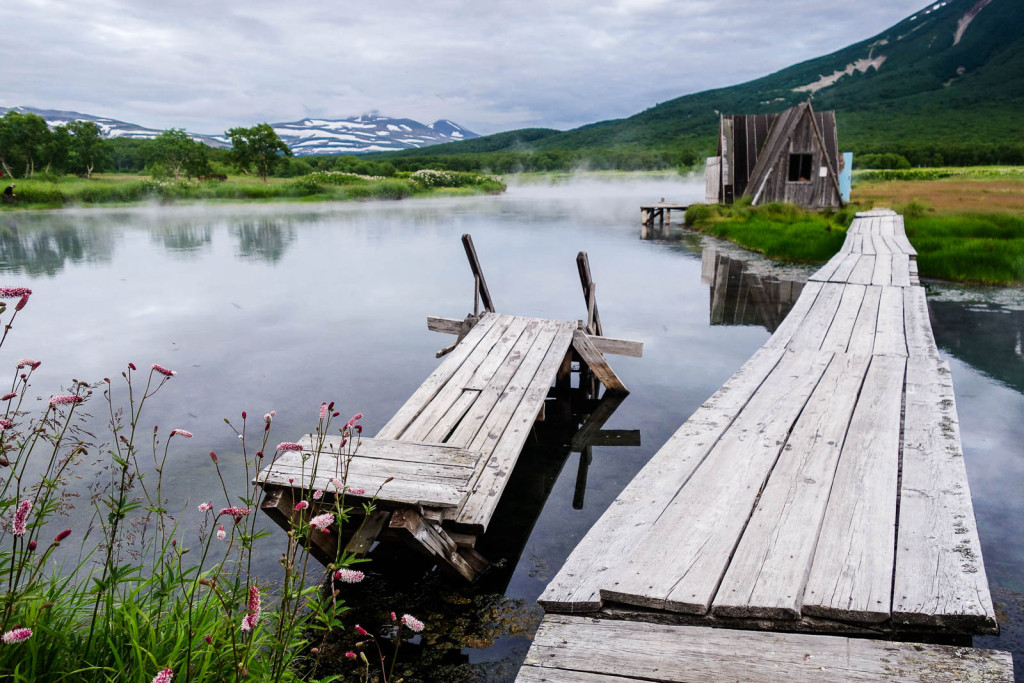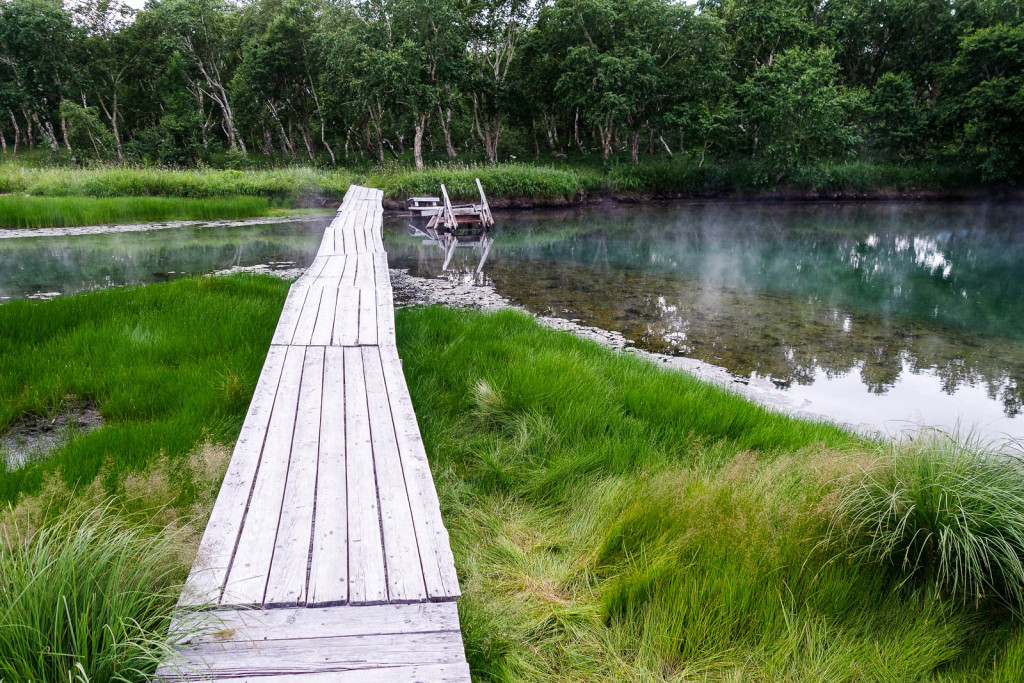 What else?
One thing: don't attempt getting to Khodutka on foot. Once it was possible – just. Now the overgrowth is more a jungle: no fun at all. Take an all-terrain carrier. Better still: a helicopter.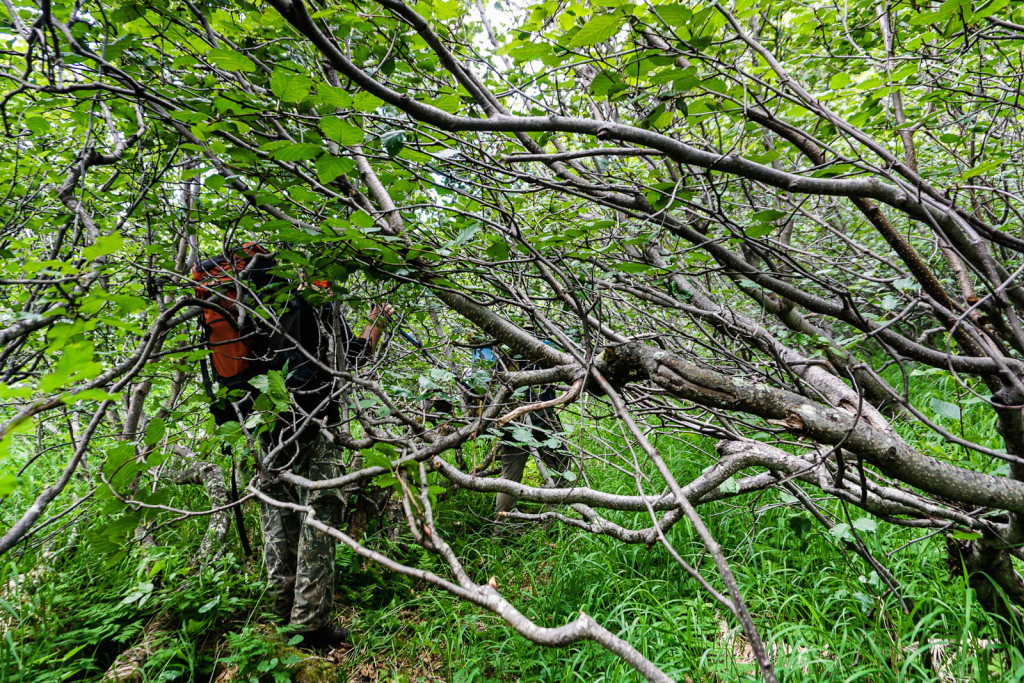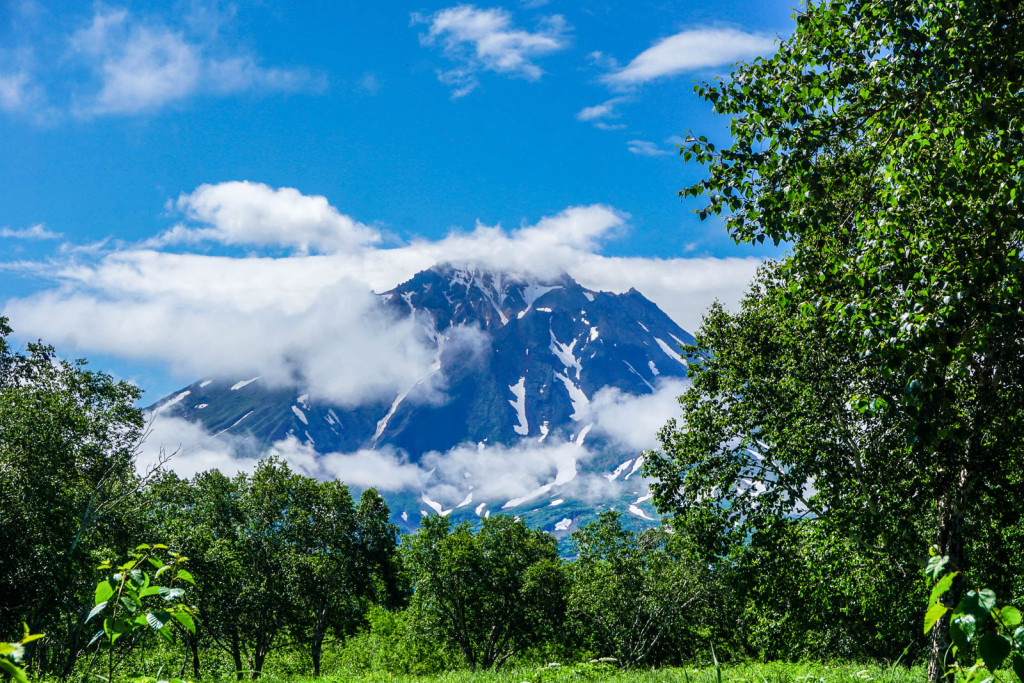 Btw – here are reports from my visits here in 2010 and 2012.
That's all for today folks, but I'll be back soon with more An-Kam tales…
All the photos are here.