Kamchatka-2012: Khodutka – No Volcano for Old Men.
Days 6, 7 and 8: The hike to Khodutka.
Farewell Ksudach. We're heading out on a 50-kilometer "walk in the country" over to Khodutka volcano! In the pic below Khodutka is the volcano on the horizon. A mere stone's throw…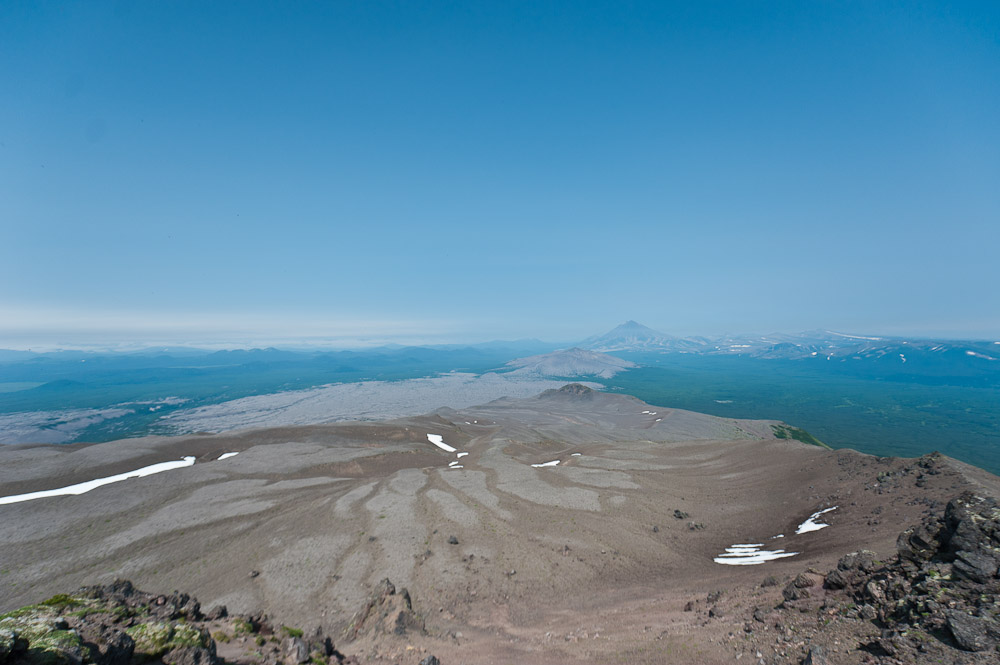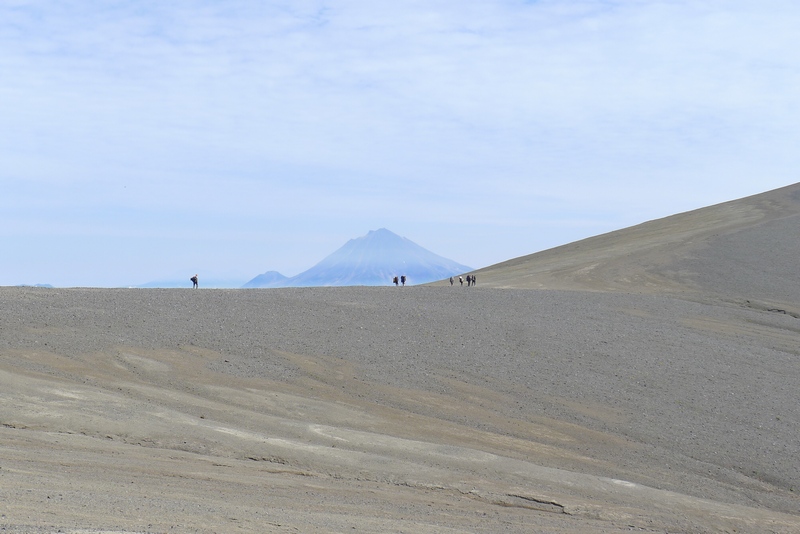 This was the hike-route during which the pen-pushers among us – who maybe had never walked with a rucksack over rough country before – found out the hard way, er, what it's like to walk with a rucksack over rough country – for miles and miles. Bless. It will be interesting to see if they sign up for the next trip here :)
"In a couple of days we'll walk from Ksudach to Khodutka," I announced to everyone. The normally desk-bound made the following entry in the travelogue-diary of the expedition:
"Tough – that's the word to describe the journey on the metro to get to the office each morning. Ksudach to Khodutka – this requires a different word…"
I couldn't work out what they were moaning about! Perhaps my regular gym sessions have paid off in upping the stamina? :)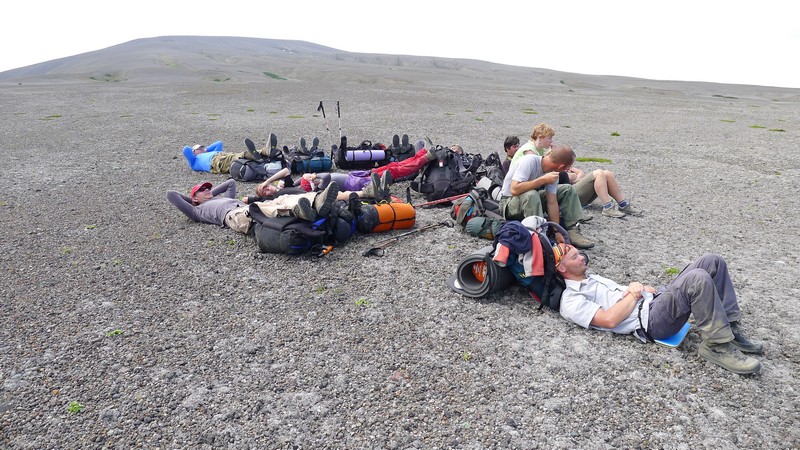 It takes a day to cover around 20km, with a bit of a jump up 200 or 300 meters to get over the Ksudach caldera, and then it's all downhill from then on. A good, natural motivator – called thirst – helps buckets on this particular route – since there's not a single river or even stream to be found along it. At our destination our collective thirst was truly Saharan.
The next day we walked 30km across fairly even, woody terrain, and had a few shallow rivers to navigate across. This day was berry day – billions of them (shame to see them mostly go to waste), plus there were the mutant ninja mushrooms as before, and even a few curious bears came to have a look at us at one point – thankfully not hungry and full of fish :)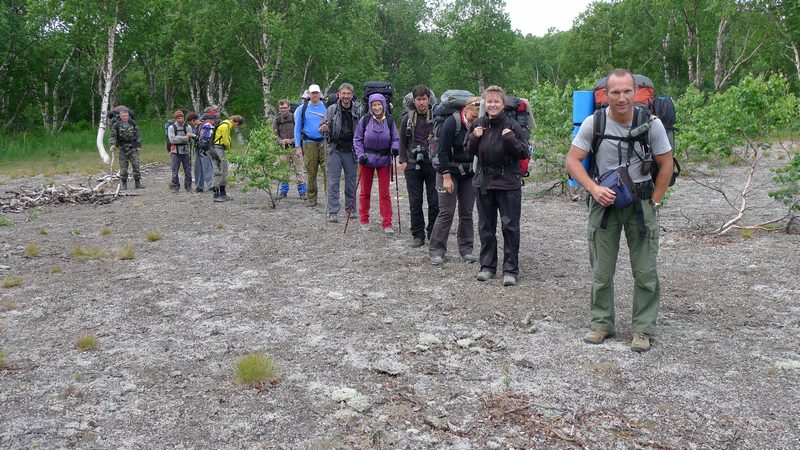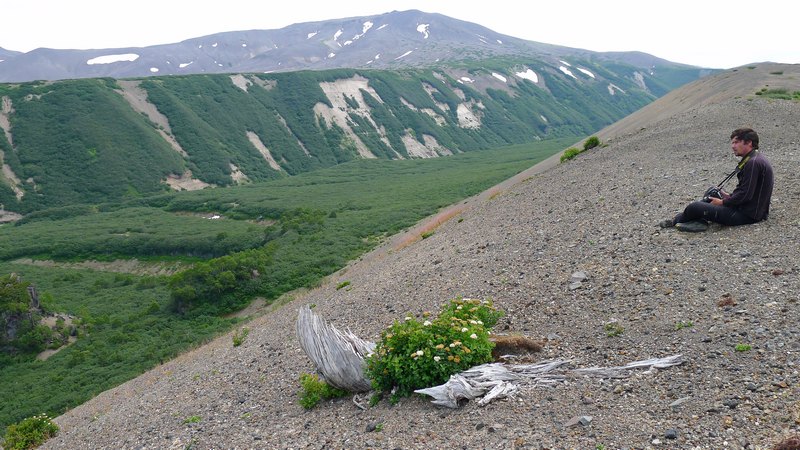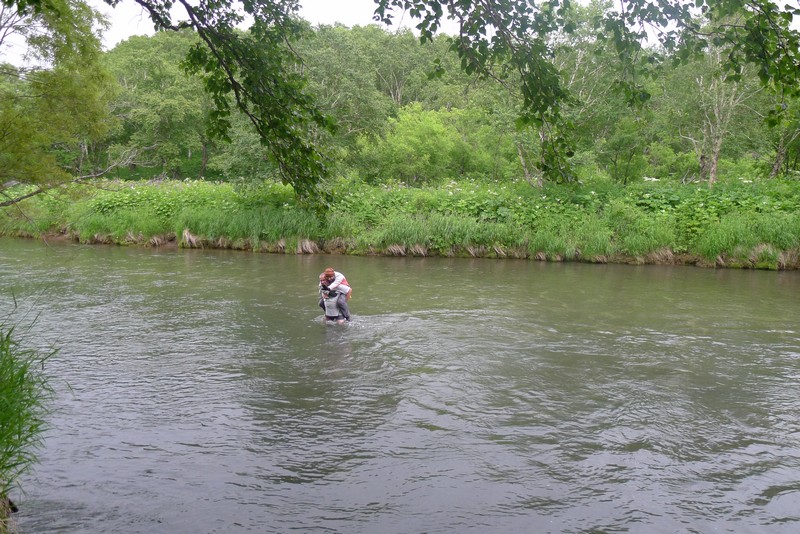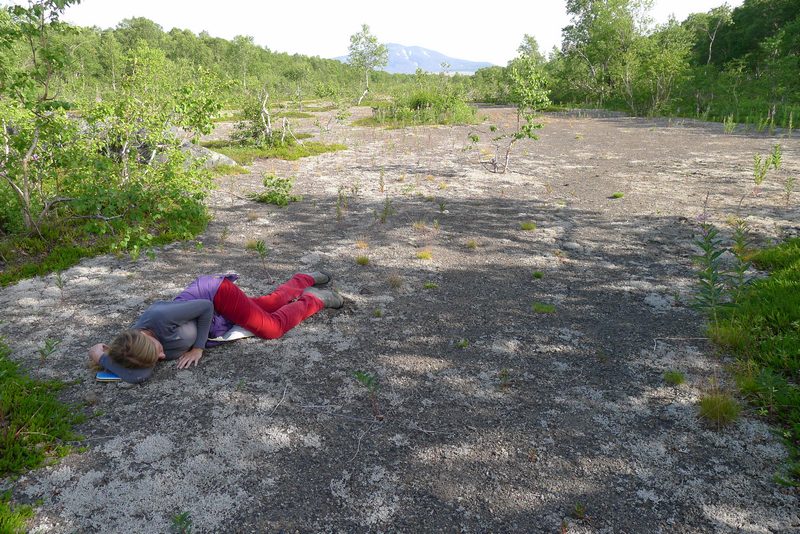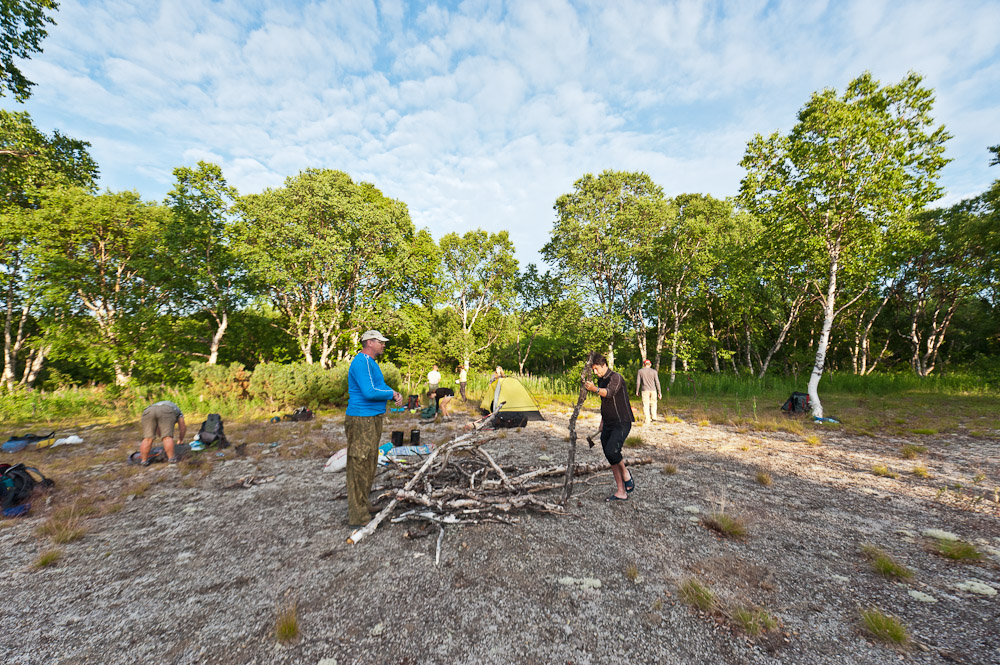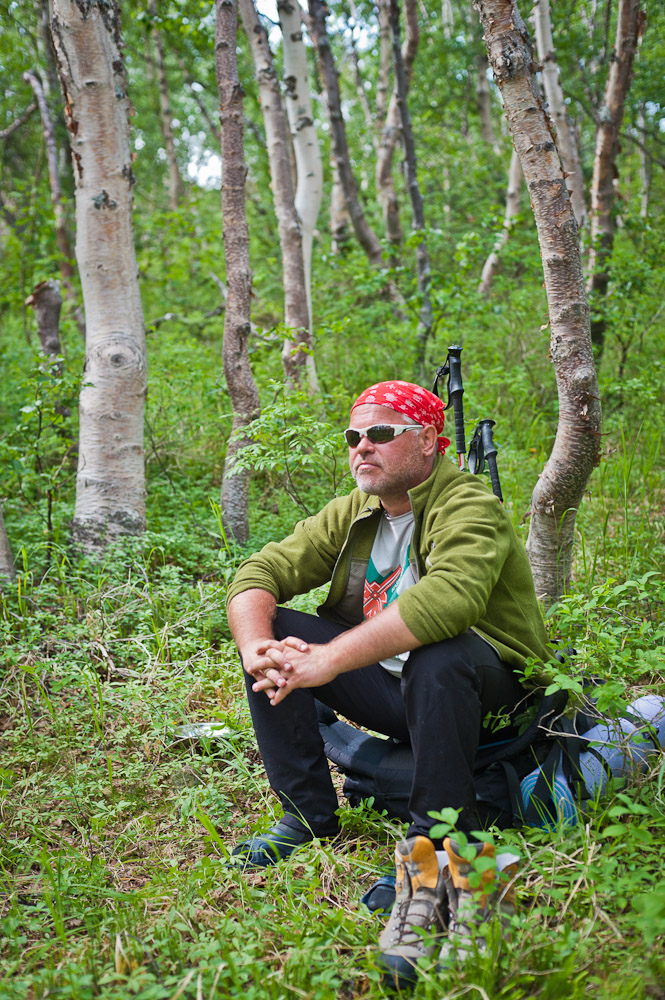 En route we stumbled across some MASSIVE mushrooms of various varieties – white, orange-cap boletus and birch boletus. We were told that due to the rather dry conditions there were less than usual. Indeed, I remember far more of these strapping shrooms here in 2010. I also recall A.B. coming out with the unforgettable words: "They're getting bigger and bigger – soon there'll be carnivorous ones!" Their sparsity this year meant we didn't have enough for our soup.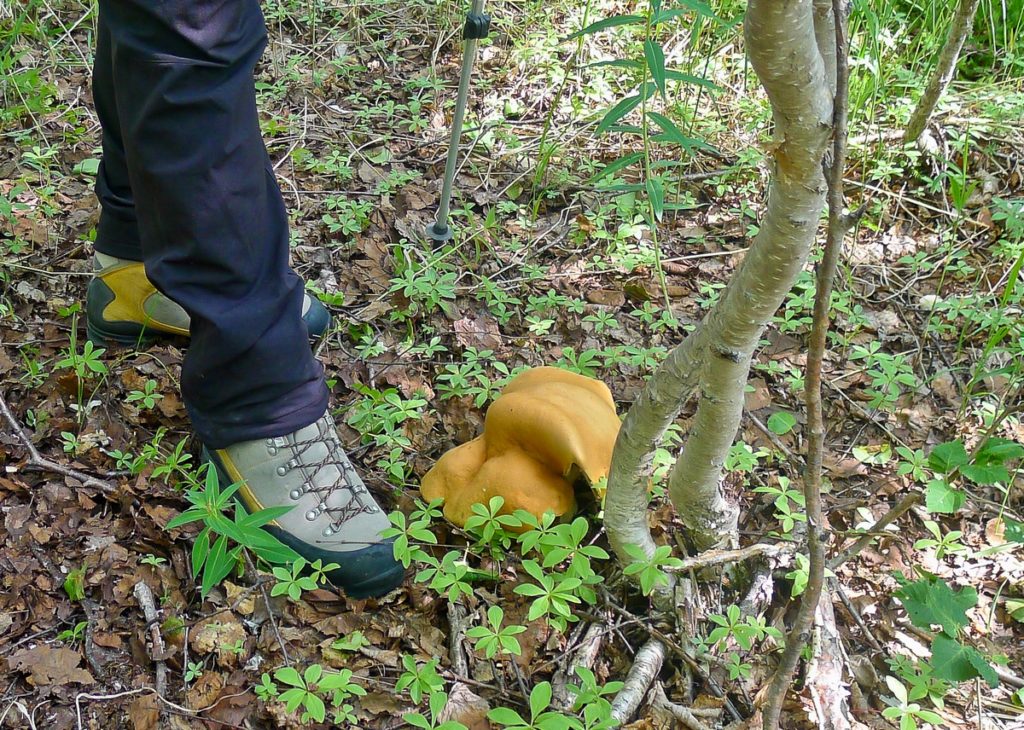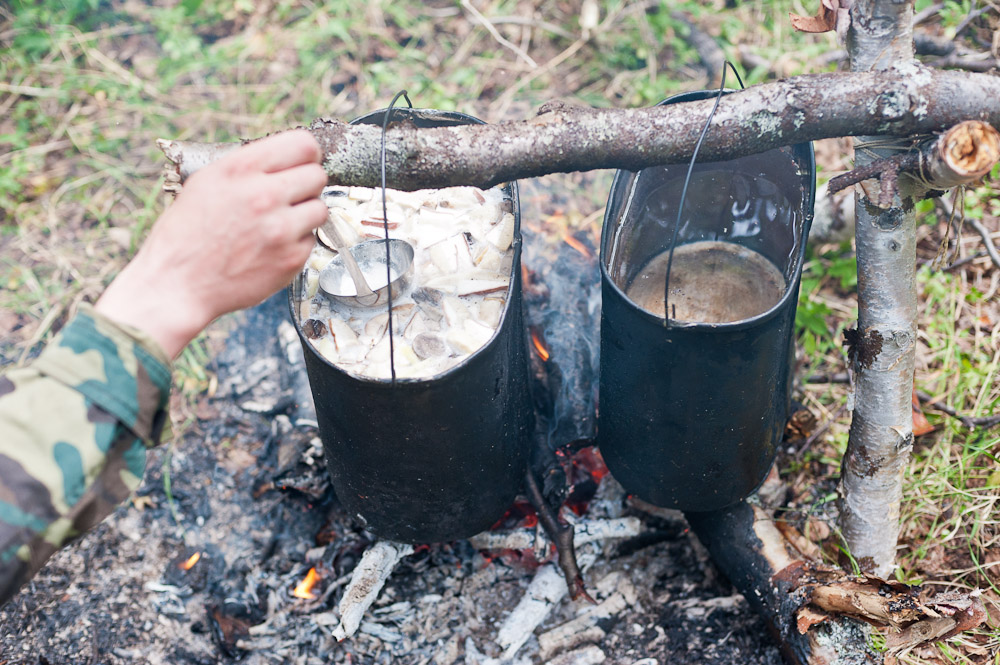 In all, a day of easy strolling. But the next day… Let me just say that when we arrived at Khodutka springs the posse was like totally dead on its feet – walking zombies – and stayed in a mostly comatose state in the rooms in the cottage, outside, or on the lake. The crew slept, ate, then slept again. And again slept. We'd been planning on climbing to the top of the volcano (2090 meters above sea level), but we realized that was just a no-no. We'd bitten off more than we could chew, and knew it! Those from the Moscow office didn't even leave the run-down tourist center we were staying at, seeming to prefer its Spartan conditions to any venturing off out into the wilds all around. Poor things. I say Spartan; however, the sleeping quarters were fine, the place was warm, it was well stocked with provisions and liquor, had a mosquito-free loo, and – best of all – an awesome thermal spring!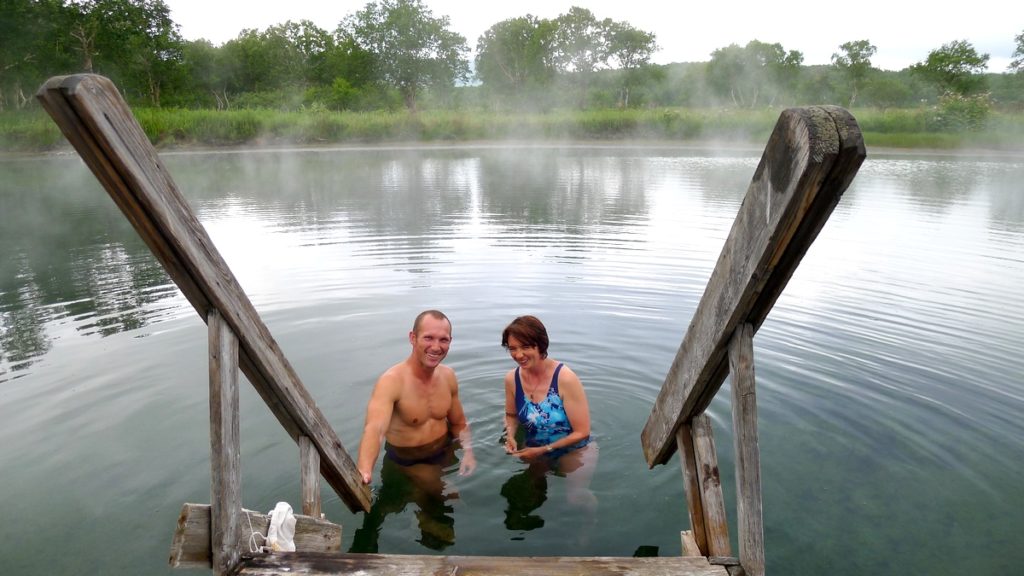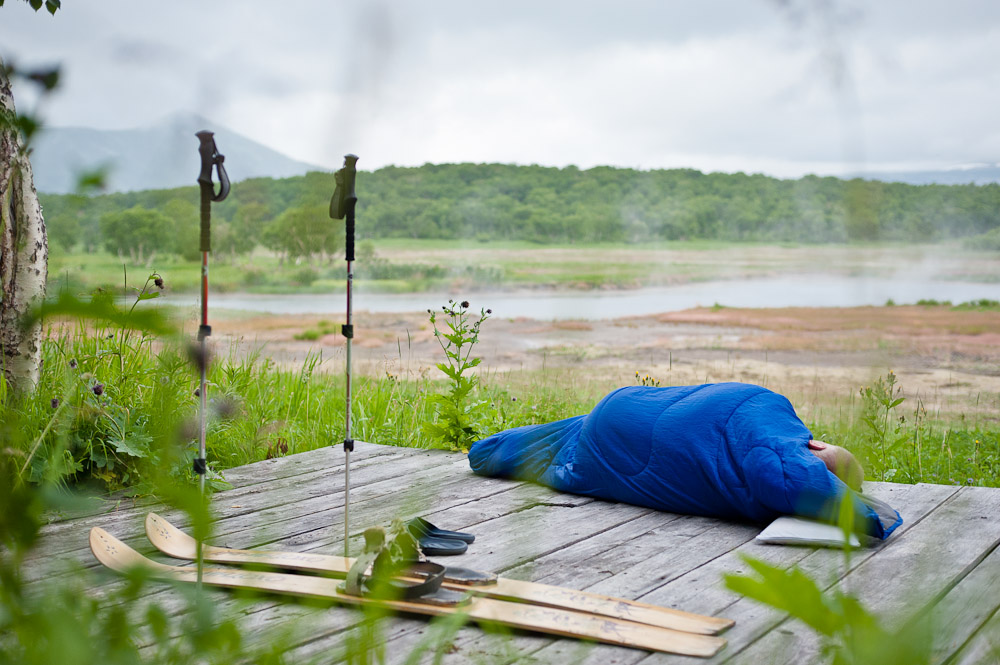 The Khodutka hot springs (or, to be more precise, hot lake) are said to make up the biggest underground thermal water outlet on the surface of the planet. They also say that they give out around 80 to 100 liters of piping hot water a second. That's plenty enough to keep the temperature of the water around 40-45 degrees Celsius. Which can be frustrating when you'd like a nice cool refreshing drink of water or cold swim – there's no cold H2O round here at all :)
For your visual pleasure, some Khodutkan views: