Our trek up Mount Rinjani – pt. 2.
Hi folks!
Here we are with the second (and final) installment of my tales-and-pics from our titanically toilsome trek up Mount Rinjani.
I left you last time with us getting ready to descend down (600m – vertically) to a base camp. The plan was to take in some hot springs, and then to climb the opposite wall of the caldera. But no – we couldn't, or at least wouldn't. We were here to enjoy ourselves at a steady pace, not half-kill ourselves with over-exertion. So we quickly changed our plans: our three-day trek would become a four-day one. And that was sooo the right decision…
So we had an "easy" descent down to the lake that features the hot springs, and on the shore of which is the base camp. But… easy? You'd think most any descent in the world might be easy but… that sure doesn't apply to Rinjani (or Table Mountain above cape Town, South Africa!). Again – it was more rubble on the double, often with us having to engage "all-wheel drive" down the steeper stretches. There were steps in places, but these had been fairly mangled from previous earthquakes. There were handrails and ropes for some sections to keep hold of to stay upright, which sure helped, but, still – handrails and ropes and 4×4? Where was our easy stroll downward?!!
It was so difficult and unpleasant – and hot and sticky – that none (0) of us took any photos. We were too busy grappling between rocks and hard places to think of extracting our cameras out of our backpacks.
But all things must come to pass – including bad things. We finally make it down to our camp with our tents already set up by our porters. And locals in nearby tents were selling… beer! Hurray!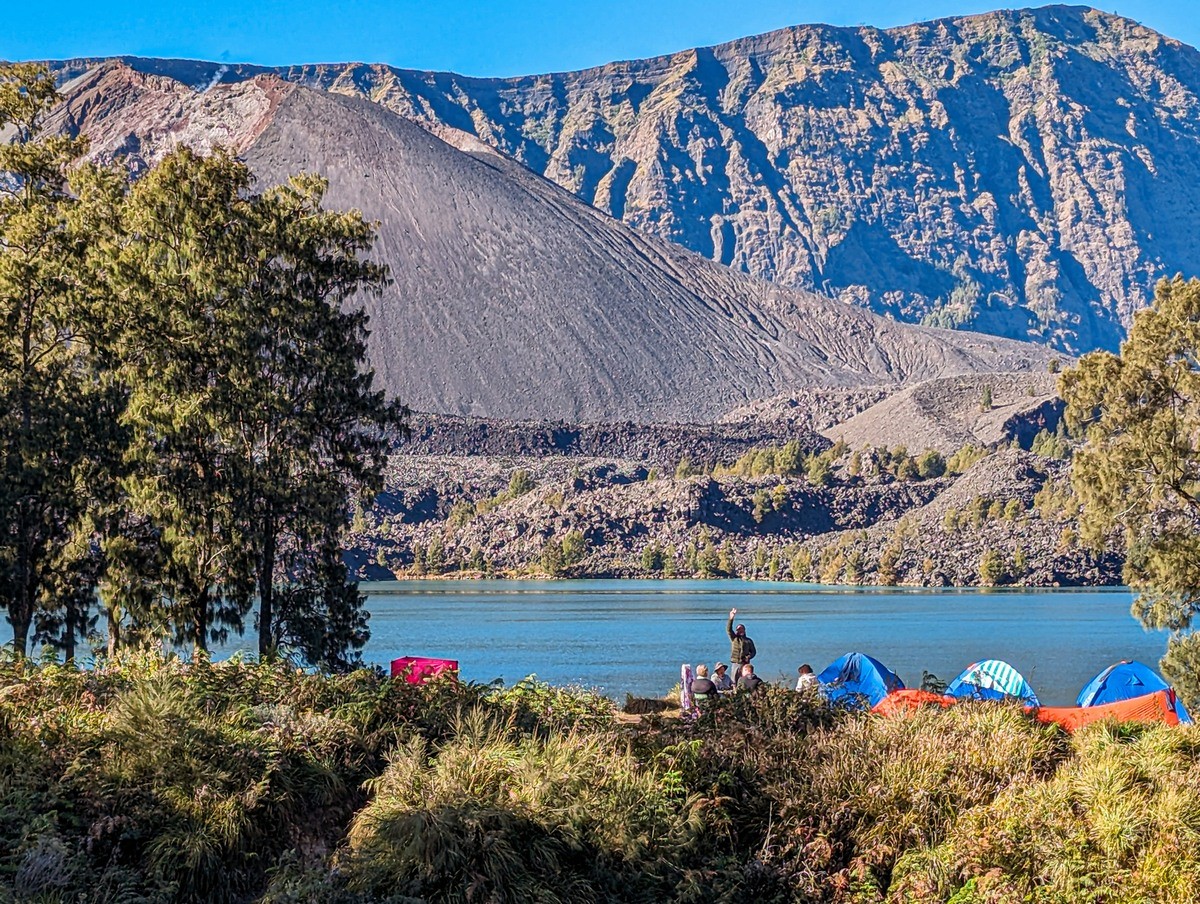 See the tents atop that there volcano crater wall? That's where we came down from: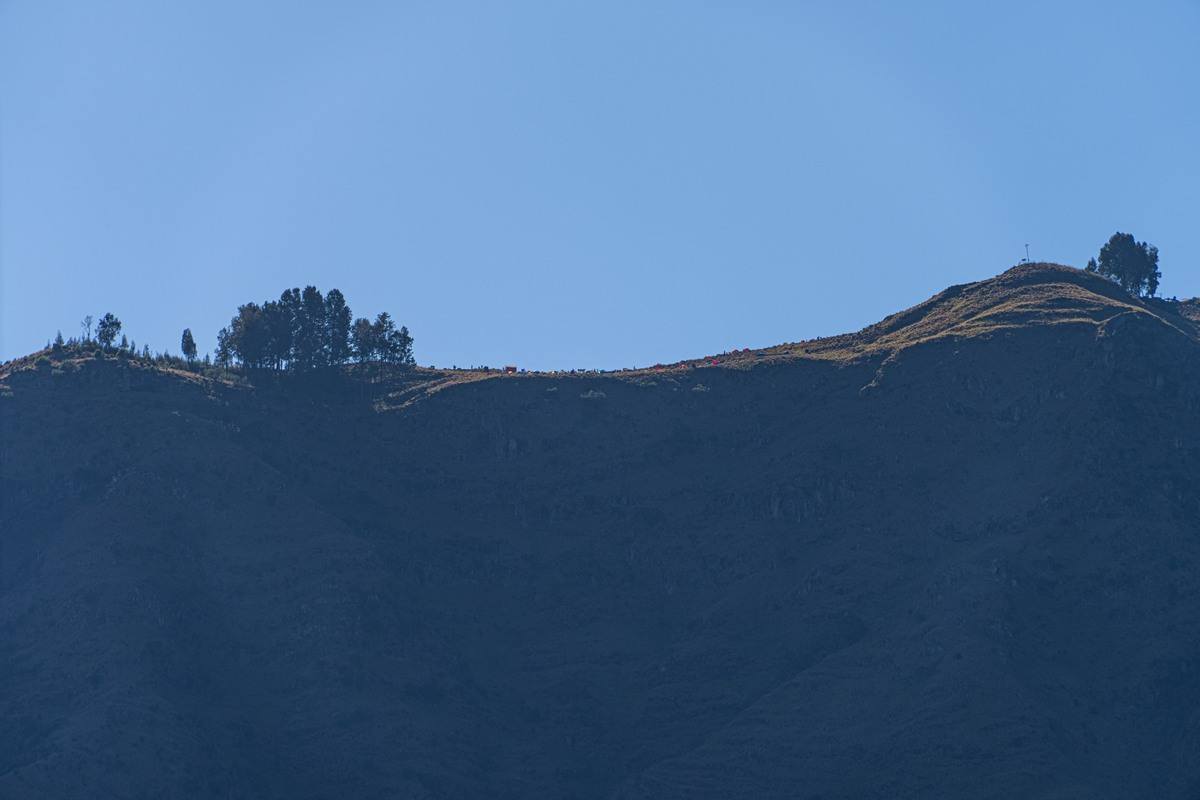 Now… where are those beers?! ->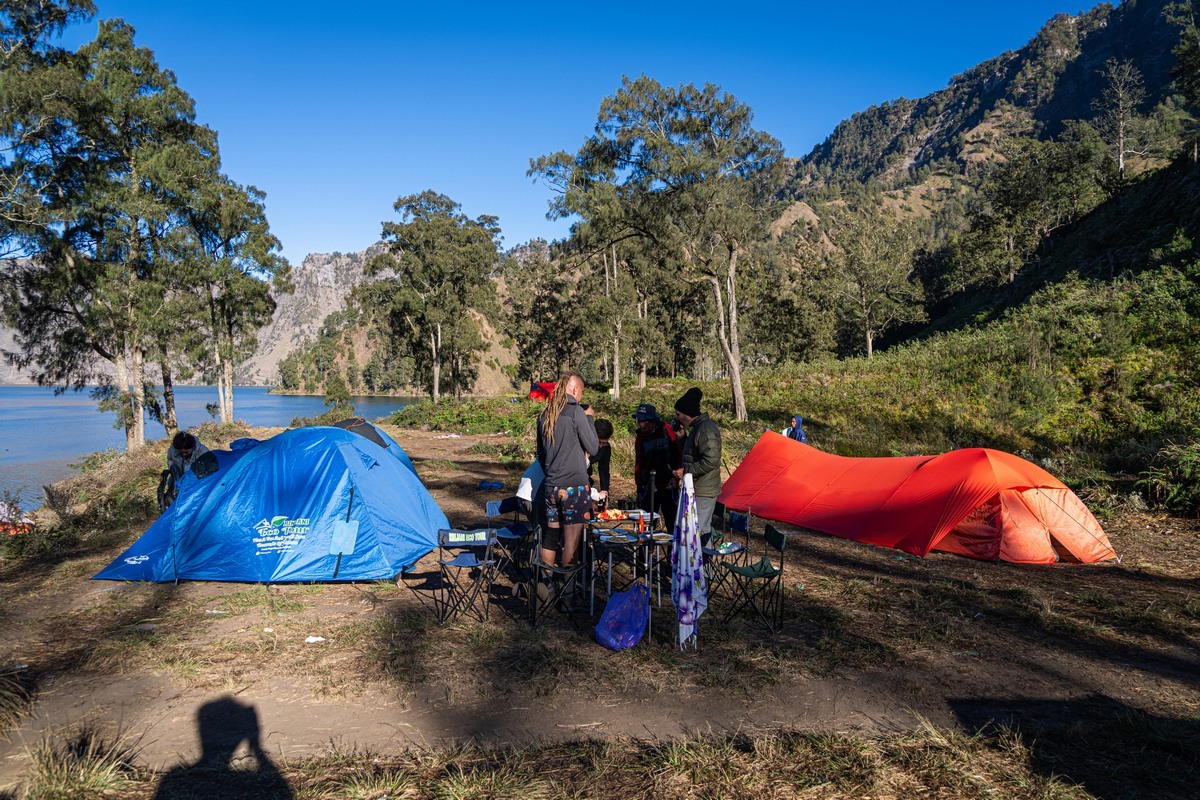 The views around to be had from the camp: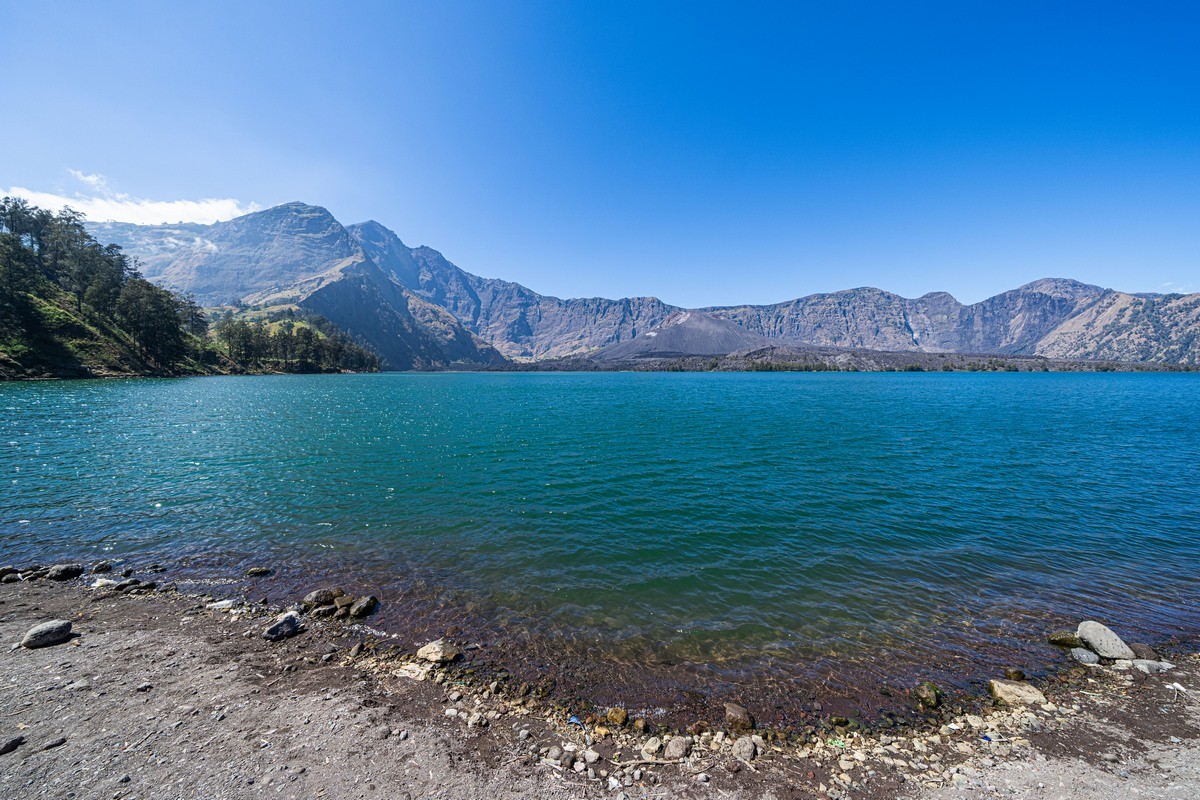 Uninvited guests we had to shoo off – away from much needed supper! ->
In case of… an eruption (surely it would be insufficient, I thought; but didn't dwell) ->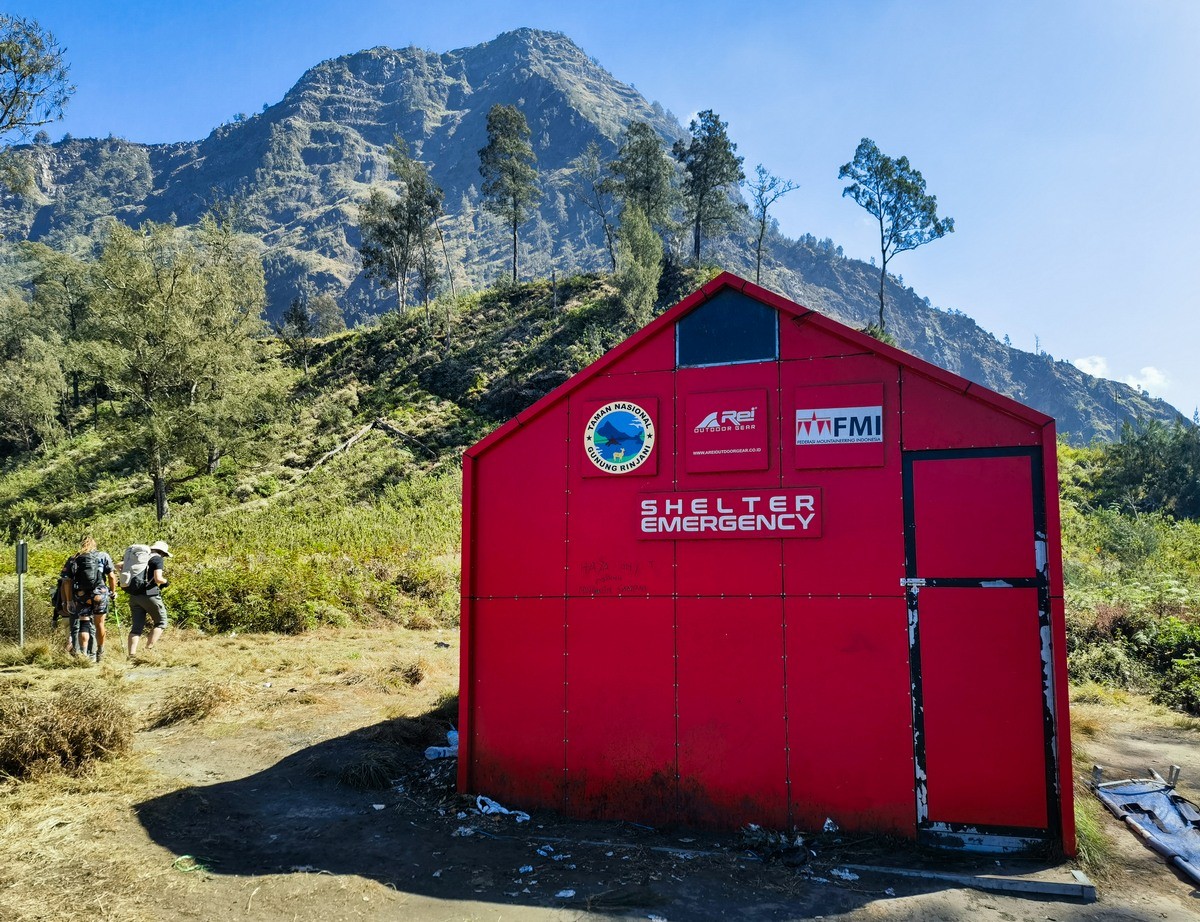 Inside, btw filth and garbage. But that figures…
Indonesia, alas, has a trash problem. I've mentioned this before, and I'll mention it again: it really is an issue here – especially at touristy locations; your impressions are always marred somewhat by the inevitable, ubiquitous litter everywhere. Examples:
It goes without saying we always tidied up after ourselves; rather – our porters did, who put our waste in bin bags to take it with us to drop off at designated spots.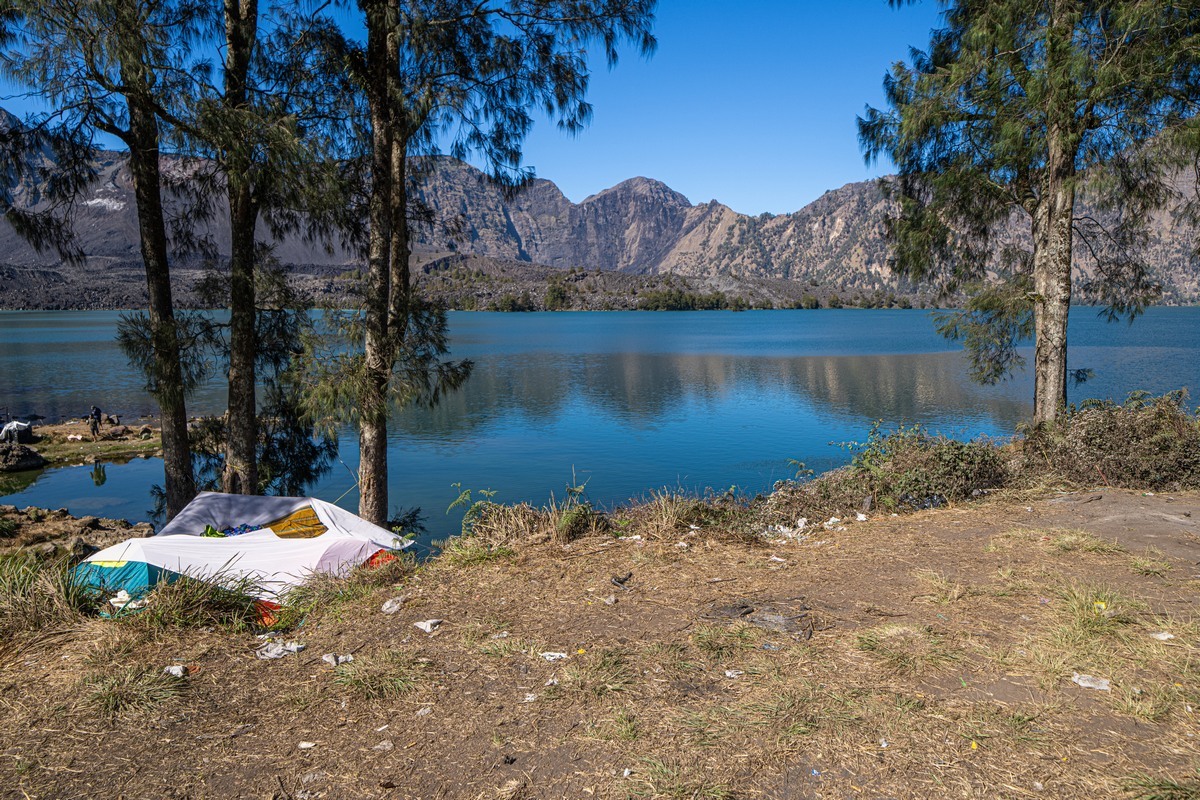 …And talking of porters, here's one: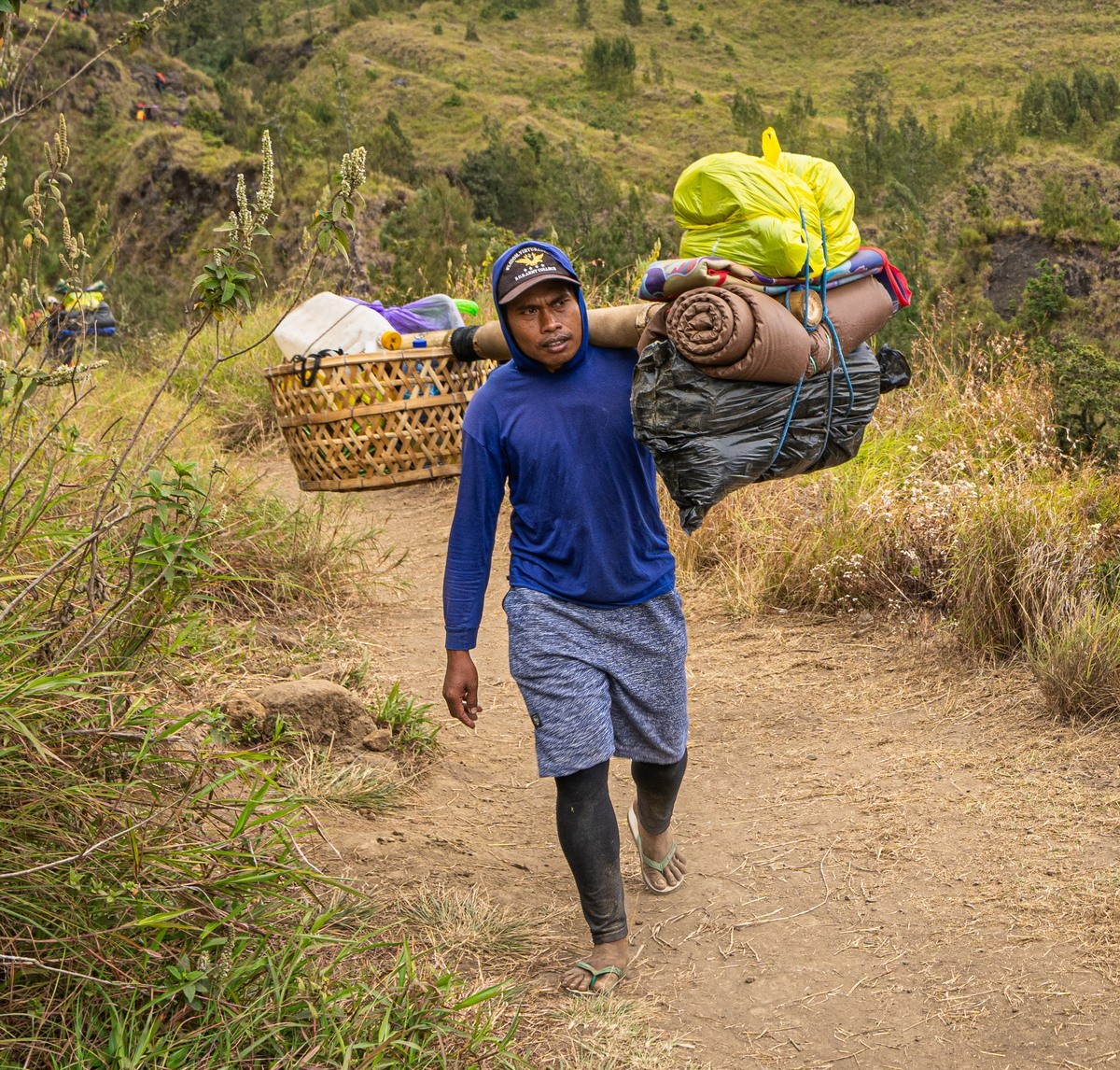 It's a tough job, but someone's got to do it: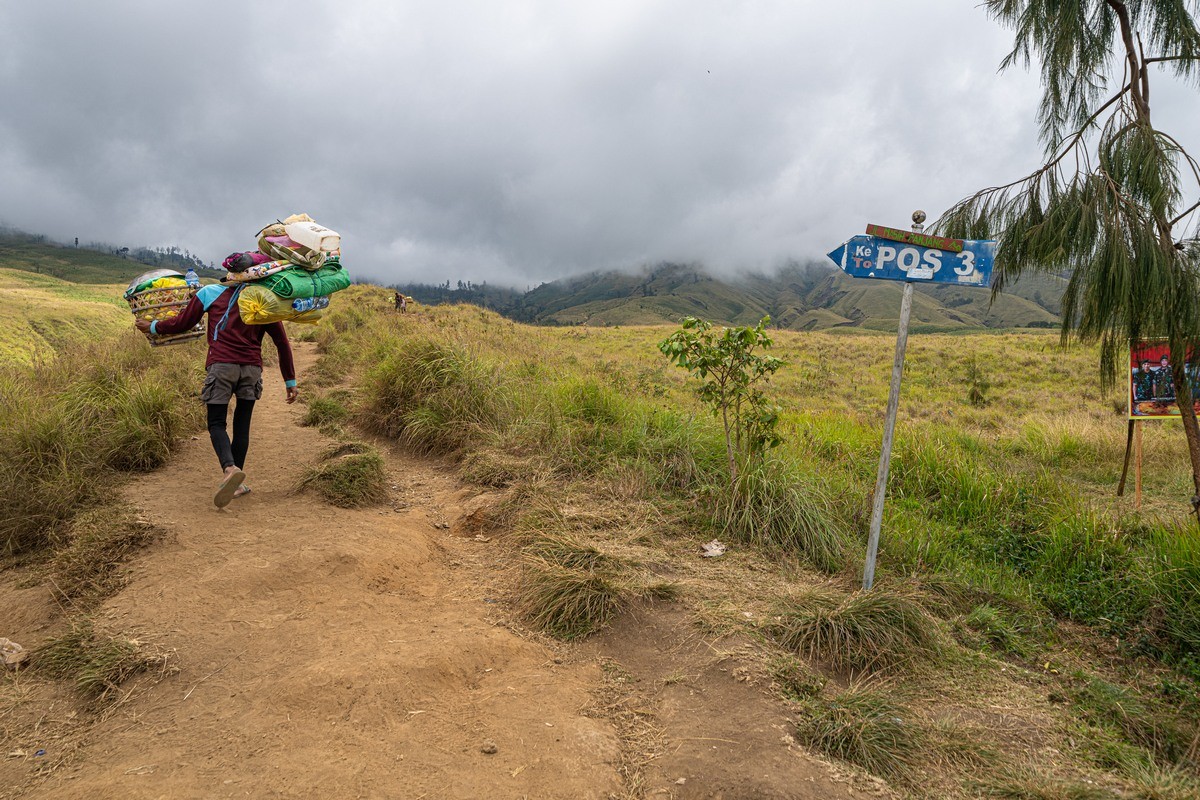 Some don't wear shoes at all – despite all the walking they do on hardly the smoothest, kindest surfaces ->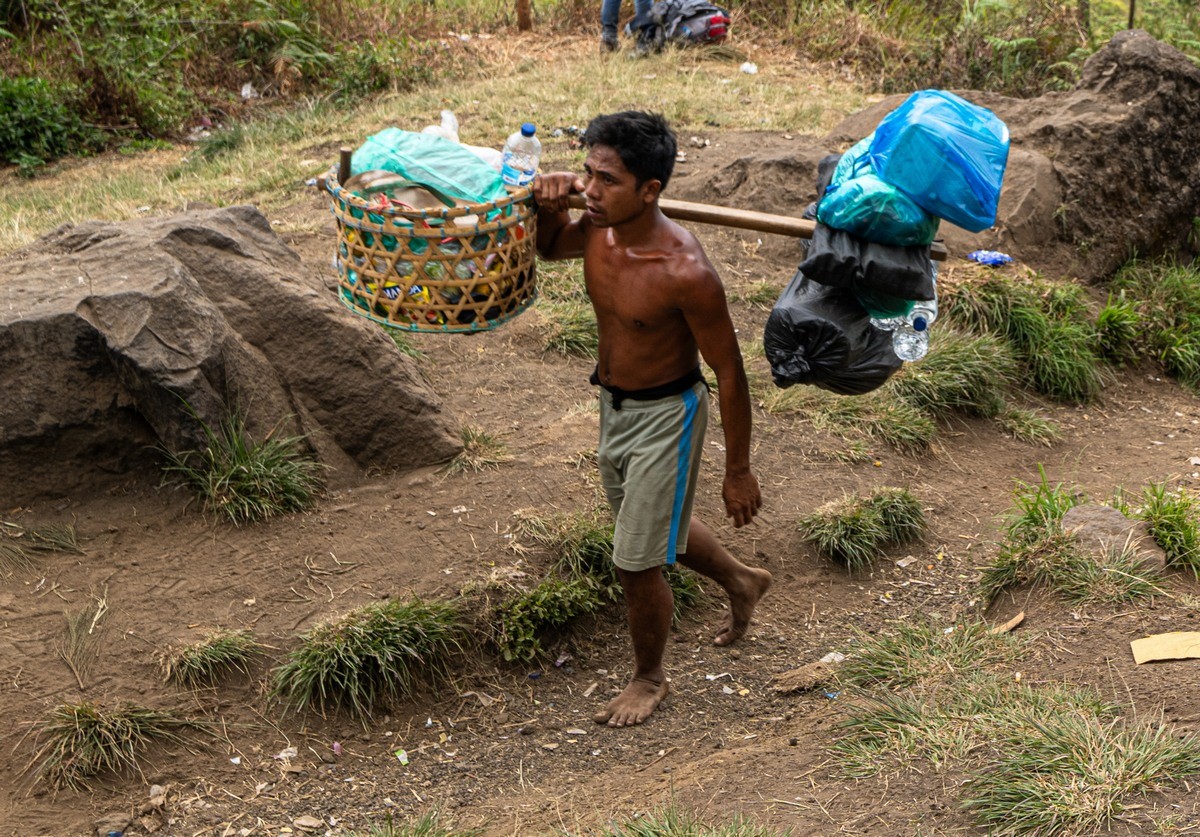 But I digress…
Next up for us: hot springs (some 400 meters over there)! ->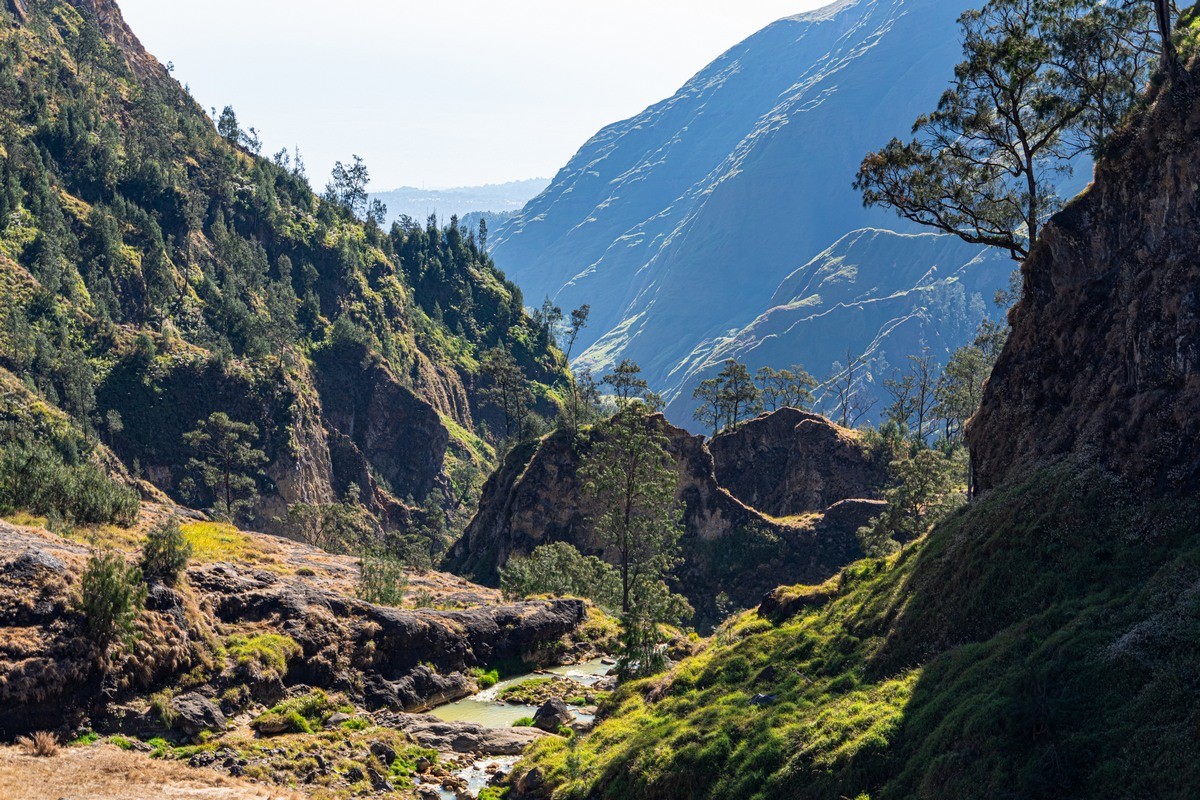 Approaching the spot, we find some other tourists had set up camp there: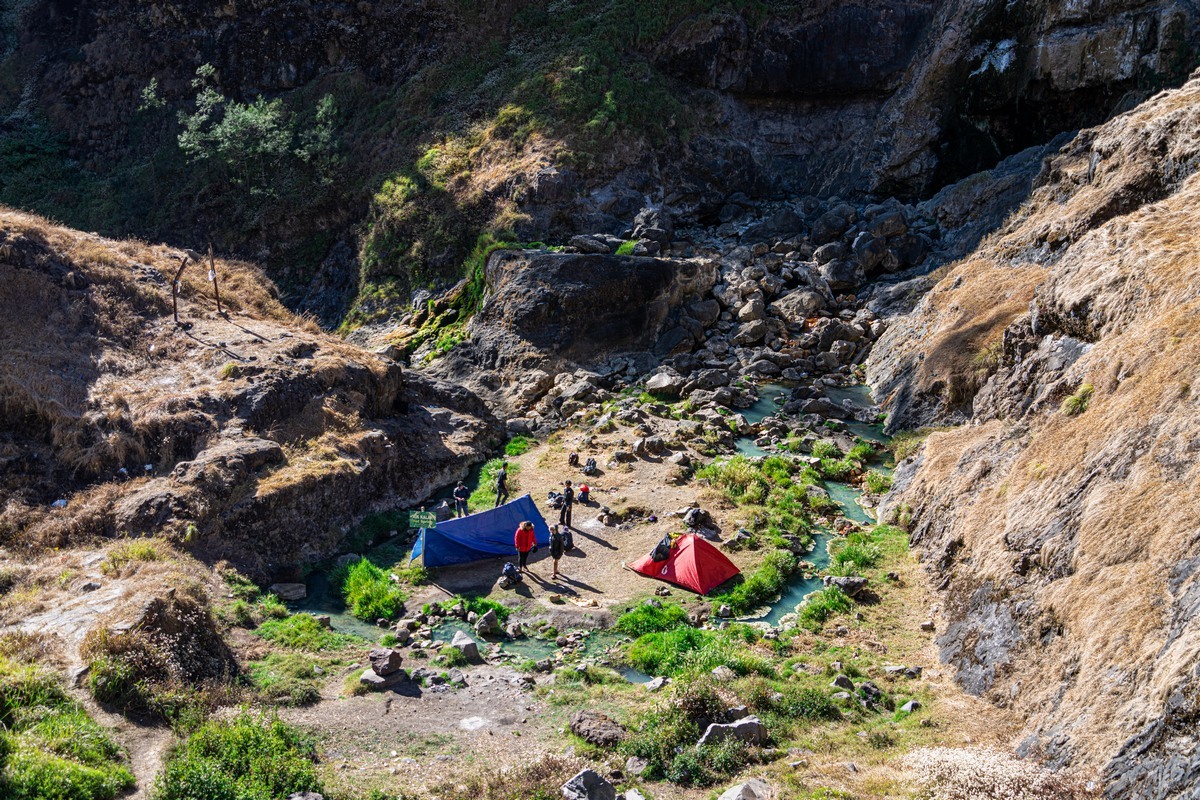 The rocks there look a bit uninviting anyway. So we walk a little further to where there are other springs…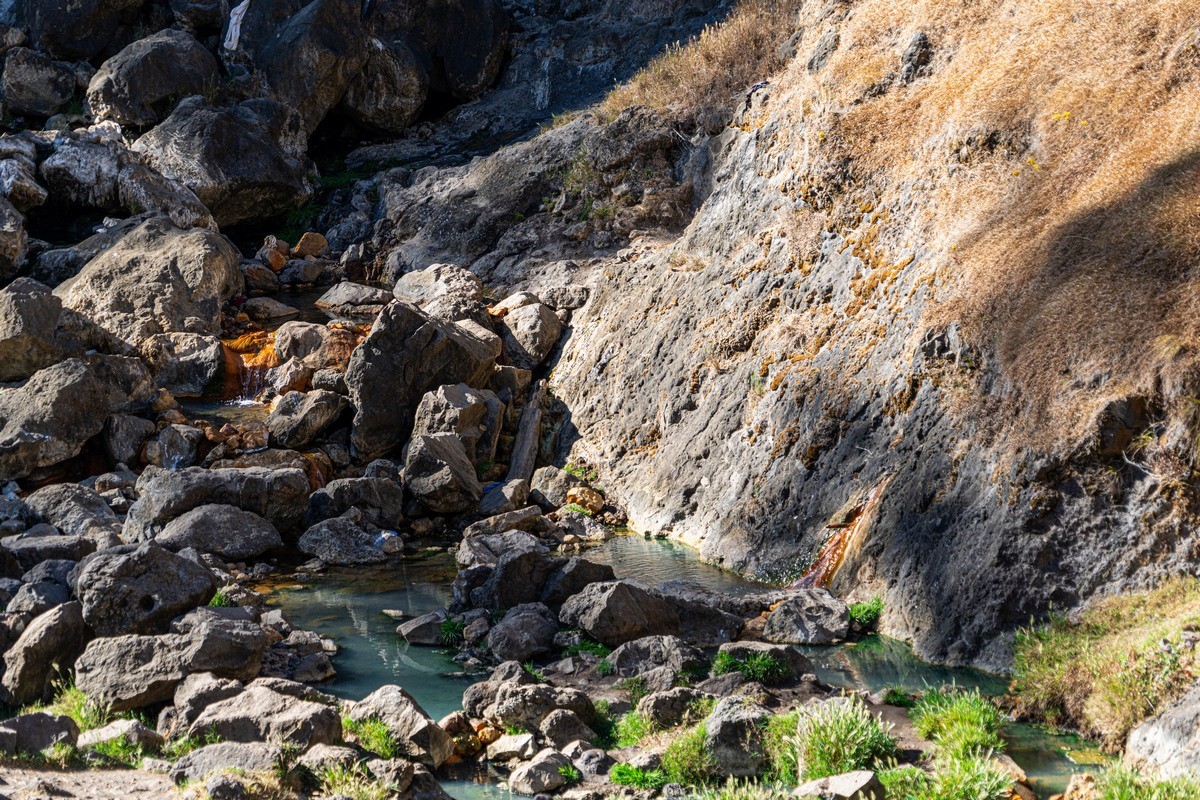 There – thermophilic algae ( ->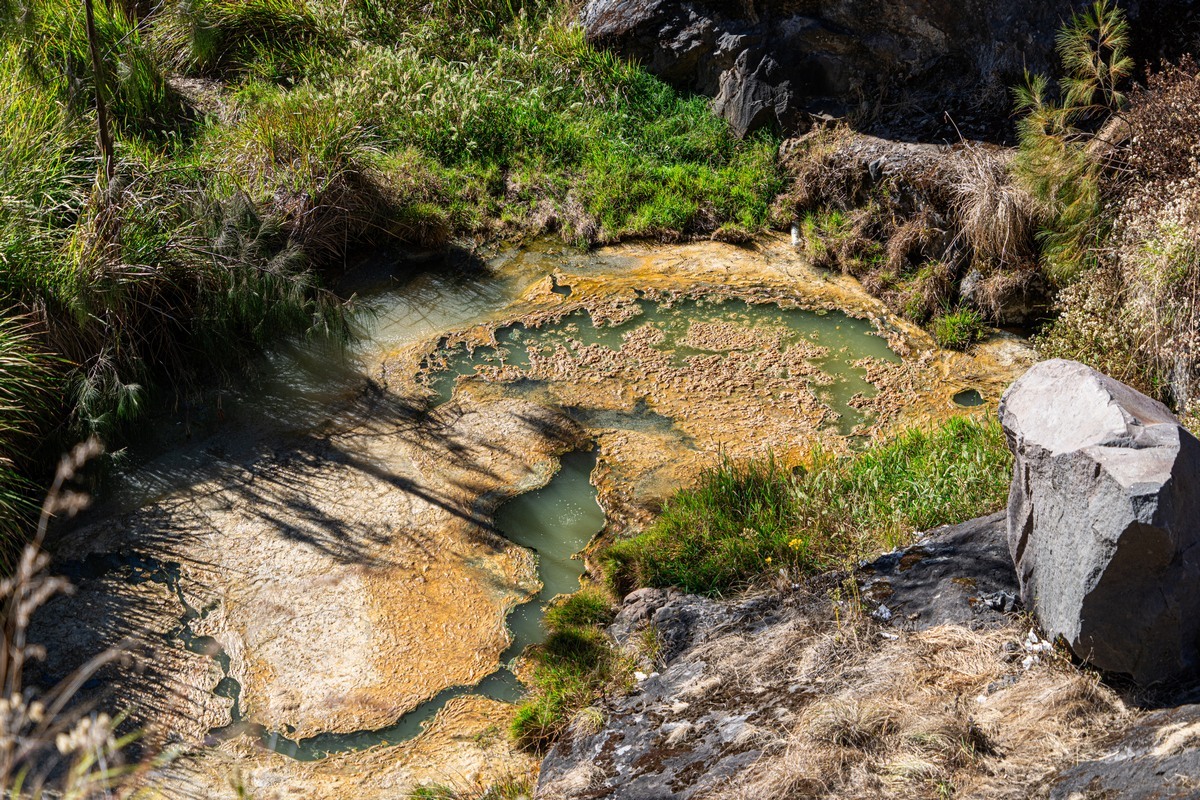 We keep on searching…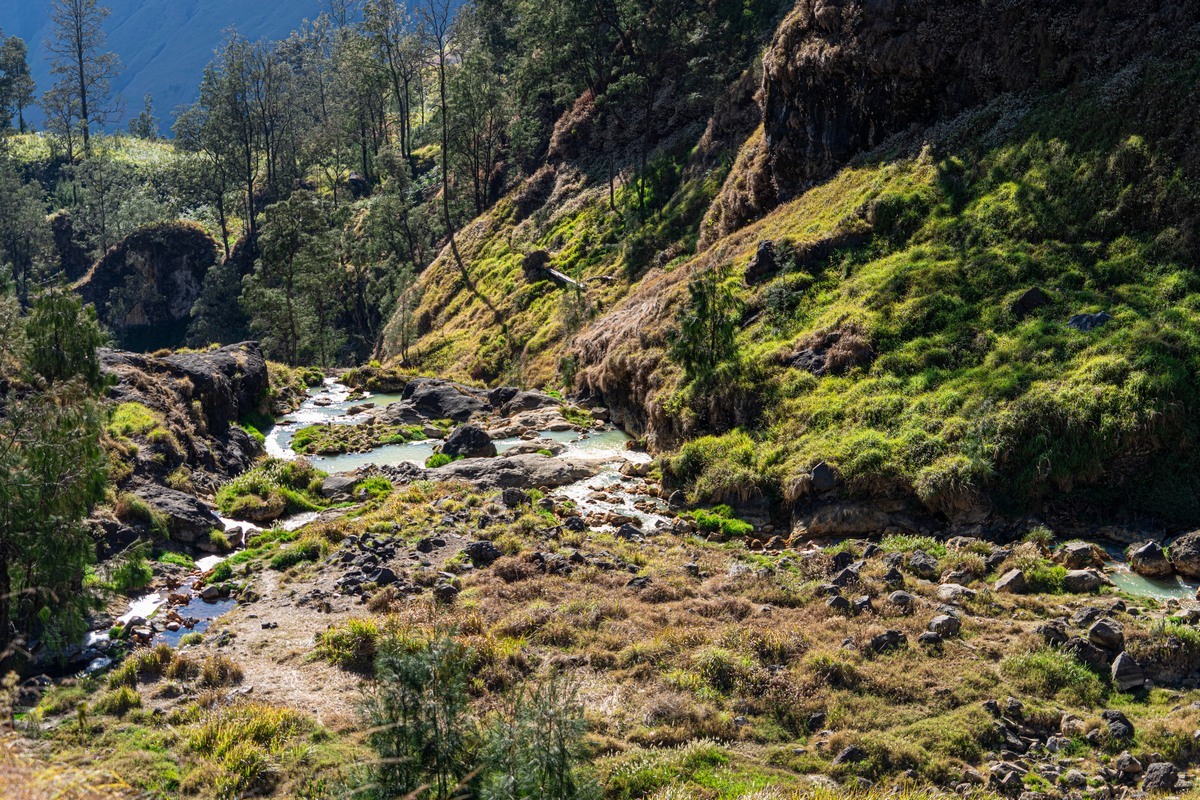 Looks promising…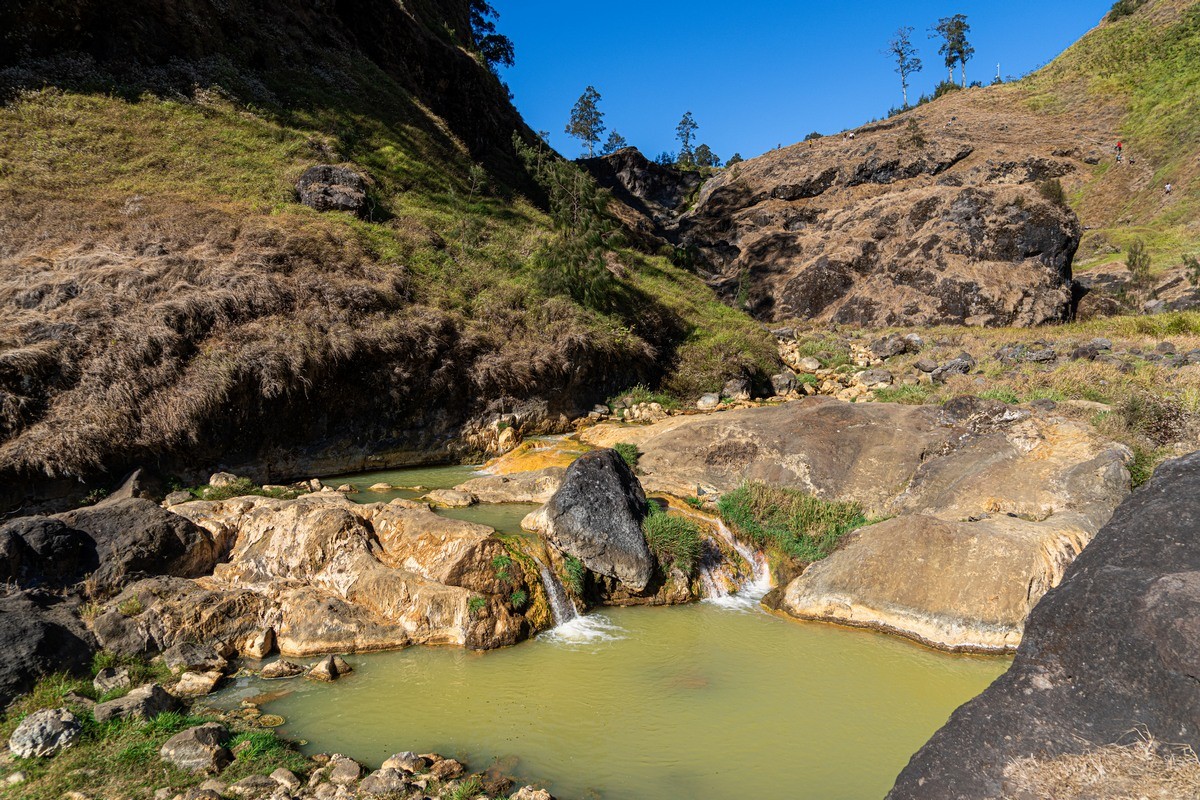 …But no. "Unsuitable".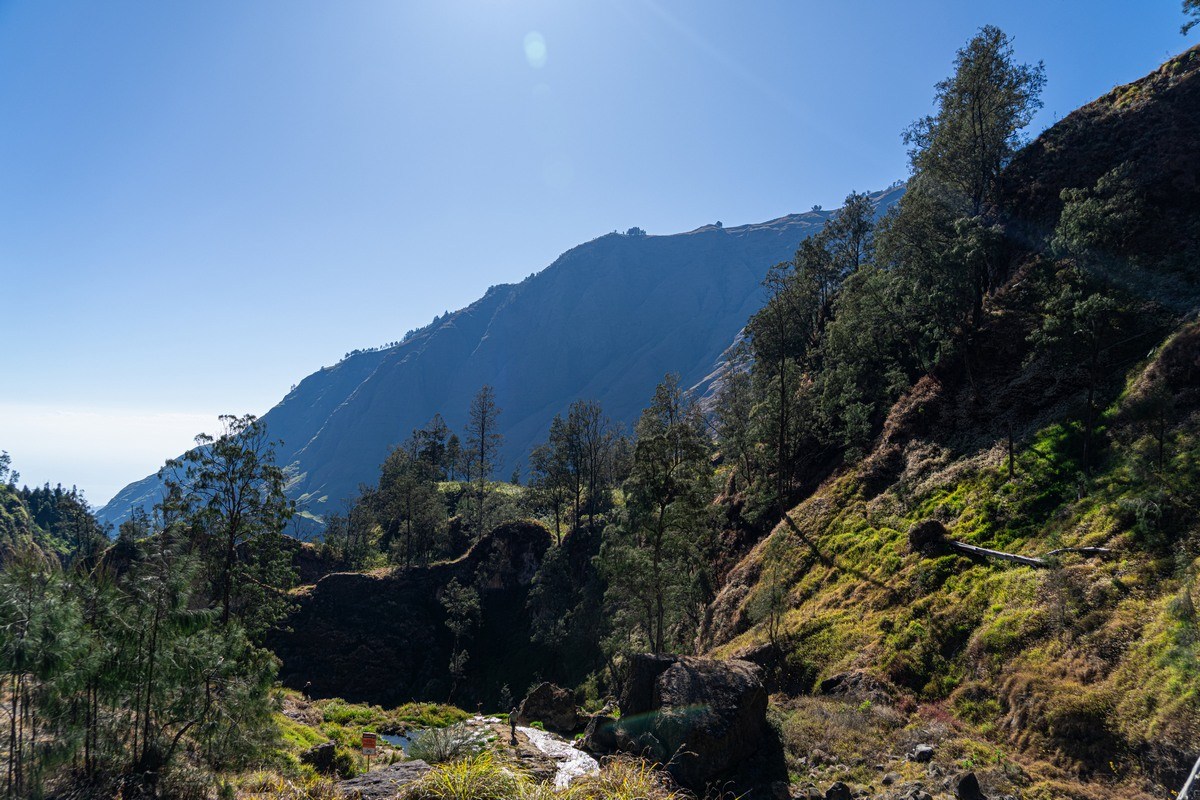 …More disappointment: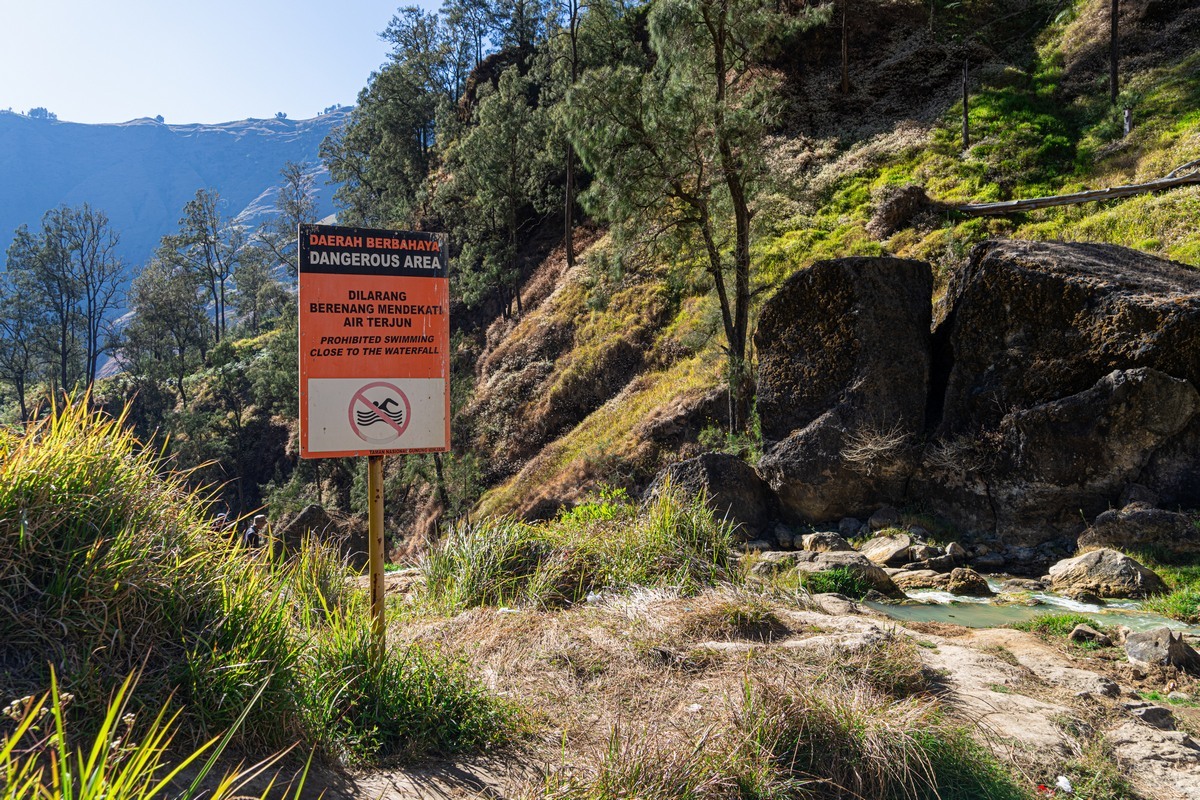 Finally we get to a "suitable" spot – with its own (hot) waterfall! ->
40°С: perfect!
Meditative: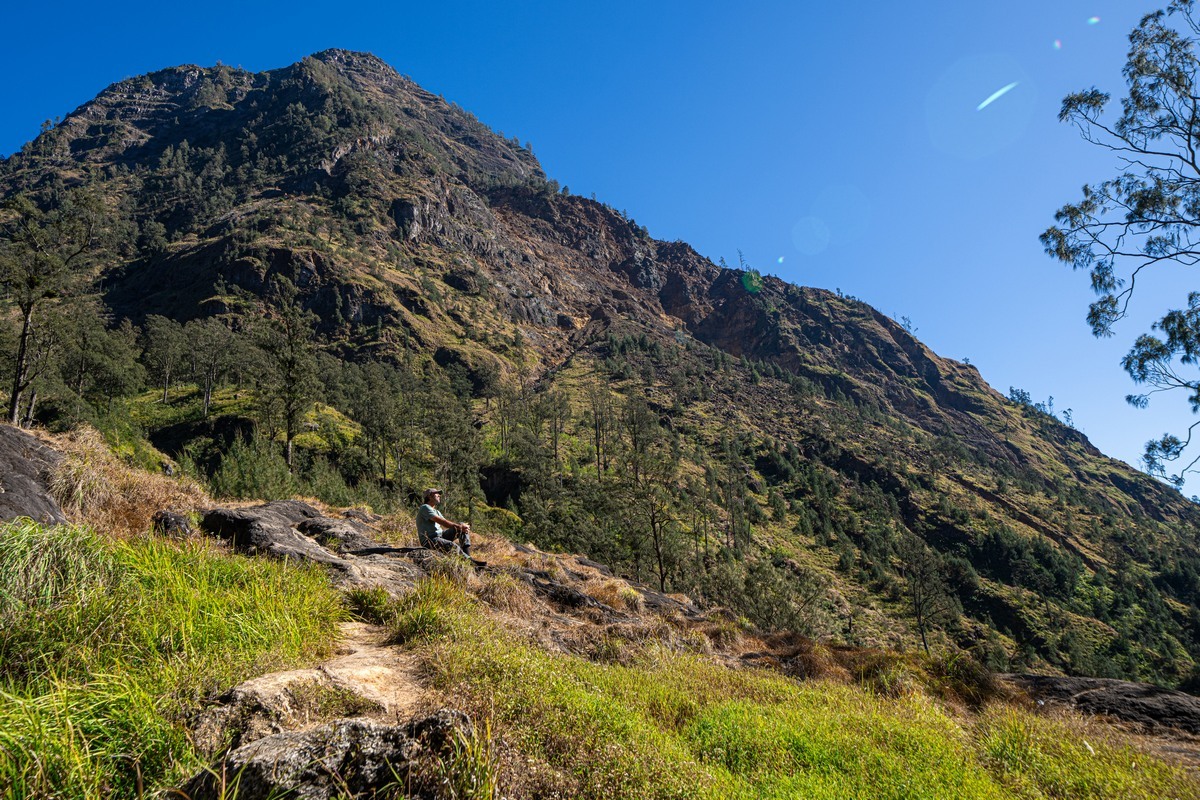 It was around this time – on the evening of our second day, that we all agreed that it felt like we'd been trekking several days. But it was only the day before when we set off in the morning after our medical check-ups! Indeed – that's what you get with so much going on (the dance of the clouds, bathing in hot springs), and so much physical exertion (reaching the top of Rinjani, the tricky descent…) in such a short time!…
And so to the third day – a climb of 460 meters in altitude. But this time we were warned "it will be tough!" This really put the frighteners on us: if up till now was deemed "easy", what was "tough" gonna be like?! :0)…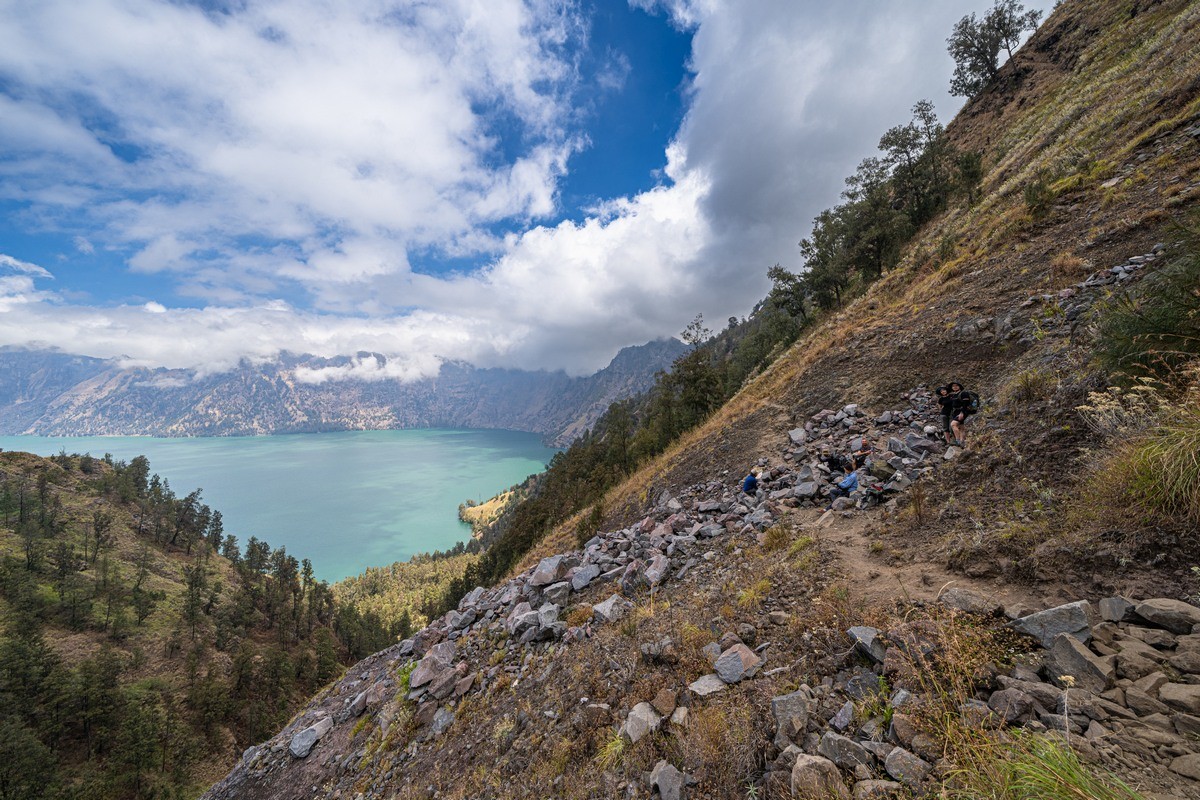 Yes, it was tough, but we'd had a dress rehearsal in toughness the day before and were somehow prepared mentally better. Plus – the views all around: Oh my gorge! ->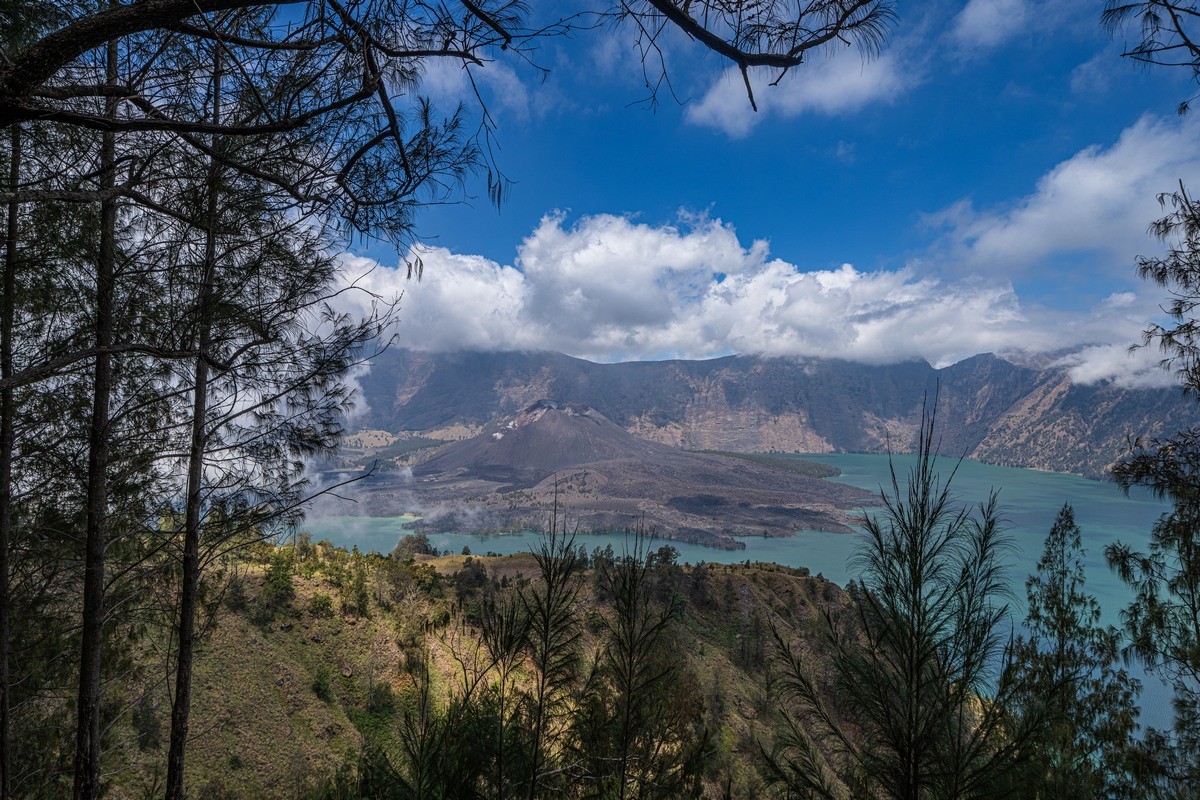 Farewell, lake; we're off!…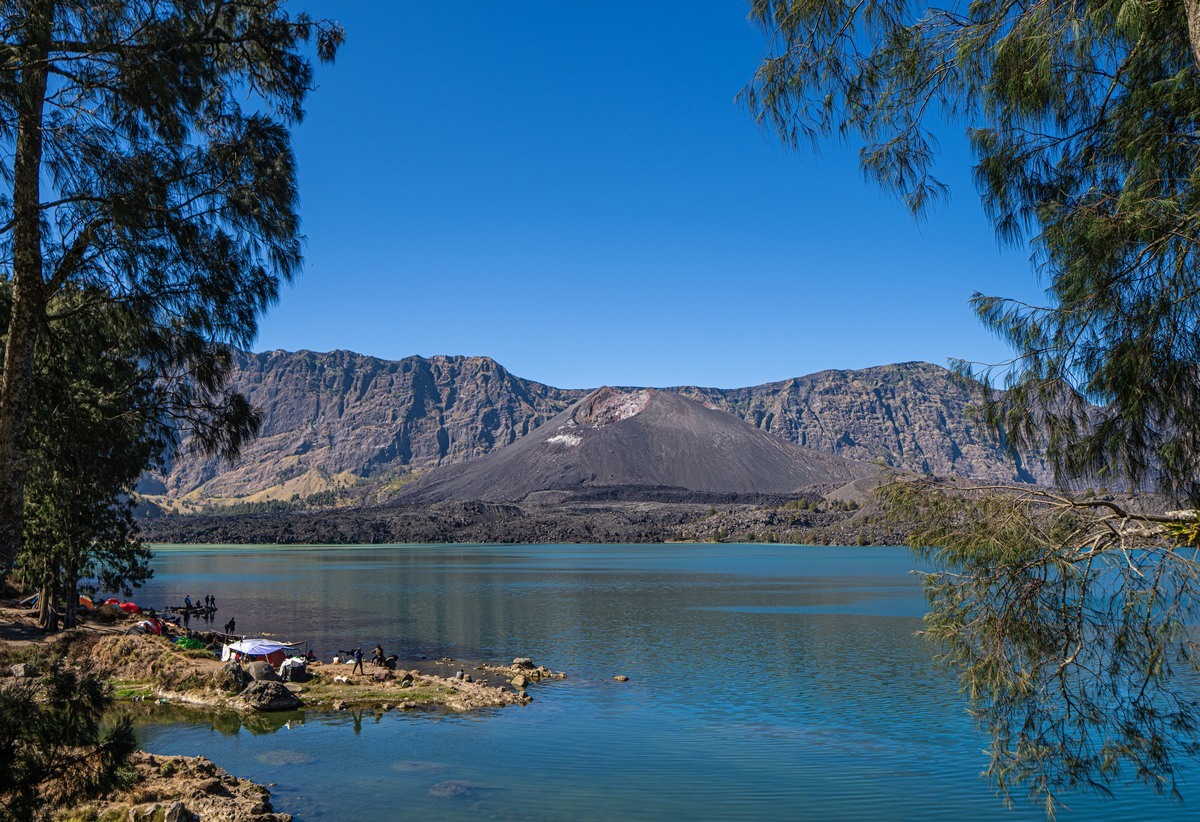 Btw: said lake – beautiful from a distance, but up close it's full of garbage (. We passed on bathing in it…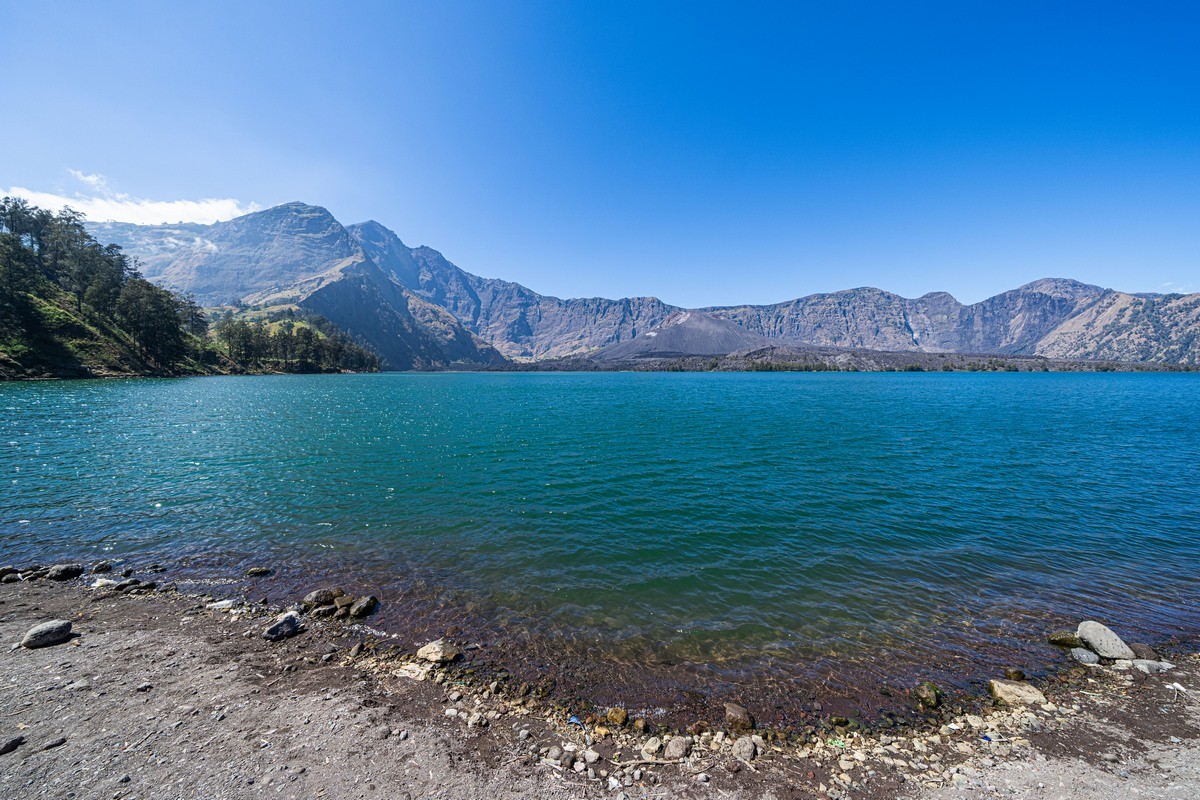 So we looked up instead: aaaah! ->
And here's the… "path" :) ->
In particularly treacherous places – a handrail:
Quick jolly selfie! ->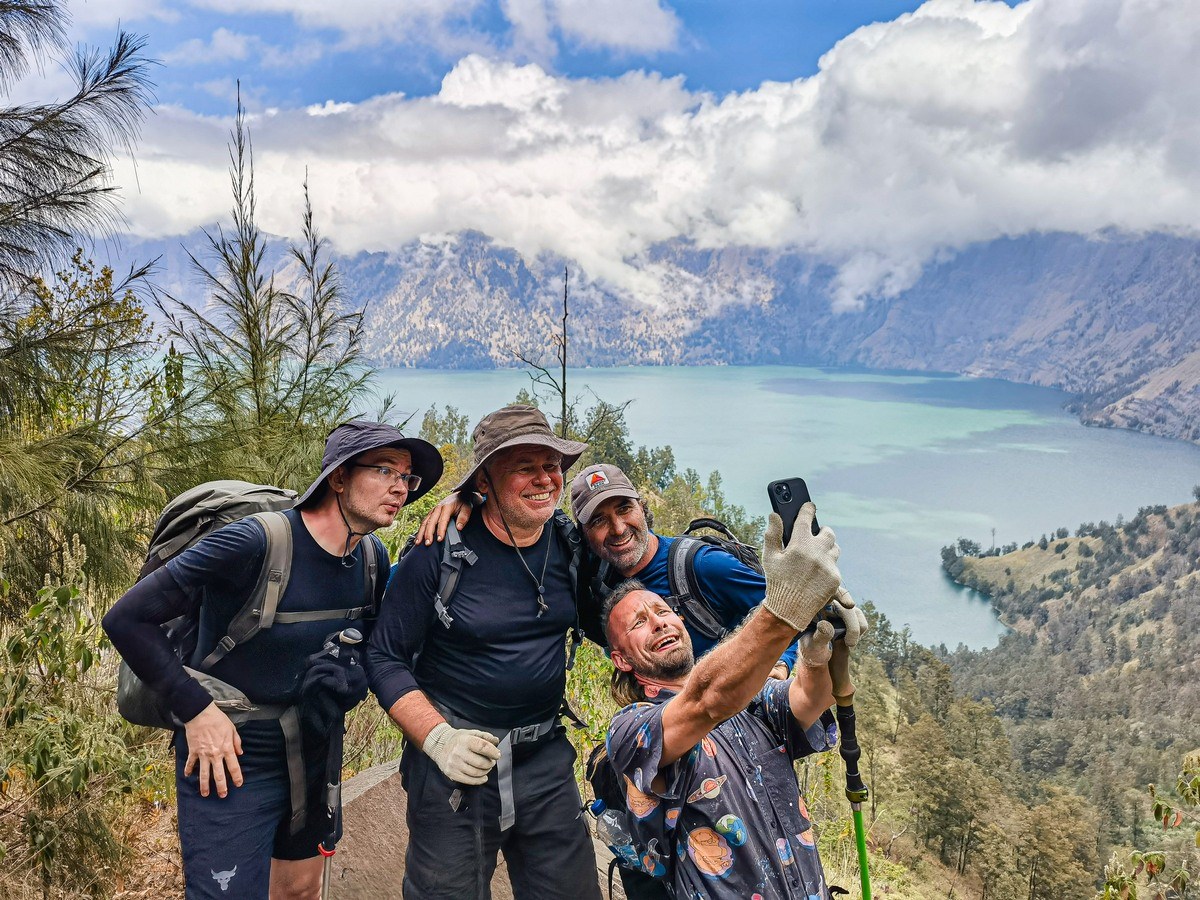 Almost there…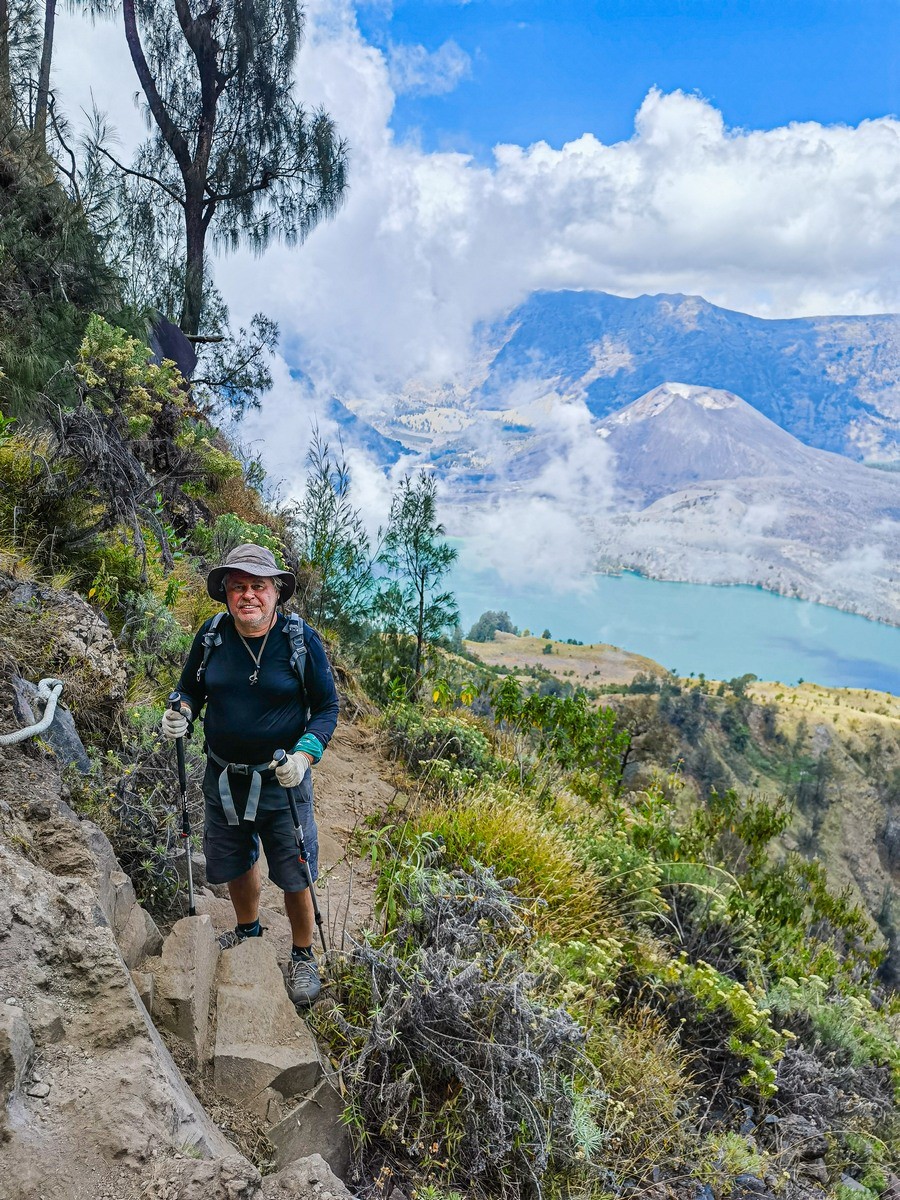 We reached a POS that was a miserable affair – no views, even though it was on the rim of the caldera (bushes got in the way). Accordingly – no pics therefrom.
We left the miserable POS rather sharpish, mostly then descending – the going being easy:
We pitched camp that night practically in the middle of the wide path. That's how they do things here ) ->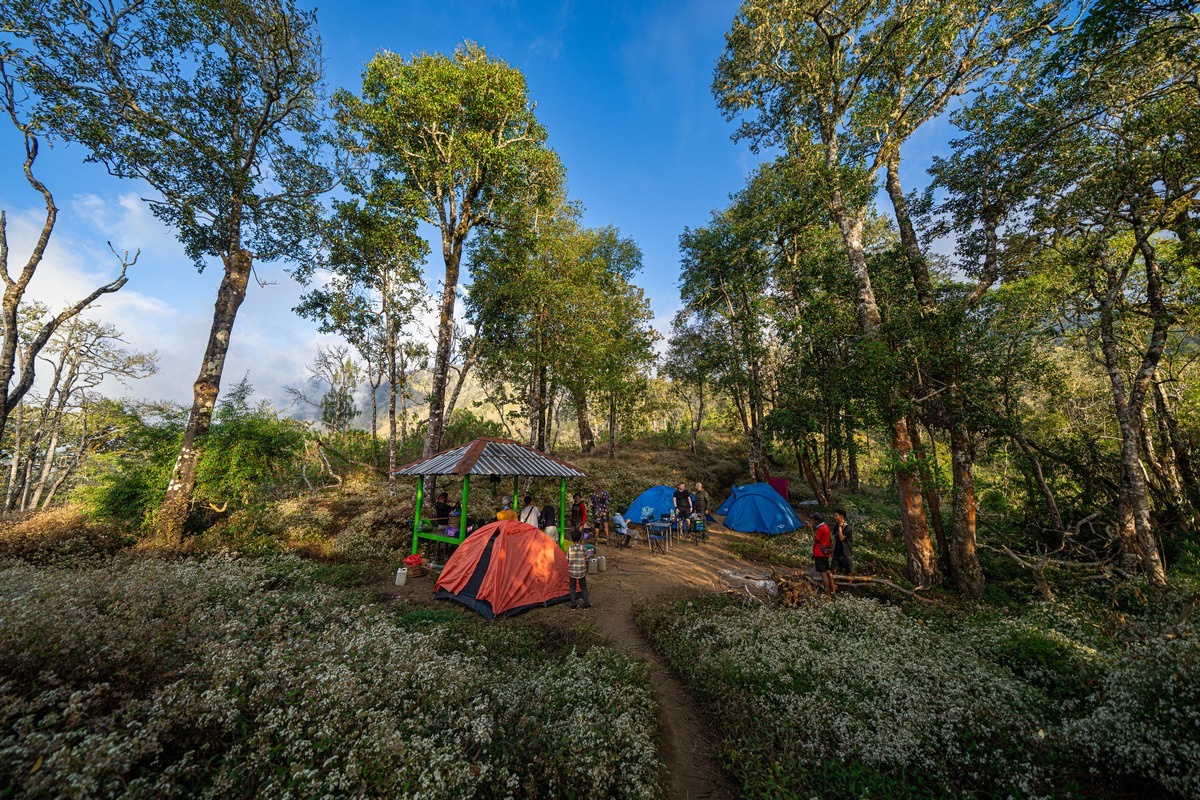 Our fourth and final day was short and straightforward. More down-down-down, and all on a good path:
Though it was all downhill, we still needed breathers! ->
This guy's got it right – how best to spend one's time on the slopes of Rinjani volcano! ->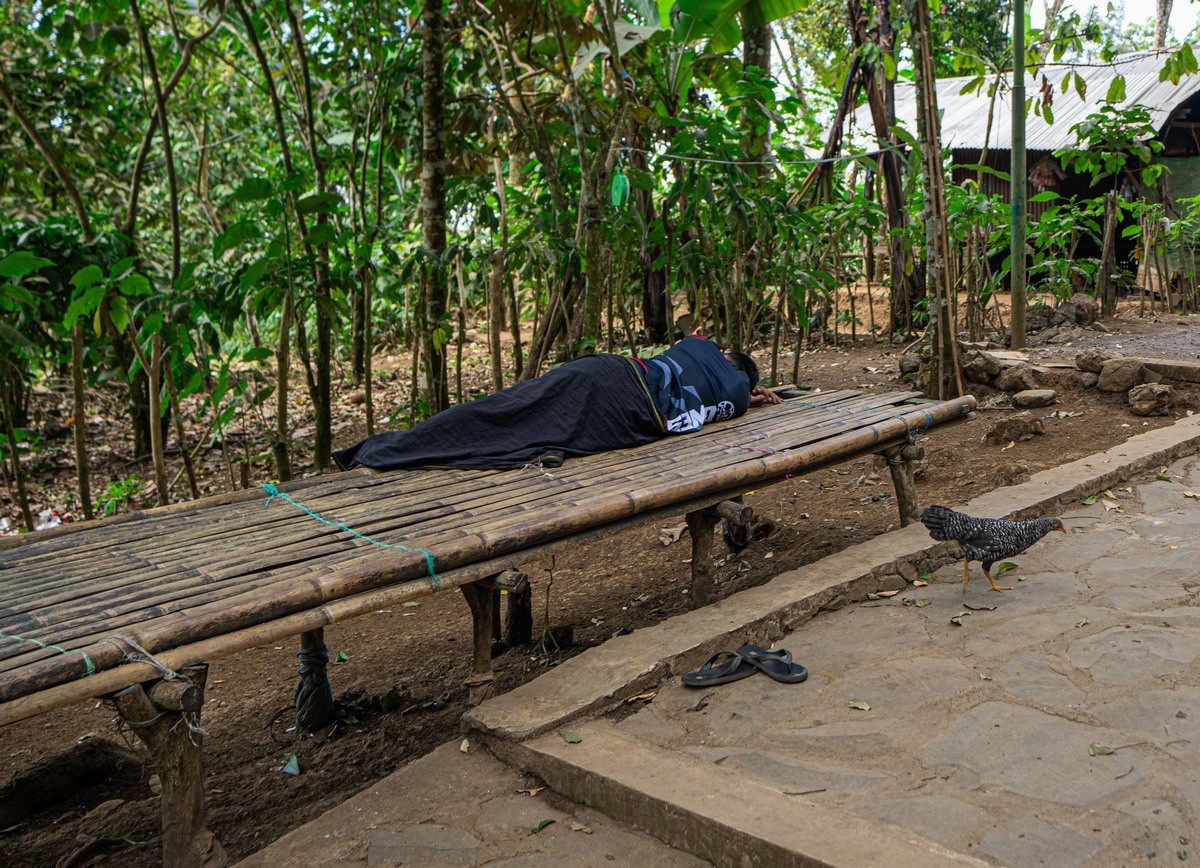 In closing, a few words about Rinjani in summary…
Rinjani : it's a goodie (OMG views, nice extra-toppings like hot springs and waterfalls), but it's a toughie too. Still, if you're fit – do it; you won't regret it. But only if you're fit! If you aren't – no way Jose. If any of you do go for it, btw – take our route (from Sembalun village, taking in Senaru village along the way) and give it four days.
And that was that: Rinjani – done. Time we were heading back over to Bali; I had a new press event to get to and speak at – with my sunburnt face!…
Contented trekkers!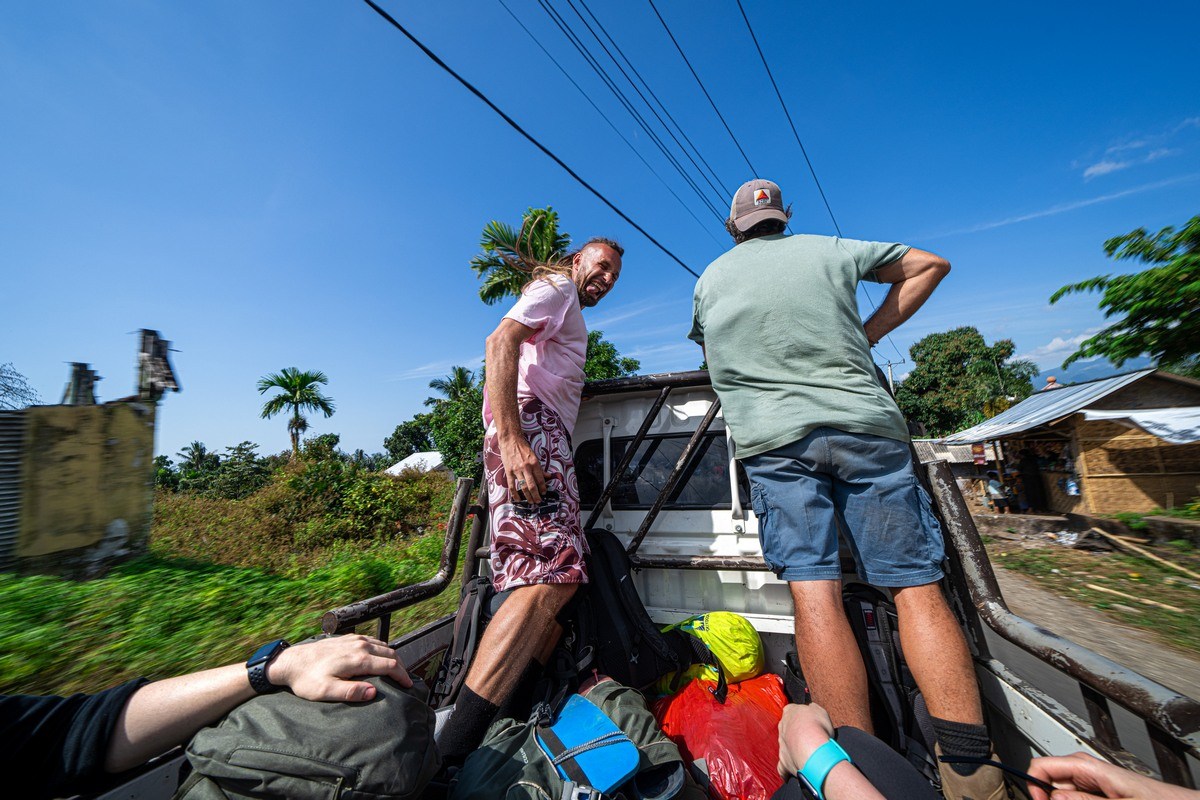 Brief stoppages on the road – not from traffic-people-jams this time, but felled-tree-jams! ->
That evening – civilization! And that meant a good shower/bath!…
PS I: I forgot to mention that, though Rinjani itself is a killer, there are routes around here that are much kinder to the less-trained individual: much more accessible, and the views are almost as good as from the top of Rinjani.
PS II: If you do ever decide to come here for the volcanic trekking, make sure you wear good quality, proper trekking boots. No sneakers! With the latter – you're risking a sprained ankle or worse. Also, sneakers may fall apart half-way up the volcano: not good (no Foot Locker next to the convenience stores here!). Here's evidence of the falling-apart thing! ->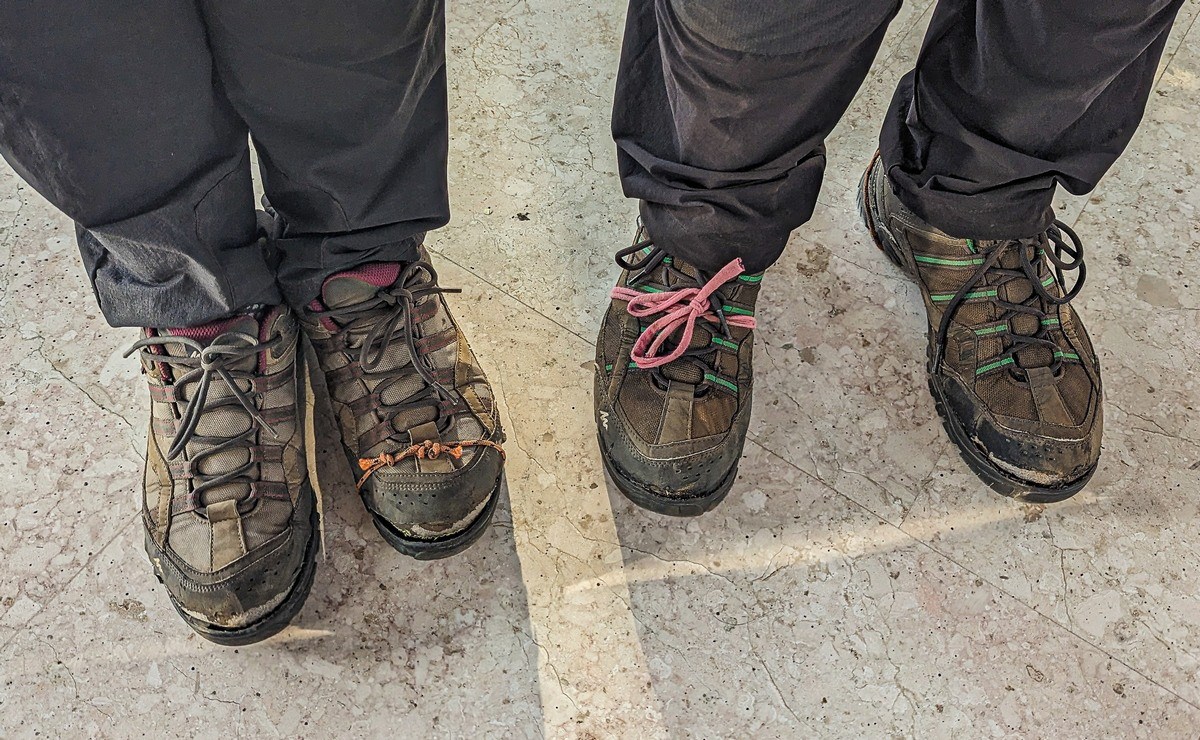 PS III: In rain season (January, February, March) Rinjani and some other volcanoes here are closed to the public. Too dangerous. Can you imagine torrential rain falling on this here terrain (which you have to trek up and down)?! ->
PS IV: A photo-potpourri of some B-side pics that somehow didn't make it into my tales from the Rinjani side:
That's all for today folks, and that's all from Indonesia. Back soon – from… Sochi, or is it Japan? I'm losing track myself!…
The rest of the photos from Rinjani are here.