Kamchatka-2021: more mirages – in Volcano Alley.
There's a 'Volcano Alley' (some translations put it as 'Avenue of the Volcanoes') in Ecuador, which features around a dozen photogenic volcanoes, all of which are at least four kilometers in height. Been, seen, was impressed: a grandiose must-see location for any volcano fan worth their lava. Well, there's a volcano alley/avenue in Kamchatka too, only here – true to Kamchatkan lack of development modesty – there's no official title (actually, Ecuador's isn't really an official title, but it's getting there). The heights of the volcanoes here can't compare with the Ecuadorian ones, but the elegant gracefulness of the constructions – the cones, craters, surrounding vegetation and landscapes – is for sure on a par with that of their South American cousins:
The full length of the alley – some 50km – can be trekked at a steady pace in three to four days: from Bezymianny in the north, down to the southern slopes of Tolbachik: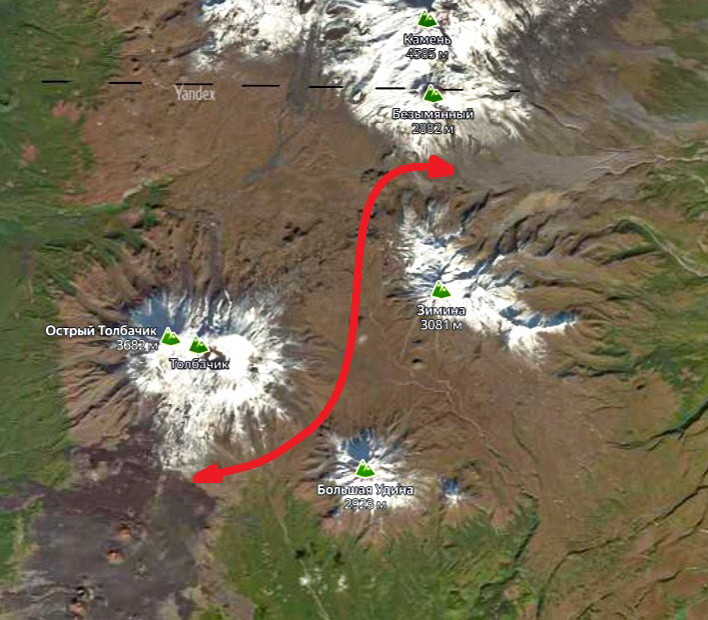 Of course, you could do it the other way round, and you should, since it's better that way: then, given good weather (i.e., if you're lucky) – the Klyuchevsky group of volcanoes slowly looms up over the mountain passes ahead of you, instead of being a pretty backdrop you spend most of the time turned away from ).
The going is easy – no steep or endless inclines at all. For around half the route there's no water at all either – or, if there is, it's cloudy, so no good for drinking. But the views all around are simply fantastic, forever changing their shapes and colors and shadings as you – and the sun (if out) – travel along your daily trajectory from morning till evening:
Alas, when clouds form, you can enjoy only the foreground pictures around you: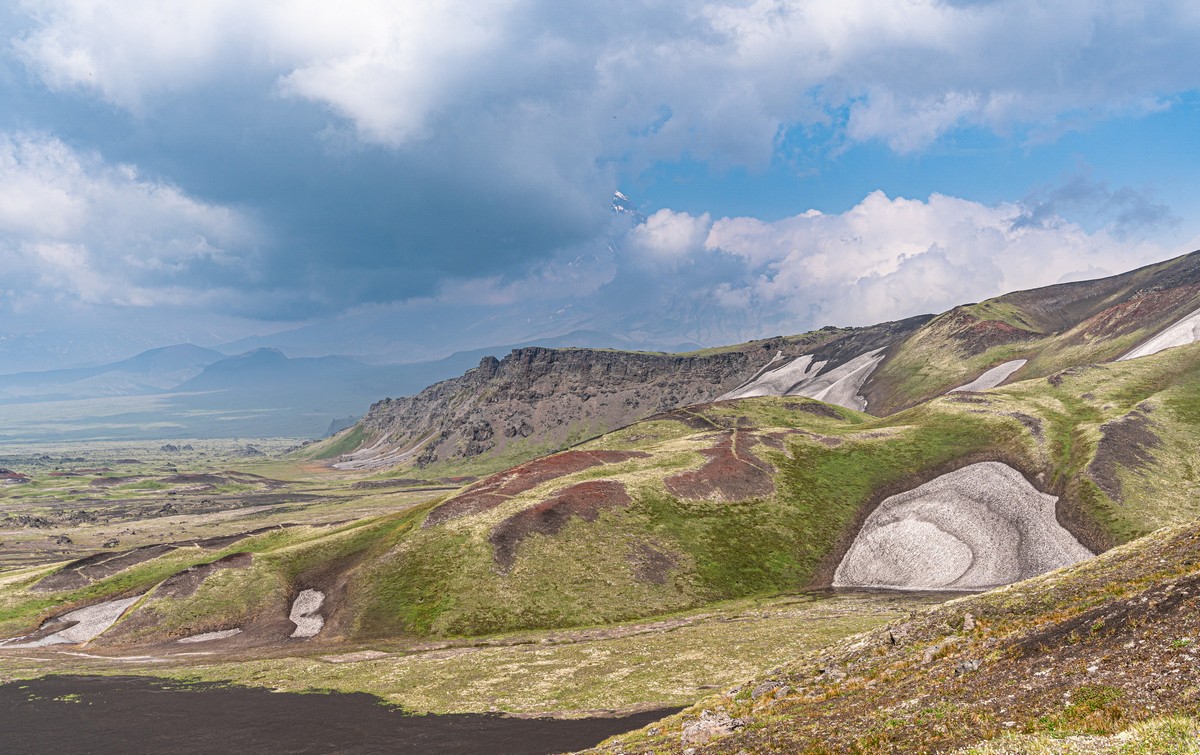 Here, for example: over there – can you see a volcano, or not? ->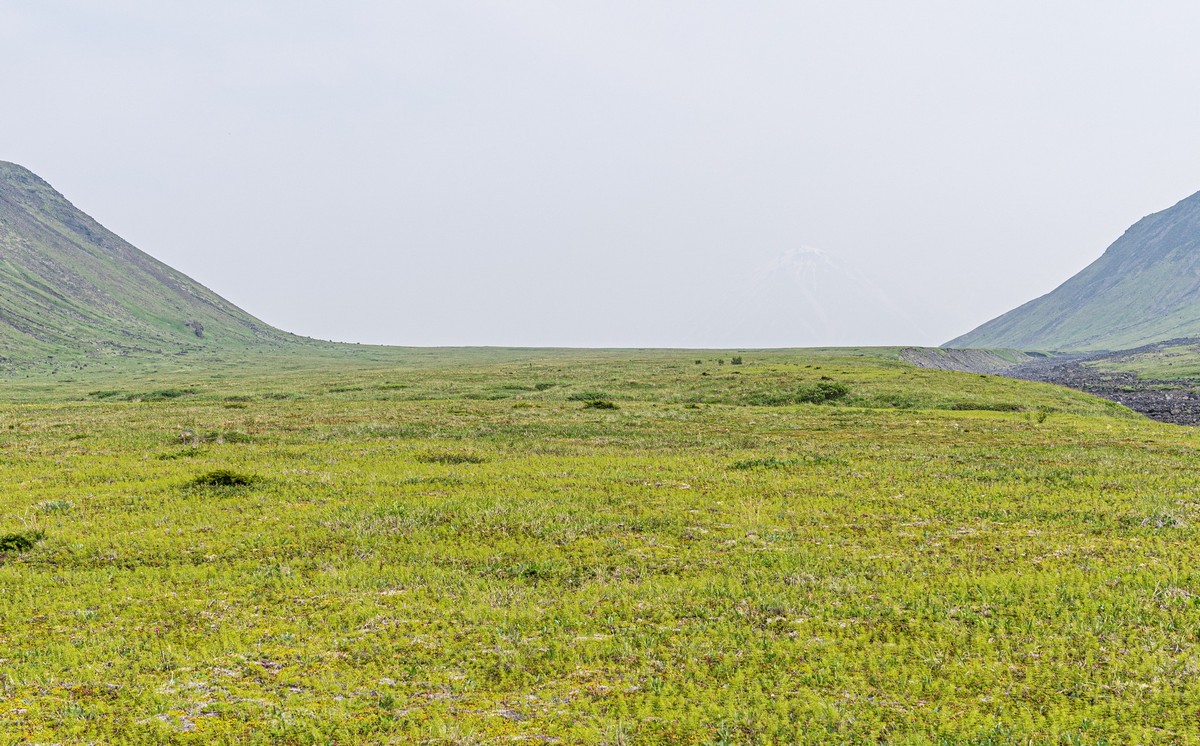 Actually, there is a volcano there! You might just be able to see it if you stare searchingly for a while – and your eyesight is strong. So here we have it again folks – the Kamchatkan mirages – in full effect!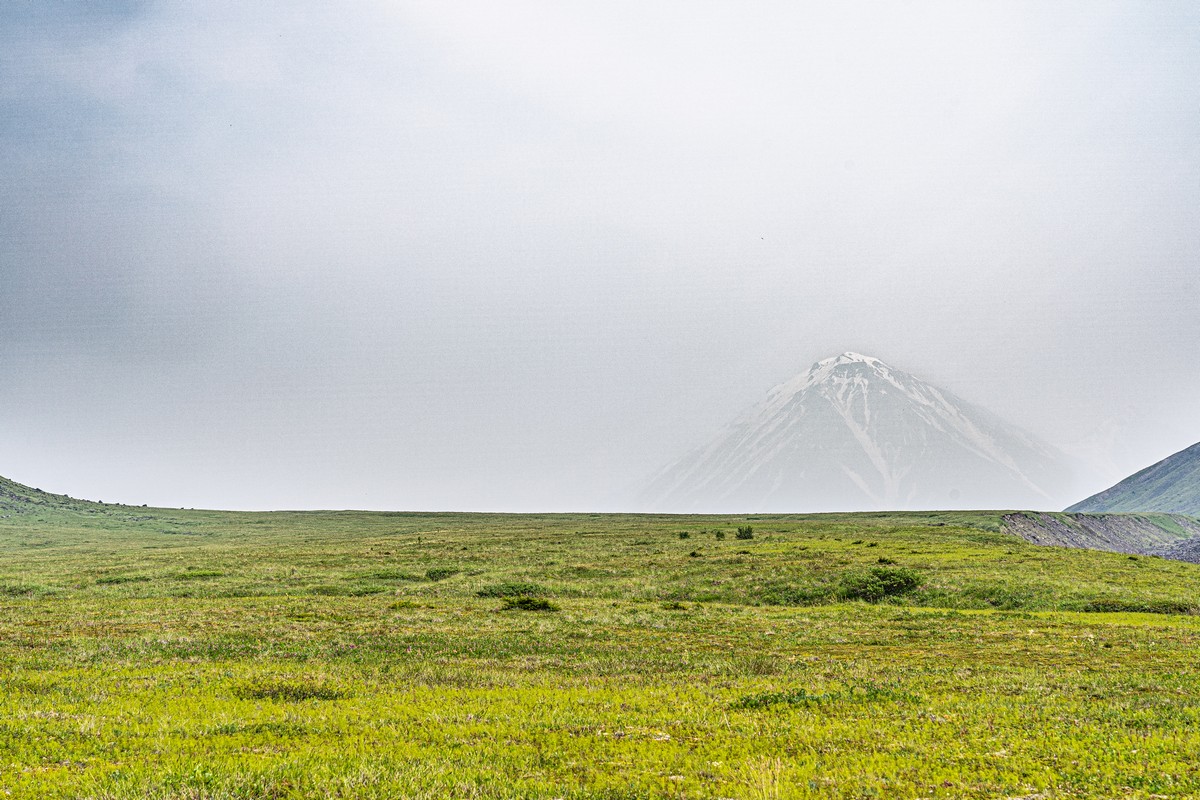 Worst of all is when the wind blows up some kind of mysterious haze: the sky's clear, the sun's shining brightly, but the horizon is cloaked in some kinda translucent fog (…
But when there's none of that, the views are just sensational: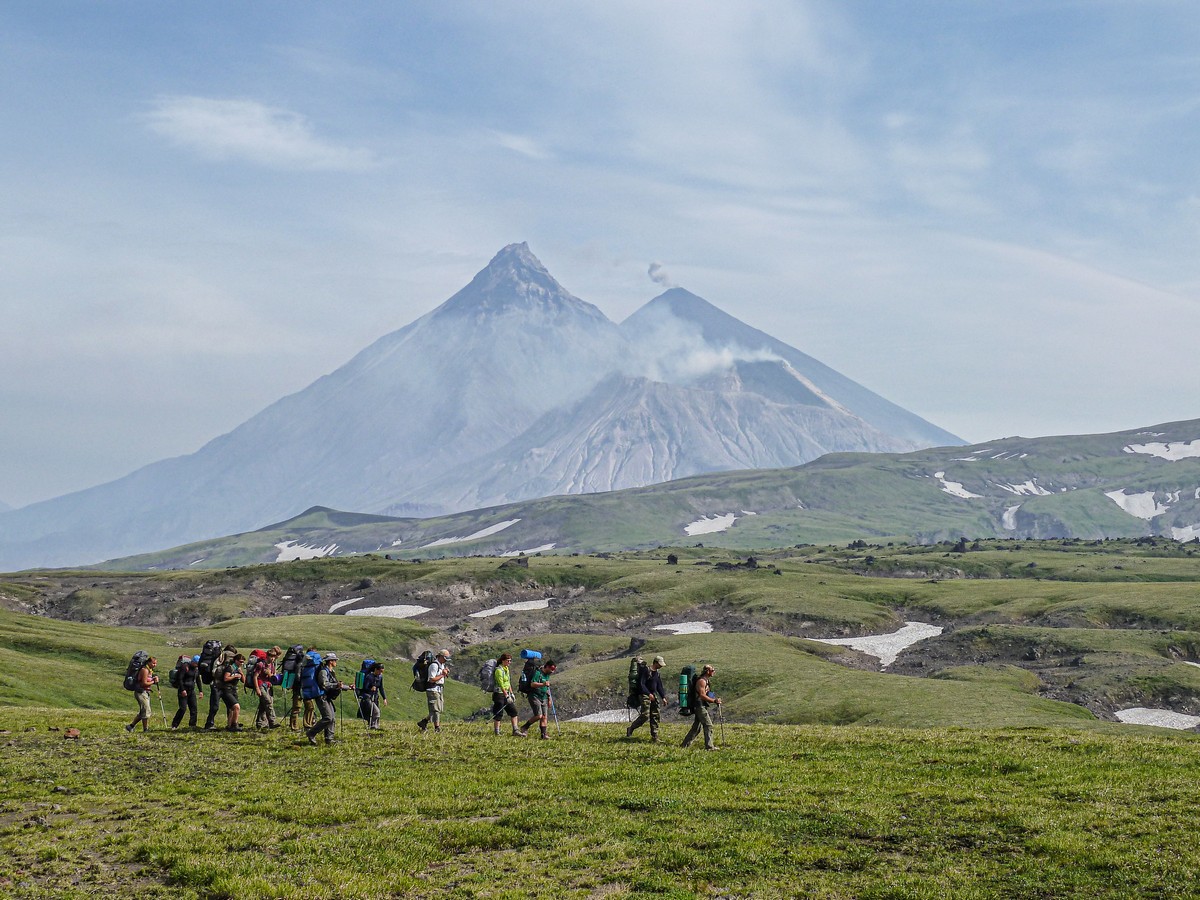 Shallow streams need crossing occasionally…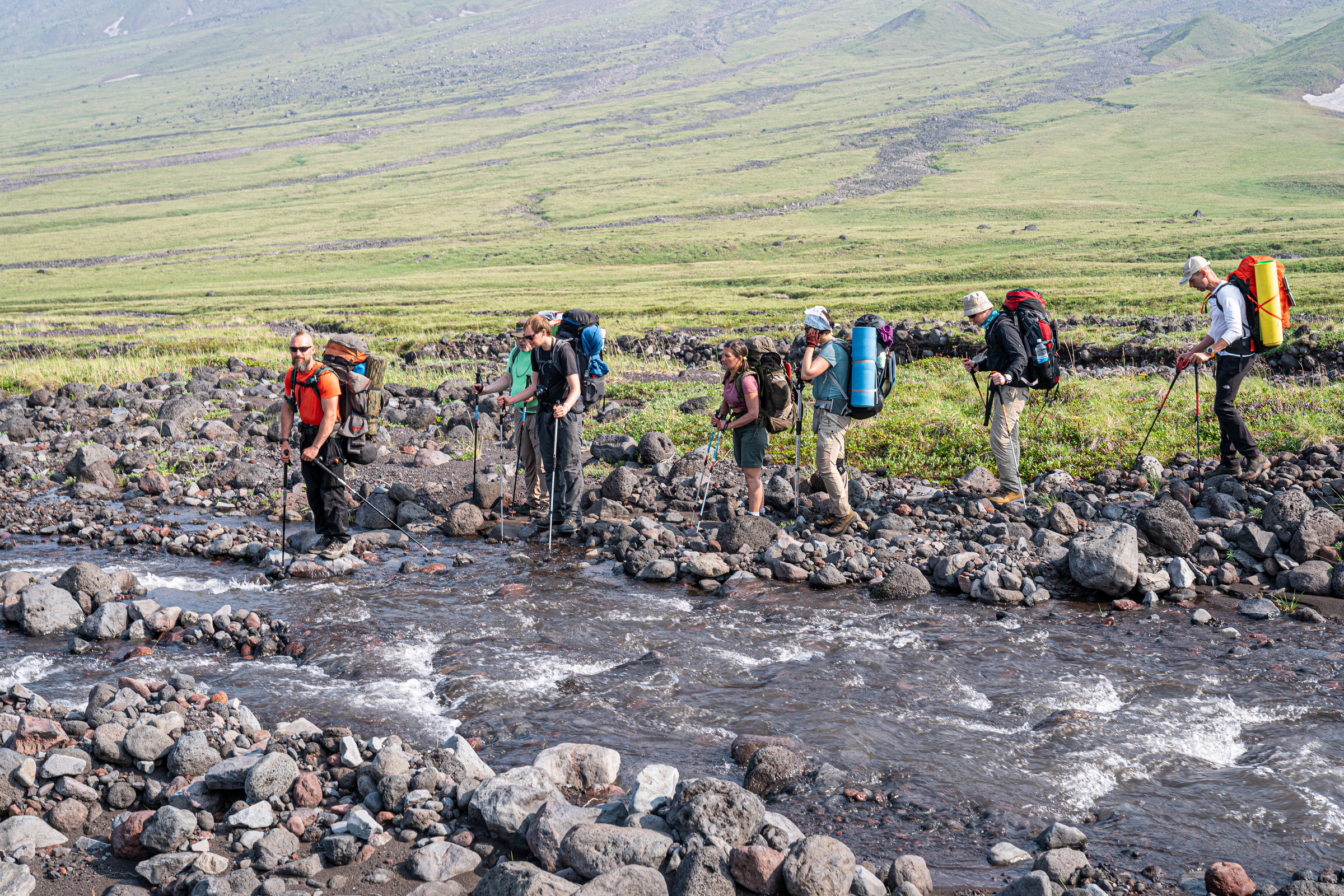 BEARS! Thankfully, not hungry: quite the opposite in fact, with all the fish here. So we duly photograph them with zero fear ) ->
I said it was an 'easy' trek. But you still need to stop occasionally for a break when you're up on your feet walking all day. And best of all is to have a short sleep to properly recharge the batteries as it were. Which is what we did this year, and always have done. But I didn't get any pics of us this year having 40 winks, so I delved into my archives. And look what I found!…
// I do hope my 'models' won't be too angered by my sharing them here… ->
These 'poses' remind my of a scene in the brilliant film Stalker by Tarkovsky. I mean – look – they're practically the same! ->

After the our snooze – onward, for yet more oh-my-grandiosity before dusk when we put the tents up again…
That's all for today folks from the Kamchatkan side. To be continued!…
The rest of the photos from our Kamchatka-2021 expedition are here.