Kamchatka can be fun; Kamchatka can be frightening.
Volcanic landscapes are capriciously changeable…
For example, a beautiful volcano can stand pretty much unchanged for 100, 200 or 1000 years, and then 'bang!' – volcanic debris is flying in all directions, lava rivers flowing from volcanic vents, smoke bellowing several kilometers up into the sky, and the earth fairly shuddering. Well, that's one scenario – the longer-term one.
There's another scenario – of a shorter term (i.e., more regular), and of a much smaller scale. And such regular scenarios mean that a volcanic landscape can – and should – be returned to again and again: the picture you'll be presented with is bound to be different somehow. For example, Bezymianny (which I told you all about in my previous post) has a gradually growing cone rising up inside its colossal crater ->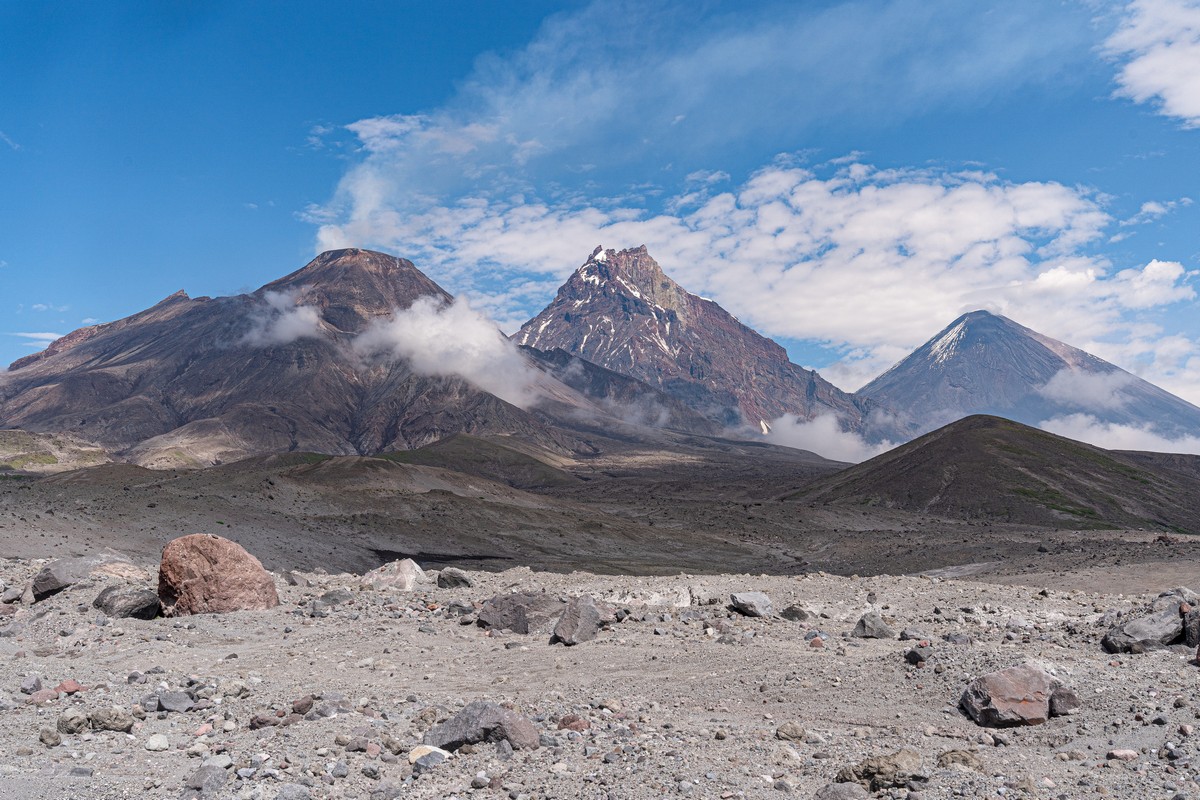 While from the other side, it looks like no changes at all: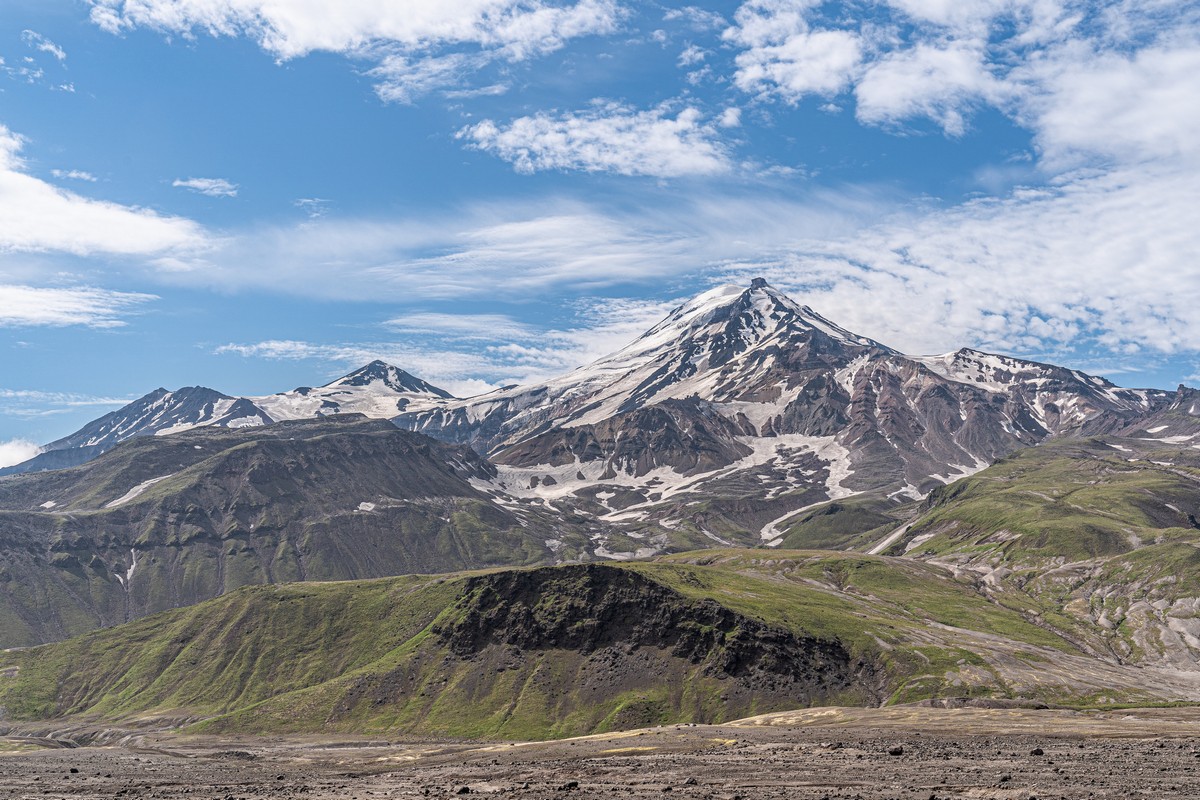 But, when we look a bit closer, we did see a few changes of an unexpected kind…
Who'd have thought it – even in the remotest corners of the remote peninsula that is Kamchatka, tourism is finally becoming more popular! In the past, lava fields would be practically be bereft of Homo sapiens – apart from, say, one or two groups stood milling about Tolbachik. This time, there were small crowds even of adventure tourists with backpacks on, and there are now even camping glamping sites. Very modern, and rather cool. But we stuck with our tents ).
(Photos – M.L.)
On the one hand, of course, some folks – let's call them Kamchatka purists – aren't too impressed with this 'development', nostalgic as they are for the 'good old days' when there wasn't a soul here to be seen but for themselves; half of me is such a Kamchatka purist. On the other hand, why then have I been putting a great many Kamchatka tales and pics on this here blog over the years? Surely they'll have contributed to at least some of the increase in adventure-tourists' coming to visit Kamchatka's volcanoes? So, you see – I'm pulled in two directions on this one. As for you, dear readers, if you are one of those pining for the good old days – don't worry, there are still plenty of untouched/untrodden places on the peninsula, I can tell you ).
The above photos show the new ~5* glamping site located on the slag fields (there's a combination:) at the foot of Tolbachik. There are other, less luxurious options besides: ~3* huts, as in the pics below. Curiously, there's now some registration process to go through for tour groups; there was no such thing in the past. This whole volcanic area of Kamchatka is now called the 'Volcanoes of Kamchatka' Nature Park – a UNESCO World Heritage Site; this development might explain the new registration requirement.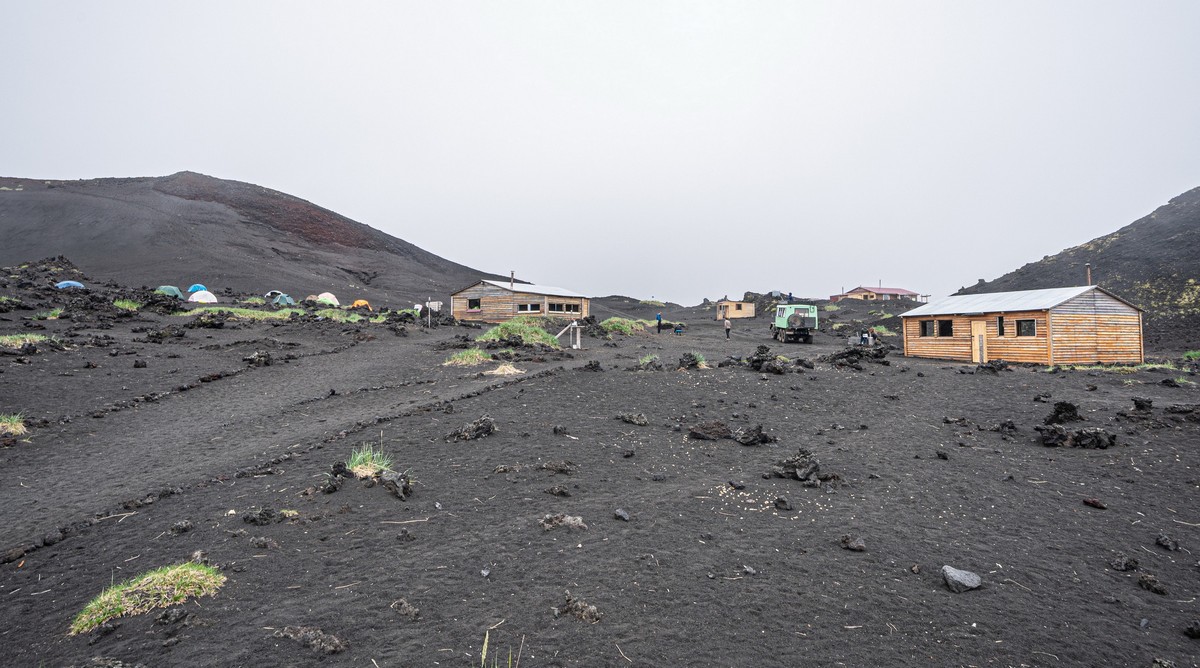 The camping site has all the mod cons:
It's even signposted, should you lose your way: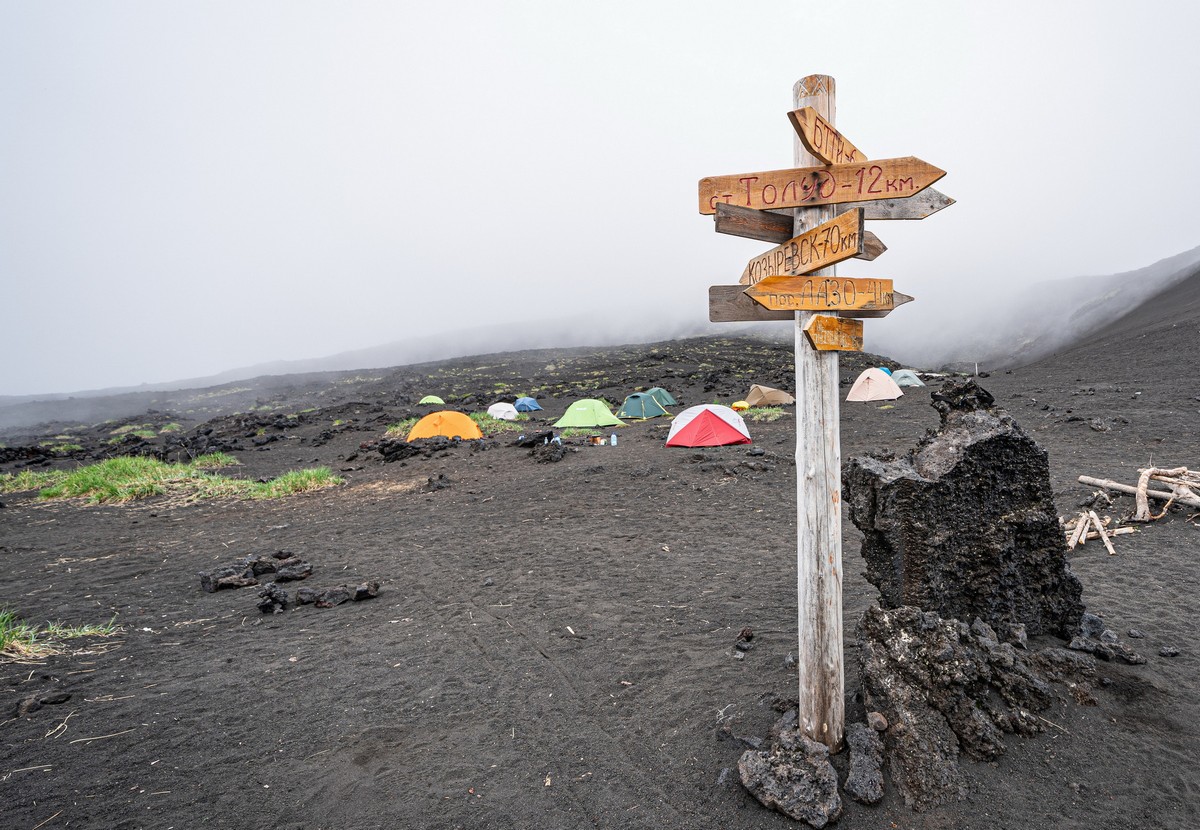 Even info-and-map signs have popped up – with English translations! Civilization comes to the wilds of Kamchatka. Whatever next? )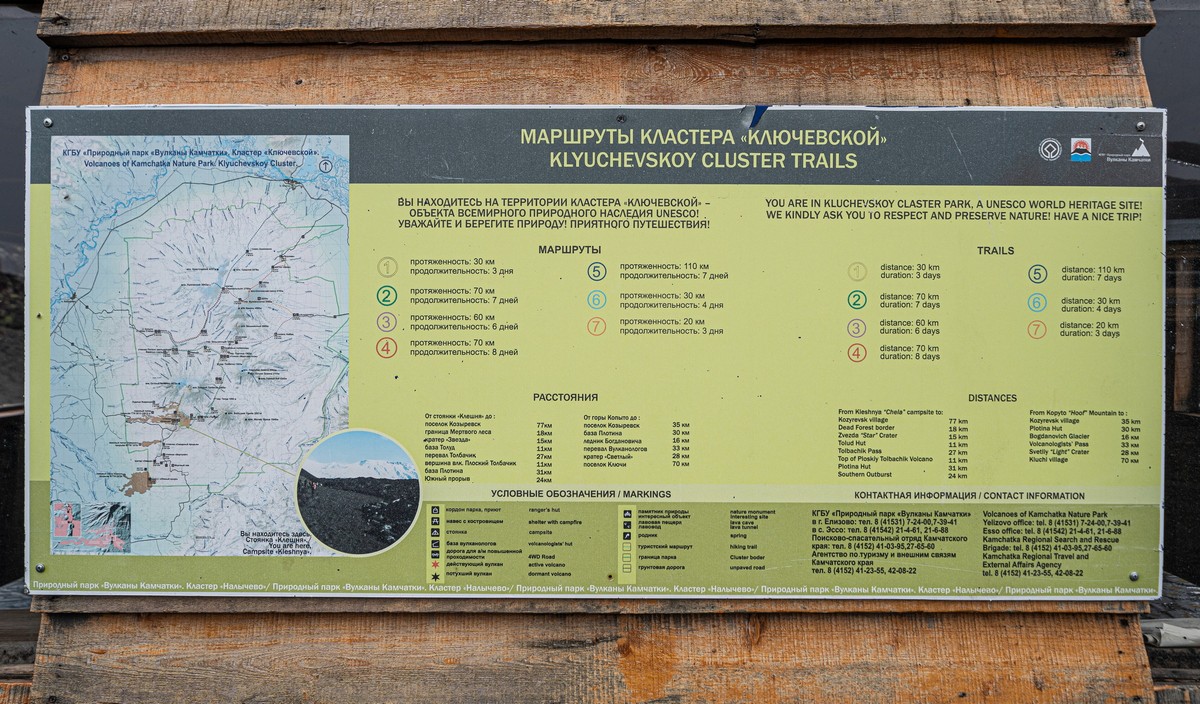 If you look closely at the map…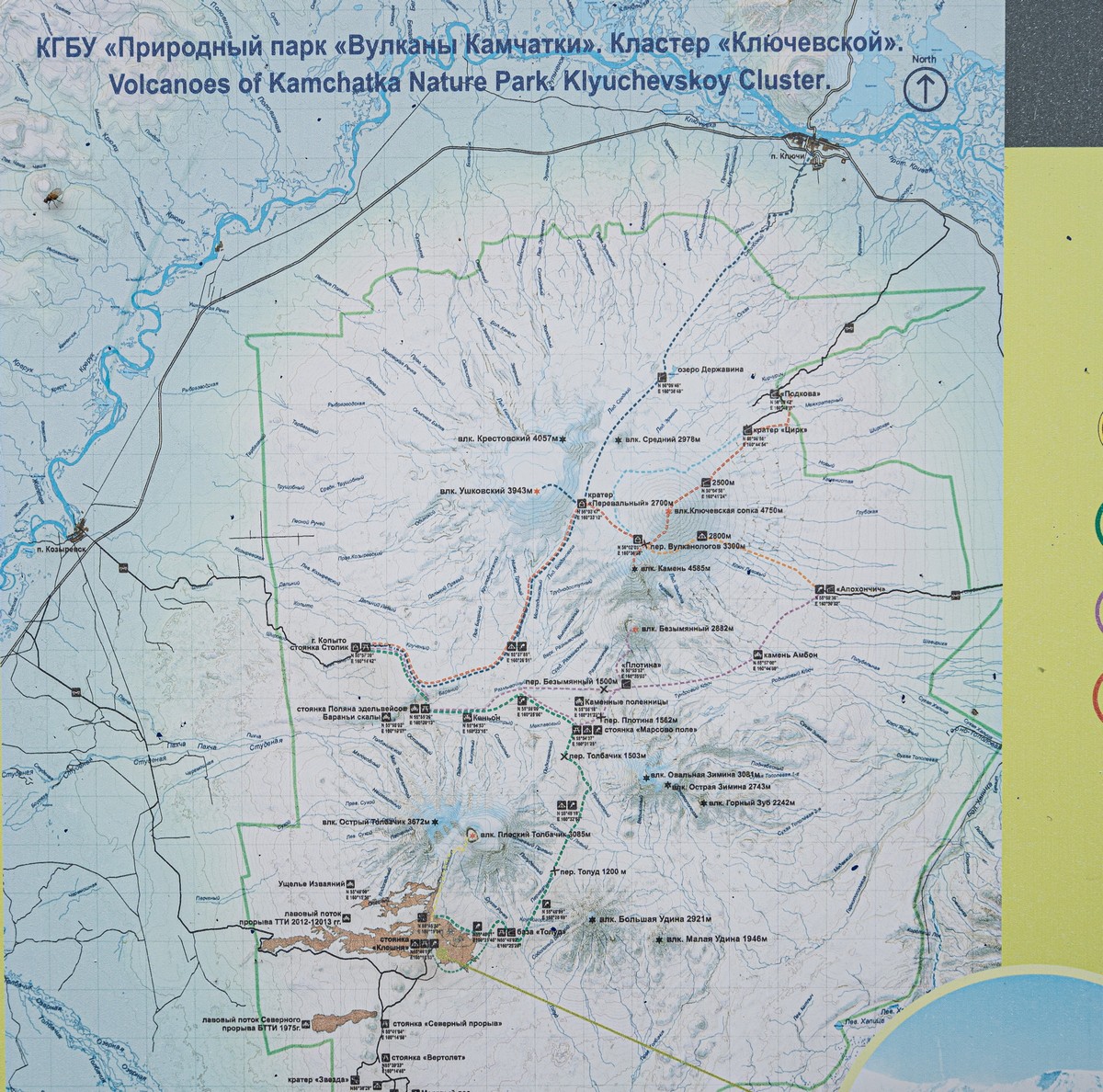 …No, not at that fly! At some of the strange trekking routes inscribed on it. One such route appears to imply that a gentle stroll is easily doable by the untrained tourist right over (across the craters!) of both Klyuchevskaya Sopka and Kamen! There are other extraordinarily tough routes given too…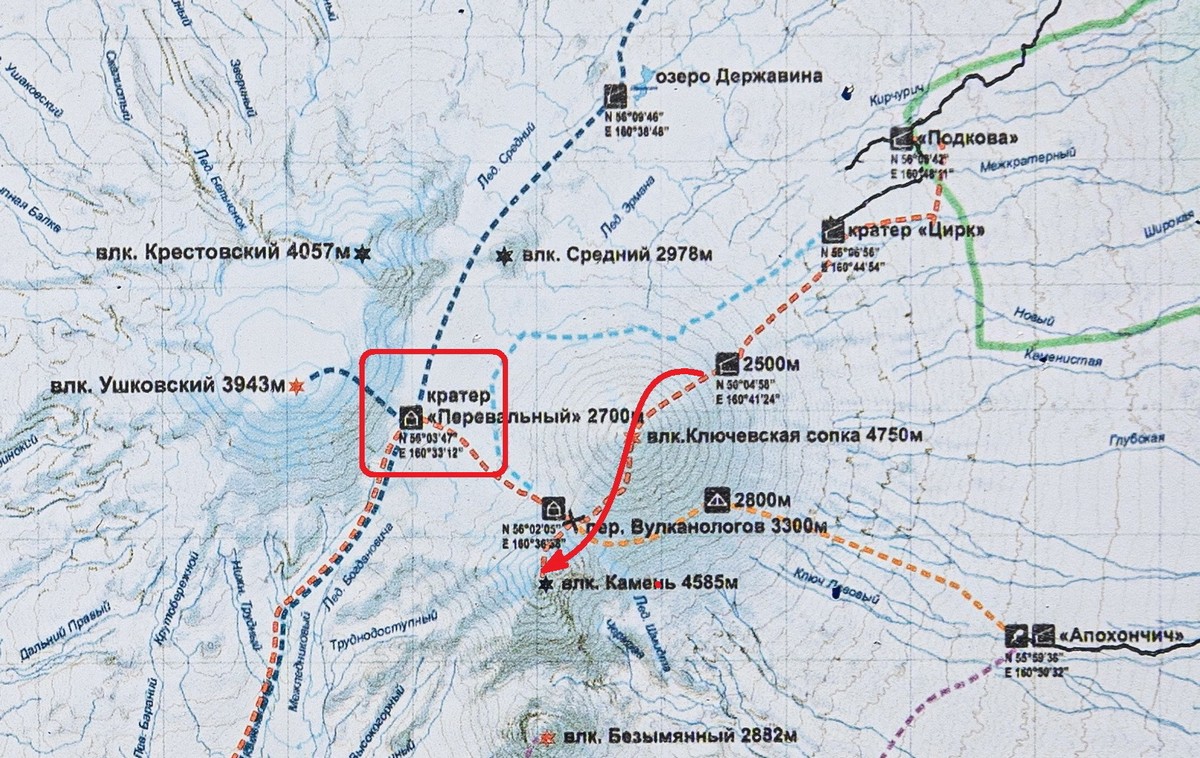 I'm just wondering: why are these super-tricky, if not practically impossible routes shown? There should at least be a health – no, death – warning given too; and I'm not joking: climbing up Klyuchevskaya Sopka is a very risky undertaking, and has been proven to be lethal before. Sudden rockfall is common on its slopes (according to witnesses), and boulders of various sizes can ricochet in random directions. Yikes.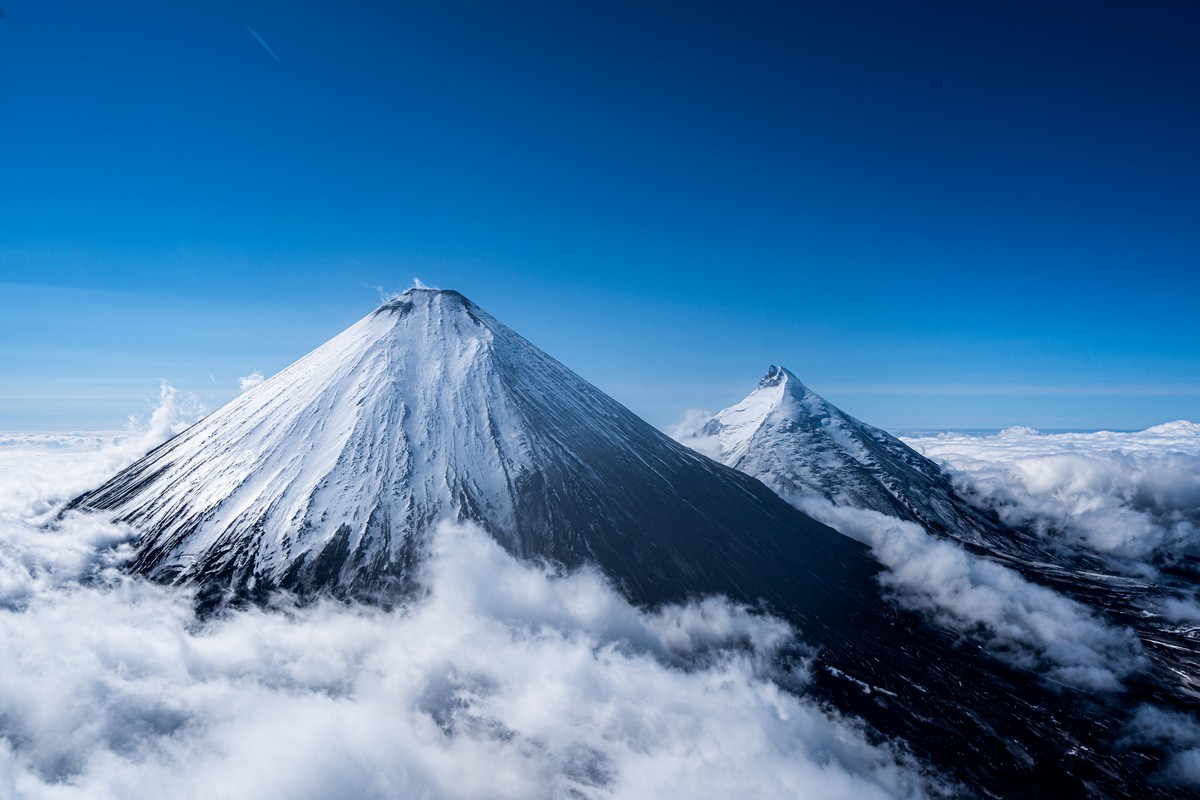 And the indicated route up Kamen takes you across the 'saddle' between it and Klyuchevskaya Sopka, i.e., across this here pretty glacier ->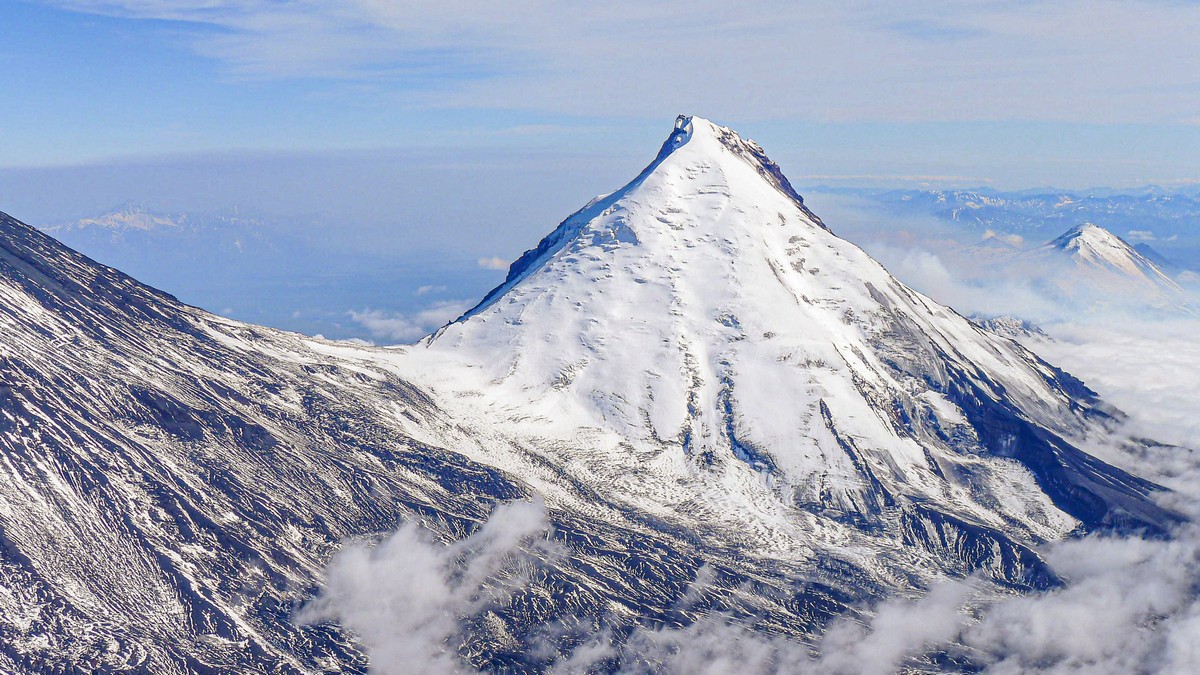 And the indicated route to the village of Klyuchi takes you across another glacier, this one with deep cracks in it:
So – you get it: if you're ever here, do be aware that the routes given on the boards are only for well-trained and well-equipped trekkers – if not rock climbers…
I mean, even on the seemingly easy flat stretches around these volcanoes you can come across hazardous surprises, like canyons! This only confirms: Kamchatka's no easy strolling country…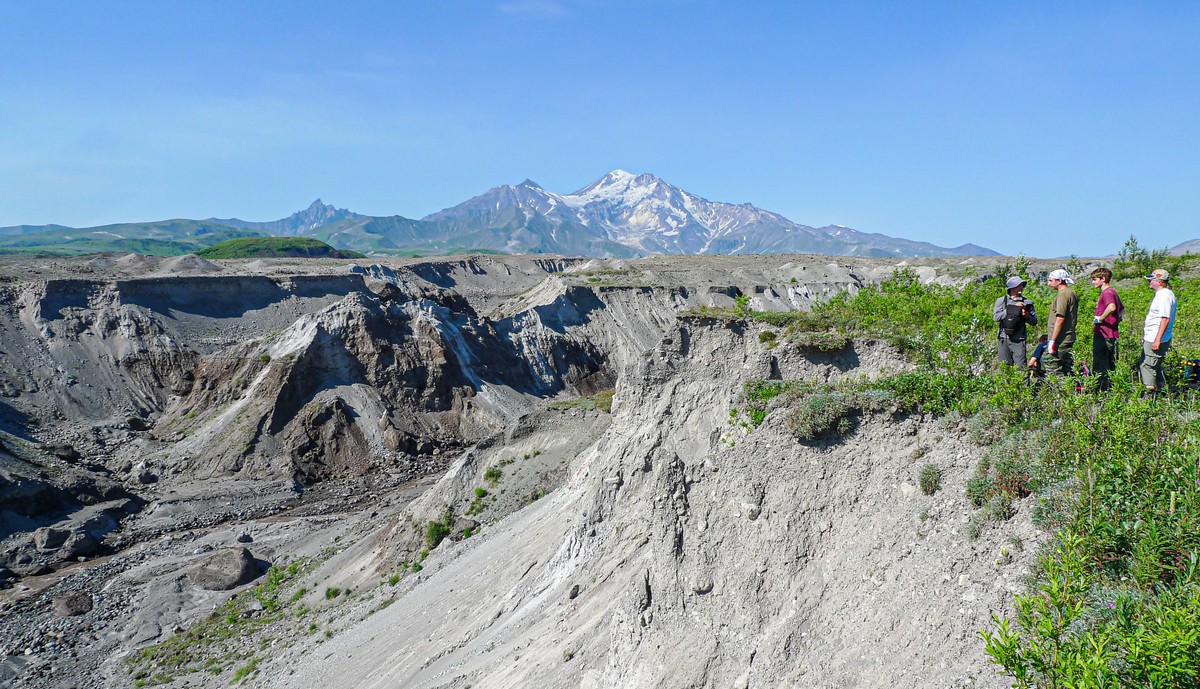 When you do happen upon such a canyon, finding a suitably gentle slope down, and then a suitably gentle slope up the other side is no easy task: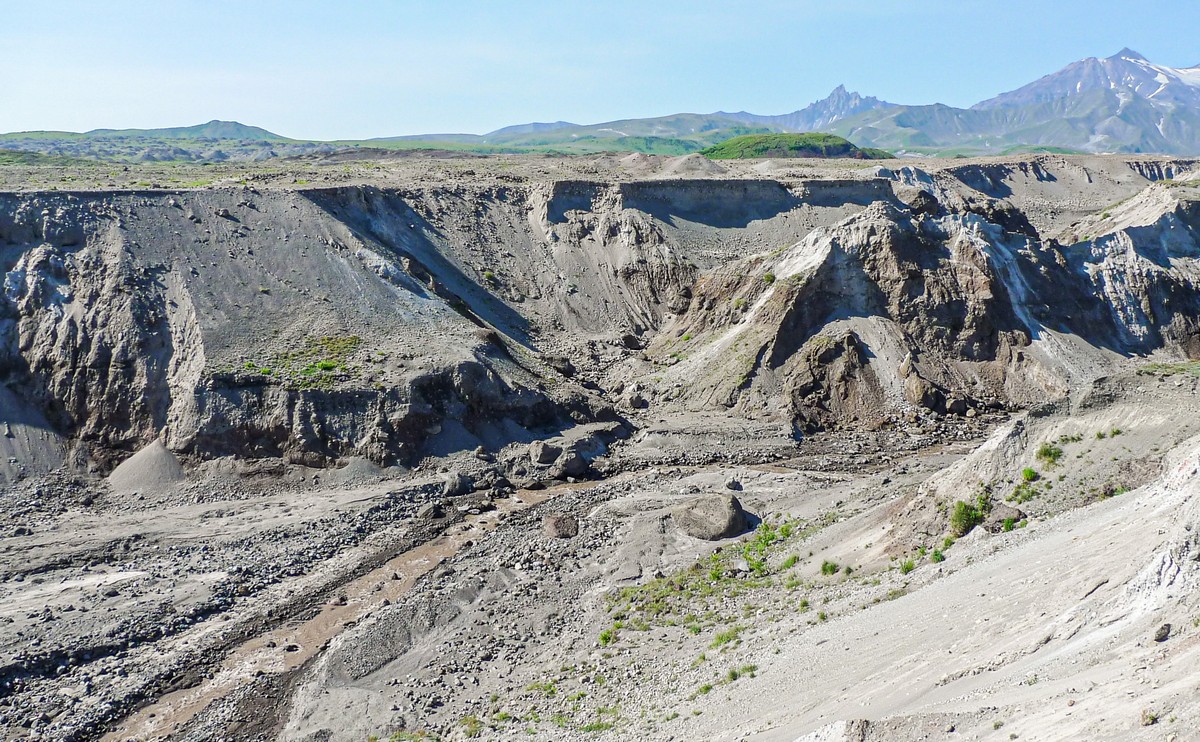 In the past, the river in the canyon was cloudy and brown, but still rather… friendly. This time, it was a fast-moving slush that would move rocks along with its flow. Crossing it on foot was simply impossible:
Thankfully, there's a peculiarity of the rivers and streams round here that gave us a plan-b for crossing this turbid torrent: During the day they run fast and furious as the glaciers further up melt. But throughout the night it gets real cold so the flow is reduced drastically by morning. And here's was our plan-b: we spent the night this side and waited till early morning to perform our crossing. The evening views were an added bonus: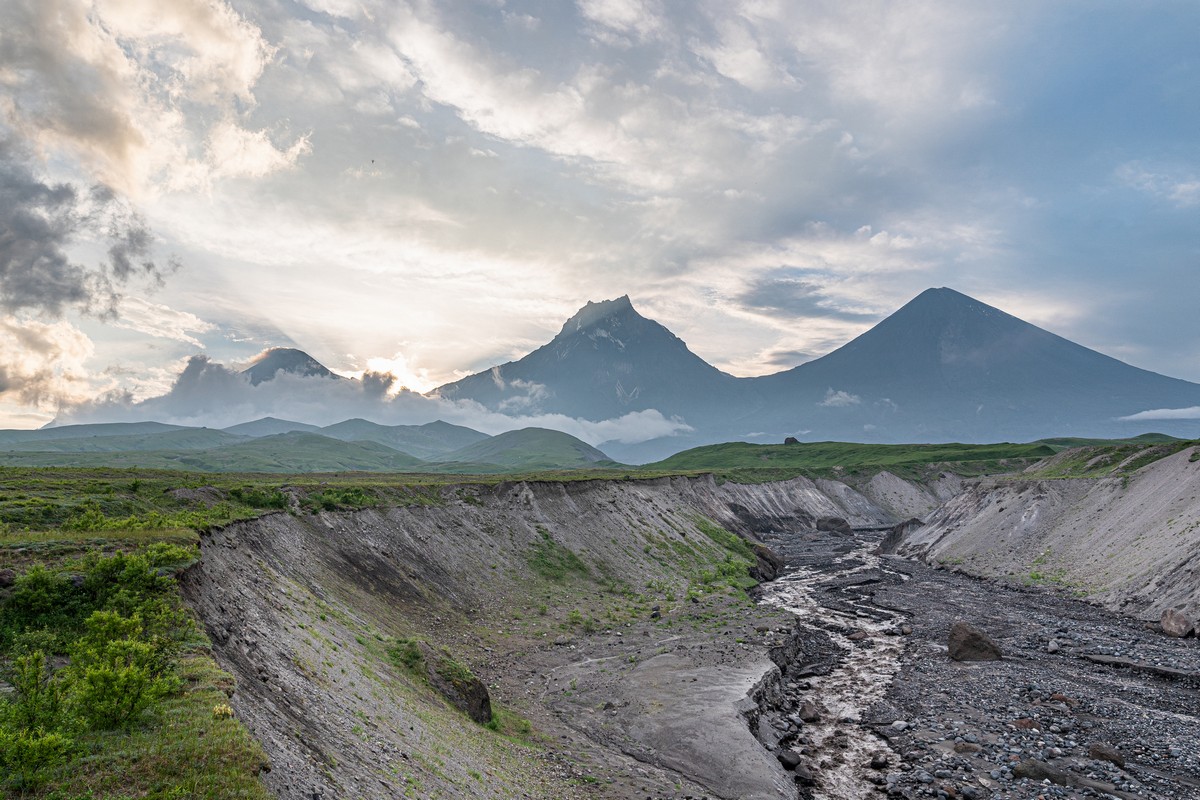 After making our morning crossing, a little later we came to another – shallow – stream, which we duly crossed with little trouble:
But it was our third stream of the day that stopped us in our tracks. Alas, its level had risen and it was way too fast to cross.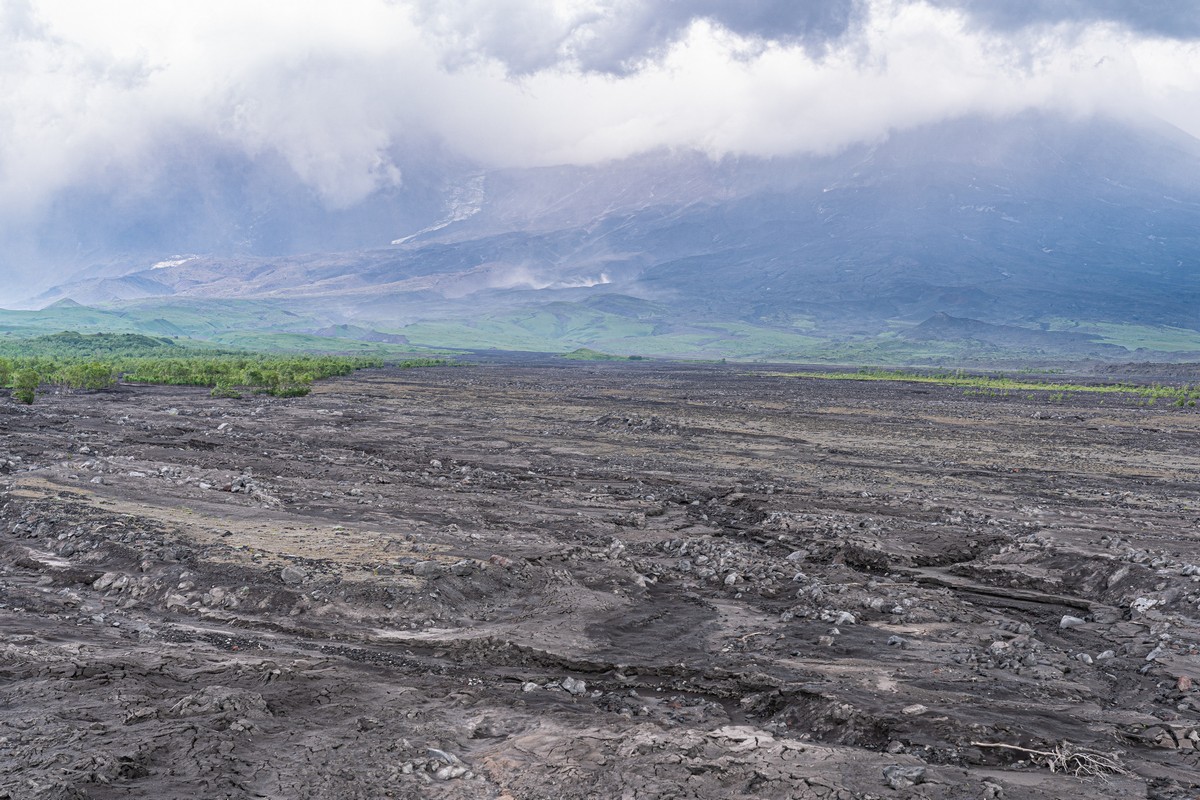 There was nothing to do but turn back. Boo! It was only lunchtime, and the chopper would only be back to collect us the following day. We set up camp, some of us had 40 winks, some strolled about, when suddenly…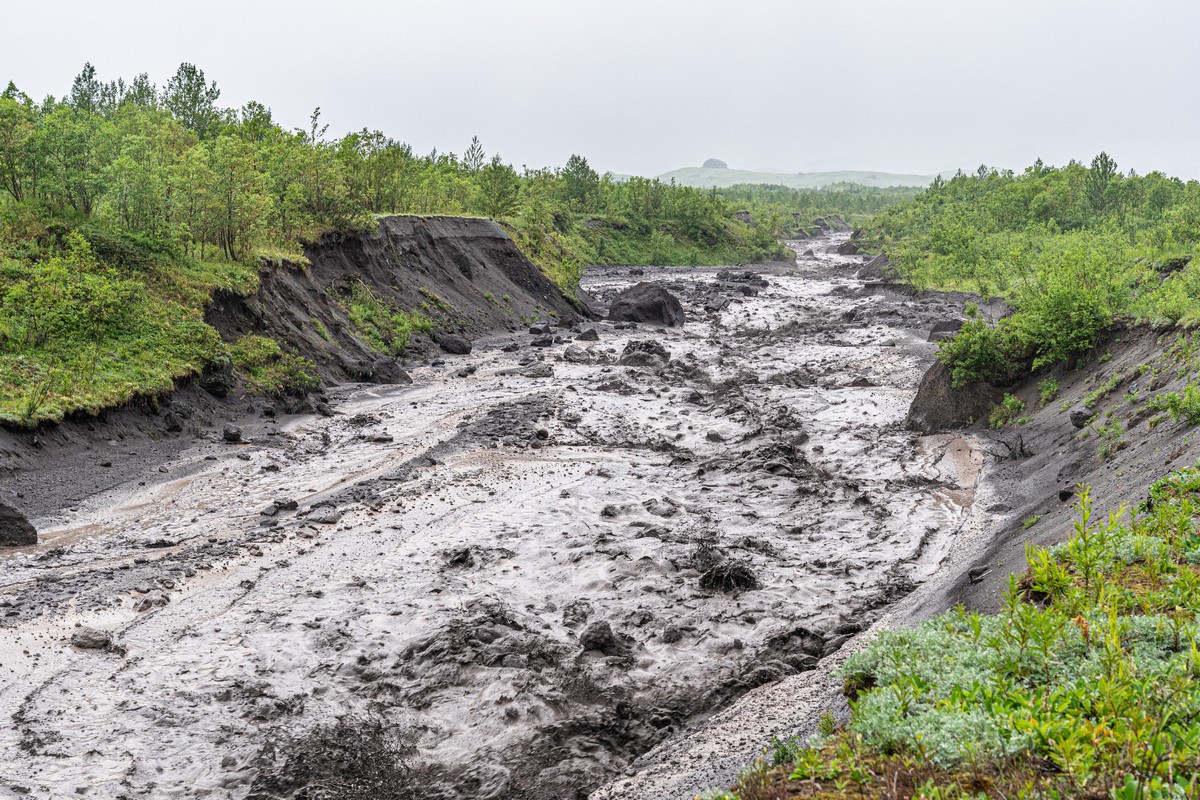 Suddenly, down the valley rumbled a massive mudflow. All I can say is it's a good job we weren't attempting a crossing at the time… ->
We realized this was no normal rise in the level and flow of the river due to melting glaciers – when we first heard the noise: it was a low-frequency rumble, much like that made by a powerful engine – like on a cruise ship. Then we noticed large boulders being jettisoned down the flow. Then we felt… the earth shudder somewhat! The boulders that were being tossed about like candies in a bag were making the ground we stood on – quite a way off – literally quake. And we were fairly quaking in our boots atop it!
Alas, no one caught the first wave of the mudflow. But you can see how much higher it was in the following pic by the wet markings left on the riverbank: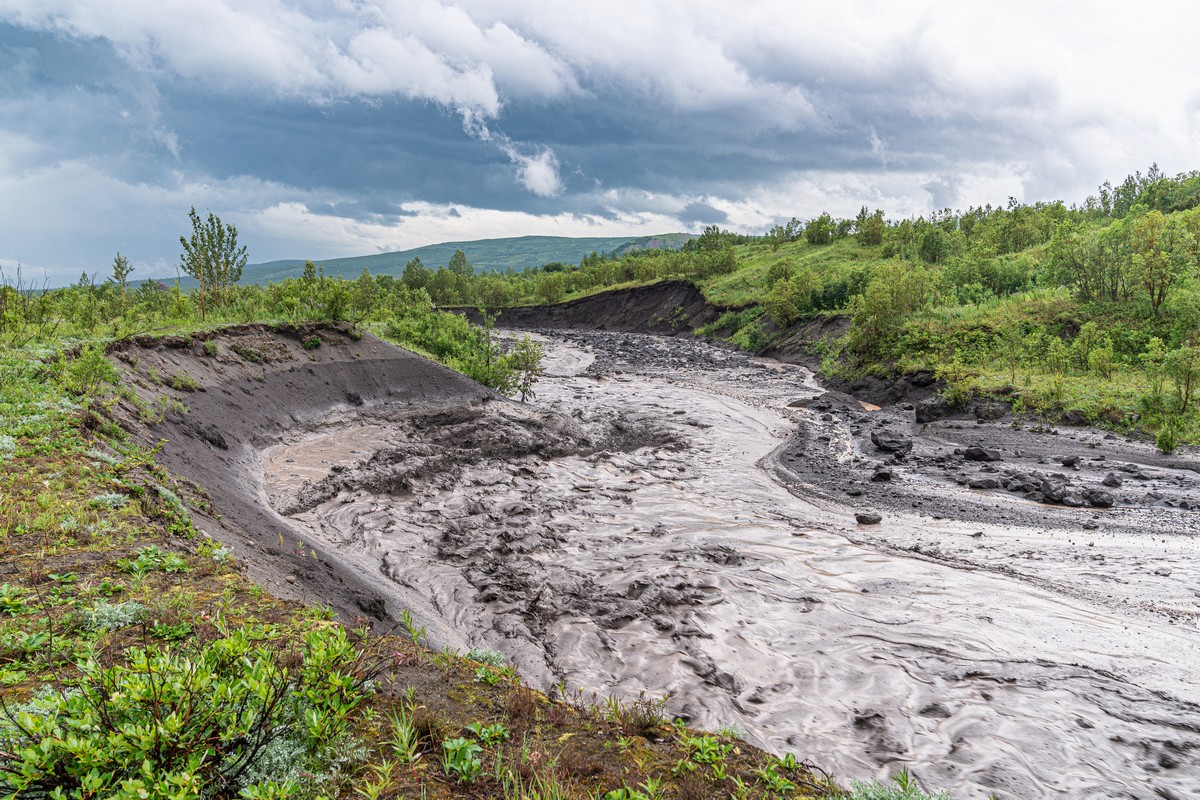 The spectacle was scary and mesmerizing. We stared at it for hours (there was nothing else to do:). But when we found out there was another mudflow coming down the river behind us – so we were trapped on an 'island' in-between two thunderous mudflows – that's when the experience became simply scary, without the mesmerizing bit. Stranded, someone in the group commented: 'They said this trip to Kamchatka would by frightfully fun. It turned out to be fun, but also frightful!'.
The level of the mudflow would go up and down throughout the day, but overall it lessened by the hour. But then – second wind! Another MASSIVE mudflow suddenly crashed down the river, so high that it broke the bank – the bank we were on (mercifully out of its reach :0) ->
Phew. Now that was close.
Afterward, we saw how that second-wind mudflow had managed to throw boulders as big as this up onto the bank! ->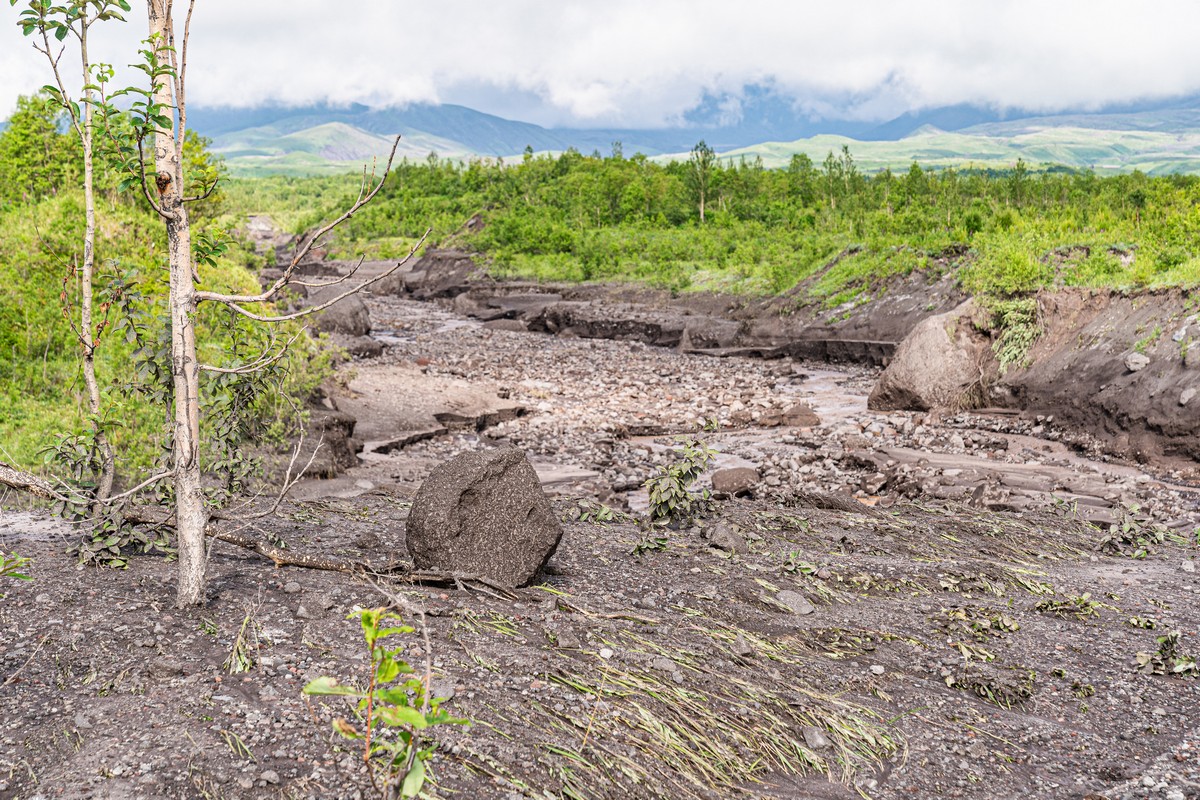 So – that boulder had been lifted around seven (7) meters up from the riverbed! ->
The next morning, no mudflows, and the stream was practically back to as it was before – a slow-moving trickle! ->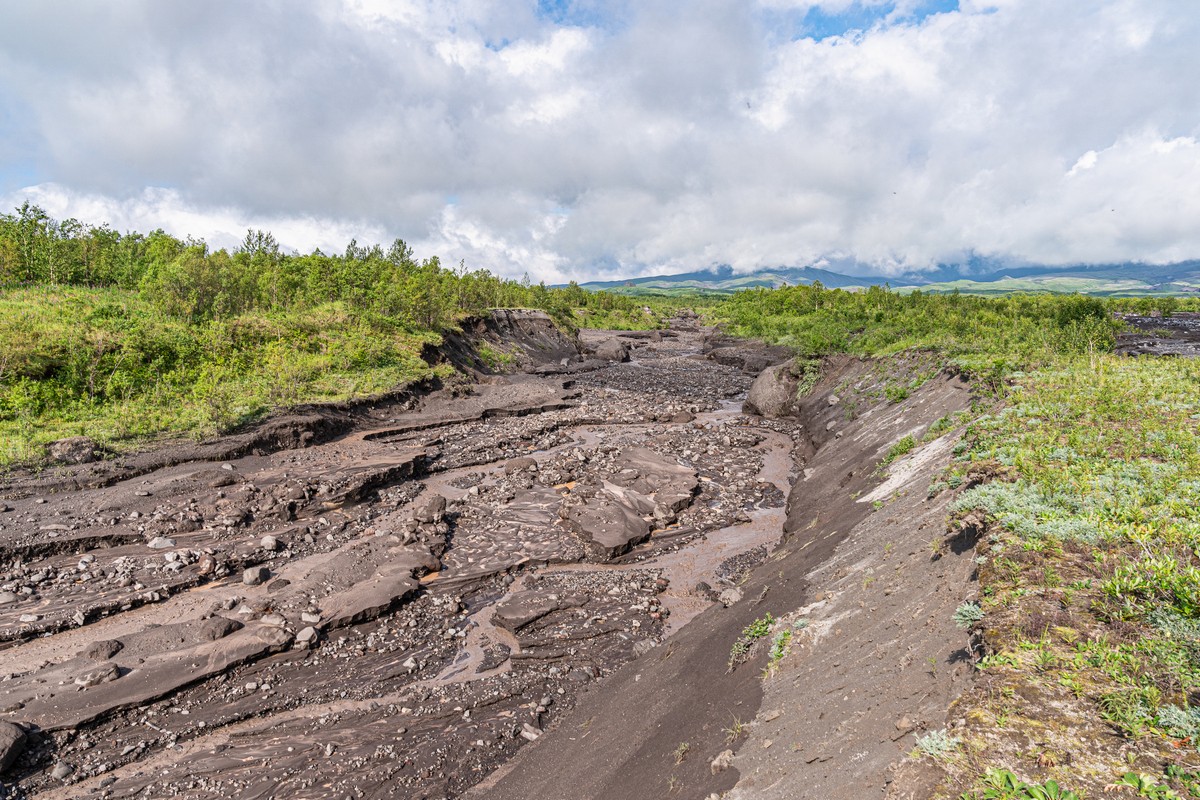 – 'It's gonna be frightfully fun,' they said.
– 'Fun, and frightful' it turned out ).
The rest of the Kamchatka-2021 expedition photos are here.