Tolbachik – hotter than Tolbasco.
Herewith, the second Tolbachik report – to follow the first.
Today – about natural incineration; for it turned out that the most fun to be had on our trip to Tolbasco-chik came from assorted items burning up in flames after being thrown into the flowing lava!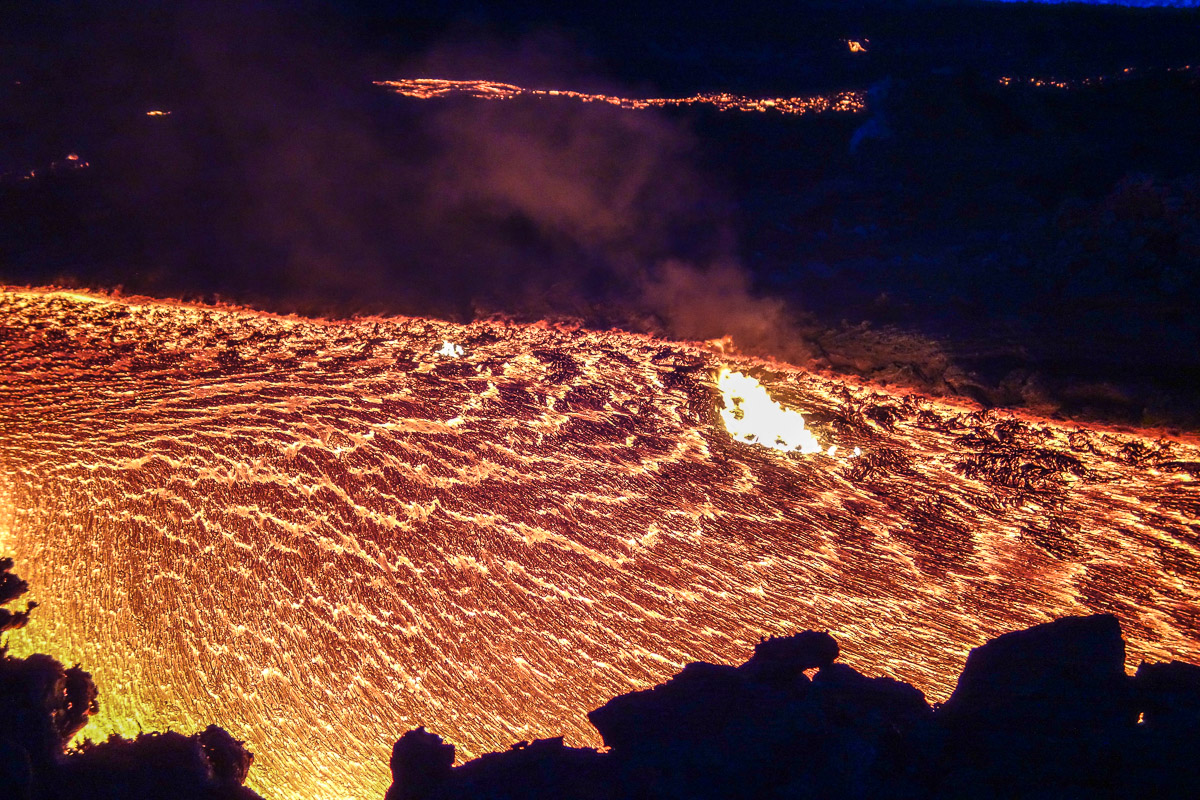 As we were told by various volcanists, the temperature of the lava here is from around 700° centigrade (1300° Fahrenheit) where it cools (black), and up to 1000°C (1800°F) or more (where it's red hot). This is perfectly sufficient for practically any object – no matter what it's made of – to combust and be reduced to ash, literally in a flash!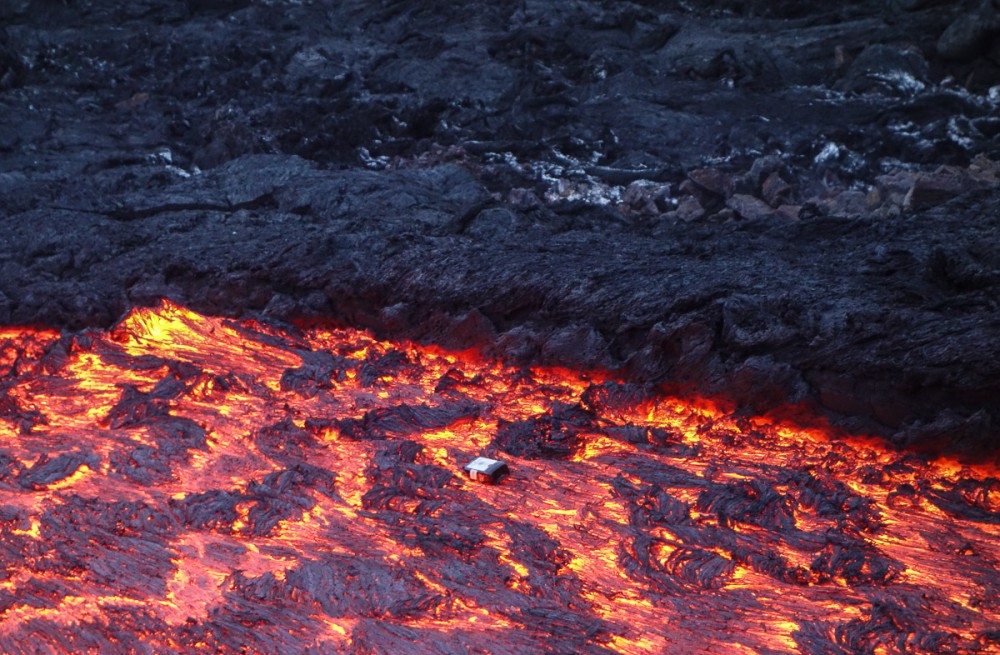 The Ballantine's rides again
It all started with simple curiosity – with a stone thrown in "to see what happens". To our surprise it didn't sink, instead making a knocking sound on the surface of what seemed to be a liquid substance. After the stone, in went a tissue. It flared up instantaneously and burned for quite some time.
Of course, it was only a matter of time before everything disposable we could lay our hands on (or at least everything not too expensive or irreplaceable) followed in the (lava!) tracks of the stone and tissue (shame we didn't have some scissors, for neatness's sake:). So, one by one – in flew plastic bottles, glass bottles, and two champagne corks (a birthday was celebrated here)…
Before we went silly lobbing all our bits and pieces into the lava, we first got the green light from the volcanists, who told us that our garbage would do absolutely no harm to the lava. Thus emboldened, the next day we decided to bring with us a bag full of all sorts of odds and ends for ritual launchings. Accordingly, also ceremonially cremated here were: a domino set, an umbrella, and – last and least – a toilet roll (when everything else had run out).
What burned best of all were logs of wood (we had several bags of firewood for heating up the tents (we had a portable wood stove)). Glass bottles weren't bad either (who goes to a volcanic eruption where there's nothing but extreme bad weather conditions without plenty of liquor?). As per the advice of the volcanists, we put messages into said bottles, also business cards, and even 100-ruble notes (the aforementioned liquor I think by then having kicked in something proper).
Once the bottles had been catapulted, we saw that the lava flowed in two directions – to the east and to the west. This got us wondering – where would they end up? In the Sea of Okhotsk or the Pacific Ocean?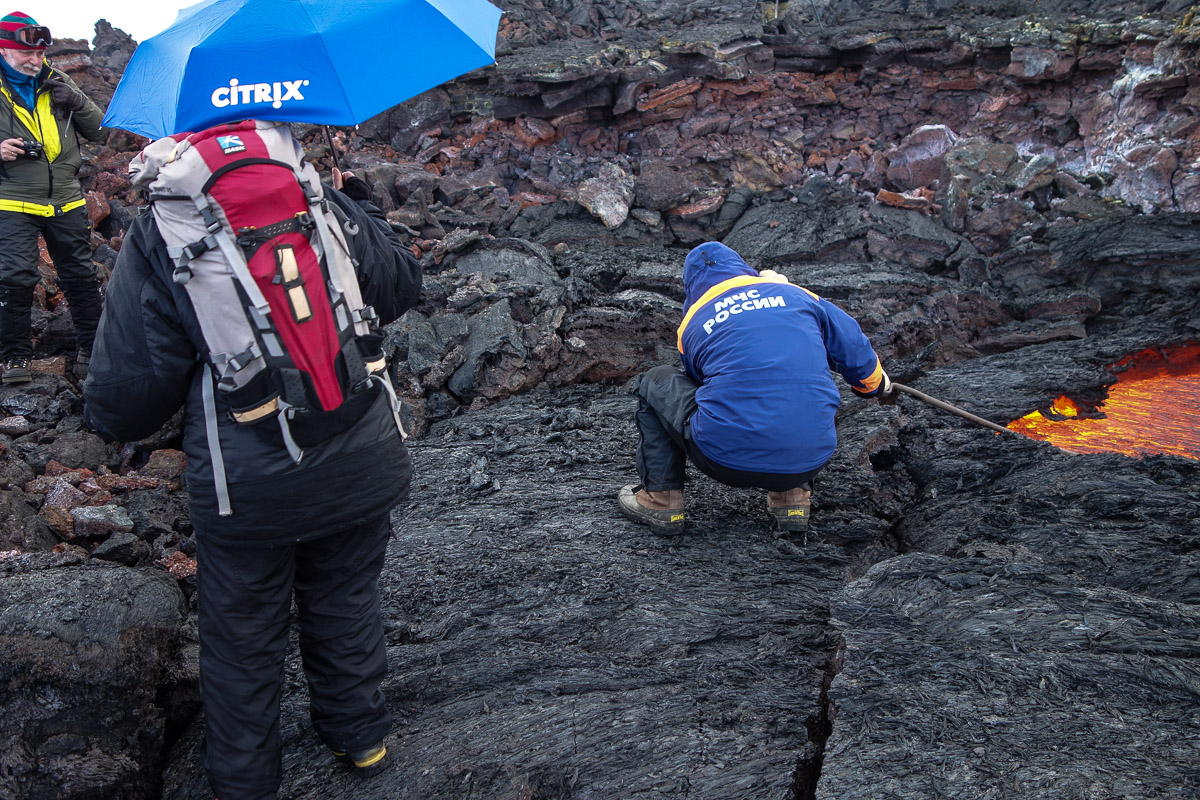 "МЧС РОССИИ" is an abbreviation for the Ministry of Emergency Situations of Russia, but it can be translated directly, though not quite properly, as … Extreme Situations of Russia. I think that sums up Tolbachik blowing its top rather nicely!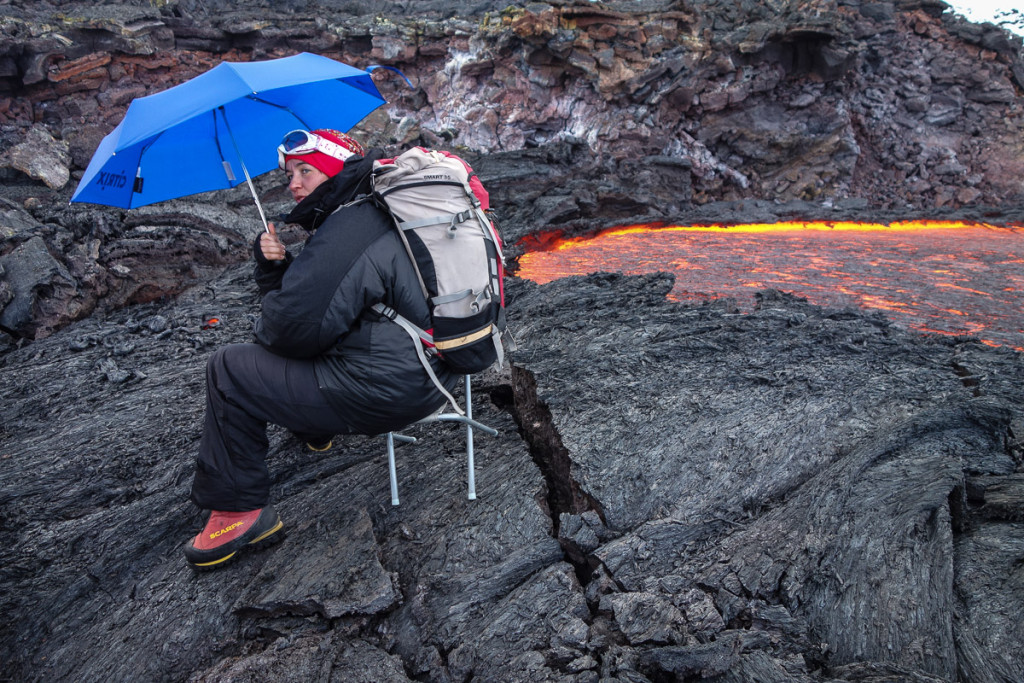 "Scarpa"? – maybe she'd better :)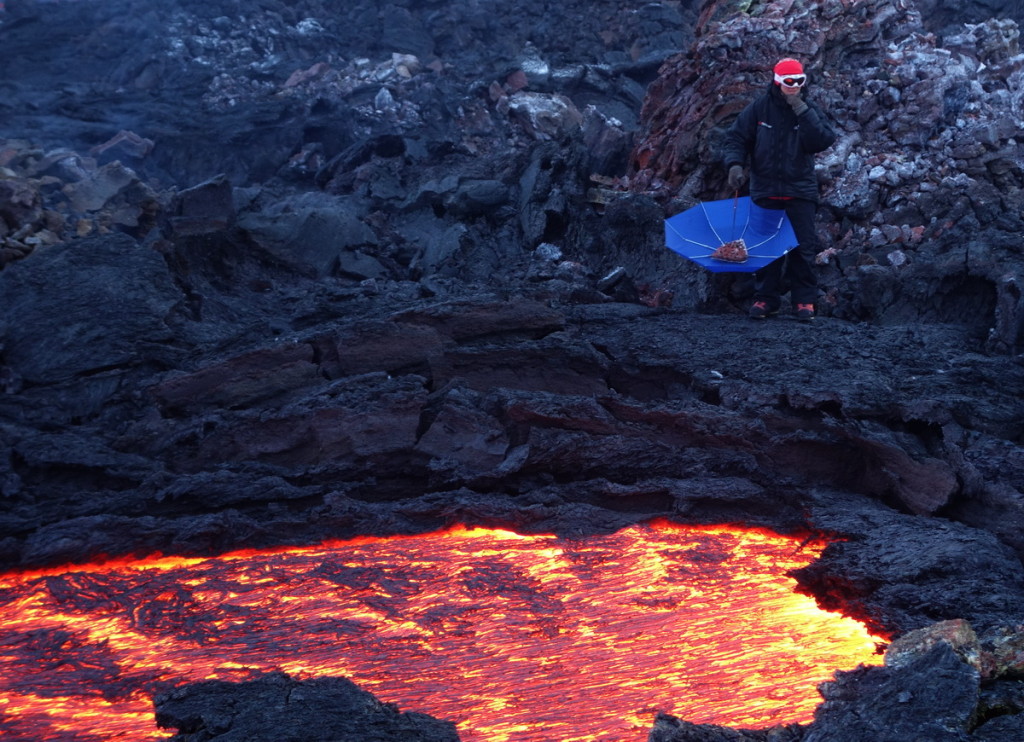 The infamous brolly – before…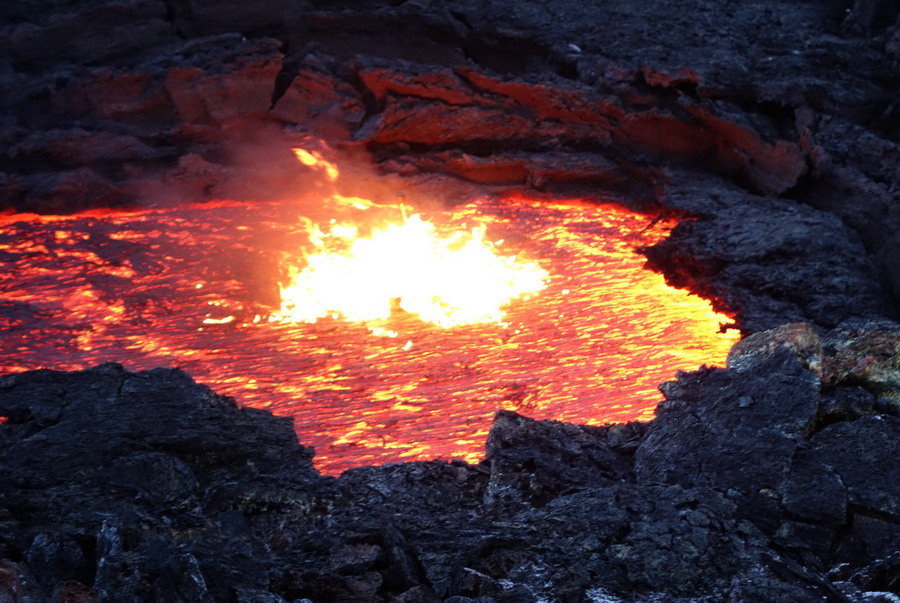 …during…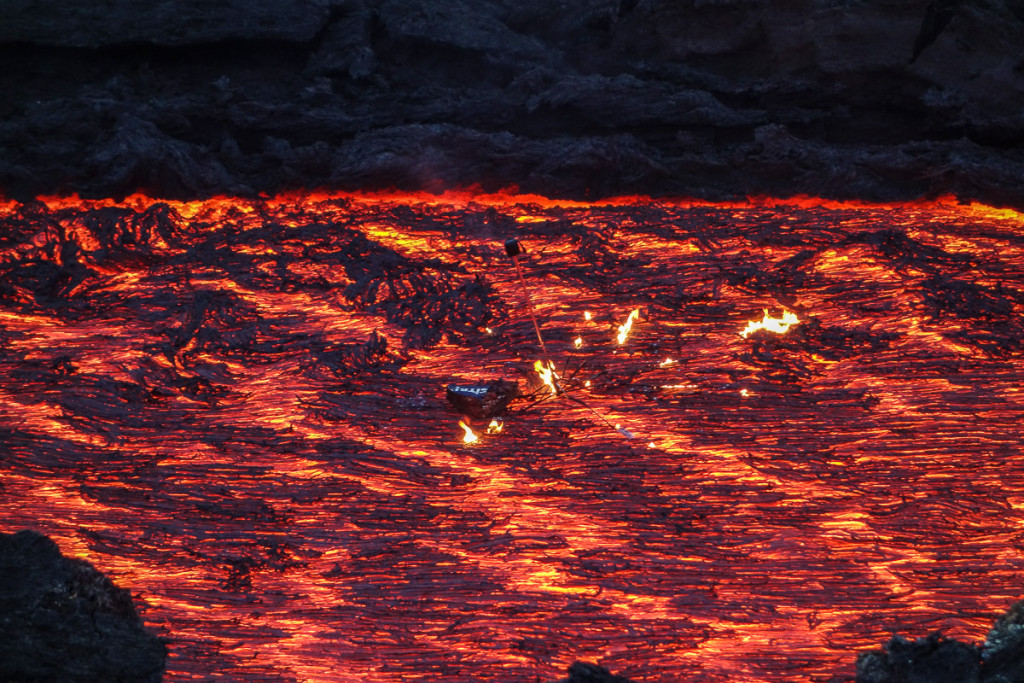 …and after
Funnily enough, the lava had almost no visible effect on the domino set! No bursting into flames, nothing! Thus, advice: don't bother taking dominos with you on a lava observation operation :).
So, what else?…
Another unexpected curiosity:
What made the greatest impression during the whole trip weren't the streams of red hot lava, or even the nighttime fireworks displays of the eruption. Most impressive of all was the moment when we first landed at the site. Bags unloaded, helicopter flown off, we were left on our own in an immense snowy desert, right next to a thundering volcano and lava streams, with a ferocious wind and a temperature around -20°C (-4°F). Now that was something I'll never forget.
Tale of the unexpected #2:
During a snowstorm, about 200 meters from us we could make out the figures of two human beings! Eh? How's that possible? Where've they turned up from? Why would anyone be walking about up here of all places? As it turned out it was the Russian photographer Irina Daletskaya and her daughter. They'd flown in to snap the eruption and wound up under a cyclone. As a result, instead of two days' photographing they got two weeks of trying to survive in the most extreme of conditions – frost, wind, hot flying slag cutting into tents, and so on. But all ended well. The weather sorted itself out, we flew in to the rescue, and three days later we were all evacuated off Kamchatka back to the mainland. Phew!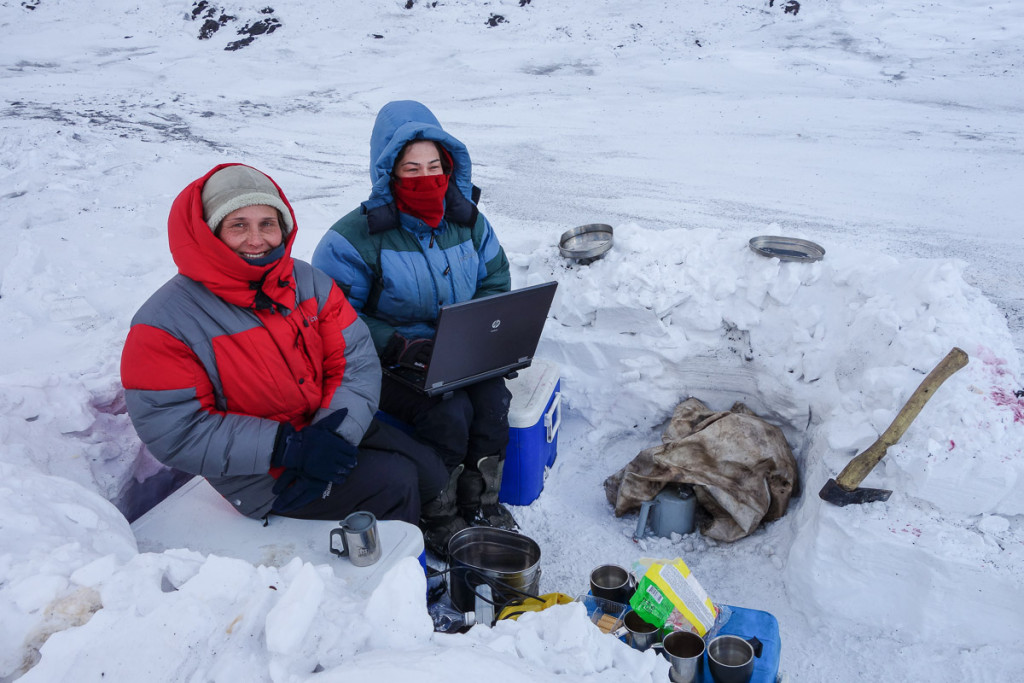 I wonder – do laptops have a minimum recommended operation temperature?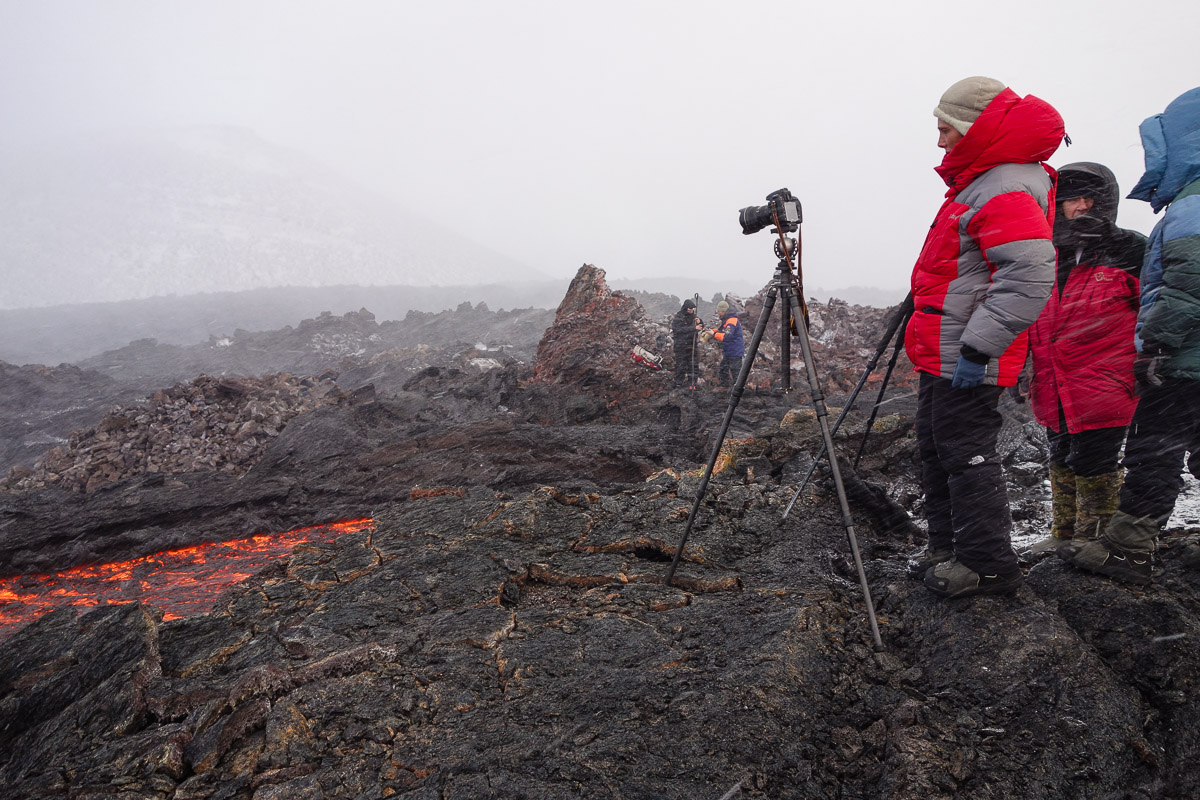 That's all for now. If I think of more interesting stuff from out here – I'll tell you shortly…
The rest of the photos are here.