The 12 most beautiful places in the world. No. 10: Greatest ocean road & greatest ocean cliffs.
Just like we stayed in China for two entries to my Top-12, we're in Australia for a couple too. There was Friday's Ayers Rock, and today there's…
#10. Great Ocean Road, Australia.
Ok, ok: I realize a road is man-made, but it's not the road itself I'm referring to. It's the views from it – along its full length (243km) – that I mean. The cliffs, stone columns, arches and tunnels cut into or out of the sandstone over millions of years by the ocean's waves. Also: the unending views out over the ocean, in the direction of Antarctica…
Pre-1990, one of the arches – actually, a couple of arches – was named 'London Bridge', as it resembled (loosely!) its namesake. However, in 1990 one of the arches collapsed due to corrosion, and became known – as it still is today – as London Arch! (Incidentally, the same thing happened just last week in the Galapagos Islands!). Fortunately no one was on the part that collapsed – but there were some tourists on the outer section who were stranded. They had to be evacuated by helicopter.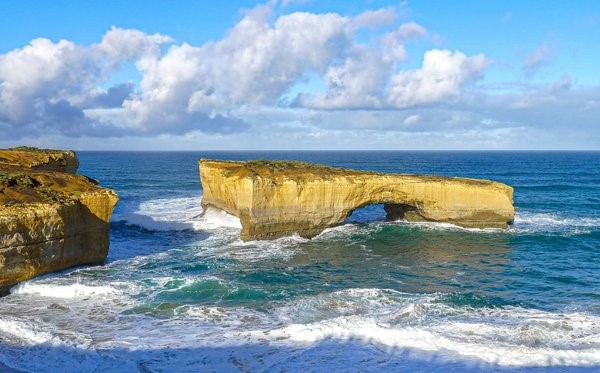 The bonus of this entry on my list is that you can behold all, or most, of these awesome sights in the comfort of your car. Still, stopping for snaps is hardly a chore.
It's recommended to drive its full length in both directions. We did this in a couple of days, but that was way too little time to fully appreciate the sights. I'd recommend at least three days, better – four, or even more…
The Twelve Apostles are one of the highlights of a Great Ocean Road trip. They're really impressive: massive, stratified with layers of different colored rock, and the loud crashing waves below. Originally they were called the 'Sow and Piglets'. Then, around a hundred years ago someone thought they might attract more tourists with a more venerable name, so they were renamed the Apostles!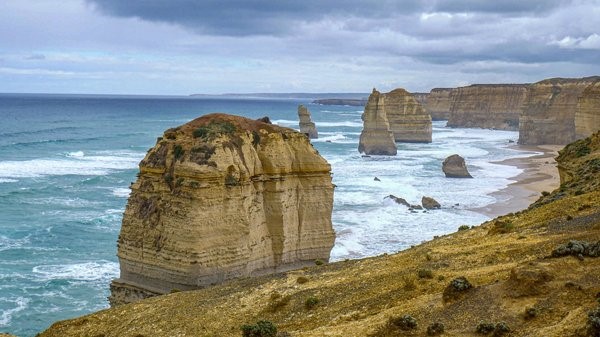 Why they're called the '12' Apostles I don't know (apart from the obvious but still hardly applicable reason), since there are just eight of them, down from nine not too long ago when one of them collapsed. Oh those Aussies ).