The Cape of Good Hope – 2020.
NB: with this post about the place I visited before the lockdown I want to bring you some positivism, beauty and the reassurance that we will all get a chance to see great different places again. Meanwhile I encourage you not to violate the stay-at-home regime. Instead I hope you're using this time for catching up on what you never seemed to find the time to do… 'before' :).
Once upon a time, long ago – in the spring of 2011, I found myself in the glorious city of Cape Town, the southernmost city of the continent of Africa and the country of South Africa. And it's an amazing city! The Cape of Good Hope, penguins under palm trees, and the main thing – Table Mountain, which rises up above the city. We took the funicular that goes up it back then, but we were in a real rush with just half-an-hour to spare. This is way too short a time. You need hours to stroll around up top, and then to descend back down on foot (the path is only 700 meters long). This year, we had more time – but still not several hours! Oh well, at least I was here for the second time: I'd been dreaming of returning for a full nine years. So here I was. And I did manage to walk back down!…
I was in Cape Town, of course, not primarily for Table Mountain funicularing and strolling. I was here on business: our annual META-region partner conference (META = Middle East, Turkey and Africa) (though, technically Turkey is a Middle Eastern country!). As per, it was meetings, presentations, Q&As, formal dinners, partner awards, interviews, non-stop 'cheesing' for the cameras, and all that. And all that over and done with, also as per – micro-tourism!
It was back to the hotel to get into some less formal clothes, and from the balcony of my room I notice this strange construction, seemingly a parking lot: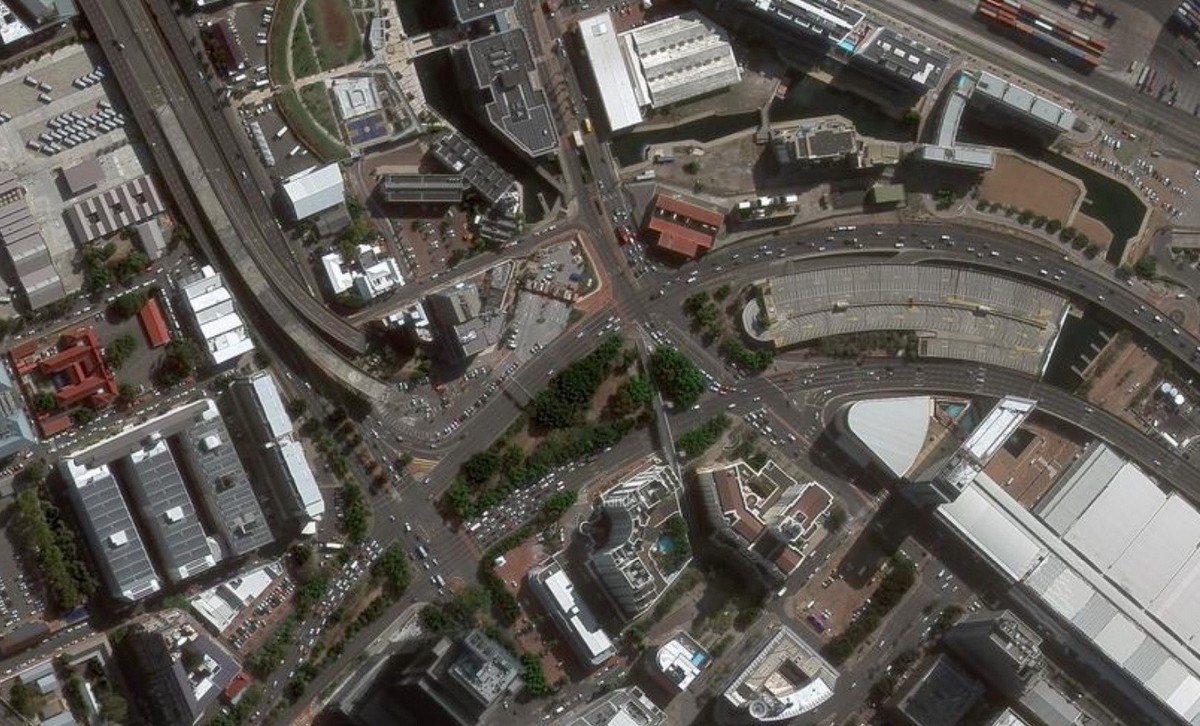 It looks like a road on top. And actually, it is – or was. They'd nearly completed constructing the road, doing so from opposing directions. Then, with just a few hundred meters still to go, construction had to be stopped and the road was never completed. Some building owner refused to sell up or something like that. So now there's this monument to how not to go about planning road-building!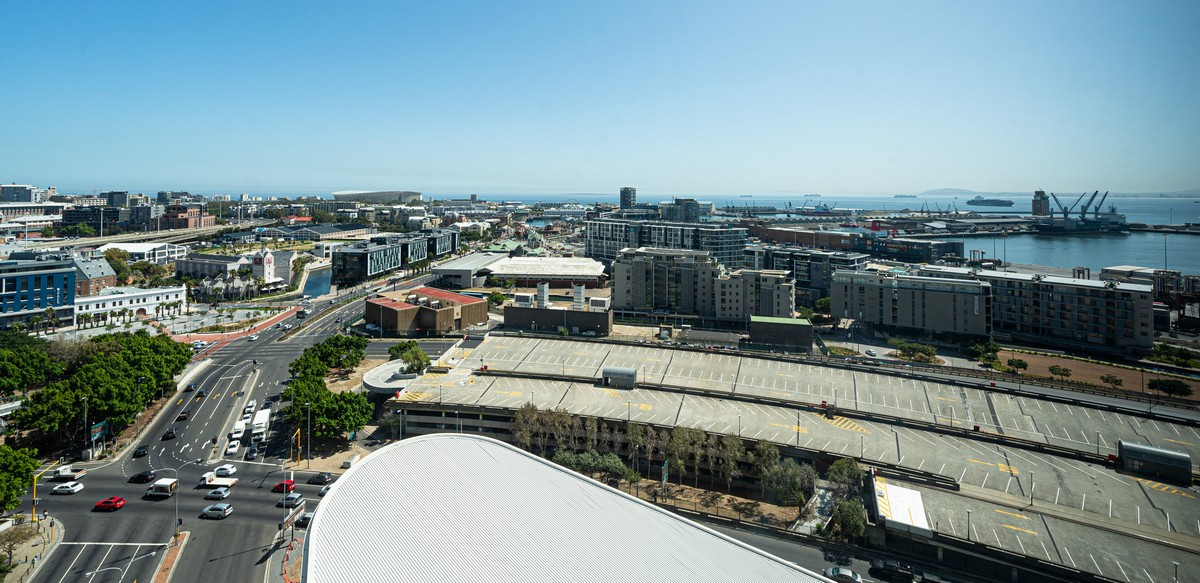 Next, it was into a car and we headed over to the Cape of Good Hope, via a good long stretch of the coastline road. As you approach the Cape, the road starts to wind its way upward, with the views all around fantastic ->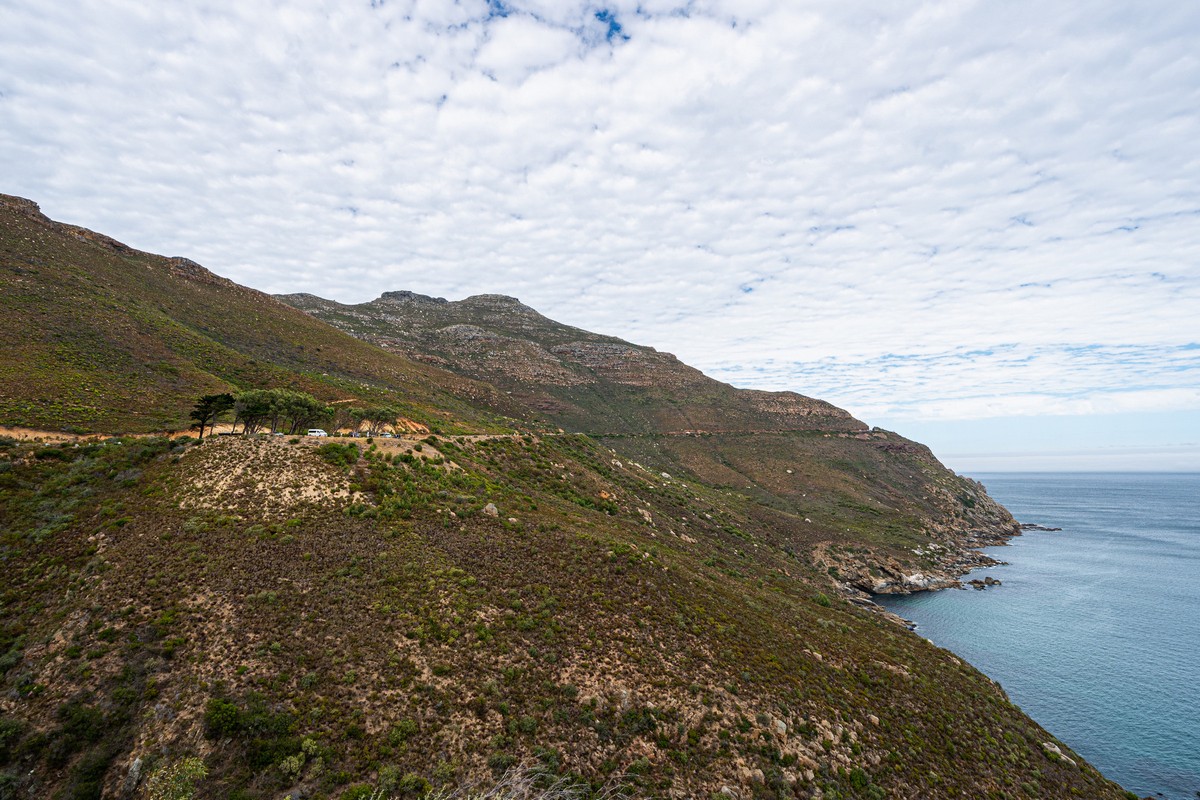 Next the road becomes Chapman's Peak Drive, and the views getting better and better…
While still on Chapman's Peak Drive, we come to a national park which features… penguins! Yep – African penguins! Who knew? Obviously, we turned off the road to take a closer look…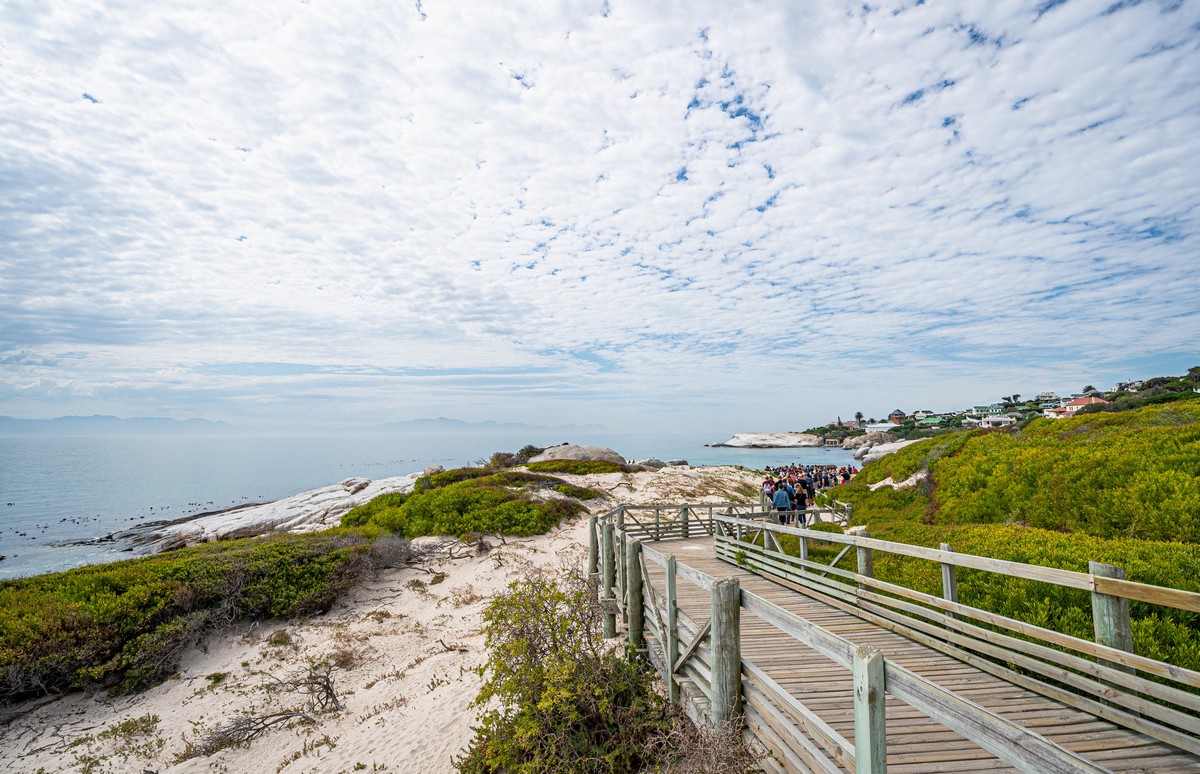 This path leads to the penguins: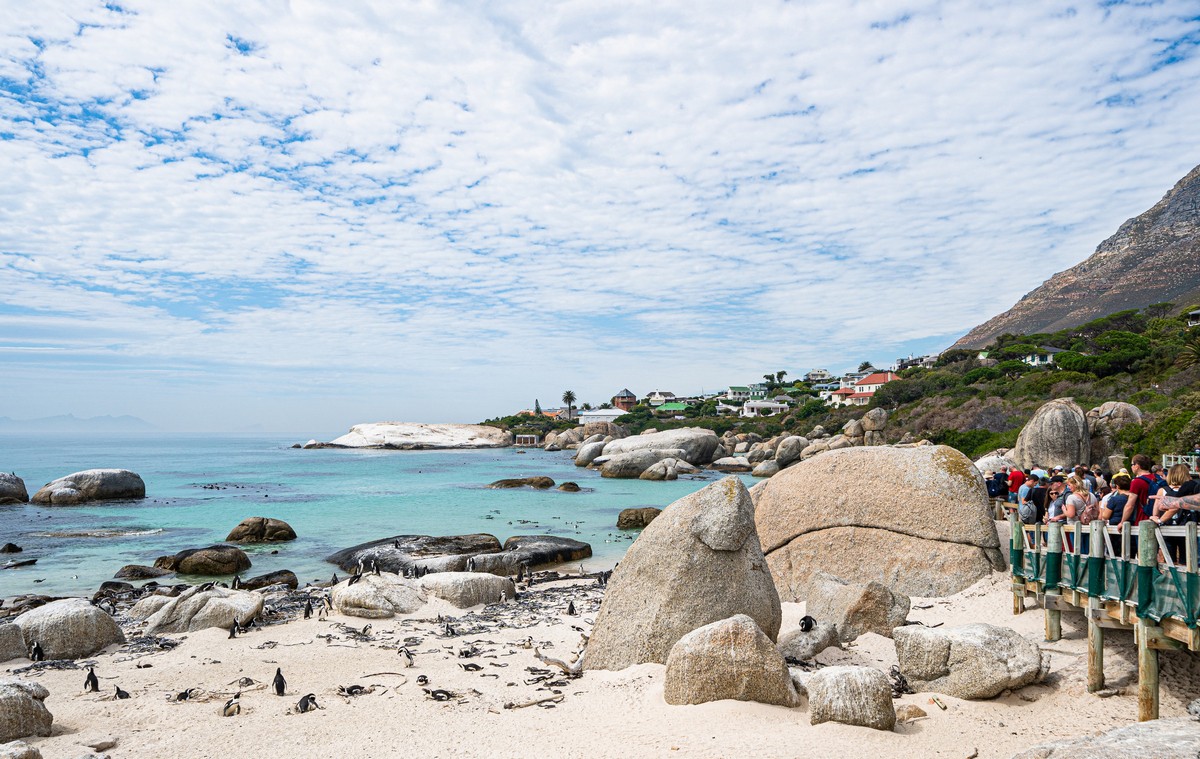 And here we are – a private beach. For exclusive use… by penguins!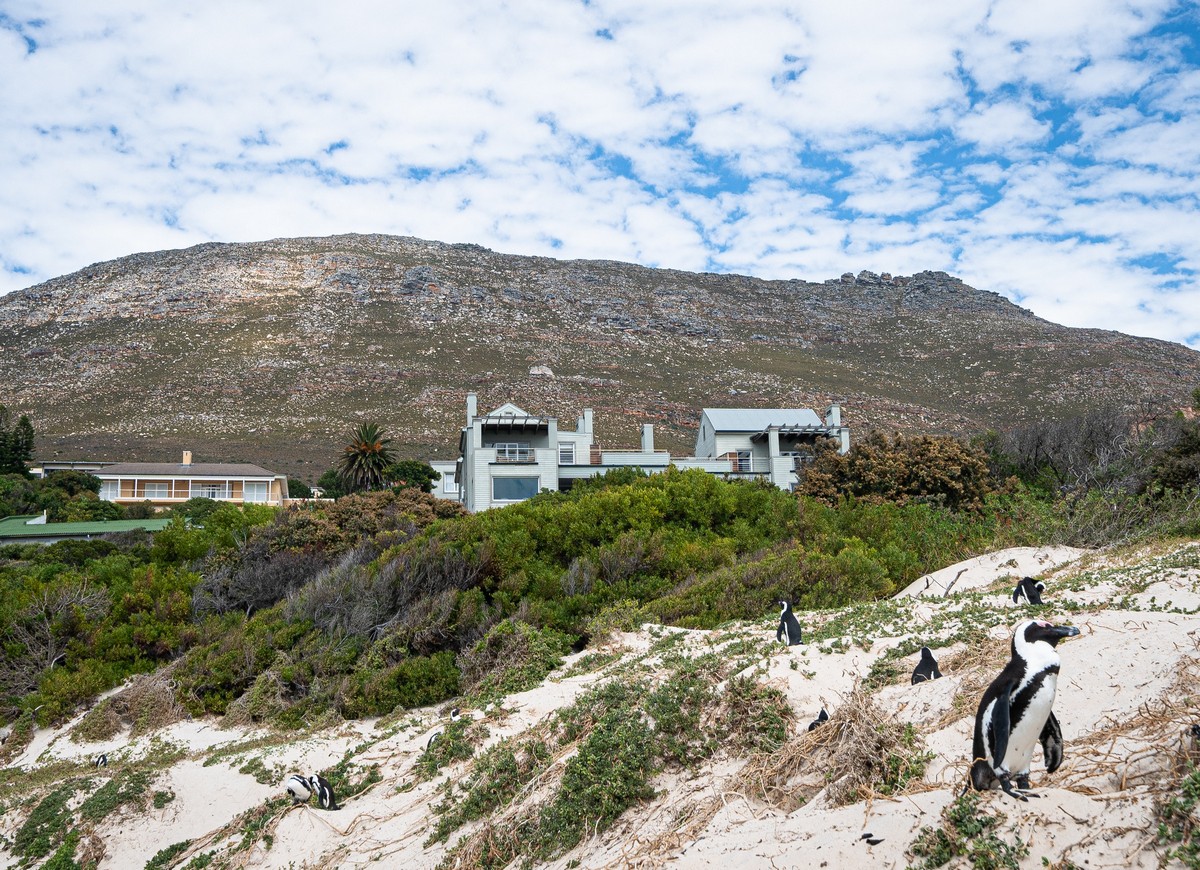 Apparently penguins appeared here suddenly. They just came along one day to this here regular beach where locals relax, and basically hounded them all out, setting up permanent shop! An uprising! An occupation even! The locals are now forced to find other beaches to sun themselves on!
They dig little burrows to put their eggs in (which later hatch, of course). And all this is observed by crowds of tourists from the fenced path – probably more tourists than there are penguins!
"What you staring at?"!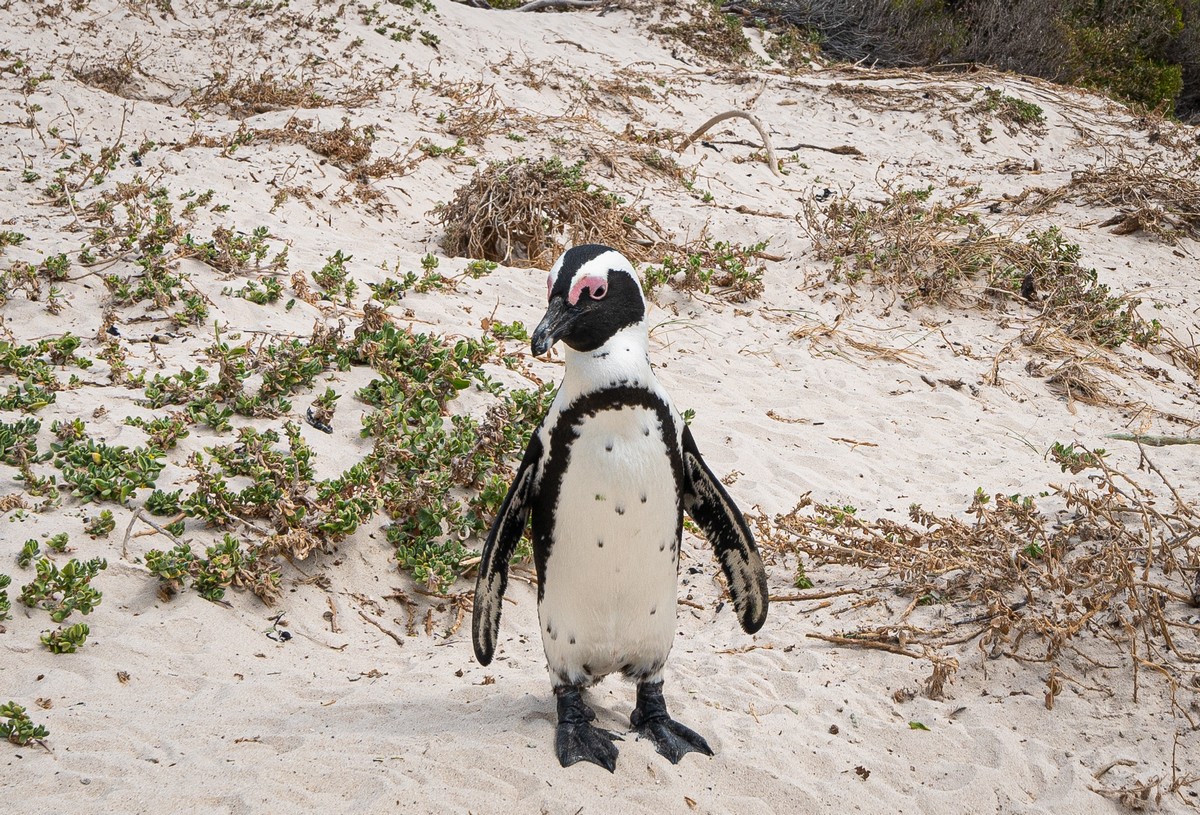 Locals have installed walls and gates to keep the penguins in their conquered territory.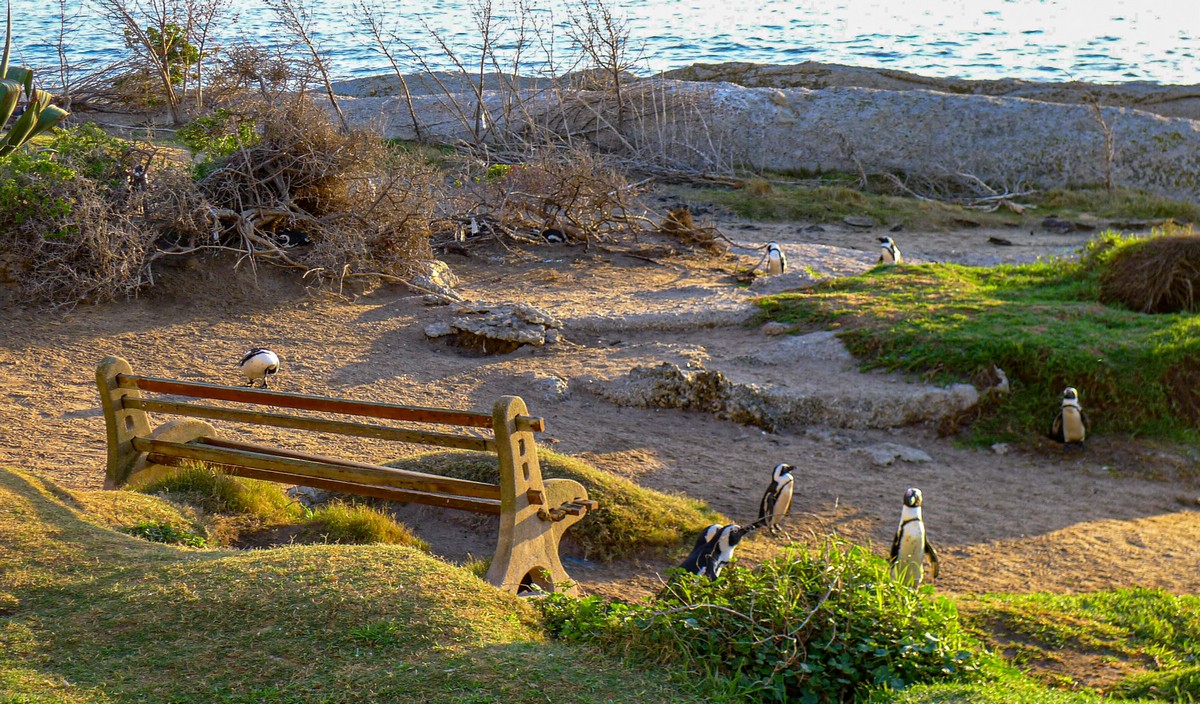 But then a few penguins wait by a gate until a naughty tourist comes along and opens it, and off they pop on a stroll round the village!…
We finally get to Cape Point, next to the Cape of Good Hope. In 1488, the first Portuguese ships sailed past these two capes in their search for a route round Africa to India. Yes, it's rather an interesting story. The Cape of Good Hope was named so by the then King of Portugal (who probably had zero oceanfaring experience!).
Ocean, capes, of course also… lighthouse! A tourist attraction these days. We climb the many steps up to it, passing on the lazy option (funicular).
15 minutes later and we were at the top.
It goes without saying – amazing views. Northerly views: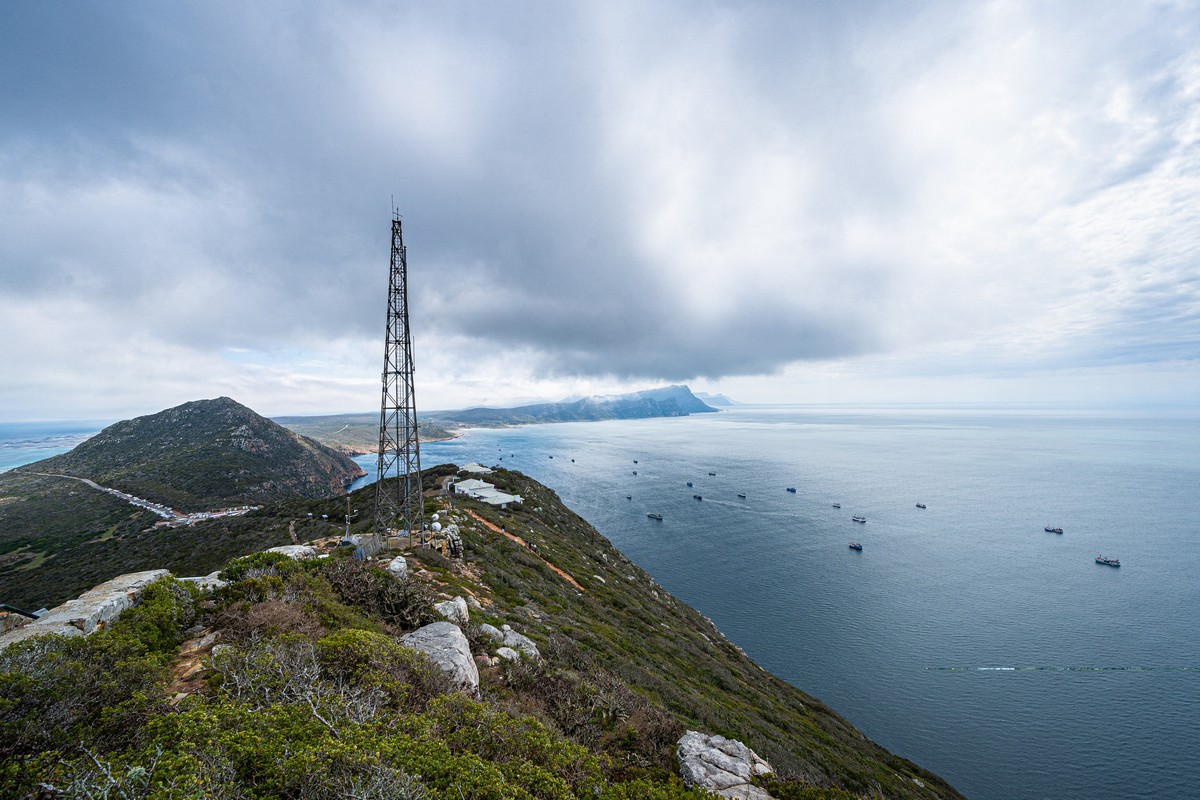 And southerly views. Down there – Antarctica: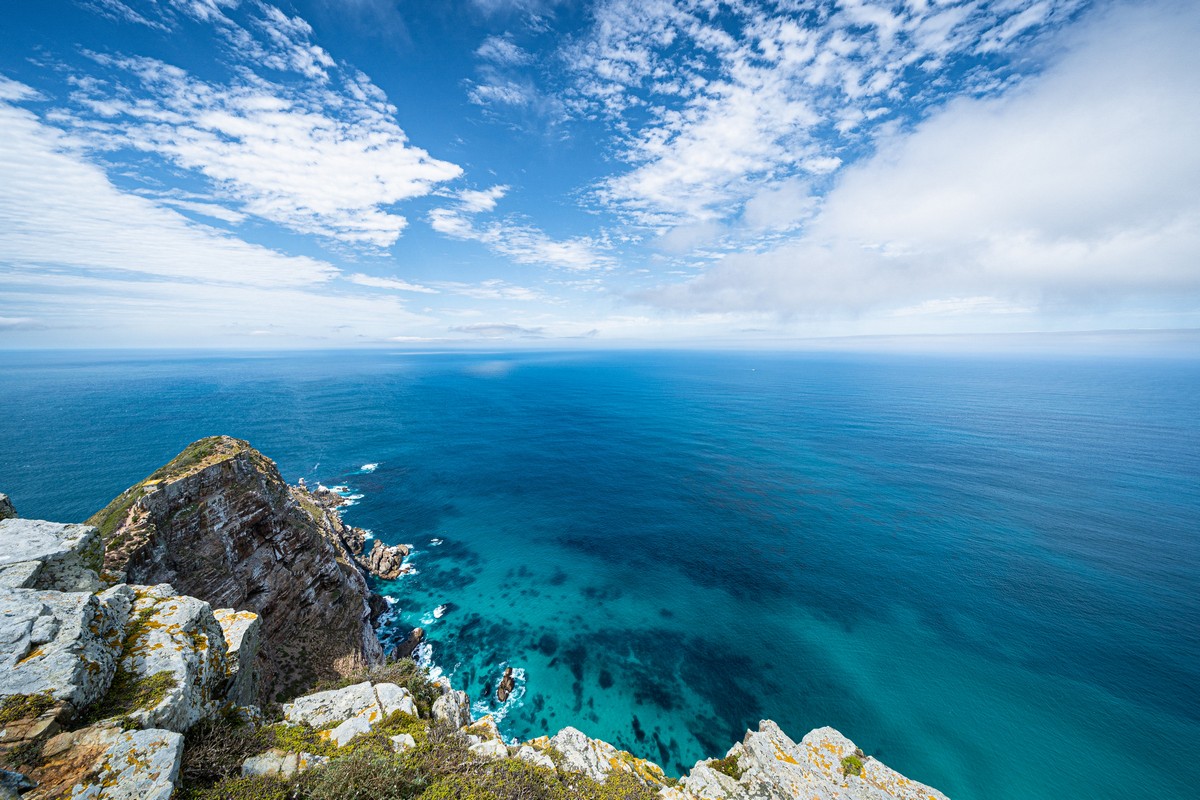 Boats fishing for some kind of rare fish: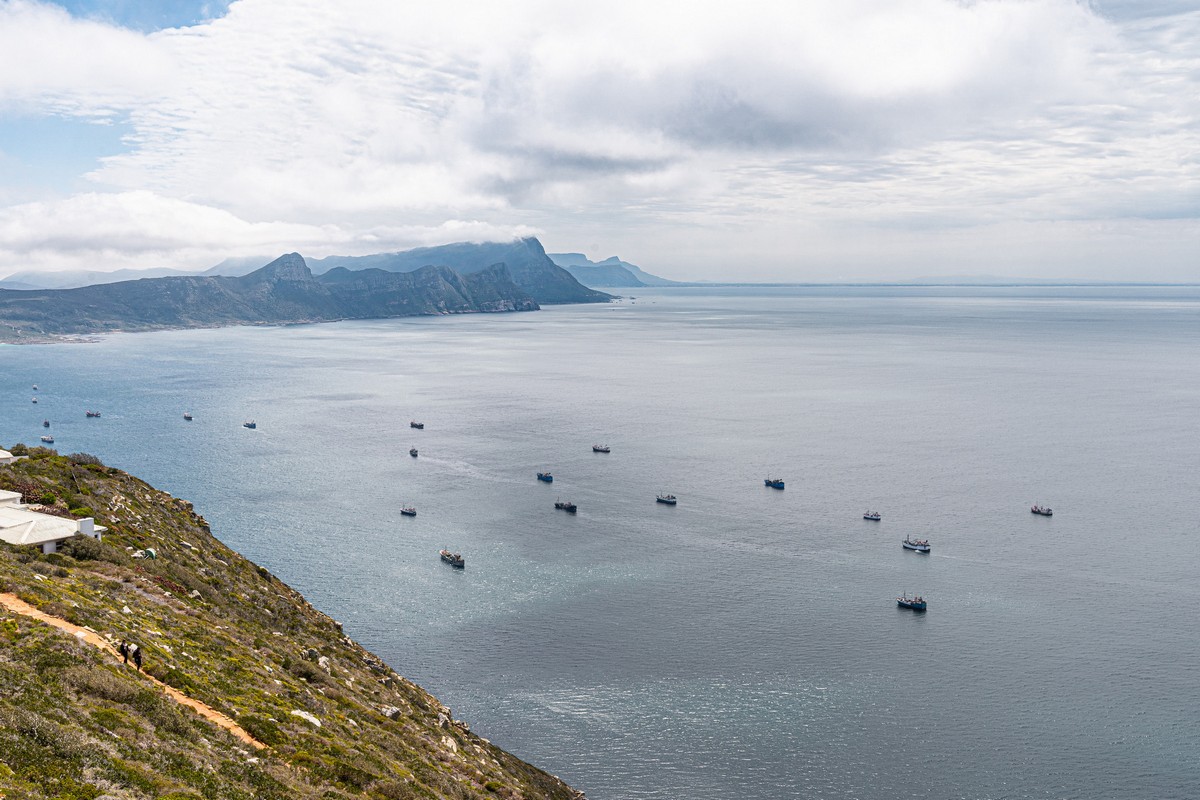 African aloe (more regular-looking, not like in Namibia).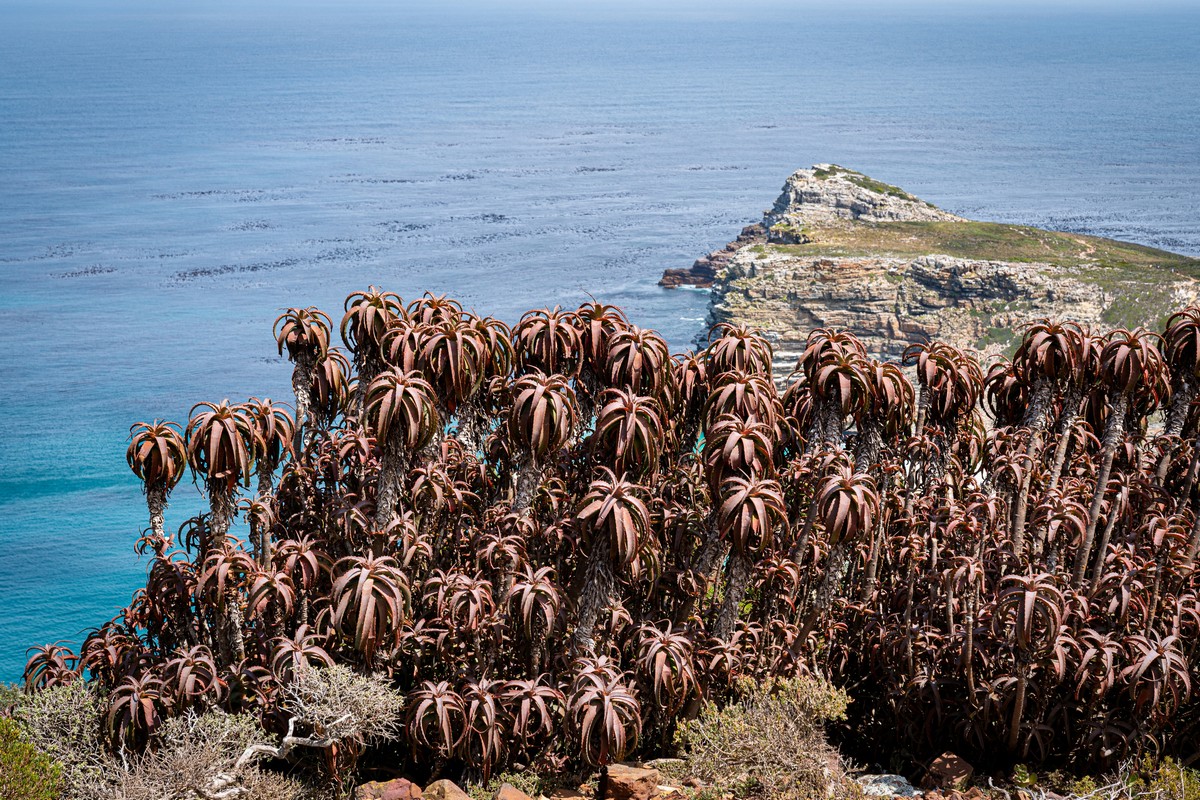 The very 'point' of Cape Point:
Btw: things have gotten real busy since I was last here, in 2011. That visit was made in May, this year's – in March, so maybe that had something to do with it, but the two-month difference can't be responsible for all of the marked change. Just look at the following two pics of the same place: first one – packed, with cars having to park along the thin roads in addition to the parking lot; second – practically empty. Our guide, who has worked here 15+ years, said it's always packed here, no matter the month. I just can't figure it out.
And now for a spot of tourism-marketing-intrigue…
In the past, this whole area here – from modern Cape Town to the very 'Cape' was called the Cape of Good Hope. Then, for some reason I can't quite recall, the Cape became just the southernmost part of the peninsula. Then, later still, the Cape became not that there peninsula jutting out into the ocean, but its outermost point. I won't be surprised if soon a certain rocky outcrop on the outermost point will become the 'Cape'. What all the fuss is about I'm not sure, but it is what it is. Aaanyway – I mention all this as our posse really wanted a pic of the very, true, genuine, actual 'Cape', as it is defined today. And guess what? We ran out of time to do so! Accordingly, herewith, a few pics of the 'old-school' Cape of Good Hope. The one named by that Portuguese king. That sounds plenty genuine to me ).
We also missed all the wildlife that lives around and about the (old-school) Cape of Good Hope. So you'll have to settle for some pics from 2011:
Half a day for such tourisms is really way too short. You need at least a full day – and from the crack of dawn. Then you've a lot better chance of seeing the ostriches, dassies, baboons and more. You'll get to the millennial version of the 'Cape' as well, and could also fit in a portion of laziness on the beach there. All this of course means only one thing – I'll just have to come back here another day!…
To be continued!…
More pics from Cape Town are here.