Sochny Sochi, and lots of toastski.
Oh my grueling! The other week was reeeaaal high-pressure. Geographically, it went like this:
Moscow > Sochi > St. Petersburg > Moscow. Five days, three cities, two events, five hours in planes, and around 10 hours in cars.
So, like, why?…
First, there was our traditional global conference I had to get to. A quick bit of background to begin with:
A long time ago, when we were just a wee company, we started to gradually grow the number of partners we had all around the world. And when visiting one such technology partner, we saw how it put on yearly international partner conferences. 'Great idea!', we thought, and soon later – we put on one of our own: in 1999 we organized our first ever global partner conference, which took place in Moscow and which was attended by 15 guests from Europe, the U.S. and Mexico.
The following year, we spread our wings just a little further – with our partner conference taking place up in St. Petersburg. The year after that – Cyprus (attended for the first time by partners from Asia and Australia); after that – Barcelona; after that – Malta; next – Antaliya, Turkey; Portugal; Athens, Greece. It was when it came to Italy's turn to host our partner conference that we realized that, for sure, we simply could not fit any longer into the regular conference halls in large hotels. And so it came to pass – we were all grown-up all of a sudden. Like with all children eventually – it was time for a bigger room ).
Thing is, we really didn't want to bump the format up to expo-center level; therefore, from 2008, we decided to split the large global events into smaller, regional ones: North America, Latin America (sometimes together with North), Europe (including some sub-regional conferences), Russia (held in the Russian language), APAC (Asia & Oceania), and Japan (which had its own for a while). And everything was hunky-dory.
Later, having another think about all this, we figured we should have a special international get-together for our favorite, most successful partners. Thus – what goes around comes around – the international partner conference was back, albeit in a different format.
So, two years ago (in 2017), our first global 'greatest hits' partner conference took place – much like our first 'demo tape' did back in 1999 – closer to at home, in Moscow (I didn't write anything then about it as June 2017 was fraught with other pressing business). The following year, again, we chose St. Petersburg as the host city, and that time I did manage to write a few words thereon.
Then, this year (the third year), we traveled a little futher from home (like to Cyprus in 2001)… to sochni ('juicy' in Russian) Sochi on the Black Sea in Southwestern Russia! Yes, where the Winter Olympics were held in 2014 – that Sochi ).
We'd thought long and hard about where this year's global partner conference should be. Eventually, remembering that June is the perfect month to visit Sochi – not too hot, the Black Sea is refreshing but bathable (yep, we had a frolic therein), and up in the mountains above the city it's pleasantly cool – Sochi got the most votes. And why not? Why not show our visitors this wonderful, unique city? So in everyone flew – all 140 of us, including 98 guests from abroad – from 35 countries, and all in order to talk business and its development.
Of course, Sochi isn't the most convenient of locations to get to for everyone – especially those coming from America, Australia or Africa. Most folks needed more than one connecting flight, with some journeys taking 40 hours! But it was worth it: the infrastructure put in place for the Olympics is all still there, and can easily impress even the most sophisticated of international guest. And for a boost in immunity – especially cyber-immunity – at this time of year there's no better place in Russia!
The event took place in the Hyatt Regency: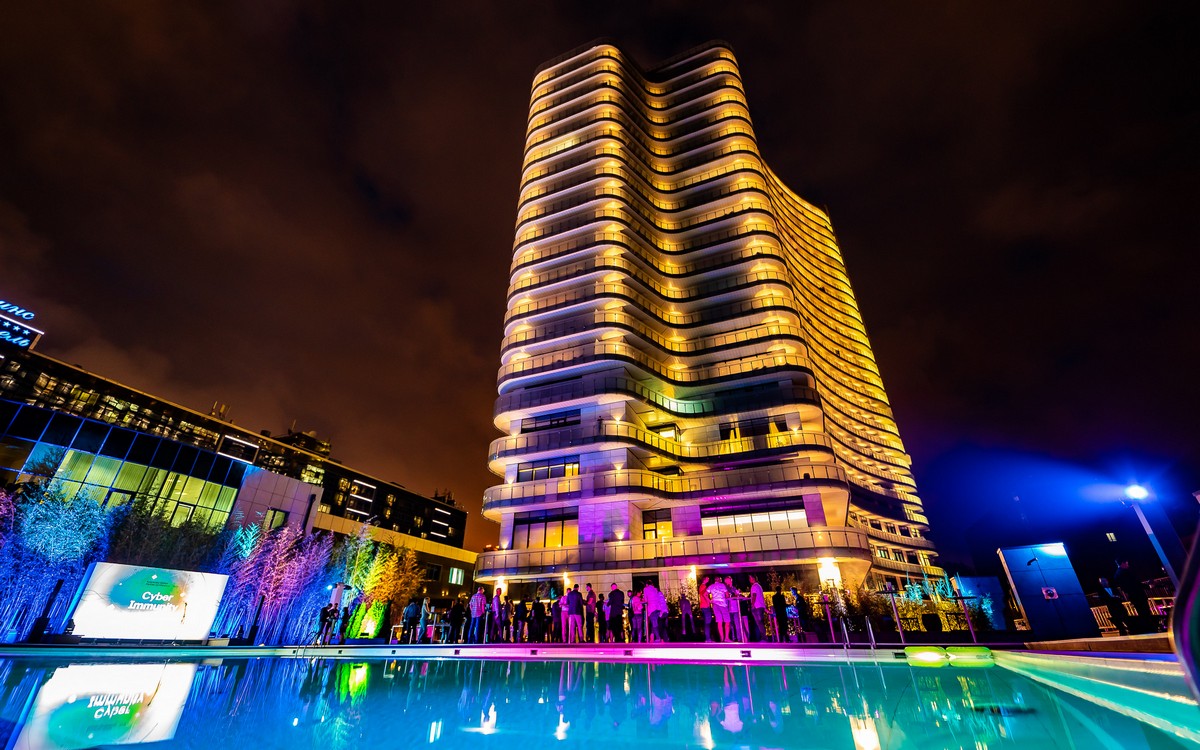 Woah. Hold on – deja-vu!…
So, I check into the hotel, head to my room, go out onto the balcony to take a few pics – and I feel like I'd been on this balcony before, taking the same pics. Later, I dived into my archive, and lo and behold – I had been here before! Check out these two pics – the first is from 2016; the second from the other day. The only difference is the position of the sun in the sky:
But whatever. One must live in the now, and confidently look to the future. However, we shouldn't forget the past either ).
So, back to today, and our third (or 12th) global conference…
I normally gloss over how conferences are, just noting that they ~'went well, were interesting and useful'. This one, however, was a little different: it was warmer, more heartfelt, more feel-good. Instead of the traditional high stage with a podium, the stage was down near the level of the audience, who were sat comfortably on relaxed chairs or beanbags in a semi-circle. The interaction was a lot more immediate, intimate and pleasant: there was almost a family atmosphere. The questions were generally positive, and the discussions also had a very positive aspect about them. So if you, dear readers, ever need to throw a partner conference – I highly recommend this format.
Moreover, the topics we were discussing were very serious: how we're challenging the traditional view of cybersecurity and are moving in the direction of cyberimmunity with systems that are 'secure by design'. It was most pleasant to hear that our partners understand the importance of such an approach.
Besides, it was here in Sochi where we unveiled our new logo. It was explained how KL as a company is changing, and how its visual representation needed changing too – as part of a wider rebranding incorporating new principles.
But the best moment was announcing our new logo – the partners saw it before anyone else, with an exclusive unveiling literally a minute before publication of the official press release. They liked that; we liked that ).
But you can't usher in the new without a thought to the old. Therefore, there follow a few old pics on our former logos…
The old logo served us for a good 20+ years with hardly any changes. Respect! Now, off he goes to retire, proud in the knowledge he did his job well.
And now, probably, anyone and his dog can use a picture of him while he lives out the rest of his days on his pension. What? What I mean is – I'm not sure our patent dept. army will be too bothered about returns to form as we saw occasionally in the past. Still can't work out what the devil I'm on about? Here's a pic-clue: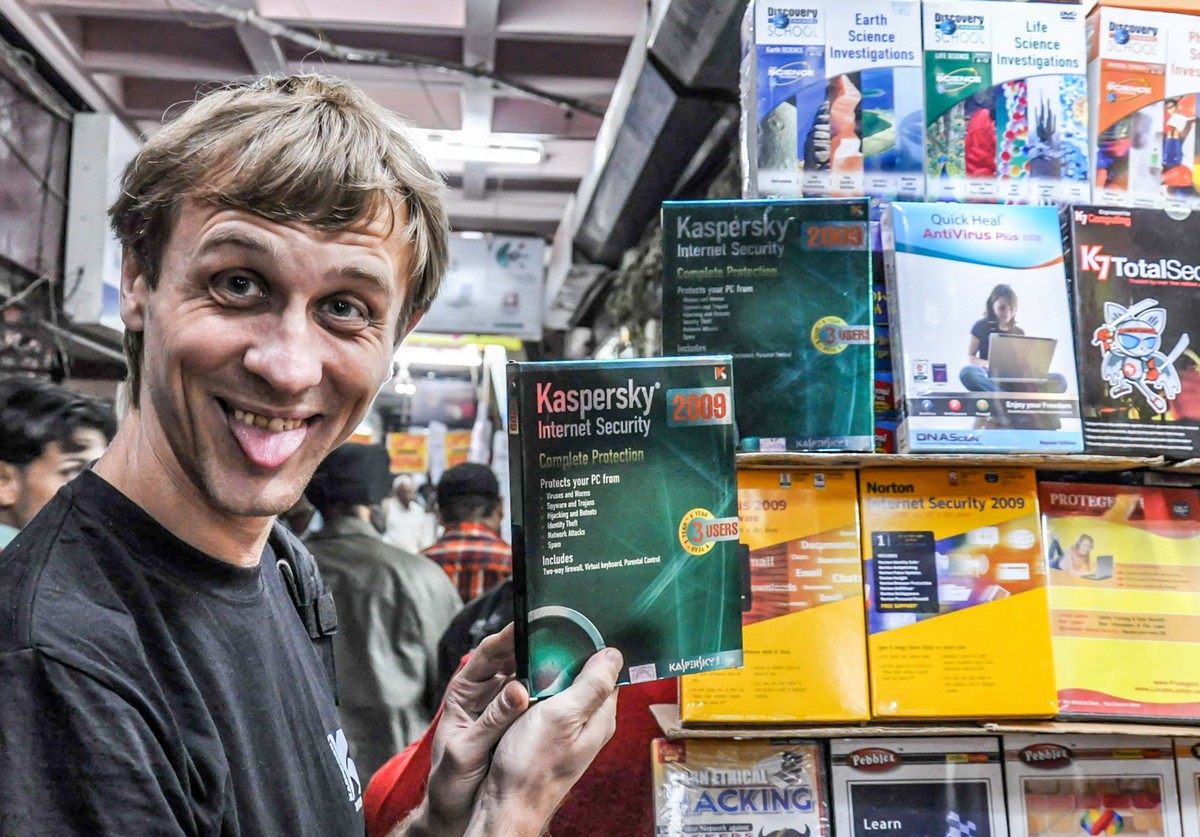 Know what that is? Pirated KIS! In a street market in Delhi! And a youthful-looking Aleks Gostev too ).
And this – a Taiwanese router. 'KASBER'! They even added an ®!! Yep – certainly registered. Registered brazen! I think we still have one of these kicking around HQ…
I remember there were some kind of air conditioners from China too that had our name on them. There was all sorts of stuff, but I can't remember much of it. But if any of you, dear readers, might recall any – do let us know in the comments!
And our K symbol (it's a 'V' – for 'Virus', on its way down toward annihilation thanks to our antivirus, in case you didn't know:) was used for all sorts of silly unsanctioned stuff too (it appeared a while later, in the early 2000s). One example, to be found in markets across Russia at one point: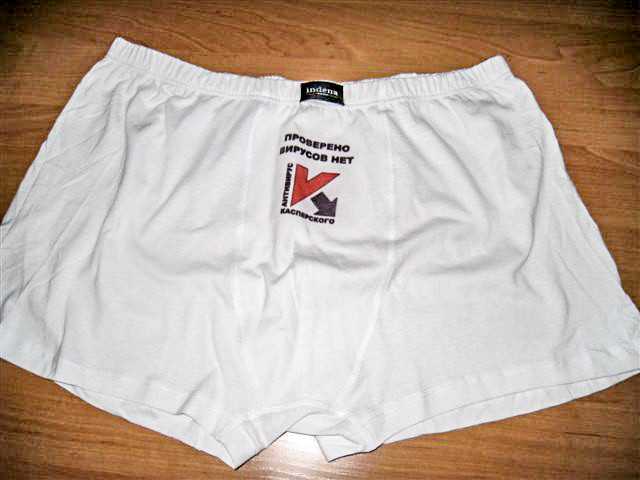 'Tested. No Viruses. Kaspersky Anti-Virus'
Oh, and this sponge…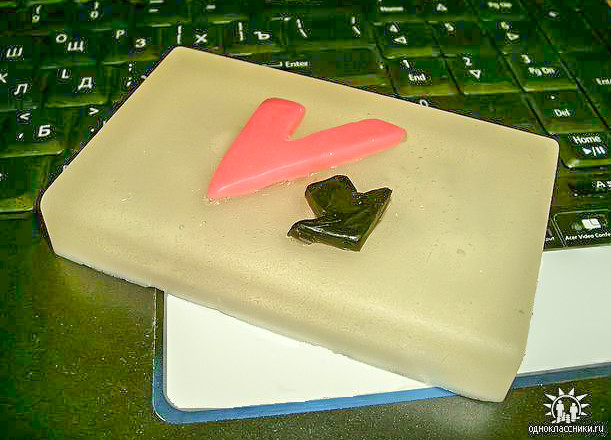 Hmmm. I wonder if we can out-do these creative uses of our old logos with ones for our new logo or Midori Kuma? Again – all ideas > the comments!
But I digress.
Back to Sochi…
Even the gala dinner threw the rulebook out the window (and into the Black Sea). We informed all our foreign guests how, in Russia, a toast isn't just a toast in the western sense of the word: a quick 'cheers' or 'cin cin' or 'prost' or 'skål', and that's it before taking a sip. Oh no…
In Russia, a toast can take several minutes. It involves the regaling of a wise tale, a relevant (here – K-themed) anecdote, or maybe even a philosophical treatise ). It's always light-hearted and jolly, can get rather raucous, but is never trivial or silly: it is, fundamentally, taken seriously, even solemnly.  Yes folks – welcome to Russia!…
So anyway, the gist of the above paragraph was similarly conveyed to our guests (from all over, remember – including all the Americas, Europes, Africas, Asias and Australasias), and… hey – they joined in the lengthy toast-telling too! Sure, they're not used to doing such things, and weren't quite sure what to say – but they gave it a go, pulled it off, and it went down a storm! Na zdoroviye!
Btw, our dinner was in the restaurant of Marine Station. Oh my grandiose!
Early next morning I was up and off to my next event – up in St. Pete: SPIEF'19, but more on that in the next post.
However, I was given by someone who stayed in Sochi the following witness statement:
'Incredibly, after such a toast-heavy dinner the night before, everyone was spritely [I can't believe that – EK] and actively discussing the serious business of the day over barbequed lunch. Once again, rule book… – this time into the barbecue flames, and we discussed the partner program, new products, and even hacked a smart home… all to the sound of mountain rivers and singing birds. Oh yes!'
And that was that. More informative, more activity-packed, more warm-heartedness – that was Sochi 2019. How we gonna improve for next year I do not know. And I wonder where it will be next time? Sochi's gonna take some beating…