Ecuador-2019: Cotacachi/Cuicocha, Otavalo, Puertolago.
Our tour of the Galapagos was over. All that was left to do was fit in our traditional few days of 'decompression' after the extreme part of our expedition before we were to head back home. This was to take place back on mainland Ecuador…
…So much for the 'decompression' bit: for our next Ecua-dish on the menu was… volcanism ). Yes, we headed over to Cotacachi Volcano and its lovely caldera/lake called Cuicocha – here – around two hours drive from Quito.
The height of the caldera differs depending on whom you ask – among locals, various internets, and our own GPS locators. Our locators gave us figures which tallied with what the locals told us: from 3100 to 3450 meters, making the lake around 3km above sea level! And it all looks something like this:
A fairly easy path runs the full way round the lake, which takes around four or five hours if walking at a gentle pace (decompression, remember?:) – or six or seven hours if non-stop-stopping for snapping the super scenery, which is of course what we did. It's a wonderful day's walking, and the path is helpfully dotted with clear signs:
Someone sure got the location right here: this place has the perfect panoramic view of the caldera:
A wonderful walk. If only it could have been topped off with a bathe. Alas – no sandy beach by the lake. All the same – great; recommended. And it was my first volcanic caldera walk of the year. Yeh!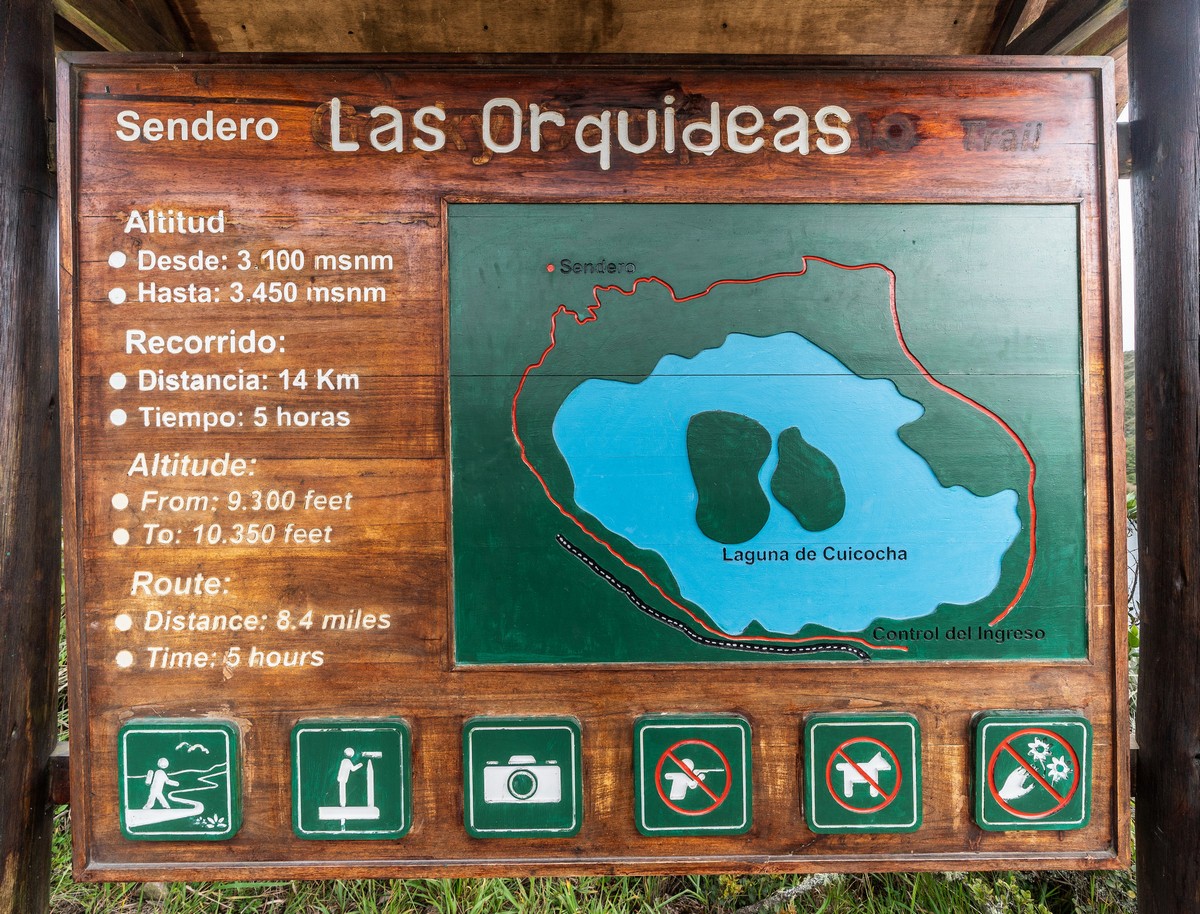 As to other places of interest around here – I'd say two worthy of a visit: first, the bazaar in the city of Otavalo; second: the Puertolago hotel – here. Woah – see there on the map all the dazzling reflections – off the lake and also off the roofs of presumably homes? Looks eerily like a pic from a bomber plane having just dropped its bombs up above a city from WWII. But of course, being at the equator – it's the sun. I wonder what's on those roofs though? Maybe water heaters or solar panels?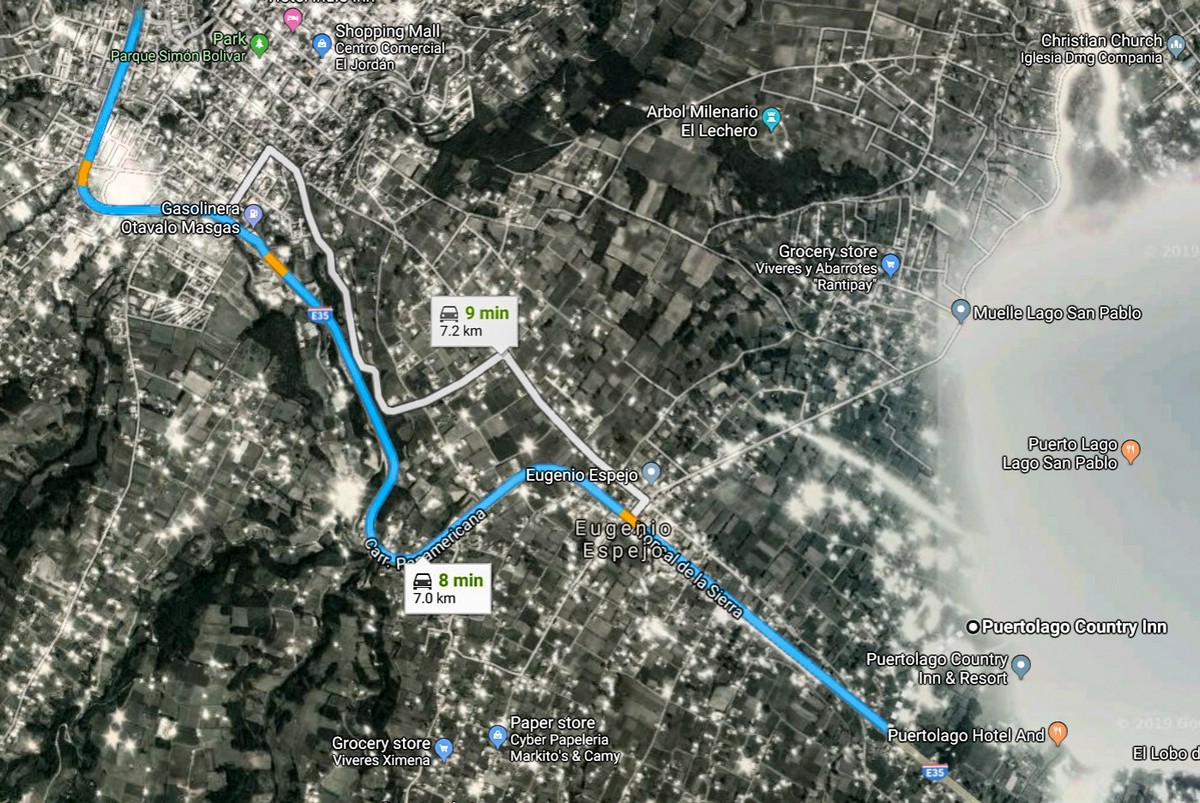 And the bazaar – a must-visit. It turned out to be a real hit with the ladies in our group. A spot of (brightly-colored!) retail therapy was just the ticket, clearly ).
The Puertolago hotel was very swish and cozy. Built not long ago, with good quality little houses, amazing cuisine, and of course – that view of the caldera, plus a bonus: another volcano – Imbabura, in the background. Yep, we sure digged these digs. Was a shame we only had one night there; we didn't want to leave!
Btw, this was the only day we spent in the northern hemisphere. Not that there was much difference – apart from which way the bathwater swirled down the plughole ).
All the Ecuad-awe-inspiring pics are here.