Up to my waist in Karelian snow.
Of late you've been getting nothing but tropical-equatorial-Ecuadorian–Galapagosian dispatches from me. Which is hopefully just what you need if it still feels like winter where you are. However, this post, as the title gives away, is a typically wintery post, just for a bit of variation…
So, without further ado, here we have…: snow. Lots of: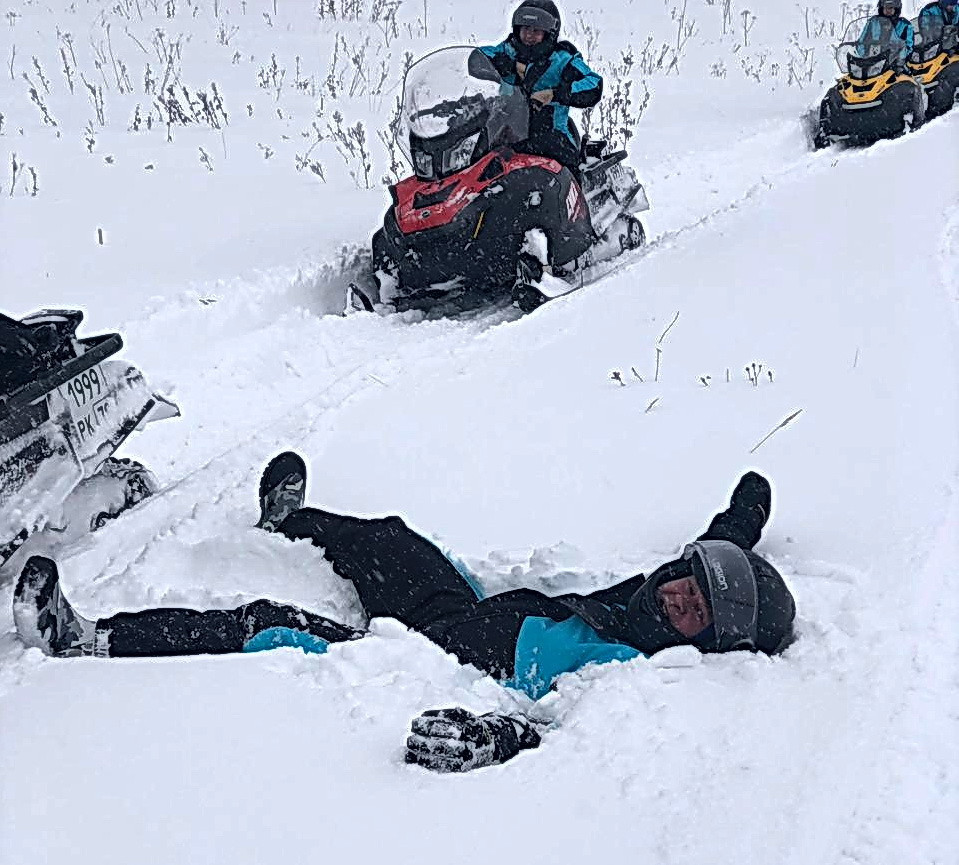 But why am I lying down like that in the snow? Simple: if I tried to stand up, I'd sink into that snow up to my waist!
But… why is the ice in the below pic green? Actually, it's not the ice itself that's green, but I'll get to that in a bit. But green is our corporate color, so it suited us just fine.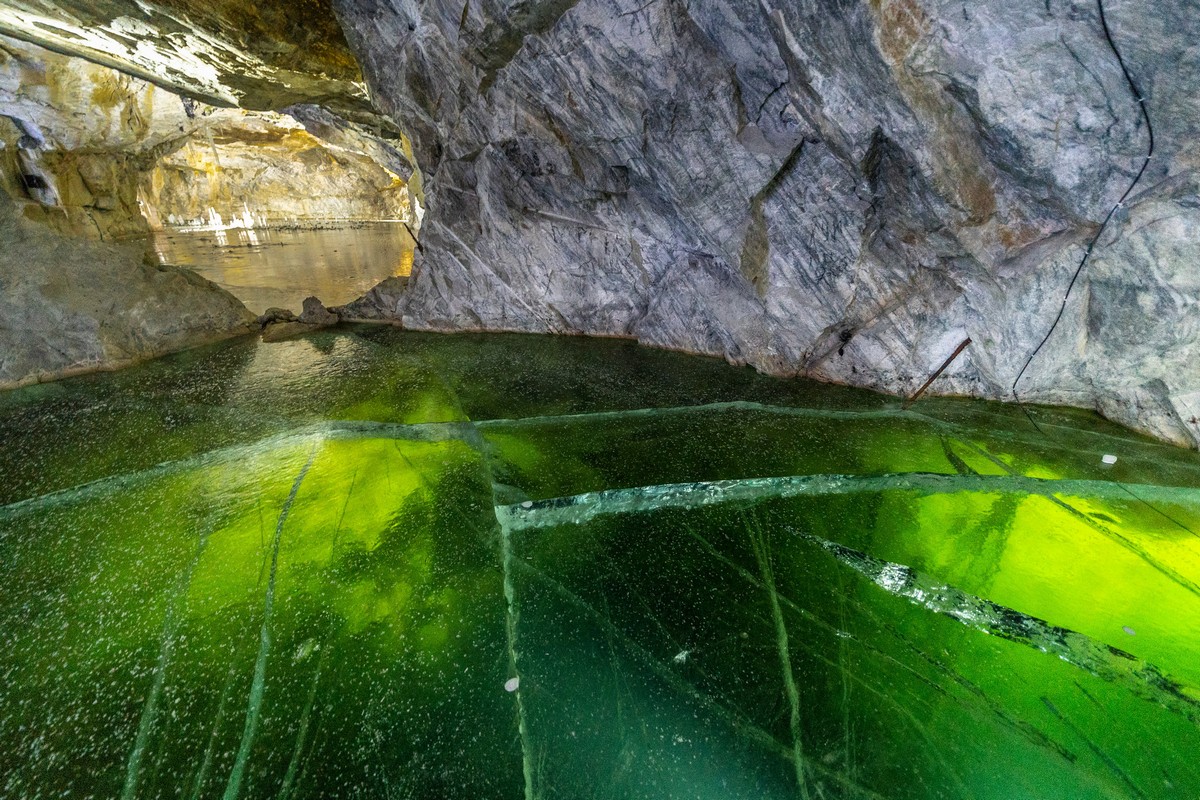 This was the second time I'd ridden a snowmobile; the first time was in Iceland. Since then I'd gotten myself a special tractor-quadbike-snowmobile driving license (as you'll see in the pics – these snowmobiles have license plates). But – license or no – navigating off-piste through this thick snow was far from easy…
Of course, I had to go off the already off-piste track for a spot of virgin-snow maneuvering – but I only got about 20 meters away from the track before my snowmobile got stuck! Oops.
So yes, as you can see, the Republic of Karelia – up in northwestern Russia, above Lake Ladoga, and bordering Finland – gets a lot of snow in March. We were in the southern reaches of the republic, near the town of Sortavala.
After our spot of snowmobiling, next on our itinerary was the Ruskeala Mountain Park and its marble quarries. The park – beautiful; the quarries – unusual, and also beautiful. The quarries part is made up of old marble mines and tunnels partly flooded with water. They say its rather an extreme-diving paradise here, but we didn't bring scuba-diving kit so had to make do with strolling and taking in the exceptional views.
Inside, everything's been kitted out specially for tourists: smooth concrete paths, handrails and multicolored lighting. Very nice! The paths don't only go through the tunnels, but also skirt some of the flooded mine shafts. Green-lit ice from underneath (in the green-ice pic at the start of this post), plus a most extraordinary scene of stalagmites and stalactites seemingly trying to reach each other from below and above. A spectacular sight! And the excursion guides tell you all about the interesting history of the place too. In short: highly recommended!
Woah – molten lava flow? Nope; the outside's also lit up all different colors – including molten-lava bright-orange ).
All very tourist-friendly. Russian tourism on the up: only to be welcomed, of course.
The only downside: it takes ages getting there. It's either four hours in a car from the nearest airport, or you need to charter a helicopter!…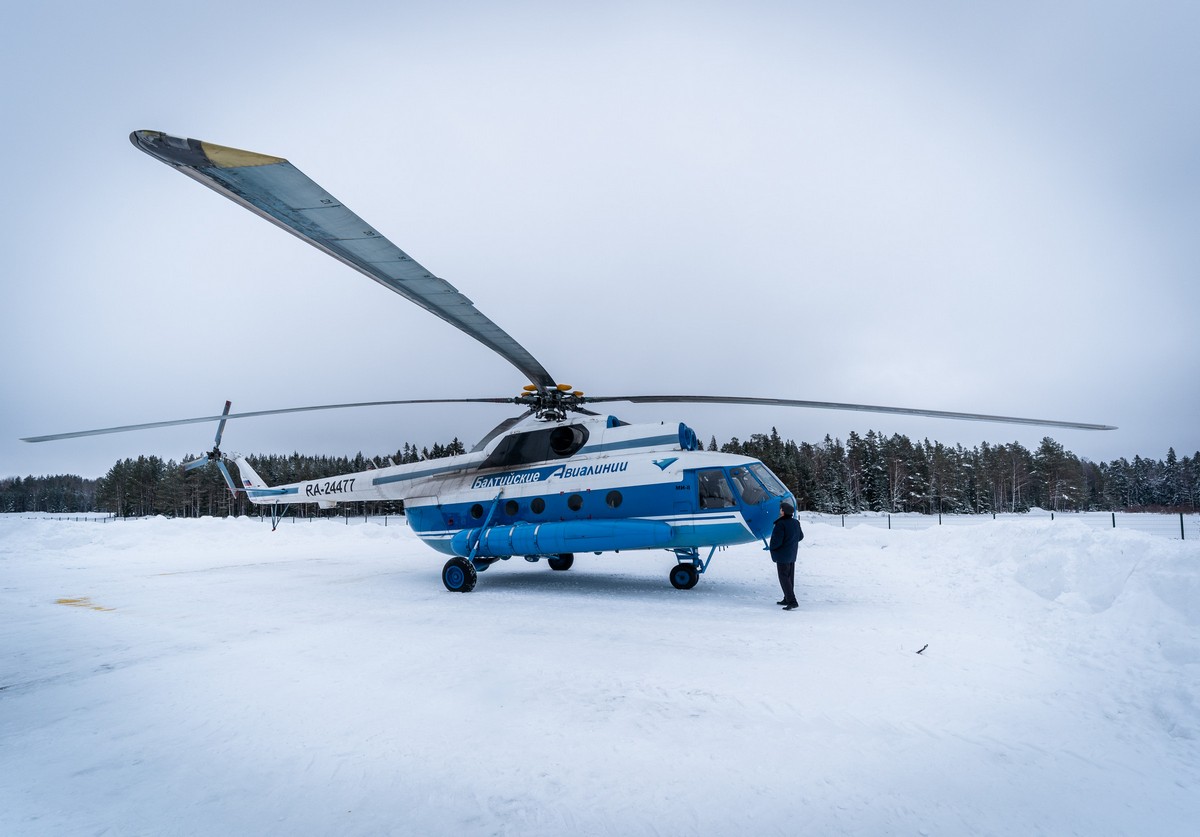 With the helicopter option there's a bonus: you get to stop off on Valaam island – here – to check out its marvelous monastery.
Alas, the weather took a turn for the worse later in the day. How we made it back to St. Petersburg in the chopper I'll never know. Visibility was so bad during the hurricane we got caught up in that I only got a brief glimpse of the colossus that is Europe's tallest building! Good job our pilot knew where it was – we were flying around the same height as its peak!
We finally made it to St. Pete. Phew. Then it was back to the airport and home. But not for long…
All the pics from Karelia are here.