A fine day by the Bay of Biscay.
Not at all far from Bilbao are two spots wholly worthy of inspection when briefly visiting the Basque Country: Getxo and Portugalete, which look something like this:
To the left – Portugalete; the right – Getxo:
These twin towns are famous for having a unique bridge that connects them – a transporter bridge; in fact – the oldest transporter bridge in the world. A transporter bridge is one where a short platform – on which fit a few cars and probably hundreds of pedestrians – gets pulled under and across the bridge's main structure by cables. Like this:
The bridge was built in 1883. There are only a dozen or so transporter bridges around the world, with only a few of those still in operation.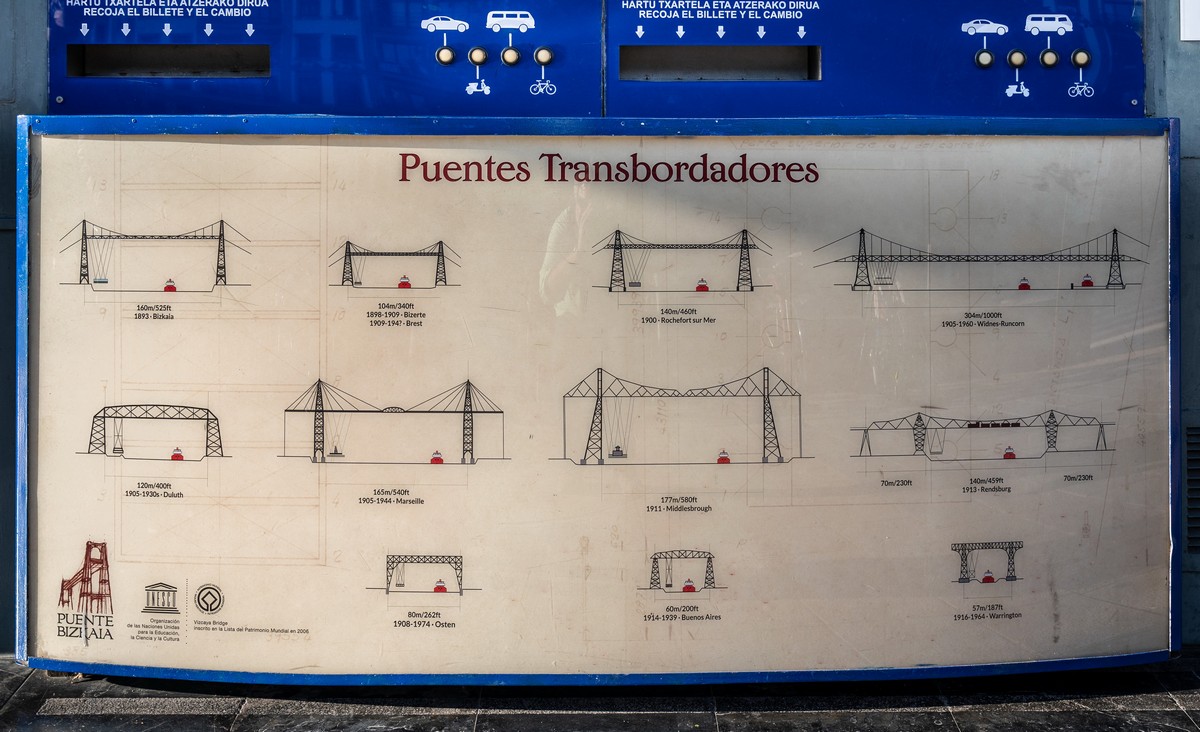 Of course – we wanted a go. So that's just what we did!…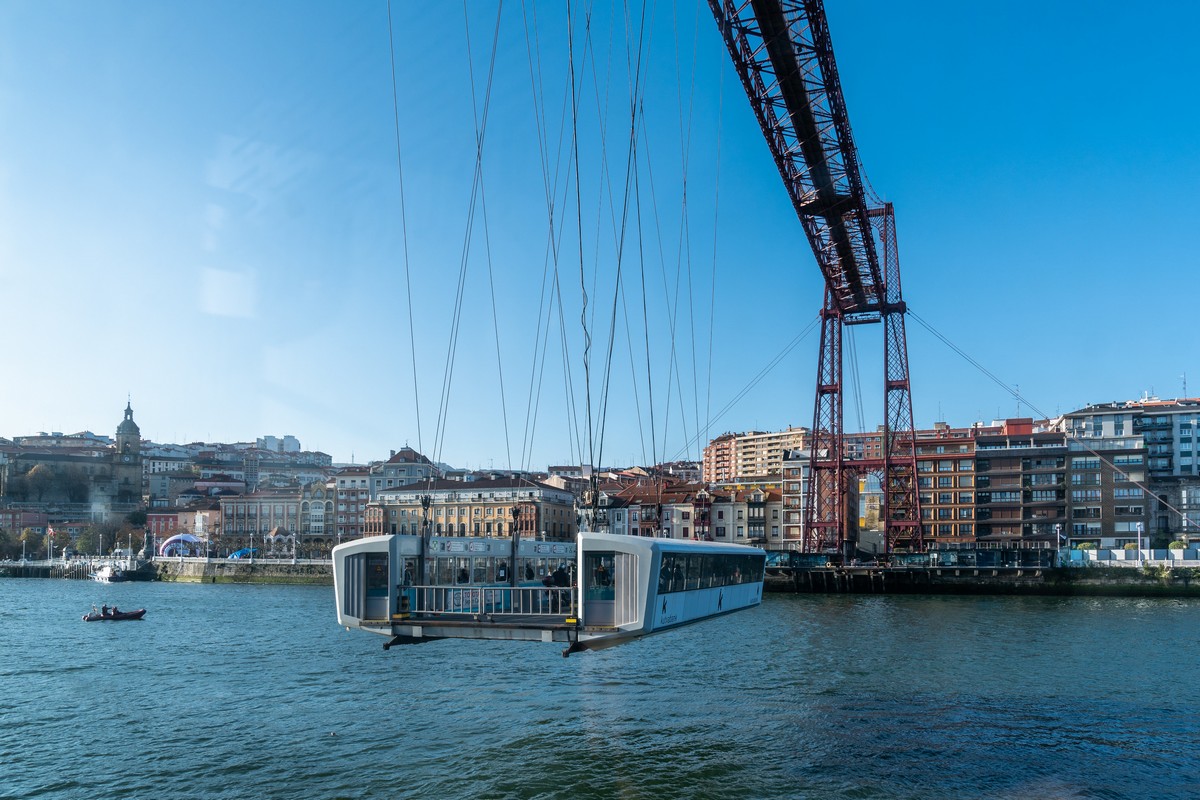 A river crossing costs a mere 40 euro cents or something like that. We pay, and off we pop…
And before we could utter the words 'but this isn't a suspension bridge; fancy that?!' we were on the other bank already…
Suddenly, we hear screams! Ah – a bungee jumper: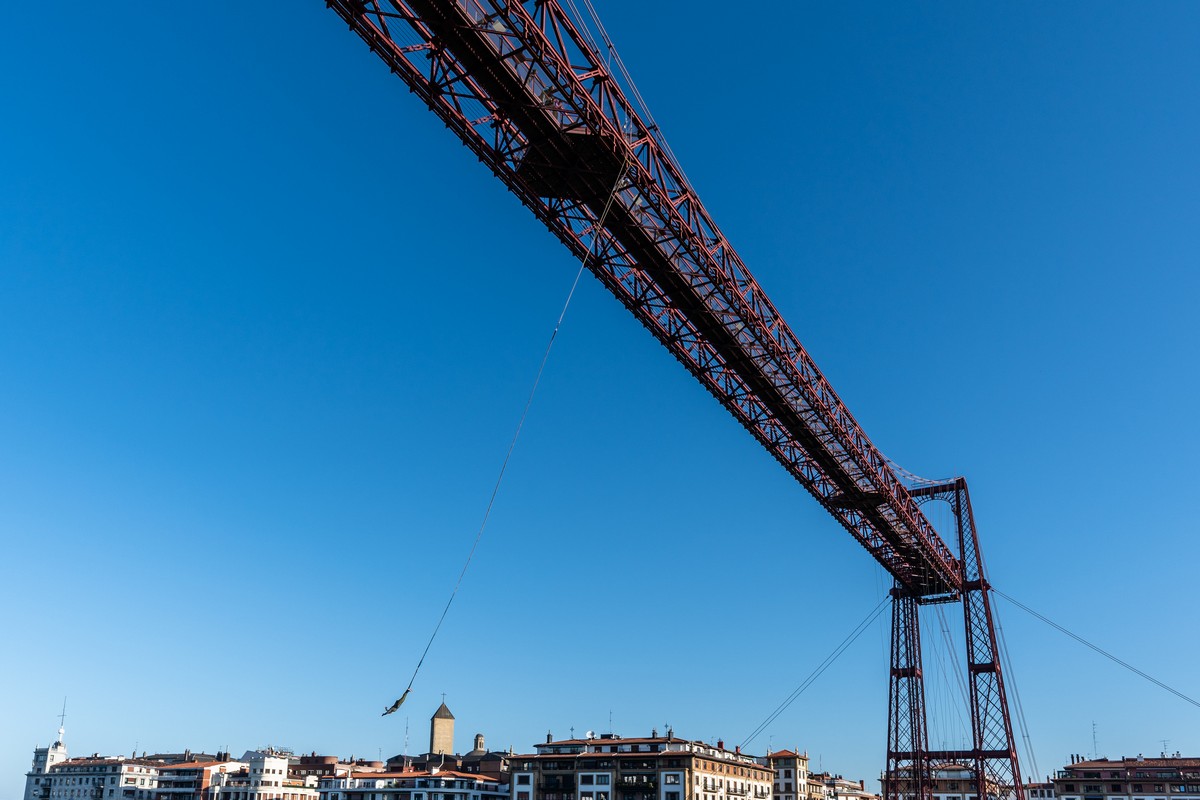 So – if he's bungee jumping, that means you can get up to the top. Yes please!…
But we couldn't race straight up there. Only 15 folks are allowed up at a time, so you have to wait in line until those already up there come back down again.
Here are the bungee jumpers: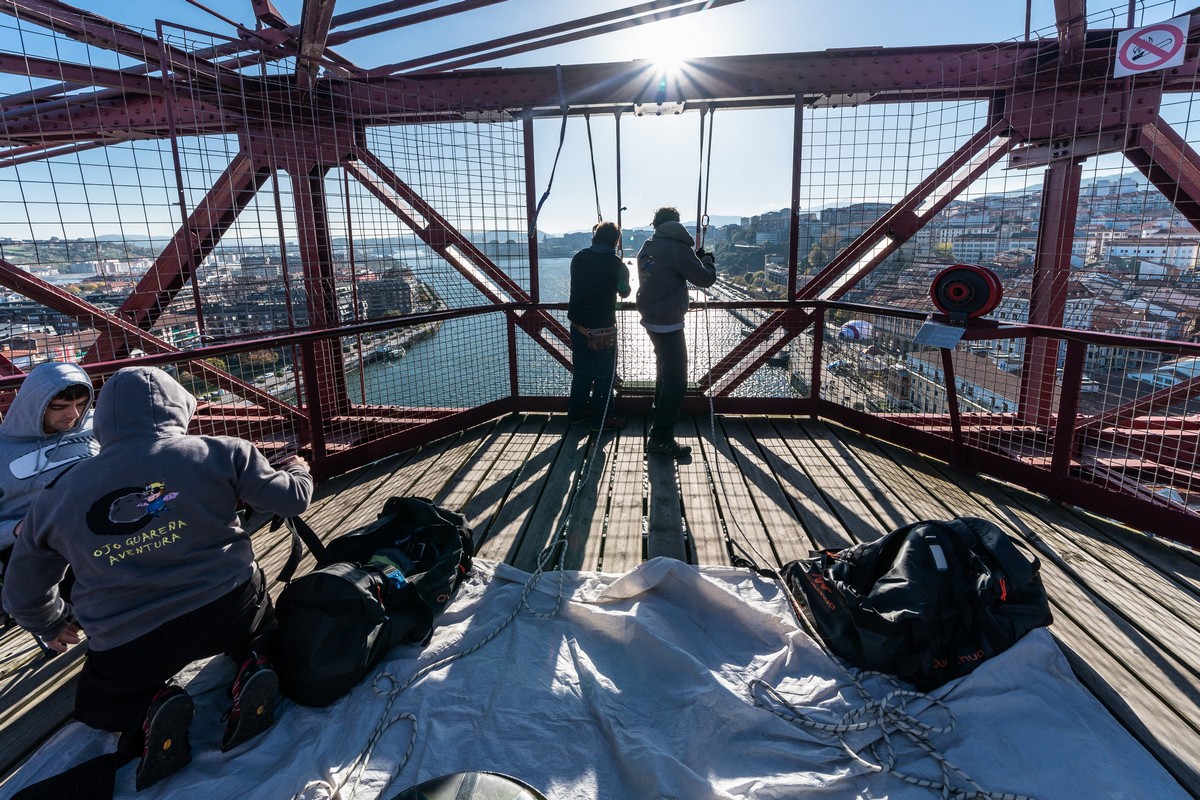 'Aventura' – indeed. But not for us thank you. We were here for a leisurely stroll not an adrenaline tsunami. We stroll on leisurely. Height: ~50m, bridge length: ~160m. Lovely view…
We crossed the full span of the bridge – and had to return to the other end; you can only climb up it at one side.
Walking back, we pass the next bungee-er:
Yes – can't be denied: an interesting bridge / suspended ferry!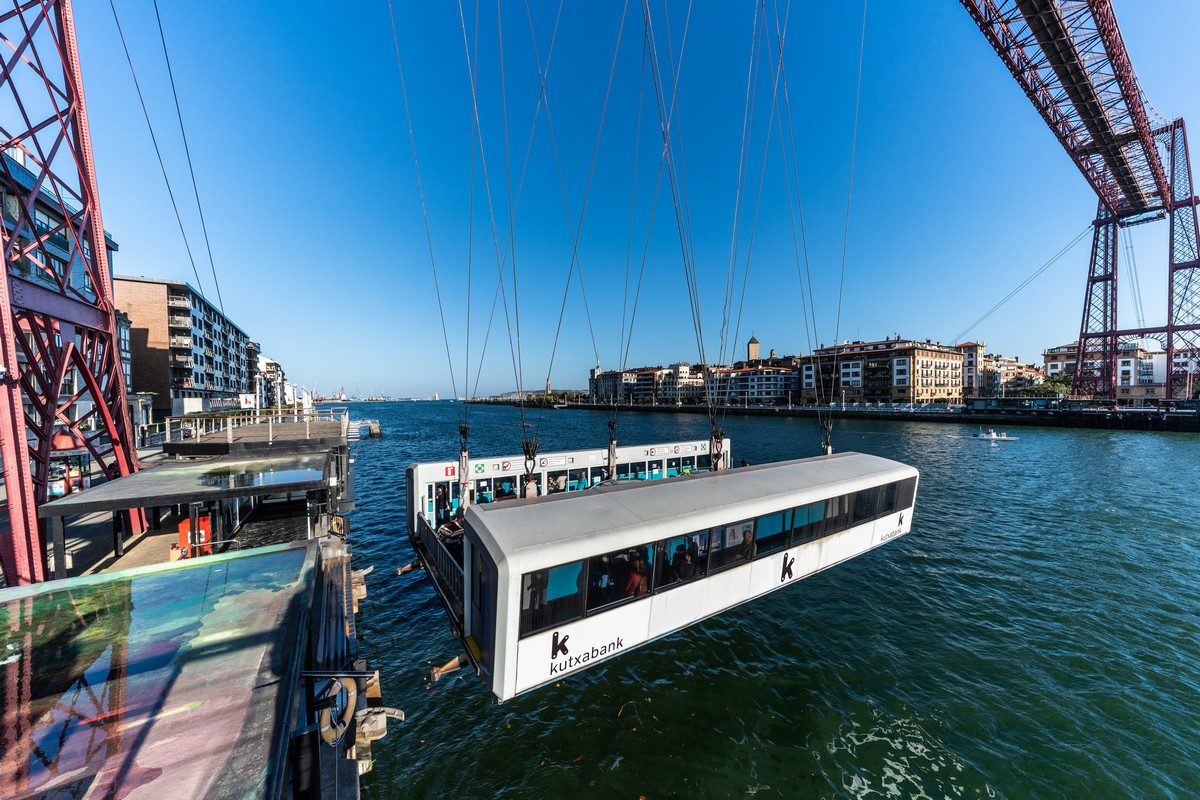 Next up for us – the coastal resort city of San Sebastián. Really nice it was too – I wished I'd brought my trunks with me; a dip in the Bay of Biscay would have perfect. Ah – but I've already declared the swimming/bathing season over, so maybe not ).
Up on a hill above the city – a church. Though it was very hot – even in November – we decided to hike up to it…
Fortress walls, canons… – but of course. They reminded my of the 'national European sport' I recently read about in Noam Chomsky's Optimism over Despair (btw – some discussion thereof in a few days:). The inventory of the national European Sport… of killing each other!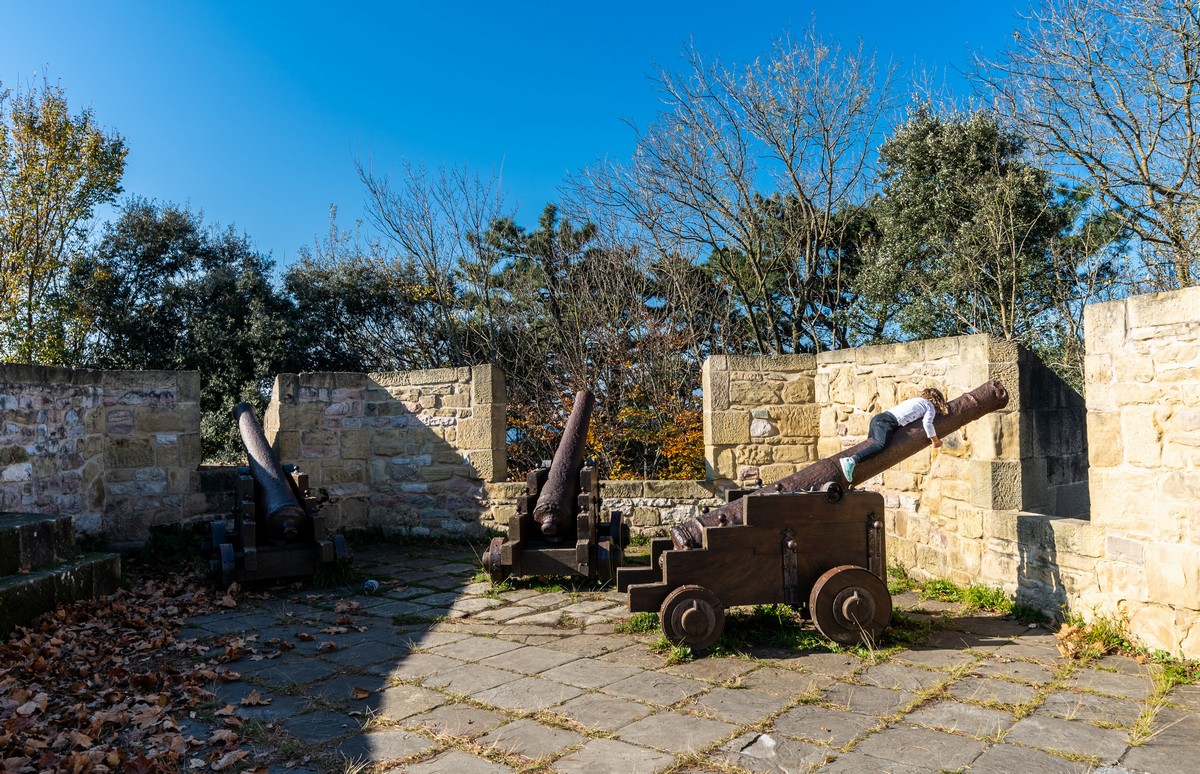 But enough bleak ponderings on 'civilization'; we continue to stroll and snap…
We take a loooong flight of steps down the mountainside…
Hmmm – mushrooms. Should have brought not only trunks but a frying pan as well!
Ahh – old downtowns in Europe: narrow streets, ancient buildings. Shame there are so many folks milling about – so many we had trouble even finding a spare table at an eatery for lunch…
And now, to bridge a the gap between this post and the next – a quick test…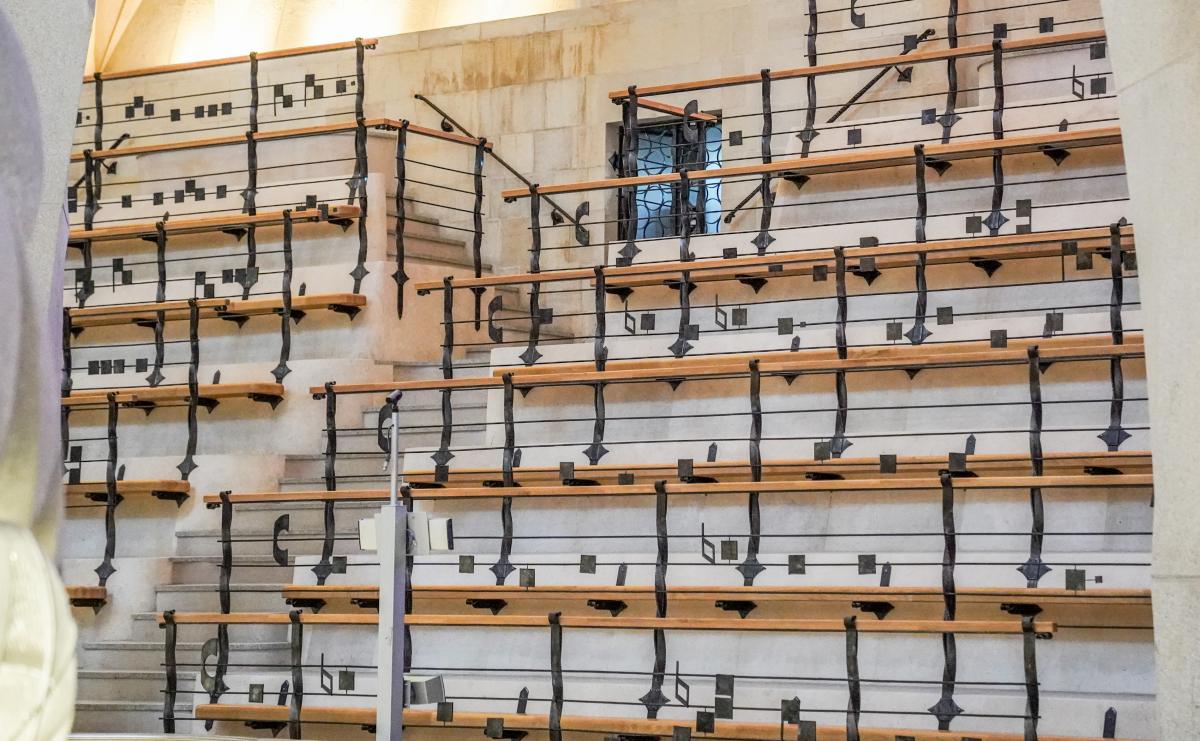 Now, I'm not asking where this is or what it is. My question is simpler: what are those black markers on the horizontally placed wires – the small black squares?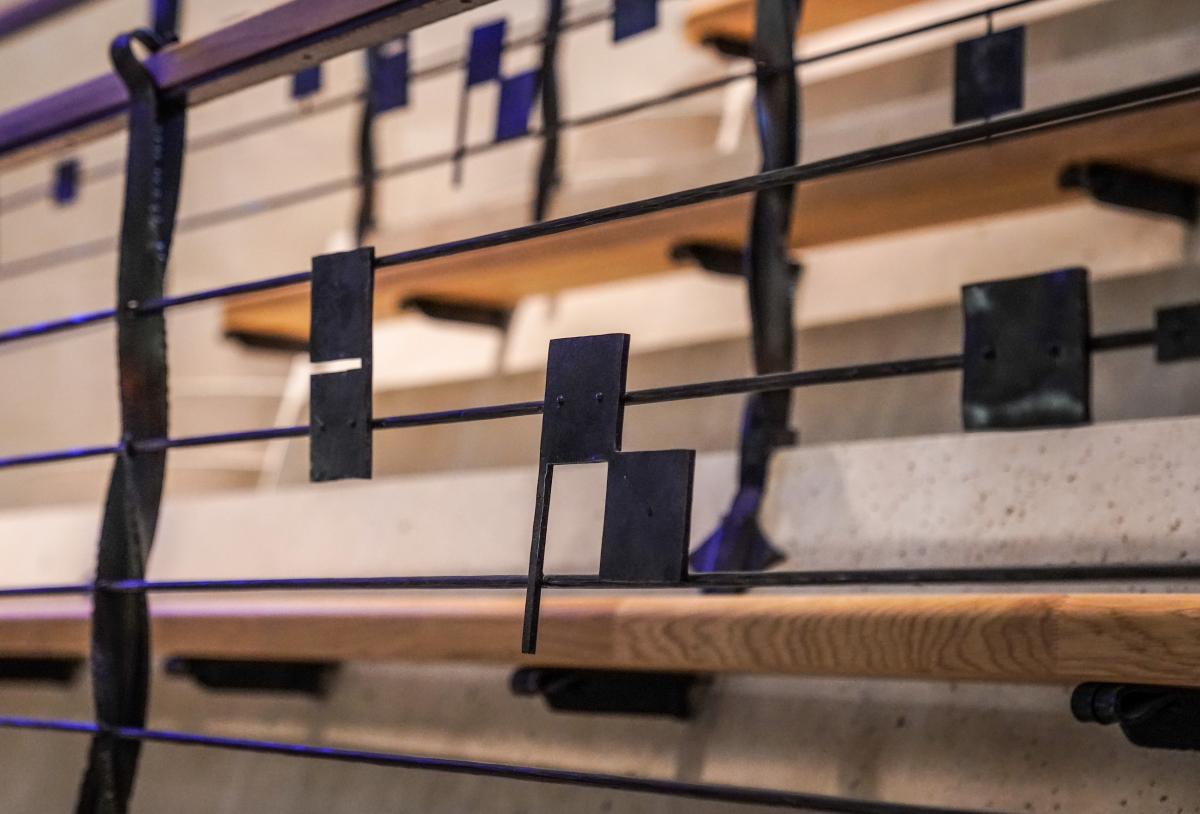 PS-quiz question: Simply, what is this? Answers in the comments!…
That's all for today folks. But I'll be back tomorrow with answers to the quiz questions and more tales from the Spanish side – Barcelona tales, no less…