Volcanic dawn mist – not to be missed.
I never did quite work out what this place in Indonesia was called. Is it Penanjakan? And is that the name of the peak, or just the name of the tourist spot near it? Whatever, who cares? Well, for one, a person standing on/at Penanjakan and looking up at the stars – he/she for sure does not care one iota).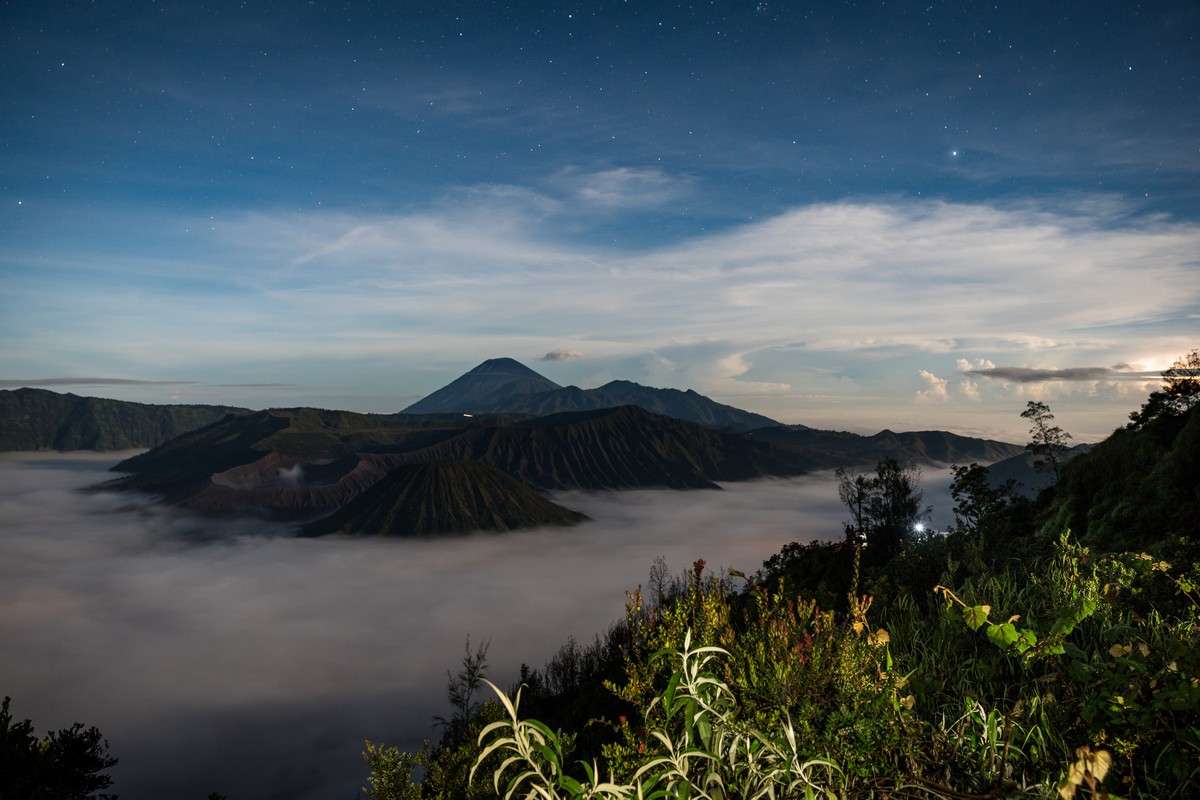 How do you like the photo? I'm rather fond of it. A still-life, don't you think?
It and the ones below weren't all that difficult to shoot. I placed my camera (a Sony A9) on a reinforced concrete wall, set the shutter speed to 20 seconds, the diaphragm to 6 (or was it 9?), and ISO – to… something (can't remember, or maybe I just guessed: it has a lot of buttons and blinking lights:). And that was that: done! All that remained was to wait for the sunrise…
The fog pours out of the basin of the caldera and into the valley outside…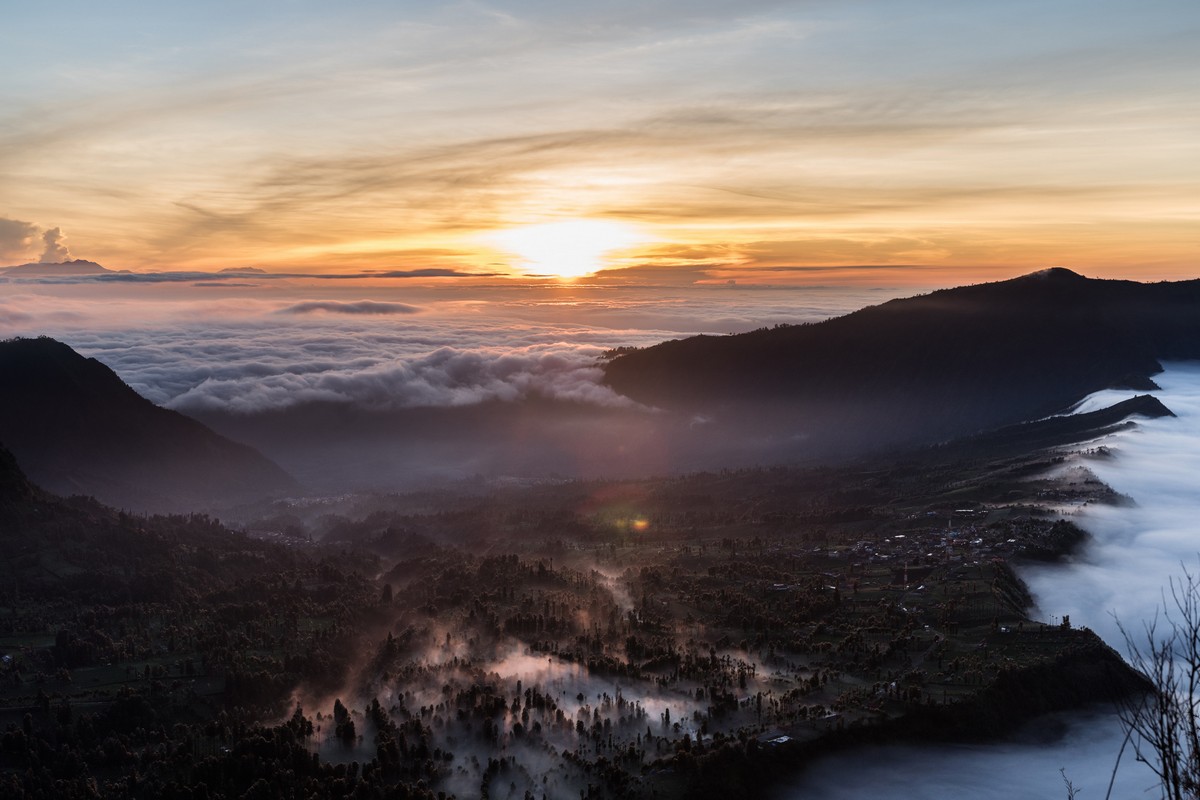 …Covering the scene with a chilly morning blanket.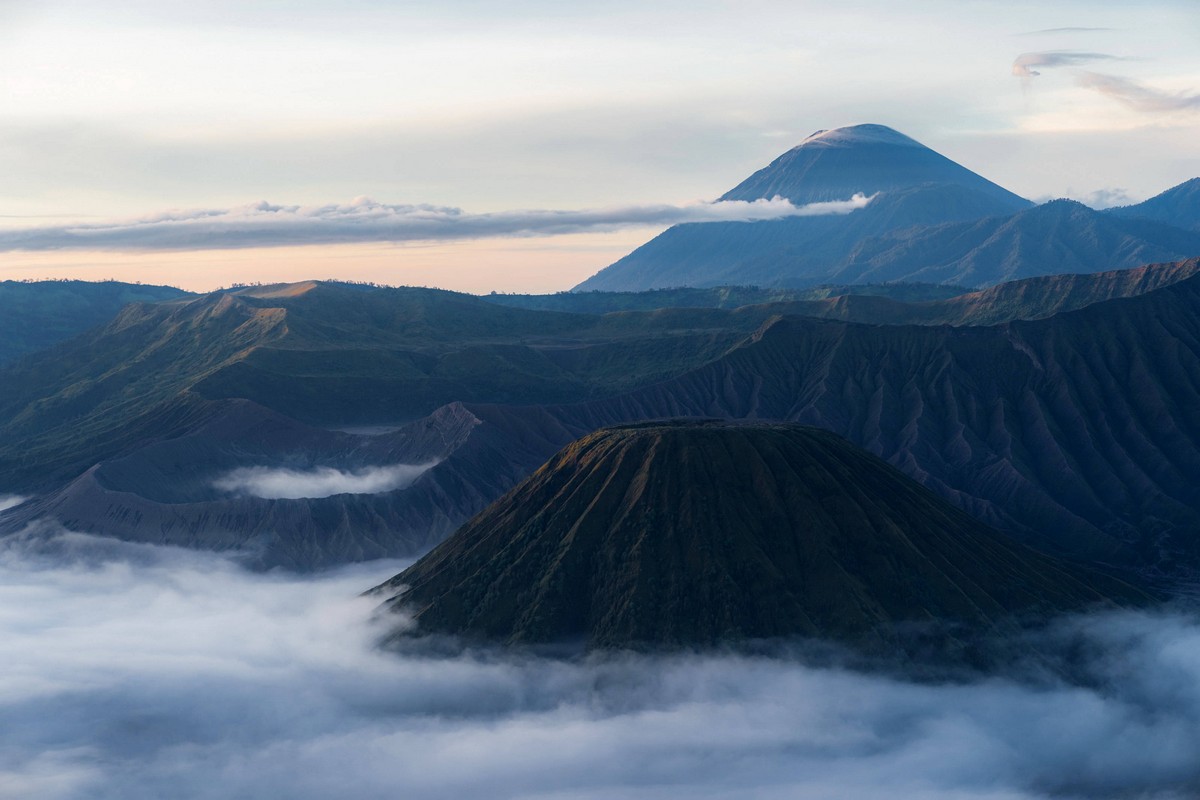 Oh my grandiosity! Seeing this spectacle as it occurs is mind-blowing. The minds of observers in fact get so blown that they cease to react to any external stimulus (more about that below). At one point I even found myself thinking that Penanjakan at dawn would be the perfect venue for… a wedding! WHAT? See – I told you the mind gets blown ).

Now for some detail…
We didn't climb this one; we were still fairly whacked from our two-day trek up Arjuno-Welirang. We were driven here – at four in the morning (whacked? So what?:) – long before the sunrise. At first we were a little rattled by our guides' energetic keenness. But then it all became clear…
First, whoever gets there first bags the best viewing spot. Yes, it can get crowded up there.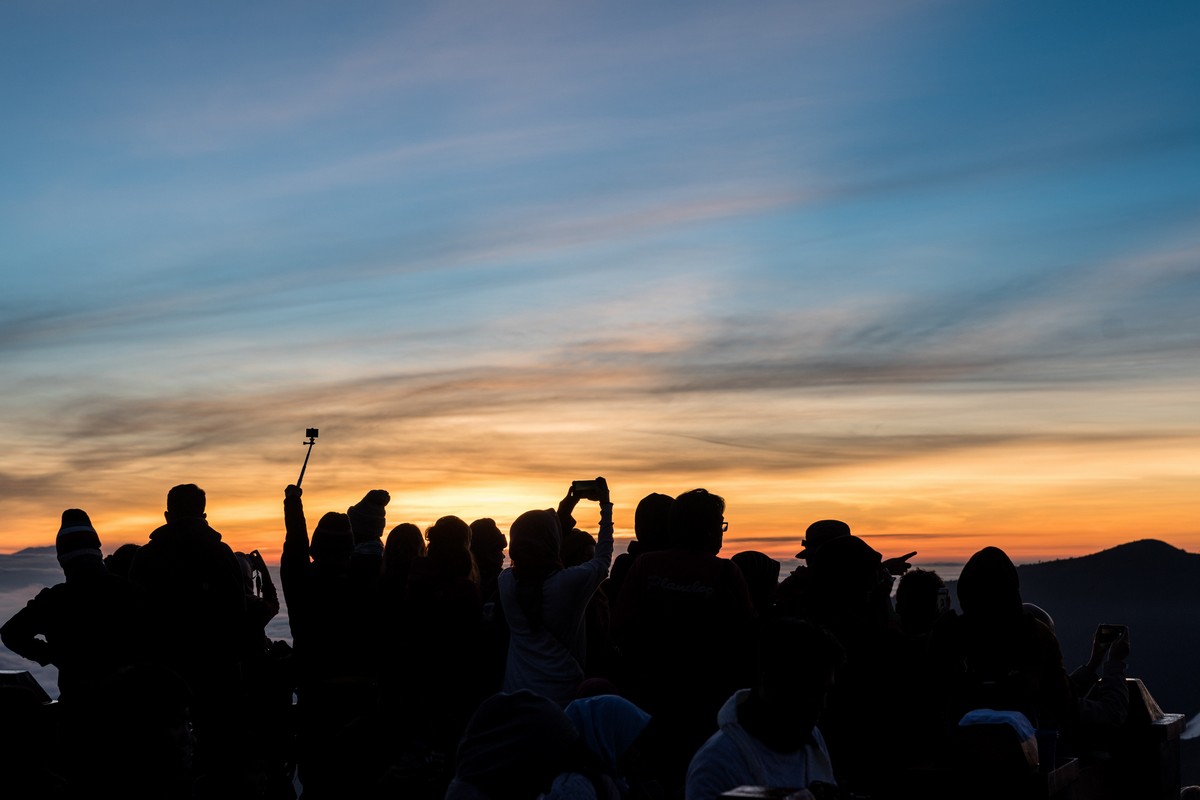 Second, you'll be able to rent a plastic chair before they run out. These are good for standing on to get an even better look…
Now, you'll know I'm a fan of sunsets and sunrises. Well this sunrise was one of the best I've ever seen. This is must-see, plain and simple. Do try and get here at least once in your lifetime. You won't regret it (that is – if you get to see a good sunrise; some days there's nothing to see but fog; so it's best to schedule at least a few days, just in case).
We were lucky as you can see: no fog spoiling things – apparently for the first time this year!
Here's the fog dance again. Incredible.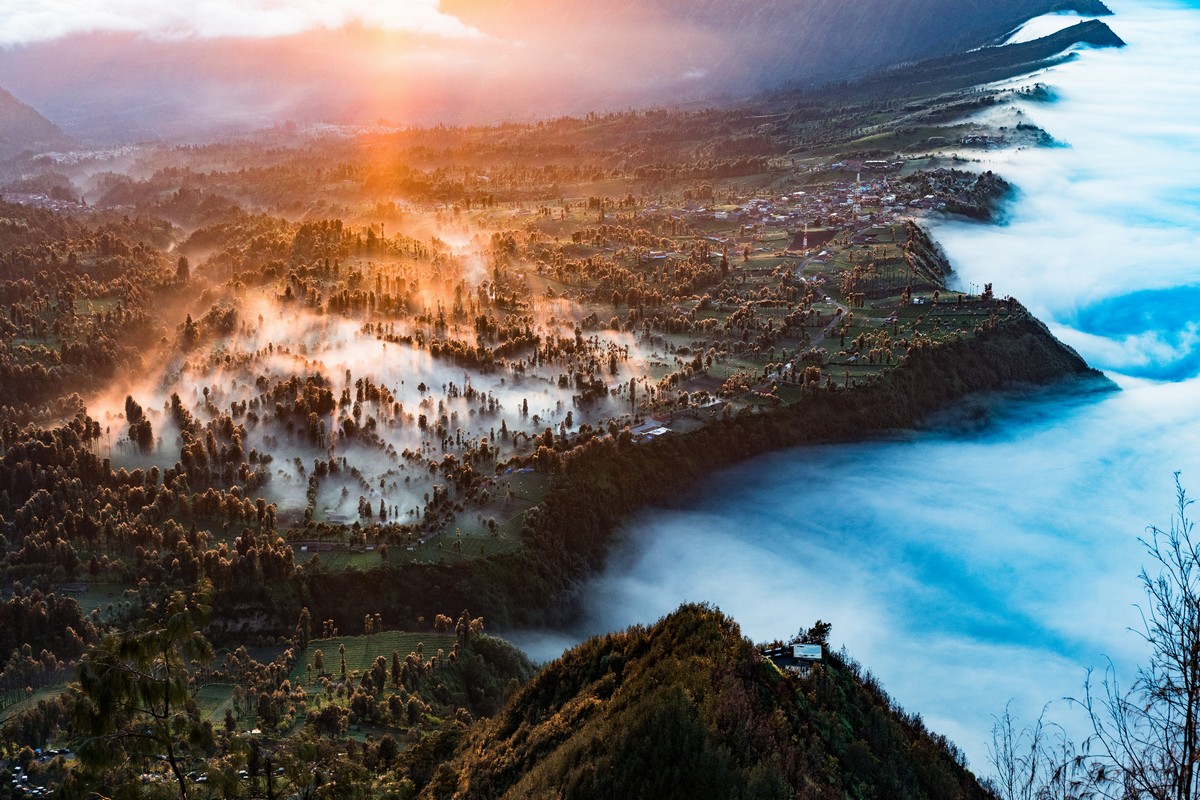 On the horizon – Semeru, having just exhaled: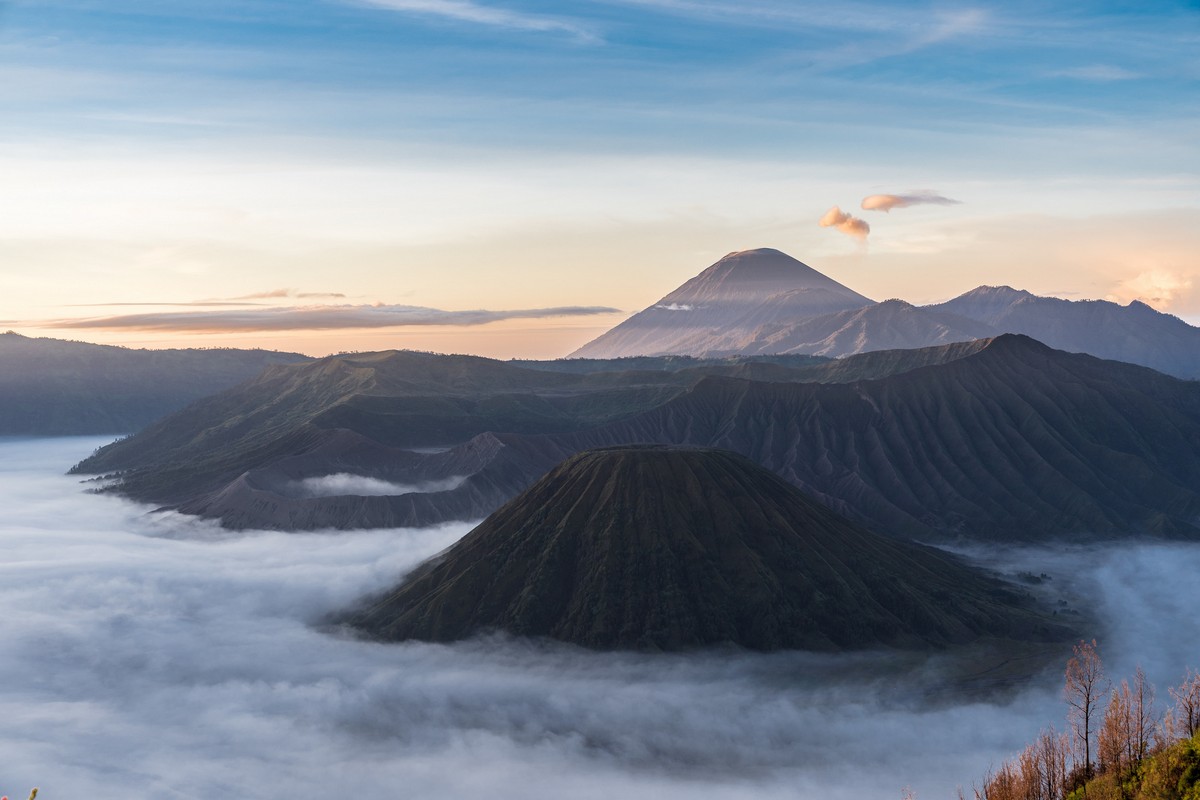 Off flies the exhaled cloud…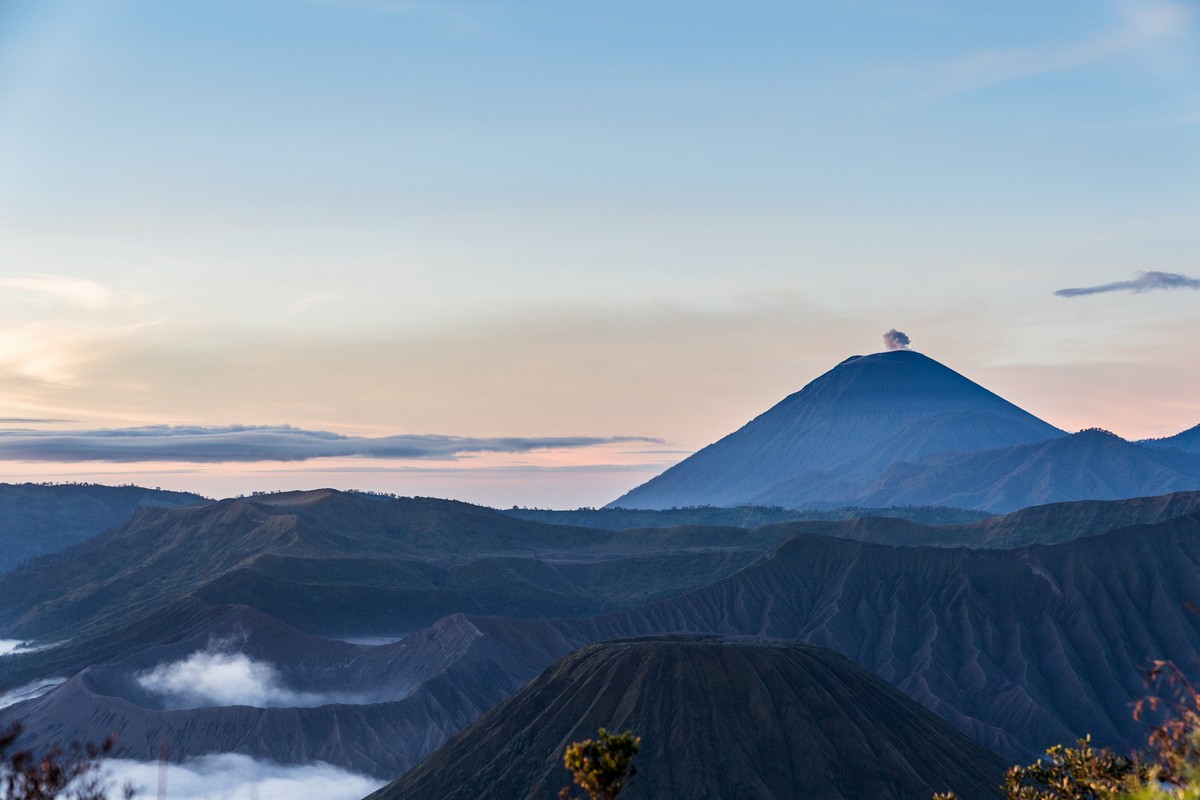 And here comes another one!
Those exhalations kept on coming. But that's to be expected – it's a volcano: situated where two tectonic plates grind together – incidentally, the Eurasian and Australasian ones. More info on this – here.
Words can't describe the scene – only exclamations. So I'll rely on the pics I took:
Penanjakan – one of the most stupendously beautific sights I've ever seen. It is thanks to it (and a few other volcanoes – more on them later) that the volcanoes of Indonesia are rightfully included in my Top-100 Must-See Places in the World (Asian sublist).
But we couldn't hang about; our guides were ushering us on to our next conquest. But wait. What's that on the horizon?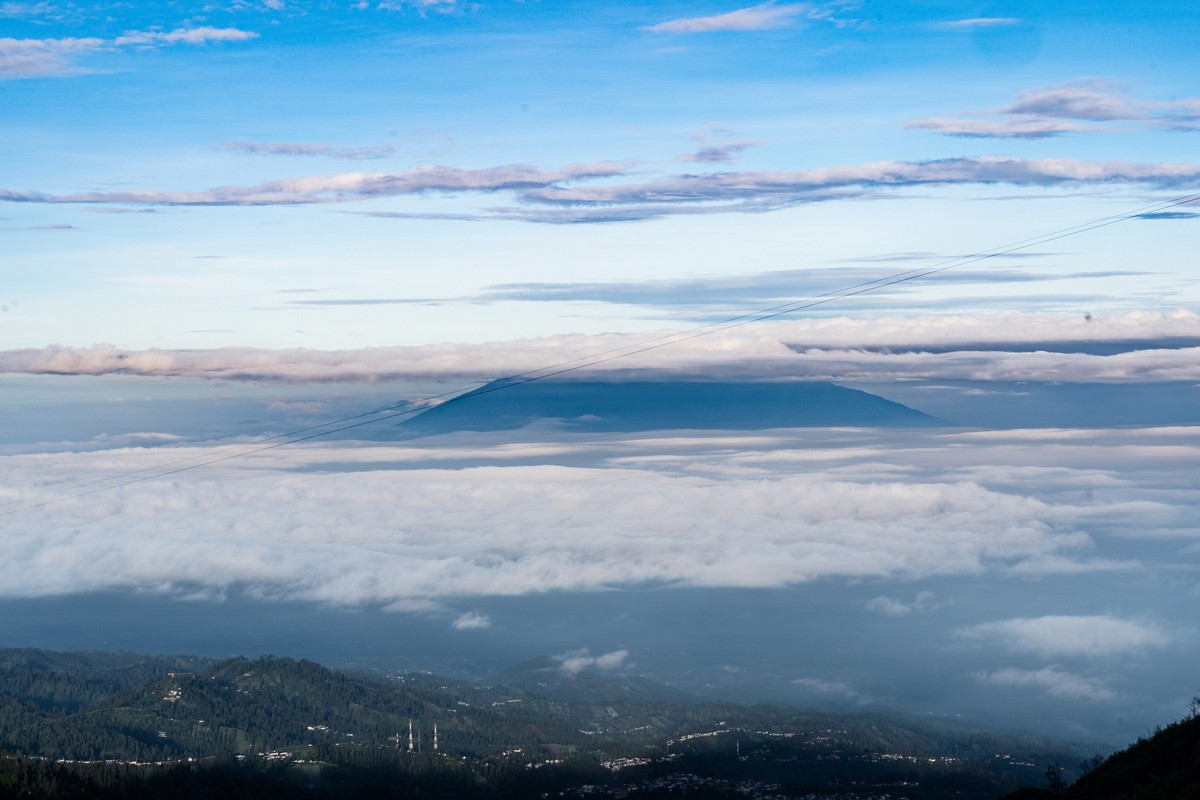 It's Arjuno-Welirang – where we were yesterday seeing in the New Year! It's around 40km away from where the above pic was taken. But to cover the distance by road it's a good 100km, which took us four hours.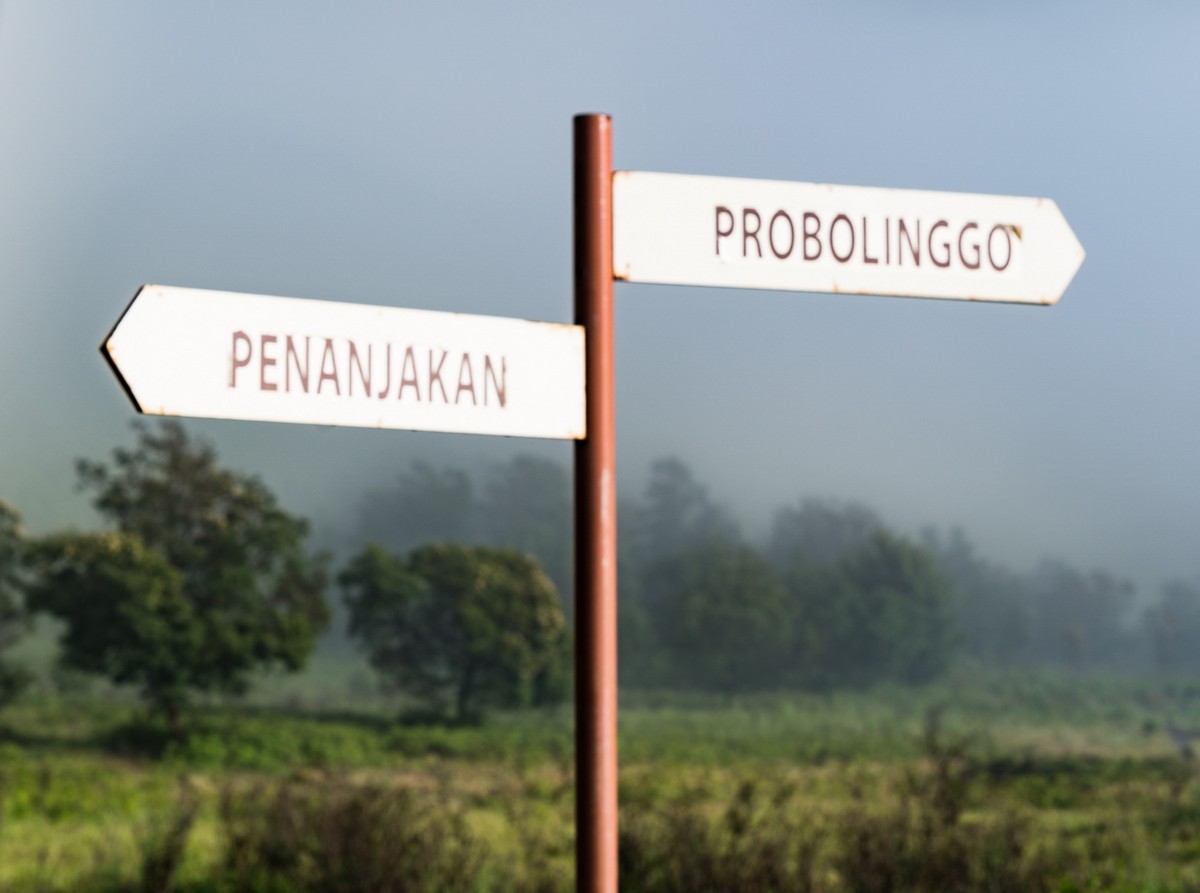 Four hours? Yep. Here are examples as to why: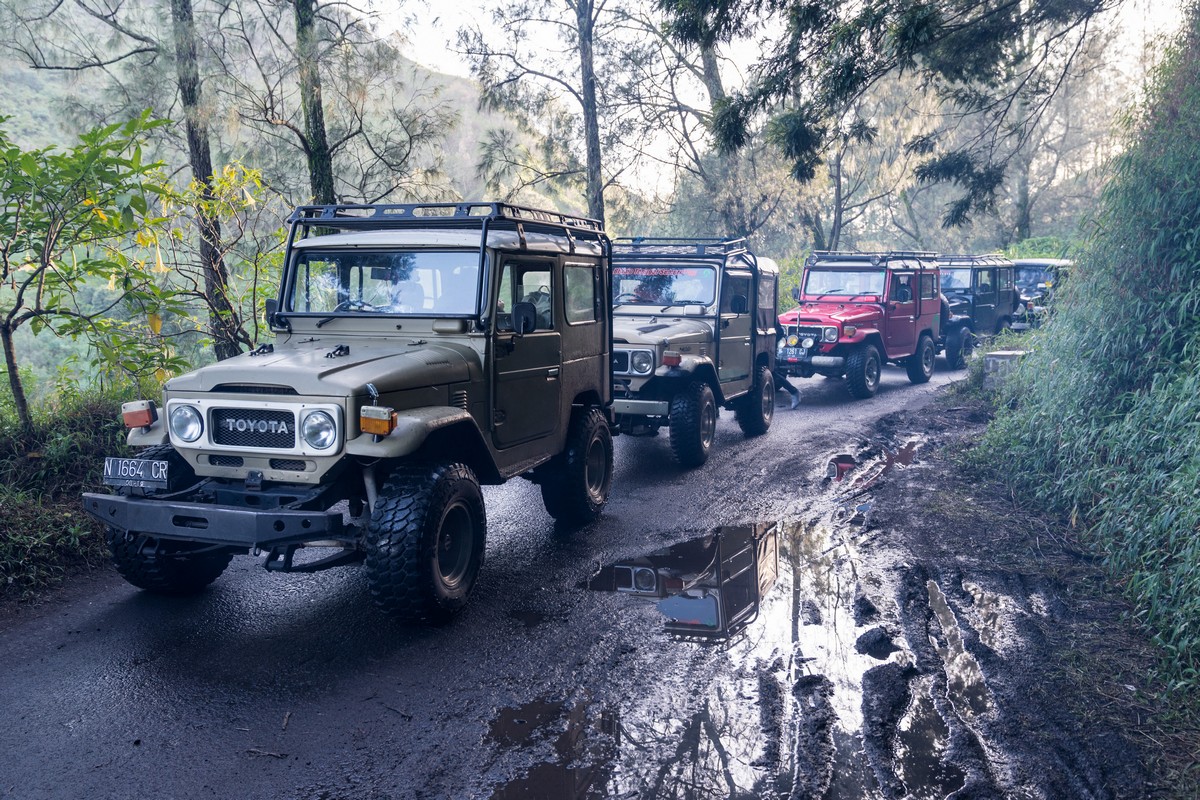 4x4s only!
Cheeky selfie: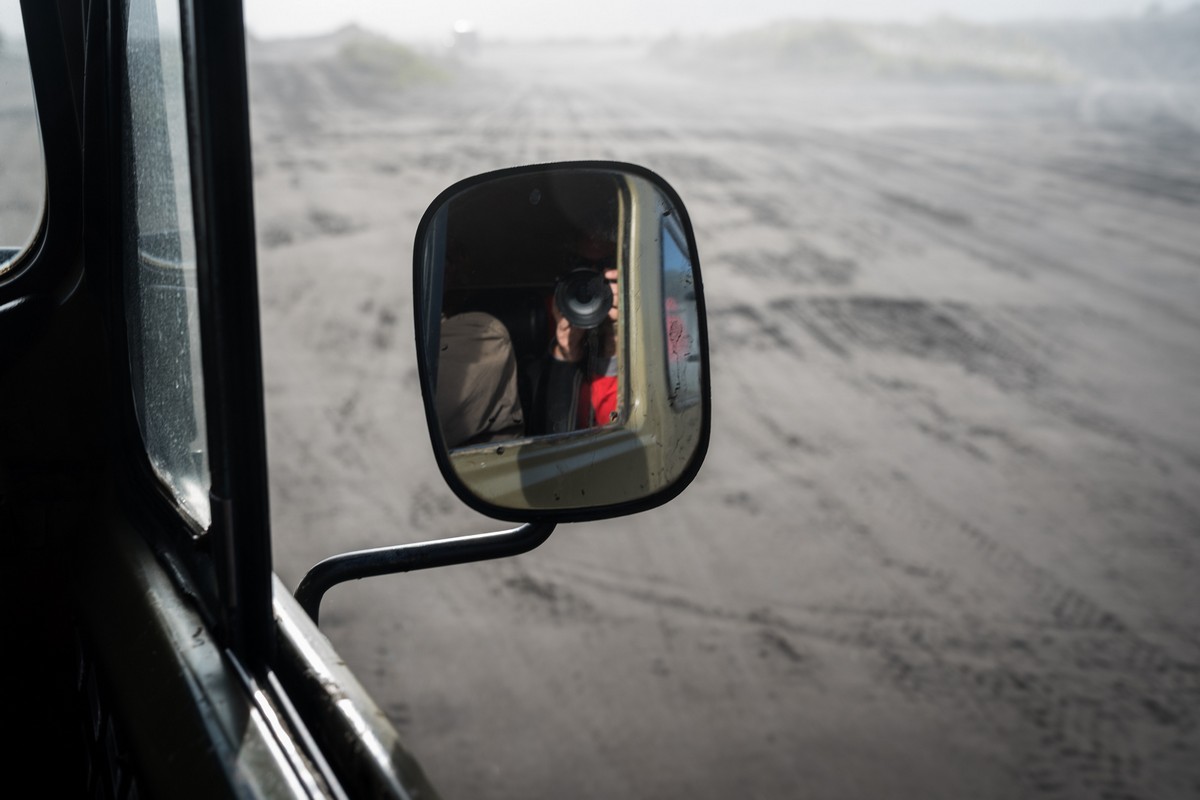 Let's race! Who'll be the first to our destination to get the best viewing spot?
For some of the roughest stretches of road dirt track we were transferred to… off-road motorbikes! Apparently it's quicker:
Naturally the motorbikes just added to the fun and excitement ).
And it was jobs for everyone: the guides, the 4×4 drivers, and locals on the motorbikes.
We spent the night on the slopes of the volcano in a village called Ranupane, of which the internet knows little. It seems that it's from here that Semeru ascents start out (will have to keep that in mind for the next trip here).
Here's where we stayed. You get to the hotel through a shop, but inside – quite sufficient for a tired volcano-hopper. Only one bathroom between all of us, mind ).
And that's your lot for today folks. Next up: another installment of Indonesio-volcanic adventures – a walk around the crater of Bromo volcano!
All the Indonesian photos are here.