The 'Masterpiece' button.
Congratulations to all those who guessed! I now have a Sony-A7 camera [as well as a business, kids and family] hanging round my neck, plus a couple of lenses – a "standard" and a wide angle. Here they are together: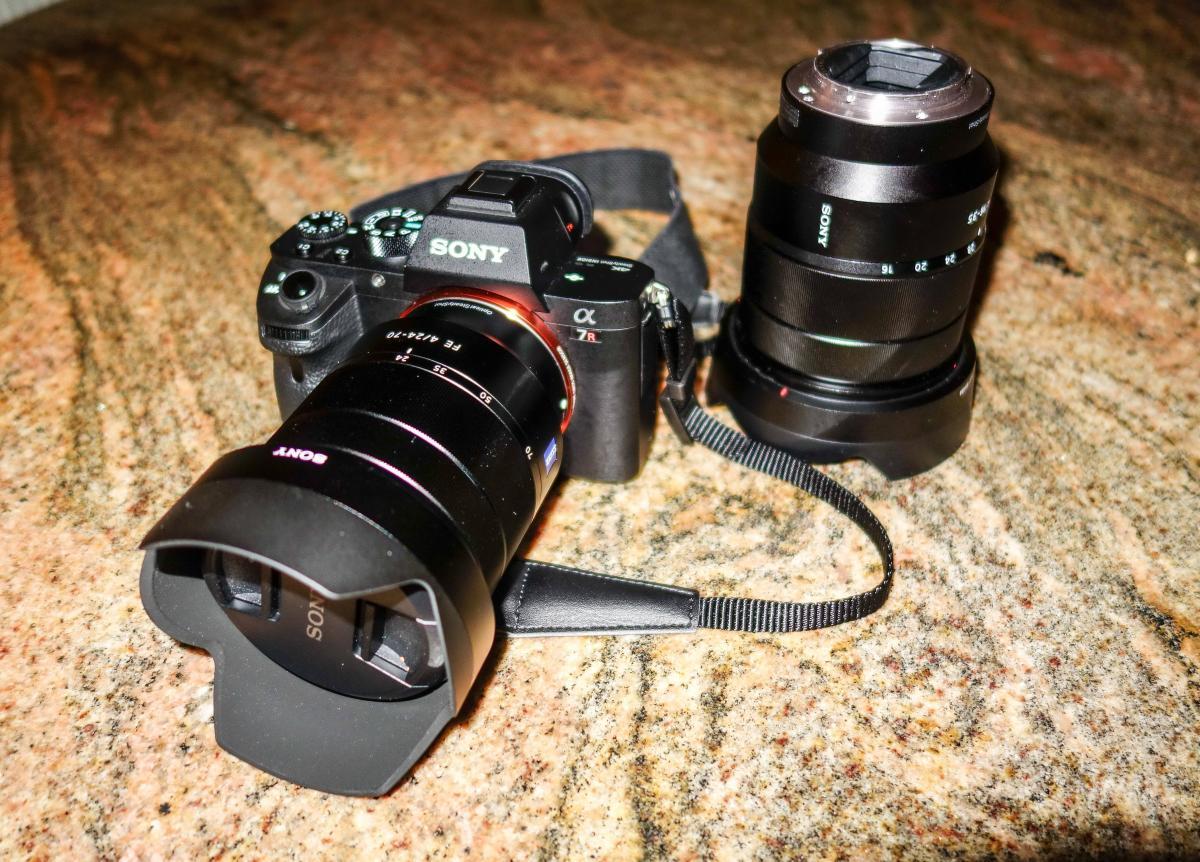 So, what can I say about it? As expected, there were no real surprises! The picture quality is superb compared to the same manufacturer's point-and-shoot (DSC RX100-II). You can see it with the naked eye. But there are still some people with their Lightrooms and other shamanic processing rituals who are wiping their sweaty palms, desperate to show me all kinds of manuals on professional image processing. Yeah, right! I've got better things to do than spend hours tinkering with nano-masterpieces, whose total time of public viewing will be less than the time it took to process. No thank you! I need something more straightforward. A couple of runners to move back and forth or up and down a little, a few buttons to press, then cut off what is not necessary – 30 seconds and it's ready!
But the shots taken with this new camera truly are something else, especially after some minor processing:
In other words, this camera has the "masterpiece" button that I have long been looking for – unsuccessfully – on other [point-and-shoot] cameras!
I have to say that overall I like it, but there are some questions that still need to be answered. And a few comments.
The camera has a Wi-Fi option meaning you can post your photos to the Internet or upload them to a smartphone or a computer. My first thought was – what about security? Perhaps I should take this smart device to our security experts to be checked? I'd be really interested to know how safe this IoT-device is in terms of the external cyber influences.
// If things carry on like this, we'll soon have toothpicks with Wi-Fi that immediately send a picture of tooth decay to your dentist.
And what do we need all these extra black wheels for at the front and rear? I moved them around and saw no difference. Or maybe I didn't turn them hard enough. Perhaps I'll find the answer later on when I finish reading the manual that takes time. Lot of time. And memory.
Drawbacks:
It's not pocket-sized! And I doubt I will ever wear jeans with pockets big enough :) // Ideal size for a kangaroo though.
The battery only lasted for 300 photos. What am I supposed to do in Kamchatka?? I'd need to take 10 batteries with me for a week's travel! Or a power pack for a week? Actually, last time we took solar batteries – they weren't all that heavy and helped us a lot with the point-and-shoot cameras. Maybe they'll help with more energy-hungry equipment? I'll let you know soon.
And by the way, where's the flash? What do you mean there's "no flash"? No flash at all?? You're kidding!? … And so what now? … I guess I'll have to keep that point-and-shoot camera – with its built-in flash – in my back pocket.