To lose a suitcase once may be regarded as a misfortune…
…To lose it twice on two flights in as many days looks like carelessness!
My black suitcase gets around a bit. In fact – right around the globe several times a year. So you can imagine my… incredulousness, when it goes astray – TWICE – on a quick dash over to Western Europe!…
Ok, maybe I'm at least partly to blame. I should have listened. More experienced Europe-hoppers told me how, if you need to get from Moscow to Luxembourg and back quick, it's best to fly to Dusseldorf in neighboring Germany and then drive a rental car 2+ hours (200 kilometers; untypically autobahny roads) to Lux; and coming back – the same route in reverse.
I just didn't fancy two hours behind the wheel. So in the end we flew out Moscow-Milan-Luxembourg (Aeroflot + Luxair), and back – Luxembourg-Frankfurt-Moscow (Lufthansa + Aeroflot). In the end this route worked out longer, since we were waiting in Milan more than the 2+ hours it would have taken to drive Duss-Lux. But that was nothing…
See, when you fly with different airlines of different alliances – with transfers involving more than one terminal – there's always a risk that your luggage won't keep up with you. Which is what happened with me last week. But, like I say, my case managed to go astray both on the way there and on the way back! I might as well have not taken my case, since I never got round to using the bits and pieces inside it that would have made my trip to Luxembourg… comfortable!
On the way there things weren't so bad: I was swiftly informed my "suitcase is still in Milan", and that evening it was delivered to my hotel room. Phew.
It was on the way back when things got unacceptably… boycottable. Customs forms to fill out, having to list what was in the case (why?), a line for lost-and-found… All that meant I left the airport about an hour after landing.
My case did eventually arrive – but only two days later! What would have happened if I'd flown onward, say, to South-East Asia? A friend had that problem once – he was on a multi-city business trip to the US, and his case never caught him up after being mislaid still in Europe (though it did try – following him from hotel to hotel all around the States!!).
Here she is, sat outside my office @ HQ. 'Rush'? RUSH???!!! :)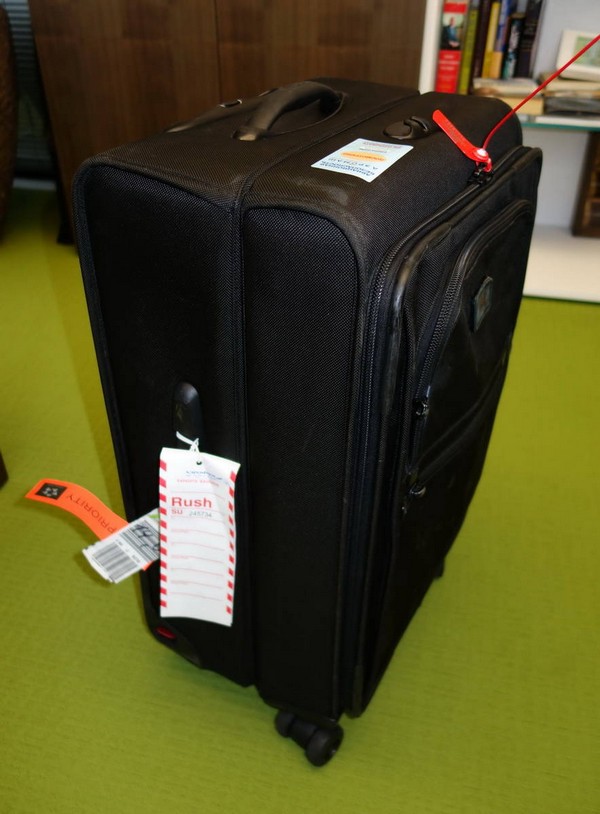 Oh well, at least something positive has come out of this incident: I will now try my best to forgo a large suitcase to be checked in for short trips. Hand luggage only – it's the only way forward upward.
Back soon folks; don't go away!…