A.B. on Lijiang: where modernity meets antiquity.
To bolster my own travel notes on Lijiang, in this post, the photographic masterpieces and perceptive narrations of my traveling companion A.B., who kindly agreed to their publication.
Here's the man himself ringing Lijiang's Bell of Peace. For just five yuan paid to the monk sitting near it you can ding it with that there suspended beam. Different numbers of rings have different meanings. I don't remember any, but they're all positive and along the lines of 'for peace throughout the whole world'. Ding to that.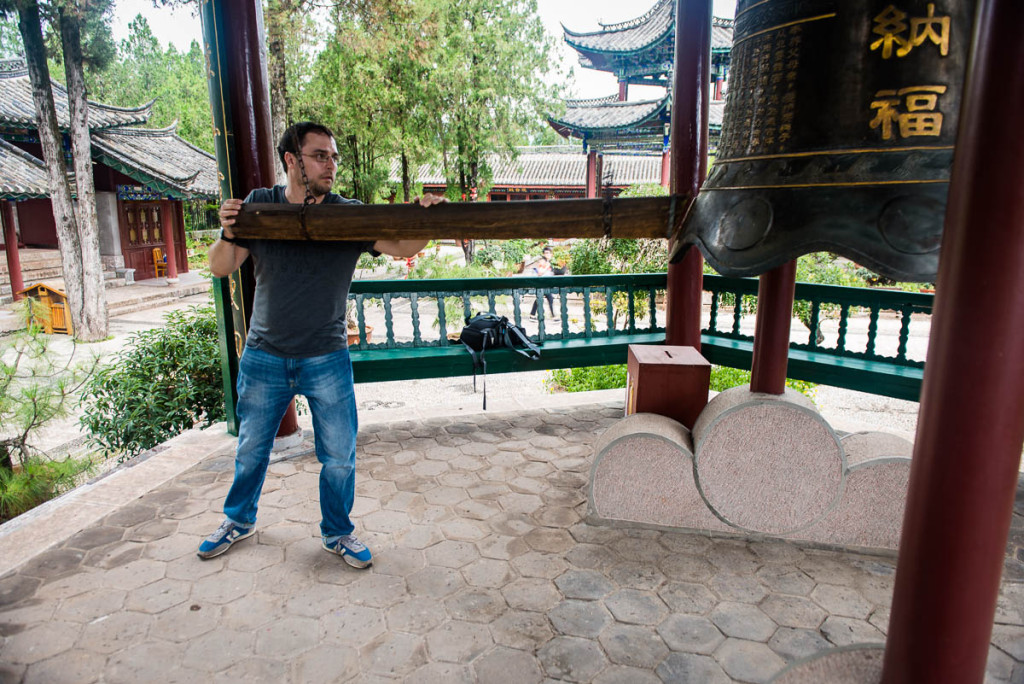 I hand the writing and snapping reins over to A.B.:
—-8<—-
Idiots in Greater China

I'd never been to China. Can't say it was one of my dream destinations either. Then, unexpectedly I found myself accompanying EK there. It was very much diving in at the deep end, since we missed the obvious locations and went straight into deepest provincial China. I felt like that Idiot Abroad, as I knew absolutely nothing about the country or its culture – not to mention its language. So, first thing was first: I needed to learn a few essential Chinese terms… 
My first three words/phrases were: hello (nihau), thanks (sisi), and 'down it in one!' For the latter, it transpired later that I'd been saying it in Japanese – kampai – instead of the Chinese kampey! Main thing: it was understood :).
The great thing about my trip to China was that I saw the true China, not the fake China aimed at foreigners (not that there's much of that, anyway). I found myself in the relative backwater known as Yunnan Province, specifically its ancient, exotic – even by Chinese standards – city Lijiang, up in the mountains not far from the border with Myanmar and Laos.
What's curious is that China now, to me… is Lijiang – though I'm sure it's not fully representative of the whole of this huge country. As E.K. always says: all the more reason to return!
The historic center of old Lijiang resembles in many ways old European towns I've visited: all narrow side streets, cobbled sidewalks, tiled roofs, and every structure seemingly built several centuries ago. Every building here by day is either a stall selling trinkets, a café or a restaurant.
I'm reminded a lot of Jerusalem, or a resort town on a Greek island or in Italy – only with the different architecture, faces, and especially smells, which were decidedly… unusual :).
This city is more than 2000 meters above sea level and, according to Wikipedia, the ancient capital of the Nakhi people (pronounced nashi), who are now officially recognized as one of the 56 ethnic groups in the country.
The old town is a UNESCO World Heritage Site, but I'm not sure all the buildings are as ancient as they're portrayed to be. On one occasion I saw workers dismantling a building with picks and sledgehammers: the roof sure looked ancient, but the walls of the house supporting it looked to be made of 20th century concrete blocks!
Strolling around the narrow streets I kept thinking how the old town seems lost in time. You think Havana's quaint, looking like it's the 1950s? This place looks like it's 500 years ago! But there's a modern flavor here too: in the below pics for example, there's an old man in a suit – in slippers/slip-ons with the US stars-and-stripes on them and peeling potatoes; there's a man washing clothes by hand in a tub with water from an outside tap; there's a girl selling drums; there's a craftsman making his wares while watching a film on his carefully-balanced smartphone; and there's a woman with various decorative clips in her hair for sale, who's also got a fancy Bluetooth handsfree device in her ear…
Curiously, though geared up specially for tourists, there weren't any to be seen – apart from us. But come here they do: Lijiang is a leading destination inside the country for the Chinese themselves. They come in their thousands to experience authentic Lijiang cuisine, try on traditional Nakhi costume, buy a drum or tambourine from the Dongba shamen, and climb up the four-floor pagoda (built in… 1997!). 
There's a tale, whether true or not I don't know, where Deng Xiaoping, when asked what he thinks of the legacy of the French Revolution, answered that 'it's too early to judge; time will tell'.
That tale is told to express how China – both the country and civilization – is so ancient and mighty, that it lives in a timescale completely misunderstood by outsiders, and is able to judge events with the rich experience of millennia.
Still, in Lijiang I got the impression that China lives and breathes modernity. Girls in short skirts, photos taken on iPads, ubiquitous selfie-sticks, sidewalk cafes… even Colonel Sanders fully present. Globalization forges on here in China too – just a little different: without Facebook or Google, and now without Instagram too – banned after the Hong Kong protests. Globalization bringing an understanding of English to China though – I didn't see much of that: even with my not-bad English I don't think I've ever felt so unable to communicate simple things anywhere! 
Overall, though very (Chinese) touristy, a very interesting place – in a very interesting country. I'm not sure I'd return Lijiang, but I'm sure happy I've now been. It has helped form in my mind a vision of China that's much more… humane than the typical one a lot of foreigners may have who've never been (including me until a week ago!).
—->8—-
All the photos from Lijiang are here.
And that's all from China folks! Back soon, from…