Cuisine on the road, pt. 1: Kamchatka
Some time ago I was asked about what I pack in my suitcase on my frequent long trips round the globe – to kinda come up with a list of essential travel items I really can't do without. Yeah, I thought – I'd seen some of those lists before – real hi-tech affairs. Mine sure is a lot simpler…
So, a few initial thoughts on this:
First: The more you travel, the lighter the suitcase. That's perfectly logical: only the experienced traveler knows how to pack minimally – to do away with stuff you deffo won't need at this or that destination. The experienced traveler also knows how a few extra kilos are a few extra kilos too many when walking ever greater distances to get to your gate in today's hyper-airports.
Second: My list of 'hi-tech' kit is limited to a Sony RX-100 camera, a Lenovo X1 laptop, and some Bose QuietComfort 3 headphones – nothing top-of-the-range, but very reliable. Also, no super-duper camera lenses, no fancy smartphone, no video camera, no quad-copter, no tripod…
(Er, see – there's my list. Didn't take long, did it?)
Third: I'm quite sure you don't want the low-down on my jeans, shirt and sock situation on the road.
No, something different, better than that was needed! And then it dawned on me…
…So here we are – the first installment of my new 'column' – 'Cuisine on the road': Gastronomical mini-guides to dinner-table food furnishings from different corners of the globe!
First up – a recent table in Petropavlovsk-Kamchatsky, where we spent a day before our recent Kuril expedition…
So, here we go…: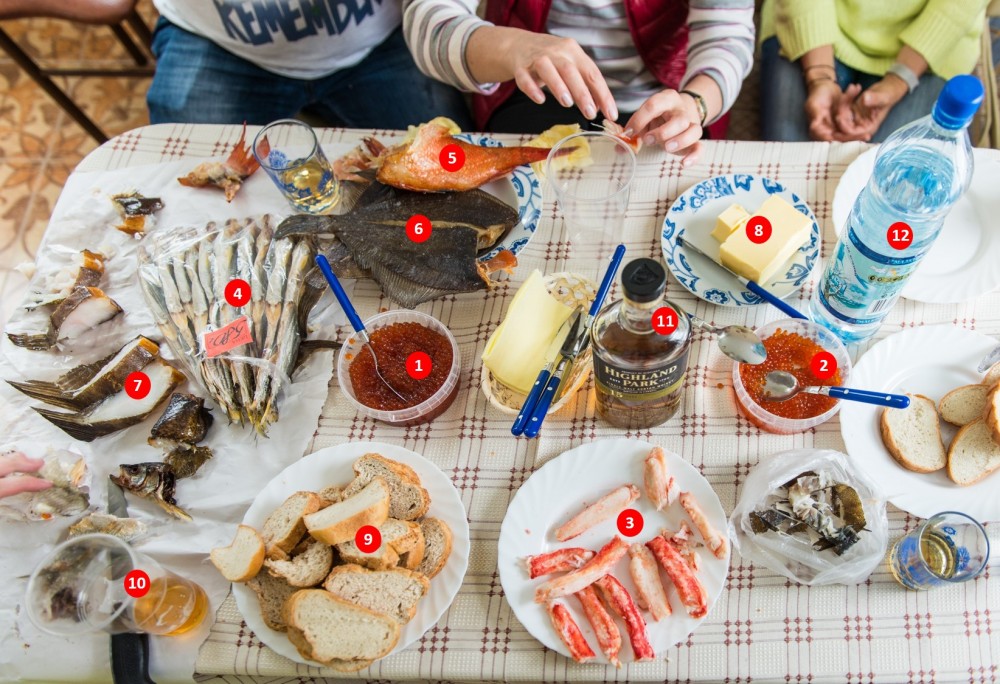 1 & 2 – Salmon caviar. Fresh out of Petropavlovsk fish market. Spread copiously on fresh white bread along with lashings of butter, washed down with Kamchatkan beer – perfect.
Incidentally, you may think salmon caviar is all the same, much like non-Eskimos think all snow is the same. However, salmon caviar can come from many different types of the salmon species. Examples: Chinook salmon, pink salmon, chum salmon, sockeye salmon, coho salmon, Siberian taimen, and trout. The locals on Kamchatka can easily spot good caviar from not-so-good, as well as what particular type of salmon it comes from – instantly!
They say that this year there was a poor caviar harvest; the salmon apparently was reluctant to spawn. We were told that because of this some of the caviar on offer was from last year and had been frozen. Boo. We steered clear of that, and managed to get through around 30 kg of the fresh stuff between all 20 of us on the whole Kuril trip :).
3 – Crabs! You can buy them fresh – like, alive fresh – straight out the aquarium. They can be put onto ice immediately without being filleted, or you can have them cooked right there and then put onto ice. In the latter case, once home you just leave the crab-on-ice to thaw out for up to an hour and it's ready to be photographed eaten!
4 – Dried smelt – the females are considered far superior to the males – and are priced accordingly. One sign in the market shouted: 'Only females!'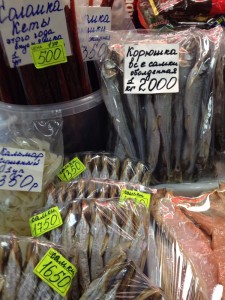 5 – Smoked grouper. There are more than 100 types of this fish, most of which inhabit the northern part of the Pacific. It's very bony, so eating it can be slow, but once you get into the flow there's no tearing you away!
6 – Plaice. Kamchatka – what better place for plaice?
7 – Halibut. Only one piece of this is needed as it's rather fatty.
8 – Kamchatkan butter. On its own it's kinda plain; without it on a caviar butty – the experience is ruined.
9 – Bread. I think you can work this one out :).
10 – Kamchatkan beer. The main ingredient of beer is of course water, and Kamchatka's got the water dept. fully covered: there's a lot of it and it's pure and tasty – be it volcanic, artesian or from the snow. So the beer's tasty too. We've a tradition already where after touchdown in Petropavlovsk-Kamchatsky we head straight for a certain no-name bar on the road to the Paratunka hot springs, and in five minutes give the nice owner his day's takings. Literally any of the many different sorts of beer in Kamchatka are champion brews. I wonder when they're going to start freighting it to Moscow and beyond. It's only a matter of time…
11 – Whisky. A brutal but wholly necessary item for late evening sing-songs. This time it was Highland Park – which isn't made in the Highlands, you know, but on Orkney :). Single malt Scotch – and the odd good blend – became my poison of choice long ago.
12 – Malkinskaya mineral water. Like the beer, just about any water on Kamchatka is tantalizingly tasty – it's just so pure. But for some reason I long ago became addicted to specifically Malkinskaya. It too needs to get itself to Moscow and beyond. Come on entrepreneurs, it can't be that difficult…
What's best to eat in Russia's Far East? @e_kaspersky gives tipsTweet
Bon appetit folks!