2 birthdays in 1 – our 25th and 26th. How did we mark the occasion? Like THIS! ->
Our b-day celebrations are back. Period! But this year's was extra special: we had a double-whammy, for we marked two of our anniversaries: our 25th and 26th birthdays rolled into one! But wait – there's more: it was attended by a full 3100+ guests. Oh my grandiose!
But first – rewind, selecta…
Some 26 years ago – on June 26, 1997, to be precise – a small but very ambitious and restless company first saw the light of day. And as luck would have it, the company was named after moi (I objected to this, albeit halfheartedly:). We were the epitome of a tiny startup: no money, no venture capital, no financial support at all in fact. But what can I say? It just grew and grew and grew – eventually becoming the multinational corporation you know today!
I won't go over the story of how we registered the Kompany, since I've already done so – here. (And for more AV-adventures from yesteryear – go here.)
Here, I'll simply go over the main things: the format, and a review of this year's bash…
Our b-day celebrations are always all-dayers (and nighters!); they're always next to a large body of water; there are always more attractions/rides to go on and sporty/fun activities to get stuck into than you can possibly imagine; there are always the tastiest eats and drinkies; there's always a slew of bands (and other shows) made up of our own who take to the main stage; there's always much dancing; and there's always a headliner – or two – as the icing on the cake. But there's a lot more to it than that quick summary, but we'll get to that… In a nutshell: it was a proper, full-fledged high-adrenaline blowout!…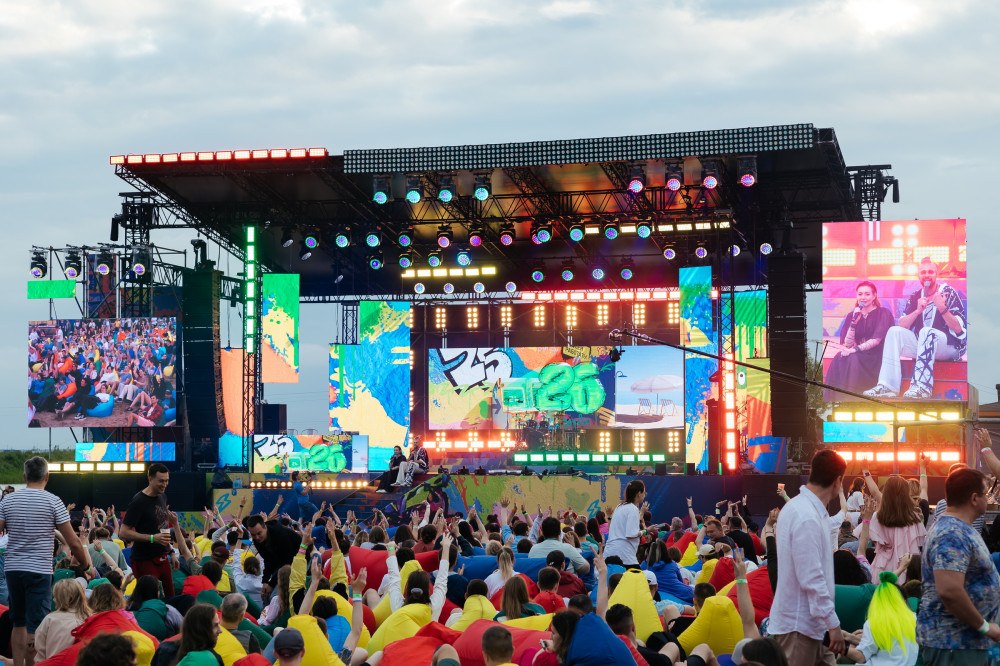 And we know how to party!…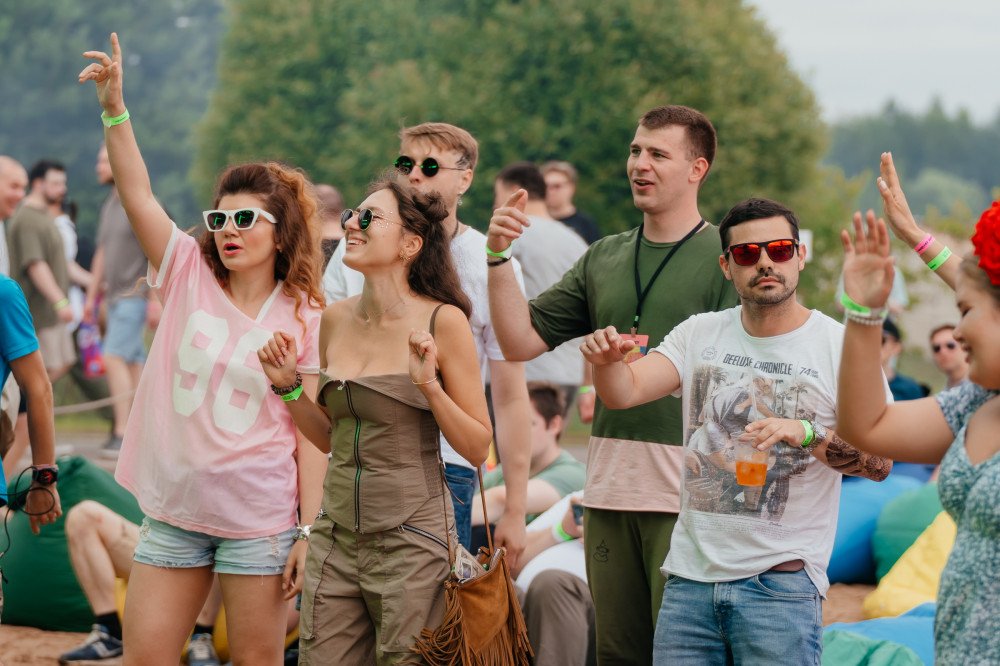 It's been several years already that we've held our yearly (with a few exceptions – see below) bash at the Radisson Resort at Zavidovo – here. Why? Because it's practically the only venue in or near Moscow that can fit us in comfortably!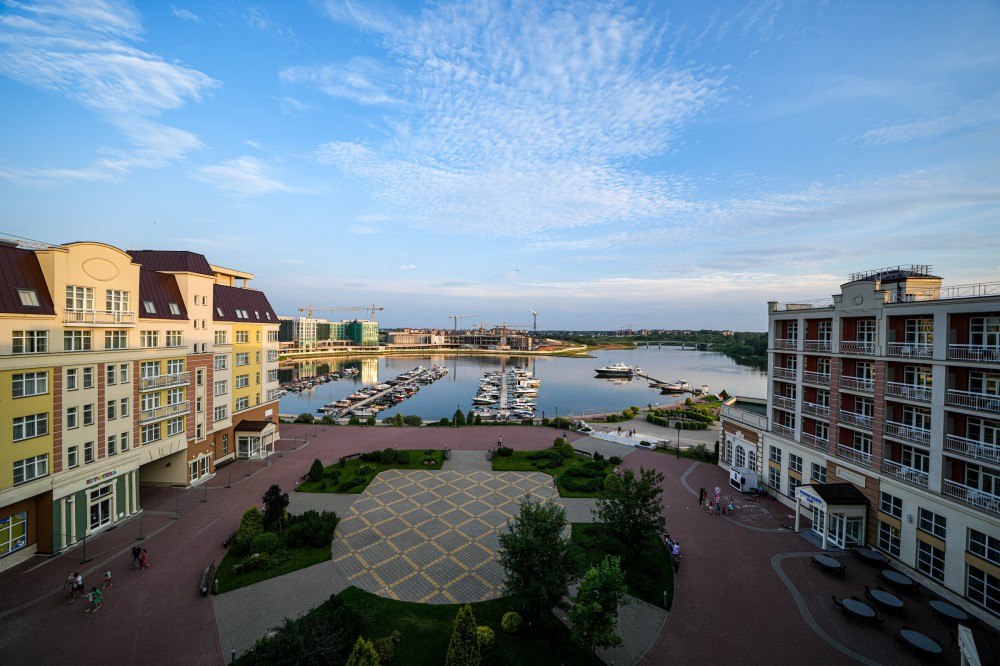 Even here we're having trouble fitting everyone and everything in – since we're continuing to grow as a company, despite everything!…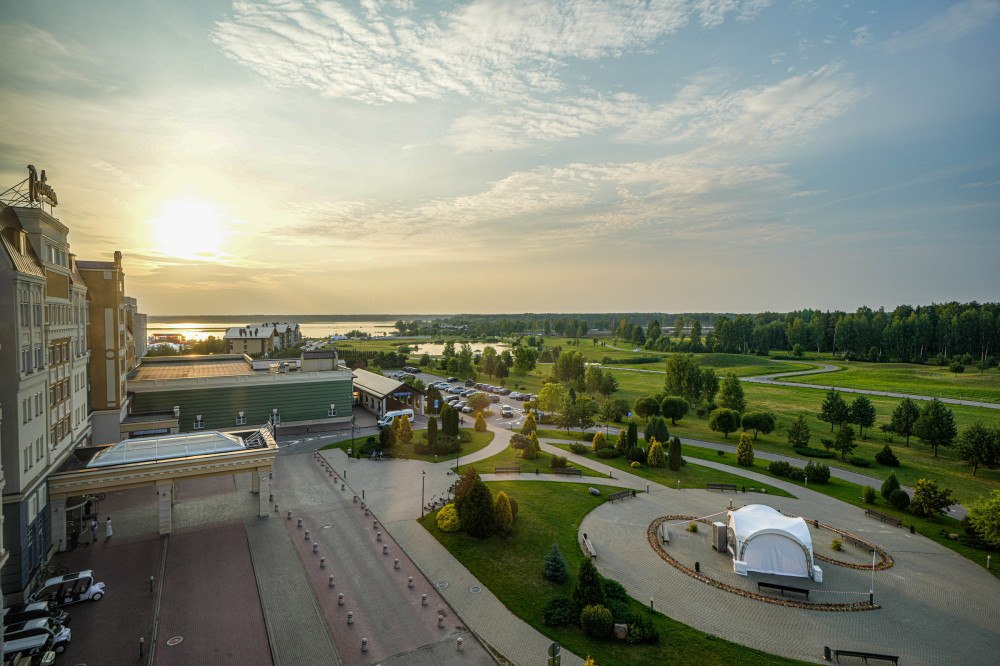 Back to those few omissions – the years we didn't celebrate our b-day in gala-festival style…
The first time was in the year 2008, and the reason was that we'd put all our energy and resources into our 10th global partner conference. This was a mega-event up in St. Petersburg, which closed with a grand costume ball, whose "after party" was a stroll along the Neva at night still costumed up! ->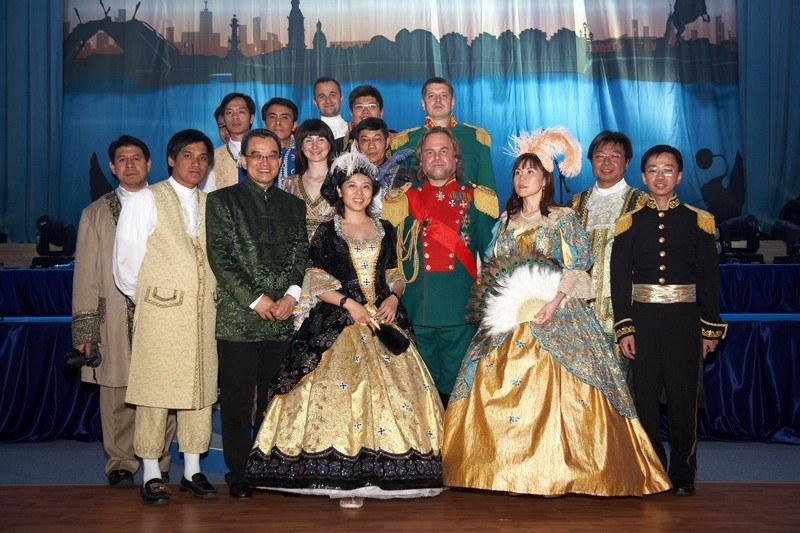 If I remember right, there were around 300 guests in attendance – mostly partners from all over the world, and each and every one of us was in costume!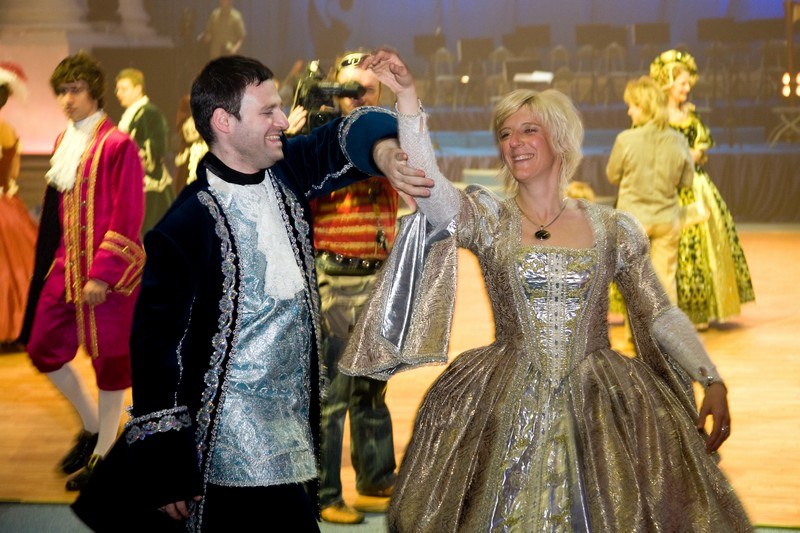 In 2020 our shindig was cancelled – like most other things – for obvious reasons; we managed slimmed-down festivities the following year, with masks and gloves and various other restrictions – yet still at Zavidovo; while last year we were still scrambling and getting to grips with the new reality we found ourselves in – a reality completely out of our control. And these omissions in this decade meant that we – especially I! – had waited a full four years (since 2019) for our b-day party to return to its old – no-holds-barred – self!
As the title of this post indicates, this year saw two b-day do's in one – the 25th, which we missed last year, and this year's – the 26th. Accordingly, it was a biggie – our biggest ever in fact, with more than 3100 guests, 1500 of which we put up in the hotel (we booked the whole of the Radisson, plus three other hotels nearby to fit everyone in!).
// There are now more than 5000 folks working for K, including all our offices around the world. Bringing everyone together these days would be physically impossible!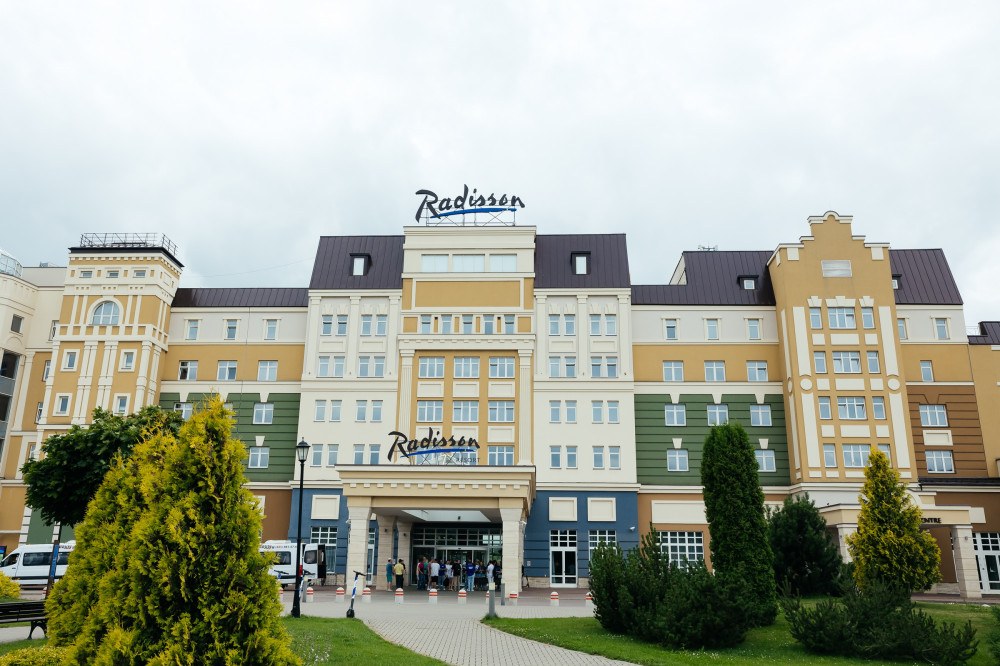 Early morning it looked like rain might… rain on our parade, but it didn't; there was just a short, light shower.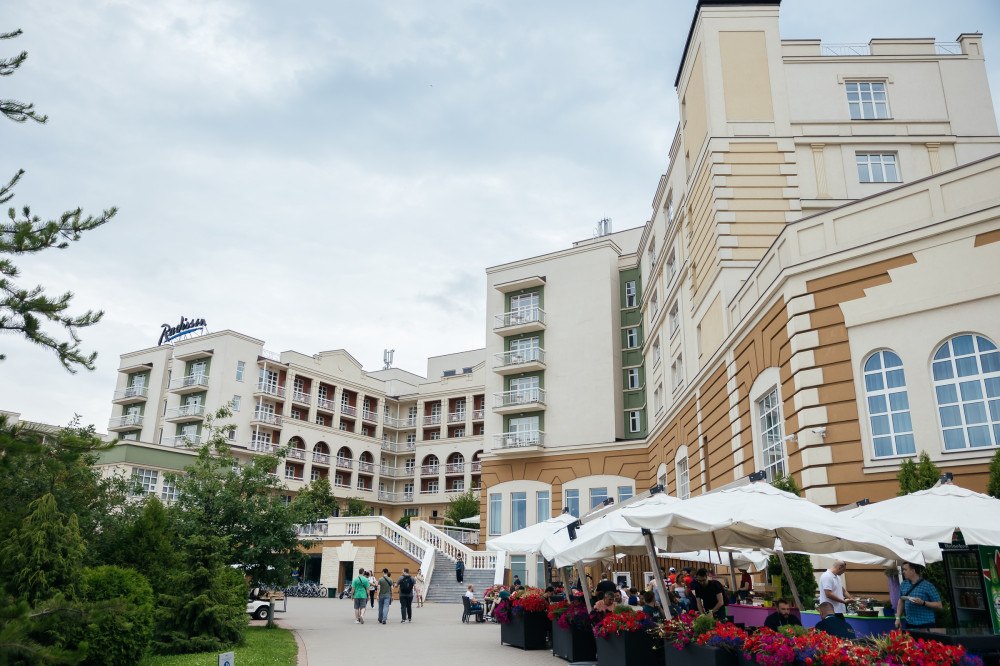 I arrived a day early to the venue (an hour-and-a-half from HQ), when the finishing touches to the stage and the various installations were being made ->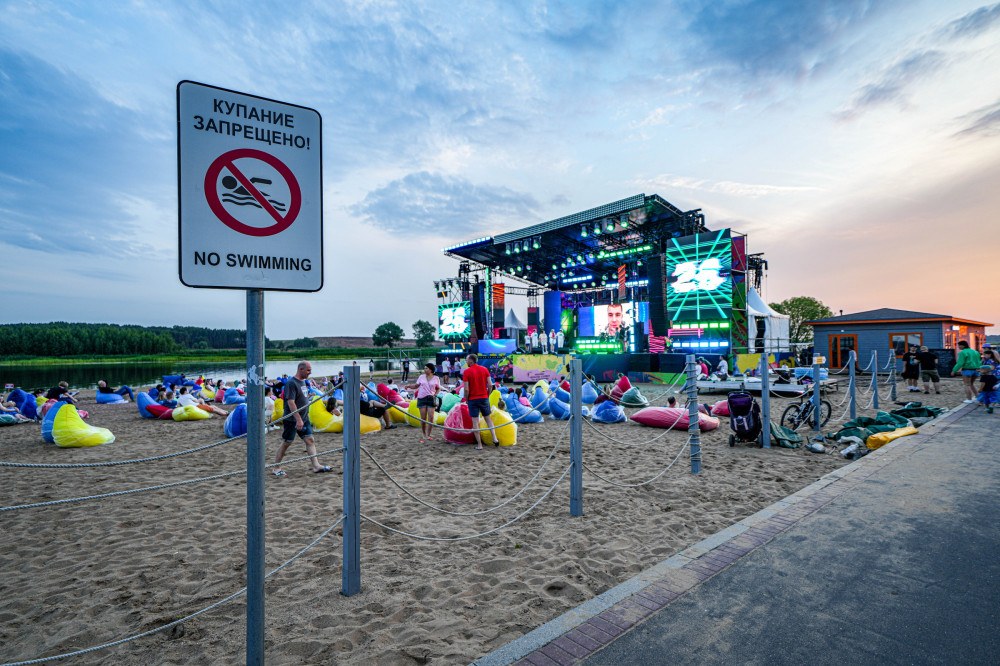 Sound-checks: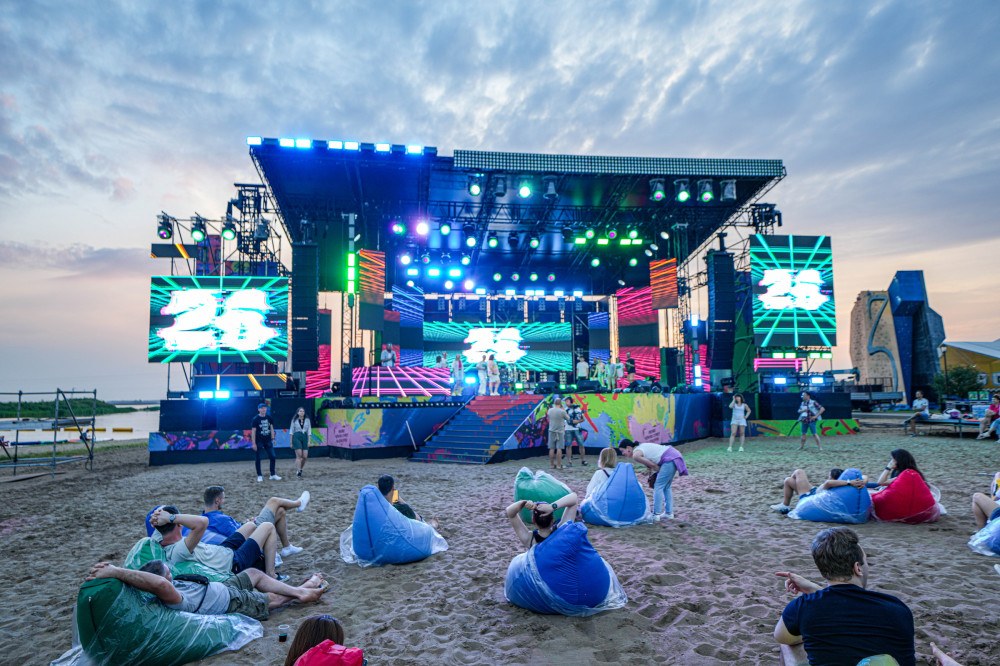 The masters of ceremonies take to the stage… Let the party begin! ->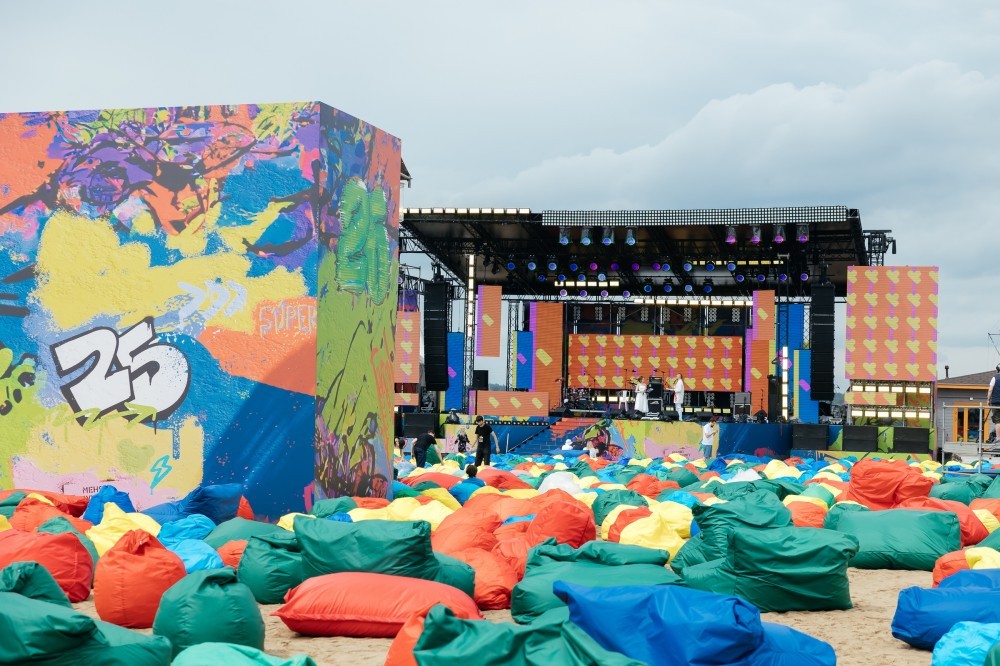 On arrival – each got the obligatory birthday t-shirt:
Forgot to shave or… color your hair? No problem ->
Watersports: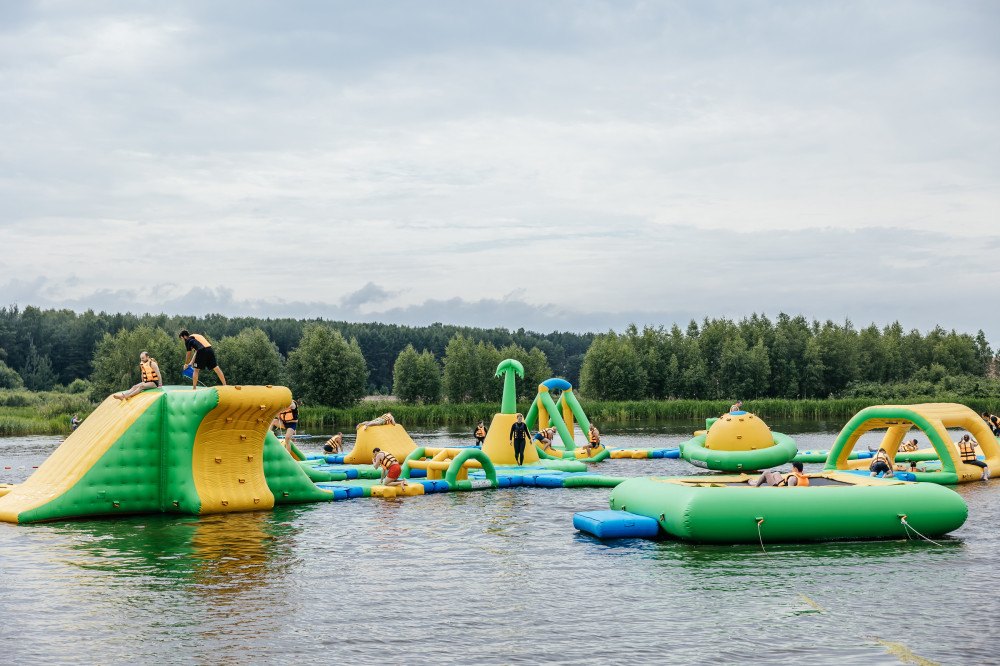 Climbing sports: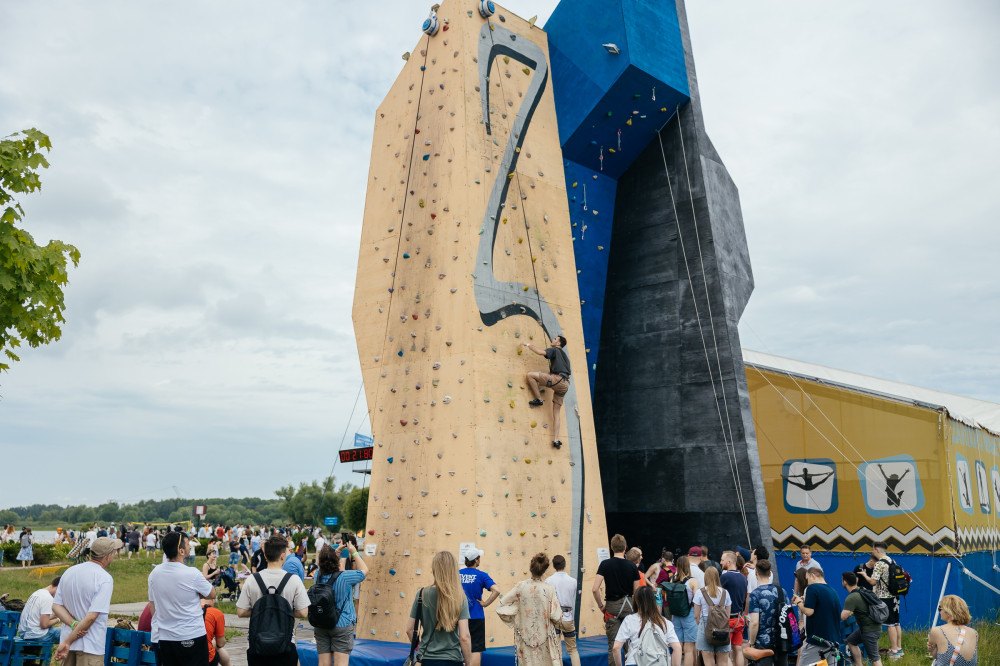 Tugging sports: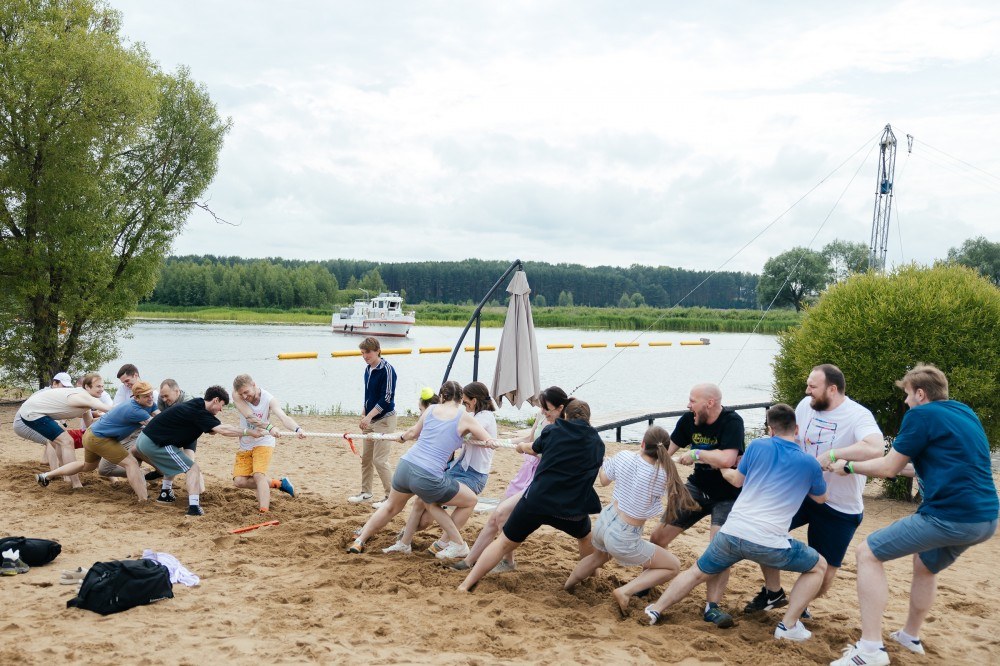 No comment! ->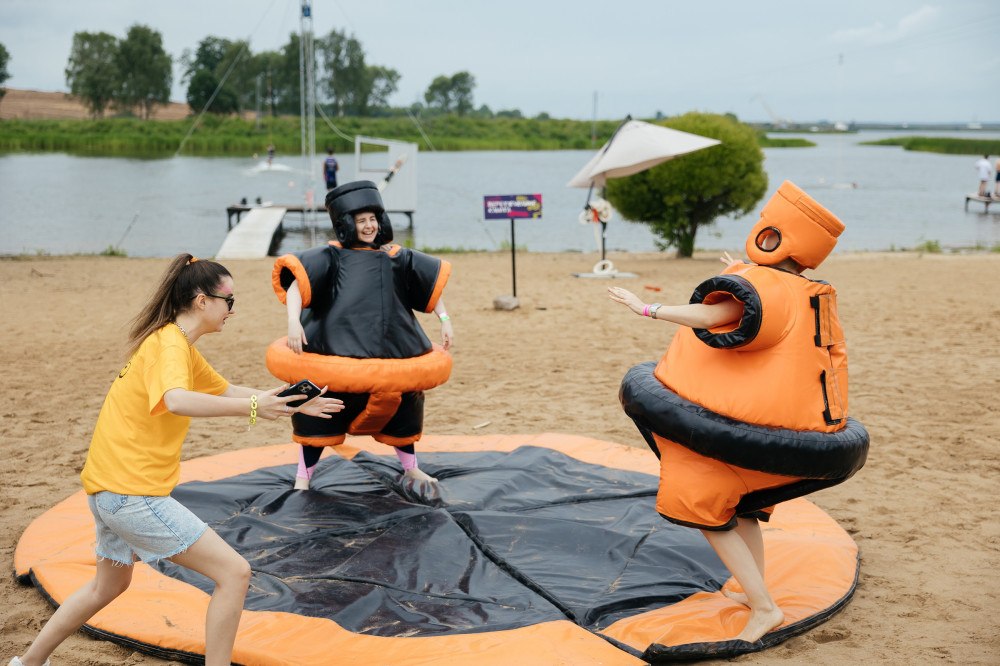 Yogis: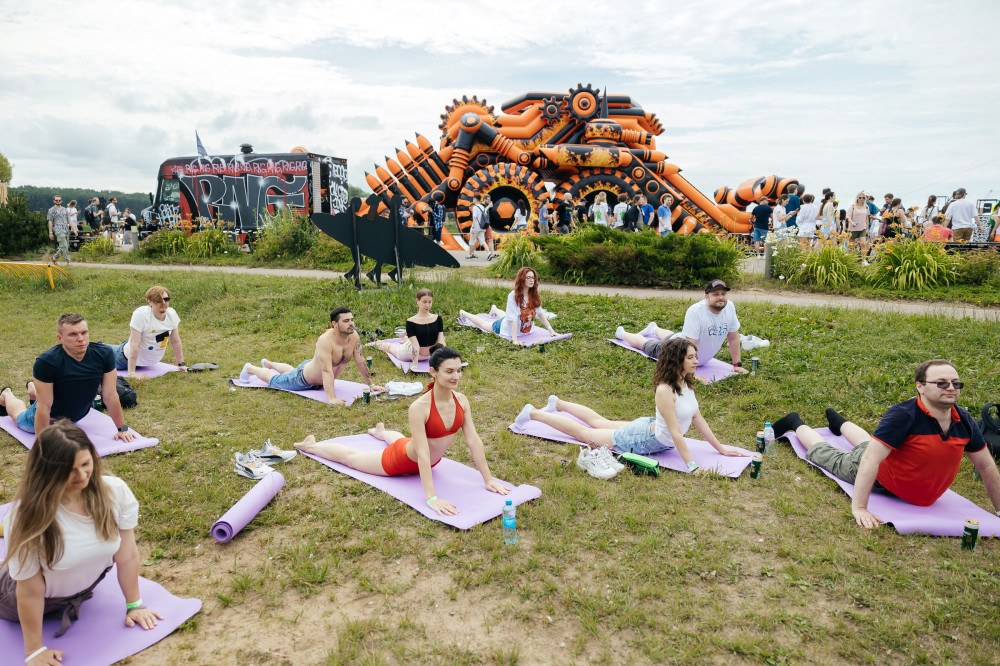 Some preferred just to stroll, sip on their drinks, and banter with colleagues: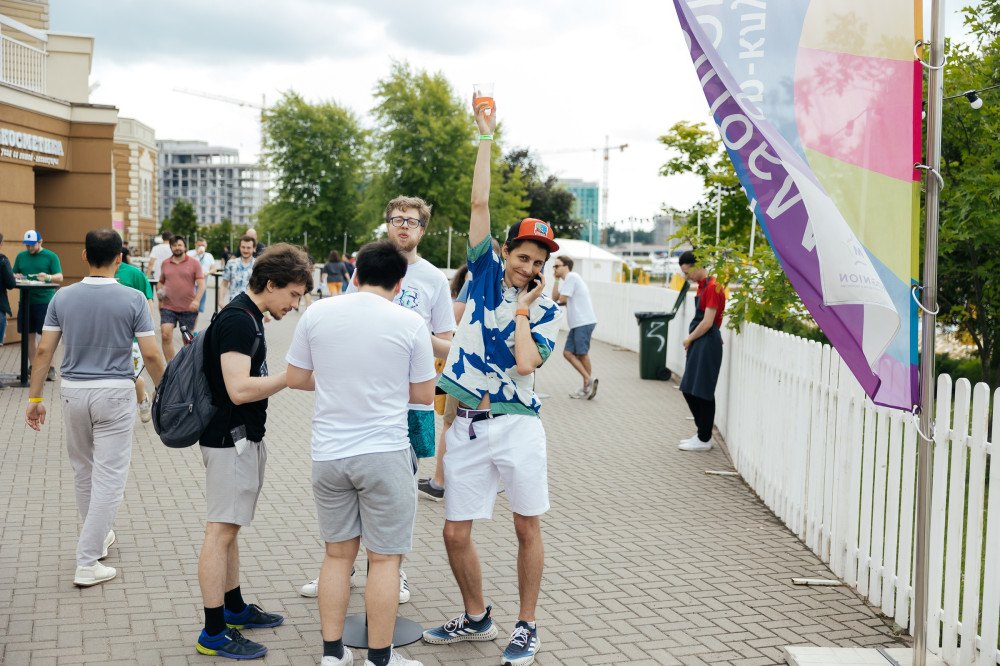 Obligatory for me – a zillion selfies! ->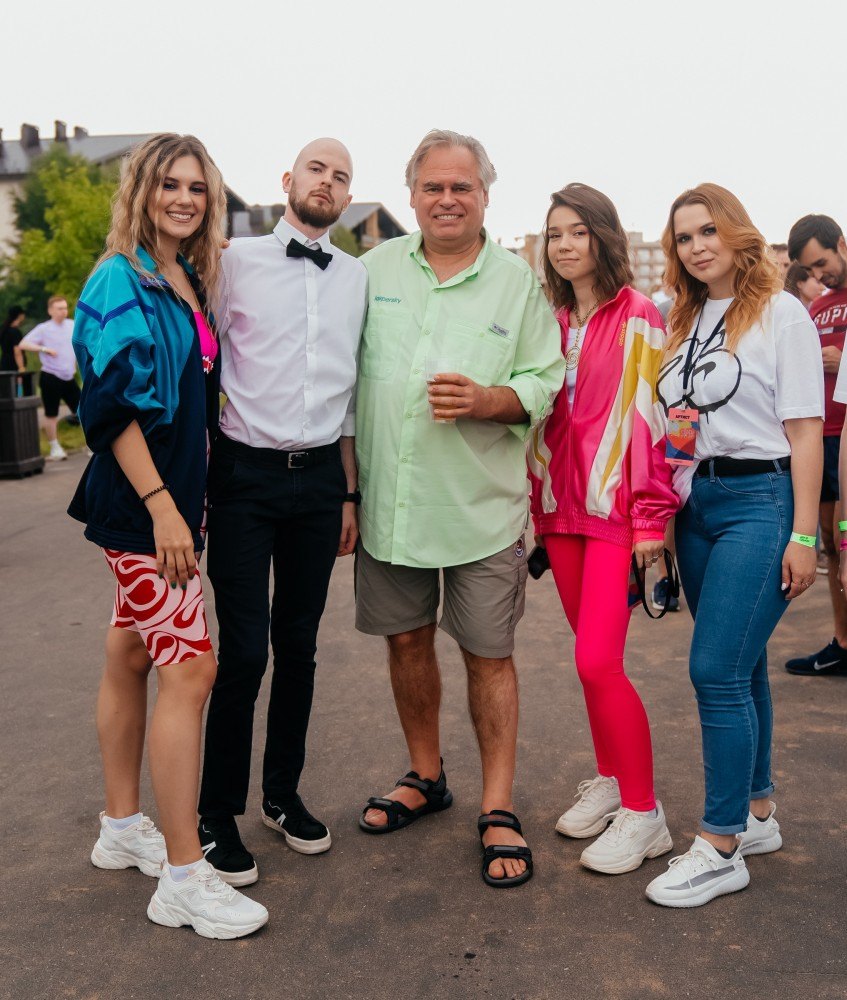 I say a zillion… It sure did feel like that many. For our quiet period since 2019 has seen K grow in numbers aplenty. Accordingly, that's many more K folks wanting a pic with Mr. K. Some even told me they'd been with us six/seven/eight years – and still no pic! And who am I not to oblige?!
Now – the b-day bash in figures…
Food – 6800kg
Ice cream – 230Kg (16 flavors)
Soup – 365 liters
Plov – 300kg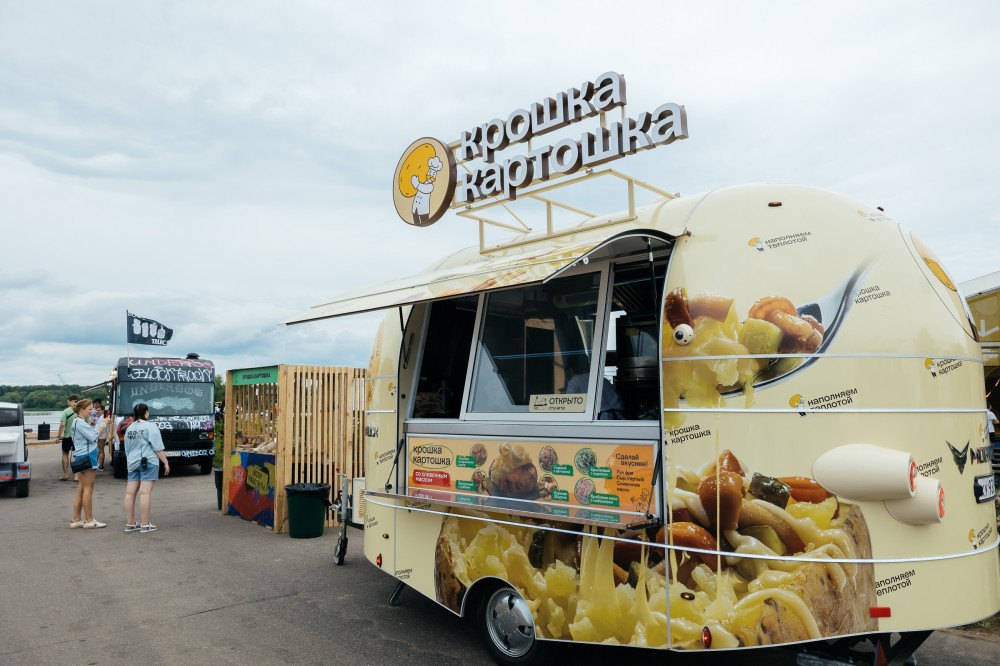 Non-alcoholic drinks – 10,000 liters
Cans of beer – 3600
Pints of beer – nearly 2000
Cocktails – 5000
Total "adult" drinks – 7300+ liters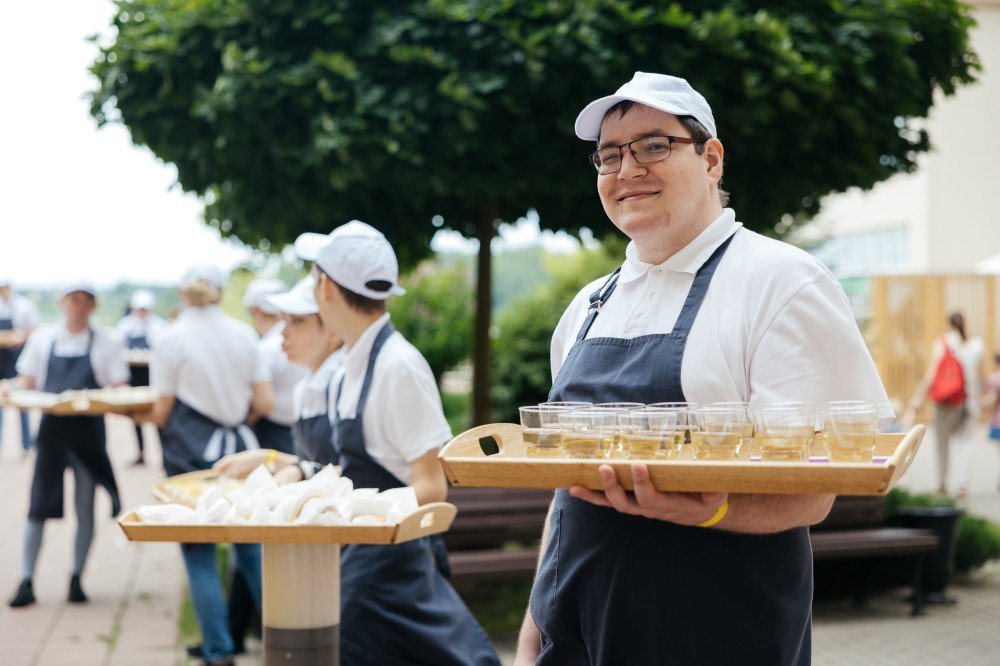 Bikes ridden throughout the day – 75
Kick-scooters ridden – 10
Bike-mobiles – 5
Catamarans – 4
Water rodeo! – 1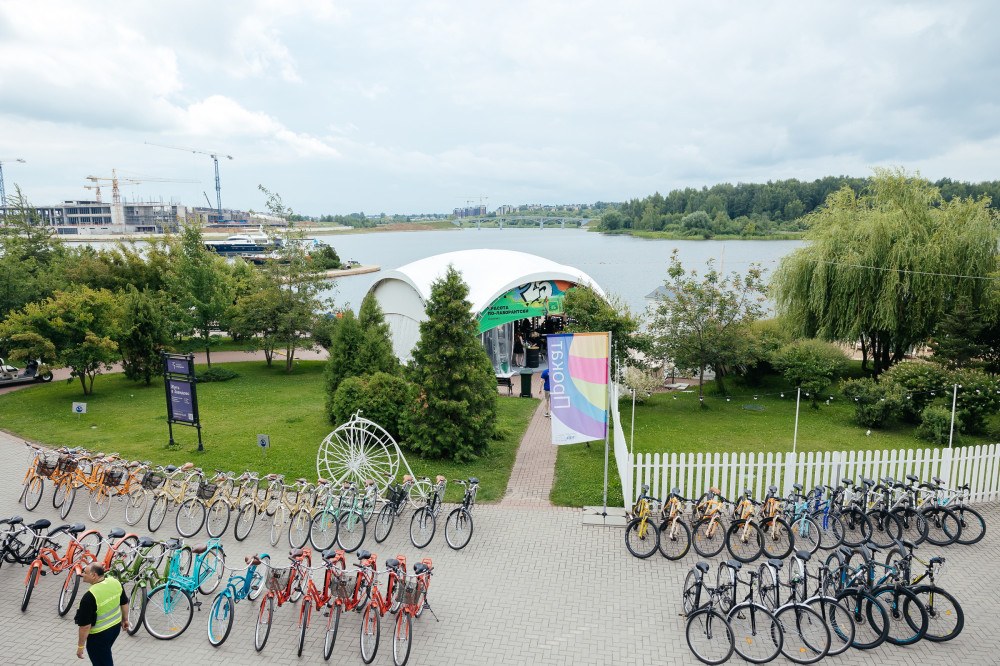 Chess players – more than 32, with one grandmaster champ
Intellectuals playing intellectual games – 350
Computer games – 100 (including Dota and CS tournaments)
Folks launched into the sky between inflatable rockets – 200
Folks dropped into a water reservoir – 200
Folks jumping on gigantic inflatables – 600
Quest participants – 400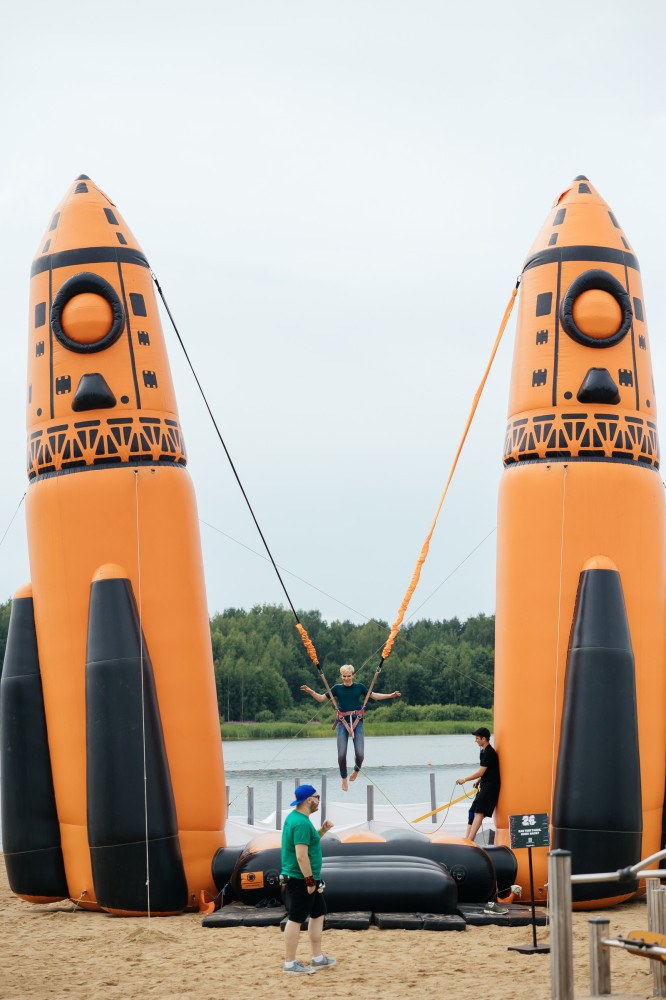 Beer yogis – 200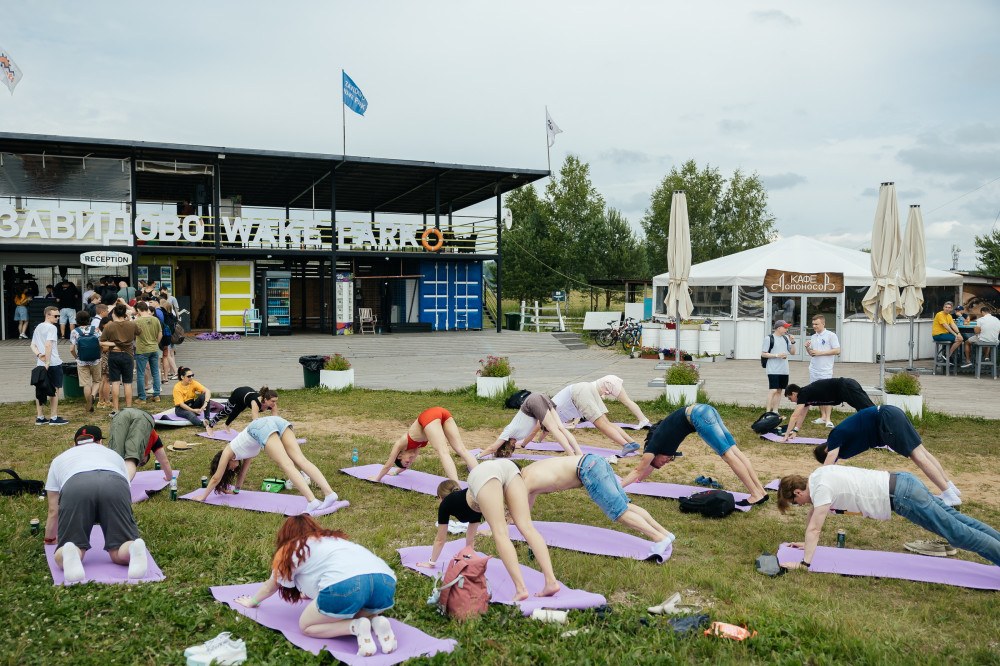 Foam used on the foam-party dancefloor – 300 liters
Wedding rings lost in the mayhem on the foam-party dancefloor – 2 (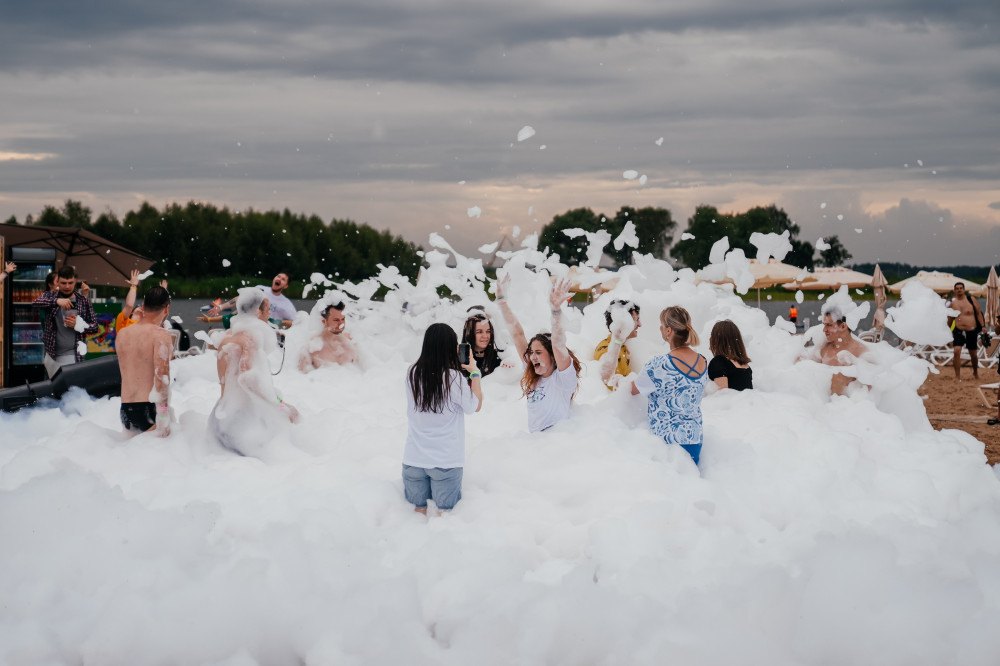 Btw – the foam went down a storm. Expect more next year!…
Guests who made it to the after-party disco nearby – 100+. How ever they had the energy I'll never know!…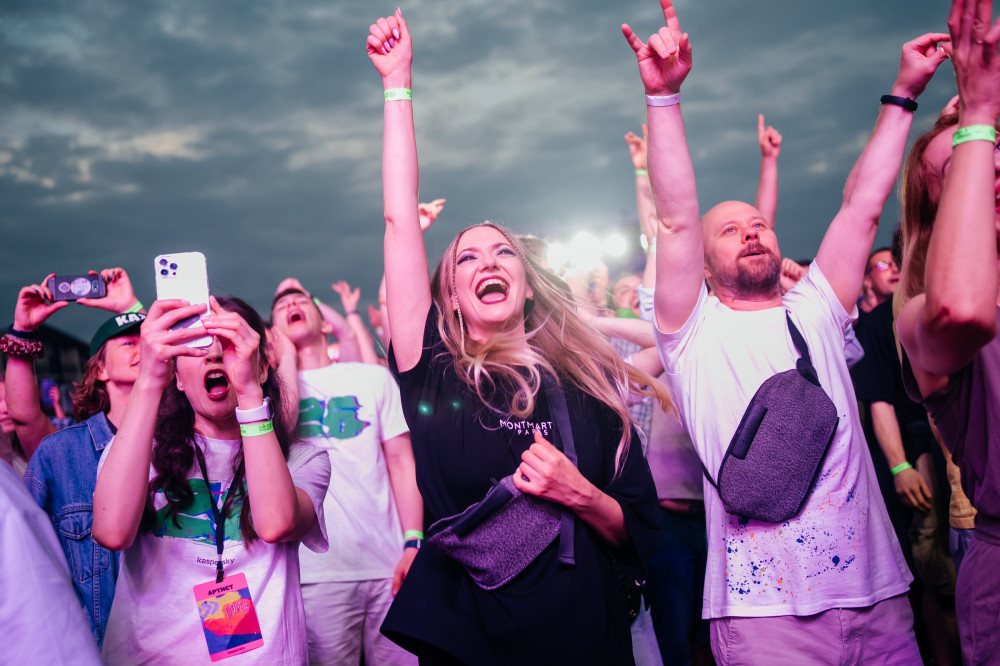 LED screens at the sides of the stage – 15+ (100m2+)
Stage lighting equipment – 260+ pieces
Sound system kilowatts – 100 (loud)!
Our friends from Latin America hung up their flag, as they always do! ->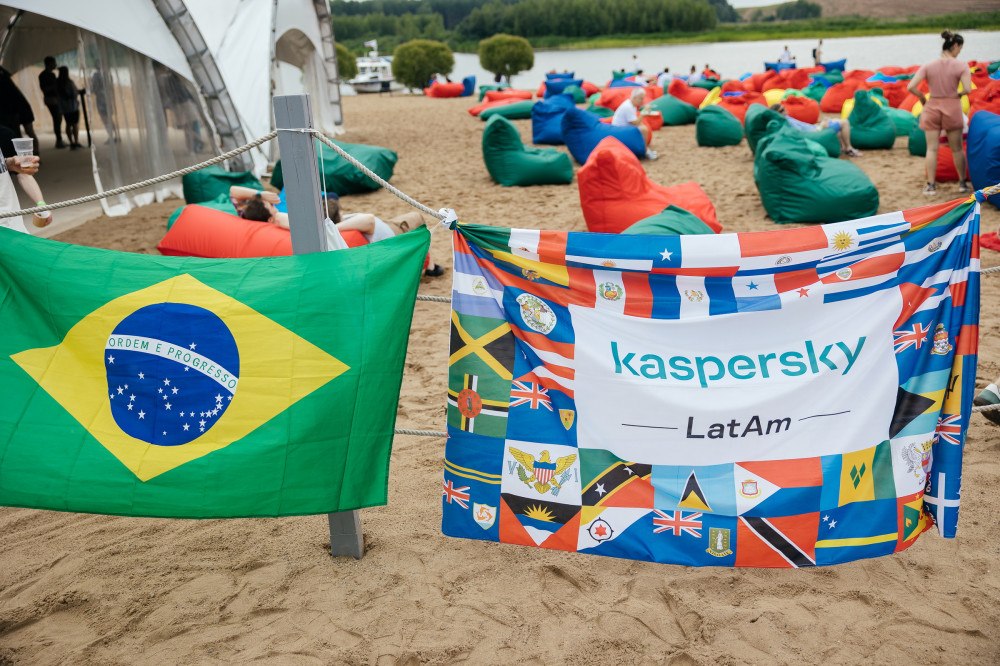 In all in attendance were around 80 guests from our overseas offices in the Americas, Europe, Asia and the Middle East.
Show time! ->
The first four consecutive acts on stage, as per tradition – rock groups made up of our K-folks: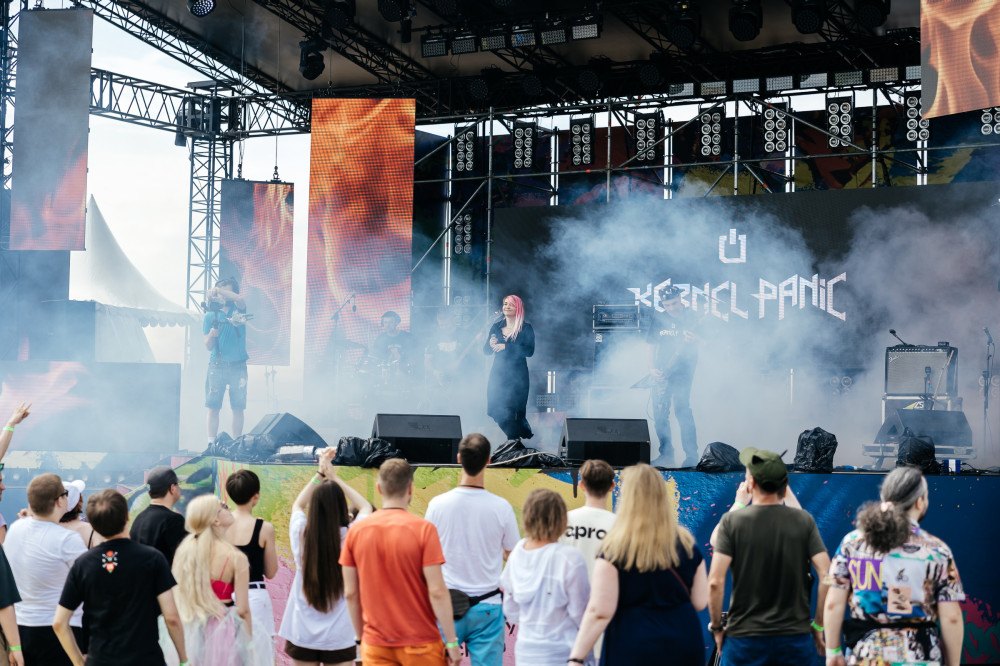 And they performed great, professional sets – and that's according to the professional musicians who were in attendance!
Another long-held tradition of ours: the employee variety-show: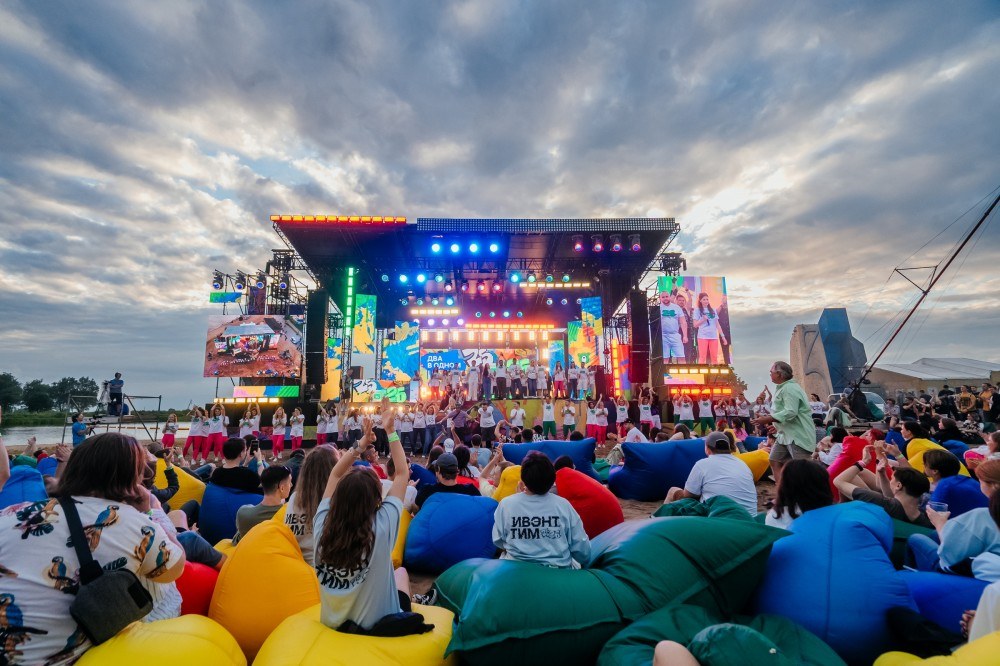 Around a hundred K-teamers rehearsed for a month for their show-performances:
Our hosts: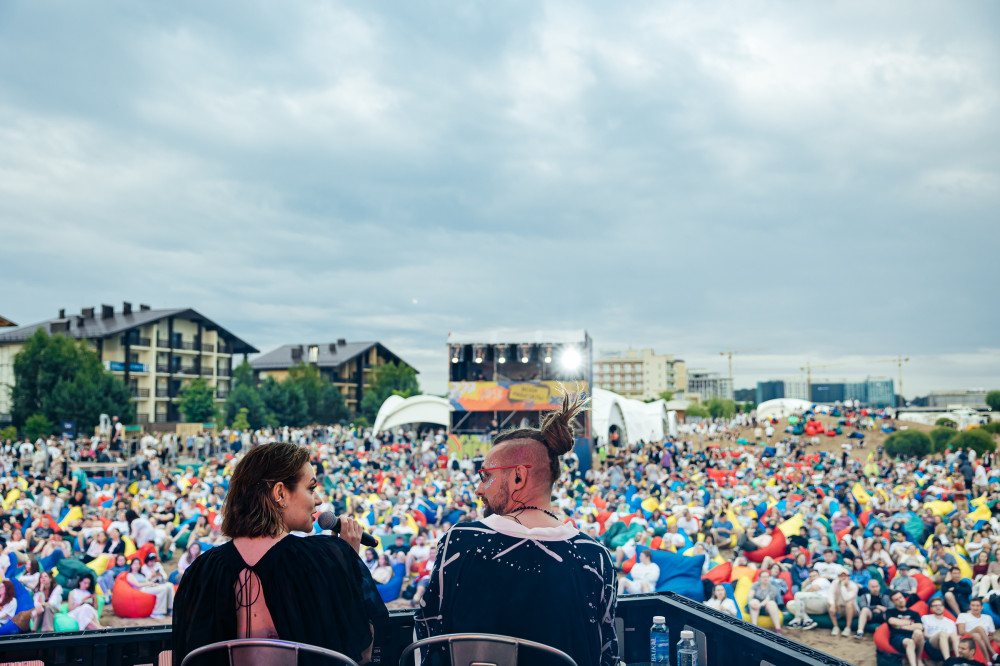 At one point, one of the performers took the mic…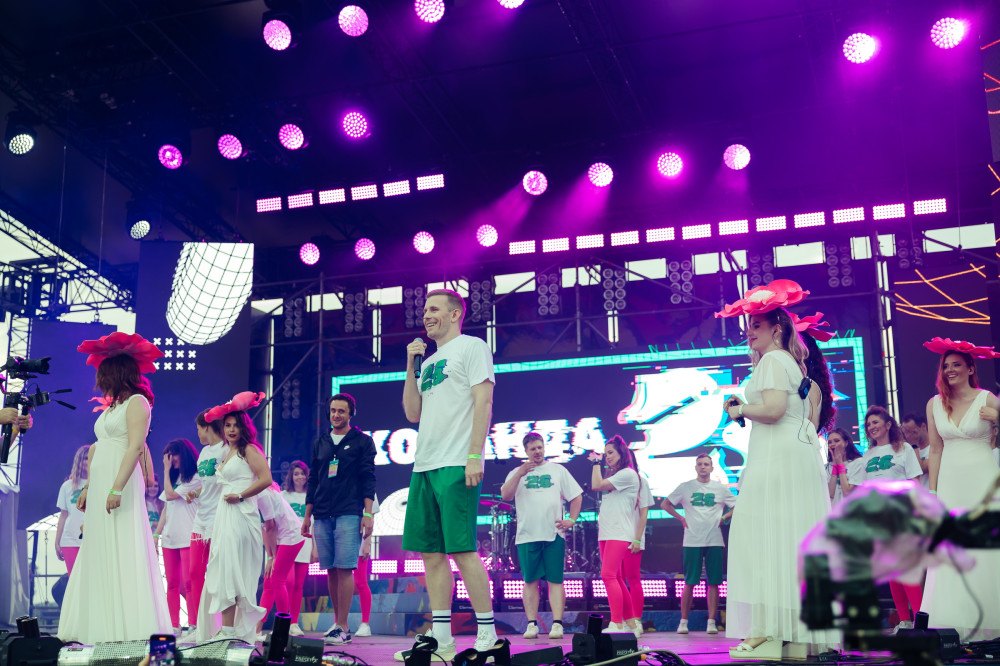 …And proposed to his girlfriend who was performing together with him! ->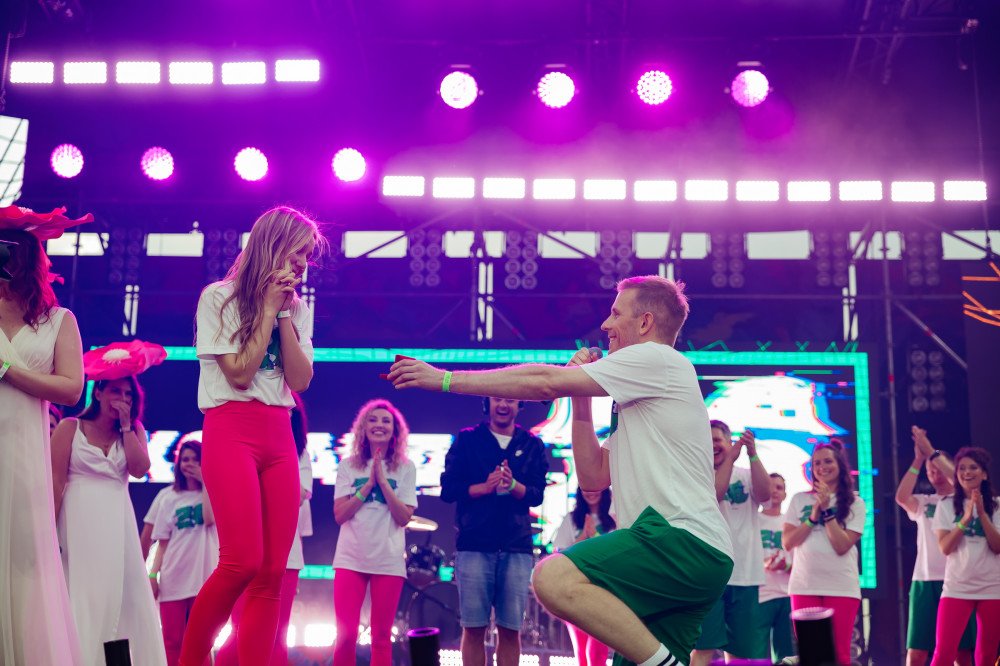 Woah!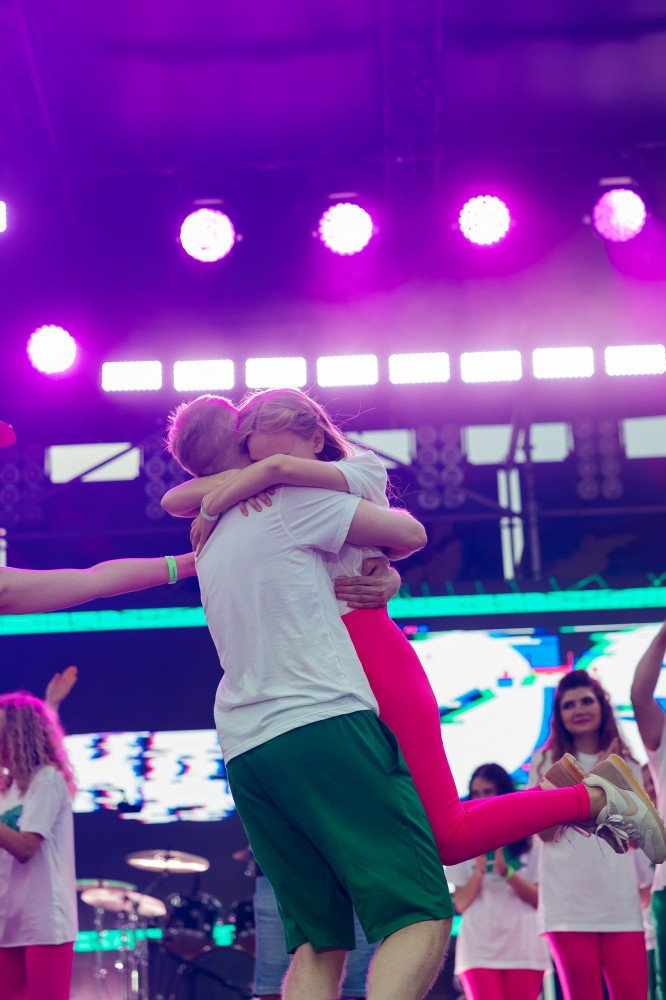 It looks like she said da!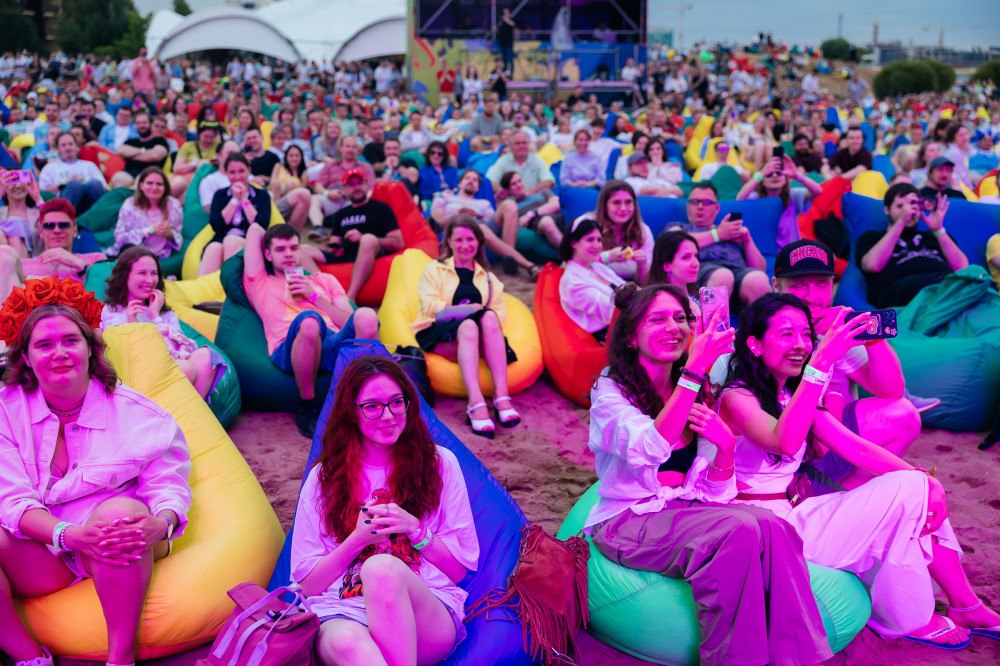 Into the evening – the headliners: The Red-Banner Division Named After My Babushka (!), followed by Nike Borzov, then Diskoteka Avariya! ->
The crowd loving it: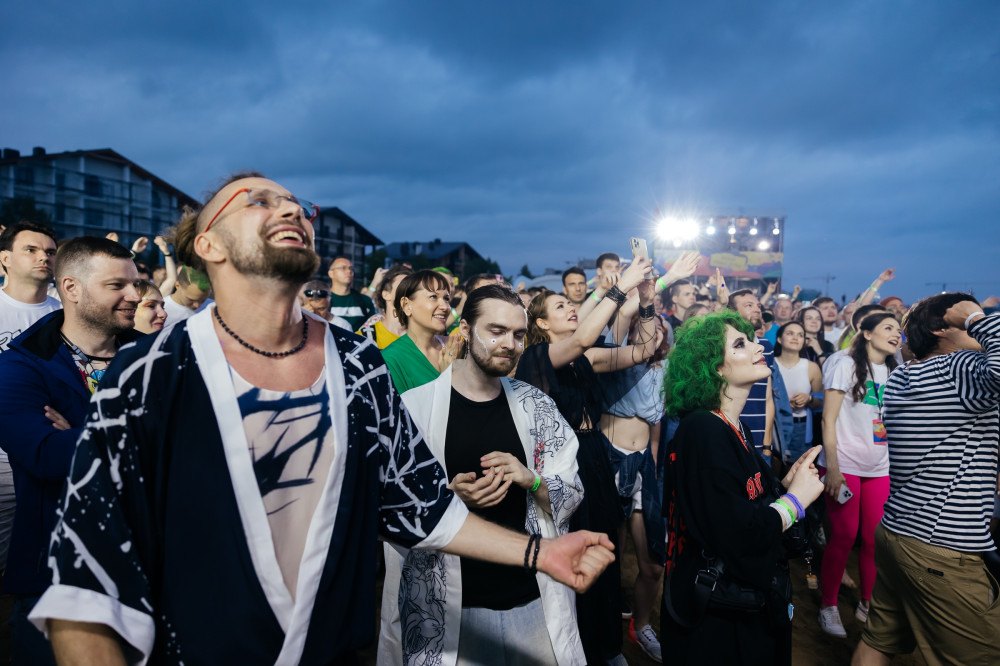 Mr. Borzov too:
Diskoteka Avariya – hi-energy show:
Another tradition: party-end fireworks:
What can I say? An amazing day; but of course: it was our birthday!
Work hard (we sure have); play hard – we sure did. Cin cin!
And that was that. Incredible.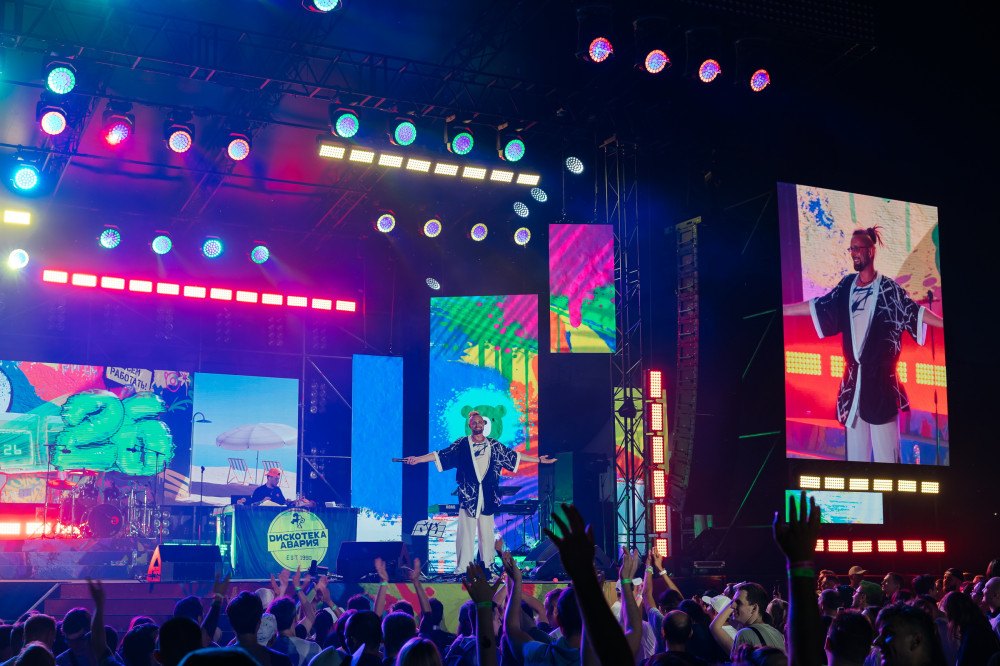 It was… – see the pic (to the left) ->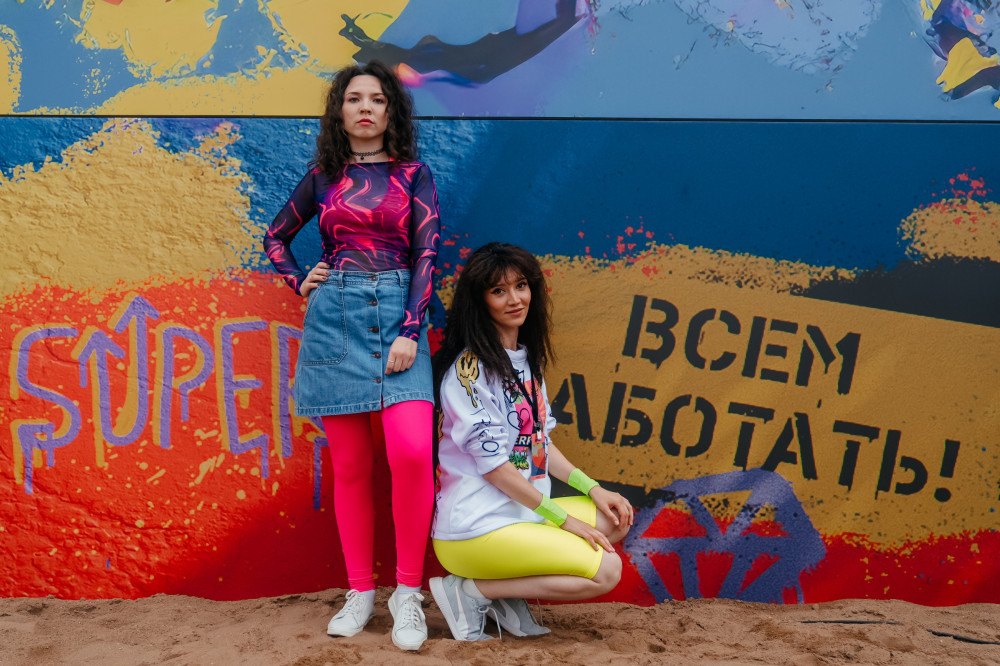 And now (to the right) – всем работать (vsem rabotat!) – back to work!…