St. Pete 2023 – so much of the extraordinary to see!
And now – for one of my favorite tourisms: a city walkabout! Even better – the city is St. Petersburg! Better still – with a wonderfully entertaining tour guide! Even better yet – the itinerary of sights and sounds around the city was interestingly unusual!…
All righty; off we pop!…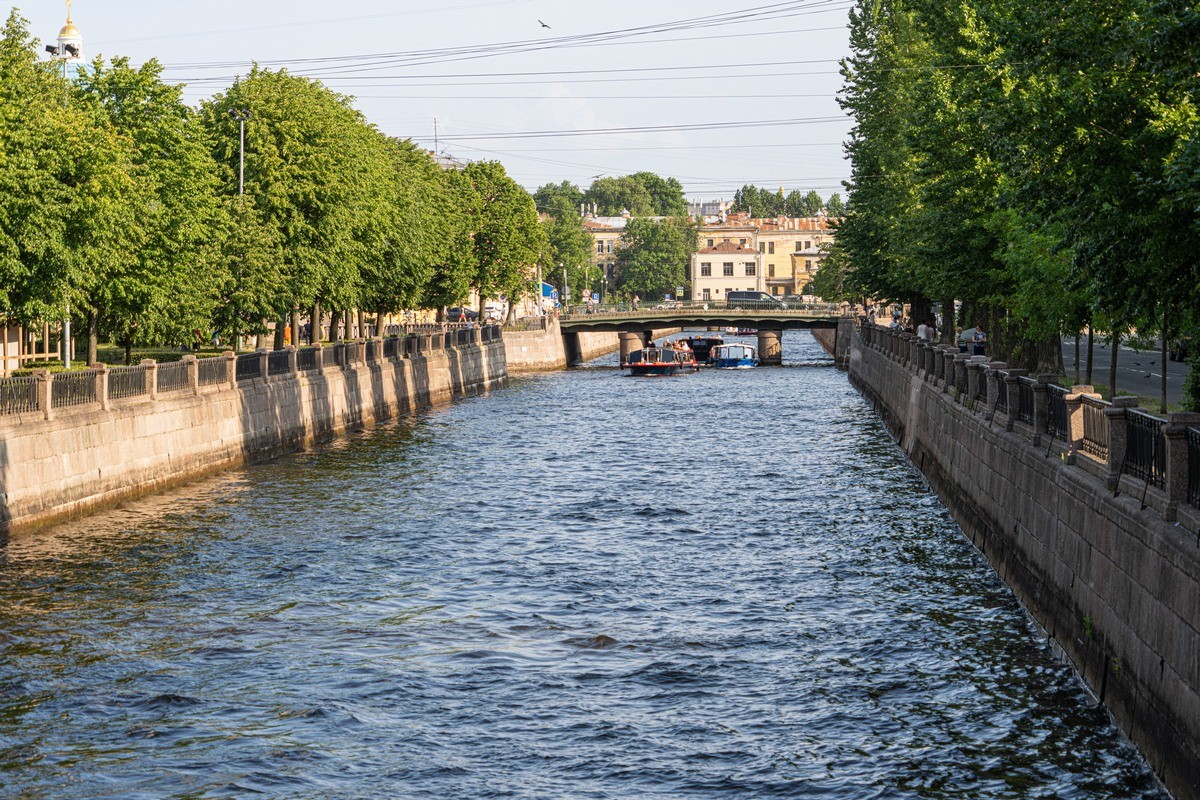 So what can I say? Well, I'll start off by saying that Saint Petersburg in the summer is simply… sainted! Perhaps the most convincing imperial "capital" (it was the capital of the Tsardom of Russia and the Russian Empire) of Europe, if not the world.
But, as often happens, I'm getting ahead of myself. Let's start from the beginning – of our guided stroll. First place of interest: the Rimsky-Korsakov Monument ->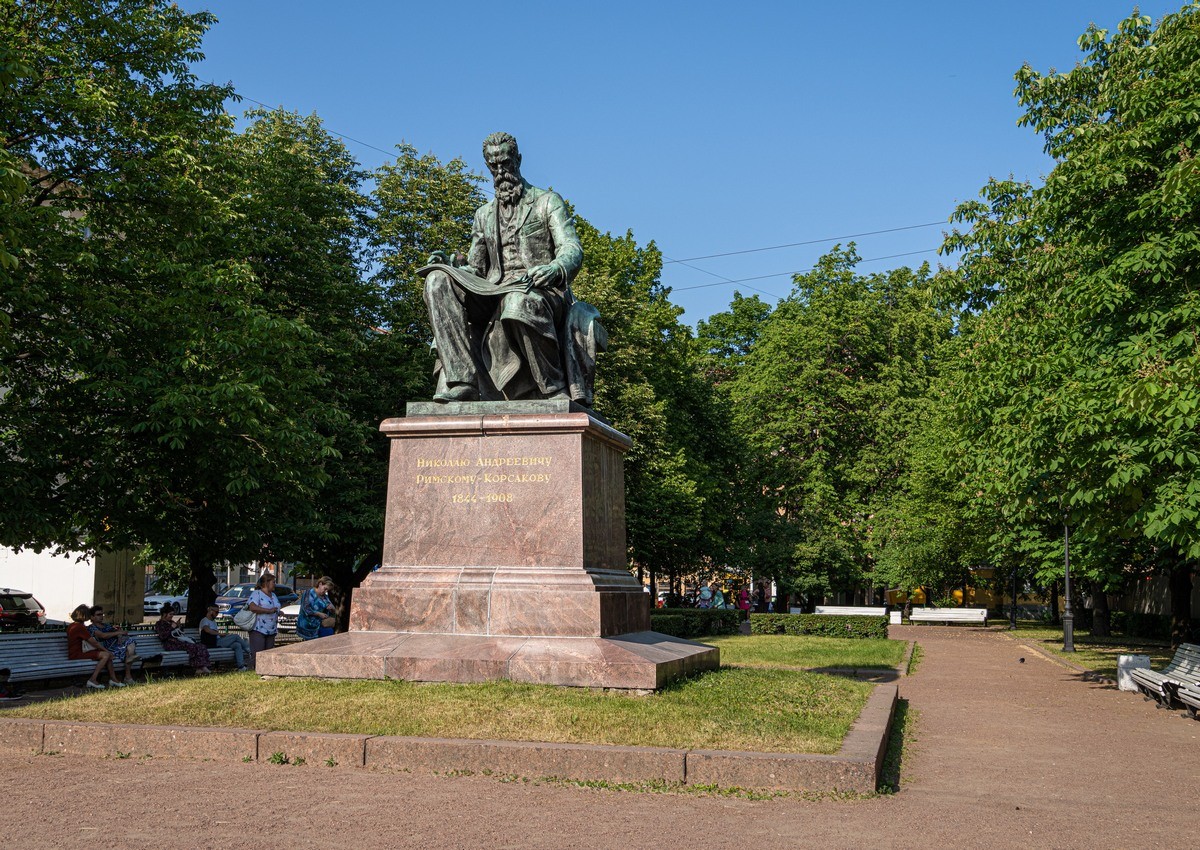 From here we had a six-kilometer excursion ahead of us, set to take in significant architectural objects with unusual histories, plenty of St. Pete-specific water-well-like courtyards, and – the highlight – strolls up on the roofs of the city, much like we took in Istanbul not so long ago.
After Rimsky-Korsakov we passed the Mariinsky Theater. Actually, there are two of them – the old and the new – and they're joined by this here walkway: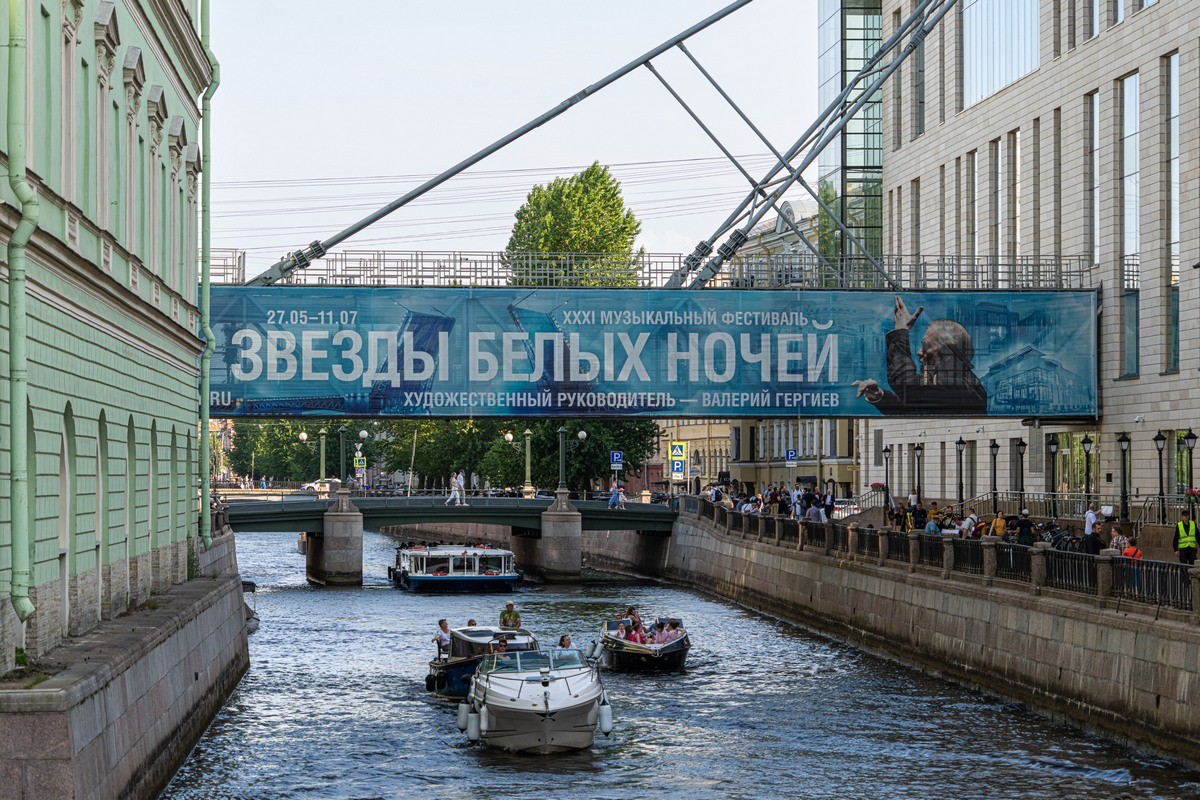 We walk along the Kryukov Canal…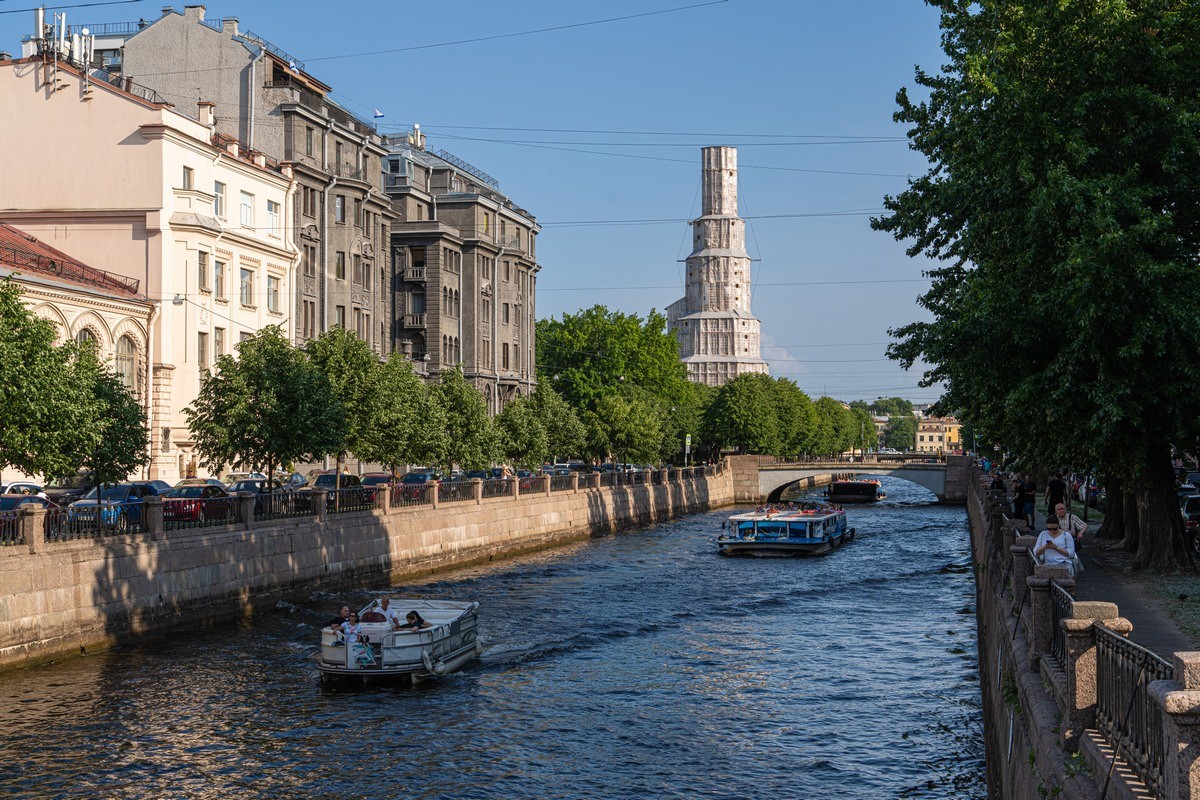 So, who was Kryukov? Turns out – simply a construction contractor, who built both roads and canals in the city. Besides his building achievements, he's also remembered for his purchase of a painting at a Tsar's auction for silly rubles.
Our first architectural stop was opposite the neoclassicist apartment building of RG Vege; and very nice (and rather mysteriously murky) it is too: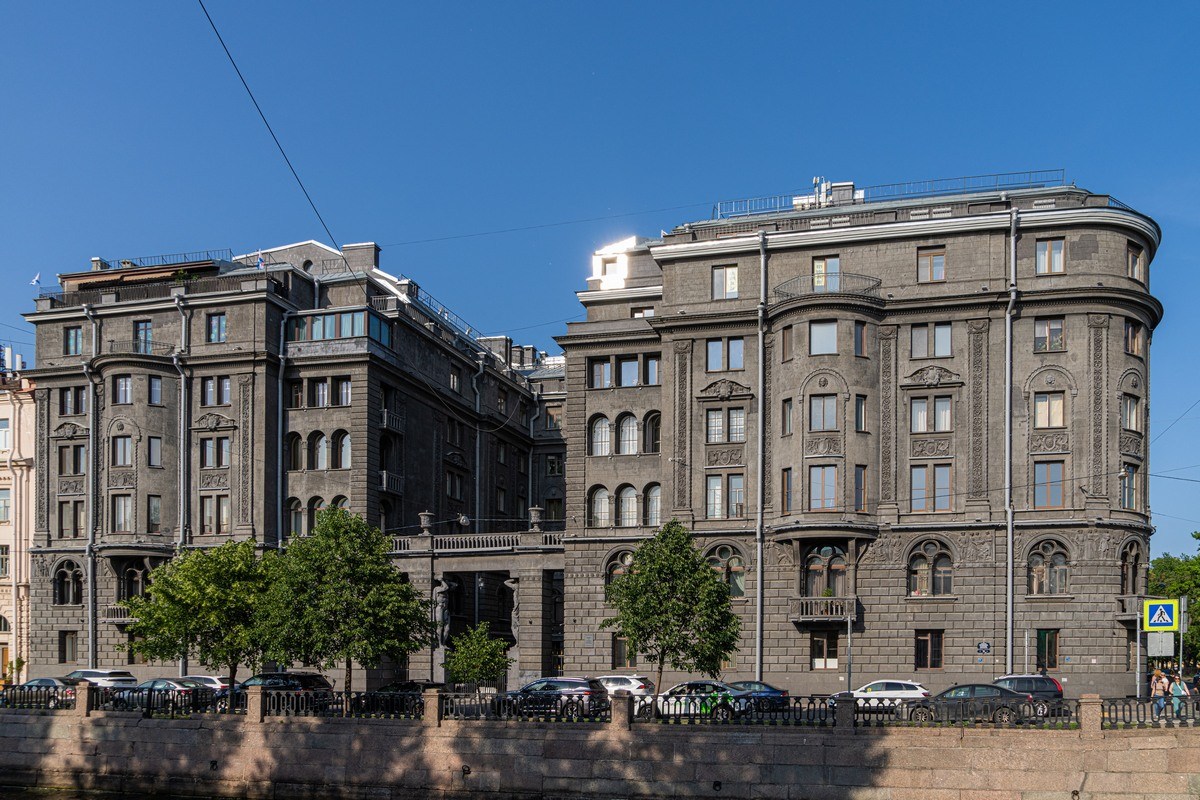 …Check out its atlantes: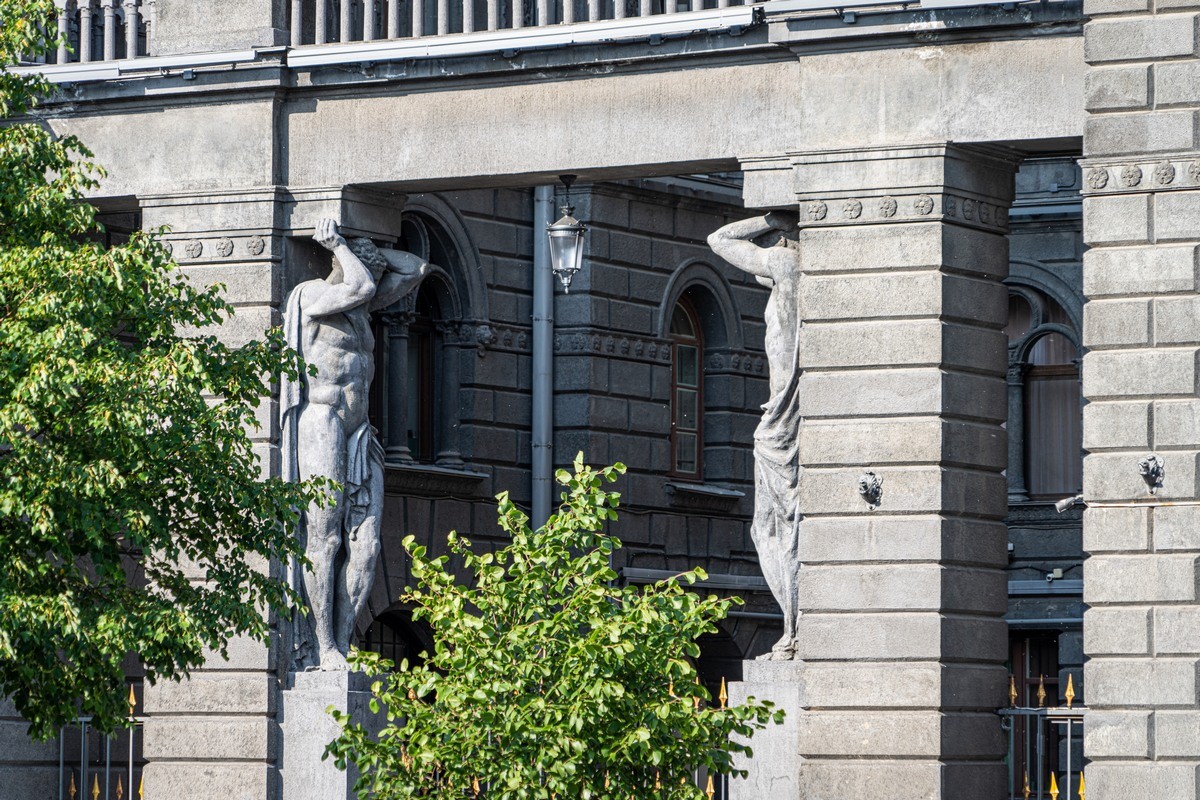 Yes – looks great. If ever I build a new office, it simply must have atlantes like these! :)
Bas-reliefs with some deep-meaning stories depicted ->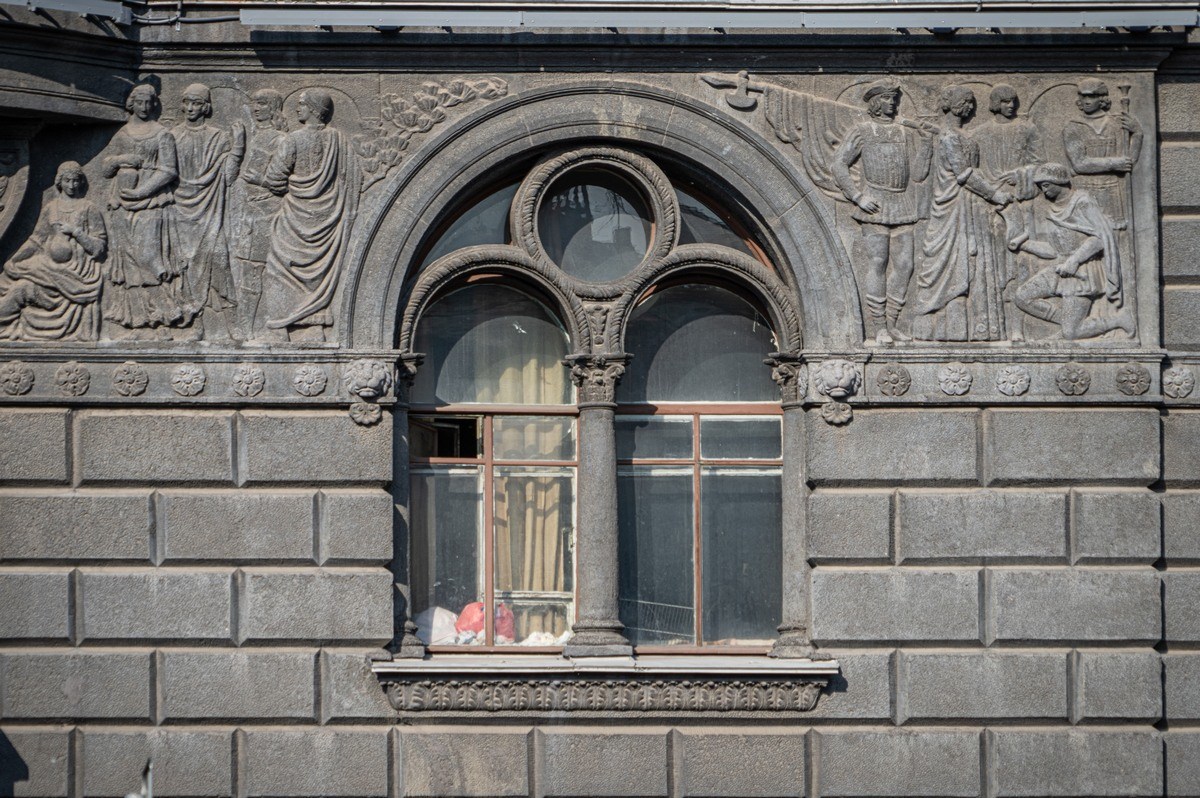 Someone's decided to expand their floorspace by adding some kind of tin-coated "extension". How did they get planning permission for that?!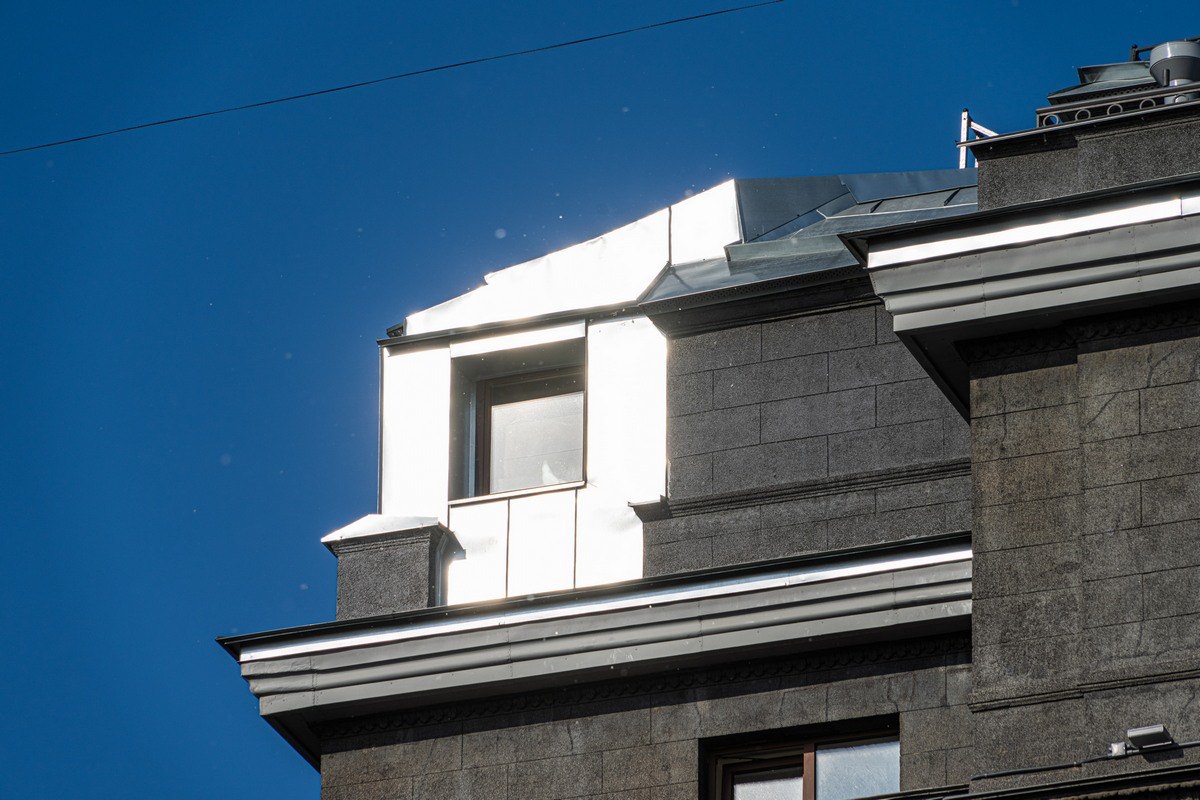 Onward along the Kryukov Canal, the inevitable onion domes keep coming into view ->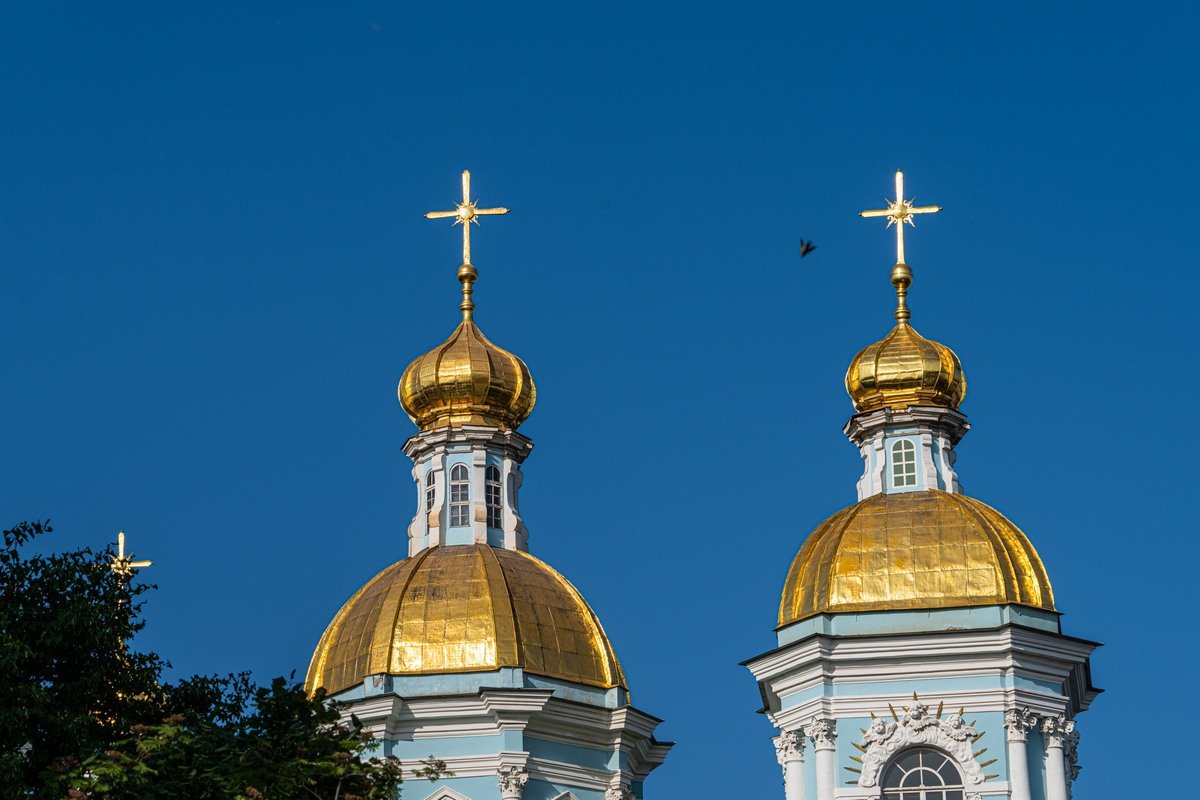 We come to the Griboyedov Canal ->
Famed general of the Russian Empire, Count Alexander Suvorov-Rymniksky, Prince of Italy (1730–1800), passed away in this here building: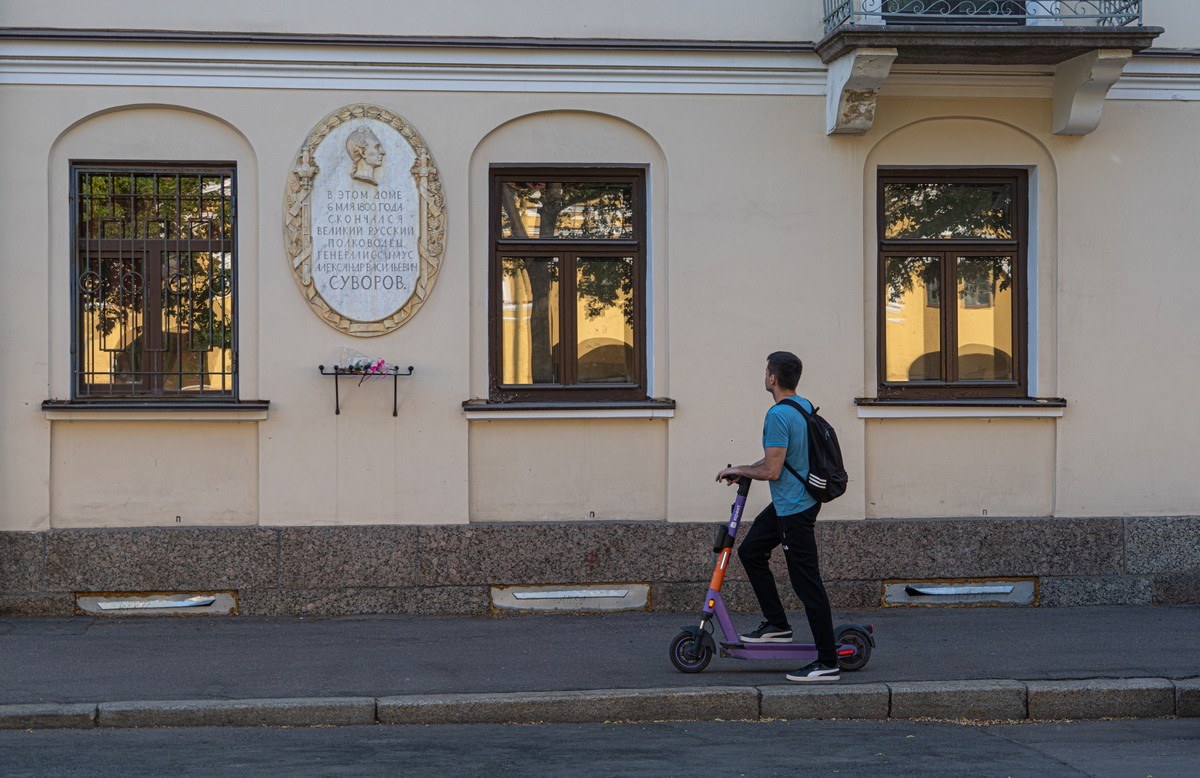 The Egyptian Bridge: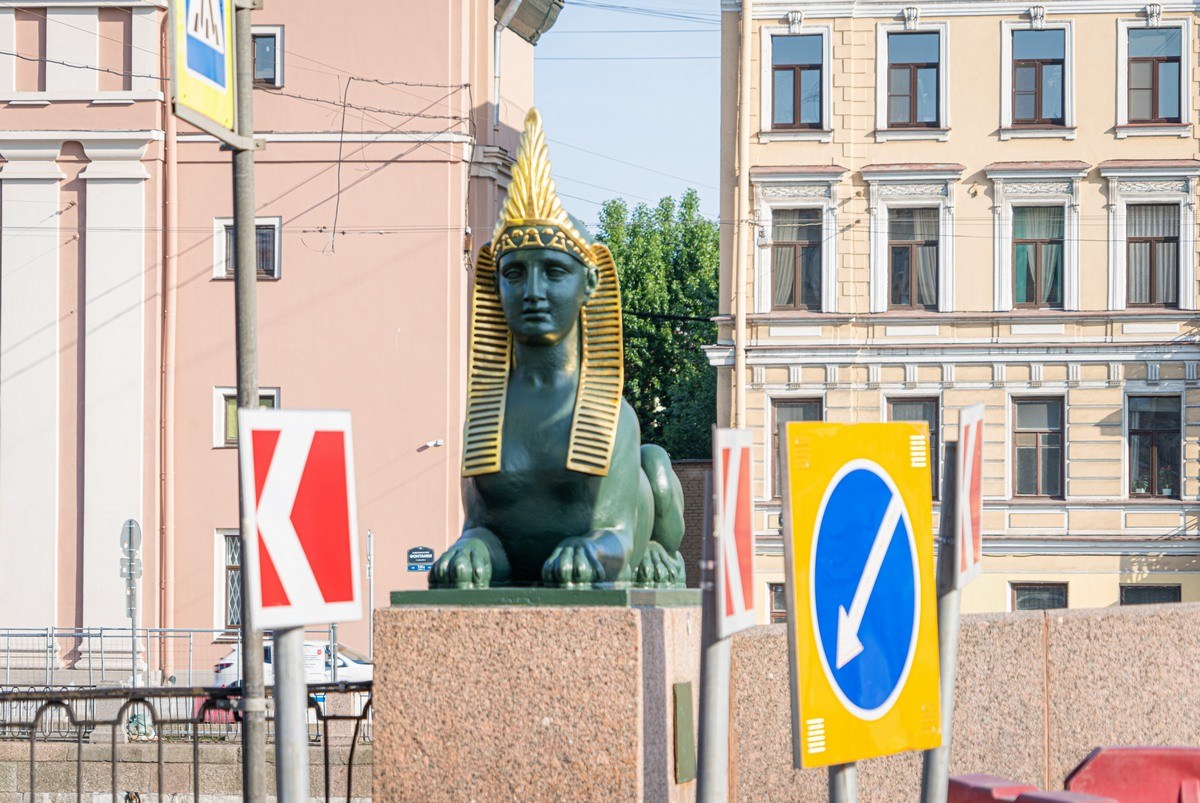 …The original structure – a suspension bridge – collapsed in 1905. The current – arched design – bridge is still standing, as you can see ) ->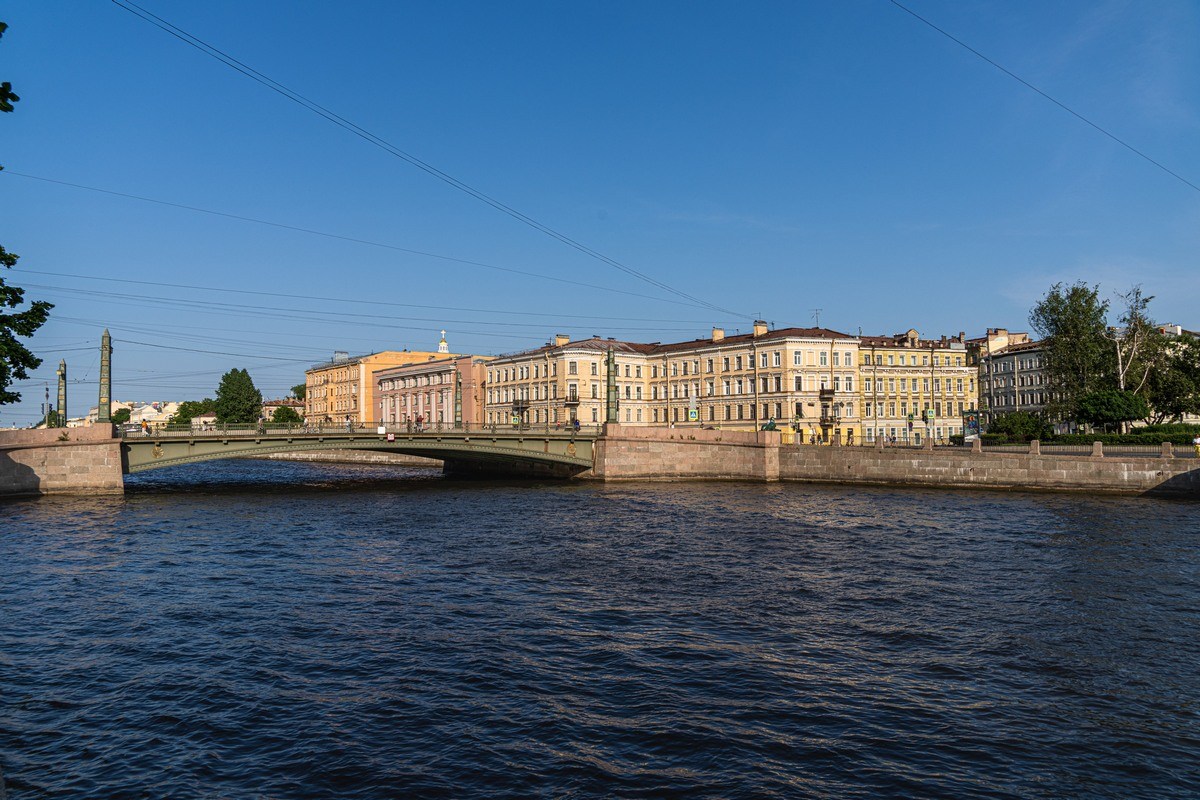 And this building is… oops – can't recall ->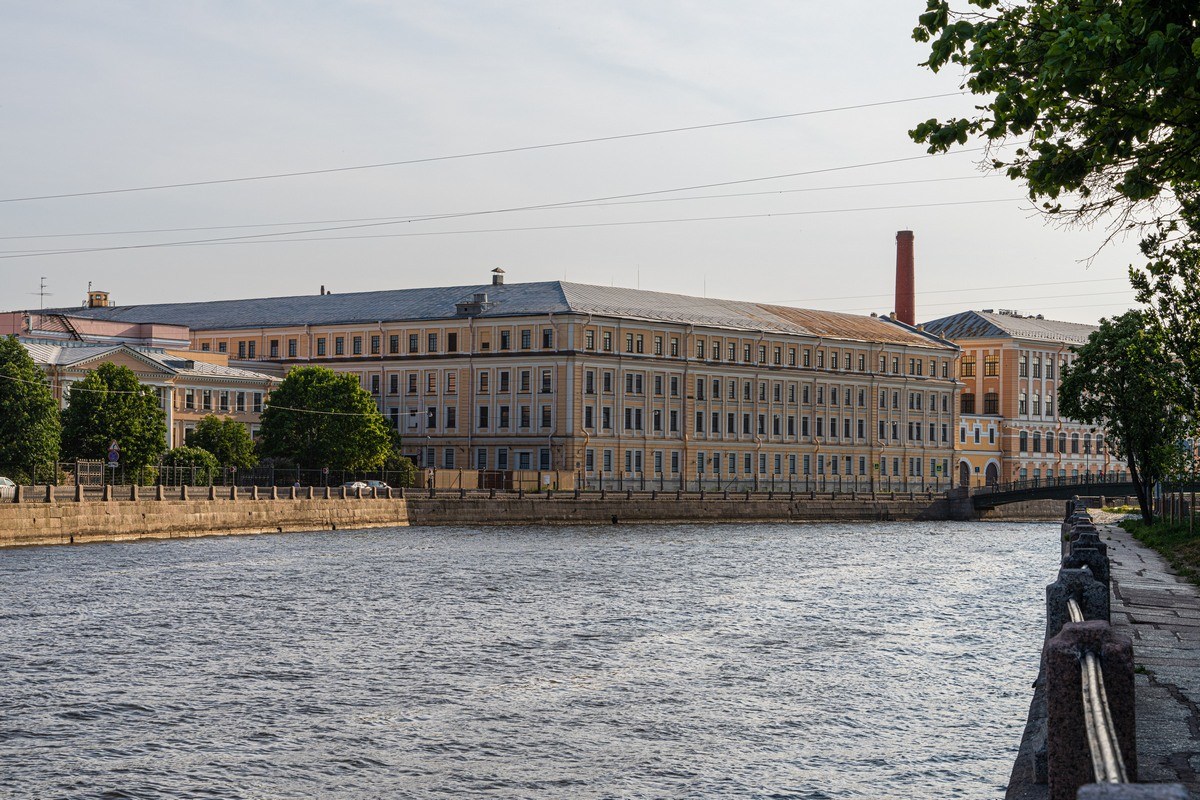 Some of the stairwells in apartment blocks – really something, but more on those later on…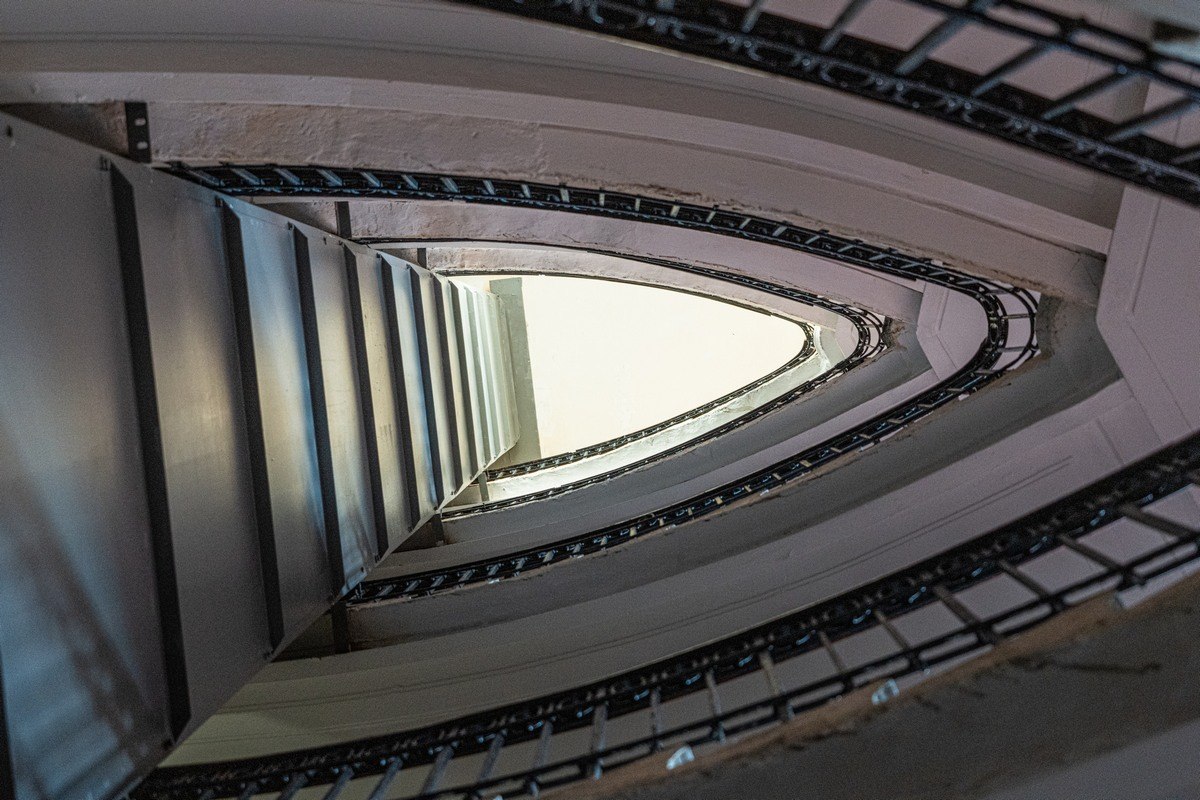 Here's another architectural object (an apartment building) that's named after the construction contractor who built it: Kapustin (therefore – the House of Kapustin) ->
The famous St. Pete courtyards. You can just imagine Raskolnikov slinking across one such as this, axe in hand! ->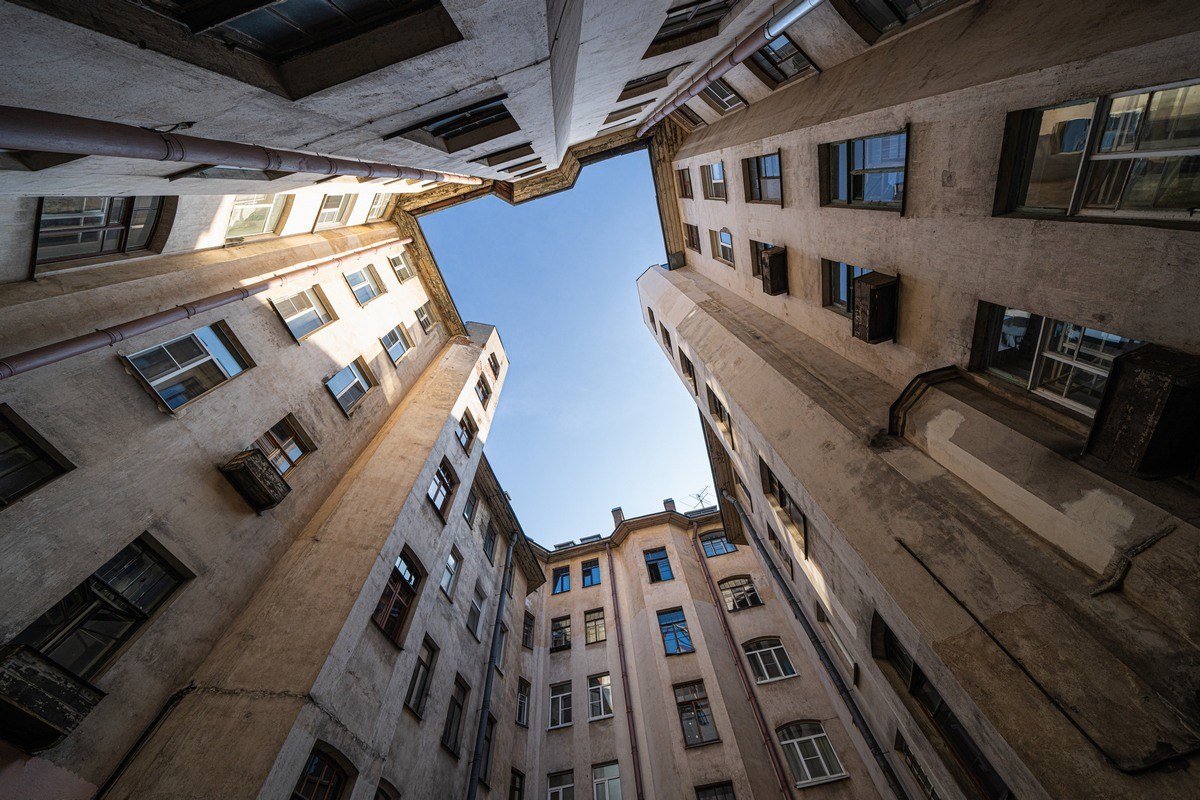 Curiously, such courtyards are still in demand today as an imposing backdrop to fiction – here in movie form, it seems: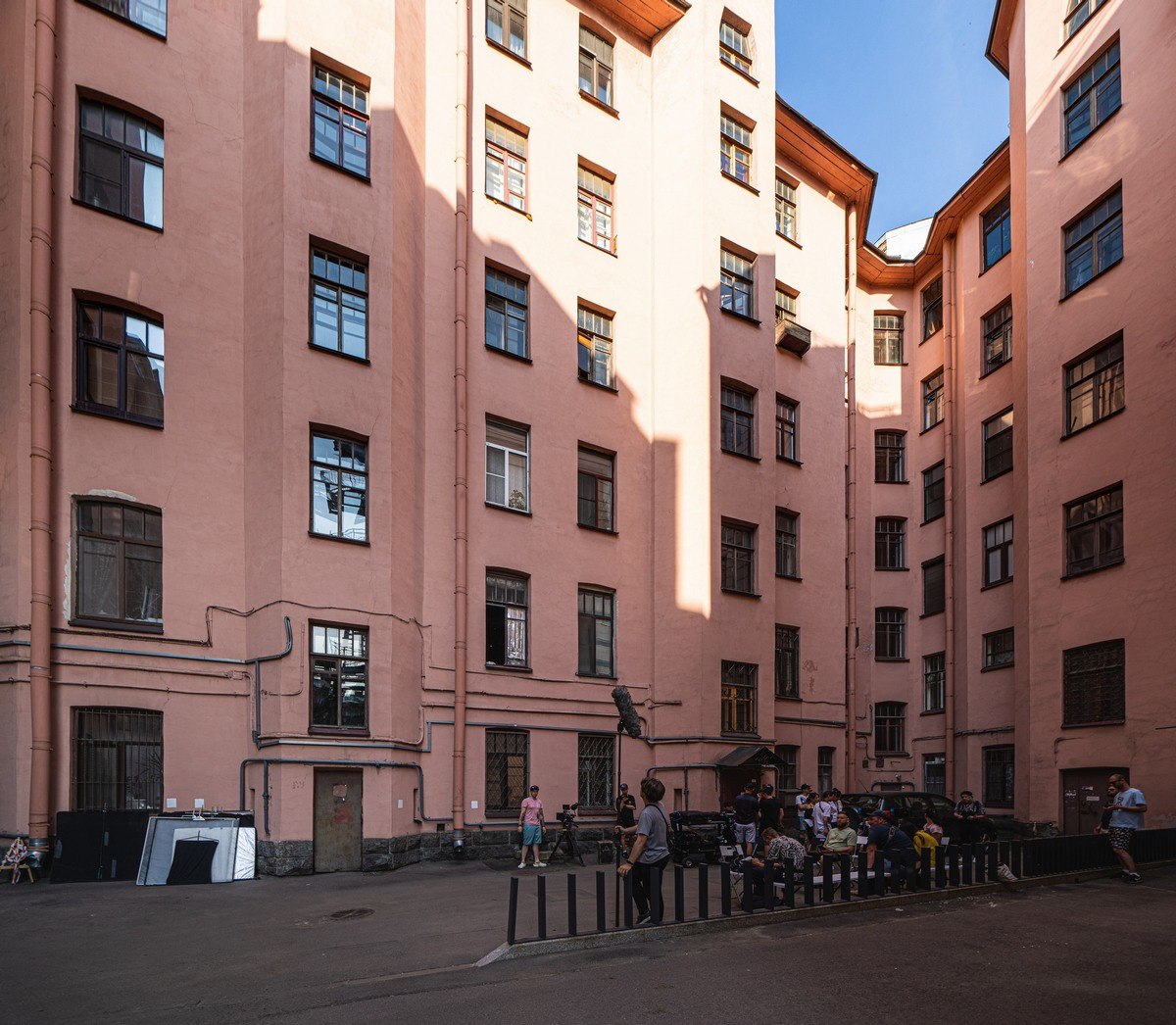 A firewall – protection from fires in adjoining buildings. But windows have still appeared down the years ->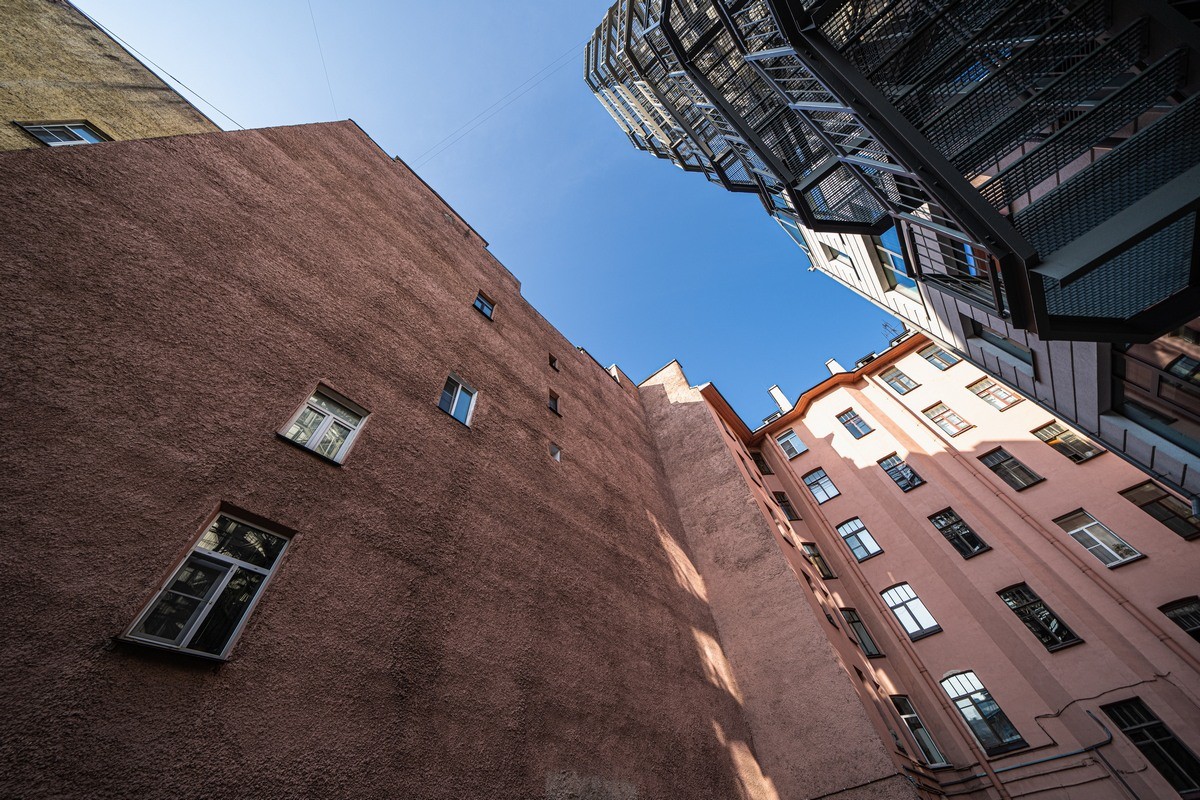 Lifts like this one, attached to the exterior of a building years after the latter was built (after lifts were invented) – can you guess what they call them here? I'll give you the answer below…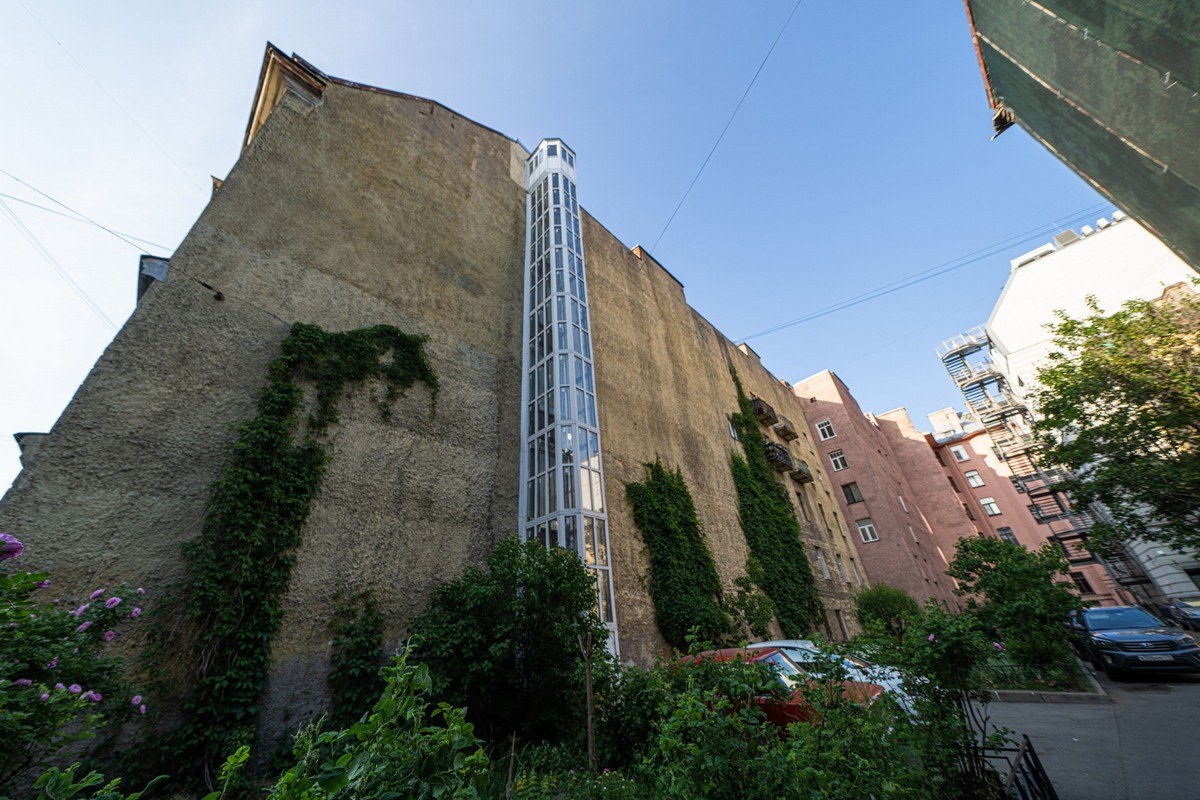 Next up – a revenue house and the former Anders Nilsen Silk Embroidery Factory, now an apartment block. You'll notice the Scandinavian name; Mr. Nilsen was just one of the many European entrepreneurs attracted to St. Pete in imperial times ->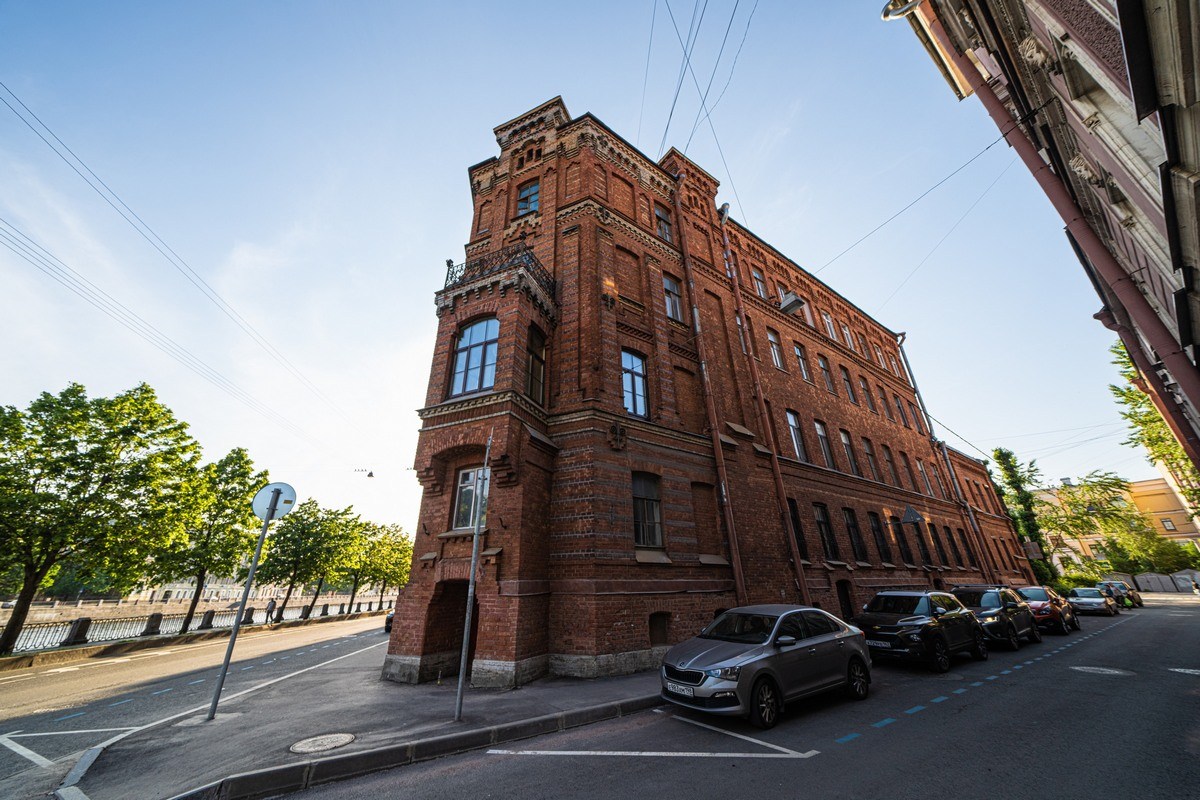 Oh, these staircases! ->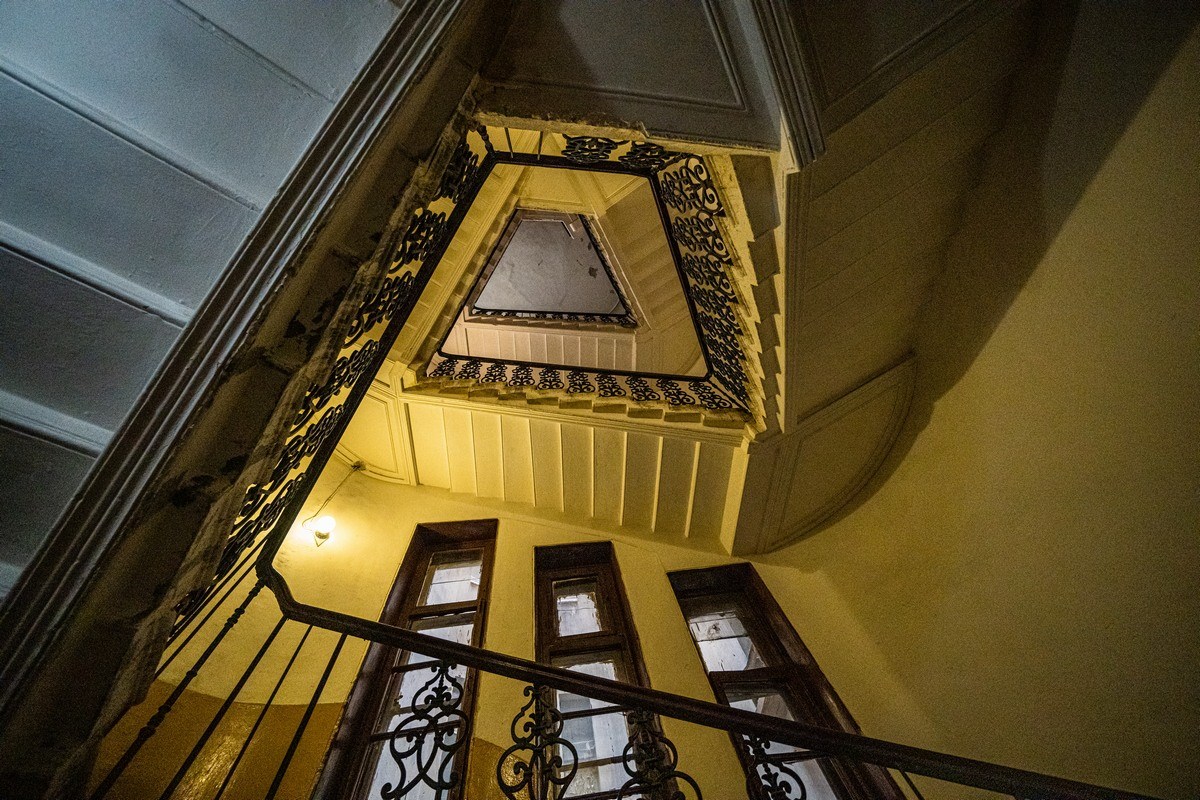 A skinny courtyard "well":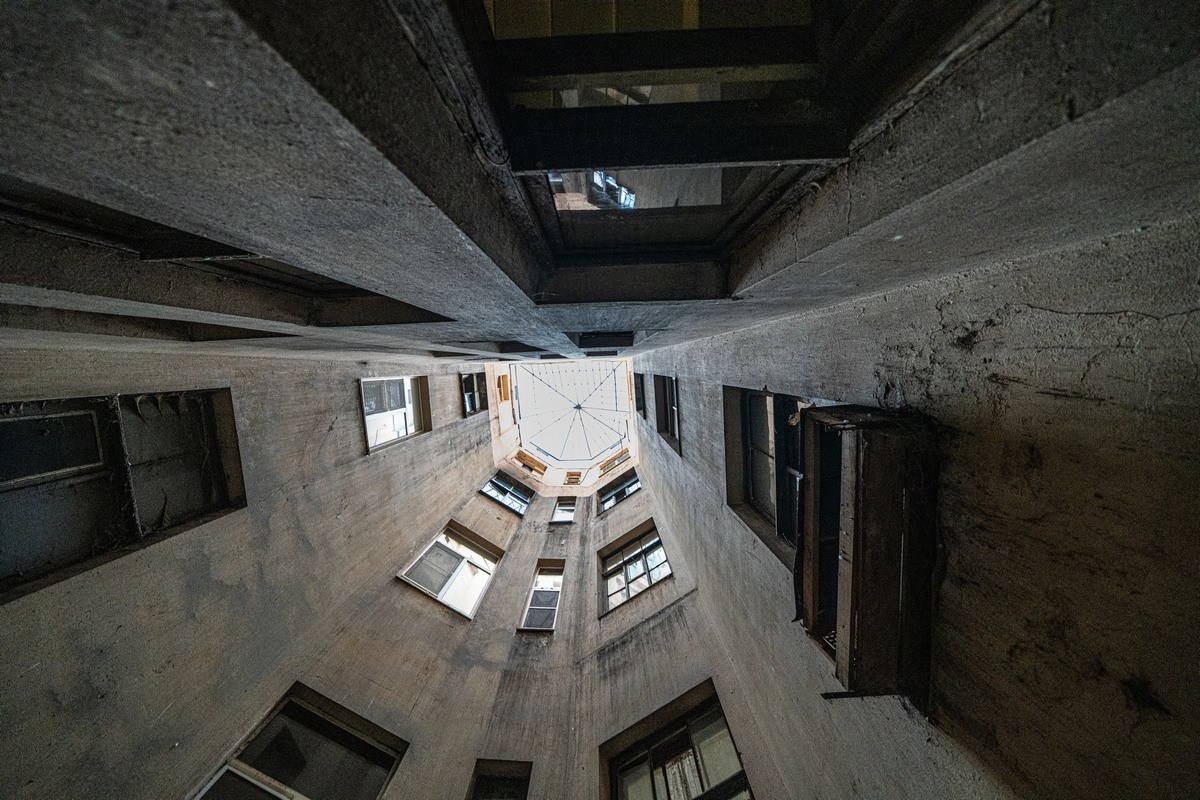 And this building is (and you won't believe it!)…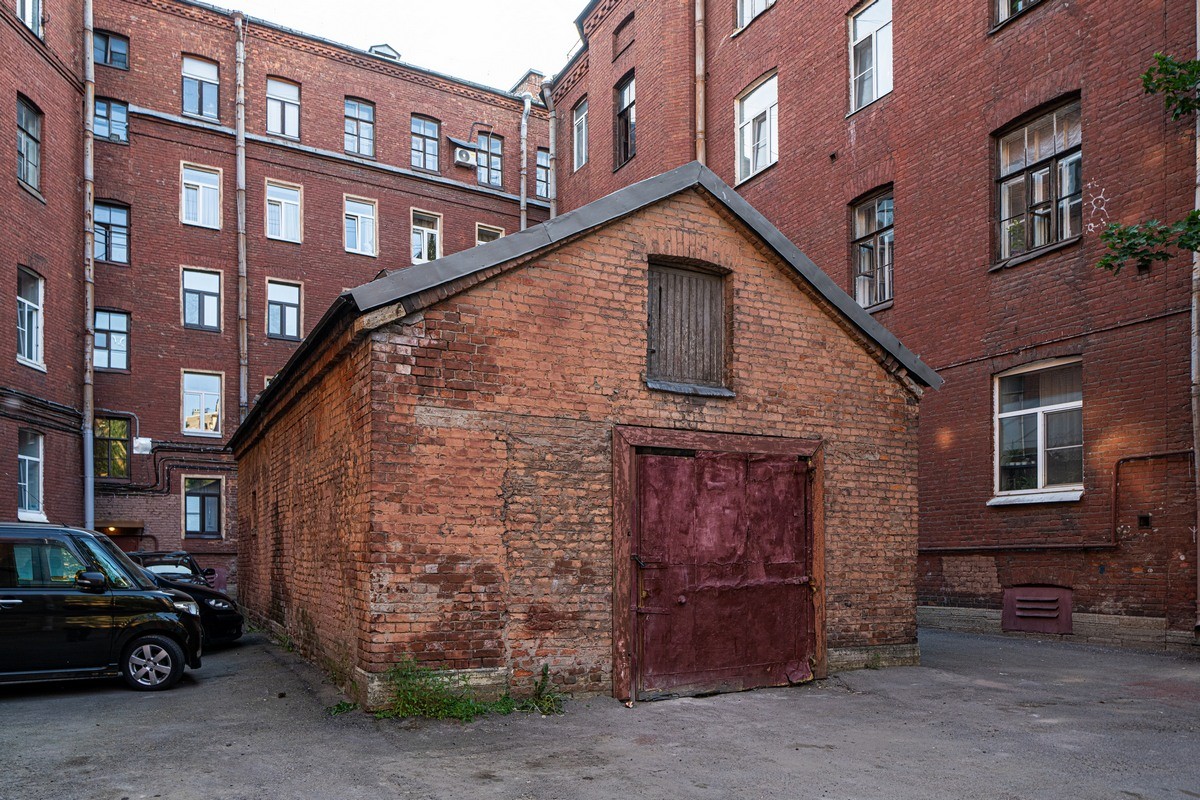 Apparently, if my memory serves me well, this here ~garage – actually, a cold store – won a prize at one of the Paris world fairs in the late 1800s. Allegedly, though I can't find anything on this on the internet, its design had the ice placed not in the basement, but under the roof!
Another "well":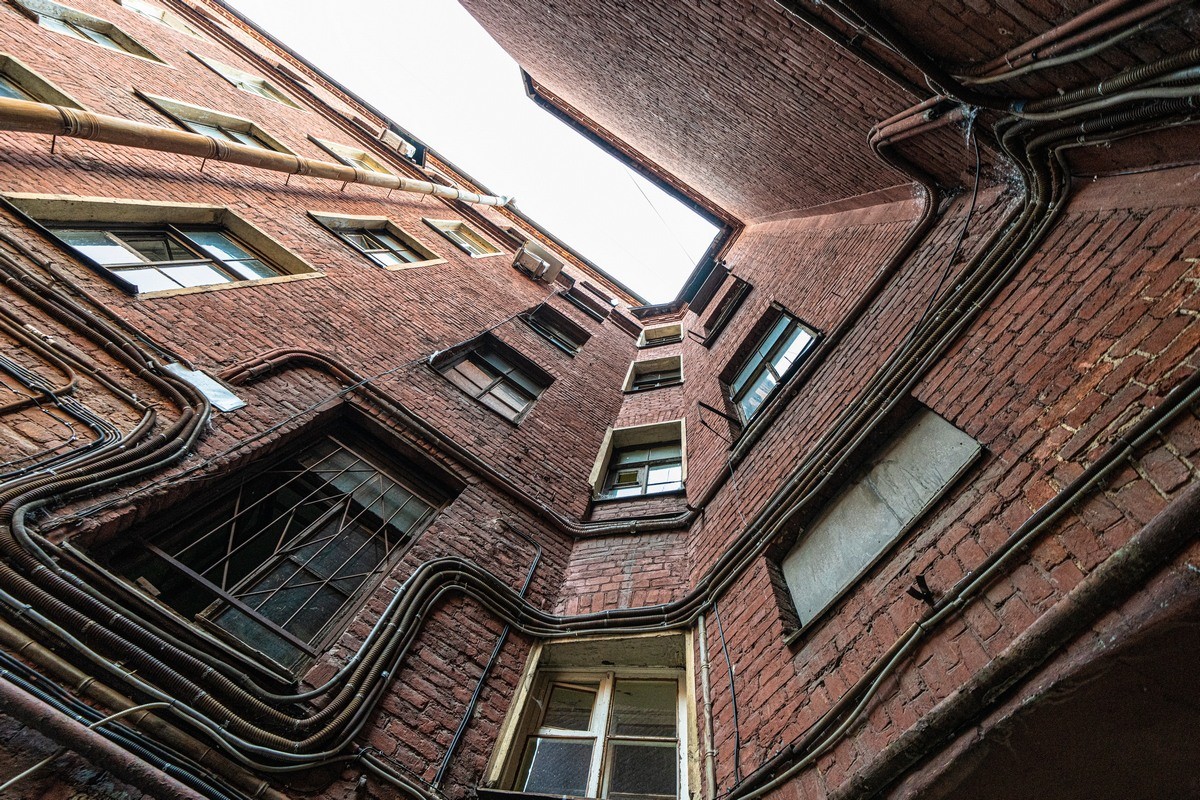 A stairwell on the top floor:
And back to the external lift – what's it called? No – not a spirit level. They call it a thermometer!
Next – the Goznak St. Petersburg Paper Mill:
No comment! ->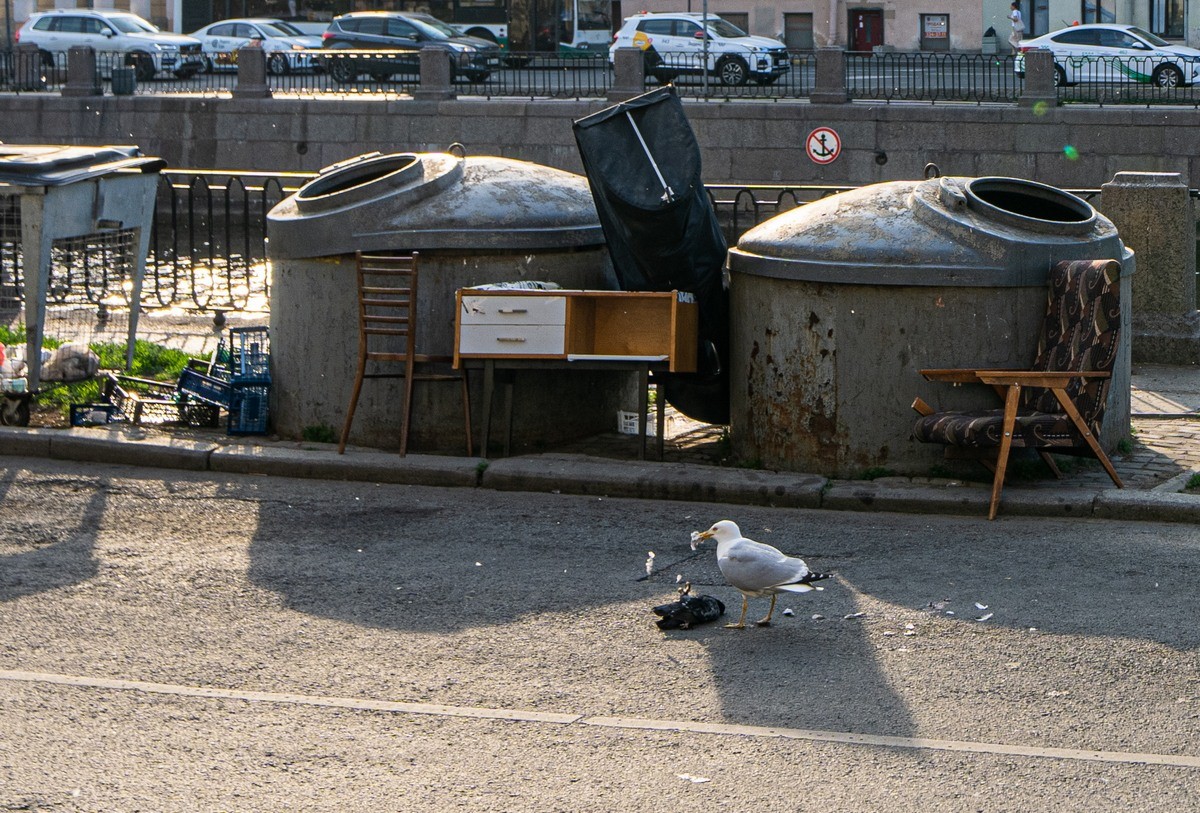 …Two minutes earlier ) ->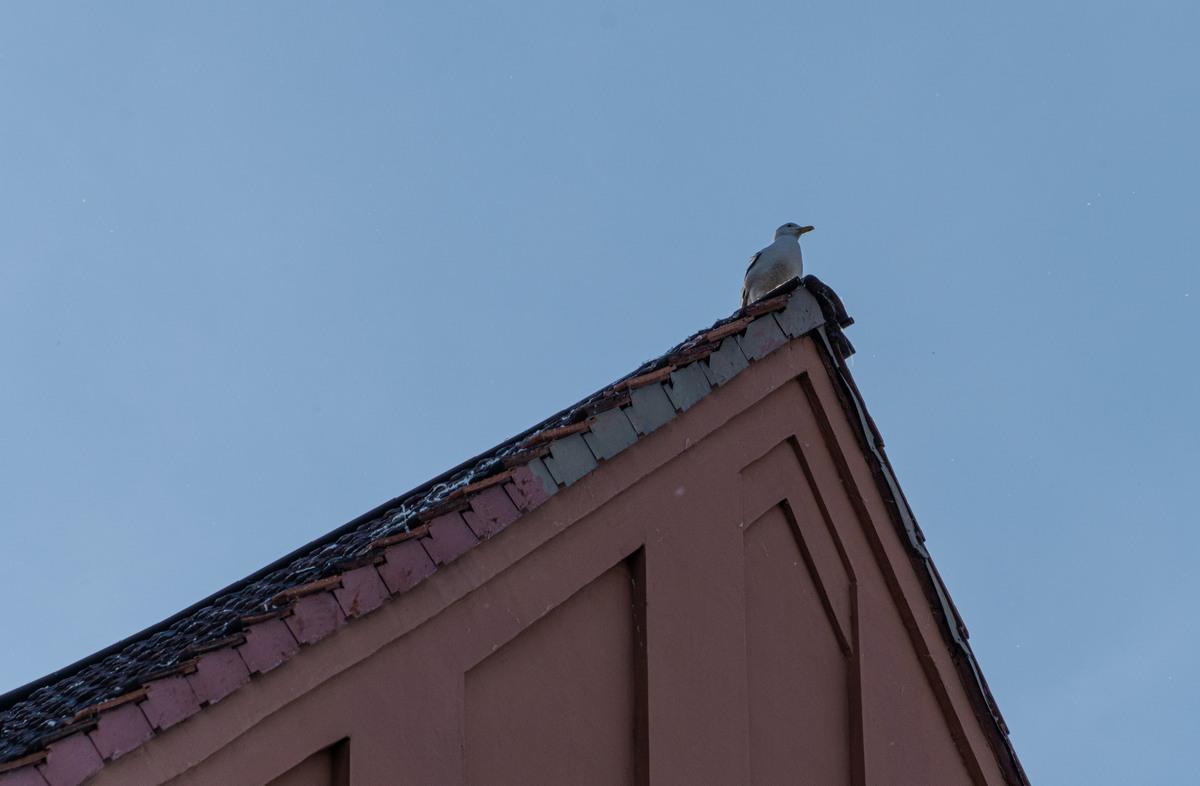 Some more unusual architecture – the Kondratiev revenue house: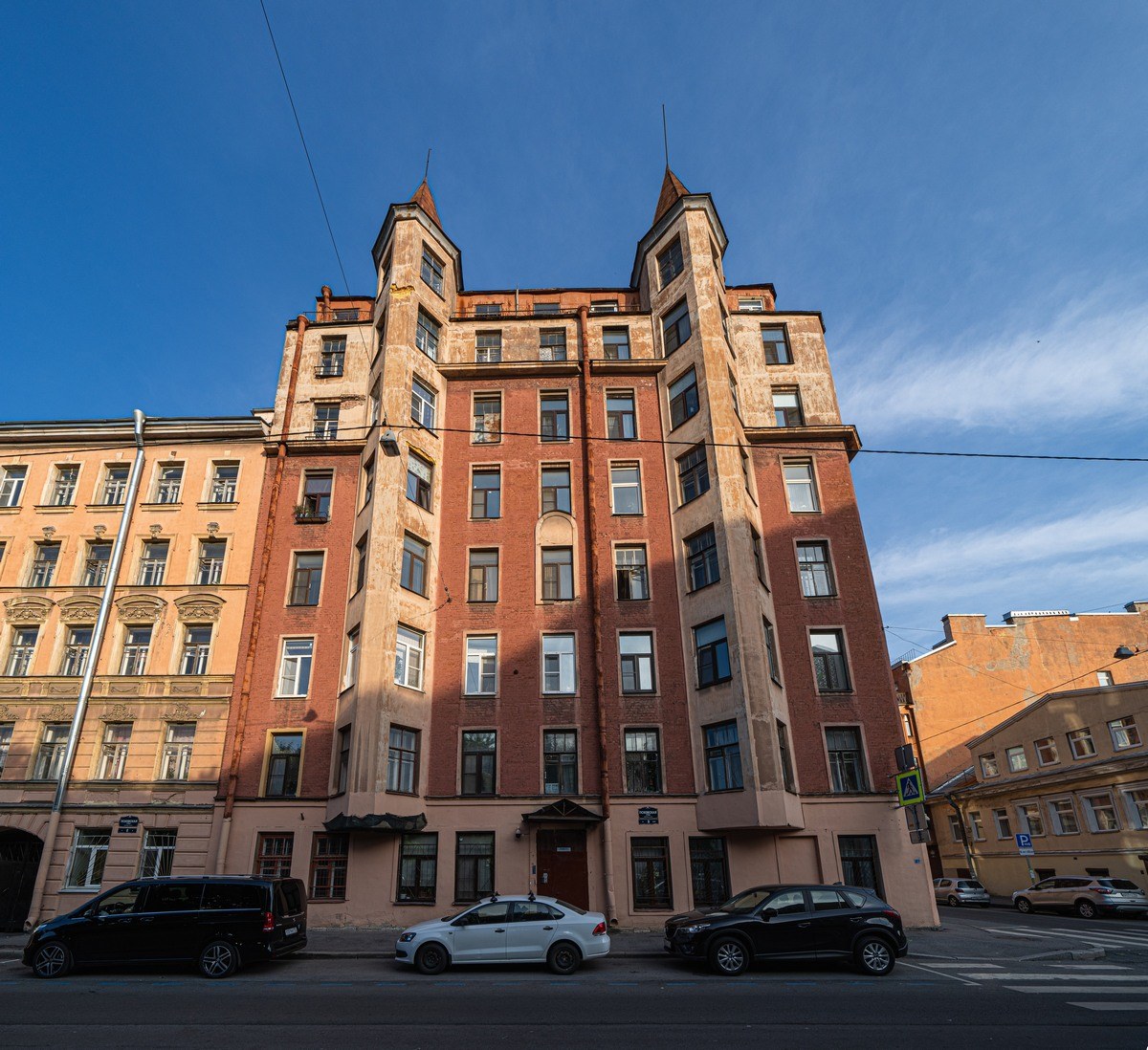 Of course, we just had to take in one of St.P's most famous landmarks: the Peter the Great monument – the Bronze Horseman, which sits upon the largest moved monolith in the world – Thunder Stone! Magnificent, just like Peter himself – who transformed the Russian state into a great European power ->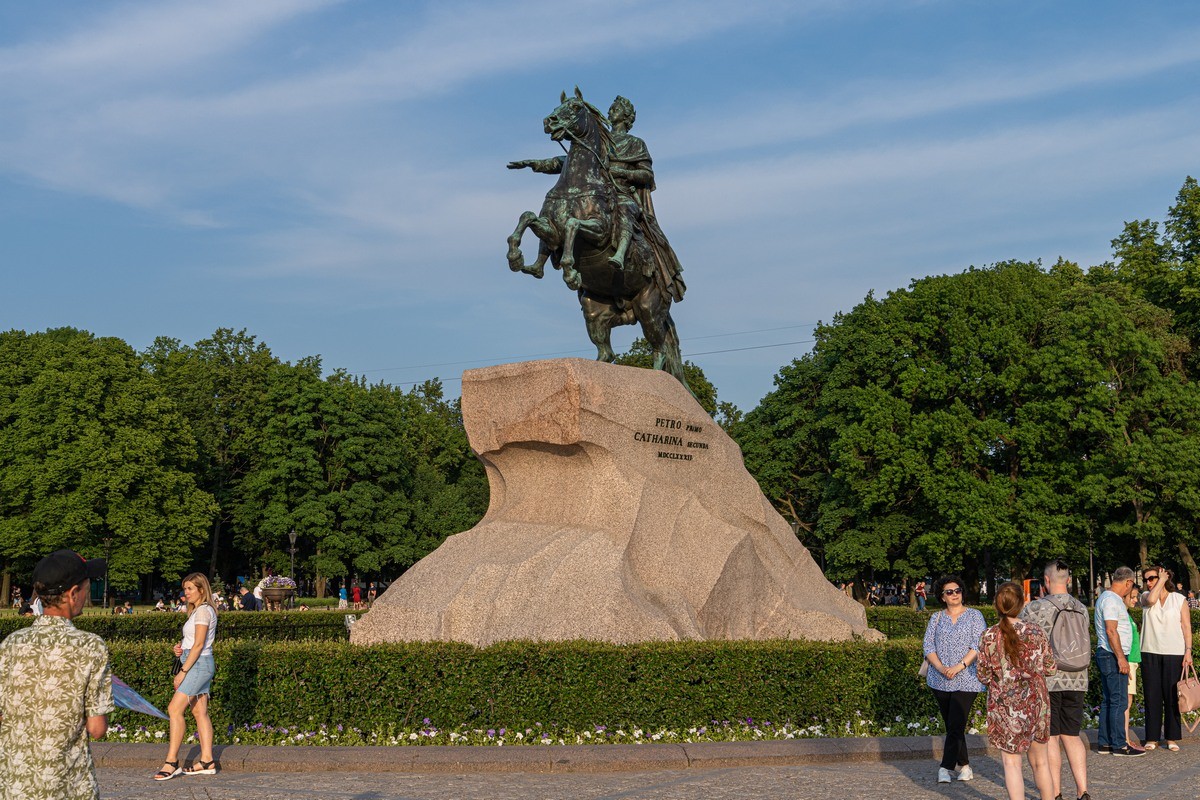 Ooh – too many tourists in the above pic. A few clicks and… – tourists gone, care of Photoshop ) ->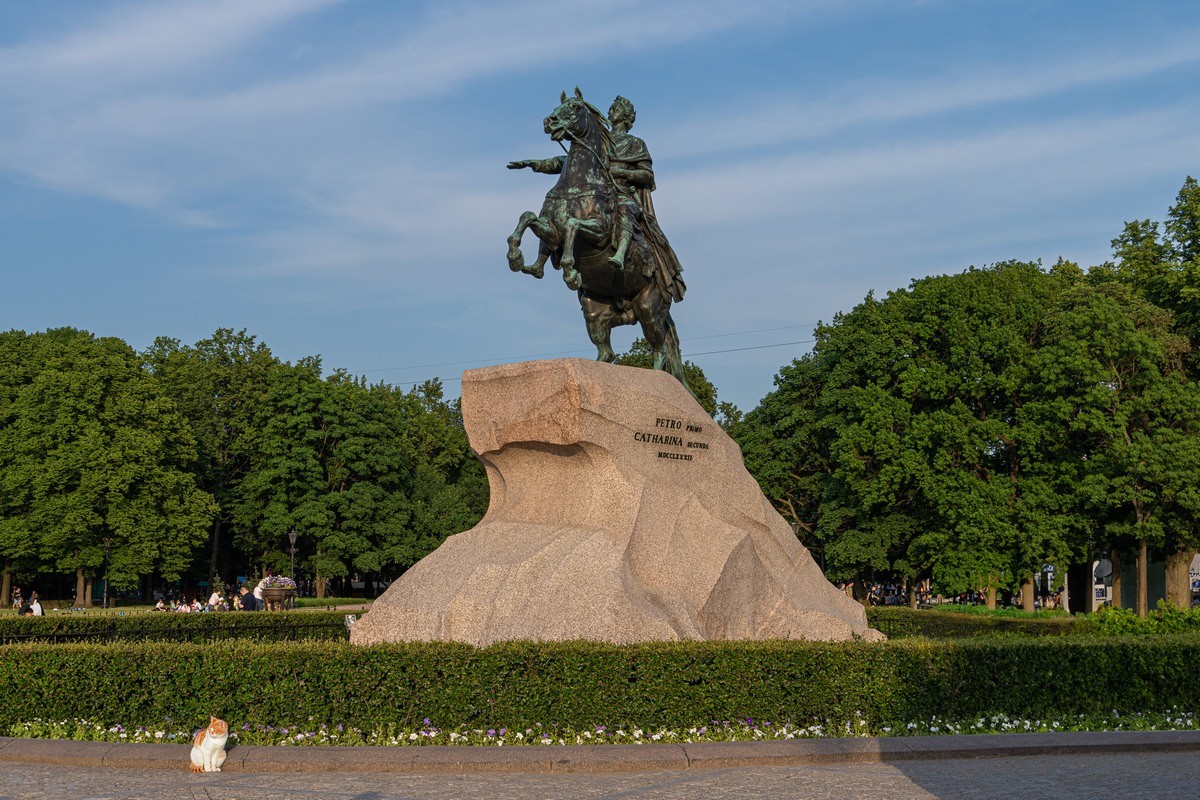 Btw – can you make them out? His pupils are… heart-shaped! He's looking at his city with loving eyes. These were made by the French sculptor Marie-Anne Collot! ->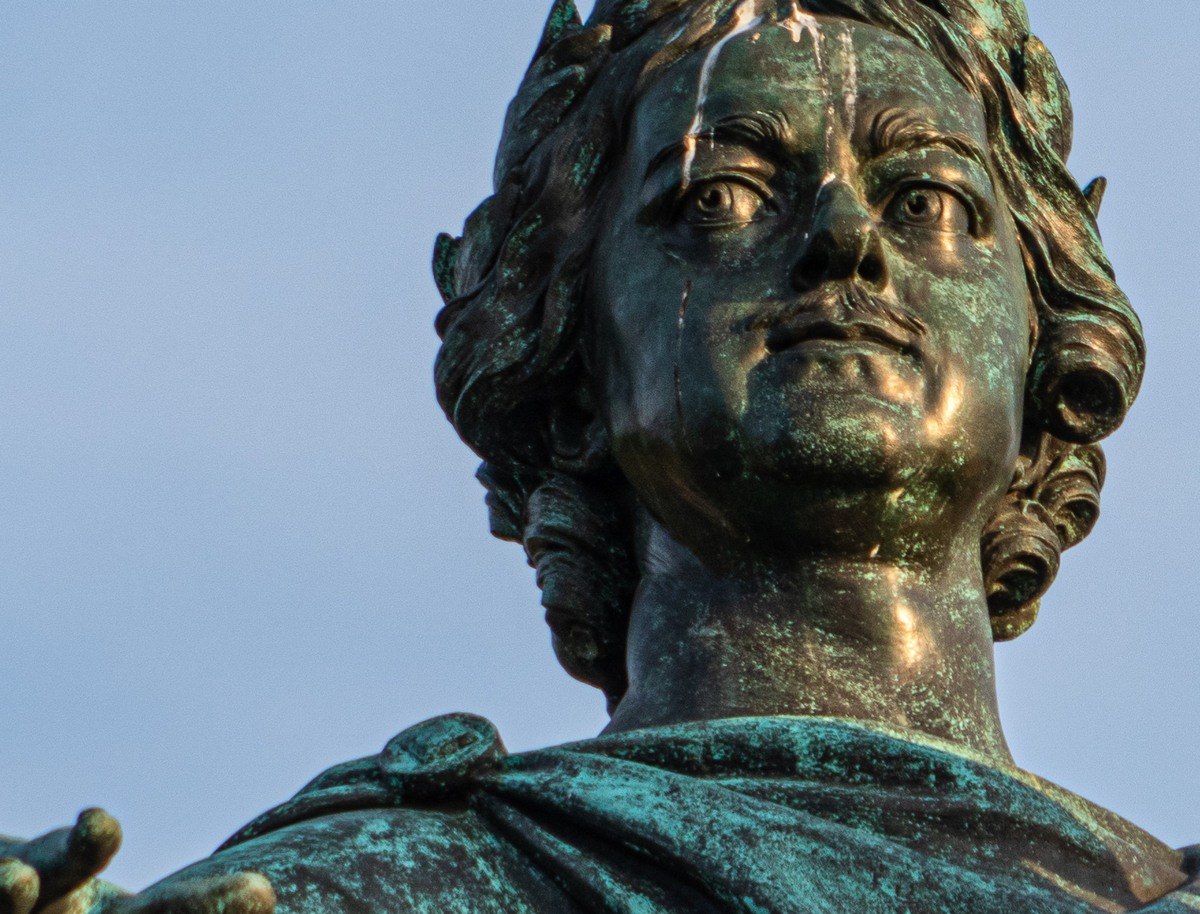 Next up – another monument to…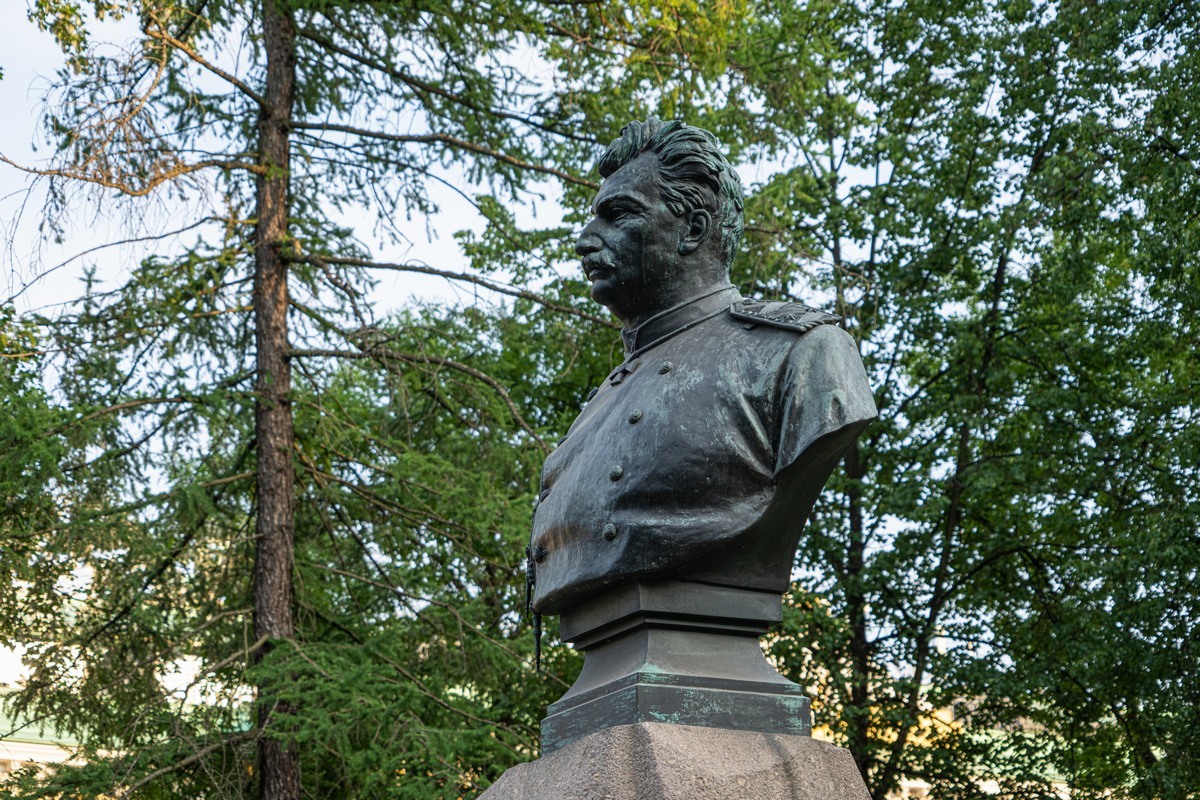 …No – not whom you may have thought. It's a bust of Nikolai Przhevalsky, the geographer, with his camel standing sitting guard below: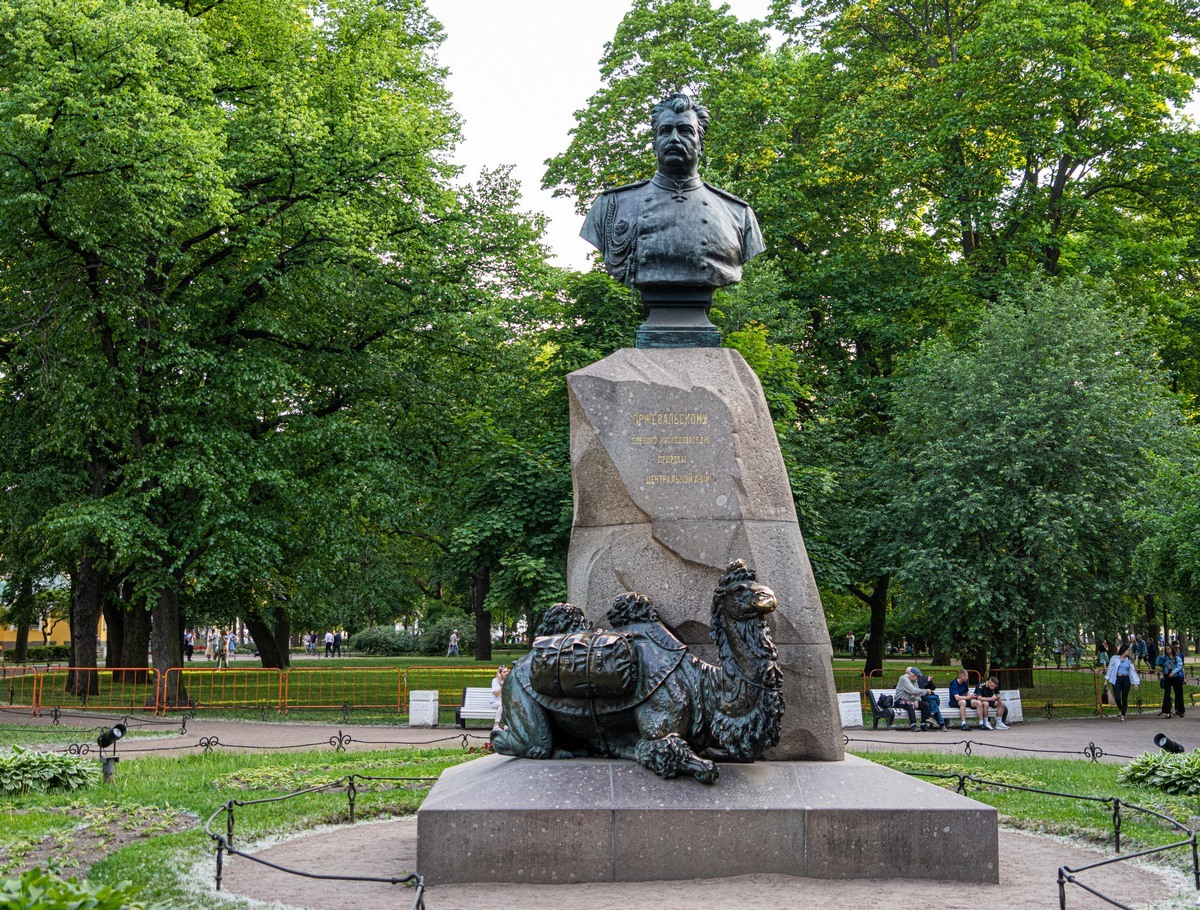 Next up for us it was time for our walkabout upon the roofs; but that's a tale for another post…
The rest of the pics from St. Petersburg are here.
Back soon!…