Another day, another 500km of -50˚C cruising: Oymyakon to Khandyga.
Despite these hard times, we continue our work saving the world from all manner of cyber-maliciousness. We adapt; we carry on. Meanwhile, I hope my travel notes and photos will bring a little cheeriness to all who view them – because there's hardly a better way to do that than with the beauty of nature (and a spot of -50° adventure).
Leaving Tomtor (the day after our fun at Oymyakon), ahead lay nearly 500km until our next overnight stop – in the town of Khándyga. First up, 150km on a narrow road to the highway (snow-and-hoarfrost-coated forest all the way); next – ~200km on a picturesque section of the highway (mountainous-gorgeousness all the way); and finally – ~100km of not-so picturesque highway (somewhat boring flat plains).
The first stretch – which we covered in darkness two nights previously coming the other way – looked a lot more positive by day. Like this: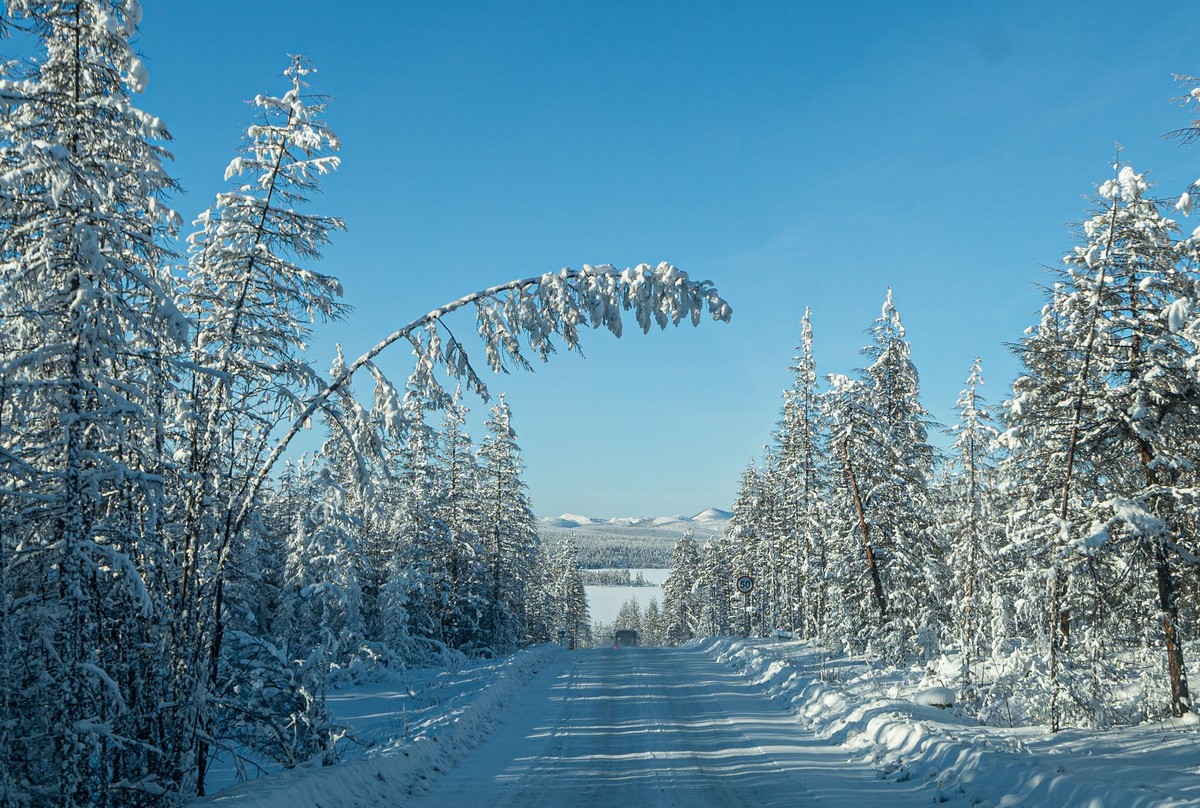 The road cuts across mountain ridges, then descends onto plains ->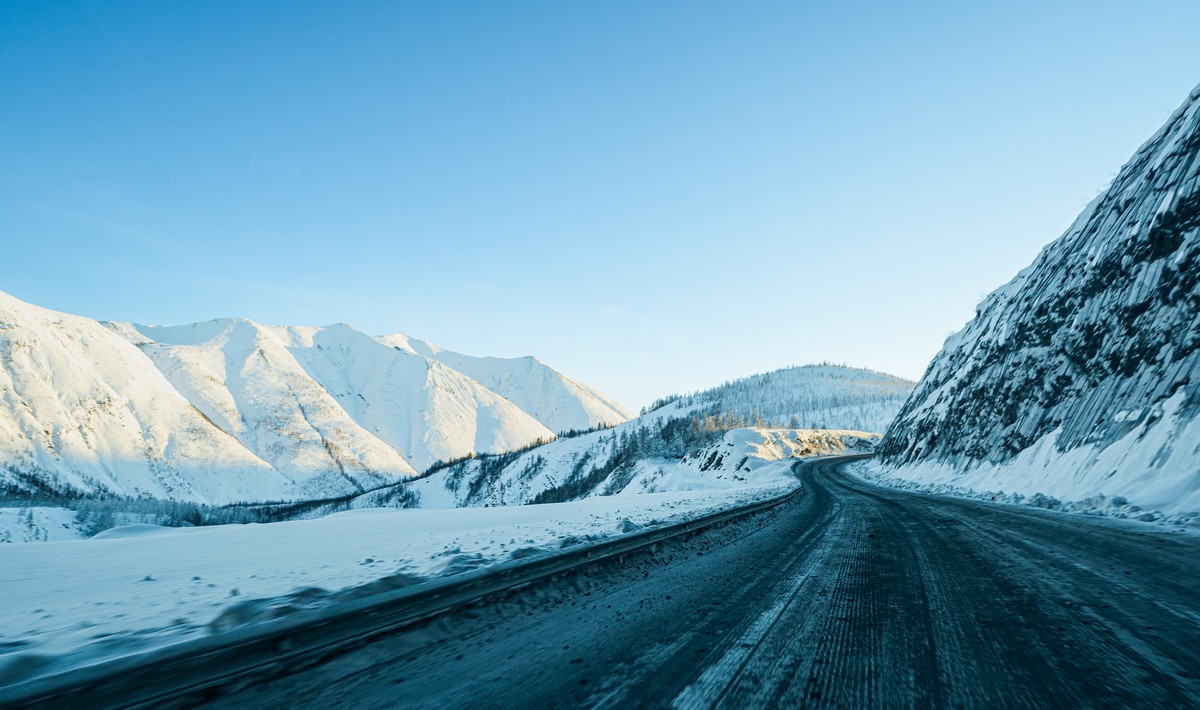 Here's our route for the day: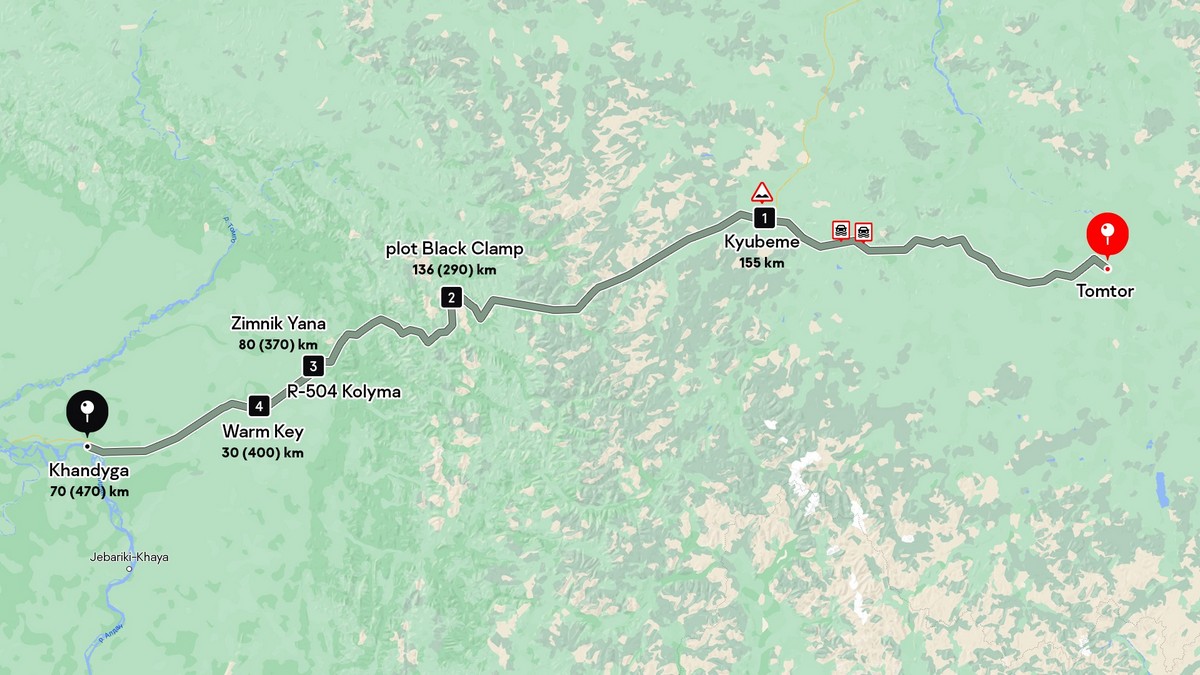 How is it that Oymyakon is a Pole of Cole? Why not, say, the northernmost shores of Canada, Greenland or Russia? Well, it's because Oymyakon is situated in a valley that uniquely traps wind and cold air inside it. And given that the air round here is the "massive collection of cold dry air" that goes by the name of the Siberian High, the resulting mega-low temperature is a record-breaker for the planet.
There's a great view of the mega-cold valley Oymyakon and Tomtor are in from the entrance of the underground Kingdom of Cold which we checked out yesterday. In a word: woah! ->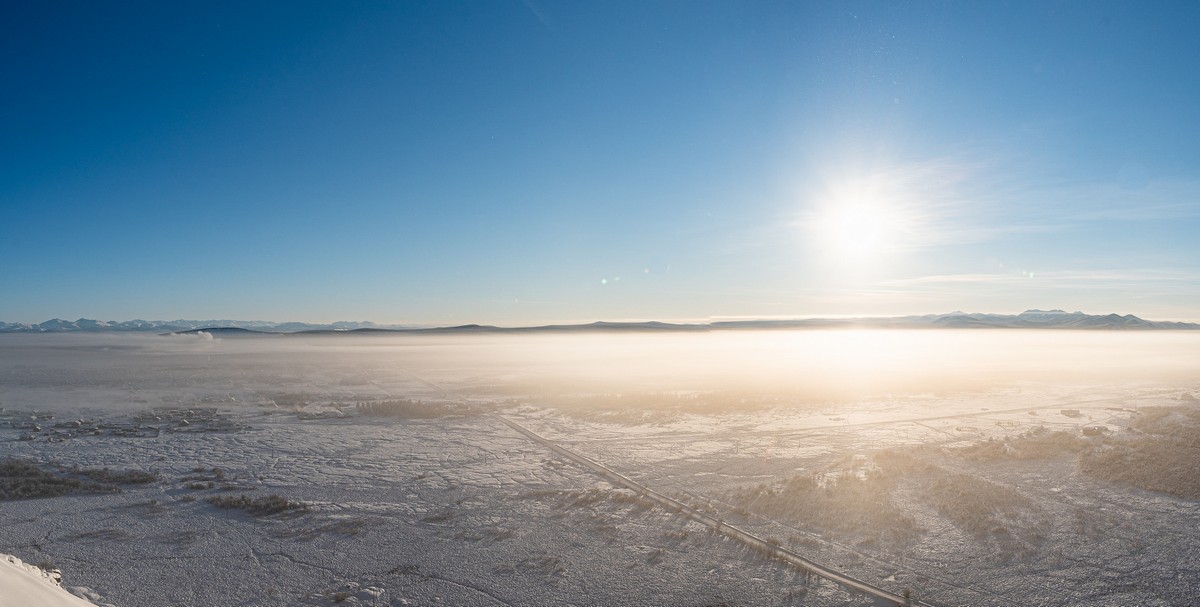 Quick rewind…
We spent the previous night in Tomtor in the guesthouse of Ivan Zabolotsky. It was cozy, comfortable, warm, and even featured an inside toilet! (The only overnight stay with an outside one was in Oymyakon.) It also had a shower and a banya (sauna). No swimming pool or gym as yet though :). Here's the kitchen in the guesthouse – nice and spacious and very warm: perfect!
The banya's a top-notch one – according to witnesses. Yes – I forewent a steaming as I was so tired after driving all day that I was out like a light right after dinner. And it'd have been a wait until it was the men's session – we always let the ladies have first go. But I did take a photo the following morning: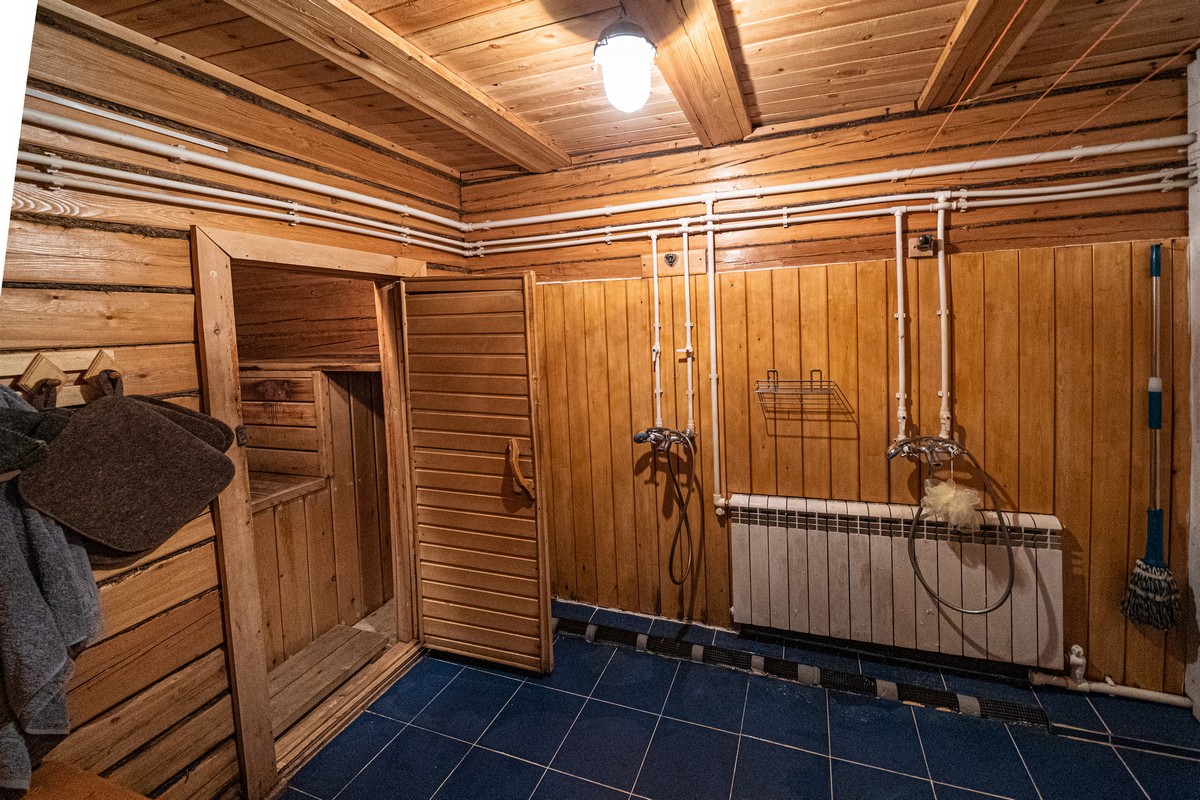 Meanwhile outside the mercury had crawled down below -50 ->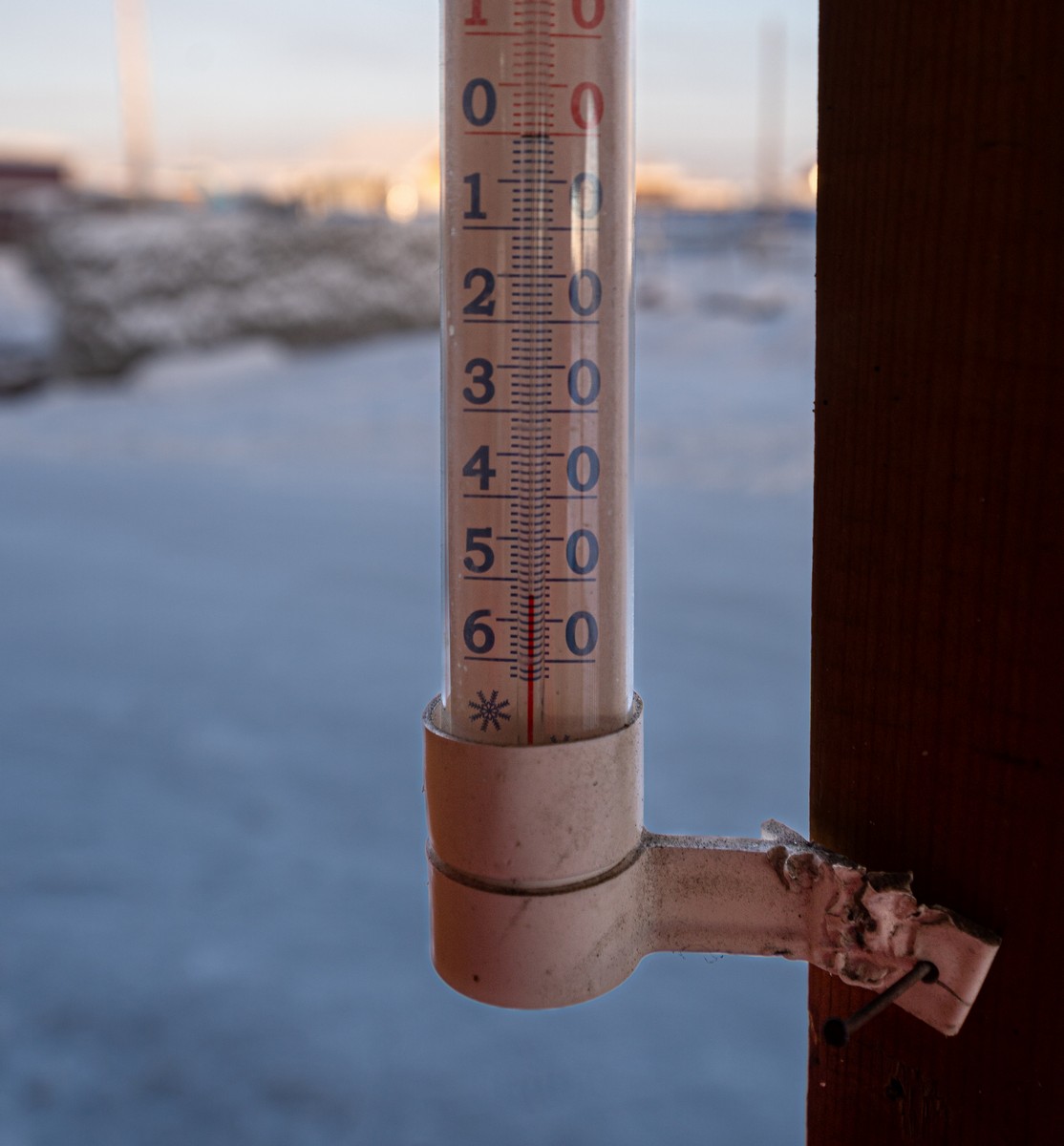 Here's an interesting bit of Yakutian inside knowledge…
As I was taking the above pic, Ivan – whose guesthouse we were staying at (I wonder what his real, Yakutian name is?:) – was with me, and we started talking the (extreme) weather, logically and naturally. He told me how you don't always need a thermometer to work out the approximate temperature – at least, that is, when it's around -50°C. He said you can tell if it's lower than -50° if, when you exhale sharply with a full pair of lungs, the air that you produce makes a slightly audible crackling sound. If it's above -50° – silence! I shall keep that one in mind!…
I wonder – does dogs' fur get covered in hoarfrost above -50°C? It does below! ->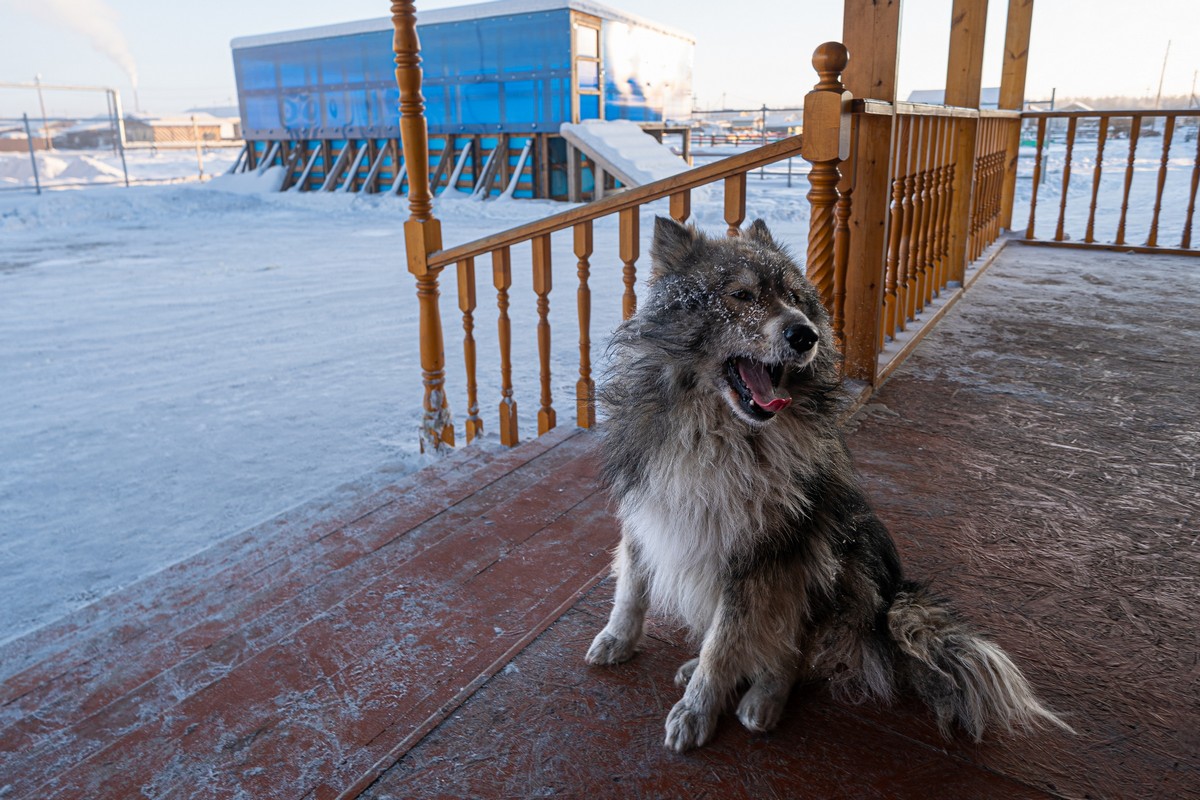 A while later we were back on the road, which, as per, was a magical one. So magical I'd drive along it and back every day… forever! One can dream ). Up above, a rare airplane at high altitude – seemingly tracking the road we were on ->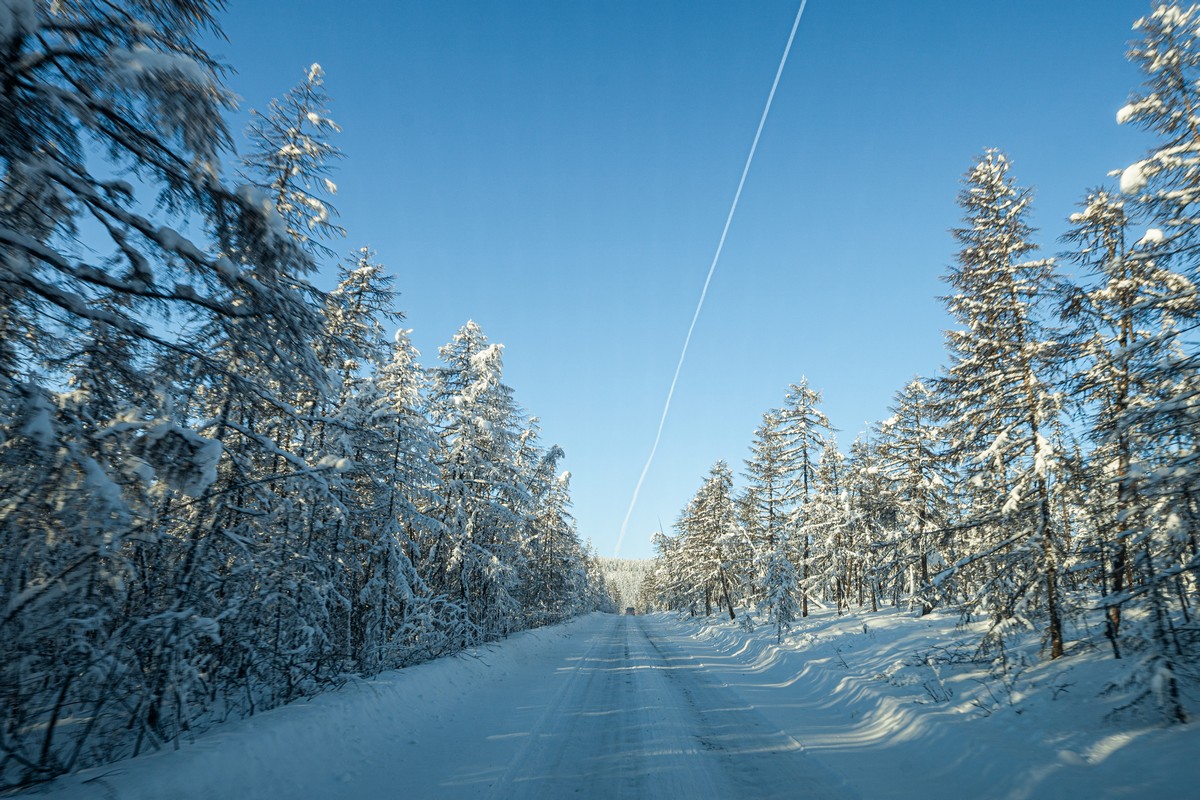 I don't think I'll ever get tired of describing this place as a simply marvelous winter-wonderland fairytale! (I hope you won't tire either, dear readers:).
Racing down such a narrow, tree-lined track as this at up to 80km/h is a true adrenaline rush. That's another reason I'd make driving up and down this stretch my full-time occupation ).
Winter-cruising 101!
The Vnimaniye ("Attention"!) stream ->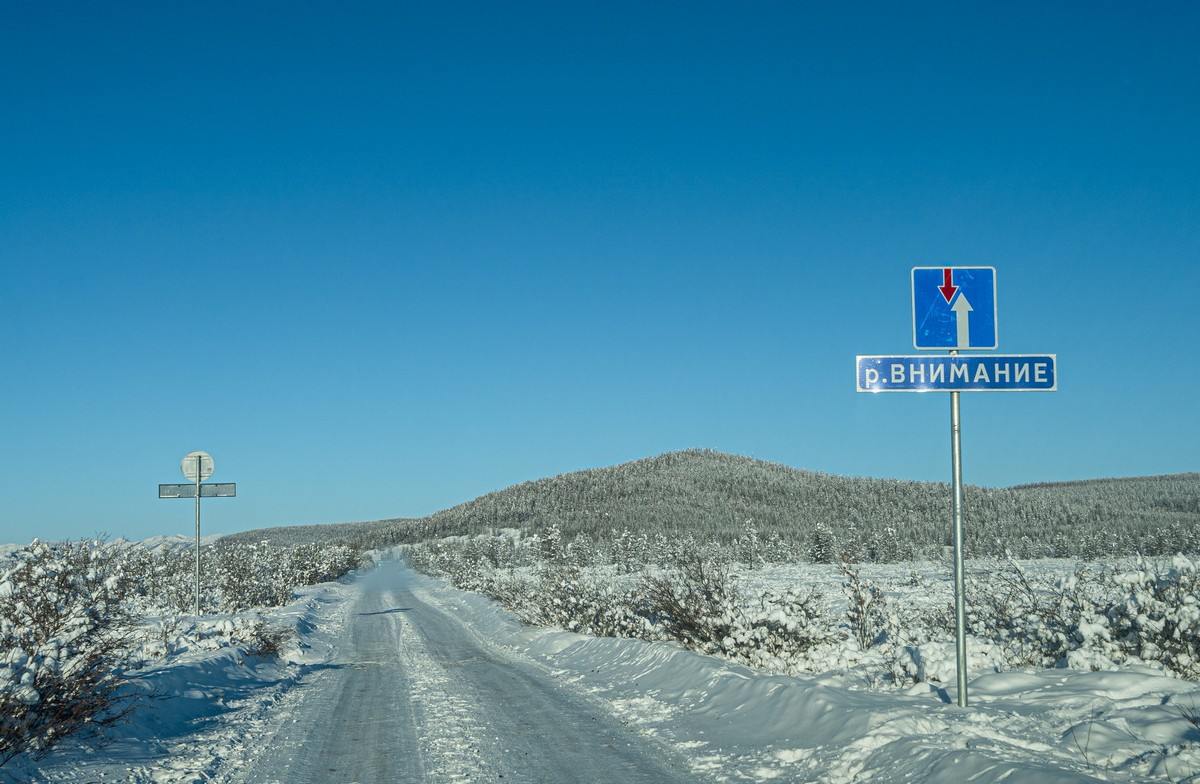 Curiously, some of the new signposts here are missing useful data for passing drivers. I wonder why? Maybe, in the digital age, it's like – who needs to be shown distances on signs any longer, when they're updated every second on your GPS navigator/smartphone? ) ->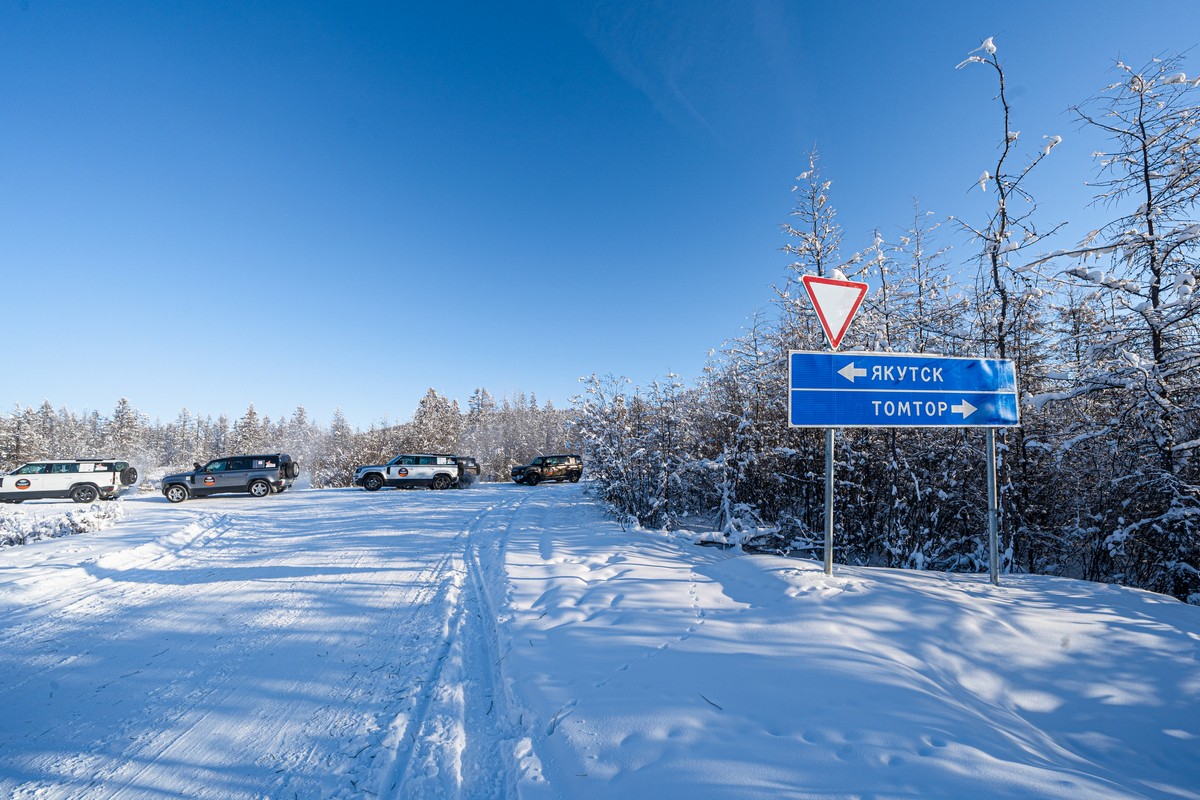 <- Yakutsk Tomtor ->
Yakutian horses! How do they survive when it's this cold?! Still, they do just that – thanks to their being used to it and their thick fur. Darwinism at its finest ) ->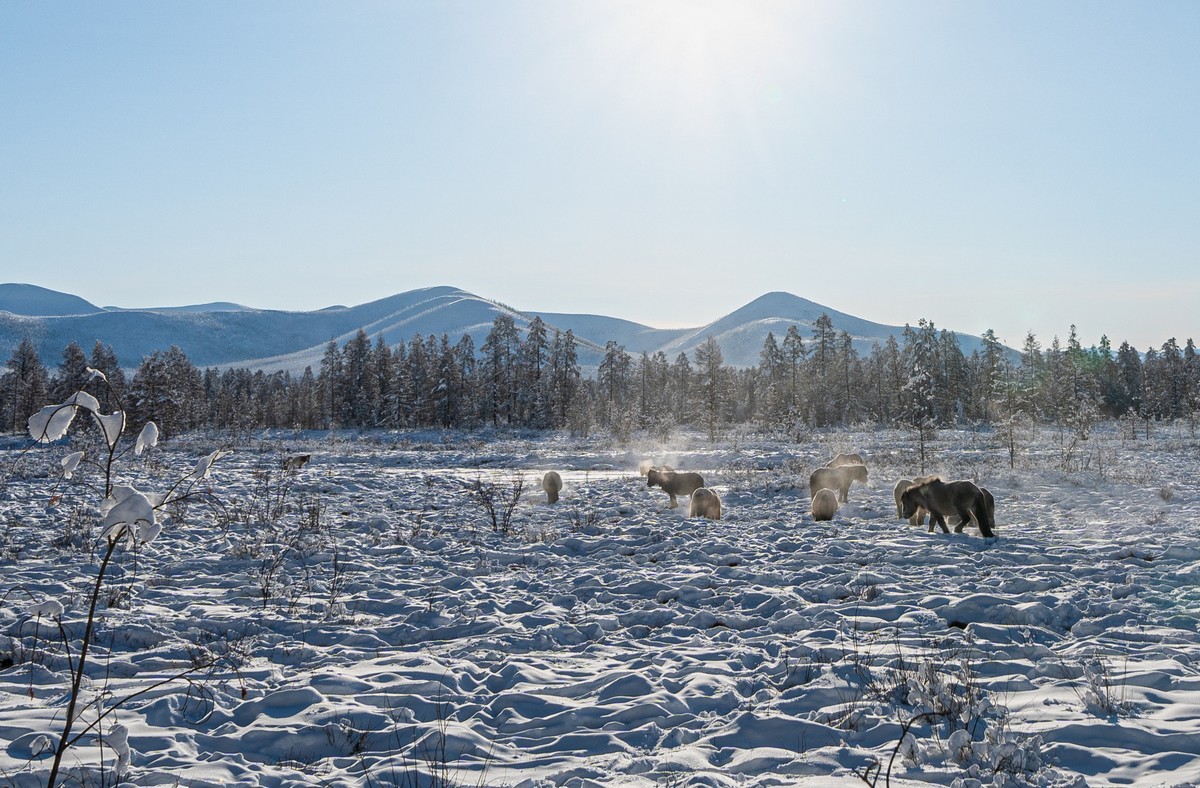 Curiously, most trees manage to stay erect under the weight of the snow; a few outliers…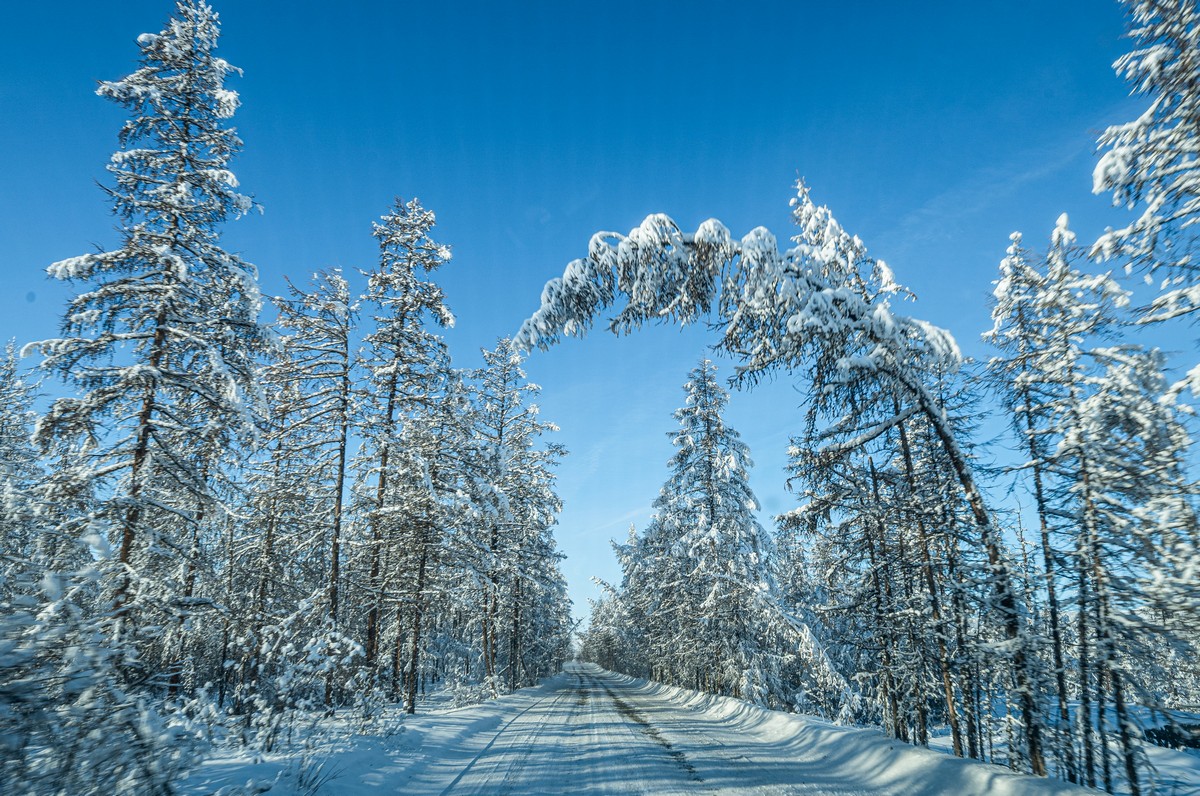 On and on and on. Every minute – a pleasure. We leave the old Kolyma road, back onto the Kolyma Highway…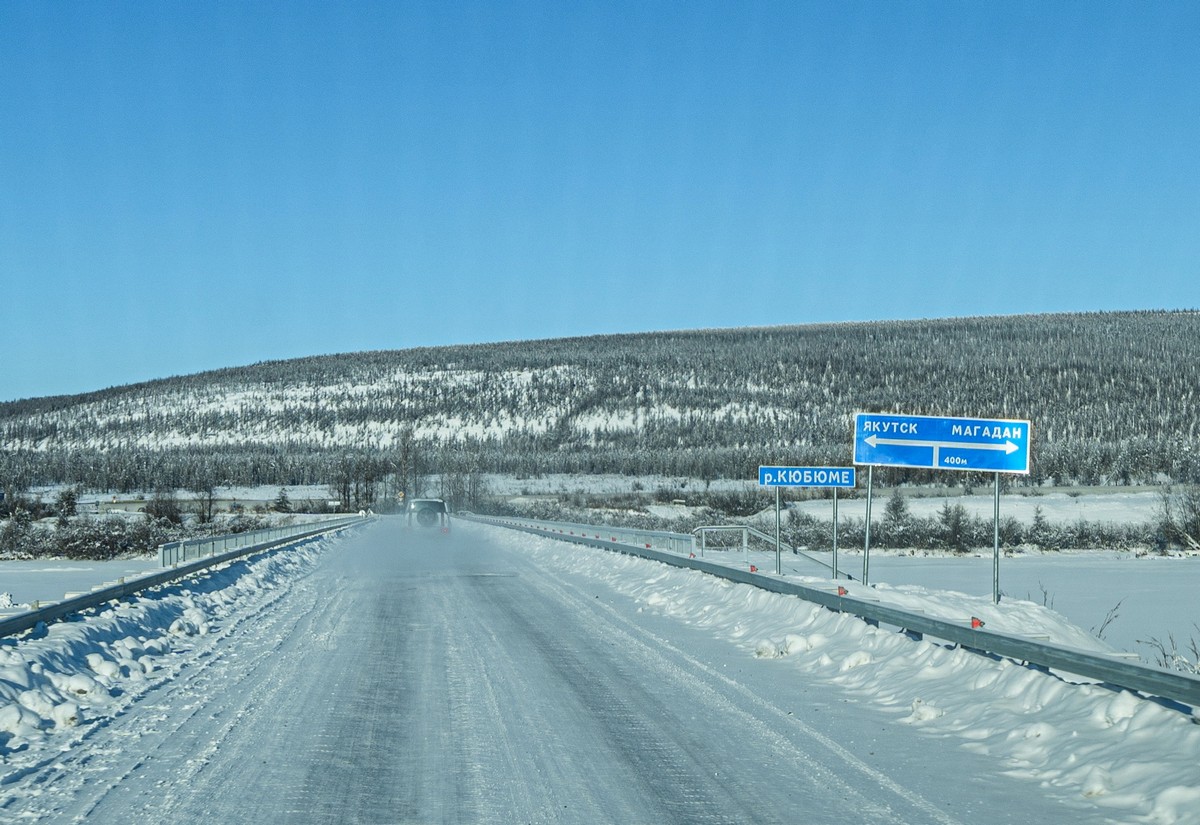 The highway's somewhat threadbare; the surroundings still spellbinding…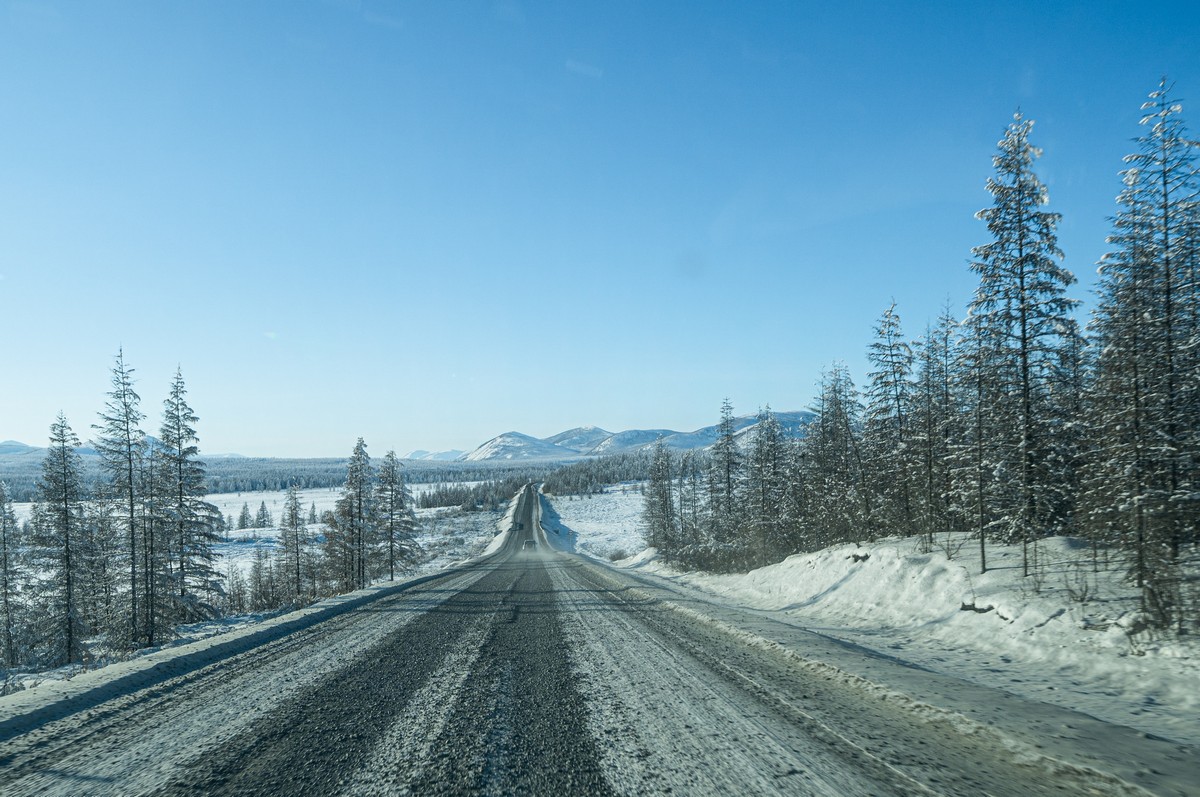 Next up – yet another automotive hiccup…
The poor old fifth Land Rover ran into engine computer trouble again… This time its engine simply cut out and then refused to start again. It turned out that the software update on this one had been downloaded and installed – back in Magadan (I wrote earlier that this is what happened with another group's car)! – and had been struggling somewhat ever since. Fortunately, Avto-Razum – the guys who'd supplied all our cars – managed to tow the stricken car all the way to Khandyga. Respect.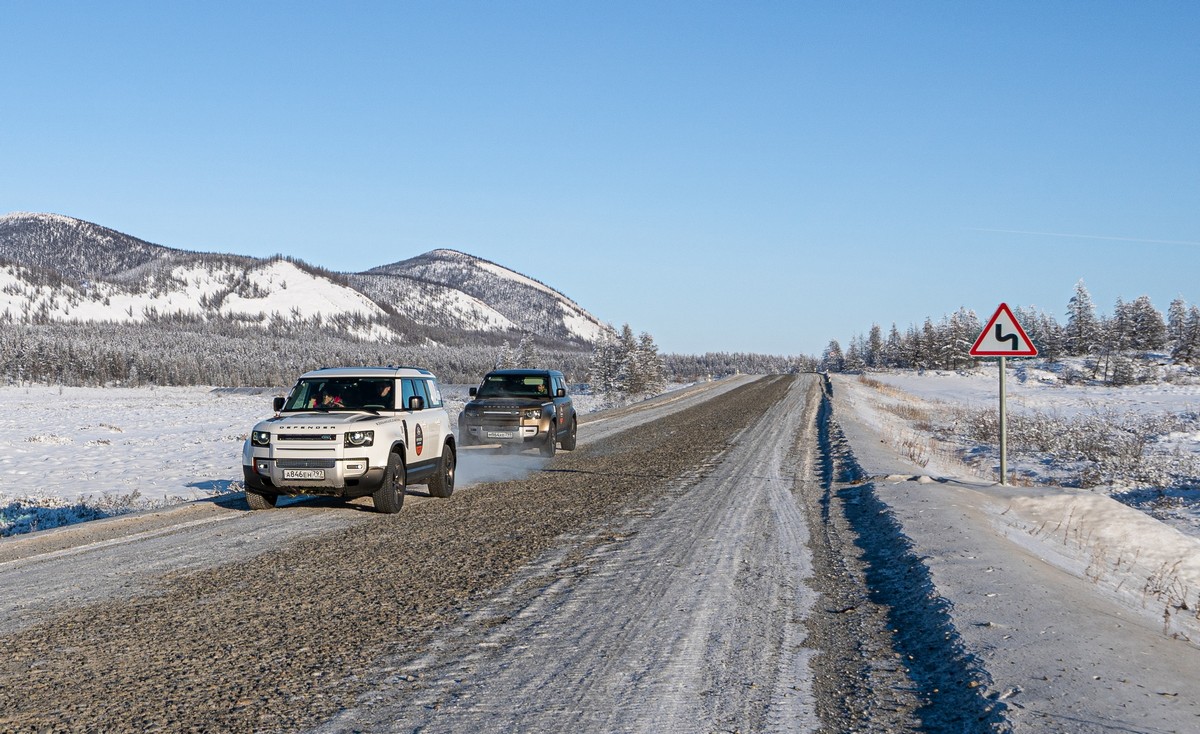 Here's a curious sub-polar automotive tidbit I learned this day…
Do you know why a car with an automatic gearbox generally can't be towed? Apparently, the engine oil simply boils. And do you know why a car with an automatic gearbox can be towed at -50˚C? Yes – because there's no chance of the engine oil boiling (there's more chance of it freezing:)!
Enough of car trouble. Onward we drive (and are towed)… The road here gets a little uneven; you need to take a firmer hold of the steering wheel…
The road continues to get hairier. Bumps, narrowness, plenty of bends, also quite a few trucks coming the other way. You have to stay very alert (if you're behind the wheel, that is:)!
Btw: last year we drove over this bridge. I hope they repair it soon… ->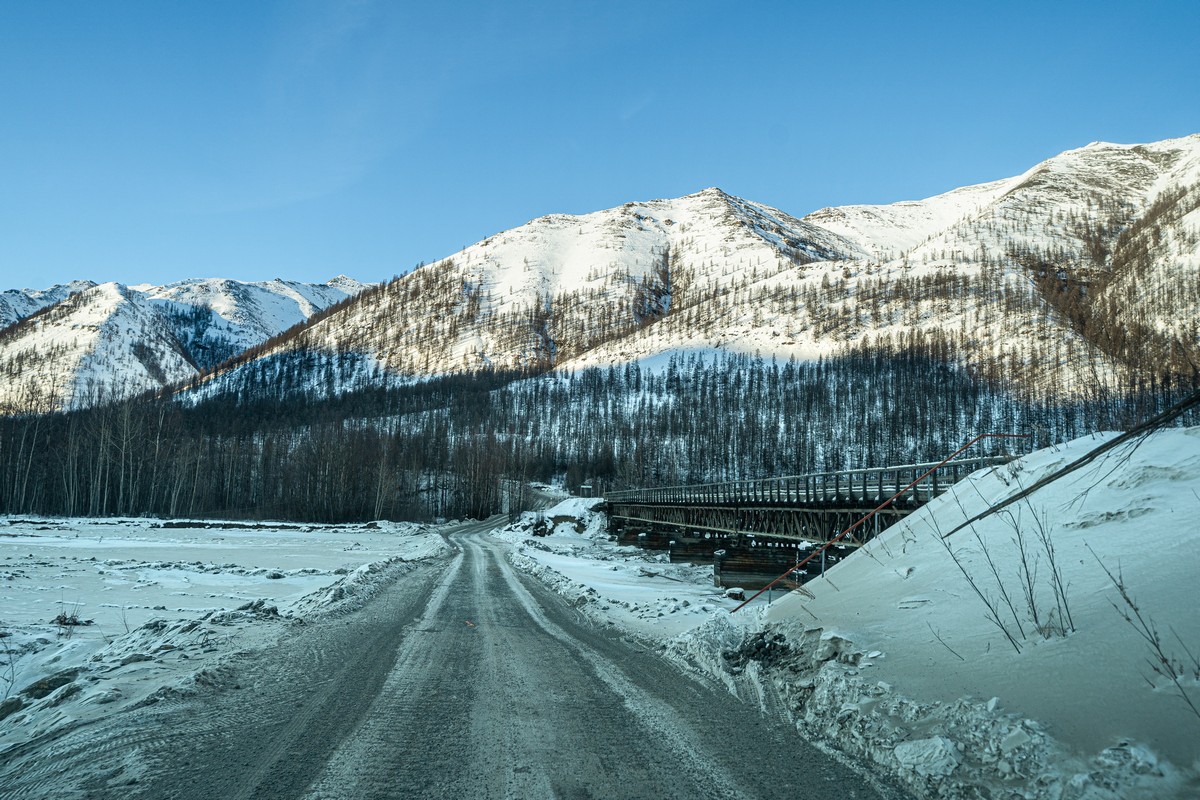 Shortly after the poorly bridge – a super-smooth and flat and straight stretch. Phew…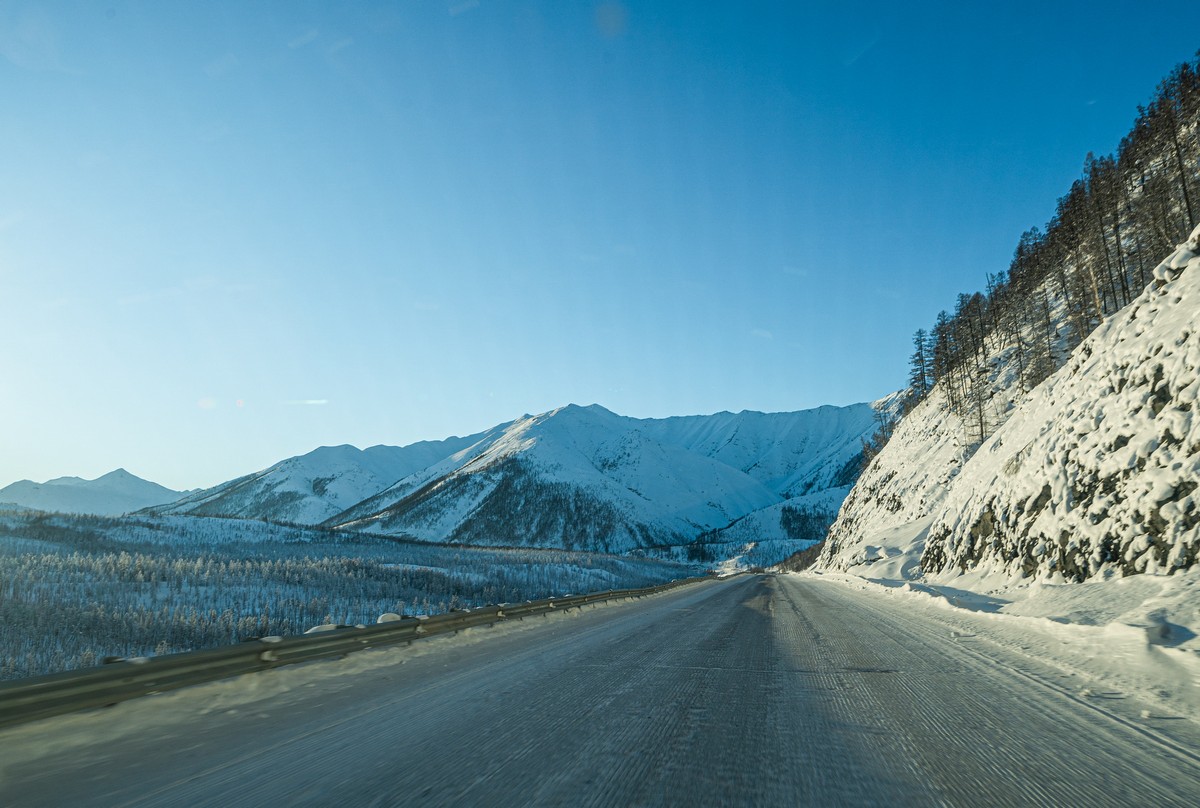 After taking it easy on this easy road, suddenly…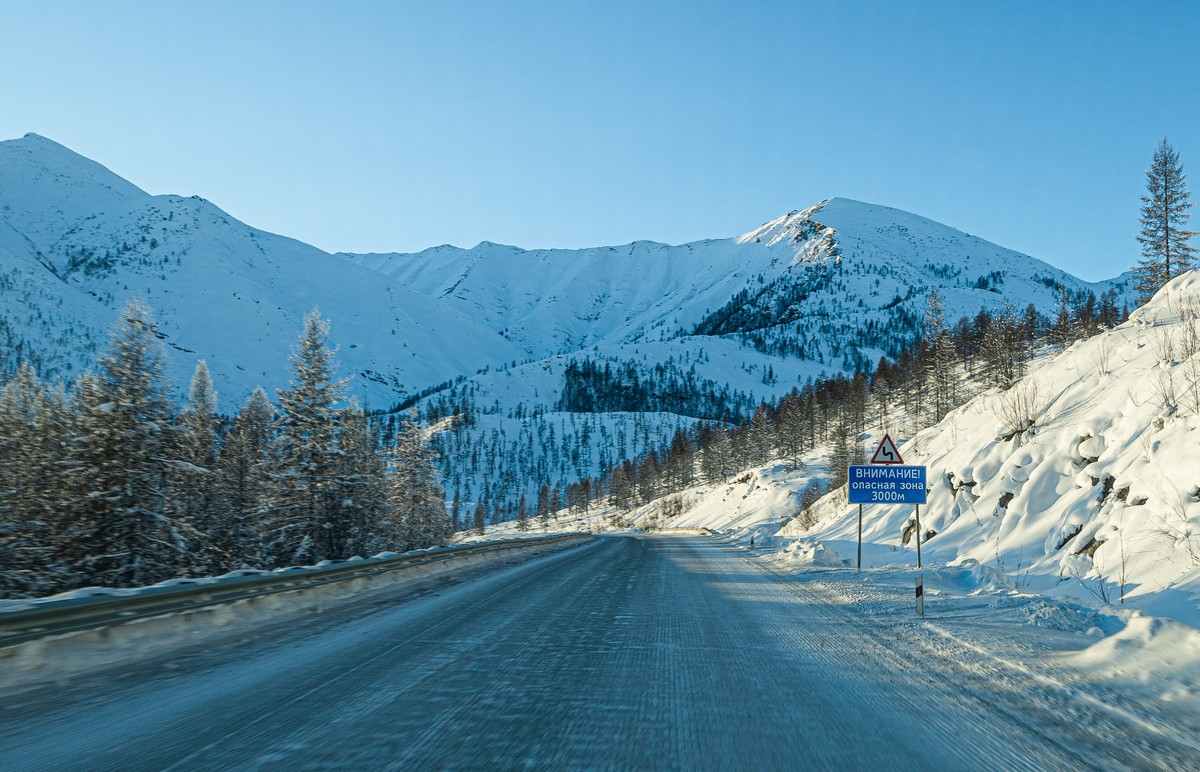 "ATTENTION! Dangerous zone 3000m"
The so-called "Black Vice" stretch. It used to be one of the most (if not the most) dangerous sections of the whole highway. There even used to be wrecked trucks piled up at the bottom of the cliffs next to it. No more: they've flattened it and made it two-lane…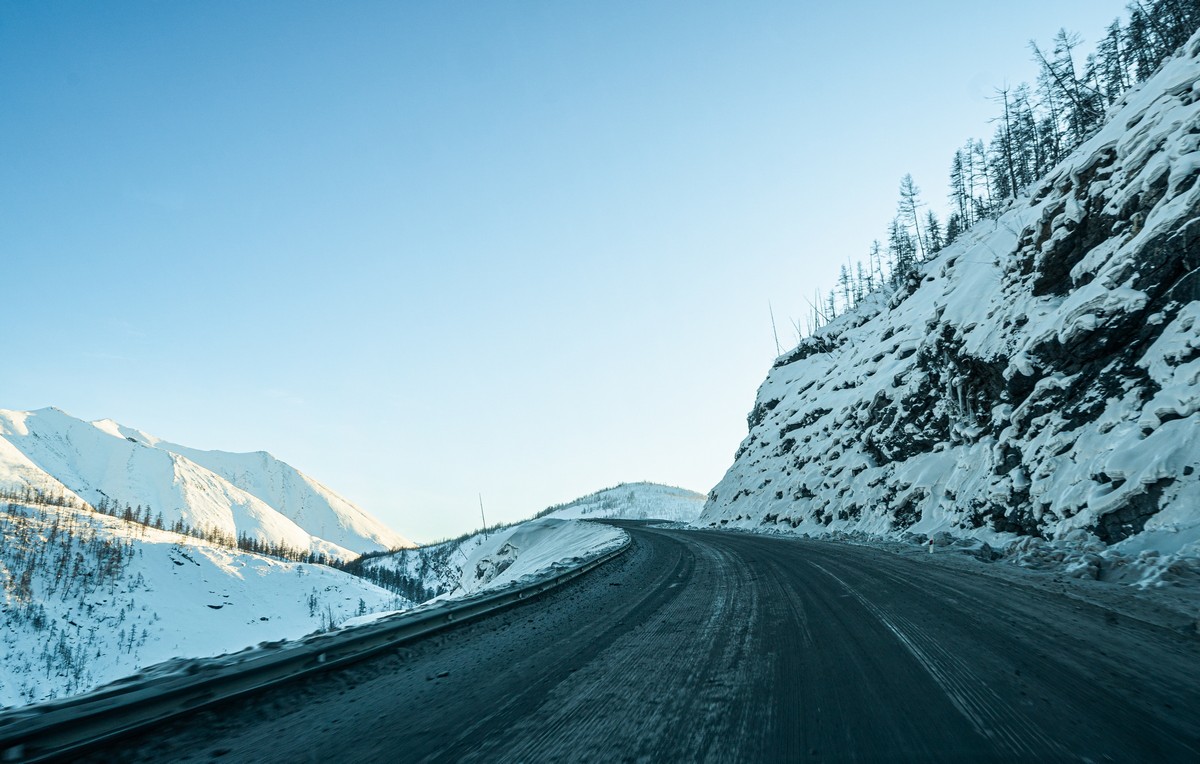 Not long after "Black Vice" there's another (previously?) hazardous accident black-spot – "Yellow Vice" ->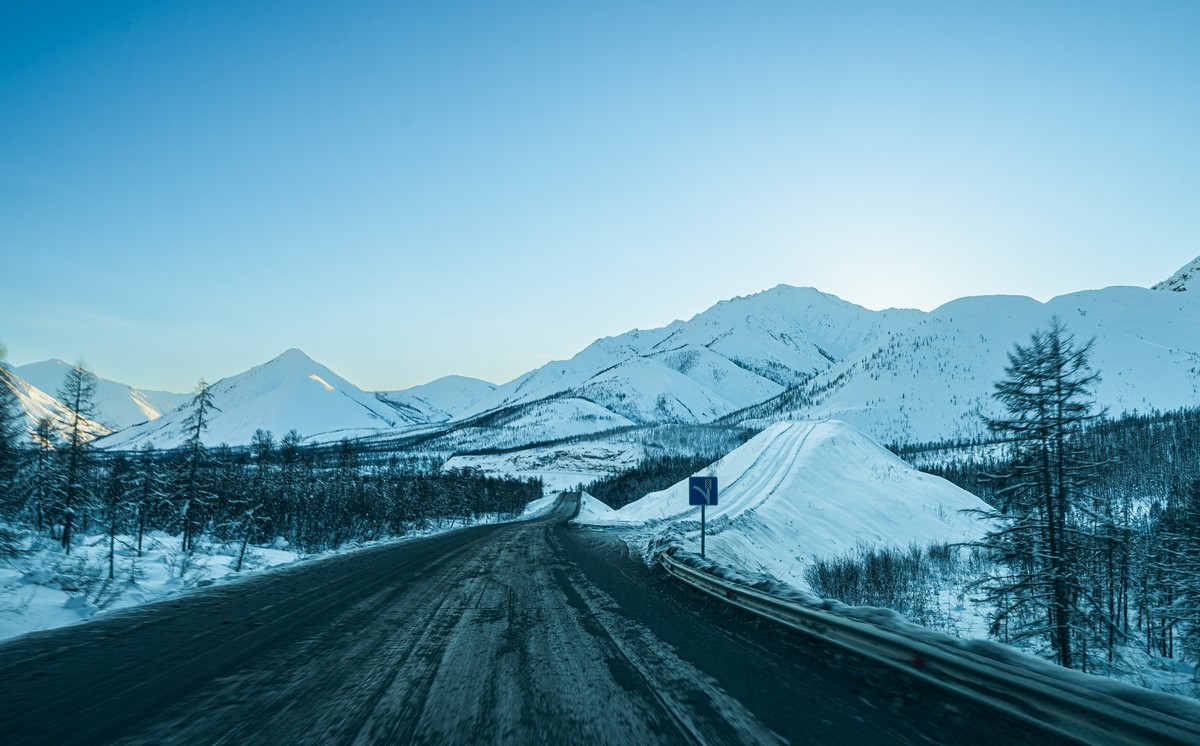 Indeed, it used to be an accident black-spot; just like Black Vice – no longer. Now – as smooth as… a baby bear's fur! Given this rate of progress, soon it'll be asphalted!…
The road takes a dip down into a valley where we see… water, as in – not frozen. Yep – more hot springs: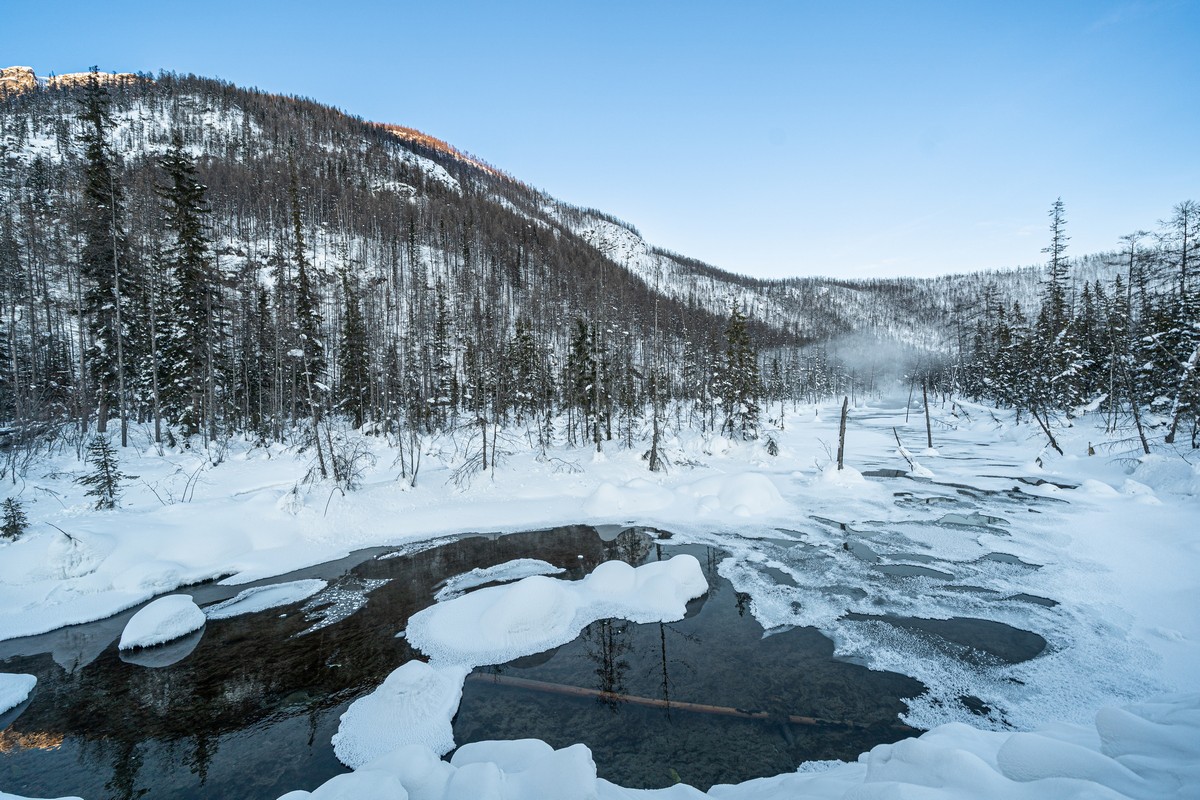 Alas, from around here there was little in the way of the mega-beautiful bleached landscapes; here are the last few I snapped:
And that was that for our day's driving program. Next up (after 70km of night driving): dinner and warm beds: aaaaah ).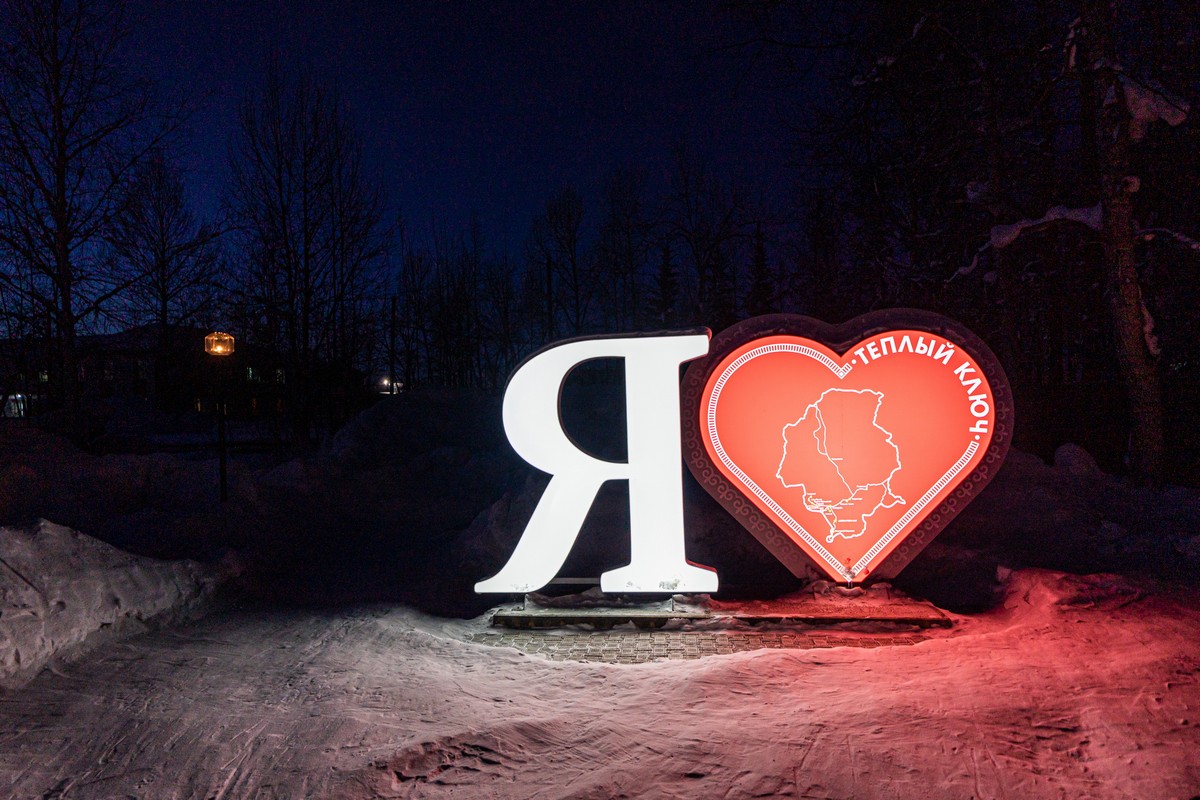 Good night folks! Back soon!…
The rest of the photos from our MYB expedition are here.