The world's coldest village: check (ver. 2022)!
Despite these hard times, we continue our work saving the world from all manner of cyber-maliciousness. We adapt; we carry on. Meanwhile, I hope my travel notes and photos will bring a little cheeriness to all who view them – because there's hardly a better way to do that than with the beauty of nature (and a spot of -50° adventure).
So here we were, at the Pole of Cold of the northern hemisphere – in the small village of Oymyakon. There's not a great deal to check out in a village with just several hundred inhabitants, in the middle of nowhere, which also happens to be one of the coldest places on the planet. But check it out we simply had to because… Oymyakon, silly!
Comfort levels for molly-coddled city-dwelling tourists are fairly low – but you're hardly going to stay for long here. It comes with a few strange uniquenesses too – for example, boiling hot water comes out of the taps here, not the regular hot water as is the norm the world over. Also – you need to wear more layers of clothes than you ever thought was physically possible here. Still – we all managed with the extreme unusualnesses fairly well; in fact – so much so some of the posse (while resembling Michelin Men on a walkabout) signed up for the next trip here!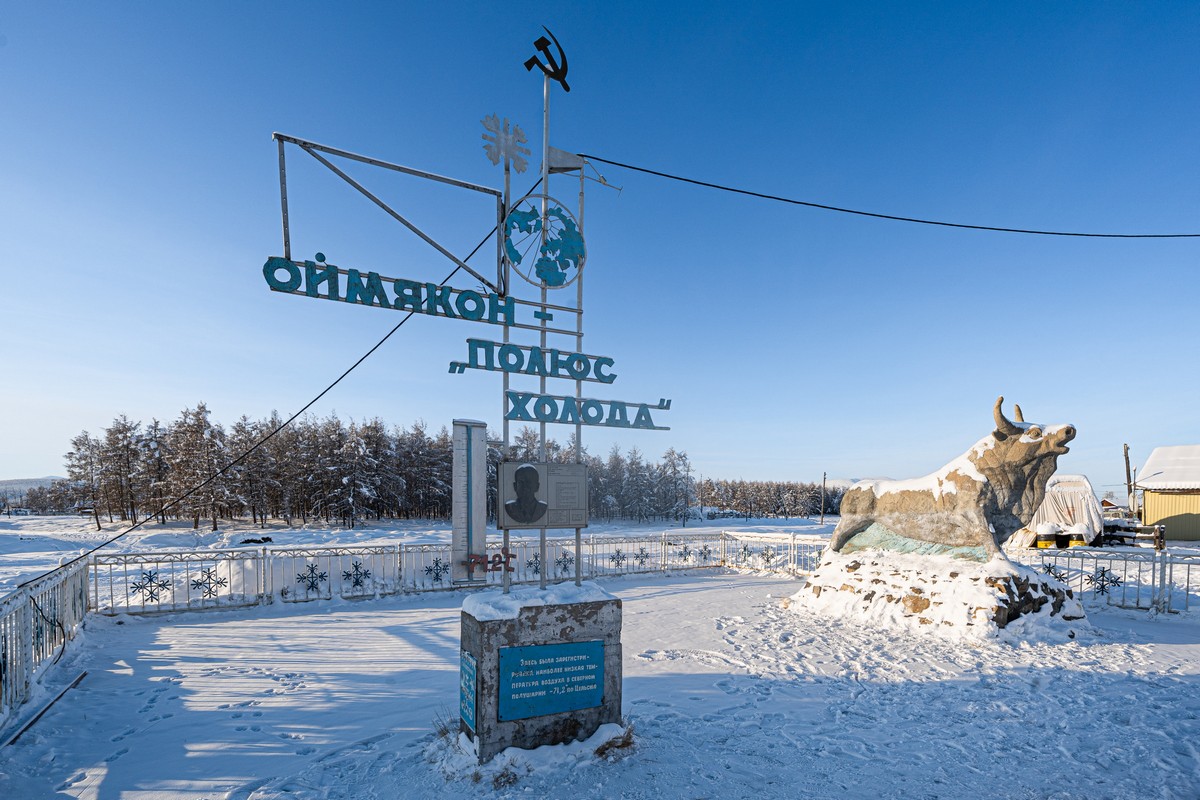 You see the 71.2° there? That's the coldest it's ever been here. Kinda. See, mercury showing such a record-breaking (and thermometer-breaking?!) temperature actually… was never witnessed and recorded. Turned out the local weather station is located in the neighboring village of Tomtor, 40km from Oymyakon. That's where they witnessed and recorded a mega-cold temperature, but, since it is always several degrees colder in Oymyakon than in Tomtor, they simply added (rather – subtracted) a few degrees to come up with (oddly super-accurate!) 71.2°!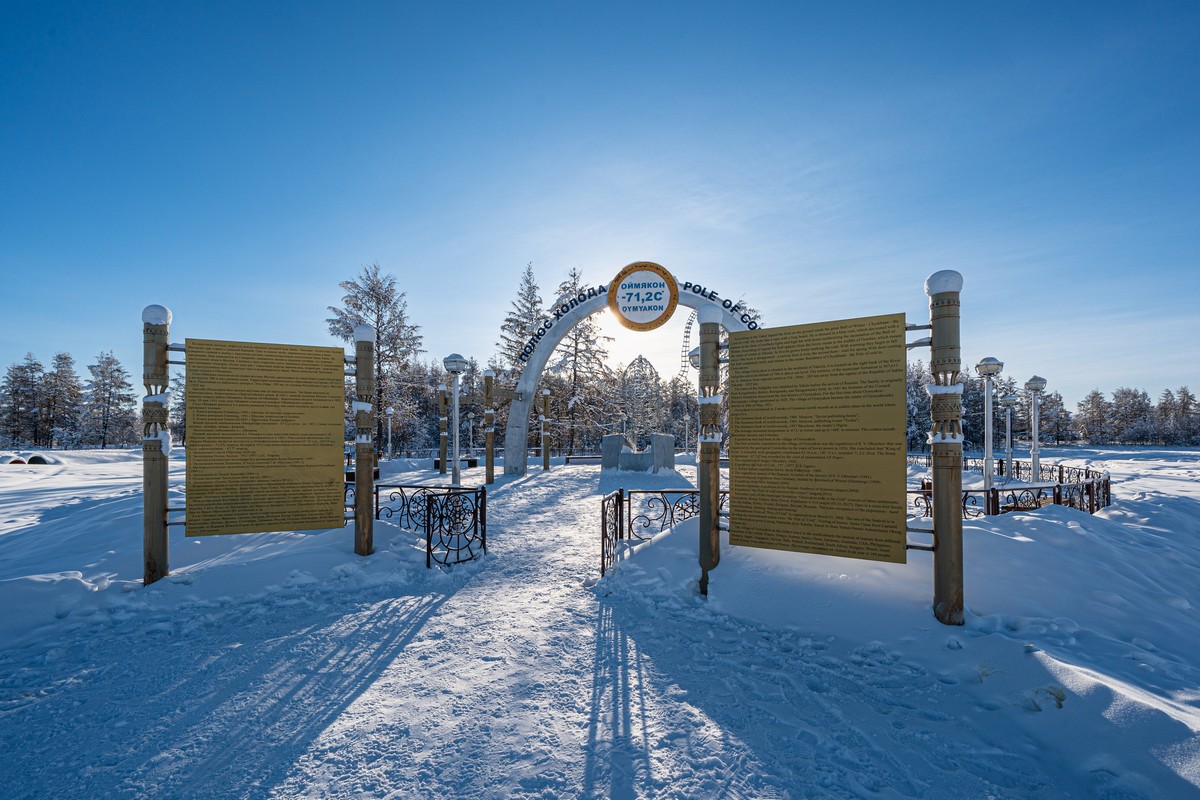 No matter how one gets to Oymyakon – that is, either driving from Magadan or Yakutsk – you'll most probably arrive in the village late evening. But that's not so bad as, after a splendid supper (the cuisine here – oh my gourmet-gorgeous!), you can get in a stroll around the village under the moon and stars – categorically recommended!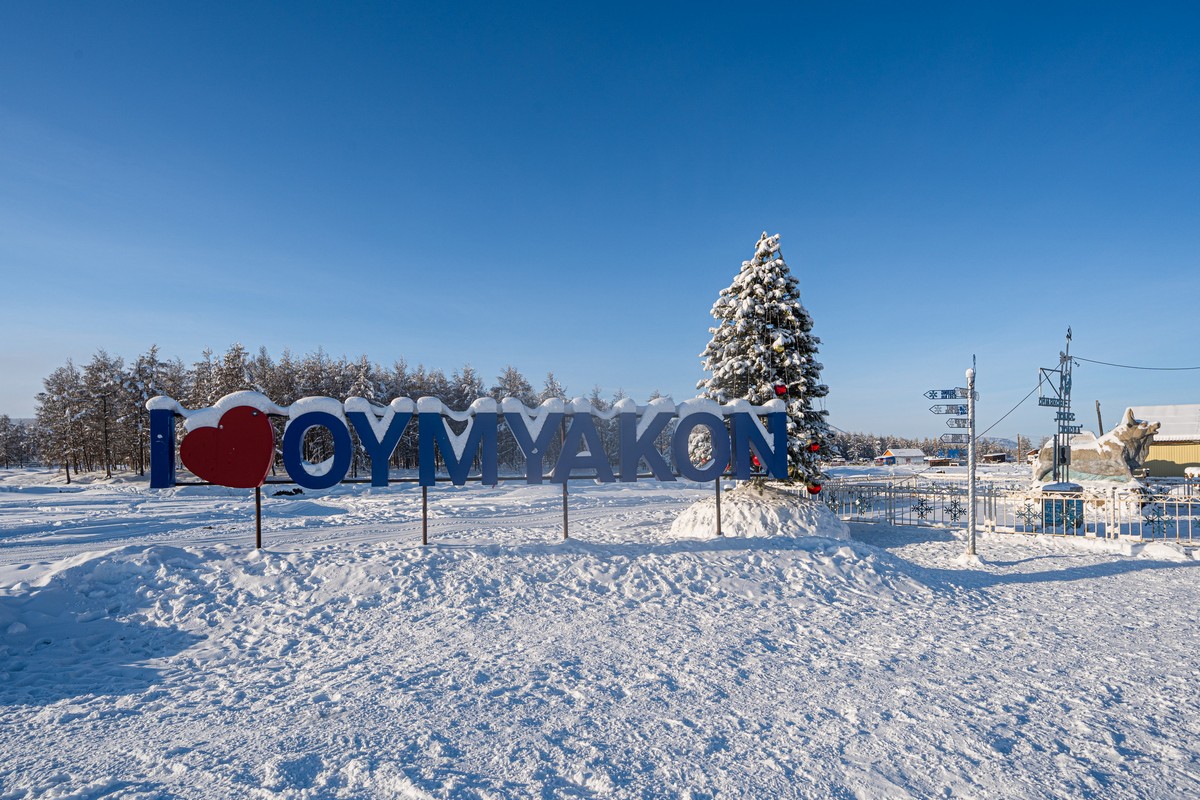 But first off after supper – time to check the thermometer outside…
Rather mild. Perfect! Off we pop… Here's the mythical "Bull of Cold". In ancient times the Yakuts thought the tusks of a mammoth were the horns of a bull! ->
Though it can go below -70°C here in the deep of winter, in the summer it can reach +30°C. Surely that makes Oymyakon another record-breaker: in terms of temperature range – over 100°C! The streetlights in the village shine bright – as if to inform the surrounding taiga that it's cozy and warm here…
A February morning in Oymyakon. And here's the village's main street:
The local government building: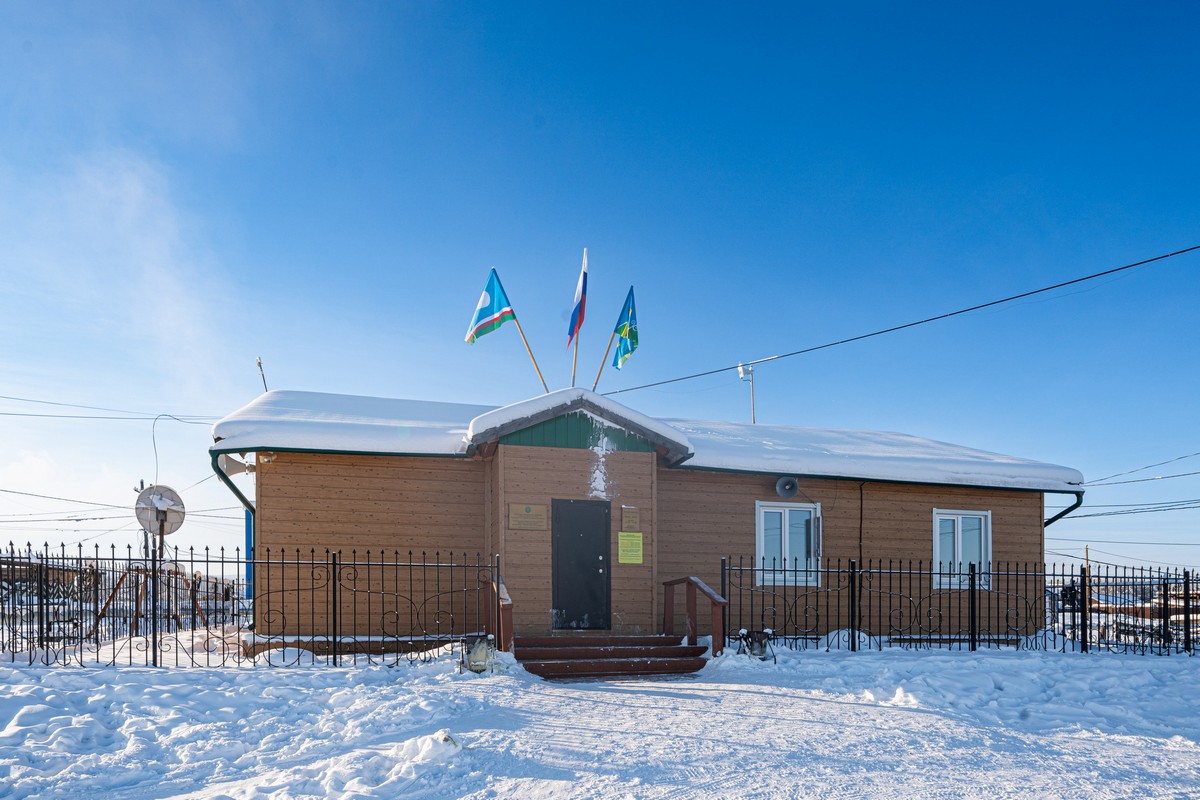 All the mod… telecoms ) ->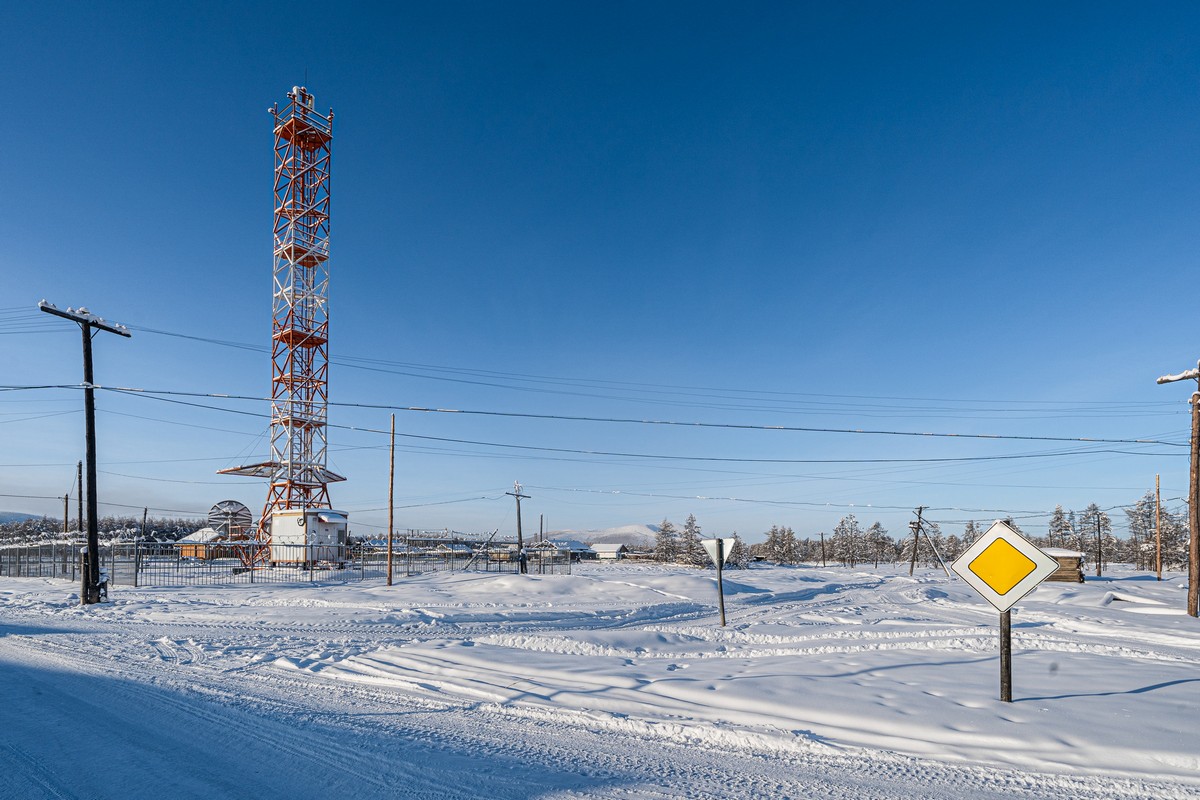 Piping hot water runs through this pipe – used for heating homes and their water supply! ->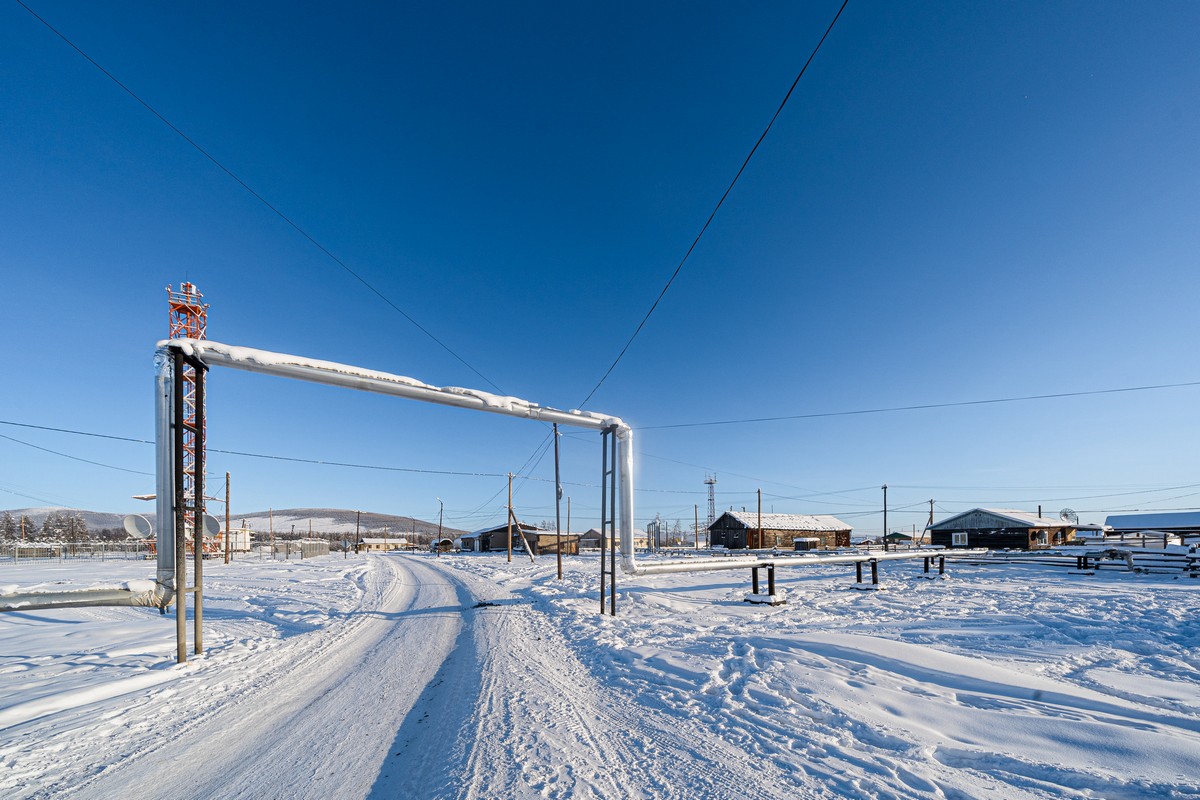 Next up – it was time for our traditional Oymyakon fun and games…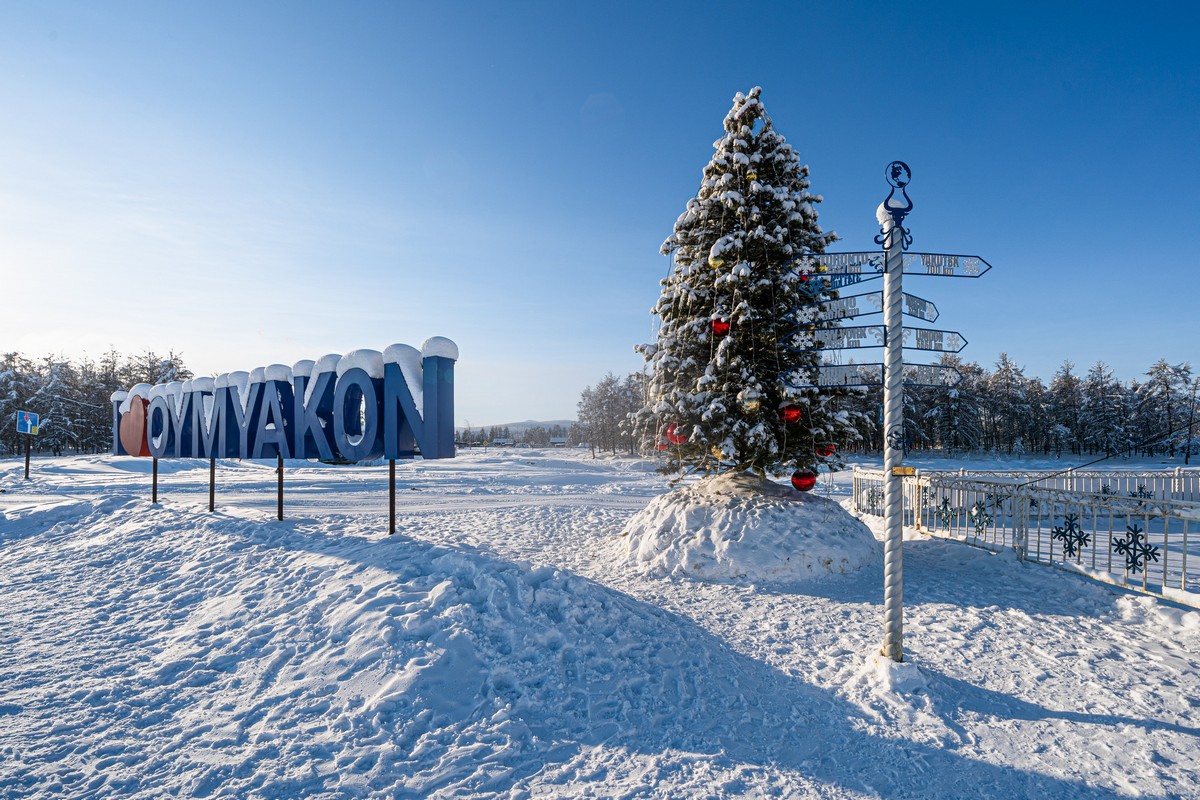 I've already written about the fun and games – in last year's post. Here's a recap:
Fun No. 1: Leaving an apple, banana or tomato out in the cold, and later using said fruit as… a hammer, of course, to knock, say, a nail into something wooden!
Fun No. 2: Adding some boiling water to a Pot Noodle, then taking said Pot Noodle outside; pull up a clump of the noodles and… pass the fast-food delight to… the Invisible Man!
Fun No. 3: Pouring some boiling water into a cup and then throwing all the water out of it upward; what you get is "Oymyakon ice fireworks"!
Etc.!…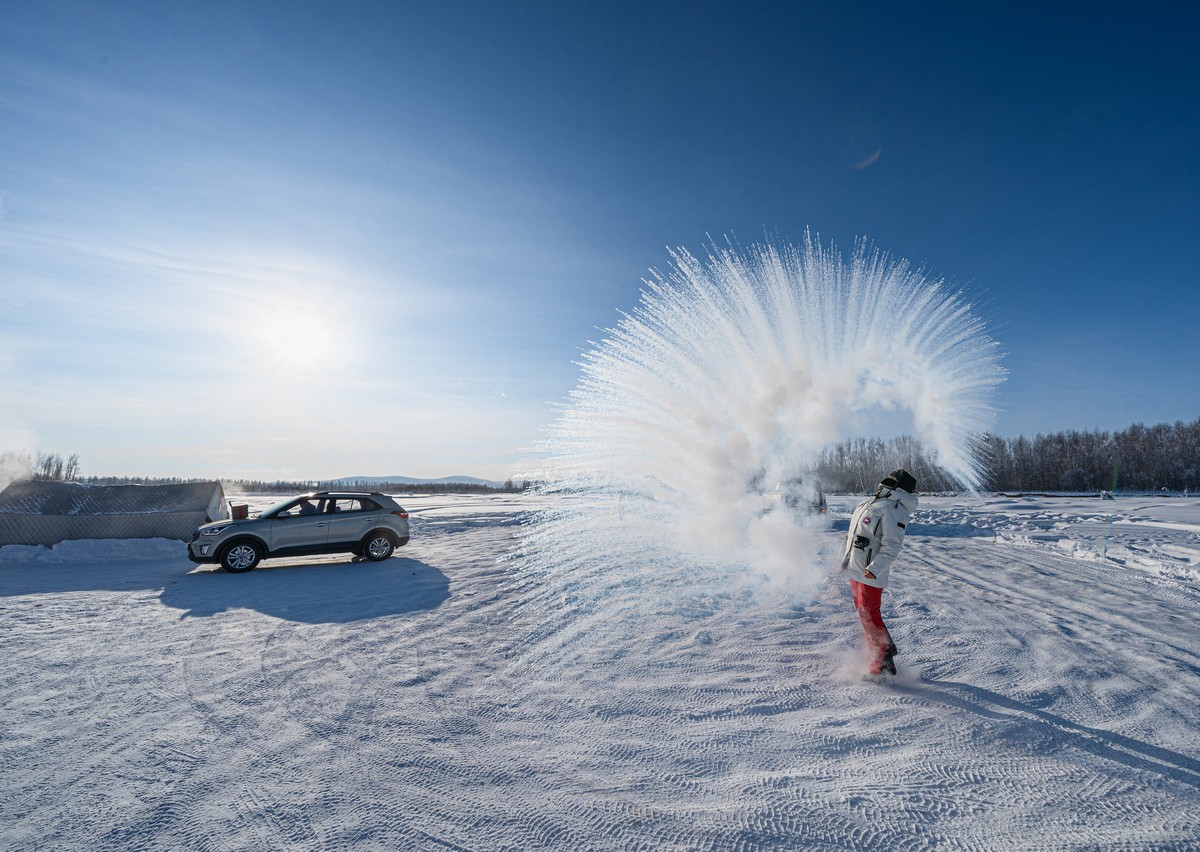 Also must-dos: meeting up with Chiskhaan – the Yakut Custodian of Cold; visiting the nearby Museum of Cold to catch a show put on by genuine Siberian Shamen; and getting some fishing in in the Indigirka river. But the main mustn't-miss must-do fun-&-game activity has to be… taking a dip in a stream off the Indigirka. Yes – as in a bathe, swim :0)!…
There are hot springs here, and for around a hundred meters the water doesn't freeze. It's still cold (staying at around +4°C), but the main thing: bathable! ->
This here heated tent next to the stream is where you get changed and warm yourself before and after a dip ->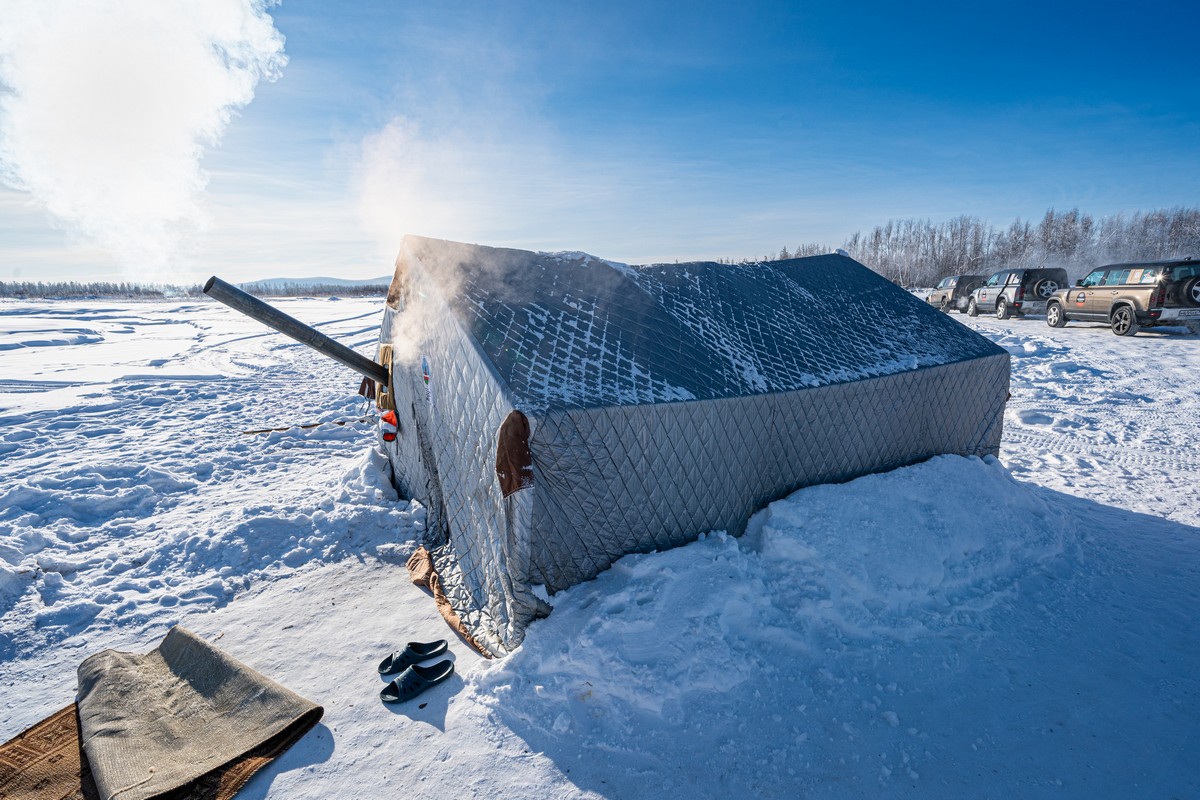 Here's the first brave soul: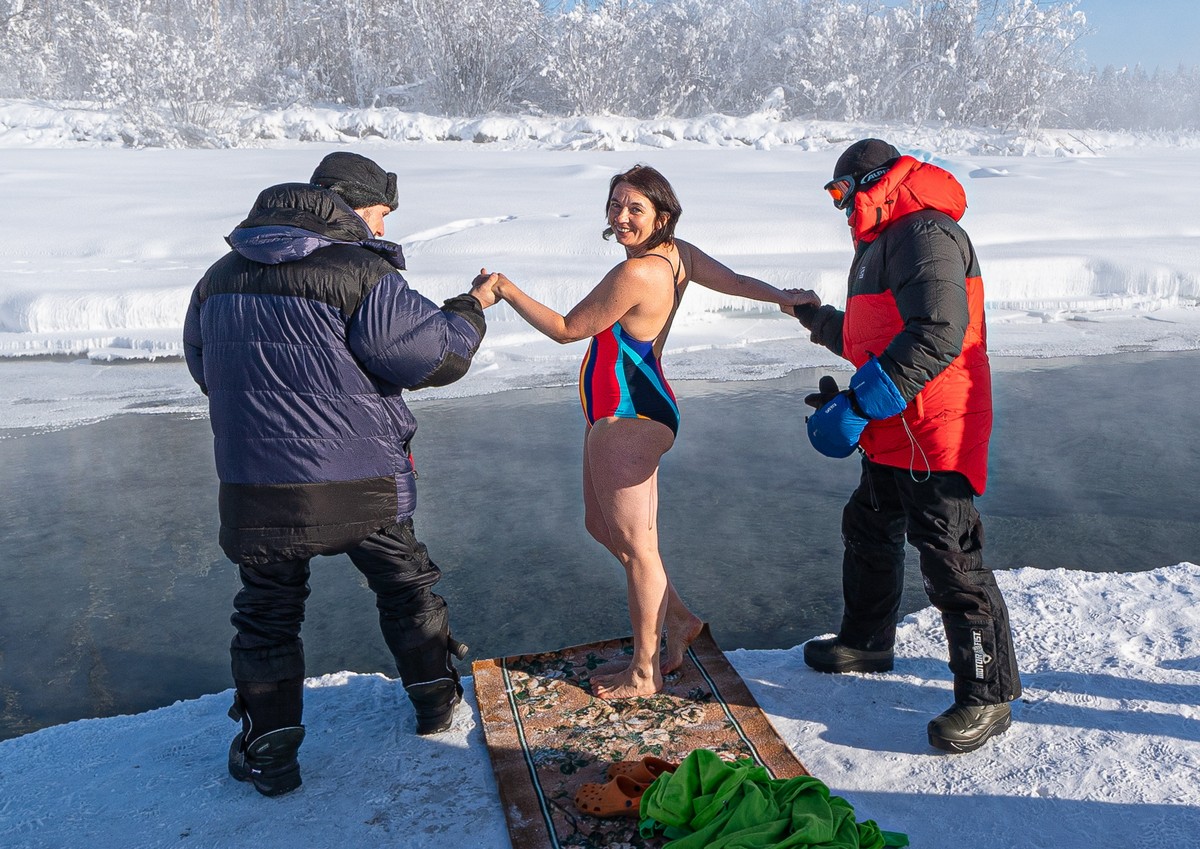 "Plus-four degrees? Easy!" – I imagine some of you, dear readers, are thinking. But let me remind you – the temperature of the air is around… -50°C!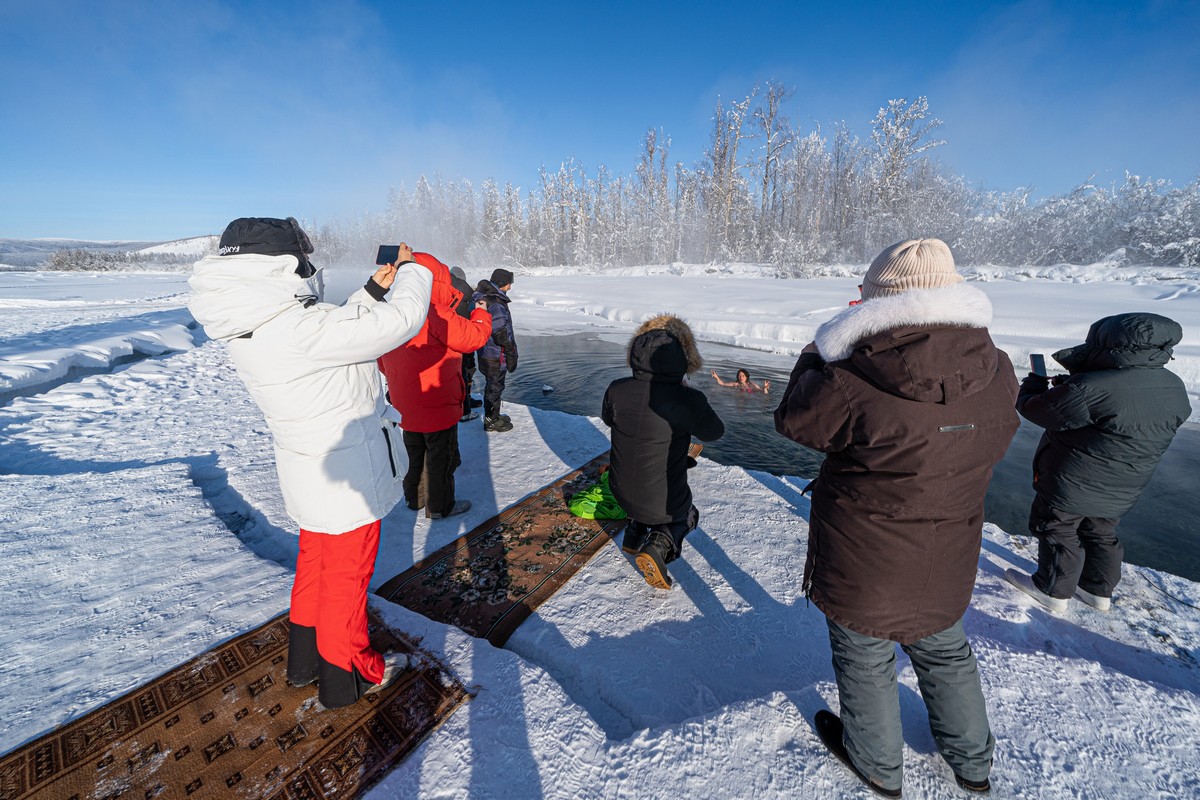 An invigorating dip. Probably one of my most extreme… "Ok, we've tested the waters for you. Now everyone together!…"
So, yes: if ever you're headed Oymyakon's way, don't forget… your bathing suit and flip-flops! Who'd have thought it, eh? )
Oymyakon still-life: frozen invisible-people modern kunst ->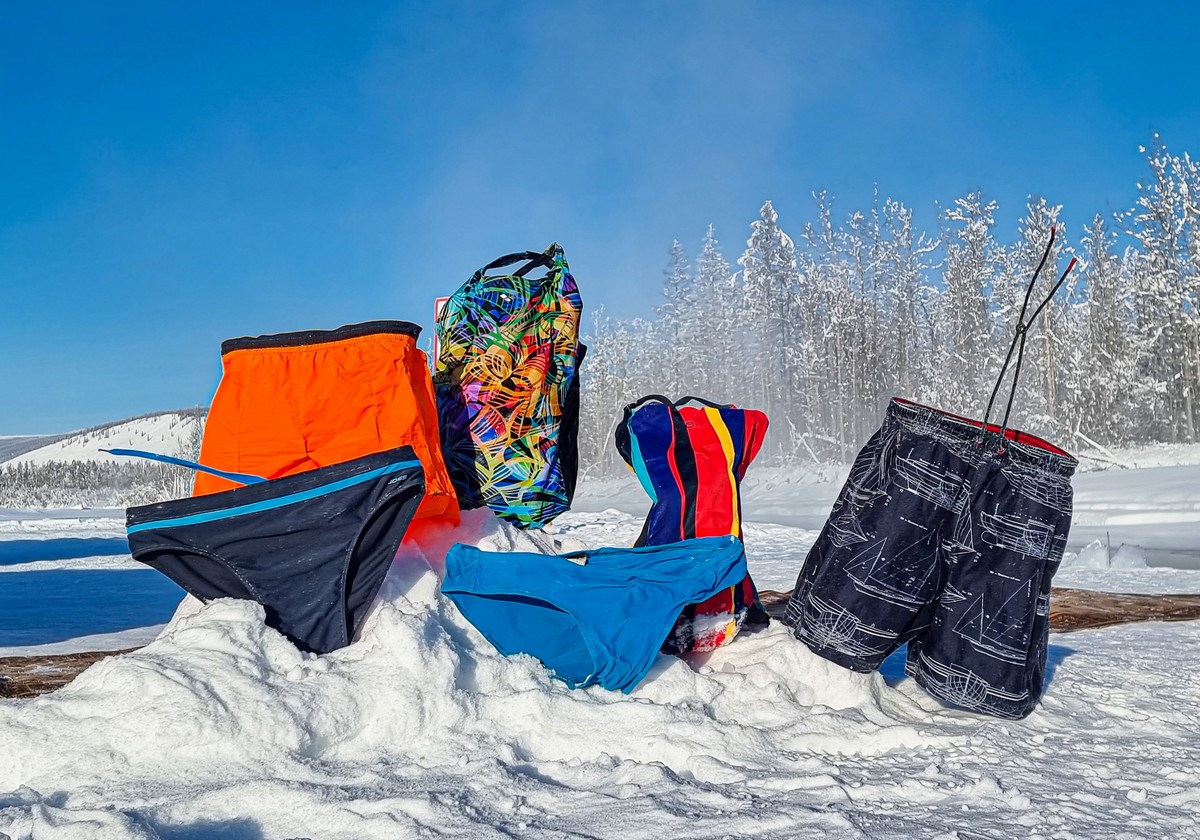 After our dip, it was back to the village…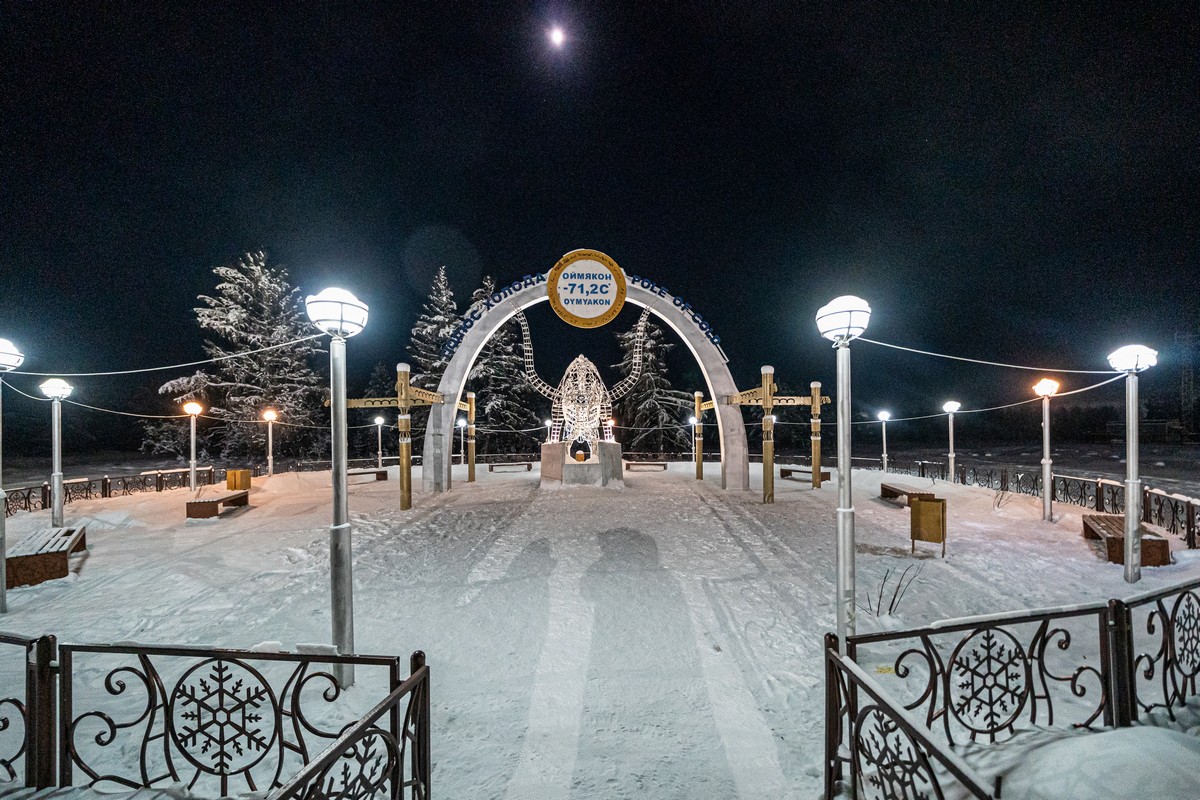 We were staying at Tamara Vasiliyeva's guesthouse, where we stayed last time. You'll probably stay there too if you ever visit. Tamara is an extraordinary woman: it is mainly down to her talents and perseverance that "Oymyakon – the Pole of Cold" is so famous. I've written before about her, so I won't repeat myself here. Briefly though – she's the de-facto promoter and PR agent for brand Oymyakon. She's written books on Yakutia, runs the local museum, and of course there's the guesthouse, which she keeps together with her many children and grandchildren. If you do stay there – a big hi from me!…
And that was that for Oymyakon. Next up – the 40km drive to neighboring village of Tomtor to check out the underground Museum of Cold, aka the Residence of Chiskhaan – the Yakut Custodian of Cold. Been before, but it was worth another go…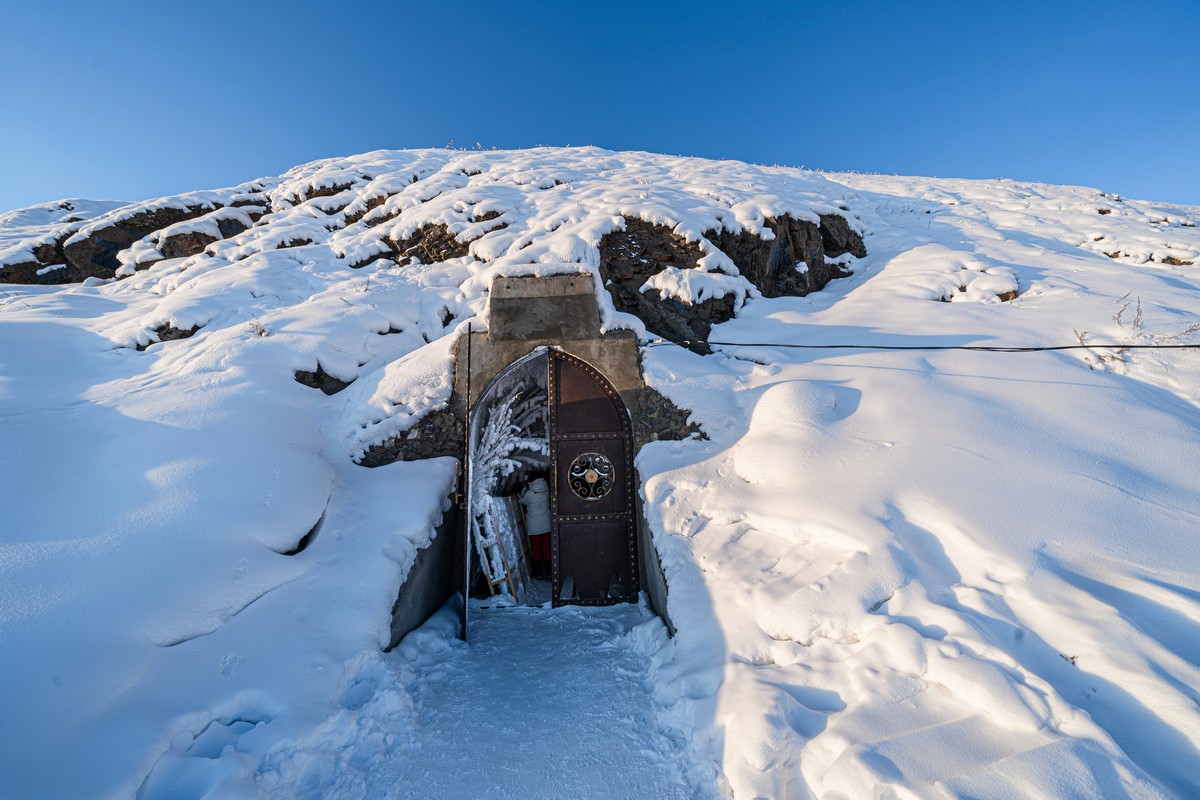 A 100m+ tunnel plus a few shorter ones leading off from it, ice sculptures lit up in multicolors, and walls covered in hoarfrost crystals:
And that was that. Oymyakon (and Tomtor) – done.
PS: You can't use just any old thermometer in Oymyakon. You need a specially designed – patented – one, which can repeatedly go as far down as -72° without exploding. One like this:
The rest of the pics from the MYB expedition are here.