Cybersoft IP vs K: yet another win against patent trolls.
Despite these hard times, we continue our work to save the world from all manner of cyber-maliciousness. Therefore, we're not staying silent ->
Hi everyone!
Regular readers of this here blog of mine will have noticed how it's been ages since the last time the patent-trolls tag has been put to good use (the last such post was about our victory against Uniloc, way back in March 2020 – yes, just as worldwide lockdowns were kicking in for the first time). Well, here, today – time for some patent-troll catch-up. And thank goodness, it's good news – something that's all the more appreciated these days…
We recently came to the end of a year of litigation proceedings with the U.S. patent troll Cybersoft IP, LLC. So that's good news there. The even better news: we won!
So what did this particular troll want? What was its claim against us?
Well, it filed a lawsuit against us in April 2021 in the District Court of Massachusetts. In it, the troll took issue with our wonderful Kaspersky Secure Mail Gateway, claiming it infringed its patent (US6763467B1) covering a 'network traffic intercepting method and system' (specifically – network security technology that checks data transferred via a network (in particular, in emails and their attachments) on a user's device).
The patent is for a method conducted within a single computer system connected to a network for intercepting, examining, and controlling all data – without exceptions – flowing via transport connections between the transport layer of an operating system and user applications, where the intercepted data is checked to see whether it can be scanned for unwanted content.
Basically, the patent relates to something resembling a personal firewall on a user's computer device that intercepts and scans network data. The description of the patent, its claim, and also its figures [diagrams] all clearly confirm this. Thing is… such network-traffic filtration tech installed on a user's device is not only well-known and widely-used tech – it's also been available in the cybersecurity industry for years.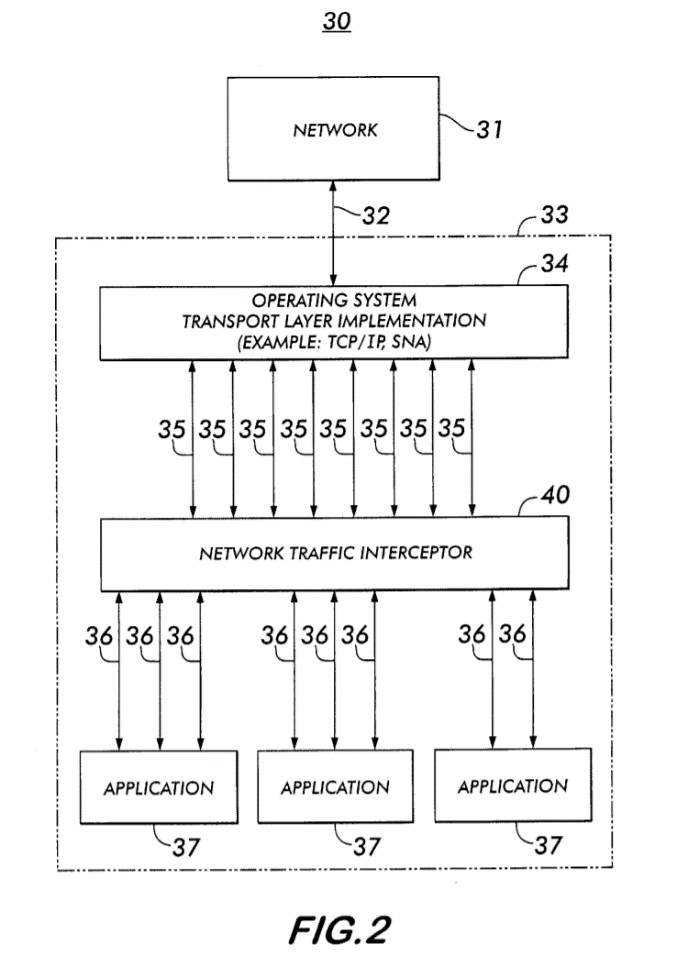 Btw, an expert assessment of the possible damages to us in the worst-case scenario estimated them at around half a million U.S. dollars. Hardly pocket money.
Despite the fact that the patent relates to a really good idea, the "quality" of the patent raised plenty of questions. For example, the patent legislation of any country in the world states clearly that an independent patent claim of an invention must be explained in detail; and, on the flip-side of that, a patent whose description is insufficiently detailed for an understanding of a specific claim limitation can be recognized as invalid. The patent legislation of the U.S.A. is no exception in either case.
Regarding this patent, by far not all the claim limitations were elucidated. I won't go into the details here, but what I will say is that the applicant made several mistakes in terms of the sense of the claim, which made interpretation of it illogical and even unreadable upon close scrutiny.
In the end, Cybersoft IP realized the futility of its litigation and opted to settle early on in the proceedings. After it did, we insisted on its signing a covenant not to sue preventing Cybersoft IP from litigating against us, our customers, partners, or anyone else connected to us for infringing this same patent in any of our solutions. And this was a very important point.
Though the court case lasted less than a year (they can last several), plenty of work went into it:
✅ We analyzed all this troll's patents and formulated and documented invalidity arguments for the most dangerous.
✅ We managed to have all claims in relation to any indirect infringement dropped, thus minimizing our risks. Only the single claim for direct infringement by Kaspersky Secure Mail Gateway remained in the lawsuit.
✅ We came up with a plan B – just in case: we prepared arguments stating that Kaspersky Secure Mail Gateway wasn't used in our U.S. infrastructure.
✅ We prepared a hybrid strategy seeking invalidation of the patent after analyzing all aspects of its claim and description. We were able to find good prior art to contest the patent under article 103 of the U.S. patent law (obviousness), but we also managed to convince our lawyers that we should strategize based on article 112 (insufficiency of disclosure) too.
✅ We convinced the troll to agree to our position regarding key terms (as in – definitions). We then proceeded to use this to demonstrate the impossibility of meaningful interpretation of many other terms, in the end rendering the patent claim simply meaningless.
There was a lot more besides the above, but listing it all would be outside the remit of this here blogpost. The main thing – our super mega IP court-case team came through with yet another victory in our ongoing fight against the legal contagion known as patent-trollism. Well done guys, and thank you! And may innovation and scientific-technological progress stay free of these parasites!…
PS: Meanwhile, the overall score in our patent court cases: 10:0. Yes folks – ten to us, and nil to those trolls who tried it on with us (not including claims dropped before getting to court). Bring it!