Indeed time to hit the road, or, rather – the skies…
I'll get to the where and why I'm hitting the skies in a bit. For now – prelude: snowy airport.
Once seated, out of the corner of my eye through my window I noticed a particular airline's insignia on a plane's tail fin: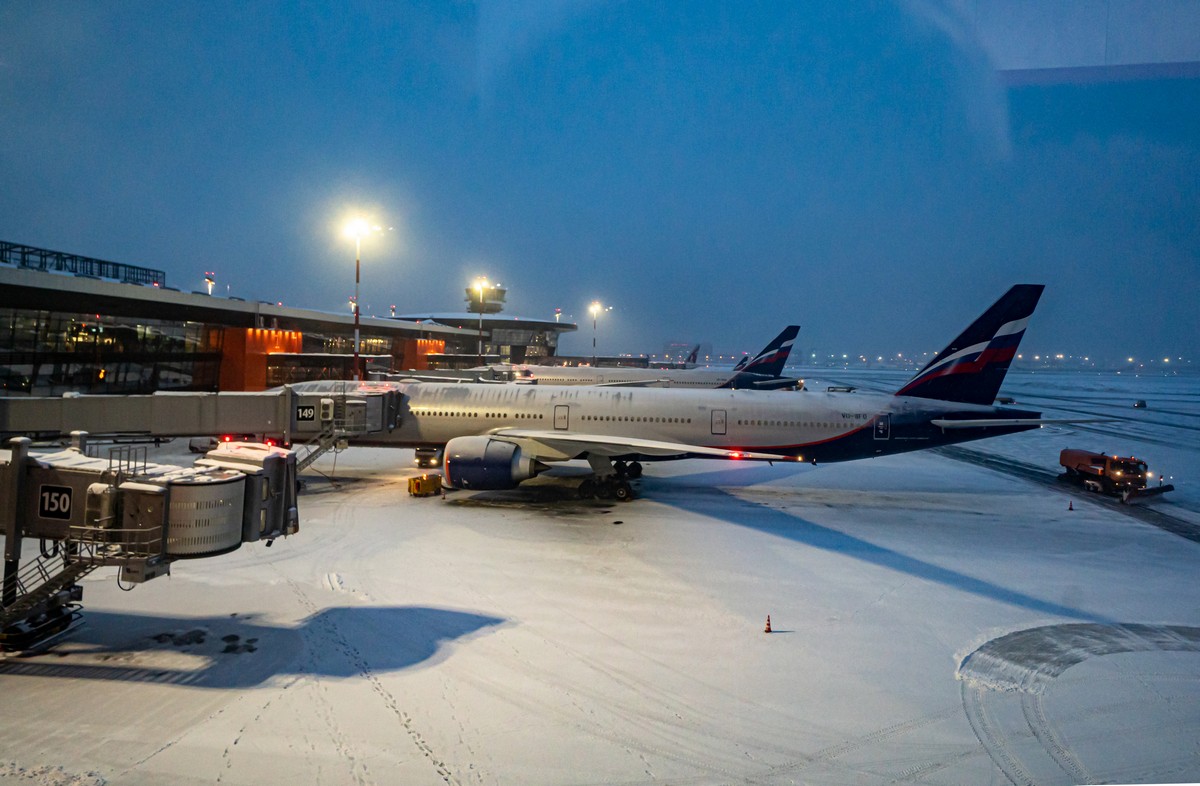 And here it is zoomed in: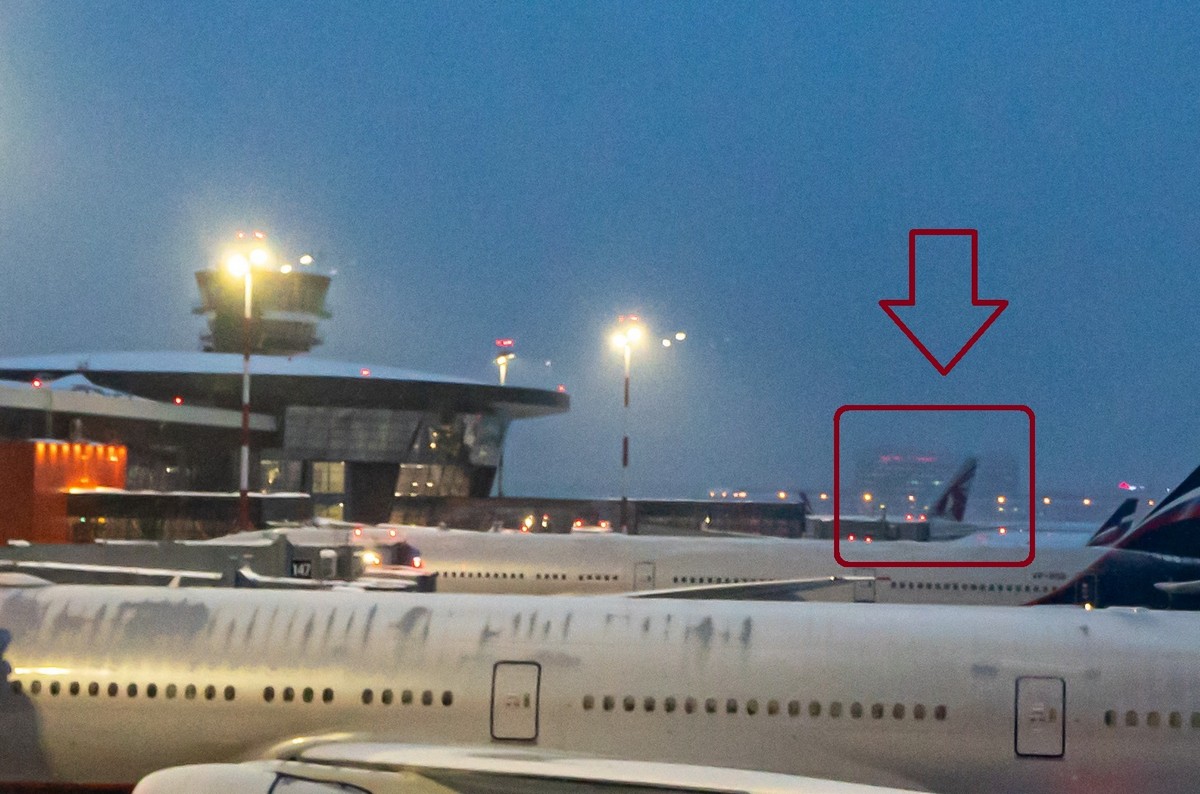 When I started dancing a jig in the aisle I was quickly asked to sit back down by the flight attendant. But why was I jigging? Simple: that there emblem is Qatar Airways'. So what? Well, in the past, its planes would operate only out of Domodedovo Airport to the south of Moscow. But here we were at our 'local' airport – the hub that goes by the name of Sheremetyevo, which is just a short drive from the office. Domodedovo takes an hour or two longer to get to. Qatar has, clearly, started flying out of SVO too. Hurray. Jig!
So where were we headed this time? Check out the following pic for clues ->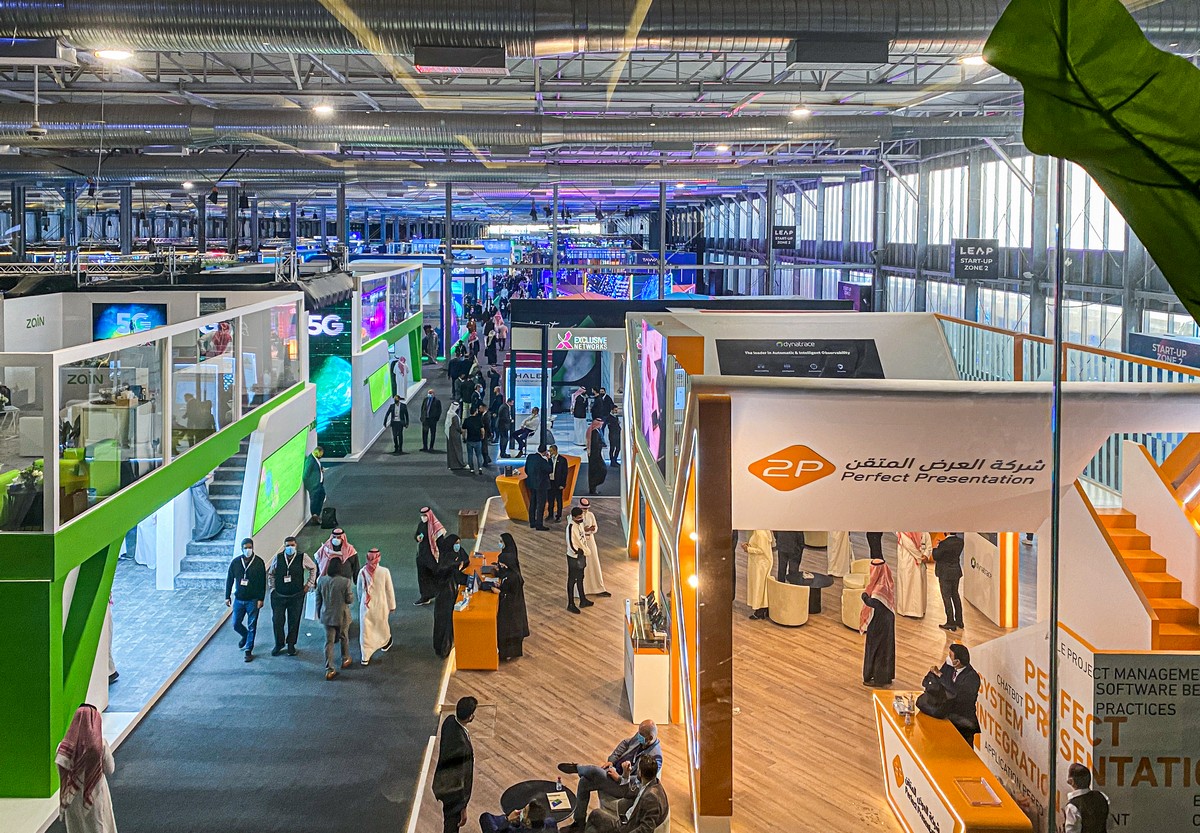 Back on the runway in Moscow – still icy, snowy scenes ->
Inside the new Sheremetyevo Terminal C – things looking similar to airports in other countries: hardly a soul about ->
This seemed a bit strange to me. After all, I'd recently read how SVO is now the #2 airport in Europe based on passenger traffic volume (with DME close behind – at #5). So, like, where is everyone then?!
The only other city with two airports in the top-10 is Istanbul – taking the top position and also the ninth. Which got me thinking… Which city's combined airports' traffic comes out on top? Let's see…
SVO + DME = 56 million
IST + SAW = 62 million
But Moscow has a large, busy third airport too – Vnukovo. I wonder how many passengers it can add to Moscow's total?…
I looked it up, and found that figure to be ~18 million (which is 75% of the 2019 (i.e., pre-covid) volume).
We'll not include Moscow's fourth airport – Zhukovsky International Airport – since its volumes are so relatively low (half a million last year; 1.6 million in 2019) that they make no difference.
So, now we get:
SVO + DME + VKO = 74 million
IST + SAW = 62 million
In 2019 these were the numbers:
SVO + DME + VKO + ZIA = 50 + 28 + 24 + 1.6 = 103.6 million
IST + SAW + ISL (Istanbul's old airport, which operated until April 2019) = 52 + 35 + 15 = 102 million
Meanwhile, how did other European hubs do? Ooh – their figures are way down on pre-covid times:
Charles de Gaulle: 26 million
Schiphol: 25.5 million
Frankfurt: 24.8 million
Madrid: 24.1 million
Antalya: 21.3 million
Heathrow: 19.4 million
Yes, these are dismal stats, but things are improving. Compared to 2020 figures these are not bad at all, and things can only get better, surely. So here's to everyone getting vaxxed and boosted, continuing to be mindful of their and others' health, and getting back into flying here, there and everywhere!…
And that's all for today folks. We're getting anti-freezed as I write this; time to fly away – to…?!