Thames Path – Leg 6: Hampton Court to Staines Bridge.
After the other day's recap of the five legs of the Thames Path already walked, herewith, leg 6. And as luck would have it – no rain! In fact the sun was shining, lighting up the fall reds and yellows just nice – not forgetting the sky's blue: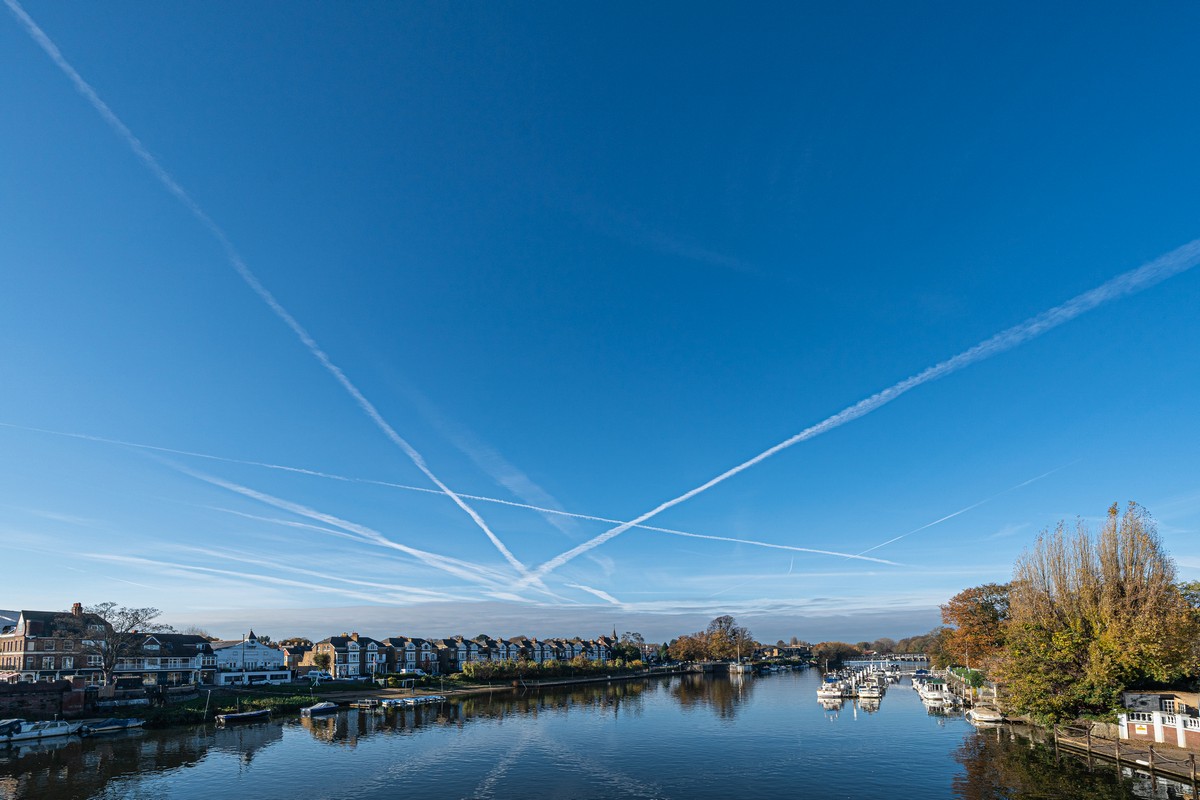 'Thames Path' – that way. Good. Off we pop, along the southern bank of the river, westward, toward its source…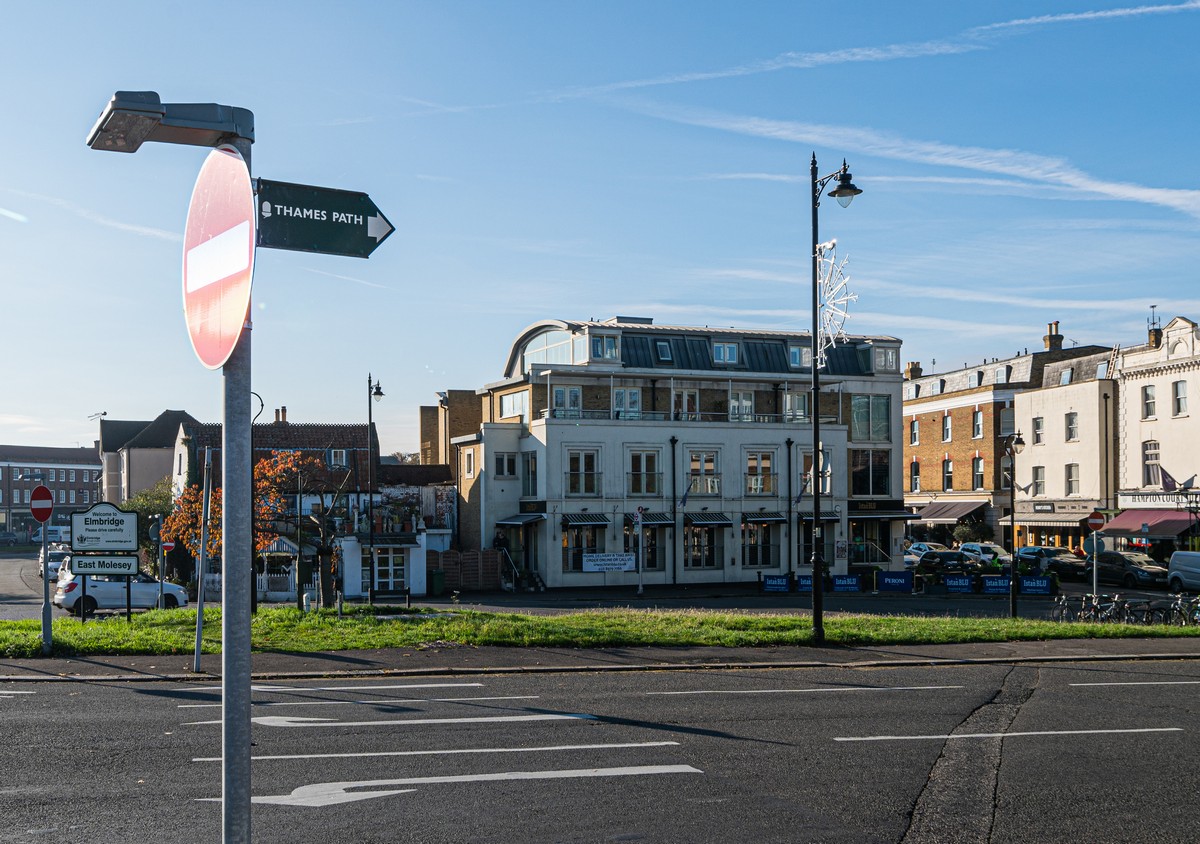 We ended leg 5 drying out in this here pub, so, logically, we set off from outside it: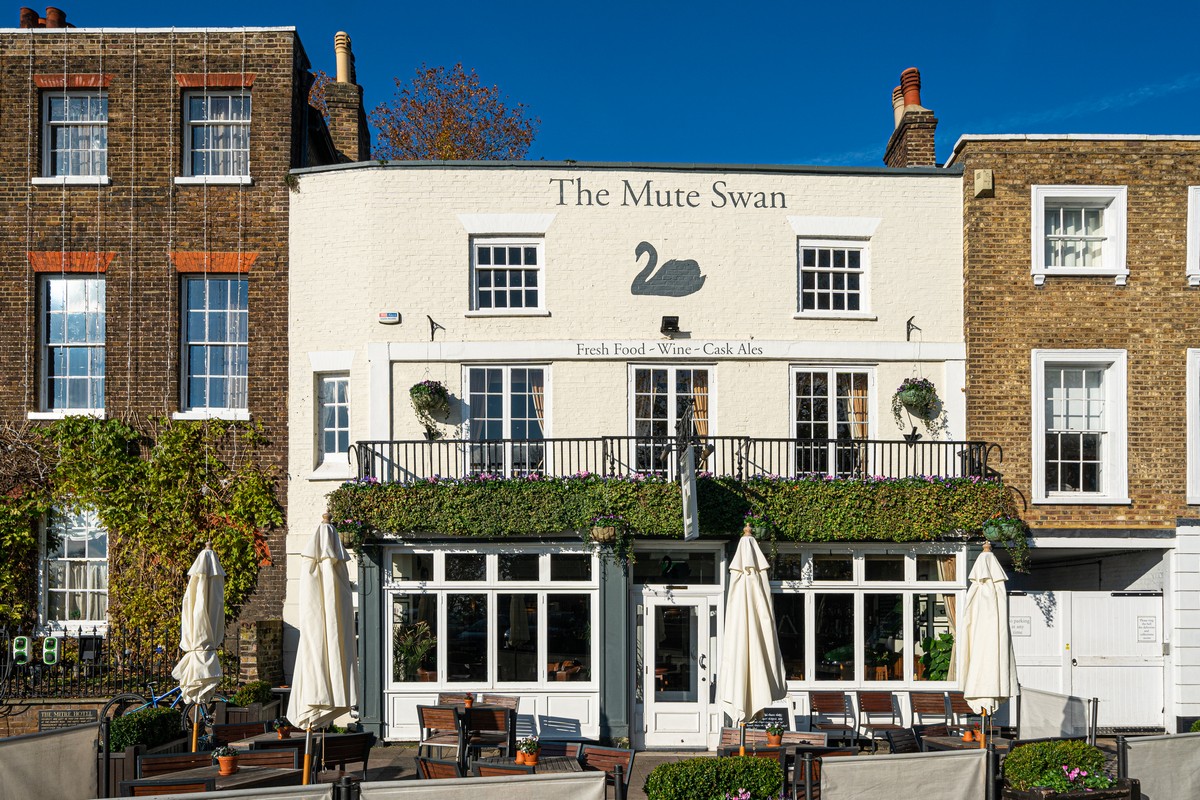 Off we go!…
First sight of interest – narrowboats, which folks live in; yes, as in – their home ) ->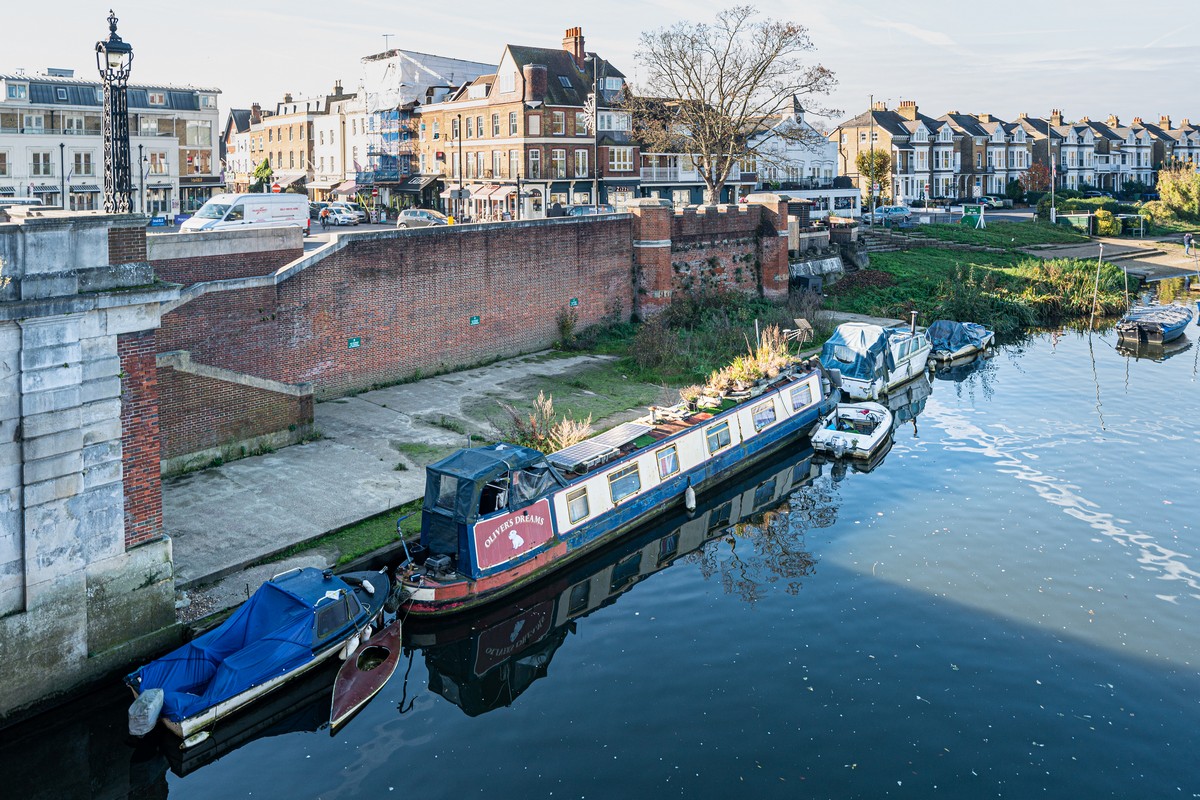 Farewell Hampton Bridge!…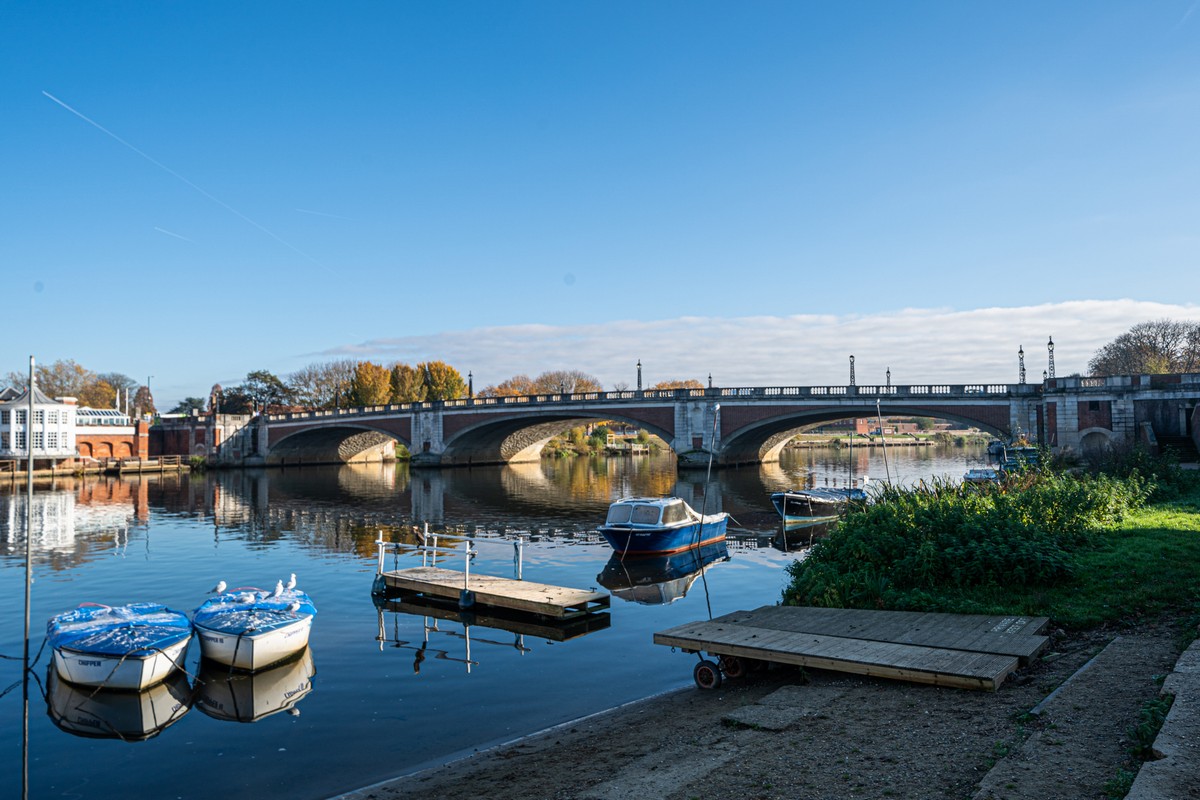 Next – Molesey Lock:
Pastoral, idyllic…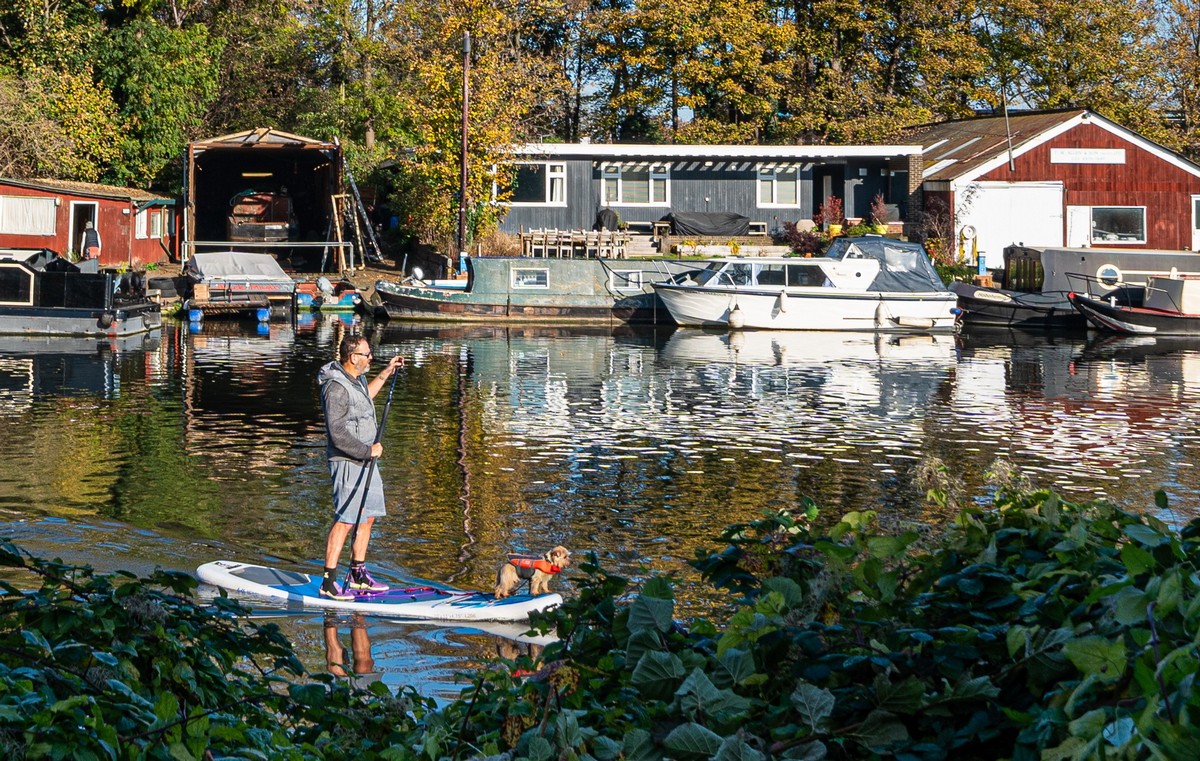 Autumn leaves ->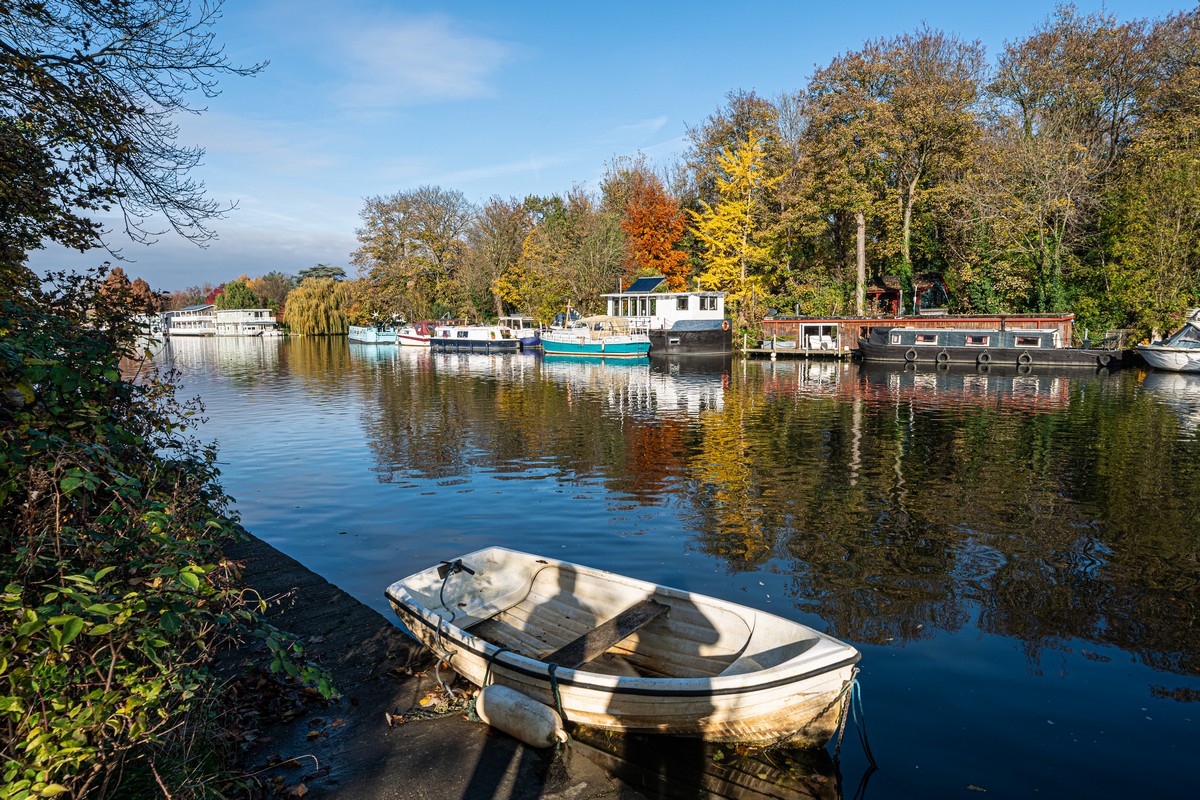 Meanwhile, the Thames Path takes on a narrow, hedge-and-fence-lined aspect: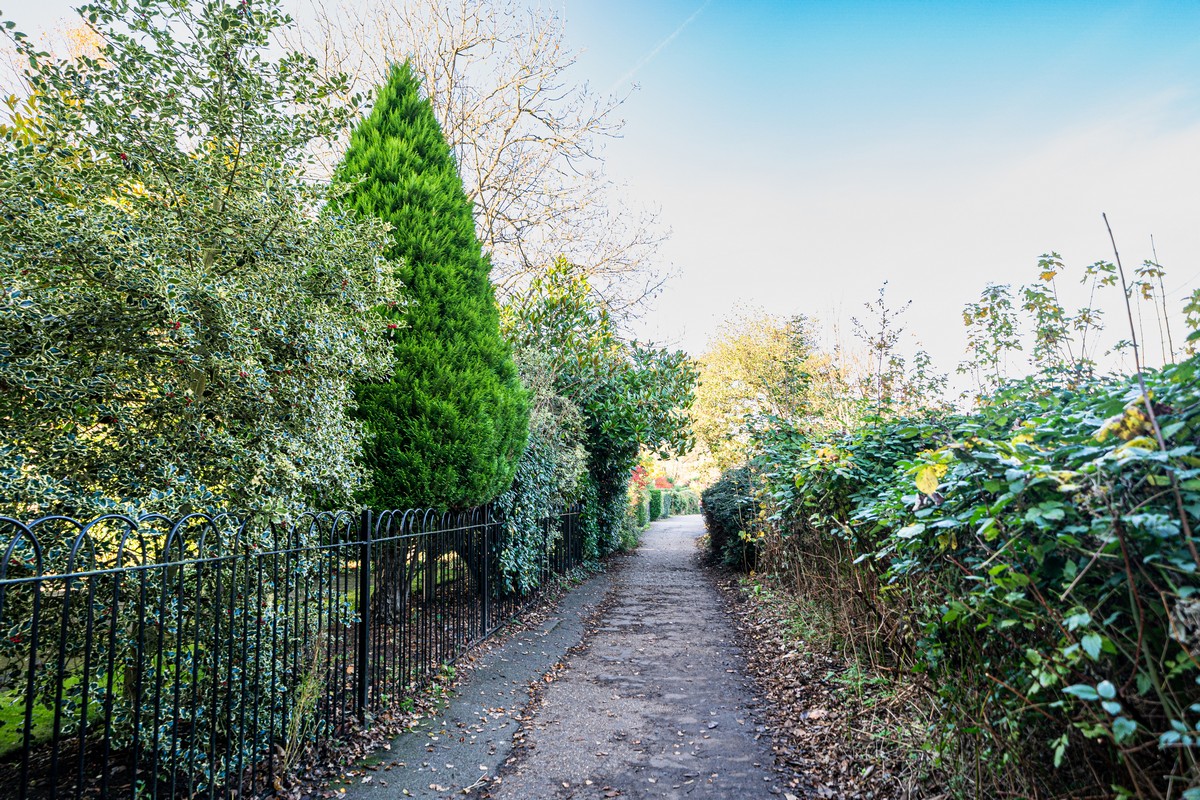 Oh my goodness. A palm tree, in London?! )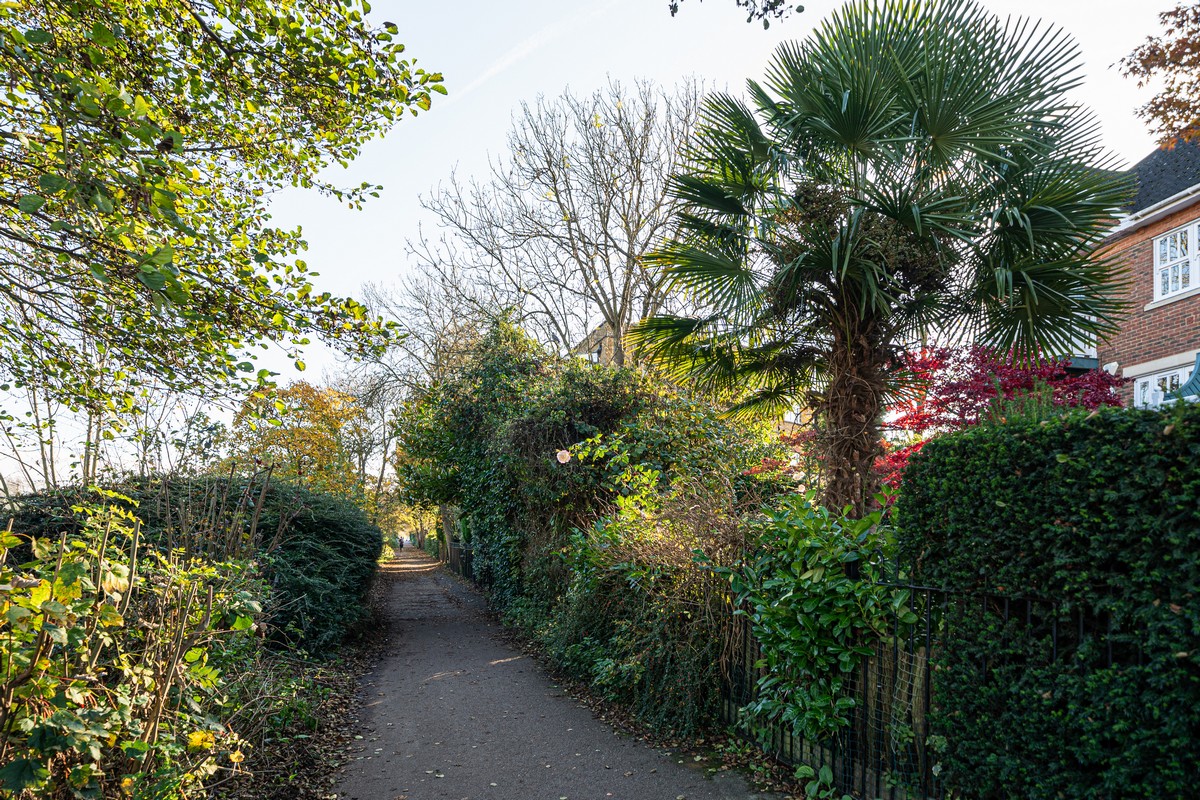 Perfect weather for Pathing…
After a kilometer we get to Hurst Park, and there's nothing but parks and the odd historical building or monument or some such for the next five kilometers – and no roads, so no Uber, if you are intending on walking around this area but just fancied a short stroll and then a taxi…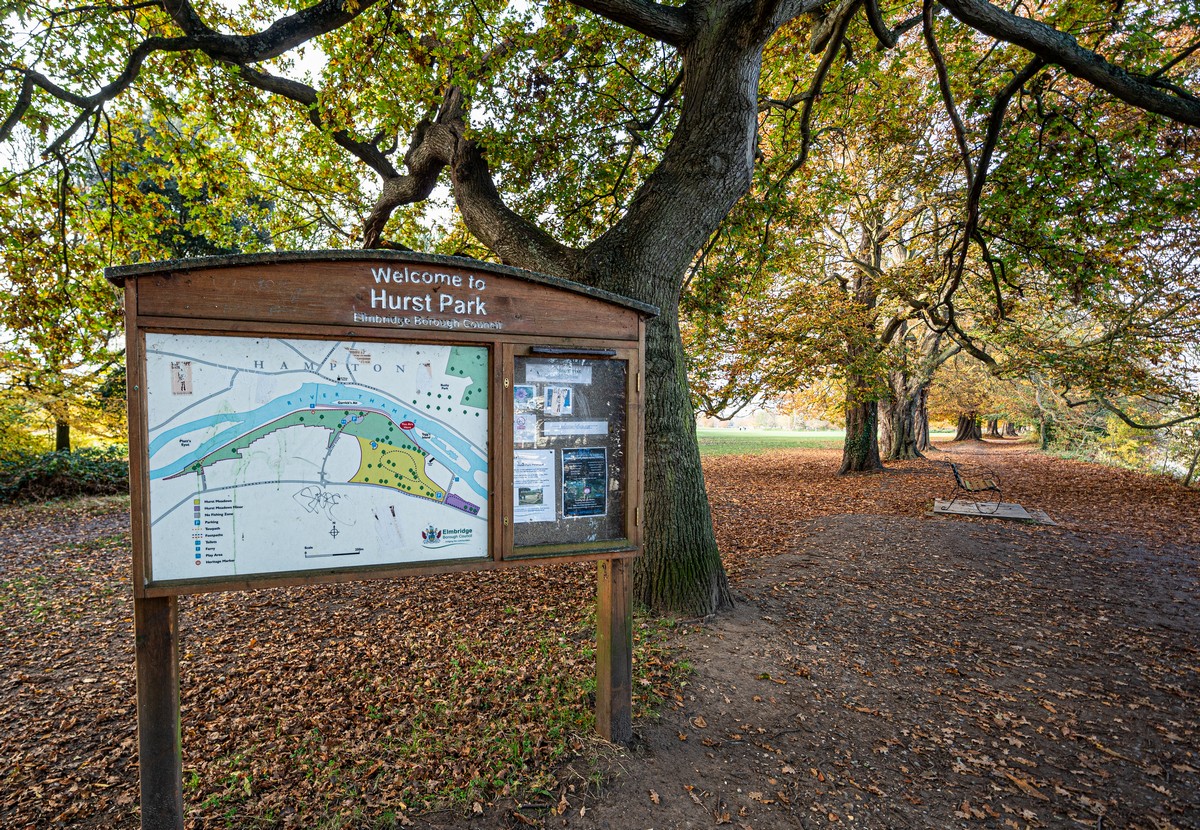 Nice!
The Path becomes wilder, more intriguing, intimate!…
The Thames much narrower, its banks more modest…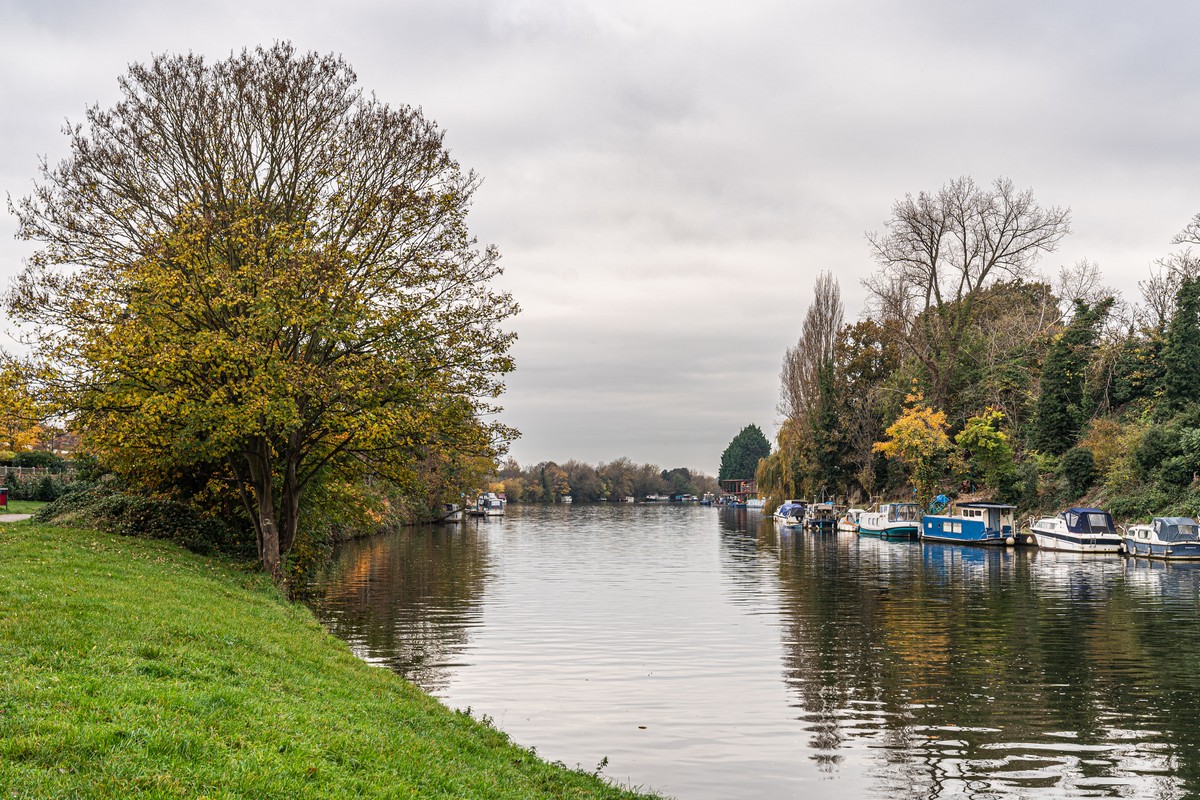 I said 'modest' along the banks; now back to fancy and neatly trimmed!…
See the plane coming in to land over there? It's headed to Heathrow, which we're fast approaching…
Crikey, as they say here. Look at that milestone. Looks… Roman! ->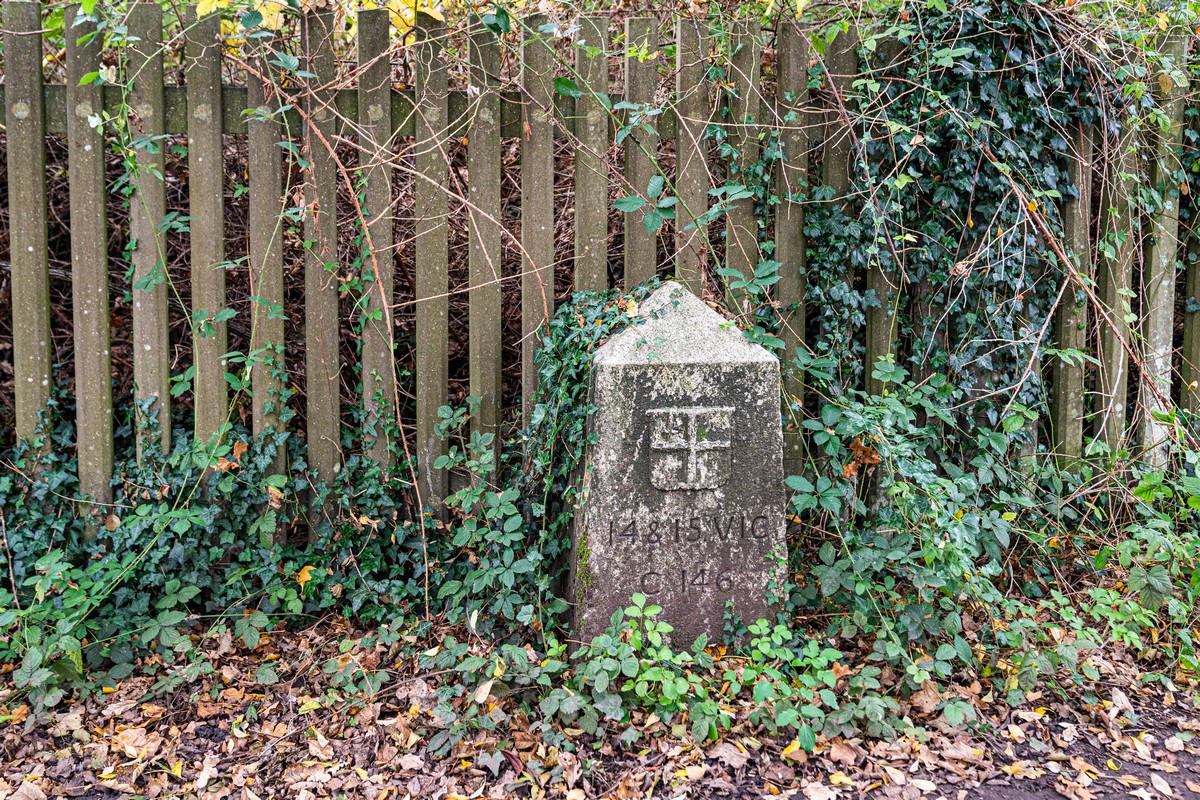 Update, from our Fan Club! ->
'It's a Coal Duty Obelisk – marking the boundary inside which London coal duty was collected. Installed around 1861. The duty on coal was extremely unpopular. In all there were once 280 obelisks like it; today some 200 survive.'
Onward, and more pastoral autumnal scenes, while the weather started to gray a bit…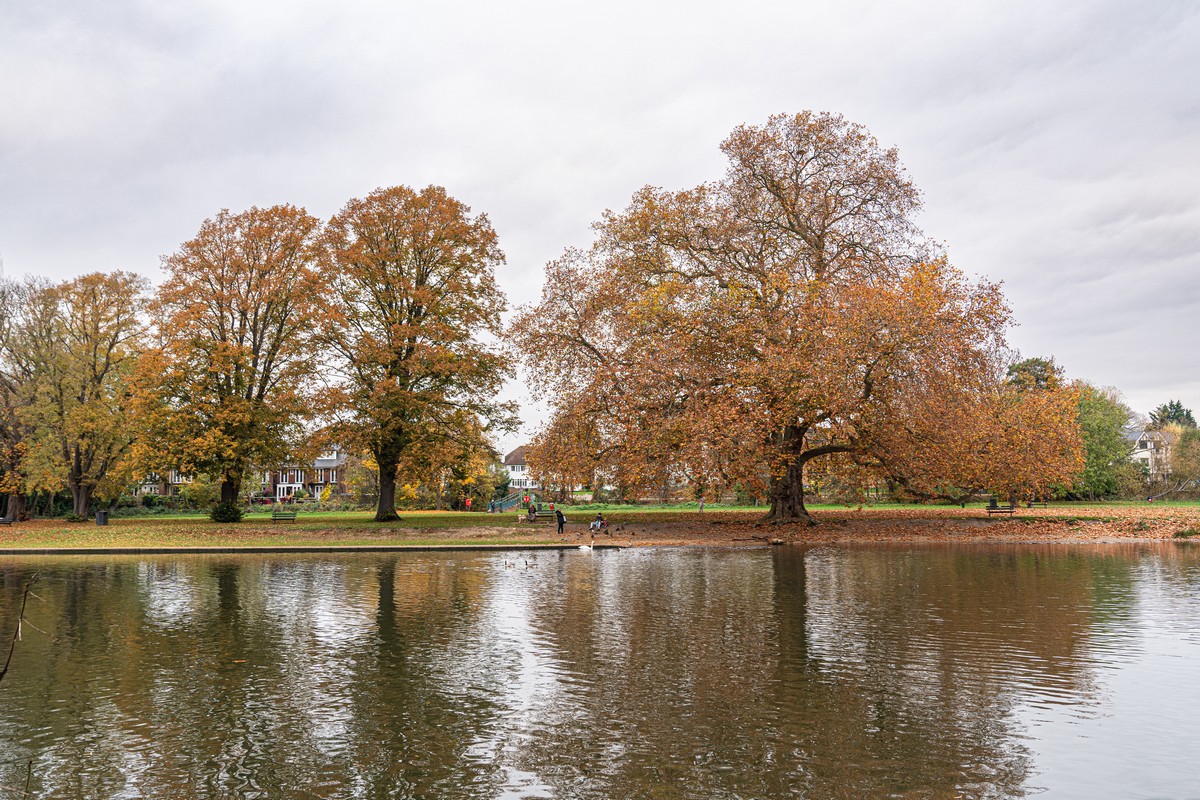 Path crossroads Crosspaths! ->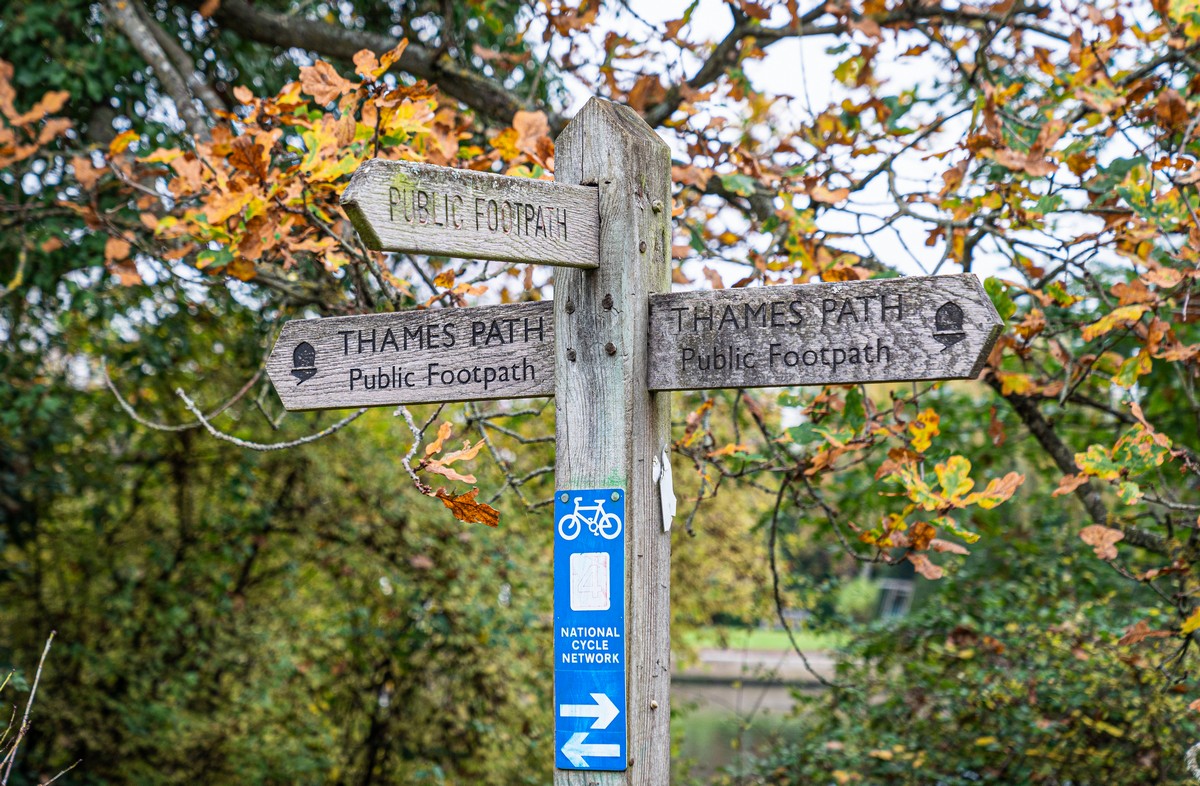 And here's the other path – a lot more low-key: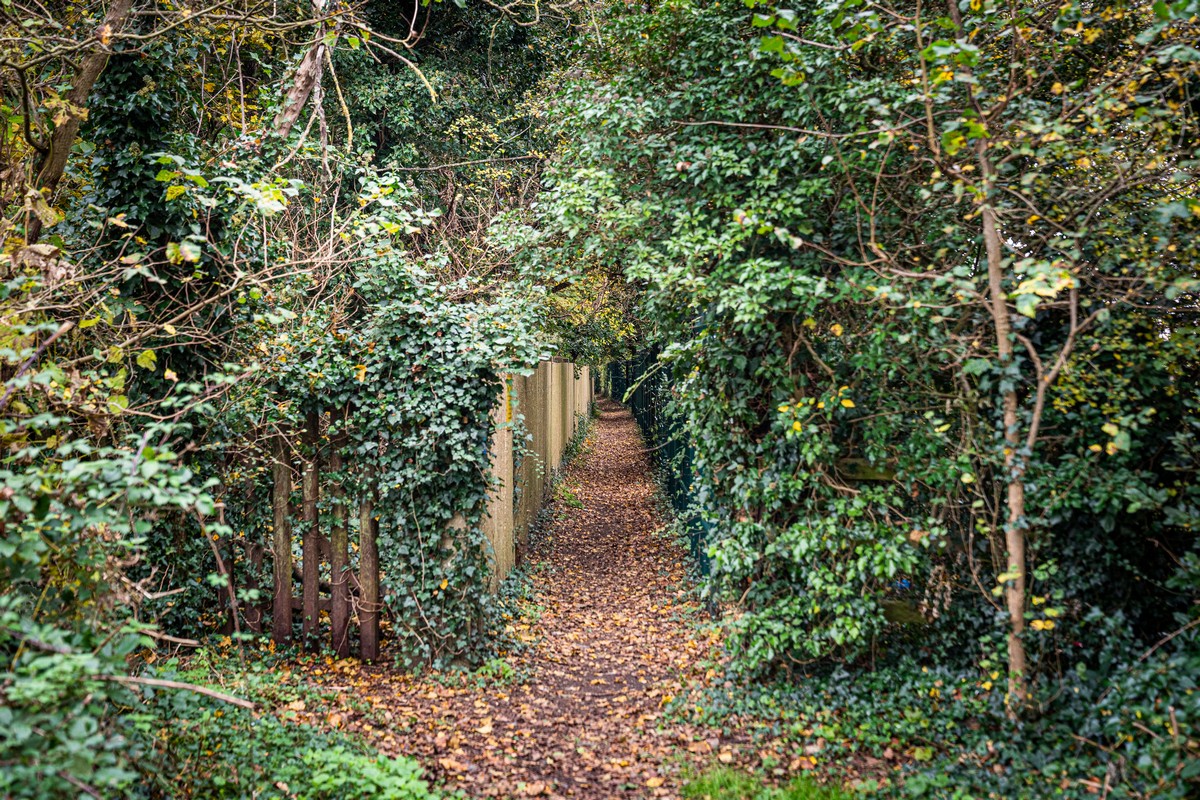 Squirrels!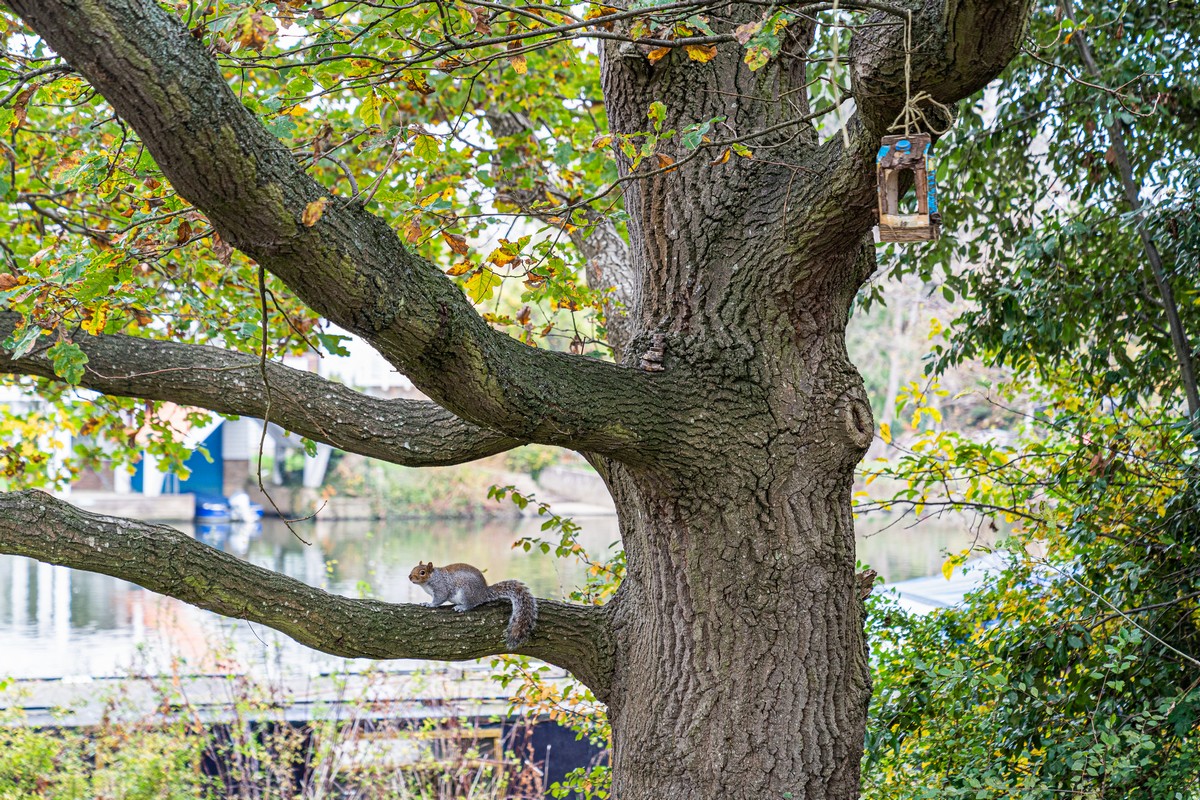 Ferry just ahead. We'd be needing one too, but not just yet…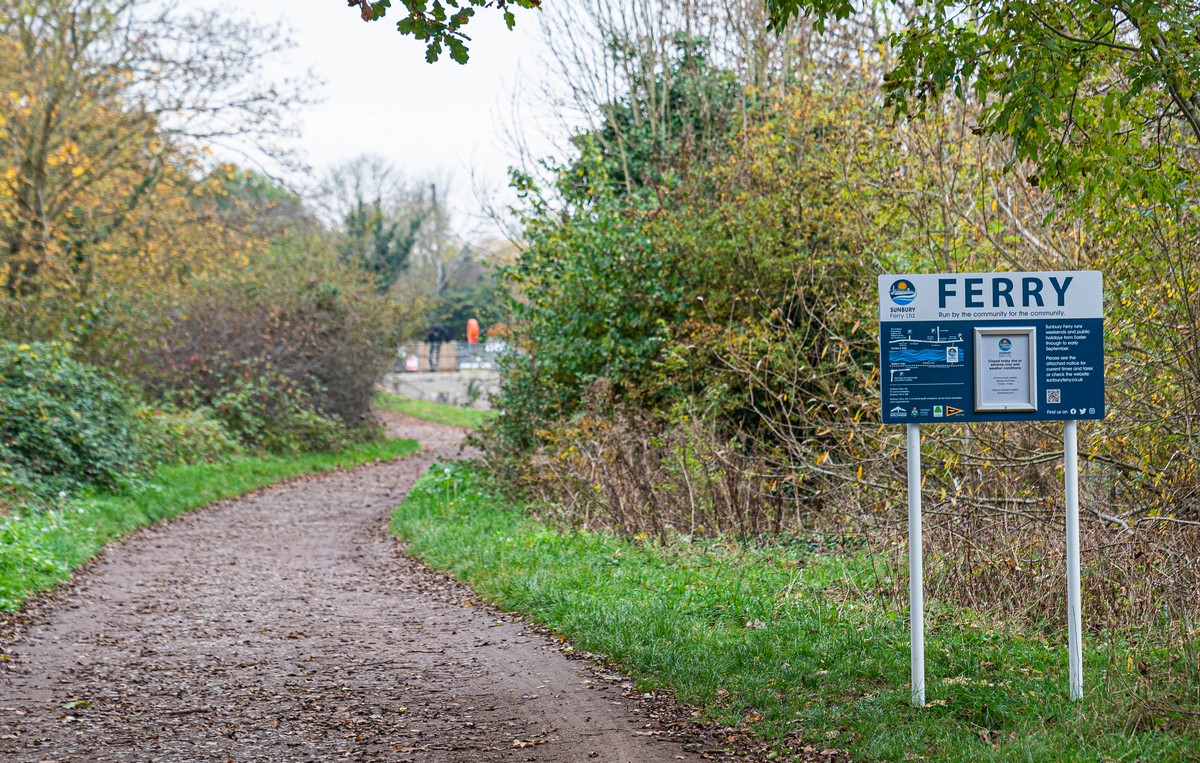 After five kilometers of walking, Sunbury Lock:
Onward; or onwards, as they say here )…
Friendly swan:
And once again endless pastoral paysages…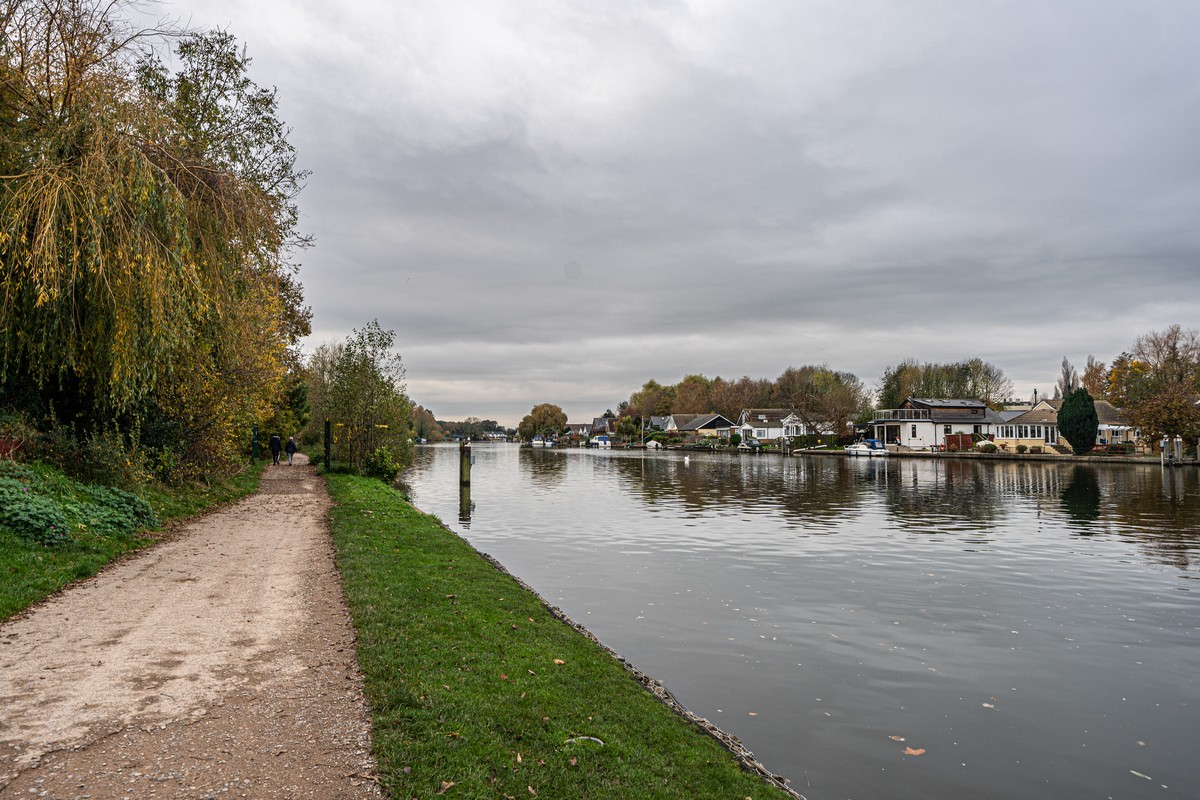 Unkempt old boats + birds doing what they do: not a pleasant mix: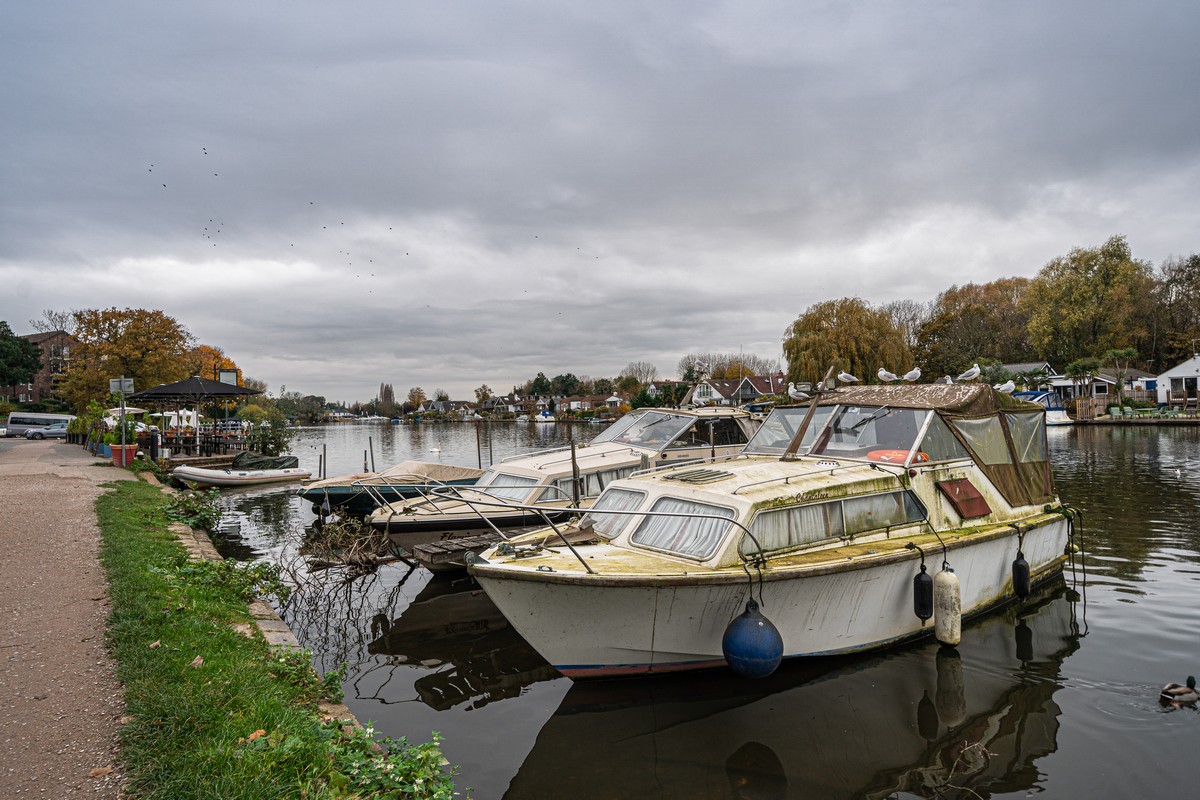 Swan party!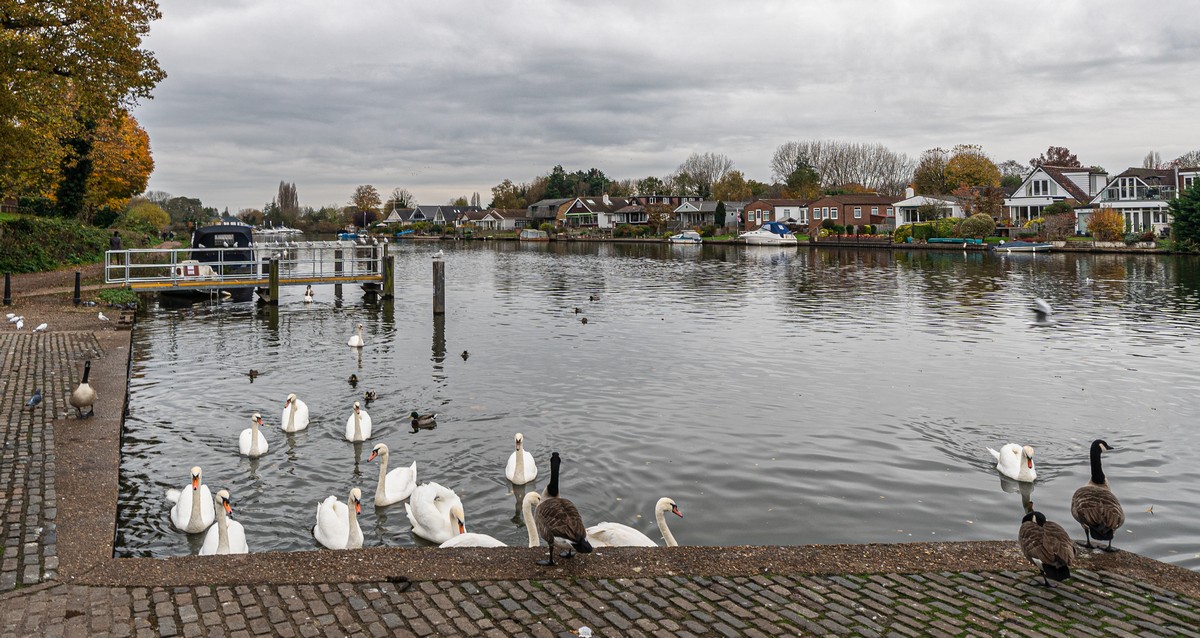 Guard of honor! ->
Walton Bridge, which connects Walton-on-Thames with Shepperton.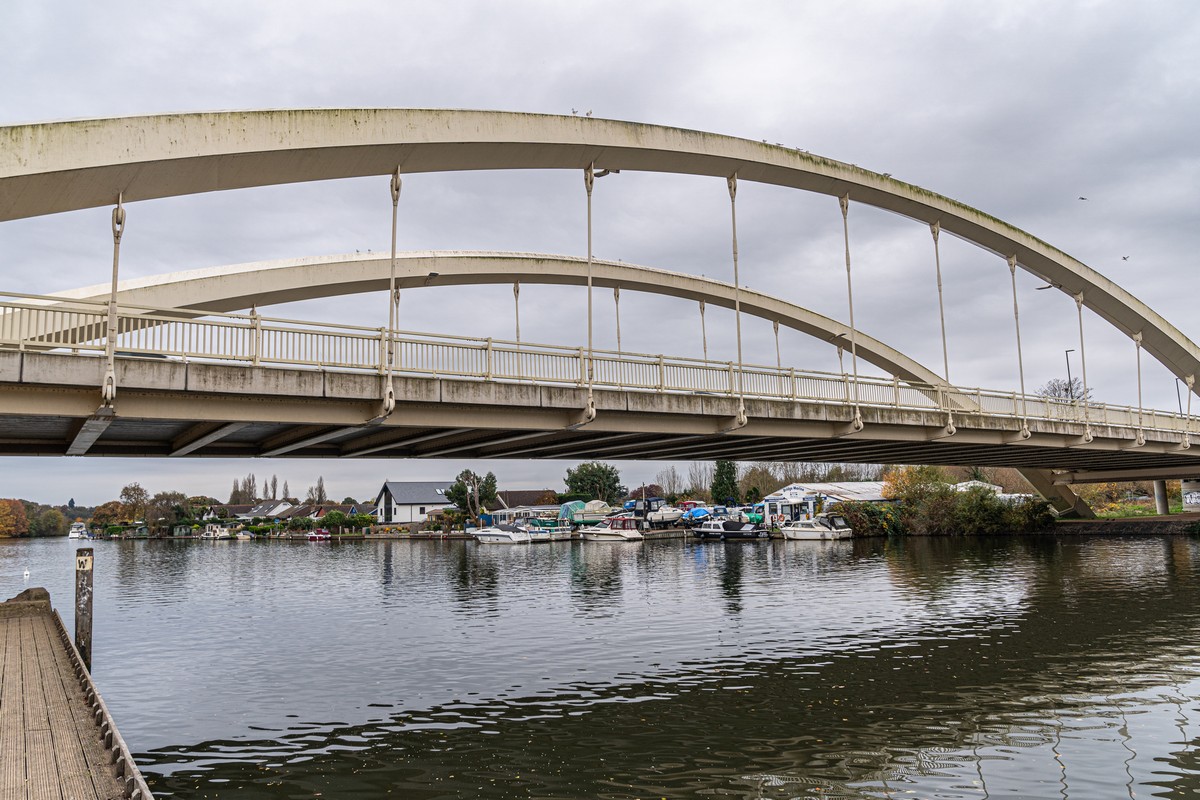 Onward, and the swans and seagulls are joined by geese:
My travel companion, OA, checks the route on his smart phone, just to make sure we don't go astray again ) ->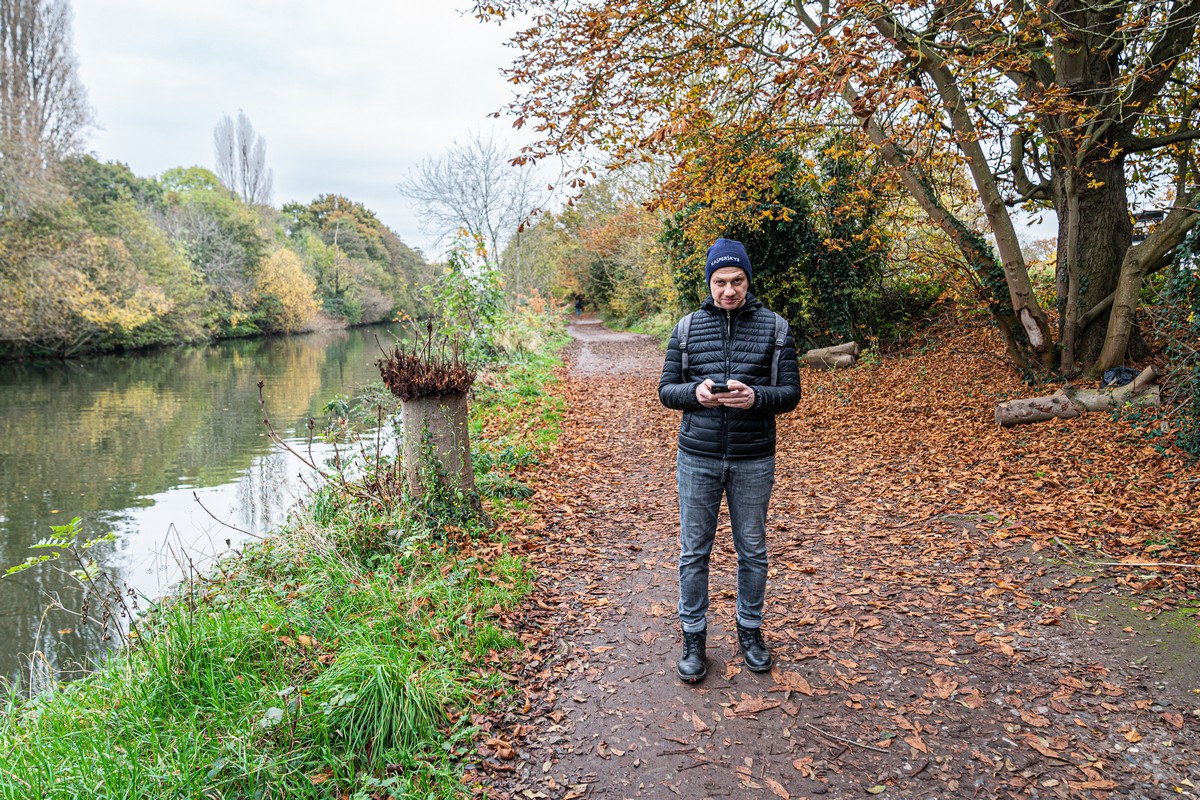 The refrain 'Golden brown, texture like sun' kicked in here in my head for some reason ).
Over there…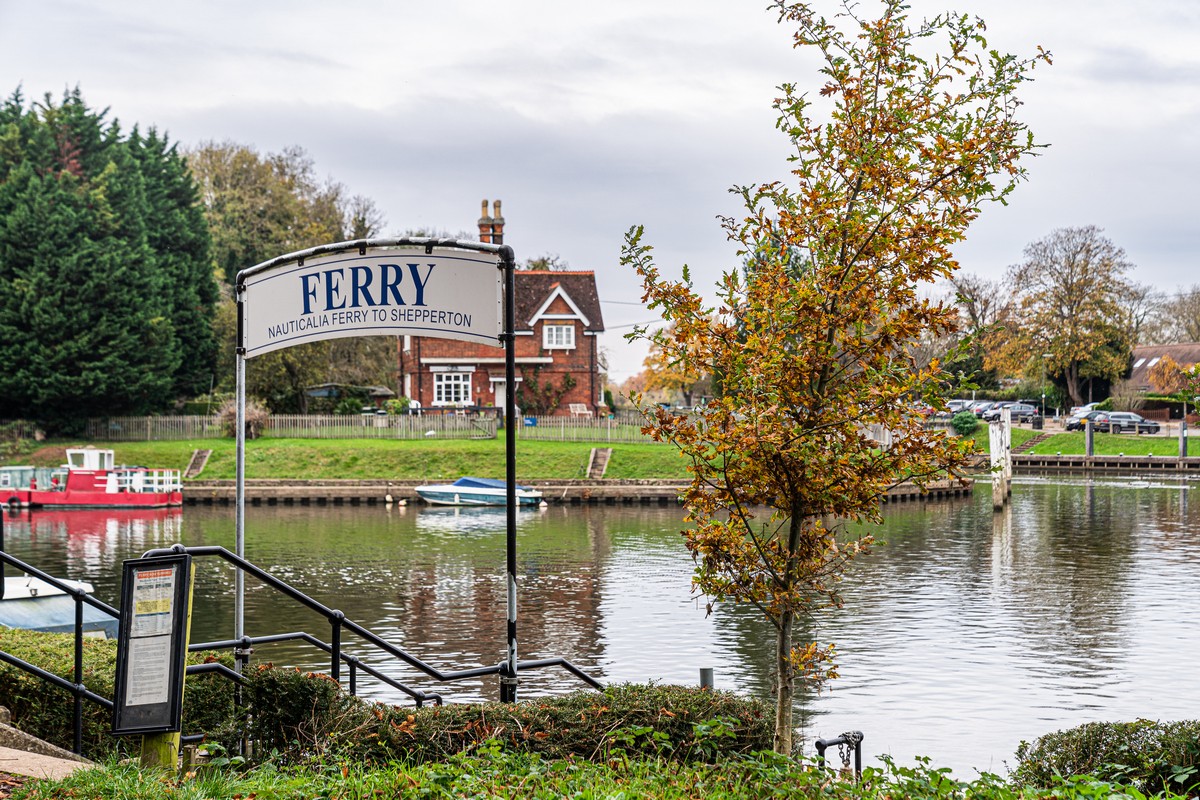 And over here too – the Shepperton – Weybridge Pedestrian Ferry service. Oh my goodness: it's been in operation for 500+ years – since 1514! We wait for the next ferry (they run every 15 minutes), and over we go. At this point, we've covered 10km today.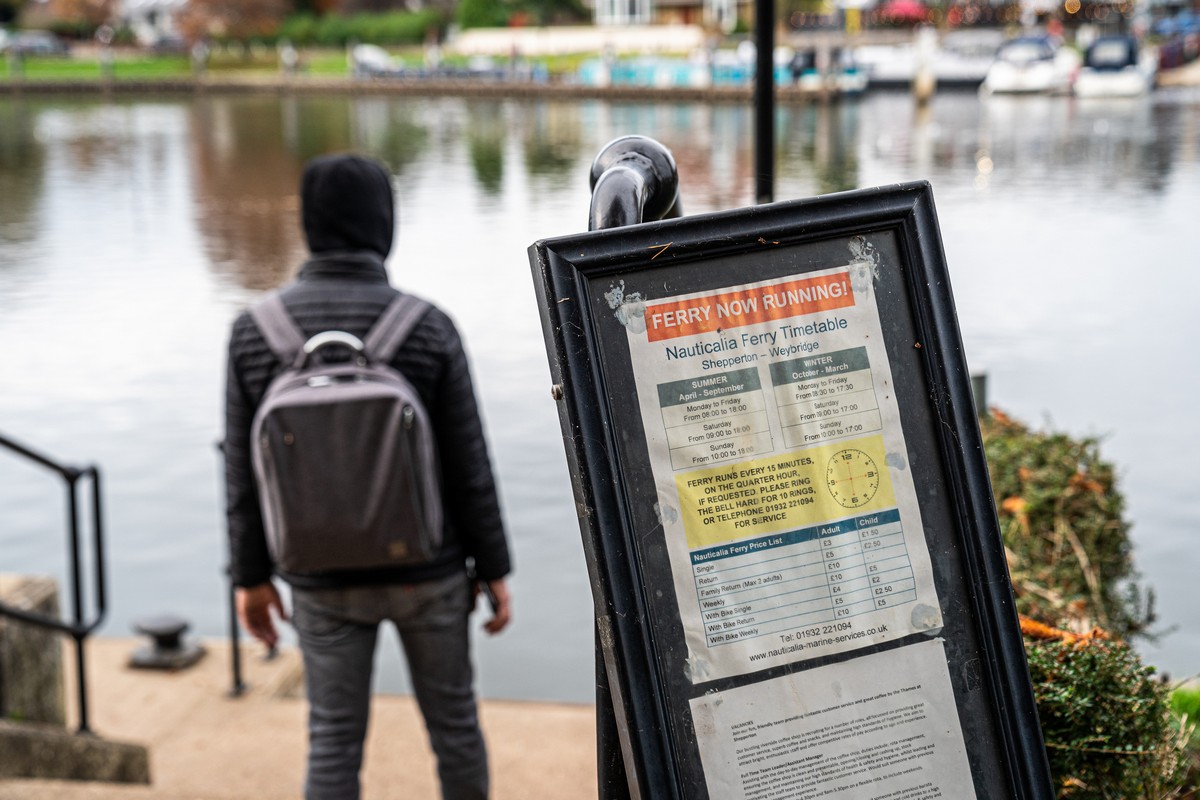 If you're in a hurry and can't wait till the next scheduled ferry, you can ring this here bell – a full 10 times! – and along comes the ferryman to oblige! And no, we didn't pay him till the other side ).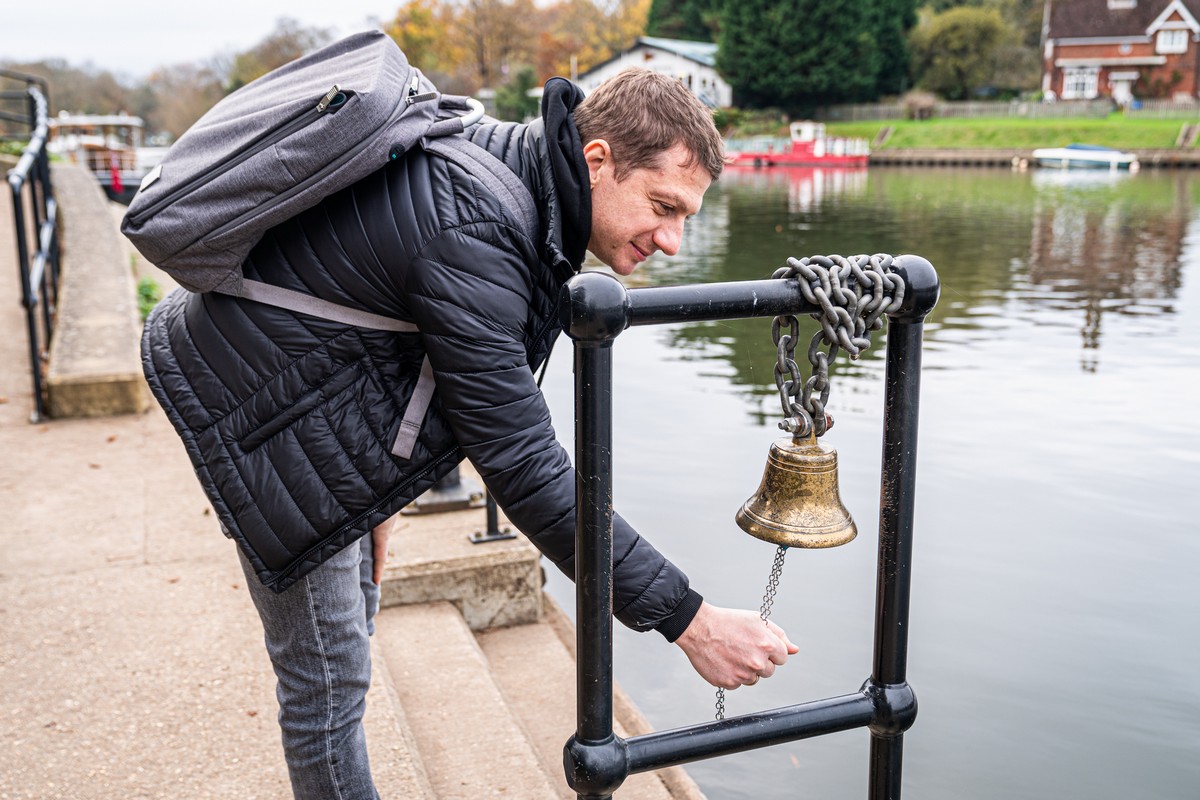 And here comes the ferryman, in answer to our ten dings! –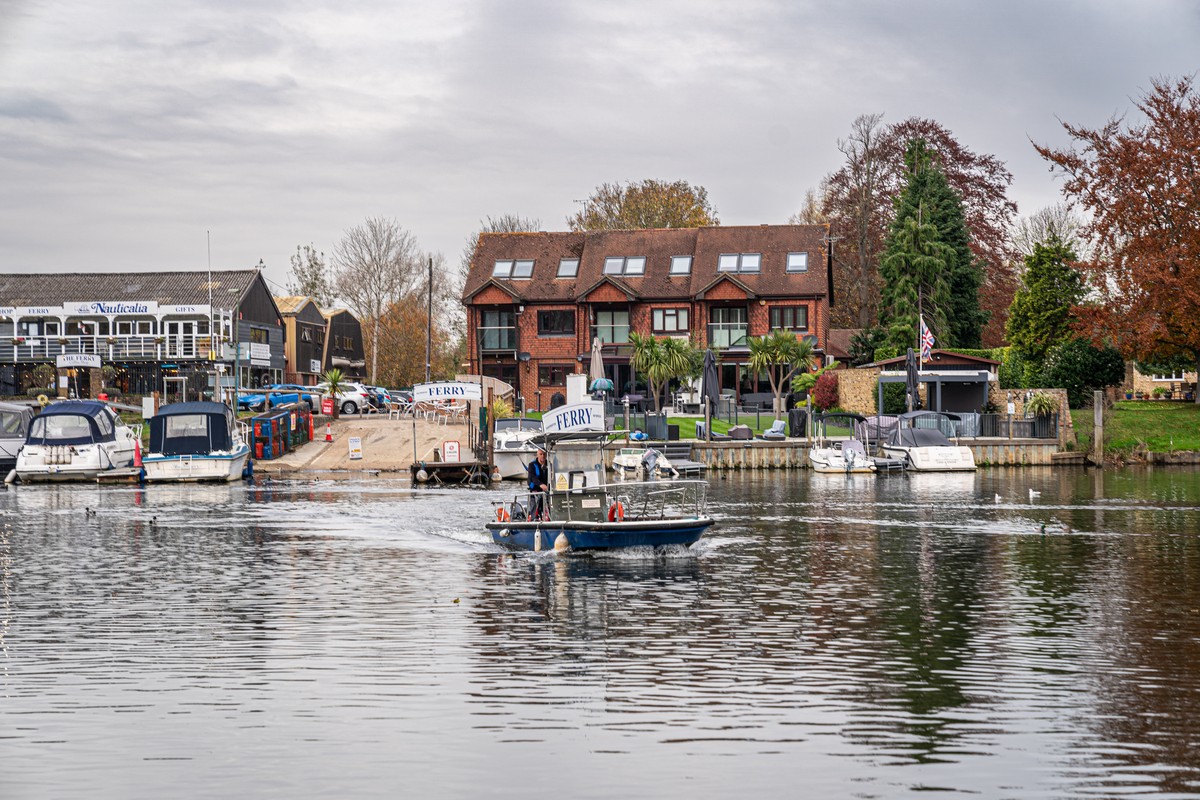 Three pounds sterling per person // but only cash!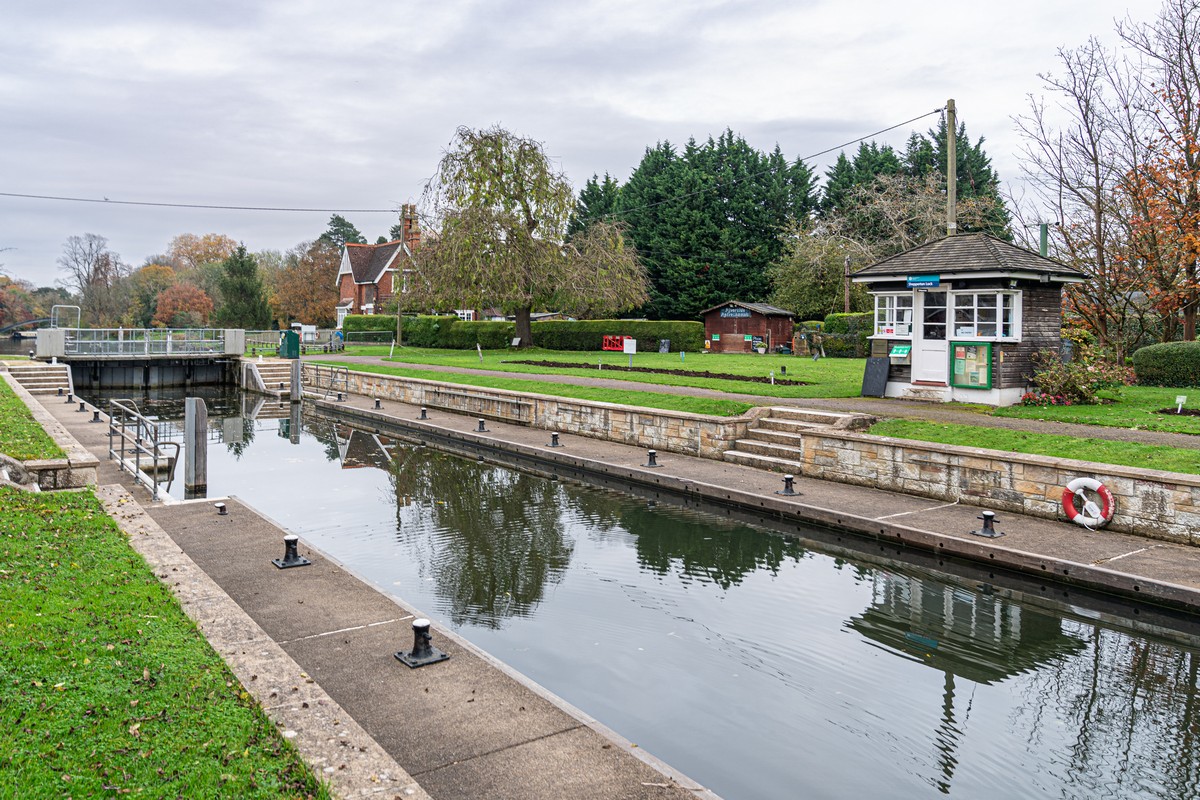 Pleasing to the eye, and easy on the legs too…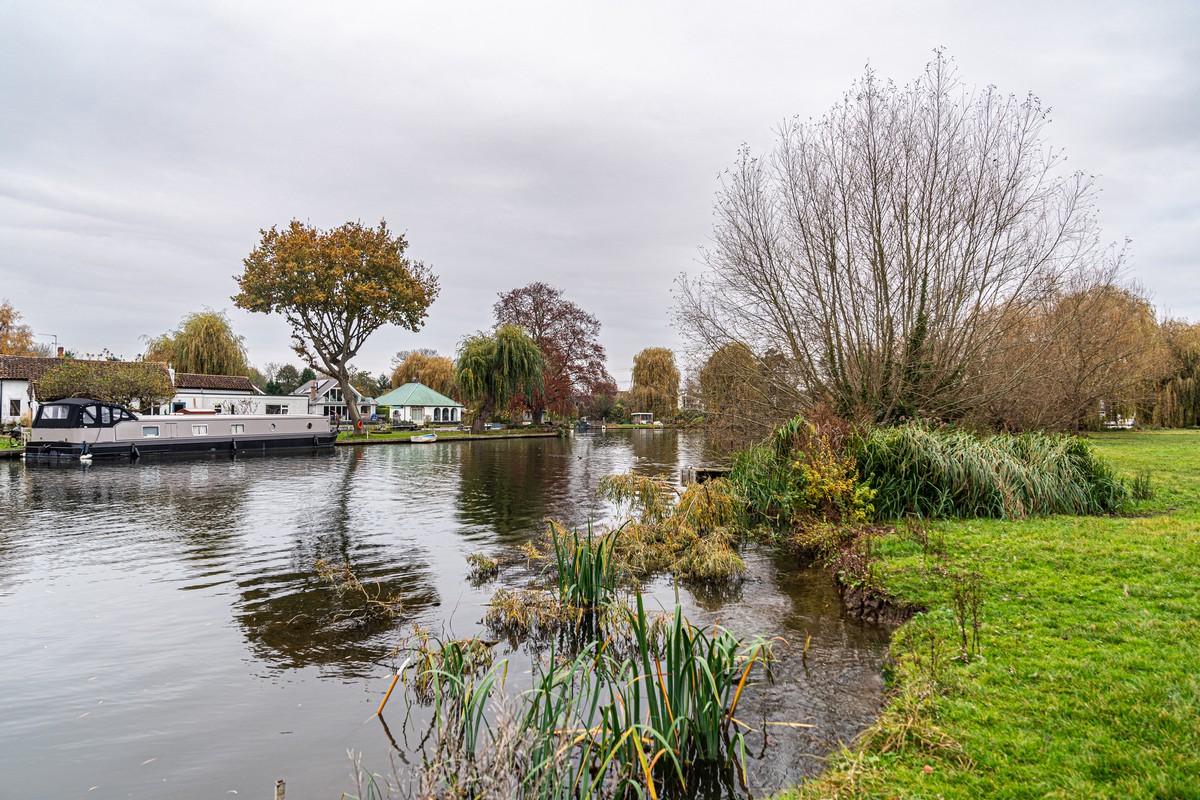 Power lines spoiling the natural aesthetic, grrr:
But they don't spoil it for too long…
Who'd have thought this is the grand River Thames, not far at all from the center of London?…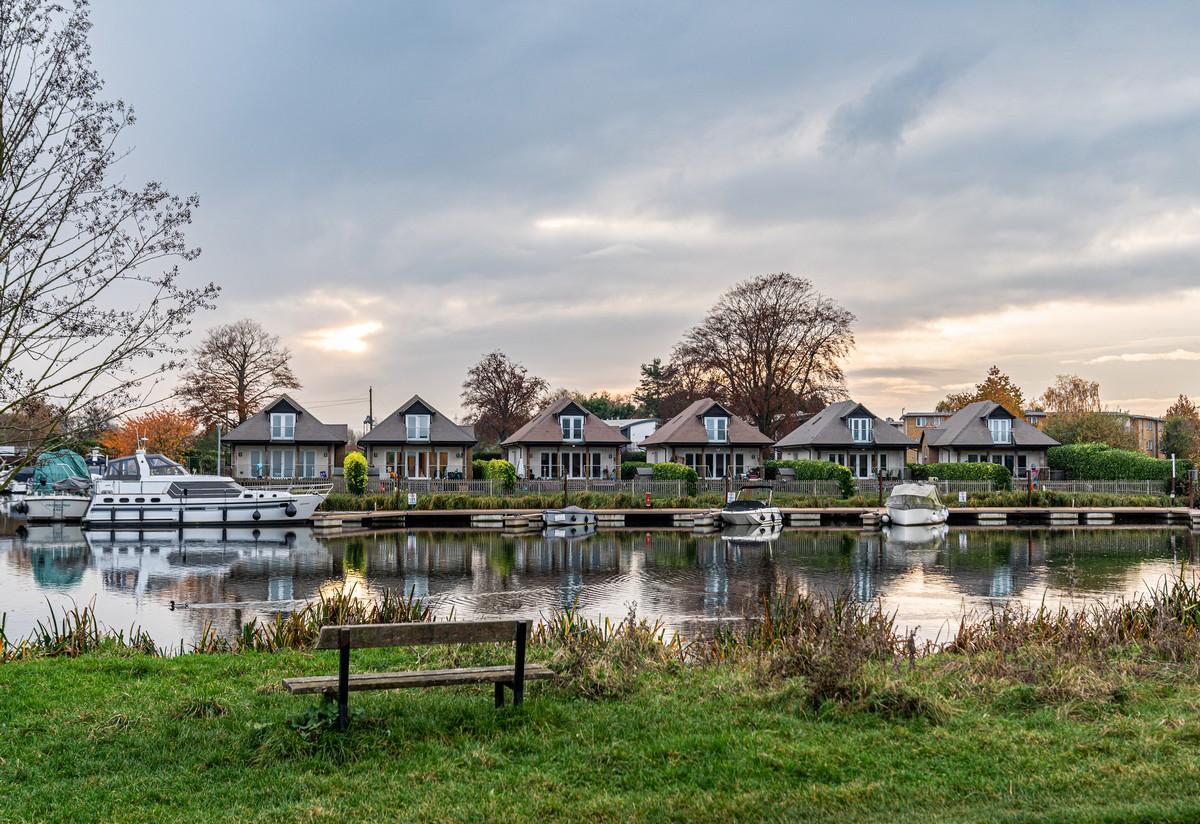 We reach Chertsey Bridge (18th century; replaced the original 16th century structure), shortly followed by Chertsey Lock (19th century).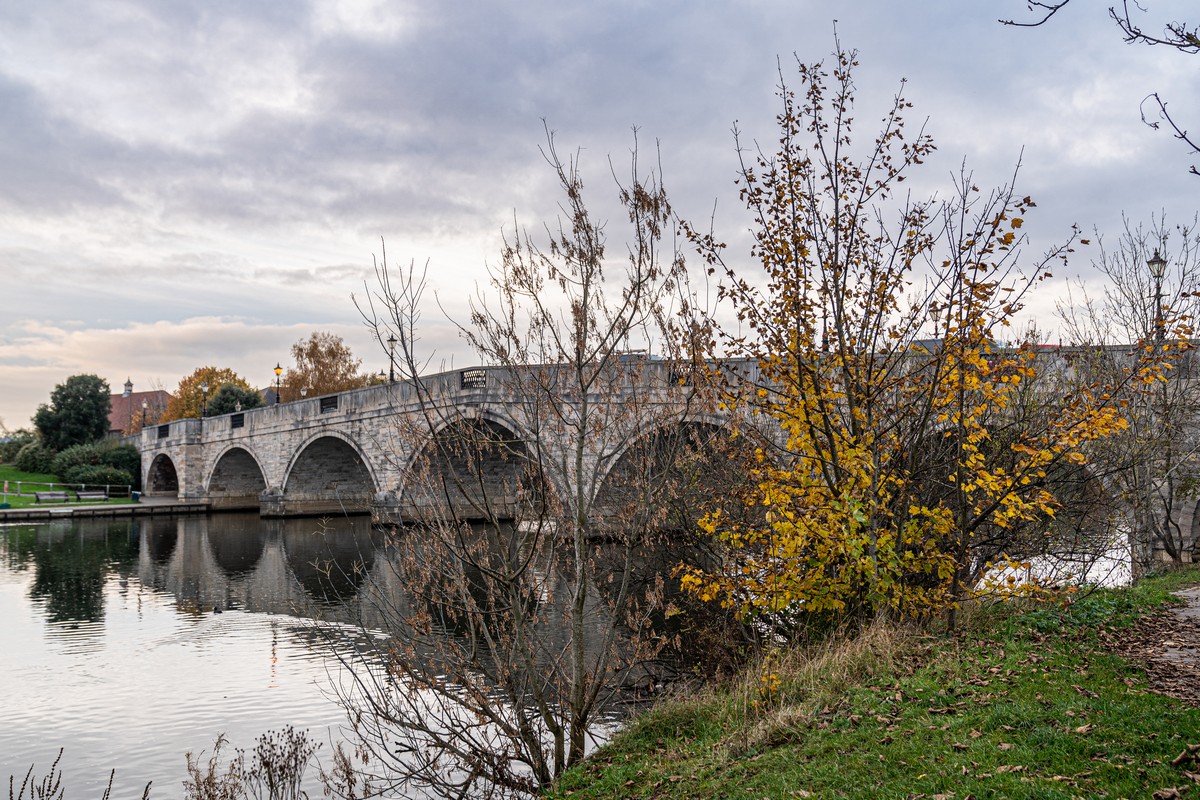 Chertsey Lock:
And here's a modern bridge, with the M3 motorway running over it: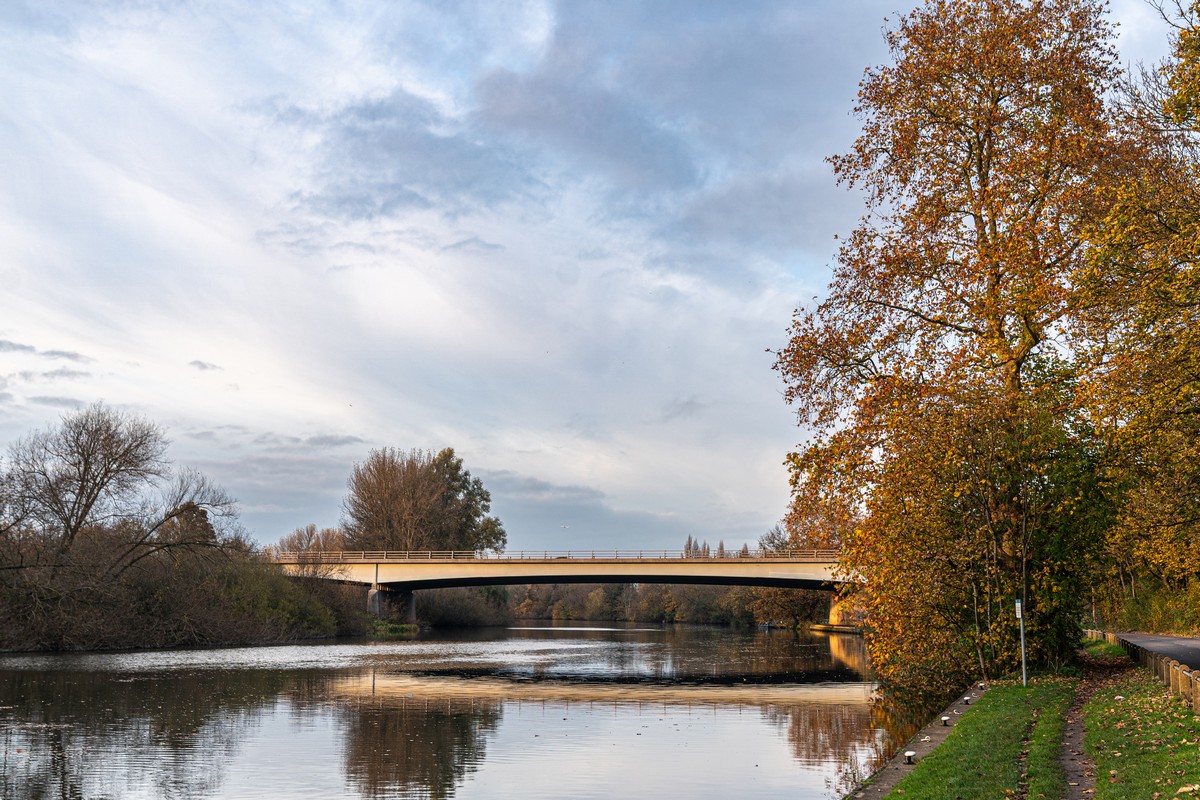 It's around here that a rather unpleasant stretch of my beloved Thames Path begins, which I'd much prefer to have biked along – or hitchhiked (is that still a thing these days?). Two kilometers along a road. Uncomfortable! After so much road-less bliss!…
Still, in places, the Thames comes back in to view – saving us from despondency and despair ).
Finally, the road veers off to the right, while the path carries on straight along the river. Hurray!…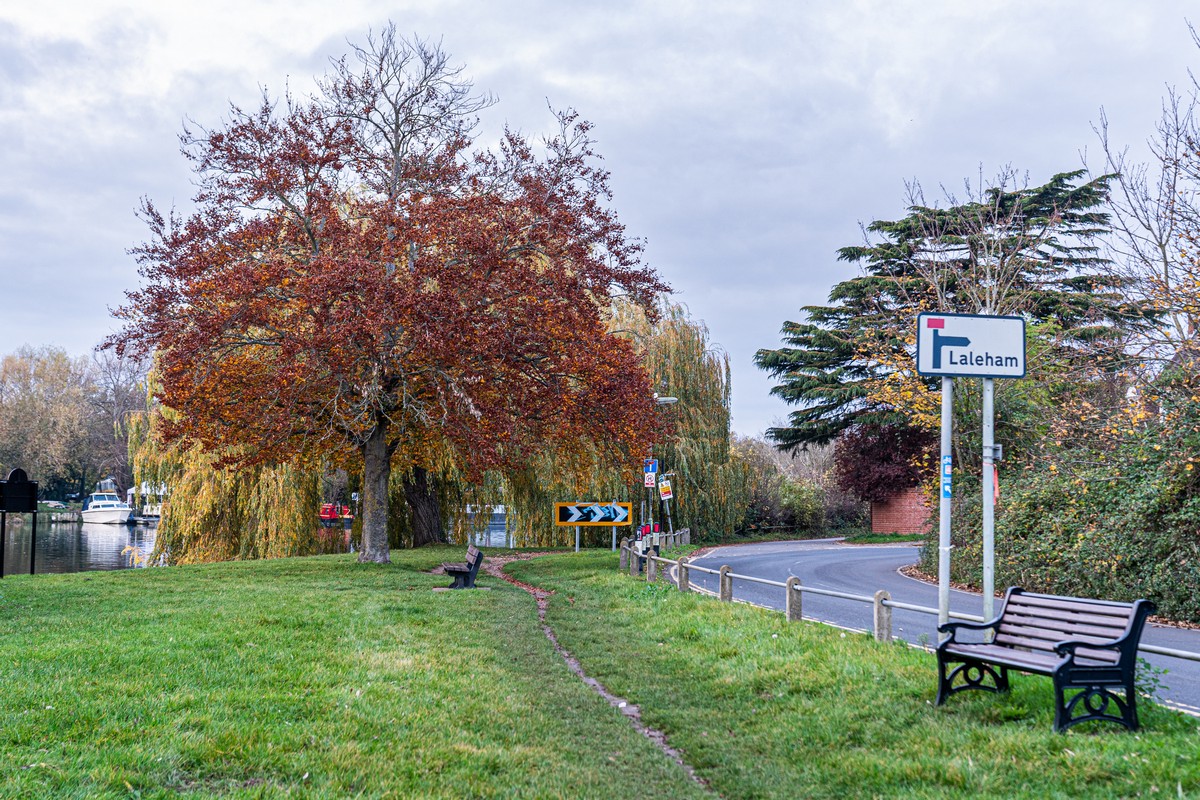 The views continue to please; the lawns – so thoroughly dense and green! ->
Planes flying out of Heathrow…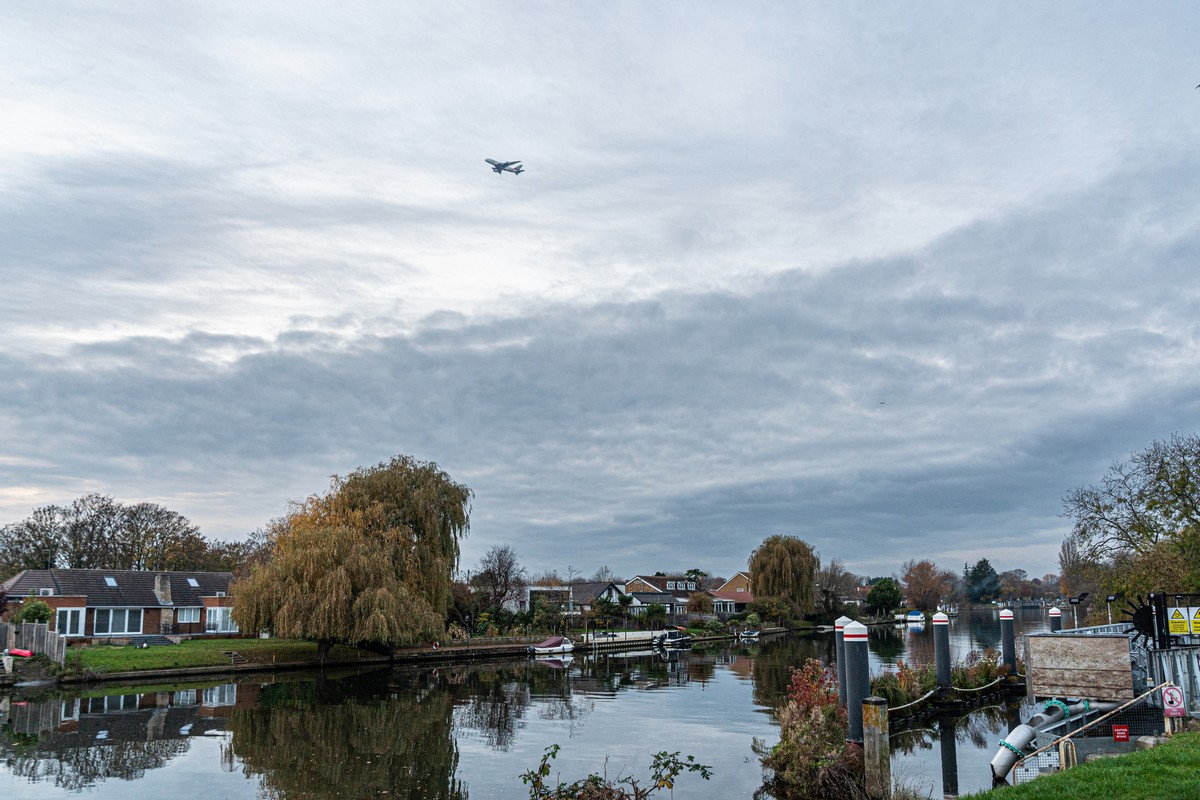 …To Dubai! ->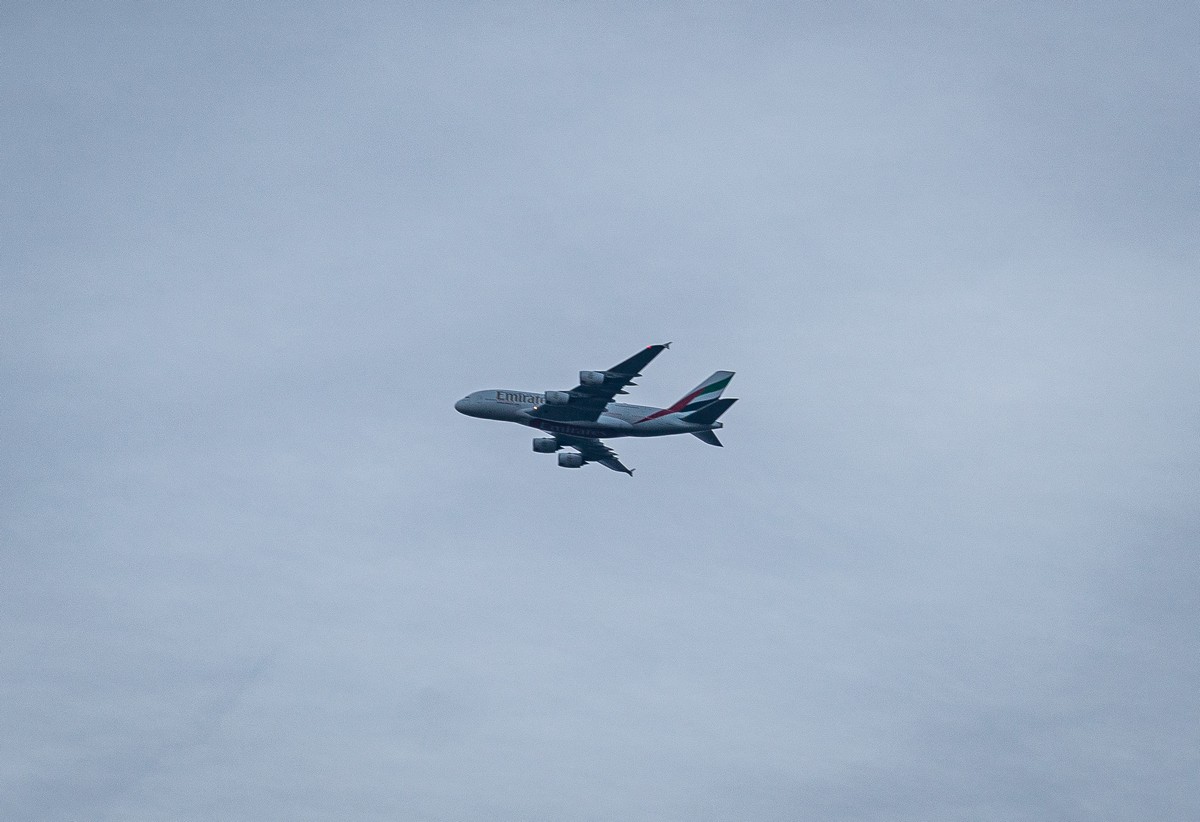 A rarity – a motor boat. For some reason boating isn't too popular on the Thames.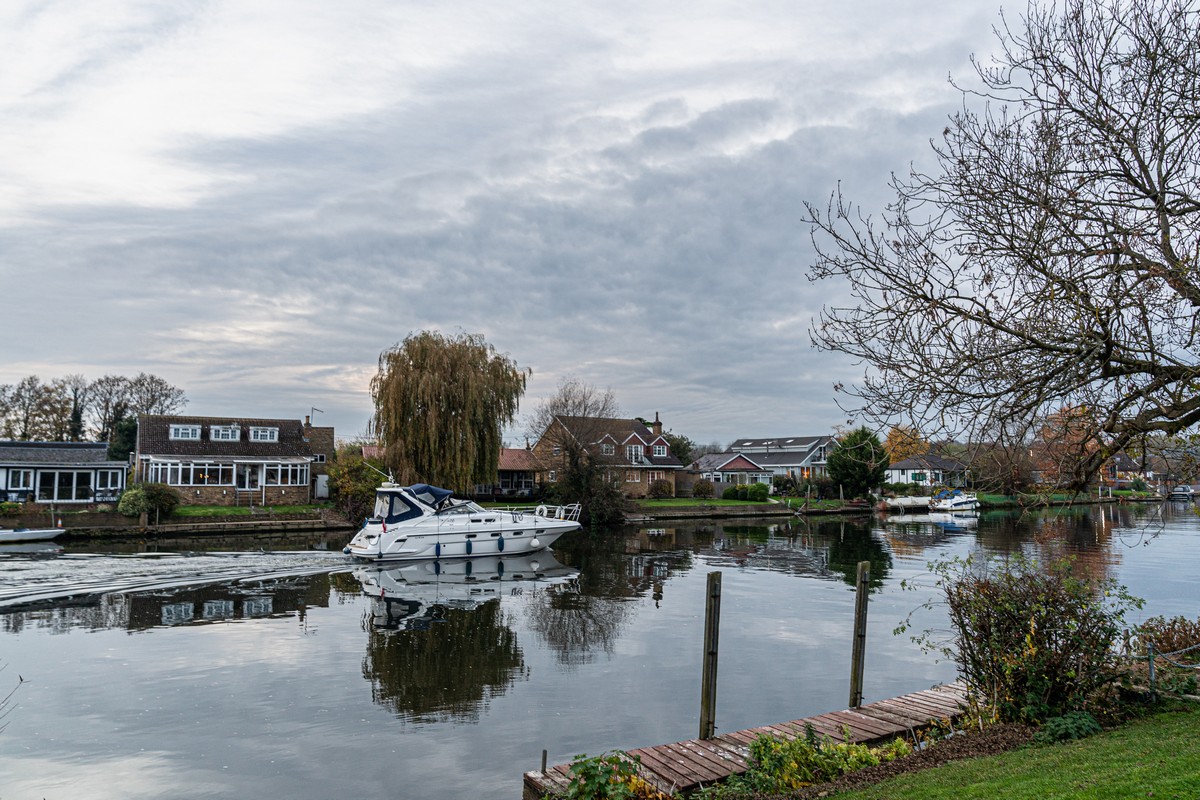 The next lock – Penton Hook Lock. We check our smart devices: we've covered 17km today already…
A mile and a quarter to go!…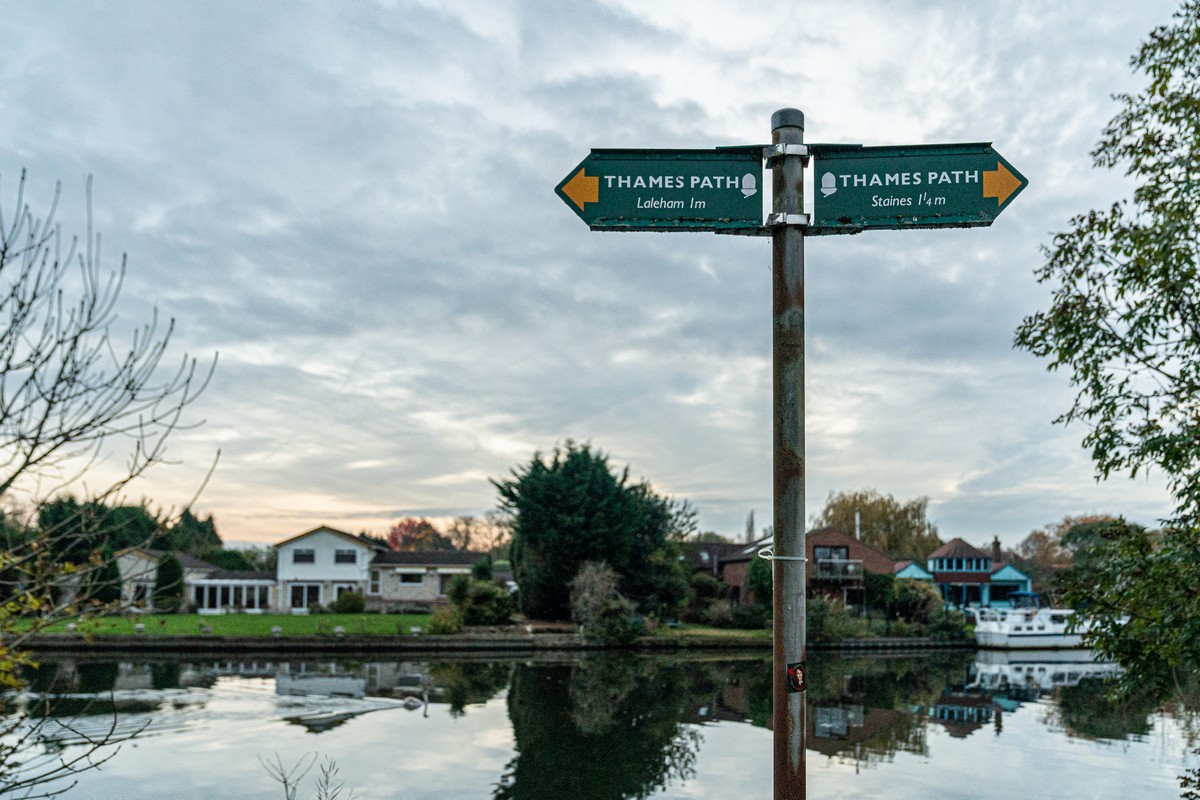 Dusk starts falling, but that doesn't seem to bother the natatorials here: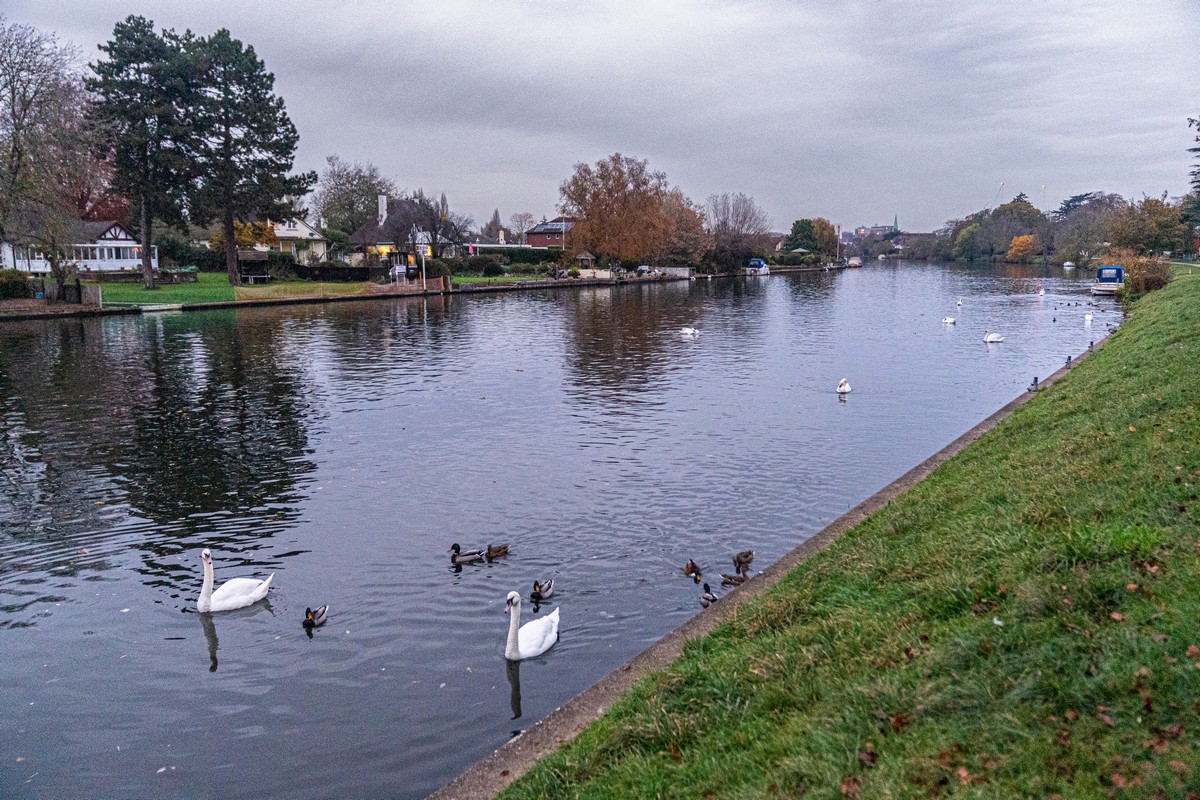 Runners don't mind either. They just switch on head-torches: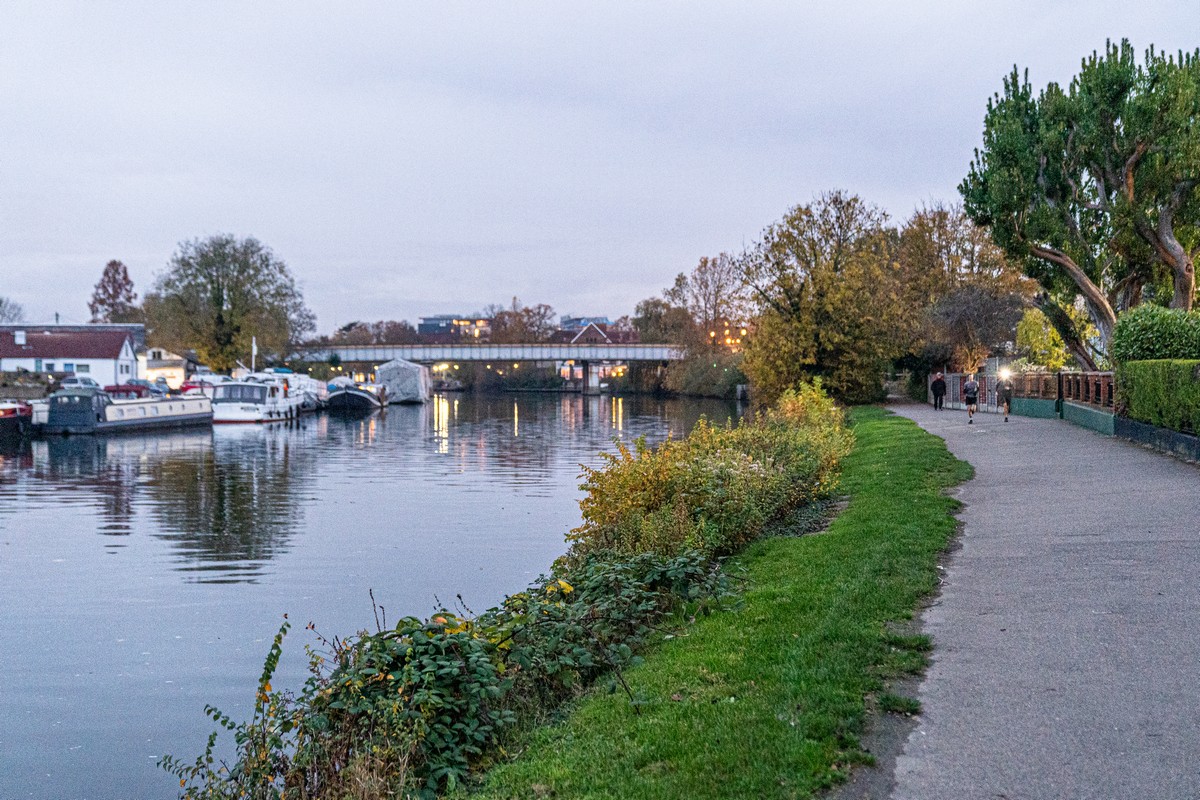 Is this the bridge we're aiming for today? No, one short of Staines Bridge…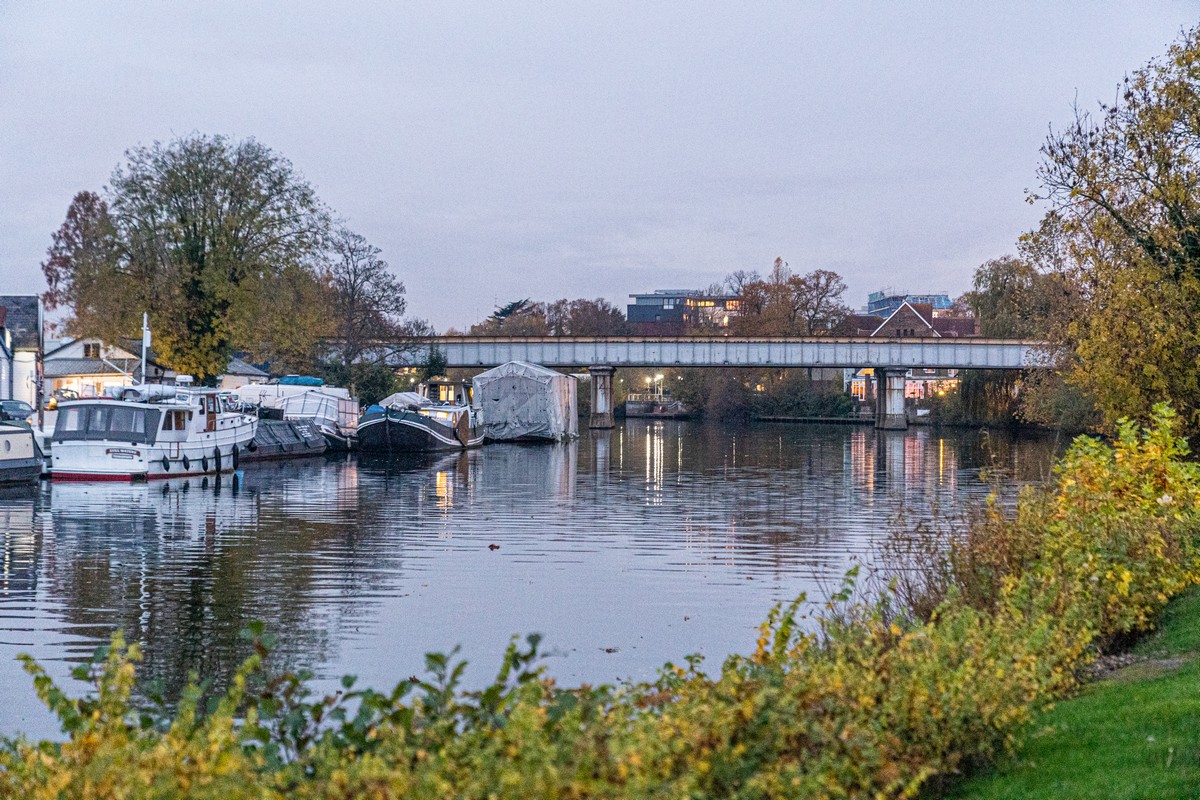 Almost there!…
This is the town of Staines in Surrey. Yes – the town itself. Yes – we've done it again! A 'slight detour' away from the Thames Path, I'll call it ). The Path does continue here along the riverbank, but, well, we missed the turn or something. Still, good to inspect Staines' town center:
'Eton'? – aaaah yes; that's where the school is where lots of royalty, prime ministers and film stars were educated. And 'Windsor' – yes, there's a recognizable place name too.
A little further (passing the Swan Master statue)…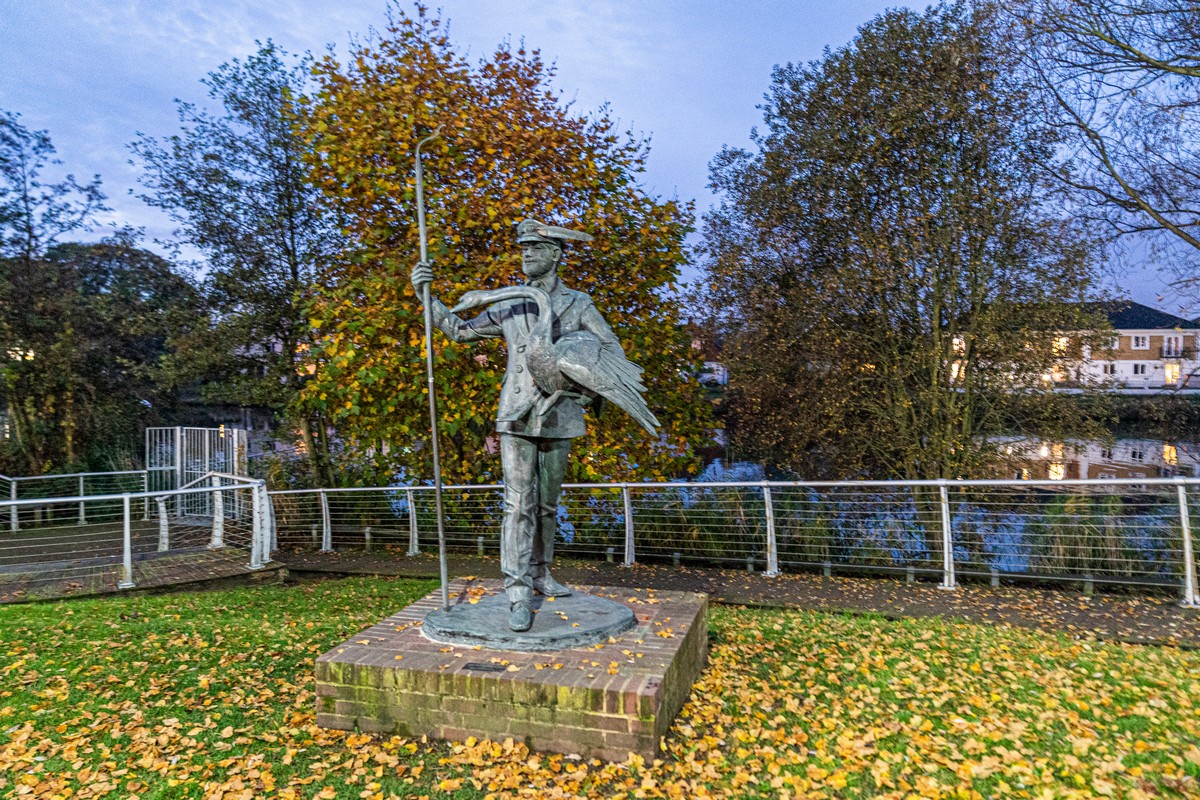 The bridge finally comes in to view – as does the cozy pub next to it. I think we'll have to get in there in a bit to give our legs a break and enjoy a pint!…
Bridge! We've made it! Done! Hurray!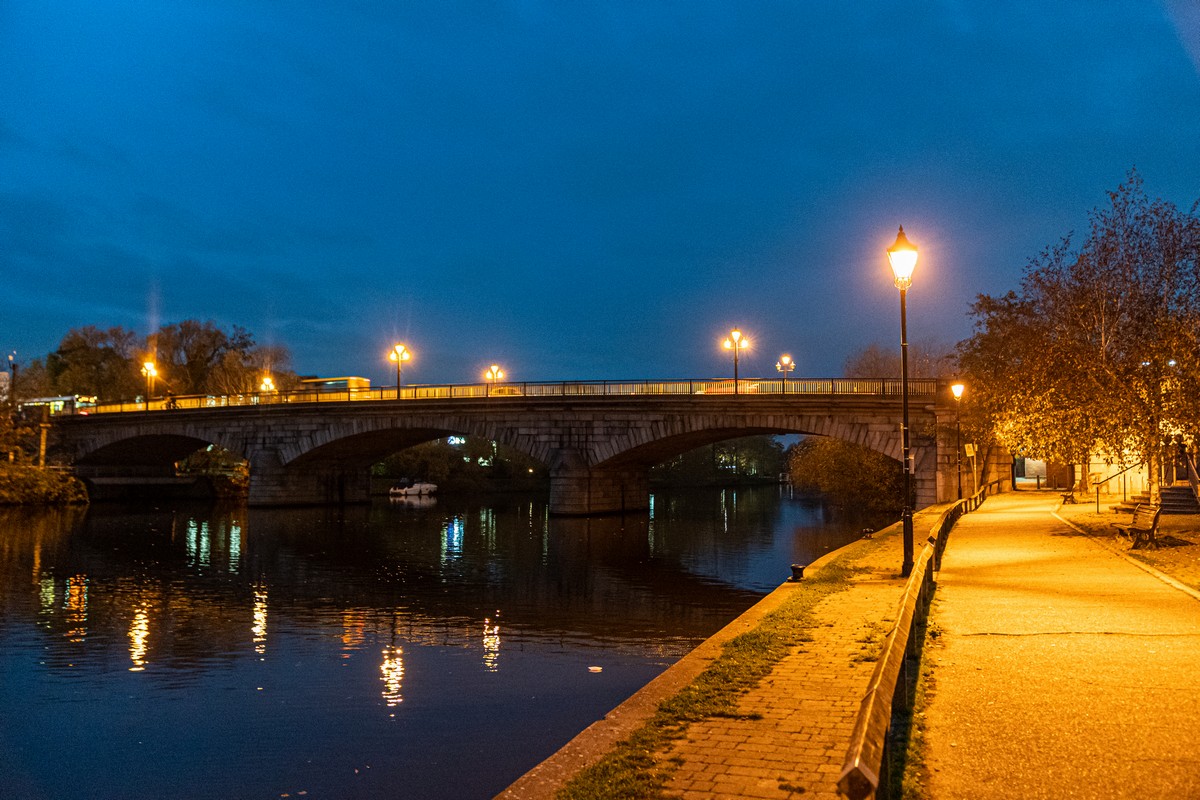 'We want to get in there, don't we?' We do indeed, OA ) ->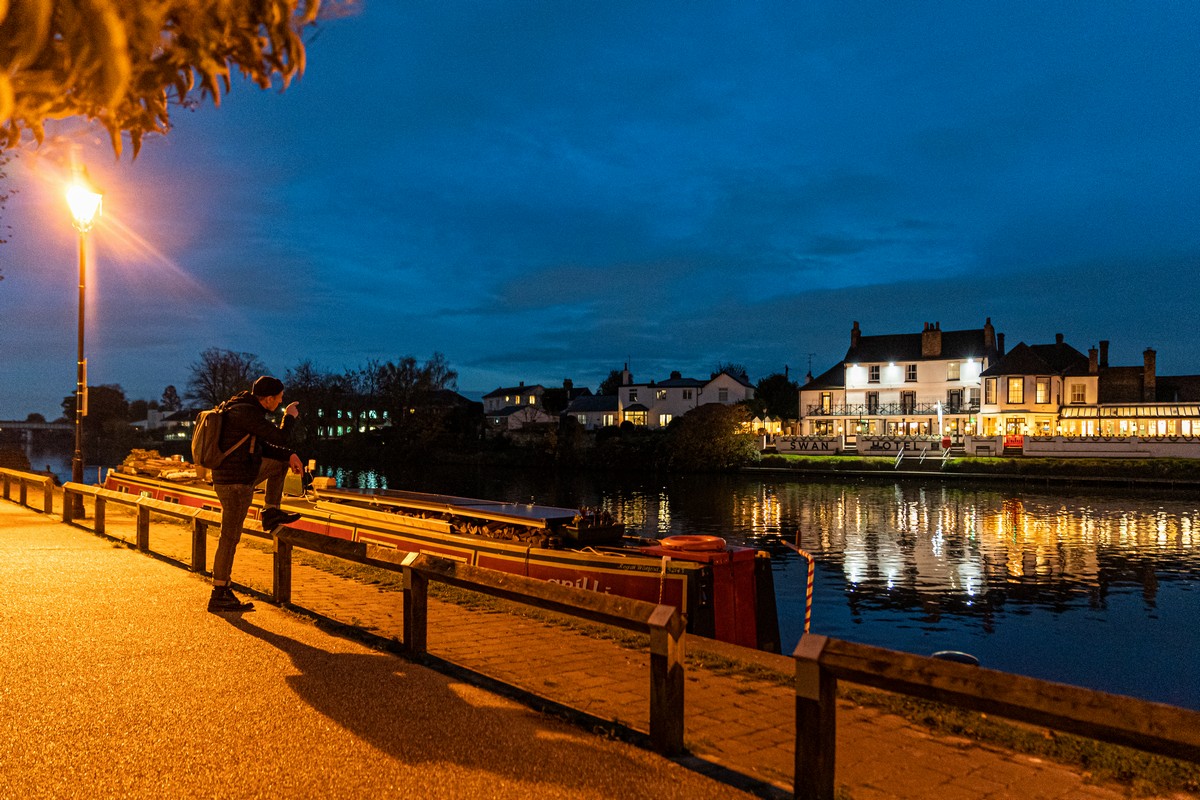 And next time, for our next leg of the Thames Path – we'll be starting right here (right next to the pub:) ->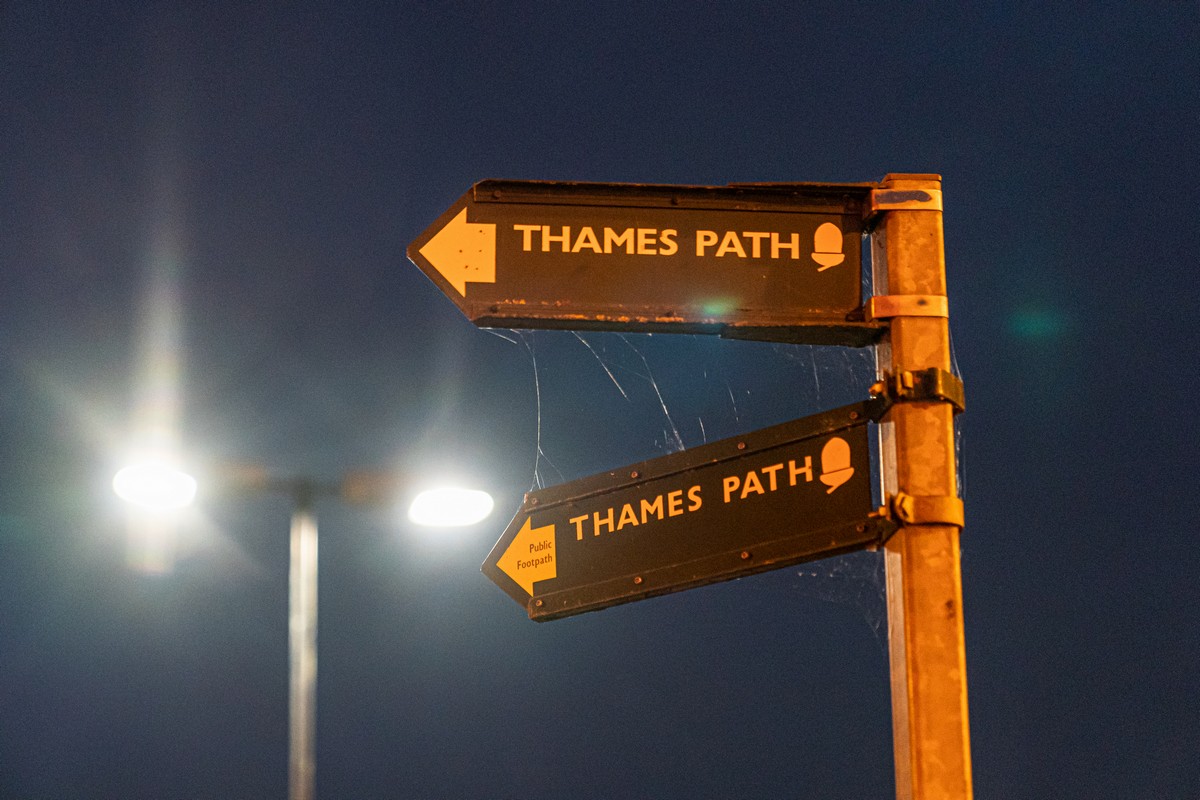 That's it! Farewell Thames; be seeing you…
Wow – quite a lengthy walk: 20 kilometers. Good going! ->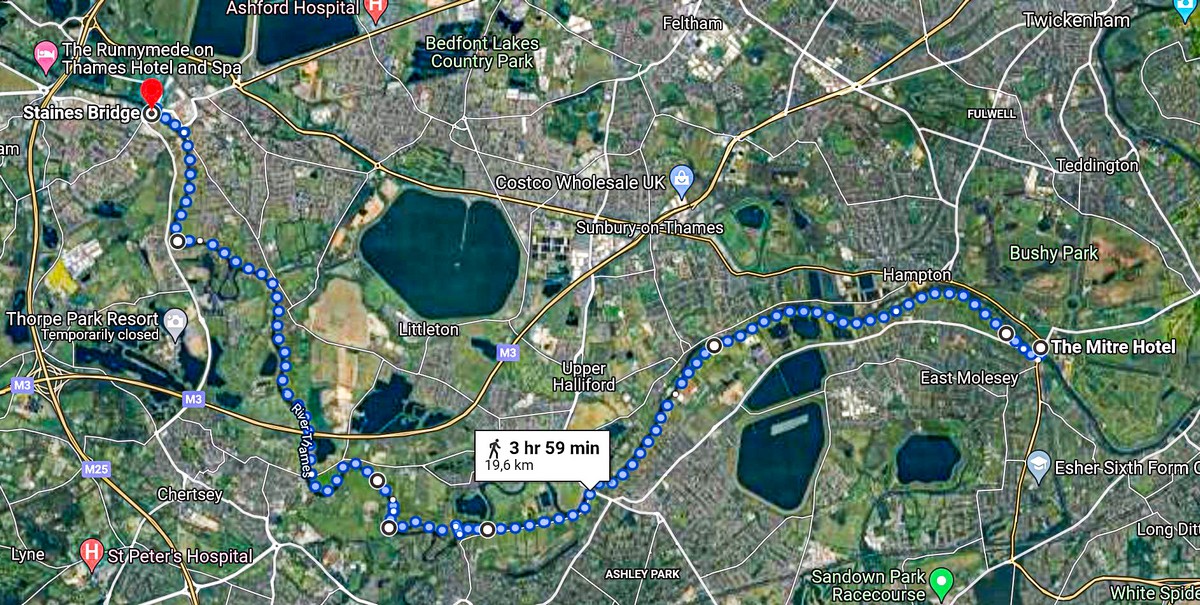 Next up – next time (whenever that may be): we're heading to Windsor on leg 7!…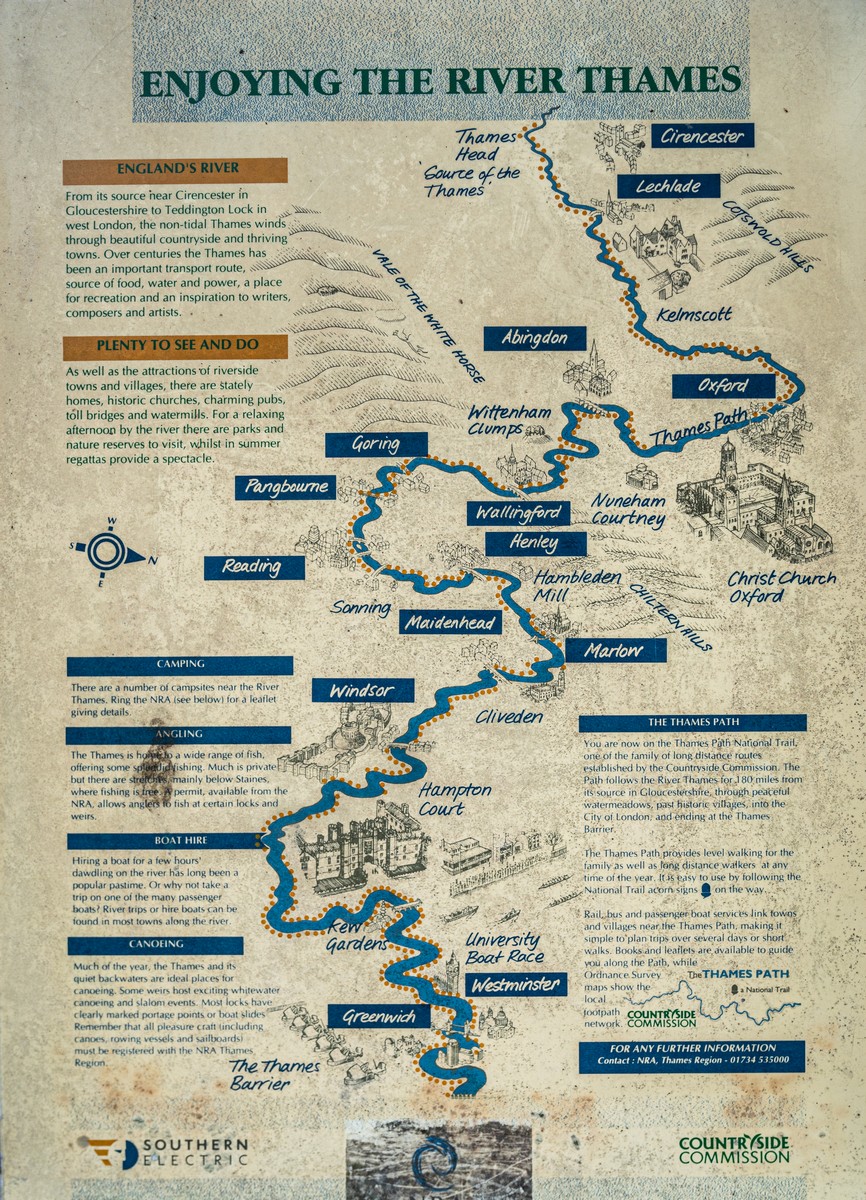 That's all folks! Thank you for your attention, and bon appetit!