A three-day kora around Kailash.
Hi folks!
After a sound, albeit short night's sleep after two intense days on the road getting here, it was finally the morning of the day of the first leg of our kora around Mount Kailash. ~20 kilometers of trekking was on the menu for us this day, with a rise of ~350 meters in altitude (from ~4700 to 5000+). We were walking from dawn till dusk, which translates into around nine hours! Yes – more tourism until you drop: just as we like it ).
Our objective for the first day: to get a sighting of the northern slopes of Kailash from the direction of Dirapuk Monastery.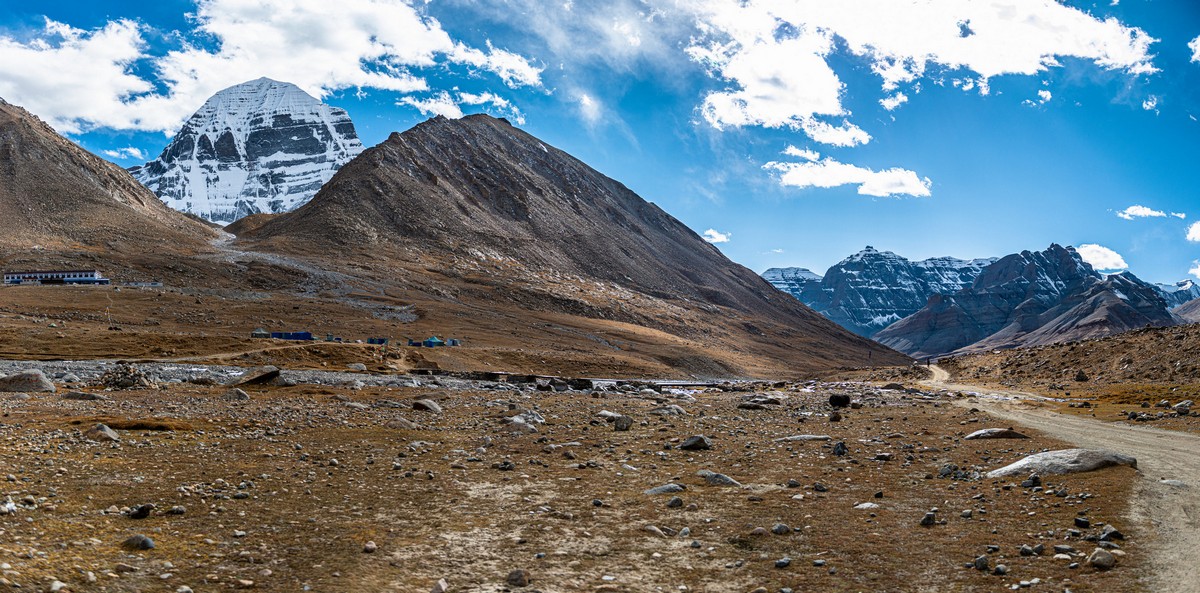 I'll borrow from the internet this here sketch of 'the' route: for this is the set route – a la carte, as it were – which everyone uses, split up into three days.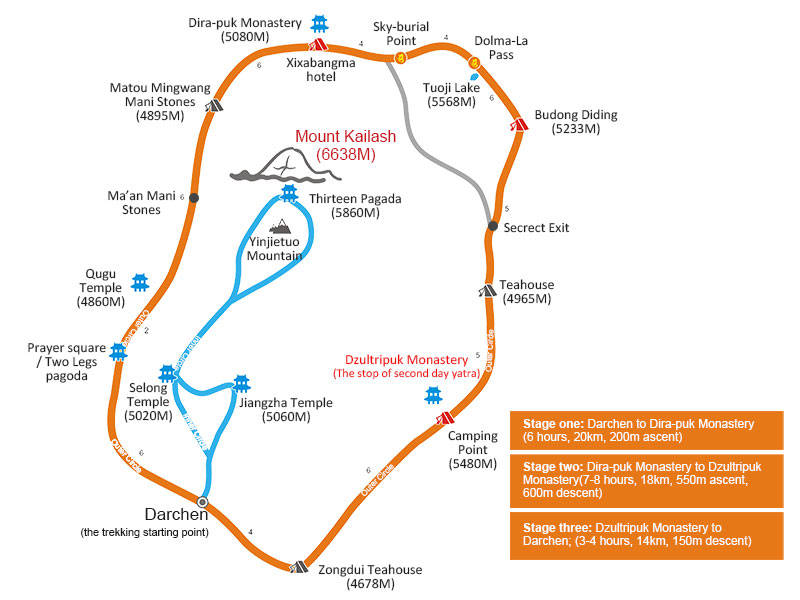 First up – farewell to the motel we stayed at: two floors, and as many stars in its rating too :) ->
We set off through the town toward where the Kailash kora both begins and ends; on the horizon – Kailash itself…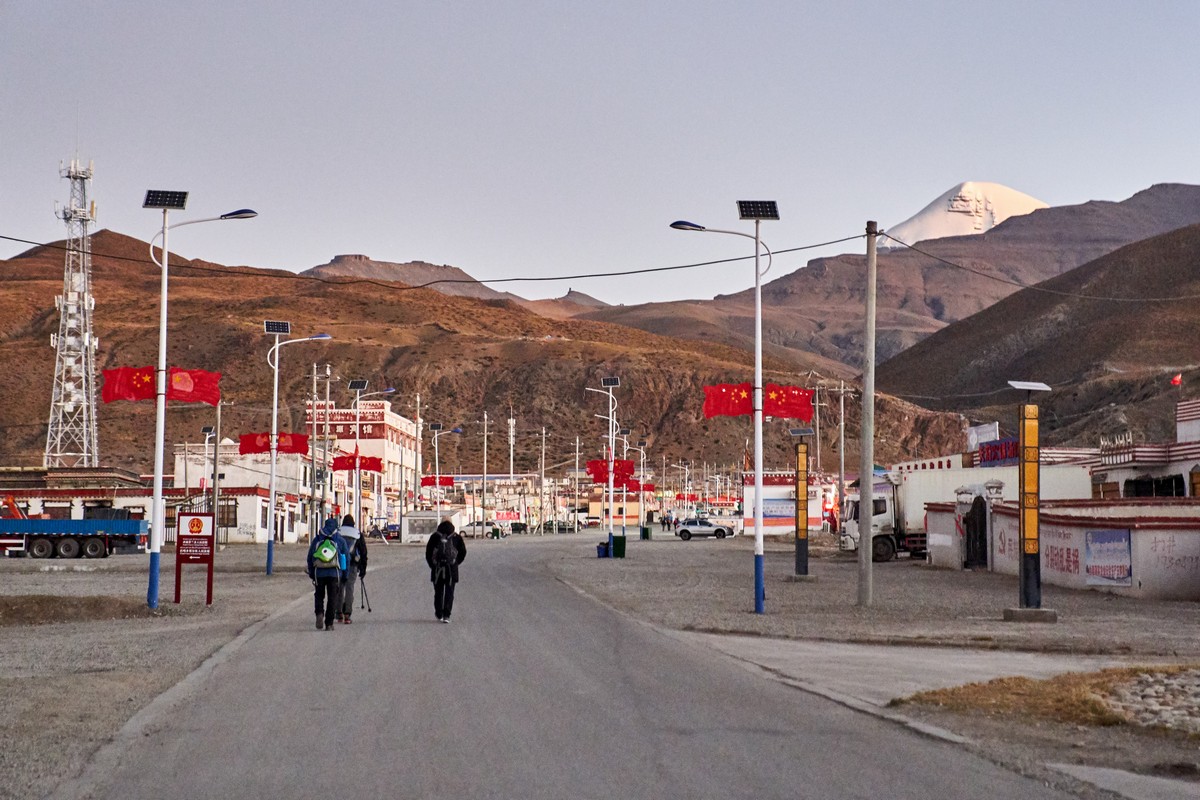 The path that encircles the sacred mountain is around 50 kilometers long. All of it – very smooth: no need to look down, so perfect for enjoying the scenery.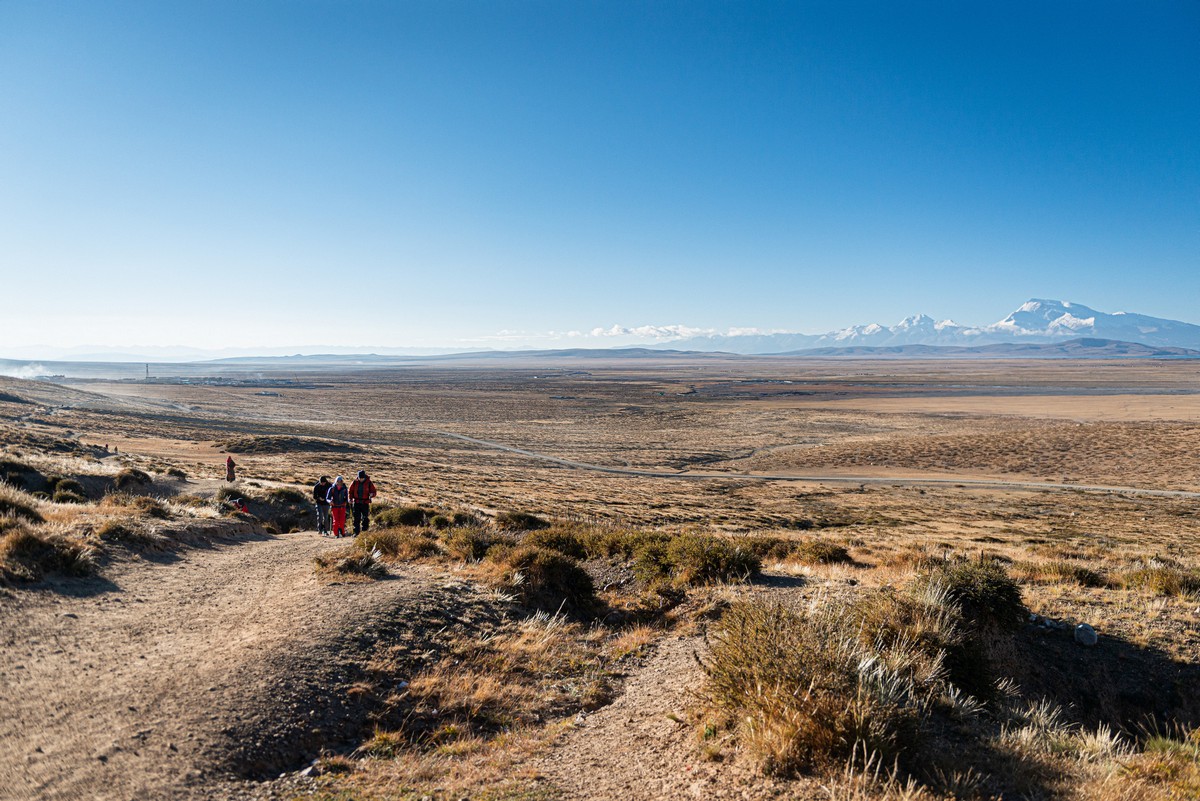 A smooth path is all well and good, but there was still the acclimatization to deal with. Though we'd been in Tibet a good six days already, there was no getting round the fact that the air was frightfully thin. Some of us even showed symptoms of altitude sickness of an evening, and had to take special tablets to counter its effects. Oh my getting-silly!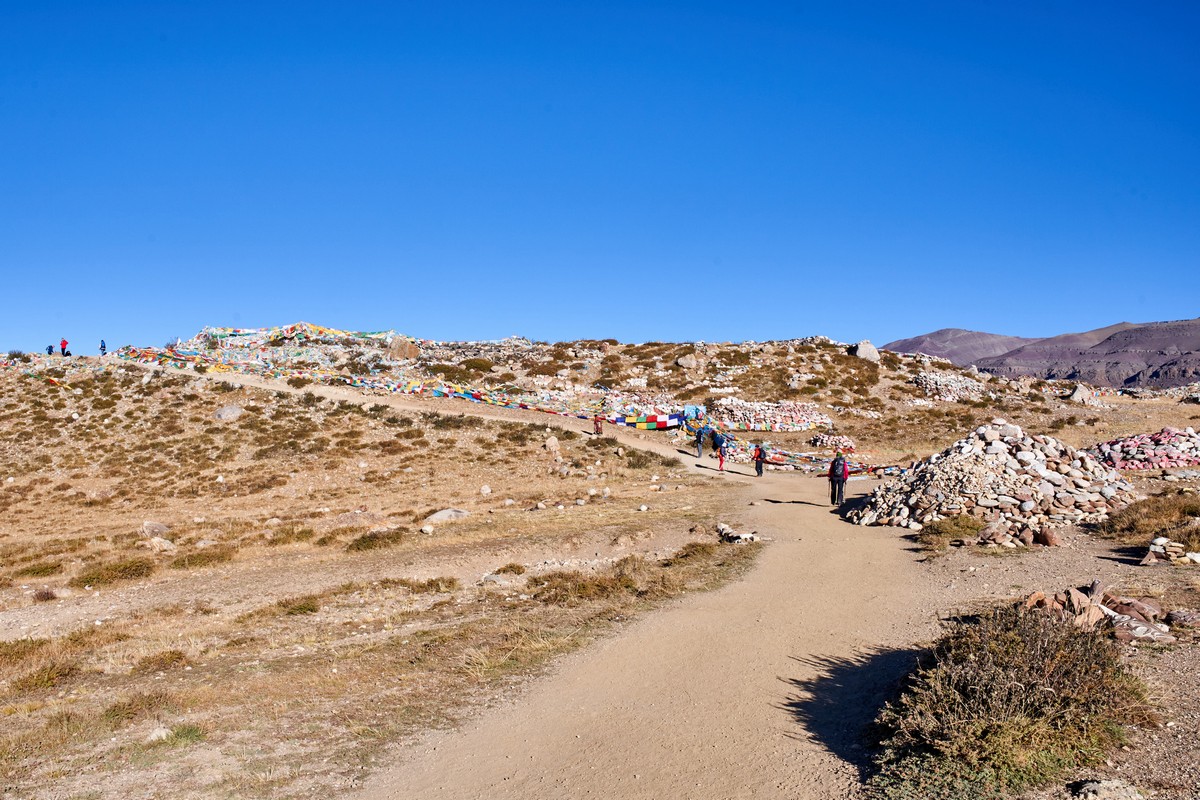 Every now and again at the side of the path we'd come across a pyramid like this one: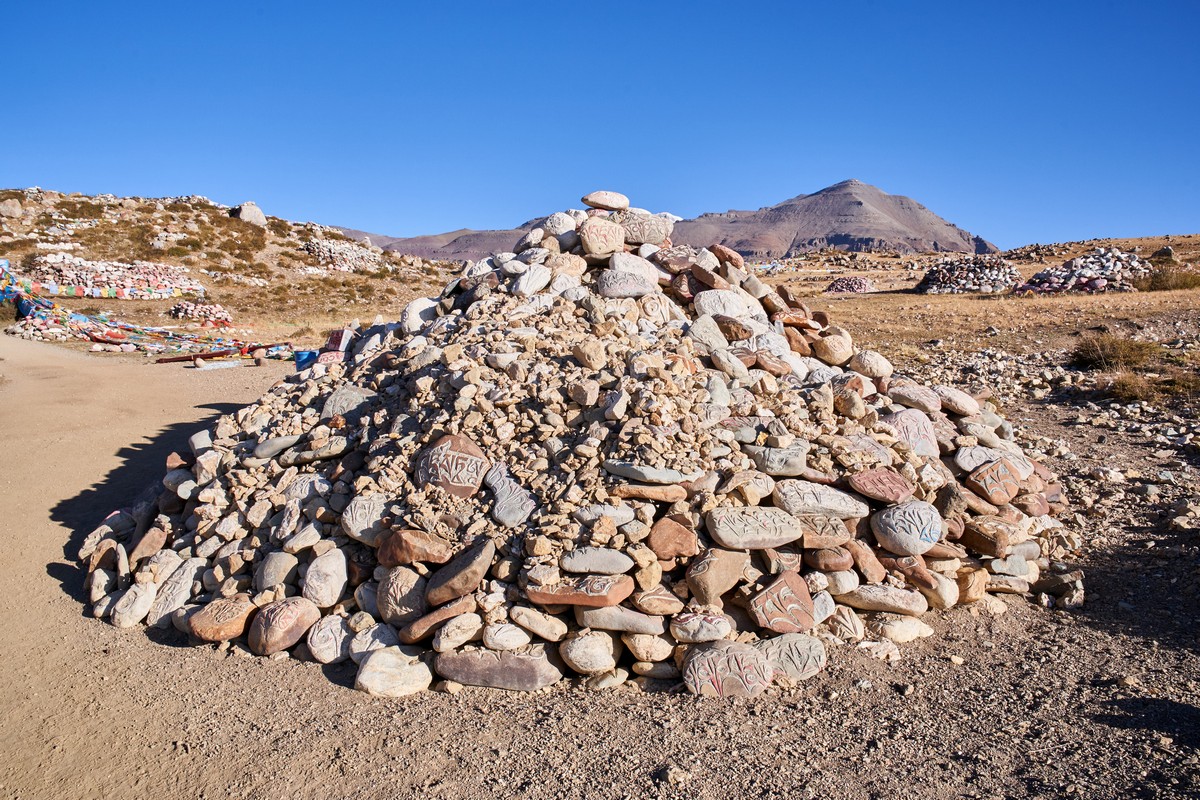 And the traditional Buddhist flags, of course…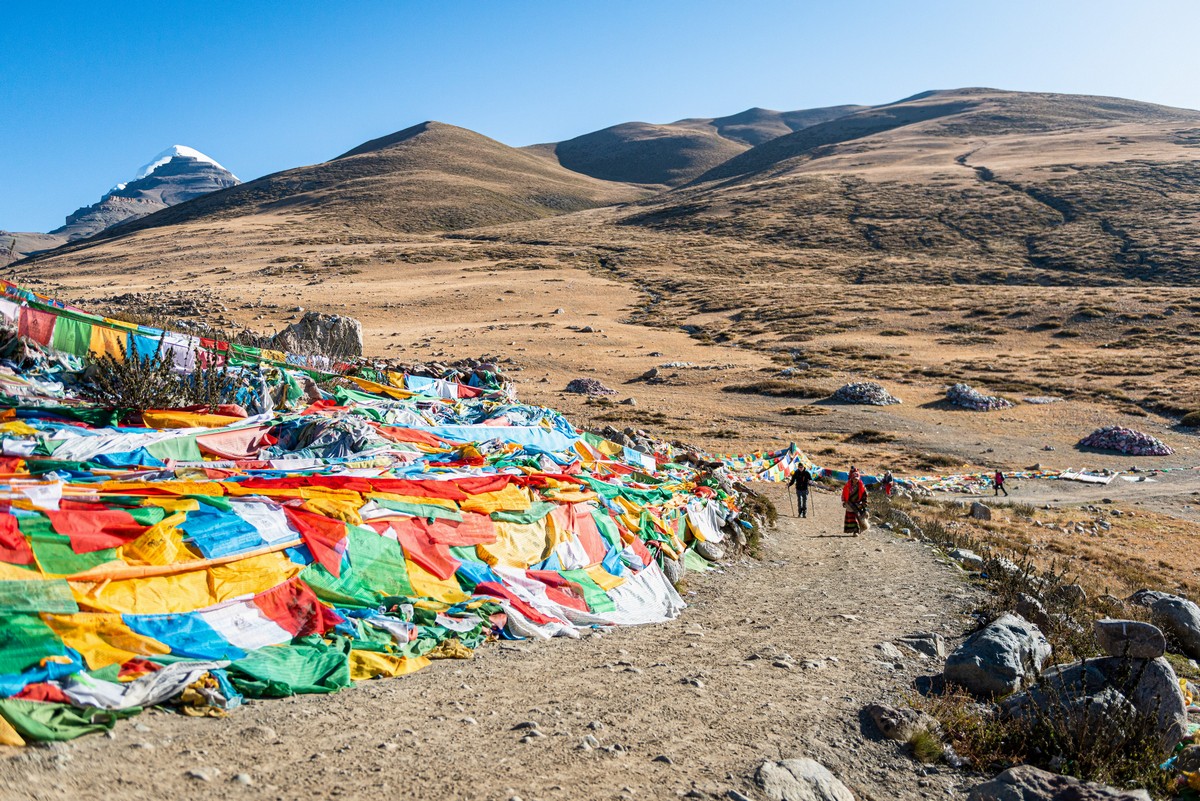 The views all around are simply magnificent – along the full length of the route. At the outset, to our left: valley plus mountains on the horizon: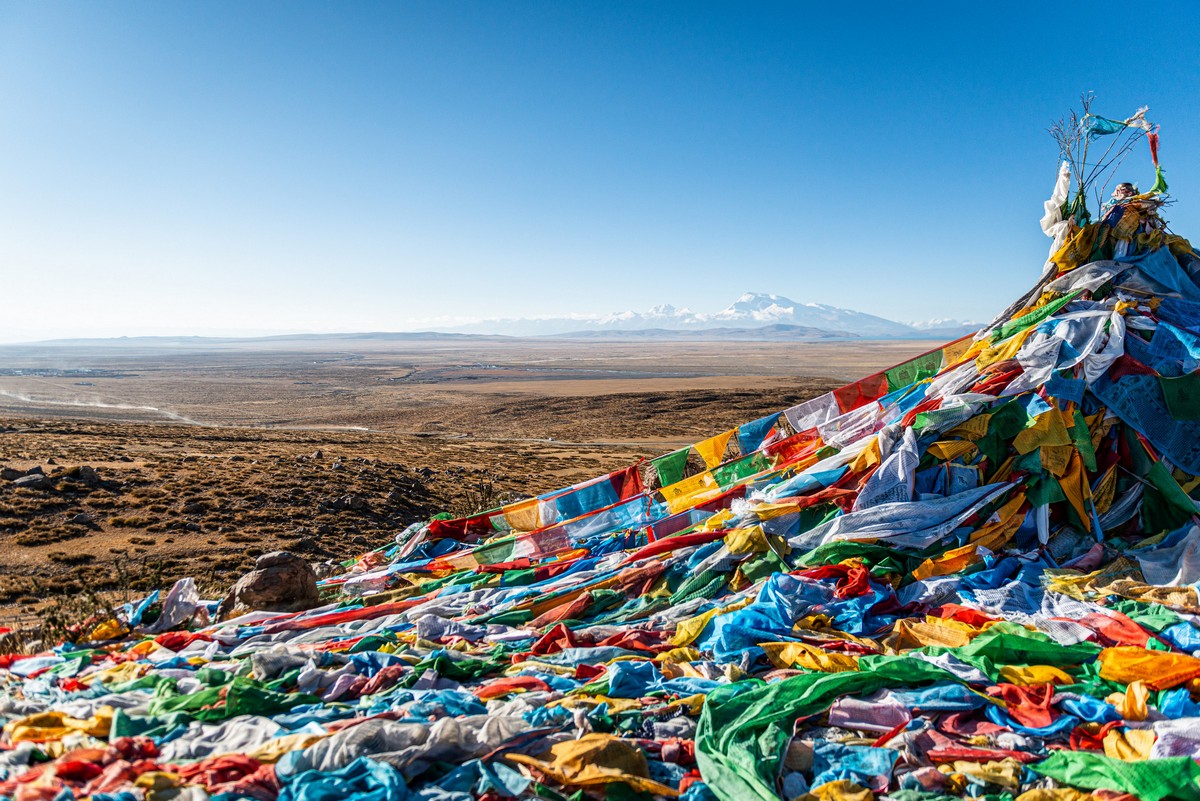 To our right – Kailash's peak, peeking out above a lesser, snow-less mountain: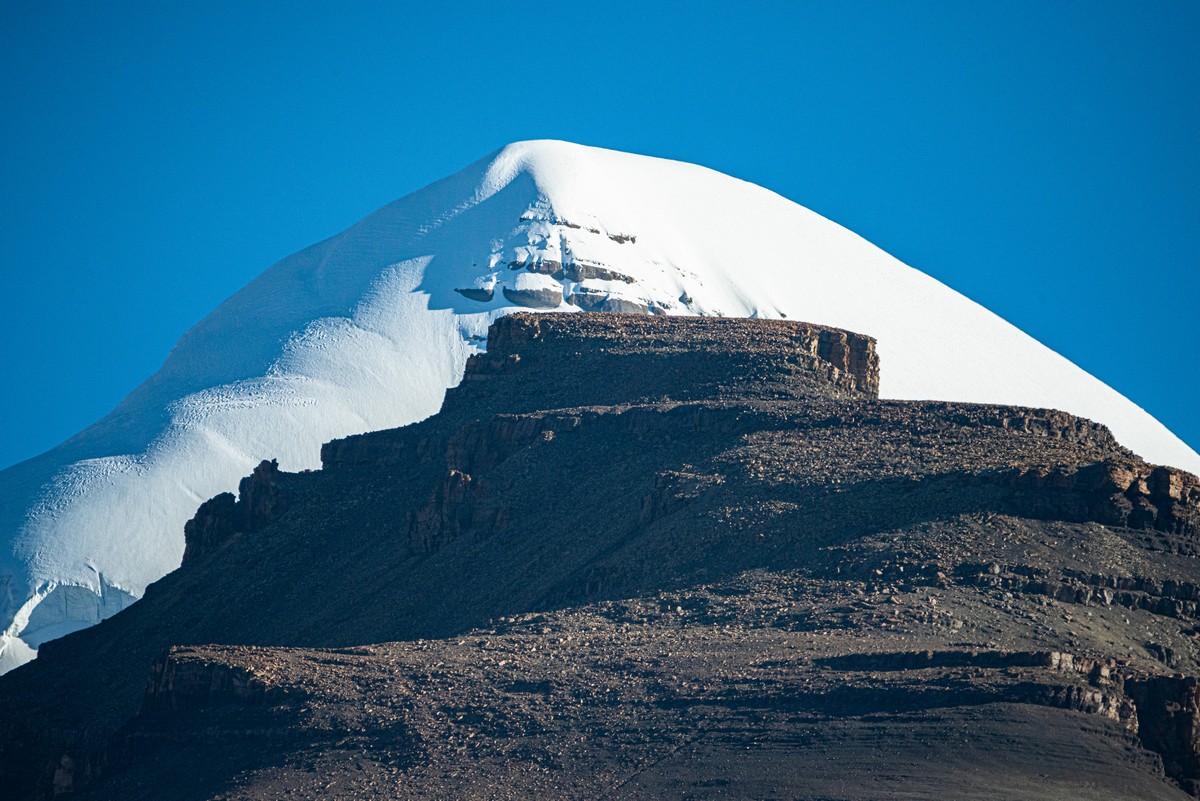 So DZ got out his long-range 'rifle' to snap a few masterpieces all around:
It was here we first saw tracks like these: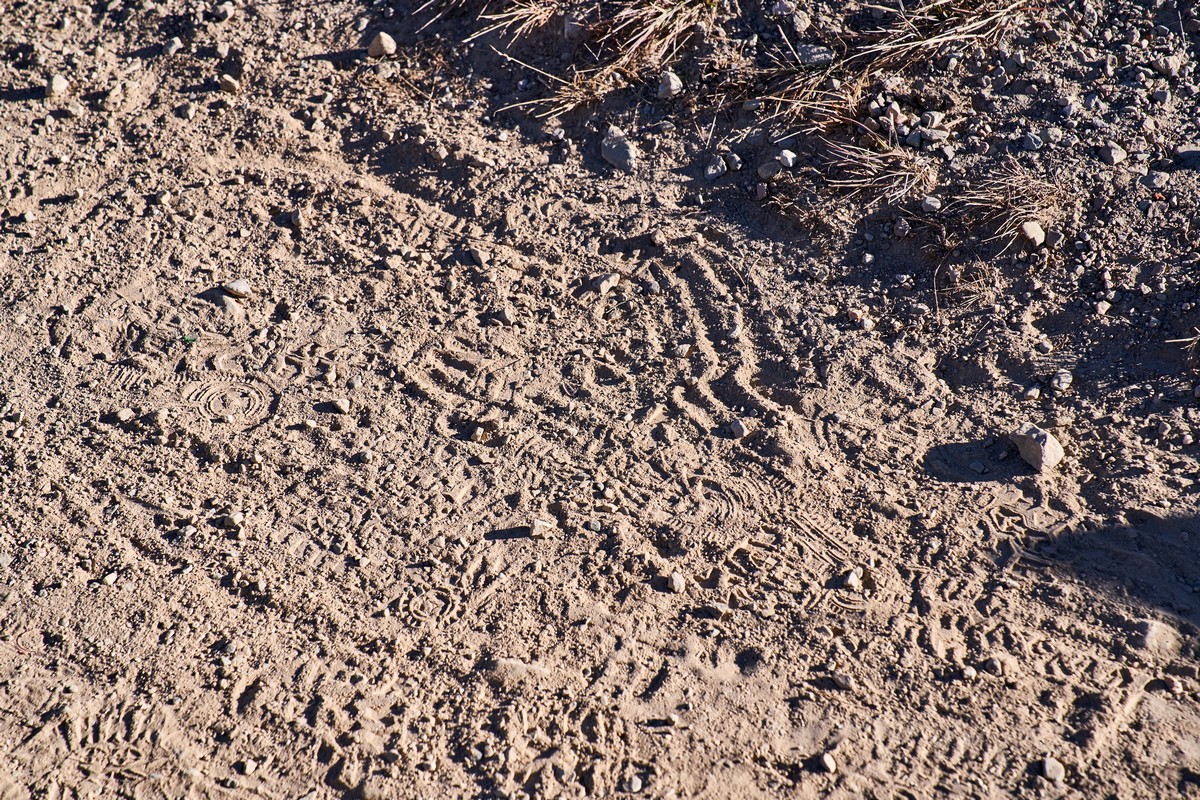 …Tracks made by folks practicing prostration. Apparently thousands – maybe tens of thousands – of Buddhist pilgrims every year cover the 50+ kilometers doing prostration. They lie on the ground, then get up, bow, take three short steps forward (equal to the pilgrim's height), then lie down again, over and over for 50km!
The Buddhist pilgrims carry out their kora always clockwise. However, believers of the Bon religion – as in the previous two pics – they go (walk/prostrate) the other way! It takes them about a month. And the most devout believers undertake a prostration once a year. But quite how many devotees do so every year our guide didn't know.
Pilgrims spend the nights on their pilgrimages at 'tea houses', which are smoky and somewhat dirty; the pilgrims don't seem to mind that though: the very basic, sparten conditions seem to match the essence of their journey. And if one evening pilgrims don't reach the next set of tea houses, they simple drop their bundle of things down next to the path and, I presume, simply walk (normally) to the tea houses to spend the night. Then, next morning, they walk back to their bundles, and take up the prostration from where they left off. Here's one such bundle: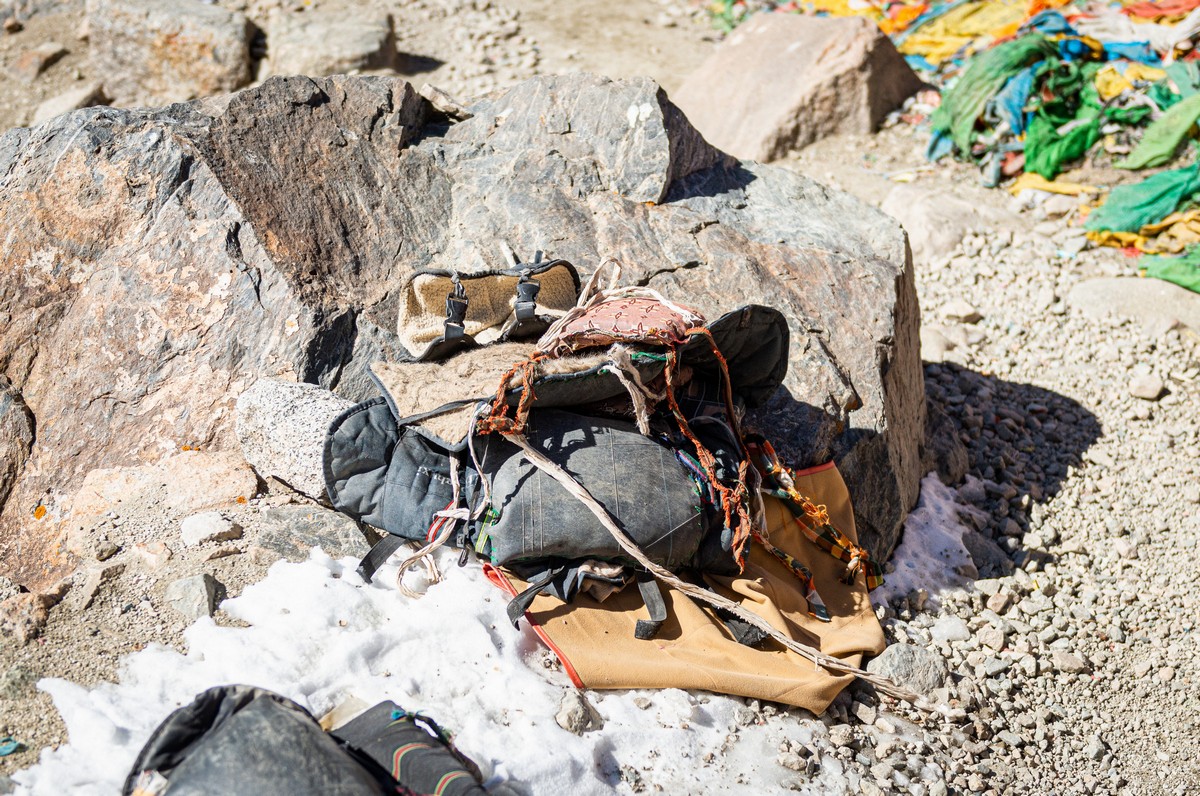 Getting back to where they left their bundles, sometimes the pilgrims take a motorbike instead of walking. And they take the path too, when there appears to be a perfectly sound road just a short way to the side.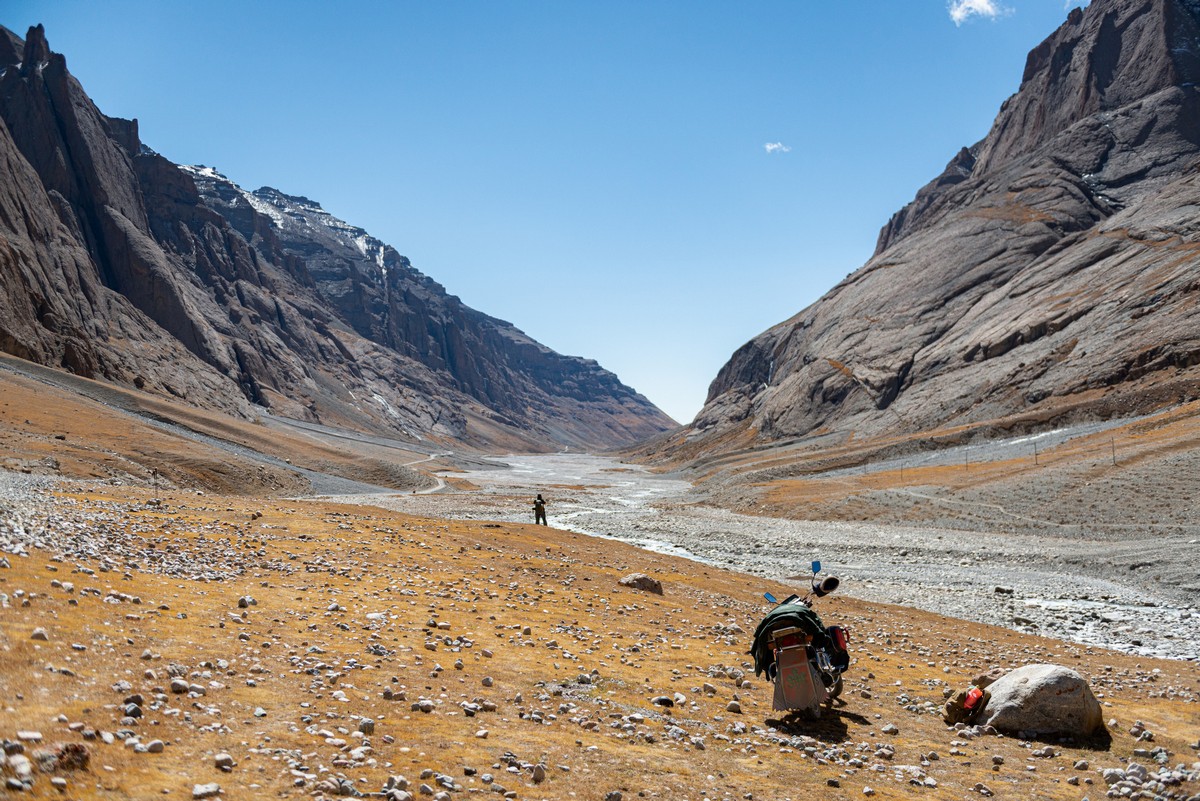 In the three days or our kora-around-Kailash, we must have seen some two to three hundred pilgrims and/or their trappings. So occasionally in the pics you'll see some mid-prostration…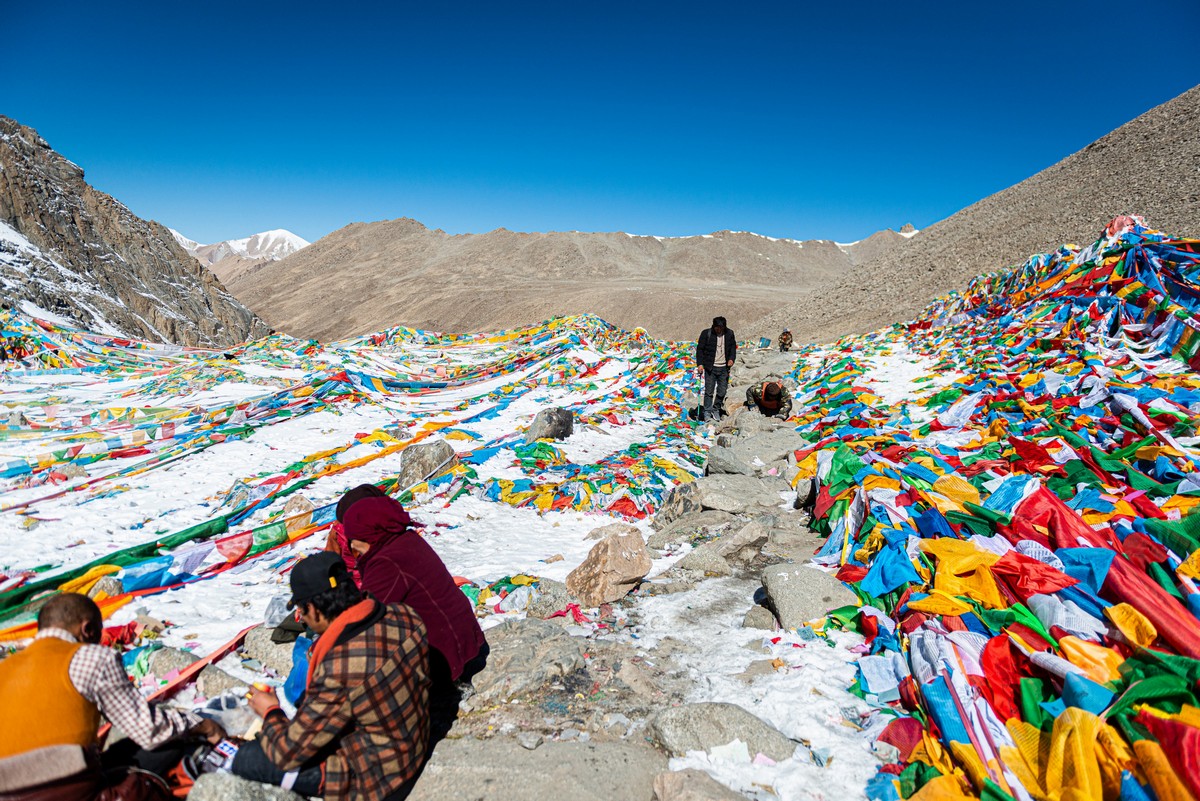 Meanwhile, we turn to the right and get deeper and deeper into a mountain gorge. The path continued to please our boots and feet, Kailash's peak was becoming brighter and brighter as the sun rose higher and higher in the sky, and the first tea house was just up ahead. This was turning into a wonderful day – and it had only just begun!…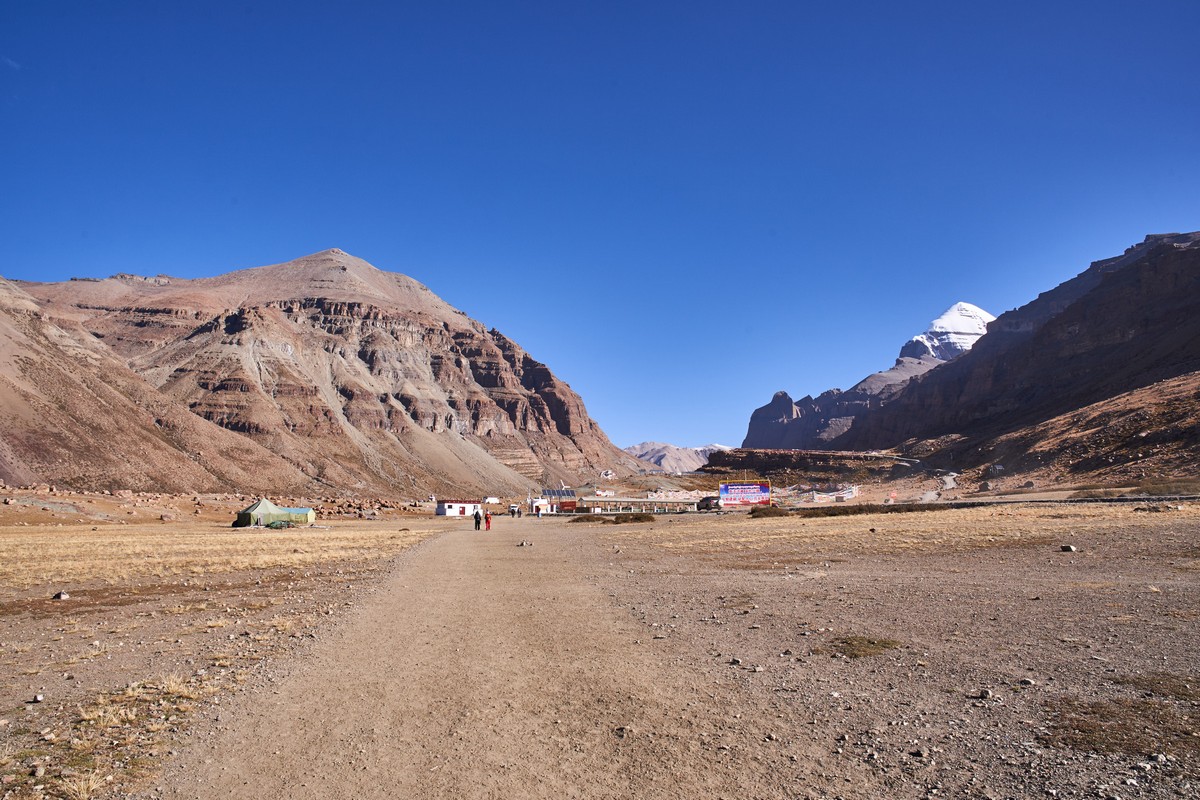 By the way – you might just be able to make out a few cars in the above pic. Indeed, you can drive the first five or six kilometers, which is handy as they're not the most interesting five or six kilometers in terms of scenery. However, we decided to go for the full, genuine, traditional kora. When in Rome…).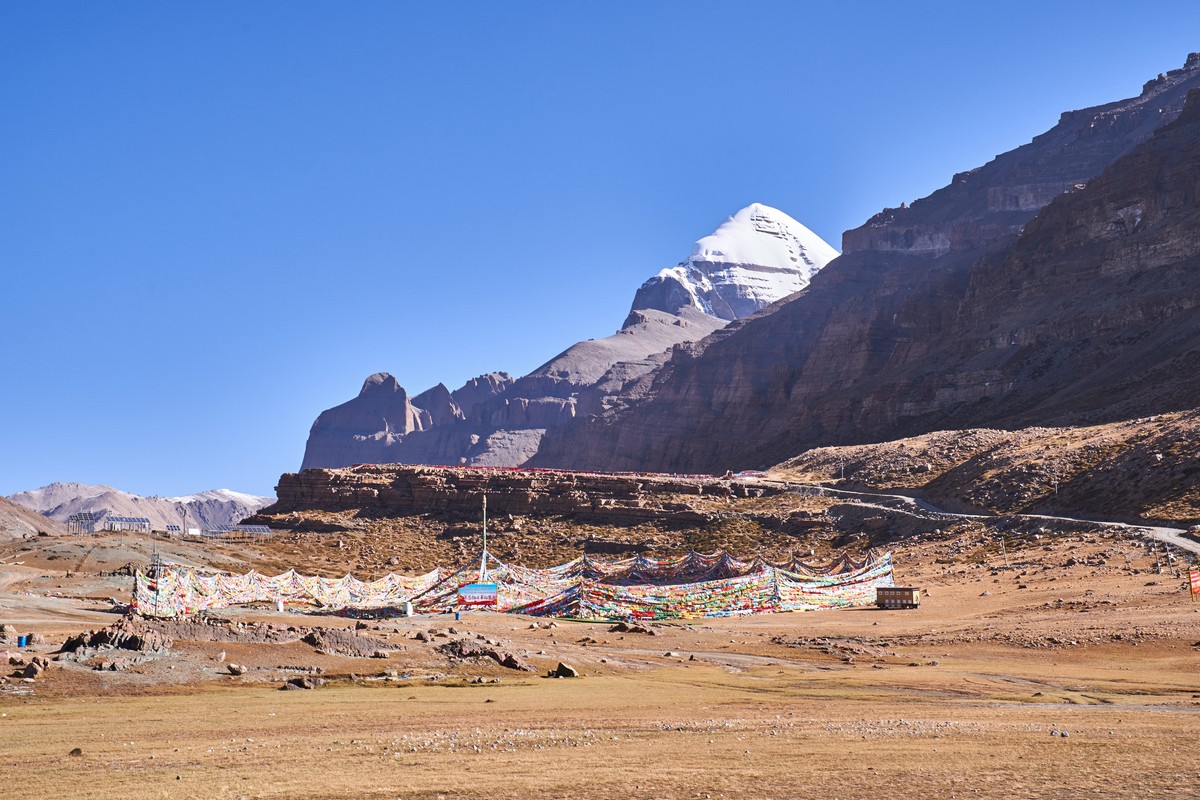 And there was a bonus to such an 'authentic' approach: we were able to 'warm up' – to get used to the ever-increasing outstanding beauty, so as to not let it overwhelm us, just like the altitude sickness might ).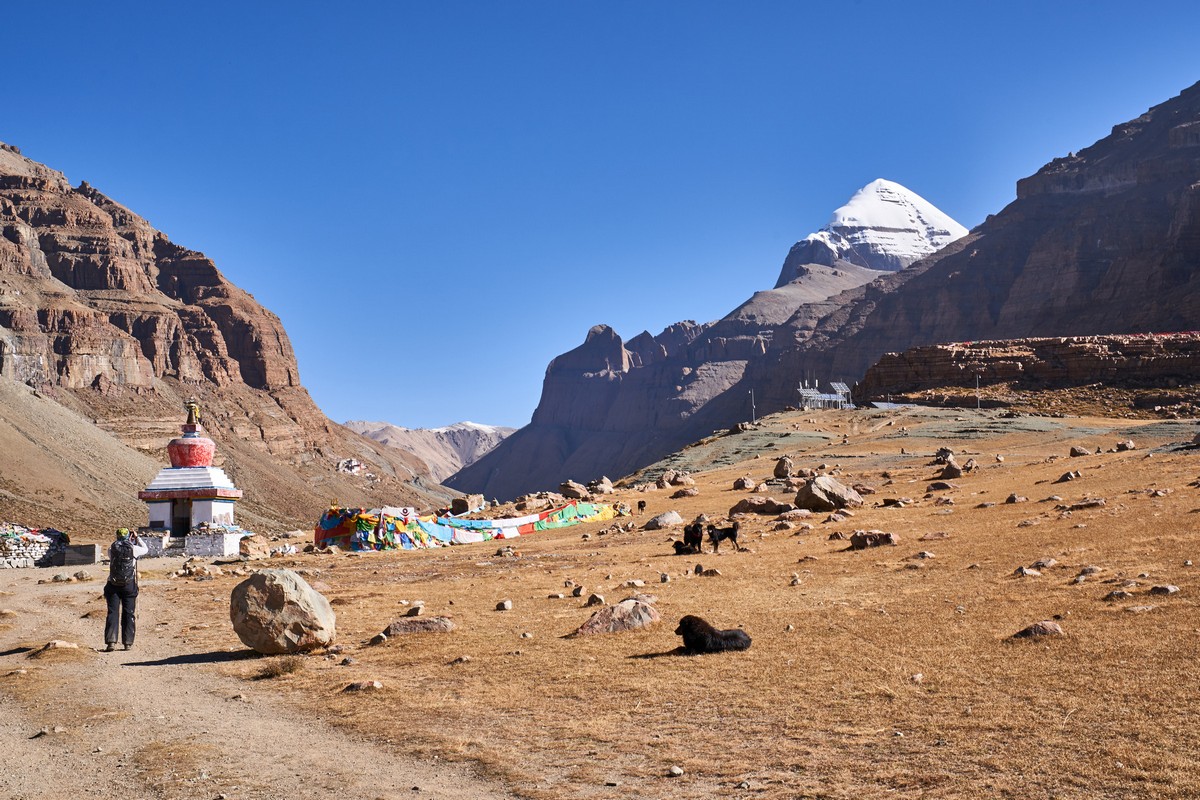 Suddenly, on a seemingly sheer cliff face: another monastery!
Curiously, in a very trivial way, the sun was on our backs all day. We started out heading west; after a few hours – our direction became northwesterly, next – northerly; after that – northeasterly, then toward evening easterly. Never had that before! Most convenient it was too. No bright sun in your eyes – all day ). Plus: bonus, the cooling wind was on our backs too; yeh!
But I digress…
As we progressed on this first day, Kailash loomed tall up ahead. DZ got out his bad-boy long zoom lens and…: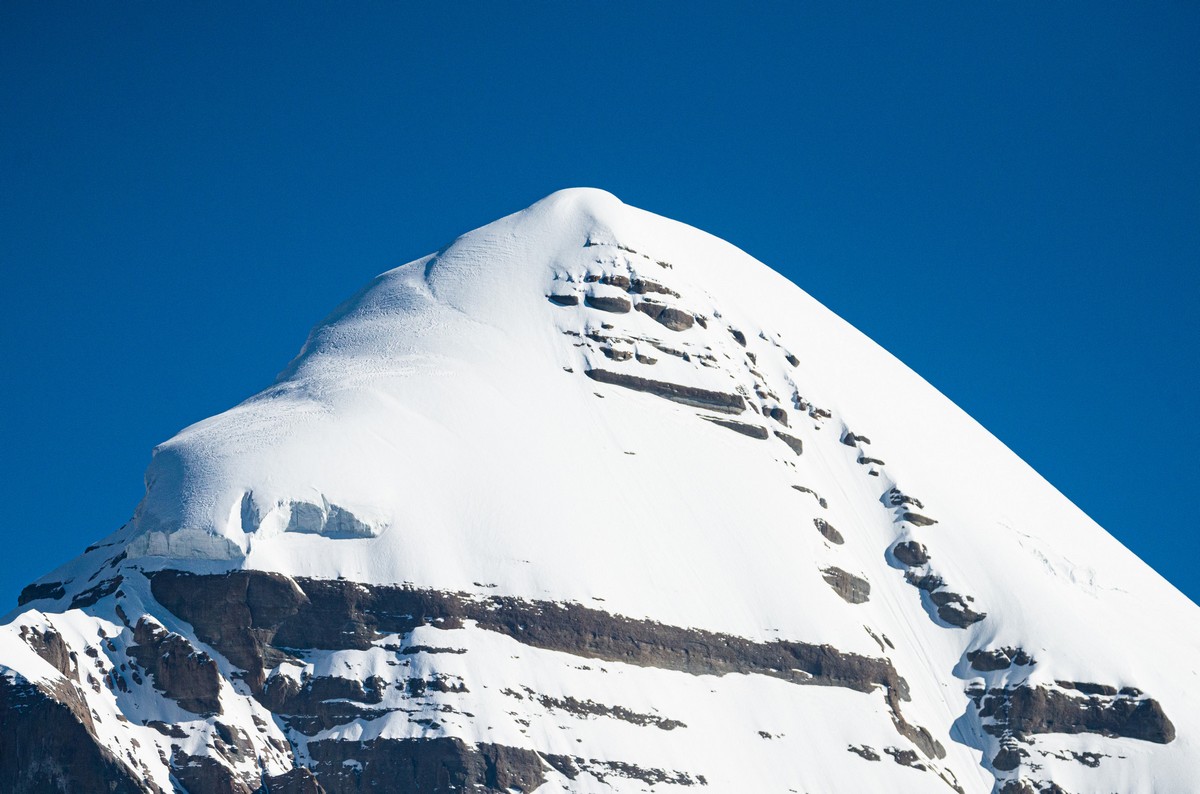 We continue our steady trek upward – which was to take us 300 meters higher along the vertical…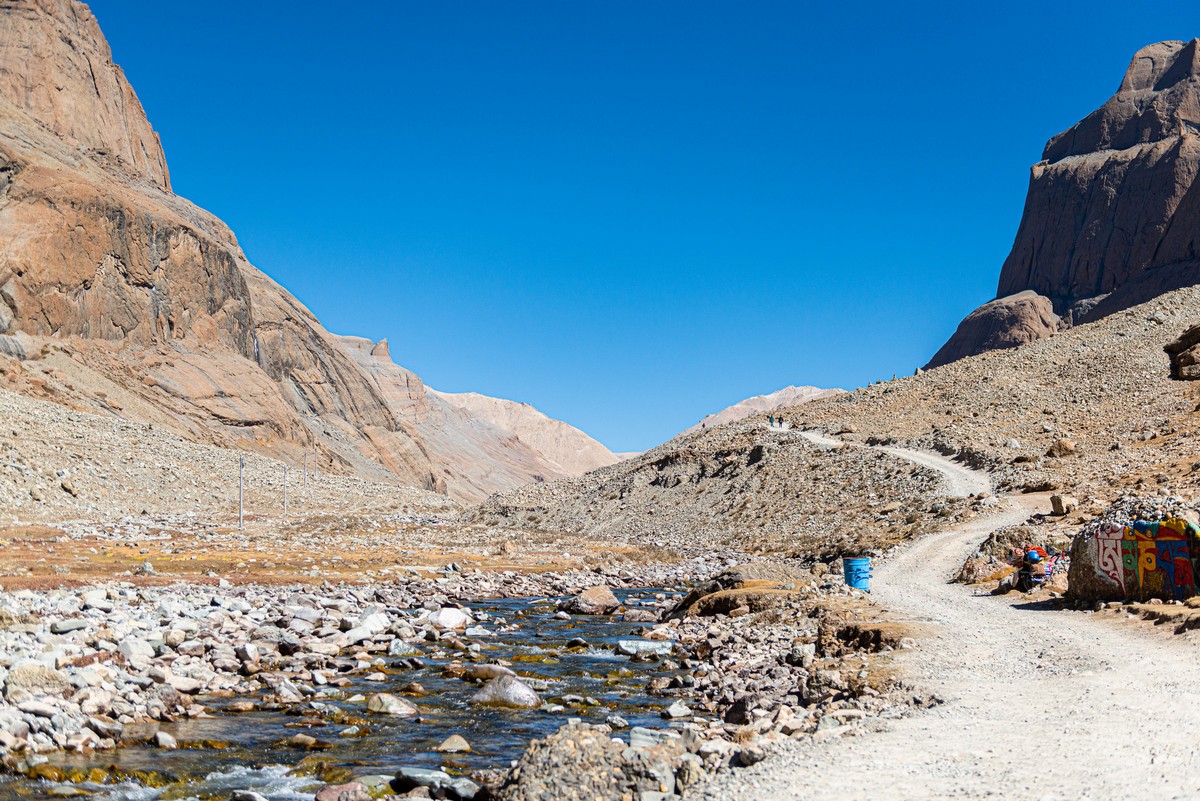 Up and up we go; brighter and brighter the colors – now reds and orangey-browns. And that sky!…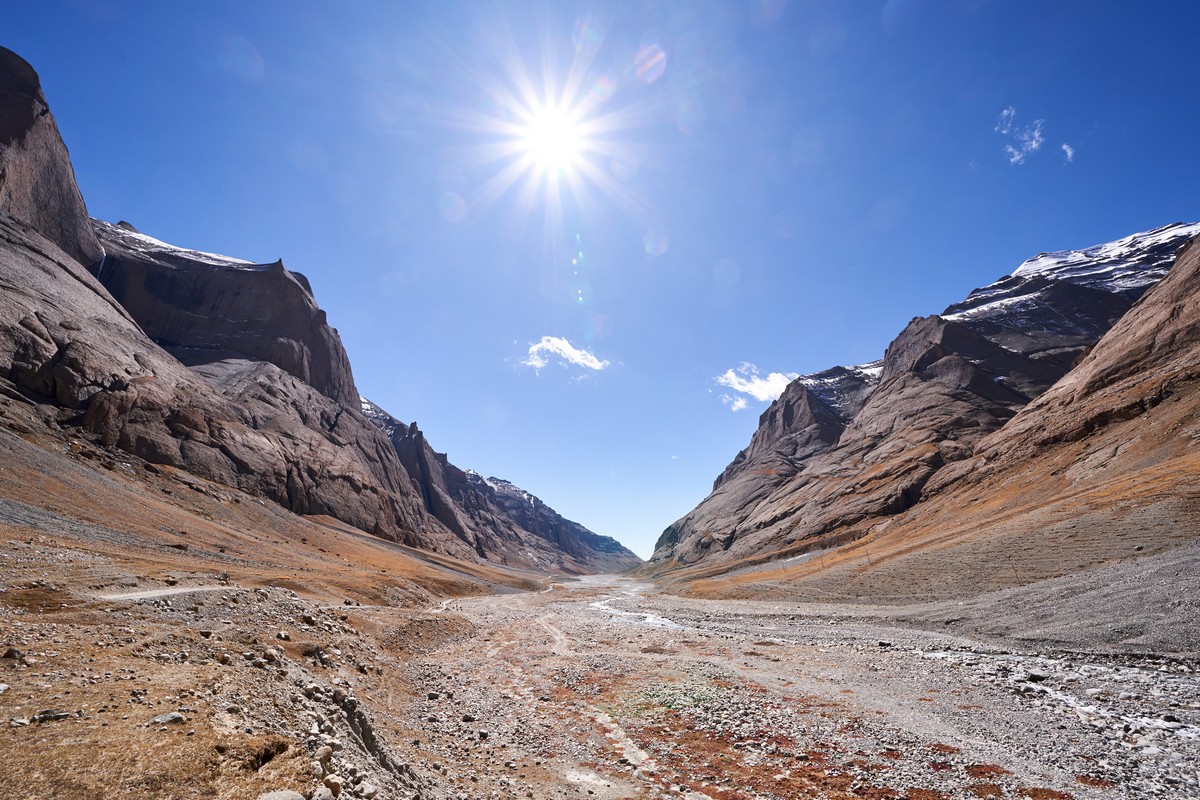 The last time I saw such colors together with such unusually shaped rock formations was at Arches National Park in Utah in 2015; before that – at Ayers Rock, Australia, in 2010. But I digress – again!…
Occasionally, pick-ups pass us on the 'path'. Apparently they're taking various cargoes up to the 'guesthouses' and monasteries – including our modest kit (sleeping bags, a change of clothes, toothpaste and brushes)!
Somewhere round here there's some kind of special stone upon which one should lie so that a certain animal or bird becomes visible. And who am I to doubt it? Given such rock formations, and the extreme altitudes here – all sorts of things may appear in one's head ).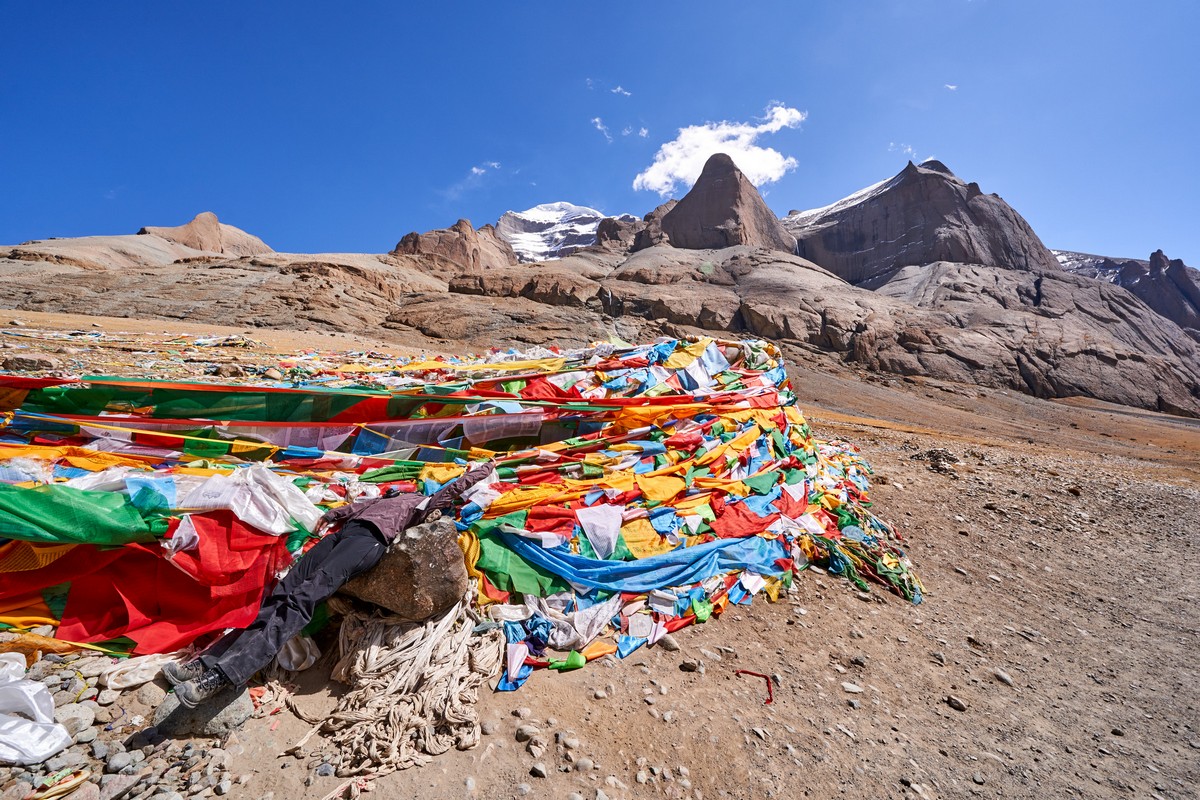 …For example, a bird: here under the snow covered cone: in the middle – the head and beak, to the sides – the wings. You see?!
Nice, new view of Kailash:
Oof. Just look at that ridge up to the top. Ouch!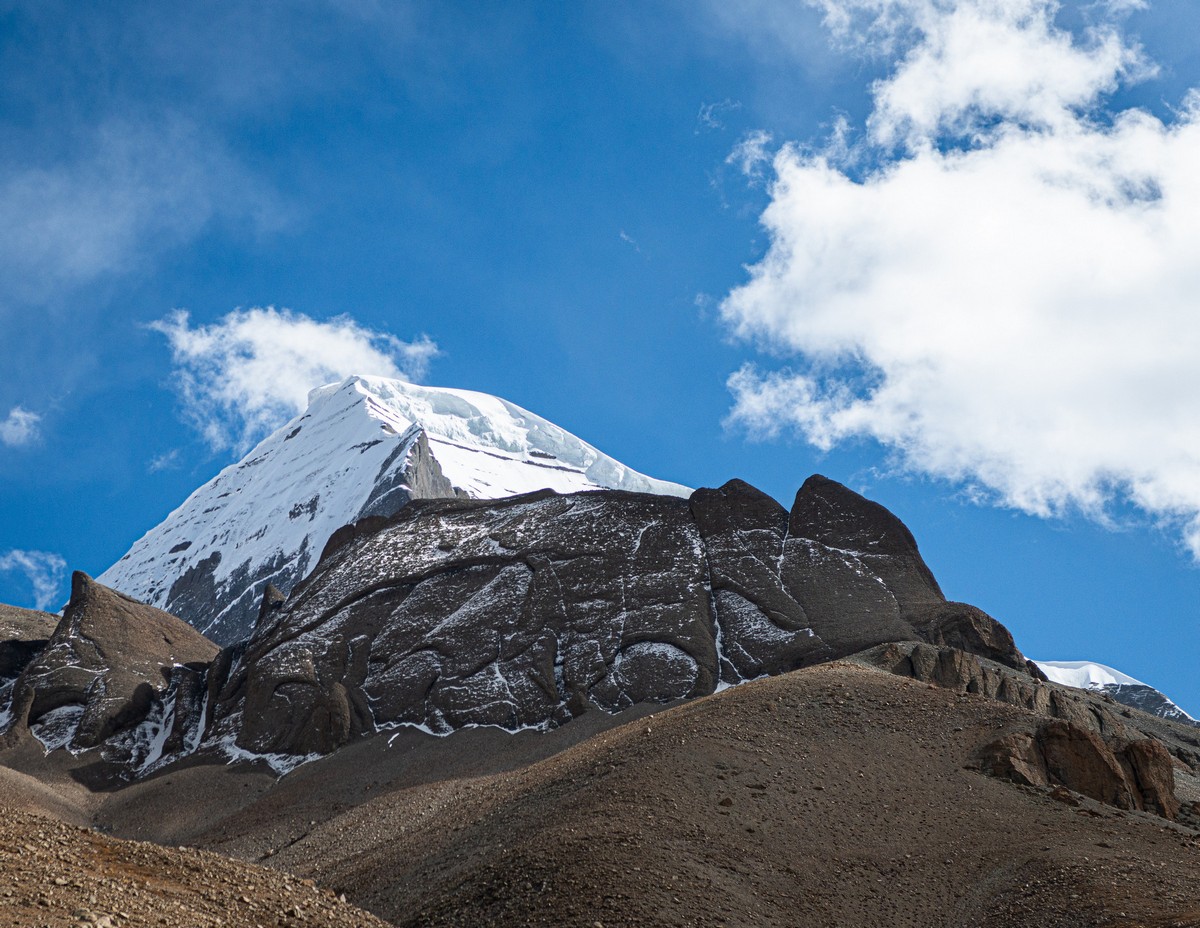 So, who's climbed to the top of Kailash? Actually – no one. It's been attempted many times – each time broken off for various reasons. Then, in the early 2000s attempts were banned by the Chinese authorities. Now to have a go, you need to be a bodhisattva or at least an arhat!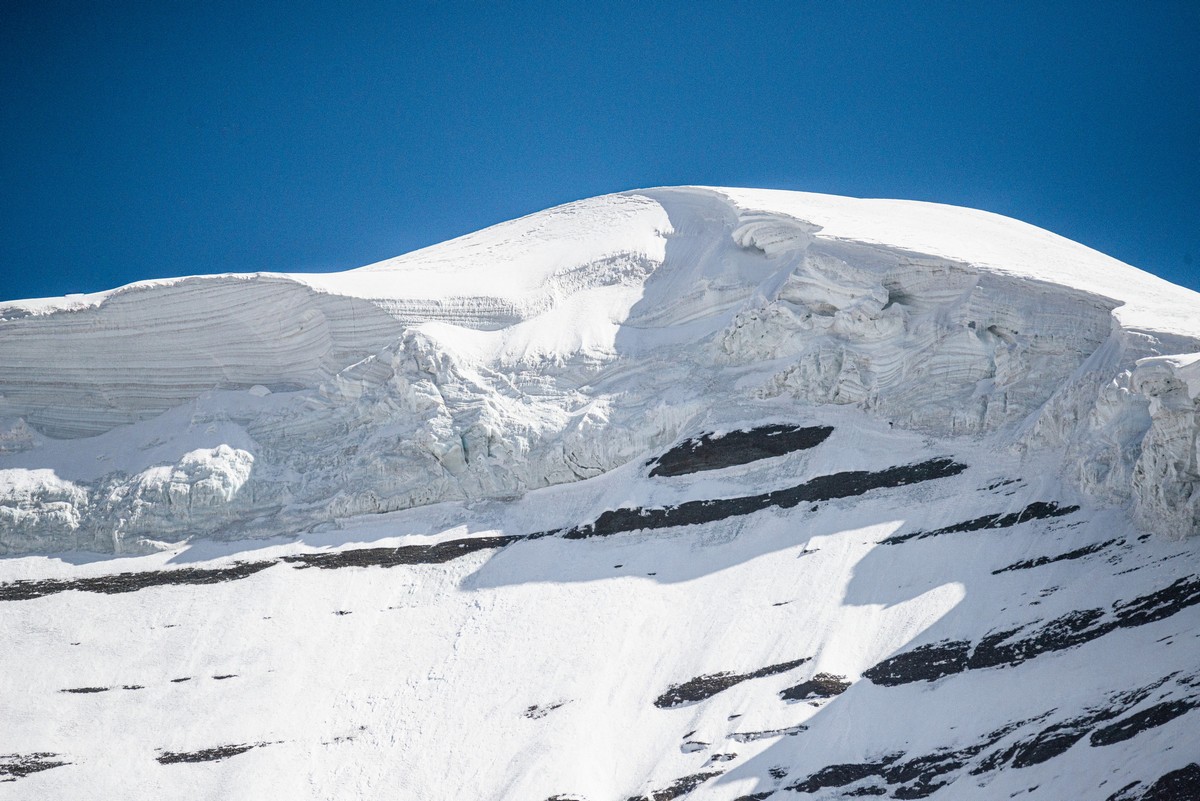 Various pics of the rock face:
Wildlife! Up here?! Mountain marmots, for example – which live here permanently – at ~5000m above sea level!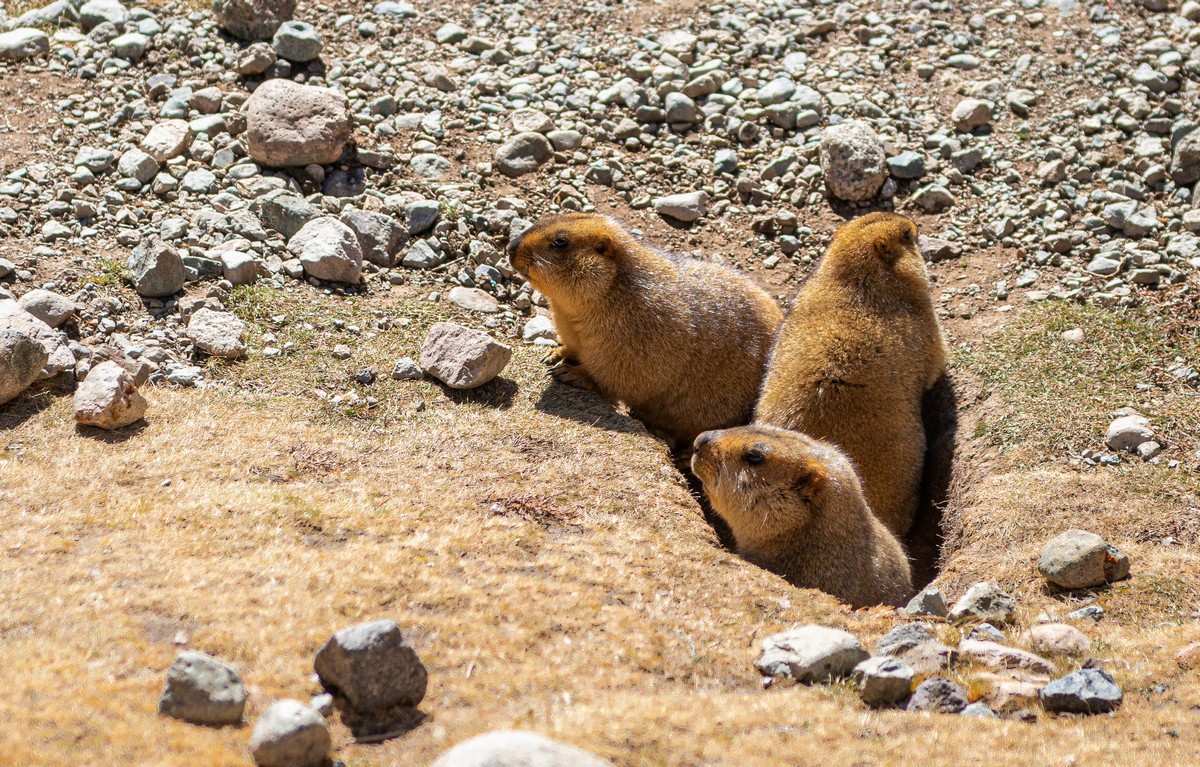 Meanwhile, we continue our trek: we have to get to where we're headed today; can't be sleeping rough by the roadside…
Our destination this day: Dirapuk. Not far to go…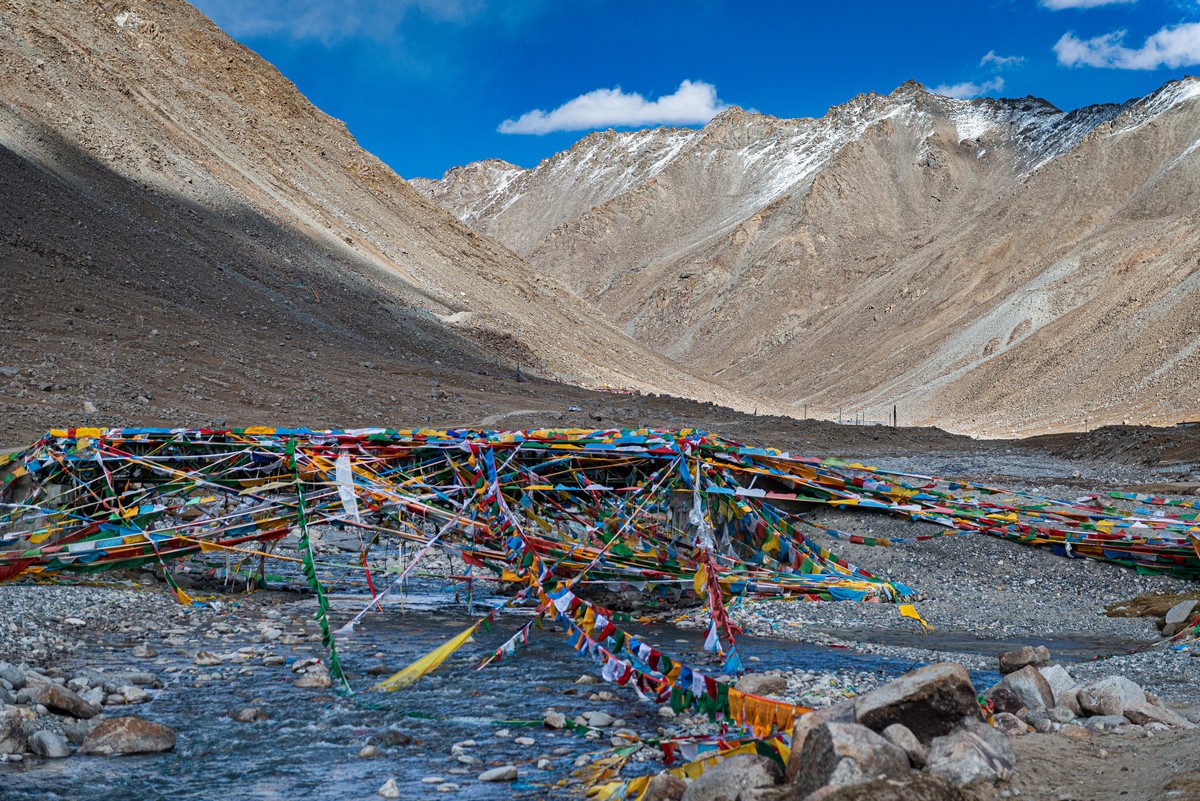 But around this point I was hit – hard – by altitude sickness. My head felt like it was being squeezed in a vice, and my legs simply stopped functioning. Apparently, if I'd simply asked someone for the respective tablet, it'd have passed. But we didn't think of that. I had all on trying not to notice the acute pain in my pulsing head.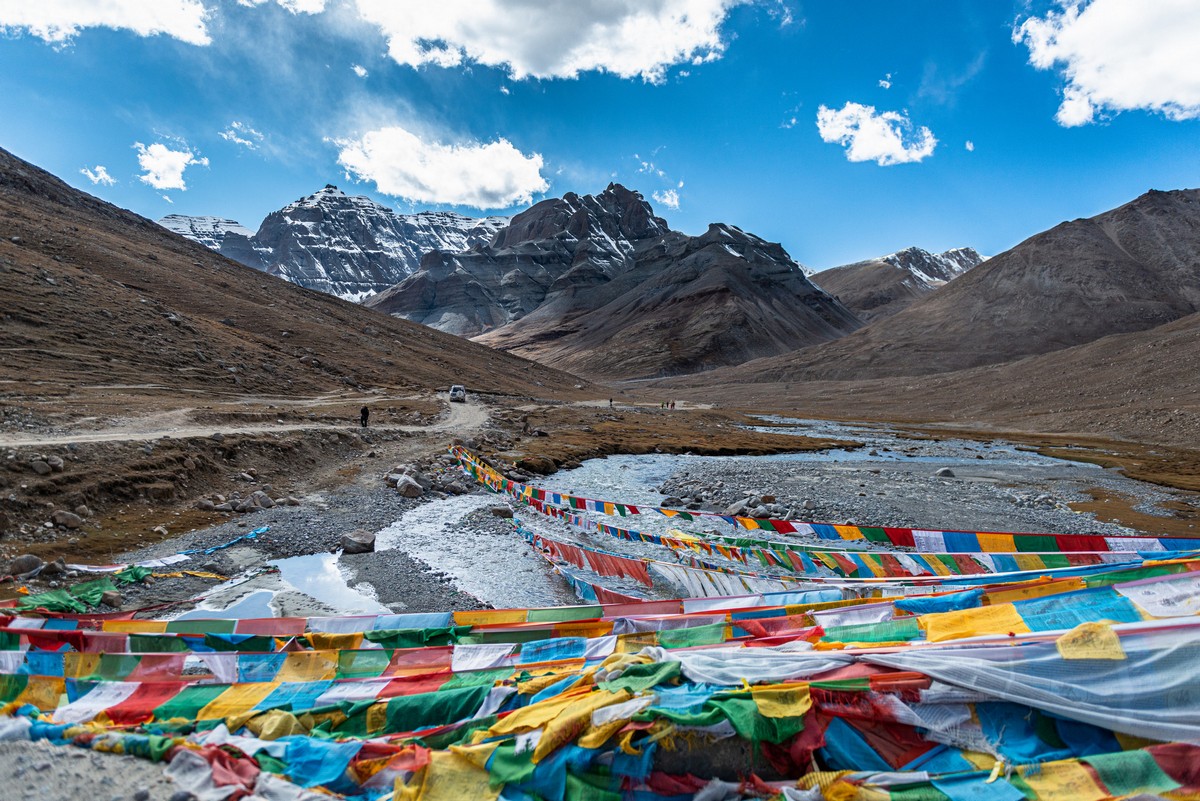 Here's the monastery/guesthouse. Phew!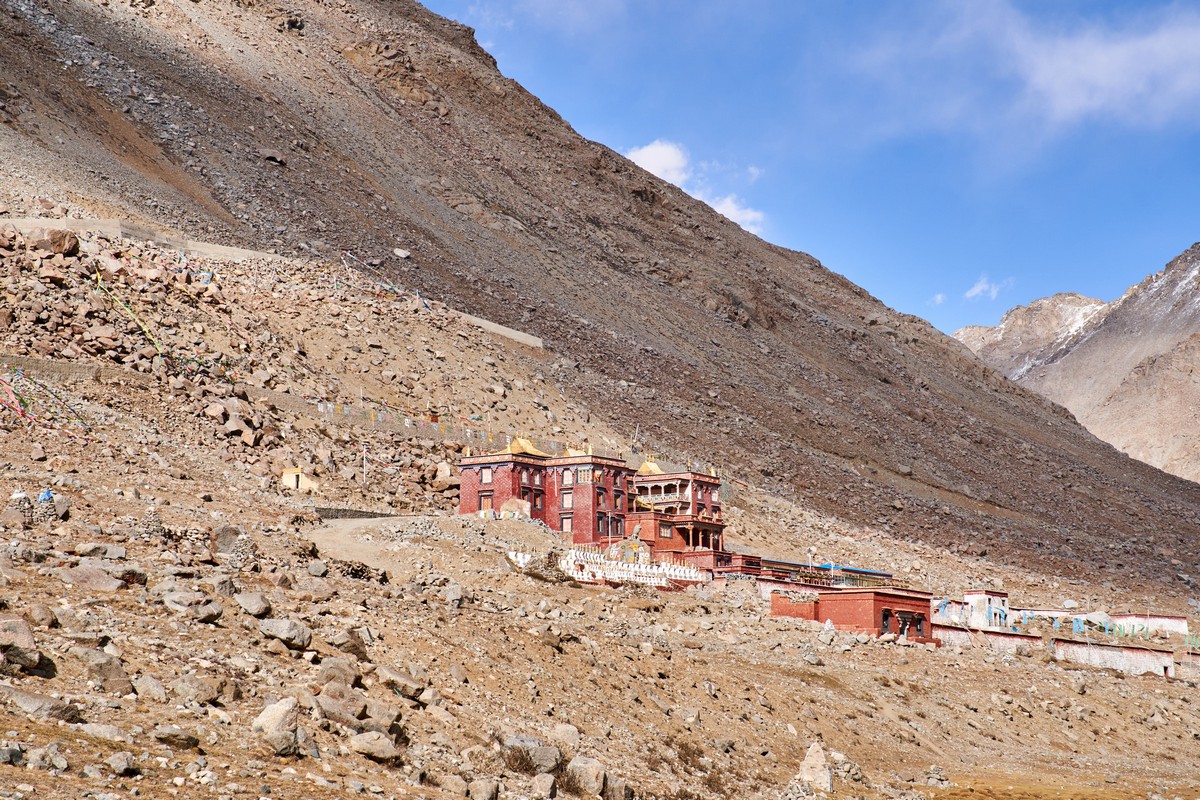 I took the much-needed tablet, came round in minutes, and we went off for a stroll!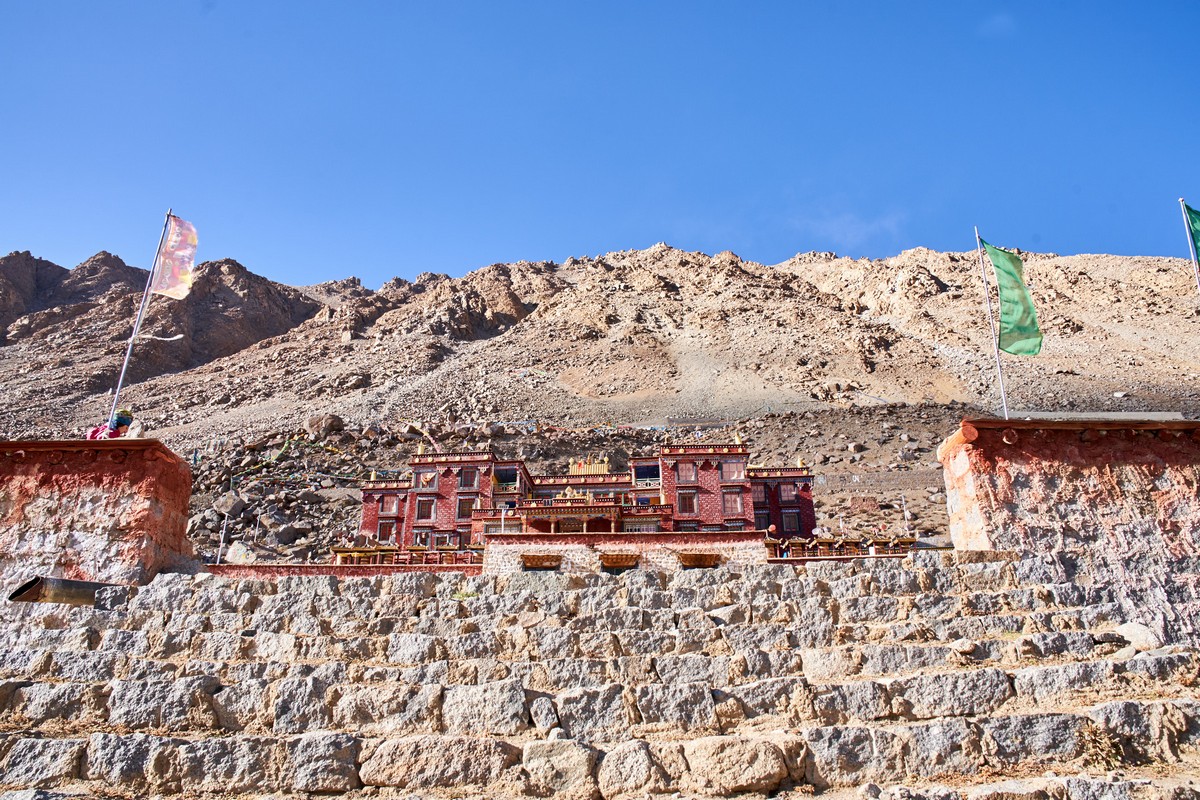 Very nice place, 5000m up!
No photos inside (. But up on the roof: possible. Great place for meditation too – with Kailash as your focus of attention!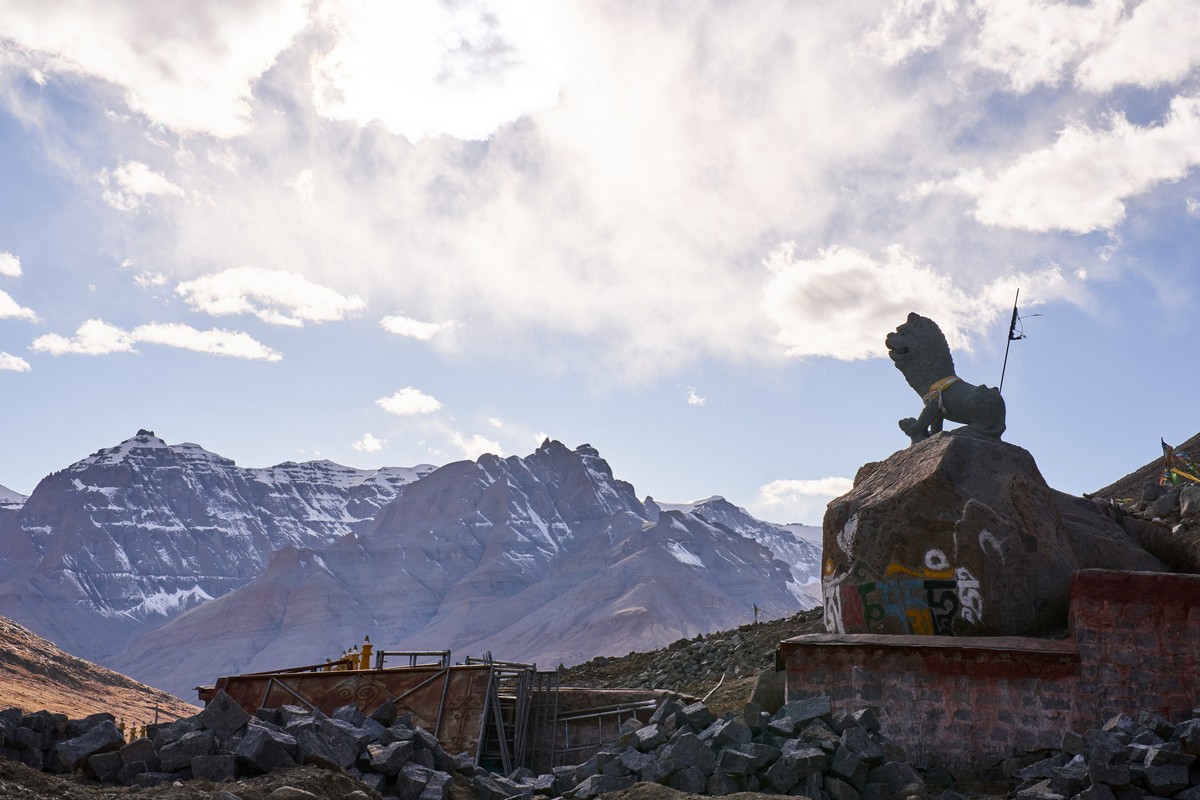 So we meditated…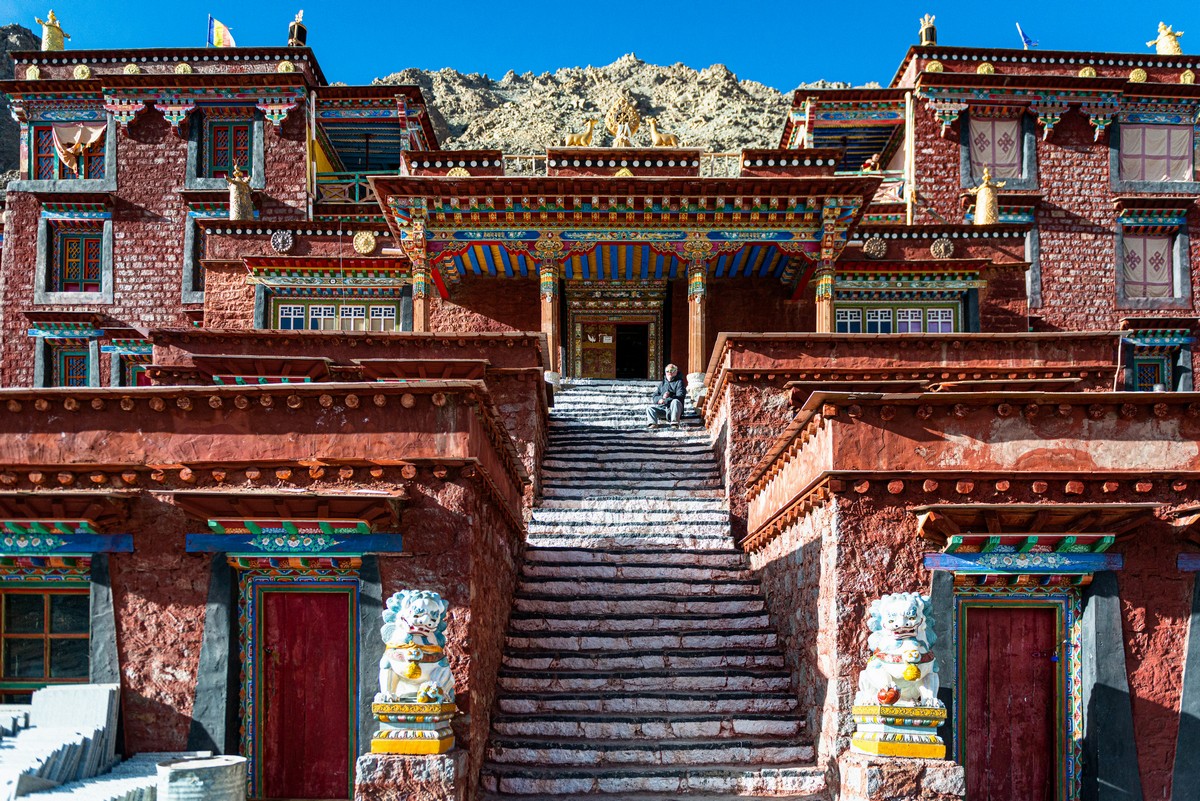 And time-lapsed:
Evening: main dish – Kailash at sundown. Oh my grandiose: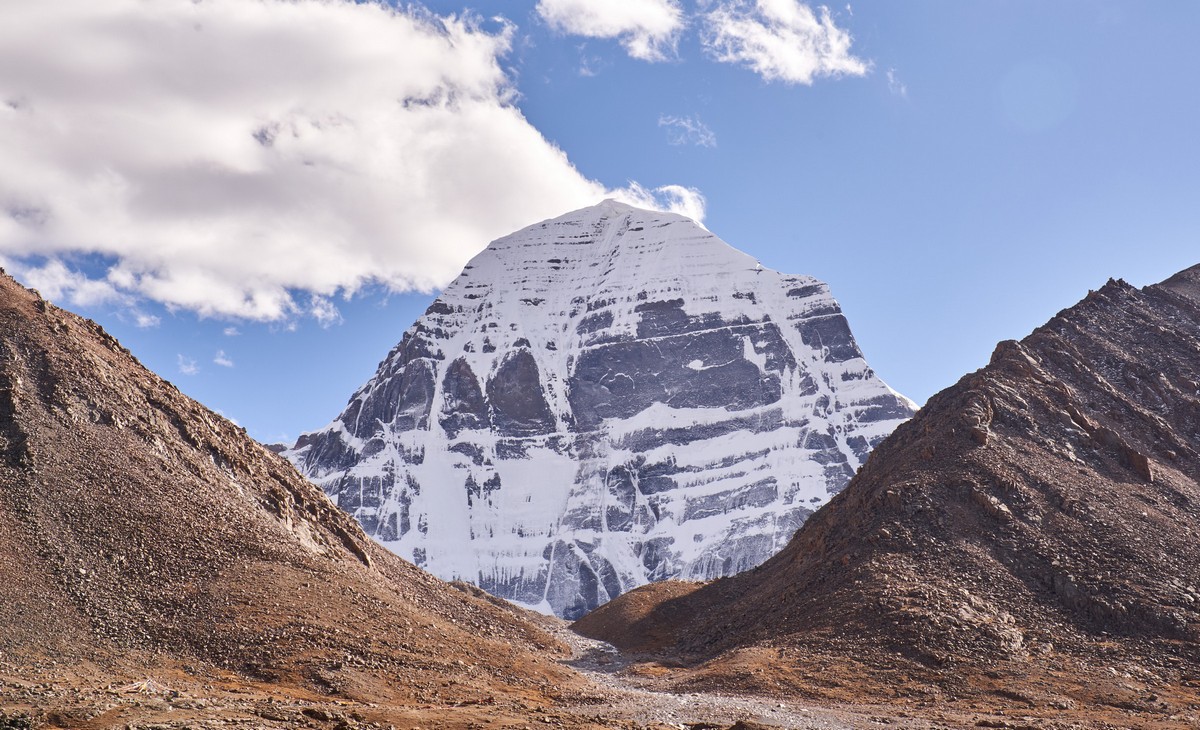 Shame about the sheds in the way. Grrr. Couldn't they have at least painted them so they blended in? Grrr.
Like with Everest – toward the end of the sunset only the peak of the mountain was left with sun shining on it; then it, too, inevitably, became shaded ).
And that was that. Our incredible first day of our three-day kora. Sleep time. For we were up early next morning for more of the same – yippee!…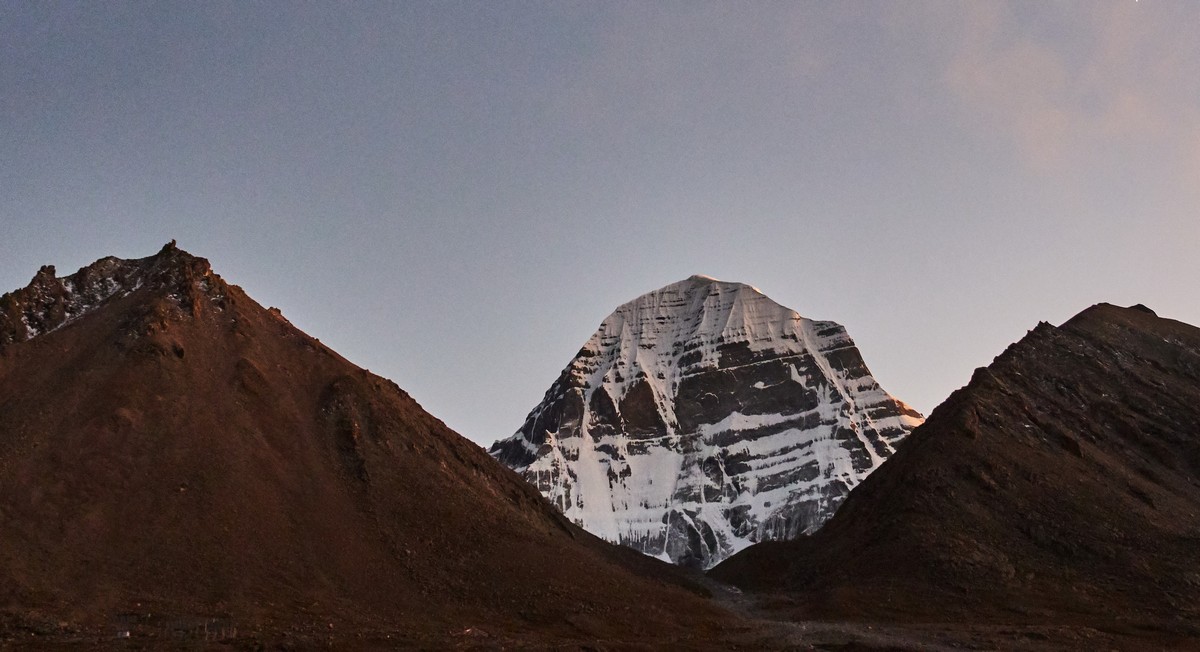 As per, we were planning on getting up early, eager to catch the sunrise from the same spot we saw yesterday's sundown, and to then continue on our way on our kora-round-Kailash…
But we were woken a lot earlier than we would have liked – at around 5am! Our guides told us that if we were to set off later the sun would be just too hot when we'd be crossing the mountain pass; also, we wouldn't make it to our next overnight stop at a comfortable – ~early evening – time. Accordingly, grumblingly, we were up and off before 6am – before dawn: upward, toward the stars!…
It was actually not before dawn when we set off, but precisely at dawn: there was a full moon, the stars were still twinkling brightly, and there were mere light clouds only here and there so we didn't need a torch to see where we were walking.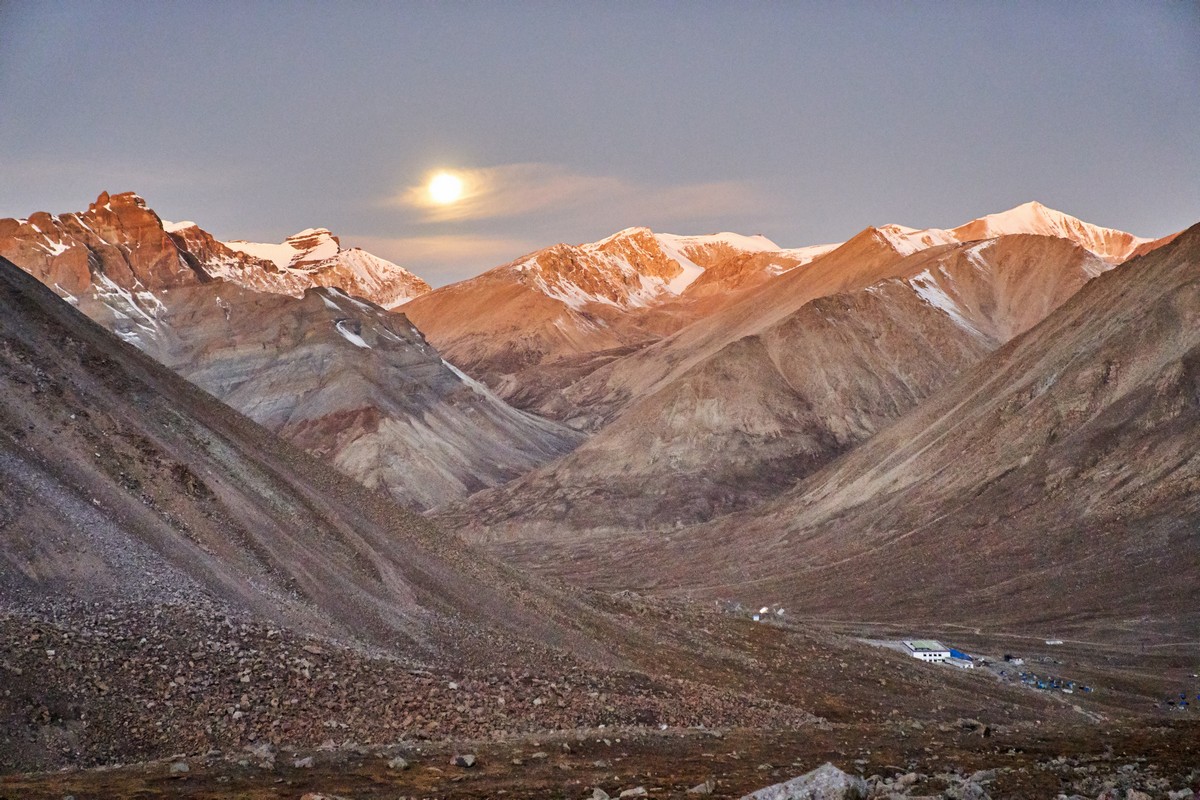 Still a bit shell-shocked at unexpectedly being woken up so early, mercifully there was welcome news early on: in no time at all we reached the first stopping-viewing-snacking-photography spot – and the views of the valley and of Kailash were marvelous! ->
It was here that we said to hell with the rushing about, and decided to wait for the sunrise proper. The final making of this decision was bolstered by the fact that, as it turned out, it is possible to get to our overnight-stop place at night. So what's the rush?! Seeing Kailash at daybreak, in such perfect weather conditions, in such great company – that had to be worth a bit of a wait. So we settled down and waited for the sun to come up…
(Btw, this was the last (!) place where Kailash's peak was visible. And we'd only just got going on the second of our three-day kora round it! But such was the case: later, we were too near, and Kailash is very… sturdy. We saw it again at the end – where we began at Darchen.)
…But before the sun could come up (which the sun never does, of course, it's Earth that rotates around it:), we of course had to wait for tardy Mr. Moon to go down first!…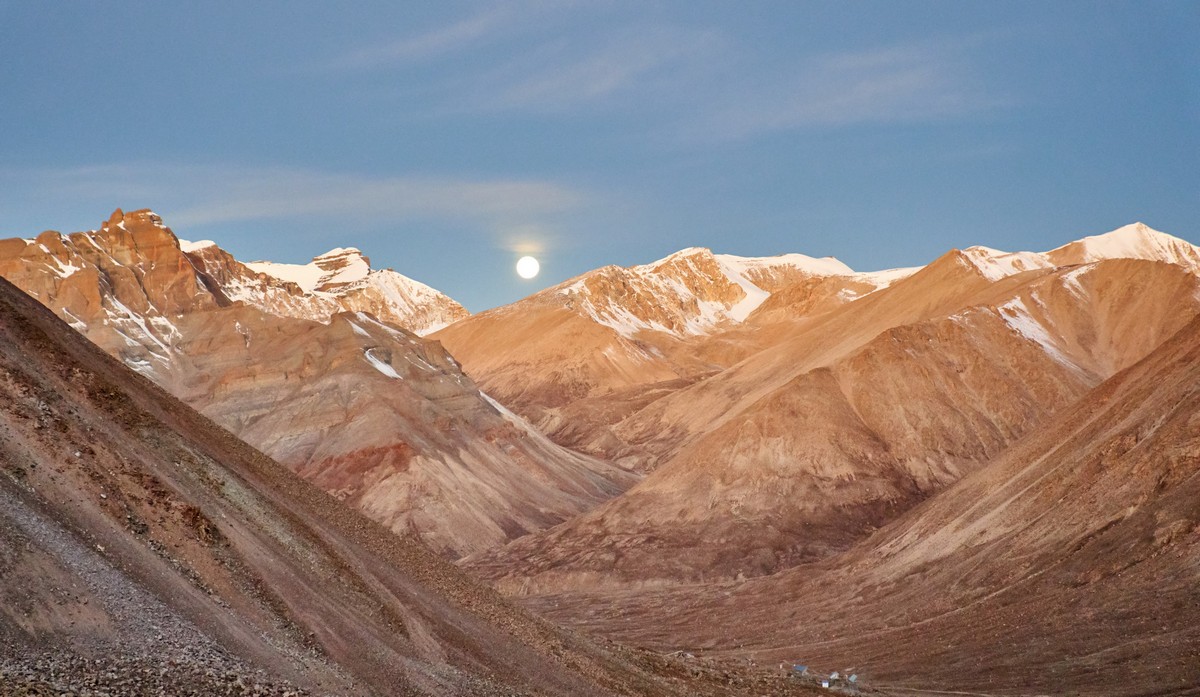 Finally, off he pops, down behind the horizon.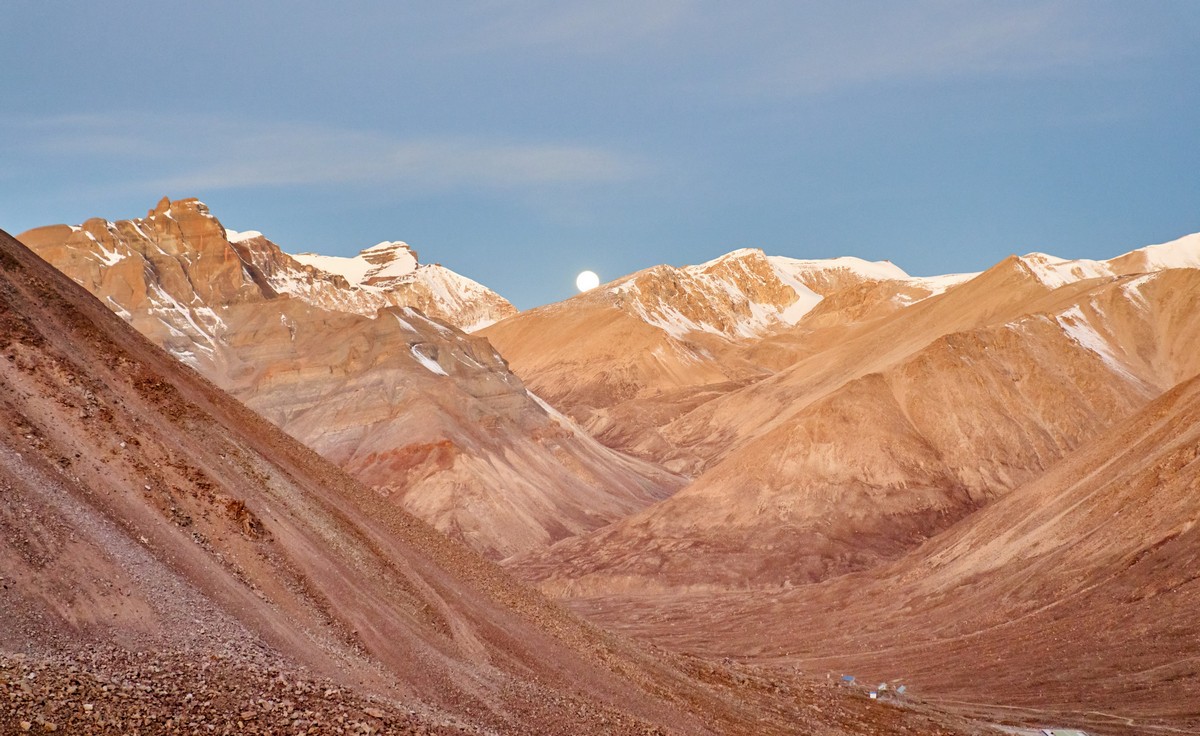 There were some… limbo-esque minutes between the moon setting and the sun showing its face…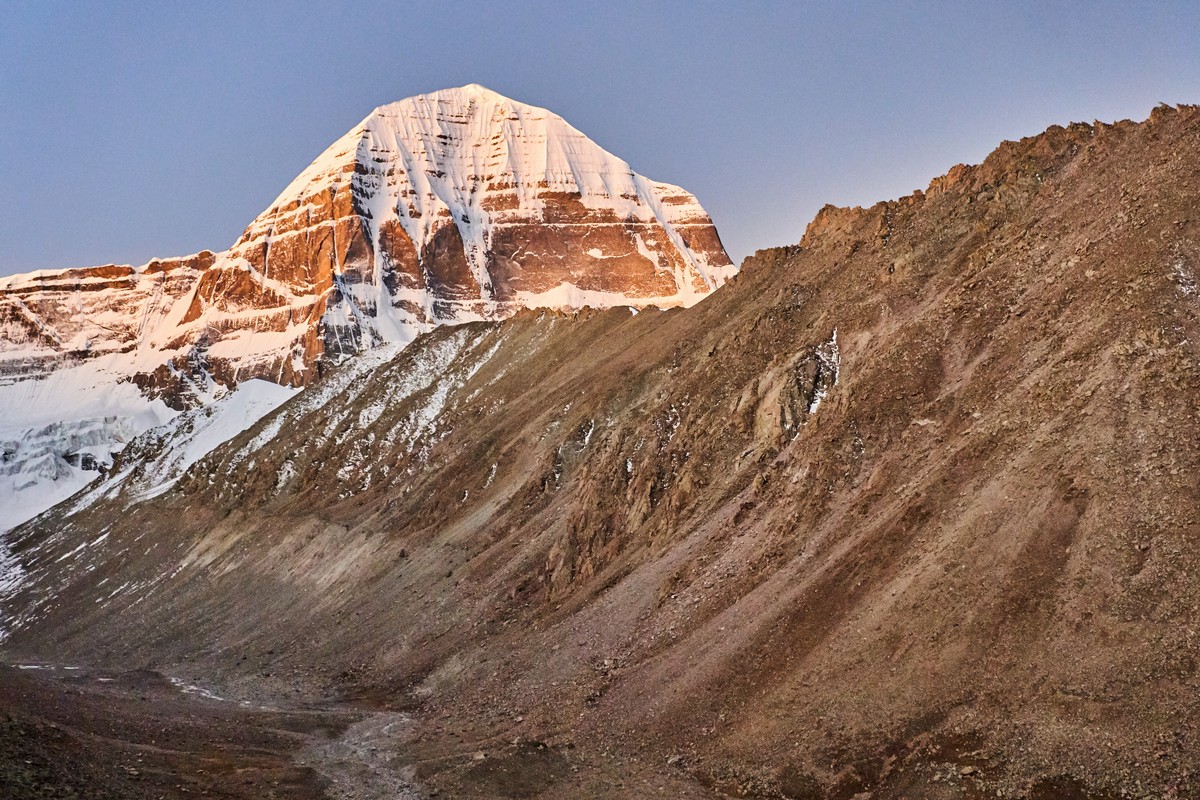 Still not visible, but here it comes!…
It really did seem to be taking its time…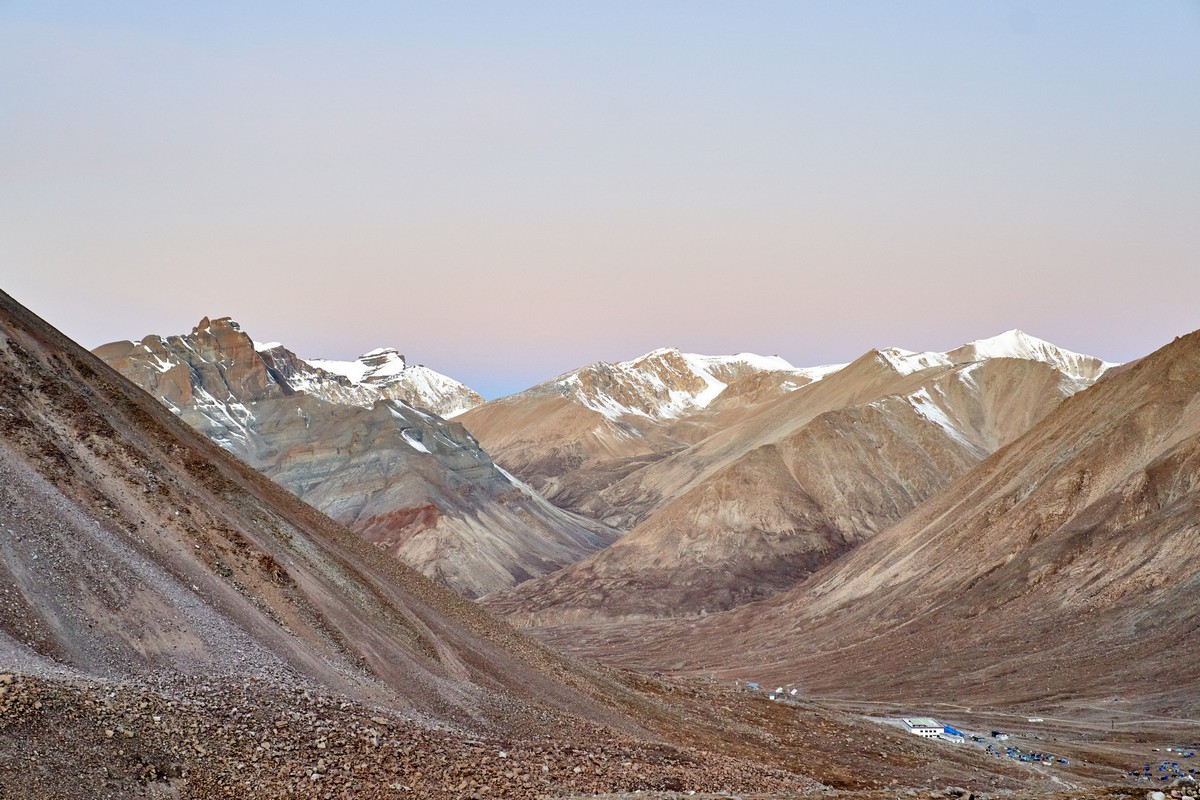 And since we were standing around, not actively walking, we started to feel the cold. A barrel: would be useful but for the fact that up here there's no fuel to be found to put in the barrel for a fire: no firewood, not even the customarily-used yak dung up here!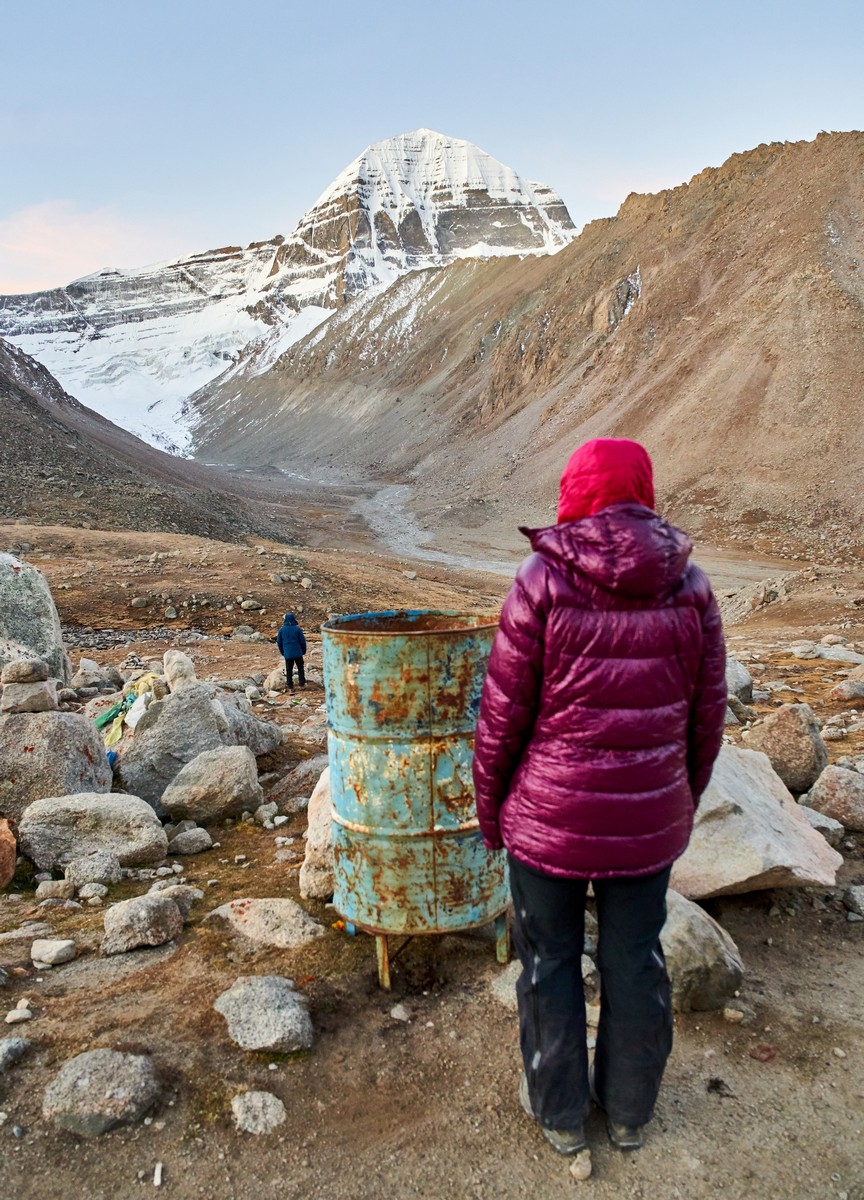 Wait – is that direct sunlight up there on Kailash's peak?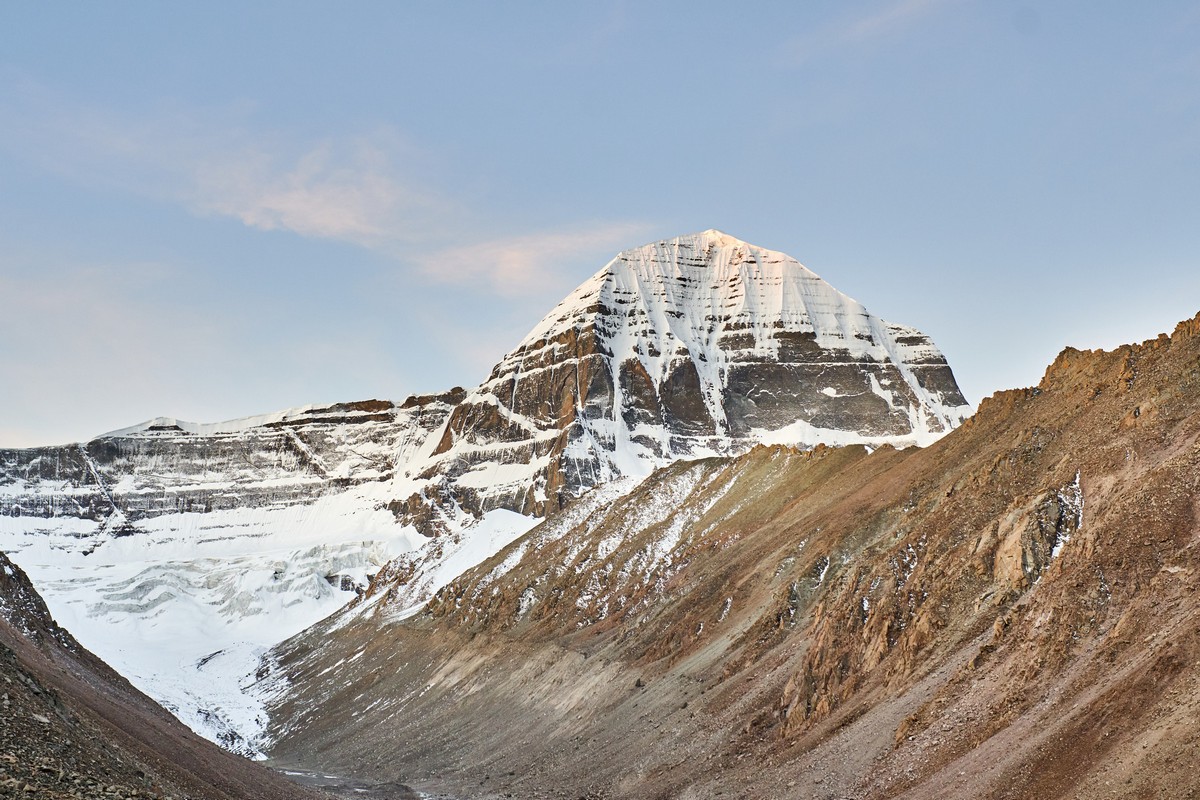 Yes!
Ahhhhh.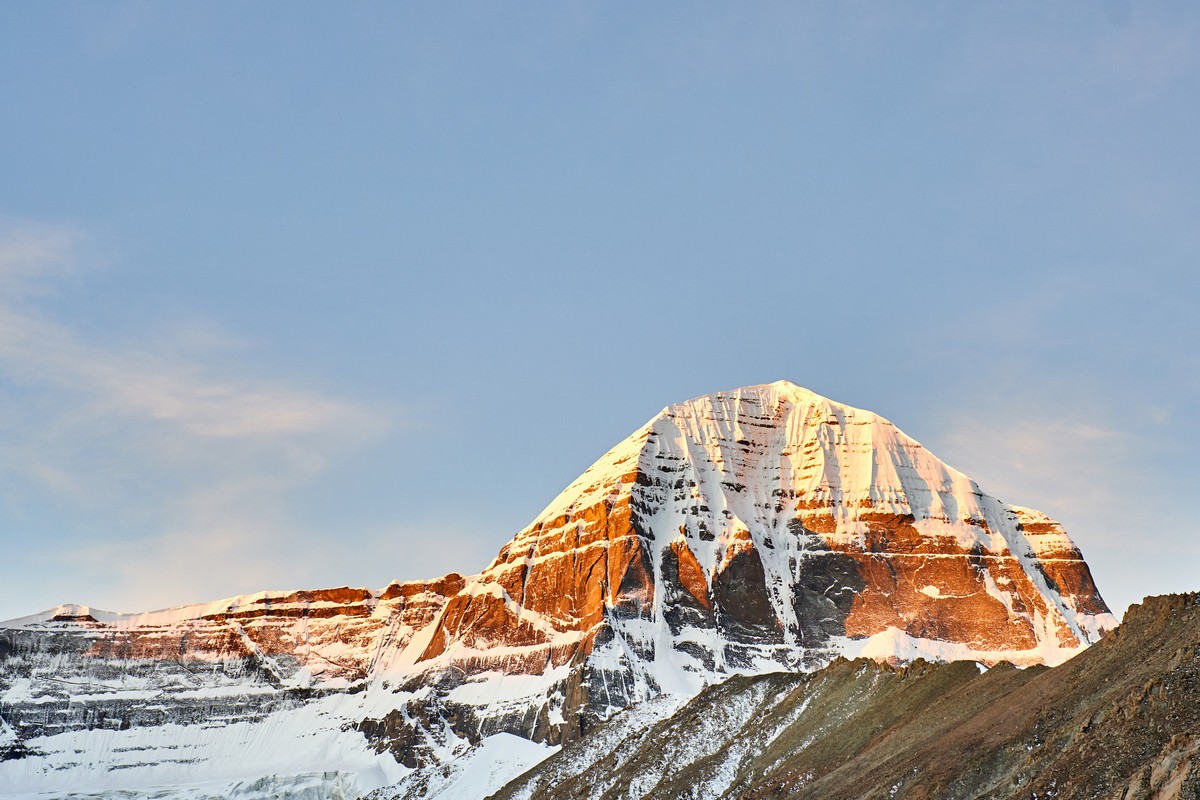 Here are DZ's pics too, just in case…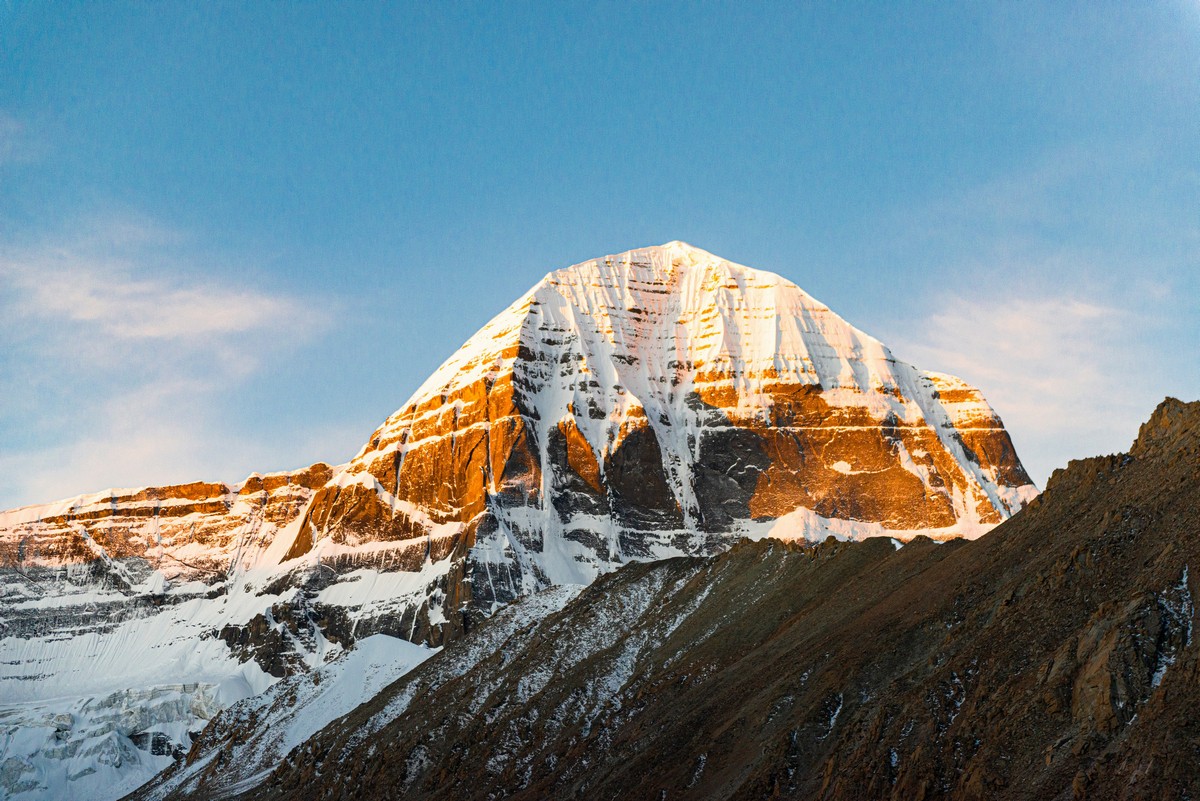 As if this experience needed a boost in the first place – but, because we were so high up, there was added euphoria due to early-stage altitude sickness!
Ok. Sun – up. Us – walkies: ~20km and up to 5700 meters above sea level!…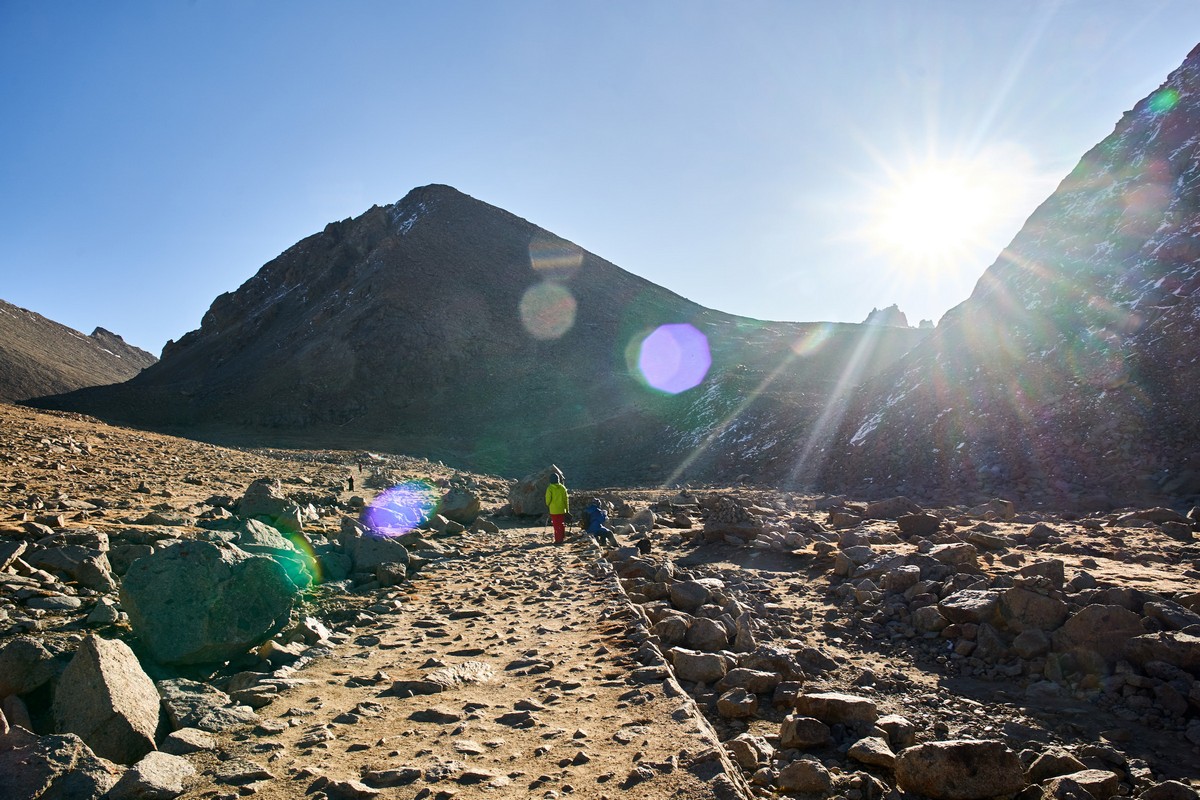 As we get nearer and nearer Kailash, paradoxically, its peak disappears!…
Meanwhile – we're headed up there: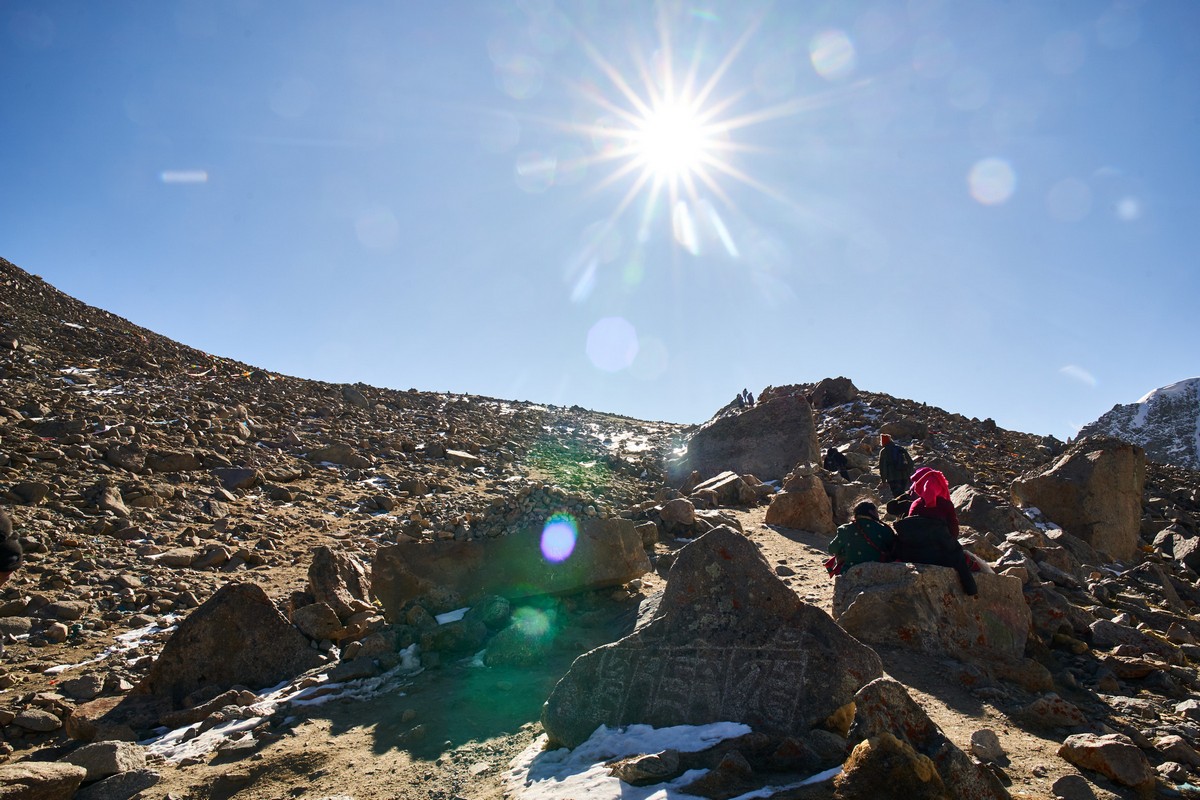 … to the Dolma-la mountain pass! 700 meters further from sea level than we were when we were rudely awoken!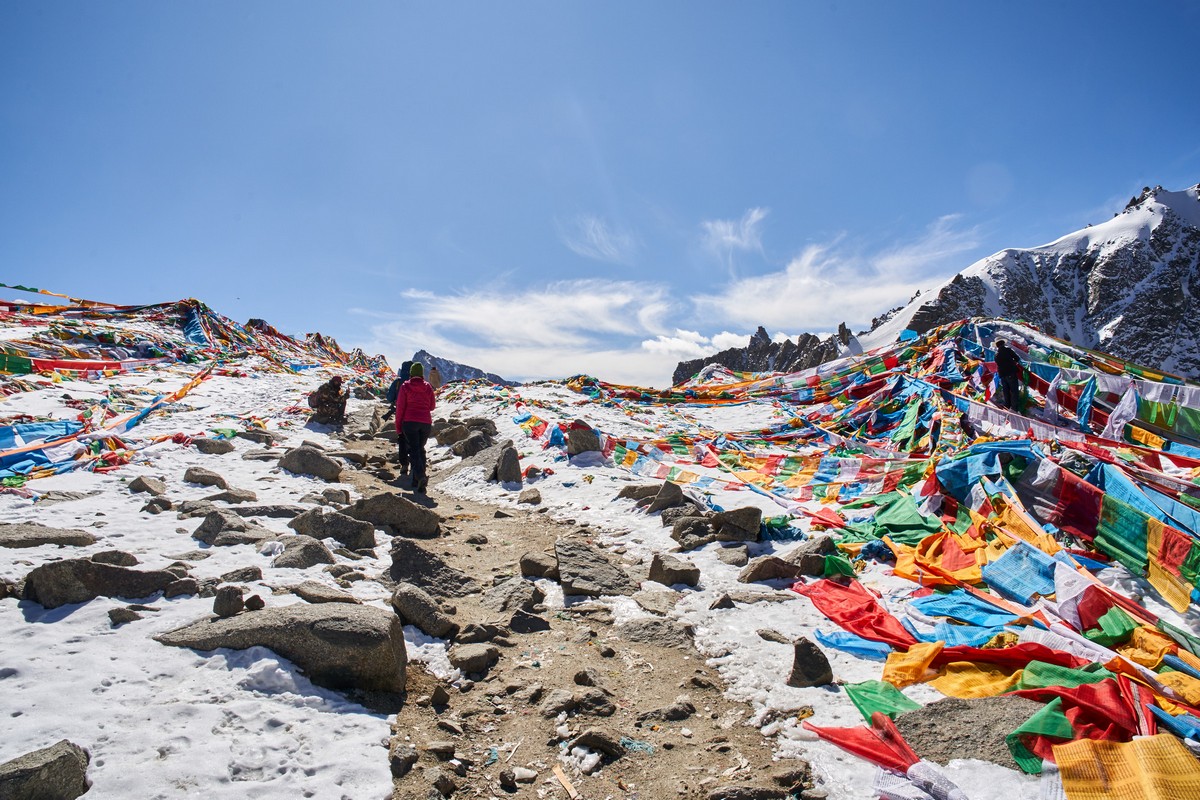 Btw: sources differ on how high this mountain pass is. Some state 5630, others – 5723. Our geo-navigation kit – 5700. How can these figures be so different from one another? Another Tibetan mystery…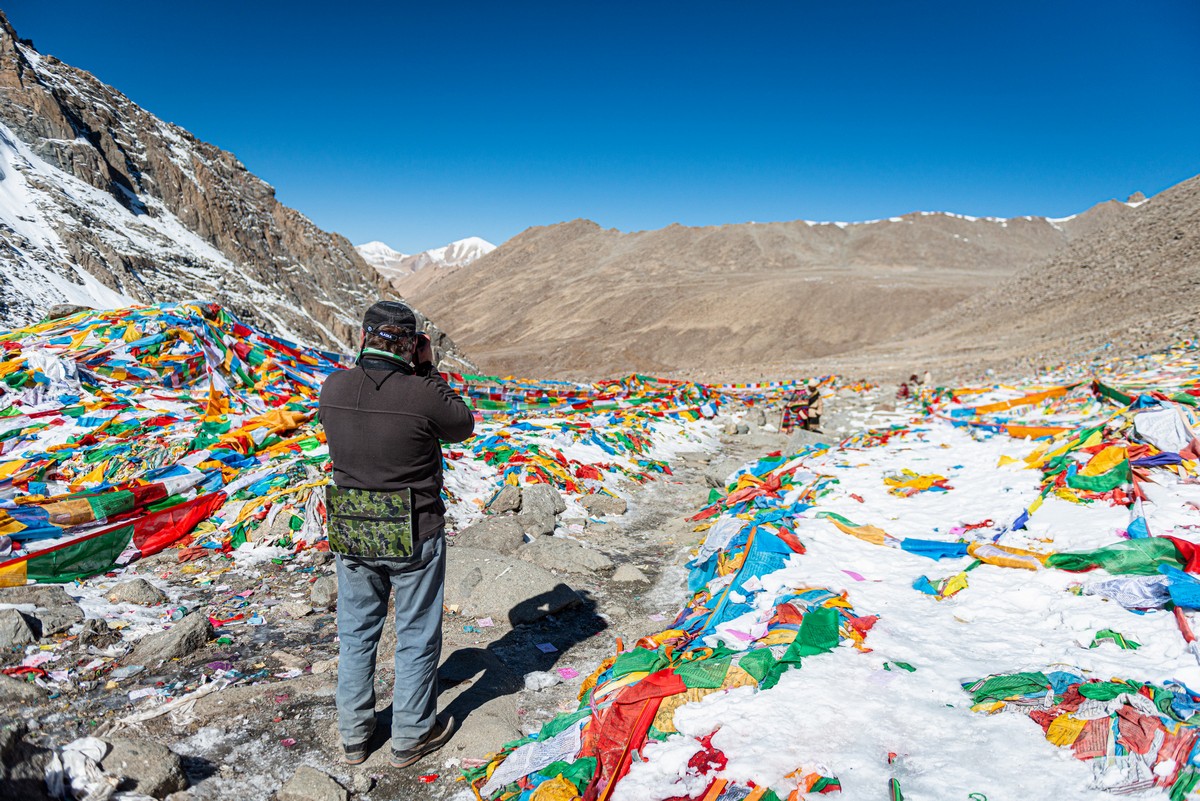 Here are some Tibetans doing a kora. They're also having fun and taking pics. Just like we tourists from Moscow!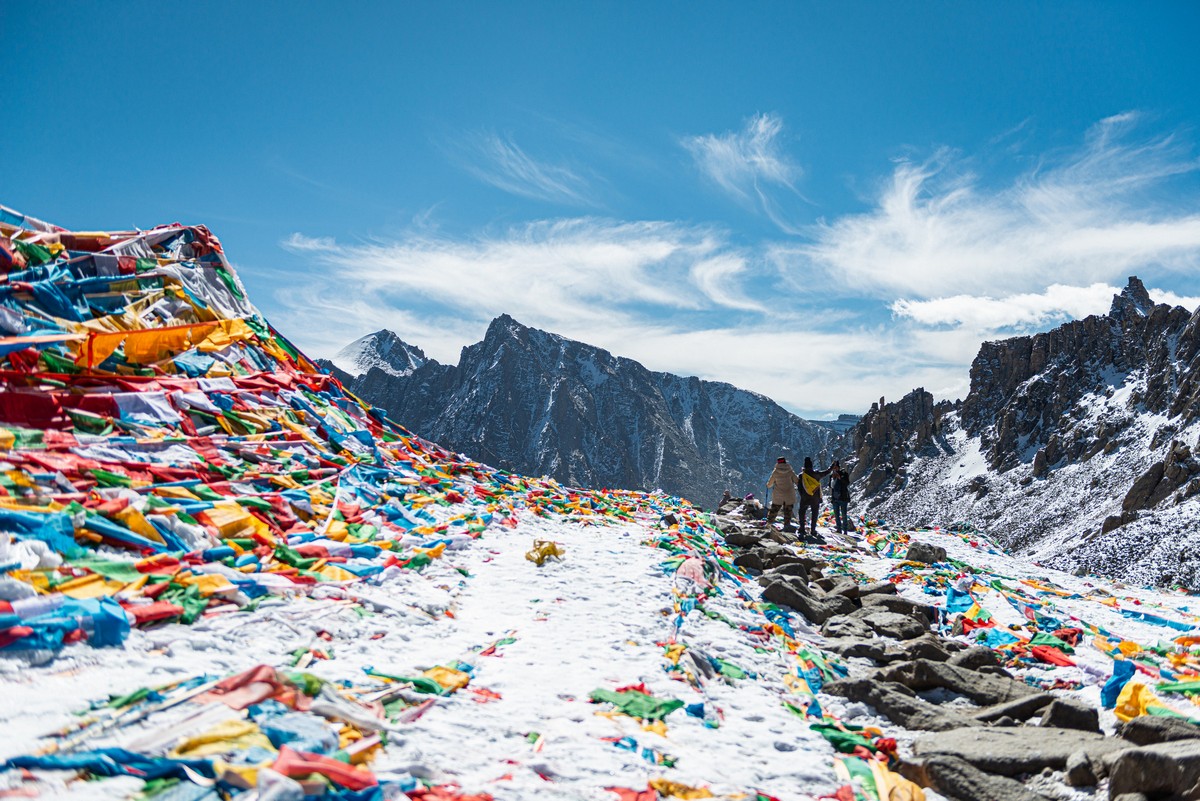 As per – traditional Tibetan flags on the mountain passes. Thousands of them!
We take a breather. But, let's face it – it's hardly a breather up here ). Let's call it… a pause. To behold the scenery a while, trying to forget about the alarming lack of oxygen…
Here's the path we were about to descend down…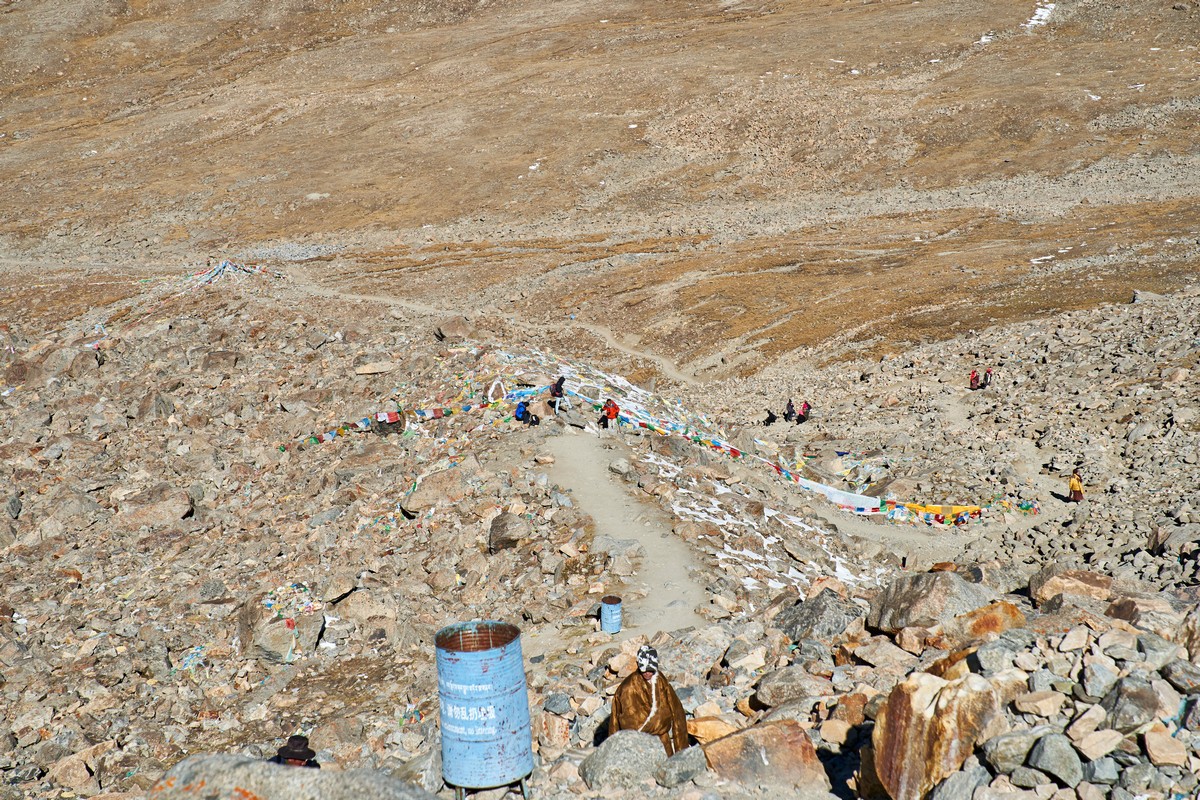 Alas, there's a lot of trash strewn everywhere at the mountain pass. Regular modern garbage, like discarded plastic packaging and other such uglinesses – right here on the holiest of holy mountains for all Buddhists:
Another thing that surprised me was the large size of the sparrows. You can't really tell from the photos but, believe me, there were huge – about one-and-a-half times the size of those to be found in most any city. I recalled someone telling me about the theory that, in Arctic/Antarctic and other extreme climates, living organisms are generally bigger than those in temperate-tropical-subtropical ones. Well, this looks like confirmation of the theory: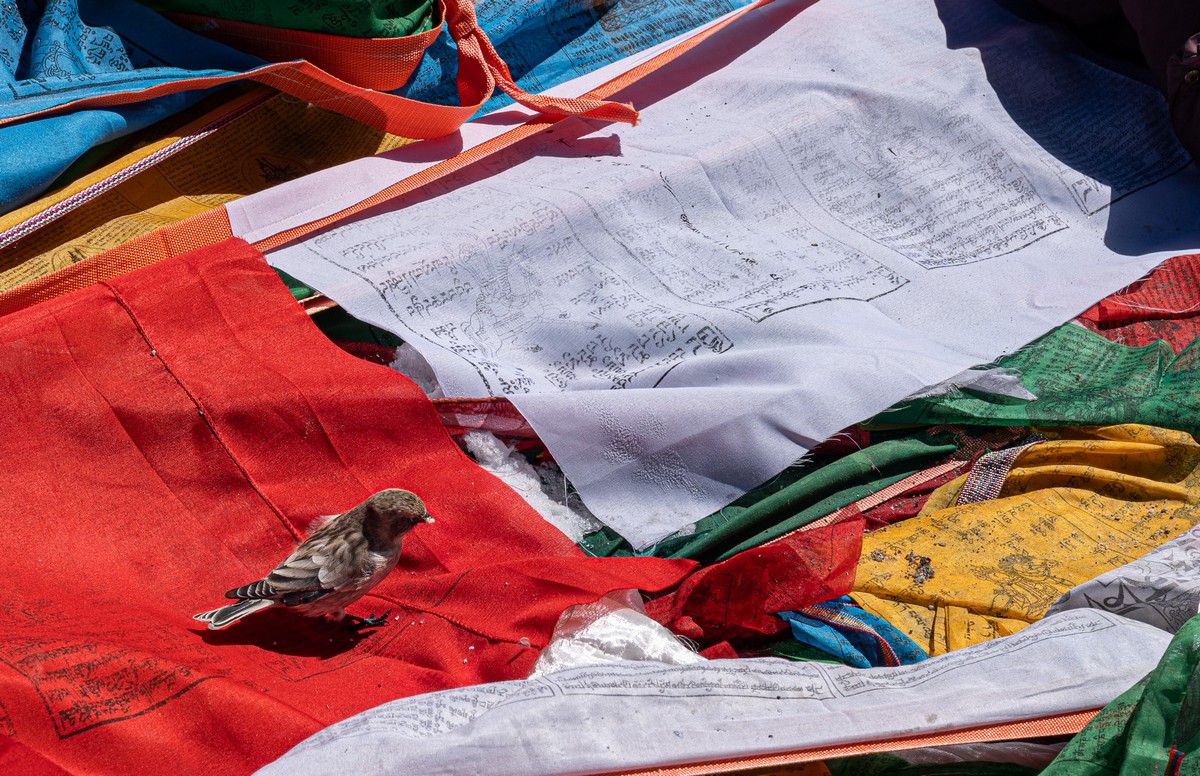 Meanwhile, we sit and meditate – with some suspicious-looking birds encircling us up above!…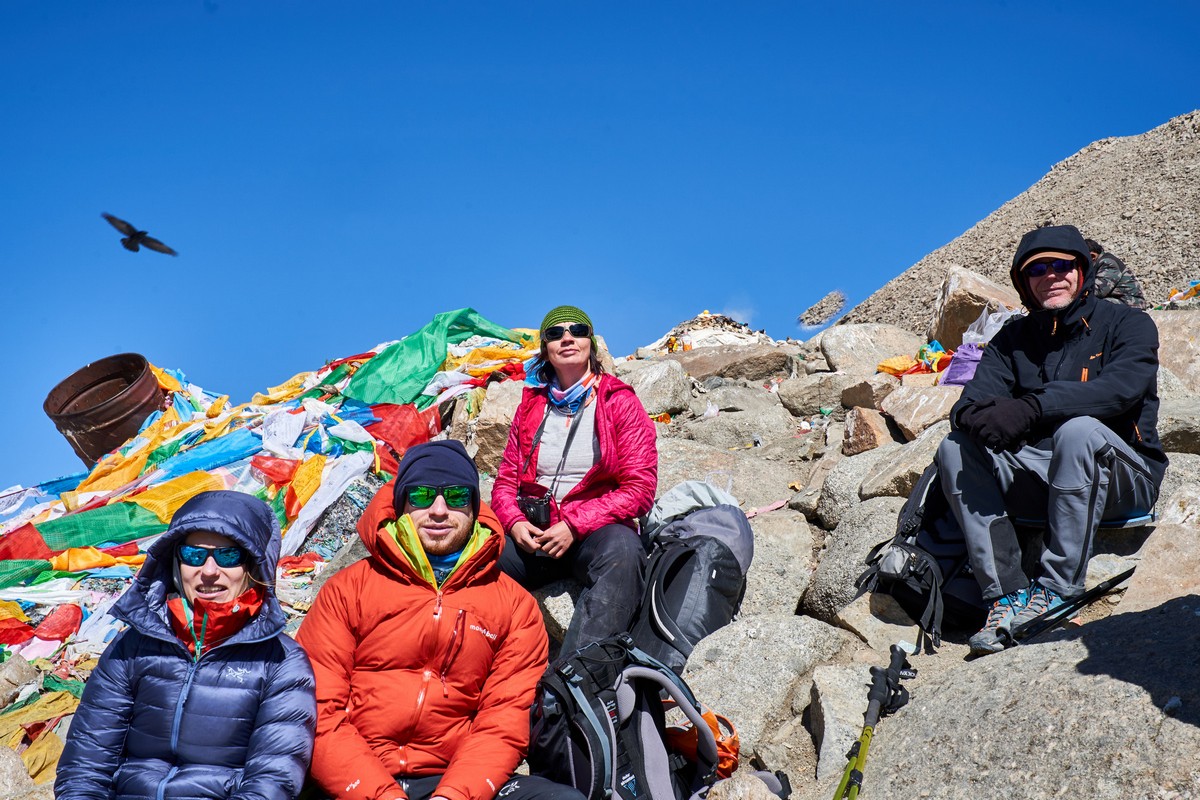 How's the song go? 'One for sorrow, two for joy'? Ok, so that's about magpies… but wait – this is worse: one of these vultures had just flown off – leaving just one!!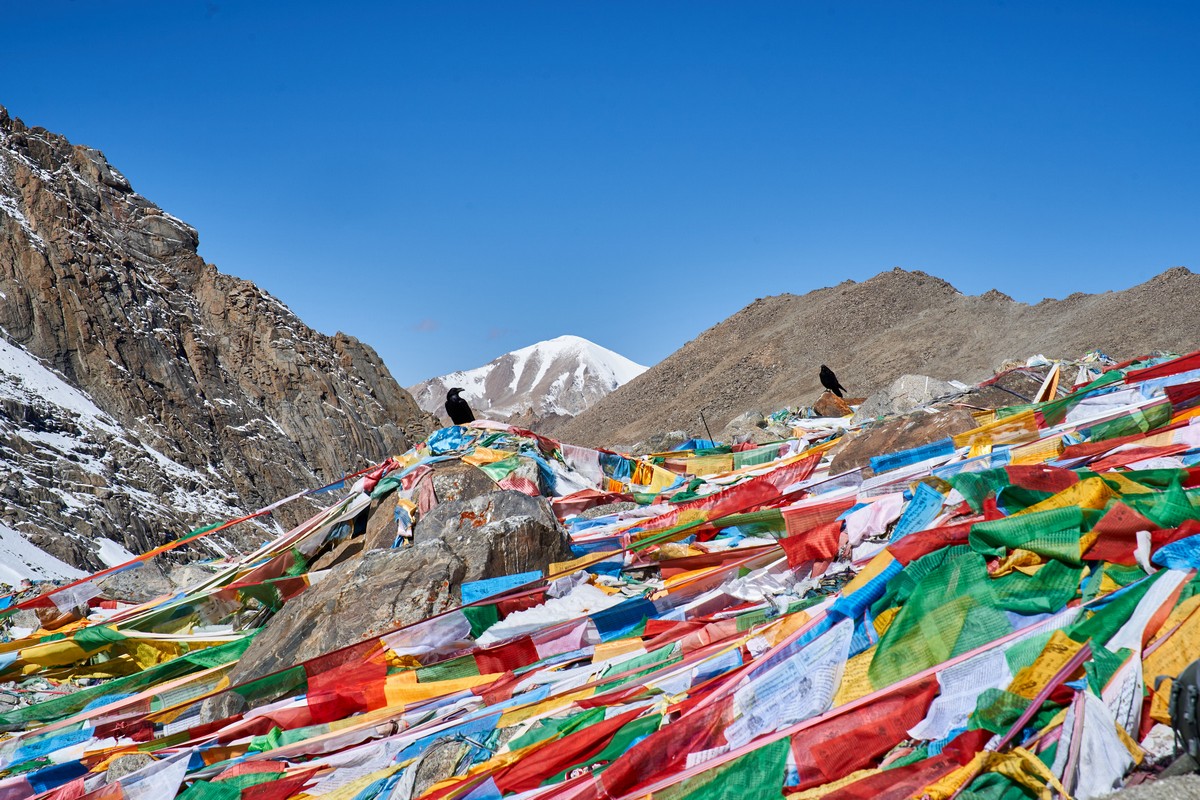 Time we were off!…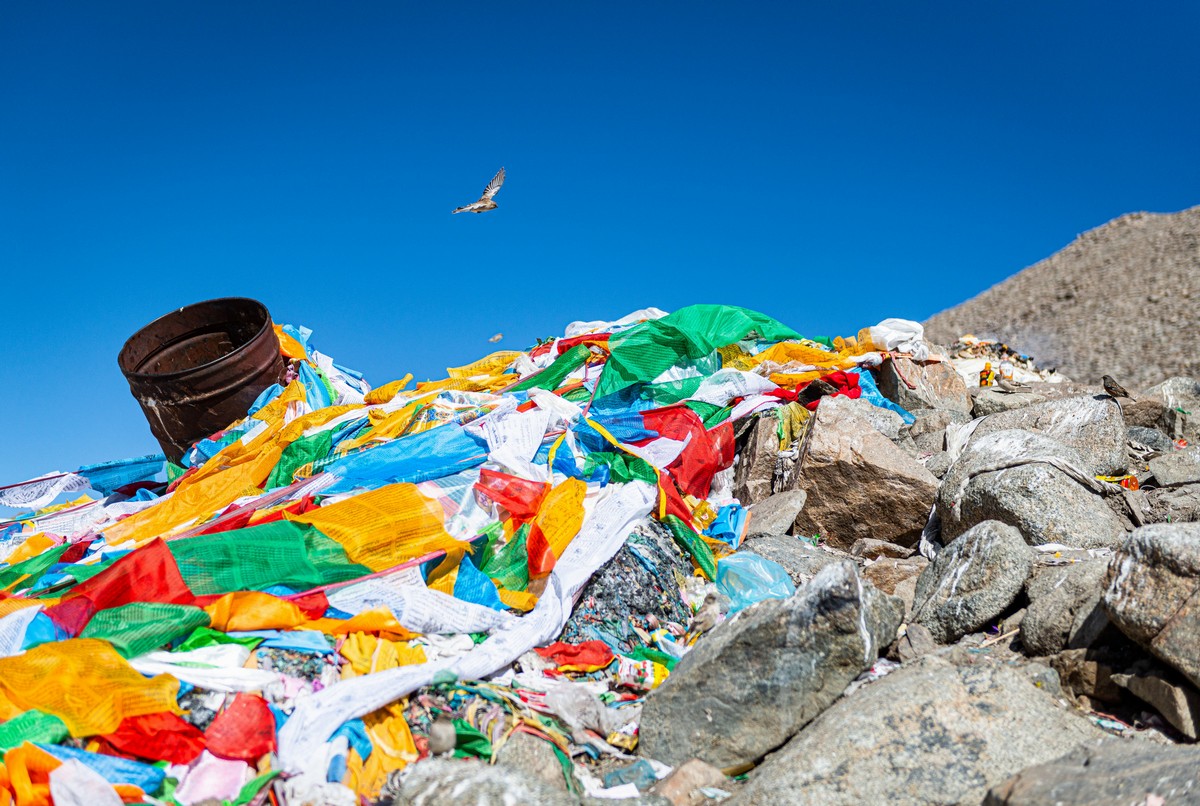 Btw: there were more folks on the path this day than the previous day. Not crowds, but still. I wondered why… Conclusion: another Tibetan mystery!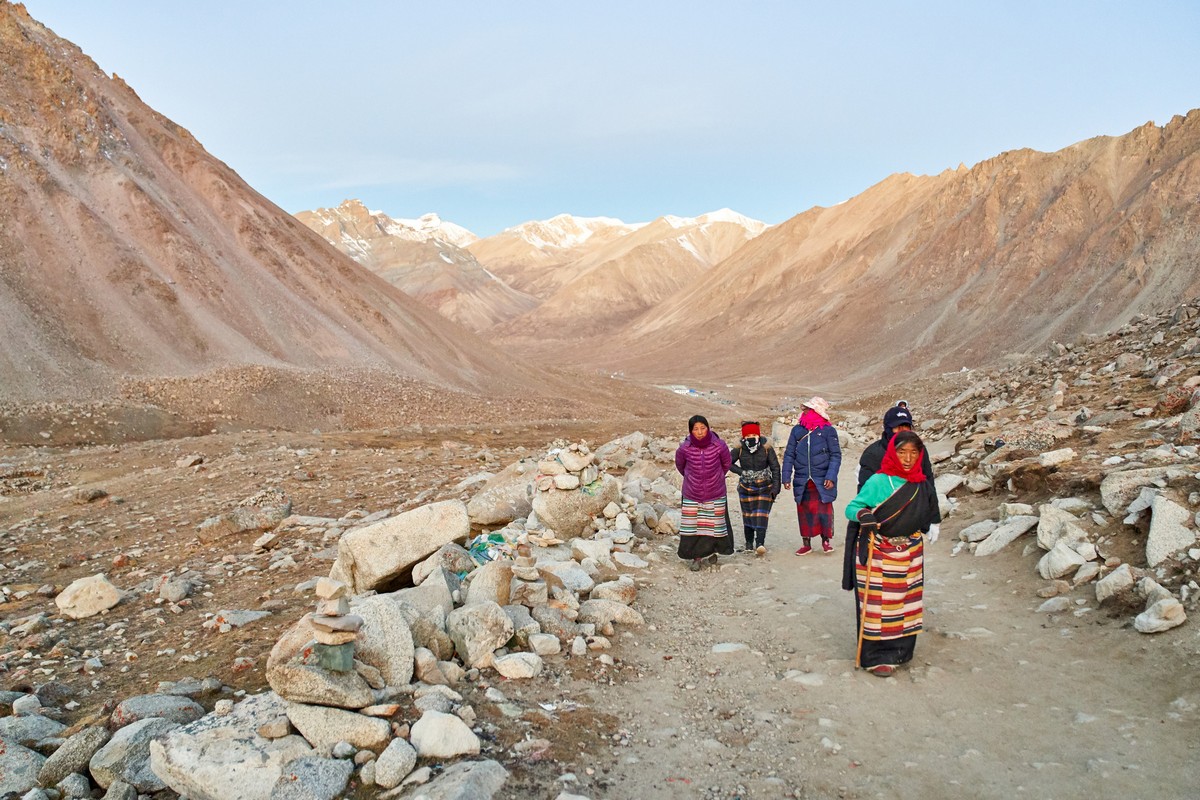 It was mostly Tibetans doing their koras; you could tell from afar by their dress. Then, when nearer, the faint aroma of… yak fat was noticeable ).
They peered at us curiously, with the younger ones taking the most interest. But none asked to have their pic taken with me ).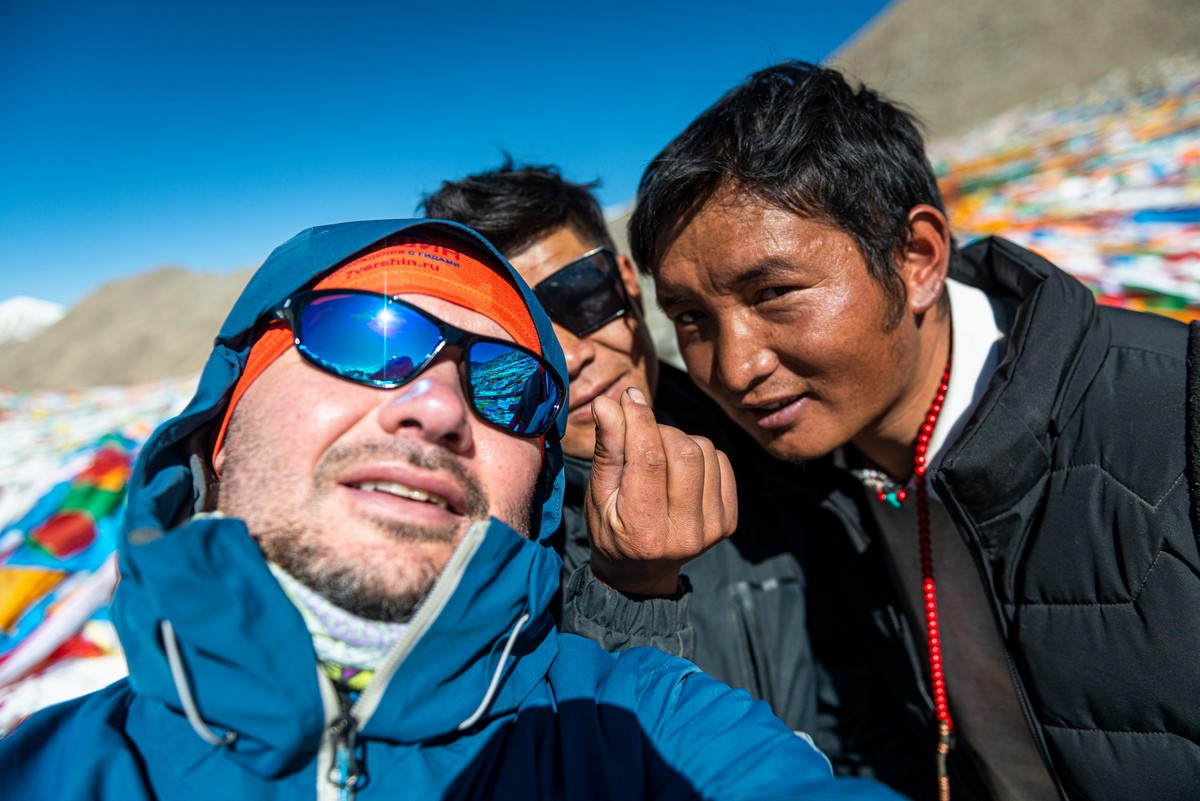 Onward – downward – we go. It got rather steep too…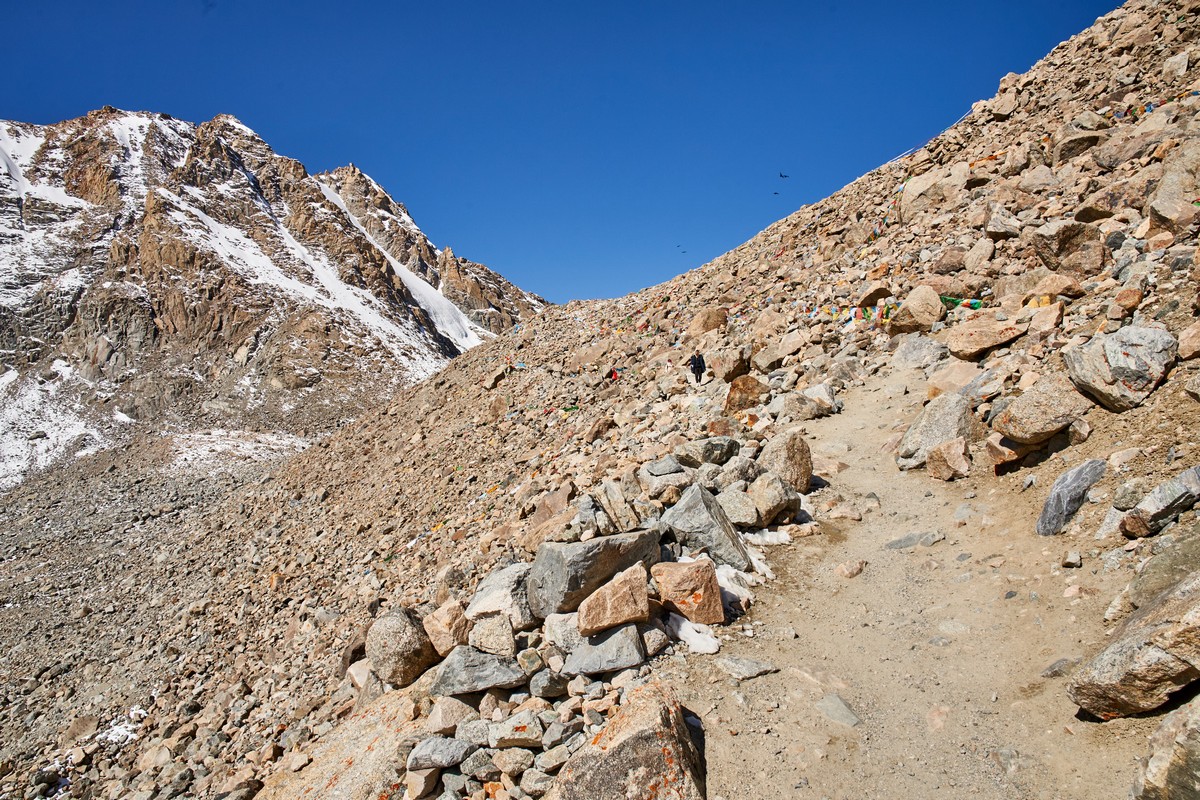 Not the ideal terrain for prostration…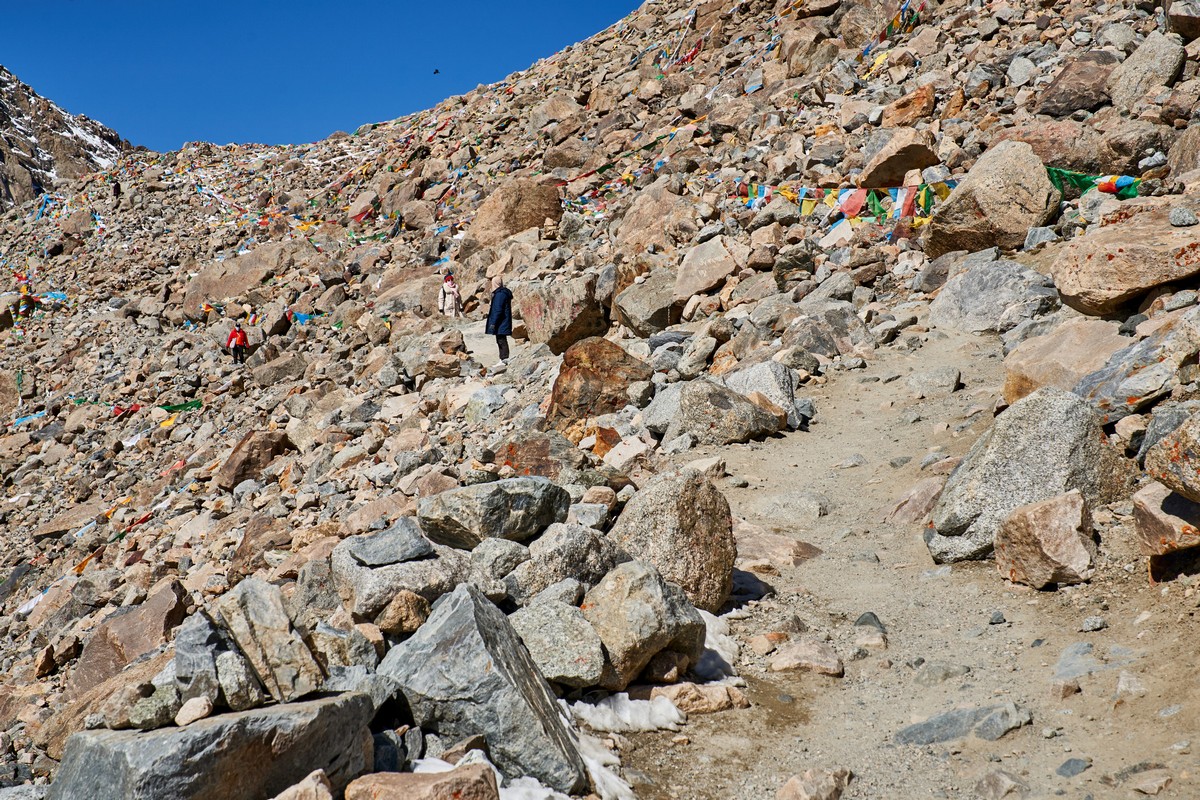 Suddenly, Lake Tuoji, I think ->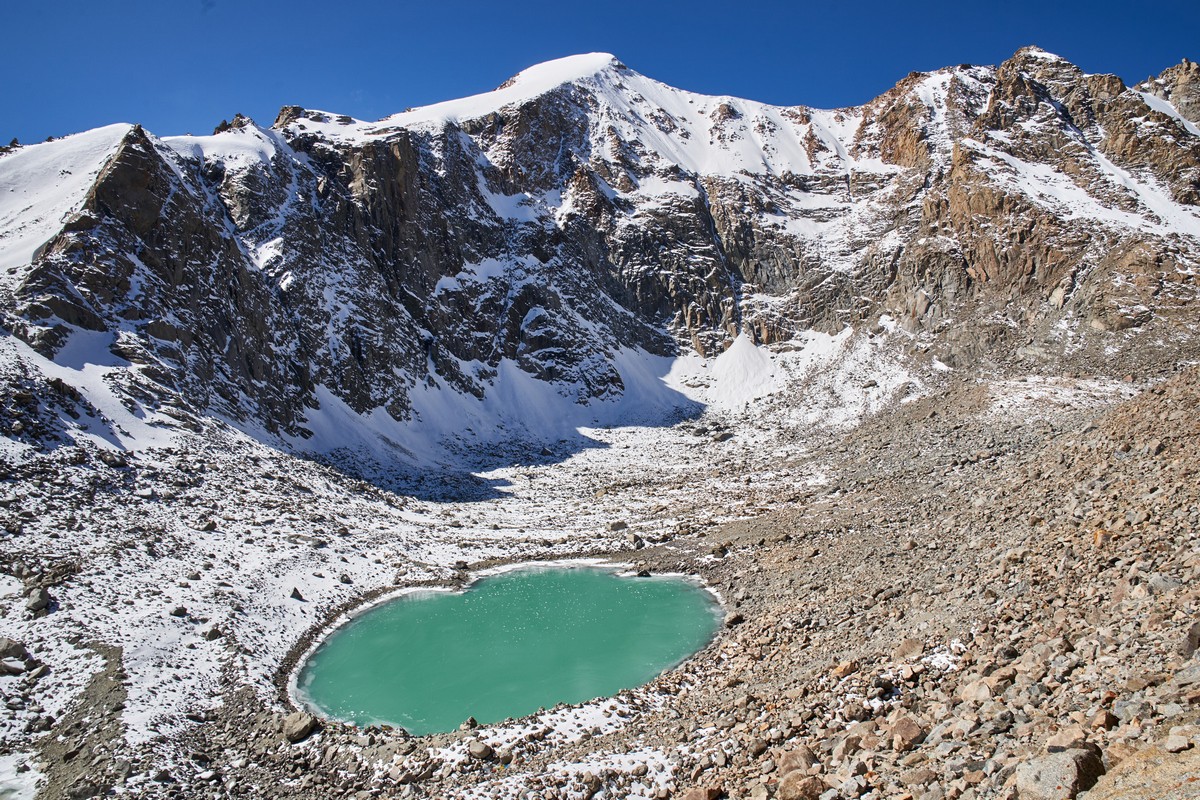 Time for a dip? Would have been great but, alas, it had frozen over. And we didn't fancy the physical exertion of smashing a hole in the ice.
We had some 22 kilometers to cover this day… but we kept stopping to take in the views and take a zillion photos. Arrival at our lodgings after nightfall looked more and more of a certainty…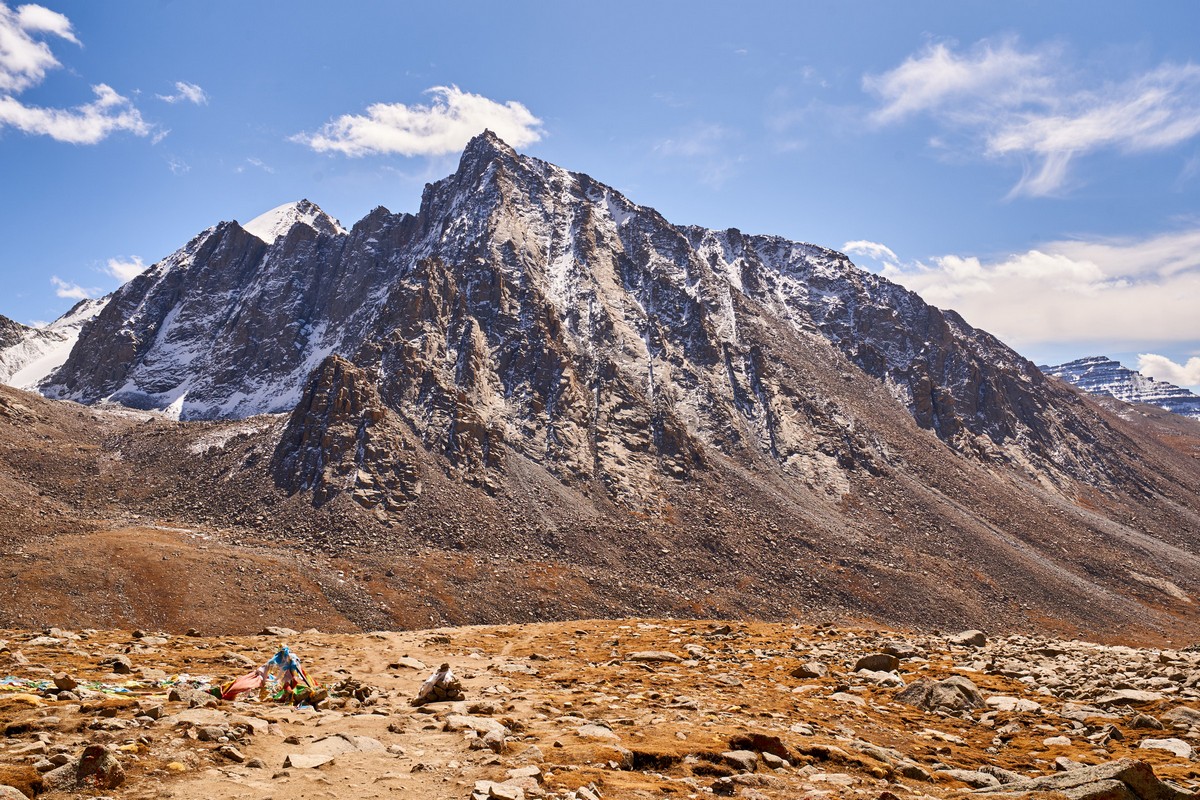 Then, of course, DZ just had to get out 'bad boy', aka the 'rifle silencer', aka, 'the long one', didn't he? Glad he did, mind…:
Tibetan axe!
Just to recap – here's the route again, split into the three days: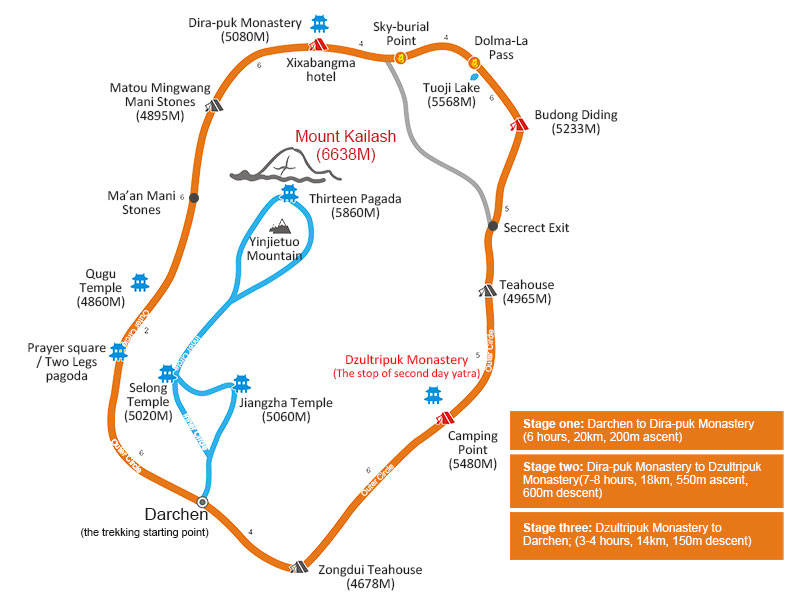 Meanwhile, we're still headed downward – down there ->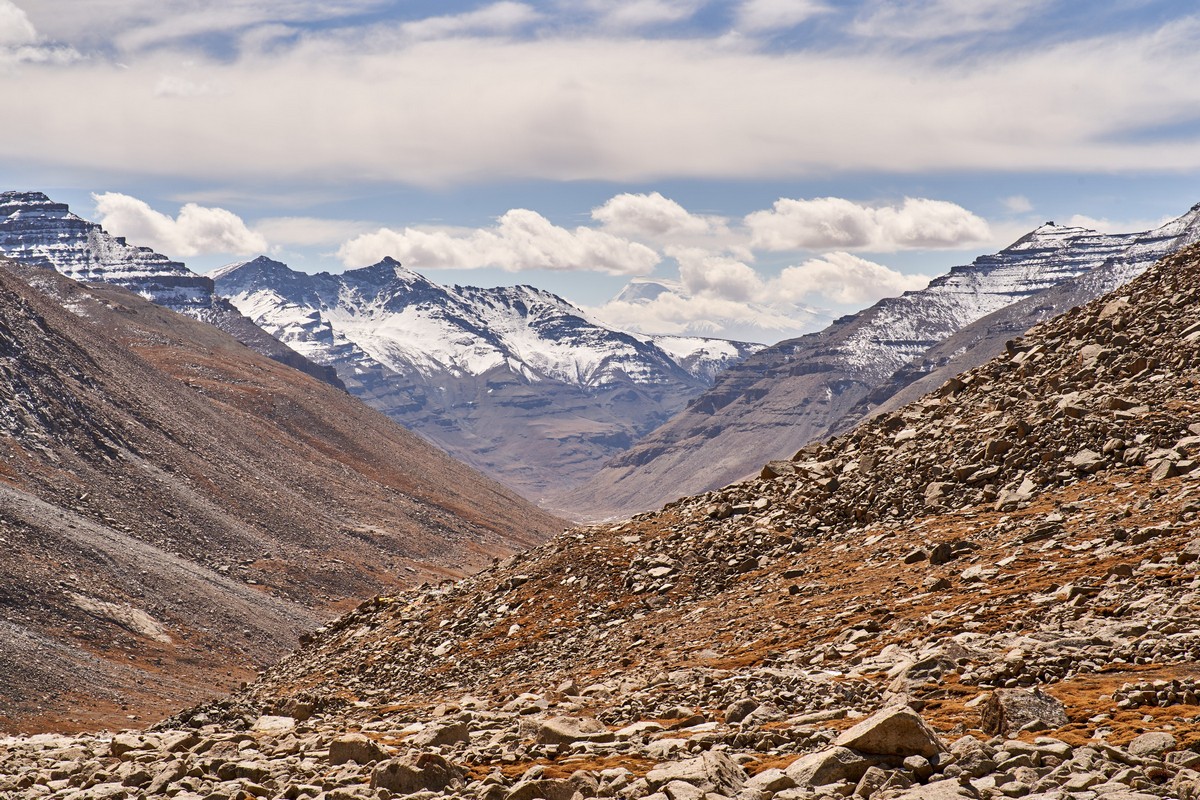 Occasionally – Tibetan rock kunst: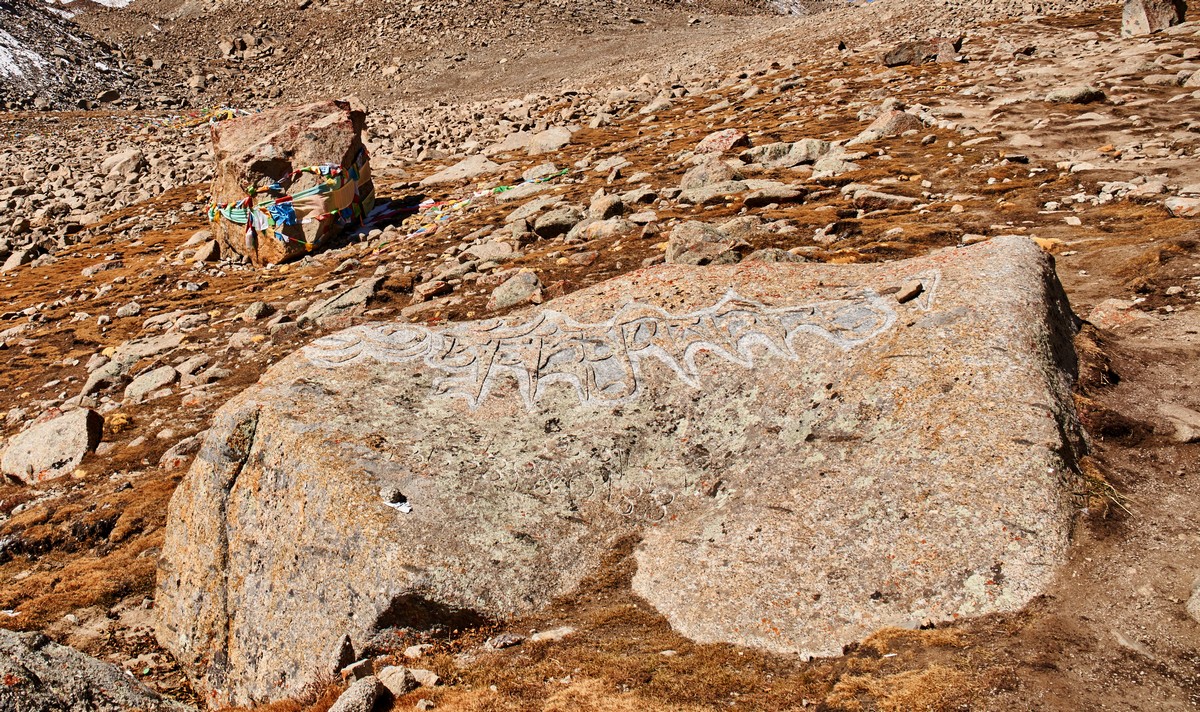 The path eventually levels off ->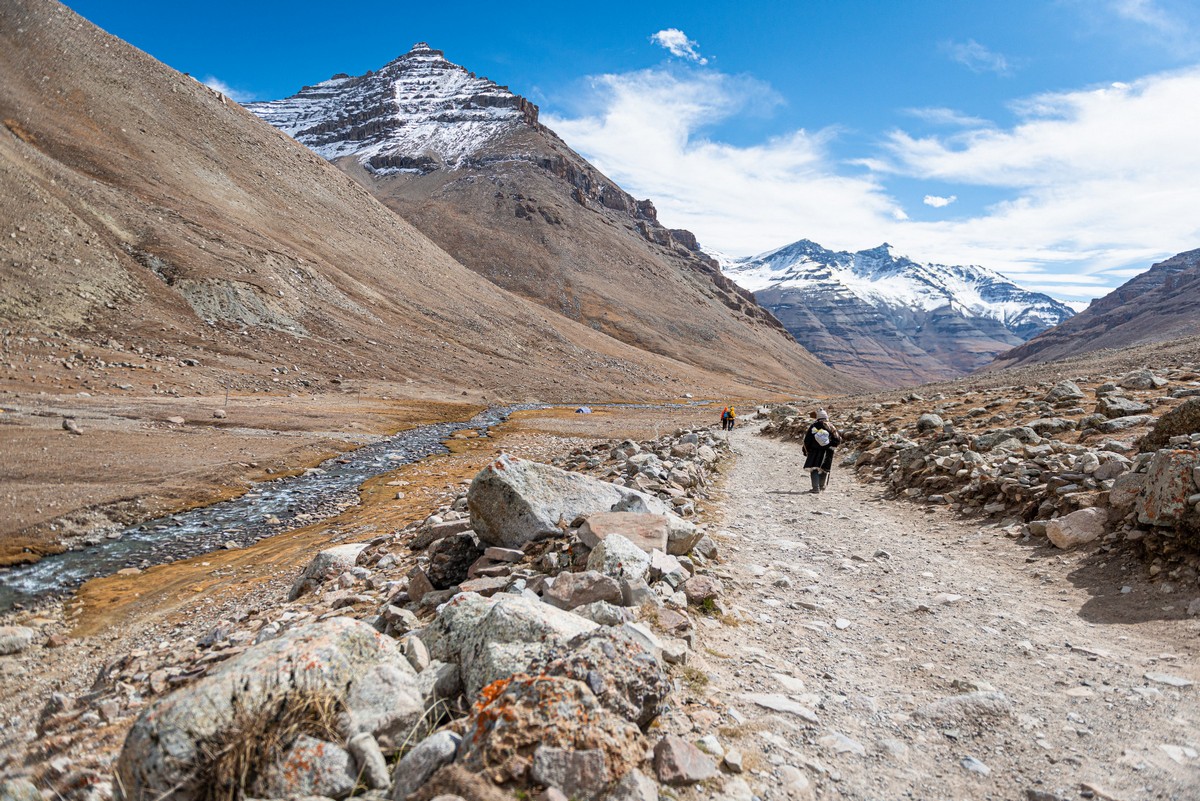 In the valley bottom…
Ice-fall: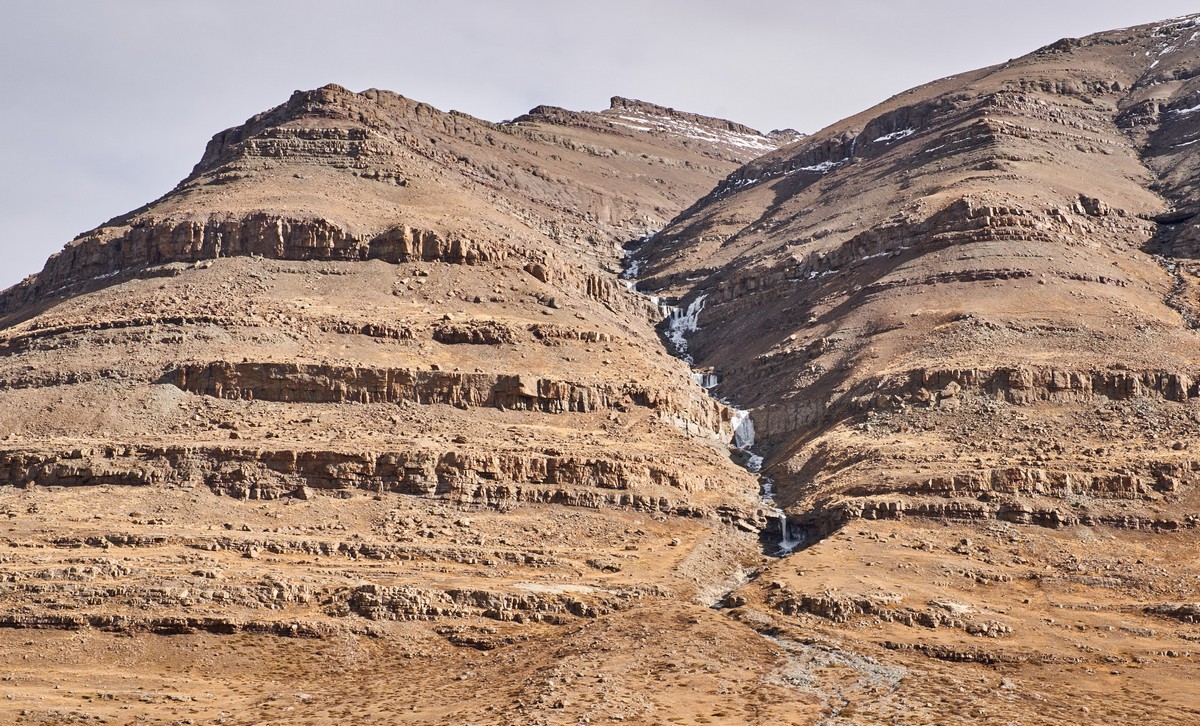 Guesthouse! With public conveniences. We worked out which was 'M' and which was 'W' only by having a look inside and hazarding a guess ). Only later did we see the 'M' and 'W' scrawled on the wall faintly…
We made it to our lodgings before it had gotten dark after all. Good job – as we needed plenty of sleep for the next, third and final, day of our kora around Kailash.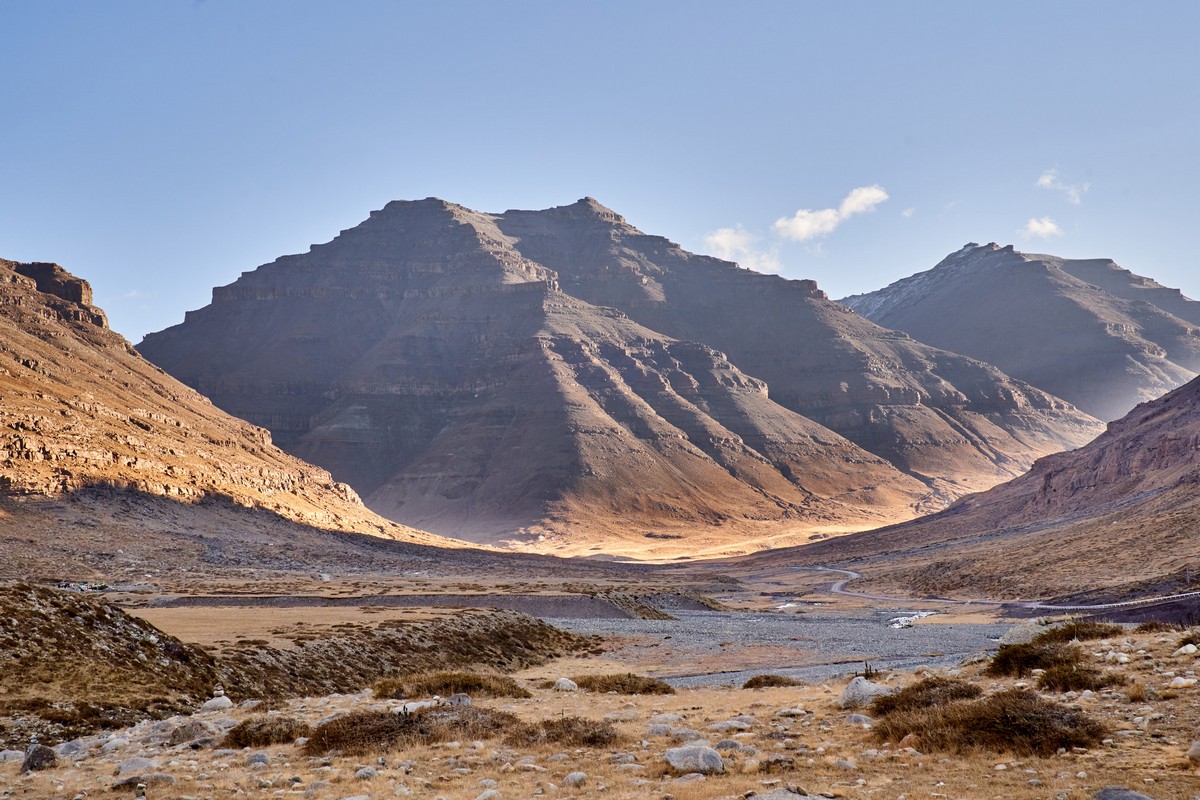 The next morning was a very dull one compared to yesterday's sensational sunrise, the resulting colors, and the resulting photographs taken. Today it was: up, ready, breakkie, off we pop… – over there: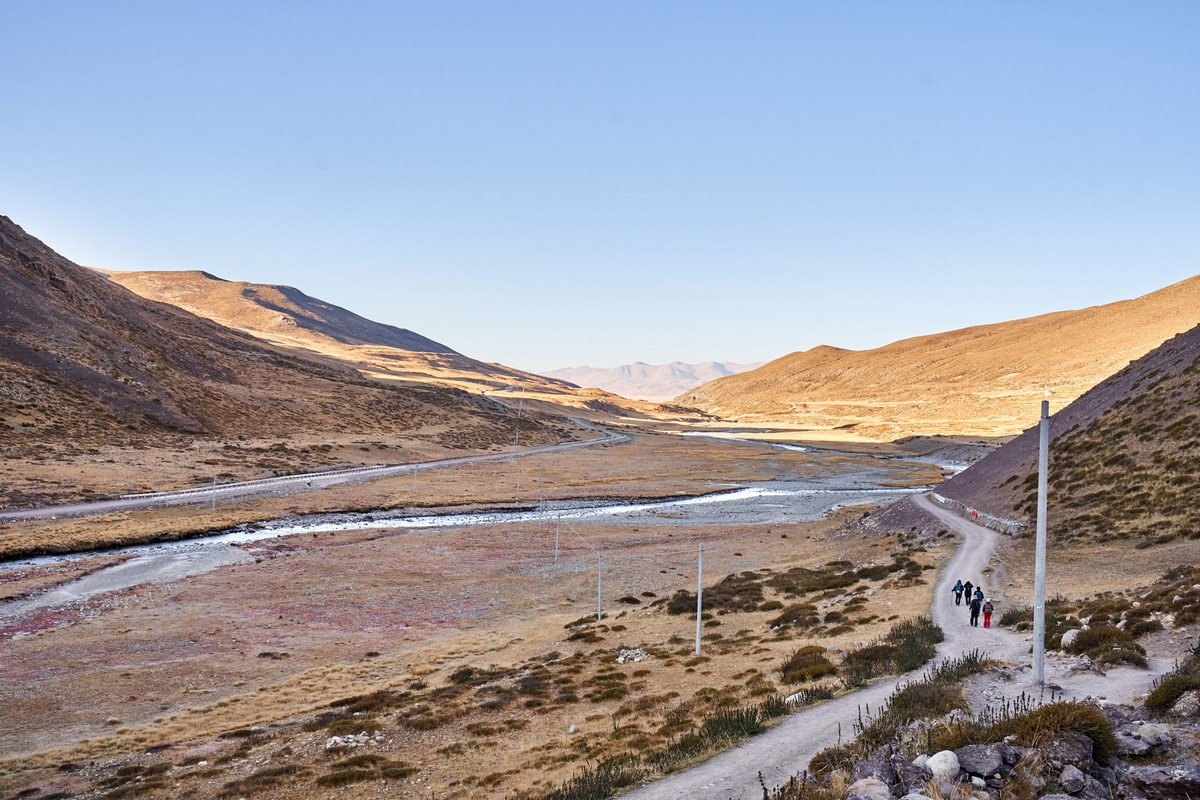 Btw: over there, the village of Darchen – the starting point of our kora – was just visible. Surprisingly, some of us were saddened by the reminder that our kora would soon be over; others were gladdened! Indeed, it seems high altitudes polarize viewpoints as well as its other strange effects ).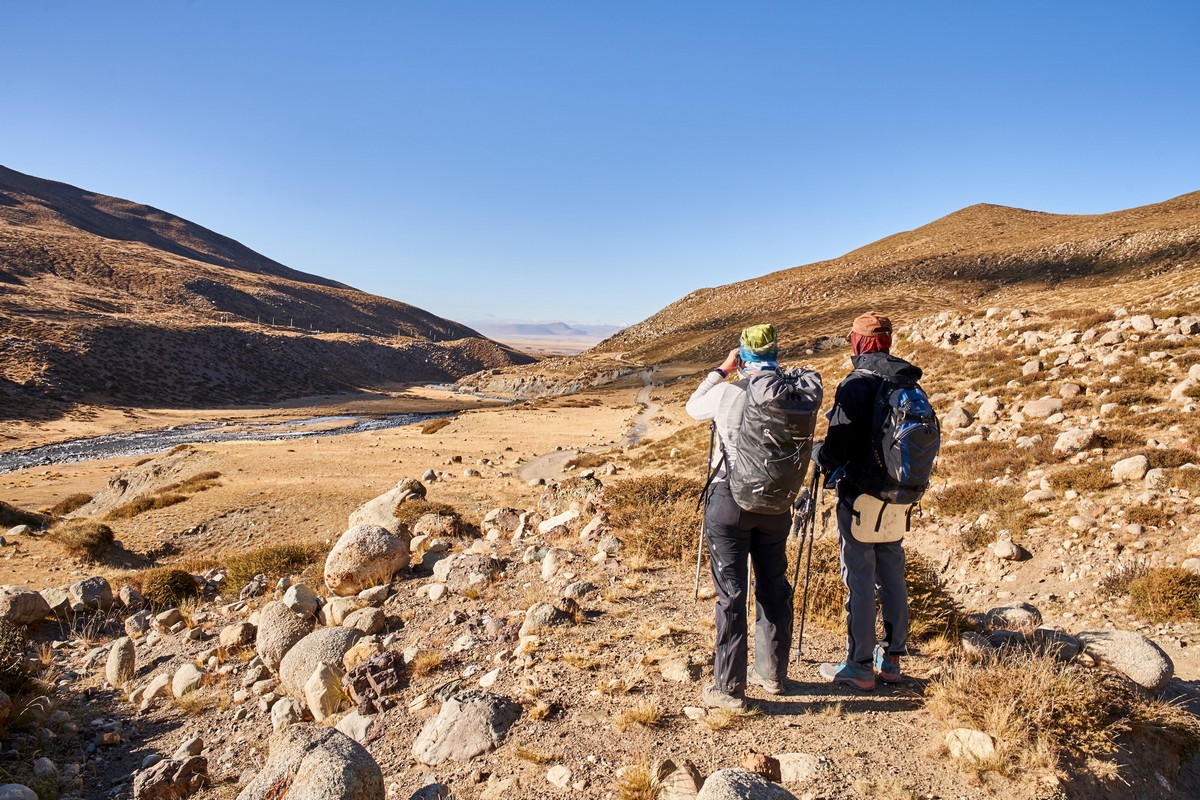 Beautiful looking forward…
And just as beautiful looking back…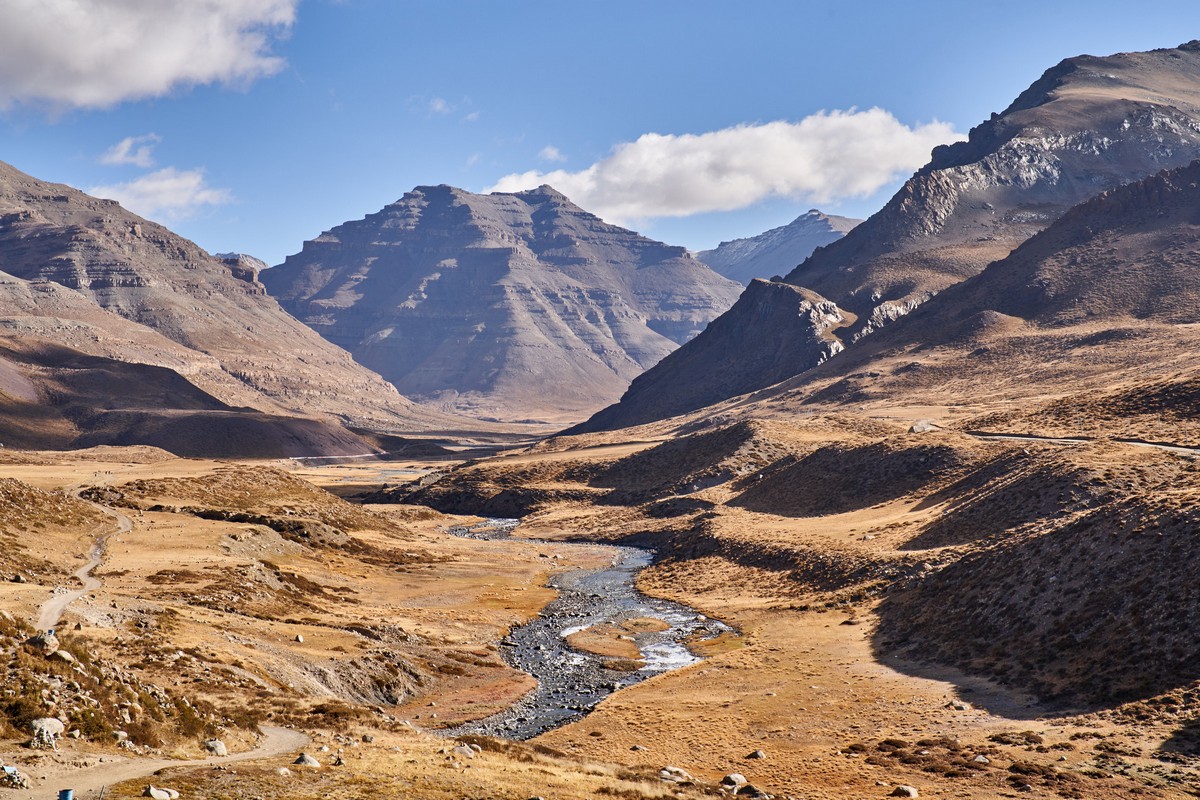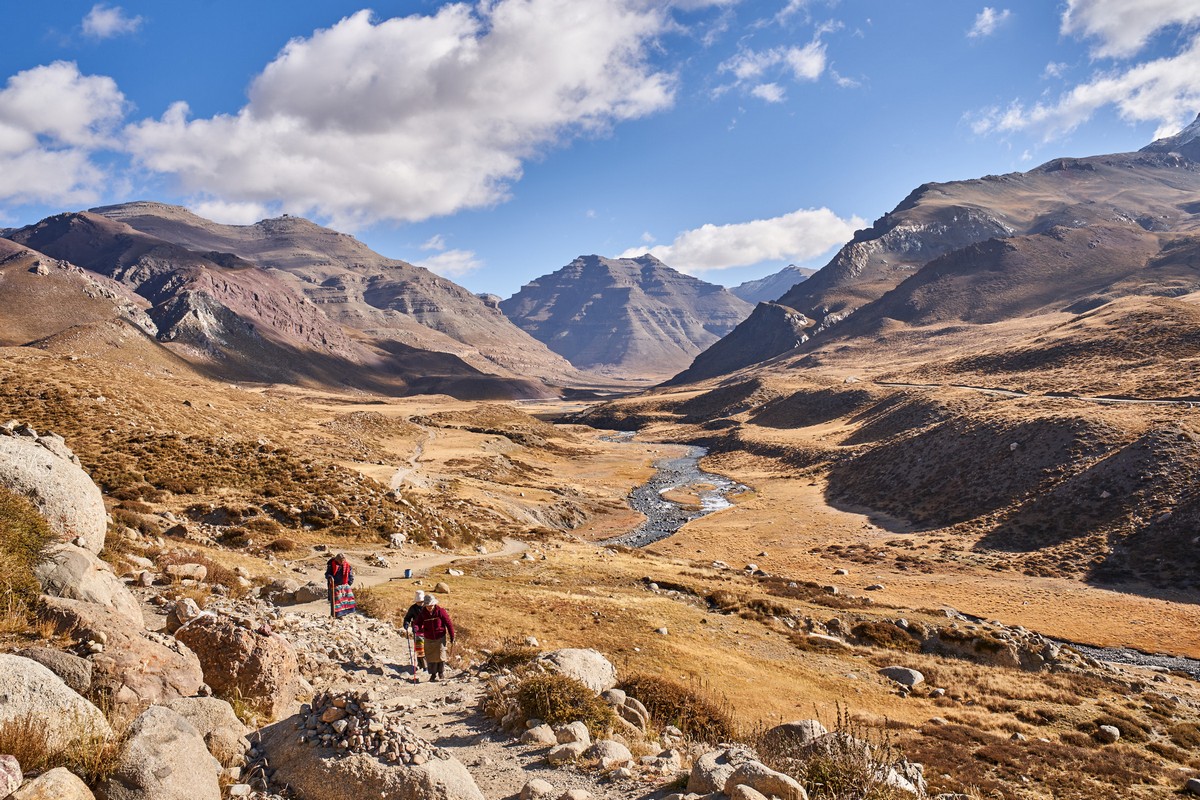 Oh no! No more jaw-droppingly awesome scenery to take in. All that's left is the walk back (.
Every now and again – mini-pyramids; multi-colored cliffs:
We enter the valley…
Darchen appears to be a mere stone's throw away. Turned out it was still an hour away from here…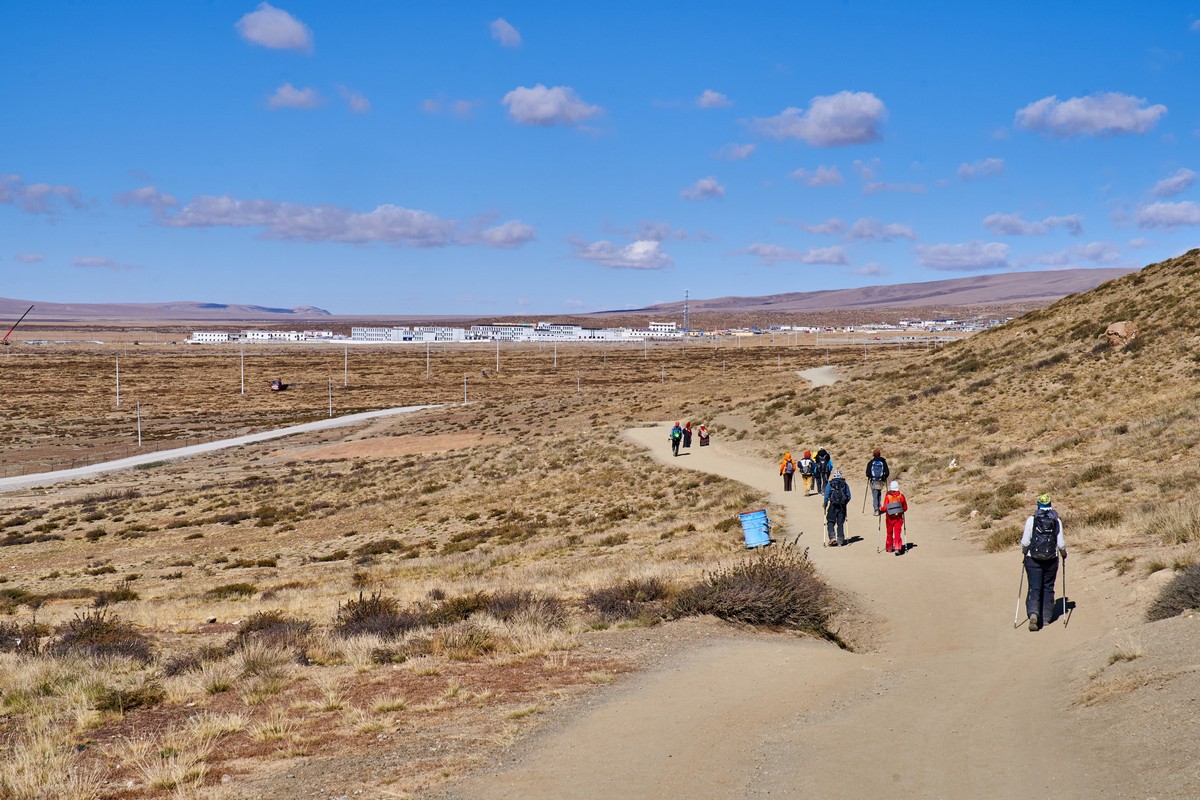 Boring? Agree (.
Time to go over to the dark side!…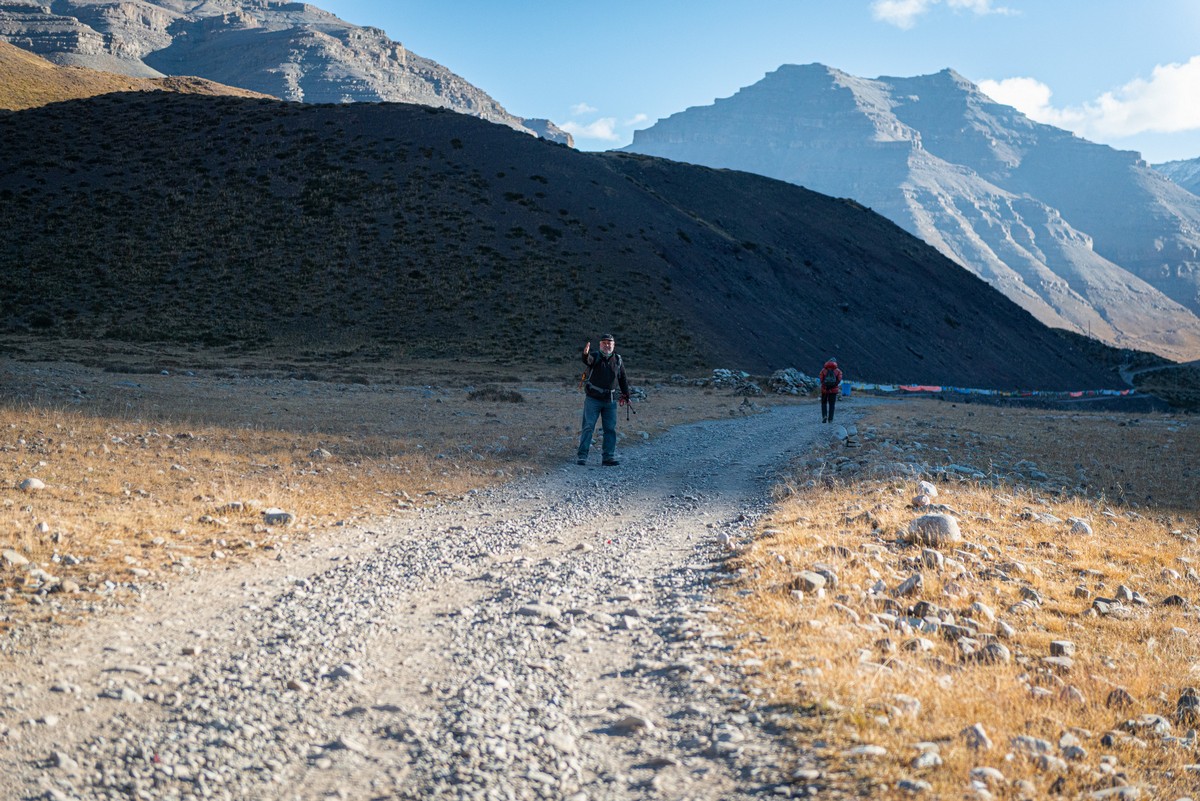 Because the sun is so bright, and the air is so thin, the shadow made by the mountain is reeeaaal sharp at the edges. 'Come on over to the dark side, young Jedi!'
An hour later our kora-round-Kailash was over! Here are the troops in the 'we did it!' pic back in Darchen: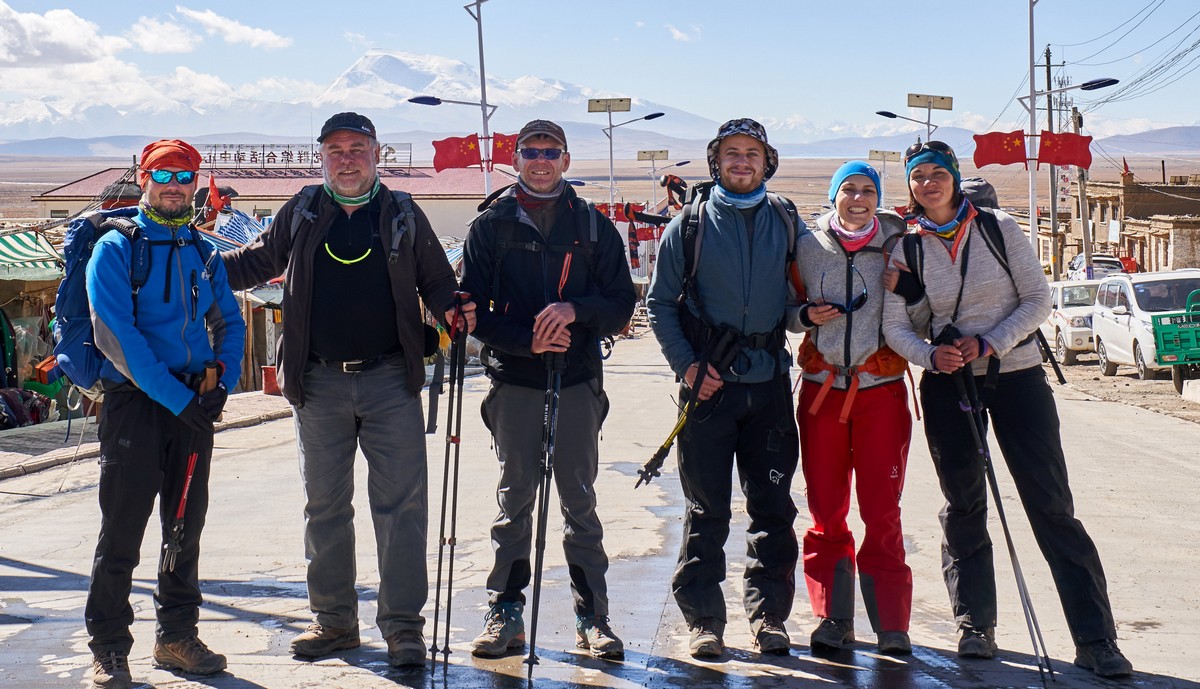 Now for a spot of chilled-walkabouting around the village…
Better the devil you know, goes the saying; accordingly, we headed back to the restaurant we dined in upon our exhausted arrival three days earlier! This time we were not exhausted due to our leisurely, short stroll this morning…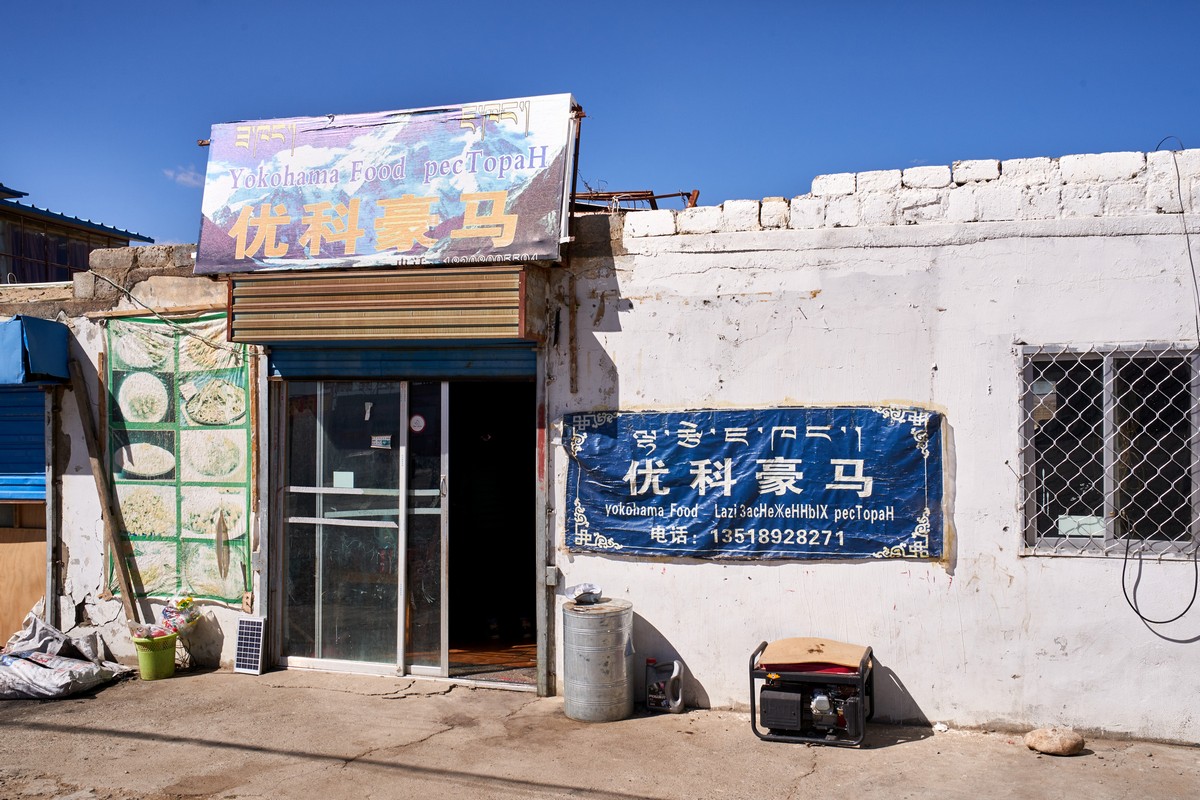 Briefly about Darchen…
There are, broadly speaking, two types of populated center in Tibet. There are the larger towns and cities that are cleaner, neater and tidier; and there are the small towns and villages that are just the opposite: not clean, not neat; not tidy. Darchen belongs to the latter category. But it is in Darchen where the sacred kora-round-Kailash both begins and ends, so it's not as if you can avoid it. So, instead – you embrace it!…
We were told how several years ago there was practically nothing here. These days you can dine comfortably, and stay overnight at a hotel that's a proper structure of a building; before, there were mere sheds to stay and dine in!
The stream that runs through the village: used for drinking water… but also for washing dirty laundry!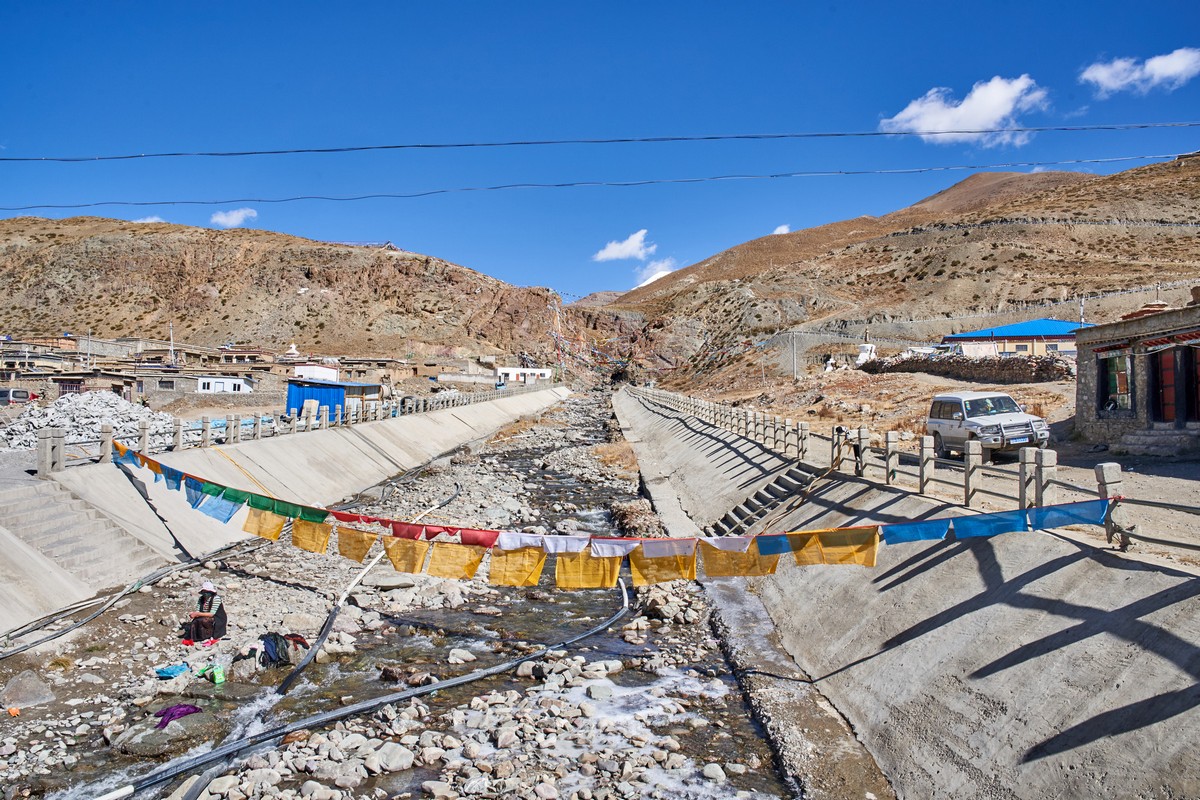 Government-issue bureaucratic building, but to the left it says 'Hamburg Shop' and a hamburger is painted on there too. Could this be Tibet's answer to McDonald's? )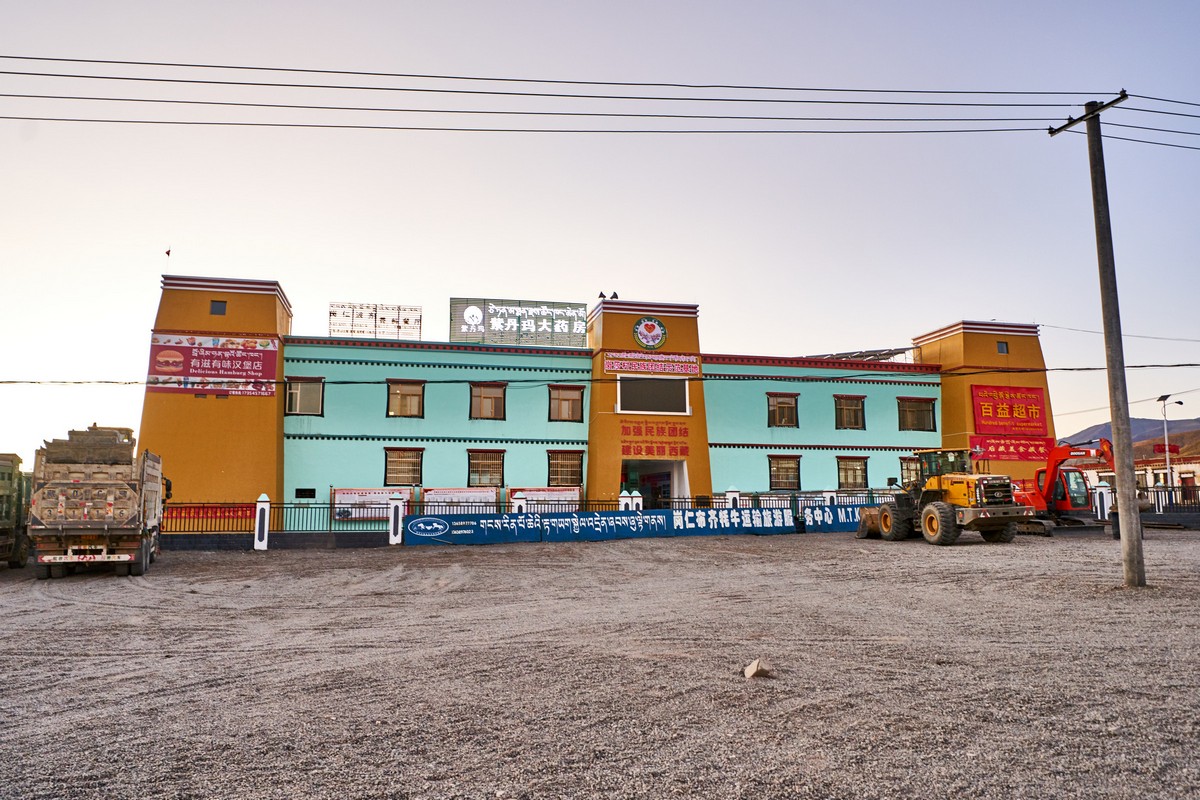 It turns out the smaller, more modest building on the opposite side of the street is the official governmental one! It's here permits and stamps are shown to be able to do the Kailash-dash. But the guides do that; we didn't need to show our faces.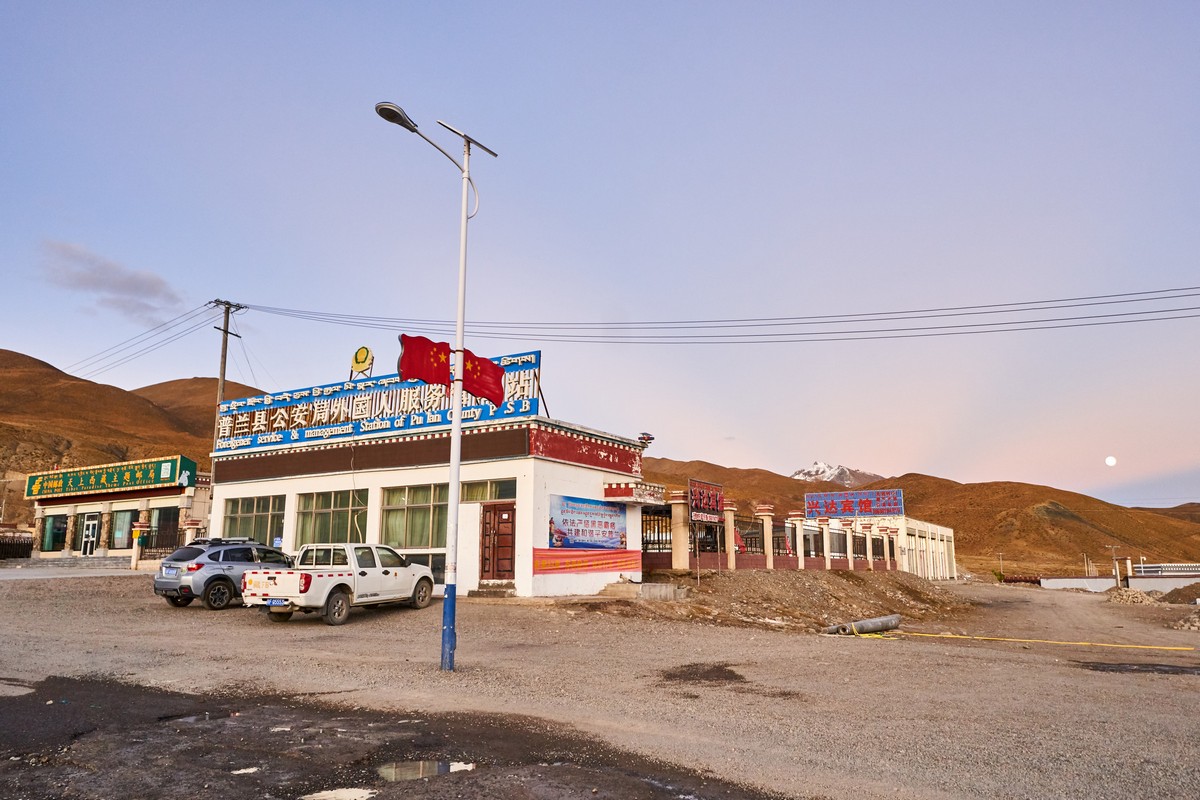 Inns for the pilgrims!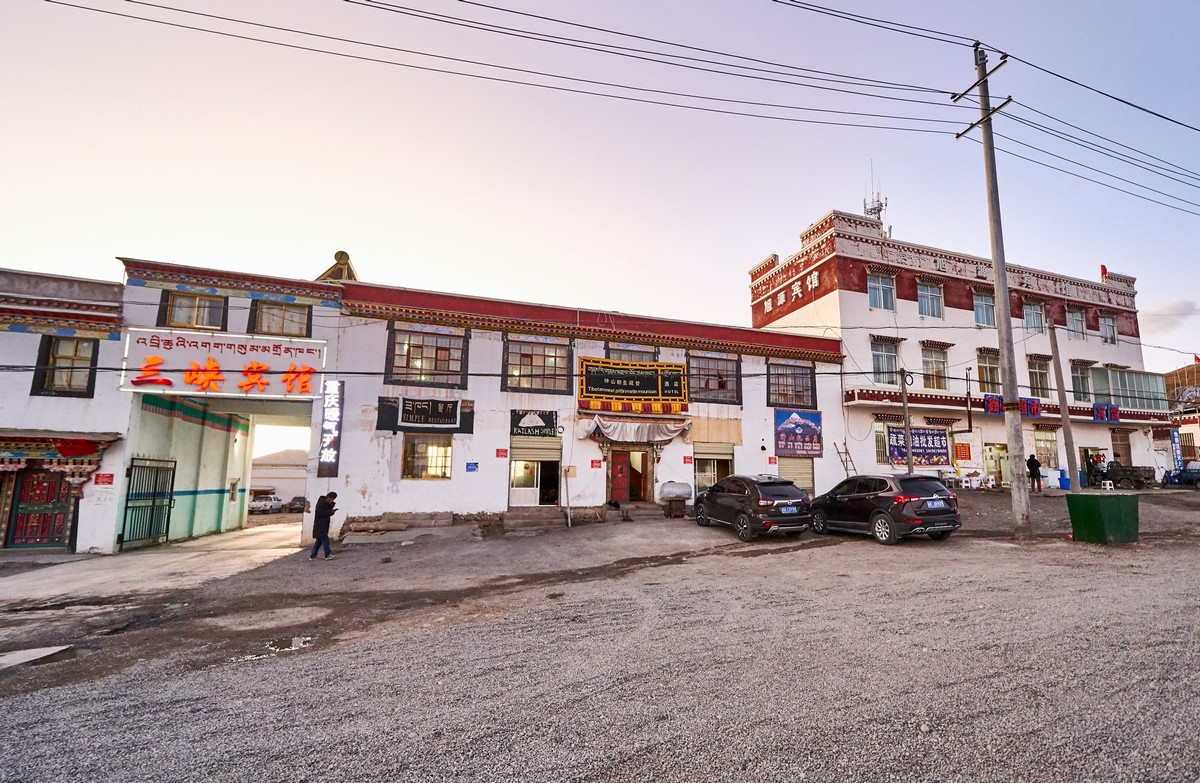 And assorted shops. Notice the sunset rays!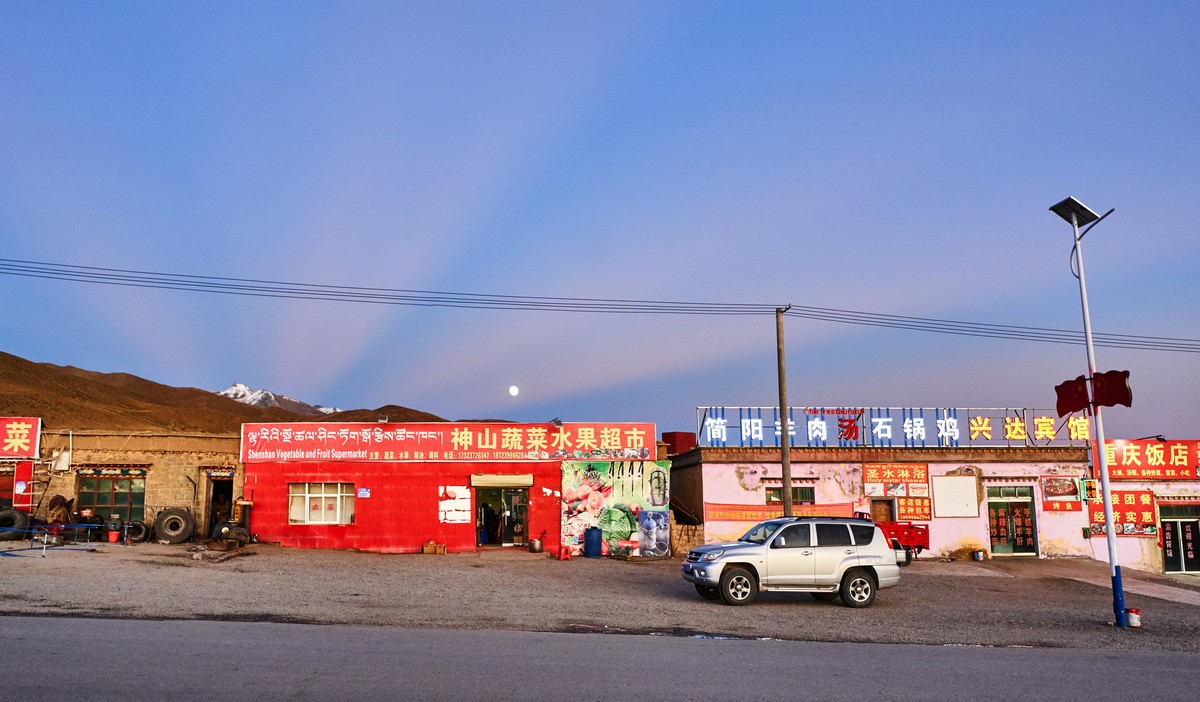 Like everywhere in Tibet – pesky overhead cables: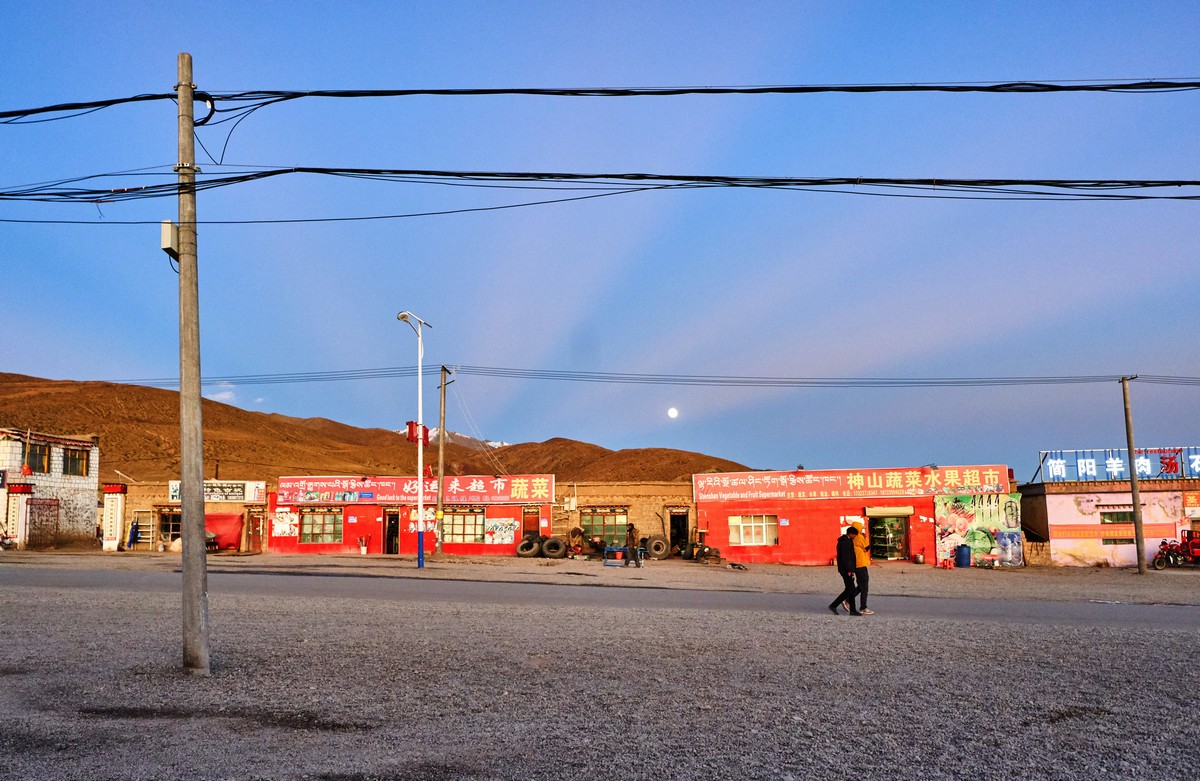 Assorted assortments:
There's no lack of sunshine here! In a different country they'd install solar panels to power things like an electric hob. Here, a more organic approach ) ->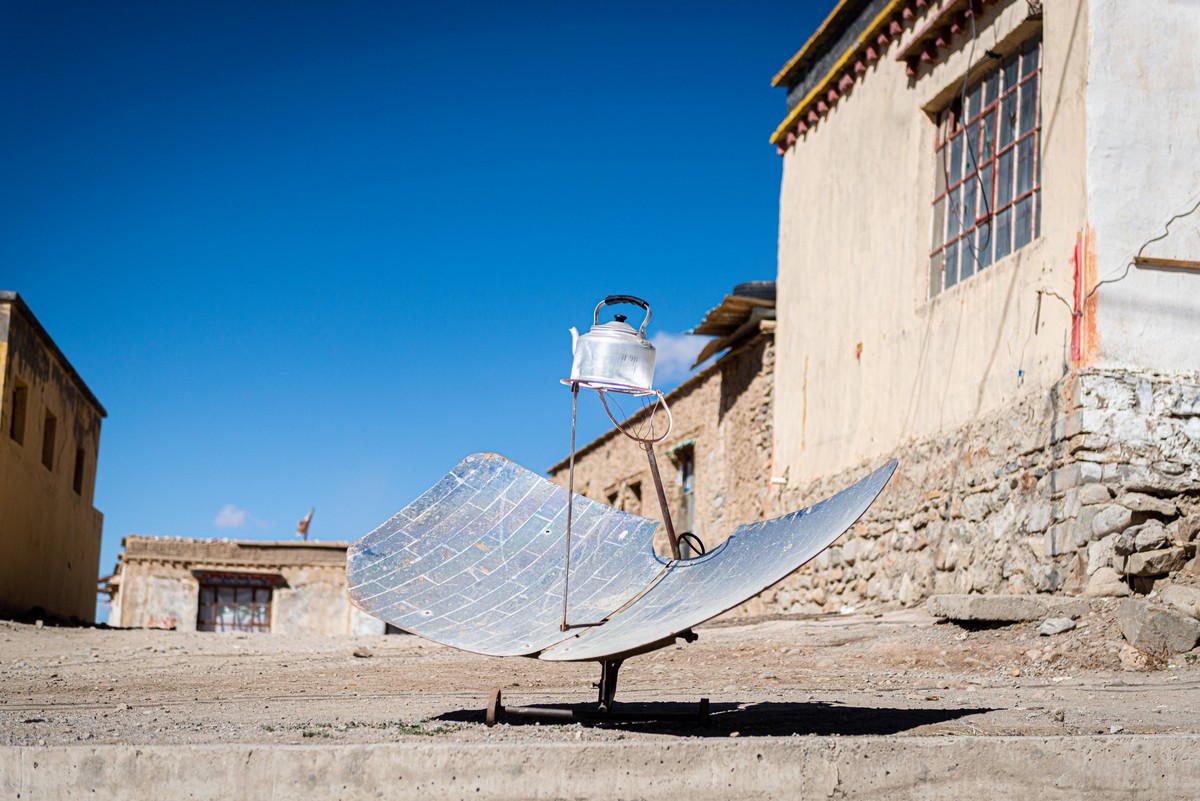 Our lodgings for the night: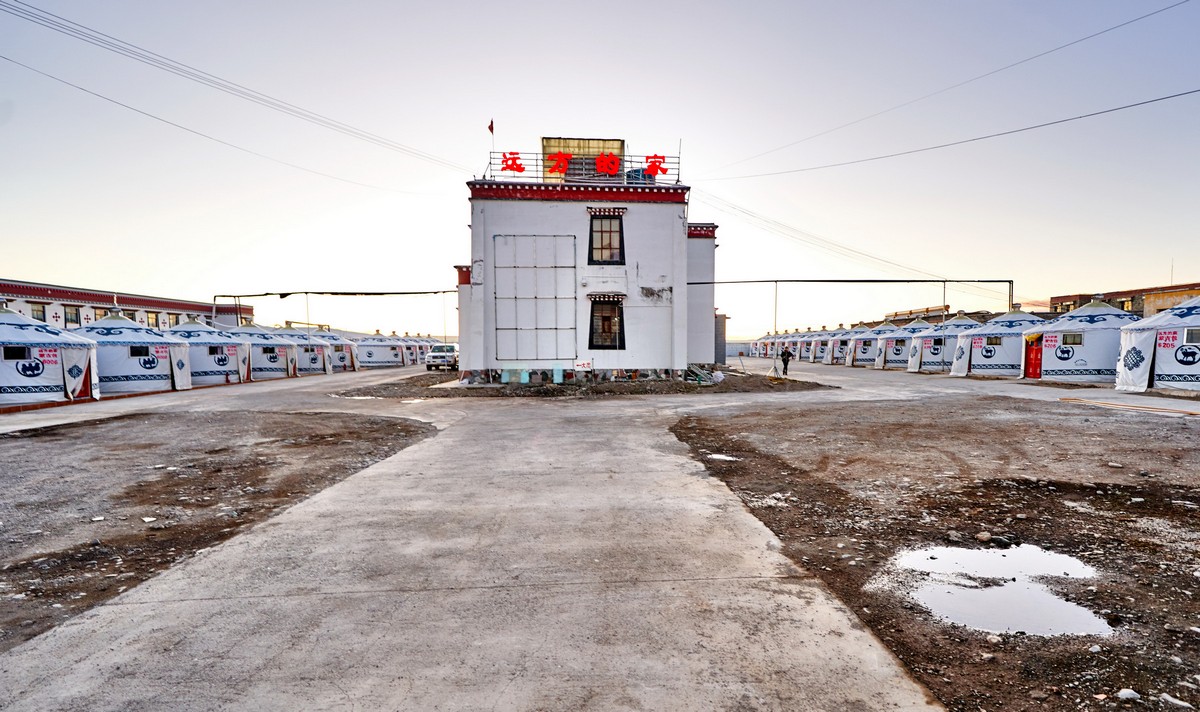 Not bad at all. Some Tibetans who'd been here before were amazed at the improvements in comfort and service.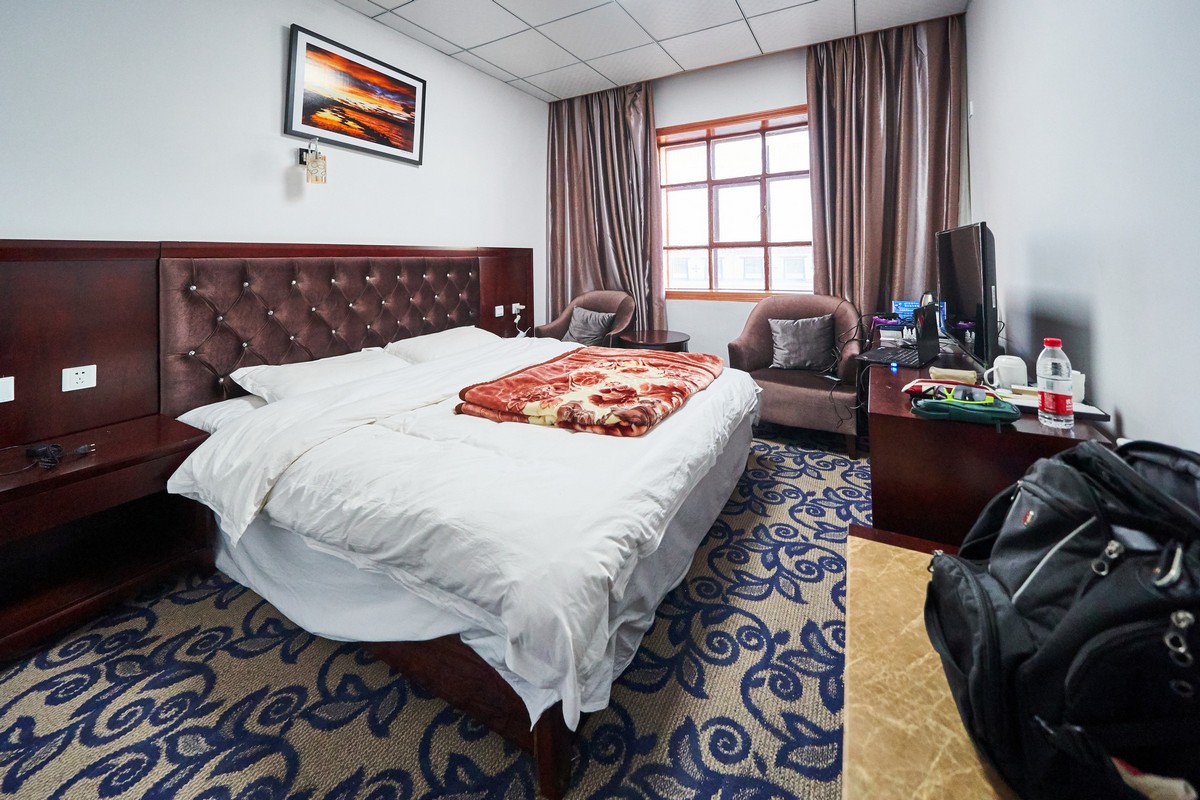 Woah – a proper toilet. Unexpected! And most welcome!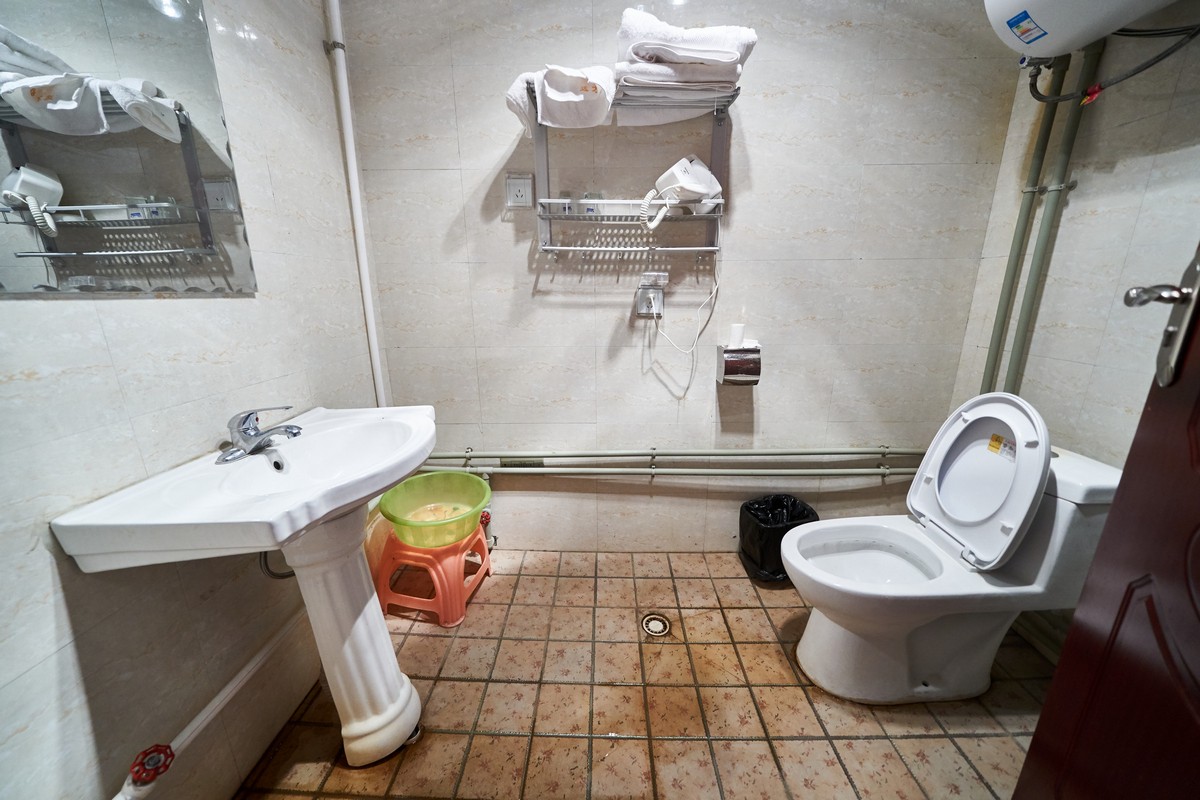 So why the elation at a simple WC? Well, quite simply, because they're such a rarity in Tibet. Normally there's just a hole in the floor inside a small primitive brick or concrete building. At best – reasonably clean and well ventilated by the wind. At worst… well, I won't go into details, but let me just say they're a catastrophe. Foul, disgusting, and the stench… – oh my gross!
So, if you generally have high standards when it comes to comfort, sanitation and personal hygiene, you'd better lower them somewhat if you ever plan on coming to Tibet!…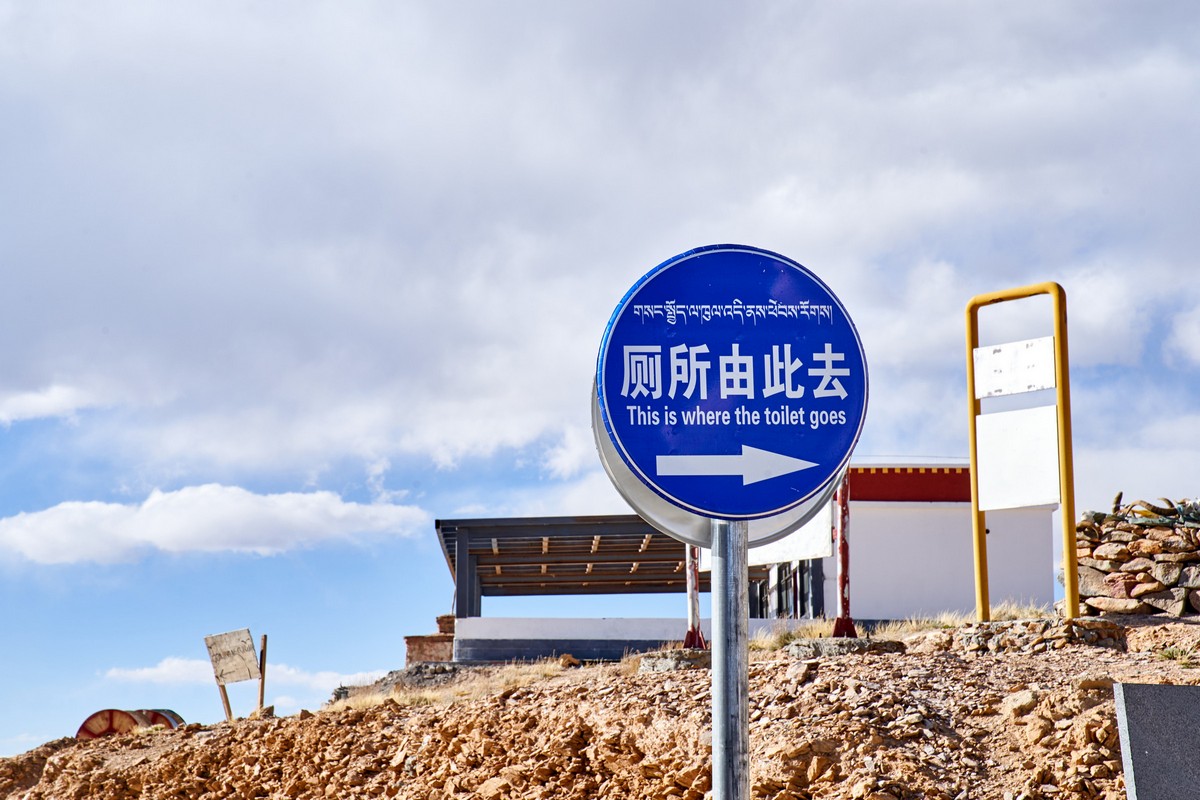 And you see that sink there? Well that's a rarity too. Outside of hotels – they're non-existent. I mean – you can't simply wash your hands, like, before a meal anywhere! We got used to it fairly soon – washing our paws under water poured from a bottle, or using moist wipes.
But there's hope yet! Even the gas station we filled up at on our last day had restrooms… with sinks too! Progress!…
Another thing about this hotel: electricity-powered steam heating! Every ten-or-so minutes the pipes make a right racket as steam fires through them. I thought I'd never be able to sleep that night. Earplugs made no difference. However, at around 11pm… the whole village had its electricity supply cut off! No electricity – no noise – no problem! Well, fancy that?!
But when it came to getting dressed and packed early next morning – in pitch darkness – well, that wasn't the easiest of tasks. But then we remembered – we all had torches in our backpacks!…
Of course you could spend the night in a yurt, but best, I think, only in summer…
Rather cozy inside. And is that a washbasin? Yes. Surely there's a loo, too? (You find yourself looking out for such details in Tibet:).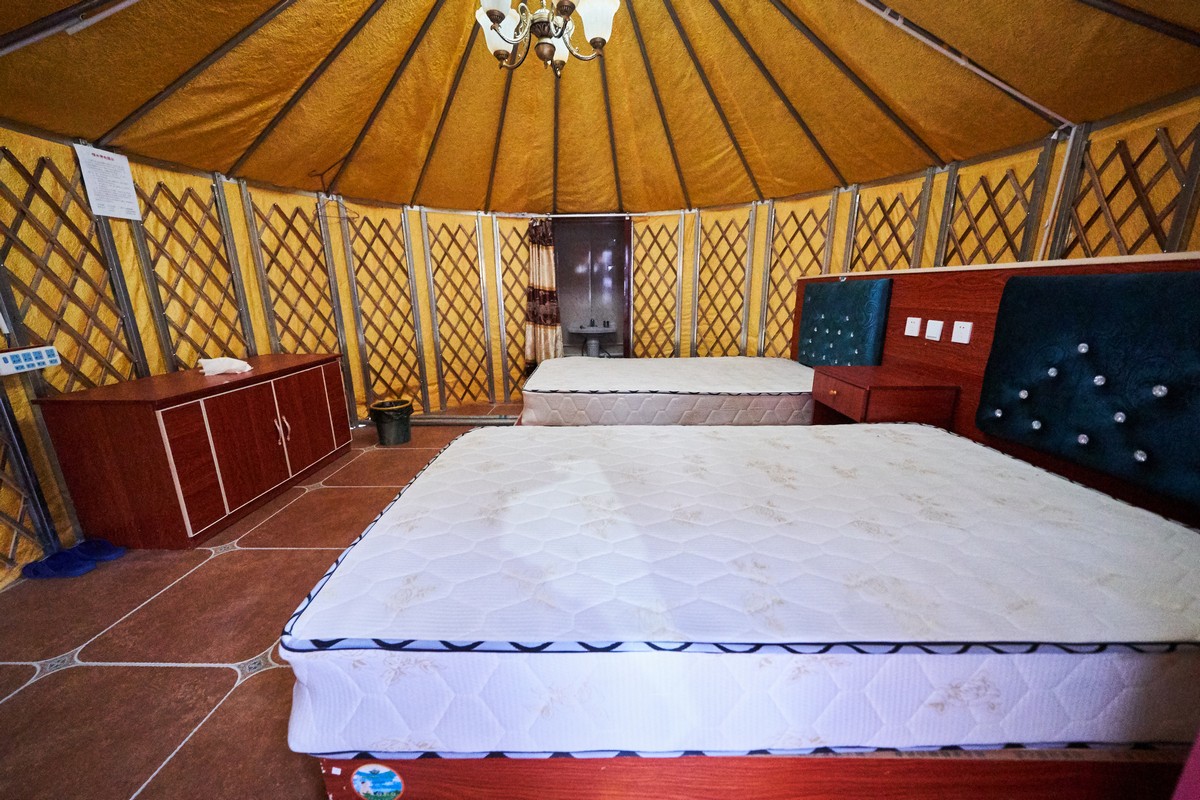 And that's about it for your pint-sized guide to the village of Darchen in the middle of Tibet, some 4700 meters above sea level. And that's about it for a quart-sized guide to a kora-round-Kailash!
Overall – unforgettable experience. Main downside: the lack of oxygen (sanitation was merely a slight irritant, IMHO). Main upside: OMG views practically non-stop, made even more awesome by euphoria kicking in due to early stages of altitude sickness! Coming back again? Yes – for sure; in two or three years time I reckon…
That's all from Kailash folks! Hope you liked it!…
All the pics from Tibet are here.