Going the extra miles – to the Kuril Isles (via Kamchatka).
Privet comrades!
Oh my ginormous! As I behold the full five and a half thousand (!) pics and vids (mine and others') from our recent hundreds of nautical miles around the Kuril Isles, I begin to wonder just where I should start. But start I must. Ok, let's do this simply and logically: I'll just start from the beginning…
It all started with our flight from Moscow to Petropavlovsk-Kamchatsky, from where our expedition began – and finished a month later!
As you know, I'm very partial to a spot of long-hauling. You sit by the window, you get through your backlog of emails that you just never can get through fully in the office, you get through most of an interesting new novel or non-fiction book, you watch a good movie from long ago (since there are hardly any good movies made today, or so it seems to me), and sometimes you get to see some wonderful aerial scenes out of said window, which you of course take a few pics of…
This time I was snapping away right from the get-go: the weather was clement and I got in a good clear shot of the suburbs of Moscow: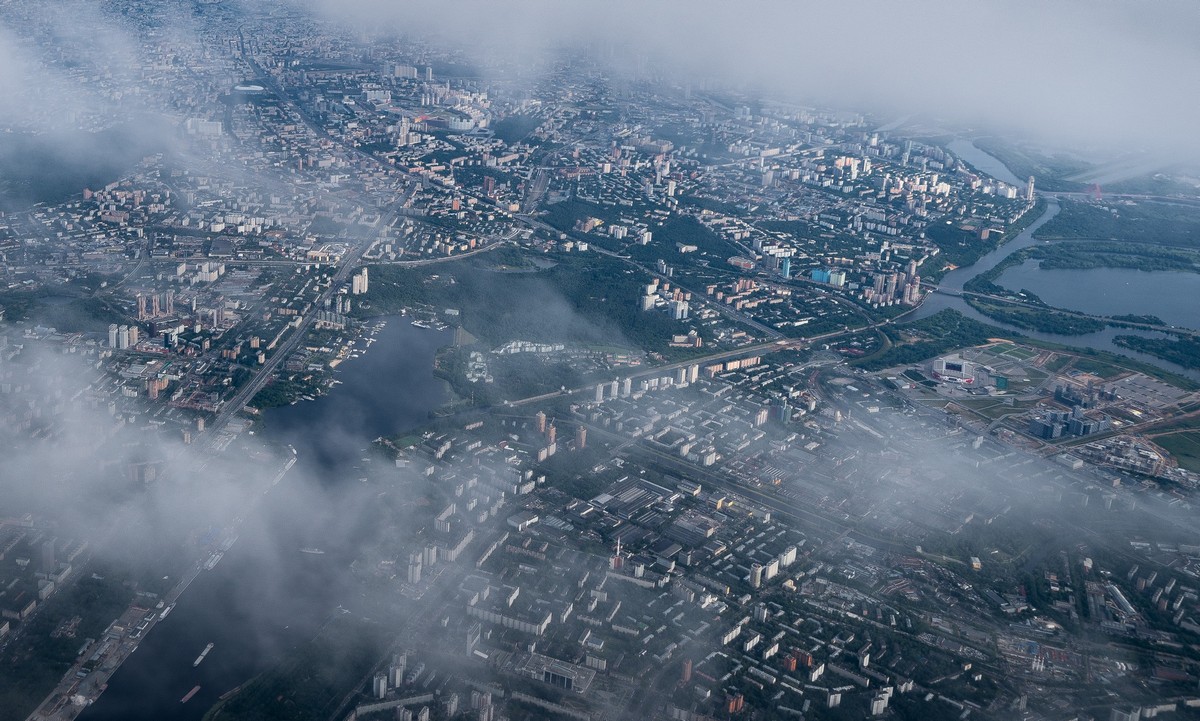 Woah – and there's our office. I'll be seeing you, office – in more than a month's time!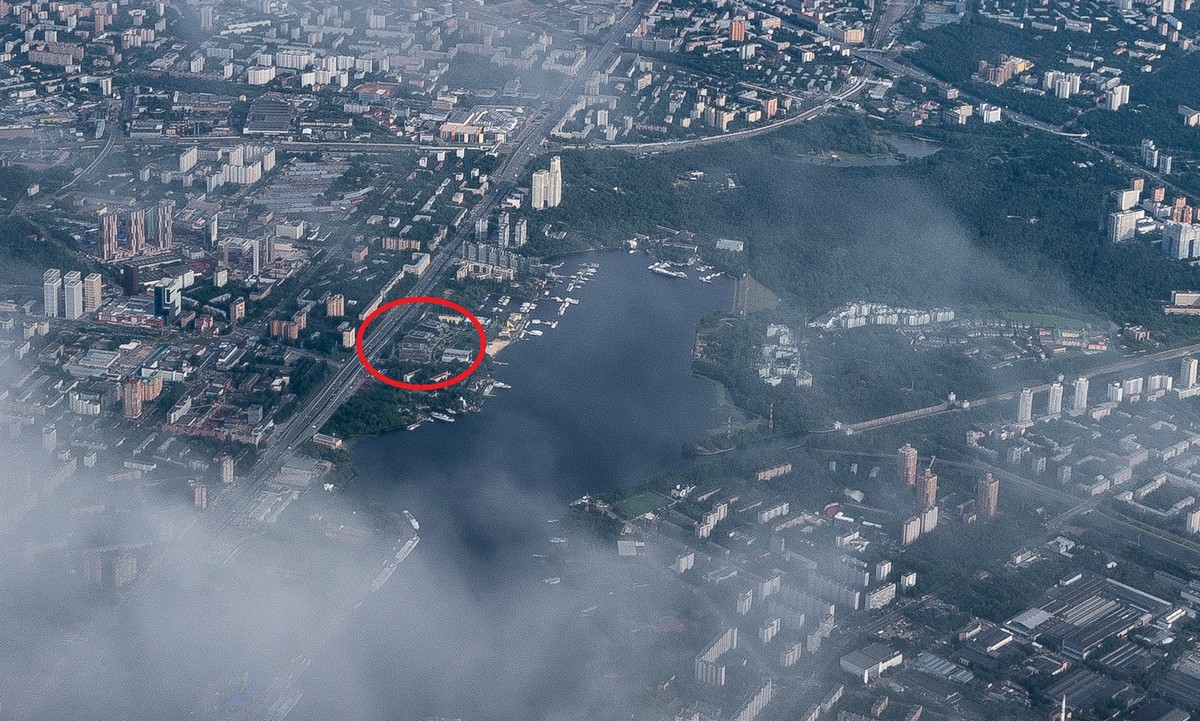 We ascend higher and higher, up above the clouds – which is where we'll be for the next eight hours! And all above the same country!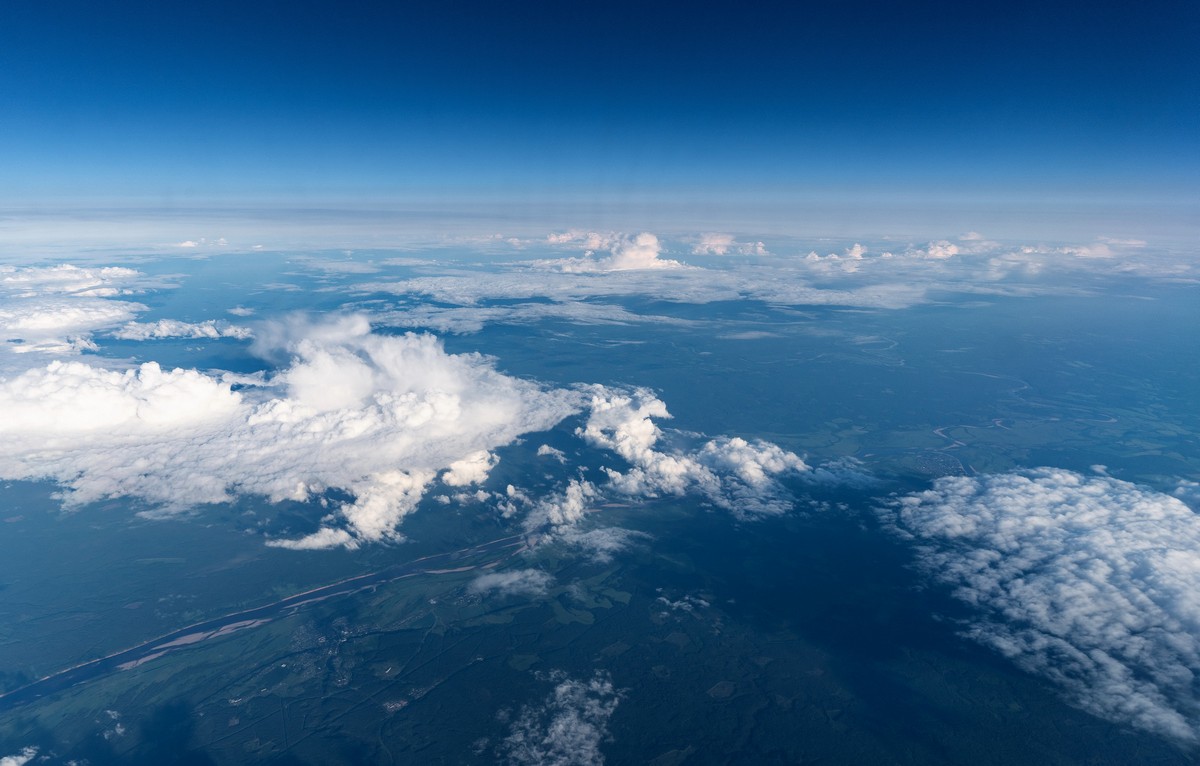 As we take a northeasterly trajectory the landscapes below naturally become more severe. Lakes and winding rivers are in abundance, as is – increasingly – the cloud cover (but in a good way)…
Peering down at these cirrus and cirrostratus, I was reminded of what a stewardess once told me on a flight between Tokyo and Moscow: how a Japanese passenger was so taken aback by these zillion little lakes and how he wanted to know their names (maybe so he could look them up later). When she told him they have no name – there are just too many of them to really count – he looked… flummoxed ).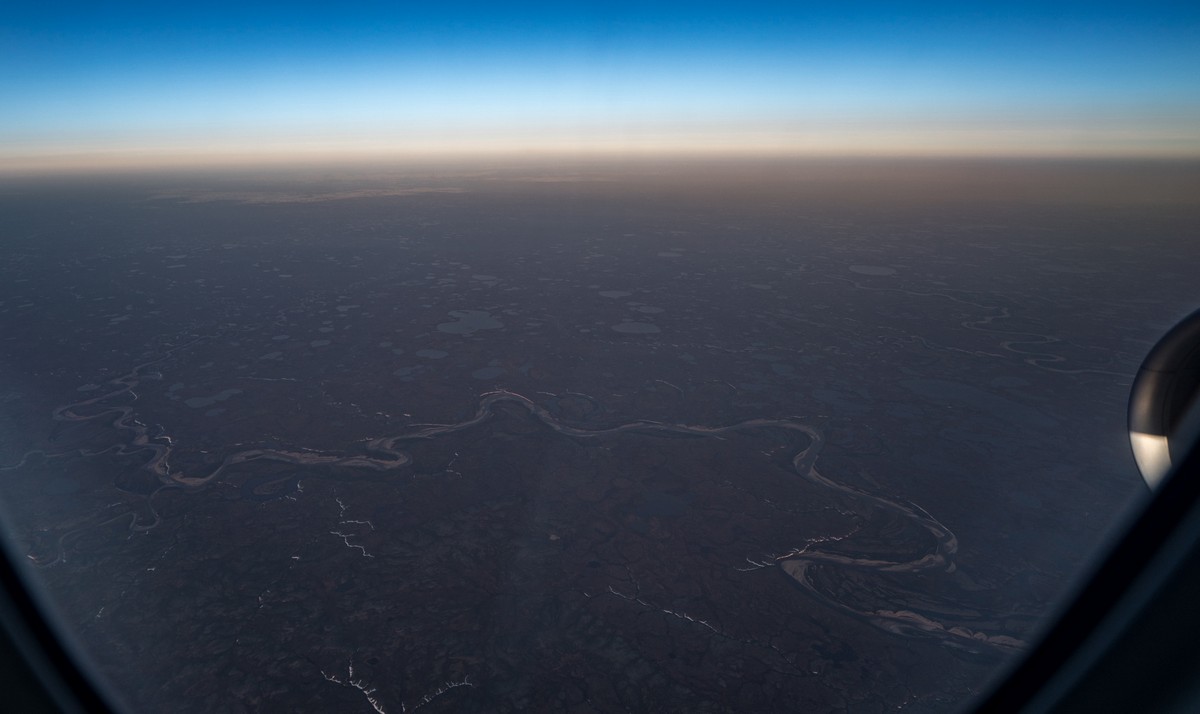 But I'm sure all these rivers have names.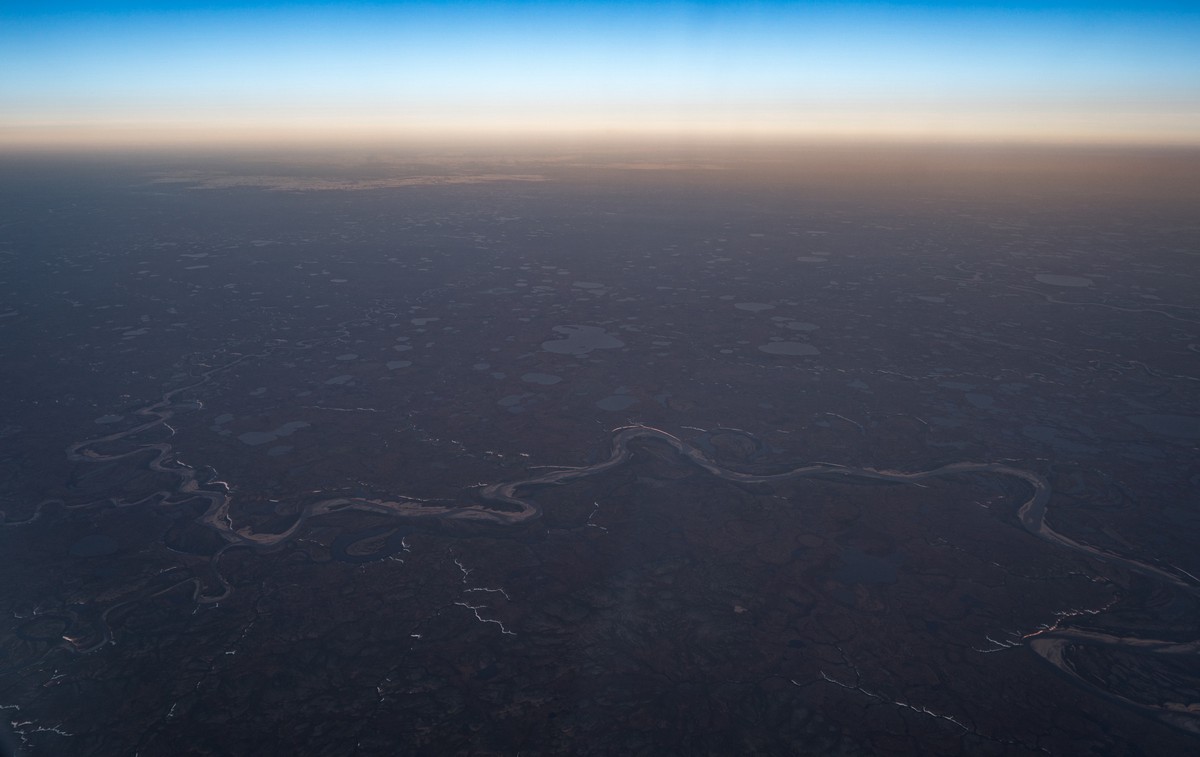 Especially ones like this ->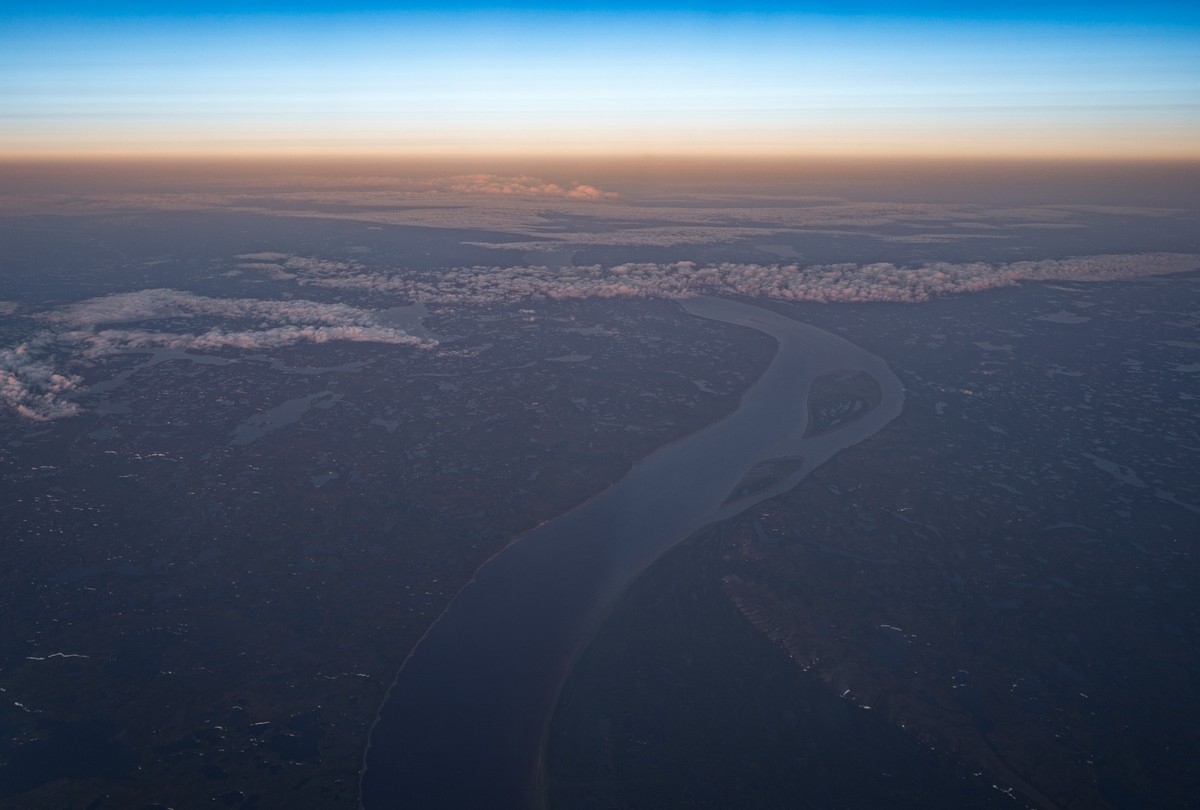 Surely this is the Ob?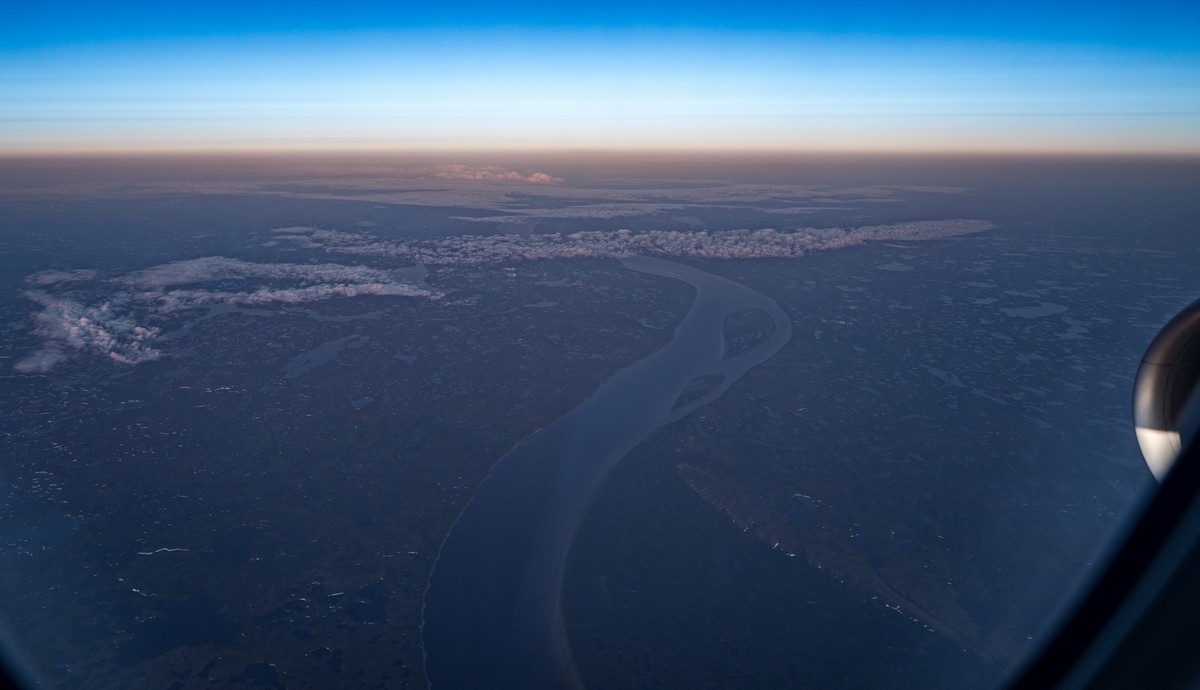 Ah – but of course: I can check on the e-map in front of me. Yep – the Ob. Next up on same map – the Central Siberian Plateau, home to the Putorana Plateau – a place I've been dreaming of getting to for years.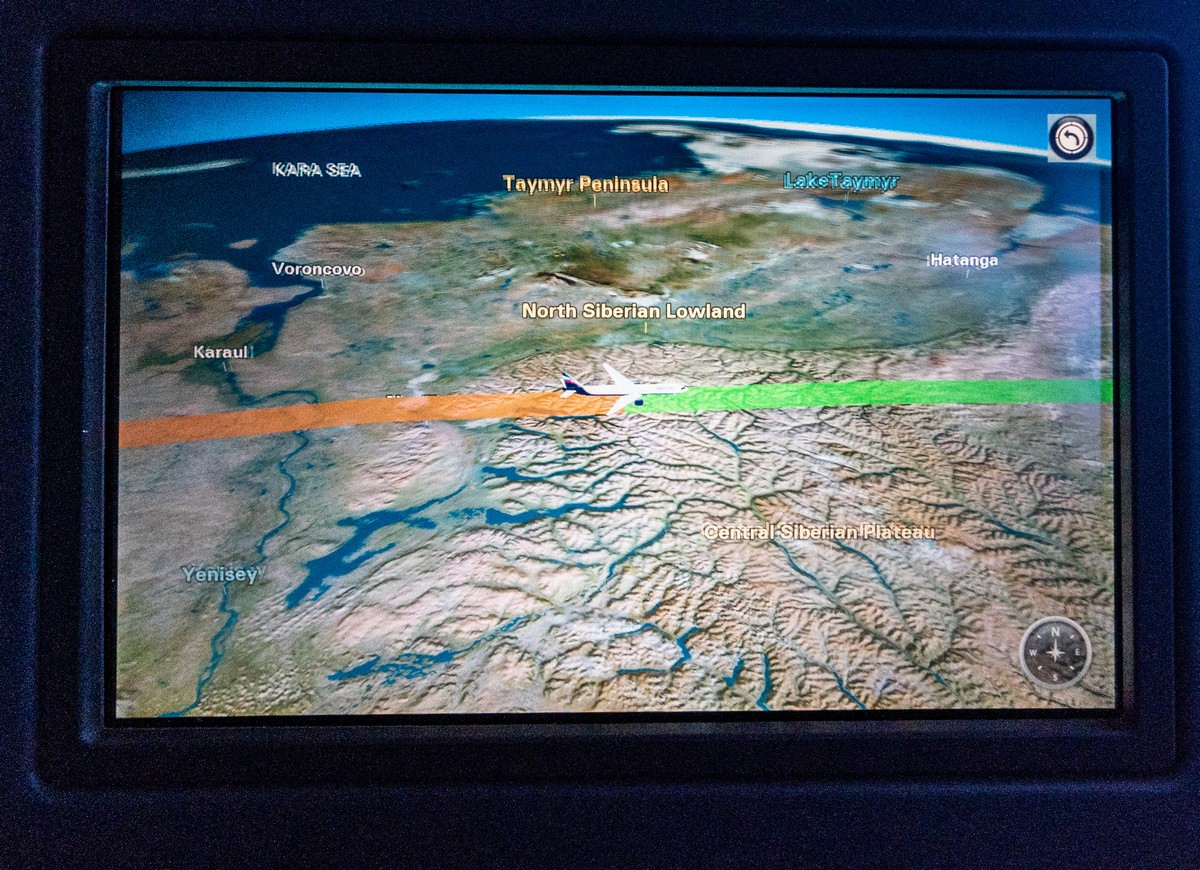 The voluptuous views just kept on coming. One thing that didn't come… – was nightfall! We were just so far north, after all, and the month was July. But then, as luck would have it – the cloud became thick, and we could henceforth see but little of the Siberian landscapes below.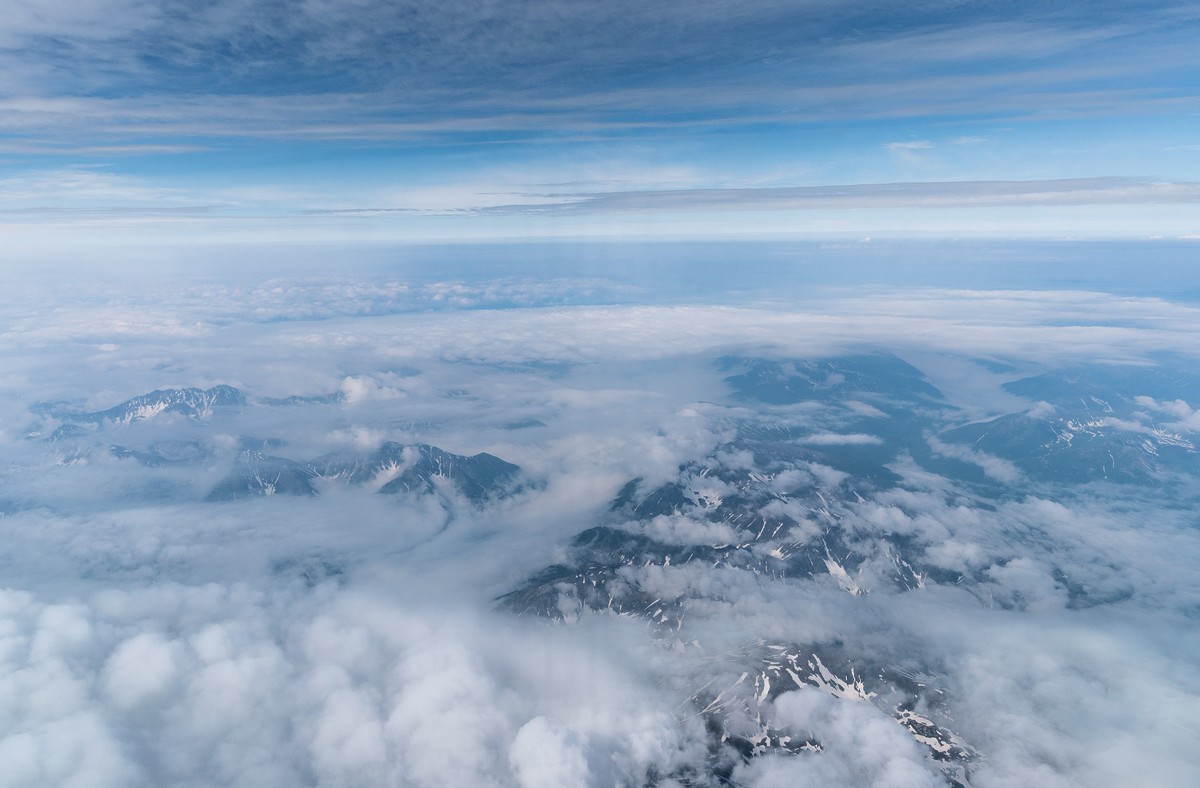 Not to worry – for it was not long later we were descending down to Petropavlovsk-Kamchatsky. I took a seat on the right hand side of the plane specially so I could get a good look at Avacha Bay and the nearby volcanoes as we came in to land – always from the Pacific Ocean side. Alas, this time, though I was sat in the right spot, there was little to be seen: the cloud cover had turned full nimbostratus on us! Accordingly, we had to settle for taking in the 'views' of the volcanoes via the screen.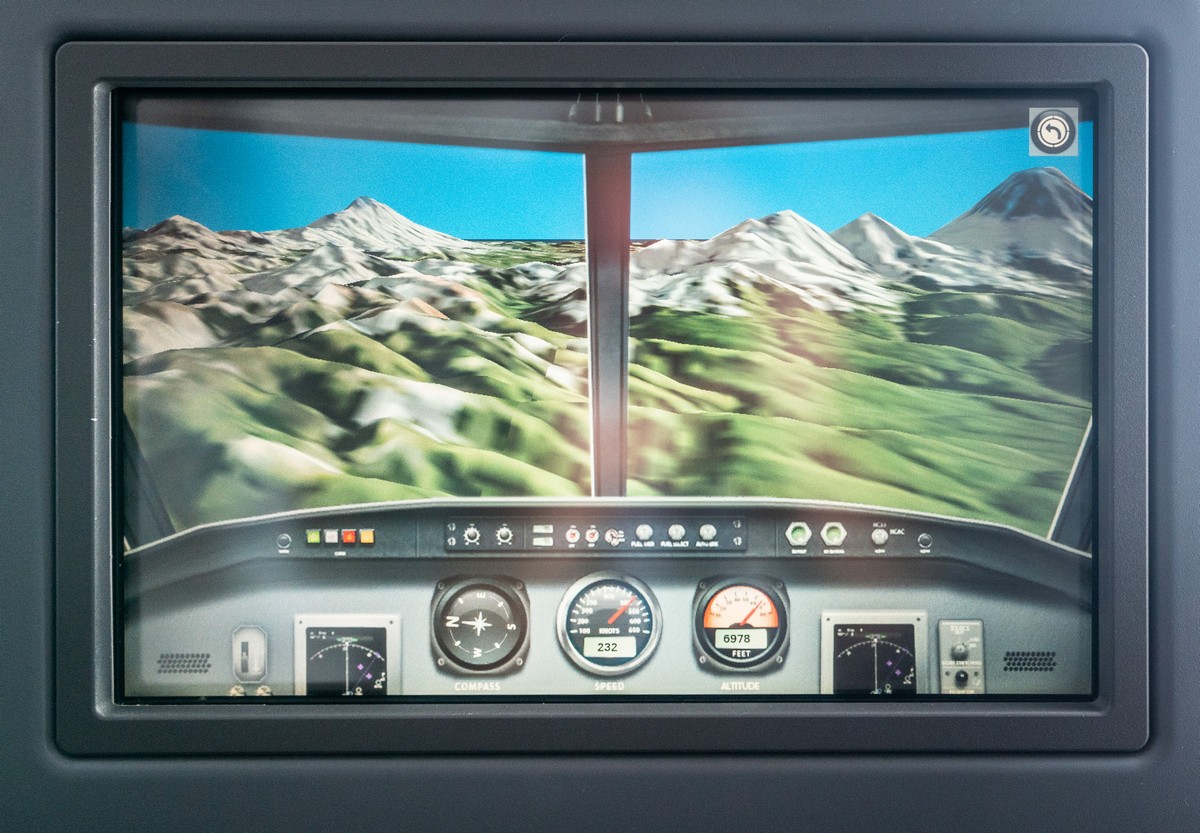 Finally, we land in Petropavlovsk!
PS: Writing this, having been back in Moscow a few days already, I still hadn't fully recovered (and the ground still seemed to rock and sway under me:), but already it was back to the airport (this time Domodedovo) for another flight! Oh well, no rest for the wicked freshly-vacationed )…