The Jewel in the crown: Singapore never ceases to amaze.
How I long to be in the paradise that is Singapore as a simple tourist, just for a week! To walk around the city, take in the sights, visit the zoo. Actually, the tourist and entertainment industry in this small city state is developing so much that a week might not be enough. Ah, this is the place!
I left a sweltering Switzerland in a hurry, heading in a south-easterly direction, while not forgetting to take pictures of the surrounding landscapes ->
The double-decker A-380 is just great and all, but its windows are very thick, double-glazed. It does nothing for the picture quality.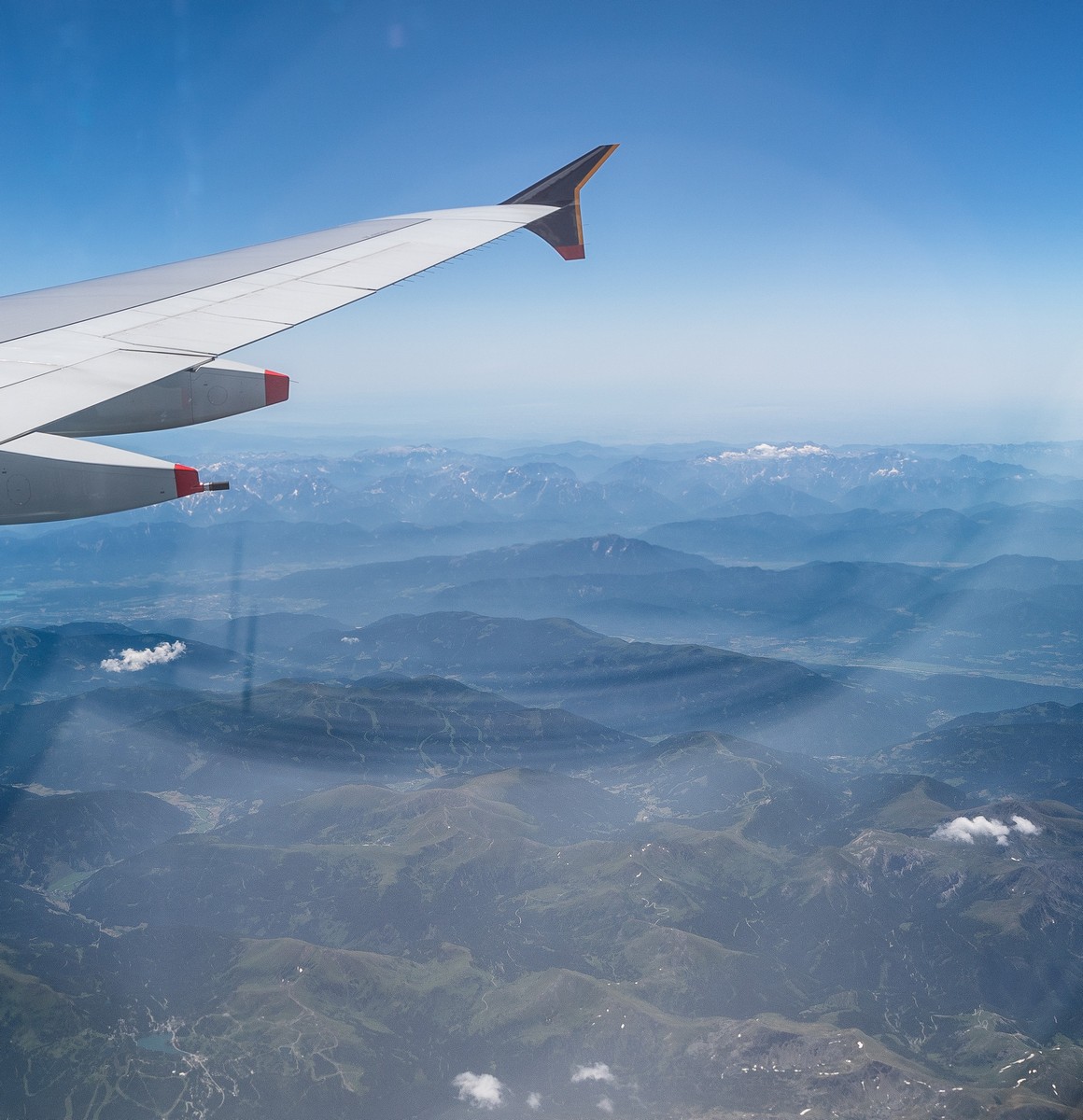 Anyway, it's already dark outside… a little more flying and we'll almost be there.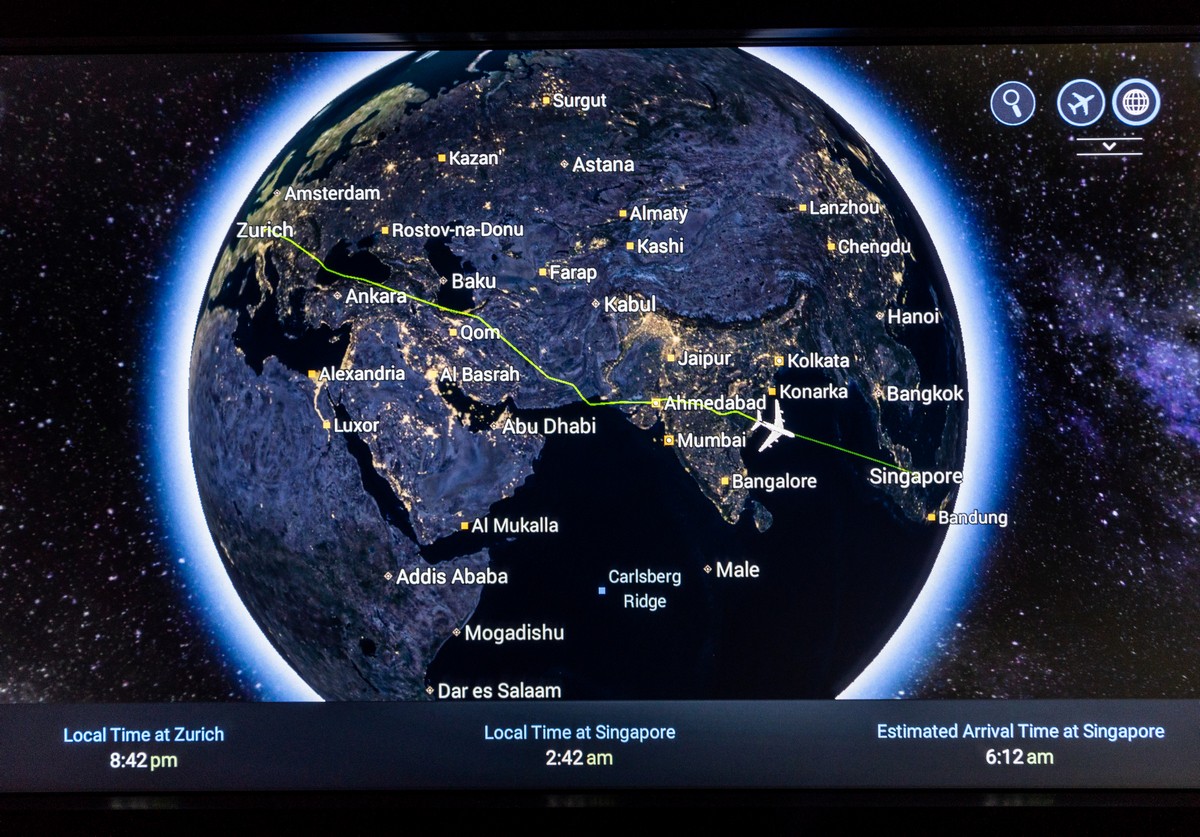 I've already mentioned the whys and wherefores of this visit. Now it's time for half a day of express tourism :)
The Marina Bay Sands hotel is pretty much perfect. There are some flaws, but I'm not going to go into them here.
Word of the famous rooftop swimming pool has spread so much that you can barely get near it now:
Everyone is either taking a selfie, has just taken one, or is just about to take one :)
The view in the other direction = fantastic.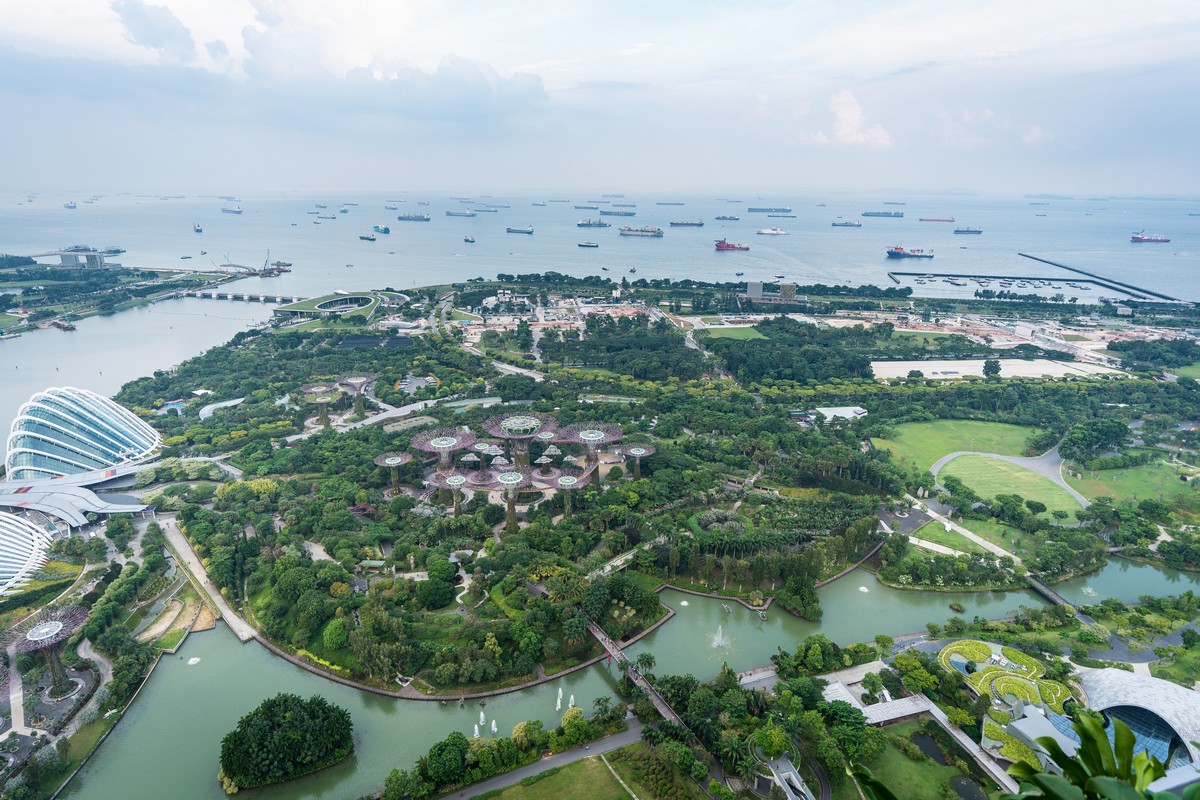 On one side of the hotel there is a huge shopping center with entertainment, plus a casino. And on the other – a magnificent botanical garden. There's also a bridge right through the hotel. Reaching this bridge directly via the hotel lobby is impossible. There are no stairs or elevators. Only from the street outside. Interesting. I wonder why?
And some other views:
While looking at the hotel from this angle, I suddenly noticed that there are balconies with flowers. On the other side of the hotel the rooms just have glass walls and no balcony. Strange. It's the fourth time I've stayed at this hotel and never once have I had a balcony! Next time that needs to be remedied. With a view from here…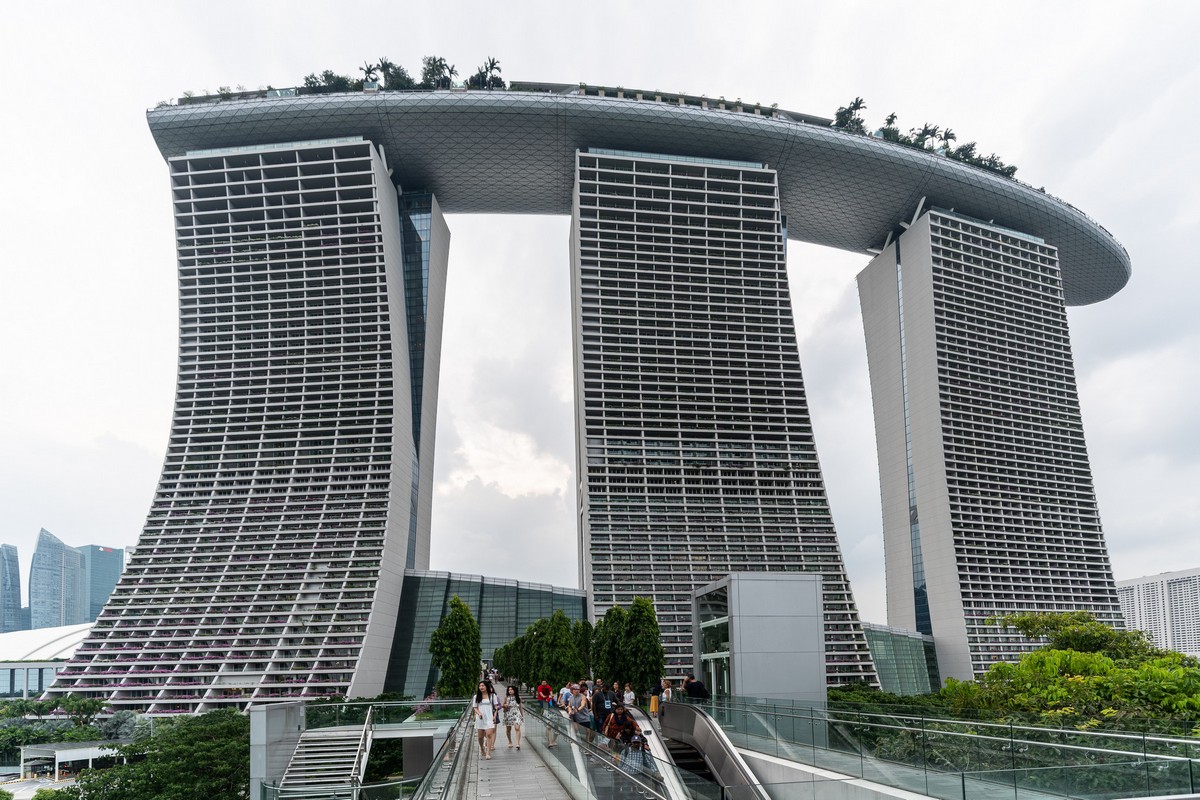 …to here ->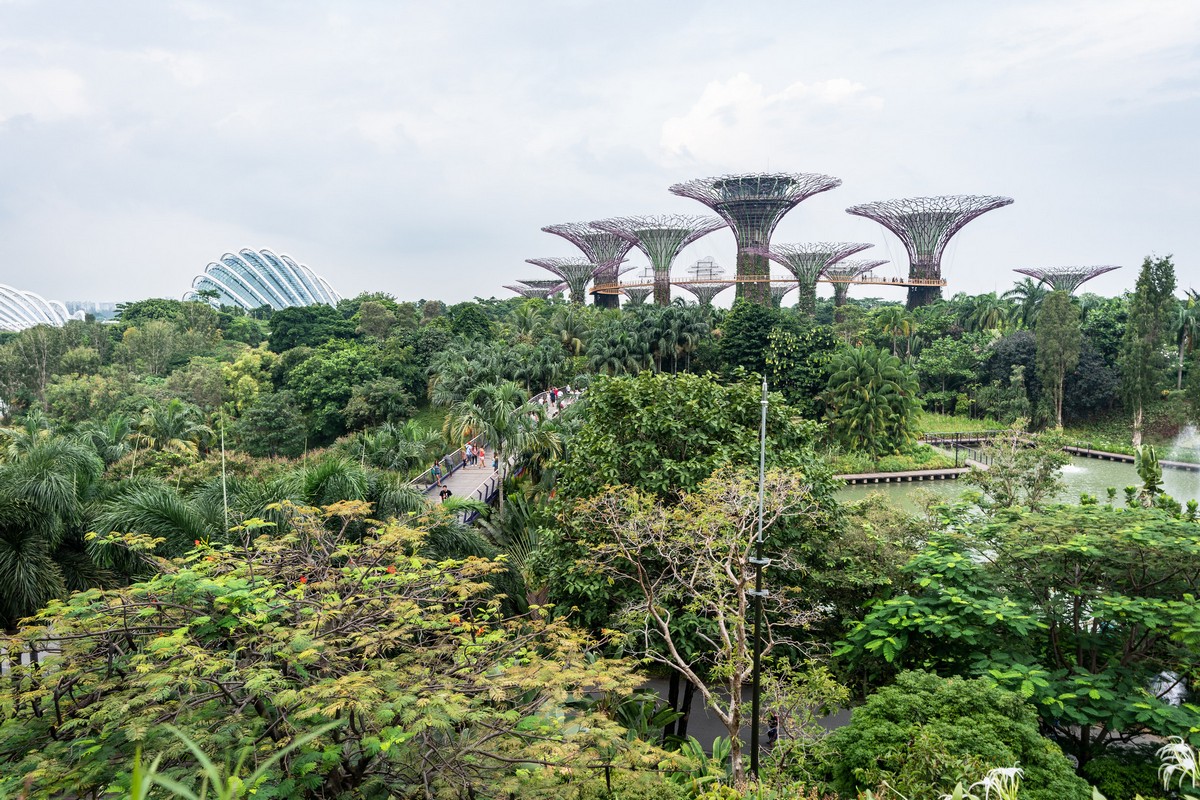 Something else I didn't have time to do was go to the local gym. It's on the 55th (fifty-fifth!) floor with views of both sides: from the weight machines you get urban landscapes, while from the treadmills you get a botanical garden and sea views (or vice versa, I don't remember). But there wasn't enough time on this visit – there was lots of running, but not on a treadmill…
Once upon a time, I told you that in Singapore they have buildings with gardens inside. And I even provided photographic evidence. Now here's a view from one of those gardens onto the surrounding area:
Awesome! At the local airport another mega-shopping and entertainment center has opened with a 40-meter waterfall right in the middle. And the trains shuttling between the terminals pass right through this place. This little miracle is called Jewel. Ahhhhh! It turns out you can still surprise me :)
There's also the occasional light show:
The water is lit up in the most delightful way, and you can see it from the underground floors, where it flows down through a vertical pipe:
Here it is in action: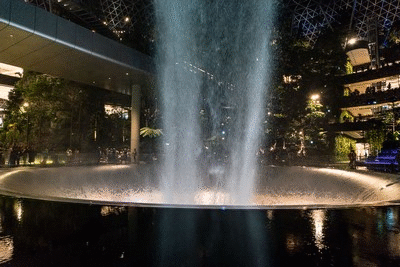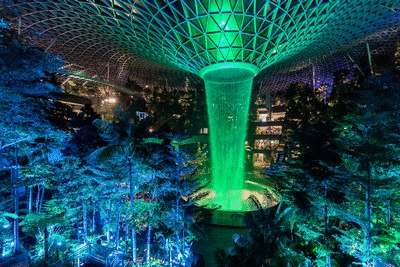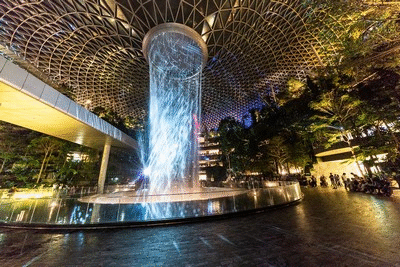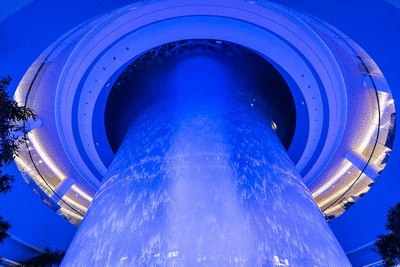 And an attempt to photograph something from the shuttle travelling between terminals:
We also have an office here in Singapore…
… where there was almost no one to be seen. Half of them were at the Interpol conference, and the other half were off to Moscow for some important annual events. Which is where I'm now speeding off to!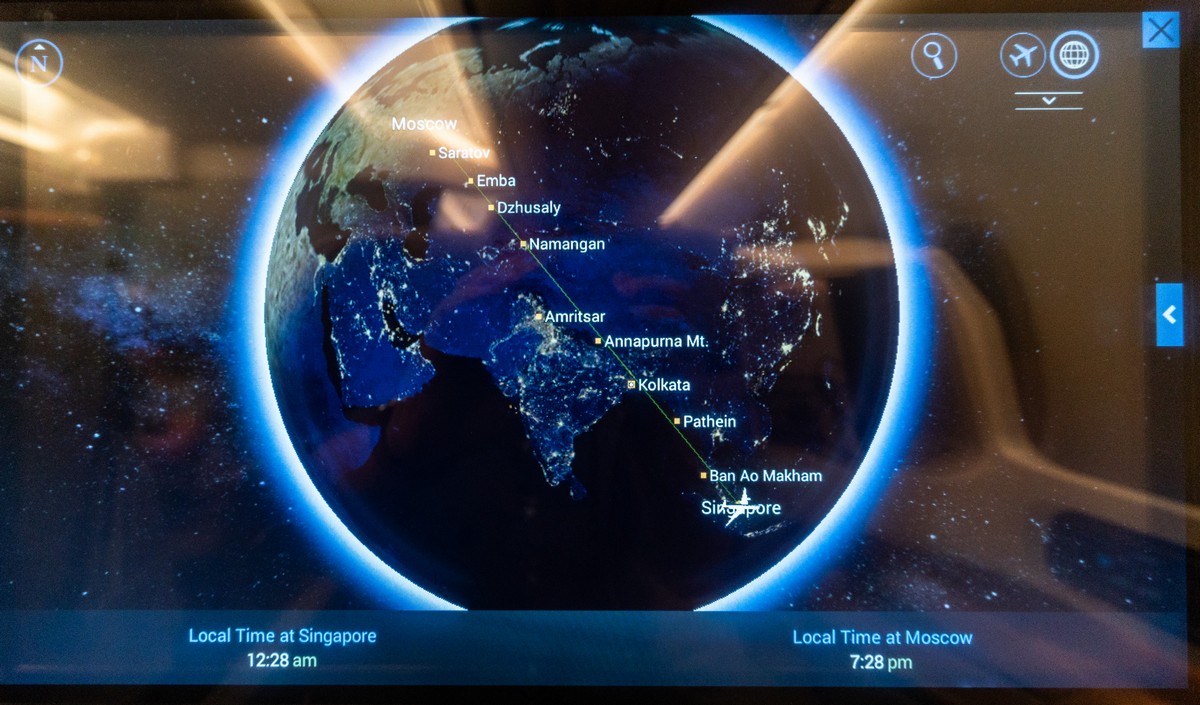 I will tell you about those events a little later, because now I urgently need to load myself onto yet another mode of transport, a slightly unusual one…
And thus ends my latest madcap two-week journey on the route Moscow -> Azores -> Fontainebleau -> Zurich -> Singapore -> Moscow. Five flights, six hotels, three presentations plus a radio broadcast, with a dozen meetings and interviews.