It was farewell to Tito's bunker, and we were headed to the Croatian city of Split, where we were to have an important business event. On the way – while still in Bosnia–Herzegovina – was visited another magical place: the city of Mostar.
What a beautiful city! It centers around its 'Old Bridge' – Stari Most – which crosses the Neretva River, as it has done since the 1500s! The river's fast flowing, emerald green, and with accessible, bedrock-revealing banks. The only one downside: all the low banks of the river are strewn with plastic garbage.
The old city is popular with tourists, but that attracts pickpockets, apparently, of which you are warned if you are a tourist yourself.
The bridge was originally built out of wood in the mid-16th century. It was destroyed in 1993 during the Croat–Bosniak War, but rebuilt and opened again in 2004. A very impressive bridge – an 'exemplary piece of Balkan Islamic architecture', as Wikipedia tells us.
Of course – we had to cross it! As we did, we were told how occasional jumps are performed off the bridge – sometimes sponsored by Red Bull. These jumpers collect change from the spectators on the bridge, and when they've enough, they jump. Interesting business model ).
Gif: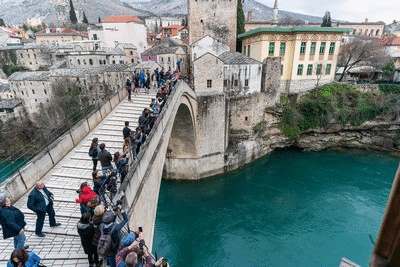 Video:
Yep, a very pretty old city, but practically everywhere there are scars left over from the wars: the odd ruined building, holes in walls, depressing sights contrasting with the beautiful backdrop.
All the (hi-res) photos from Mostar are here.