Northern slopes of mountainous beauty.
Salaam Kazakhstan and Uzbekistan, and we're headed to another splendid location. But can you guess it?…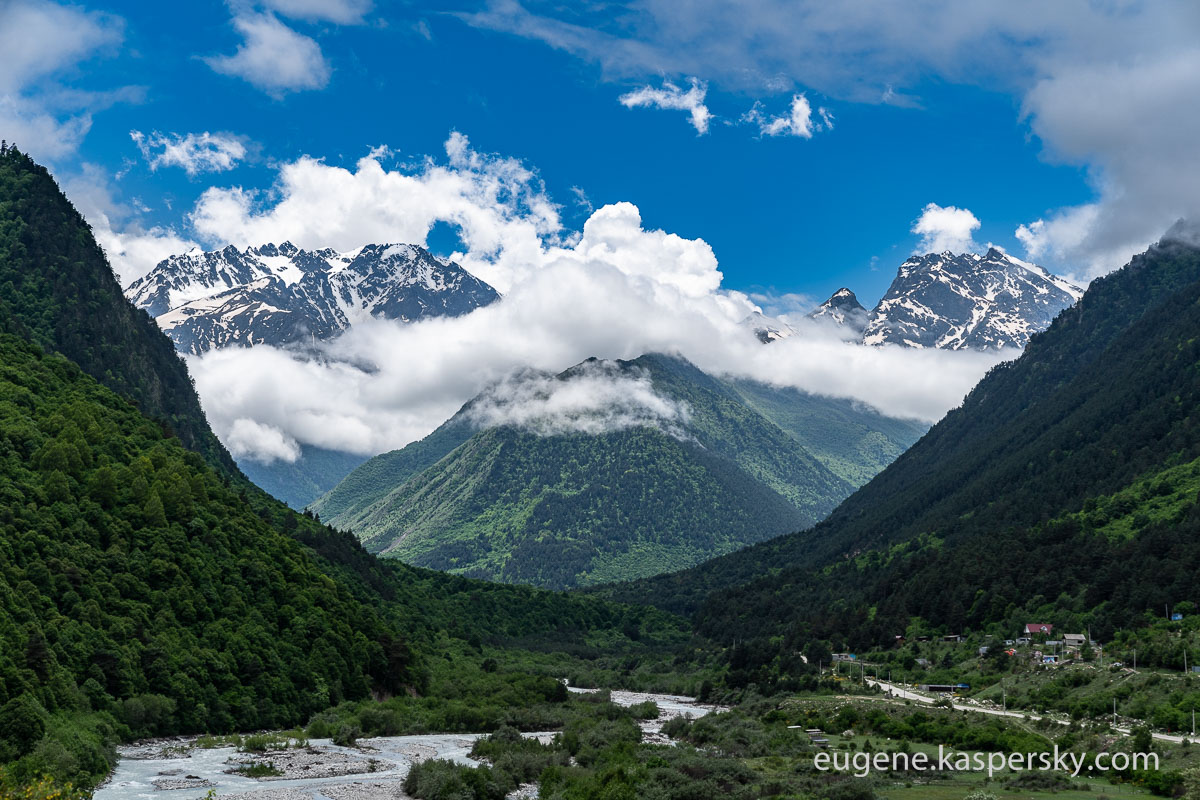 It's a place that's practically unguessable to non-locals, even those adept at advanced internet searching. For this is a place that's off the touristy-internety-beaten-track. Which is surprising really, since it's so picturesque: mountains, gorges, glaciers, waterfalls… – and no tourists getting in the way :).
After seeing those pics, are you getting any warmer?
Well, that there river is the Urukh river, which runs through Digoria.
Without clicking those links – you know the place yet?…
Yes folks, this is North Ossetia-Alania, down in the North Caucasus, Russia.
Strolling along the banks of the river as it weaves its way through the mountains is a very worthwhile endeavor, even when the weather's overcast:
Ruins of shepherds' shelters dot the landscapes:
Down there, to the right – eventually Karbadino-Balkaria; to the left – eventually Georgia. Like so.
But since not much further down there is the state border, we need to head back. Just to get to the border one needs a permit, which we did not have.
Quite how long folks have lived here no one remembers. Must be many, many centuries, judging by these here ruins of watchtowers and castles:
The Three Sisters waterfall. What I'd give for a trek up there into the sun covered upper reaches. Alas, as ever – not enough time.
Our stroll over, we head back to our lodgings: very nice chalets that go by the name of Tana Park Hotel. The views from the windows – breathtaking:
Relaxing over, time for work:
We were here to sign a cooperation agreement with the North Ossetian government:
I also gave a speech at the university:
A spot of TV:
…But enough about work. Time for more beautiful landscapes, this time – from my hotel room in Vladikavkaz:
A while later it was back to the airport and upward and onward.
All the photos from North Ossetia are here.
Bye for now folks, but I'll be back soon… from Tokyo!