I've been on a pretty tight business schedule and haven't had much free time. Now, I've got a backlog of stories that I have to publish about the places I've visited and the sights I've seen – and the backlog keeps growing, which I don't like. So, I'll try and catch up whenever I have a spare moment and functioning Wi-Fi, which may be a bit of problem in the foreseeable future.
So, I'm in Vietnam, at Ha Long Bay, which is here. This is, without a doubt, one of the wonders of the world, definitely worth a visit – just like all the other entries in my Top-100 Must-See Places in the World. I was last here in May 2010, and now I've just revisited. And I don't regret it for a second.
It's good to see that in the last seven years many things have changed for the better. A new international airport has been built in Hai Phong, 60km from Ha Long. Well, at least it looks like the terminal building and the concrete on the taxiways is new. There's a lot of construction going on around the place; for our night 'on land', we had a reservation at a hotel which was quite luxurious – on a par with anything in the Caribbean. Vietnam has certainly changed a lot…
But we are not here to admire Vietnam from the land. Instead, we have a boat booked, ready to set off to those mountains on the horizon!
The boat was not bad at all – a floating 5-star 'boutique' hotel. I actually rather enjoyed it :)
Here's the captain's bridge, the upper deck and a chance to wet our whistles :)
And now, full steam ahead!
People had warned us about the December rains and dank fogs, but it takes more than that to scare us! It's been a bit chilly – in the morning it got as frosty as +11°C – but such trivial matters aren't going to bother us when we're surrounded by Ha Long!
Just to spice things up a bit, here are some caves. Vietnam is famous for its underground spaces. Apparently it also boasts the world's largest known cave, but it's closed now because of the winter rains. Ha Long also has some impressive caves that are quite a size.
But these caves look a bit shabby and worn by the endless crowds of tourists. Or maybe they've just grown old with time and climatic change.
That's enough caves for now – it's time to be moving along.
A pearl farm. Judging by the fact there are no tourists, the place is probably a bit pricey (as one of our team suggested). Sounds about right to me.
There's actually a lot of other interesting stuff here. For example, there are small partially isolated bays on the islands that can be accessed via grotto-tunnels during low tide. Unfortunately, it takes a little bit more time than we had. Therefore, I recommend you plan at least three days to visit Ha Long, rather than the half a weekend that we had.
The local food delivery service.
A few words about the local inhabitants. Naturally, they do actually live here, residing on rafts and boats rather than on the islands. There are even floating villages.
They say that the inhabitants used to be 'hardcore' – people were born, spent their entire lives and then died on these floating residences, hardly ever setting foot on solid ground. And when they did go on to dry land, they quickly developed 'land sickness', i.e. dizziness and nausea – the equivalent of sea sickness. Imagine that.
These days, they have easy access to the civilized world, i.e. hospitals on land, elderly people are also sent to dry land when they retire. They even have a floating museum here specially for the tourists, who are always welcome in these parts.
Of course, they have fish and seafood farms all over the place. This, for instance, is a floating shop.
There you have it. I actually wouldn't mind spending a week or two here, enjoying this way of life and doing some fishing.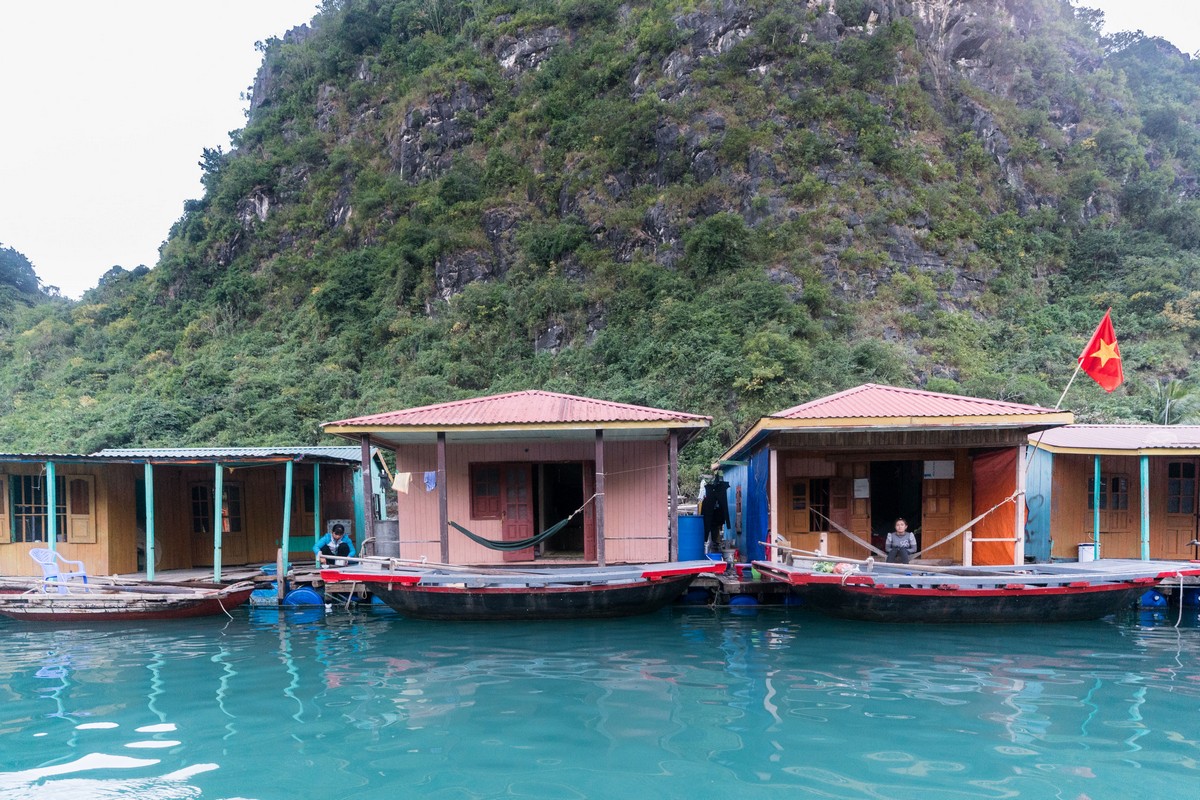 Next stop – Titop Island.
It should actually be called Titov, but the Vietnamese don't pronounce the 'v' sound at the end of words, replacing it instead with a 'p'. So it's was named Titop rather than the Russian name.
There is quite an unusual story behind the island's name: it was named after Gherman Titov, the Soviet cosmonaut who was also a great friend of Vietnam. One version of the story is given in Wikipedia, though we were told a different, secret version. Gherman Titov was invited by Comrade Ho Chi Minh to come and stay in Vietnam. One day, while the two were taking a holiday in Ha Long bay, they had a drink together and followed it with a snack. After this, Gherman went for a swim even though it was the cold season; Comrade Ho Chi Minh was so surprised that he just gave the entire island as a present to Gherman Stepanovich Titov, hero of the Soviet Union. That's how the story goes. So now the island has the name "Ti Top Island".
As for the hand gesture, some cheeky wags reckon he's saying "pour me half a shot":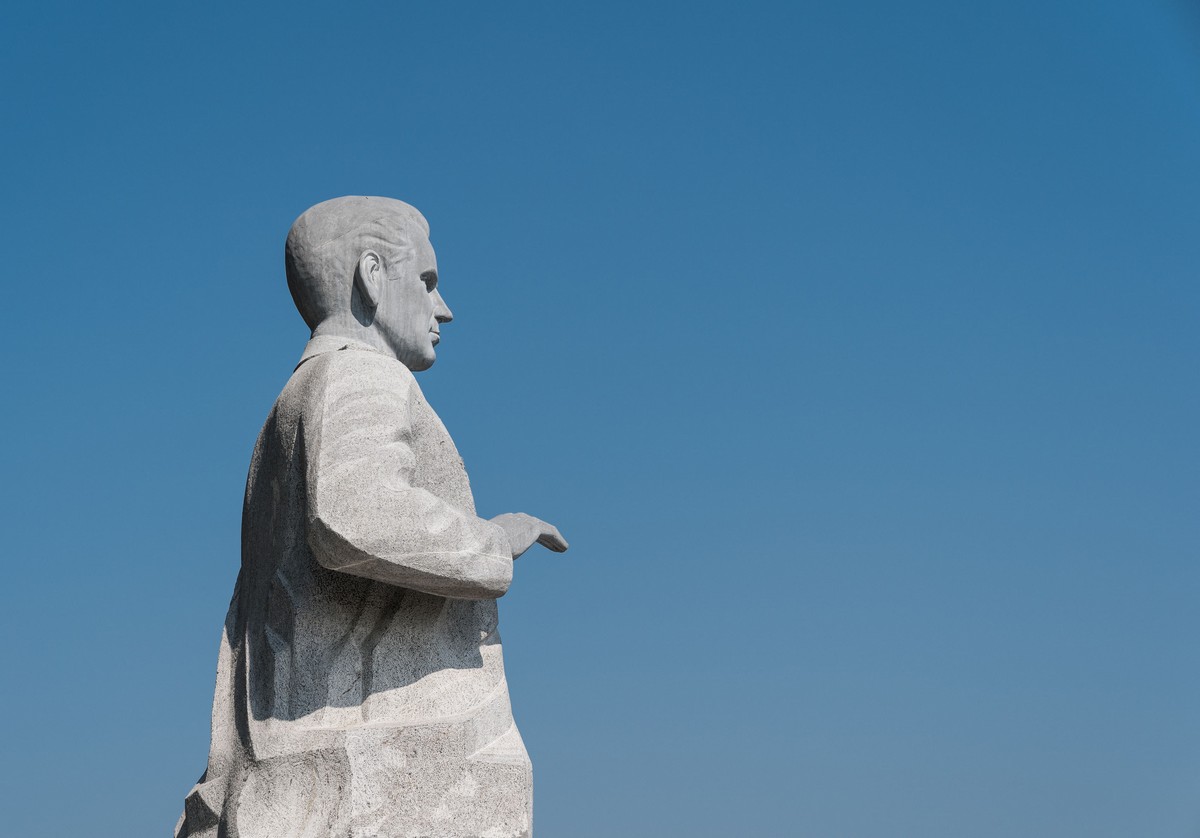 A great story about a hero of the early space age, the Vietnam War, friendship between nations – and an entire island given as a present. A truly legendary story.
A view from the very top of the island: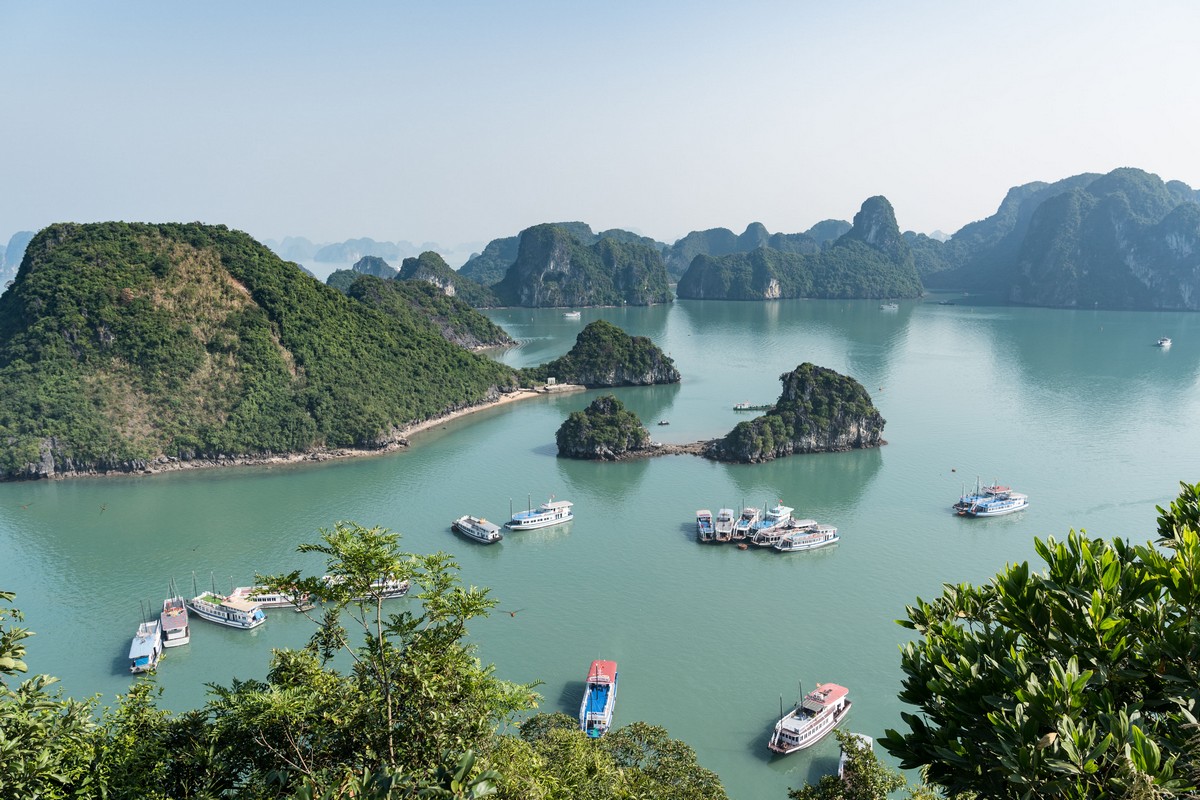 And here's that very same beach: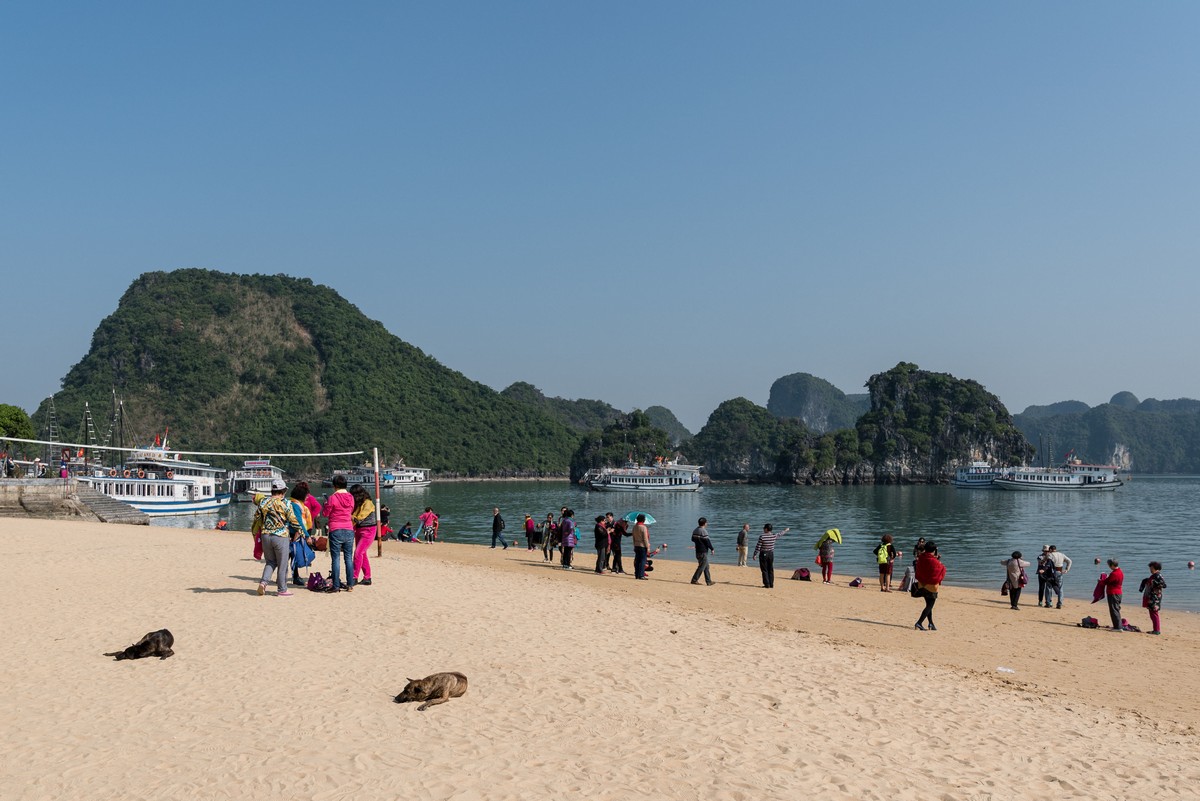 Only the Russians went for a dip. True to form.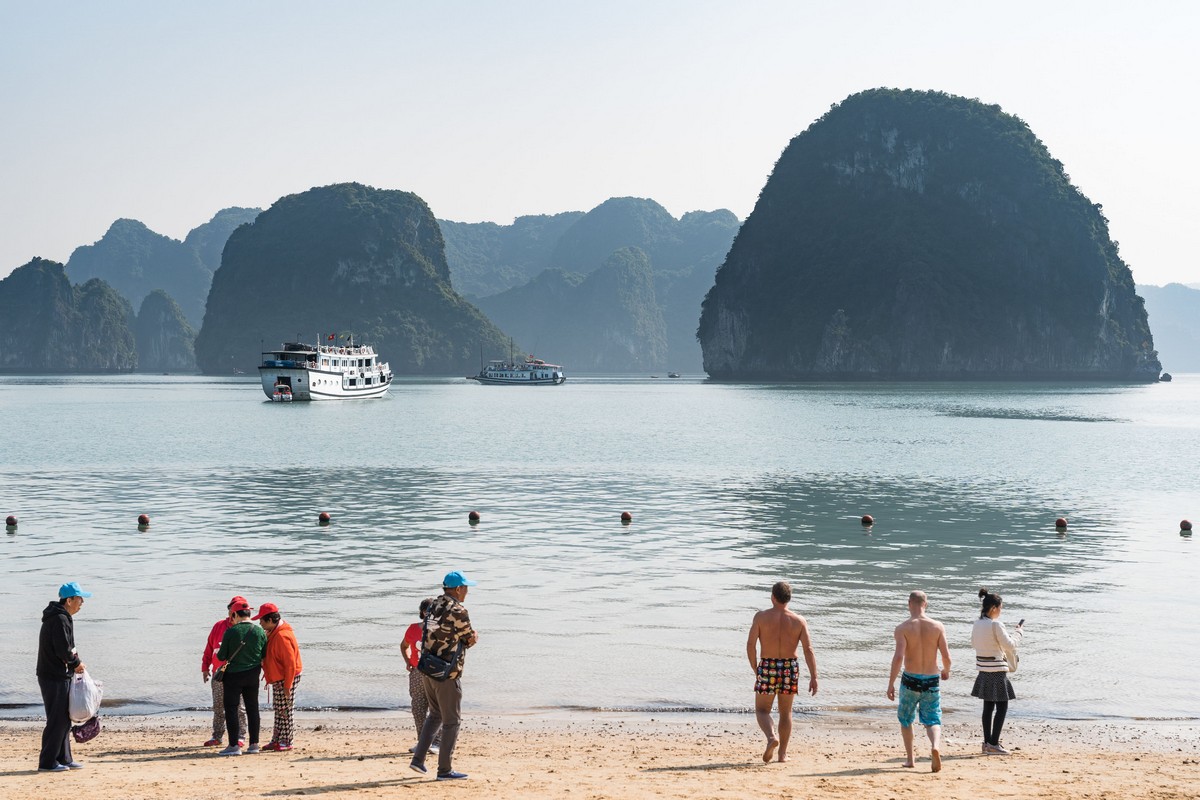 More interesting stuff. Part 1.
This is what the place looked like seven years ago, back in May 2010, compared to how it is now.
1. The boats have switched colors for some reason, and they are far more numerous.
2010
2017
2. And this guy is still there, hiding around the corner:
2010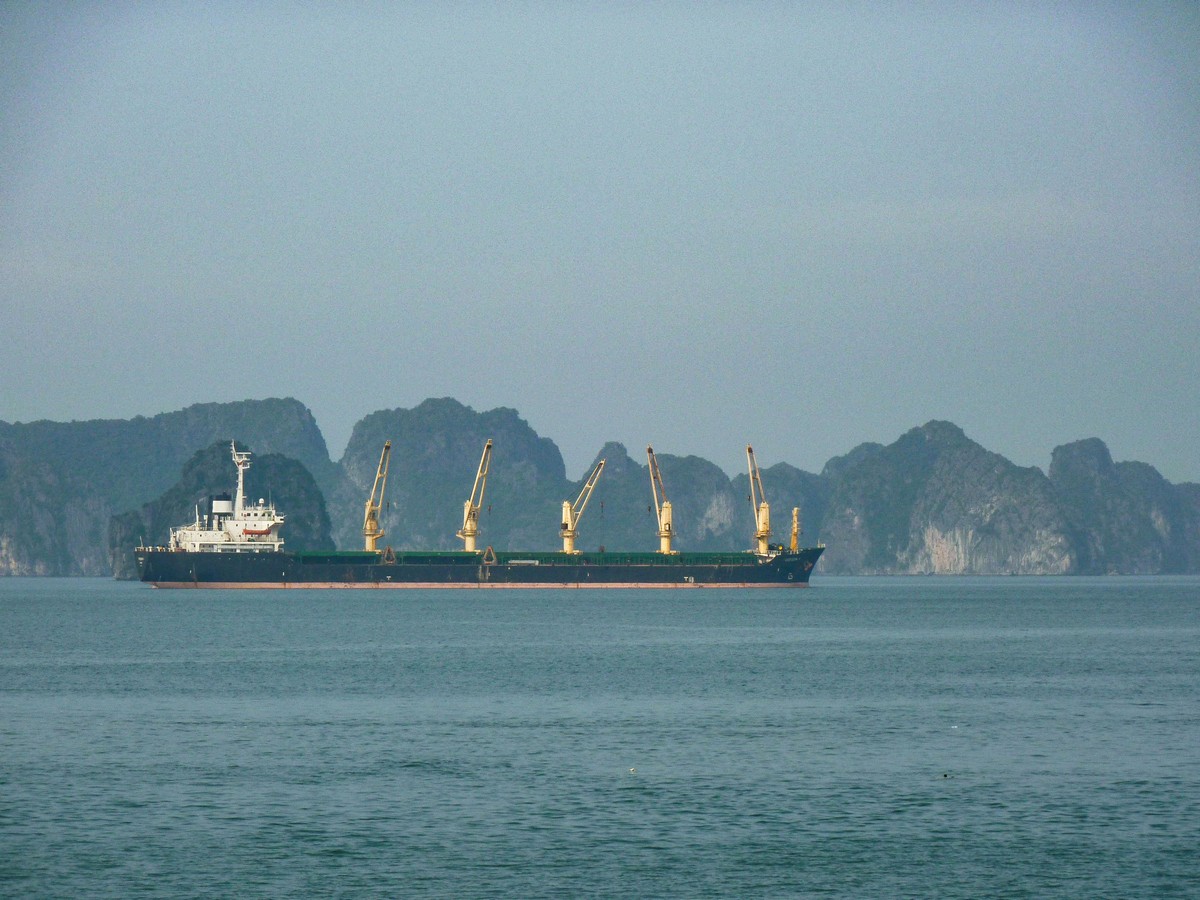 2017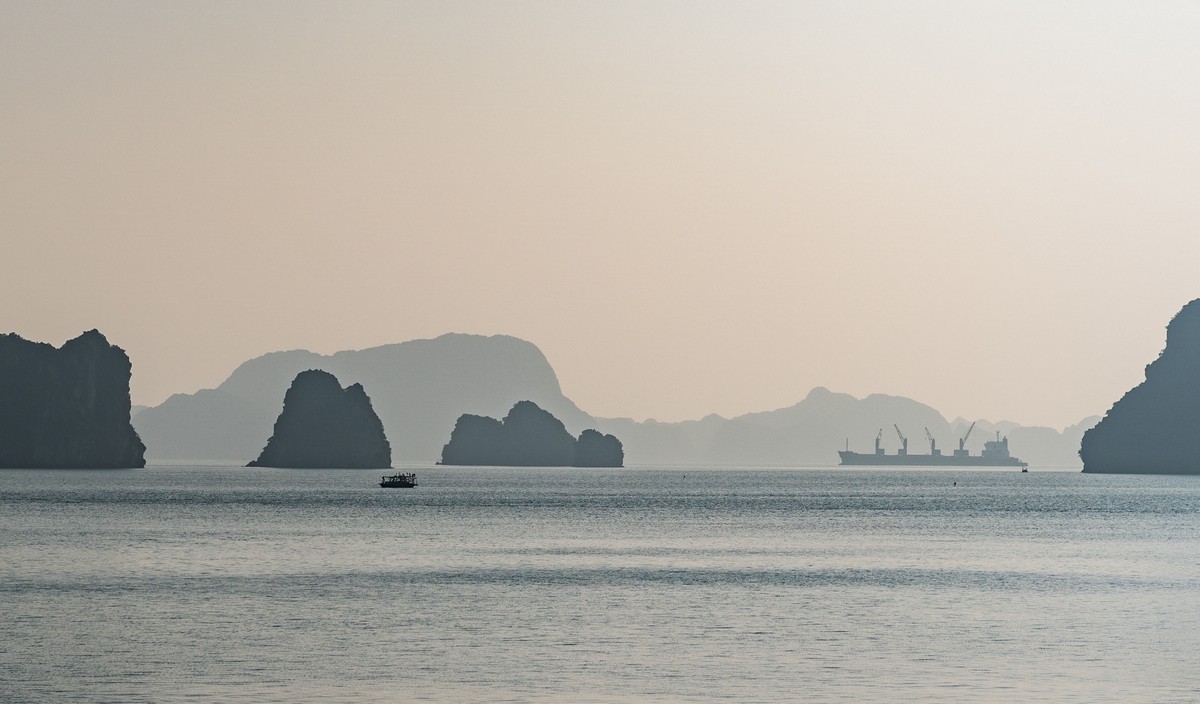 3. The rock resembling an anti-aircraft mount has gone a bit bald:
2010
2017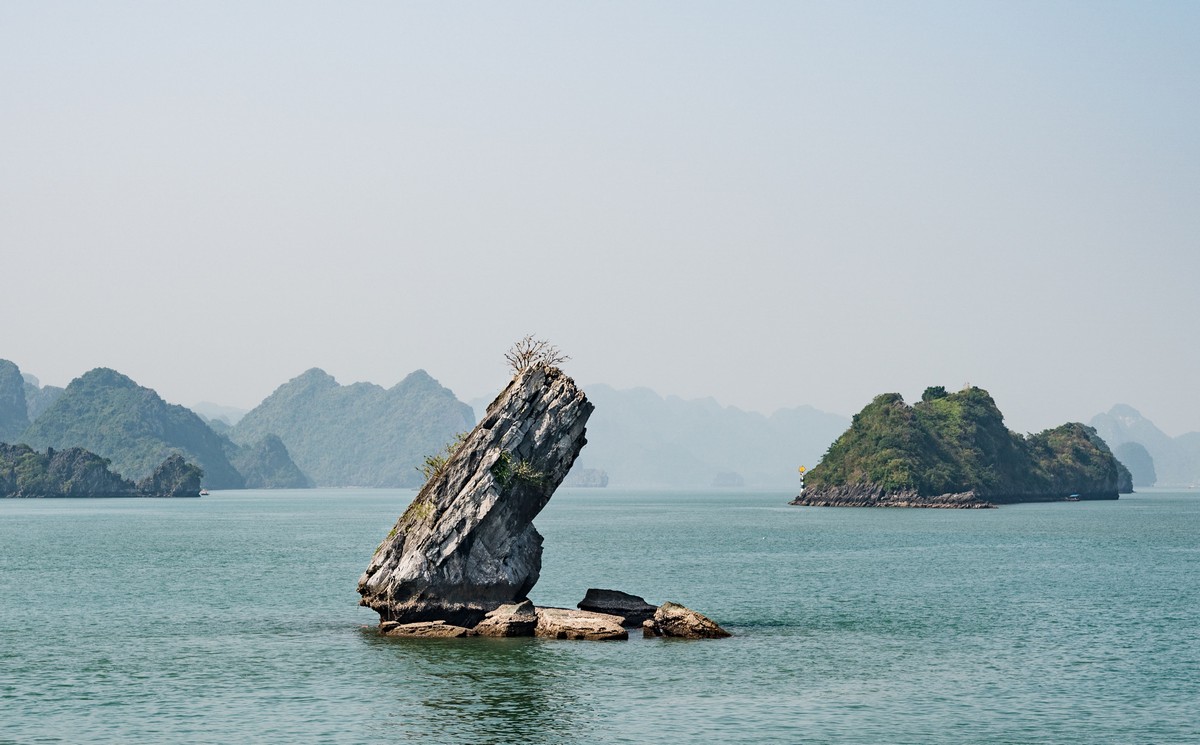 4. Now there are crowds everywhere. Here is the same bay, pictured in the high season of 2010 followed by the low season of 2017. You can see the number of boats has grown considerably.
In fact, the place is now obsessed with industrial-scale tourism, attracting hundreds of thousands, even millions, of tourists from China, South Korea and locally from Vietnam. European faces are rare. So, if you'd like to visit, you'd better hurry before it gets trampled, and sight-seen beyond recognition.
That the end of my Ha Long story.
More interesting stuff. Part 2.
They say there's a similar place in Thailand, called Krabi.
Requires a bit more research.
P.S. This is a pretty decent Venice-esque hotel in Hanoi: InterContinental Hanoi Westlake.
Take this as a recommendation. No advertisement intended.