The Biker Boys from Brazil Cross Siberia.
In late July, mentally I was already on vacation in Altai. It was warm, there was the usual seasonal lull in business and a general sense of leisureliness and summer holidays. However, one morning I found a message from our Brazilian partners in my mailbox, and it was completely out of sync with the calm pace of life. At first, I even thought something was wrong: maybe our Brazilian partners had been overexposed to the sun, right on the eve of the Olympic Games? :) Then I read their letter a second time, did some Google searches, and… was blown away.
The bare facts. Two Brazilians who don't know a single word of Russian decided to visit Russia for the first time in their lives. Over 21 days, they traveled 10,000 kilometers on their motorbikes from St. Petersburg to Vladivostok.
The message explained that the courageous bikers had just flown back from Vladivostok to Moscow, and that they would be spending another couple of days in Moscow before they went home. The message was clear, and I simply couldn't pass up the chance of meeting the two heroes in person to shake their hands and ask them about their adventure.
Meet Rodrigo Dessaune, an IT businessman by profession, and a hopeless romantic at heart, as well as an extreme long-distance biker.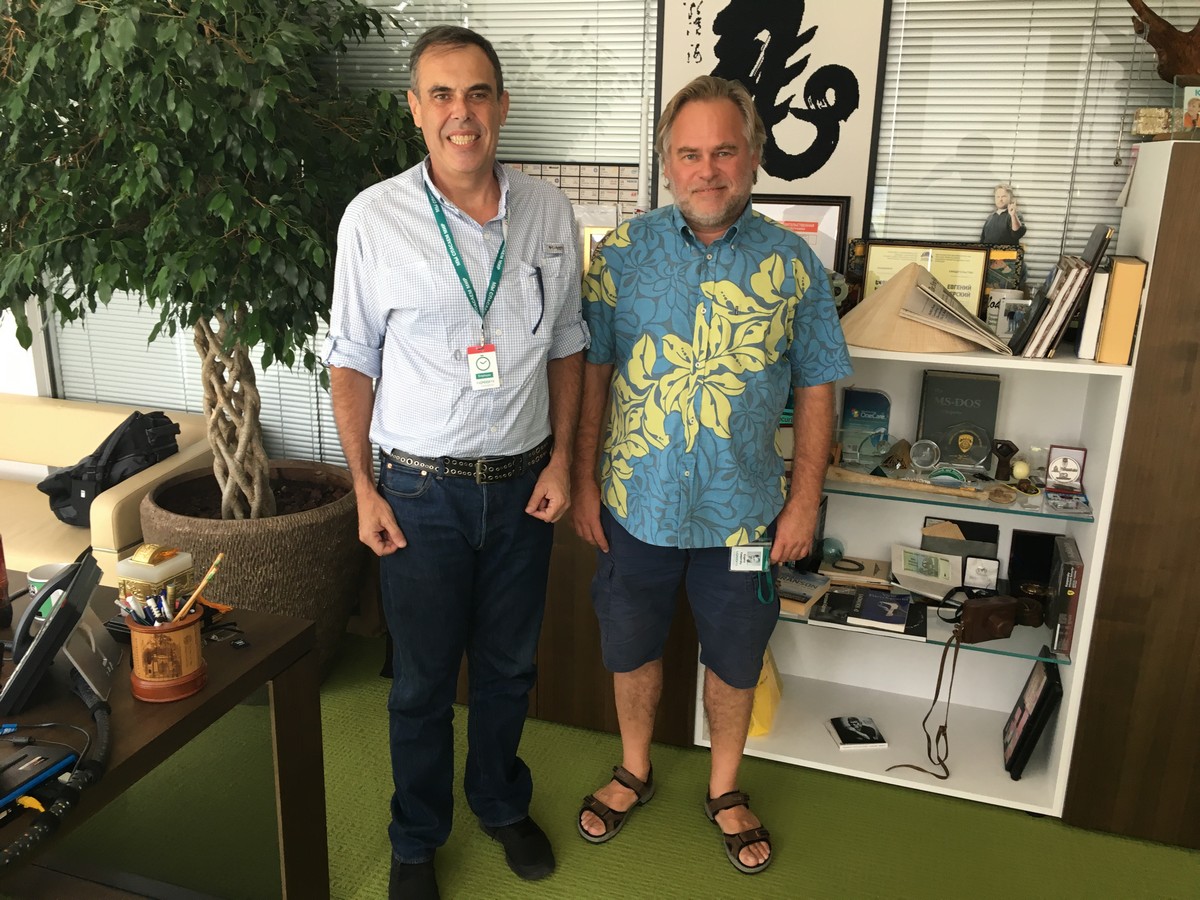 It actually became more than just a meeting, and turned into a full-length 'interview', with me asking lots of questions about the Brazilians' adventures in Siberia. You can read it below – it's a truly fascinating story!
10k+ km, a 21-day trip across the whole of Russia means seven time zones. Did you suffer from jetlag? Just kidding :). I'm more curious about why you chose to cross Siberia instead of the many other routes in the world?
Every rider has a personal bucket list.
Me and my travel companion Allan Costa we've biked some of the greatest routes around the world, such as Route 66 in the United States, a trip to the southernmost city in the world (Ushuaia), Ruta 40 (Argentina), the Carretera Austral (Chile), Carretera de La Muerte (Bolivia), Ruta Panamericana, the Caretera de la Muerte (Bolivia), US-01 on the American West Coast, and the eastern part of Highway 1 in Australia. But the trans-Siberian route remained unconquered, lurking, just watching, waiting its turn.
It's perfectly natural for people who enjoy adventurous sports: the next adventure always has to be something better/different/more extreme than the previous one. After all, part of what we look for is the feeling of being able to stretch our limits with new conquests. So, the trans-Siberian route was a natural choice due to its remote, wild landscapes. Of course, there were the difficulties we would obviously face with the language – neither of us speaks any Russian. So dealing with the challenges along the road would be a challenge in itself. And then there's the place that the trans-Siberian occupies in the imagination of many people, as a mysterious, beautiful and legendary route to be traveled.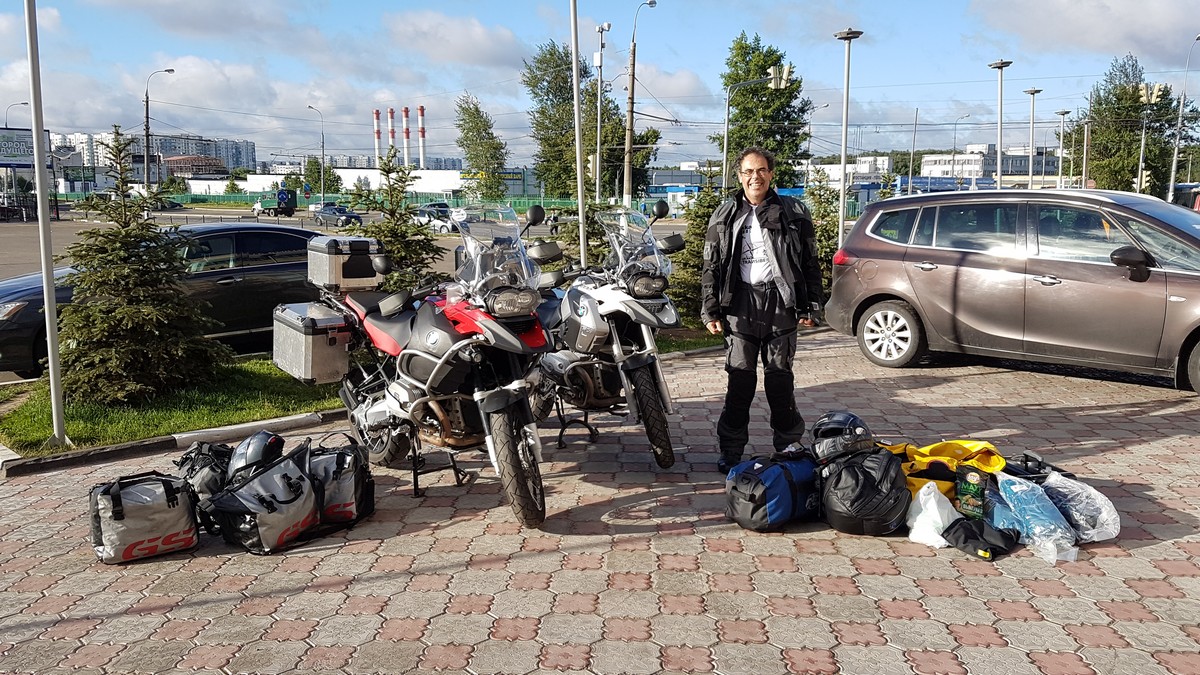 What were the three main things that made you dream of crossing Siberia?
I would say the difficulty of the route itself is the first thing. After all, crossing the largest country in the world through seven time zones, the roads we would face – we had no idea how good they would be – it all sounds like music to the ears of extreme motorcyclists.
Secondly, to us Russia remained one of the most beautiful places on earth to be discovered, with a diverse culture and incredible landscapes.
And finally, the fact that for most Brazilians the trans-Siberian route has a place in the imagination as one of the most mysterious, adventurous and exotic routes on earth, and we wanted to see it for ourselves – but on a motorcycle, not on a train. We could also mention how incredibly beautiful the Russian women are, but that's a moot point, as we both had people waiting for us back in Brazil… :-).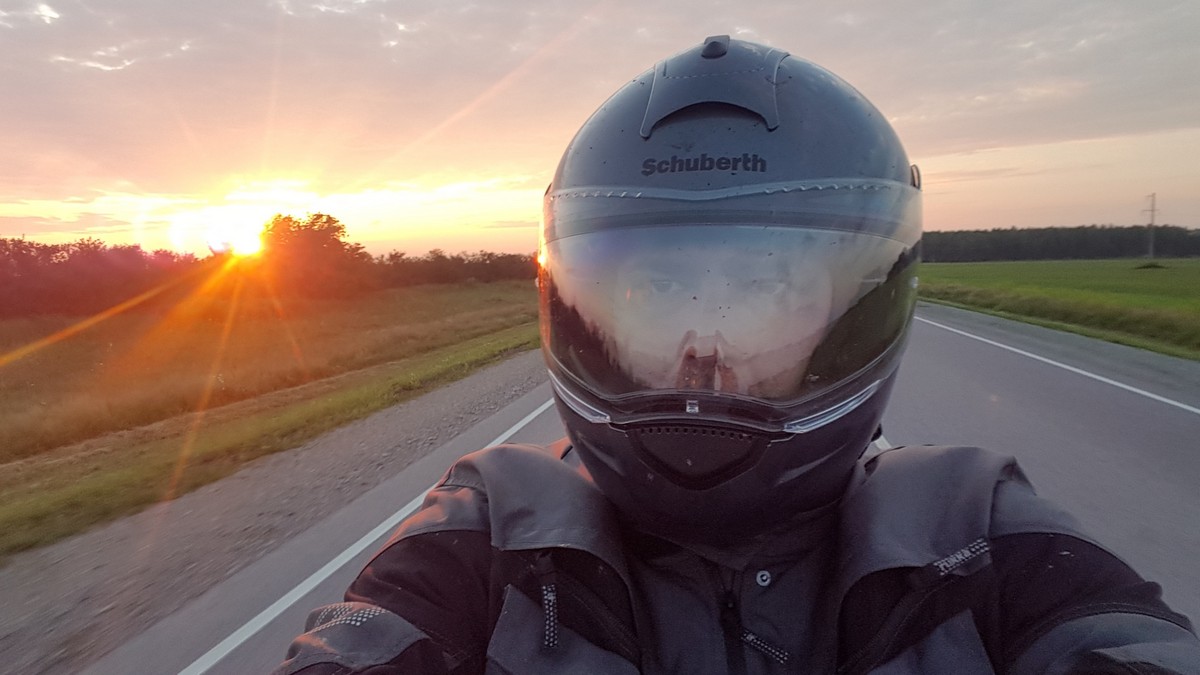 Not many Russians have experienced this trip to see their own country (including myself). One of the reasons is because of the myths surrounding the sparsely inhabited Siberian lands 'in the middle of nowhere. Did you have any security worries or any other concerns before the trip?
A lot! Our friends, their friends, including those from Russia… they were all very skeptical about the sensus communis of the trip. And yes, they were telling me all those myths about the roads, the people, police, corruption, mafia, the remnants of the Cold War, bears in the streets (just kidding), and other less pleasant (sometimes scary) stuff. A lot of clichés and nonsense.
The only thing that was missing in their stories was aliens. And these stories only made us more eager to go and see it with our own eyes. We never trusted the stereotypes and myths; we were sure that somehow it would be different. At the same time, even if the worst predictions came true, we knew we would end up with an unforgettable experience. At the end of the day, isn't that what we were looking for?
Now, after covering nearly 11,000km and meeting hundreds of people from all over, we can testify that the bad stuff we heard about Russia is pure myth. There were friendly people always trying to help, decent roads (at least much better than I expected), well-stocked stores, and mostly nice weather.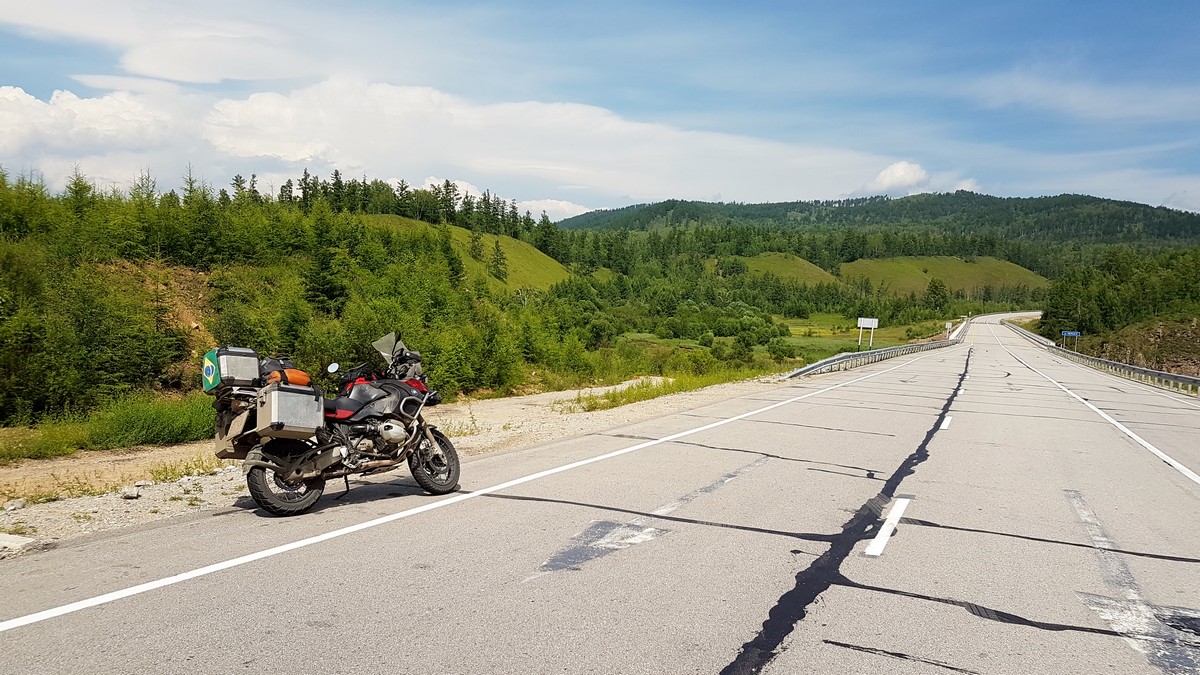 Talking about aliens – tell me what happened to you between Belogorsk and Khabarovsk.
It was one of the not-so-good days.
We started early from Belogorsk to catch up on lost time and to take advantage of the cool early morning hours. Then one of the bikes unexpectedly ran out of gas 10km to the nearest filling station. There we were, the two of us and the bikes covered with dead insects that seemed to swarm in hordes in the air. We eventually stopped at a picturesque point on a bridge to take some photos.
We were busy looking for the best angle to shoot, when we began to hear voices… We thought we were going crazy: we were in the middle of nowhere! But we could both hear them, so we decided we weren't crazy after all. What a relief! :) So we carried on taking pictures.
But the voices grew louder and that was when we thought, yes! – aliens :). We looked up ready to see an Independence Day-style spaceship over our heads, although we soon found out where the voices were coming from. There were loudspeakers on the bridge and the guard in the gatehouse at the end of the bridge was giving us orders to get off it. It turned out we were in a border region and for security reasons you weren't allowed to stop on the bridge, let alone take pics. There was a sense of relief: it wasn't aliens, it was the Russian army :). Quite an adventure but the pictures are worth it!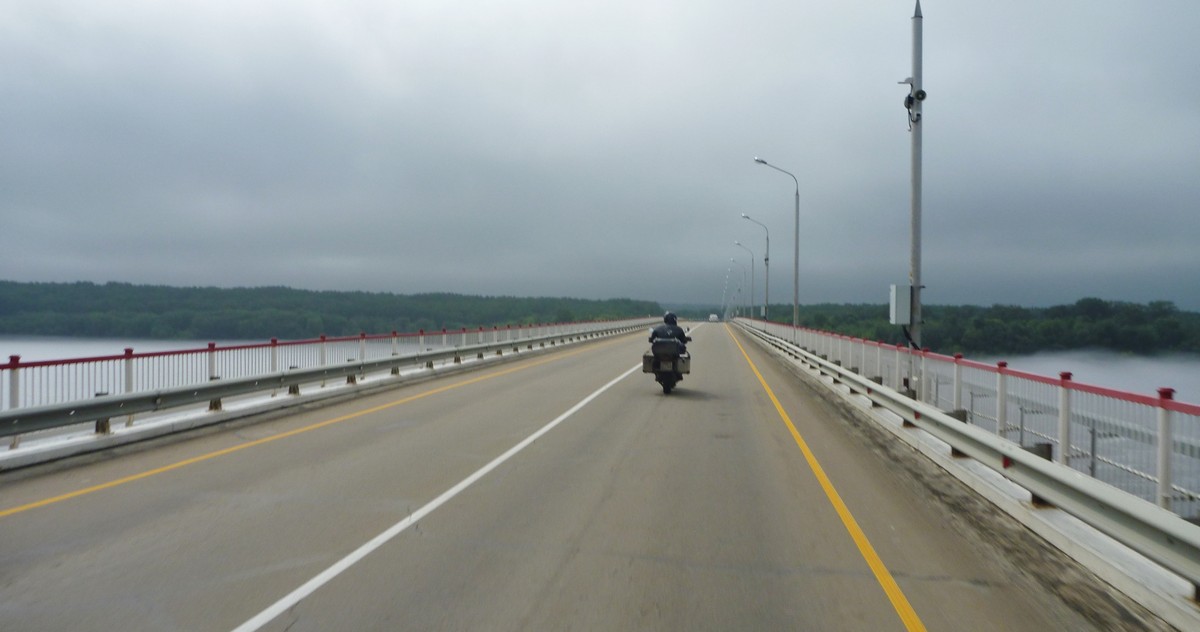 At this time of the year there are bound to be lots of mosquitoes…
Indeed! In some areas we ended our daily trips completely covered in dead insects. Literally EVERYTHING: jackets, pants, helmets, boots, windscreens. We had numerous stops to wipe our visors to be able to see properly!
It's hard to believe you didn't have many problems during the trip!
Of course, we had some technical problems, but they weren't fatal and even added some fun to the journey. Maybe because of the quality of fuel, the bikes started to consume more than we planned, meaning we had to travel slower and use any extra opportunity to refuel. We had several issues with tires and bike equipment. Sometimes it made us just want to throw the bikes away and take the first plane (with air conditioning!) and disappear. But no way, we carried on!
The biggest problem we encountered was a broken clutch near Omsk. We spent three days in the city doing nothing but getting nervous and praying for the mechanics to do their job. To fix a problem like this on BMW motorcycles requires the bike being literally broken into two pieces. When we saw the motorcycle like that, we couldn't help feeling a sense of despair. But after all, if Russians can build MIGs, spaceships and nuclear plants, fixing a motorcycle – even one broken in two – must be a piece of cake.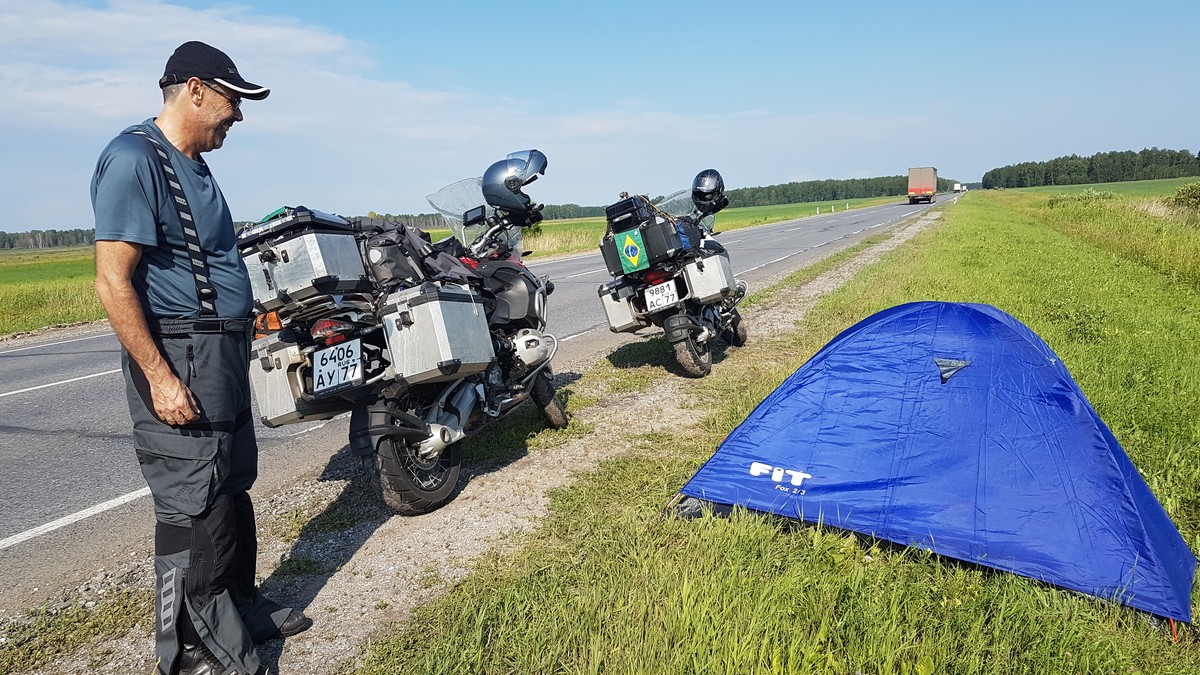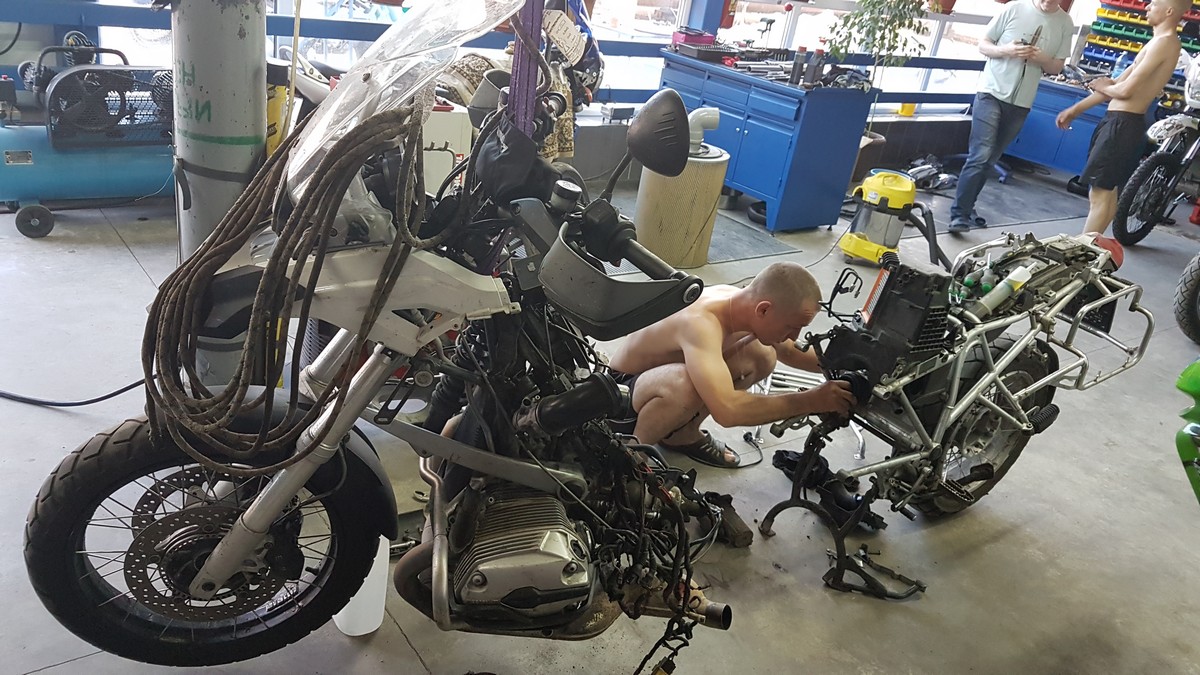 We had just a single encounter with the traffic police – near Nizhny Novgorod, when we violated the traffic laws. They were very polite, attentive and professional. And we never had any difficulties with the locals along the route – quite the contrary, they were always happy to assist.
Once we had dinner in Krasnoyarsk and when we got back to the hotel I realized I'd left my wallet (maybe a side-effect of one too many vodkas:). After returning to the restaurant we found the manager had discovered the wallet – he brought it to us along with a note with a full description of the contents and with every ruble in it! It was quite a surprise for us Brazilians – we were expecting the worst!
I know that Russians, especially in the provinces, don't speak any language other than Russian. How did you communicate with them?
Easy! We installed a dictionary on our mobiles! But you're right – not many people speak English. And you know what? Among tho people we met along the way in provincial Siberia that spoke languages other than Russian there were… Colombians and Brazilians!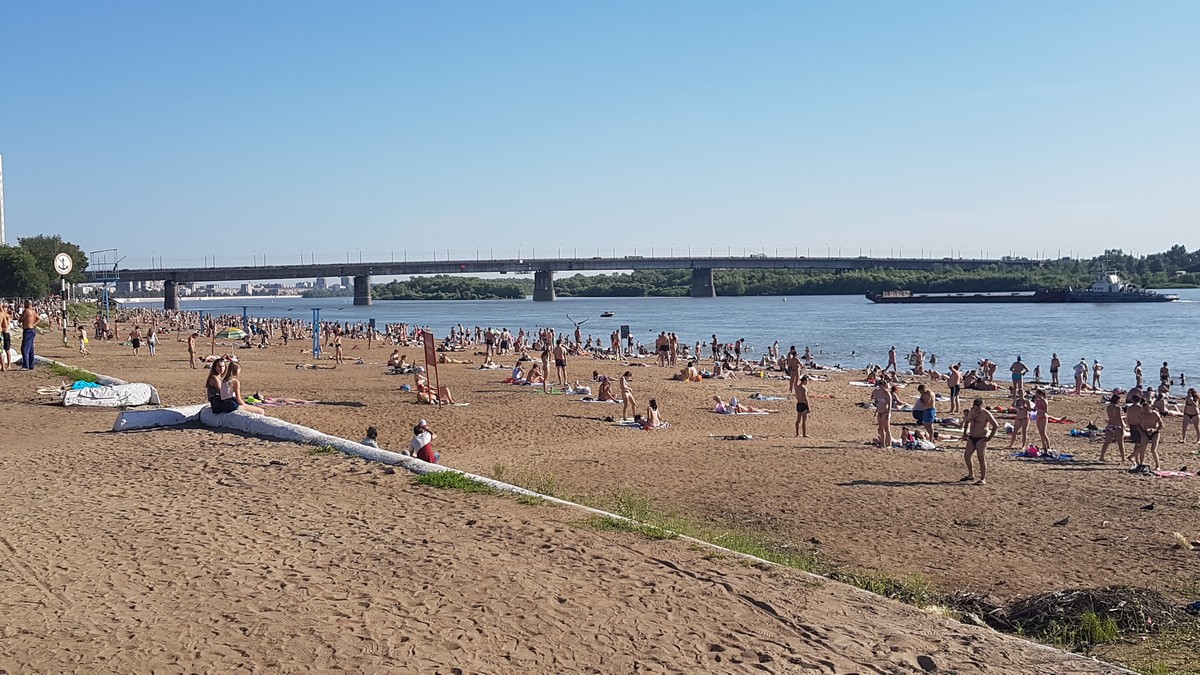 Really?
We were just as surprised as you. It was pure amazement I felt when we bumped into a family of Colombians in Chita. They were traveling the world too, but in the opposite direction. So we took pictures, shared contacts and agreed to meet in Colombia later this year.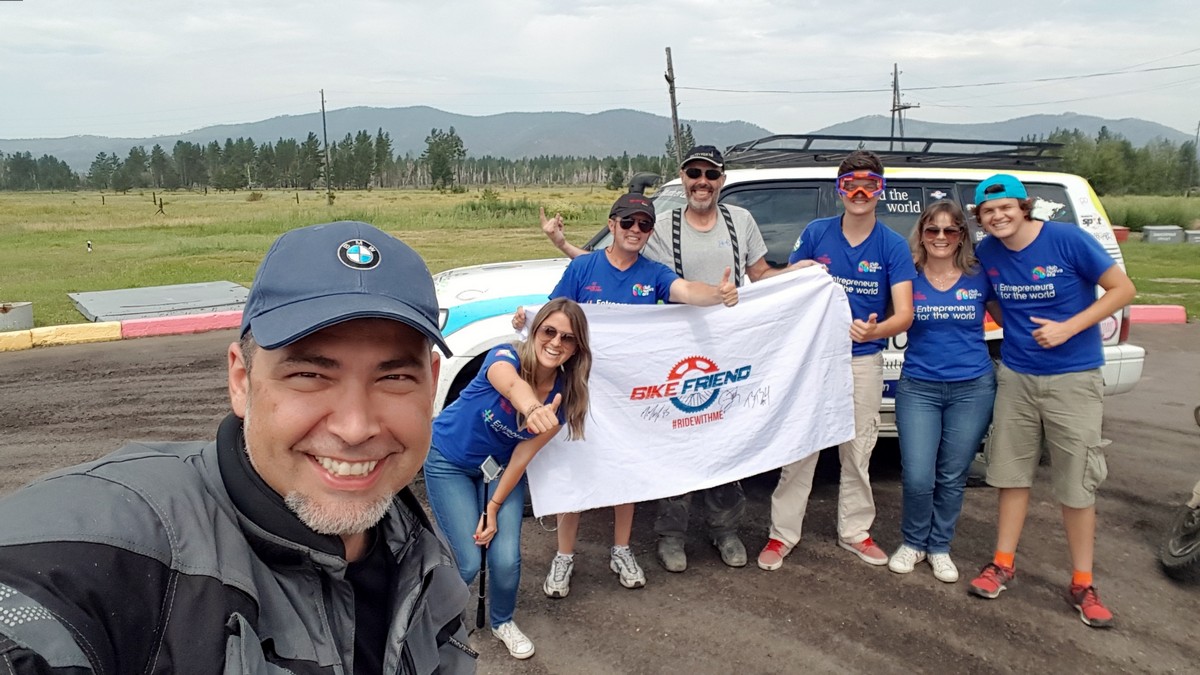 The second non-Russian-speaking encounter we had was in Vladivostok where we met a Brazilian couple who by a lucky coincidence ended up staying in the same hotel as us. Renan and Paula have been traveling the world for almost three years (!) and, like us, they'd just completed the trans-Siberian trip – only by car. When they saw the bikes in the hotel car park with Brazilian flags, they immediately went to the front desk and found us. And I have to say that was the most pleasant and unexpected end to a trip we have ever had!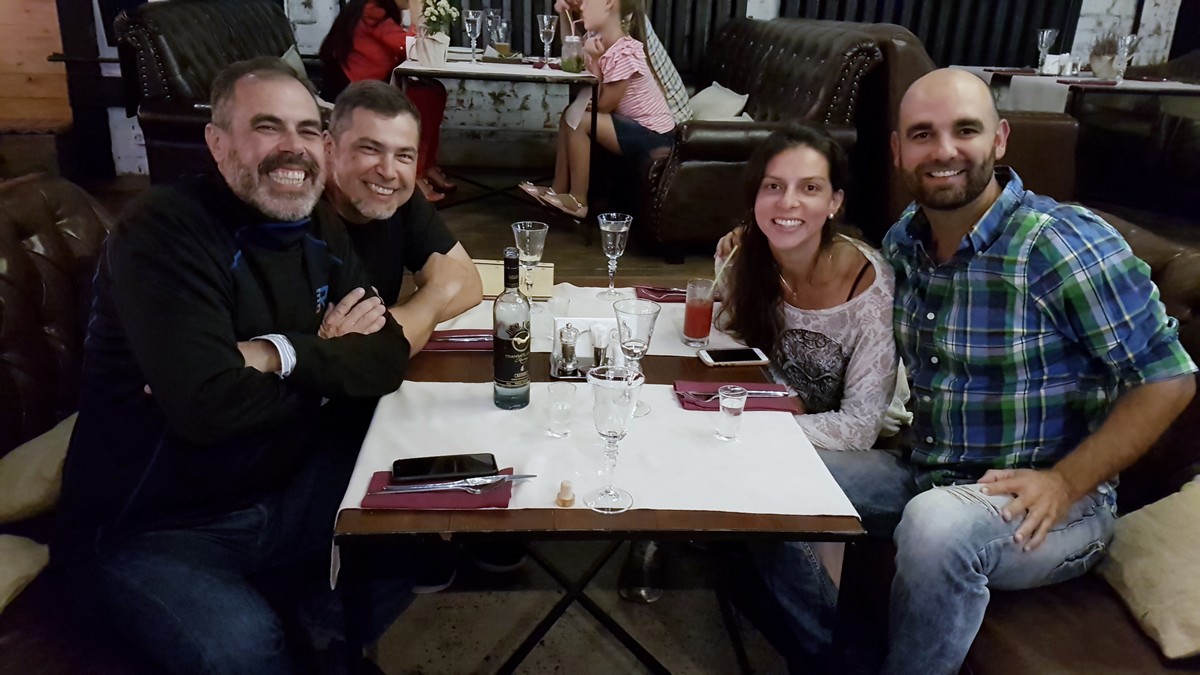 I'm curious about how you planned the trip. Was it all fly-by-the-seat-of-your-pants or a well-planned expedition with a day-to-day itinerary, pre-booked hotels, gas station coordinates and other stuff?
Meticulous planning is definitely not our style of traveling.
We believe that if a trip cannot really be made autonomous and self-sufficient, it's better not to embark on it. And that, of course, only increases the complexity of the planning. We can't say this trip was completely impromptu, as we agreed on milestones and consulted with local friends about where to stay, how to behave, and whom to call in case of an emergency. But in some cases we had to improvise, which only made the trip even better due to last-minute surprises.
For example, we departed with hotels reserved all along the way, at the milestones we had agreed upon. Normally we don't do that, but considering the language difficulties, we decided to at least have points to arrive at along the route.
However, due to the problem with the clutch and the three days lost in Omsk, we decided to cancel all the bookings and start, as you said, winging it regarding hotel reservations. That's how we met Renan and Paula, for example. If we'd kept to the original plans, we'd have been in a different hotel in Vladivostok and that amazing encounter at the end of the journey would never have happened.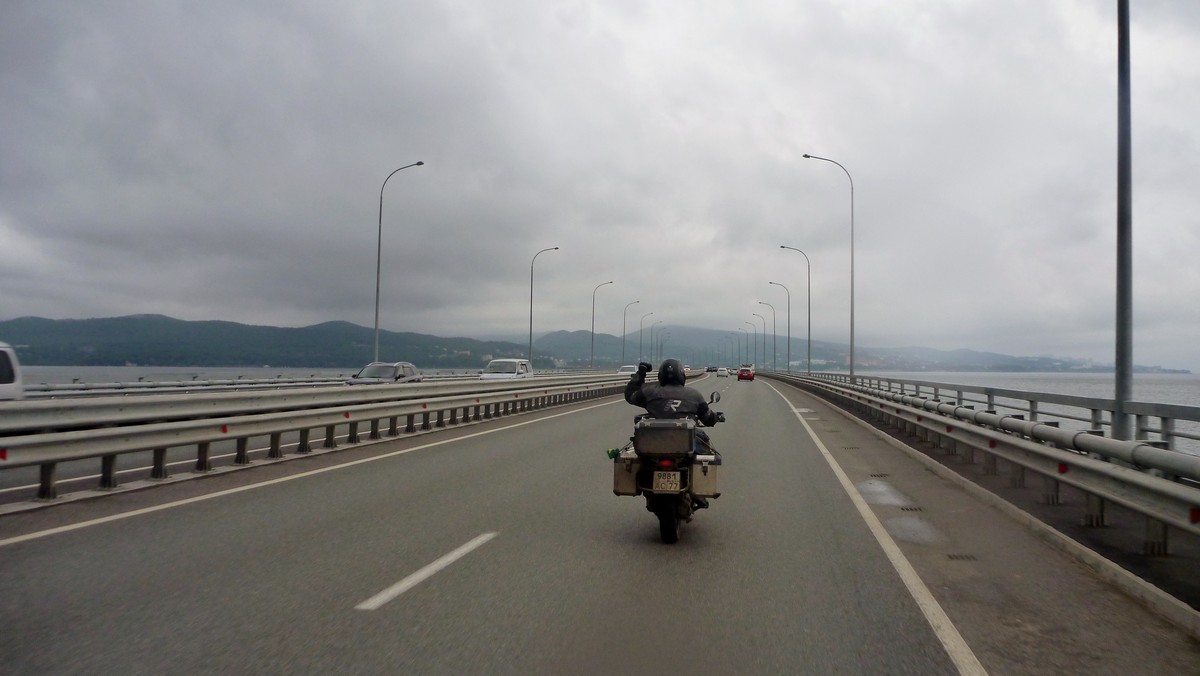 OK, now to the tech stuff. Tell me more about the equipment.
Basically, we were on two BMW R1200GS. We couldn't take much personal or auxiliary stuff with us due to the strict 'luggage' limitations. We only had one DSLR camera, two GoPros, cellphones with local chips, a laptop computer to update our blog and social networks, some personal belongings and a well-thought-out first-aid kit, with basic liquids, medicines, bandages and so on. In the end (and fortunately) we didn't use much of it, but it's always good to have it, just in case. You can see a more detailed overview of our gear here (in Portuguese, here's a Google translated version). Of course, we wore the best possible clothing, with high quality protective jackets, pants and boots, and hi-tech thermal clothing under it all to keep us warm.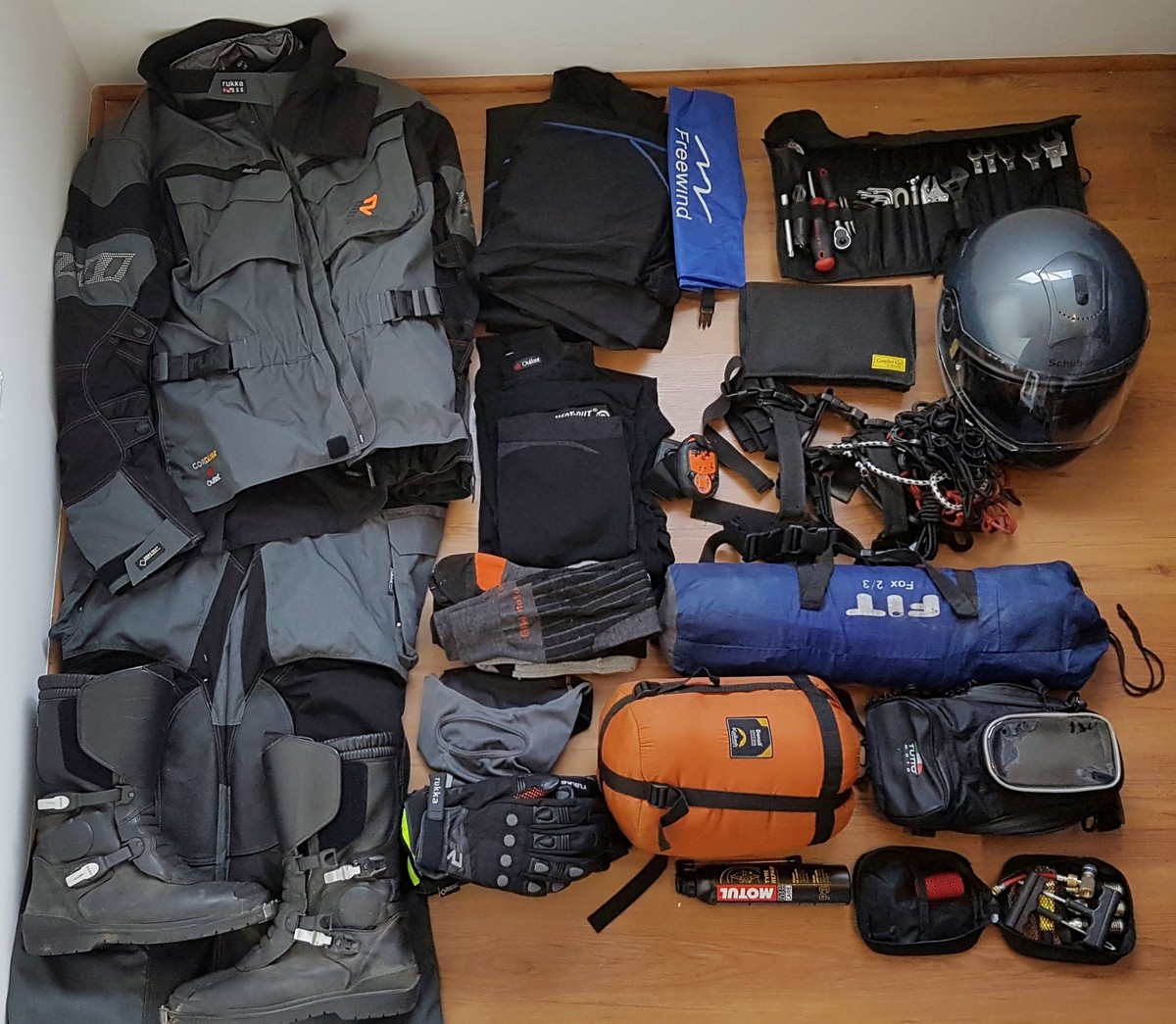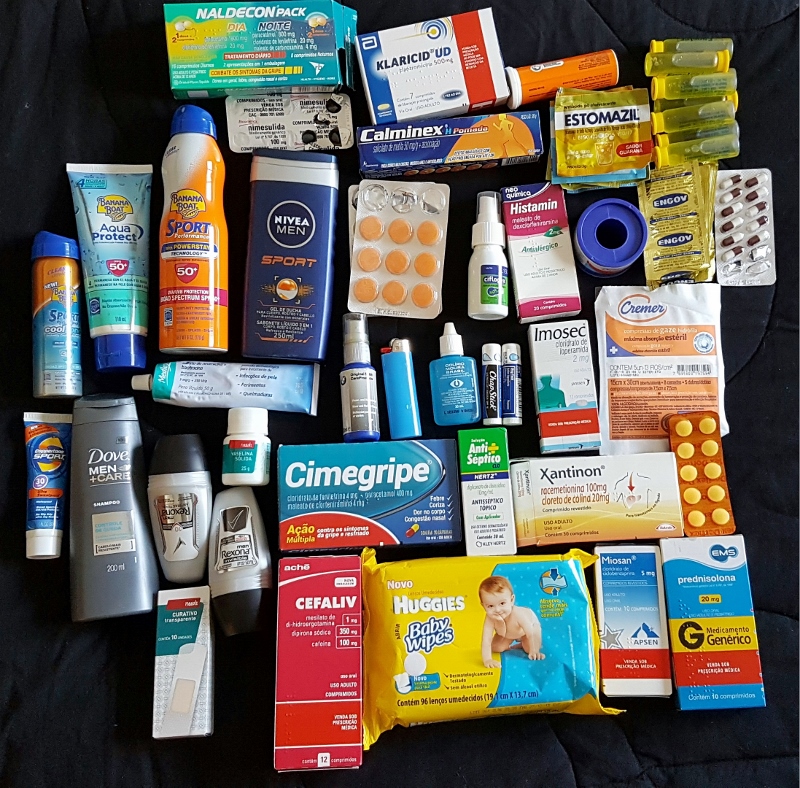 My lifetime dream is to visit Lake Baikal: both in the summertime and wintertime. Yes, I have never been there! You were there – what were your impressions of this natural wonder?
Lake Baikal was a chapter in itself.
We expected it to be one of the great points on the route, and it proved to be so. Unfortunately, once again due to the three days spent in Omsk fixing the bike, we had to cut some corners and we spent less time than we would have liked at the lake. But even with little time available, we can testify to the beauty of the lake, the warm, cozy atmosphere at Listvyanka – right on the shore of the lake, we ate traditional smoked fish (Omul). We rode along the shore of the lake for around 100km, with an unparalleled set of landscapes that will be imprinted on our memories forever.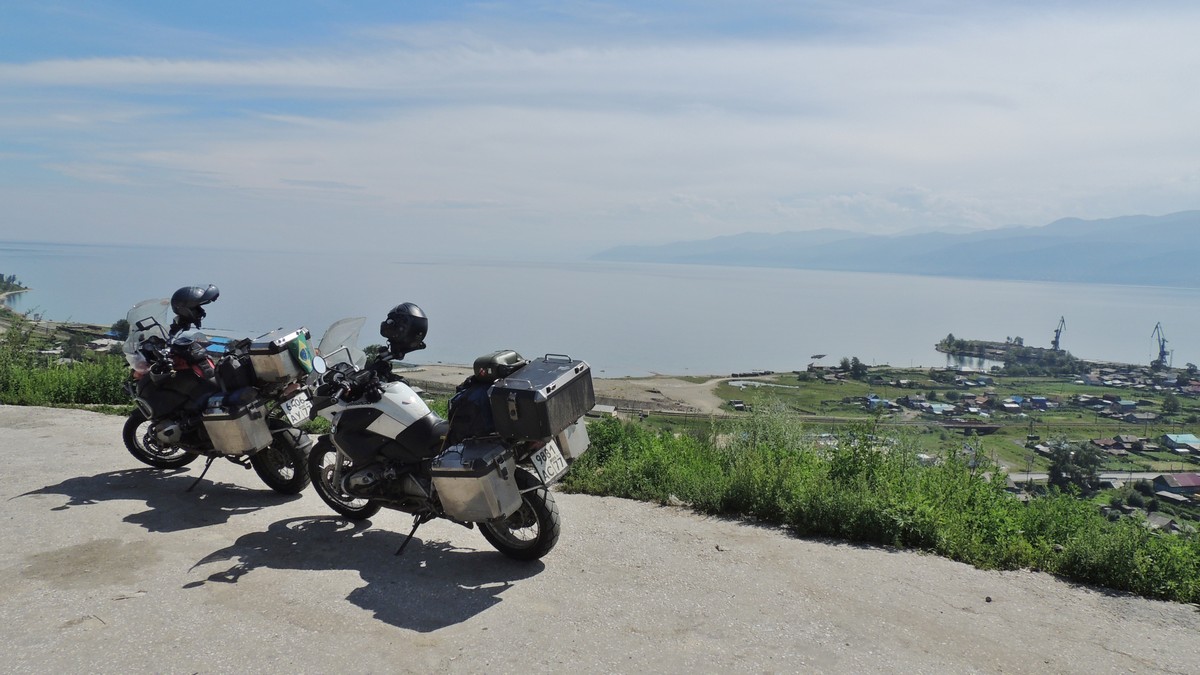 Any future plans to come back to Russia and bike in some other places?
Absolutely! Let me tell you a story. When we were stuck near Omsk with the broken clutch and waiting for the road assistance, a guy on a motorcycle suddenly stopped to offer help. He barely spoke any English, but we understood he was on his way to Magadan – a mystical city for motorcyclists in the Far East. It's a long route that ends up on the 'Road of Bones'. I Googled it, checked out the roads, and I want to go there!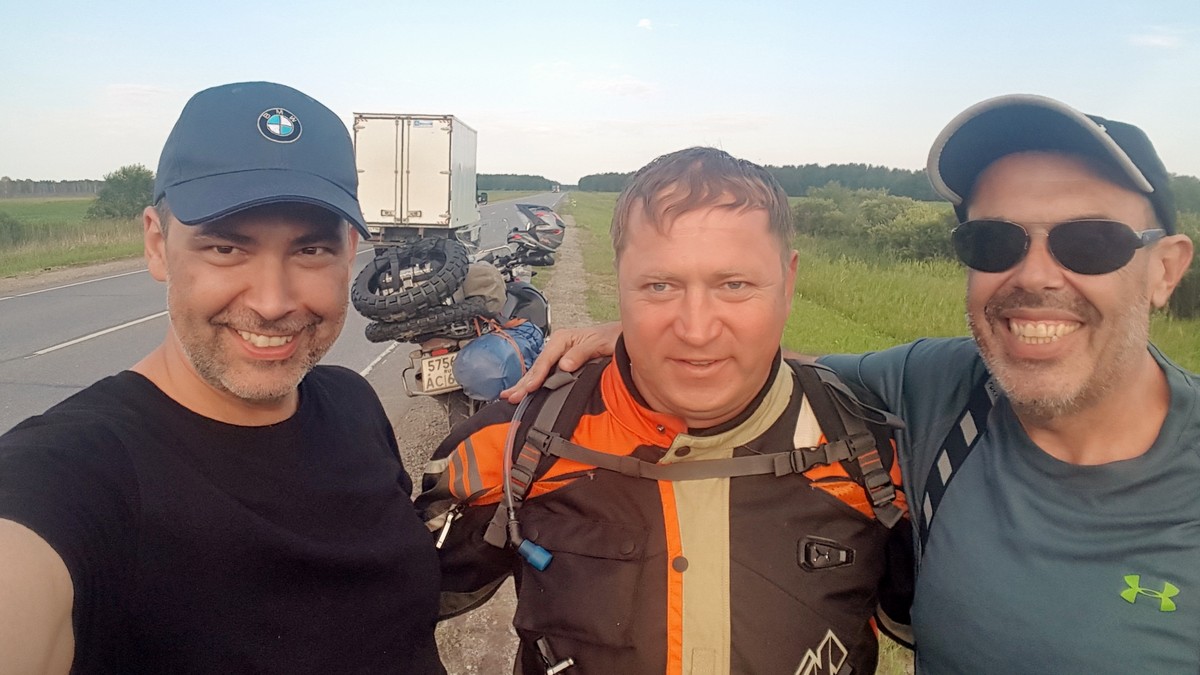 BTW, this guy was very kind: when he realized that assistance was already on the way he gave us a pack of sunflower seeds just to cheer us up. He didn't have much with him, but we really appreciated this spirit and affinity. Later, we understood this is a common thing in Siberia: people never leave other people to fend for themselves on the road. This habit comes from the wintertime – if you leave somebody behind, it may be the last time you see them. In this part of the country lone travelers are under the threat of imminent death from the cold.
Thanks Rodrigo! Have a safe trip home and I wish you more extreme-though-safe adventures like this one!
P.S.: If anyone's interested and would like to read more, all the details of this adventure are available here. It's in Brazilian Portuguese, but all the online translation tools of the world are there to help you.