Let Me Show You the World Moscow in My Eyes.
Privyet droogs!
When asked where I live in the world, I always answer Moscow. However, I only live here something like four or five months a year (the rest of the time (I'm on the road on business). And in those four or five months a year I see little of the city besides the well-trodden (by me) routes between my flat, the office, and all three of MOW's international airports. Occasionally I'll go downtown for this or that occasion like the dentist's, our Christmas/New Year bash, or the clinic for my booster shot against yellow fever (needed for certain Latin American countries and Africa). But apart from that, I hardly ever see the place. Who'd have thought it? Me – practically a non-stop business traveler-cum-tourist – and I never get round to being a tourist in the city I live in?! Odd. So at the weekend I decided to change this state of affairs. Accompanied by two other Moscow-dwelling fellow 'tourists' who I've traveled a lot with far and wide, it was time to 'do' Moscow – at least, some of it – in a six-hour quick march…
We started out at Sparrow Hills, and finished up at Molochnyy Pereulok, or Dairy Lane:
The weekend was a rather special one, as Orthodox Easter Sunday fell on May Day (actually, now: 'the Day of Spring and Labor'), so everyone was in carnival spirit, perhaps helped by the fact that the following Monday and Tuesday were national holidays. Perhaps the wonderful weather had something to do with the party vibe too. I think our route also had something to do with our high spirits: the walk along the Moskva River is a real super one – and now there are bicycle lanes too. But we decided to walk it – to be able to fully appreciate the surroundings, which were wholly impressive and positive: result!
Even the sight of this bizarre and rather horrid bear 'sculpture' at the entrance to Gorky Park didn't dampen our spirits…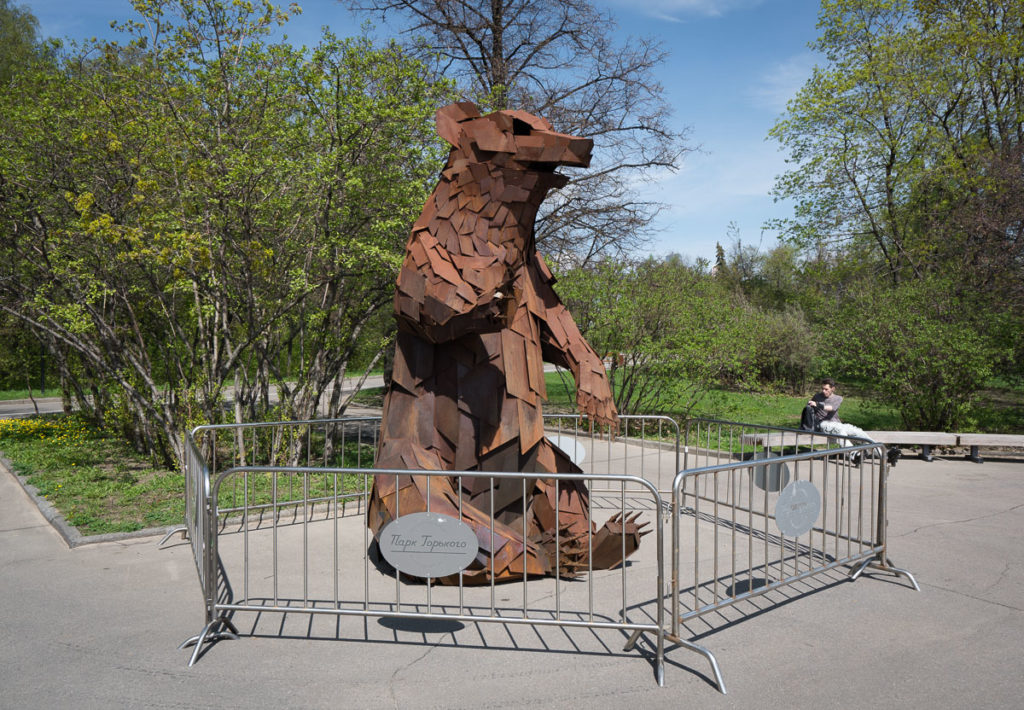 'Gorky Park'
What the…? What a monstrosity. And, like, what are the barriers for? So folks don't cut themselves on all those sharp edges? Probably. But, couldn't they have painted it at least? Ok, so rust does happen to be the same color as bears, but all the same. No. Not happy with this installation. I mean, wild Kamchatkan bears – even close up – bring about pleasanter feelings.
Oops, but, best not dwell. So we didn't. Onward we marched…
The view behind us at this point was rather surreal – with Moscow City seeming to be standing in a forest in the distance:
A touch of technocratic terrain:
A spot of grandiose Soviet architecture:
And post-Soviet too: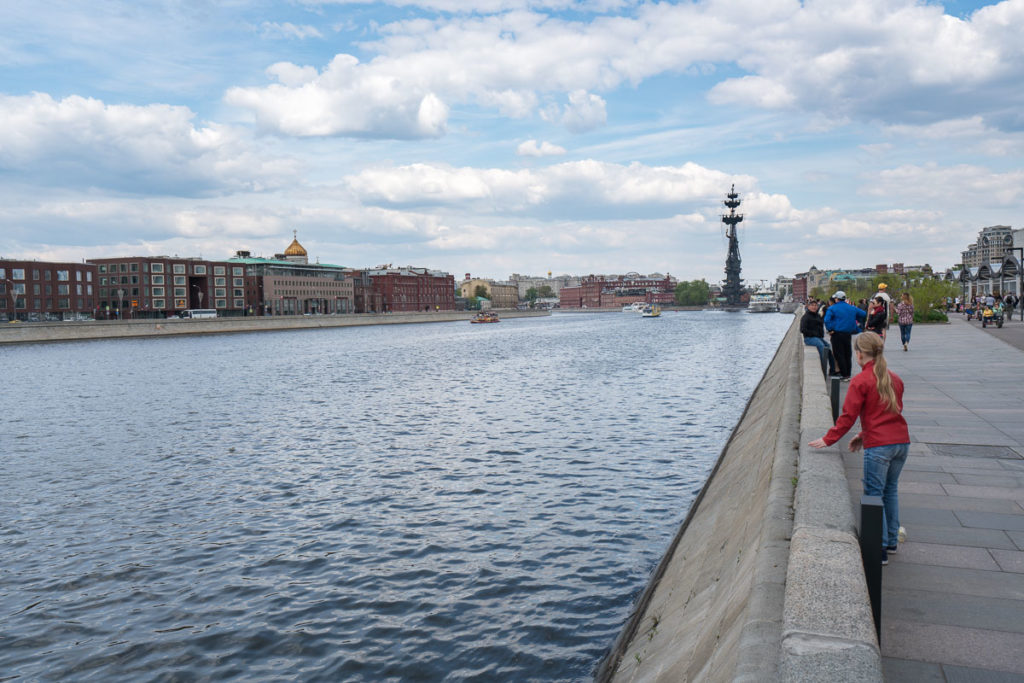 Here's an example of post-Soviet town planning. I'm fairly certain that when they were building the beige residential building (whose top three floors are visible behind the long building in front of it), they had in mind selling apartments in it (at astronomical prices) with the help of words like 'outstanding views of the Moskva River, the Tretyakov Gallery and [the very prestigious] Yakimanka'. Yeah. For a few years only, and forever after – mere views of the backside of some brutal and characterless office block. Great. What an investment!
Oops. That's the second slip to the Dark Side. Back to the Light Side: onward!…
… Hmmm, nice effect: fountains in front of the Tretyakov Gallery of Modern Art. The kids love them, playing in among them – a sign summer's not far off.
Next up – something infamously divisive:
Yes folks, it's the Peter the Great Statue. Many hate how it looks. Many find it absurd that the statue pays tribute to someone who famously loathed Moscow (being from St. Petersburg – which he named after his patron saint, the apostle St. Peter). I'm on the fence mostly. I don't hate it, but I don't think it's great either. Mind you, it doesn't look too bad installed there on its own tiny island. A bit like the Statue of Liberty! Maybe not. I'll just say it's… unusual. Unusually interesting :).
Next up – the larger island next to Peter the Great's, and a stroll around the former Red October chocolate factory there (not to be confused with Red October). Incidentally, I know someone who lives nearby: up to the year 2007 (when it stopped production) on certain days you'd be able to smell chocolate in the air all around it. Sweet! Kinda literally:). These days it's a bit of an arty bohemian quarter with hip(ster) restaurants, nightclubs, open-air lecture halls, galleries and other artsy bits and bobs. My companions told it's the place to be of a Friday night.
Aha. Here we go. Eek, negativity creeping in again…
…This is what I don't like about Moscow – its architectural chaos. A lot's been built over the centuries, a lot's been demolished (I'd say a lot more than the average for world capitals), a lot's been redeveloped, a lot's been rebuilt from scratch. But with no overall 'plan'. As a result what we've got today is a veritable solyanka (soup with huge chunks of meat/fish and veg in it!). A mishmash, a mélange: cathedrals, churches, chapels, on the horizon one of Stalin's Seven Sisters – this one the Ministry of Foreign Affairs – and behind that the skyscrapers of Moscow City, with some greenery added as an afterthought. No. My aesthetic appreciation level I think is just too low: I'm just unable to admire Moscow's solyanka style. And I can't see me being persuaded otherwise…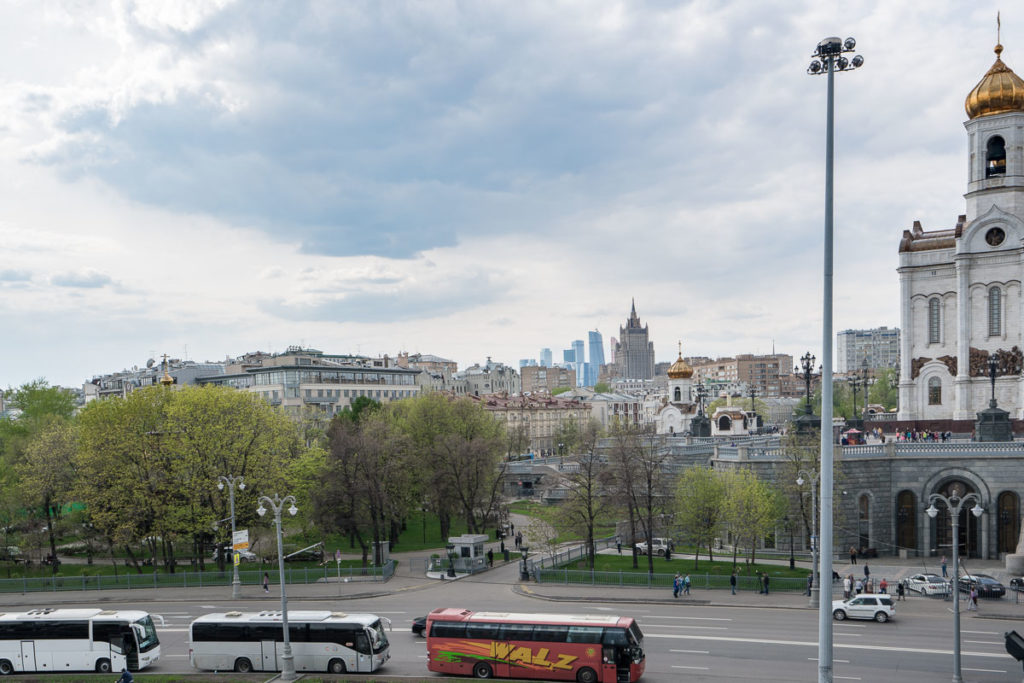 However, Moscow's boulevards are world class! And now with bikes to rent too a la Boris Bikes. At last!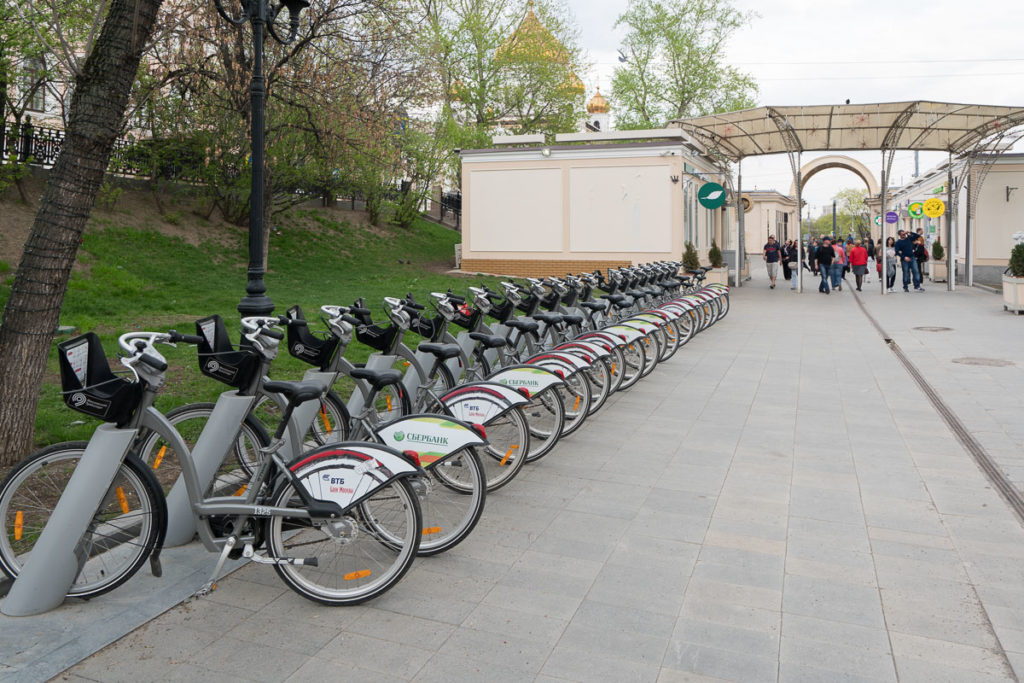 Hmmm. The concept hasn't quite caught on just yet :)
Another almost inevitable sight for a large capital – street artists: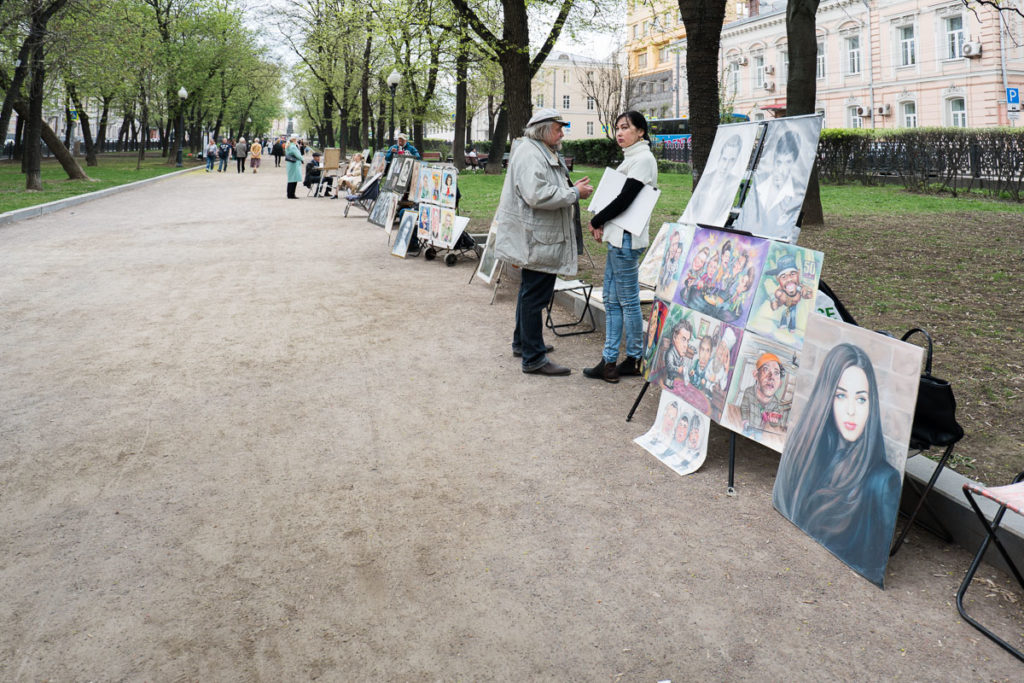 Moscow's downtown always has its fair share of non-Muscovites/tourists (like me!):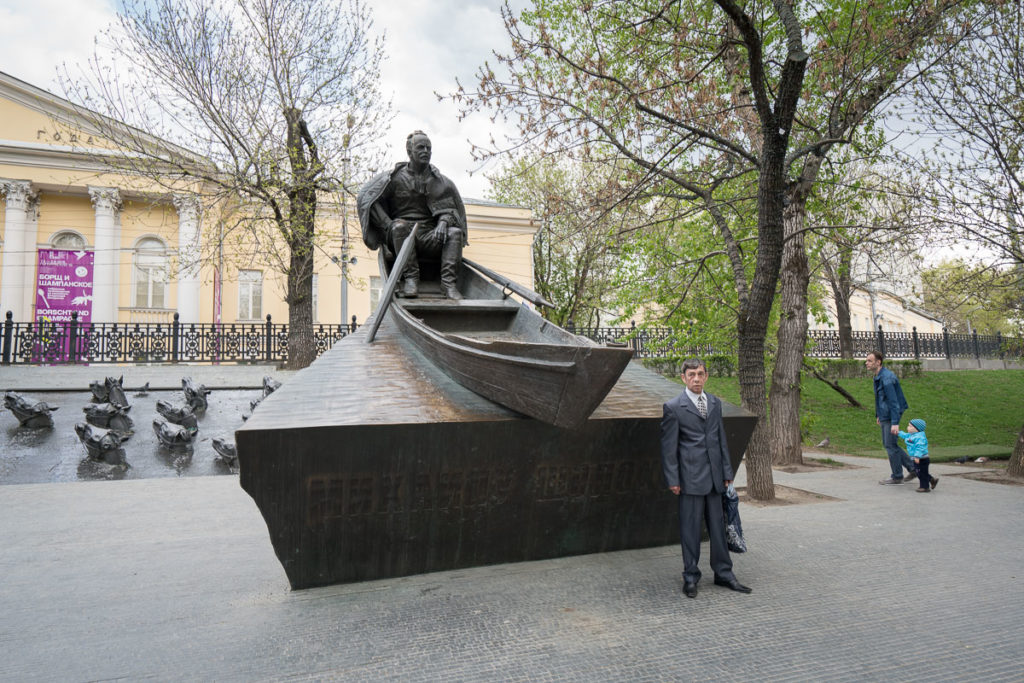 Though Moscow's not famous for friendly faces in the street (!), once you ask a Muscovite for directions the stern look vanishes and it's all smiles and kindness :).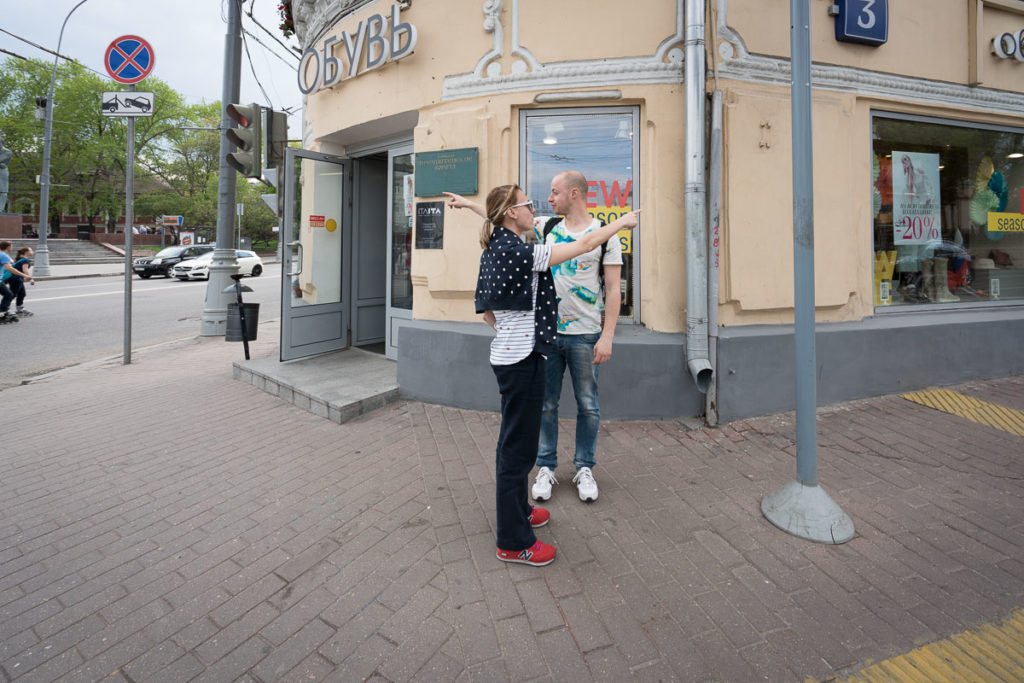 Moscow: easy to get lost in
Next up: a walk along the mandatory Arbat. Muscovites – and also non-Muscovites who've visited Moscow – always mention this old pedestrianized street when listing Moscow's touristic highlights, almost as if it's on a par with Barcelona's La Rambla, but I've never fully understood why. It's… ok. It's clean and neat and tidy, but it just always seems to lack… 'nutritious filling'. Why is it raved on about so much? Maybe as its quite touristy – there are plenty of stalls along it selling matrioshka dolls and Russian army hats and so on.
We move over to the New Arbat. 'New'? Then why do ancient(-looking) skyscrapers still line it?! Though built in the 1960s (Empire State Building – completed in 1931!), they look so run down and… ready for demolition. Hmmm. Maybe that's why they're clearly not being cleaned or repaired or renovated – they're up for leveling soon? I mean, other large Soviet buildings in Moscow that looked similarly ghastly were demolished years ago (the Intourist Hotel, the Rossiya Hotel…). Incidentally, the New Arbat skyscrapers' gap-toothed appearance earned the street its nickname: the 'dentures'.
Next, down a side street off the Arbat and we come across Melnikov House. I'd heard and read so much about it, but never seen it. At last – there you are! It was just a shame it was closed, and viewings are by appointment only. Oh well…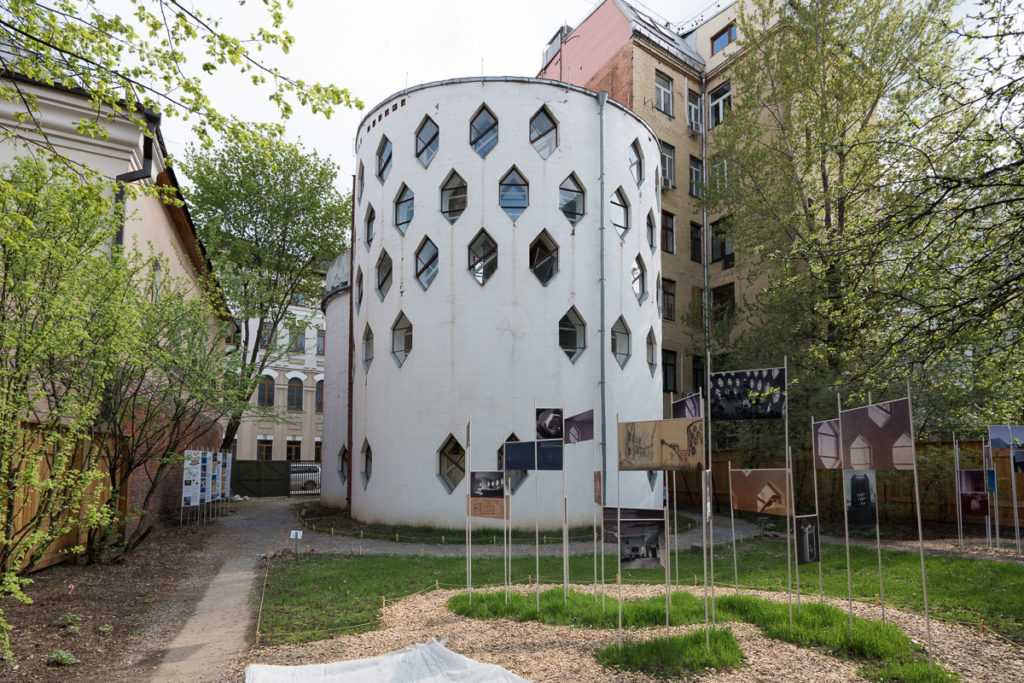 Next up… EH? The Kama Sutra depicted on the walls of a building? Wait… Pushkin and Tolstoy in an embrace? WHAT? :)
Turns out this is Broido's apartment building on Plotnikov Lane. Also turns out that legend has it that the building was once a brothel, and writers like Pushkin, Tolstoy and Gogol were frequent visitors. That's why such writers are depicted so saucily on the walls :). Moscow full of surprises if you dig deep enough!
The building next door was very reminiscent of Singapore's architecture, including the trees on the roof!
And this is a residential building. Mews I think might be the right term:
Woah! A wooden house. In downtown Moscow. Wasn't expecting that! Probably a protected heritage object these days.
Wait! Where am I? Moscow? Really? So this is how Moscow can look in some of its more upscale quarters? Impressed! I need to explore the capital's side streets and alleys more often…
Phew. After a ~20km hike around central-to-southwestern-central Moscow (will have to try the other 'segments' of the center now…) it was time to say cheery-bye to my trusty fellow 'tourists' and head home – to edit my pics and come up with this here text. And here my edited pics are and my text is. Hope you enjoyed. Expect more Moscow pedestrianized explorations in the future!…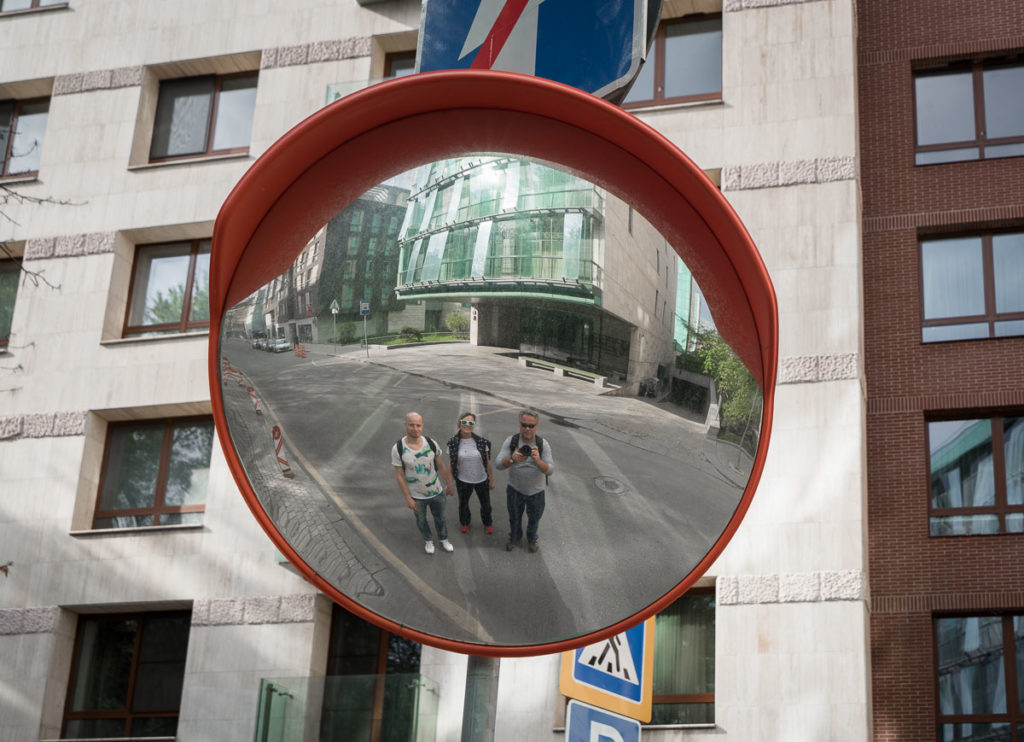 All the photos from our Moscow tour are here.