I'd been wanting to get to Scotland for ages, and just recently I finally made it. But it was only for two days in St Andrews, and although those were a super two days, they hardly equaled 'doing' Scotland. Far too short a stay. A proper trip to Scotland requires several days touring the country, driving around lochs, walking in the mountains. Oh yes, Scotland has plenty of mountains. When the plane took off I could clearly see the snow-clad peaks far away to the north. Alas, they'll have to wait for next time.
Scottish scenery – it's just crying out to be your desktop wallpaper. Have a look!: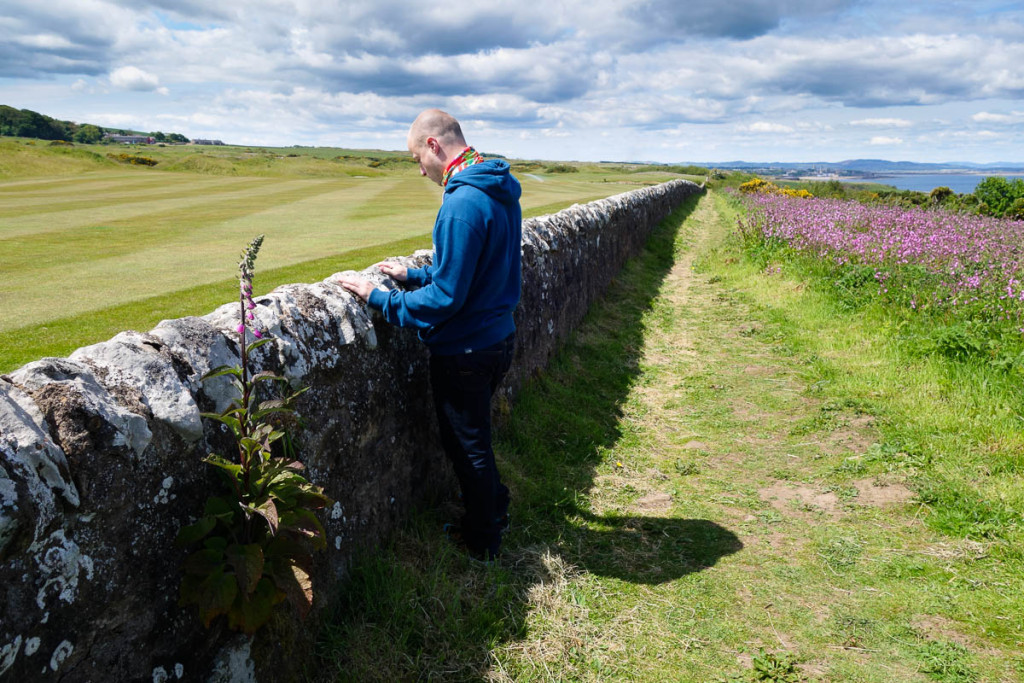 Though I didn't see much of the country, I heartily recommend a stay in its town royal burgh named St Andrews.
Staying there ourselves, after the partner conference I've already told you about, it was time for a stroll from our hotel to the town and its catholic cathedral. The latter dates back to the 12th century, I'll have you know.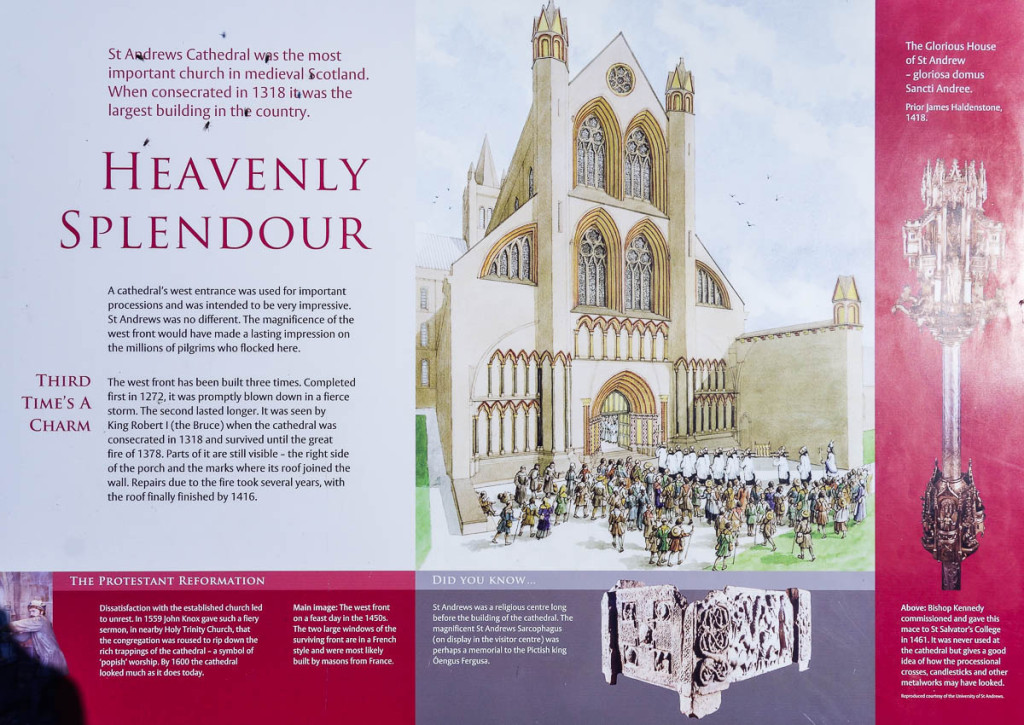 I don't need to say much here – the photos tell the story.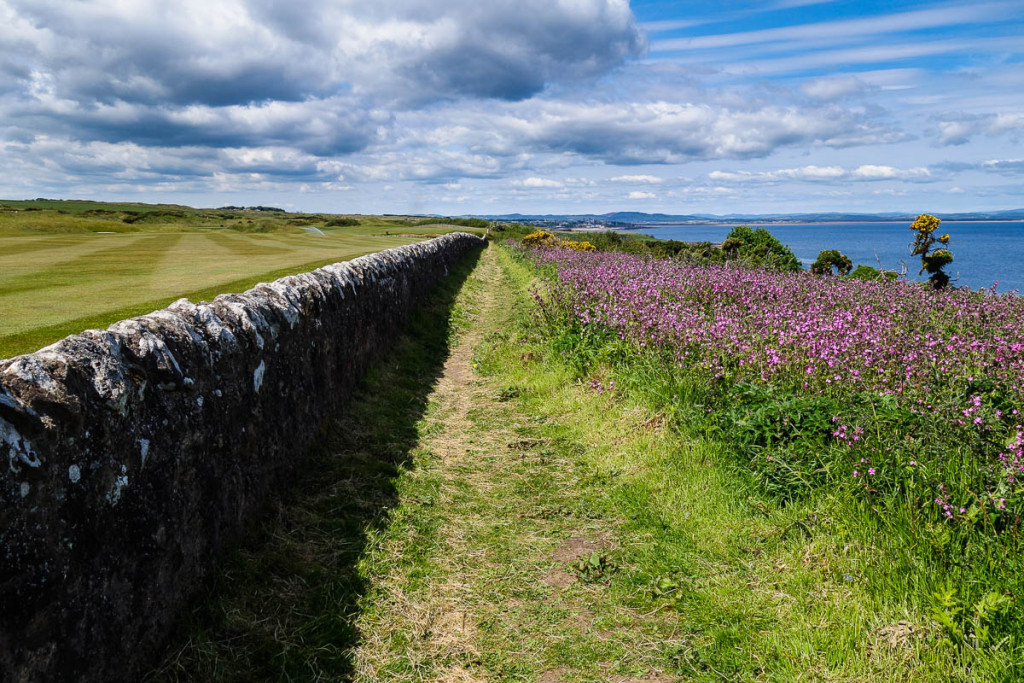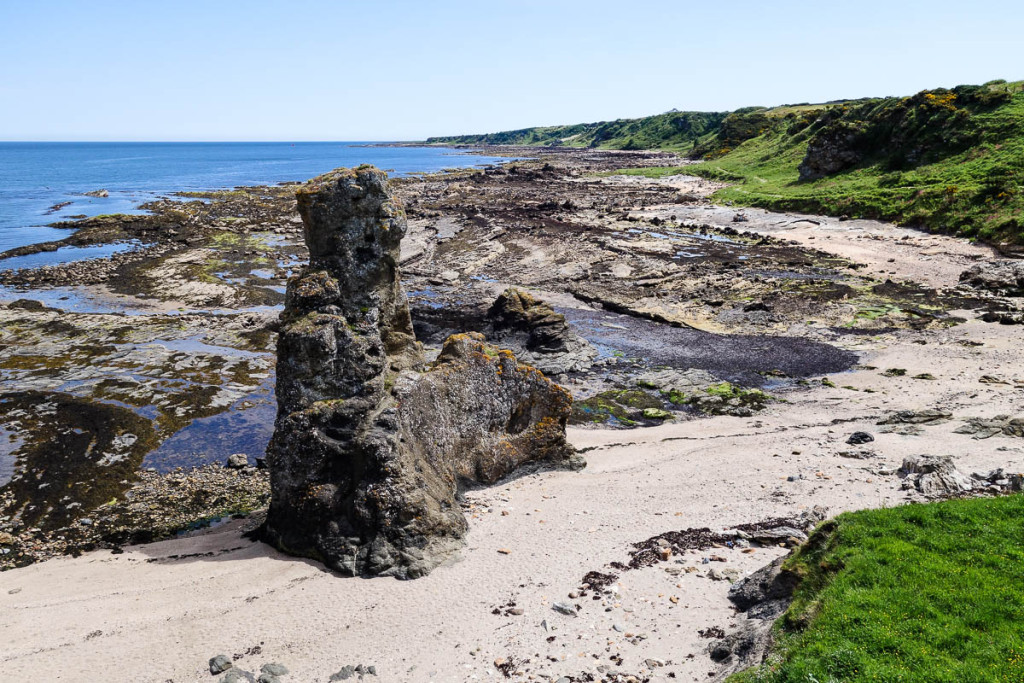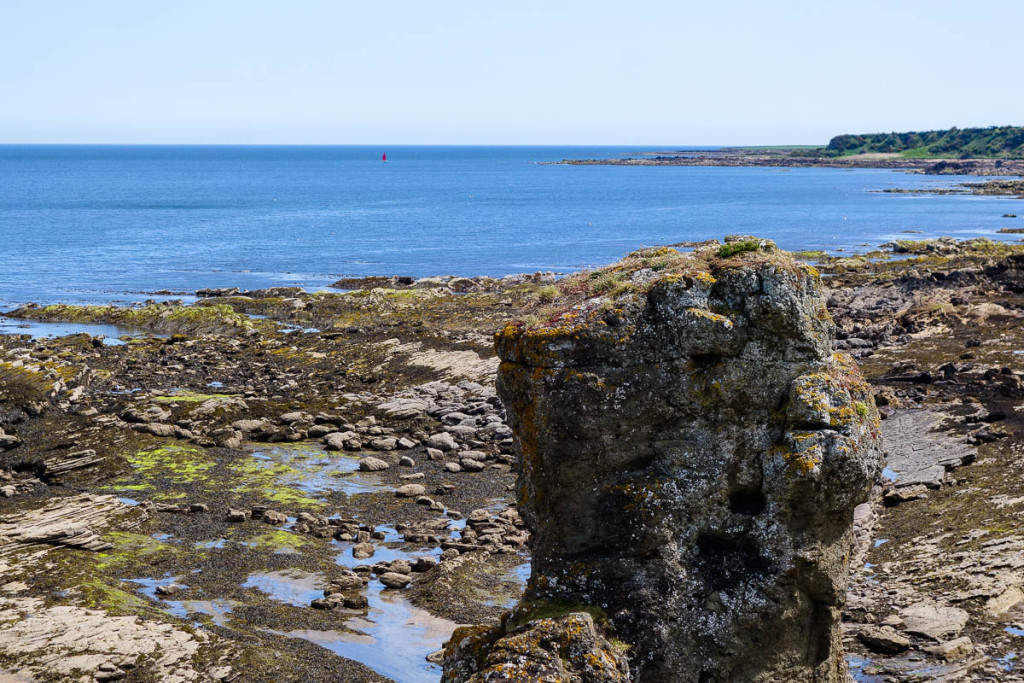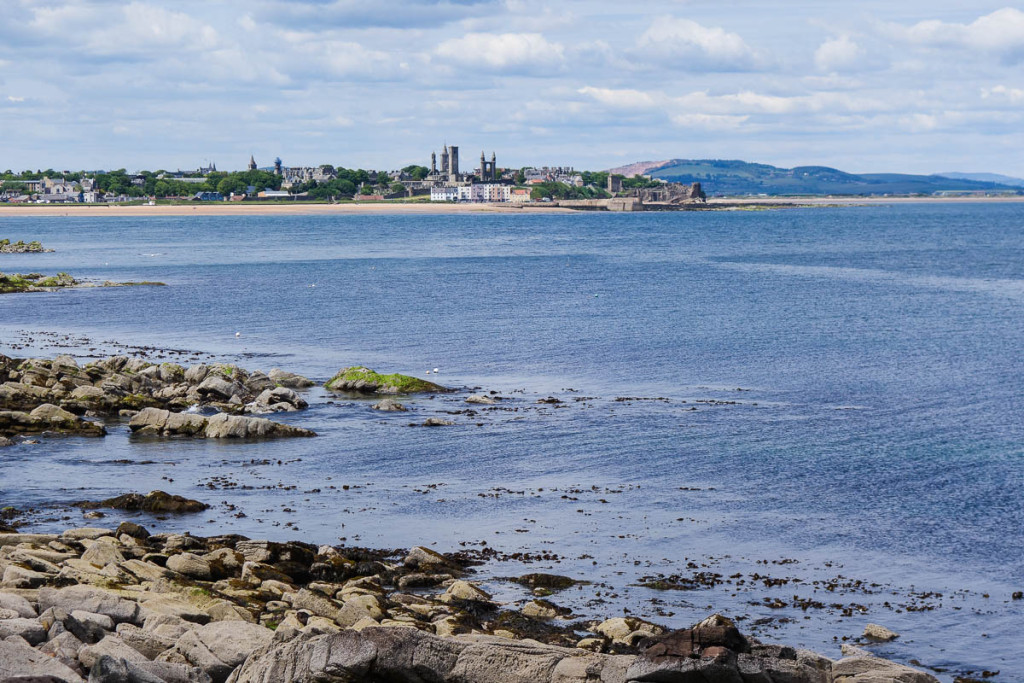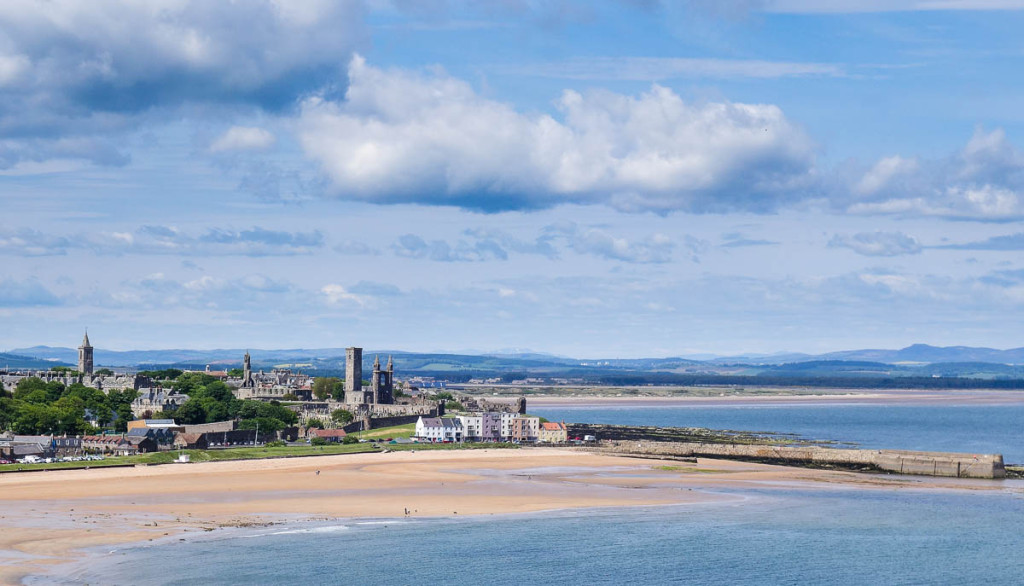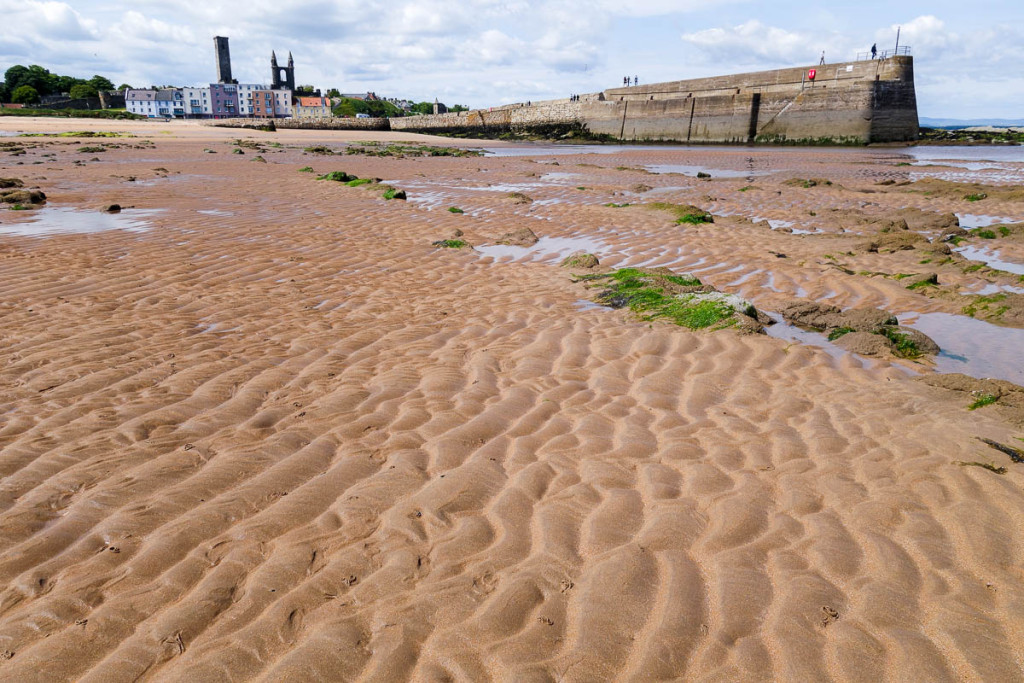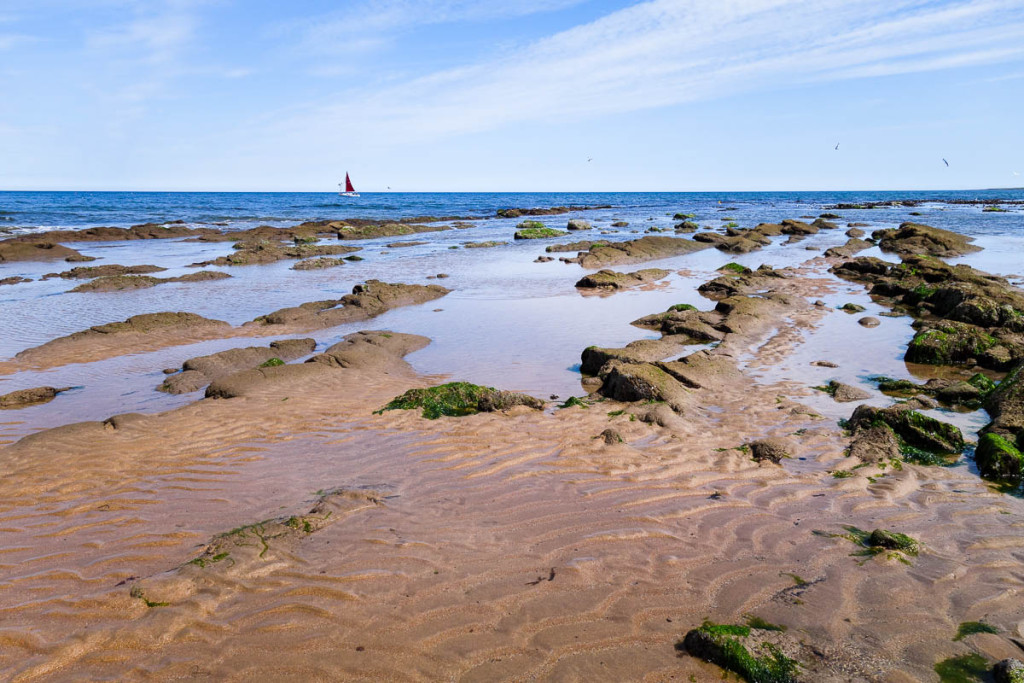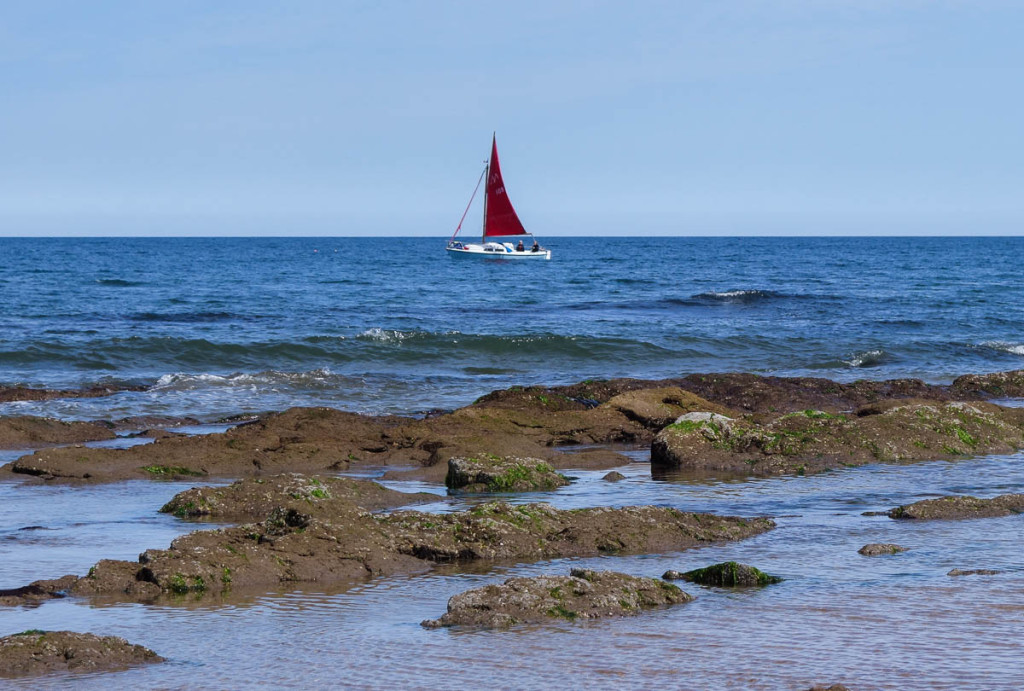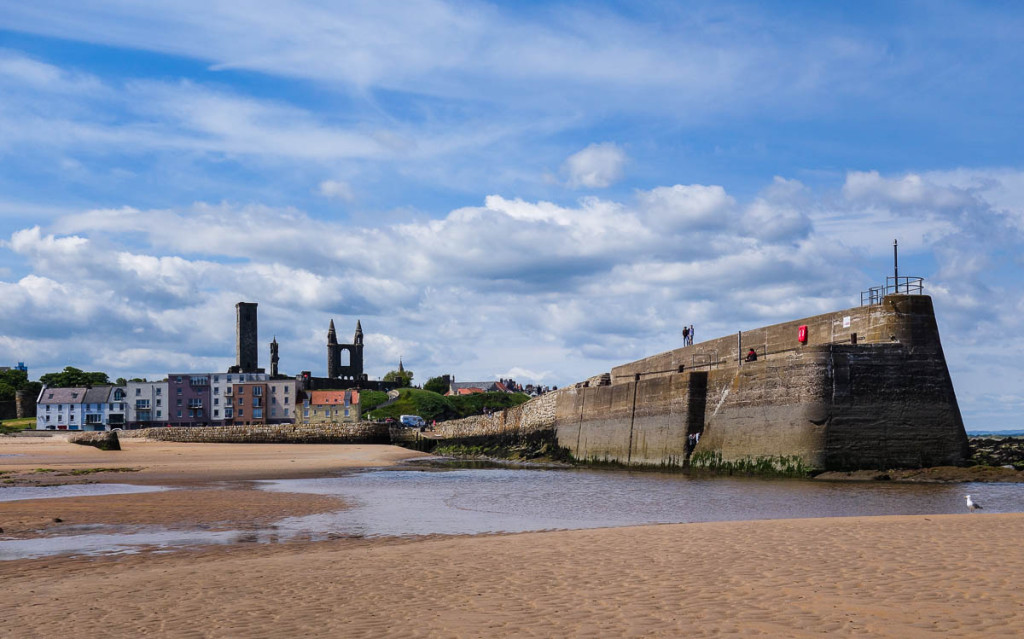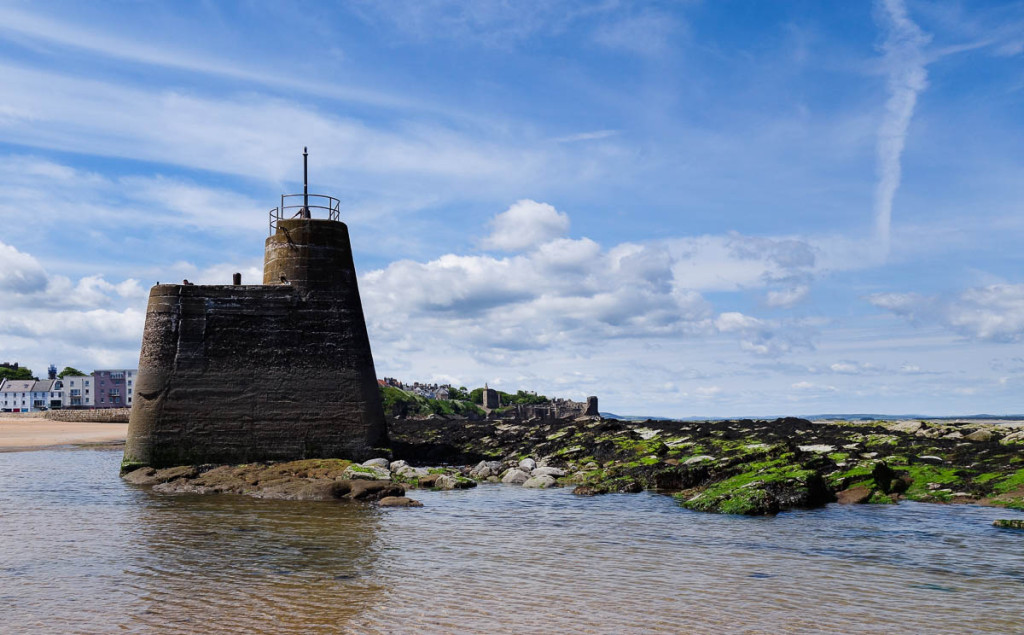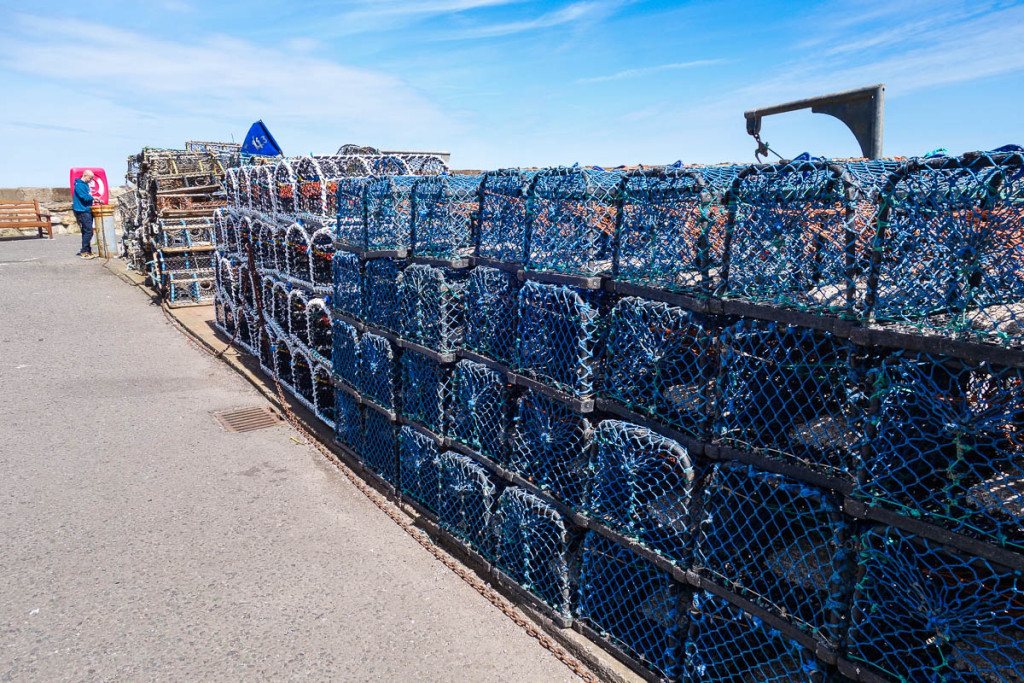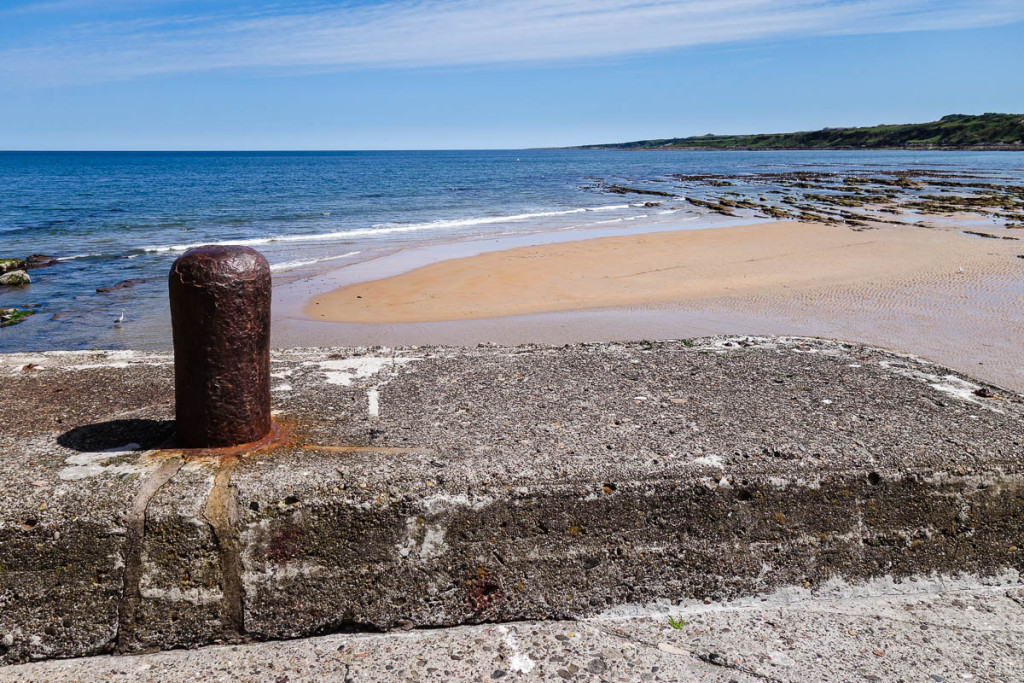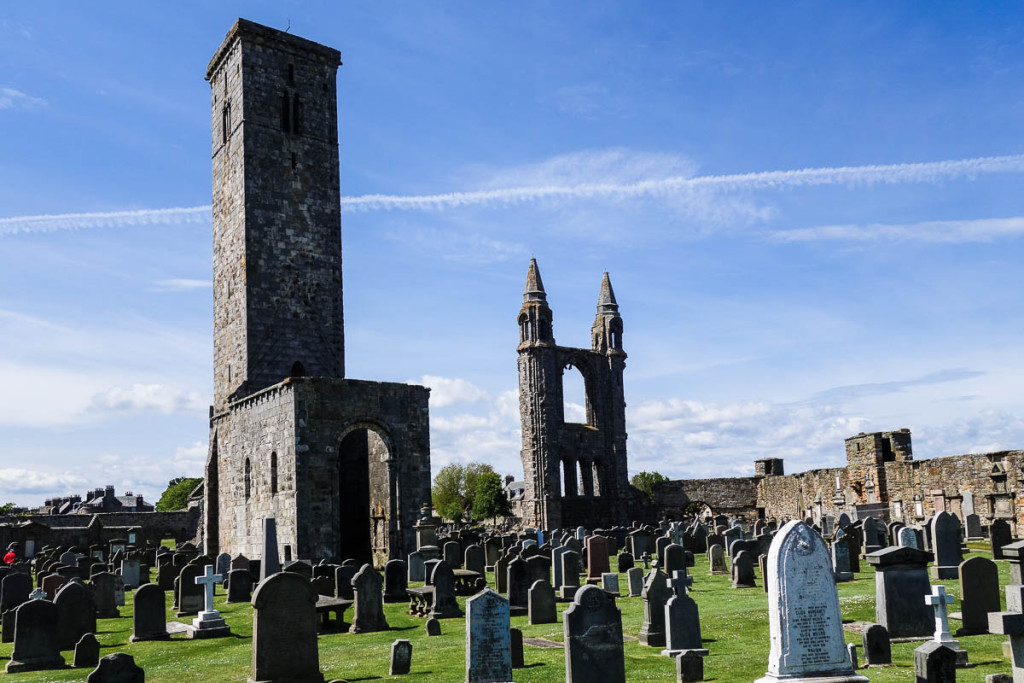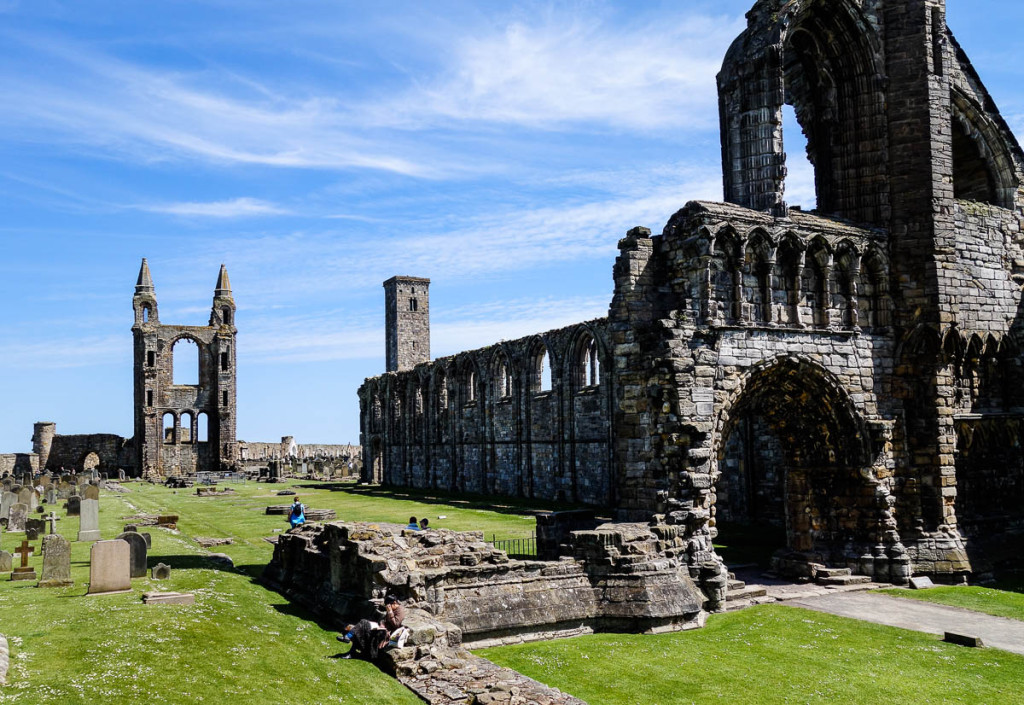 Trashed by the protestants nearly 500 years ago and not touched since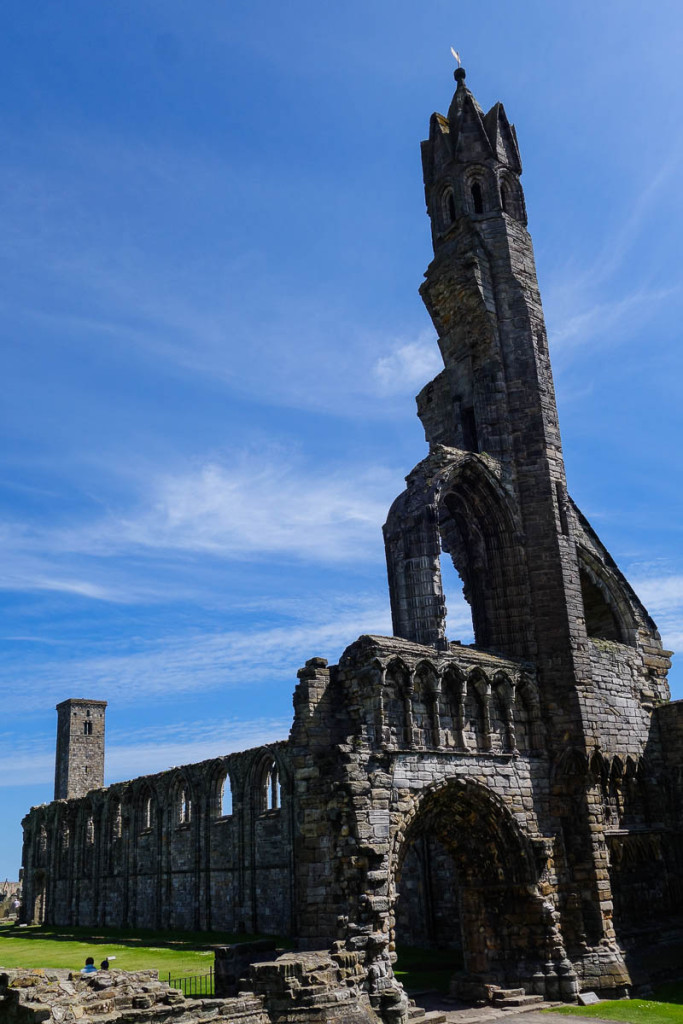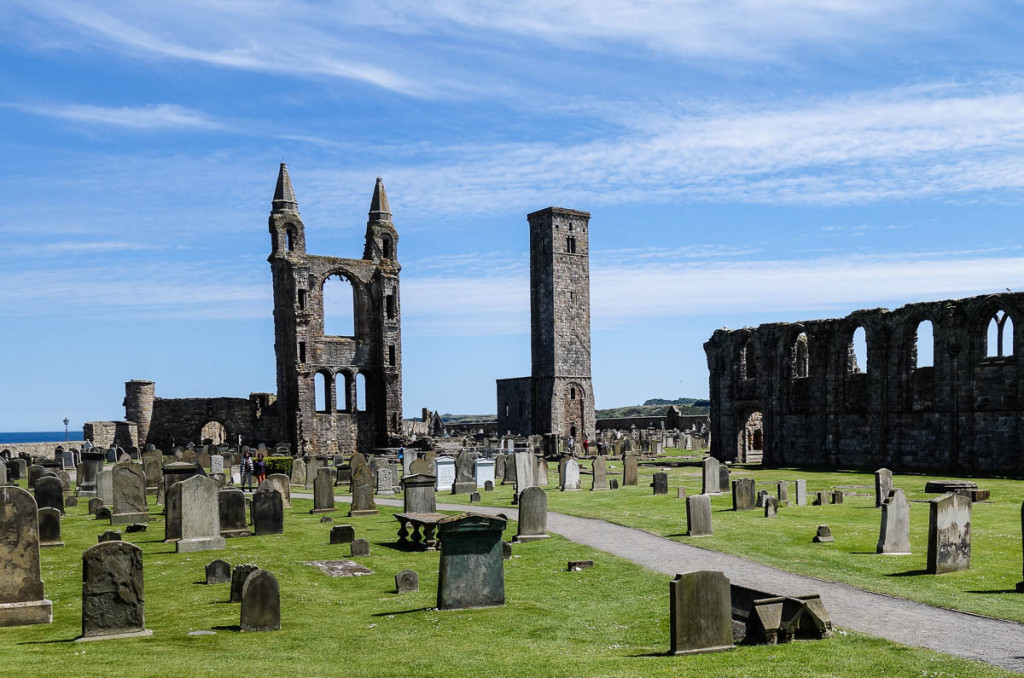 Low tide. Very low tide! My travel companion A.S. and I were told it doesn't ever get much lower than this: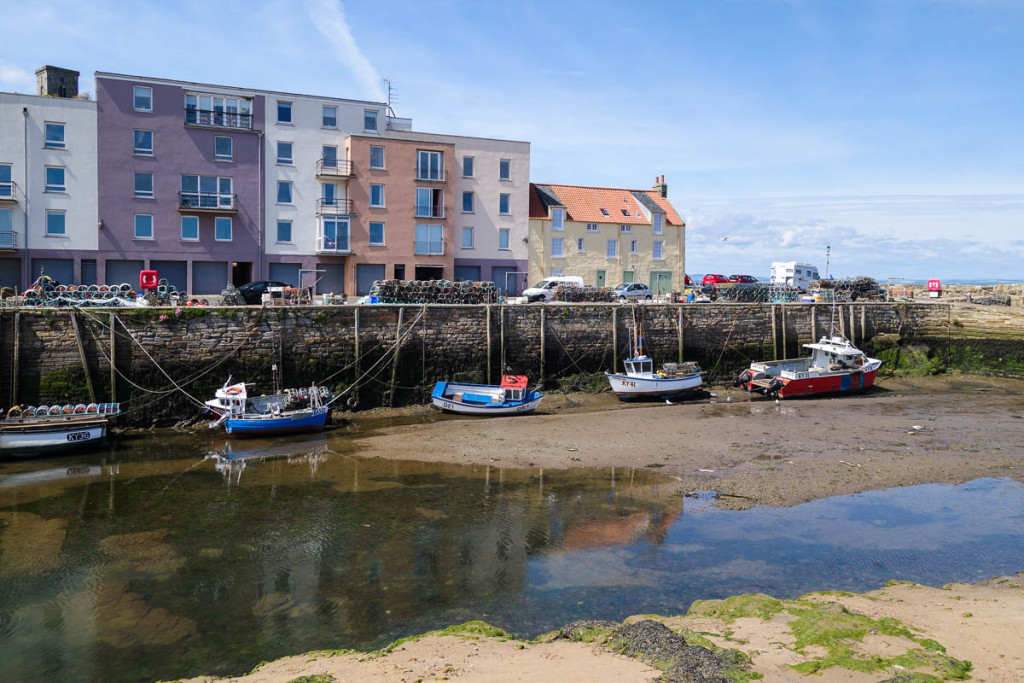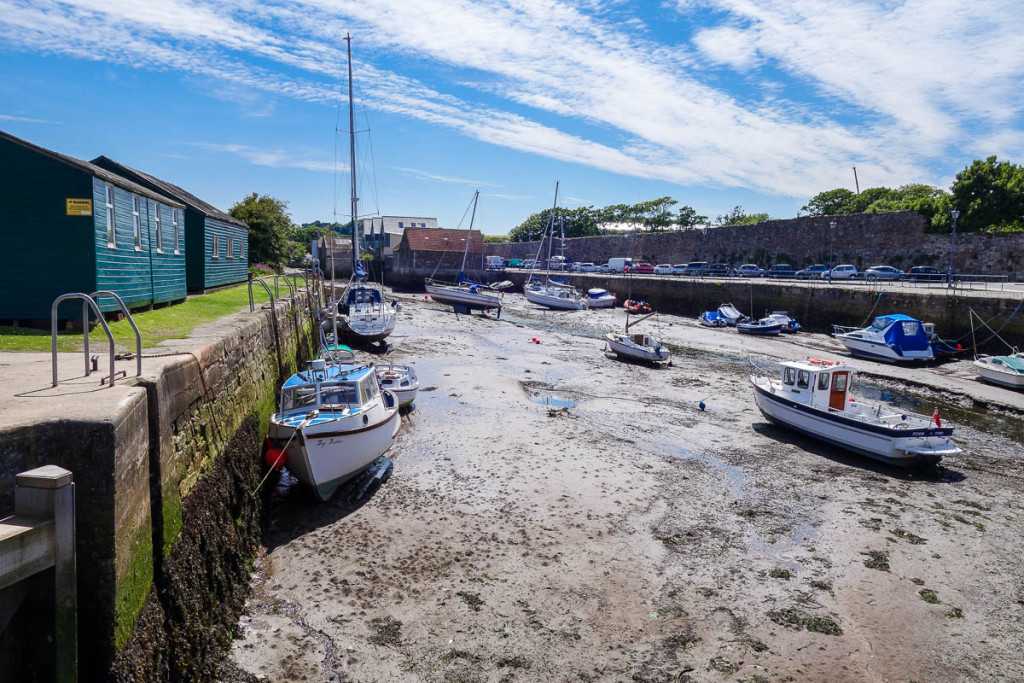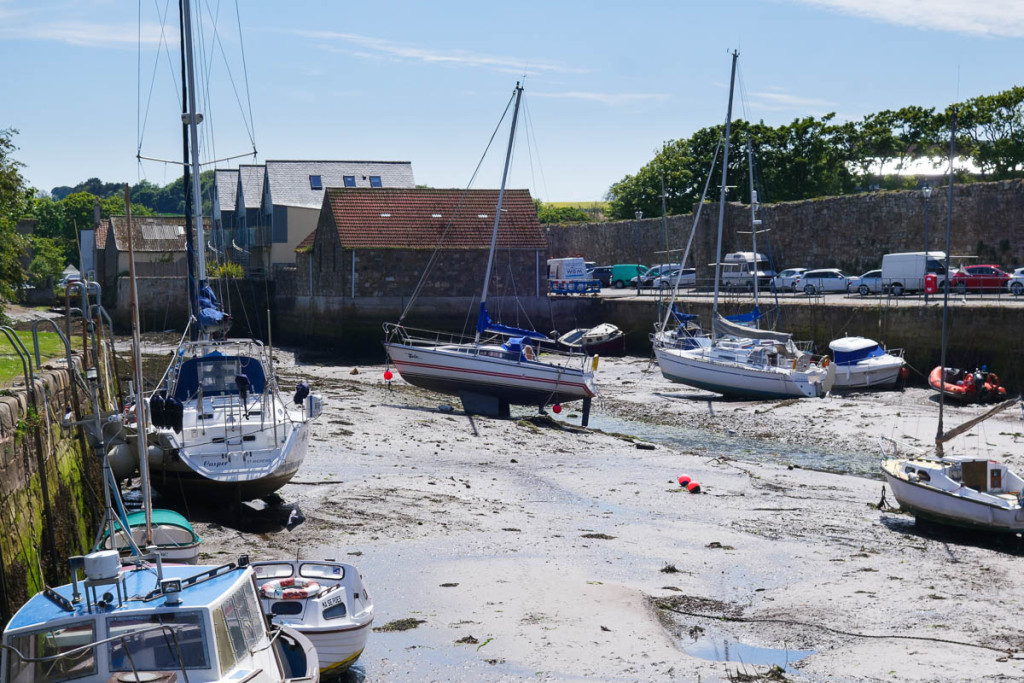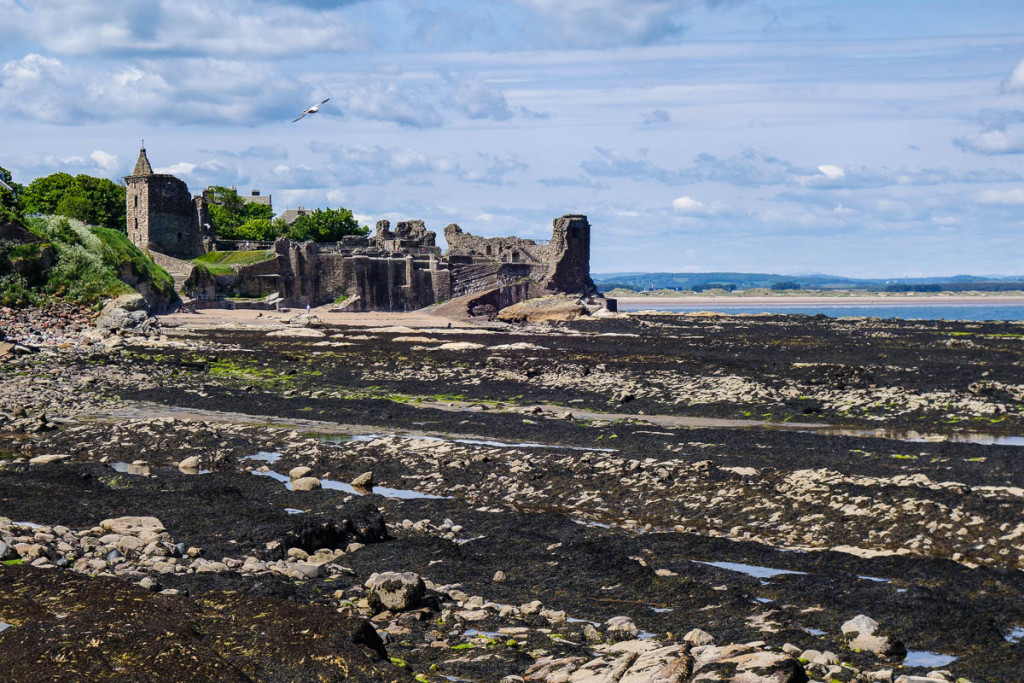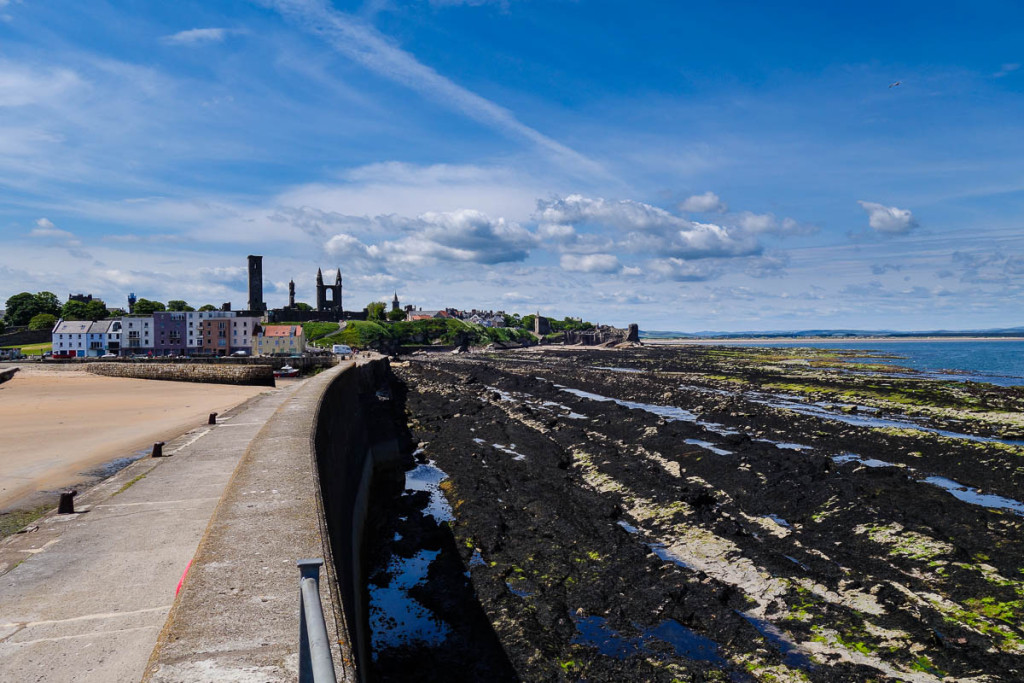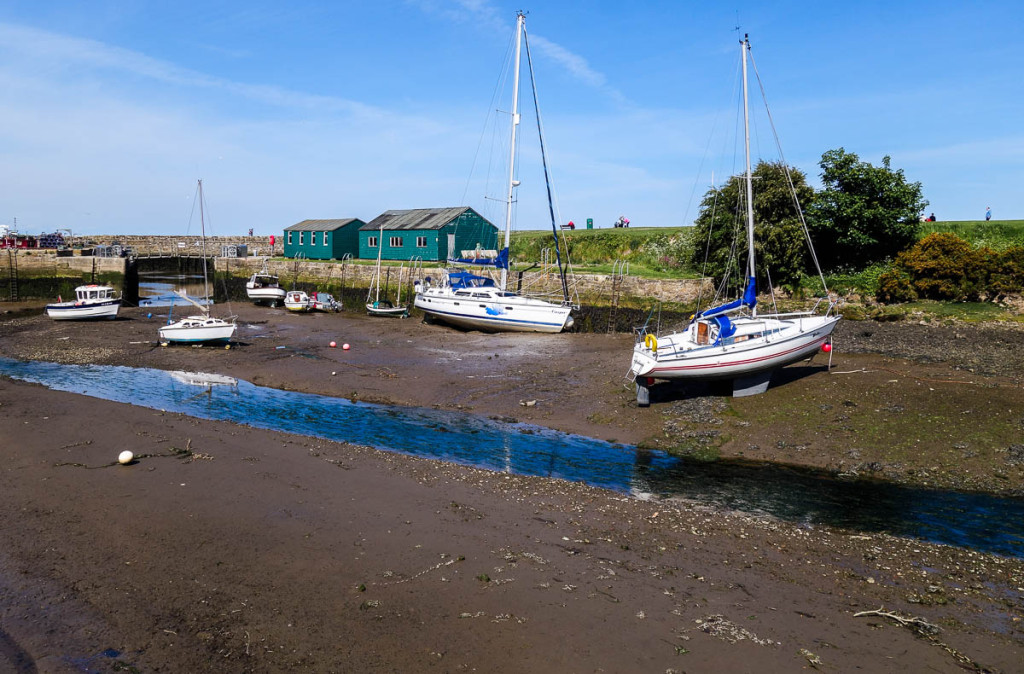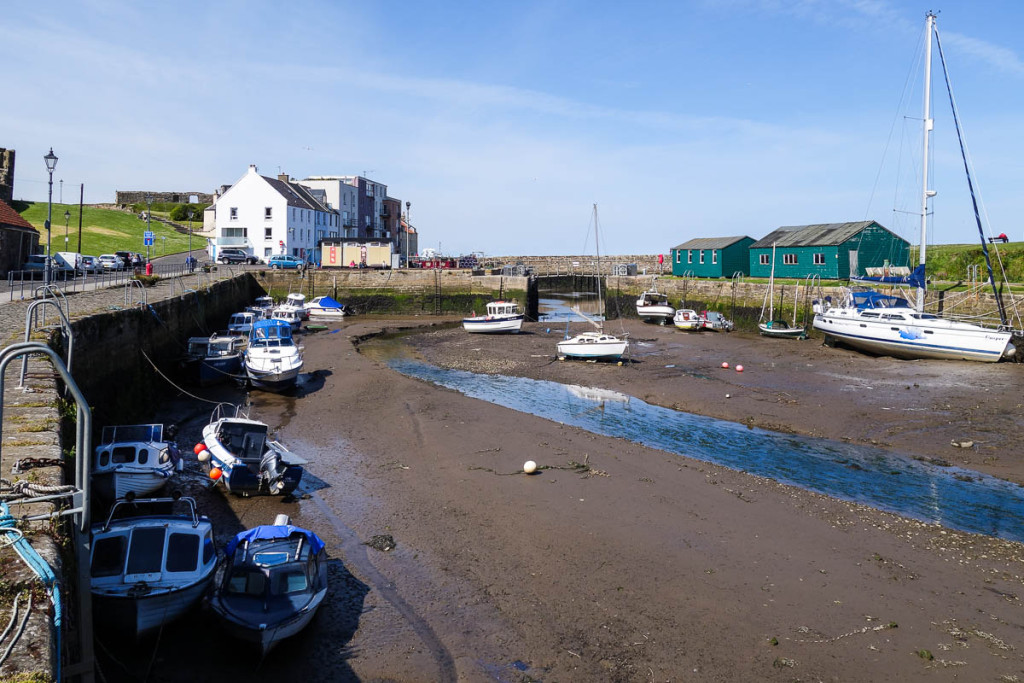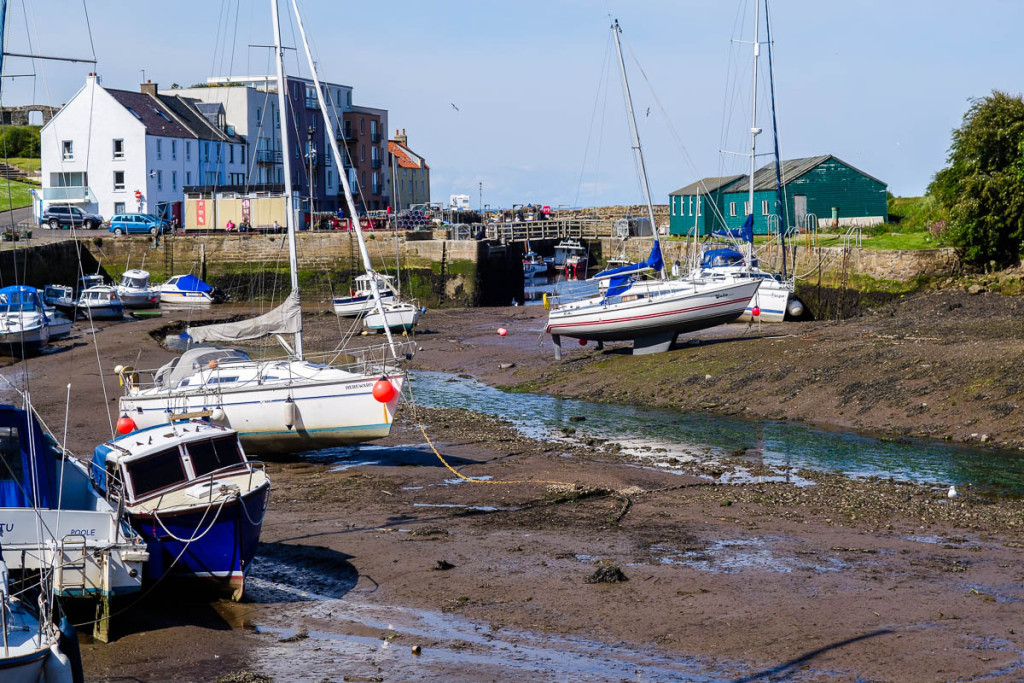 You can't come to St Andrews and not notice the golf.
As it happens I don't play the game, nor do I intend to start any time soon. Spending days ambling around golf courses, endlessly knocking small balls into holes… no sir – not my cup of tea. In this respect, I agree with the Scottish Parliament (from Wikipedia):
The first documented mention of golf in Scotland appears in a 1457 Act of the Scottish Parliament, an edict issued by King James II of Scotland prohibiting the playing of the games of gowf and football as these were a distraction from archery practice for military purposes. Bans were again imposed in Acts of 1471 and 1491, with golf being described as "an unprofitable sport".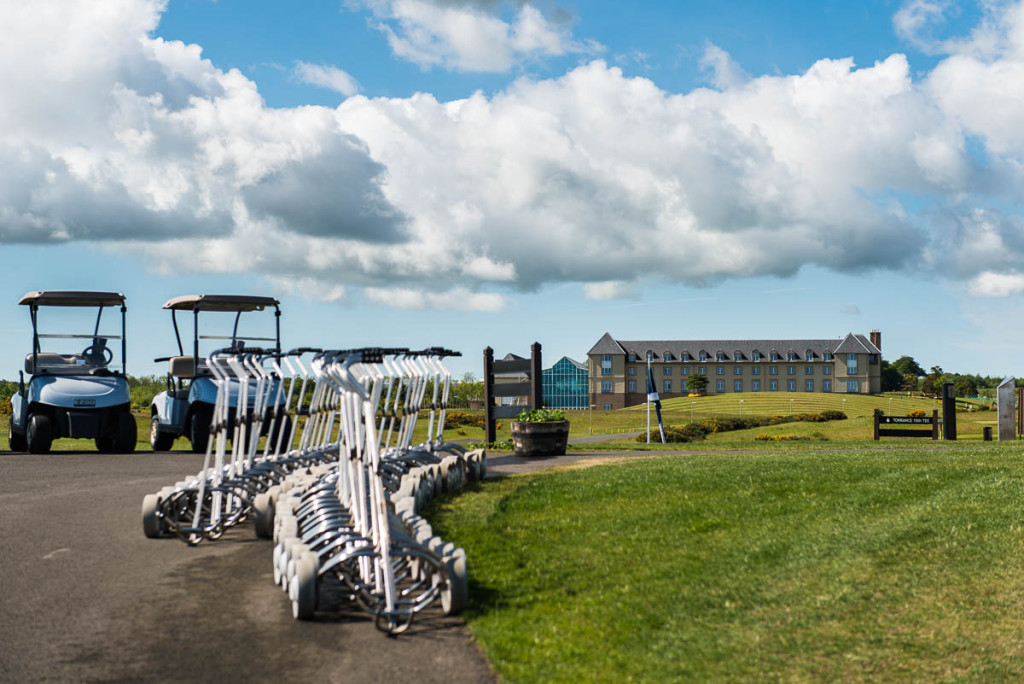 Other folks seems to like it though…: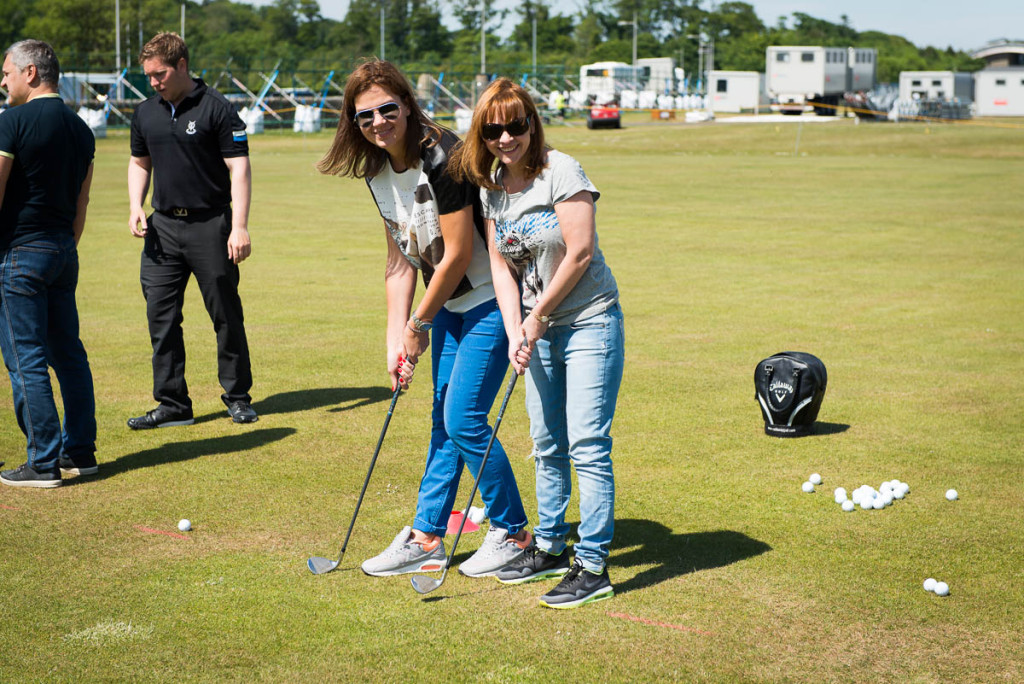 Not everyone agrees with the 'official' history of golf. Some even go so far as to believe that its origins stem from when idle shepherds would fill their long days knocking goat and sheep droppings about with their sticks trying to pot them into rabbit warrens. It's an interesting theory, and possibly even one worth remembering.
What's else?…
Ah yes, one other not insignificant thing…:
…I…
……now…
………have…
…………a real…
……………kilt!!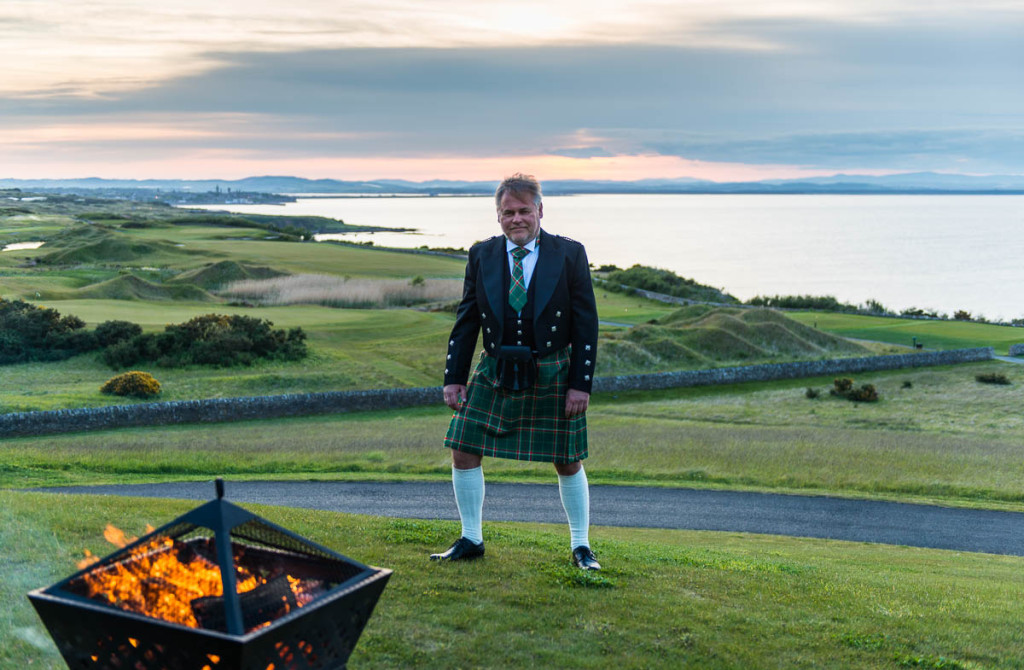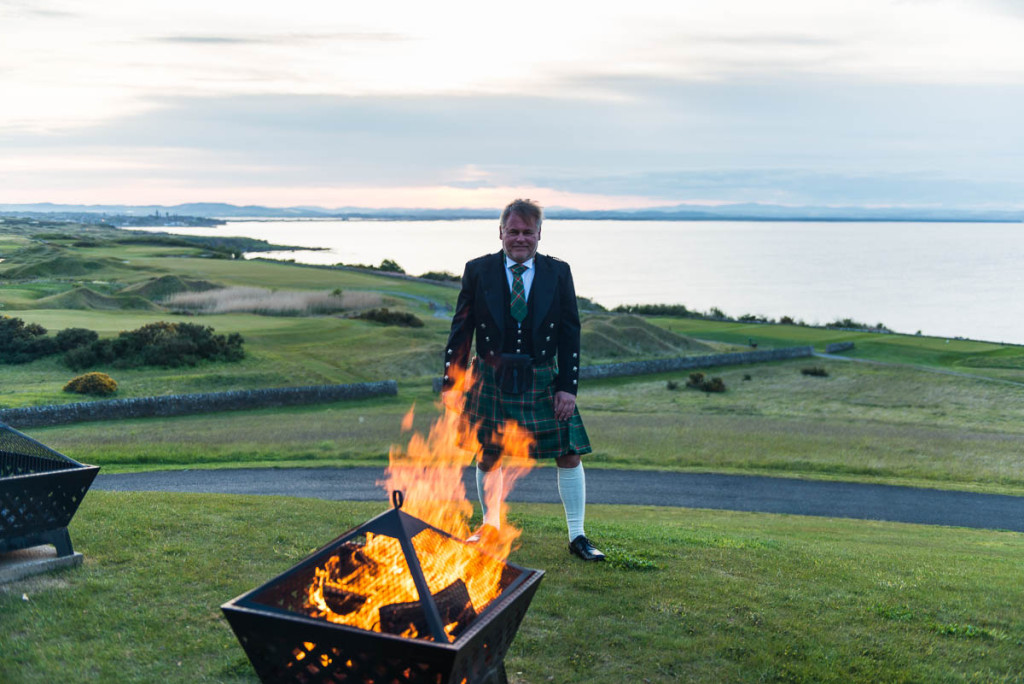 This kilt was made specially for KL, (mainly) in our corporate green! The pattern and colors are unique – specially crafted by local kilt designers. They even said they'd have it listed in the official Scottish Register of Tartans and send me a certificate. I'm looking forward to it…
There is just one more thing…
I cannot remember how many times I've been to London, but it's a lot. But I'd never landed at London City Airport – as the name suggests, right in the city. What sights! I wish I could have taken better photos, but clouds and turbulence got in the way.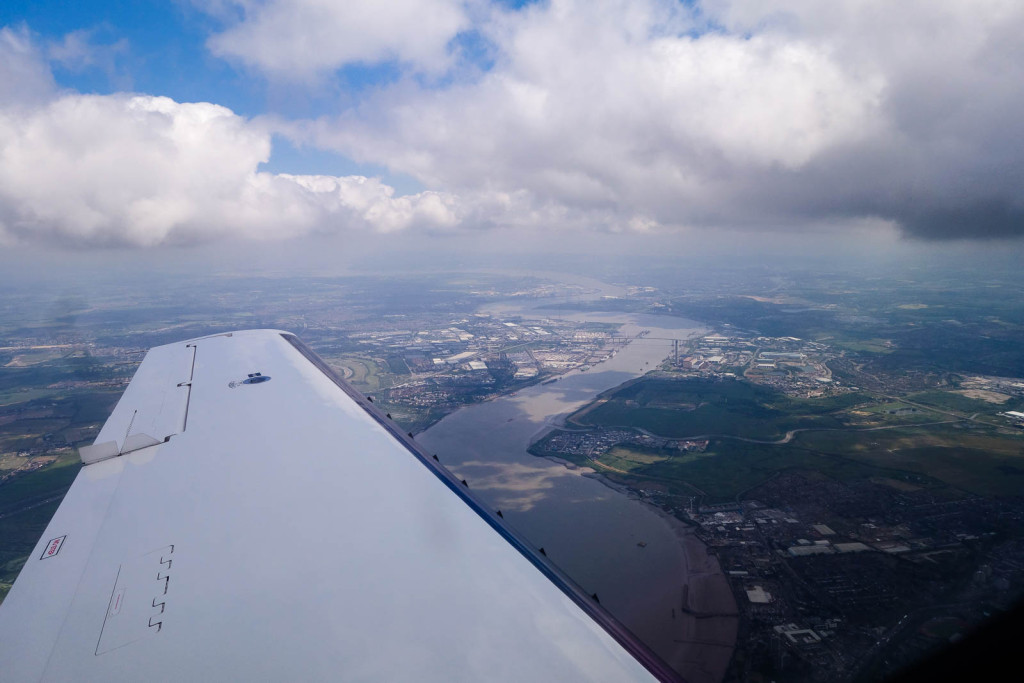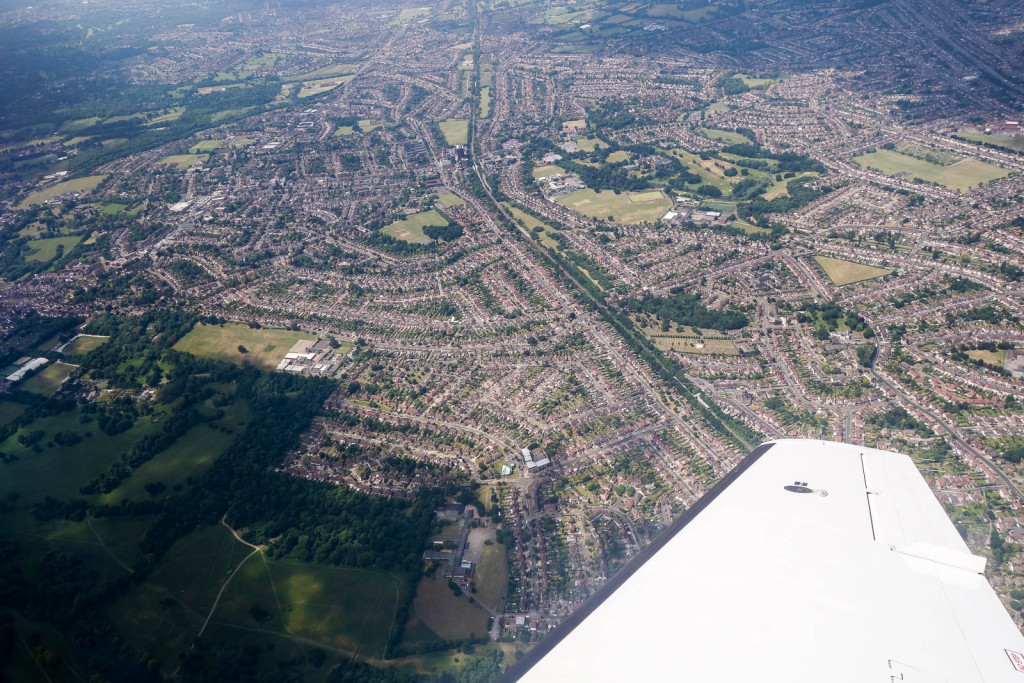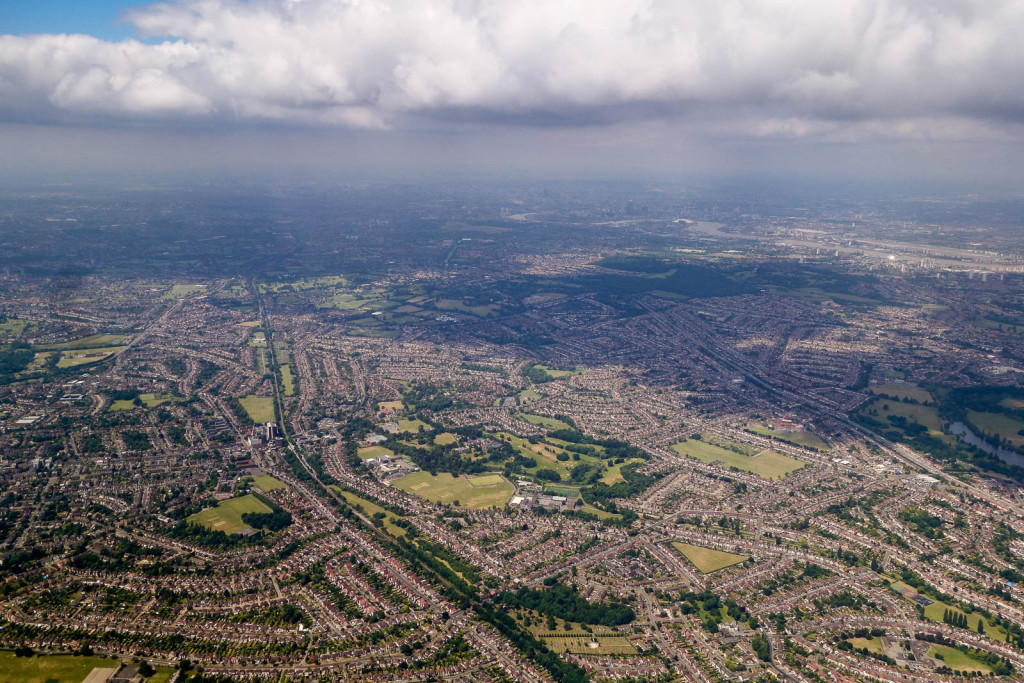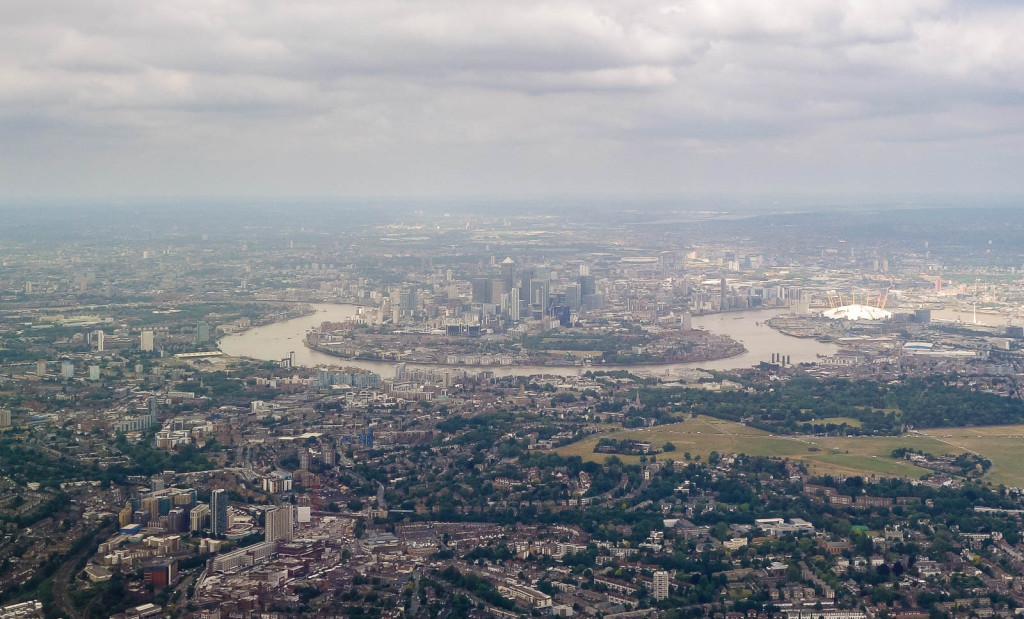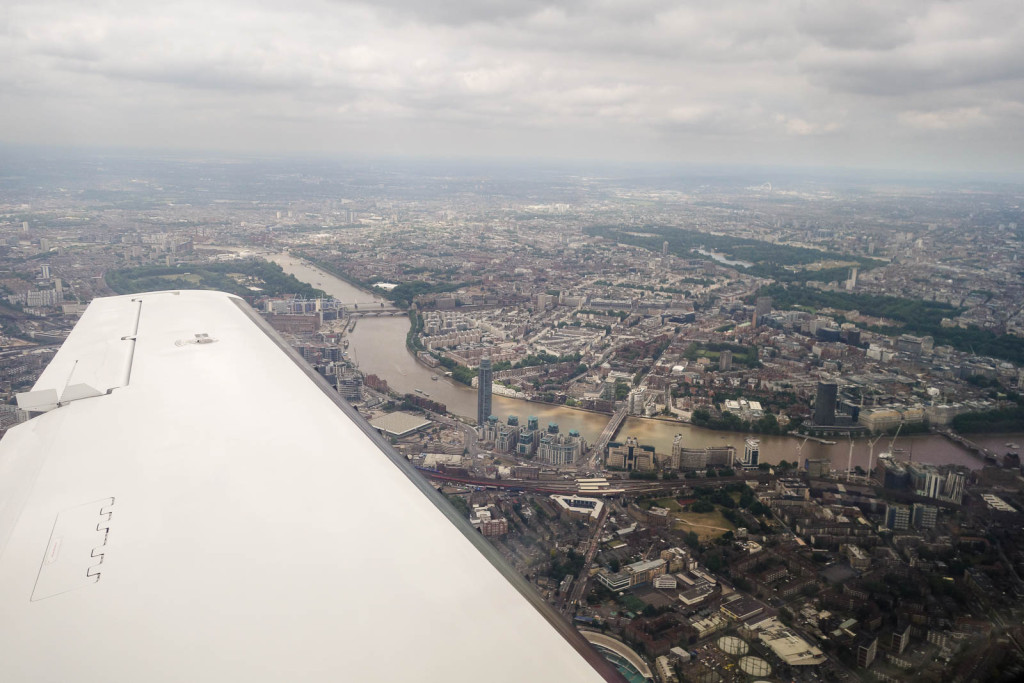 Turning past the Shard. Wow …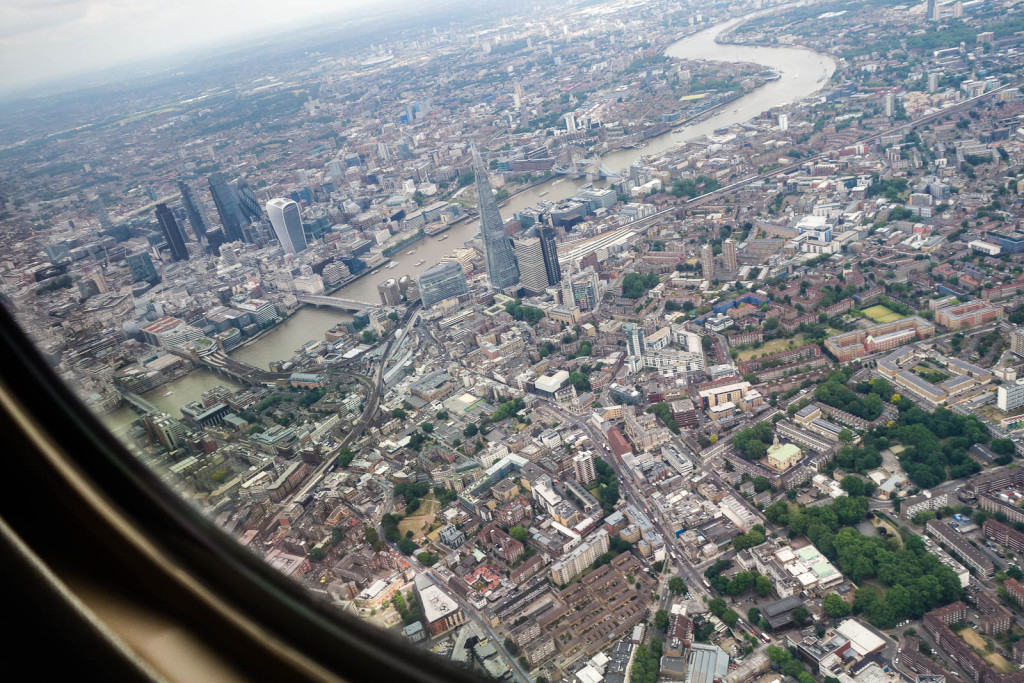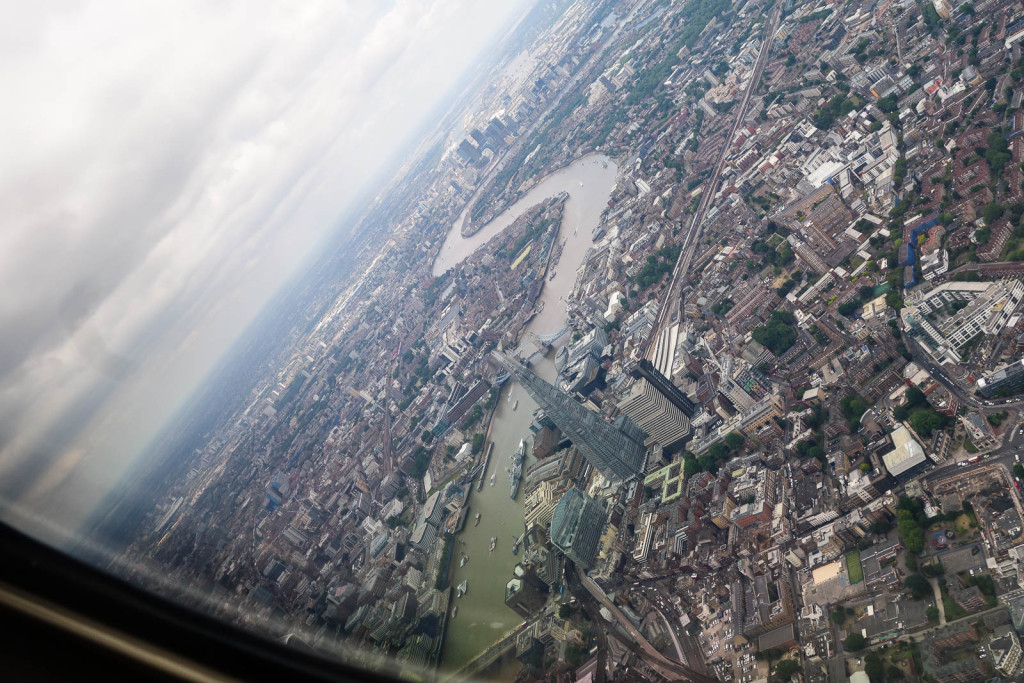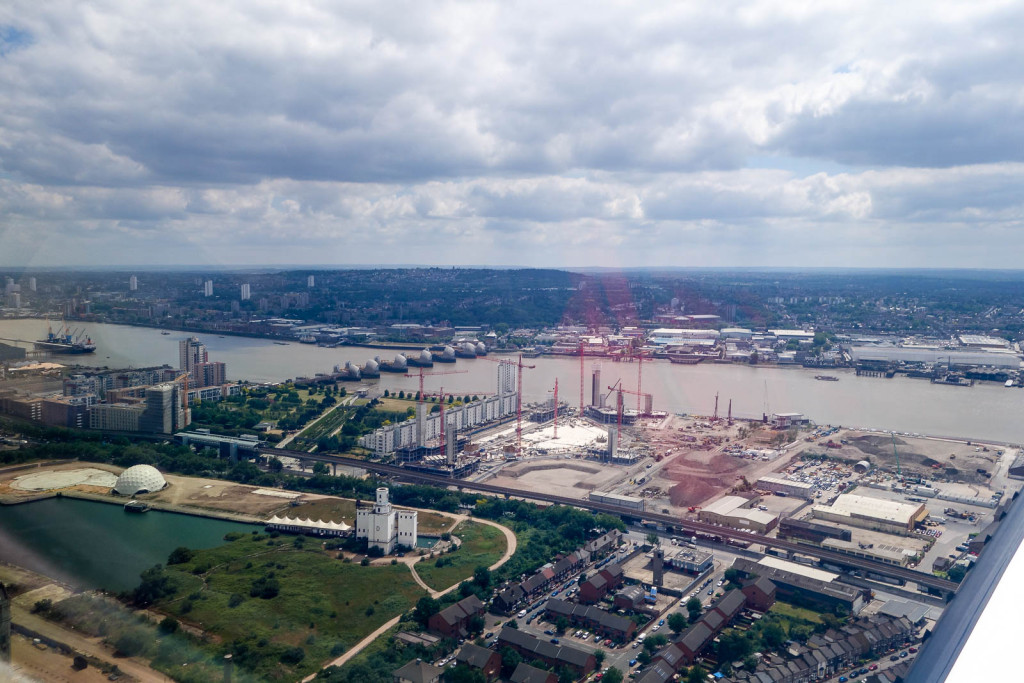 That's it for now. Very soon, I'll try and write up my long-promised post about Kimberley, Western Australia.